I just love that moment of opening a file of wedding photographs and anticipating what delights are hiding inside. I'm never disappointed. Today's gorgeous day is a real beauty so grab a cup of coffee, sit back and enjoy.
Secondary school teacher Steph wed Daniel, a sales and operations manager, on the 15th of August 2016 at Newton Hall in Northumberland.  The couple met through mutual friends at a football match and became engaged while on holiday in Egypt in 2014 before booking their wedding by the sea in beautiful Northumberland.  Lets begin with their wedding film, by M & J Wedding Films.
"Our wedding followed a colour scheme of creams, off whites and very soft pinks. We had beautiful cream chair tie-backs from The Finishing Touch Company along with their amazing silver glitter tablecloths which added a little bit of bling.  The beautiful pinks that matched the bridesmaid dresses were brought in through our beautiful flower centrepieces.  We also had our fab light up letters from Coco Luminaire in our initials which really brought the room to life later in the evening."
Steph looked wonderful in 'Chancey' by Maggie Sottero which she purchased from Christabel and Keats in her home town of Hartlepool.  I absolutely love the delicate beading.
"I had always dreamed about my wedding dress and it was a huge part of the wedding planning for me.  The venue played a big part in the direction I went with my dress as I felt that them complimenting each other was really important. With this is mind, I went on my first dress shopping trip a month after booking our venue with the intention of just trying on a few styles to see what suited me."
Photography by Katy Melling
"After browsing through the rails I picked up a 1920's style beaded dress – and it was my size.  I know that it is a total cliché but as soon as I slipped it over my head I knew it was the one.  The lovely lady in the shop informed me that the dress was about to be discontinued that week so I had to make the decision a little earlier than planned but I knew I had found the perfect dress."
Steph's veil was also supplied by Christabel and Keats, while her rather fabulous shoes were 'Lang' in silver by Jimmy Choo.  Her ribbon-tied head piece was from Liberty in Love and her embellished cuff was from Etsy.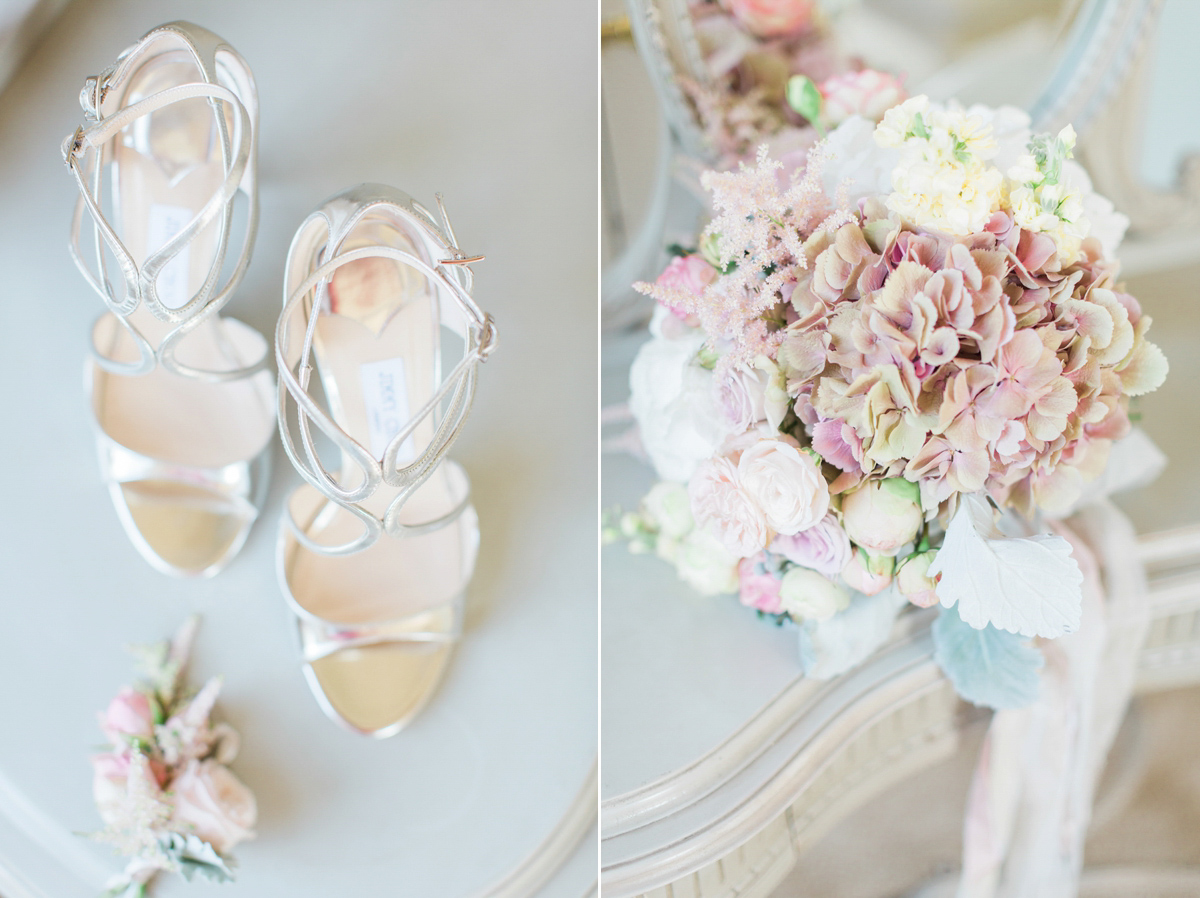 The bridesmaids looked lovely in blush pink gowns from Ghost, paired with silver shoes from River Island, while the flower girl glittered in a pale pink dress from Monsoon, with silver shoes from the same store.
The two little page boys wore tuxedos purchased from Marks and Spencer.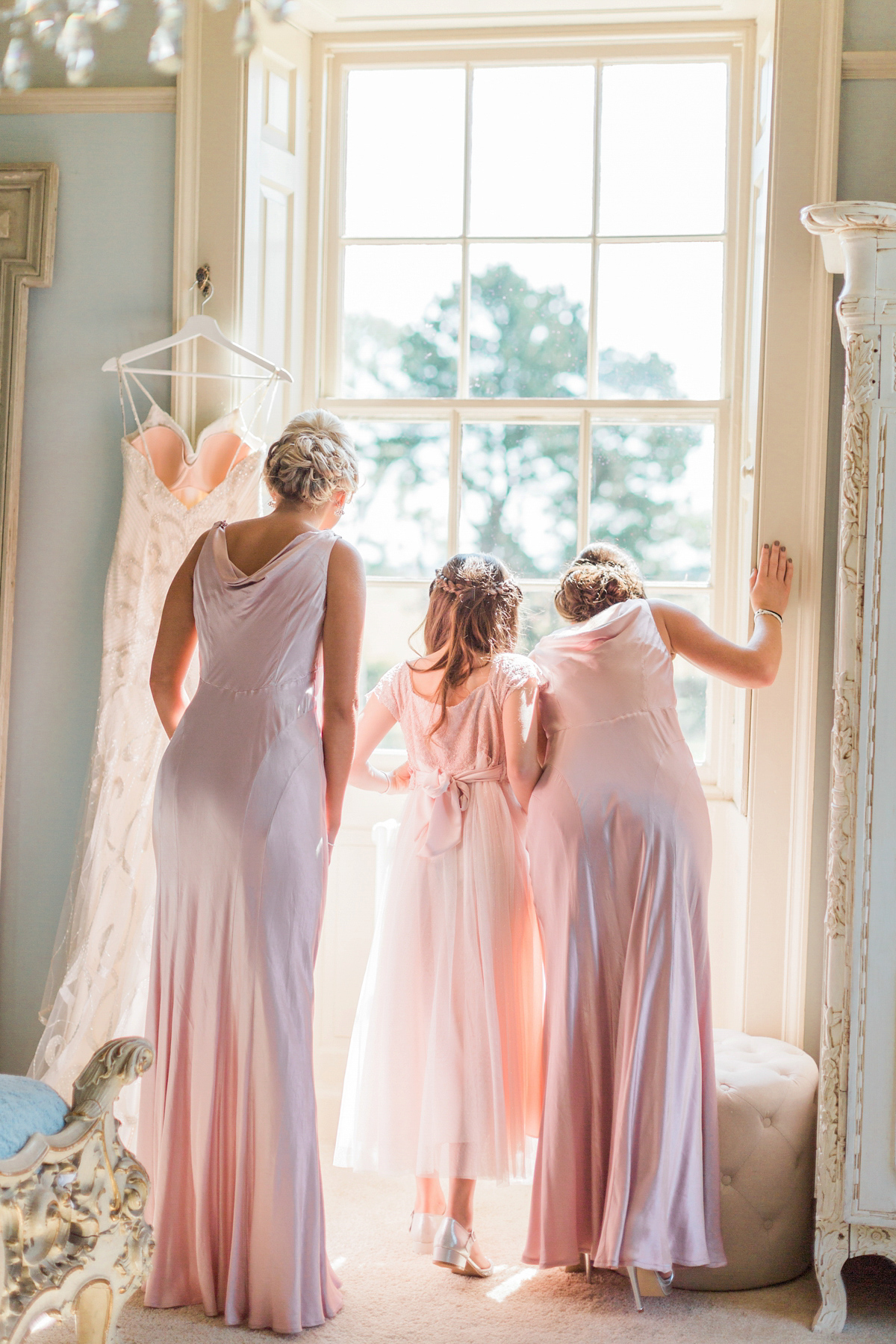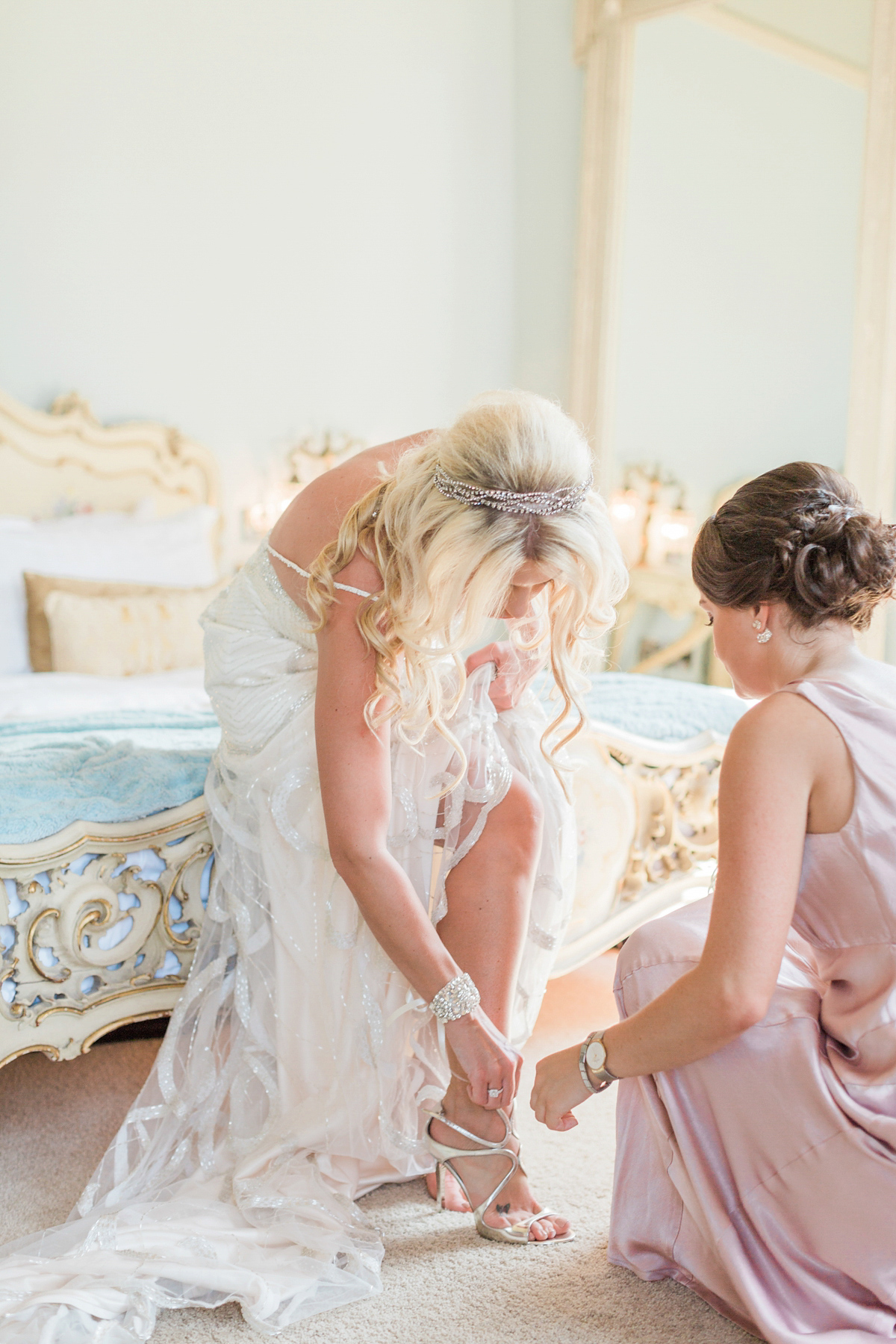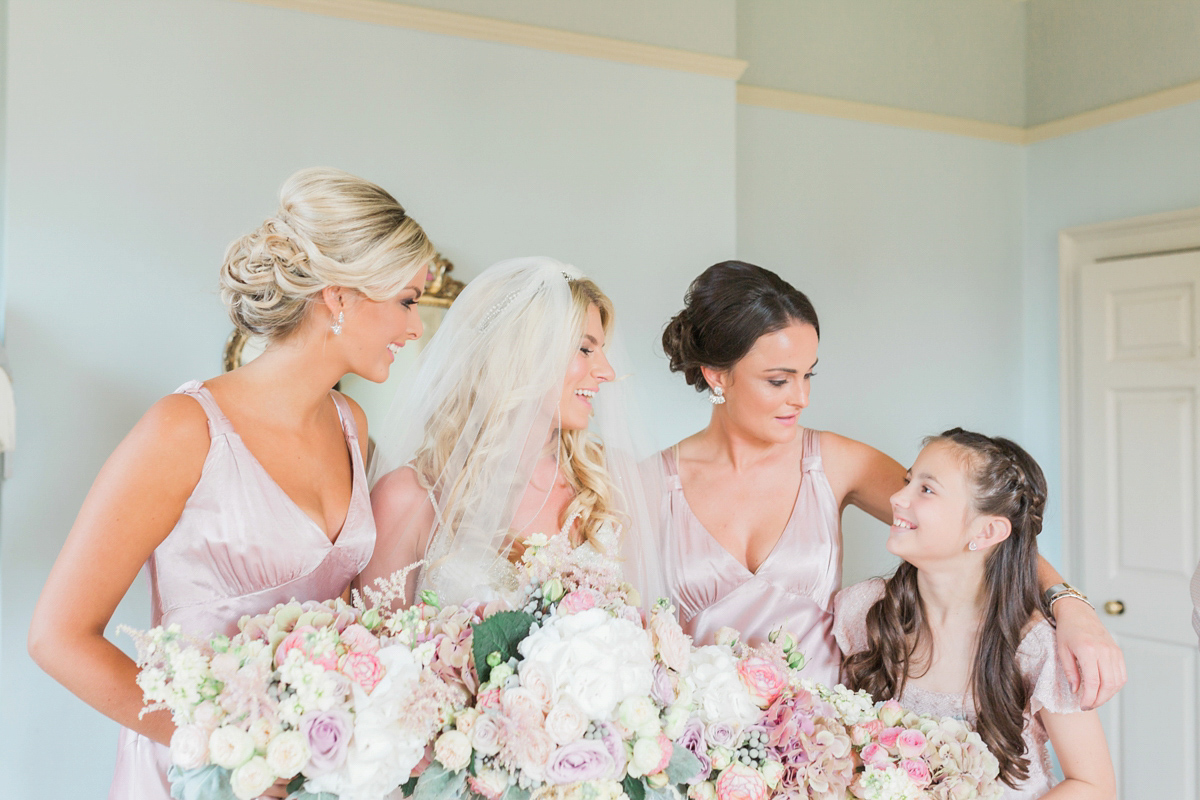 "I used the fabulous Helen at Bels Flowers and was blown away by the way she brought what I wanted to life.  When she walked in with the bouquets on the morning of the wedding I cried as they were just so perfect.  I love the whole 1920's look and wanted an oversized bouquet to reflect this, along with trailing ribbons from Kate Cullen which just finished it off perfectly."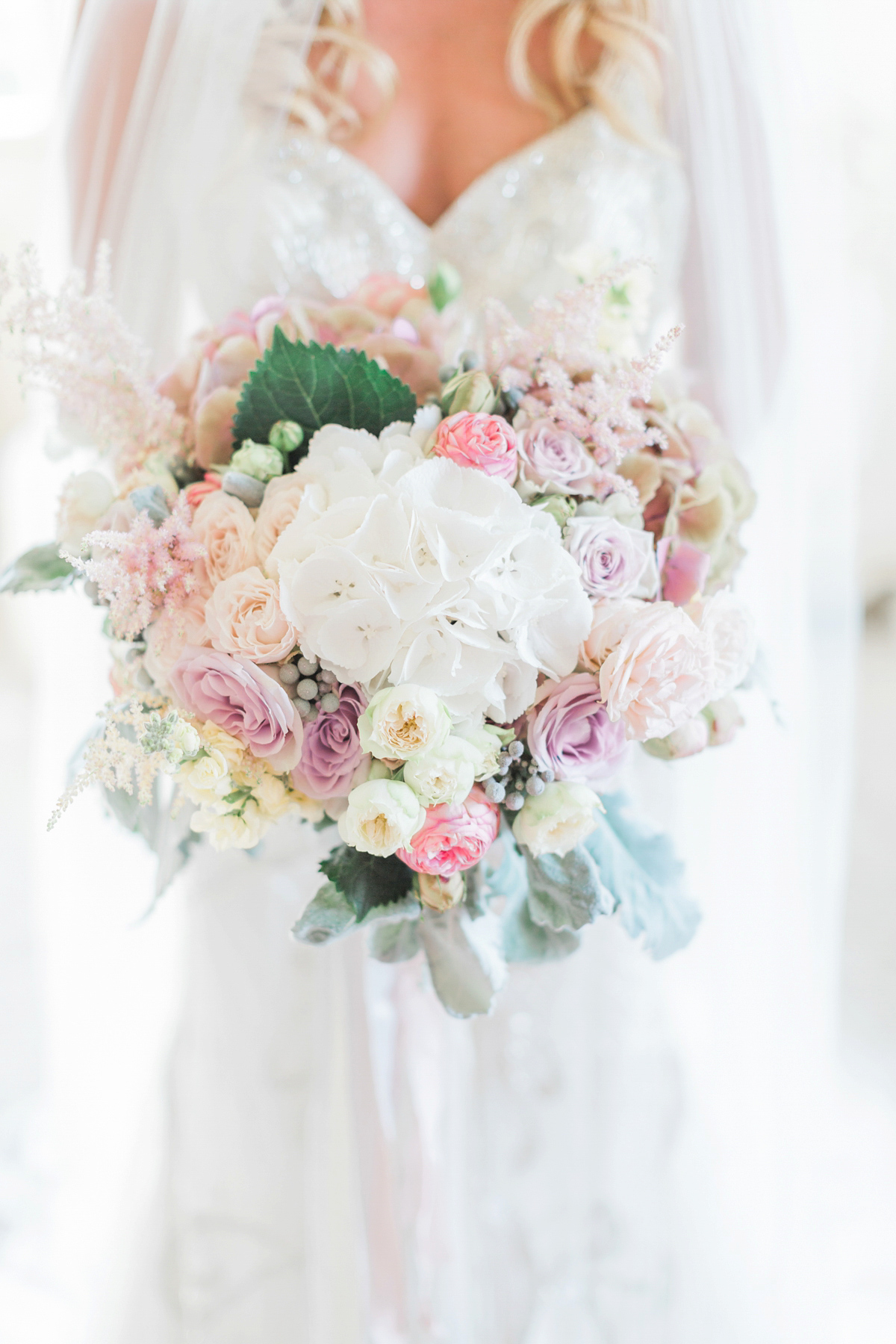 Hair and make-up was the work of Sally at La Belle Vous, while for scent, Steph chose Peony and Blush Suede by Jo Malone.
"To me it just smelt like summer and that's what I wanted to be reminded of when I thought of our wedding."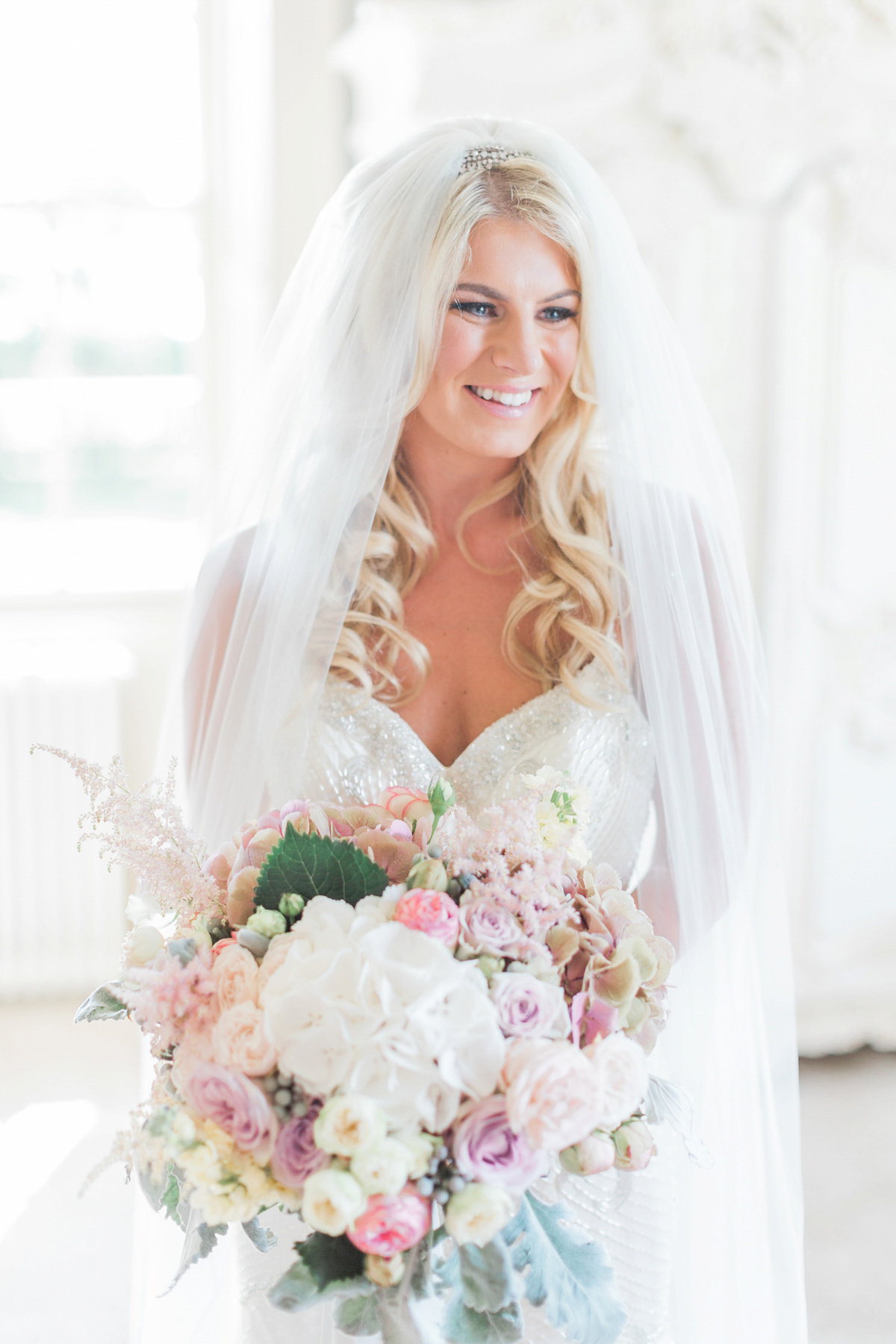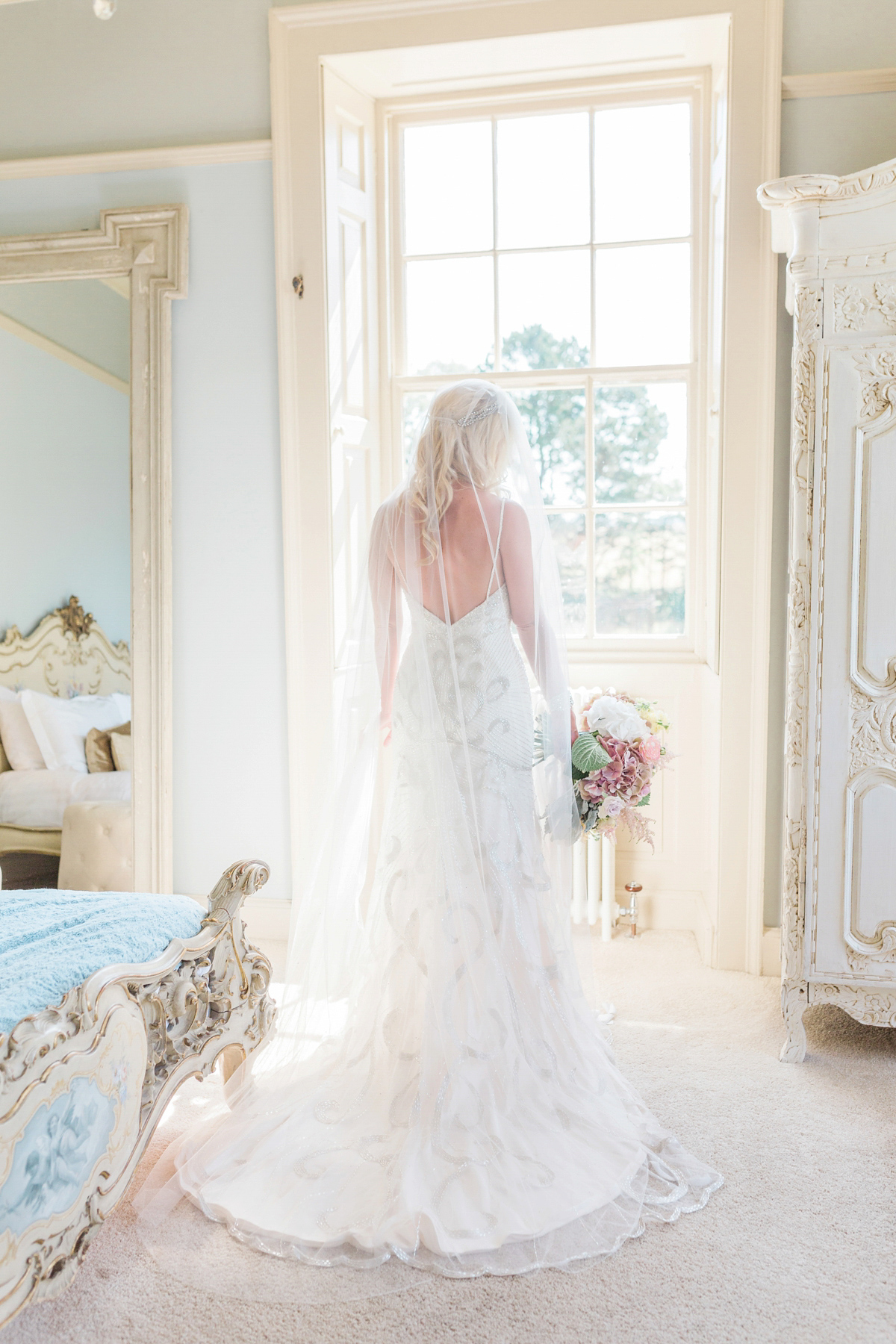 "I really wanted the men in black as it's so classic, unfussy and timeless.  Daniel visited a favourite store of his in Durham, Woven, and purchased a Remus Uomo personally tailored classic black fitted suit and had a waistcoat especially made to match.  He also wore Barker patent leather dress shoes which we bought from Selfridges."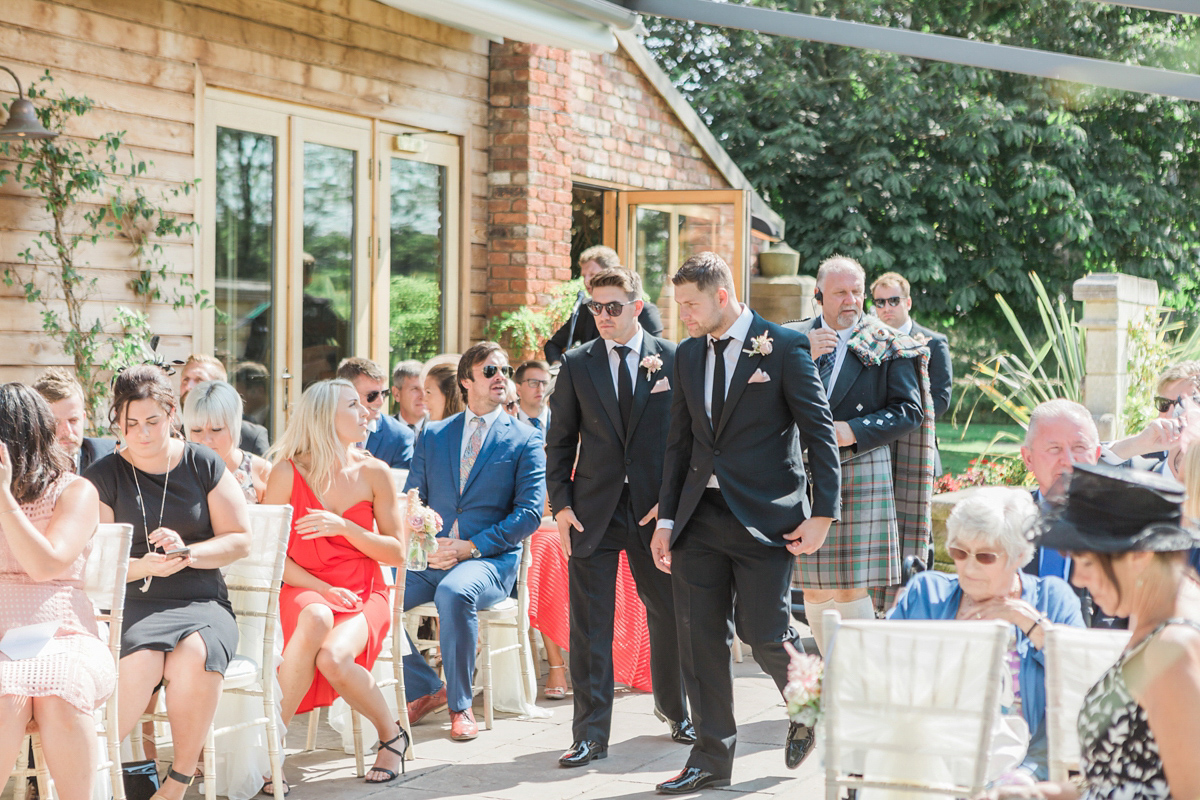 Steph's very emotional Dad accompanied her down the aisle to 'A Thousand Years' by Christina Perry, played by Dan McClew.
"I thought I would be nervous but I was just so excited to get to Daniel I really had to concentrate on not rushing.  I'll never forget seeing him turn around as I was about to walk down to him.  We both wrote our own promises which were one of my favourite parts of the day.  I didn't think Daniel was capable of writing such lovely things but he really blew me away with what he said."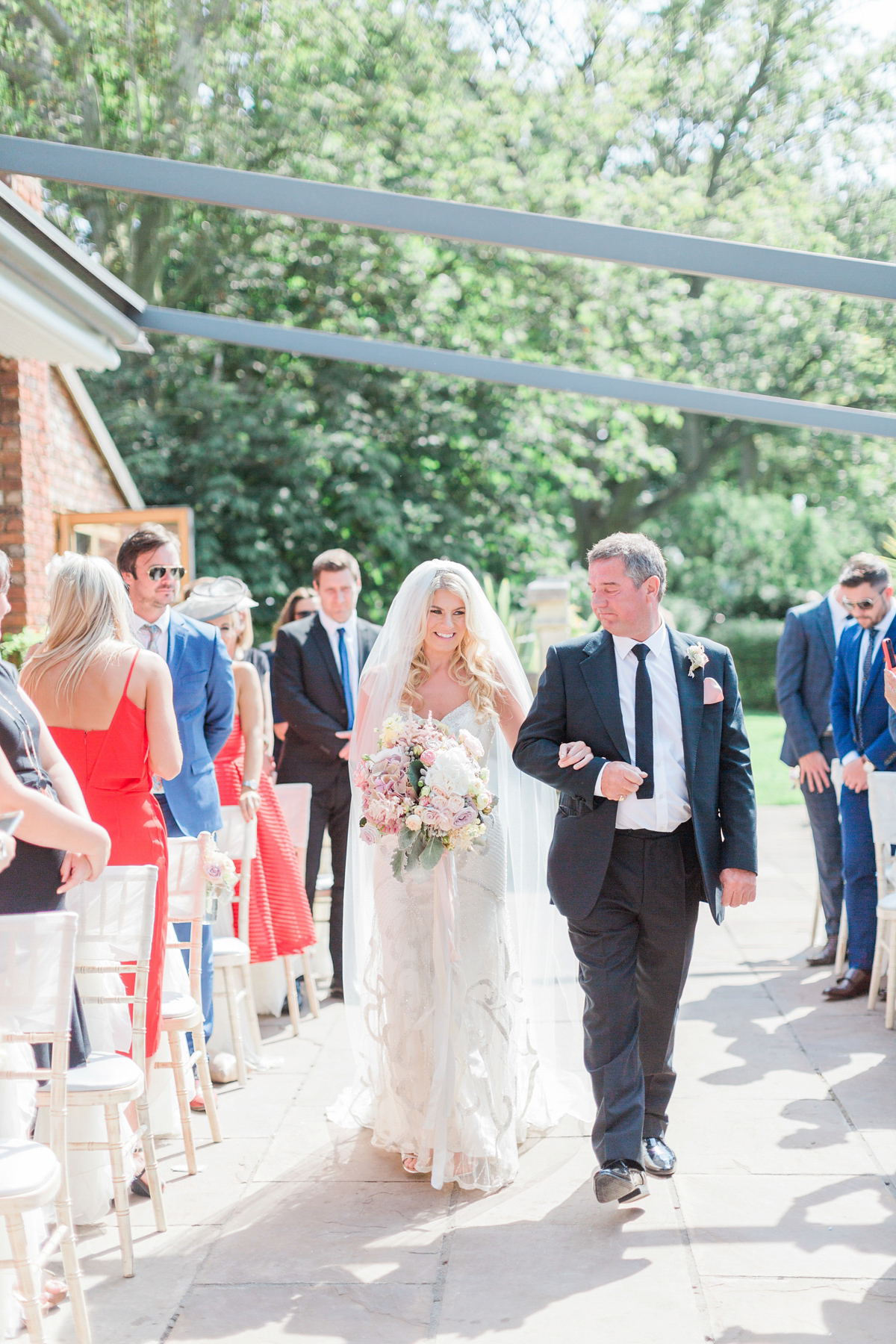 The couple chose two readings – an extract from Captain Corelli's Mandolin by Louis de Bernières and the Apache Wedding Blessing, both beautiful choices.
"The fact that we could have our ceremony outside on the terrace made it extra special.  There wasn't a cloud in the sky and I'll never forget the walk through the  grounds to get there.  I was so nervous about the ceremony in the run up but it ended up being my favourite part of the day."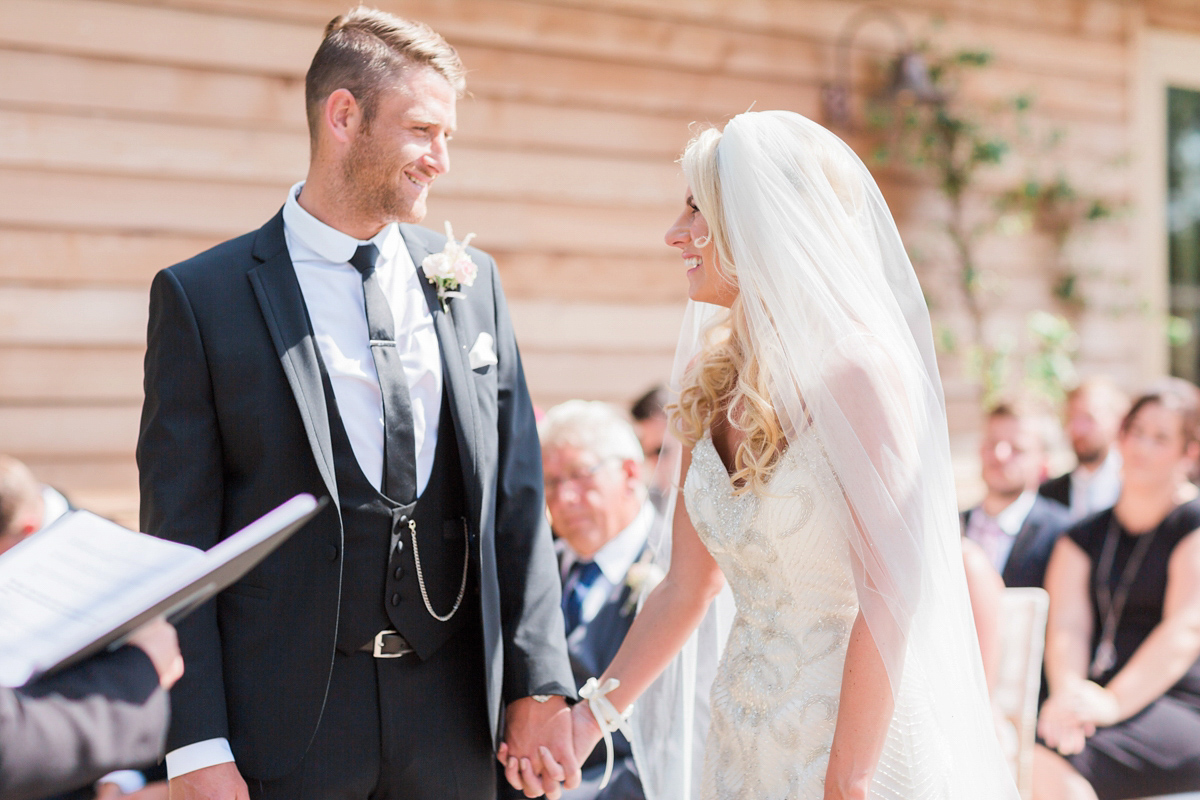 The couple exchanged rings from Ernest Jones.
"Someone told me that two of the only things you have left after the wedding is over are your photographs and your rings so choose wisely.  With this is mind, I went all out with my ring."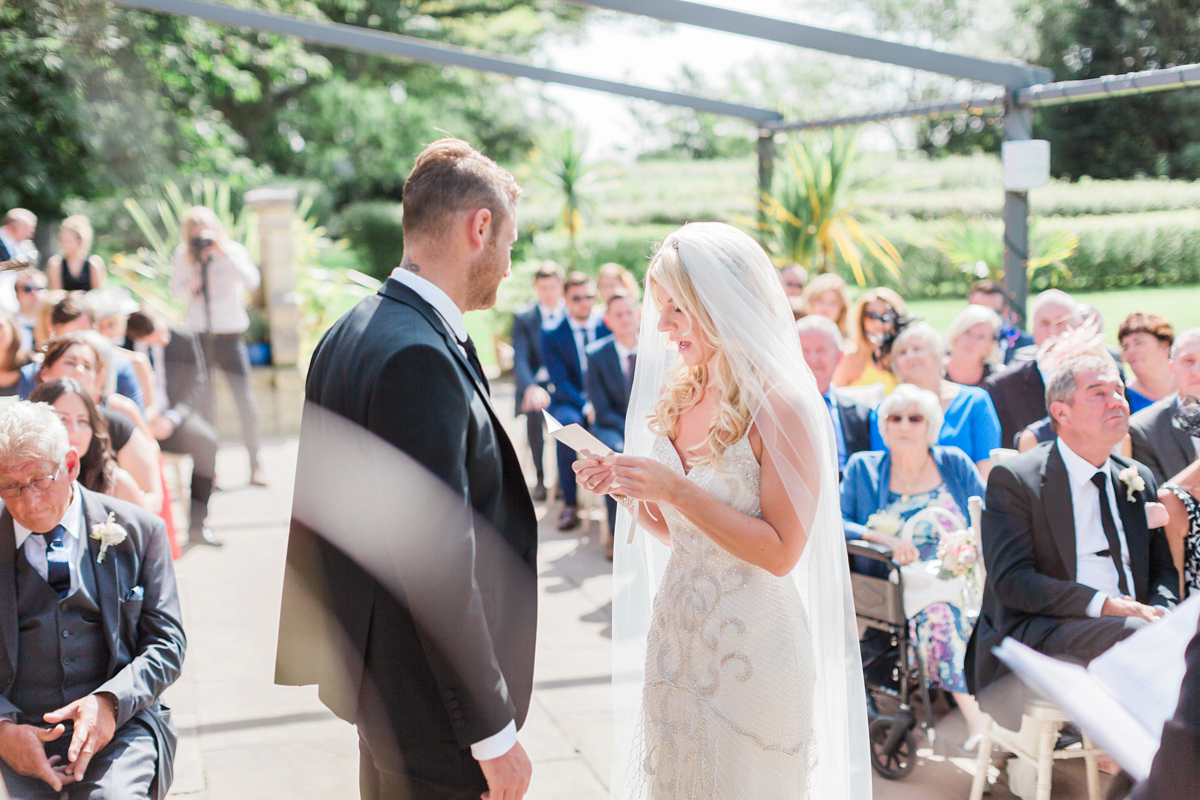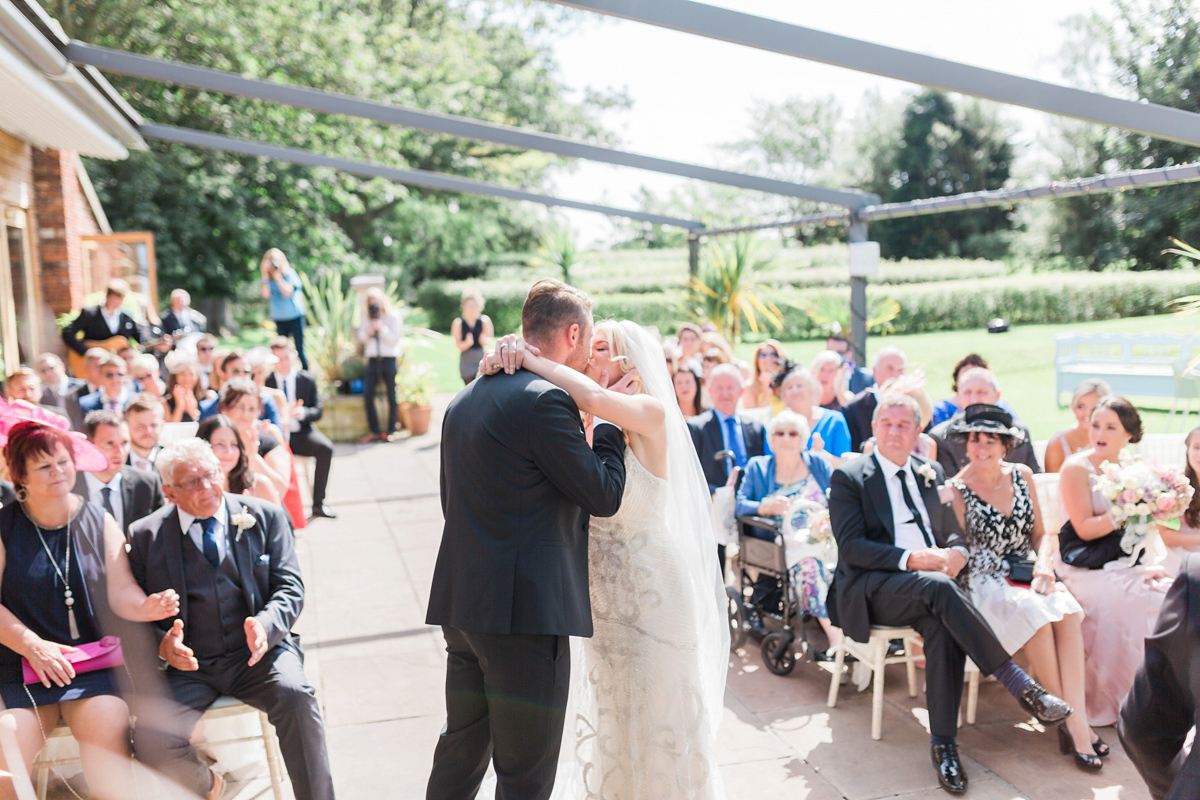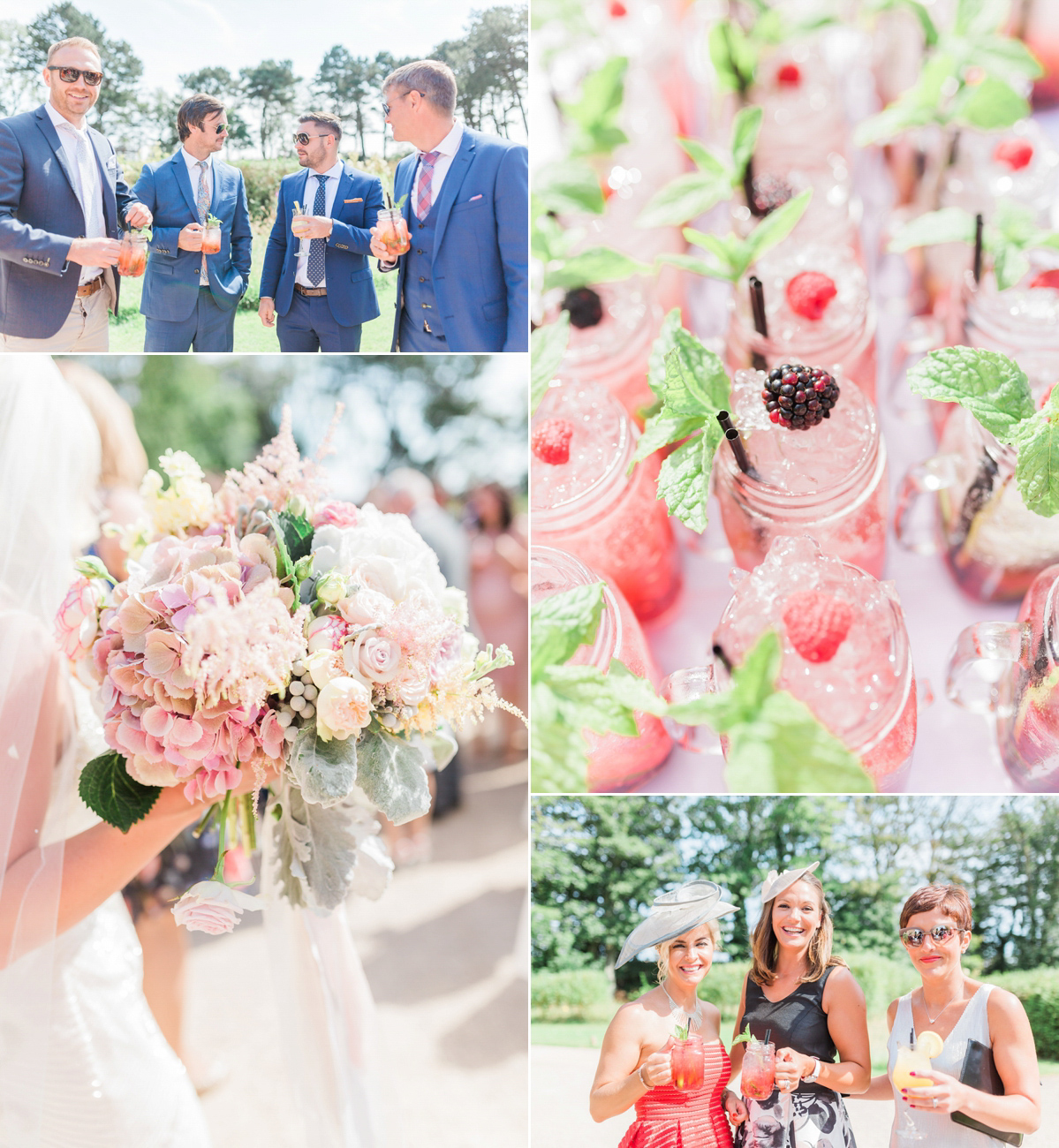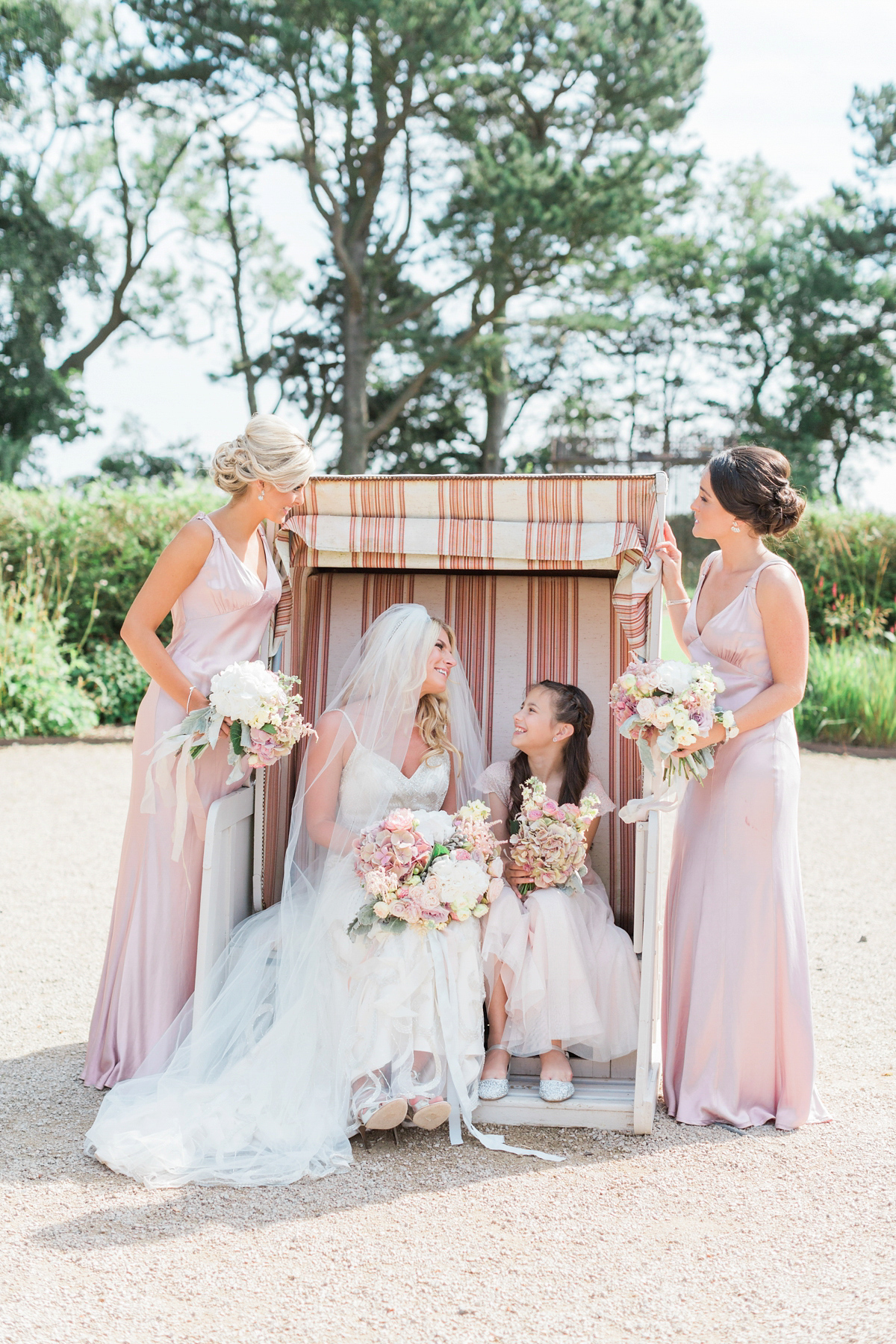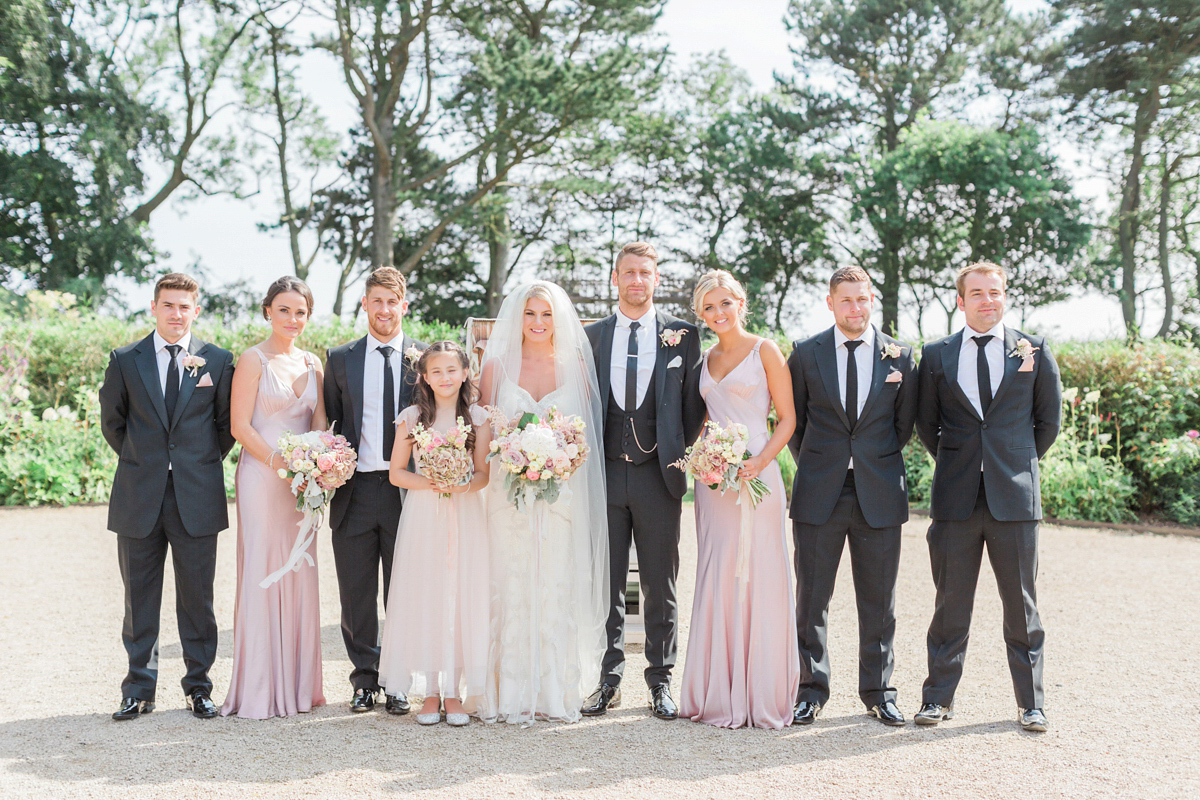 Photographer Katy Melling captured the whole day beautifully in her signature light and romantic style.
"We have no words to describe how fantastic Katy was.  I was quite apprehensive about having my photo taken but as soon as we arrived on our pre-wedding shoot I felt at ease.  Katy's photos appealed to me as soon as I saw them – they are so soft and pretty and elegant and just how I wanted our day to be remembered.  
ome of my most treasured moments from the day are when we snuck away with Katy for our portrait shots."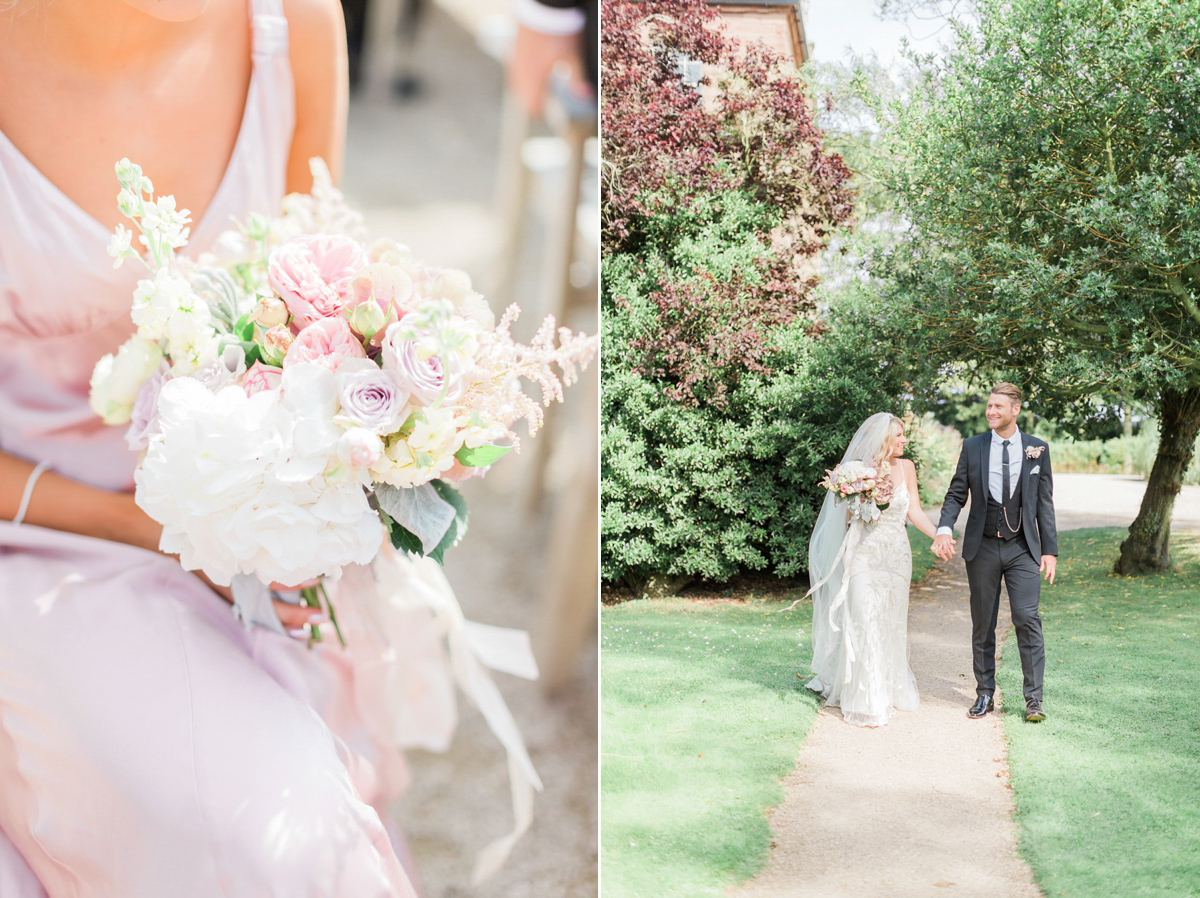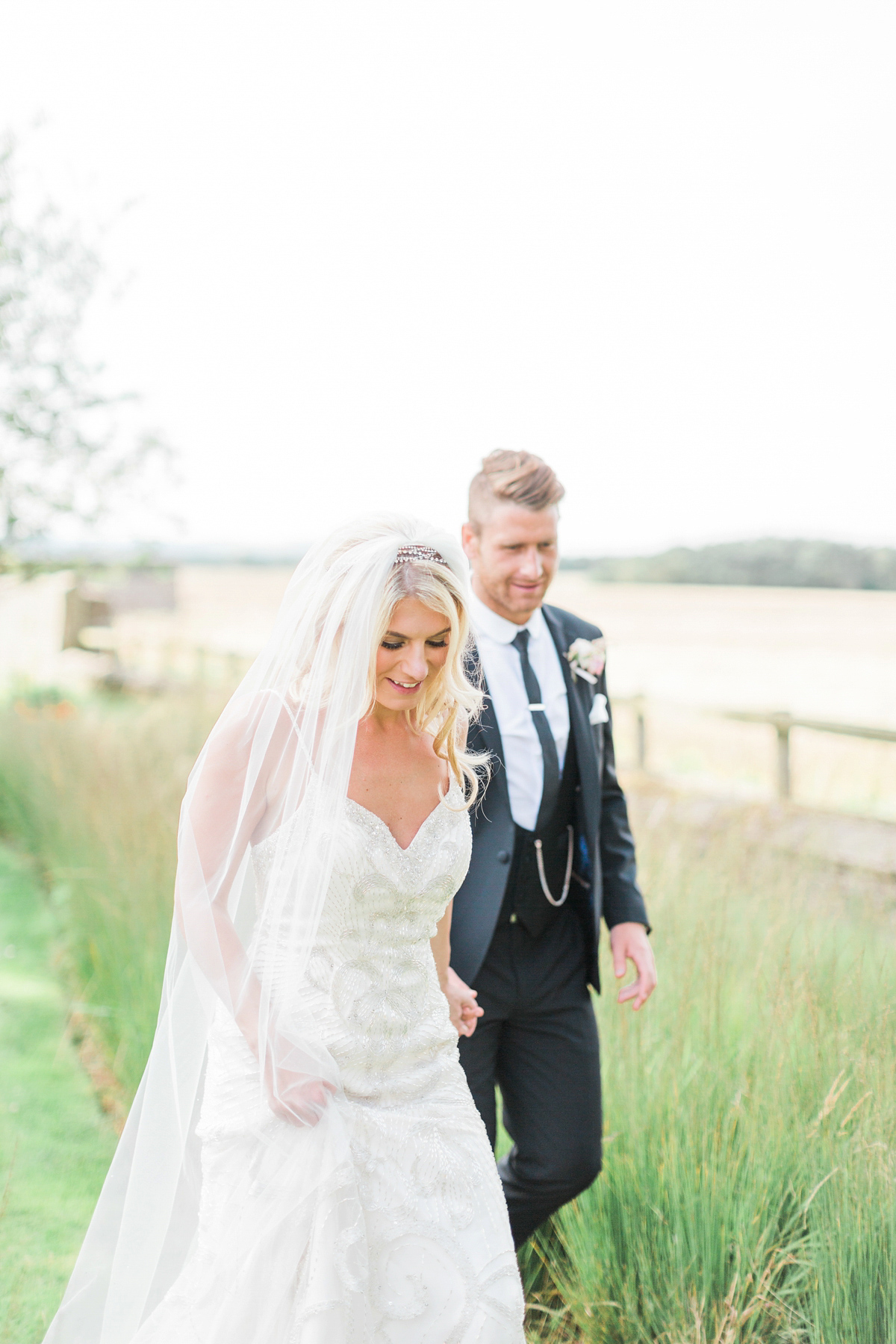 "It was a cold, bleak January day when we travelled up to Newton Hall for one of their open days.  However, as soon as we stepped into the Glass House we both knew instantly this was our venue, it was a goosebumps moment.  There was such a gorgeous atmosphere and the whole place just felt like us."
"The hall has amazing views over the Northumberland countryside and amazing boutique bedrooms for the guests to stay in and with an August wedding in mind, the beautiful beach just minutes away was an added bonus."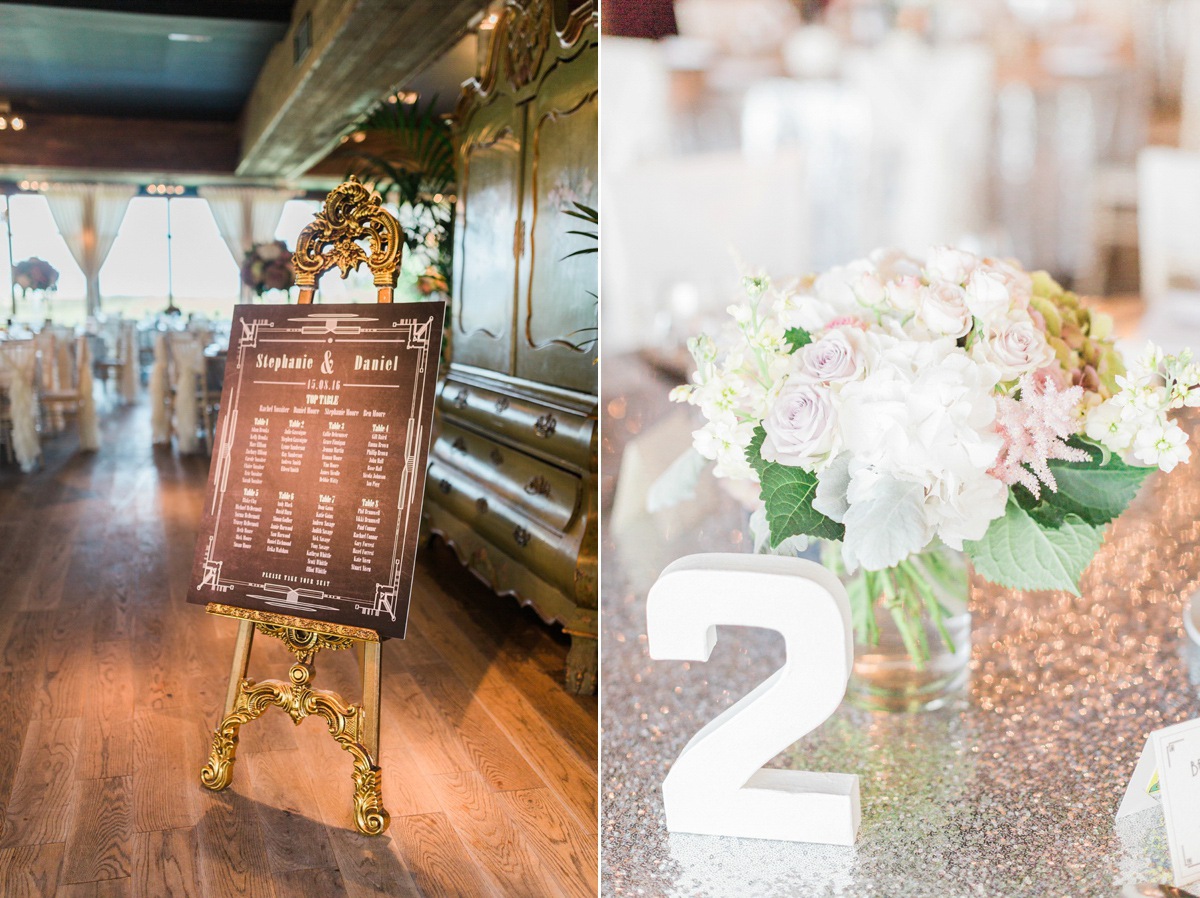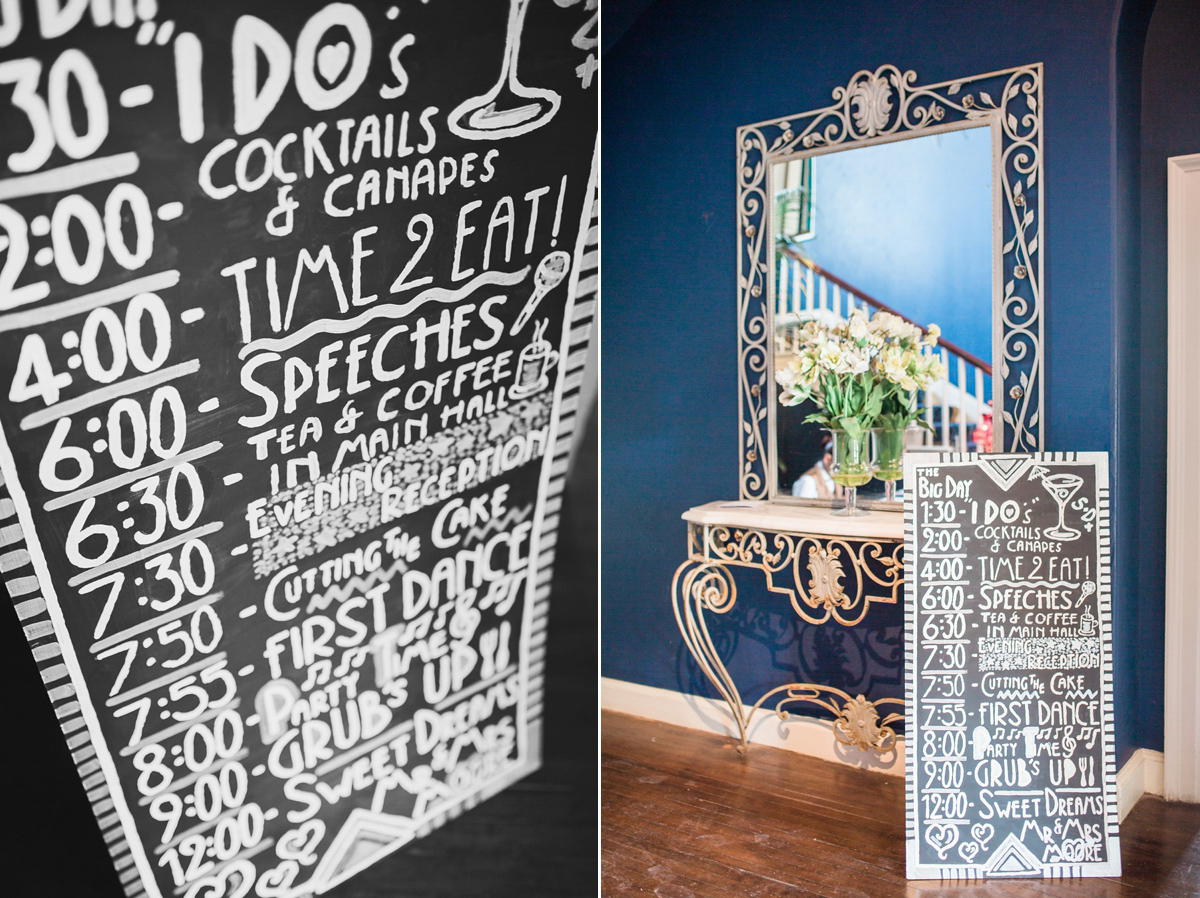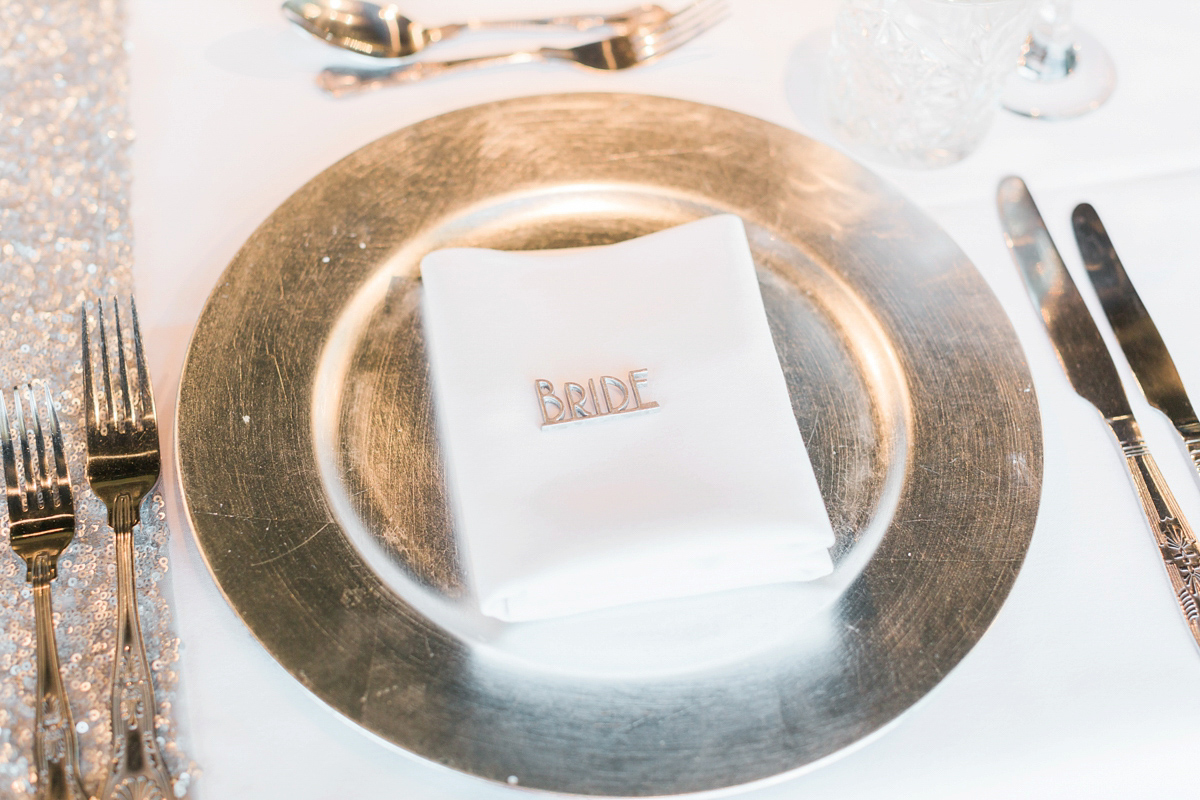 The elegant cake was purchased from Marks and Spencer and decorated by Bels Flowers.
As well as Dan McClew, who played both during the ceremony and the drinks reception, Steph and Daniel booked magician Paul Lytton to entertain guests.  During the meal string quartet Solar Strings performed and in the evening a DJ from AMV Live Music made sure the dance floor stayed full all night.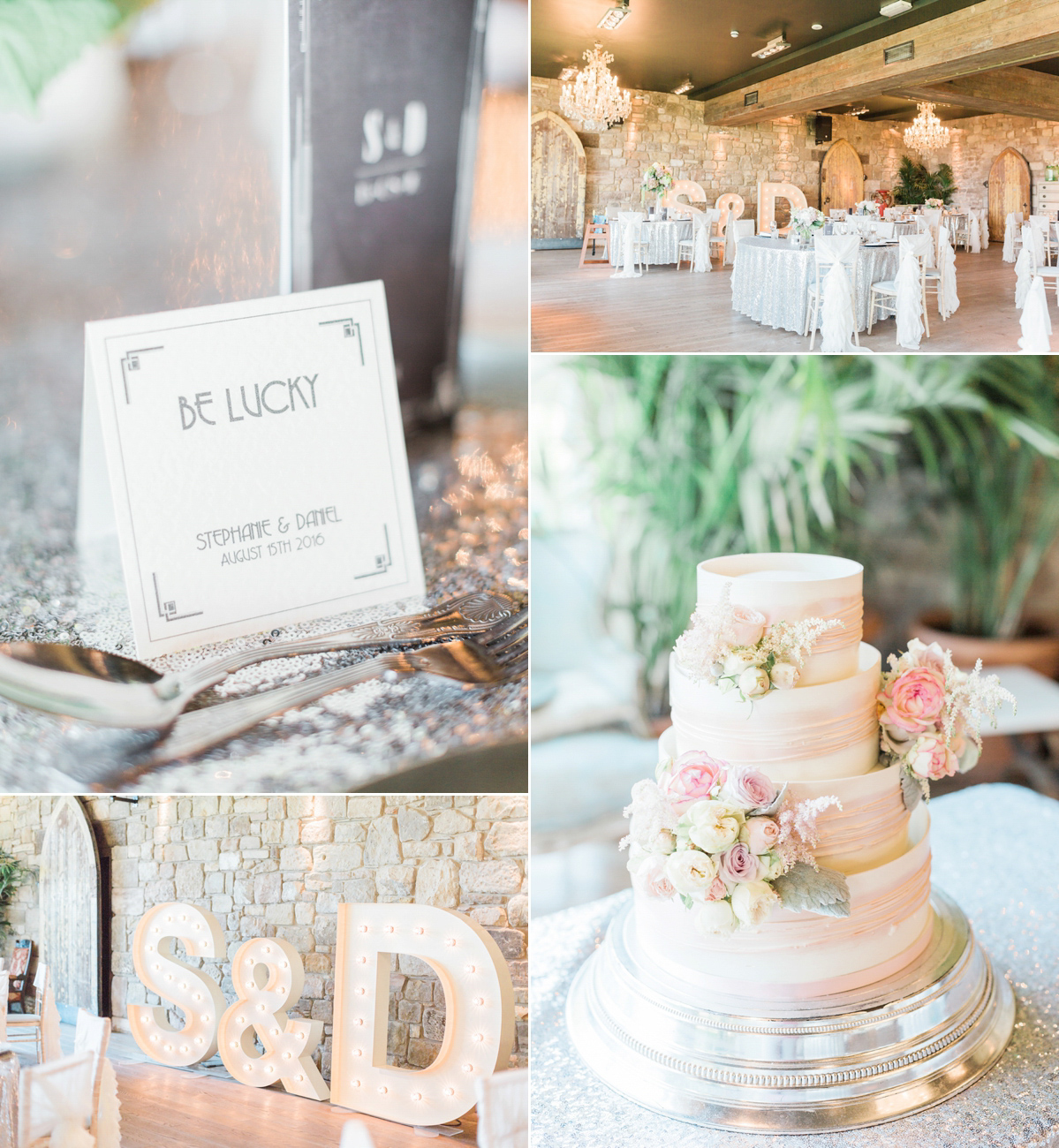 "Newton Hall has such a unique style in itself I wanted that to shine through on the day.  I wouldn't say the day revolved around one particular style although I do love the 1920's which was reflected in my dress and some of the décor in the room."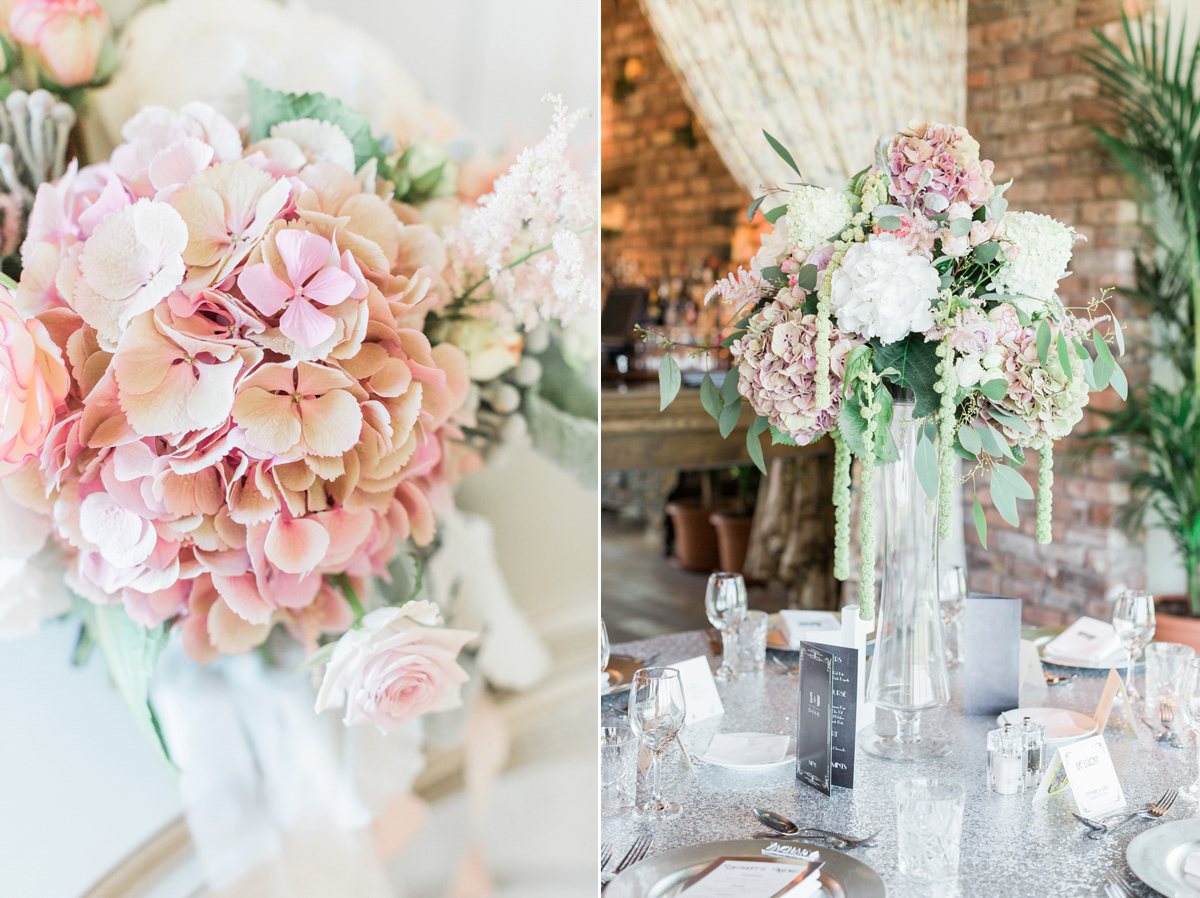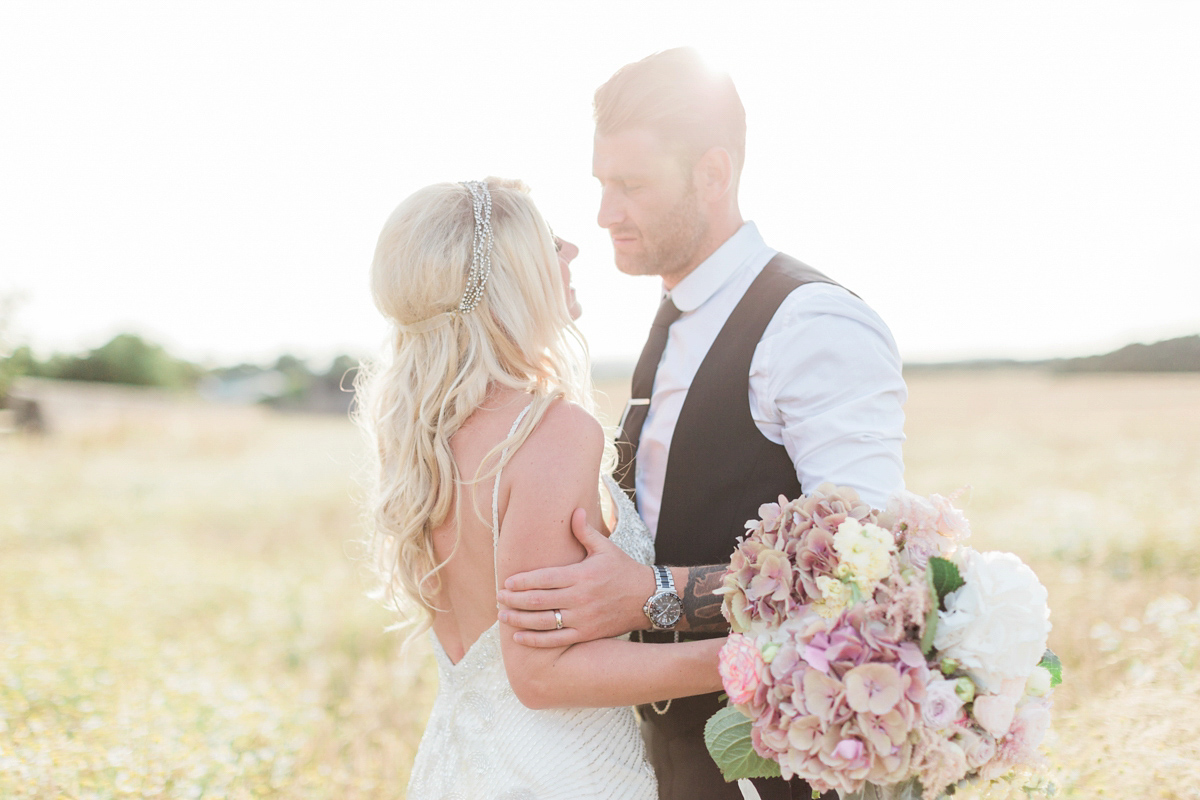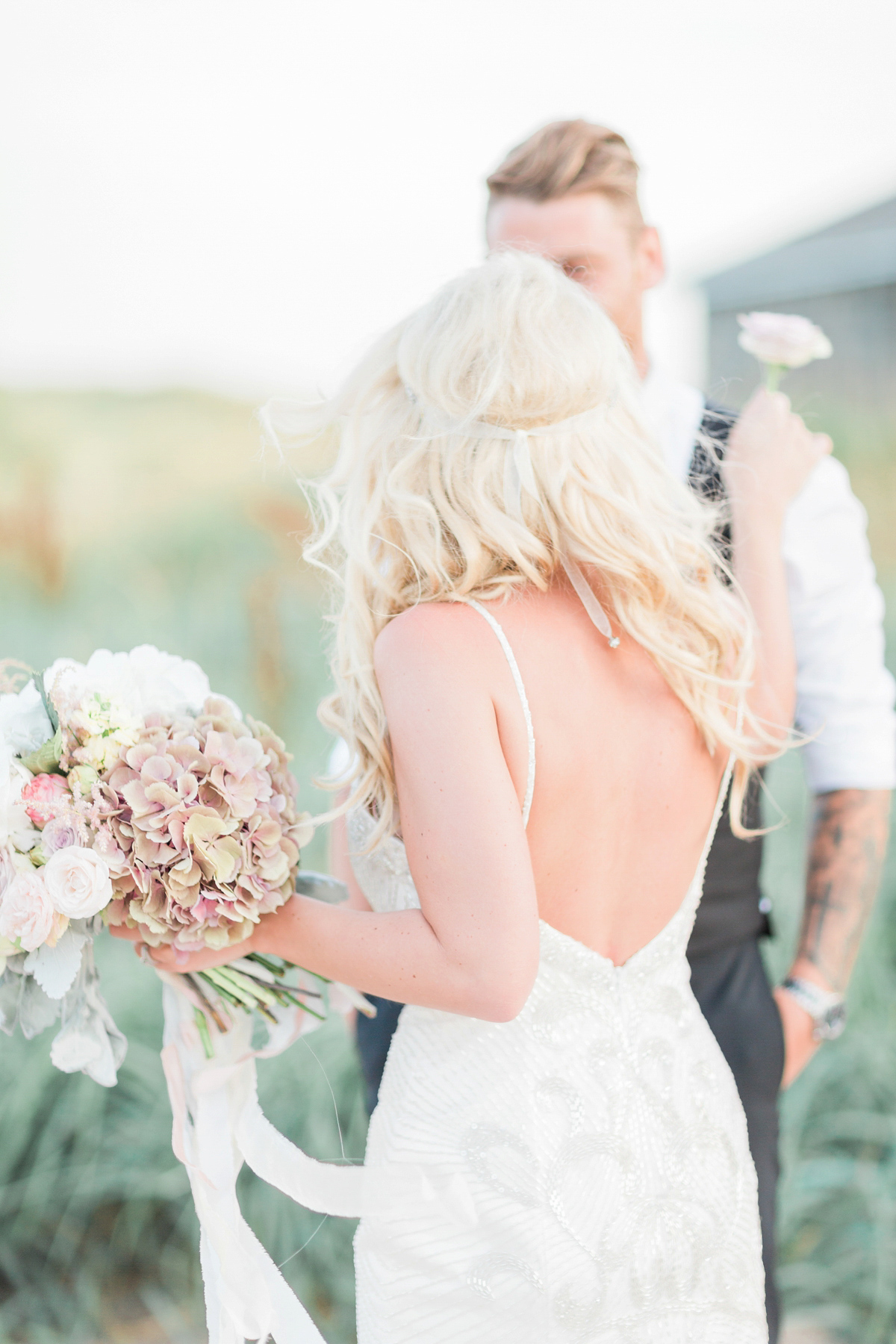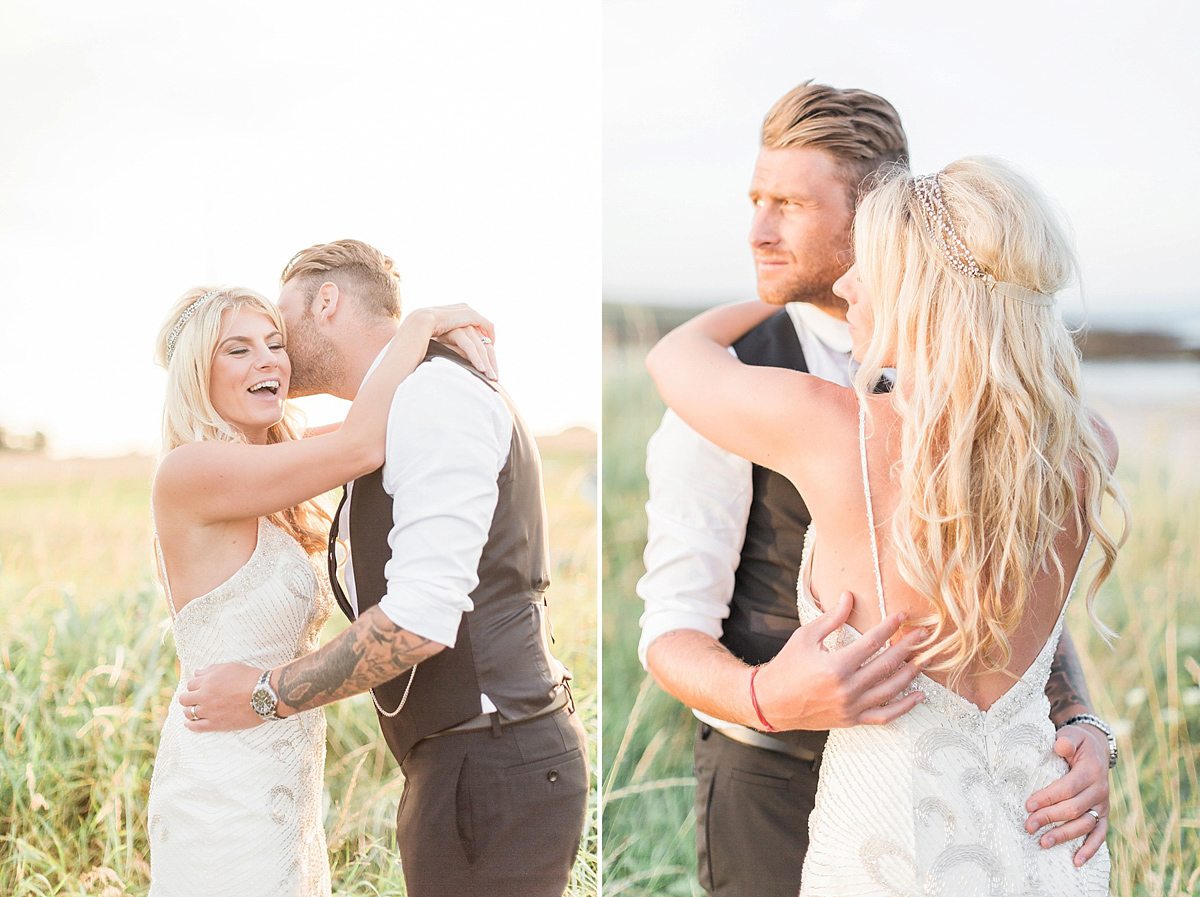 Words of Wedded Wisdom
"I think everyone says it, but really don't sweat the small stuff.  The whole day goes by in such a big happy blur so you won't even notice if the chair backs don't match the flowers perfectly- those things just don't matter on the day."
"Savour every single minute.  Look around at all the people you care about in that one room with smiles on their faces and soak it all up."
Huge thanks to Steph and Daniel- its been a pleasure to write up your beautiful day. Due to lovely weather, our lucky bride and groom were able to hold their ceremony outdoors- take a peek here for some more wonderful outdoor weddings (some sunny, but some less so- it really doesn't matter on the day, honestly).
Much love,
S x