Hello Sunday lovers – what a long, crazy week it's been. How about you? About time we shared something lovely for you to enjoy as you lounge the afternoon away.
These beautiful images sent in by photographer Lissa Alexandra capure the wedding of Becky, a Marketing Manager and Marcus, who woks in the Insurance industry. The couple tied the know on 20th May this year with a flower filled and romantic outdoor wedding at Natural Retreats, with the sweeping rural landscape of the Yorkshire playing backdrop. I don't think I need to explain why I fell in love with these images and hope that you enjoy reading about Becky and Marcus's wedding as much as I have.
"When we started the planning process we didn't have a 'theme' in mind per se, but we knew having both worked in Marketing that we wanted the wedding to reflect us so we had to think about if we were a brand what would we look like, what vibe says Becky and Marcus. We're not really very colourful people, our house is very monochrome so we decided to use neutrals as our base black, grey, white and navy, with touches of brass and silver and have the colours coming from the flowers. We wanted every last detail to come from us, we didn't even enlist the help of any friends or family, every part of the day was a secret until the guests arrived on the Friday."
Photography by Lissa Alexandra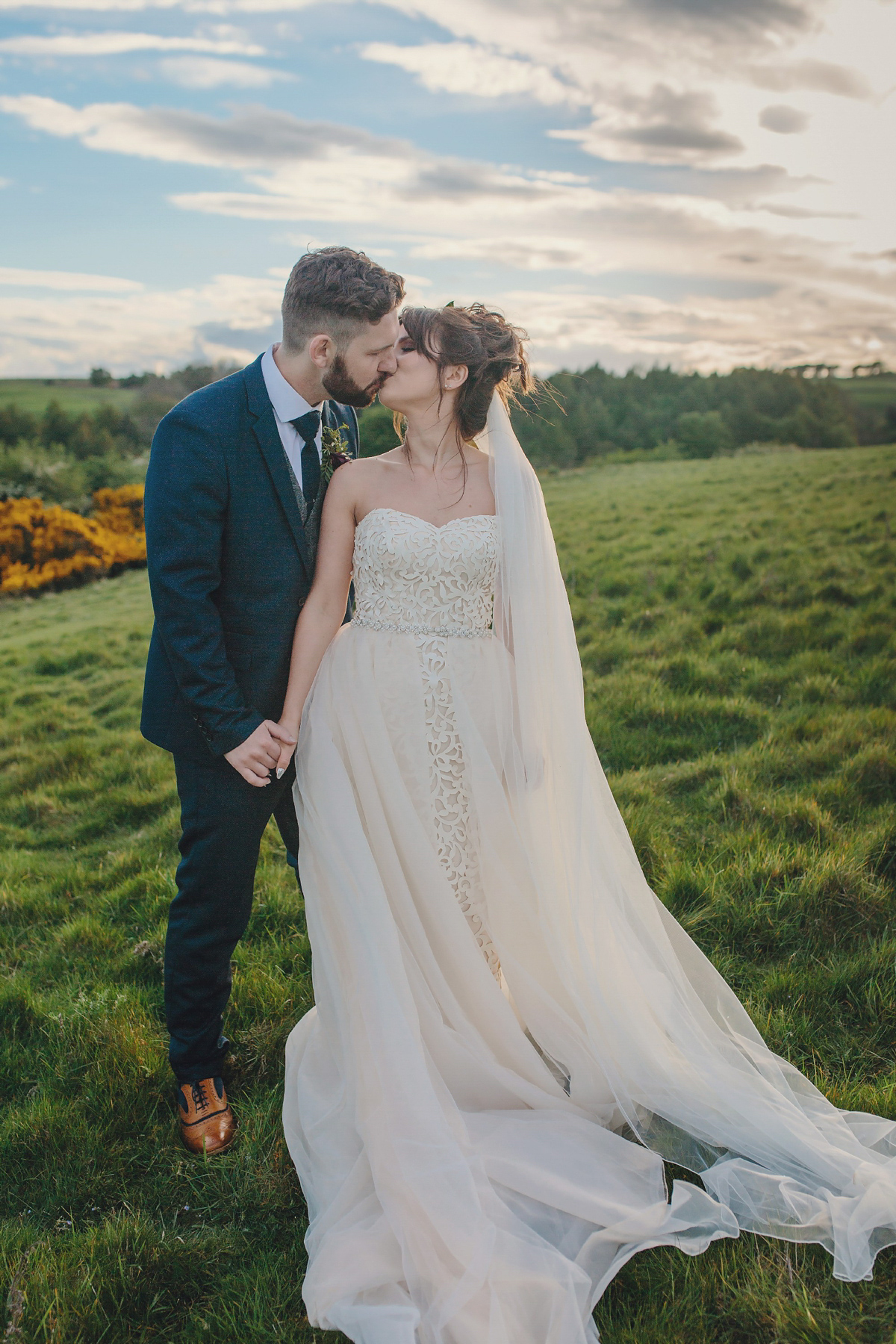 "My dress was Sottero and Midgley and I purchased it from The Harrogate Wedding Lounge. I had tried on quite a few dresses and I really loved both the more fitted, mermaid style dresses, and the princess dresses, but I was really struggling to decide which one I loved more. I also knew I really wanted lace and I found one dress that I really liked and was in the running, but nothing was giving me that overwhelming, emotional feeling everyone talks about.""My dress was the last one I tried on and I almost didn't because I thought it looked too small and I didn't want to end the day on a low, but Leanne the amazing lady from Harrogate Wedding Lounge convinced me to try it and I am so glad that I did, I knew before she had even fastened me in that it was the one."
"I loved that I could have my princess dress during the day and remove the skirt in the evening and have my fitted , sexier dress for dancing. It blew all the other dresses out of the water, It was so modern and unusual, I hadn't seen or tried anything else like it. The leather lace was beautiful and I couldn't stop touching it. I also loved the small bit of bling on the belt, that just really finished it off. It made me feel beautiful."
"Marcus designed all of our stationery for the day, we had save the dates, invites that took guests to a wedding website also created by Marcus, menu's , Coasters for the tables, stickers for our confetti, reserved signs for the wedding party's seats at the ceremony, we even made a newspaper for guests that was left in their lodges for them when they arrived at the venue."
"We had all of these printed by a business I have worked with for a long time Lambert Printers. We hand painted and drew all of our signs and our table plan."
"I said 'I do' in Choo! I had always said if I ever got married, I would be wearing Jimmy Choo's and as soon as I had picked my dress I went and picked the perfect pair from Selfridges in The Trafford Centre."
"The bridesmaid dresses were Alfred Sung and I bought them from a wedding boutique called Cottage Bridals. They each wore a pair of shoes from ASOS.
The bridesmaids all wore fresh flowers in their hair provided by our florist."
"I wanted all the bridesmaid's to still feel like themselves so they all wore their own jewellery and I bought them clutch bags as their thank you gifts which I got from Katie Loxton."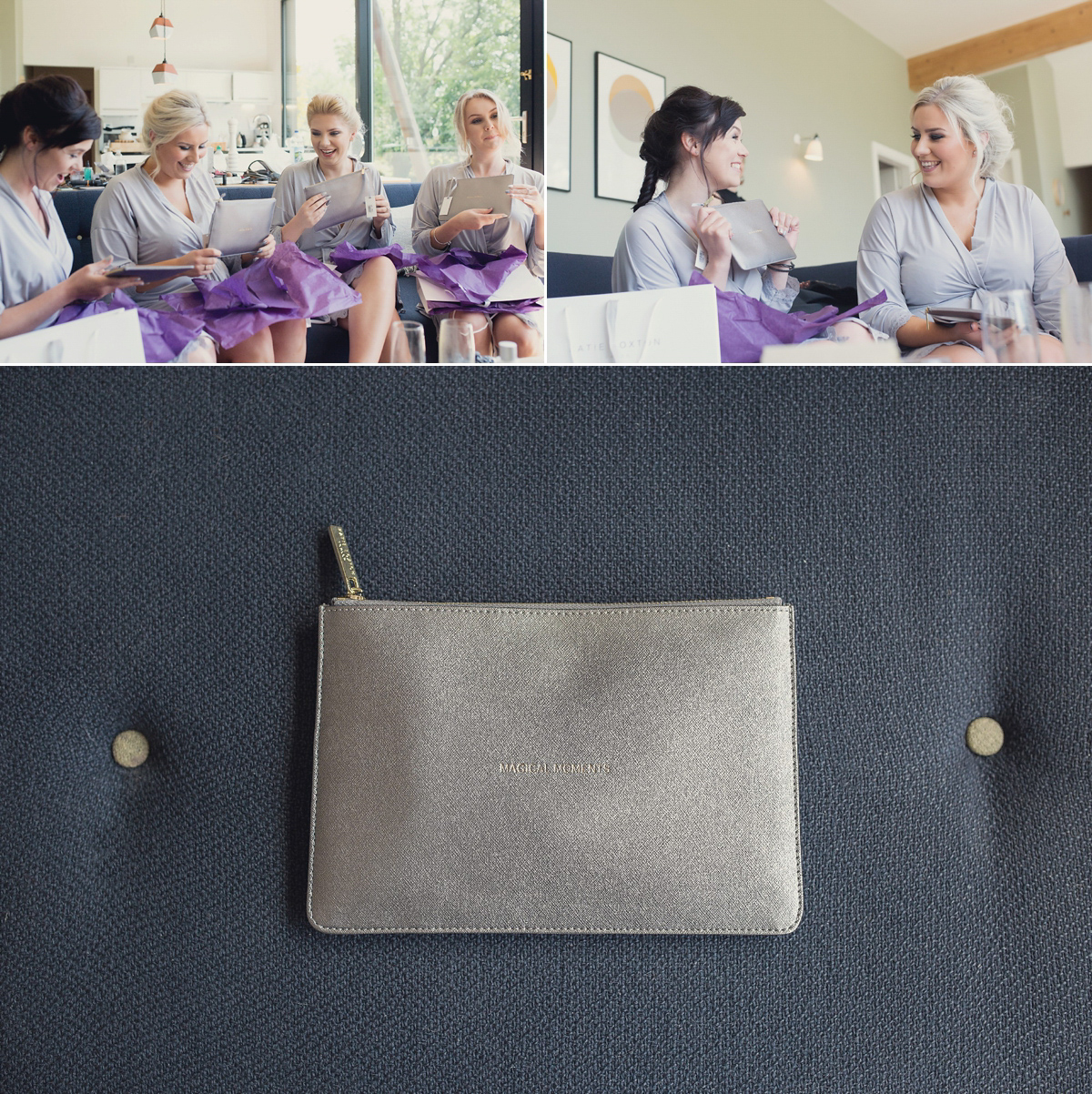 "On the morning of the wedding we had both left each other gifts. Marcus had bought me a stunning pair of Christian Louboutins with some polaroids of us throughout the years and a little card."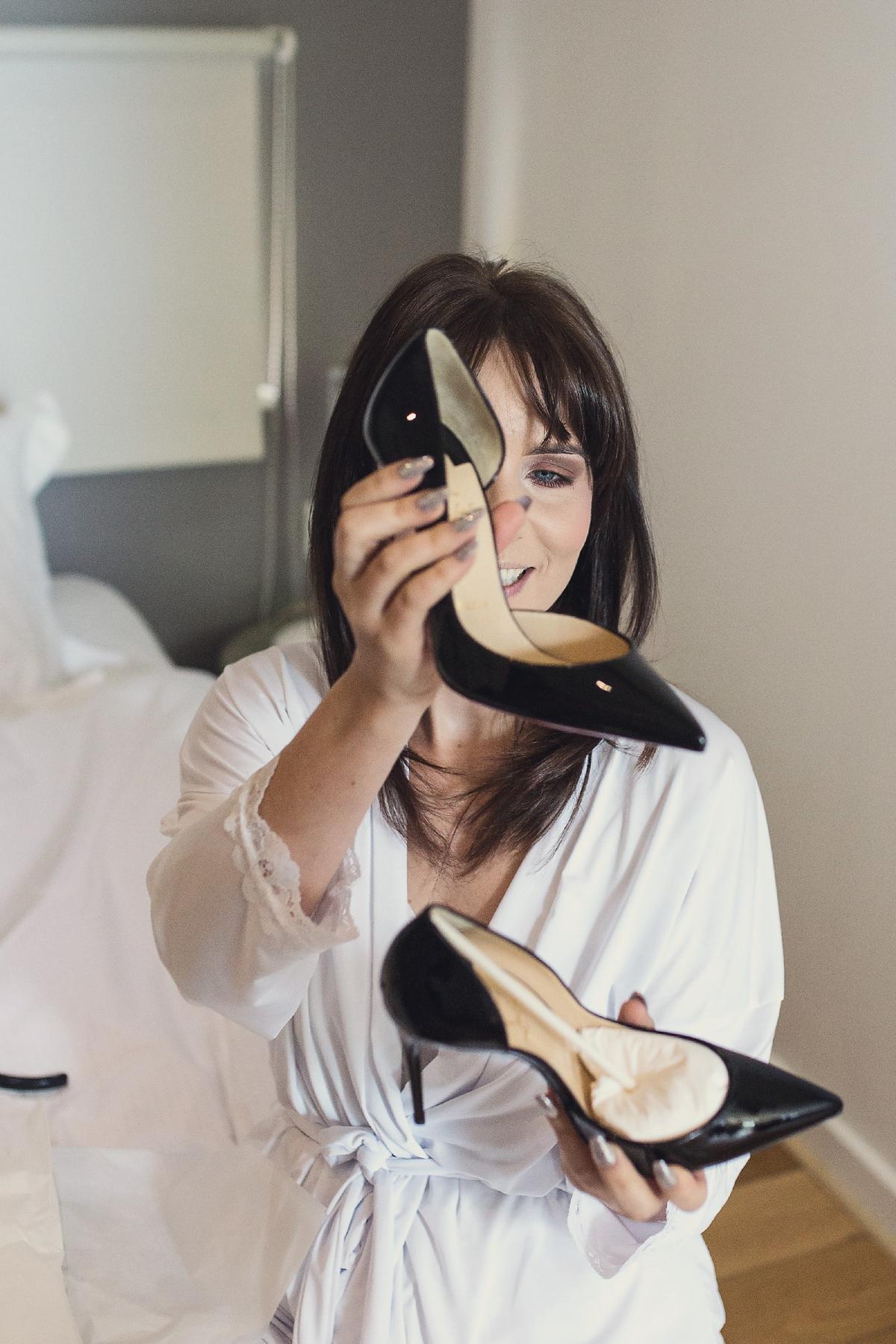 "I had sneakily met up with our photographer Lissa and done a pre wedding boudoir shoot which I had then made into a photo book complete with a handwritten letter to him at the front of the book. It was really lovely to have these as it set the tone for a beautiful day."
"Becca Hunton, who I discovered through Love My Dress, did all of our hair (myself, Marcus, all four bridesmaids and my mum) she was absolutely wonderful and got through us all so quick. I opted for a 'messy bun' which is how I wear my hair quite a lot of the time but I still want to feel and look like me and the venue was so rural and natural that I wanted my hair to feel a bit wild and messy. The bridesmaids all had loose braids which looked beautiful."
"My sister is a beautician so she did my make-up on the day, it felt really special to have her do it for me. One of my other bridesmaids was also a make-up artist so she did her own make-up and the other two bridesmaid's were done by April C Make-Up who is a good friend and was a guest at the wedding."
"I wore a comb of fresh flowers in my hair that my florist Manor Garden made for me. I bought my veil at the same time as my dress from The Harrogate Wedding Lounge."
"We wore Emporio Armani She and Marcus wore Emporio Armani He. We chose these because they were the scents we bought in the airport on our first ever holiday together and the invoked lots of nice memories."
"The only jewellery I wore on the day was a pair of earrings as I really wanted the dress to do all the talking. I borrowed a pair of pearl earrings from my Auntie as my 'something old' and 'something borrowed', they matched really well with the belt of my skirt."
"Our florist was Clarey Wrightson from Manor Garden and she was absolutely amazing. As our ceremony was outdoors and we were spending the whole weekend in a beautiful rural setting, we wanted our flowers to feel quite wild and natural. I knew I wanted lots of greens and big beautiful flowers in plums and pinks with a pop of coral."
"We didn't want anything too traditional or structured and Clarey really did a fantastic job of bringing our ideas to life and creating the most beautiful blooms that were so much better than we ever could have imagined."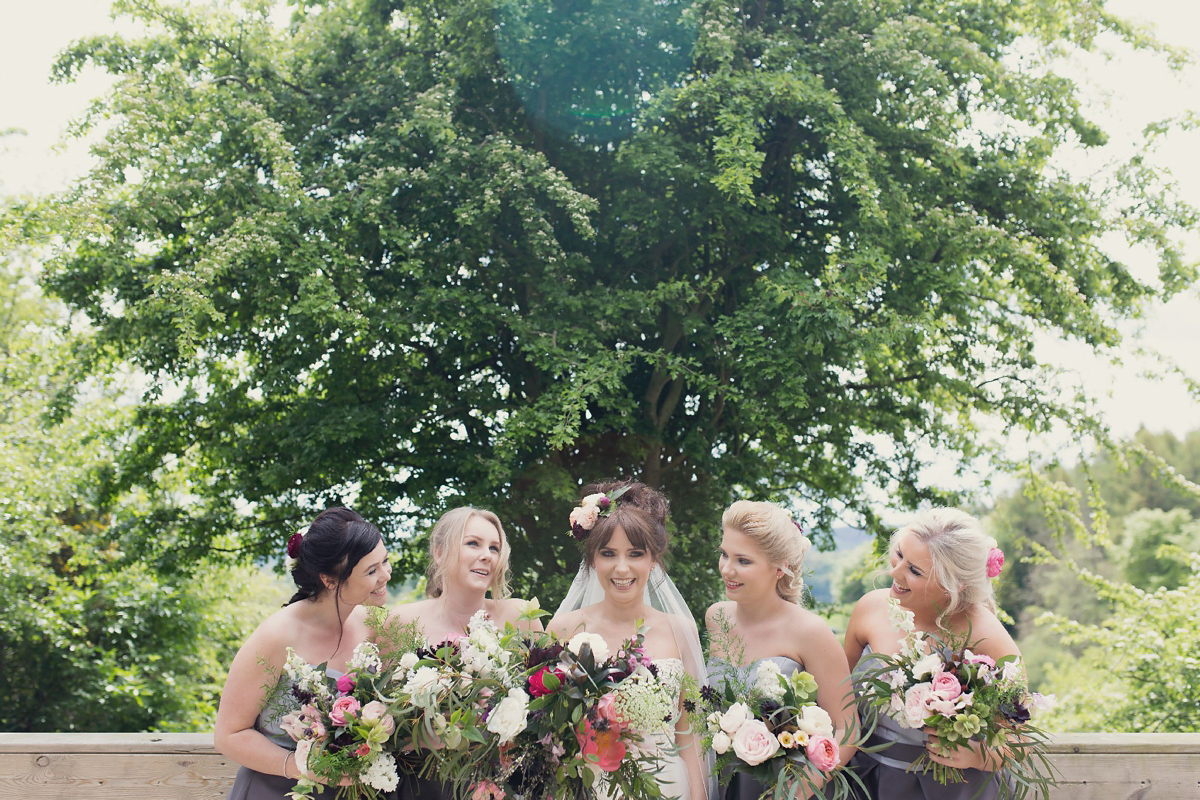 "Marcus bought all his Groomsmen and dads really thoughtful gifts. They each got a tie pin of a different animal. He researched the spiritual meanings of each animal and which one of the men each animal most related to. He then wrote them really nice cards explaining why he had chosen that particular animal for them. They were by a company called Wild Life Designs from Not on The Highstreet. They also got pocket squares from Trend Him and they wore shoes from Topman
"Marcus and I met at work, and although it was clear there was a spark quite early on. We were really good friends for around 18 months before we finally got together in September 2012."
"Marcus is quite the romantic and put a lot of thought and planning into our engagement. For Christmas in 2014 he bought my a glass box that said 'Memories' on it . We hung it on the wall and every time something good happened throughout the year we would write it on a note with the date and put it into the box. The following September, for our three year anniversary we planned a trip to Venice. When we arrived Marcus had upgraded us to a suite overlooking the Grand Canal and there was Prosecco and chocolates waiting for us in the room."
"He set up the Go Pro and said he thought it would be nice for us to go through all the memories we had put in the box so far, he had brought them all the way to Venice. We looked through them all and then the very last piece of paper that I opened said 'Got engaged in Venice 20.9.15' and then he got down on one knee."
"I was so surprised I was checking the date on the paper to be sure he was proposing today, but when he got the ring out I was pretty sure I had it right! We were engaged for 20 months as we really wanted time to save and enjoy the whole planning process."
"We started our search quite wide and were considering venues all over the county but with so many amazing places to choose from we decided to narrow our search down and concentrated purely on Yorkshire, it's where we are both from and we just love the scenery. We also wanted a venue that could accommodate all of our guests for the whole weekend.
We had a few venues narrowed down but when we pulled up at Natural Retreats and saw the view from the top of the hill and the lodges where all our guests would be staying, we were sold, we cancelled all our other appointments and didn't see any other venue. We loved the natural, raw vibe and it was a blank canvas so we would be able to really make it feel like us."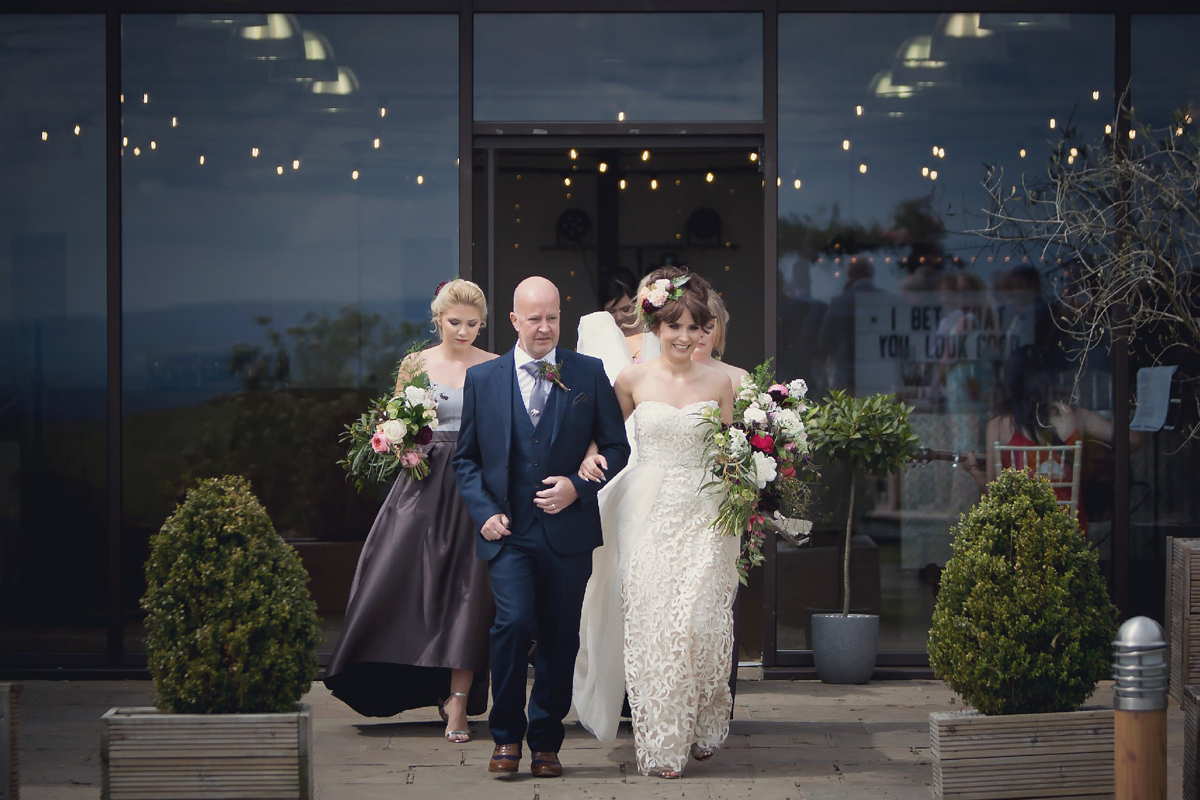 "My dad walked me down the aisle, he had a heart attack six weeks before the wedding so I felt very blessed to have him by my side. We had a singer during the day and she sang me down the aisle to an acoustic version of 'I won't give up' by Jason Mraz."
"We used a jewellers in Manchester called Christopher James. My engagement ring was a bespoke design that Marcus worked with the jewellers to create. He had such a good experience with them, that it wasn't even a question that we would go back there for our wedding bands."
"We had a platform built for our ceremony that overlooked the view, and meant I still had the luxury of walking down the aisle on carpet and not grass. A company called Countryside Events built this for us. They also supplied us with some festoon lighting for inside. We also bought things ourselves, such as brass lanterns, candles and light up mirrors that we hung and wrote on in lipstick."
"We knew we wanted our service to be very personal so we spent a lot of time with Grace who officiated our wedding and is a very close friend of ours, personalising the whole ceremony. We also wrote our own vows, which we hand wrote into personalised books we bought from Confetti."
"We bought a personalised ring box from notonthehighstreet.com, and Marcus went out the day before and found some moss to fill it with."
"My sister Jodie read an excerpt from The Bridge Across Forever by Richard Bach during the ceremony…"
A soulmate is someone who has locks that fit our keys, and keys to fit our locks. When we feel safe enough to open the locks, our truest selves step out and we can be completely and honestly who we are; we can be loved for who we are and not for who we're pretending to be. Each unveils the best part of the other. No matter what else goes wrong around us, with that one person we're safe in our own paradise. Our soulmate is someone who shares our deepest longings, our sense of direction. When we're two balloons, and together our direction is up, chances are we've found the right person. Our soulmate is the one who makes life come to life.
"Our very good friend Jodie also did a reading for us called 'Blessings For a Marriage', by James Dillet Freeman…"
May you need one another, but not out of weakness.
May you want one another, but not out of lack.
May you entice one another, but not compel one another.
May you embrace one another, but not encircle one another.
May you succeed in all important ways with one another,
and not fail in the little graces.
May you look for things to praise,
often say, 'I love you!
"Marcus' suit was Marc Darcy and we bought it from this really cool shop called Master Debonair. Marcus wore an arrow tie pin that I had bought him as a gift a couple of years ago. His pocket square was from Trend Him and his shoes were Barker."
"We made our own confetti pouches using real petals from Shropshire Petals."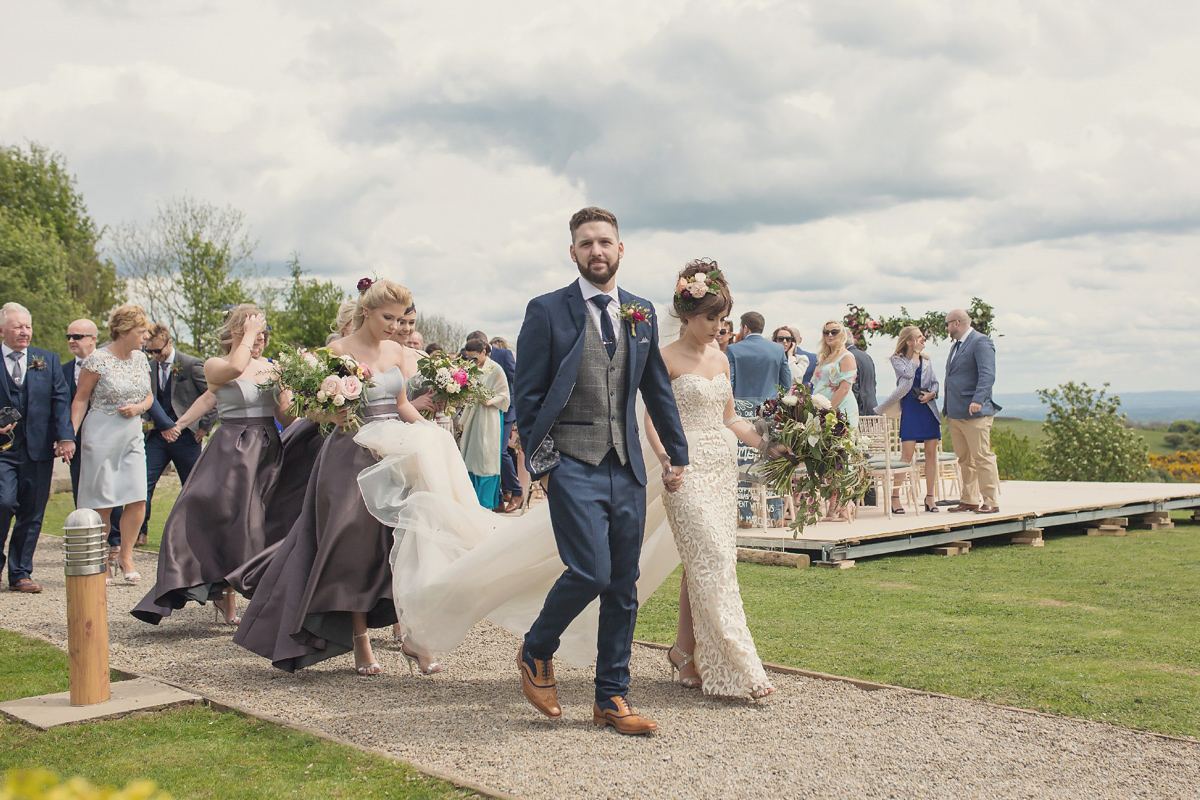 "We hired Friends for Dinner caterers, and they were absolutely fantastic. We knew we wanted a menu that would be something a little bit different for our guests and something that they would remember later and they surpassed all expectations. As all our guests were with us for the whole weekend, we also provided food on the Friday evening in the form of a food truck from DP Events, which went down really well."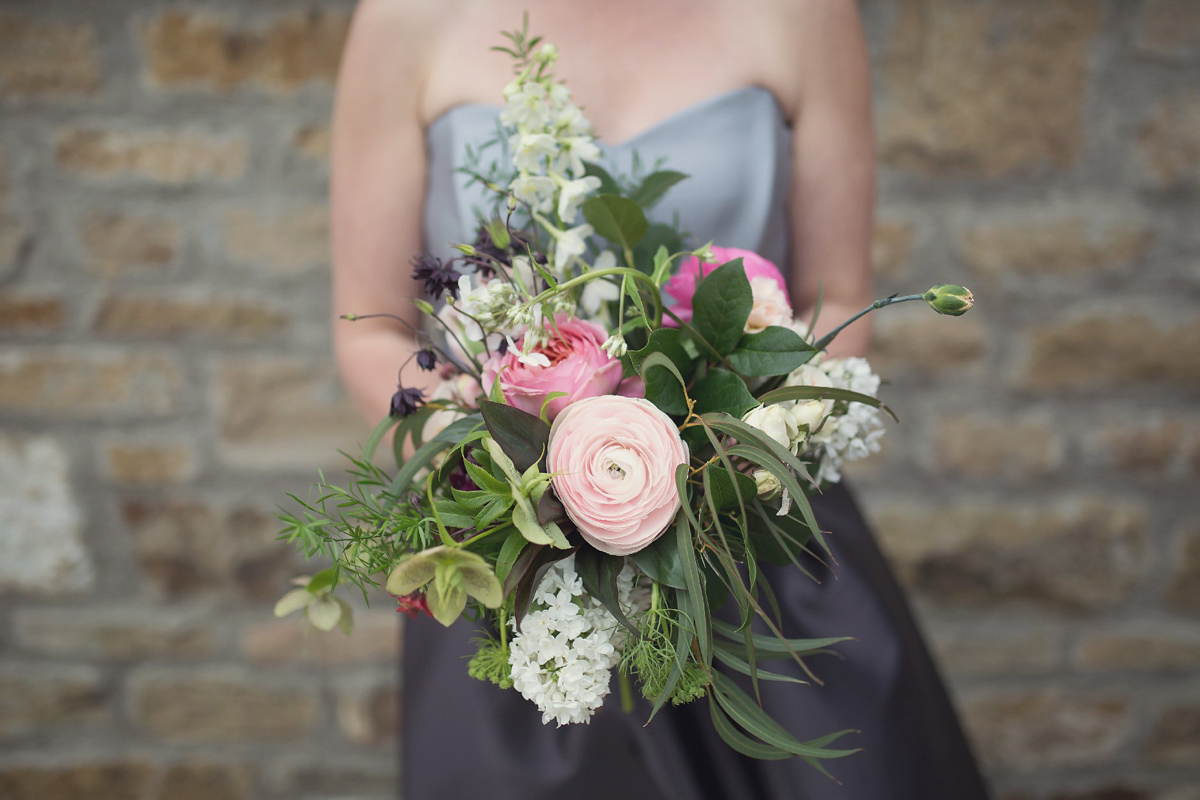 "We had some lawn games and a big canvas with balloons full of paint that people threw darts at, creating a piece of art we could hang afterwards."
"Our Photographer was Lissa Alexandra. After the venue, Lissa was the first supplier that we booked. We'd seen her work before we were even engaged and said that if we ever got married, we would book her."
"When we went to meet her we just clicked and knew we would have a really good time on the day with her. She made us feel so relaxed and comfortable in front of the camera. I feel like Lissa really managed to capture the essence of us in her shots and did an amazing job of portraying just how much of a good time we were having."
"Lisa's photo's captured us in our best light and really brought the scenery to life. Every time we look back through them it invokes so many memories as she managed to capture every single part of the day in such a beautiful way."
"Our videographer was Daniel Armitage from Shoot Me Now Films, who was recommended to us by Laura and Ross from Coco Luminaire one of our other suppliers. They showed us their wedding video and we absolutely fell in love with it. Dan captures beauty in a way no other videographer we looked at does, his films our pure magic and he was hilarious, he made us laugh all day!"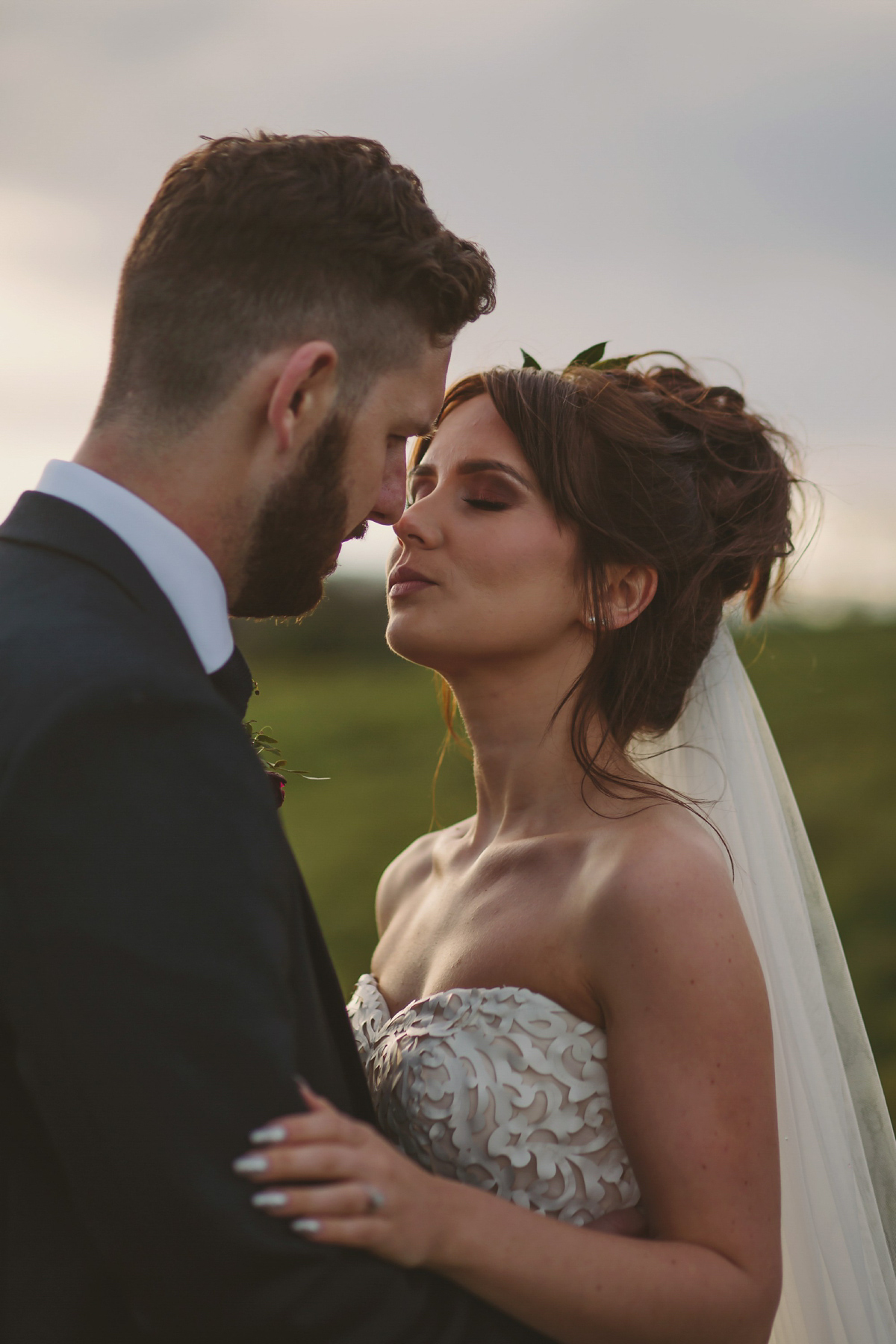 "Marcus' mum made our cake and it was the first one she has ever done! She makes the most delicious cakes ever and we wouldn't have wanted anyone else to do it. We opted for 3 tiers in Spring flavours and had a tier of lemon and poppy seed, a tier of lime and ginger and a tier of orange. Our florist added some fresh flowers to finish off the decoration."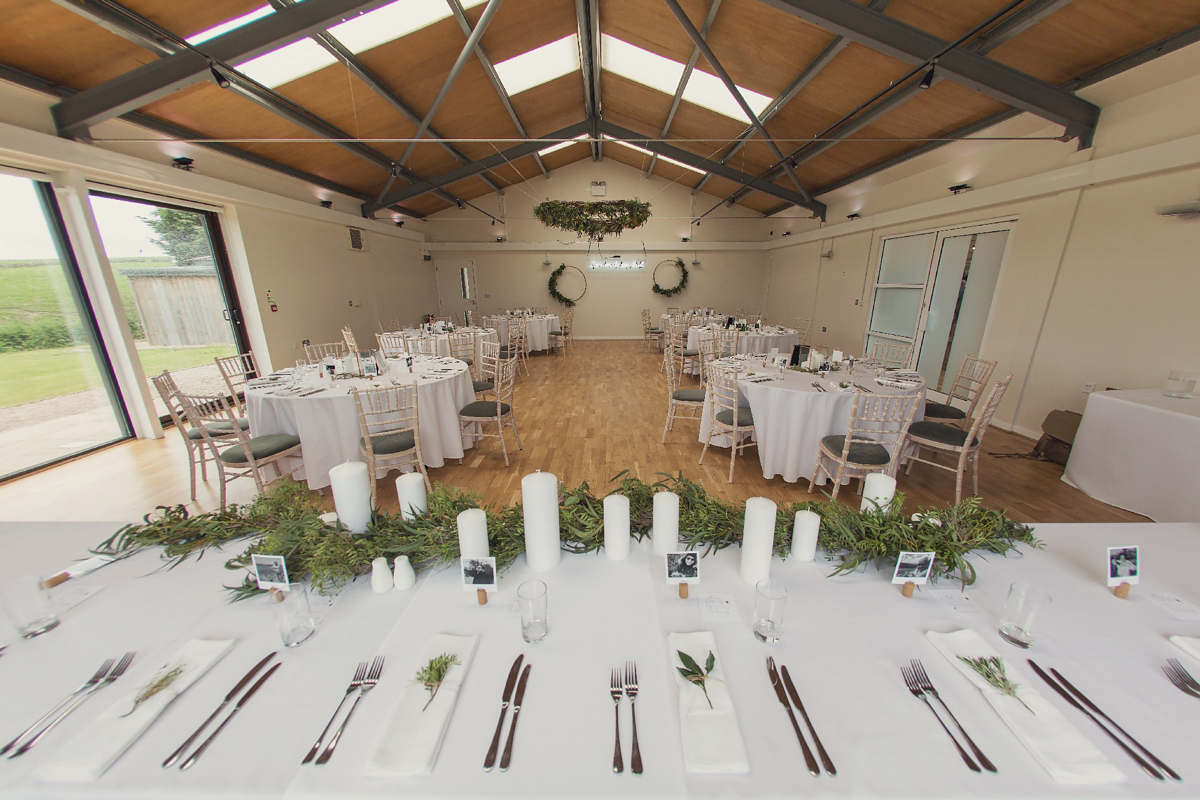 "Our favours co-insided with the place names, we made polaroids for everyone to take away with them from Cheerz. We also left Hampers in all of the lodges for the guests when they arrived, they had in a few essentials such as milk, bread etc. but then we added some surprises such as sweets, Prosecco with personalised labels on that we had designed and a wedding CD that we had made for them to play while they got ready, again we had designed the covers."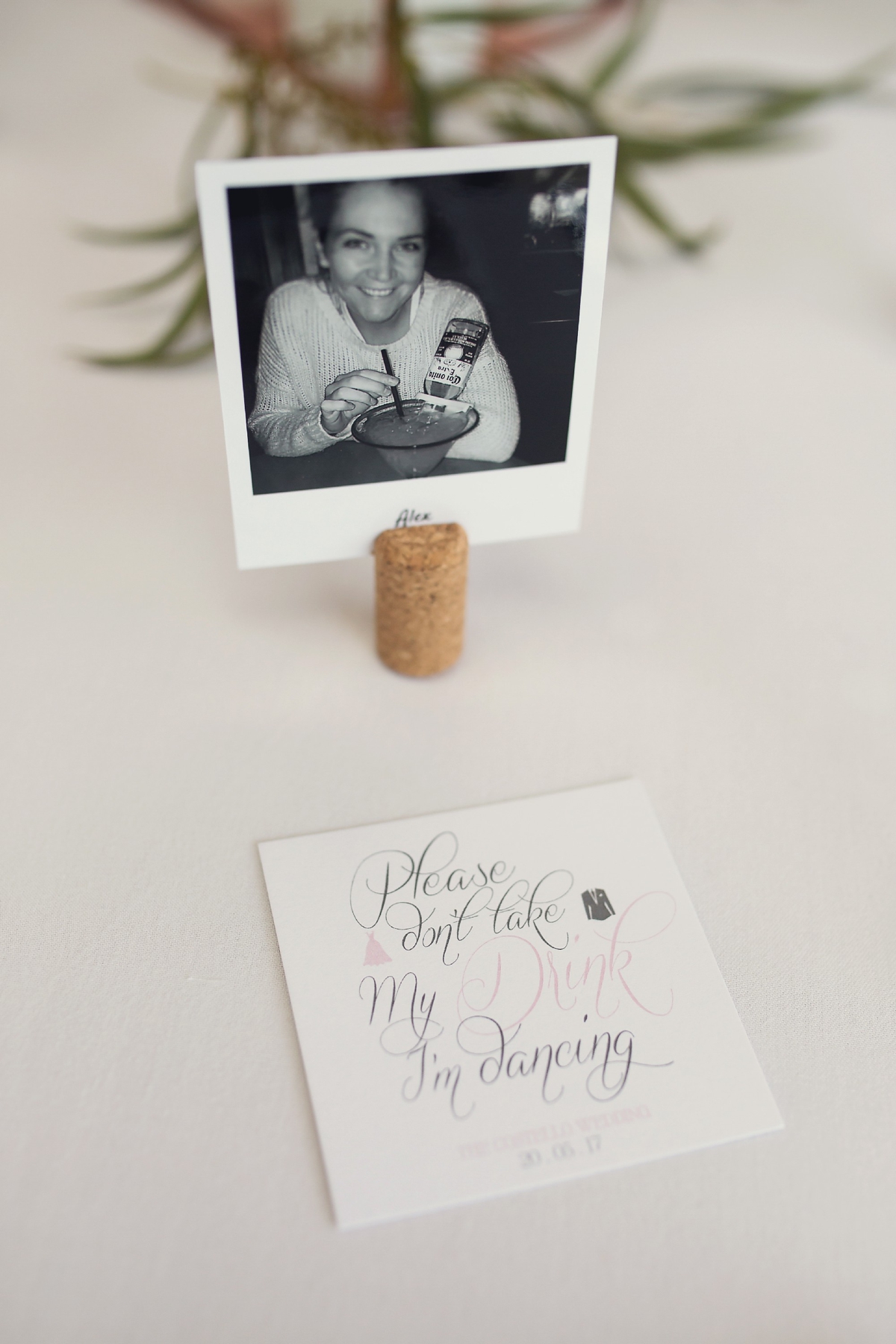 "We bought a microphone and iPad stand and set up a video guest book area, I wasn't sure how well this would turn out but we captured some absolute classic moments and have created an out-takes reel which is hilarious. We were also left some really lovely messages that will be really nice to look back on."
"We wanted the day to be fun so we designed and had printed lots of temporary tattoo's that people could put on throughout the day and into the evening. These tattoo's included our actual tattoo's that we have, as well as some wedding related ones. We made an acrylic sign that said 'Mistakes you won't regret in the morning' We had the tattoos printed at Awesome Merchandise."
"We also designed a snapchat geofilter for our guests to use for the whole weekend that said 'Eat, Drink and be Married TheCostelloWedding')"
"Our venue didn't have a built in bar so we used Yorkshire Bar Hire. They were brilliant and even joined us for some dancing at the end of the night."
"We used Coco Luminaire to light up our rooms, we hired 3 signs from them (a 'Love made me do it' neon sign, a heart with 'Becky & Marcus tied the knot 20/5/17' and a big arrow next to the dance floor saying 'I bet that you look good on the dance floor'),"
"During the day we had a singer Adelaide Taylor and for the evening entertainment we used Hi Life Entertainment."
"Our first dance was to Ed Sheeran's 'Tenerife Sea'. We listened to a lot of Ed Sheeran together when we first started seeing each other and the words to this particular song felt poignant and meaningful to us."
"We both loved every single part of the day, but I think the ceremony was particularity special and meaningful for both of us. We were so happy that the sun shined and we managed to get the outdoor ceremony we had dreamed of, it felt like the universe was smiling at us."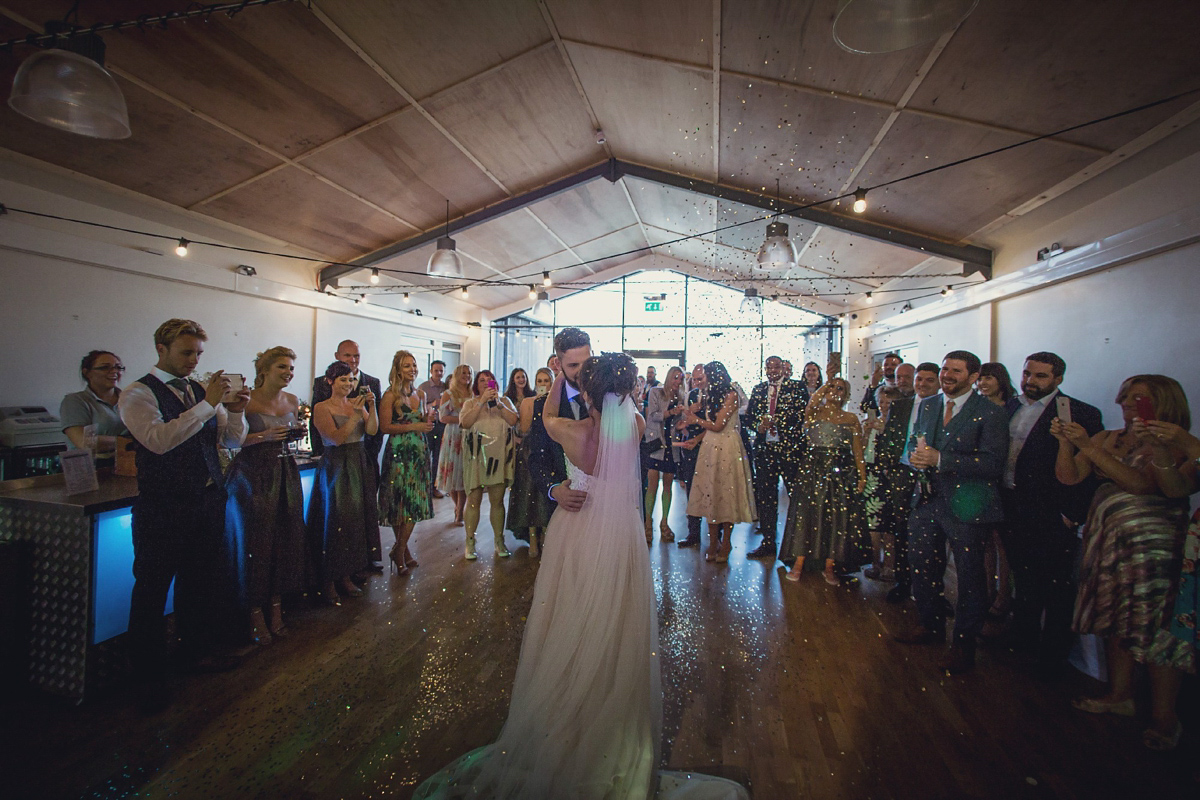 Words of Wedded Wisdom
"This is your wedding, so do it your way, the most important thing is what will make you happy, on your day.
One of the best things that we did was to keep all of the details of the wedding a secret. This meant that every single part of the weekend felt 100% authentic to us. It also meant that everyone got lots of surprises as no-one knew what to expect, except where they were arriving.
We took our time picking the best suppliers and that made things so much easier because it meant we could relax knowing everything would be taken care of."
"I followed a few other blogs on Instagram but I didn't really read any other blog as religiously as I did Love My Dress. I'm sure everyone says it but Love My Dress was truly my favourite wedding blog in our planning process. I loved seeing real weddings, not just styled shoots, I would read at least one most days, not just to get inspiration but also because they are beautiful stories. I love that every single wedding is so different and is an expression of the couple and who they are in the world."
"I think there are always details you wish you could have added but you have to stop somewhere and overall there is nothing major we would have changed. If I did it again, I would tell myself not to stress so much in the final couple of weeks because really you've done all you can do and stressing doesn't change anything.
"We did set a budget and we went over it by about, ahem, £15,000! But I can honestly say it was worth every penny and we would do it all again.
Lastly I know absolutely everyone says it, but the day really does fly by so soak every single second of it up! Don't sweat the small things, we had plenty of bits that didn't quite go according to plan, but no-one else will notice or mind. Our day was imperfectly perfect. Revel in the love and enjoy the moment."
Love and thanks to Becky and Marcus for sharing such an incredibly beautiful day. Love and thanks also to photographer Lissa Alexandra.
Sending love to you all this Sunday,
Annabel x