Hello dear readers and how was your weekend? I'm just popping in today with some news that you won't want to miss – the fabulous new wedding dress collection from St. Patrick is arriving in stores!
Oh yes indeed, this gorgeous new selection of gowns will be ready and waiting at your local St. Patrick stockist so now's the time to find out more.
We recently introduced you to the brand new Studio St. Patrick collection in this feature and oh wow, there's certainly a lot to get excited about here. Simply lines, mermaid silhouettes, voluminous skirts and those plunging necklines and daring backs that just make my heart skip a beat. There's lace, embroidery, gemstones and appliques aplenty. In short, it's heaven and you really need to see these gowns for yourself.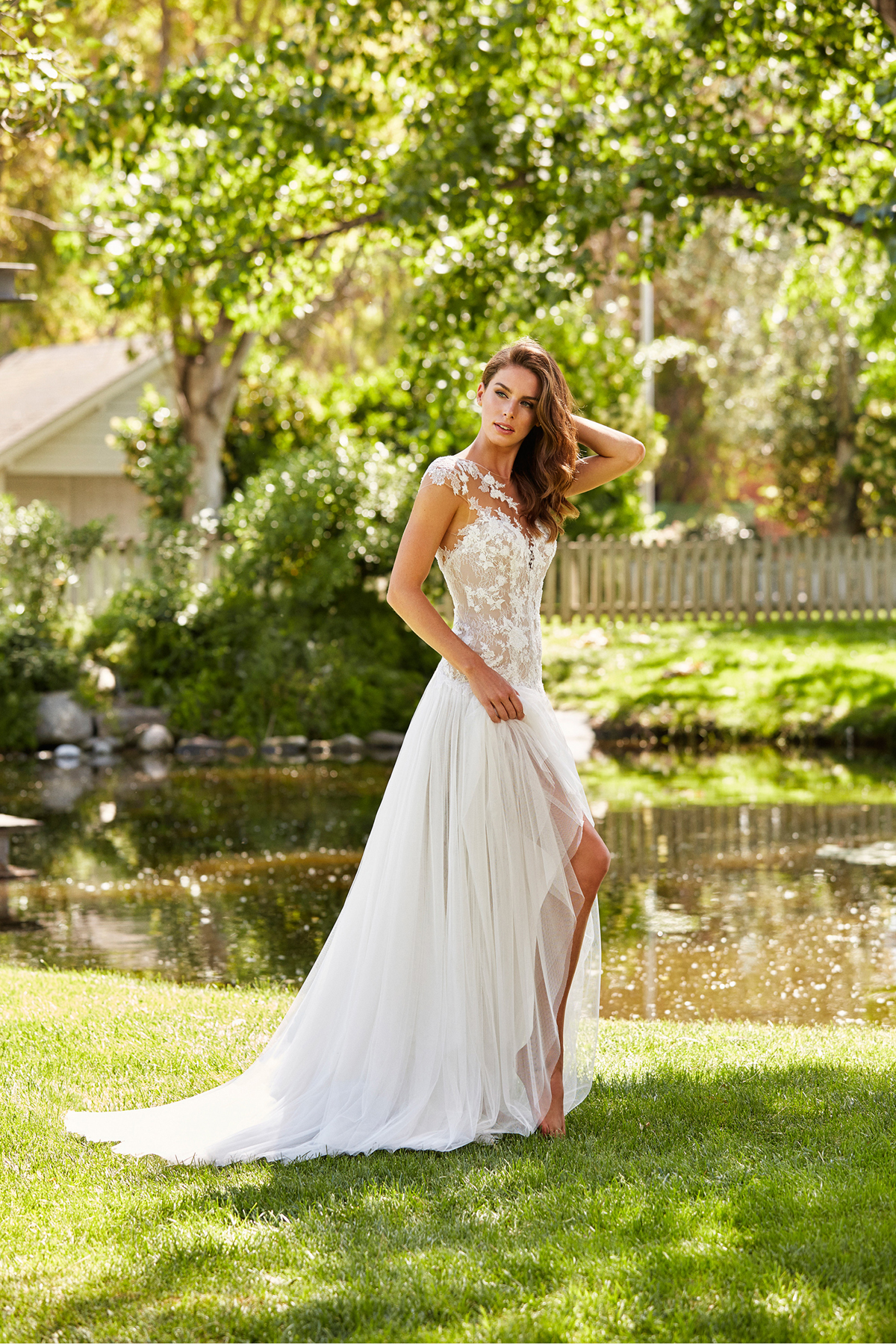 But, it's not just the Studio St. Patrick collection that's on the way. There are three more lines from St. Patrick heading to bridal boutiques. Studio St. Patrick is the premium collection whilst the St. Patrick label is the cosmopolitan collection for the brides who want to highlight their elegant and stylish side.
Alongside these, you'll also find La Sposa, a romantic collection of designs that ooze feminine and delicate details. If you're looking for a dress with a young, modern feel, you'll LOVE White One from St. Patrick. Think trendy, sexy and innovative and you're there.
One of the things that I love about all the gowns from the various St. Patrick labels is the way the dresses move. It's just gorgeous. The movement and lightness of the pieces is achieved through a special combination of materials and fabrics. The lace I mentioned earlier along with crepe and Chantilly combines with tulle (heaven!), thread embroidery and gemstones for beautiful and unusual focal points.
Lace is definitely a St. Patrick signature detail and it sets them apart from other international bridal houses. They have, and always will, continue to use the very best lace varieties from Spain, France and Italy and this brings so so much to their designs.
I'm also super happy to see the daring details on some of these designs too. Whilst St. Patrick has focused on the simple lines of the mermaid silhouette, they've contrasted this with a revival of the Princess cut with its ample volumes. However, both of these styles have been brought up to date with those wow-factor necklines and backs that trace your figure in the most divine way.
Now this might seem to be a brave choice but it makes total sense. Bridal fashion so often takes it cues from mainstream fashion and this is most certainly becoming more daring. It's great to see bridal designers pushing things a little bit. We all love choice and it's so exciting to find collections that provide perfection for the adventurous and non-traditional brides as well as those who are looking for a more quintessentially bridal look.
St. Patrick believes that a bride needs to be comfortable, beautiful and confident. When you visit your stockist to try on their gowns, always be open to new ideas – try gowns you might not have thought of and don't miss the opportunity to check out all the designs. It's the best way to be absolutely sure that what you chose is 'the one'.
And now that these new collections are arriving in stores, 'the one' might well be closer than you thought.
To find out more, do take a look at the website for all the information that you need.
Love,
Tamryn x
There are no photos with those IDs or post 681452 does not have any attached images!