Funnily enough, before I opened today's wedding file, I was looking at flights out to Oslo. I've never been to Norway but I would love to visit and the capital always looks so cool.  Today's wedding in that very capital is also just so stylish and elegant that I think I may have to make my visit a reality.
I'm certain that you're going to love today's vintage-inspired day.  Meet Karoline, who works in the department of education and Espen, who is a firefighter.  The couple married in a small castle church by the Oslo fjiord on the 23rd of September 2016.
"We wanted our wedding to reflect our taste and style, but also be far removed from our everyday casual selves.  We're not minimalists at all (our flat is proof of that) and are both drawn to the art deco and art nouveau styles.  Whenever we're on holiday we always try to find an old first class hotel that would have been at its best fifty years ago, as those places don't take any shortcuts and have soul.  We wanted our wedding to have a touch of that."
Photography by Andy Gaines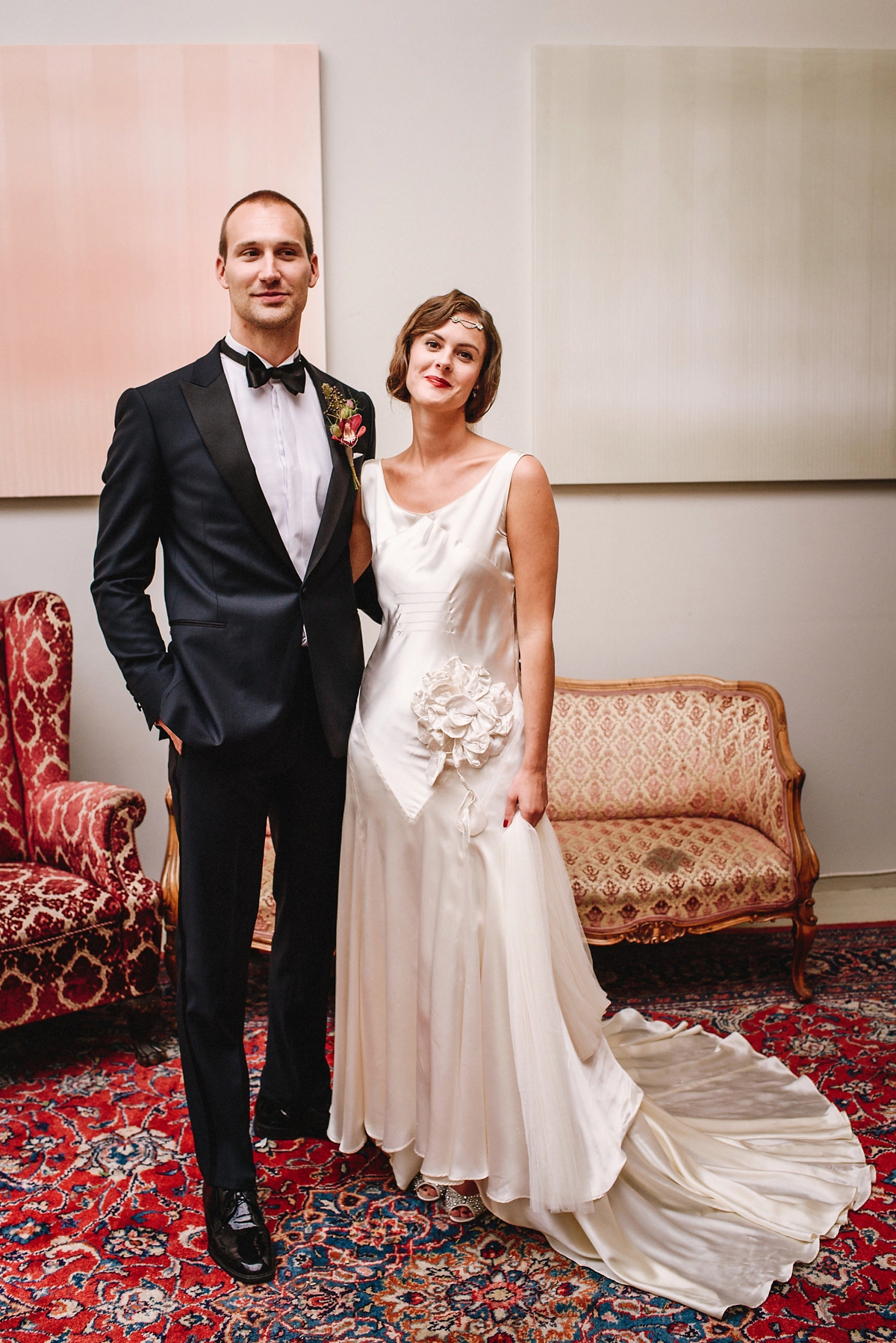 "I was alone picking my dress and the whole thing took about twenty minutes.  Once I saw it I just knew I wasn't going to find another piece like it.  It wasn't flawless by far- it was a tiny bit too small, a little too short and had some stains from wedding(s) past, but it was 'the' dress nevertheless.""It had unique details and loads of personality so I bought it there and then, completely shocked by my own decisiveness.  I took it to Oslo-based tailor Natasha Borli and she added a second layer skirt underneath the original dress which made it feel more bridal and less like a cocktail dress.  She also made some adjustments around the neckline and back and that's all it took for the dress to truly become mine."
Karoline wore a beautiful custom-made veil (also by Natasha Borli- sadly we have no contact details), as well as a vintage style head-dress purchased from Vintage Headdresses on Etsy.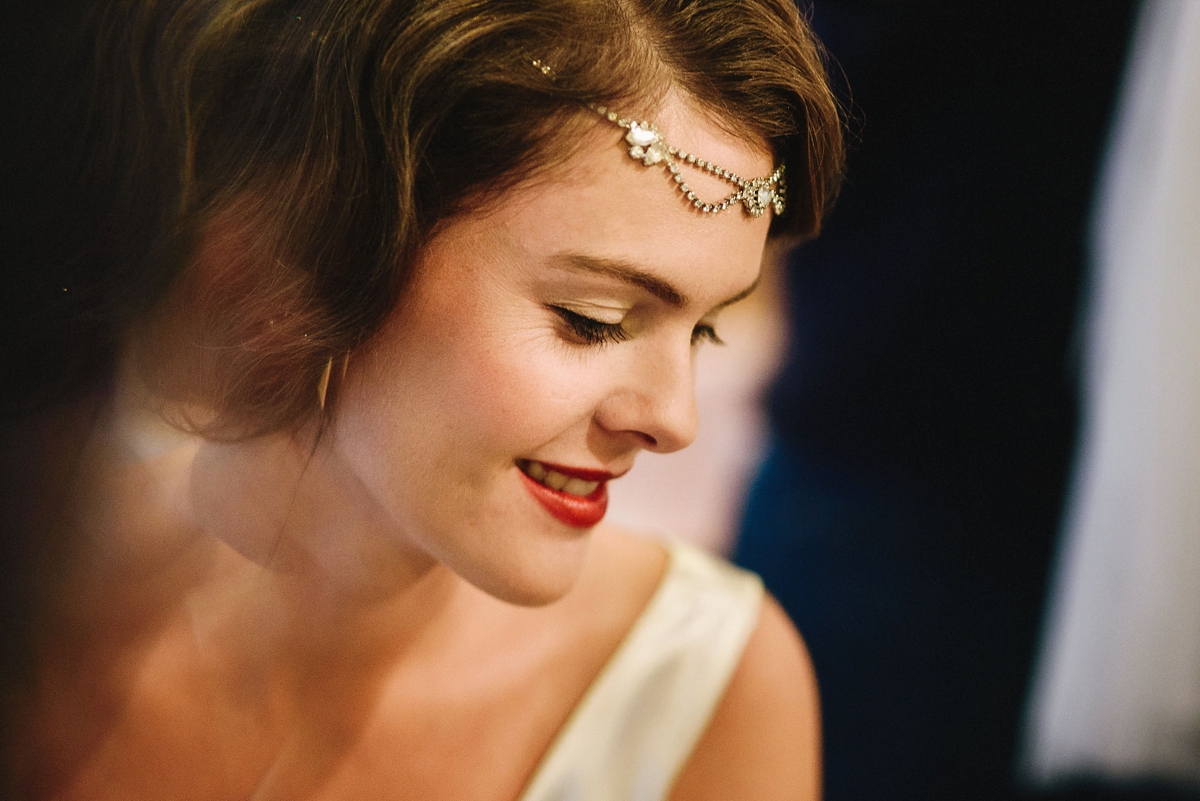 Karoline wore heels from Jenny Packham no.1, while for jewellery she opted for earrings by Norwegian designer Cecilie Melli.
"I used my regular hairdresser Jana Buchtova for hair and make up. She knows me and gets what I want and we had even practiced the look in advance.  The salon (Balanzera) is such a calm oasis and provided the perfect getting ready ambience."
Karoline wore a vintage cocktail gown which she purchased in Rome from Vintachic Roma.  It was love at first sight.
"Our photographer was Andy Gaines, a first class UK-based wedding photographer.  He also happens to be a childhood friend of one of our closest friends and once we saw his work we knew we had to have him."
Espen looked incredibly smart in black tie from The Player, Oslo, paired with vintage cufflinks which were a gift from Karoline.  His best man also looked very swish in his military gala uniform.
"We got married in a small castle church inside a fortress by the Oslo fjord. Espen had always envisioned his wedding there and I was very happy to make that vision a reality."
"The church holds a limited number of weddings as only those with a military past or present are allowed to marry there. There's a lot of history in those walls and we felt very privileged to be a part of that history, just for one day."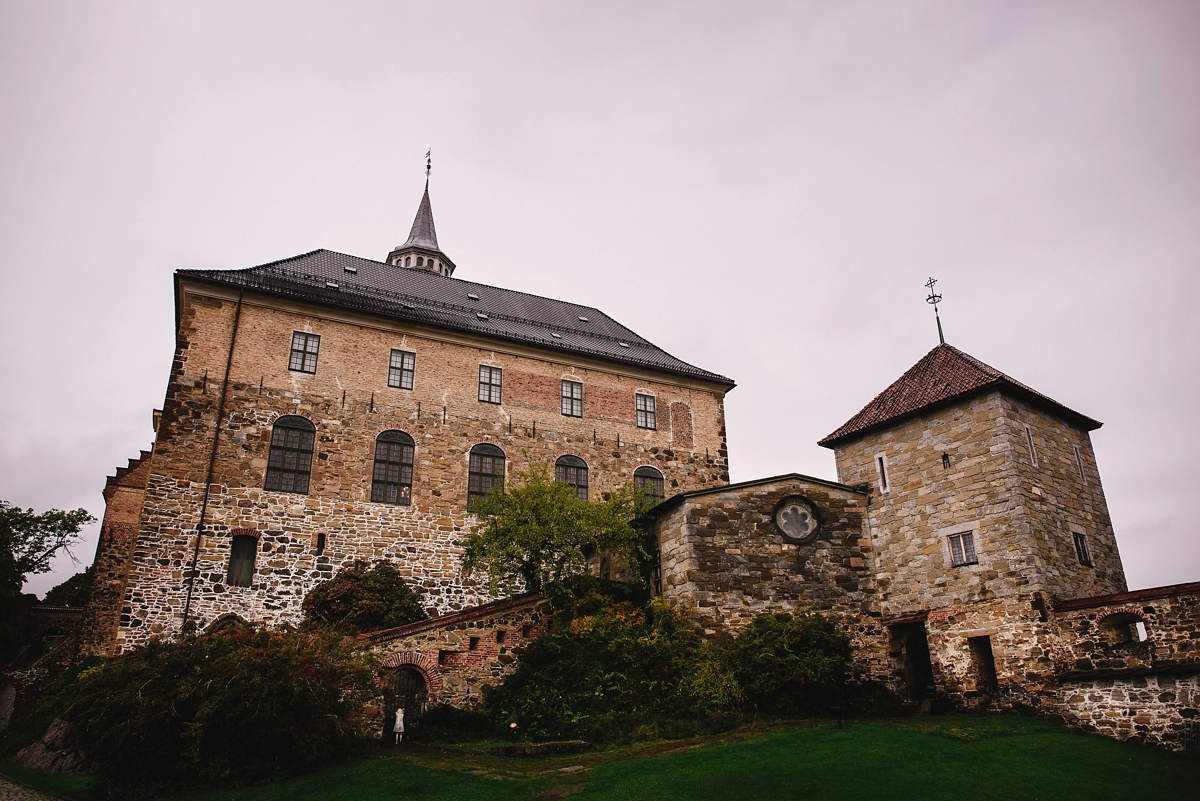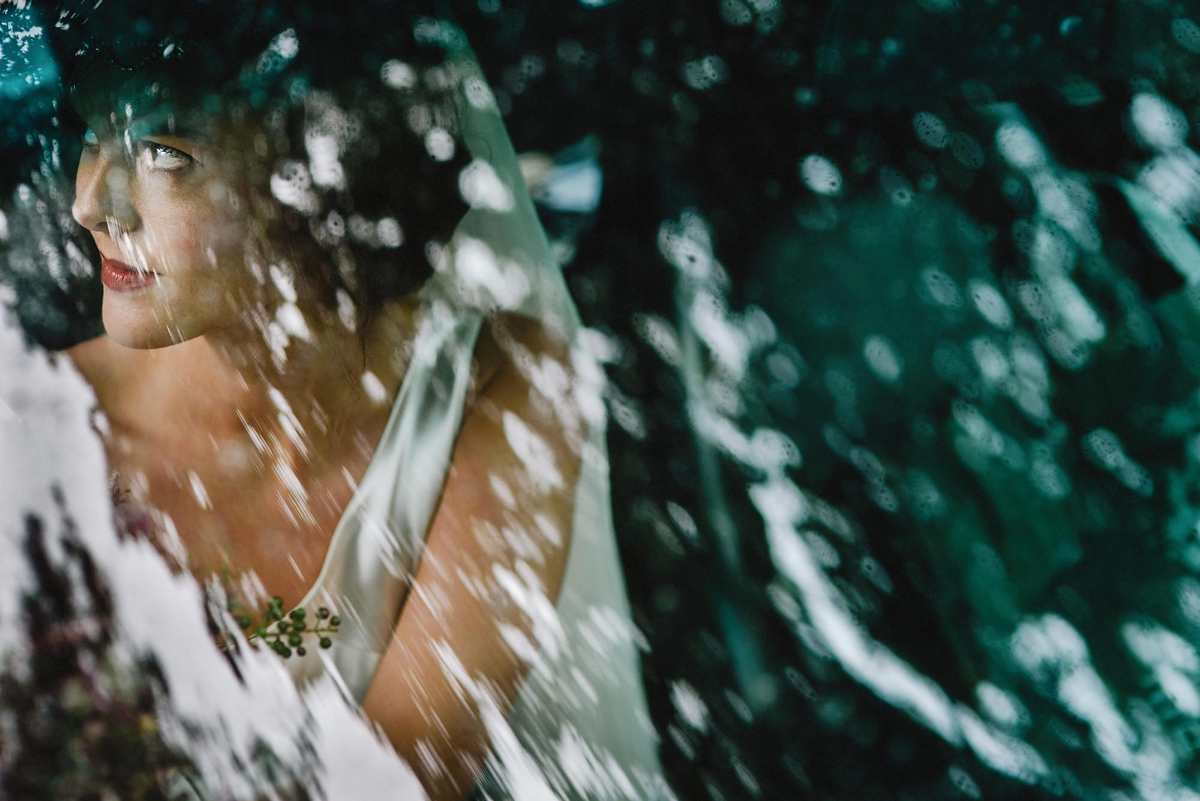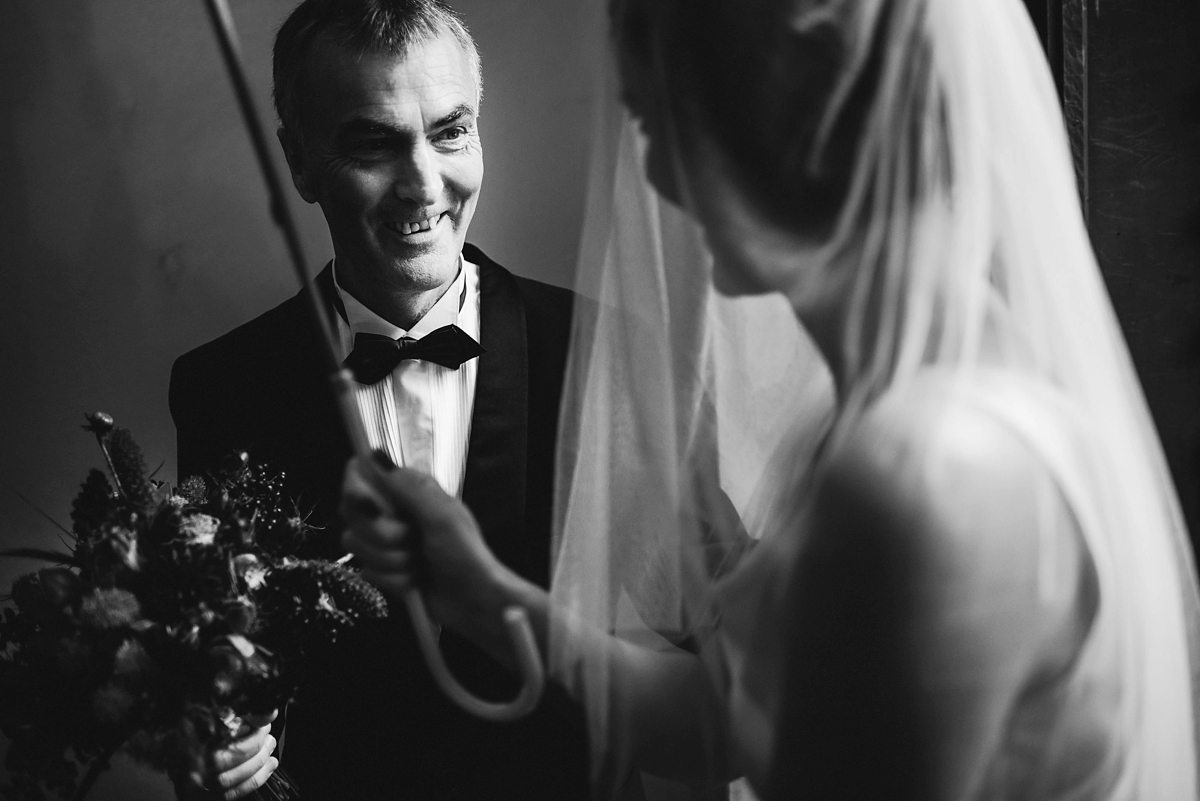 "Flowers were provided by Froken Flood with really great quality flowers and awesome ideas."
"We went for really dark burgundy, reds and sultry colours for the reception combined with palm leaves for that vintage feel."
Karoline's father accompanied her down the aisle to Wagner's Bridal Chorus (from the opera Lohengrin) played by a live pianist.
"We also hired a amazing opera singer to perform "Una furtiva lagrima" by Donazetti and Edith Piaf´s "Non, je ne regrette rien" – among our favourite moments that day."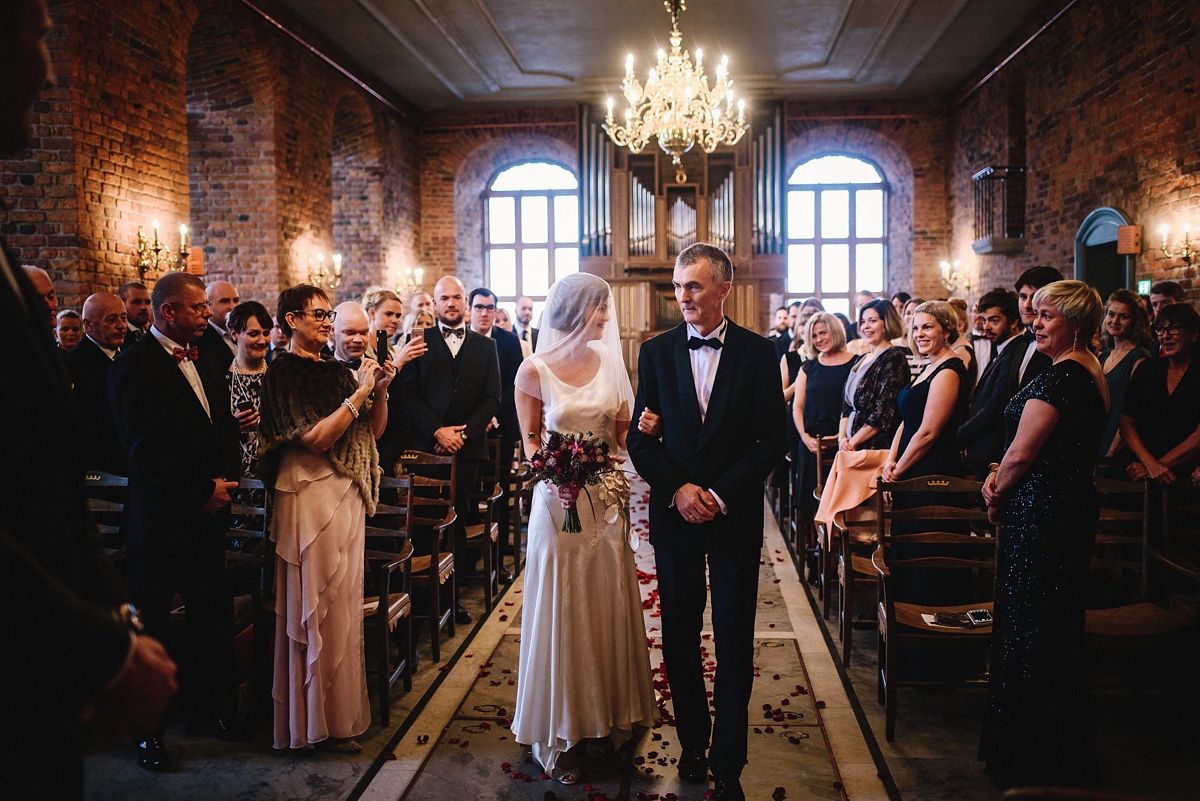 In line with Norwegian tradition there were no bridesmaids, but maid of honour Mari wore a dress from Noa Noa, which was chosen by Espen!  Mari also wore a vintage comb by Vintage Headdresses.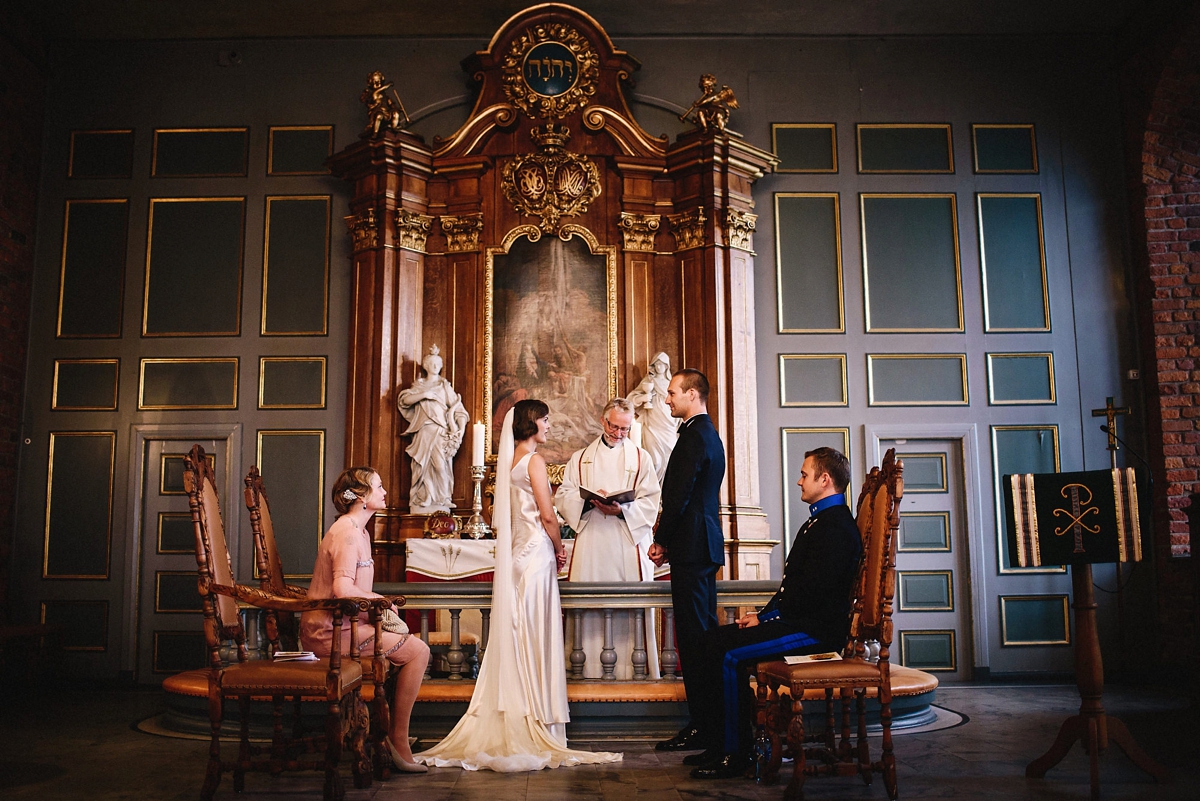 "We decided we were going to have enough on our plates and decided to stick with the ministers suggestion of the vows.  Instead we both did speeches for each other during the reception, as speeches are a big deal in Norway.  It was really important to me to give my husband the toast he deserved."
"We had some biblical readings by the minister and my cousin and my friend Grainnè read the lyrics to Leonard Cohen´s 'Dance me to the end of love' while the piano played a soft introduction – another favourite moment."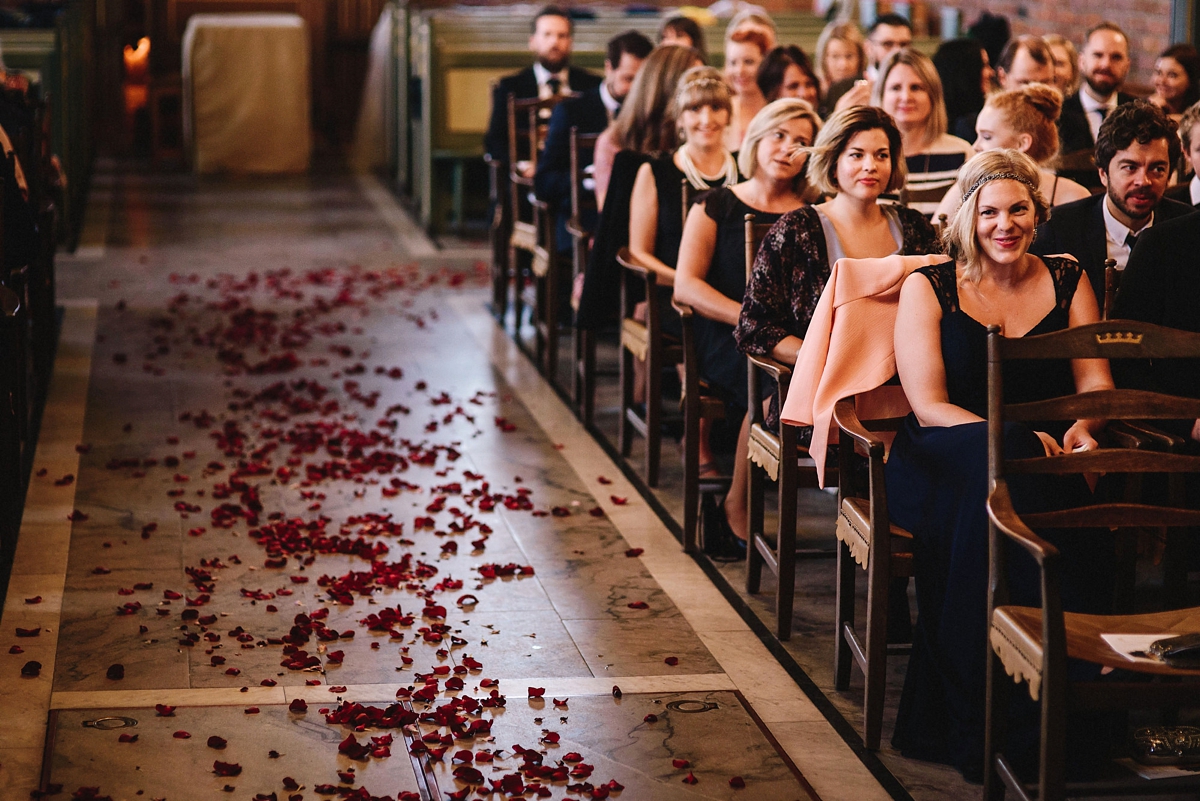 "The getting married part was hands down the best part of the day for both of us.  It was such an exhilarating and intimate moment saying YES to each other in front of our favourite people."
Both Karoline and Espen's rings were designed by Anne-Mette Høisæter of Expo Arte in Oslo.  Karoline's ring was made from gold from her late grandparents and grandmother as well as her mother- a really lovely touch.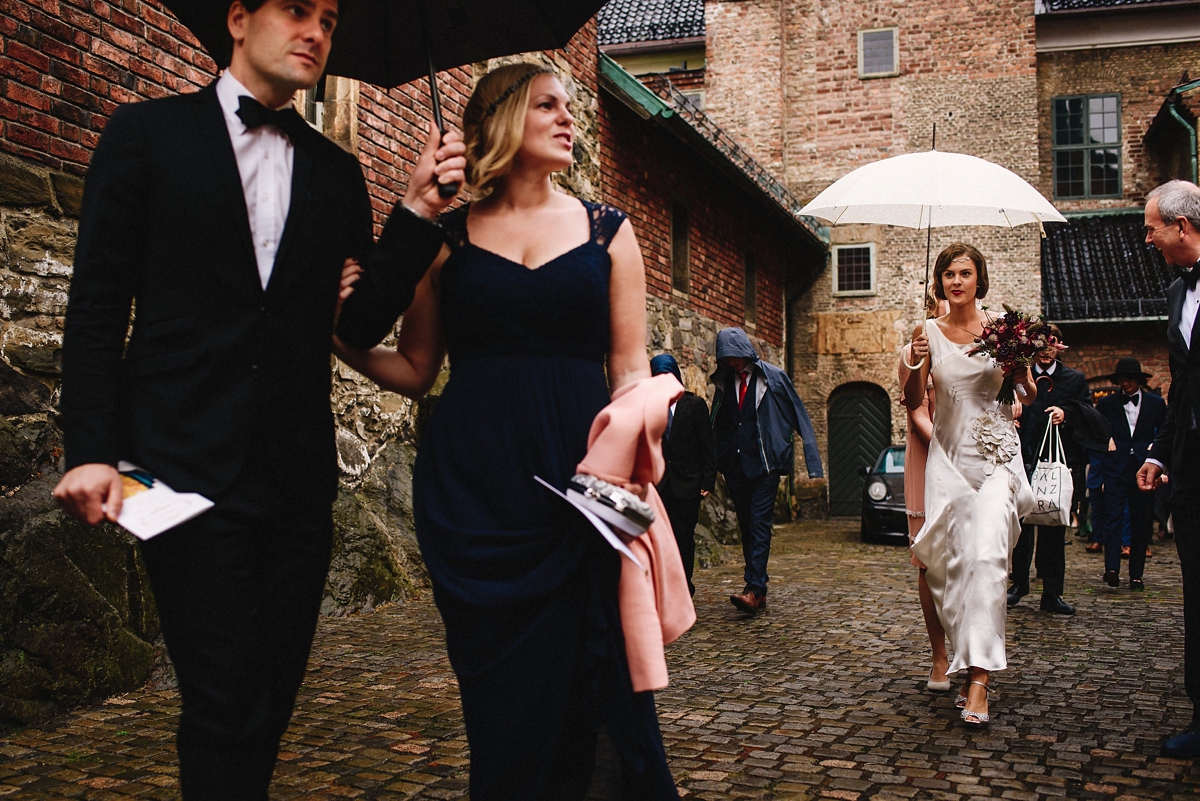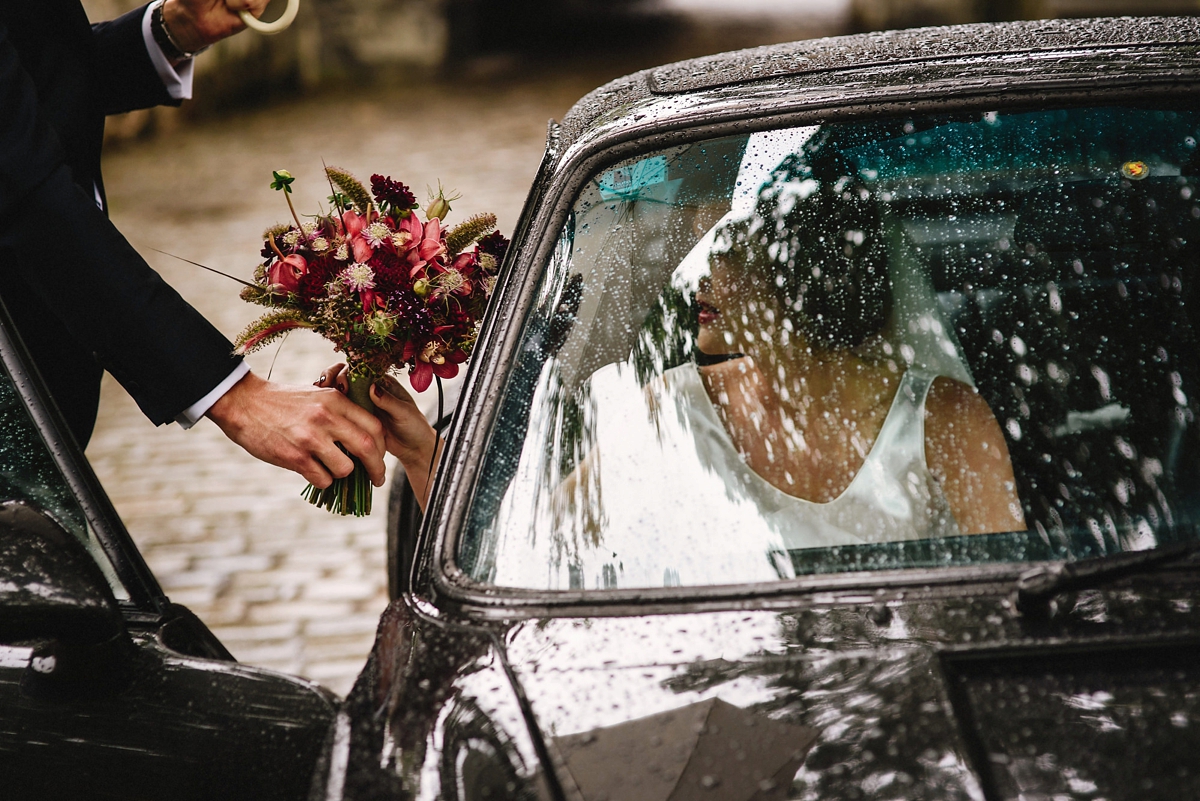 "For the reception we chose a private city apartment.  The venue had an interesting, fun atmosphere- a little rough around the edges but quite decadent at the same time."
"We fell for the owner's art collection and unique interior and we quickly realised that the venue had the vibe we wanted – atmosphere and personality was important to us.  I think it´s a better party when things aren't too 'clean'."
"We originally met at work but became more than friends when Espen left his brief teaching career to become a firefighter.  Not working together anymore made us realise that we actually wanted to spend every waking moment together and a few weeks into our relationship I moved in to Espen's tiny one bedroom apartment."
"Three years in Espen got down on one knee outside the old fortress, beneath the windows of the castle church.  Espen chose to propose there because it was the scene of our first kiss and naturally, the old fortress has become our favourite spot in our favourite city."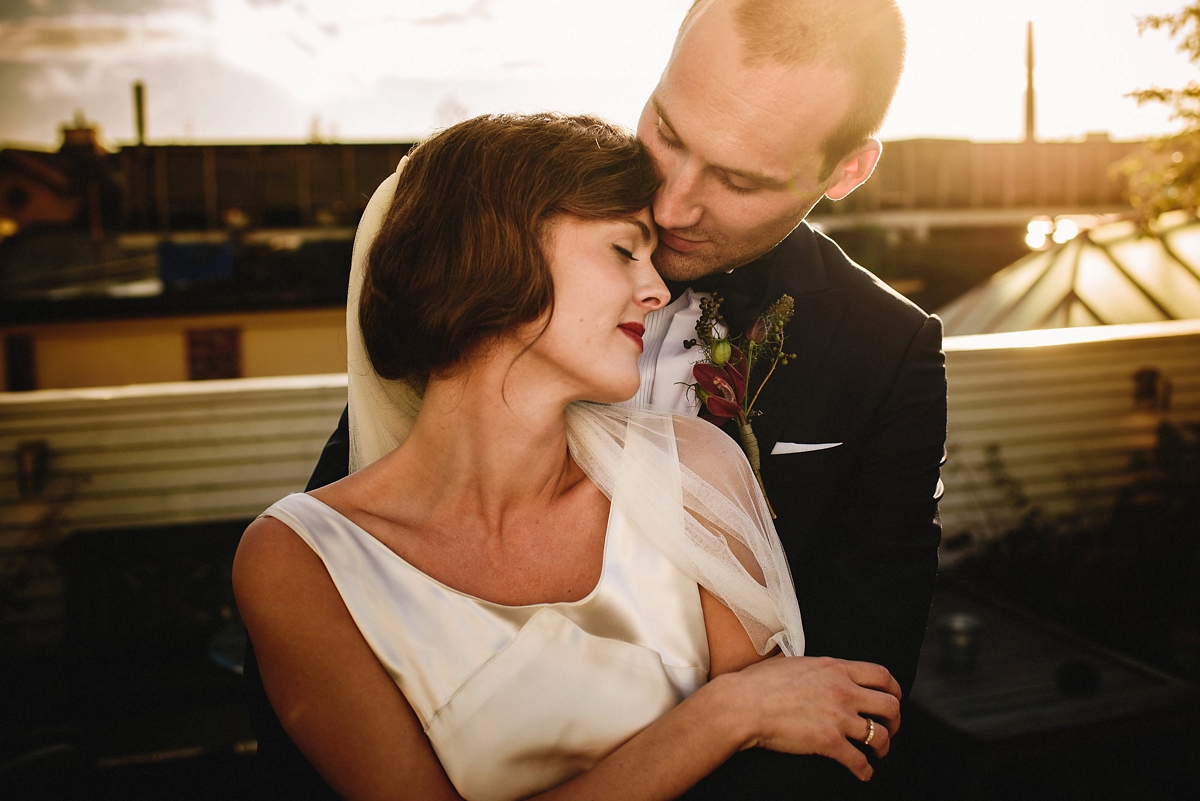 Now here's a funny and very honest story – Brides, beware!!
"Funny story, that I´m really only able to laugh at now: early on during the reception we popped out with our photographer to catch the light at the top part of roof top terrace, which was actually sealed off. Eager to get the best view possible for the photos we snuck up there anyway, oblivious to the fact that someone had used this as an area for walking their dog (who would have thought it). Consumed by the sun that finally had made an appearance we didn´t look down."
"Suddenly I realised that the bottom part of my train was smeared with dog poo. Complete panic! My maid of honour, a very resourceful woman, first tried to wipe it clean but no luck and we had no choice but to get the scissors out. There´s a great photo of the lot of them cutting the train of my lovely dress whilst I´m trying not to faint. I jugged a glass of champagne and spent the rest of the party with a part of my dress missing (luckily not a part of the original dress!).
Top tips, brides: keep your eyes on the ground, even when you think you´re safe and choose a maid of honour who can handle a crisis with decisiveness and calm!"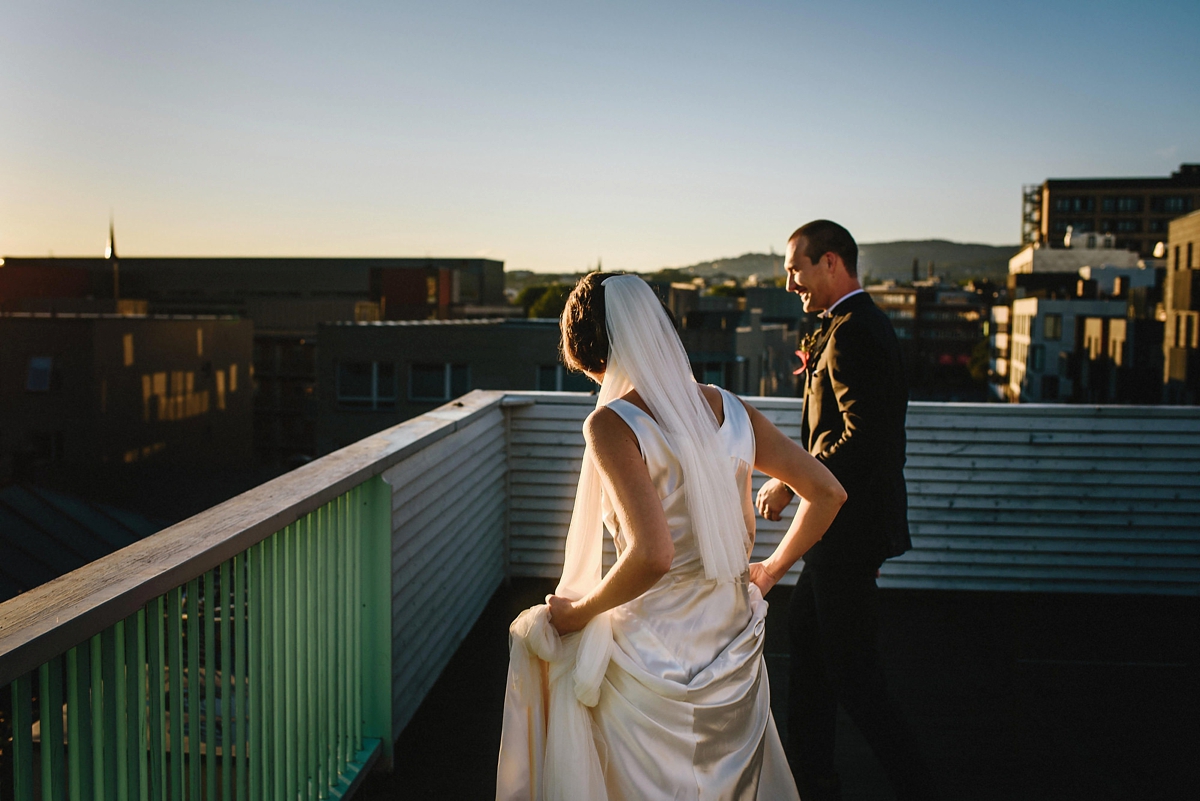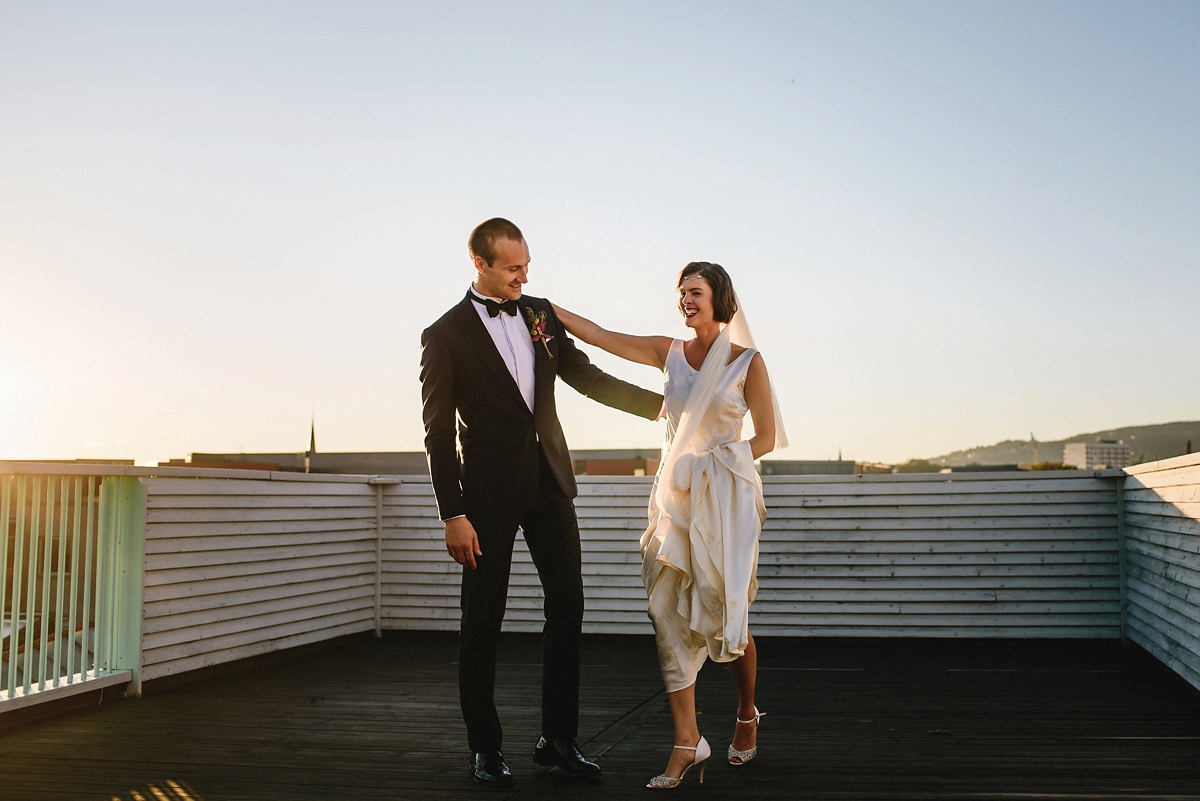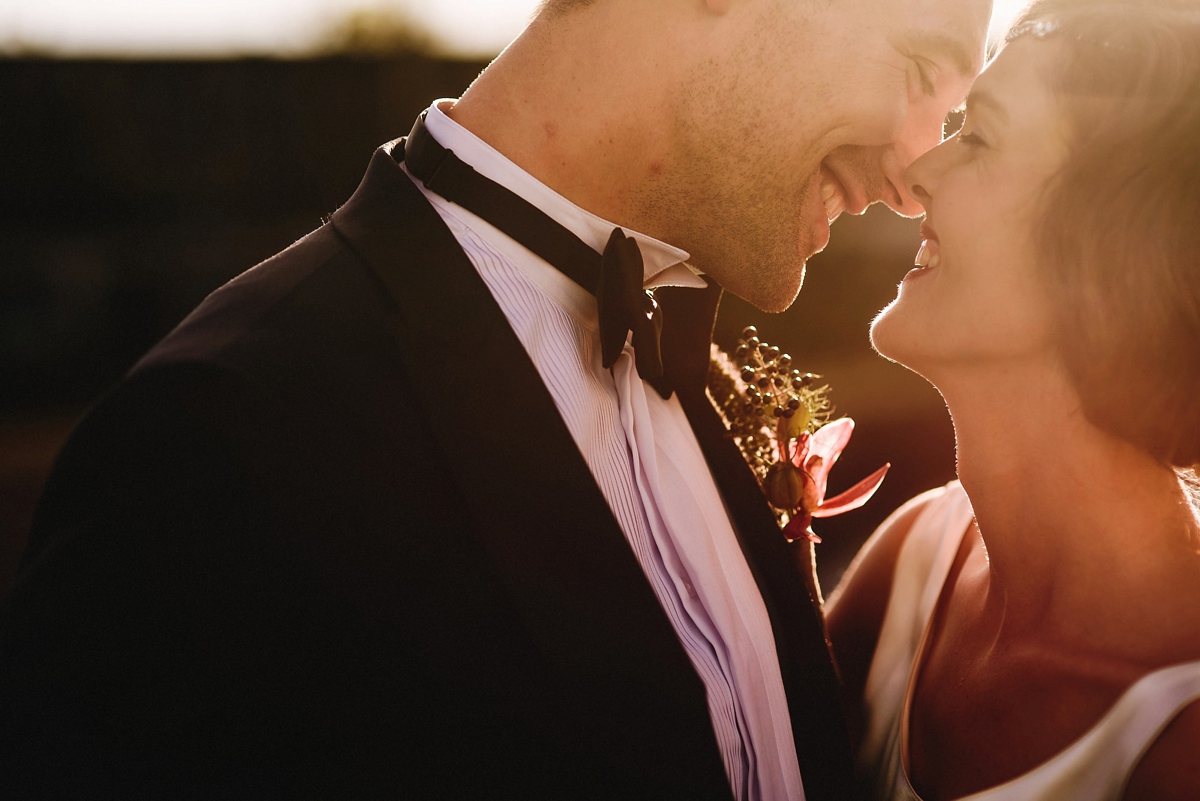 "A friend of the family lent us his awesome Porche for the day and for that we are very grateful. Espen drove from the church to venue, and we had a very welcome moment to ourselves as newlyweds."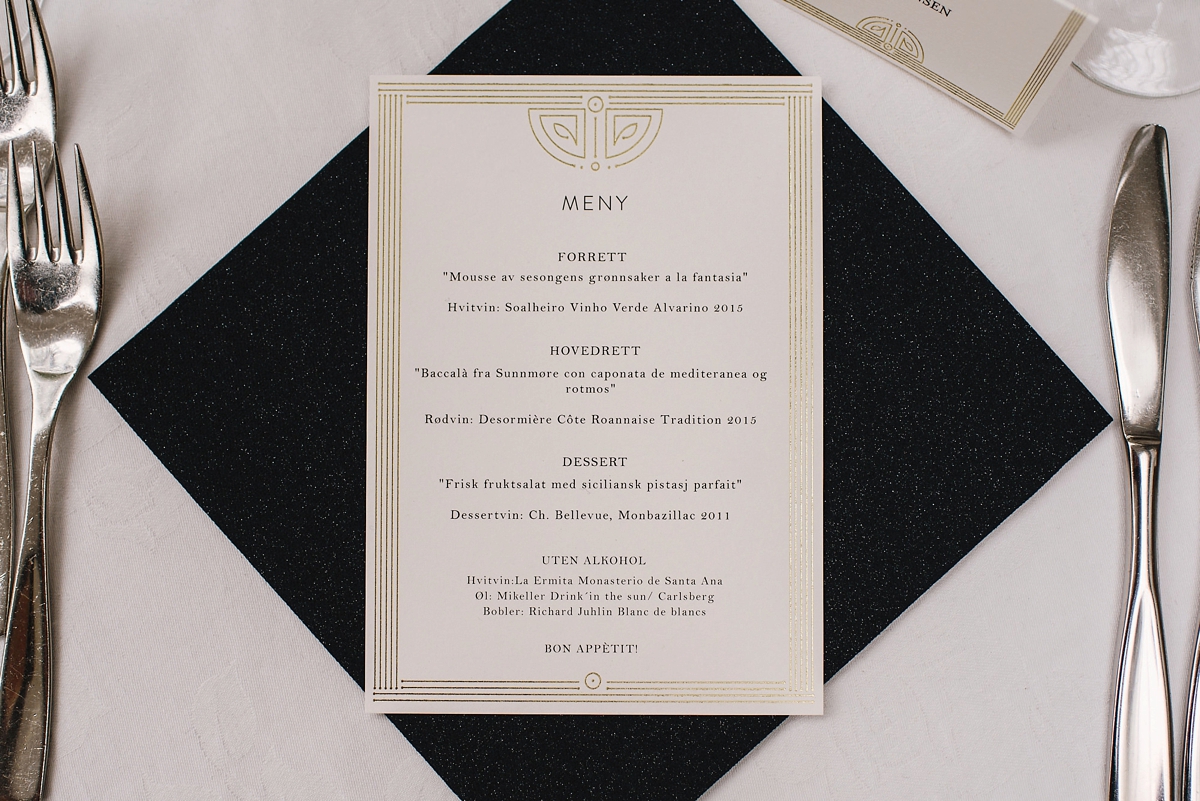 "The catering was by a friend of the family who happens to be an awesome chef.  We're both foodies and love wine and so we decided to have fun trying out menus beforehand."
"We ended up with a menu we truly loved with carefully selected ingredients provided by local businesses and fish shipped from the west coast where I'm from."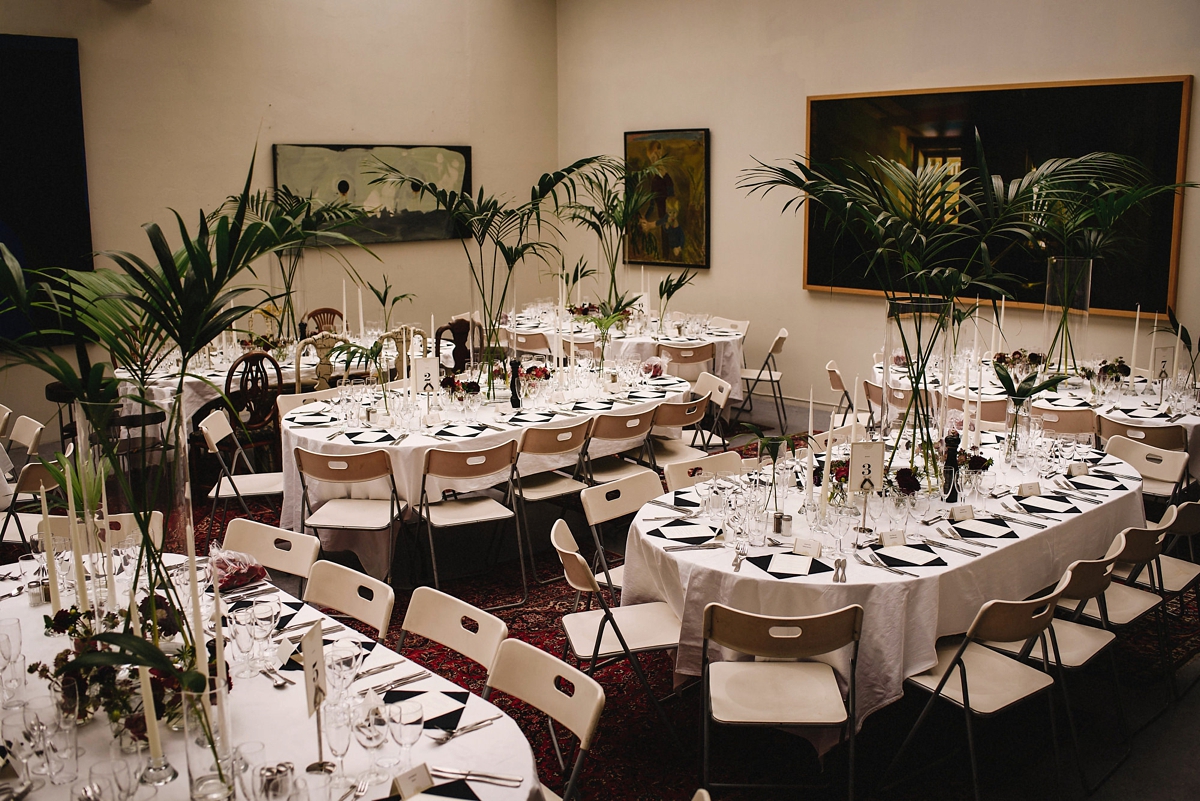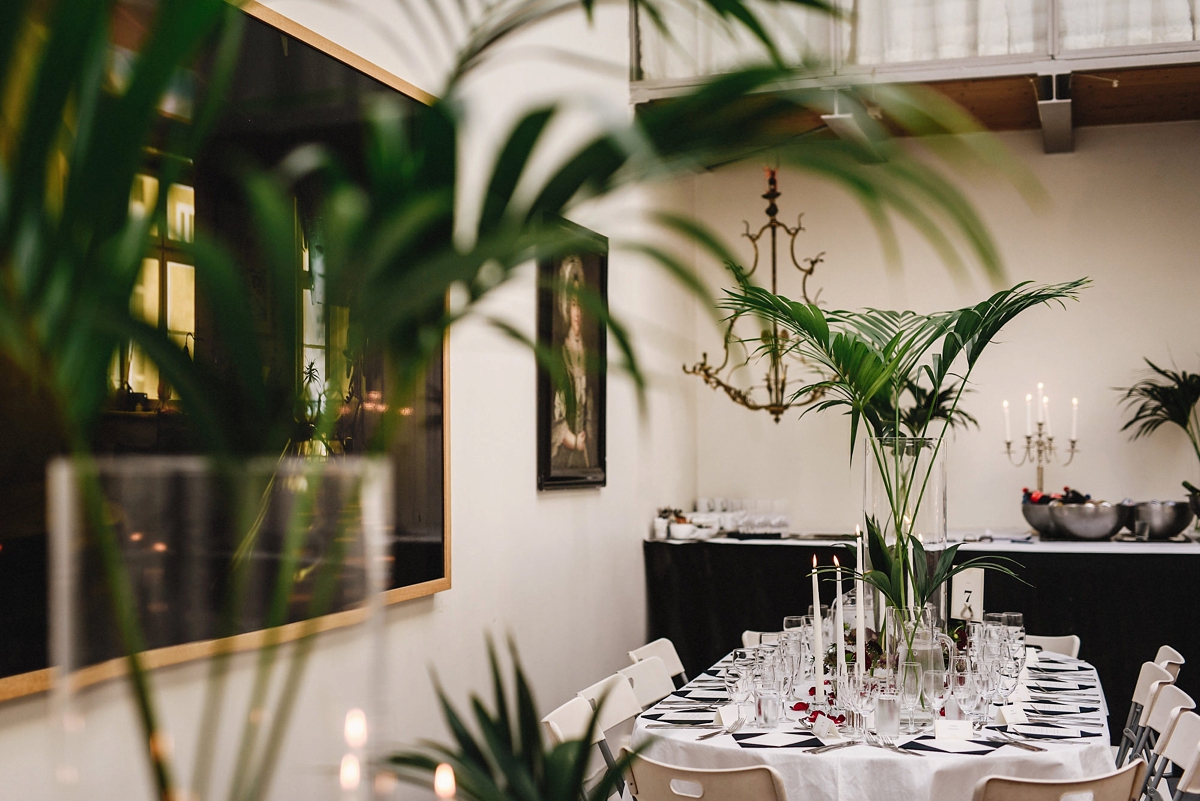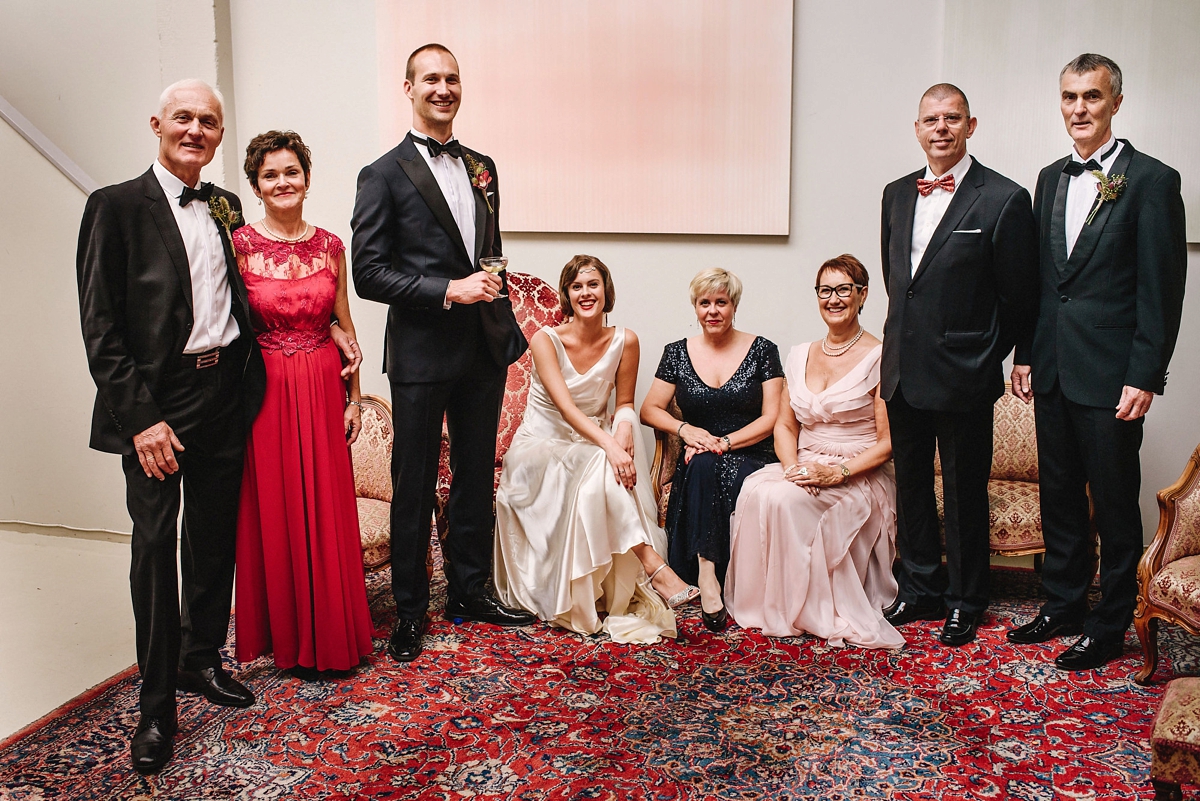 An independent Oslo-based baker called Kakebiten provided a unique chocolate cake with art-deco design and a lovely cake topper from JolieEnRoseVintage.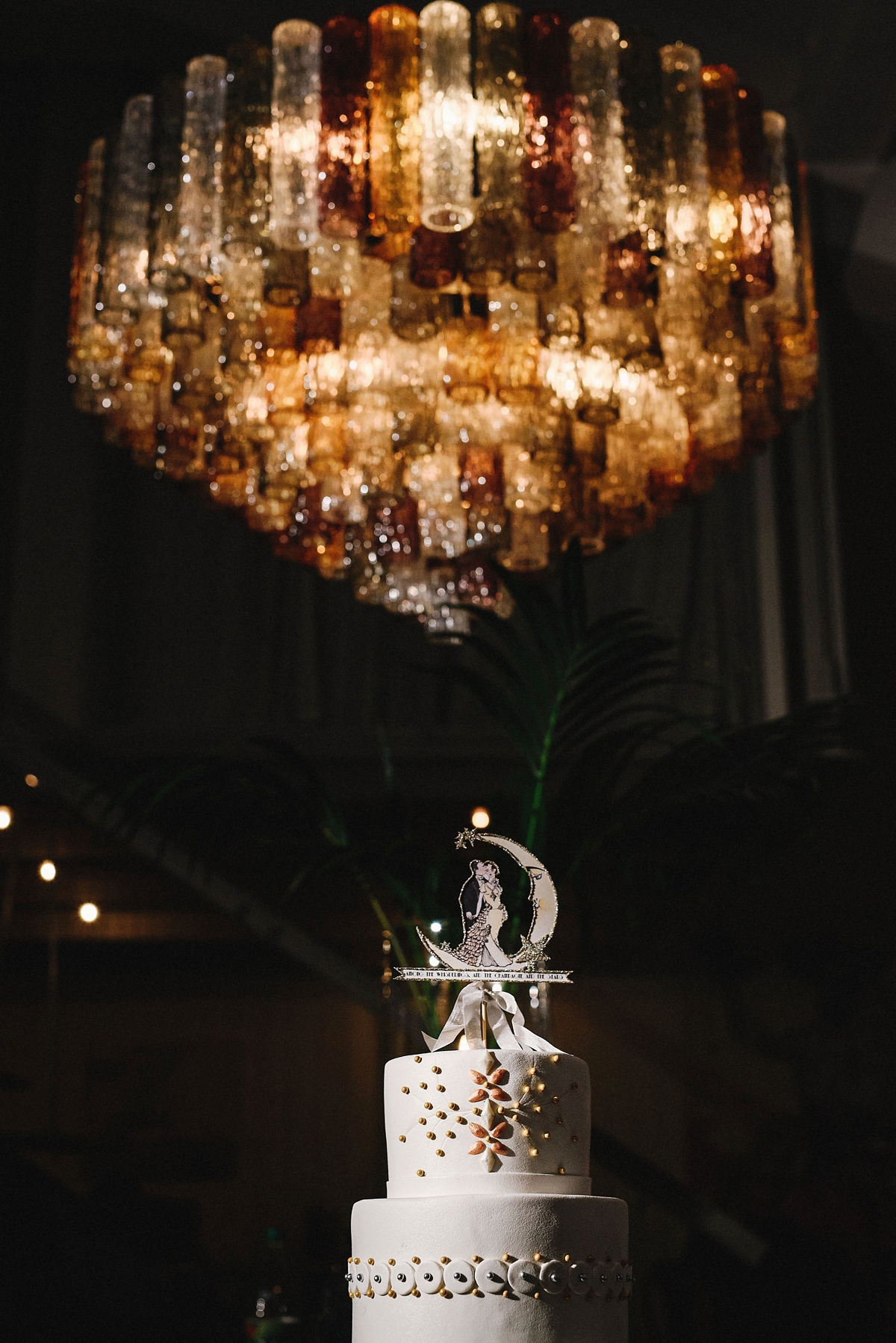 Music was provided by a kind friend who agreed to DJ for the party.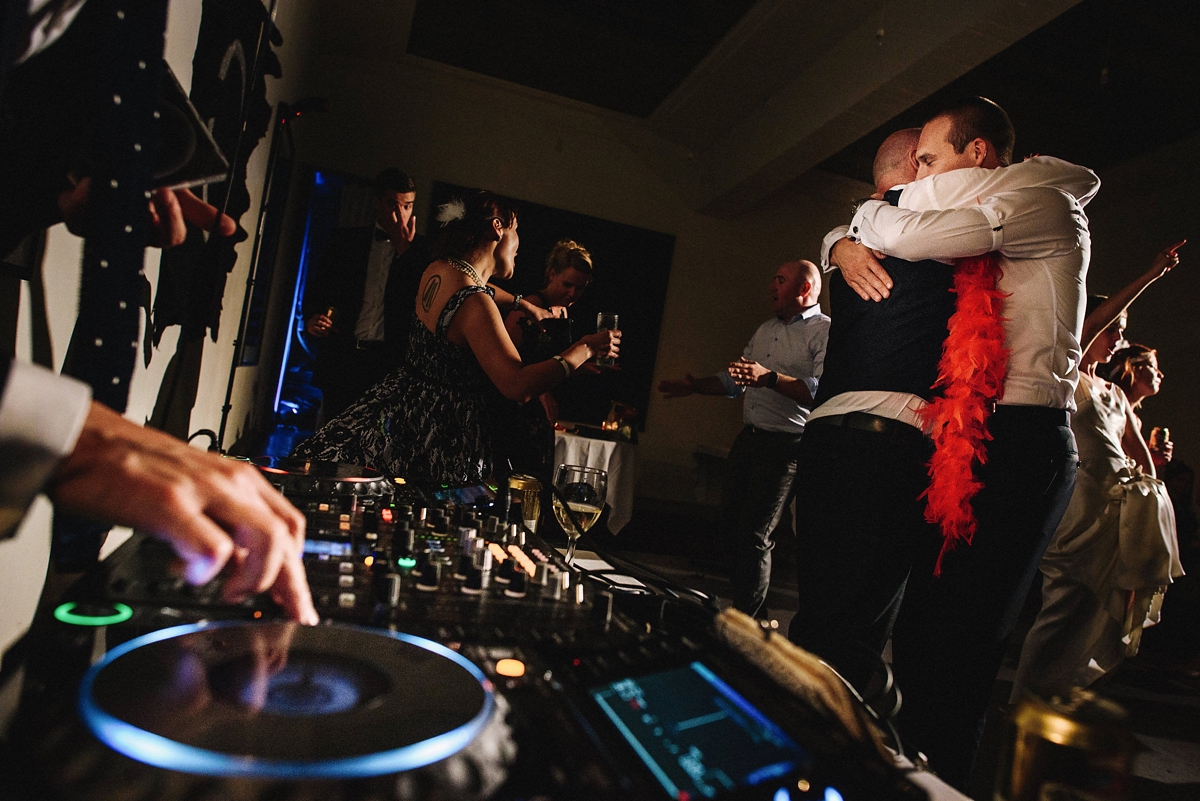 Instead of favours the couple provided 1920's themed dress up props for the party, which made for some excellent photographs.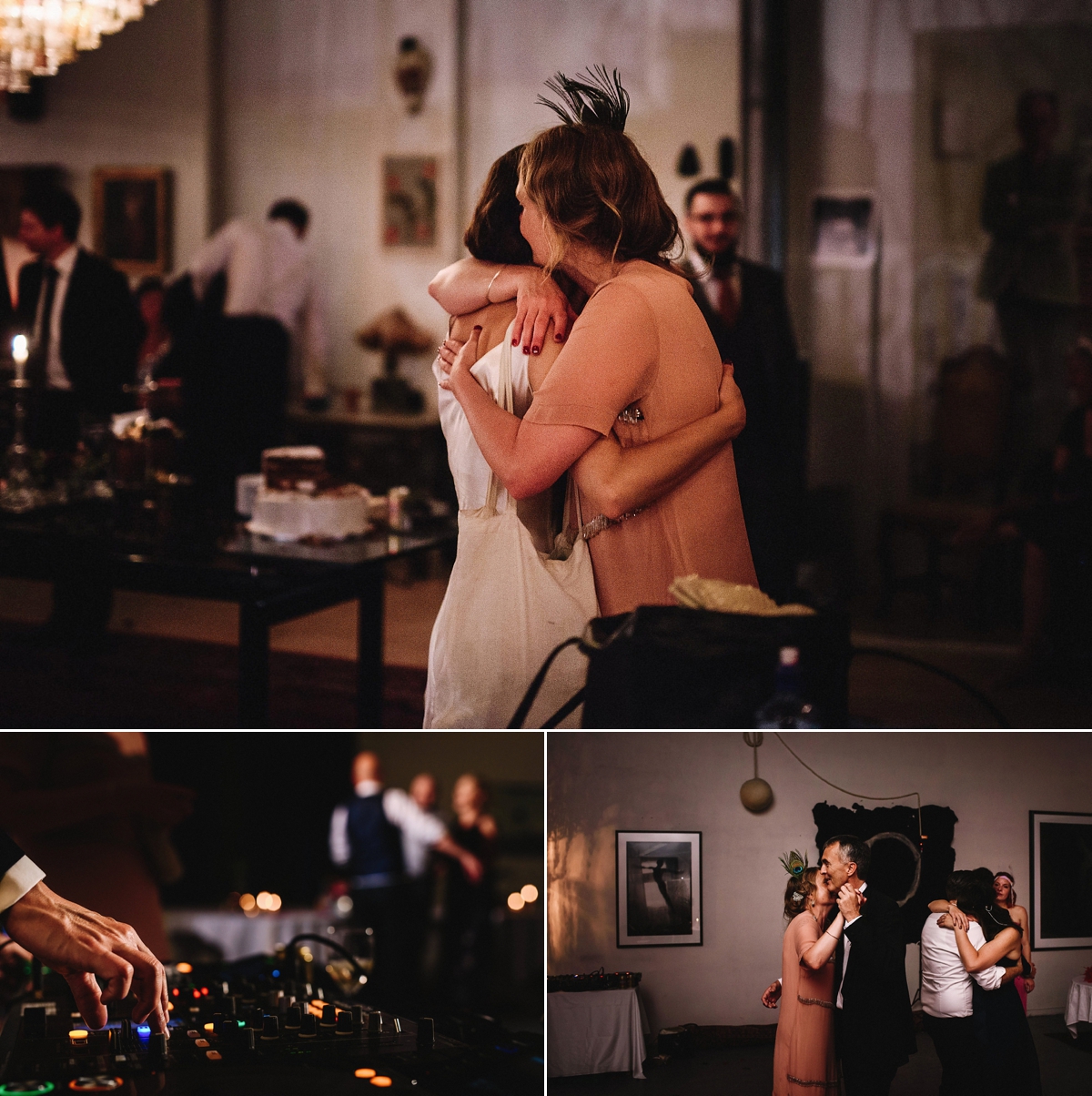 Save the dates, invitations, thank you cards, menus and place cards were purchased from different designers at Minted while friend Melinda did the seating chart and bar list.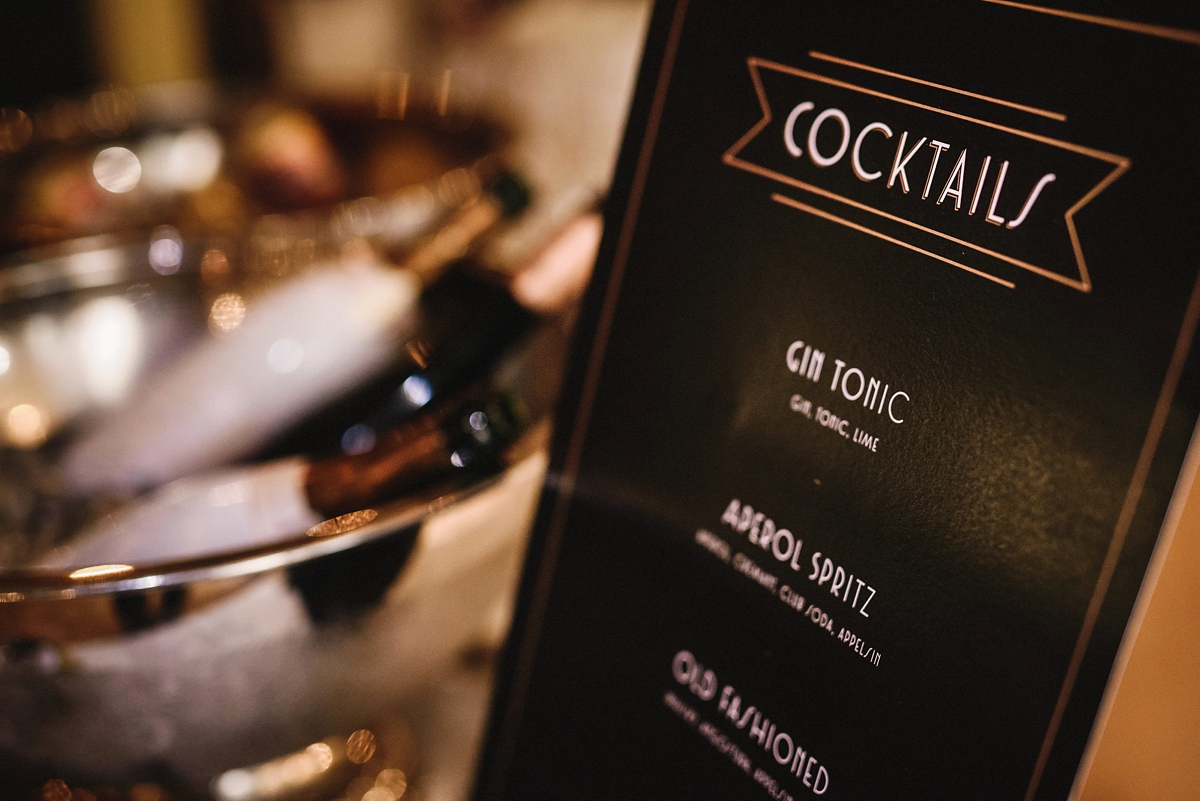 Words of Wedded Wisdom
"Planning a wedding takes time, but the day is over so quickly so try to enjoy the time leading up to it.  Make it yours and have fun with it- it´s a celebration of your lives together.
The day really is over in a flash so get a good photographer who will stay with you the whole day, this is not where you want to pinch pennies.  We've had so much fun reliving the moments through our photos and it's so nice seeing all the bits of the day you might have missed yourself."
"Another little tip is the night before the wedding.  I know it´s tradition to spend that night apart, but we decided we sleep best together, so we spent the last night before our wedding in our own bed and slept the whole night through.  In the morning we got up early and went for a small run together in the pouring rain while my friend Grainnè prepared breakfast.  The atmosphere on the day is filled with so much love and emotion, don't miss the morning together, if possible."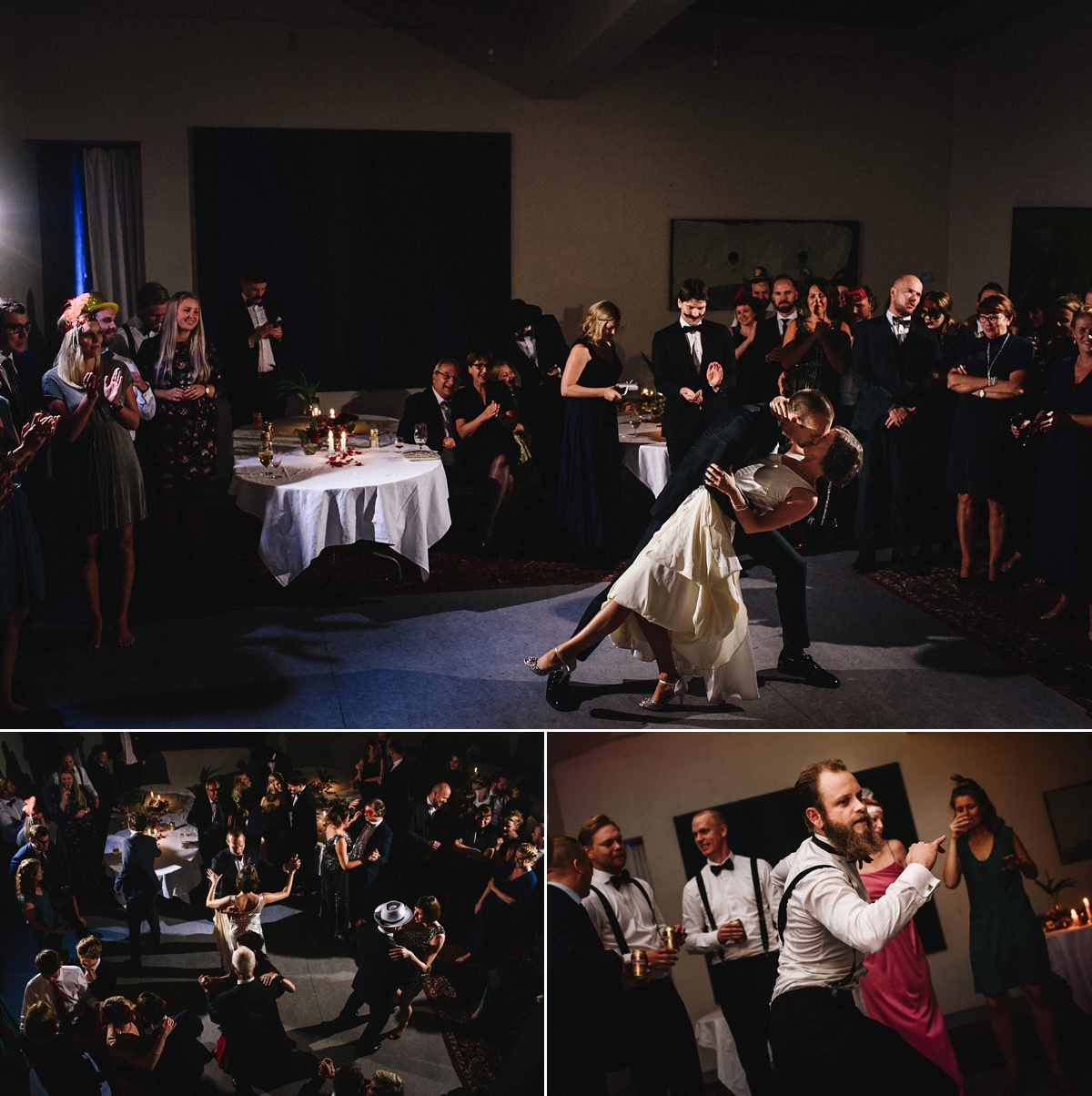 So many thanks to Karoline and Espen- I absolutely love this beautiful and original wedding.  Take a peek here for more 1920's inspired nuptials.
Much love,
S x