Photography is really quite an amazing thing, don't you think?  It has the power to transport us to a point in the past, a place we haven't visited for a long time, or indeed a place and time we were never at, but it still enables us to feel the beating sun or spots of light rain, hear the strains of music, hear peals of laughter and smell the wafting scents of the flowers.
Today's beautiful images by Haydn Rydings  certainly make me feel like I was part of this wedding- the light, the reportage style, the feeling like you're right there at the centre of the day-  I felt completely transported.  I hope you will too.
Meet Nicole and Vincenzo, both creative advertisers (Vincenzo an art director and Nicole a copywriter) and fine art photographers, who married on the 18th of June 2016. Both creative and nature lovers,  Nicole and Vincenzo wanted a simple and rustic wedding, consistent with the natural environment, so chose to marry in Apulia, Nicole's hometown, in South Italy.  They looked for a real masseria (old cottage) and found an authentic option in the form of Masseria Mozzone in Montalbano di Fasano.  The venue is usually run as a B&B by a brother and sister team and is surrounded by trees and prickly pears, white houses and the most incredible scenery.
Photography by Haydn Rydings
Nicole looked ethereal in a beautiful tiered gown by Cymbeline, which she purchased from Le spose di Milano.
"I was looking for something with a true vintage flavor, something that reminded me of those great-great-grandmotherish dresses.  I definitely didn't want the grandeur and opulence of a typical wedding dress.  When I saw it I had no doubt, in fact the whole research part was much easier than expected."
"I wanted something that would reflect me as I don't go in for frills.  I love the simplicity in its lines and the richness and cuteness of its French lace."
Nicole found a very talented illustrator, Ryn Frank, who specialises in botanical illustrations, and, inspired by the beauty of the region, Nicole got her to translate the plants of Apulia onto a wedding invitation format.
Nicole and Ryn worked completely online and once the final result was achieved Nicole got the invites printed at Fratelli Bonvini, which is one of the oldest print shop in Milan.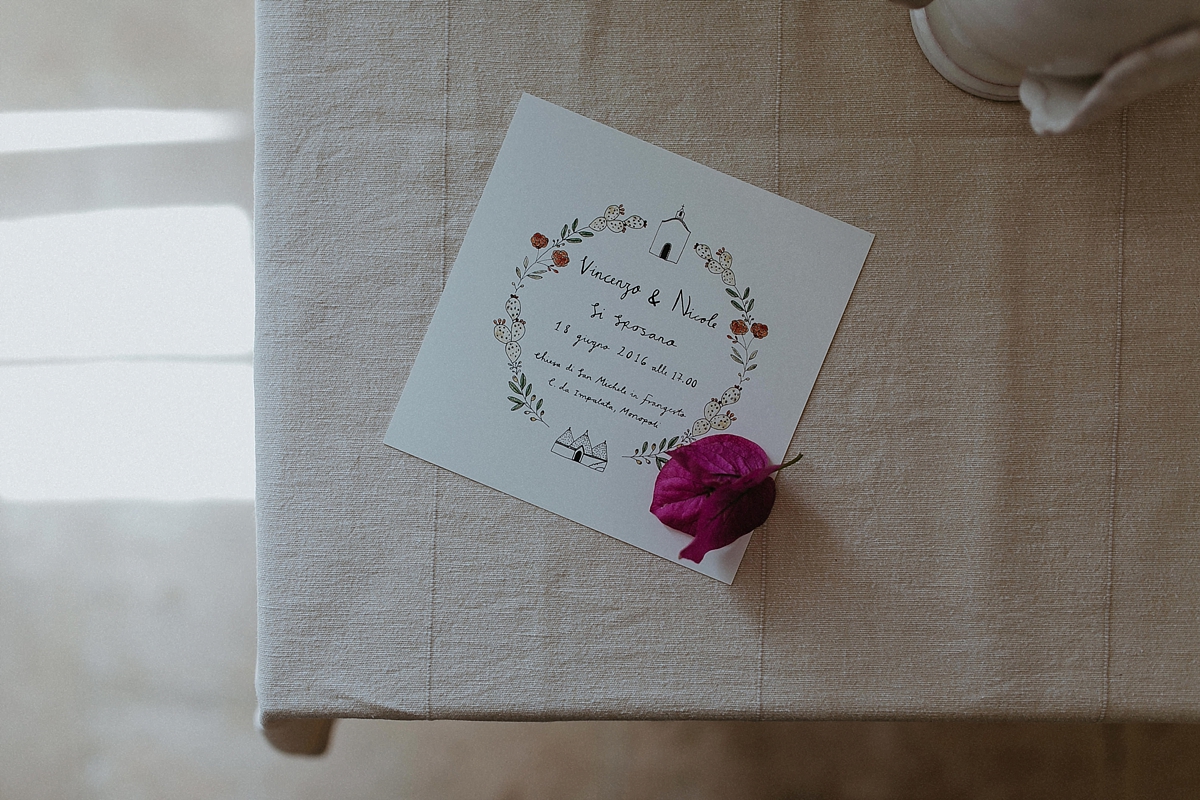 Nicole had two pairs of shoes- one more formal pair for the church, which were vintage, and a second pair for the dinner and dancefloor which were much less formal, being white trainers from Superga to which she sewed a piece of lace taken from her dress to personalise them- I love this idea.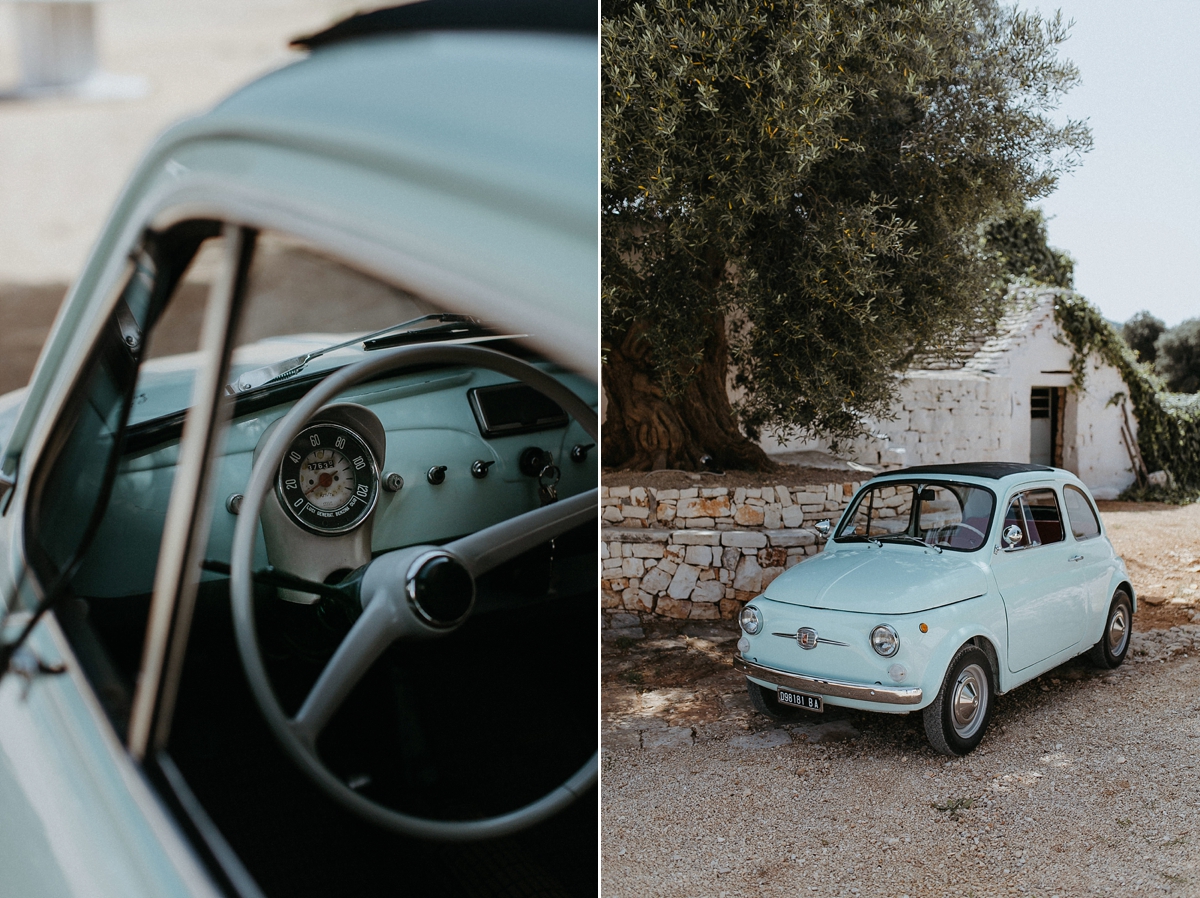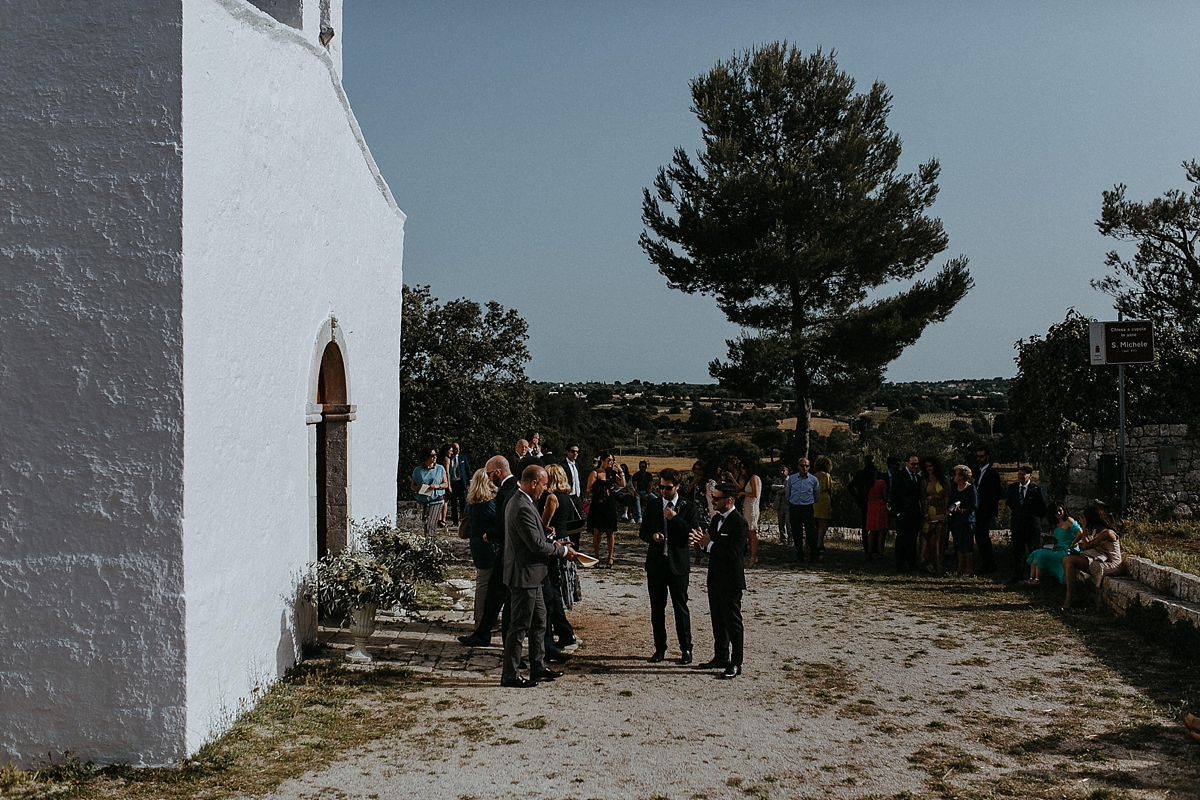 Nicole was transported to church (and the newlyweds subsequently left for the reception) in an iconic pale blue Fiat 500 belonging to an uncle.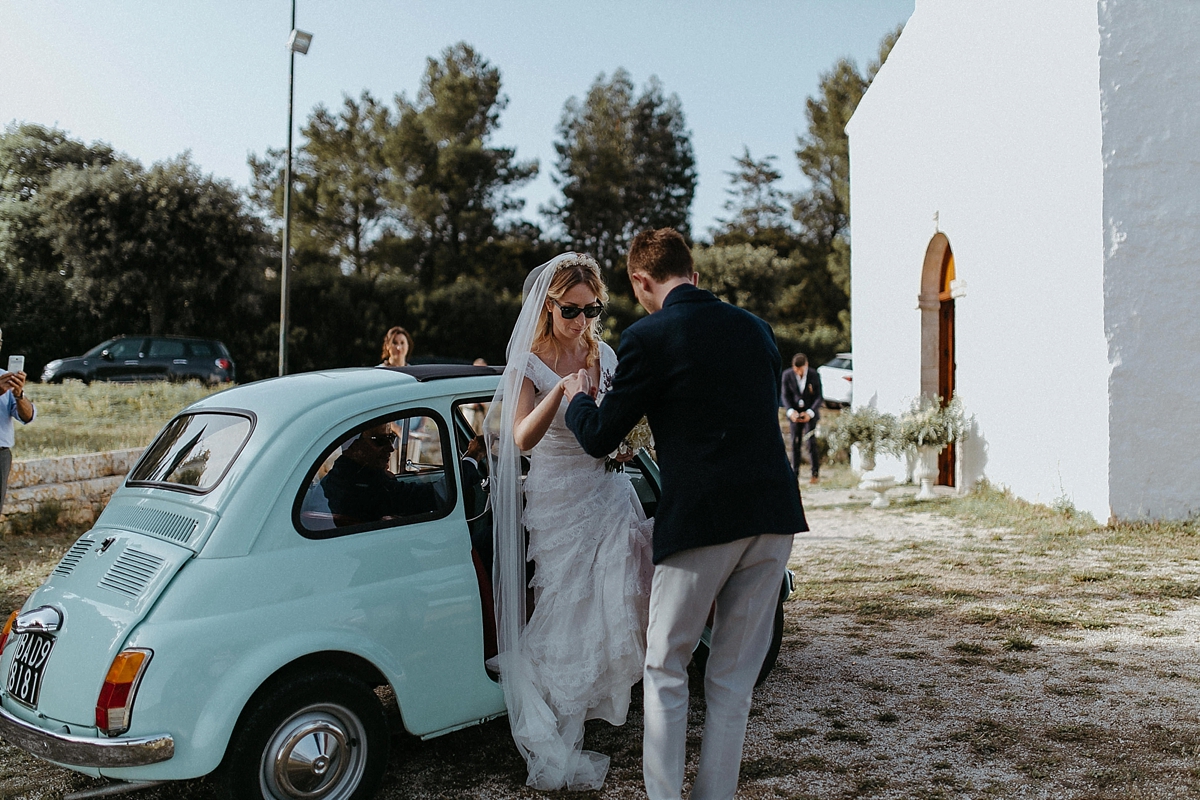 The beautiful florals were the work of Amsicora.  I just adore all the textures in Nicole's bouquet.
"I was very clear with what I wanted in my bouquet- it had to be simple, with daisies, chamomiles and blackberries."
Over her hair she wore a small dried gypsophila circlet which she found in a vintage shop- allegedly it had once belonged to an Australian noble lady, which is a lovely history to have attached to it.
For the church she also wore a simple veil.  Hair and make-up was the work of childhood friend Marianna.
Nicole's younger brother Maurizio accompanied her down the aisle to 'Avemaria' played live by a small group of violinists.
Vincenzo looked extremely smart in a suit made in Milan by Angelo Pecora, a celebrity designer, with a bow tie and shirt made to match.  He paired the suit with shoes from Church.
The couple had a traditional Catholic ceremony and exchanged simple, white gold bands from Dodo to cement their vows.
As the venue is family owned and a lot of local produce is cultivated there, Nicole and Vincenzo chose to use their local food with fresh, authentic ingredients.
I am told that typically a South Italian wedding would have around 200 guests but Nicole and Vincenzo wanted to keep the wedding very intimate and personal so the guest list was a tight sixty.
The dinner for these special guests was made in-house with the freshest of produce from the Masseria: mozzarella, focaccia, taralli, homemade pasta with fresh tomato, meat cooked on the brazier and fresh fruit.
Favours were the classic Italian favourite- sugared almonds, lovingly placed in small linen bags hand-made by Nicole's mother.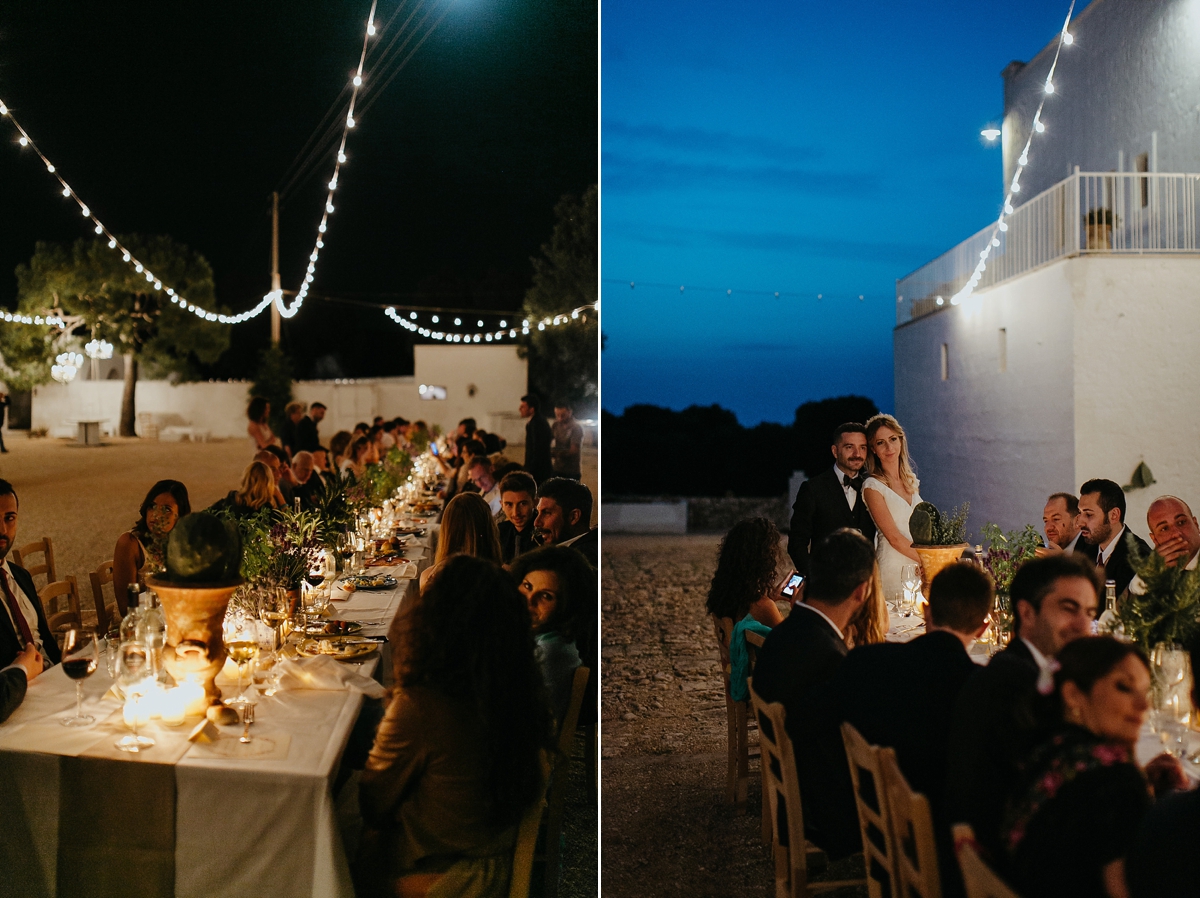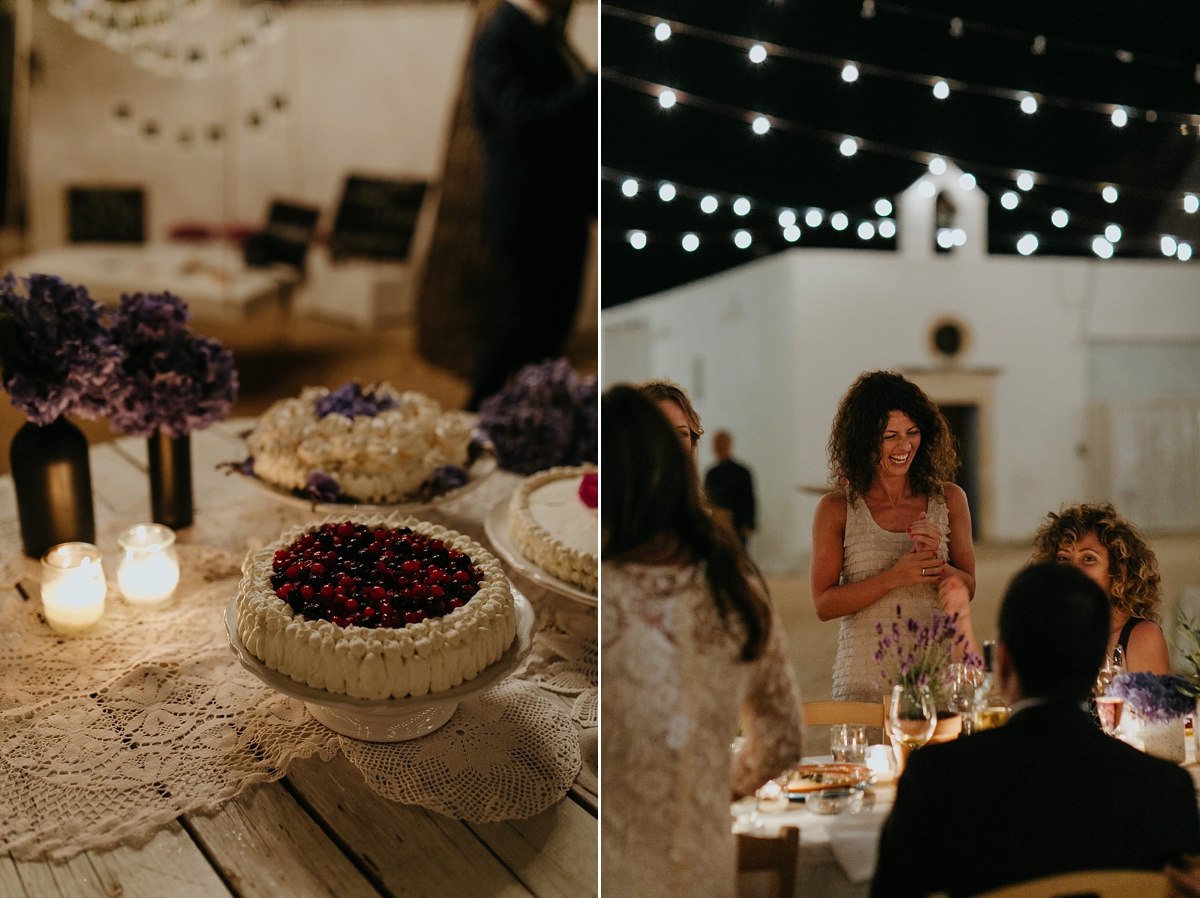 The tables were dressed with vintage table linen which had belonged to Nicole's Grandmother and great Grandmother.  I love this little touch of family history.
"The wedding cakes were baked by the family who hosted the masseria mozzone, they were three small, cute and different cakes handmade using fresh ingredients."
Entertainment came in the form of an avant-garde Jazz band led by singer Francesca Faro, which must have sounded incredible drifting across the courtyard as the sun went down.
"In the midst of all the jazz when Francesca sang 'l.o.v.e', we both realized how magical the day was, without saying a word but just looking into each other's eyes."
Words of Wedded Wisdom
"If I could go back in time I would say to myself 'Don't stick too much to the plan, go with the flow, trust yourself and take your time, otherwise it just becomes work and not fun'."
"Plus, make a private board on Pinterest that you can share with your partner and maybe close friends where you can throw everything (except the wedding dress of course if you want to keep it secret!)"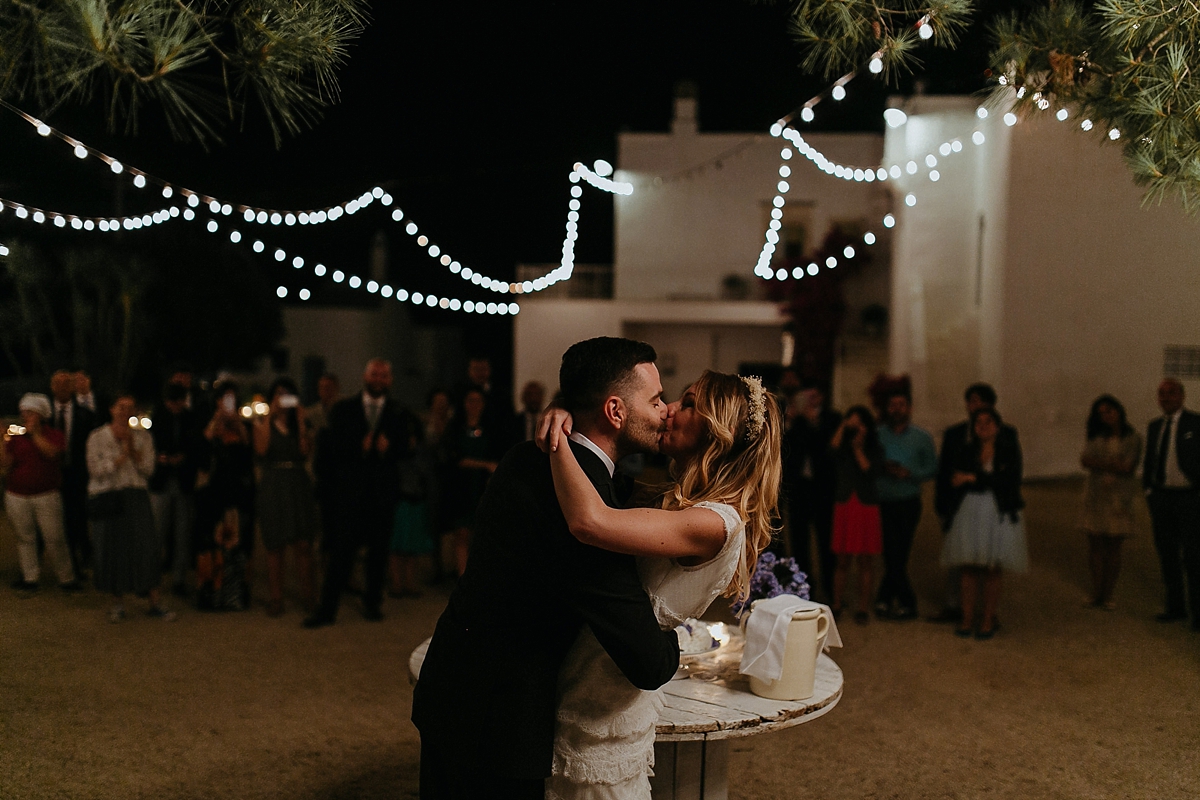 Huge thanks to Nicole and Vincenzo- this is such a beautiful day. Italy really is the home of romance isn't it?  Take a peek here for some other weddings which have taken place under the Italian sun and here for more brides in beautiful Cymbeline.
Much love,
Shona x