One of the most wonderful things about a wedding is the camaraderie of the couple's family and friends. Everyone is delighted to help out and wish them well for their new life together. Today's bride Rachel, who works in communications for a charity, and her husband David, who works for a tech company, made sure that everyone got to share in their joy.
The couple married on the 10th of September 2016 at St Saviour's Church in Finsbury Park, London, the church they regularly attend (and met) and held an afternoon tea straight after to celebrate their special day with their church family before heading to Muswell Hill Golf Club for a laid back and intimate reception. Bunting made by the bride's mother and flowers were the main focus for the décor all the way through and the result is so lovely.
Rachel looks wonderful in her dip hem dress from Minna at Indie Bride. Skipping a veil, the bride chose a stunning hair vine from Bridal Rogue Gallery which fits perfectly with her simple dress.
"I knew I didn't want a full length dress, it felt too formal for me, but then the short dresses I tried didn't seem to have enough sense of occasion. The high-low asymmetric hem of my dress was the answer. It hung beautifully and I loved that it was handmade in London."
Photography by Beatrix Fuhrmann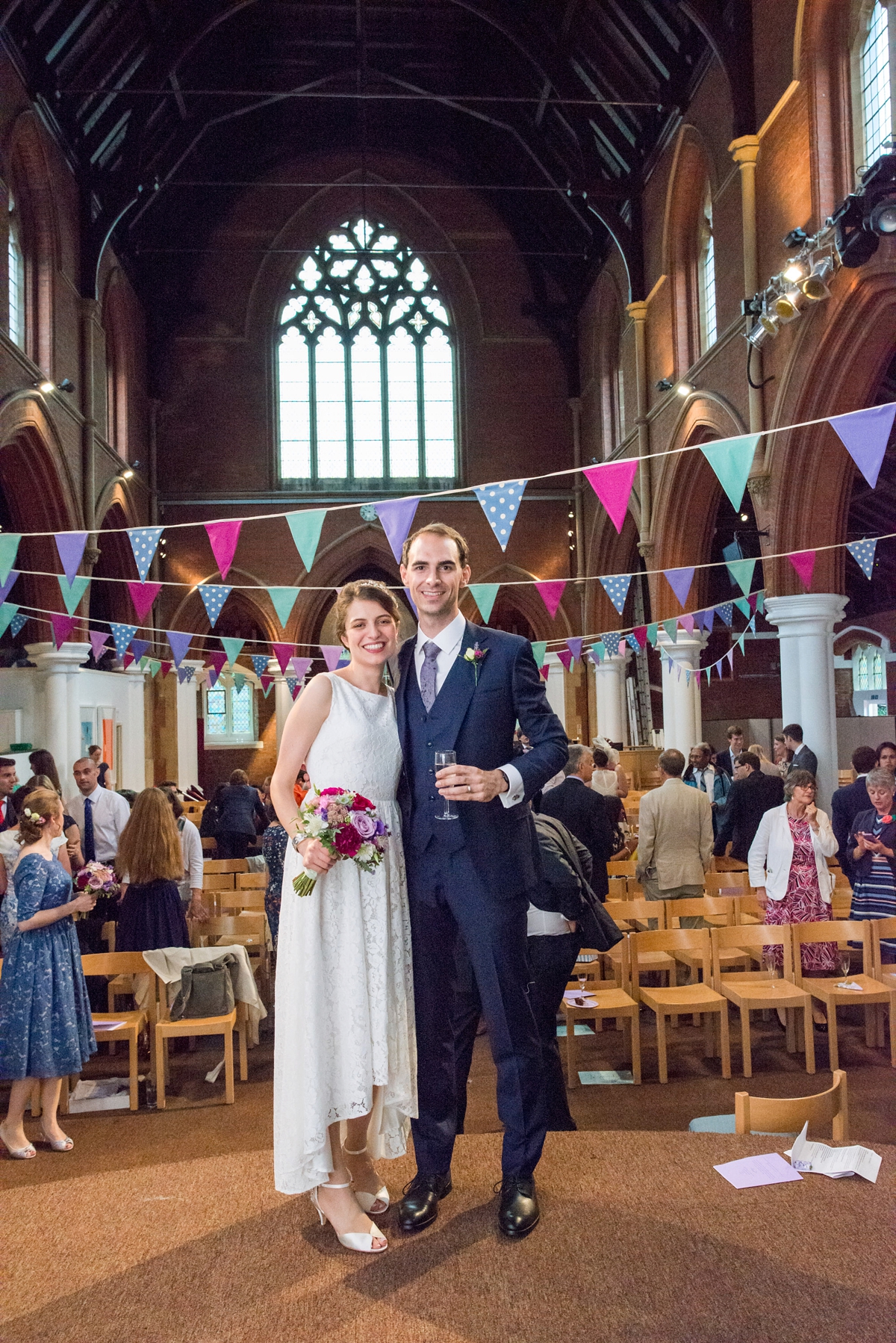 "We wanted a colourful and joyful London wedding that reflects our Christian faith. Traditional but with a modern freshness that would be very 'us'. This led our Victorian church to be covered in bright bunting made by my mum, and was part of why I chose a lace dress but in a modern cut, and Dave went for tie over tails. I've always loved purples and our palette was based on the colours of hydrangeas."
"The jam jar arrangements and table centres were made by my mother. The bouquets, buttonholes, pomander (flower ball!) and urn arrangement were by Kirsty Jean Flowers. My dad grew many of the flowers in his vegetable patch, in the place of his usual crops. Kirsty sourced the rest for us and blended everything together beautifully."
The bride's father accompanied her down the aisle to 'Taste and See', a choral piece by Vaughn Williams. The newlyweds went back up the aisle to 'The Wedding Samba' by Carmen Miranda and the Andrews Sisters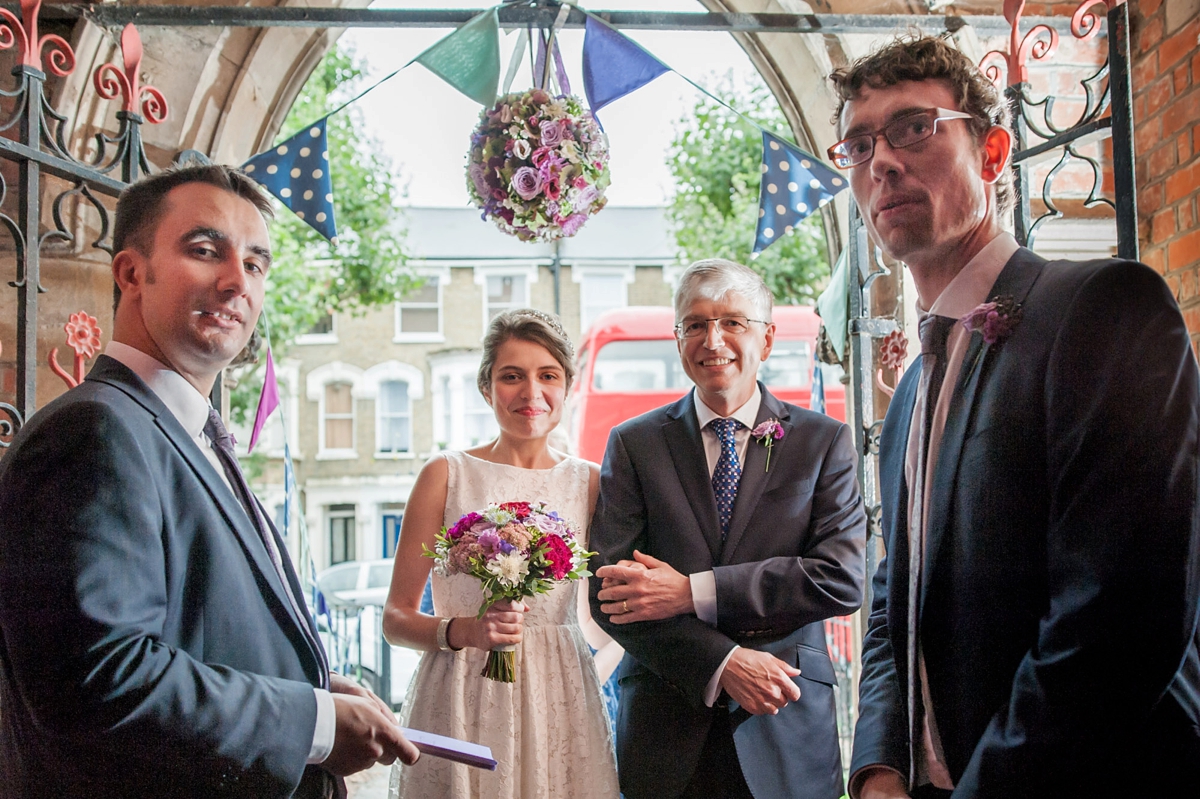 "We met in the same church where we got married. We got chatting after a service and it only took a year and a half to go on our first date! We got engaged nine months before our wedding."
"The service was the most important part of our day as well as the most emotional. The music, and the words of the ceremony were beautiful and we really felt the love and support from our family and friends."
Rachel's bridesmaids look beautiful in their deep blue lace ASOS dresses. The ladies wore extra flowers from the bouquets wired into their hair and earrings which were a gift from the bride from Pretty Shiny Shop in Finsbury Park.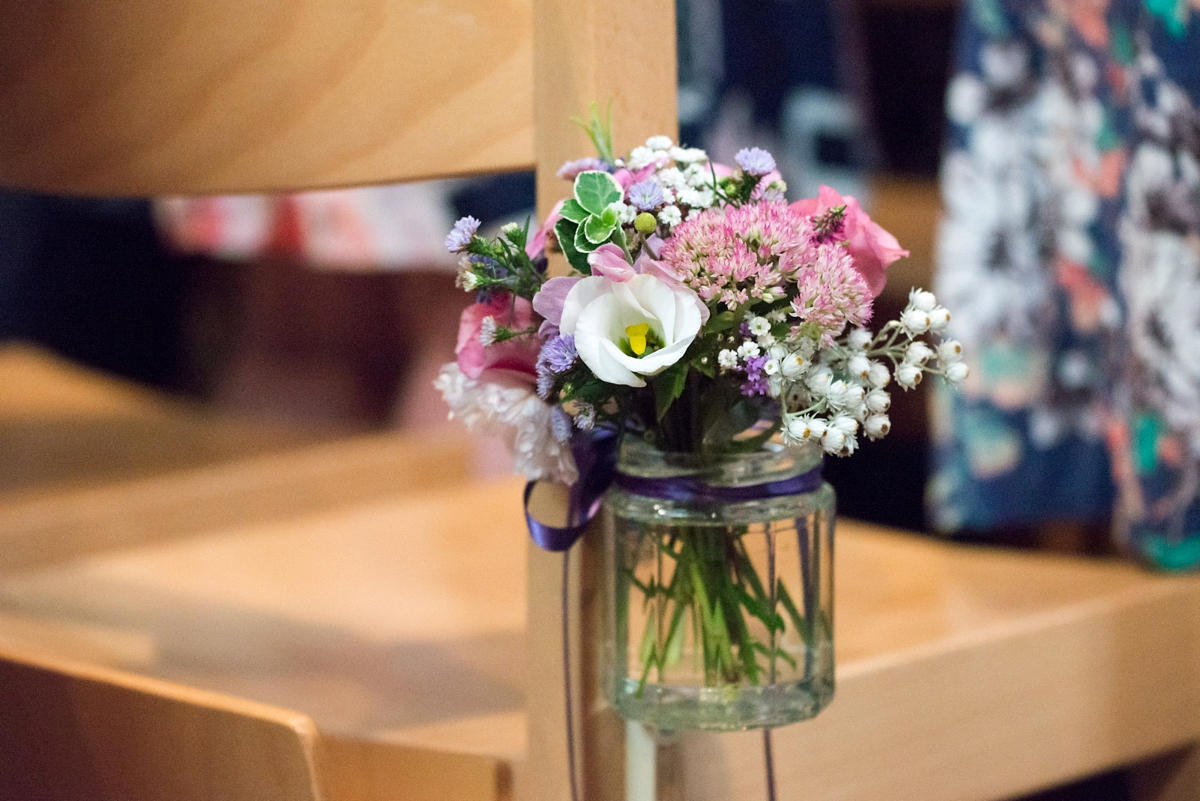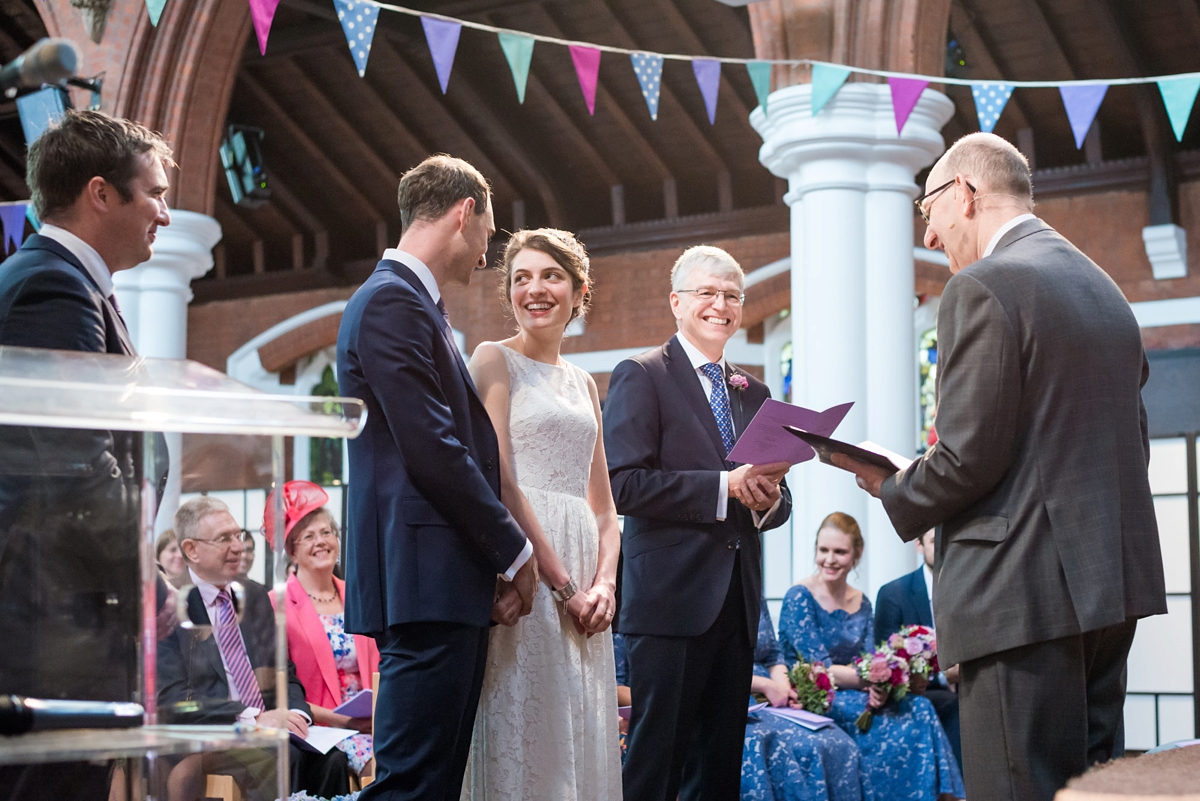 The couple chose an extract from Ecclesiastes 4:9-12 as a reading during the ceremony.
Two are better than one because they have a good return for their labour 10: if either of them falls down, one can help the other up. But pity anyone who falls and has no one to help them up 11 Also, if two lie down together, they will keep warm. But how can one keep warm alone? 12 Though one may be overpowered, two can defend themselves. A cord of three strands is not quickly broken. John 15: 1-4; 9-1712 My command is this: Love each other as I have loved you.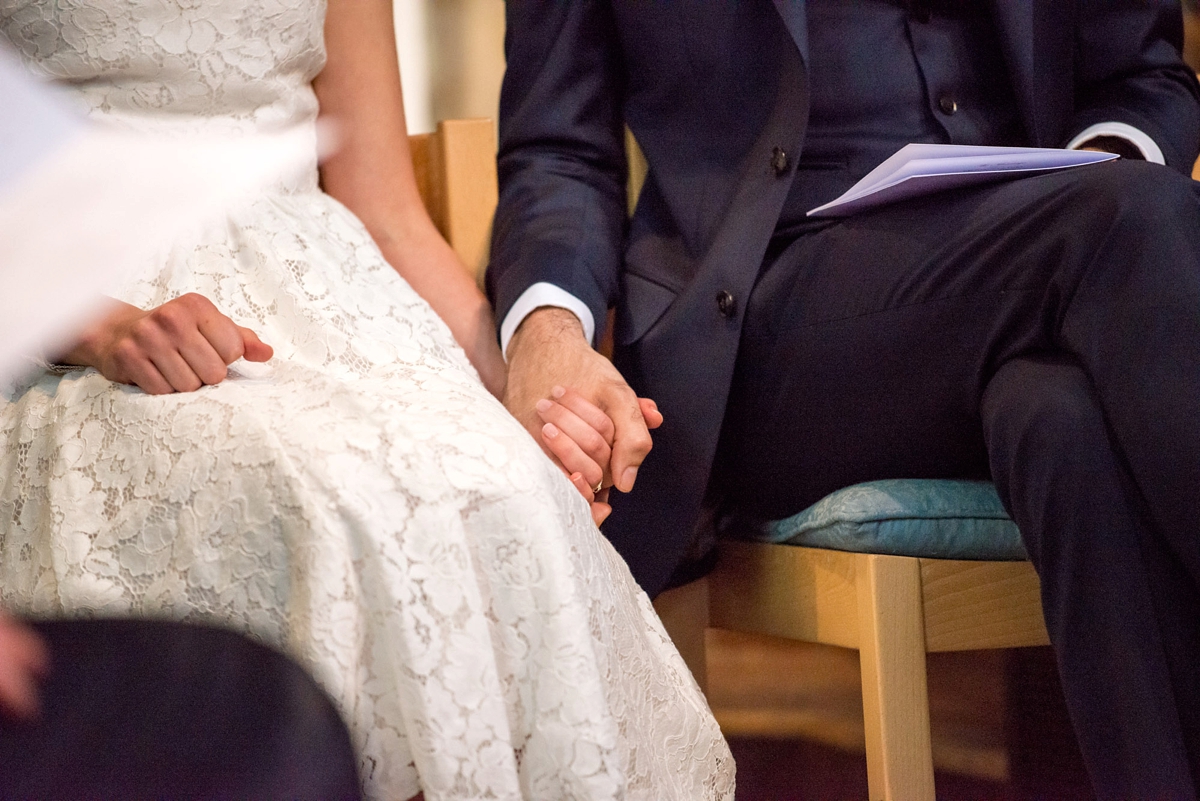 "My engagement ring belonged to my great grandmother and Gold Coast in the Brighton South Lanes had a band that was a perfect match."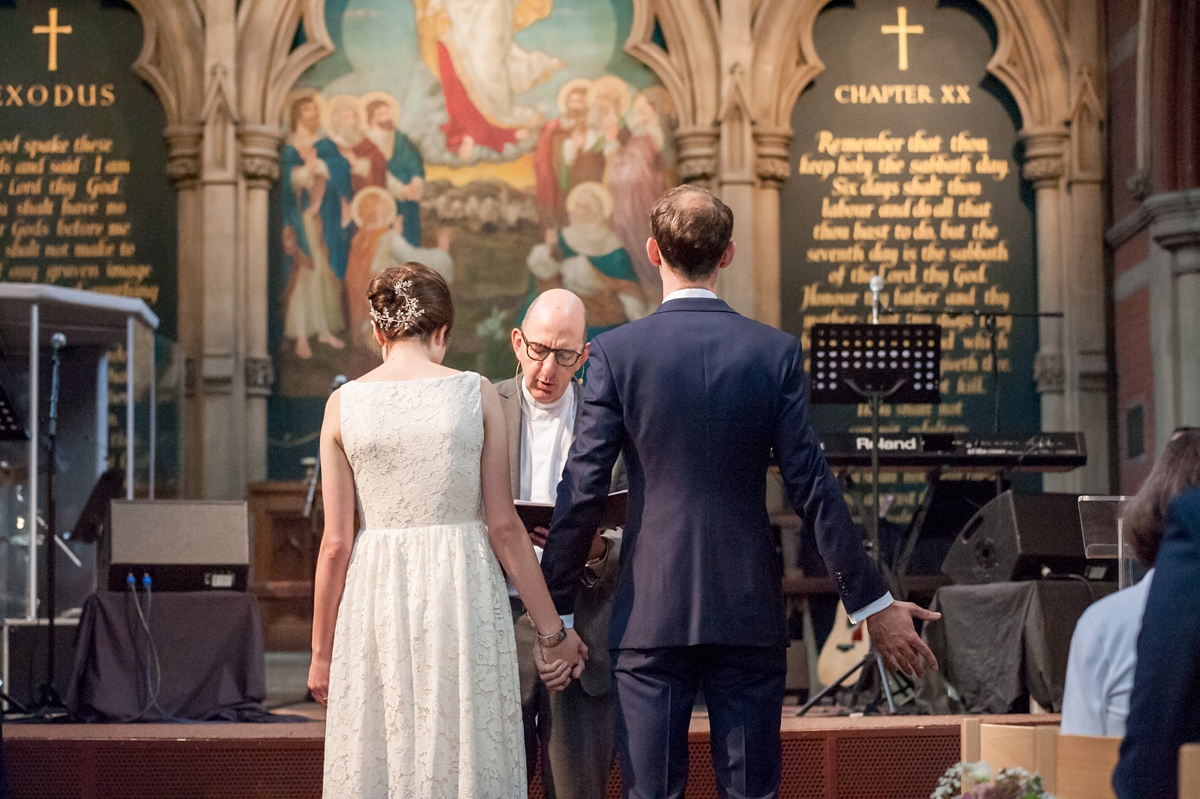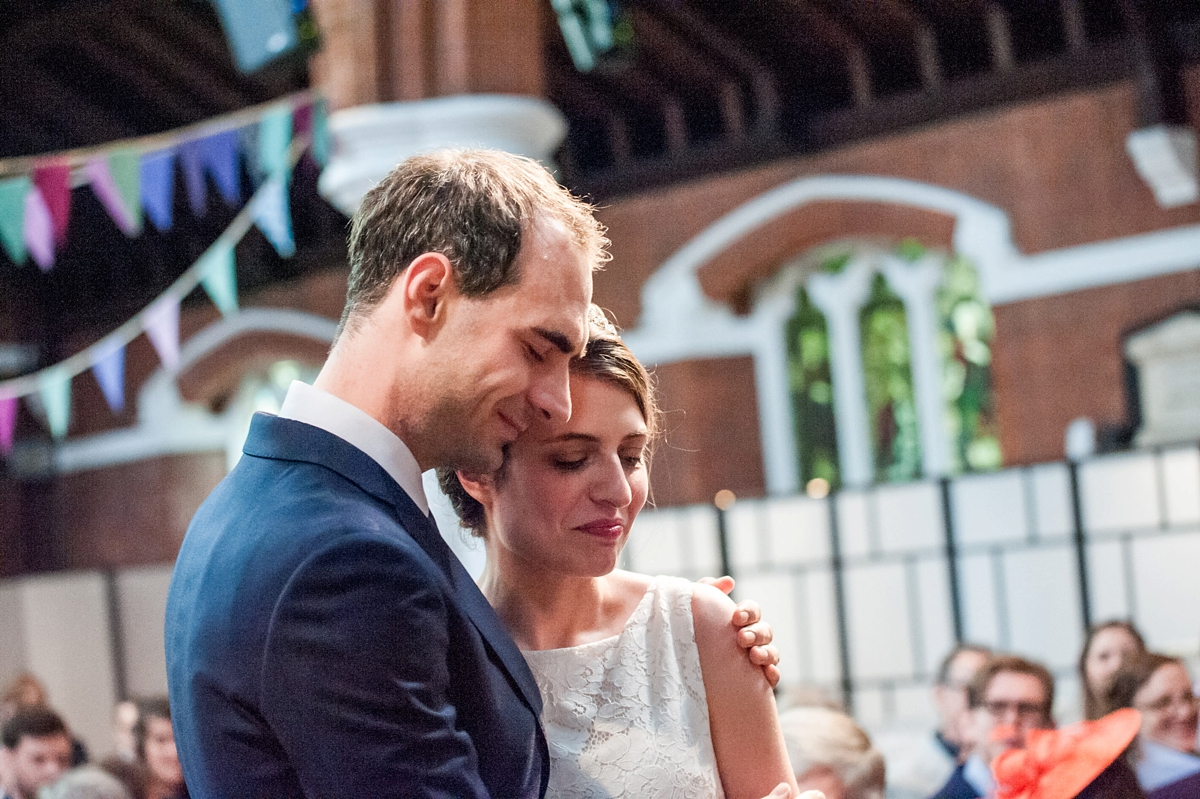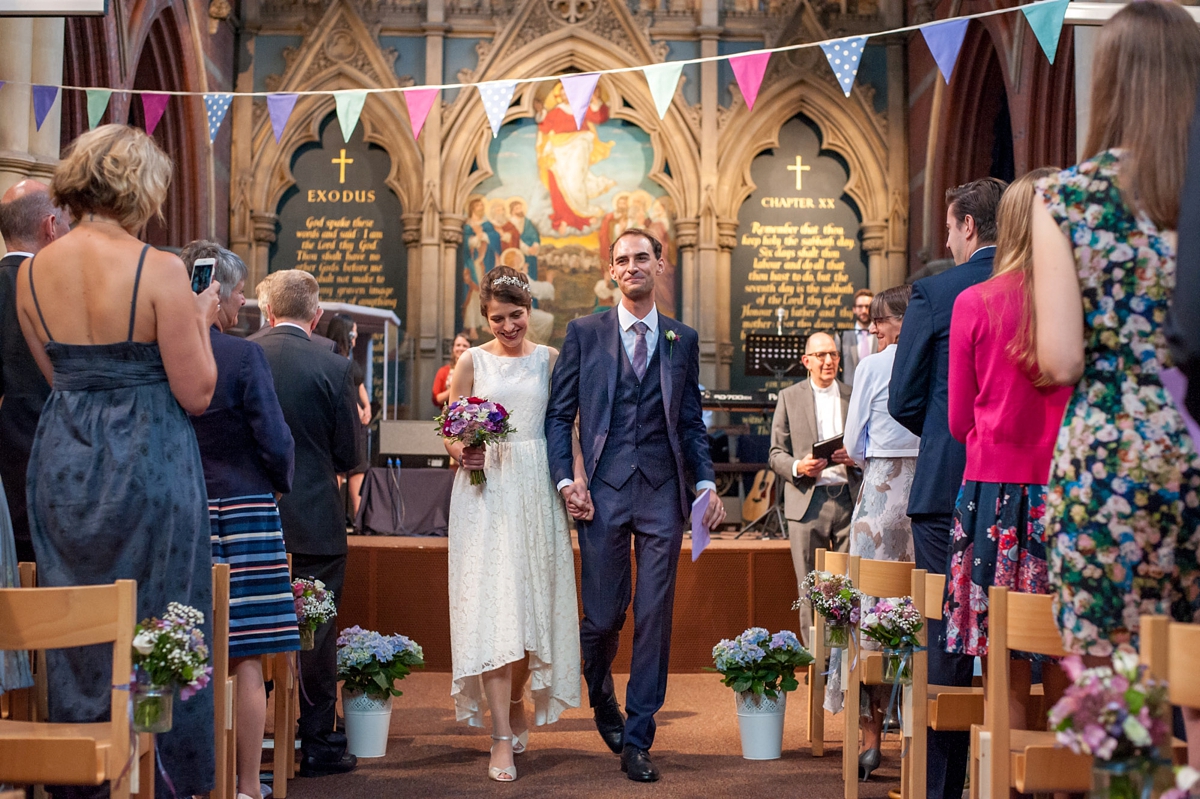 Rachel and David asked Beatrix Fuhrmann Photography to capture their wedding day and the joyful images are just gorgeous.
"Beatrix was great company and got everyone together and looking great, while being discreet and not at all bossy. We especially enjoyed our engagement shoot, learning how to get comfortable with the camera, and Beatrix's natural photography style."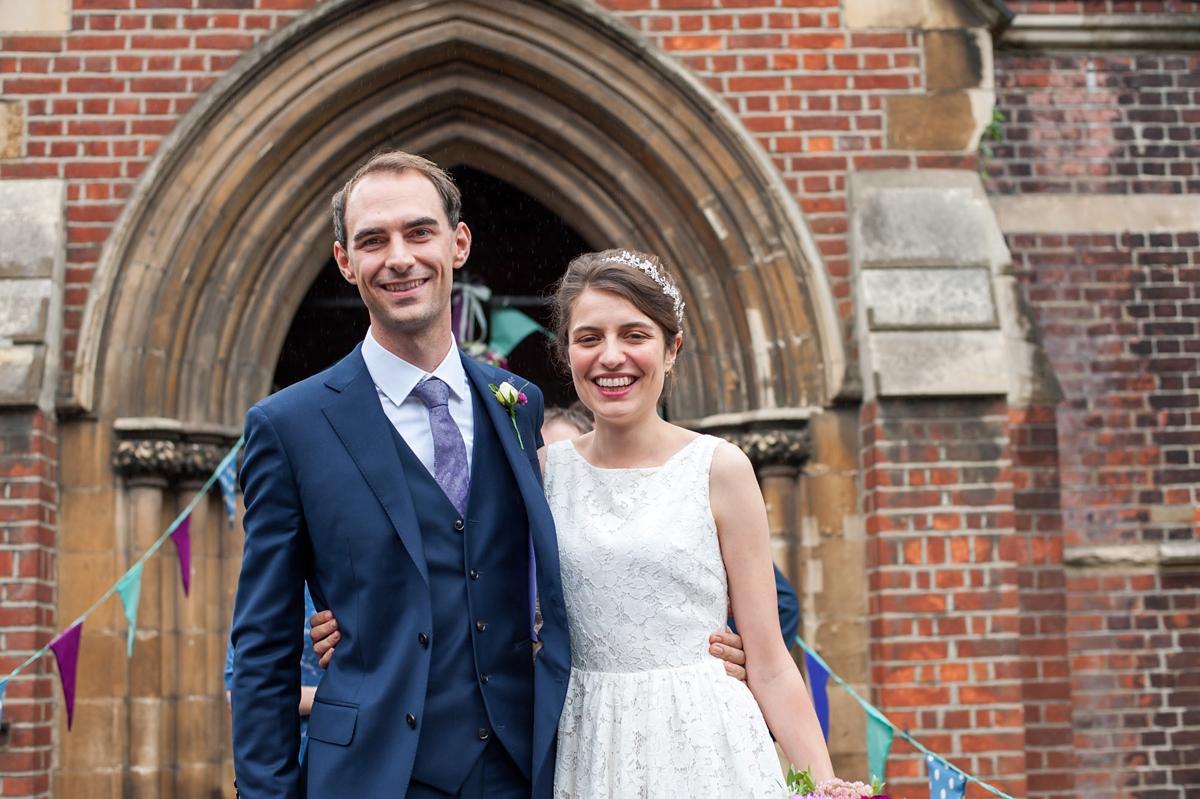 "I was all about the hair vine. I was going to wear earrings with it but decided not to on the day as it looked too 'princessy'. I just wore a silver bracelet that belonged to my grandmother."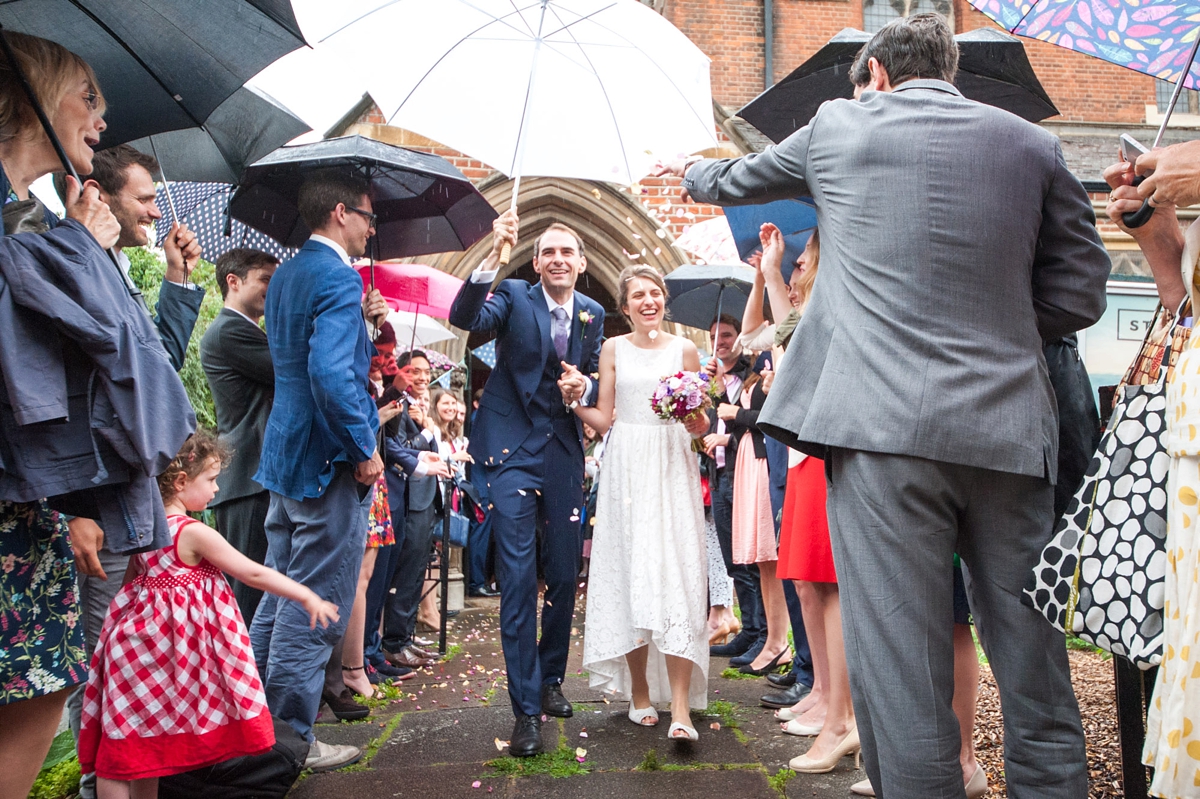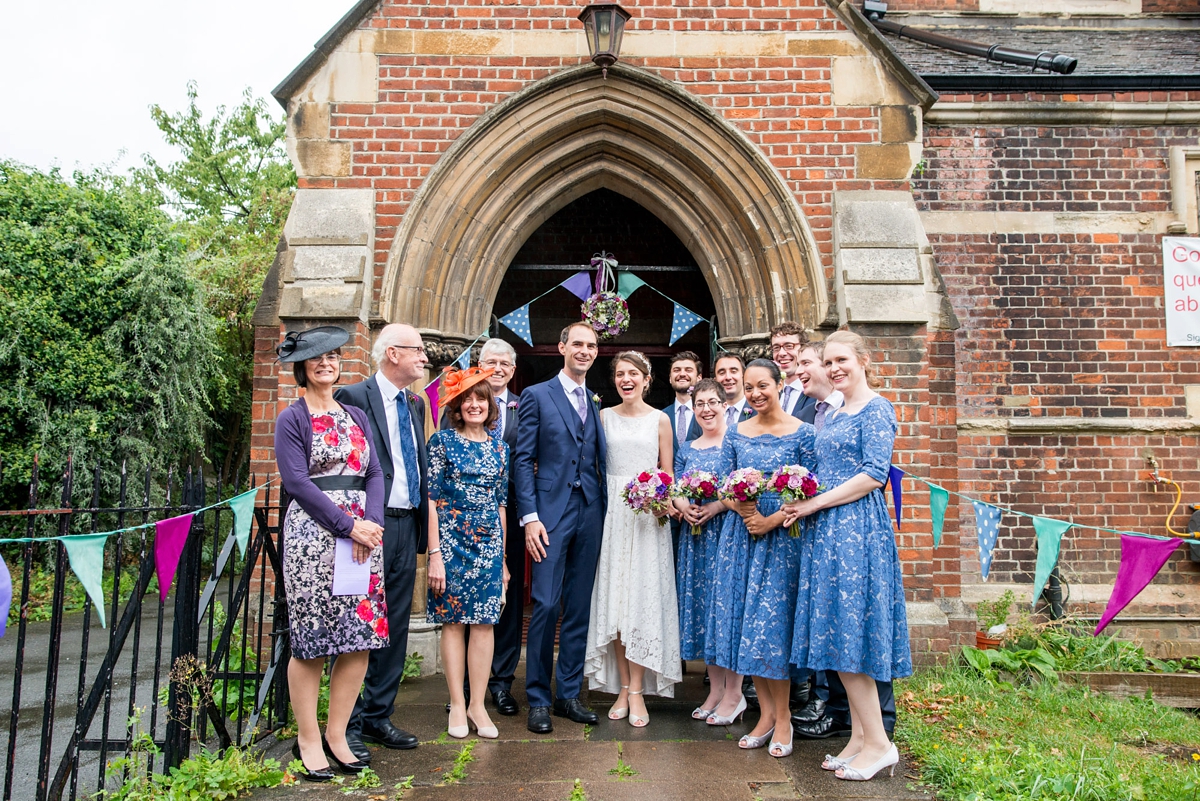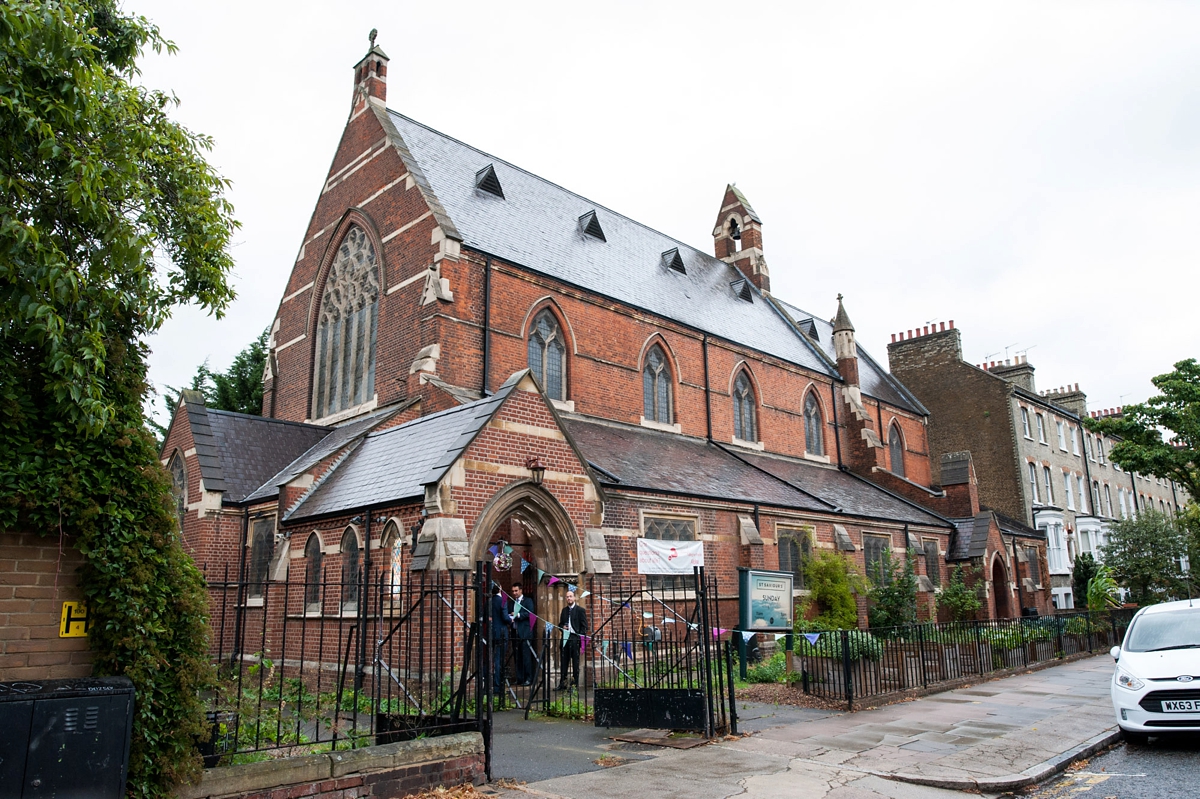 The groom wore a bespoke half canvas three piece suit from Edit Suits in a lovely mid blue colour. As an avid cyclist, his cufflinks, and those of his groomsmen, were made from old bike chains.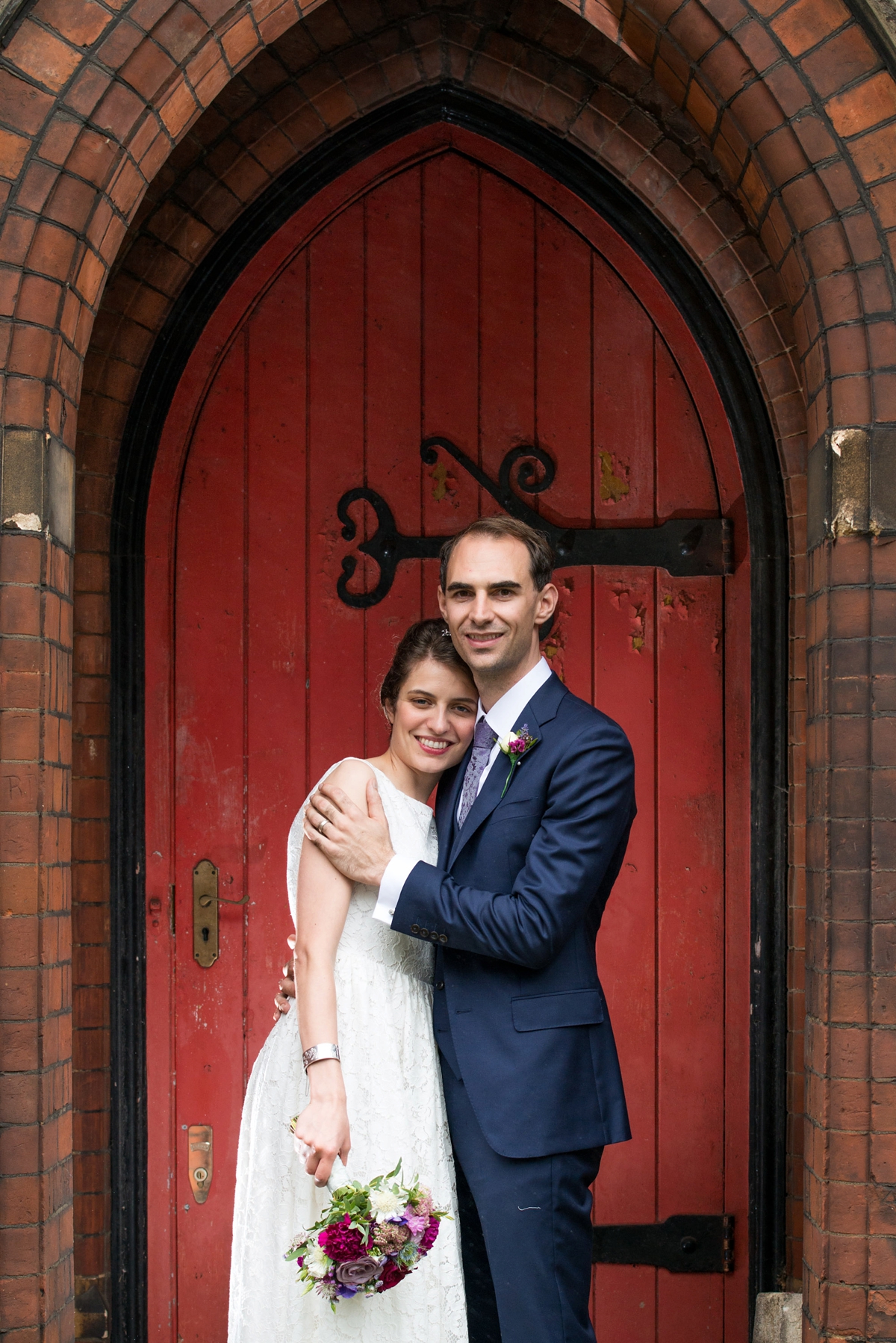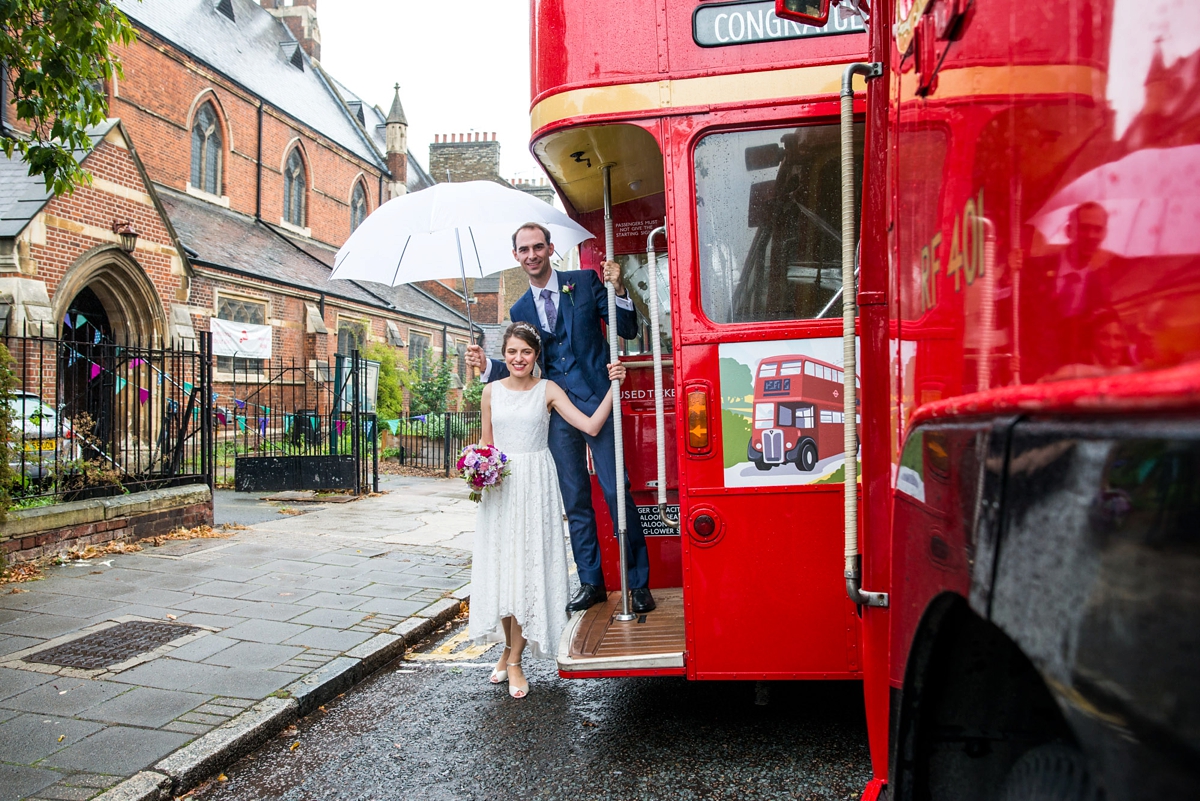 Rachel and David travelled in a black cab and their guests were transported from the church to the golf club in two vintage London buses from the London Bus Company.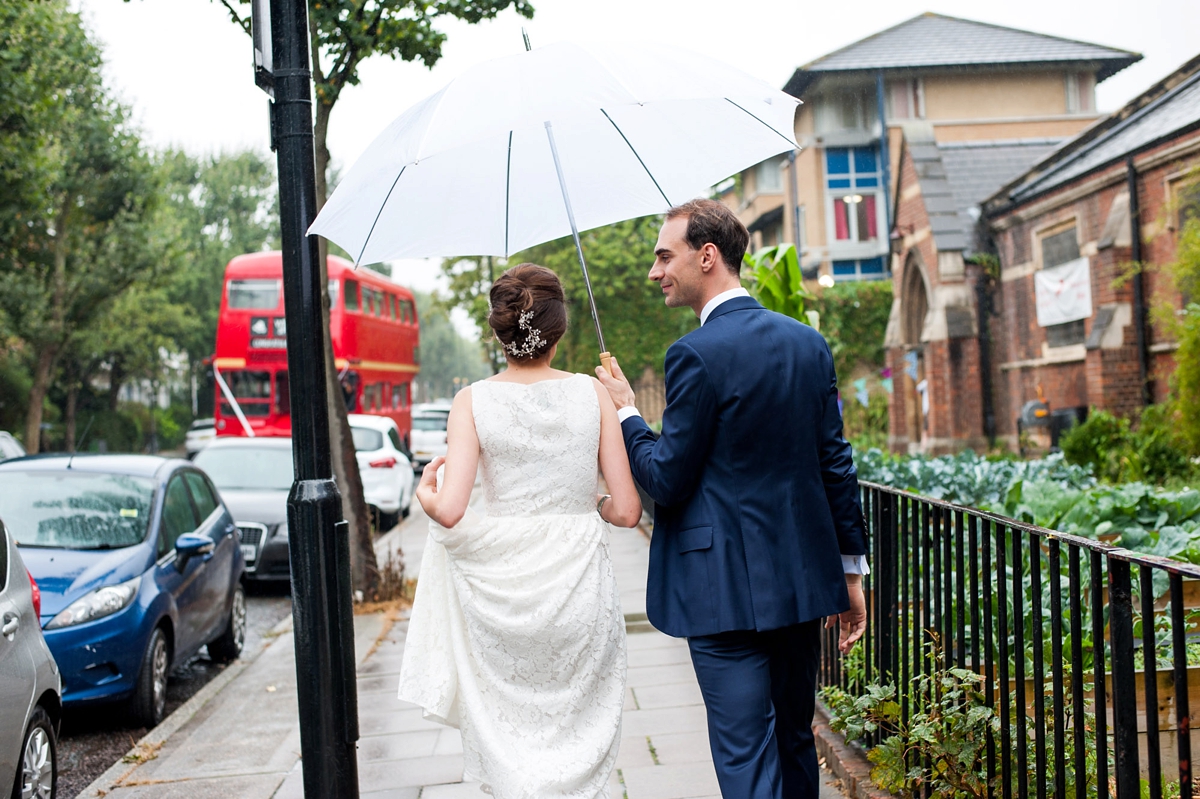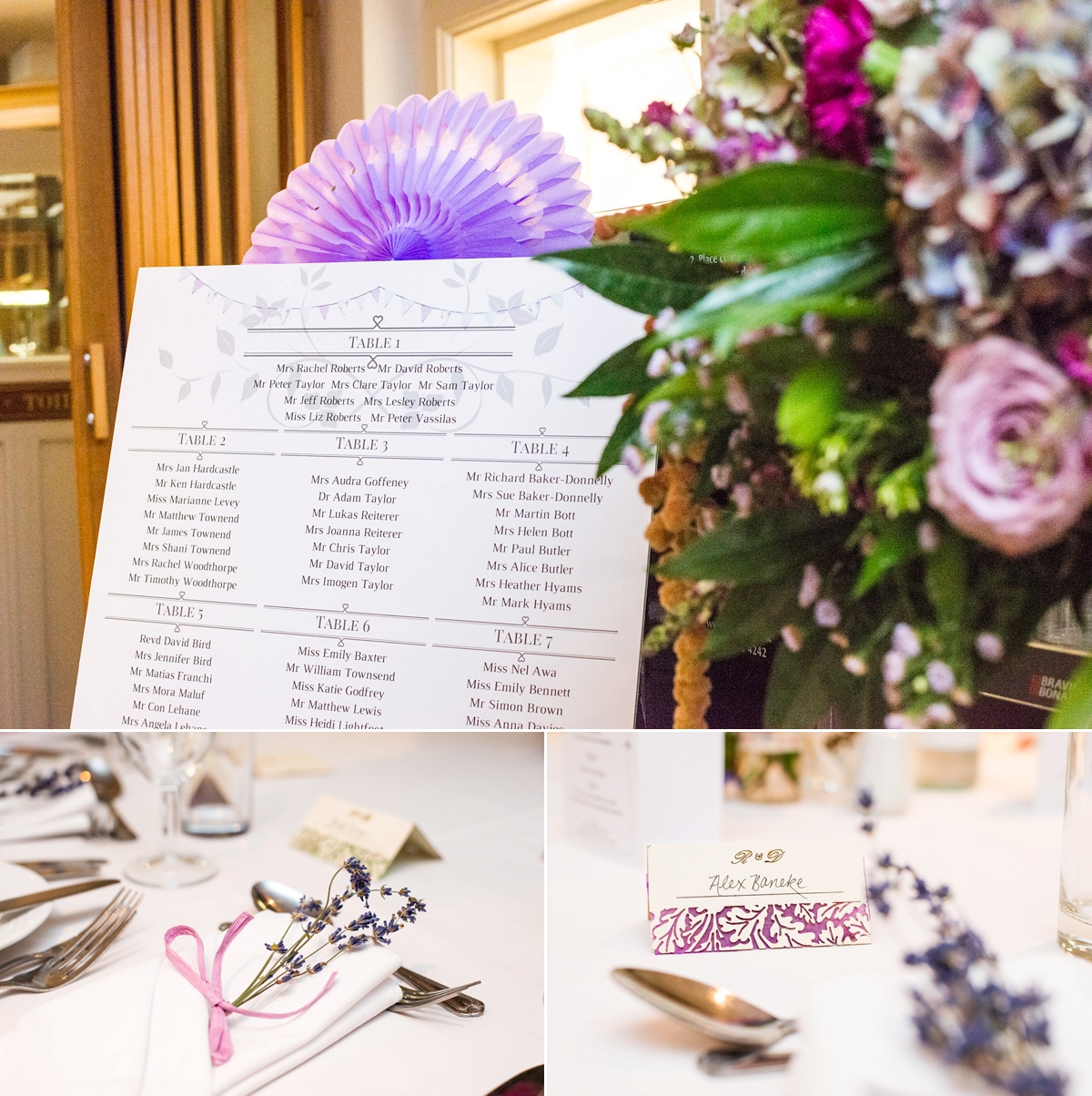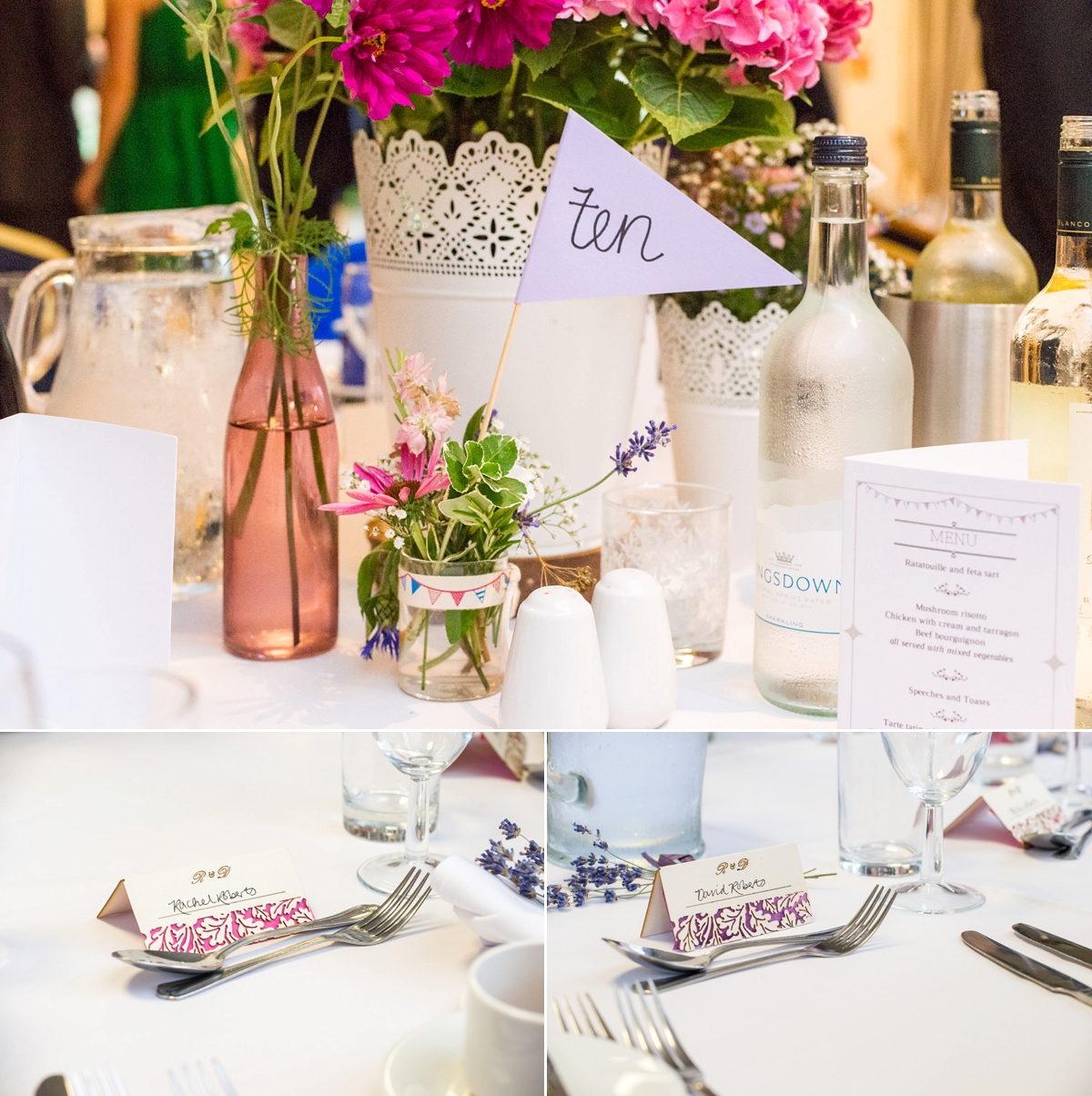 "We used Hip Hip Hooray for the invites and Dave designed the rest. The gorgeous laser cut place cards were made by a friend and everyone loved them."
The couple's three tier wedding cake was made by the mother of the bride, with the addition of some extra cupcakes from Good Cake Day. Their church family is very important to them so they had an afternoon tea at the church before leaving for the reception, giving Rachel and David a chance to thank  everyone who has supported them.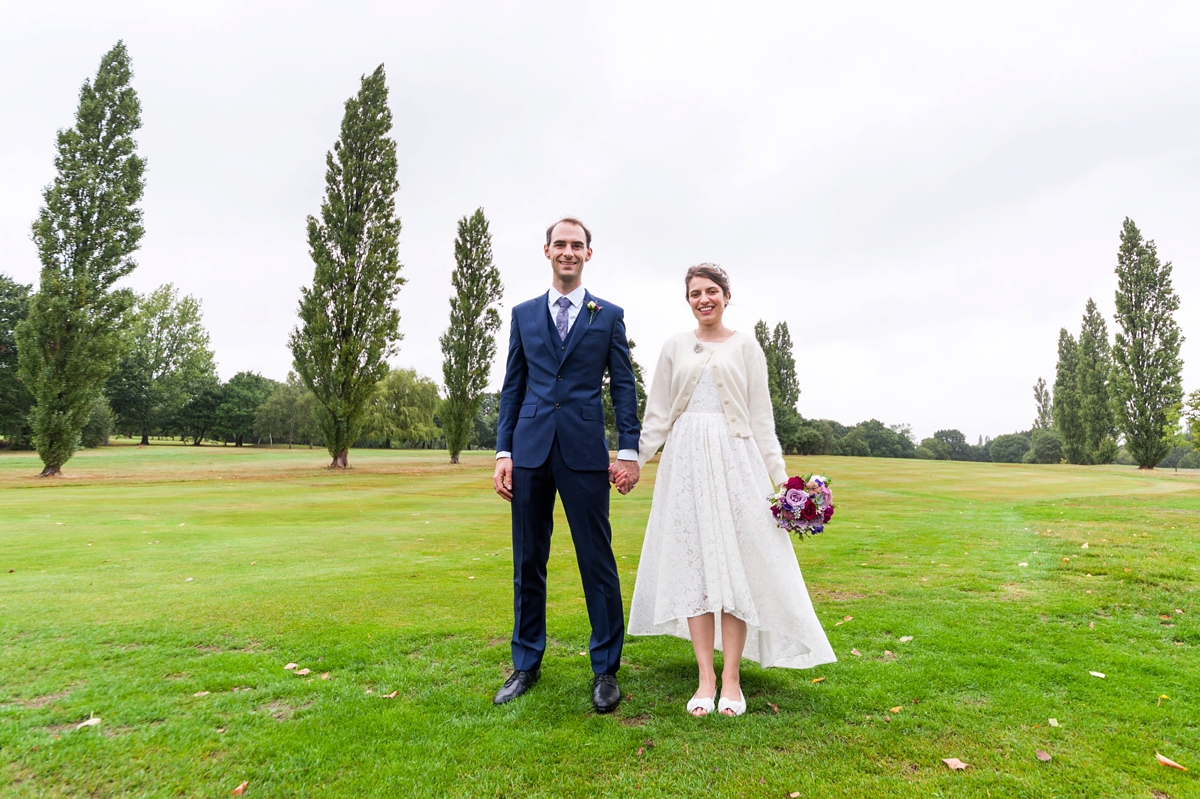 Words of Wedded Wisdom
"Don't underestimate the stress of moving house the weekend before your wedding. However, the stress of packing to go straight on honeymoon is definitely worth it. Remember everyone on the day wants it to be a huge success, and will do all they can to help – just relax."
"Despite London prices we were under budget, largely due to our creative and talented family and friends."
Congratulations Rachel and David, and thank you to Beatrix Fuhrmann for the stunning images.
Love Caoimhe xx