Buckle up lovely ones, for I have the most colourful and cosy winter wedding to share right now that is guaranteed to warm your heart, with beautiful images by Lauren McGlynn Photography – who we recommend via our Little Book for Brides.
The bride and groom are quite the creative couple, with jewellery designer Moira running her own business, Patience Jewellery, and Thomas a graphic designer. They tied the knot with a humanist ceremony on the 28th of December 2016 at Thomas Morton Hall in Leith, Edinburgh.
The couple have called Edinburgh home for 8 years and liked the idea of a venue they walk past frequently and could remember their special day – and for the decor the hall was filled with loads of light and greenery for their wintery celebrations.
"As it was winter we knew any outside activity would be off the cards due to the weather and cold, so our intention was to make inside as cosy and warm as possible. We loved the fact the venue allowed us to light candles and so we just went bananas with fairy lights, tea lights and foliage. It was pretty magical."
Photography by Lauren McGlynn
The majority of the suppliers for Thomas and Moira's big day were based in Edinburgh and run small businesses like Moira. Her two colourful bespoke dresses were made by her friend Rowan of Rowanjoy, whose divine designs have previously wooed us here at headquarters.
"Rowan is a friend and also shares a studio space at The Hill Street Design House with me in Edinburgh so the whole process was so fun and relaxed – I loved peeking my head round her door and seeing the dress come together. Rowan has an intrinsic sense of what suits a person so I knew I was in safe hands. My mum absolutely loves her too!"
"I knew I didn't want a traditional white wedding dress from the beginning as I really wanted something I could wear again and again – it's not often you get a bespoke dress made! I think I suit deeper colours better than white, and as it was Christmas, red seemed appropriate."
"Rowan helped me come up with the Spanish design with a beautiful asymmetric frill on the bottom. It fitted me perfectly and above all I felt comfortable."
"My evening dress is one from Rowan's collection and I just fell in love with the print. It's a waxed cotton fabric that holds shape and just felt so fresh to change into the evening for dancing and nonsense. I have worn the skirt with cashmere jumpers to other events already!"
Moira added a spritz of 'Chance' by Chanel, gifted by her mum, and a pretty hairpiece made by another creative from the shared studio space in Edinburgh, Janet from Rene Walrus.
"Janet's work is amazing and when I gave her a very rough idea of what I wanted she just knew exactly what I meant and she came up with the little beaded clip I wore through my hair. It was perfect as I didn't want a veil, but felt I didn't look very bridal without something like that. This little clip just pulled everything together."
"For my bridal party we used Lauren Gollan for make up and Natalie Calder for hair from Dickson Reed for hair. Natalie and Lauren are best friends who just work so well together, they kept us on a tight schedule on the day and we were all delighted with the results."
As a jewellery designer, Moira wanted to make herself something extra special to wear on her wedding day, so she designed a stunning pair of earrings and paired them with a beautiful bracelet which belonged to her Nana.
"I make so much jewellery for other people it's very rare that I have time to design something just for myself! I think a lot of designers say the same. I made myself some 18ct gold and diamond earrings with a moonstone drop inspired William Morris styling – they were quite glitzy but I absolutely loved wearing them and I think they suited my overall look. I also wore an 18ct yellow gold bracelet that belonged to my Nana to whom I was very close. I know she would have loved it that I wore that bracelet, as I was her only granddaughter from her two sons and she always said she wanted to see me walk down the aisle. She felt very close to me on that day."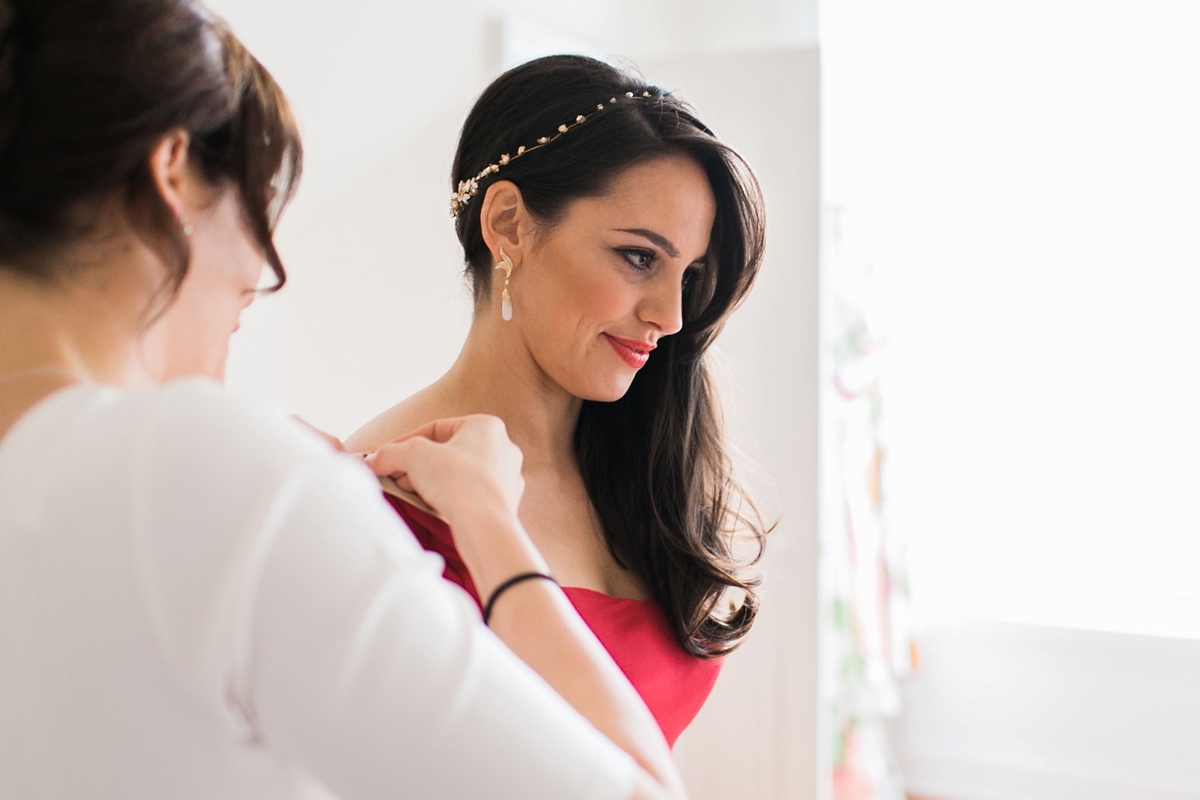 The flowers, by Jenny from FlowerMug, are utterly exquisite. Moira was inspired by the bouquet her granny had at her wedding in the 1940's, made up of large carnations and wild trailing asparagus ferns.
"I wanted to replicate my granny's bouquet in memory of her as best as I could and Jenny couldn't have been more excited to do so either! She was so thorough and full of ideas – she really went over and above what we asked of her."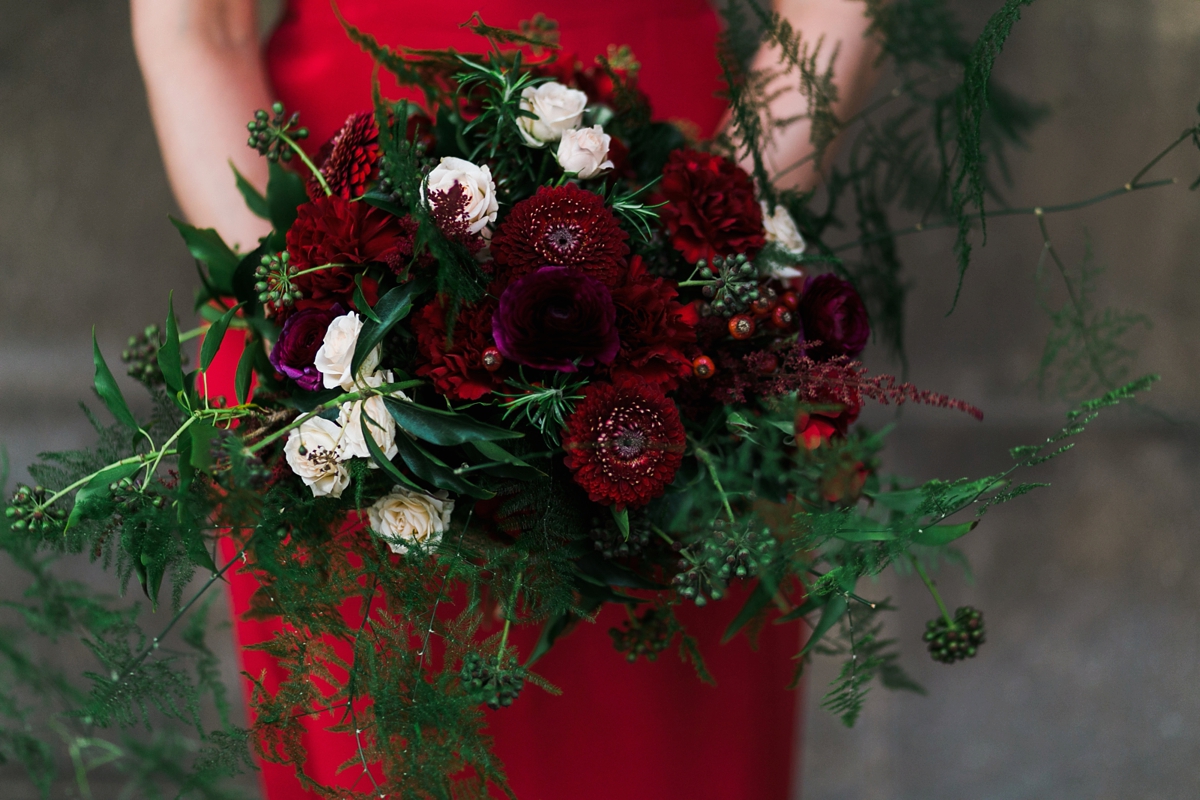 "I love flowers myself and grow many in my allotment so I was enthused to speak to Jenny about what was possible at that time of year. We went for a colour combination of lots of greenery and deep reds, peach and softer pinks for my bouquets and Jenny kindly brought along a concoction of ranuncula, lisianthus, eucalyptus, germini, roses, astible, anemones and rosehsips to pop inside the gold bottles my mum had spray painted for the tables – and it looked fab!"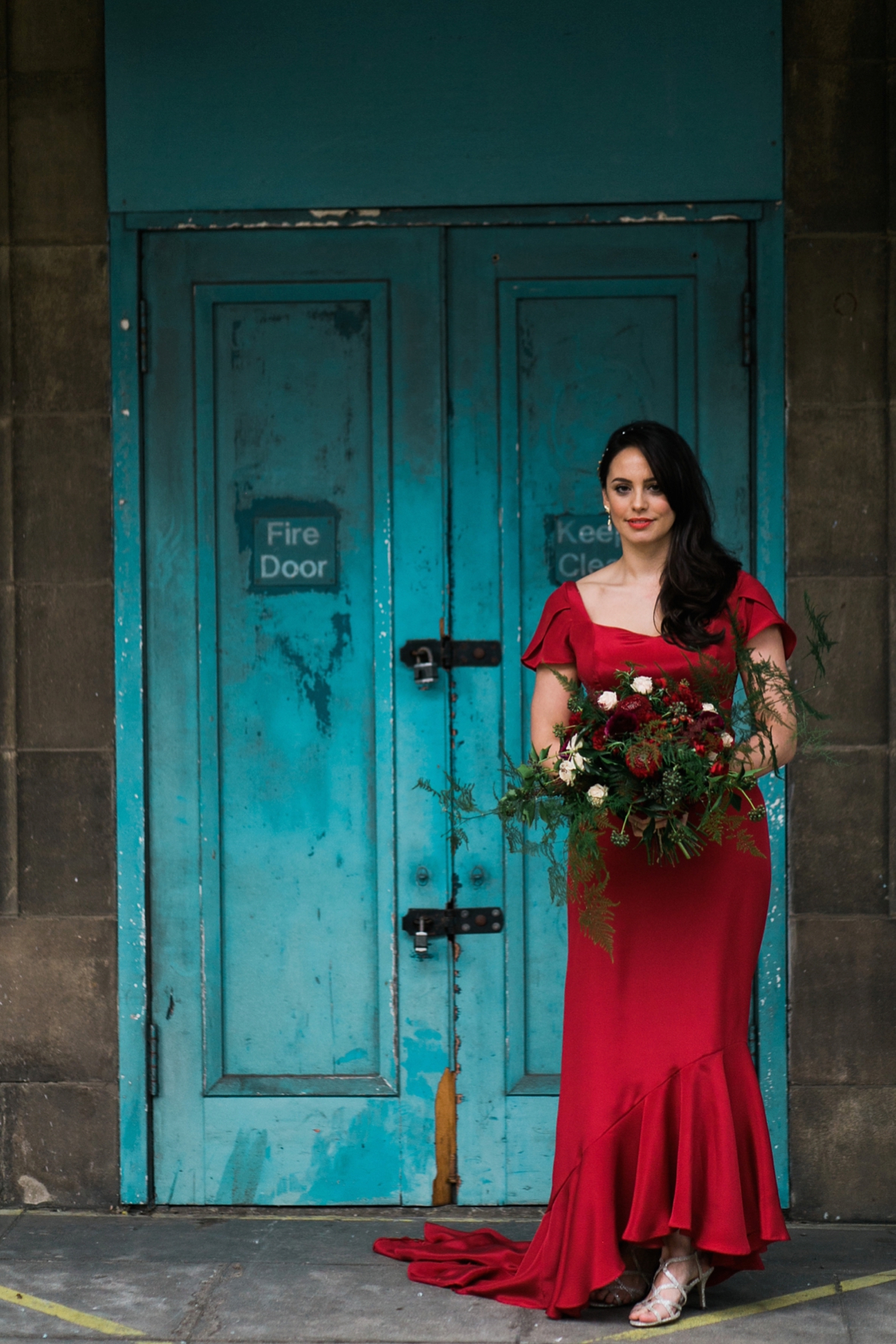 Talented Rowan also created the beautiful bridesmaid's skirts. Aren't they simply stunning?
"All of my bridesmaids have very different styles and personalities, so I felt conscious that I didn't want to dictate to them what they wore as I wanted them to feel like themselves. Rowan suggested she could make a skirt in a similar pattern to my evening dress for them all, which was wonderful as it meant they could wear whatever top and shoes they wanted, but still look like part of the wedding party."
"I loved it as in the photos each one them is just themselves and look so relaxed and happy. I gave each of my bridesmaids a silver necklace with a hand-engraved initial tag on them that I made myself."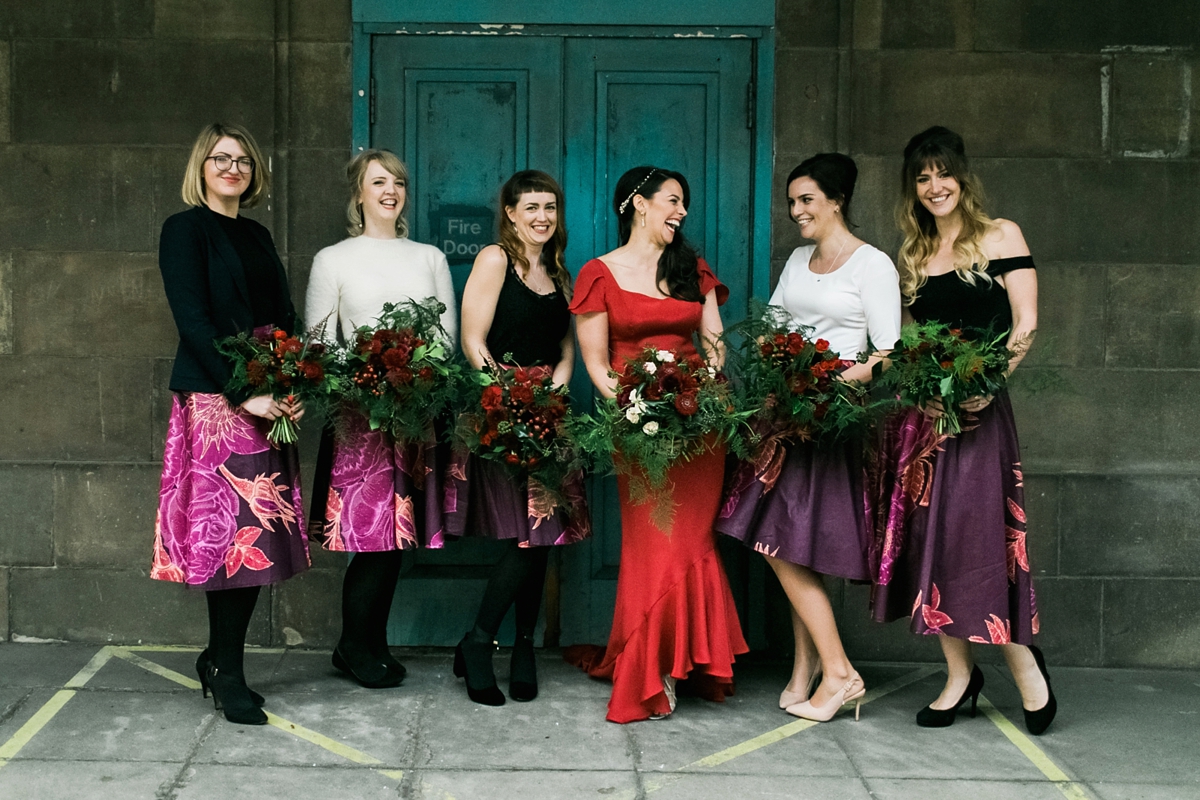 "Thomas had a bespoke kilt jacket and waistcoat tailored by Walker Slater in Edinburgh, in a beautiful black Worstead wool with a flash of deep red lining. His lovely mum Val made his kilt by hand using 8m of contemporary tartan – it was very special for him to wear that kilt. I handmade his 18ct gold cufflinks."
"Thomas and I met at art school about 13 years ago, catching each others' eye across the canteen (the romance!). After many adventures together we settled in Edinburgh with our dog Luna about 8 years ago. Thomas proposed in Feb 2016 after a day in the mountains of Glencoe snowboarding. It's quite funny as he had wanted to propose on the chairlift coming down the hill with the spectacular views over the glen, but it was sideways rain and blizzards all the way down! He surprised me with a stay in the local hotel and asked me later that night. It was lovely."
With his graphic design background, Thomas designed the wedding invitations and order of service, then arranged for printing via 2Flux, who are also based at The Hill Street Design House. The couple's wedding 'logo' was based on an amazing engraving that Moira's engraver did on a signet ring for Thomas.
"For our ceremony and reception, we had a lovely string trio. We splashed out a bit on this but I think music is essential to creating a lovely ambience. My lovely Dad walked me down the aisle to 'My Love Is Like A Red Red Rose' by Robert Burns and we walked out the hall to 'Signed Sealed Delivered'! My best friend Amy Knowles who wrote us a song as our wedding gift ('Something Special') was played during the signing."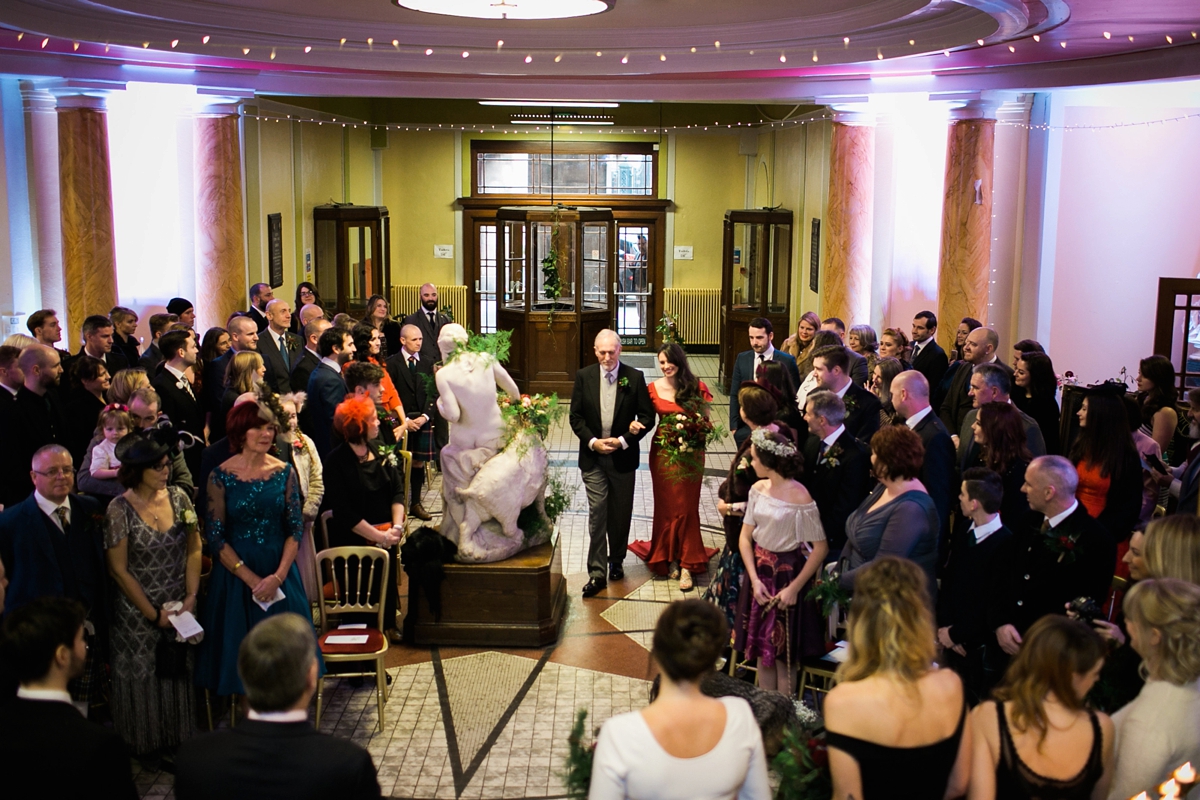 "We had a humanist wedding and our celebrant Robert Anthony was fantastic. He was quite commanding but with a streak of good humour so we had plenty of laughs throughout the service."
"We didn't write our own vows but we did want a wee element of surprise so we each wrote down three things that we loved about the other person and one thing we think they needed to work on (!) and sent them over to Robert, who revealed our notes to each other during the service. It was very sweet and hilarious at the same time – I would definitely recommend."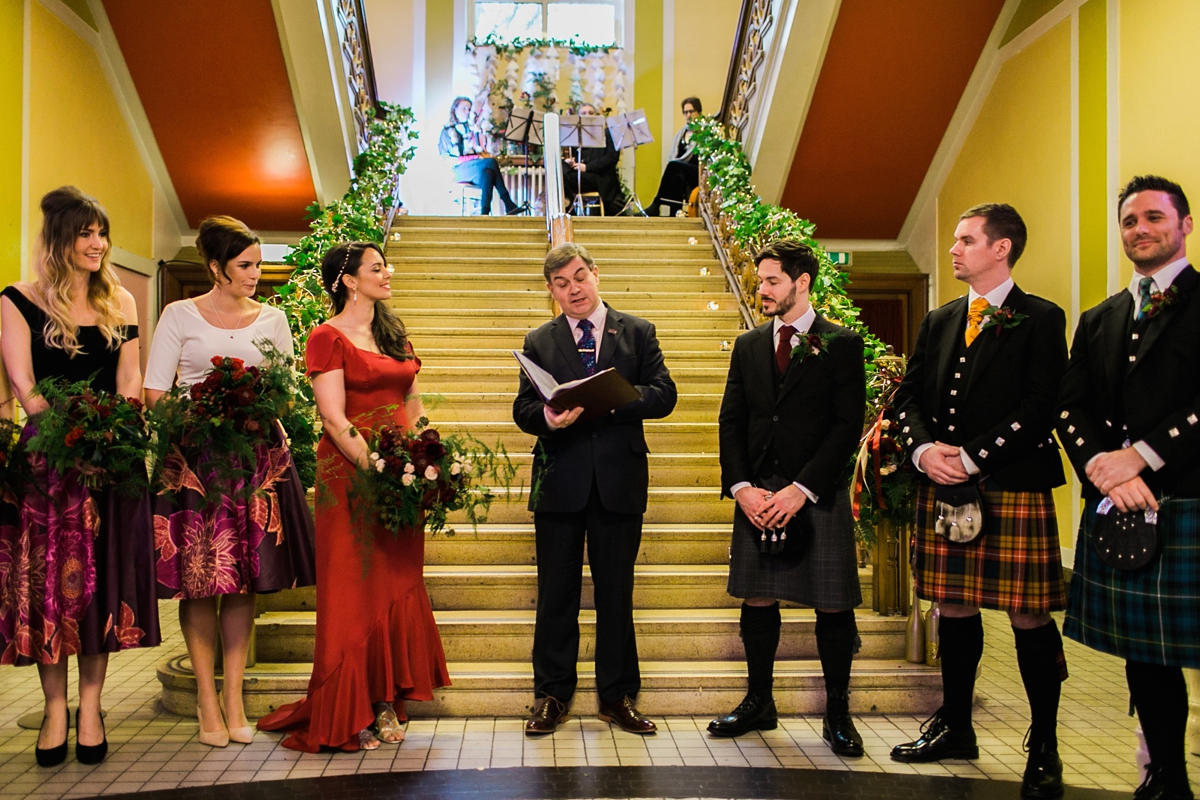 "I think I would have to say the ceremony was my favourite part. I could feel everyone's love and good vibes gravitating towards us during it and it felt like we were walking on air. Turning and seeing all our close family and friends in one room just beaming at us was pretty special and I will never forget it. It was funny and sweet with plenty of laughs and a few tears too. Luna our German Shepherd was our ring bearer and looked so cute with her gypsophila flower crown – it was just perfect."
"We opted for very simple yellow gold bands made by myself. Thomas had a matte finish on his and I went for a simple polished band."
"Thomas and I escaped for wee while after the vows, so a friend of mine who is a brilliant magician – Andrew McKinlay – entertained guests with his amazing tricks, and a friend's brother set up a Mojito bar to offer a cocktail as well as the champagne. I sometimes feel there is a wee lull for guests after the ceremony, so this was all great."
The couple chose Lauren McGlynn Photography to capture their day and she did such a fantastic job.
"Lauren's work has a timeless appeal. Her use of natural light is magical and we were worried that we wouldn't be able to get any outside shots, but despite it being 4 o'clock in the afternoon in December the light held for us and Lauren's images of us together are perfect."
"I loved the gritty backdrop of Leith in our photos, as these are places we hang out and so we will also be able to remember our special day every time we are in that area. Amongst the group photos are some of my favourite shots, as they were so informal and everyone was beaming."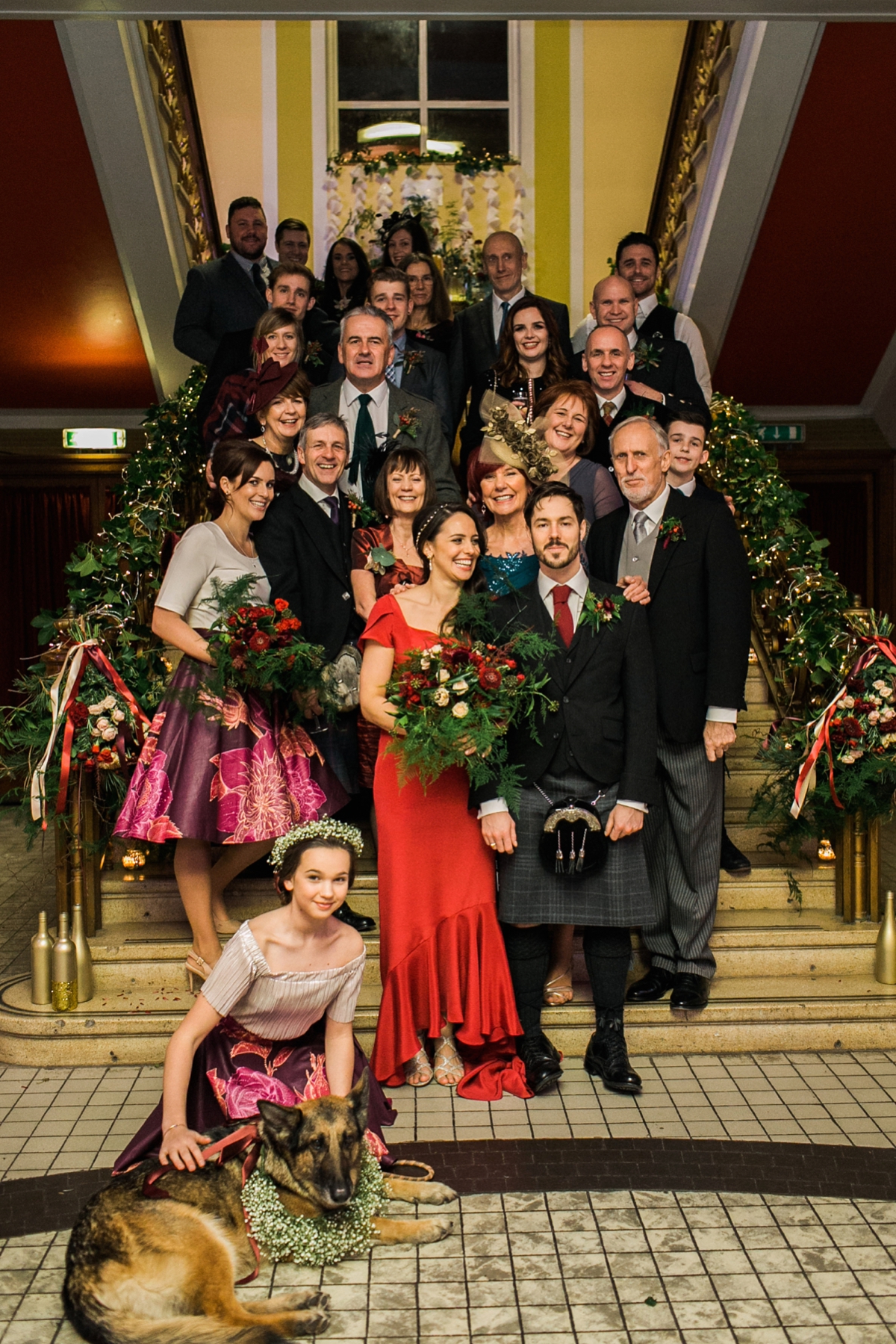 To help with organisation on the wedding day, Thomas and Moira hired Mercedes of Scarlett & Bell.
"Mercedes does an 'on the day' package which I could not recommend enough to brides and grooms, especially if you are doing a fairly relaxed/informal wedding and pretty much all DIY, then having someone there on the day to make sure everything is running well and on time is priceless. I didn't worry about a thing and just focused on enjoying myself."
"Having poured over Pinterest and Love My Dress for inspiration, we ended up having a bit of a mish-mash of styles on our wedding day. We didn't have much of a budget and bless my Mum who spray painted honestly about 500 wine bottles gold. We dotted these all over the places with candles and foliage in them as well as using them for the centrepieces on the tables. We borrowed over 100 tea lights from a friend and placed those in every nook and cranny, as well as having draped ivy intertwined with fairy lights everywhere else."
"We had some old ladders that I found and placed candles and foliage in and around them, which helped break up the space and create more areas of interest. I also made paper cones from tracing paper and strung these over windows to hide undesirable things."
"For our table plan we used a big mirror from our house and Thomas hand wrote it – it literally took him all day the day before because he is such a perfectionist which was quite annoying! – and we used some old suitcases for the gift table."
The couple decided to have a Mexican feast, rather than traditional Christmassy food – and Mary from Wild Dining put together an amazing spread which proved to be a huge hit with the guests.
"We had pulled pork tacos, mole chicken and butternut squash chipotle chilli alongside charred corn on the cob, guacamole, spiced rice, blue corn nachos and salsa verde. The food was delicious and really relaxed – everyone just helped themselves as they went along. We didn't have dessert but instead a tower of Croque en Bouche – a lovely wee sweet bite alongside coffee at the end of the meal."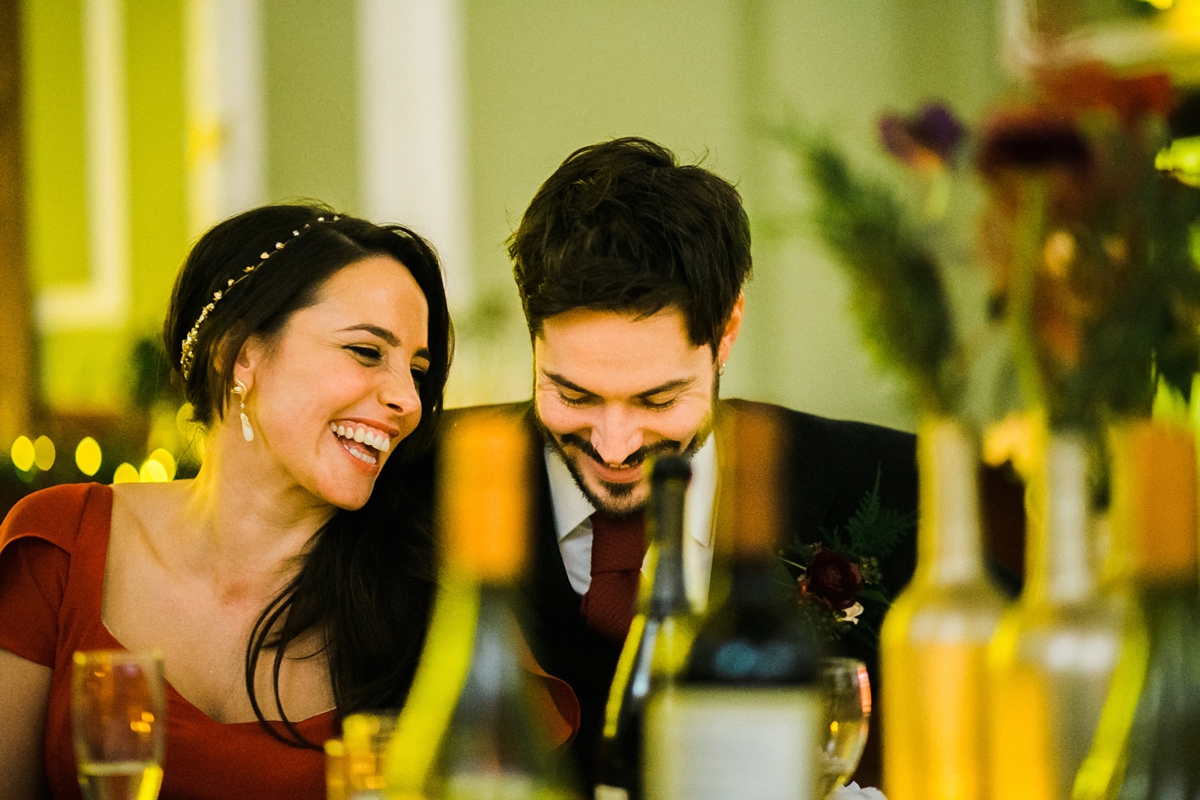 "Thomas made a banging playlist over dinner before The Jiggers came along. They are an epic 5-piece ceilidh covers band who we saw at another friend's wedding and thought they were brilliant. Every Scottish wedding needs a ceilidh!"
"We danced to 'Stand by Me' by Ben E King for the first dance. There isn't a massive significance to the track, but the lyrics are perfect and it's the kind of tune you can listen to again and again and never tire of it. It's just a brilliant, beautiful song."
Words of Wedded Wisdom
"It is such an exciting time and it is hard not to get carried away, but what I would say to any bride organising a wedding is to try and keep it as simple as possible – especially if on a budget. We would have loved a wedding on a Hebridian island, on the beach, but logistically that would have been a nightmare and very difficult for some friends and family to attend. I would also encourage brides to use small suppliers for everything from dresses to décor, as small businesses tend to offer a truly personal service and they really really care that they do a good job."
"On anther note, if you can, I would really recommend that after the ceremony that you and your newly wedded husband escape for a short period of time to just be with each other and try and take in everything that has happened! We managed to run to the nearest pub (The Roseleaf on The Shore) for a gin and tonic, nobody in there batted an eyelid and it was just such a lovely moment."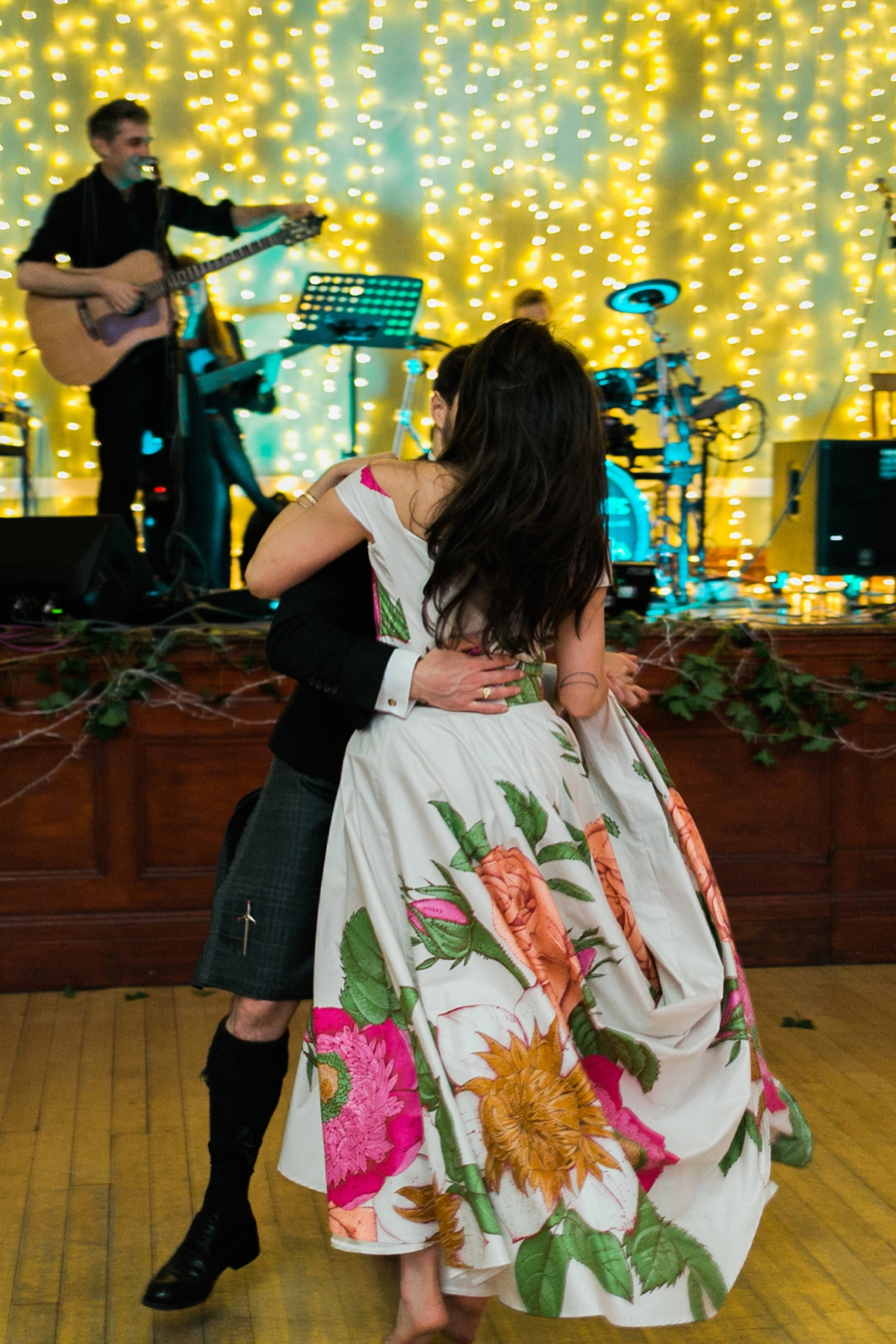 Upcoming brides and grooms: take note of this wise advice. I received such incredible help and support from the small, local suppliers for my wedding – I'll never forget the gasp the lovely cake ladies made when I made my grand entrance down the staircase as I prepared for the aisle walk! And a very big thank you to Lauren for sharing these lovely light-filled photos of the beaming newlyweds.
Are you thinking of a bespoke gown for your big day? Visit our LMD archives for even more gorgeous Rowanjoy gowns.
Love Jo -xo-