Oh hello Friday! As you read this, I'll be preparing to make my way home from Italy after a two week holiday with my family. It's been an absolutely wonderful and very much needed opportunity to switch off and re-energise, ahead of some very big project roll-outs here at Love My Dress H.Q.
I can't help but feel this year has absolutely flown by – when I think back to the spring months, they seem like a lifetime ago already. Spring played host to Sally, a University Manager and Engineer Toby's wedding this year – a charming, low-key London pub wedding. The couple tied the knot via a formal ceremony at Stoke Newington Town Hall, followed by a reception at The Londesborough Pub. We're delighted, by the way, to be able to add this lovely day to our list of married couples who met online!
"We really wanted to get married somewhere local as we thought it would be a good way of marking where we are in our lives now… and would also make the planning easier! We regularly wander past the Town Hall so had a look and booked straight away. We'd been to the Londesborough with friends for amazing food before and so just booked in."
Photography by Annelie Eddy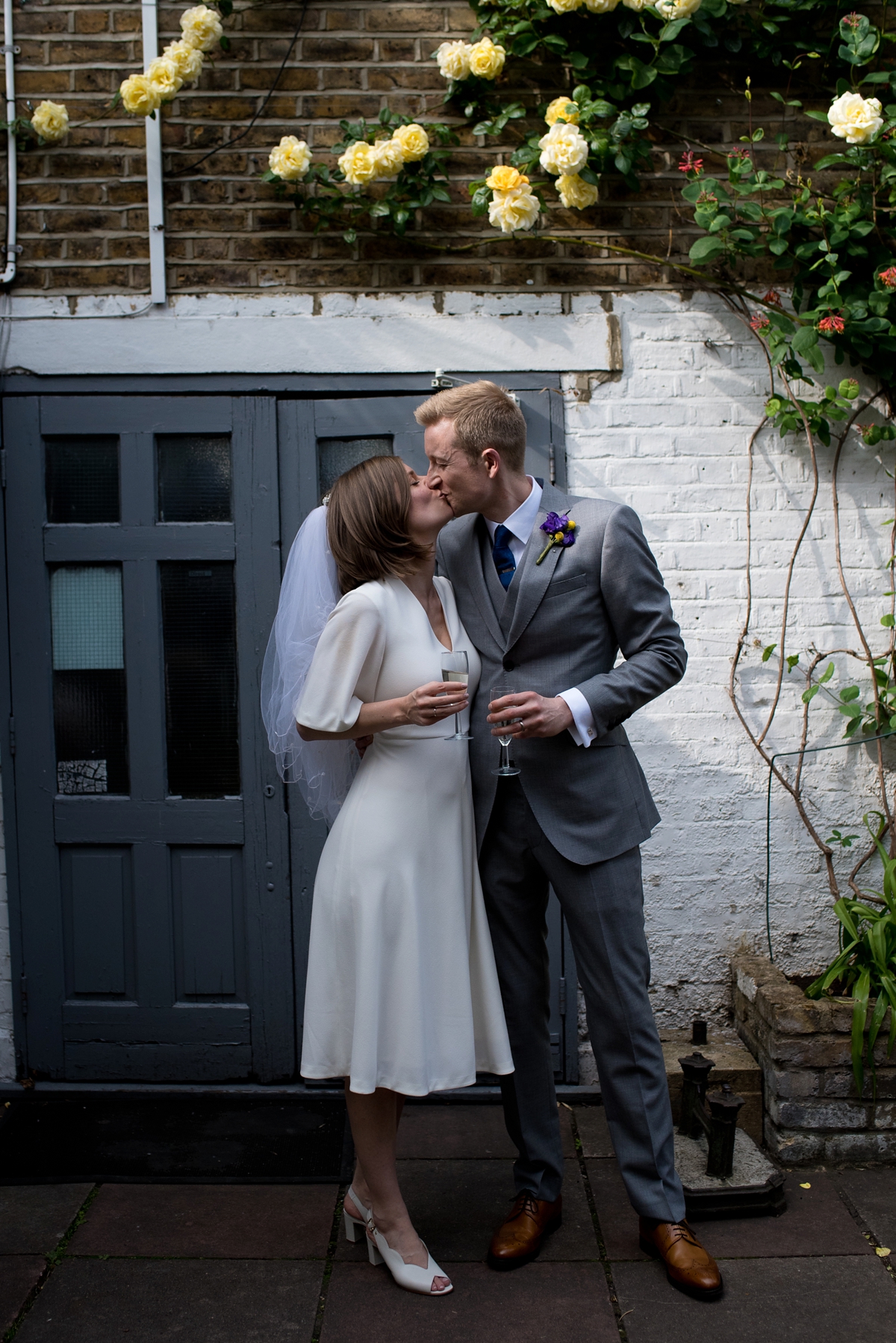 "After trying on a few full length and more traditional dresses I loved being in them but they just felt too much for me and the day we were planning. Much to my bridesmaids horror I started to lean towards something that I could potentially wear again and could stay hanging in my wardrobe. I thought it would be lovely to be able to look at it every day (it is!).
I spent hours and hours online but spotted my LK Bennett dress walking through John Lewis one day on my own, tried it and loved it. The movement in the skirt is beautiful, it felt classic, made me feel like a grown up (in a good way!) and it would also allow me to wear my mums veil."
"We met in the new normal way – on Tinder! Within six months of meeting we'd planned a three month career break together and we both knew from there that we wanted a life together. Toby proposed 18 months after we met on the River Thames, next to where we'd had one of our first dates.
He had champagne and plastic cups in his bag that we drank on a bench and then got the bus home. It was perfect!! It was just over 8 months from there that we got married."
"My bridesmaids dresses were from Phase Eight and Dorothy Perkins. My priority was that the girls felt good so after a less than successful shopping trip as a group they found what they wanted and I gave a nod of approval."
"My flowergirl dresses were from Next. I wanted to find something with a butterfly on as they remind me of my gran. This one had a beautiful illustration on in grey which I loved."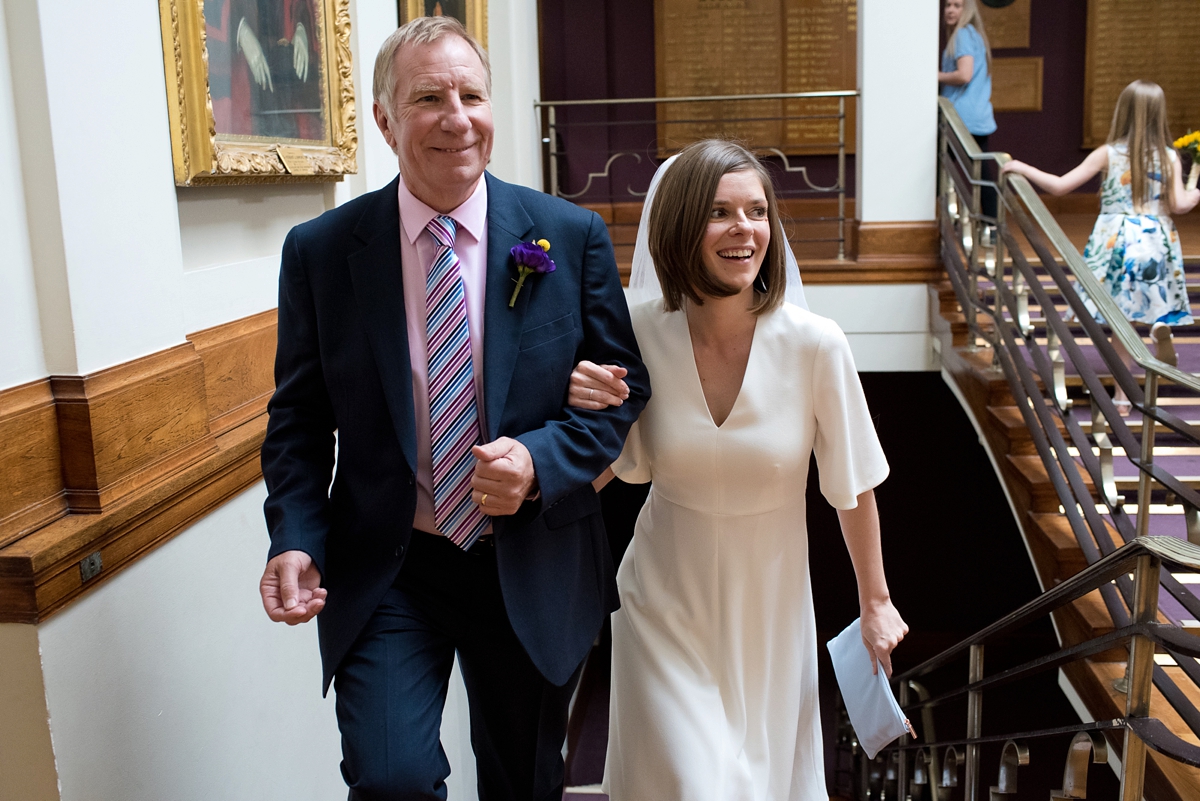 "My perfume was L'occitane Neroli and Orchidee. I'd worn it on our first date and Toby had commented on it. He didn't realise it was just a shop sample so I went out and bought it before our next date! I sprayed my veil with it for the few days before which I'd really recommend."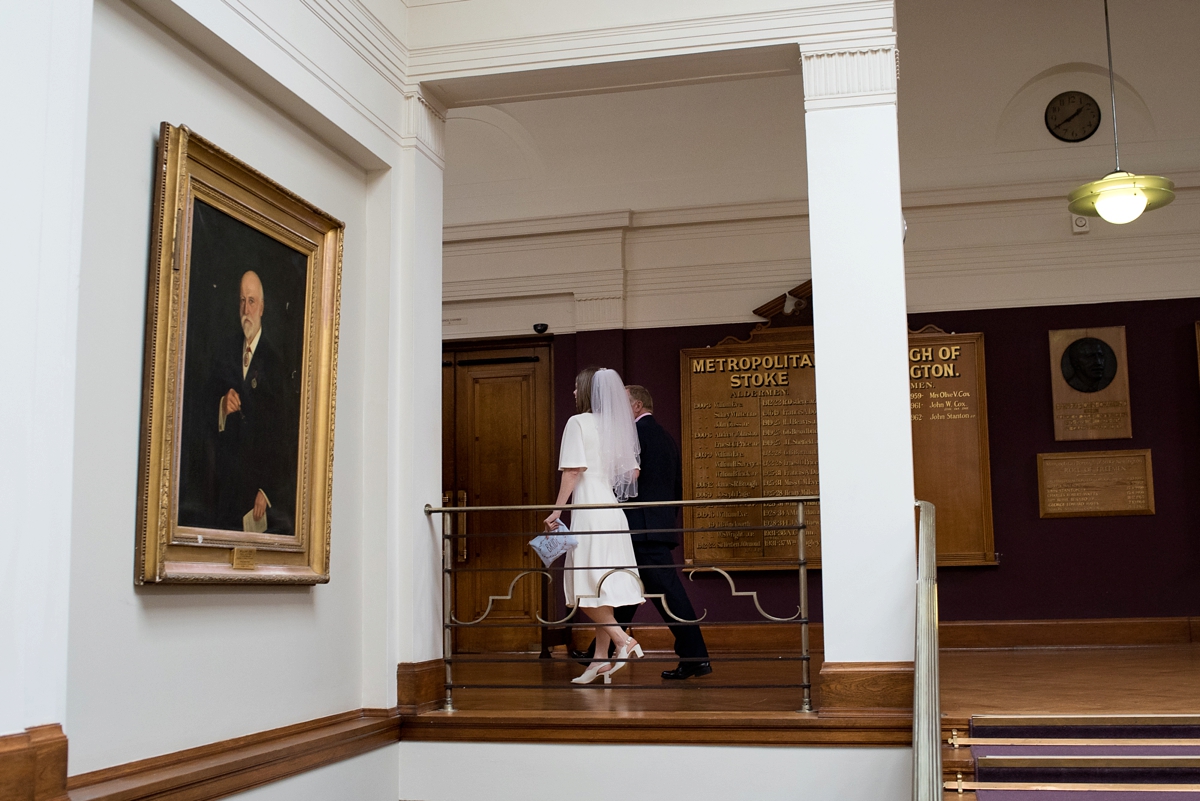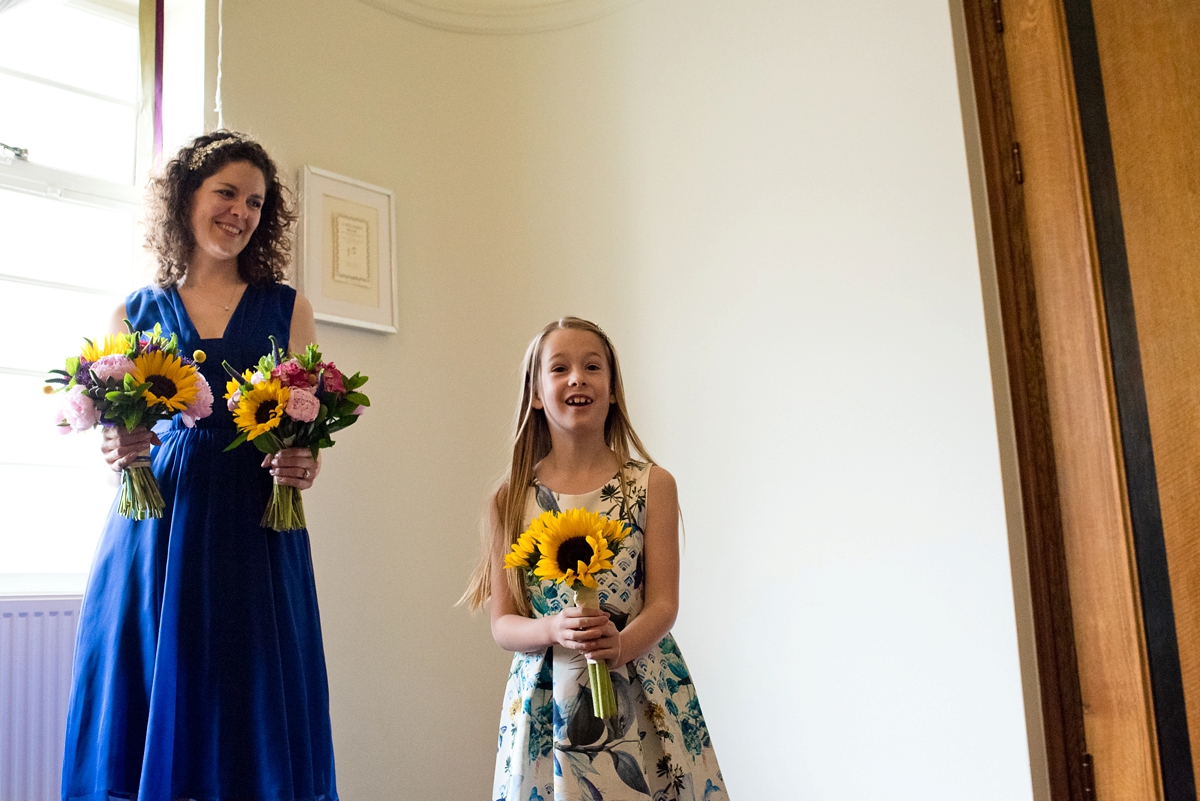 "My dad walked me down the aisle to the sound of the Vitamin String Quartet's cover of 'Shut up and Dance'. It's our song and brings back lots of happy memories but having this version made it suitable for such a big moment."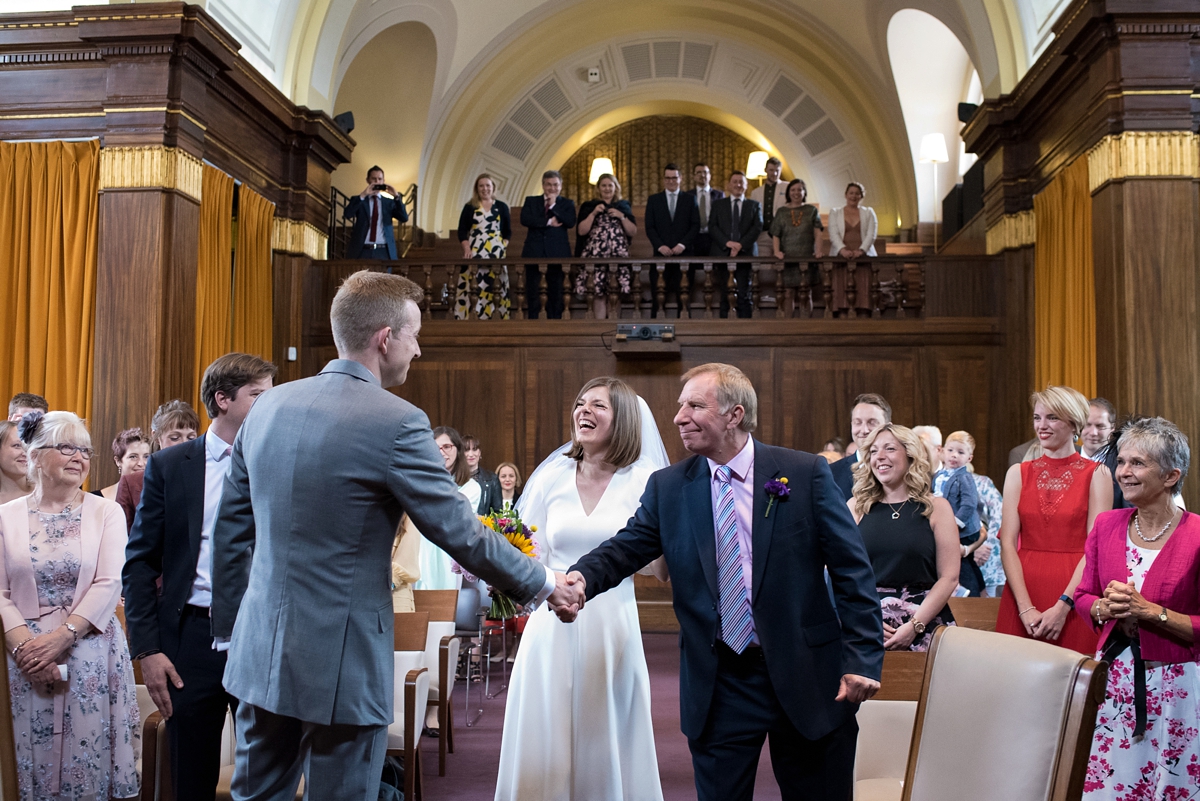 "I wore my my mum's veil. I took it off a Juliette cap that she'd worn and had seen better days. It still had confetti in from hers and dads big day."
"Also, I went, on my own, for a blow dry across the road from my hotel on the morning which was very relaxing. It was quite funny when the person asked me 'are you up to anything nice today?' as I was leaving!"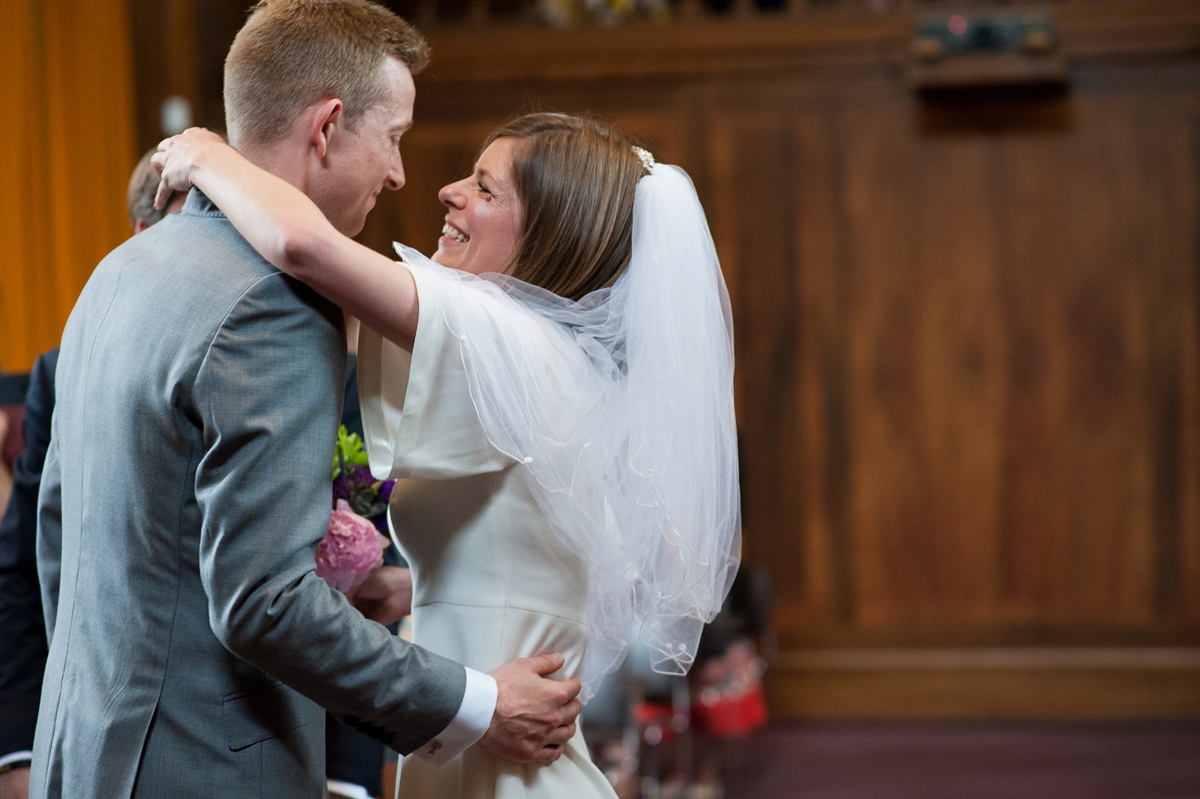 "Our ceremony readings included 'Union', by Robert Fulghum. This was the result of a google search for 'wedding readings' but it made us both fill up when we read it so it was obviously the one…"
You have known each other from the first glance of acquaintance to this point of commitment. At some point, you decided to marry. From that moment of yes, to this moment of yes, indeed, you have been making commitments in an informal way. All of those conversations that were held in a car, or over a meal, or during long walks – all those conversations that began with, 'when we're married', and continued with 'I will' and 'you will' and 'we will' – all those late night talks that included 'someday' and 'somehow' and 'maybe' – and all those promises that are unspoken matters of the heart. All these common things, and more, are the real process of a wedding. The symbolic vows that you are about to make are a way of saying to one another, 'You know all those things that we've promised, and hoped, and dreamed – well, I meant it all, every word. Look at one another and remember this moment in time. Before this moment you have been many things to one another – acquaintance, friend, companion, lover, dancing partner, even teacher, for you have learned much from one another these past few years. Shortly you shall say a few words that will take you across a threshold of life, and things between you will never quite be the same. For after today you shall say to the world, 'This is my husband. This is my wife.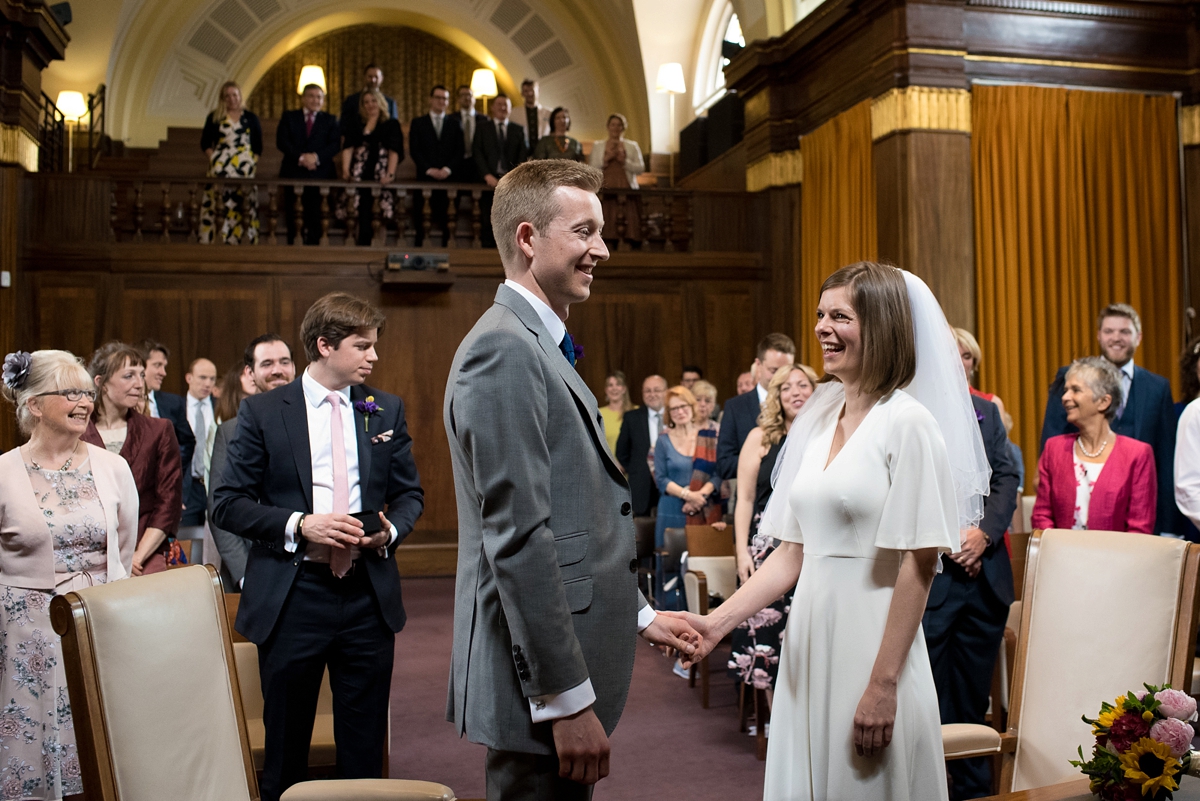 "Our rings were from James Newman Jewellery in Birmingham. Neither of us are big on jewellery so this was very much outside of our comfort zone but James was incredibly helpful and we both got rings we really love. Toby had proposed with a brilliant place holder ring but we picked the engagement ring and wedding rings together."
"Toby's sister lives in Birmingham so we went to the jewellery quarter and popped in on her recommendation. Seeing the workshop as part of the shop and knowing you're having something made just for you made it extra special."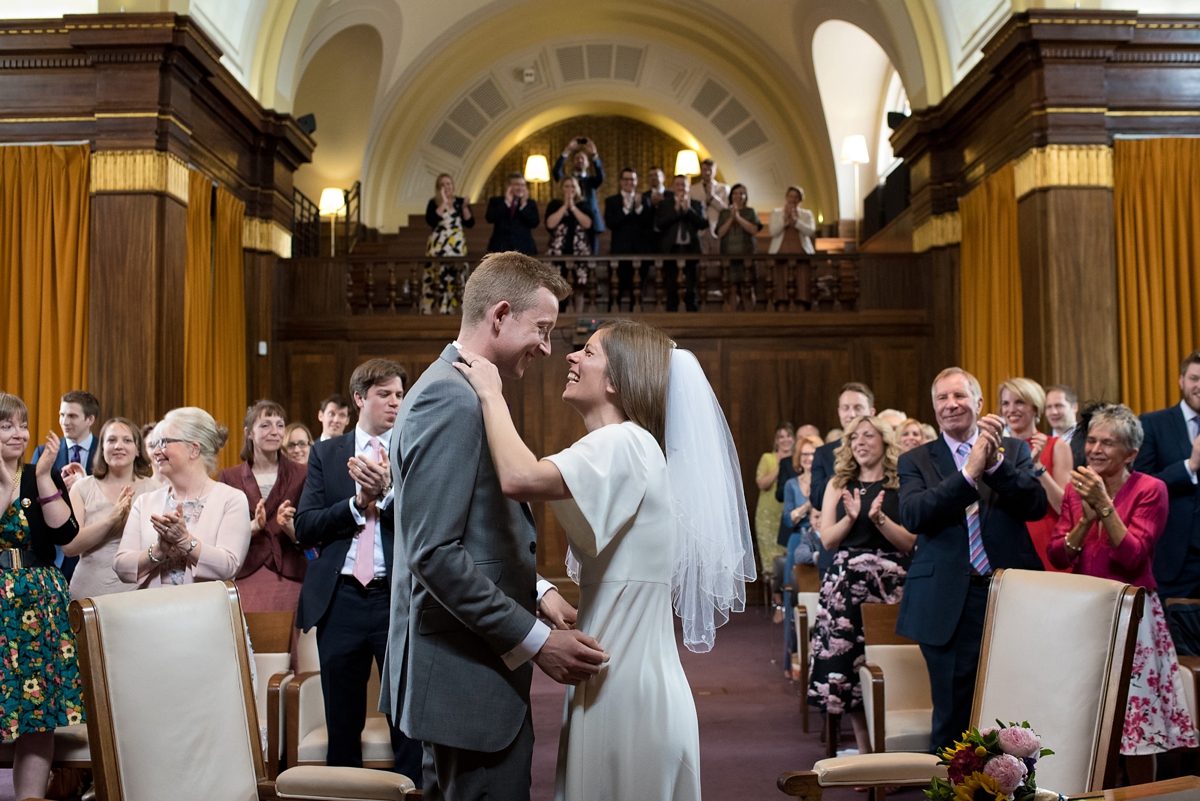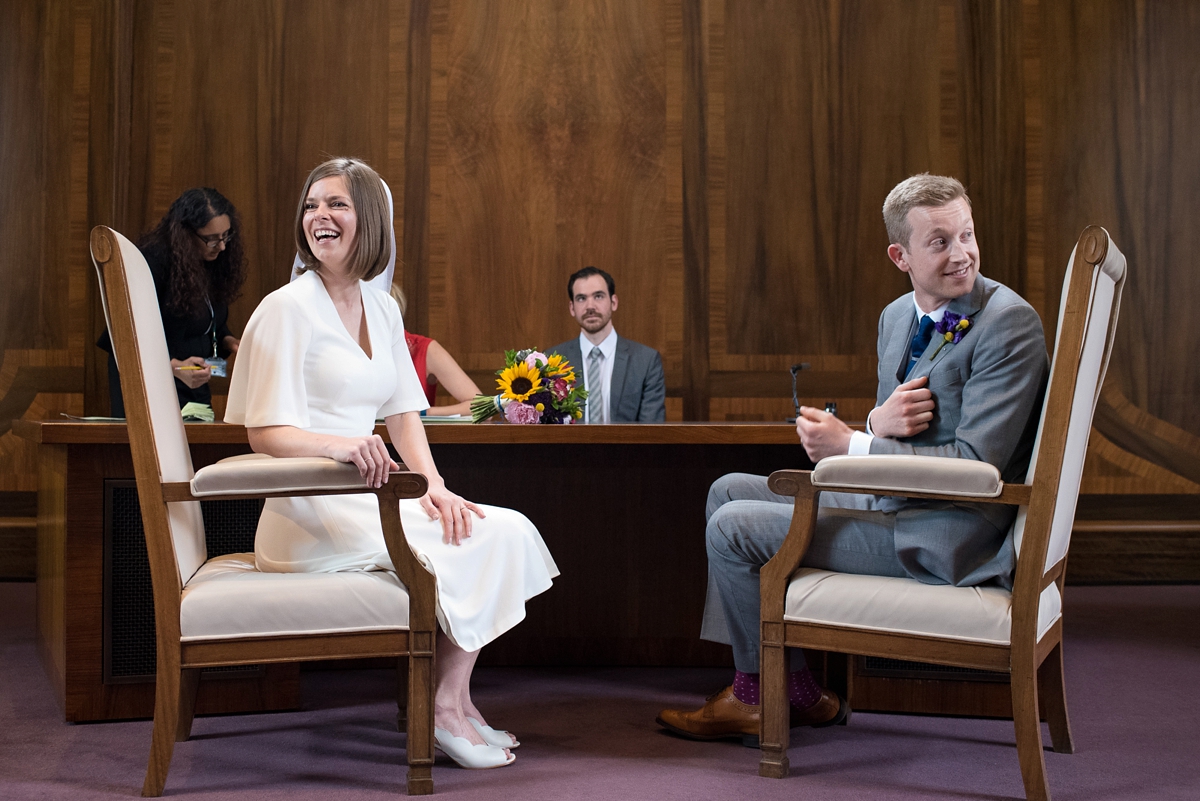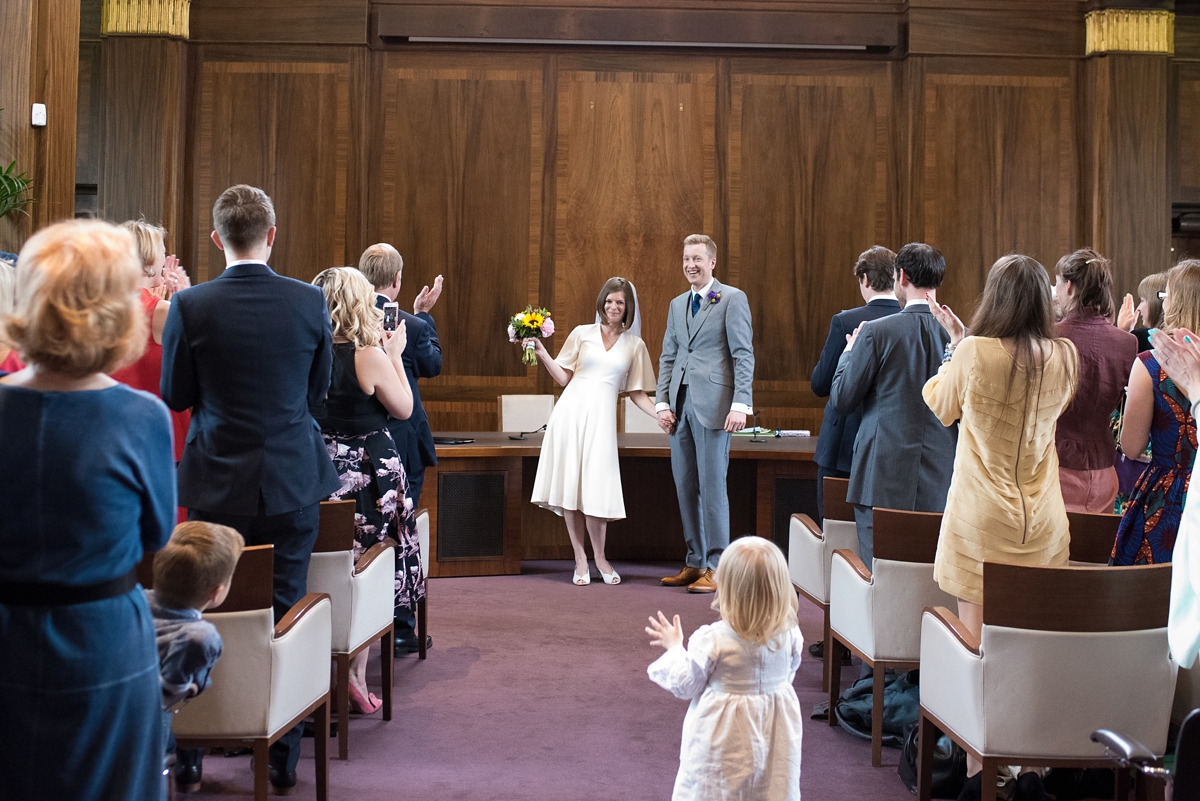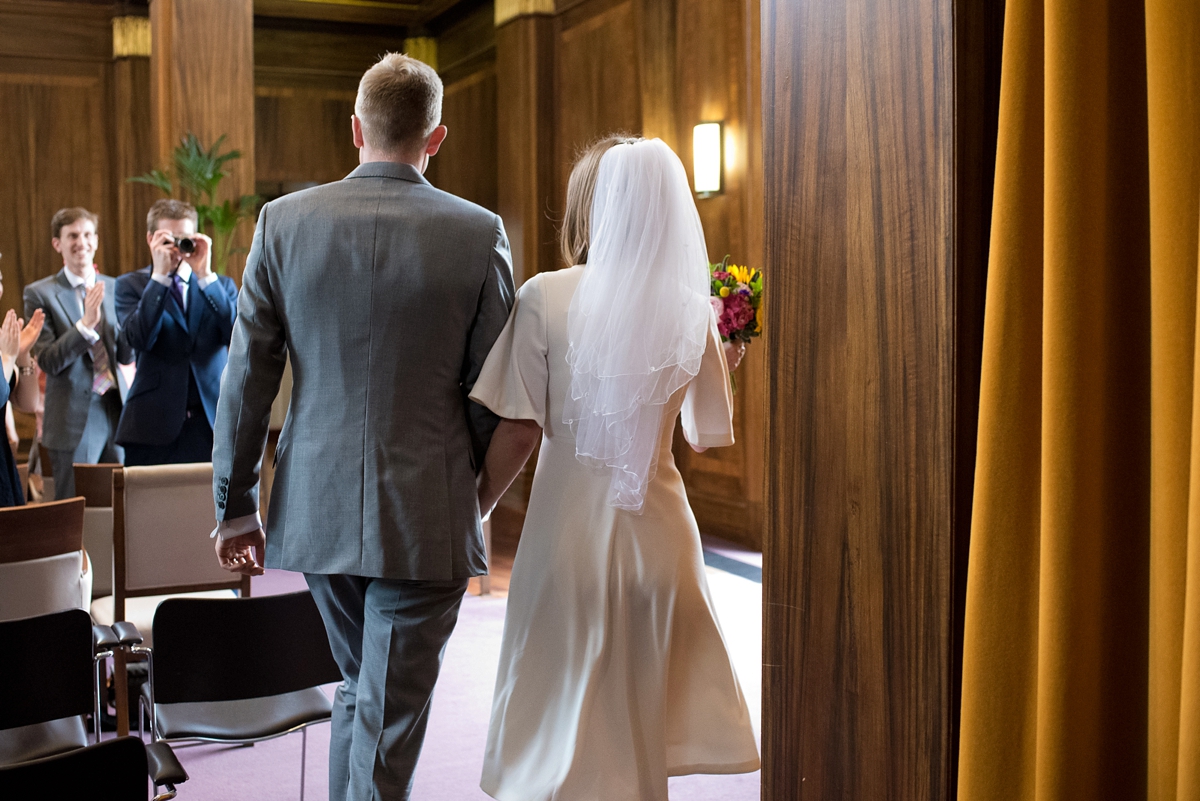 "Our photographer was Annelie Eddy who I can't recommend enough. We wanted our day to be captured, not to stop our day in order to pose for photos and Annelie completely understood that. We did spend about 10 minutes posing together but it felt like a walk and a chat, not a photo shoot which was perfect for us."
"We really enjoyed Annelie's company on the day which again, was really important. We didn't want anyone at our wedding that we couldn't have fun with and I think that rapport has come through in the photo selection that Annelie made for us."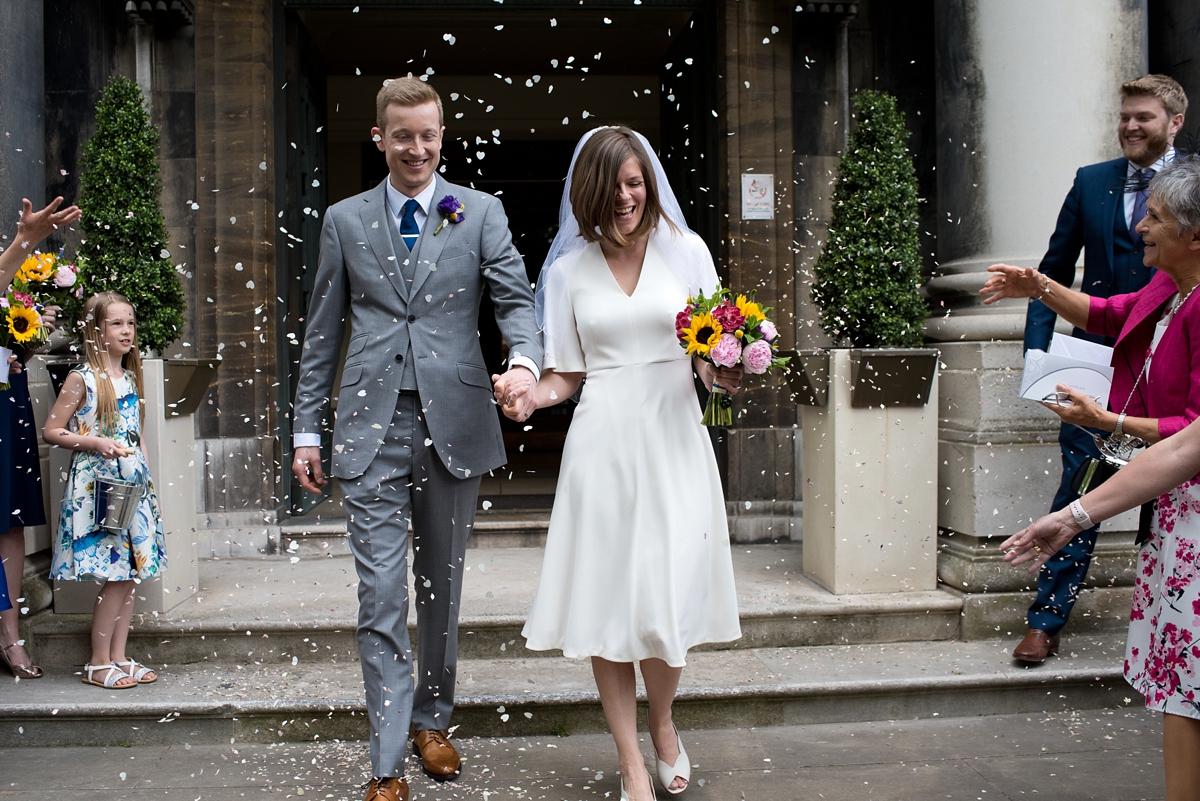 "Our florists were Evergreen and Outrageous on Stoke Newington Church Street. We picked the florist because they were local and really helpful when we went in. I've always loved Peonies so wanted them if possible. Sunflowers are a reminder of a friend who sadly died but we wish could have been at our wedding."
"I had three succulents put in as they're a bit of a running joke between Toby and I. The florist made the other suggestions including adding mint to the bouquet – it looked and smelt amazing. Afterwards I potted the succulents, dried all of the petals to use at future weddings and put the mint in a risotto. Properly made with love!"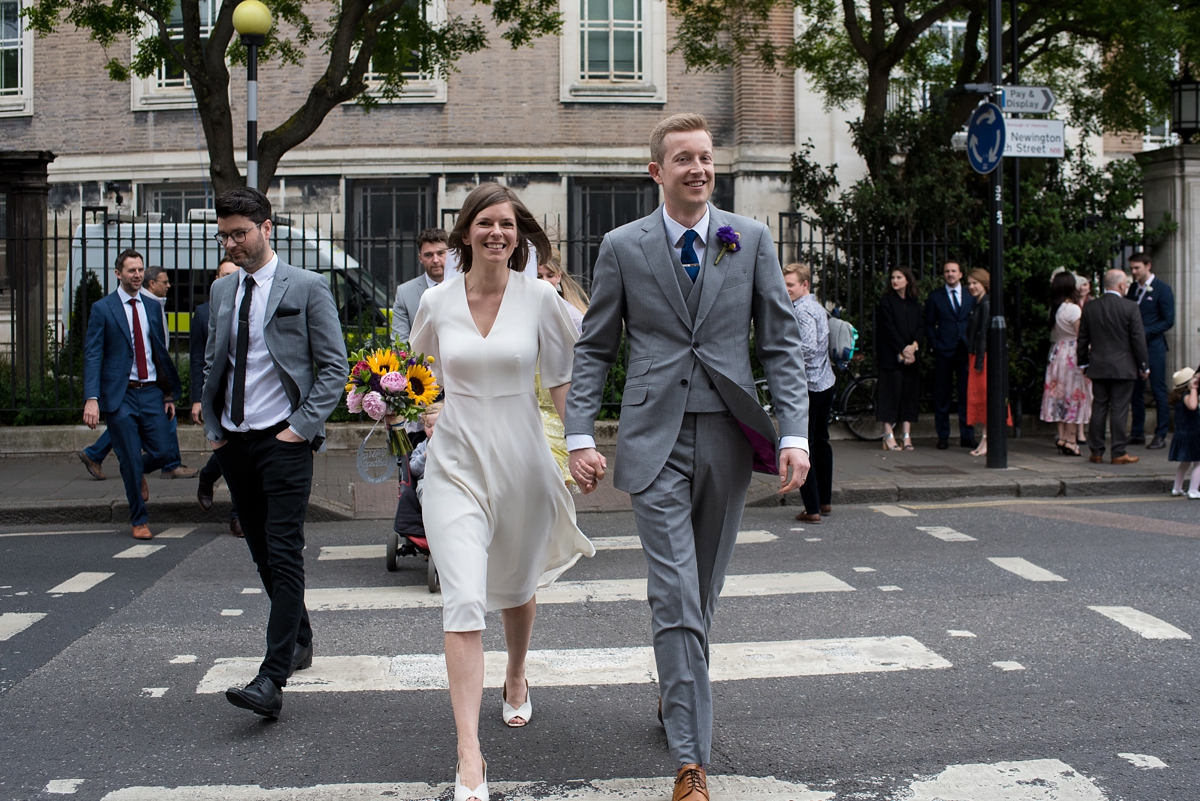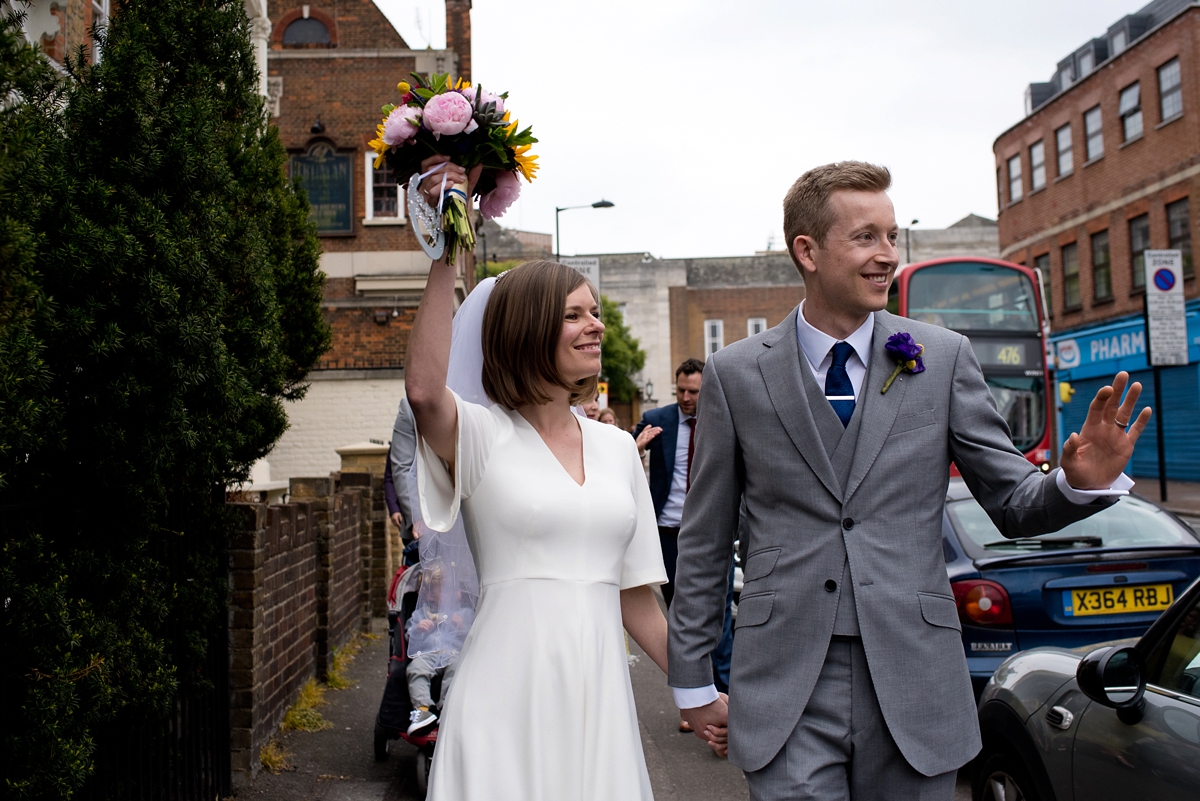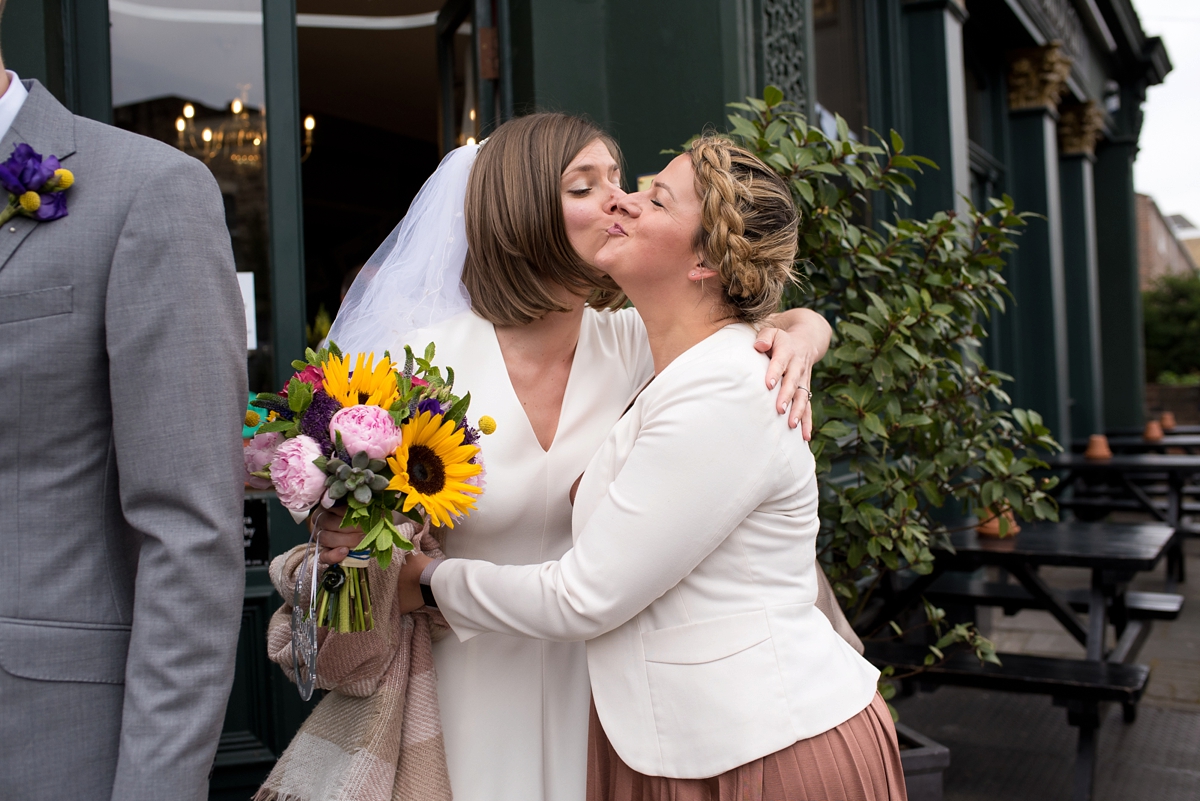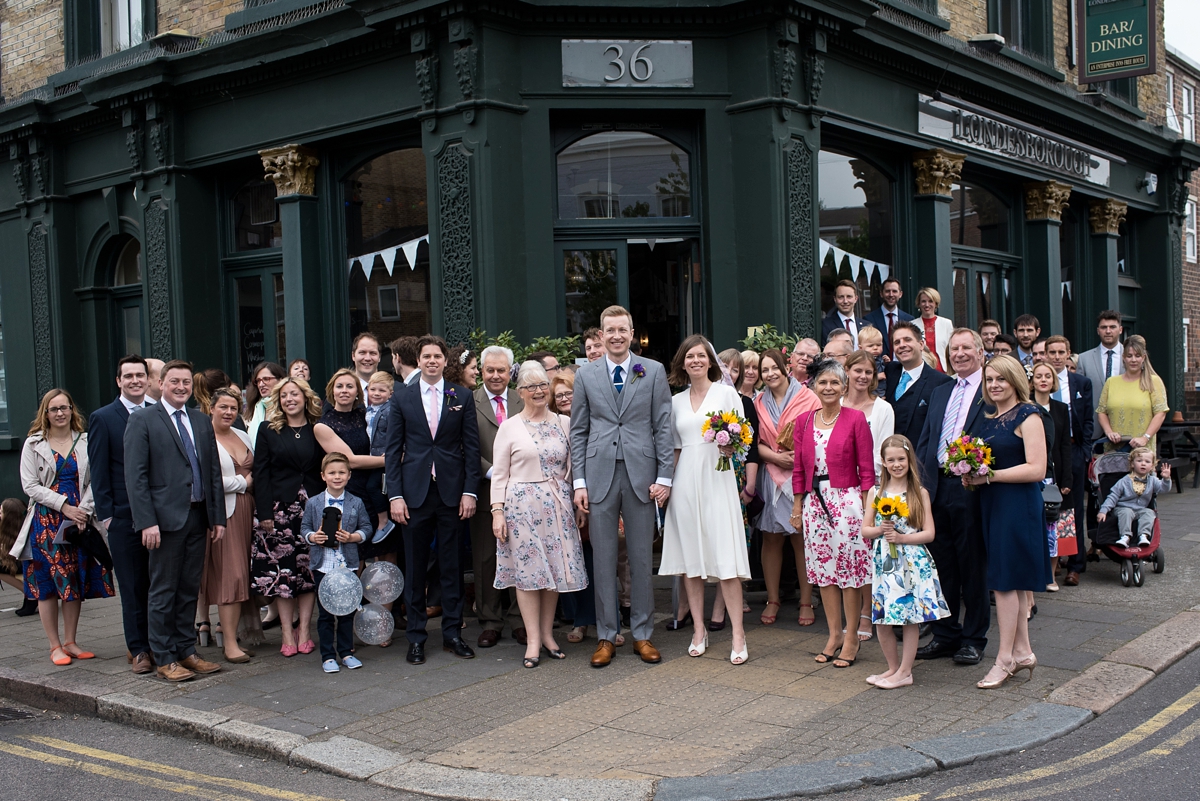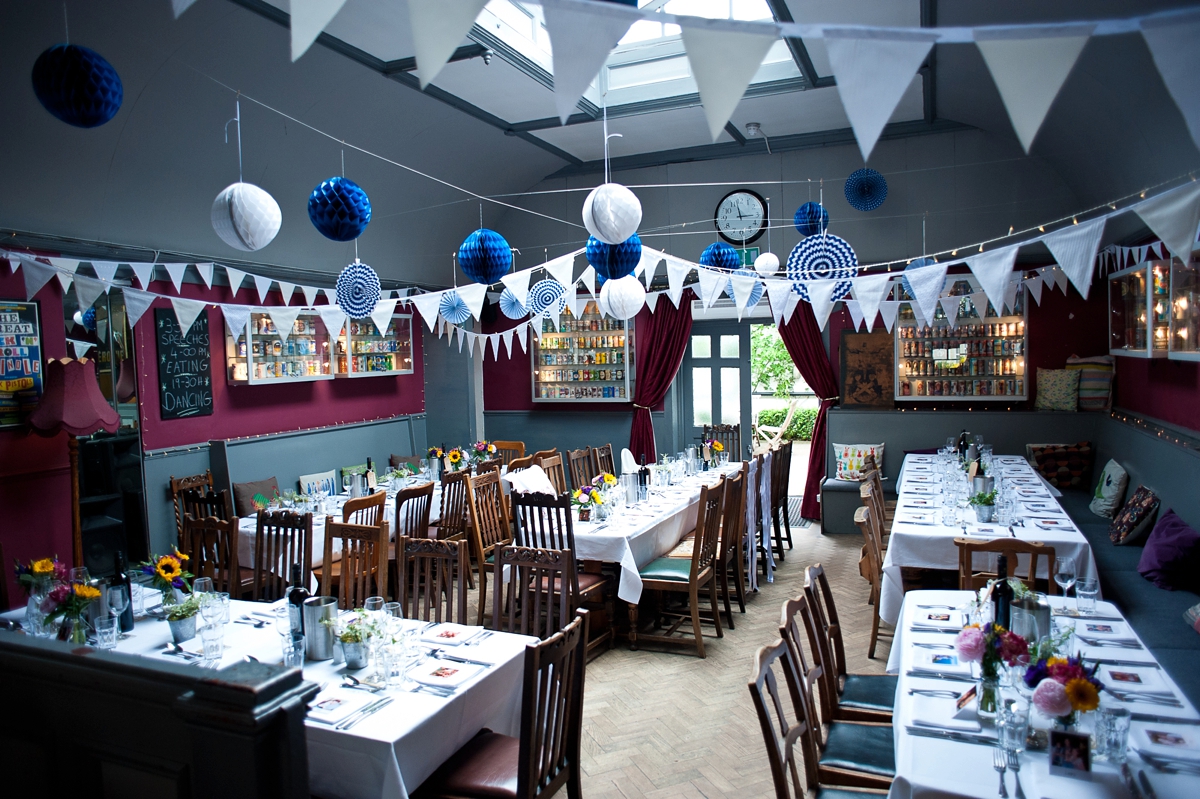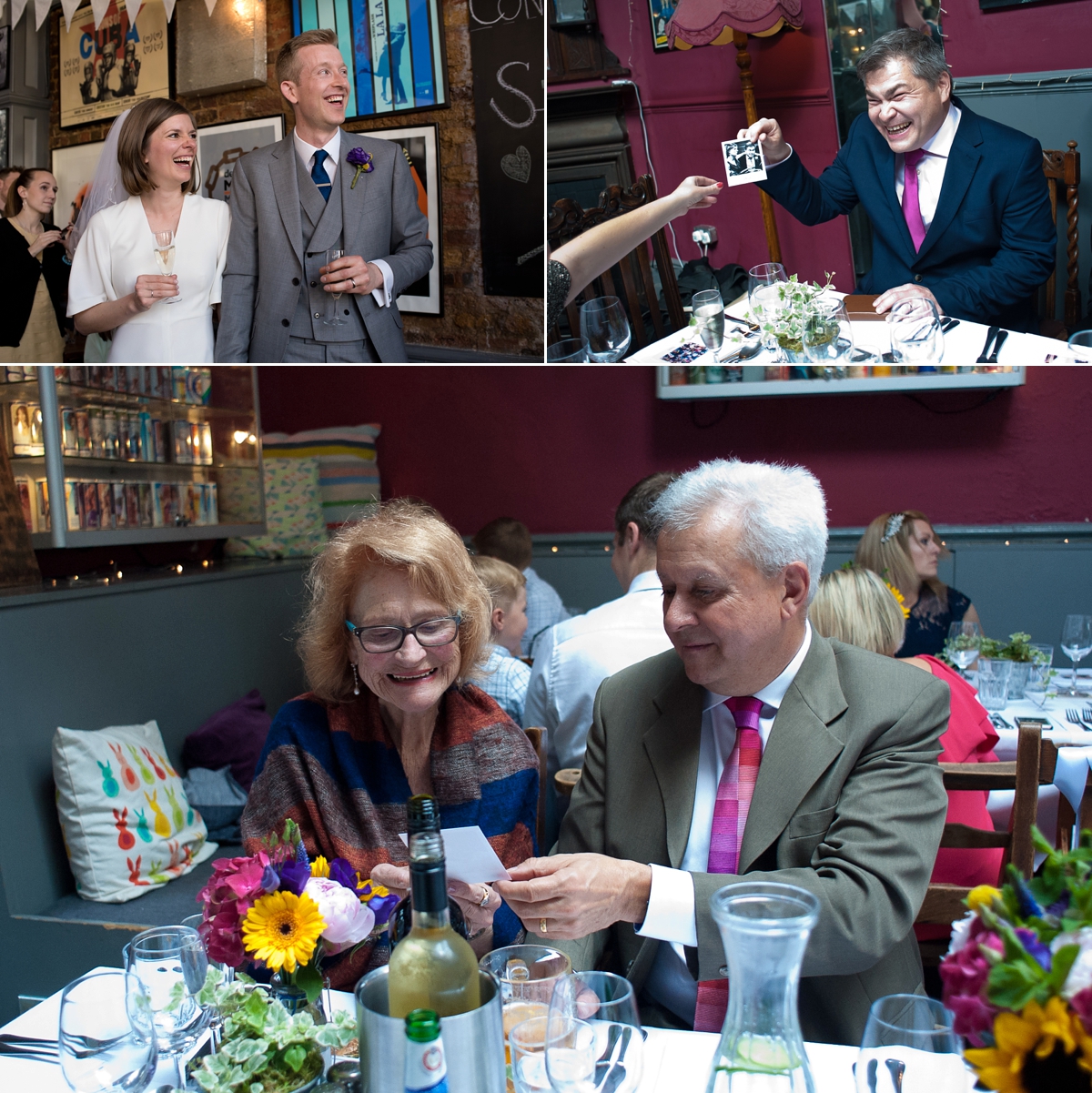 "We decided against a table plan – we had a reasonably small wedding so we just gave people a hug and pointed them in the right direction as they approached the dining area. For place cards we found photos of ourselves with each of the guests and had these printed up like polaroids via Photobox."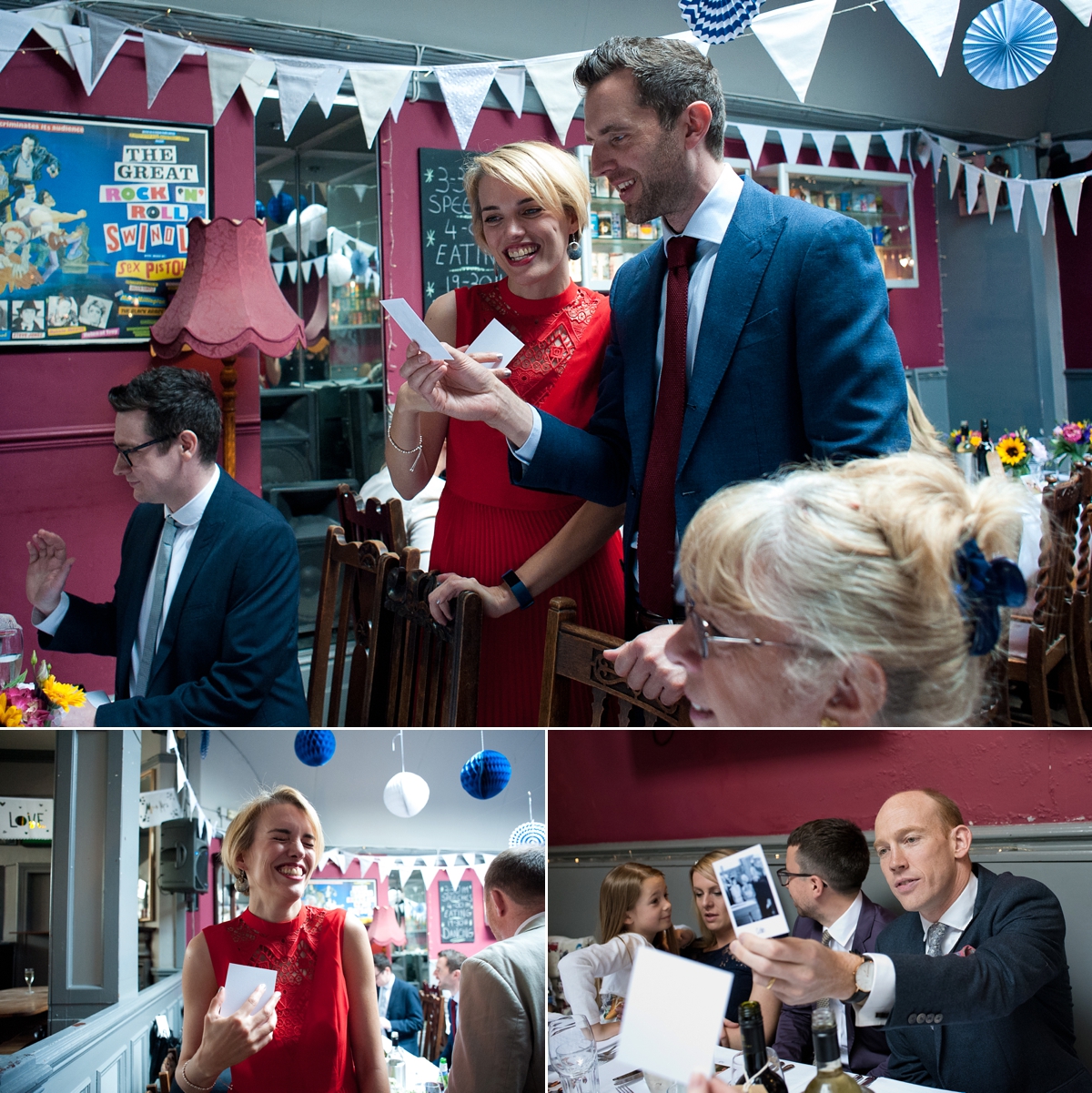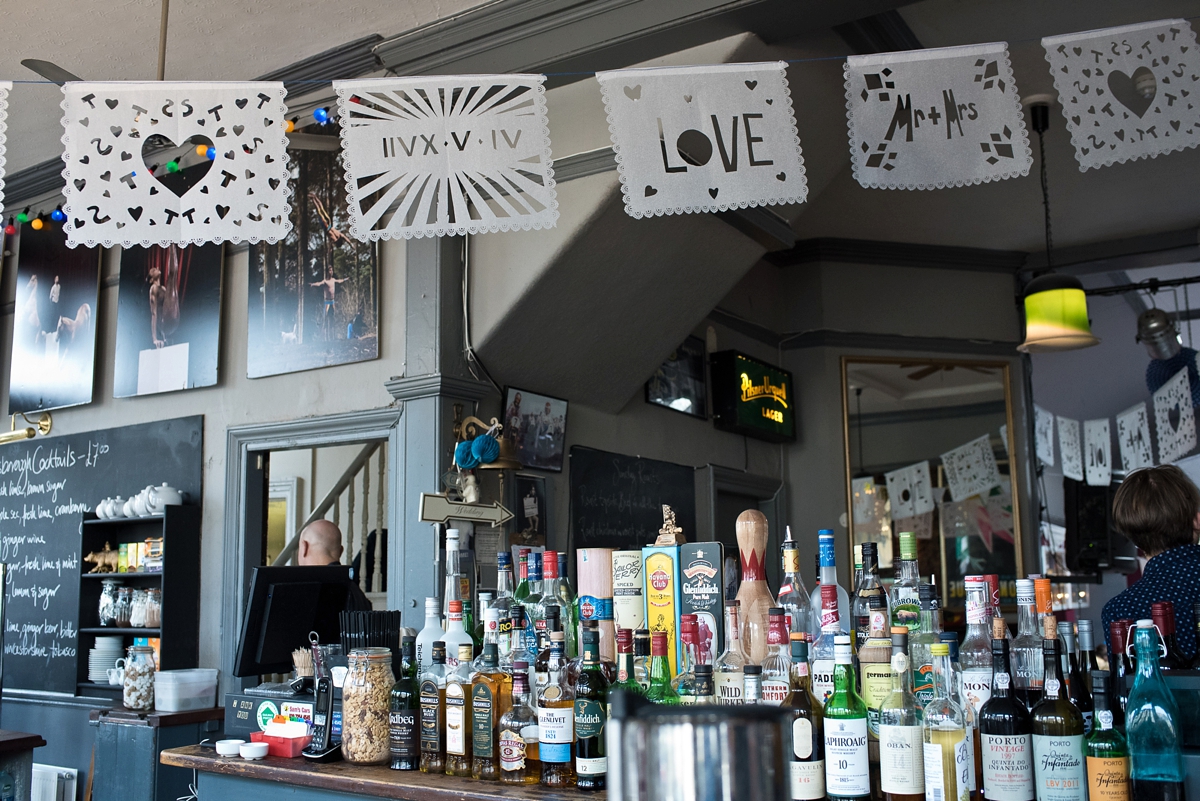 "When we got engaged I asked people for any old white fabric they had and made this into the bunting. Duvet covers, shirts, table runners… it's all in there. Aside from this, the paper honeycombs and fans were bought in Stoke Newington and online."
"We had our invites illustrated by Blanka Biernat – we were very happy with them and will be framing. I would thoroughly recommend getting yourself illustrated by Blanka if you want to look much cooler than you really are."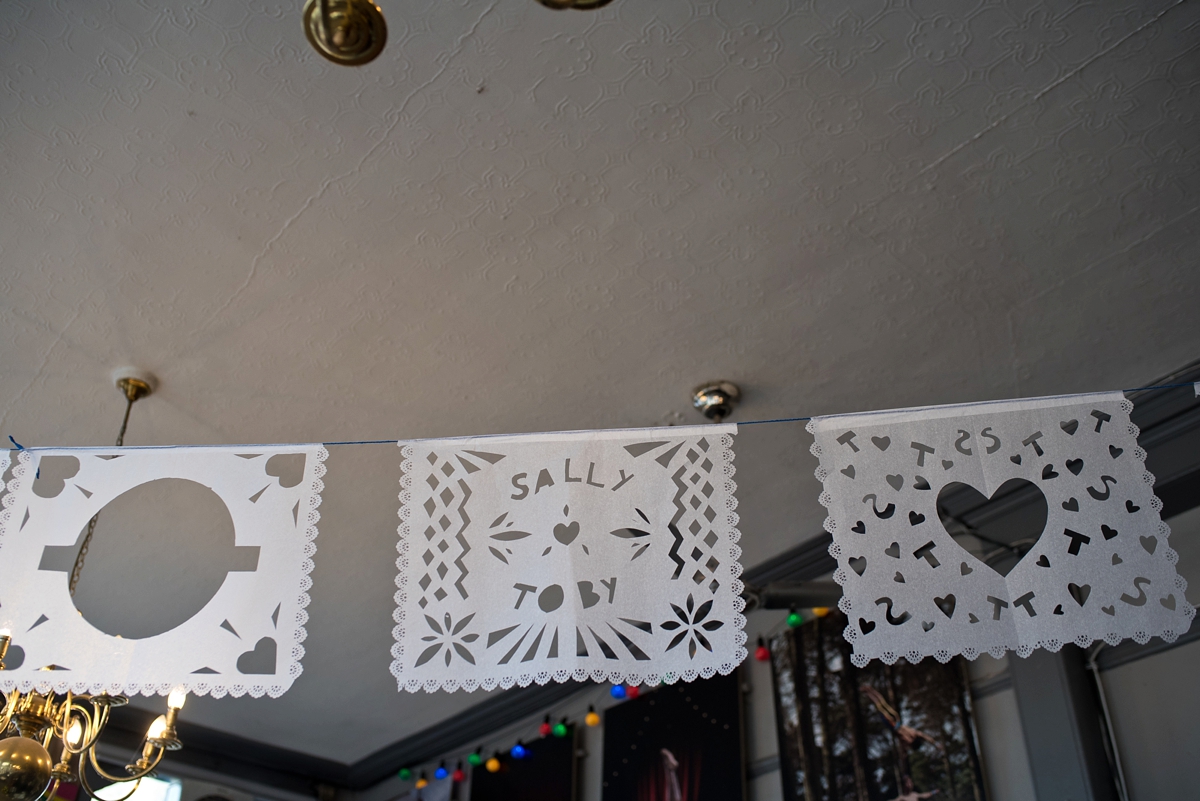 "The Londesborough pub provided all of our food – their food is amazing. We're confident our guests will be talking about the lamb for a long time to come yet!"
"They were more of a decoration than a wedding favour, but our friend designed beer mats for us and lots of people took these home."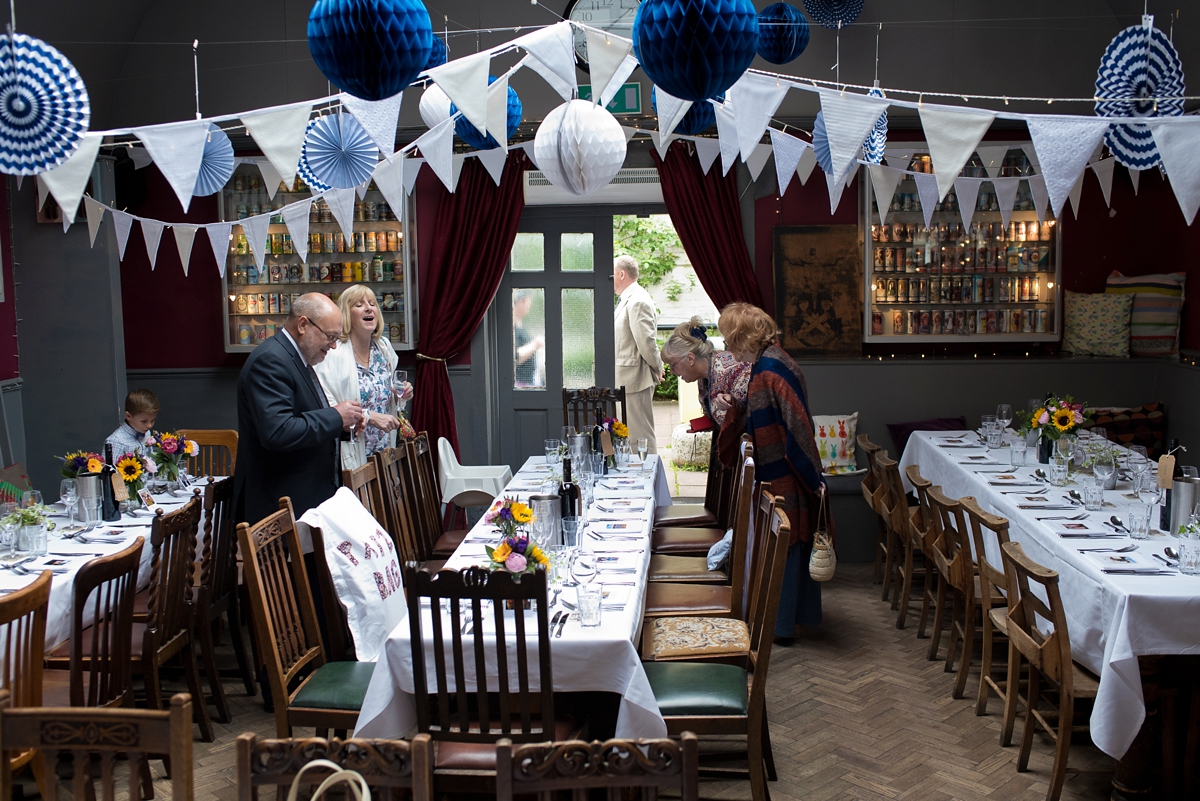 " Ooh Lou Lou Cakery, who I think everyone should use, created our cake.  Their three-layer salted caramel cake is one we regularly get a slice of at the weekend so ordered a big one for the wedding. The staff were incredibly helpful and got excited about my wedding with me… really fun!"
"When not eating this cake we also love the jam doughnuts from Sapid Coffee on the other side of church street so we got a load of those in which went down a storm with the bacon sarnies later on."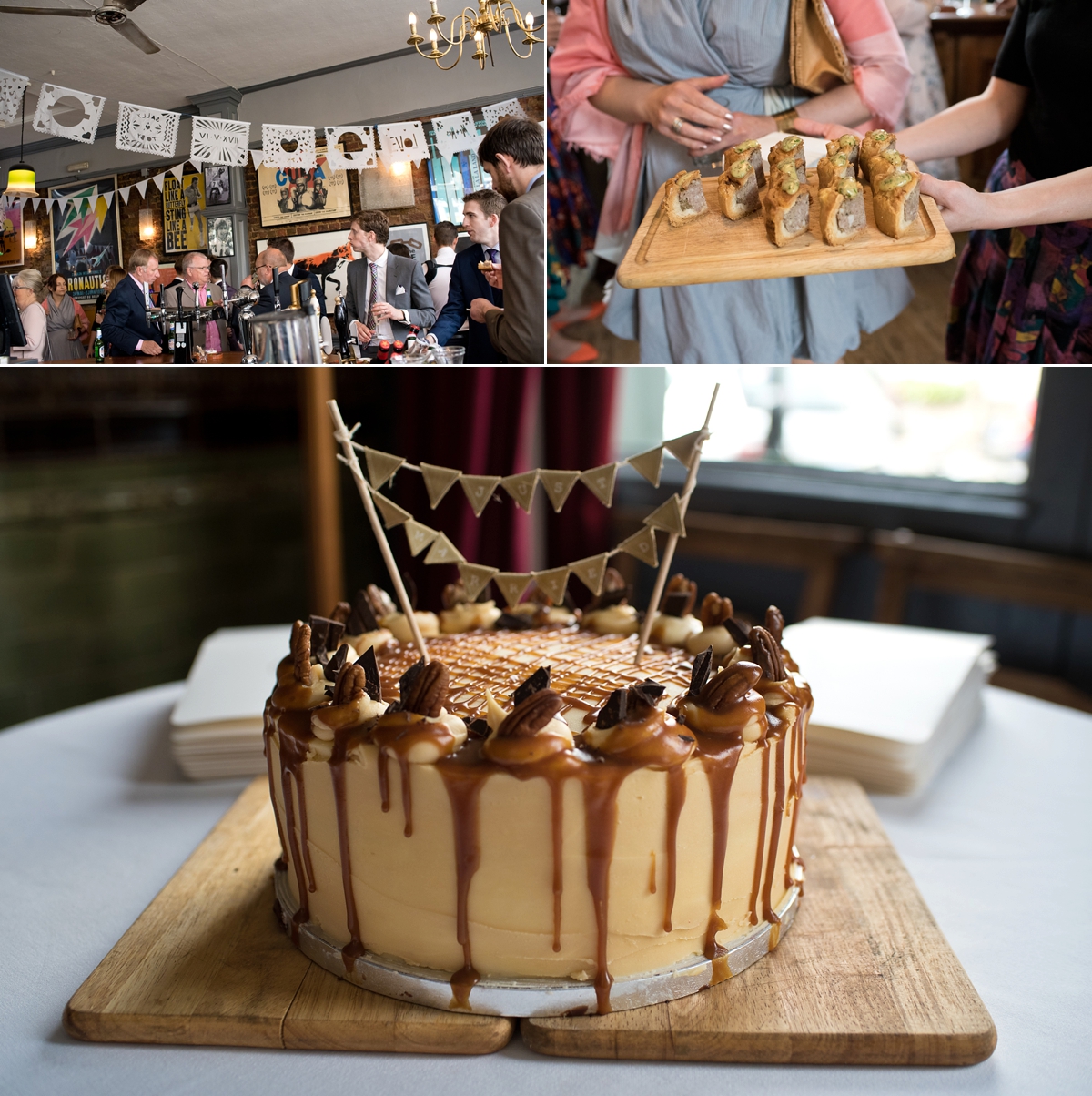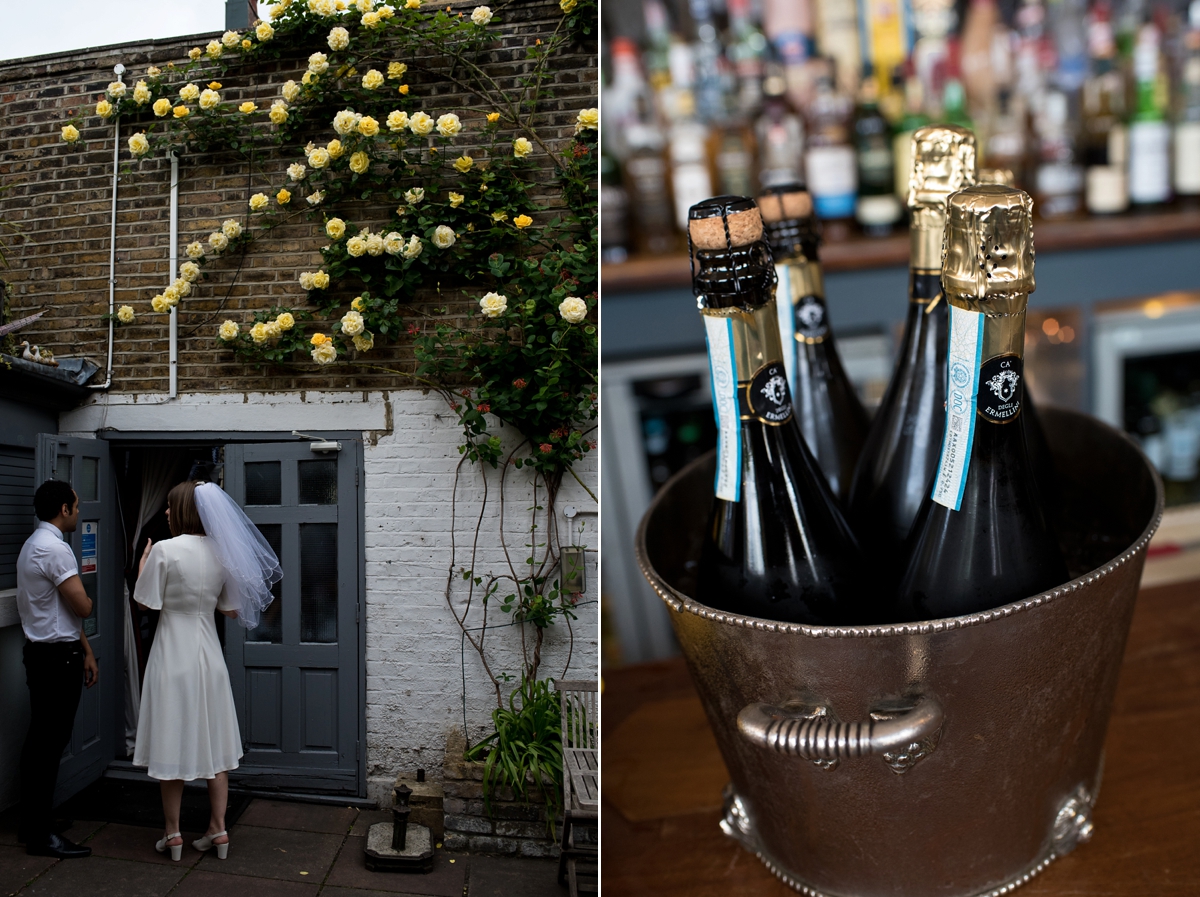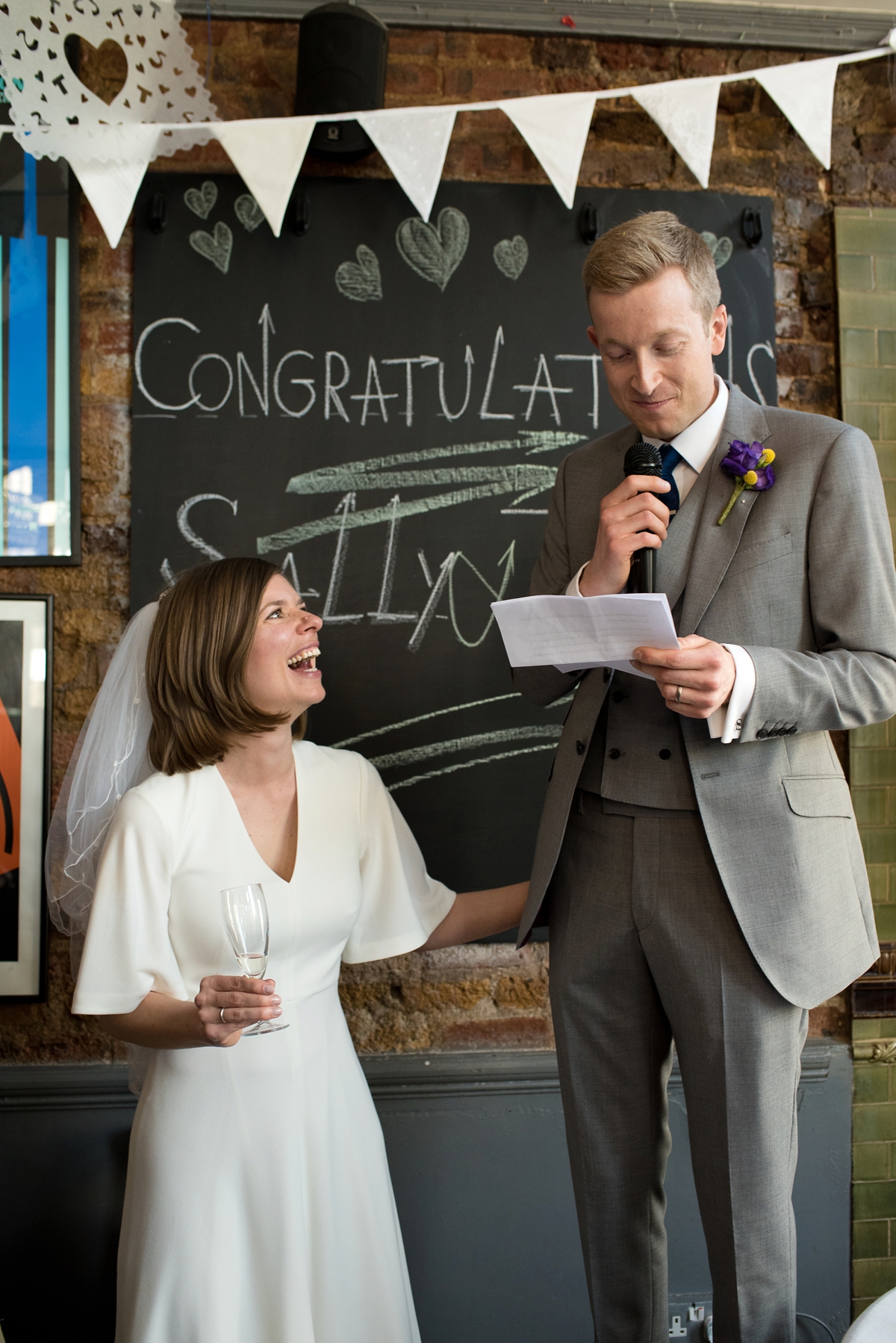 "Our favourite memory from the day was at the point when we got into a cab at the end of it all and realised the day had actually just happened and that we were now husband and wife. Picking anything earlier in the day makes it feel like there was a downhill afterwards and there wasn't."
Words of Wedded Wisdom
"We agreed that if we were doing wedding planning and either of us were not enjoying it we'd stop and come back to it at a later point. It worked really well for us and meant details held happy memories not stress.
Keep the every day you in mind when you're planning– you don't want to look like someone you/your groom doesn't recognise or be in a venue that you don't feel comfortable in even if the photos will look nice!"
"I'd also recommend that after the initial fun of reading about other weddings you start getting things confirmed and just going for it when you find things (venues/flowers/whatever) that make you happy. There'll always be an option you haven't looked at but as soon as you make a decision it'll feel like it was meant to be.
Oh and don't forget you're starting a marriage not just planning an event."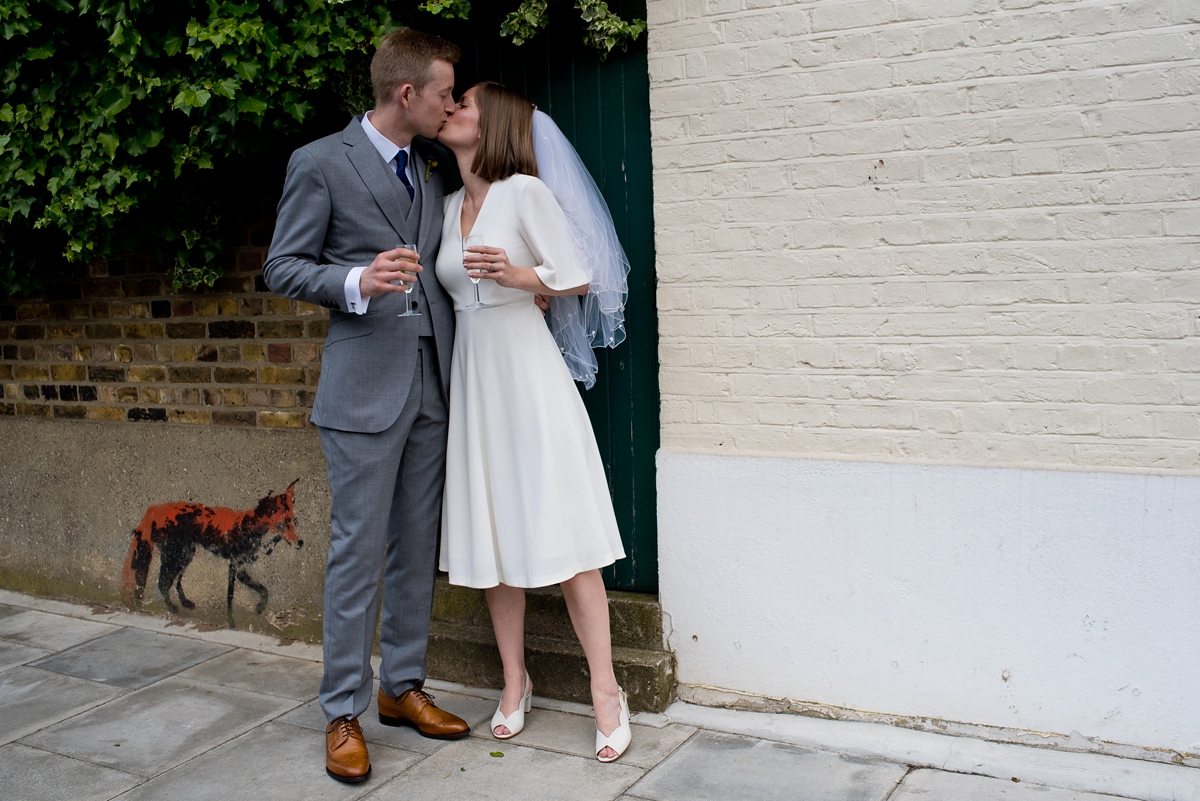 Such a lovely, laidback and fuss-free day, and proof that if you really are limited on dress budget, the high street is your friend!
Our love and thanks to Sally and Toby who we would also like to offer our congratulations to! Immense thanks also to photographer Annelie Eddy for sharing her work.
Love Annabel x