Welcome to Tuesday lovelies, I hope the week is treating you kindly so far. The wedding we have chosen to share with you today will certainly inspire those of you planning a modern, cool, contemporary kind of celebration.
The couple, Raluca and Matt, who are both management consultants, got married on 13th May 2017 at St Matthews Church in Bethnal Green, followed by a reception at The V&A Museum of Childhood that was filled with homemade geometric inspired decor and colour. We love this wedding so much, it's full of fabulous fun, colour, laughter and detail of the kind we know our readers adore. Beautiful bride Raluca, a regular visitor to Love My Dress, tells us more…
"We are big fans of clean, simple graphic design and wanted a modern and striking wedding. I especially loves plants and foliage and both we share a favourite colour in orange, which we wanted to be a key part of the colour palette, along with pale pinks, greens, greys and bronze. We both are drawn to mid-century design and decor and geometric, graphic art. As triangles are our favourite shape we made sure we had them running through the wedding decor."
Photography by Ben Millar Cole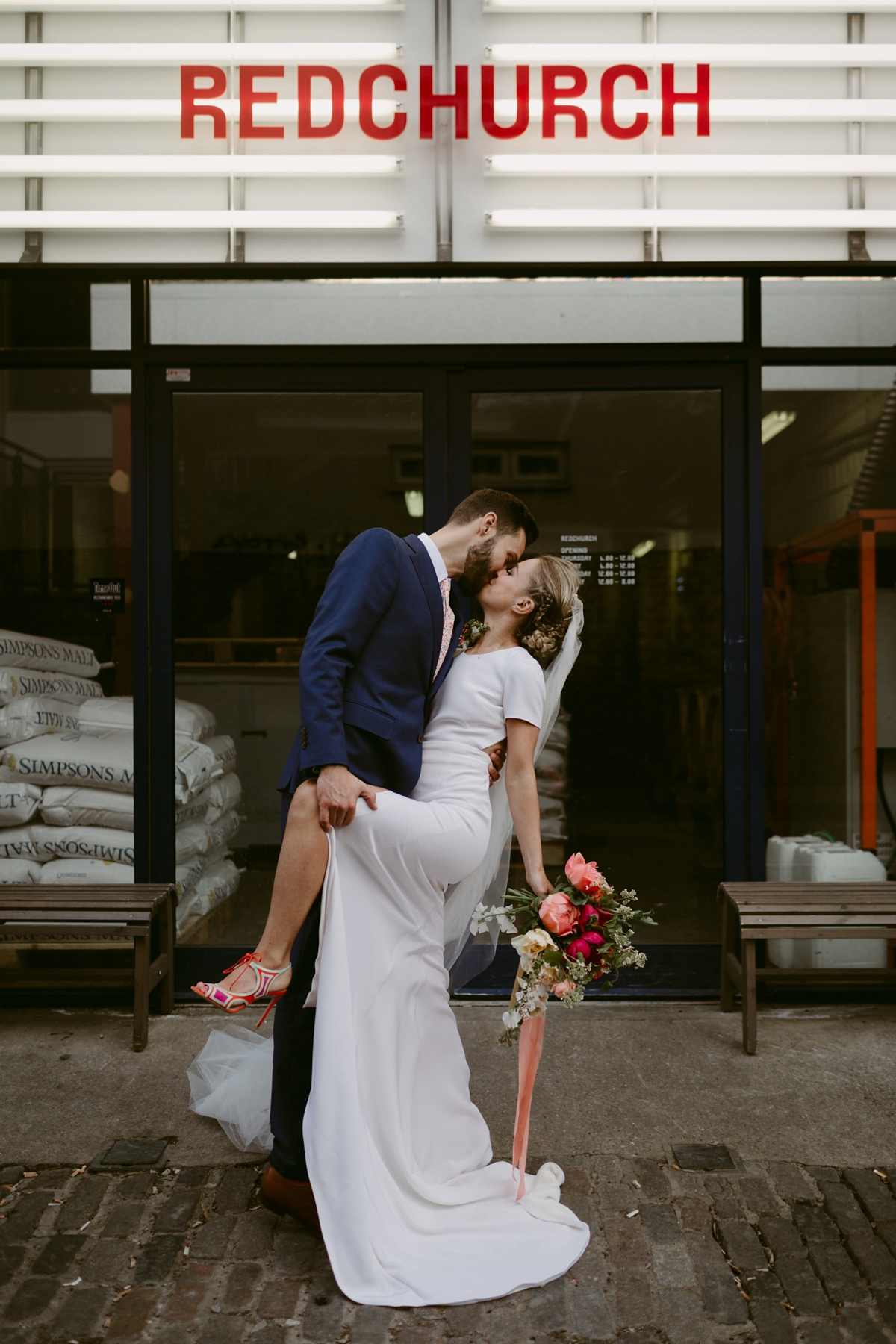 "We hired a planner, Liz Linkleter, who was a god-send. She is amazingly talented and turned our vision into a reality and made sure everything went smoothly leading up to and on the day. After debating whether or not we needed a wedding planner we literally couldn't imagine not having Liz."
It's always a delight to see the work of our Little Book For Brides members feature on our beautiful wedding blog. We're so proud that stationery designer Lucy Says I Do is a member of our curated wedding directory…"We worked with Lucy from Lucy Says I Do to design our stationery for both before the day and on the day. She had a few off the shelf options that we really liked for their simple, graphic style and illustrations but we decided to go the bespoke route and incorporated our wedding colours, used shapes and typography and also designed our logo that ran through the stationery.
We loved the result and the stationery really tied the wedding theme together. Lucy is also absolutely lovely and was great to collaborate with."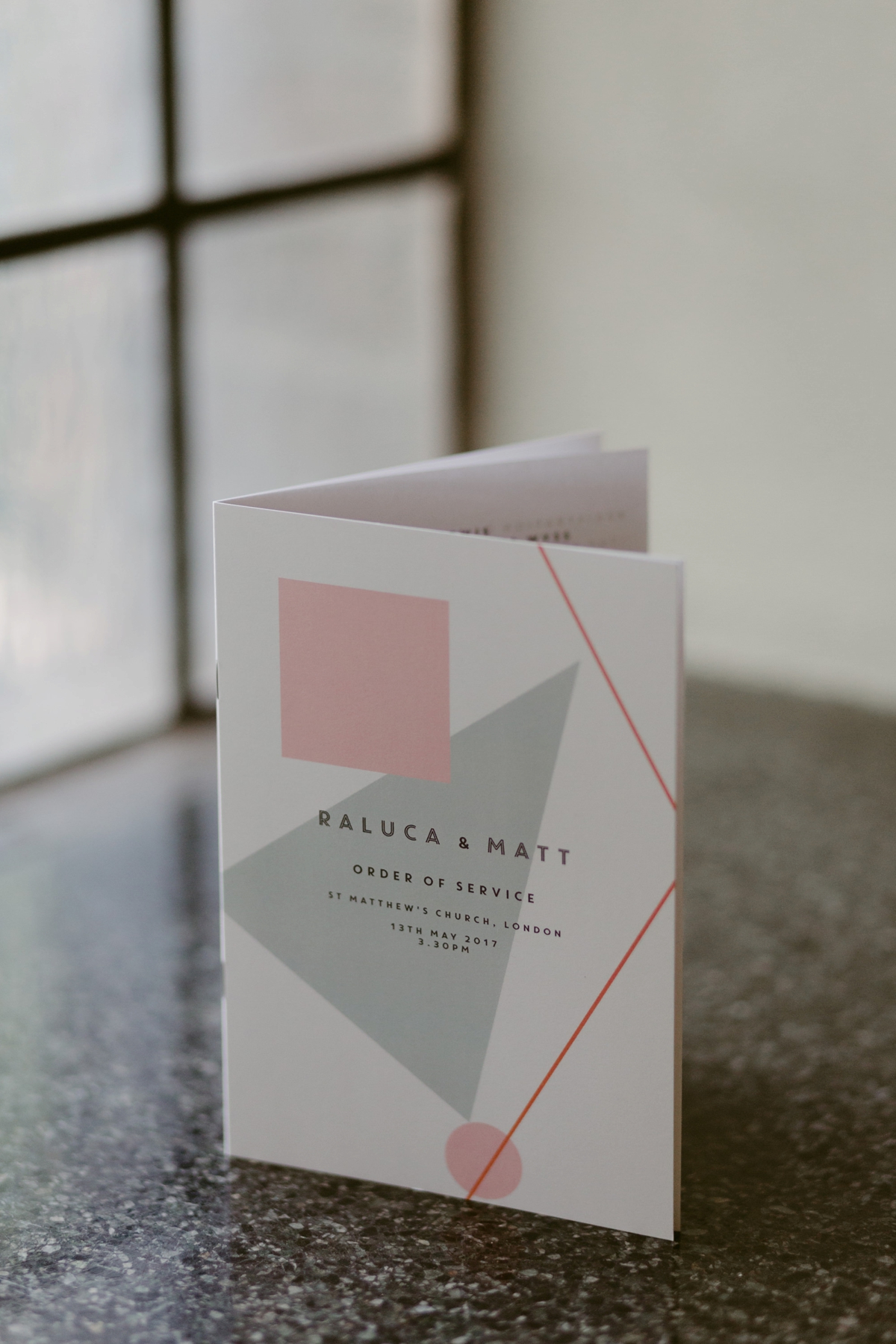 "I spent quite a bit of time on Pinterest and browsing blogs when planning our wedding – mainly Love My Dress – as I love the detail with which the real weddings are captured and all the photos make it come to life."
"My mum helped me pick Westwood Design from our wedding planner Liz's recommendation list as our florist – I loved looking over Georgia Westwood's Instagram which featured a lot of orange and ranunculus which I am a little bit obsessed with. She is extremely talented and creative and her unstructured and a little bit wild styling really appealed to me."
"She used the most amazing flowers including beautiful peonies, garden roses, ranunculus, orchids, poppies and foliage that looked modern but also timeless."
"Karen Mason did the hair and make-up and was recommended through a friend. She does a lot of fashion and celebrity work including on my girl crush Cara Delevigne – I was sold when I saw her portfolio and saw how amazingly well she did natural but still striking and edgy.
Karen and her assistant Gemma made the girls and my mum look amazing. Hair-wise, each girl had a different style that she picked but all incorporated some braids."
"I wore a very cool hair accessory from Lelet NY called the 'Vee shark tooth barrette'. It complemented the shape of the open back of the dress and gave some edge to the updo."
"I wore an Alex Monroe gold tiny pea pod necklace that Matt bought for me for our first Christmas that I never take off. Matt also bought me some beautiful triangle diamond studs from Vrai & Oro as my wedding gift. You can see there's a bit of a theme with triangles."
"I wore my engagement ring and wedding ring and a couple of rings on my right hand – one that a very talented friend of The Wandering Castle made, and one of my mum's which she gave me for the wedding which was a beautiful white gold and sapphire art deco ring.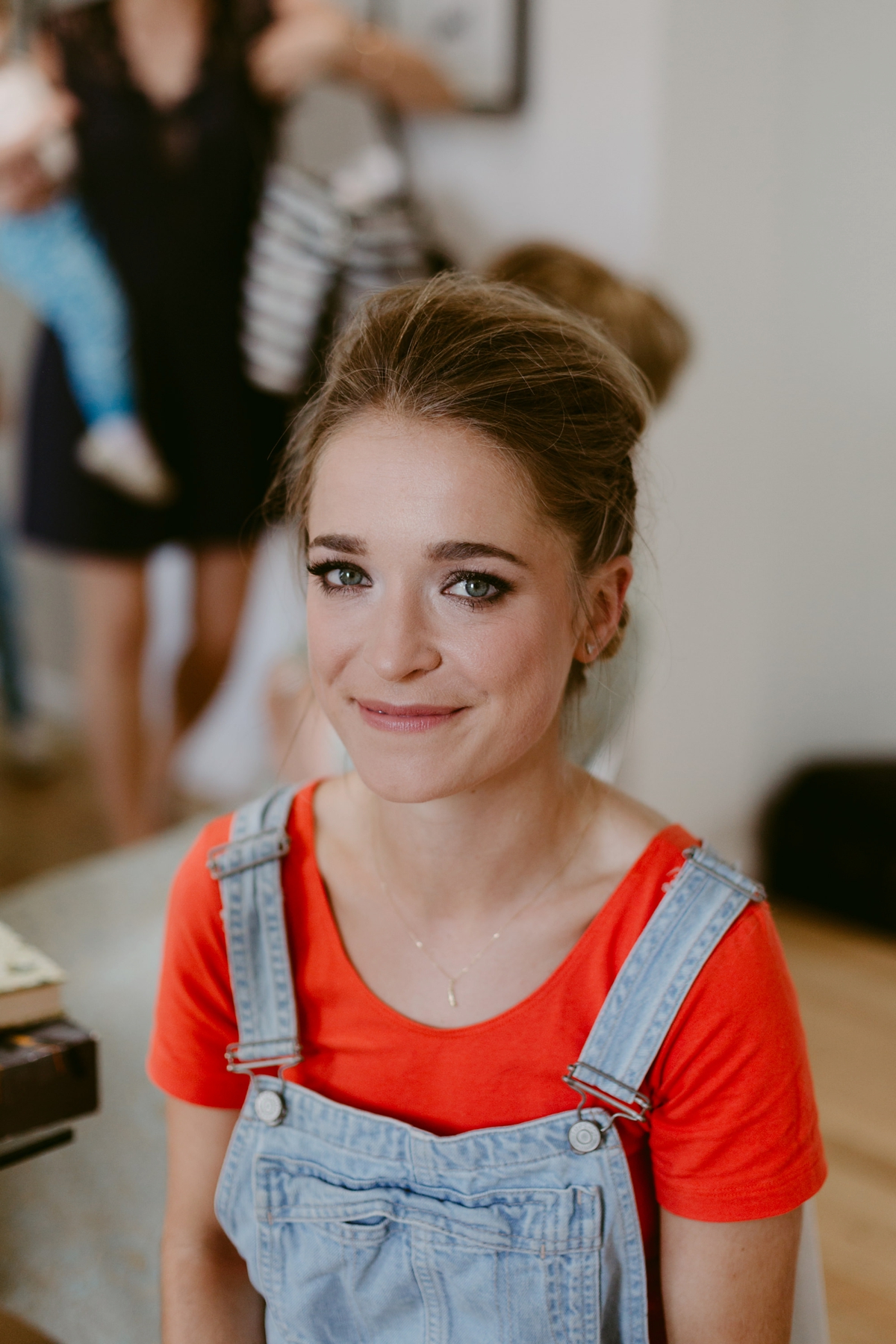 "I wore two pairs of shoes, firstly some very bright and high Nicholas Kirkwood stilettos. I bought them on sale at www.matches.com, so they were a total bargain. For my dancing/partying pair, I couldn't resist a pair of Robert Clergerie Dylan wedges in the perfect peach that matched my bridesmaids' dresses exactly."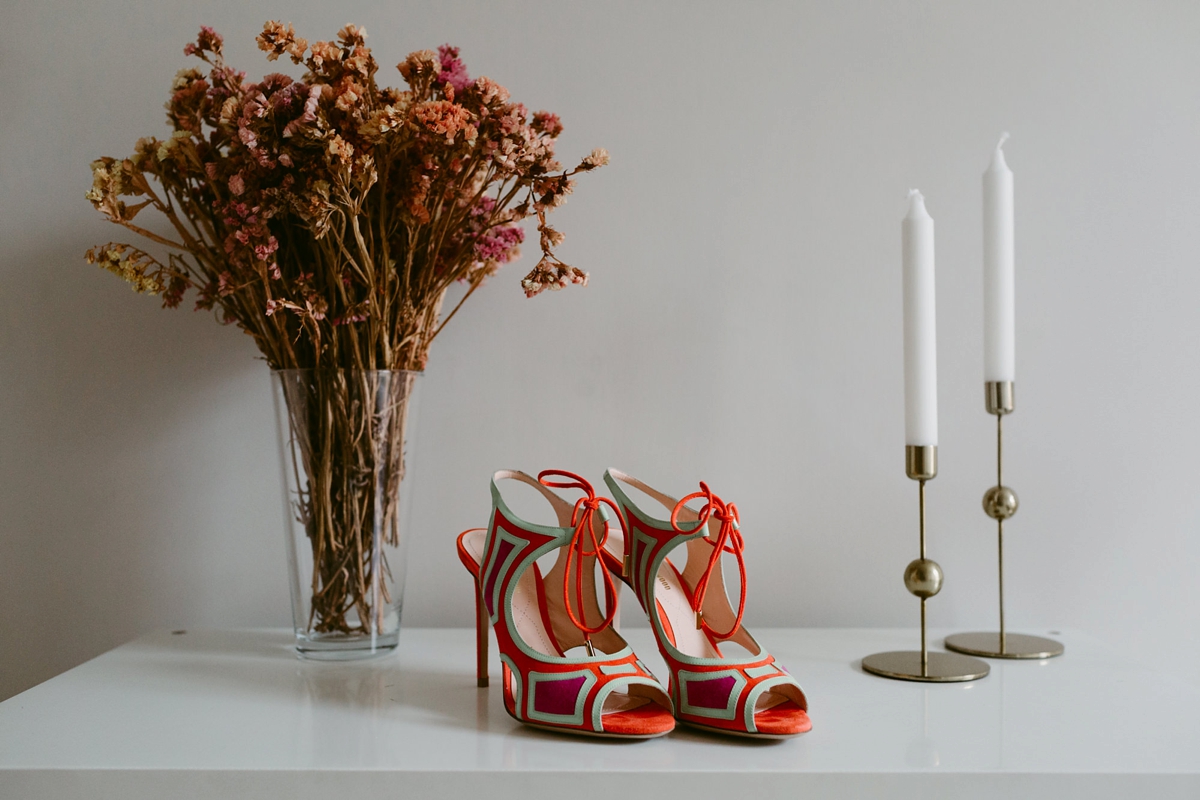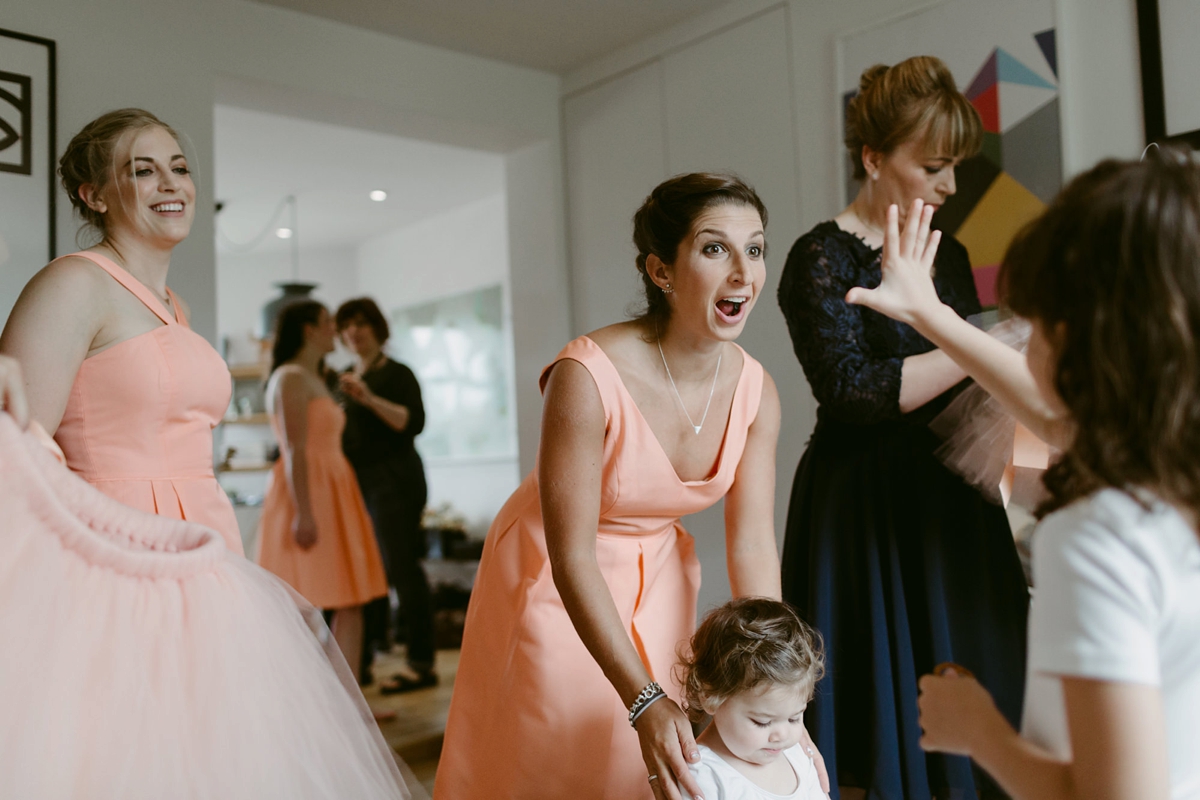 "Pippa Jackson set up her own company, Bon Bride, about a year ago. One of my friends recommended her to me as she had recently been to a wedding where Pippa had designed not one, but two dresses for the bride. I loved the idea of having a dress made just for me and being involved in the design process."
"Pippa was a fashion buyer at Harrods and has fantastic connections in the fashion industry – I was extremely lucky to have her friends who work in haute couture for Tom Ford and Mulberry as the pattern cutter and seamstress at a fraction of those prices."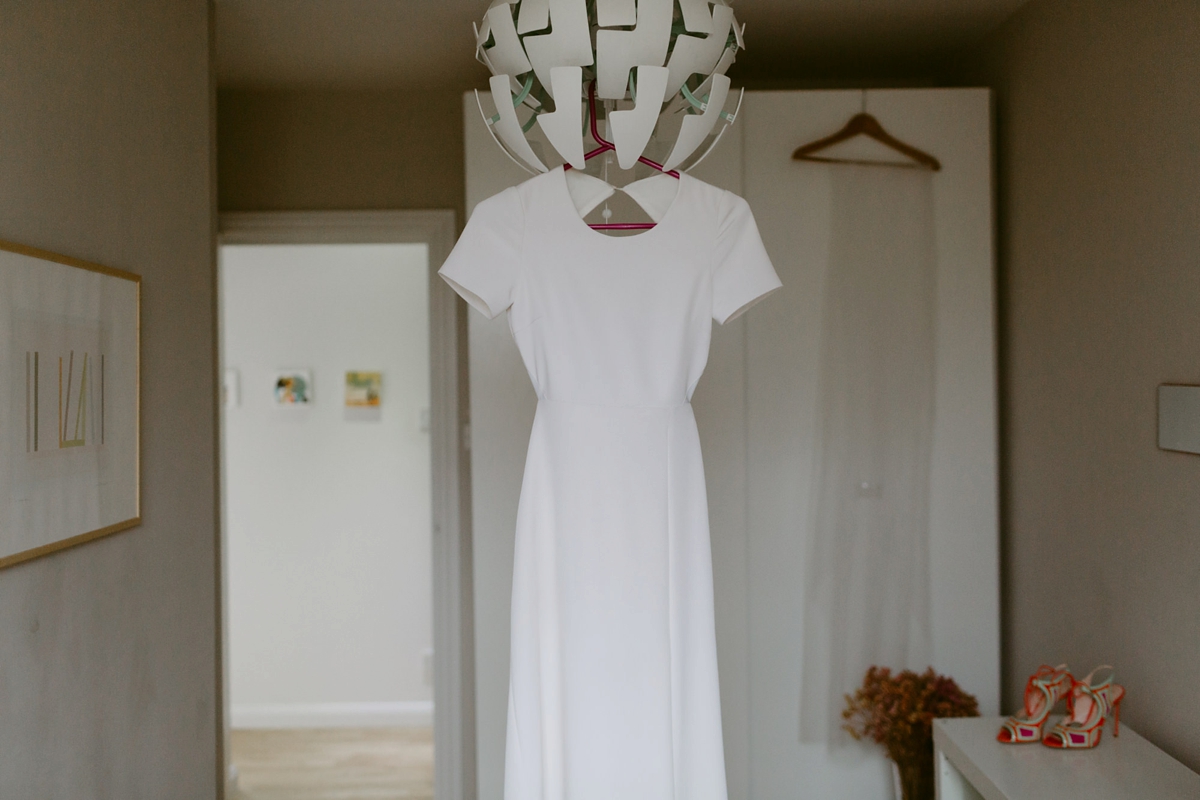 "Designing the dress was truly one of my favourite parts of wedding planning – I just couldn't wait to see it and try it on at every stage of the process. Even when the dress was at it's toile stage, I was already in love with it. The final silk version was just too beautiful to believe."
"As is often apparently the way with wedding dresses, I started out with a completely different idea of my dress. I knew I didn't want it to be traditional and initially had in mind a short mini dress with a longer looser lace dress above it. Pippa was so lovely but also honest, telling me that something more close fitting and longer would elongate and be more flattering on my petite 5'2" frame.
Her advice was even though I was having the dress made with her, to try on some wedding dresses or even evening dresses to get an idea of what cuts and styles suited me. That advice couldn't have been more helpful."
"It was also a great way to involve my mum and grandma in the dress design. I tried on a few and ended up picking and choosing bits that I liked from different dresses that Pippa then sketched up and magically turned into a reality. I wanted the dress to be minimalistic and modern but also striking."
"The end result had a t-shirt neck with short sleeves and a clean, close fitting silhouette. A slit to my thigh and open back gave it wow factor and drama while also keeping it simple and modern. The dress also had quite a long train and was made from white silk. I absolutely loved it."
"I wore Santal 33 by Le Labo which Matt bought for me for Christmas. I rotate between a few fragrances and asked him which one he preferred the day before and this was the one he picked."
"We wanted to get married in our local area of East London as it's where we love to hang out and where our life is and we wanted to share it with friends and family travelling from all over the world – Matt's family is from the US and Raluca's is from Romania."
"We got Matt and the groomsmen's suits from Suitsupply. We had to pick a company where Matt's groomsmen could get the same suit from different locations all around the world and Suitsupply fit the bill perfectly. Matt wanted a bright, summery blue suit and we were really happy with the 'design your own suit' service which let him pick the style, colour and then included tailoring."
"Matt styled the suit with a white Acne shirt and brown shoes and belt from Meermin and looked extremely handsome. We knew we wanted a Liberty print for the tie to complement our wedding colours and found the perfect one – Phoebe Tana Lawn Cotton. What was even better was finding a shop on Etsy called StagHandmade that sold ties and bow ties at a fraction of the price of Liberty and also made them in different widths."
"I chose a chapel length 'Niacae' single tier cut edge veil from Britten Weddings. It was very simple and modern and looked amazing with the open back and train of the dress."
"The girls all wore the same colour peach dresses from J Crew (but each chose a different style). I had them give me their measurements and bought them in the sale the August before in the US for bargain prices – luckily they all fitted and looked beautiful."
"I had tutus made in the same colour toile as the bridesmaid dresses from FlowersAndConfetti on Etsy. Matt's two nieces wore them with short sleeves leotards and flower crowns and looked the cutest."
"I bought the girls each a necklace with a triangle (of course) and their initial stamped in it. Each had a different colour – silver, yellow gold, rose gold, based on the jewellery that they usually wear. They were from Lisa Angel on Not On The High Street."
"The church and museum are both a 5 minute walk from our house which we passed as we walked with the whole wedding party from the ceremony to the reception – we had chalk signs on pavement to guide people which are fading away now but still just about visible."
"We chose St Matthew's Church in Bethnal Green for the ceremony as it's our parish church (we found out during the course of wedding planning that you can't just get married in any church you want to which was a surprise, but turned out our parish church was very nice.). It was bombed during the war and then restored so it has the beautiful historic outside and clock tower paired with a more modern interior aesthetic."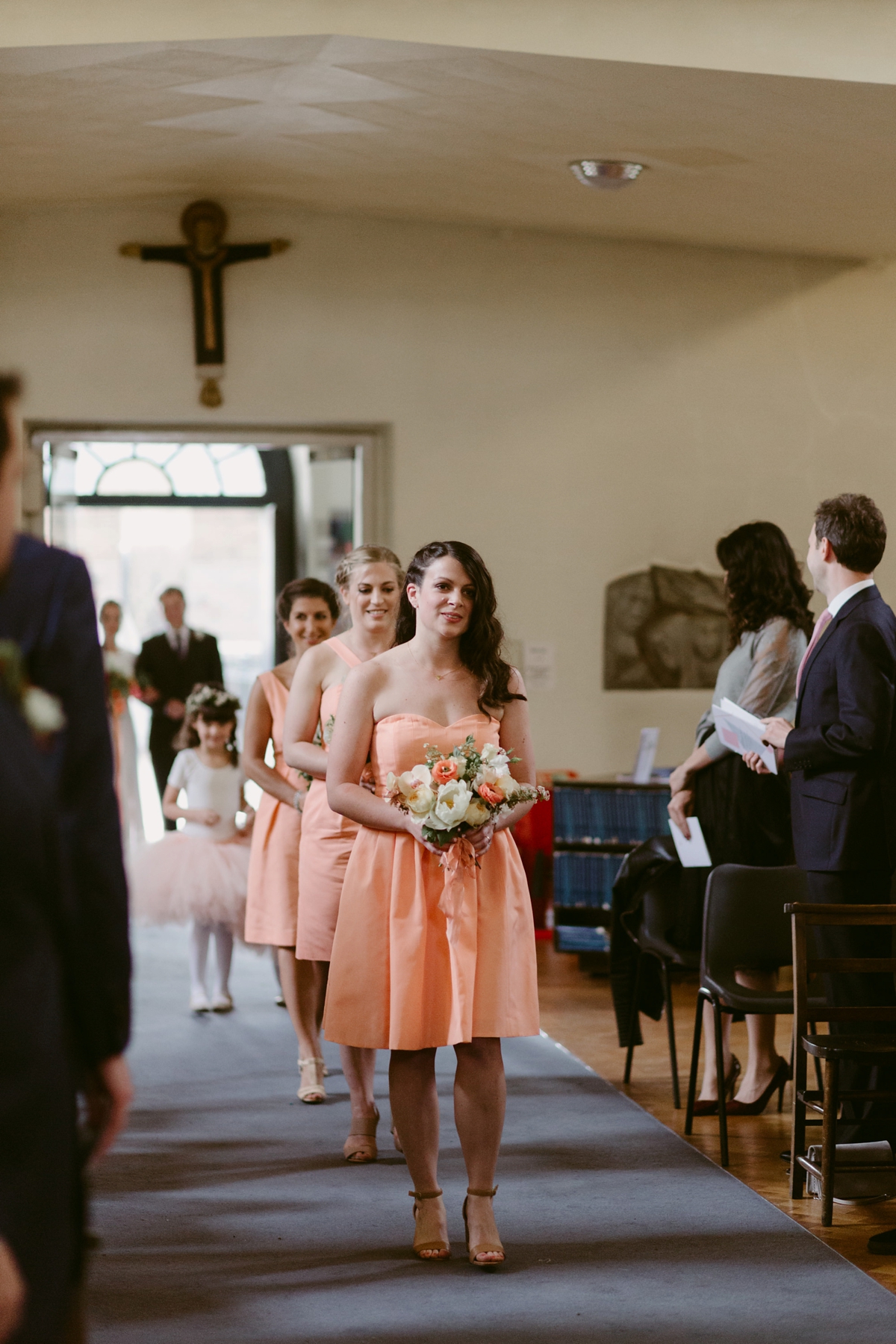 "Matt's little nephew wore grey trousers and a white shirt with a specially made mini bow tie in the same Liberty print as Matt and the groomsmen's ties – he looked adorable."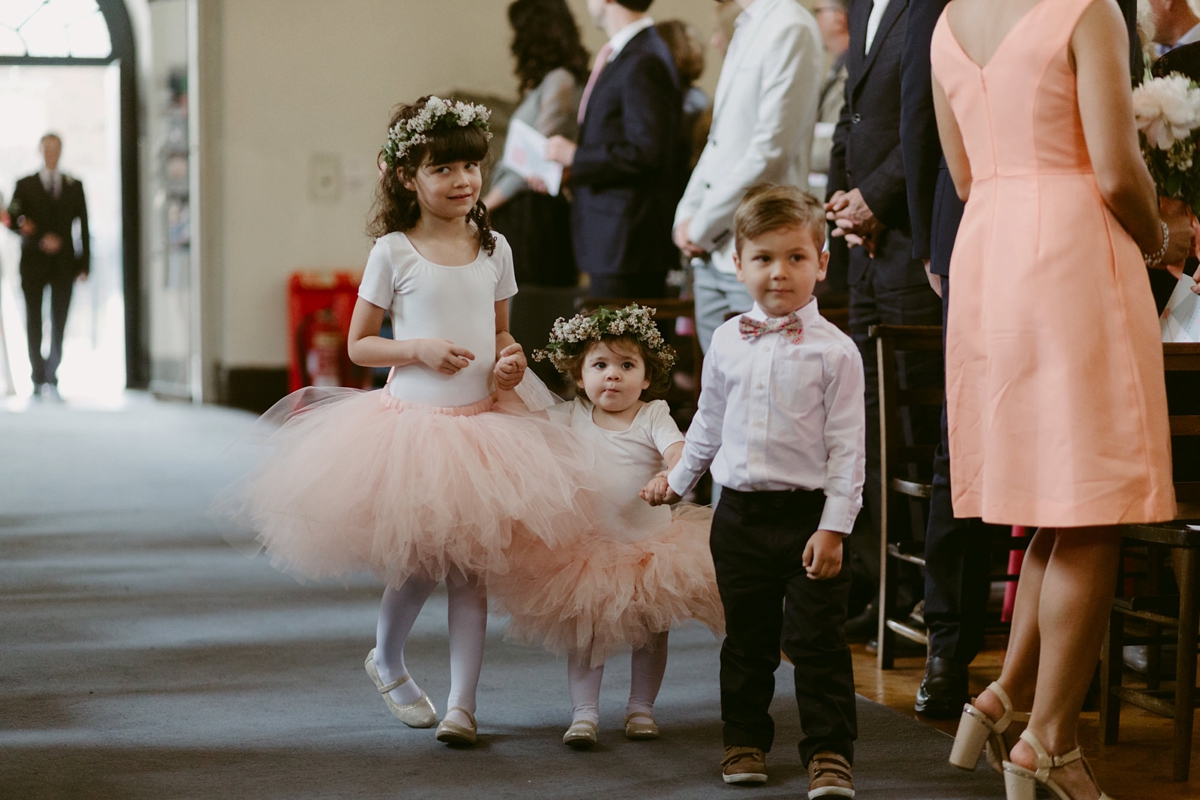 "My dad accompanied me down the aisle to the sound of an organist playing 'Trumpet Tune in D', by Purcell."
"We got married in a Church of England church and so had to follow the traditional framework for a wedding, however our vicar was quite modern and relaxed and let us throw in a Romanian wedding tradition into the mix. In Romania, you have 'naşi' or godparents of the wedding that serve as mentors to the newly married couple. We had our naşi, Matt's sister Jenn and her husband Josh, walk in with lit candles as is the tradition in Romania and they also did a C.S Lewis reading together."
"We had four different readings that our friends and family read. They included 'A Year', by C.S Lewis, 1 John chapter 4 versus 7 – 12, Roman chapter 12 versus 9 – 18 and 'The Art Of A Good Marriage' by Wilfred Arlan Peterson.  We chose these readings as we felt they reflected the reality of love and marriage and didn't brush over or overly romanticise the importance of the commitment of marriage or of the way that feelings towards each other will inevitably change and evolve over time. My favourite one was the last reading that Matt's dad read beautifully…"
Happiness in marriage is not something that just happens.
A good marriage must be created. In marriage the little things are the big things.
It is never being too old to hold hands.
It is remembering to say "I love you" at least once a day.
It is never going to sleep angry.
It is at no time taking the other for granted; the courtship should not end with the honeymoon, it should continue through the years.
It is having a mutual sense of values and common objectives.
It is standing together facing the world. It is forming a circle of love that gathers the whole family.
It is doing things for each other, not in the attitude of duty or sacrifice, but in the spirit of joy.
It is speaking words of appreciation and demonstrating gratitude in thoughtful ways.
It is not looking for perfection in each other.
It is cultivating flexibility, patience, understanding and a sense of humour.
It is having the capacity to forgive and forget.
It is giving each other an atmosphere in which each can grow old.
It is a common search for the good and the beautiful.
It is establishing a relationship in which the independence is equal, dependence is mutual and the obligation is reciprocal.
It is not only marrying the right partner; it is being the right partner.
"Matt and I met through work – we got to know each other over a period of about six months when we were working on projects together in Switzerland and Spain, Matt flying over from Chicago and me from London. Both of us were adamant that we would never date anyone from work but even in our initial interactions it was clear that we clicked.
At the end of our final project meeting in Madrid, Matt set up a celebration dinner with the client and our team. This was purely done with the hope that he would get to hang out with me after the dinner as the rest of the team were flying back that evening."
"Surprisingly the plan went off without a hitch and we spent all evening walking to different bars in Madrid, talking. As you probably know, everything is open very late in Spain and at 5am, at our last bar of the night before Matt had to head to the airport, we were sitting on a bench in front of a window talking. This Spanish guy looks at us and simply says: 'Just kiss already. It's obvious you love each other. That's what we do here in Spain'. Of course, we awkwardly laughed and shook it off as people on first dates typically would but he ended up being very right. Who would have thought that a random, drunk Spanish guy would have predicted the rest of our lives."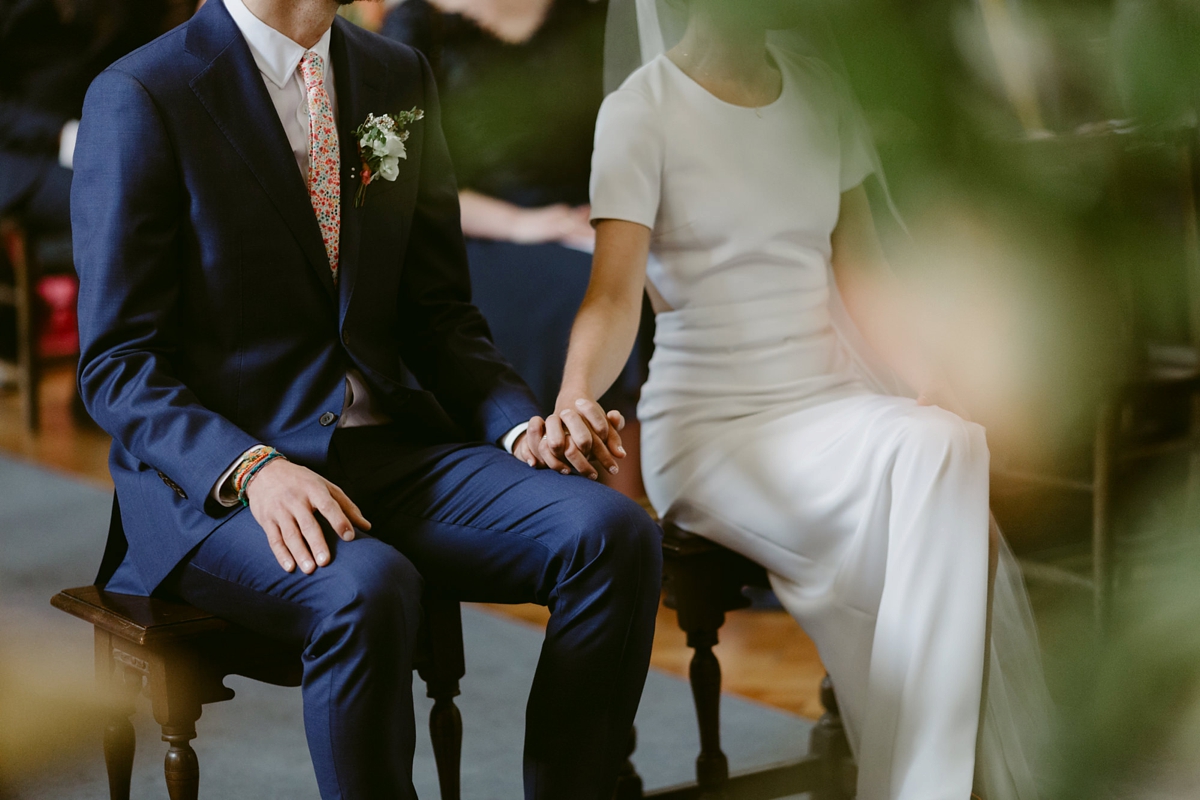 "We got engaged in Sri Lanka in January 2016 (about a year and a half before the wedding). We climbed up Adam's Peak in the middle of the night to watch the sunrise. Matt had the romantic proposal all set up perfectly in his head but in reality it was us, a lot of people doing the climb as a pilgrimage and a load more tourists. At the top, Matt got very nervous when we were taken aside and warned that it was very busy and to be careful of pickpockets.
Thankfully, nobody stole the ring and he proposed in front of the most beautiful sunrise we have ever seen."
"Matt got me a bespoke ring which he designed together with an amazing American jewellery designer Nak Armstrong. It involves triangles, of course, and consists of two rings that interlock that are my engagement ring and wedding band, although I've worn them together since the engagement so had to give the whole ring back to Matt to put on my finger."
"Matt's wedding band story is a funny one. He told me he wanted a titanium ring and I was really please to find a hammered one in a small independent jeweller in my home town of Norwich called Aurum that matched the texture of my engagement ring. The man didn't want to sell it to me without Matt trying it on but I wanted it to be a surprise so went ahead despite his best efforts to dissuade me as Titanium can't be resized."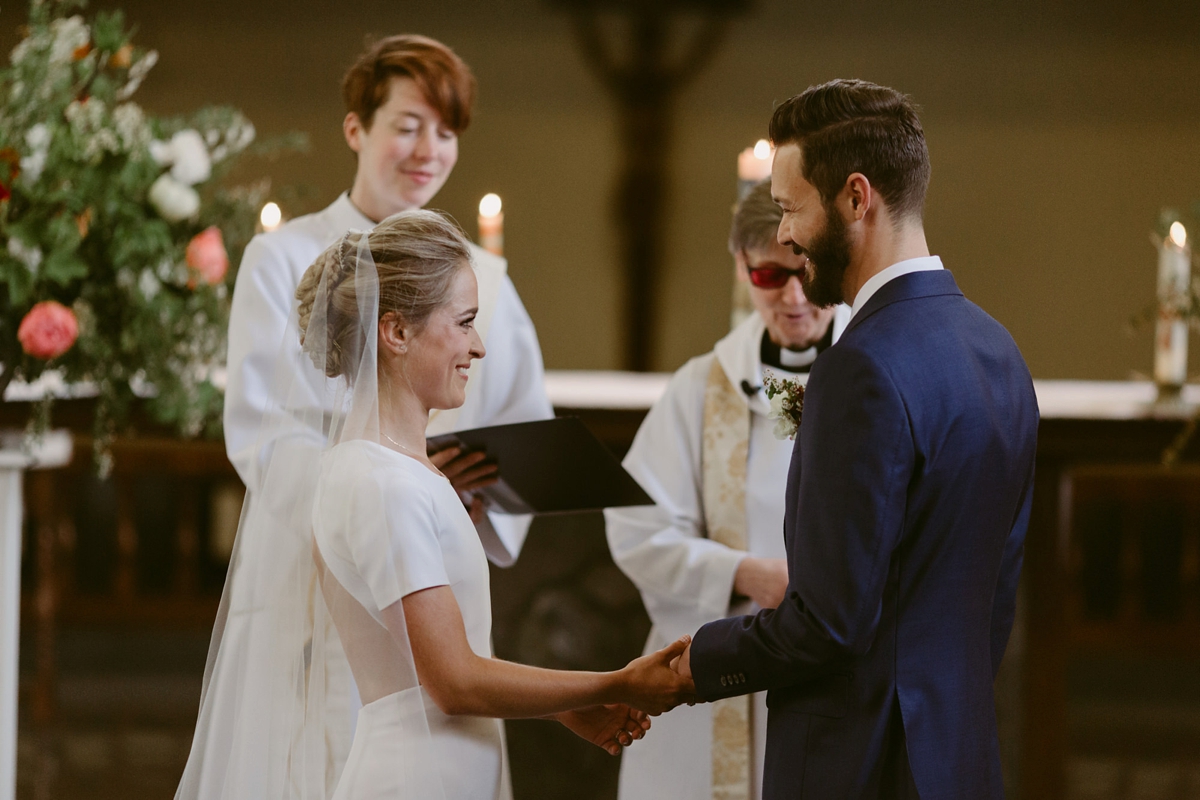 "I was so sure the size was right but luckily got nervous a week before the wedding and thought, what if it doesn't fit… I got Matt to try it on with his eyes closed and couldn't get it over his knuckle. It was too small ahhh. We ended up buying a £14 titanium band from Amazon instead as it was the only place that could deliver in time.. People actually commented that it was nice so we got away with it."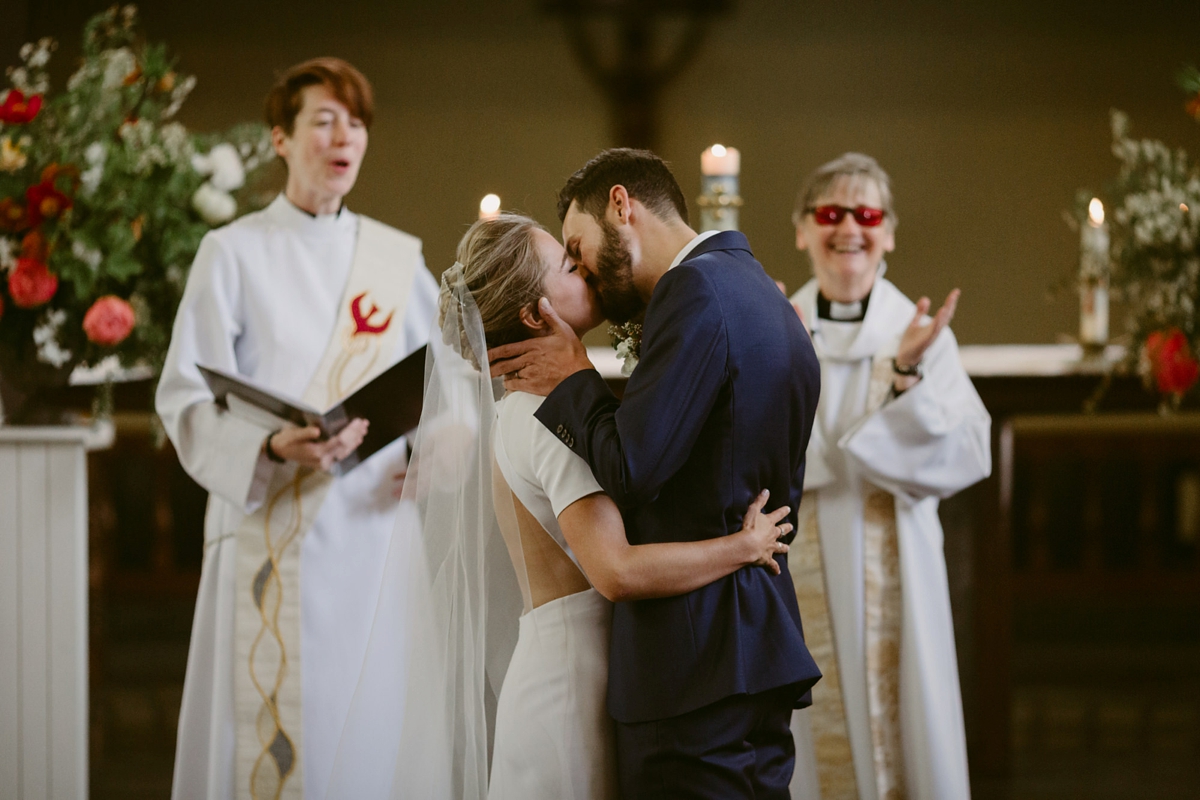 "Our photographer was Ben Millar Cole. I know Ben from university where we played tennis together but never knew he was harbouring such a talent."
"We reconnected on the topic of wedding photography after I saw Ben's work and we couldn't be happier that he photographed our day – he is so easy and fun to be around and takes the most amazing pictures. We knew we wanted a modern, relaxed reportage style and nothing too formal and Ben fitted the bill perfectly."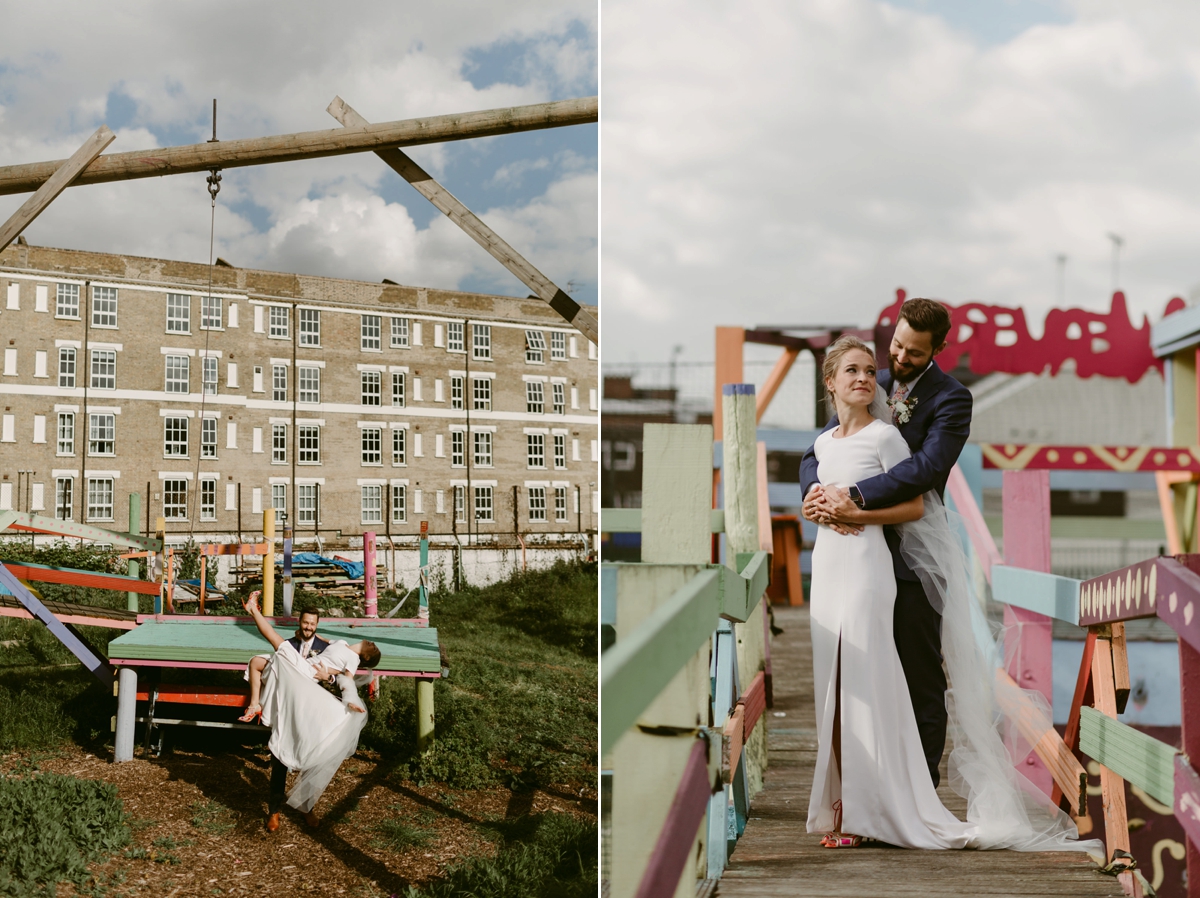 "Ben has a great eye and captured the whole day's events – all the big moments and so many small details that we never even knew happened. We love looking back over the photos and reliving the day."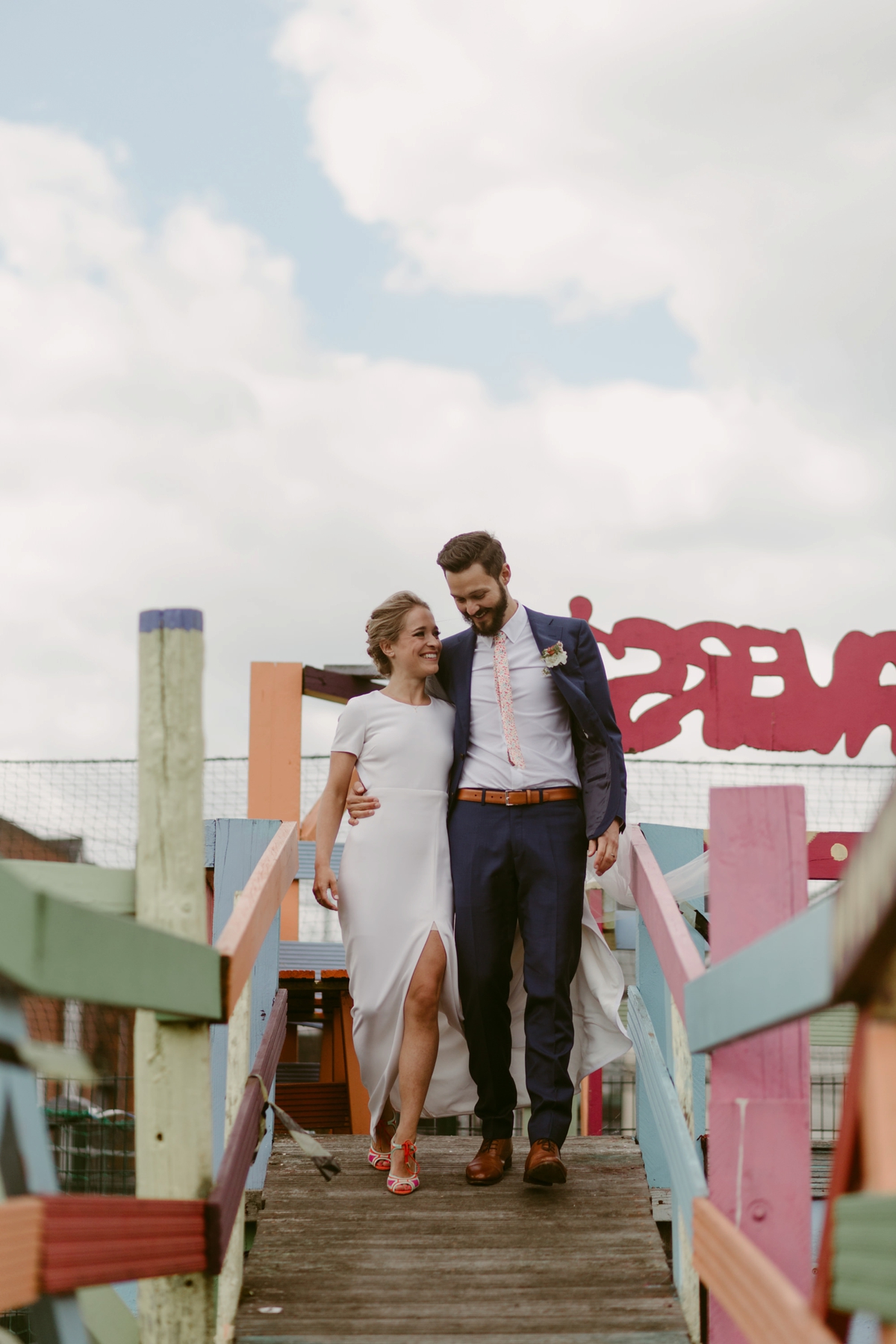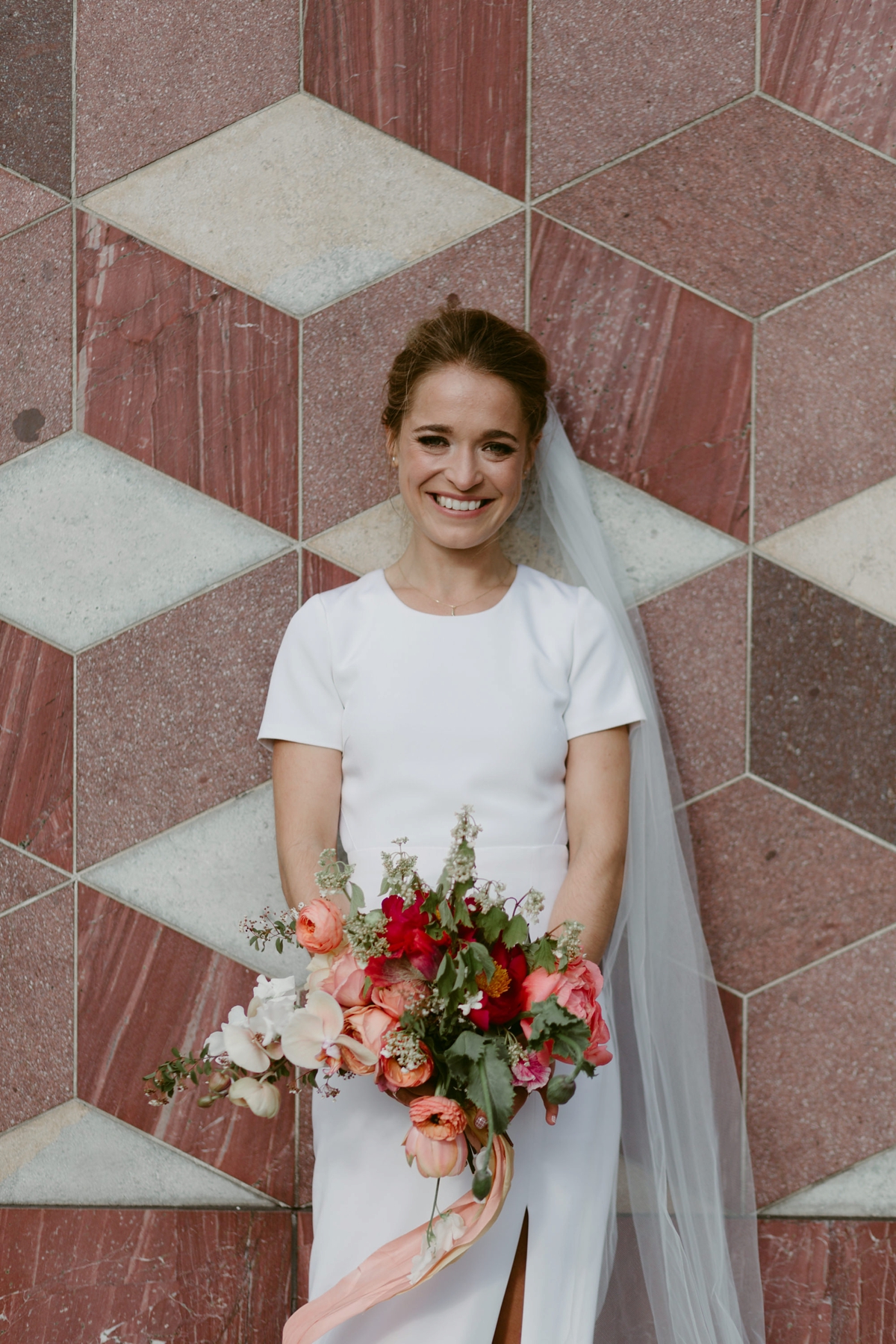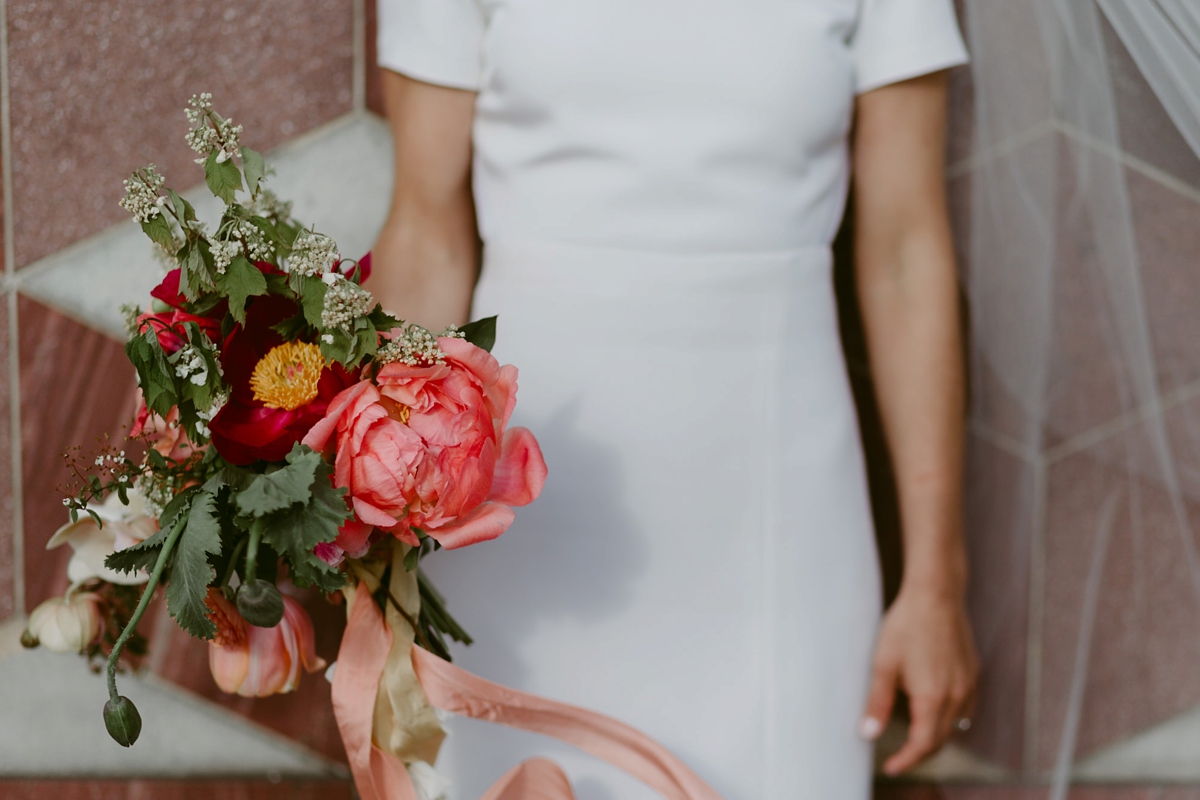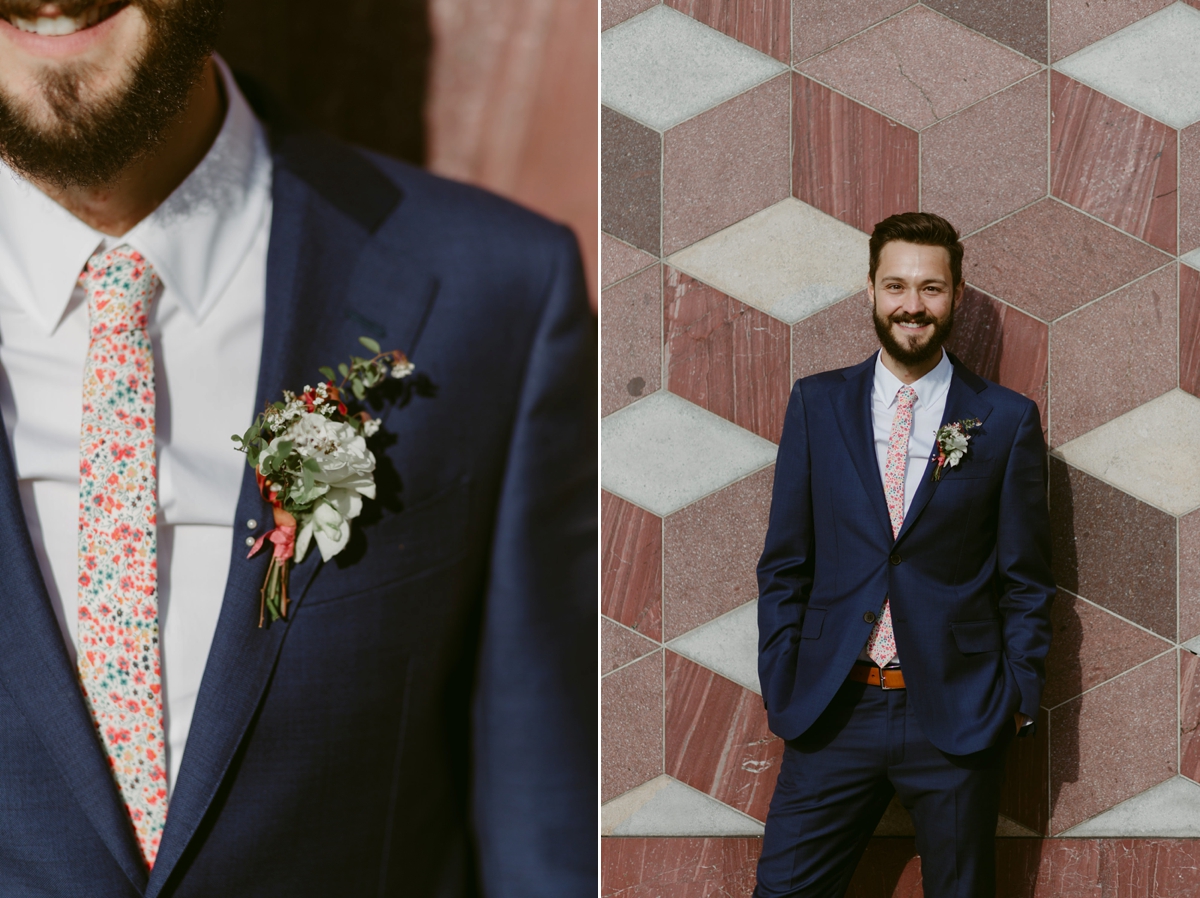 "We hired a gypsy jazz trio called Tanzanite Manouche for the cocktail and canapés accompaniment outside. "
"We picked The V&A Museum of Childhood, also in Bethnal Green for the reception. It is a stunning building, it had enough room to fit our 150 guests and was dry hire which was a key requirement of ours for the venue so we could truly personalise it and choose our own food, drink, music etc."
"We loved the fact that the guests could check out the museum and the old toy exhibits – hopefully returning each of them to a special part of their childhood."
"The Museum of Childhood is a spectacular building and it didn't need much decorating as it already looked stunning. We split up the huge marble floor using the 360 degree information desk in the centre as a bar with a dining area with long feasting tables behind it and dance floor in front."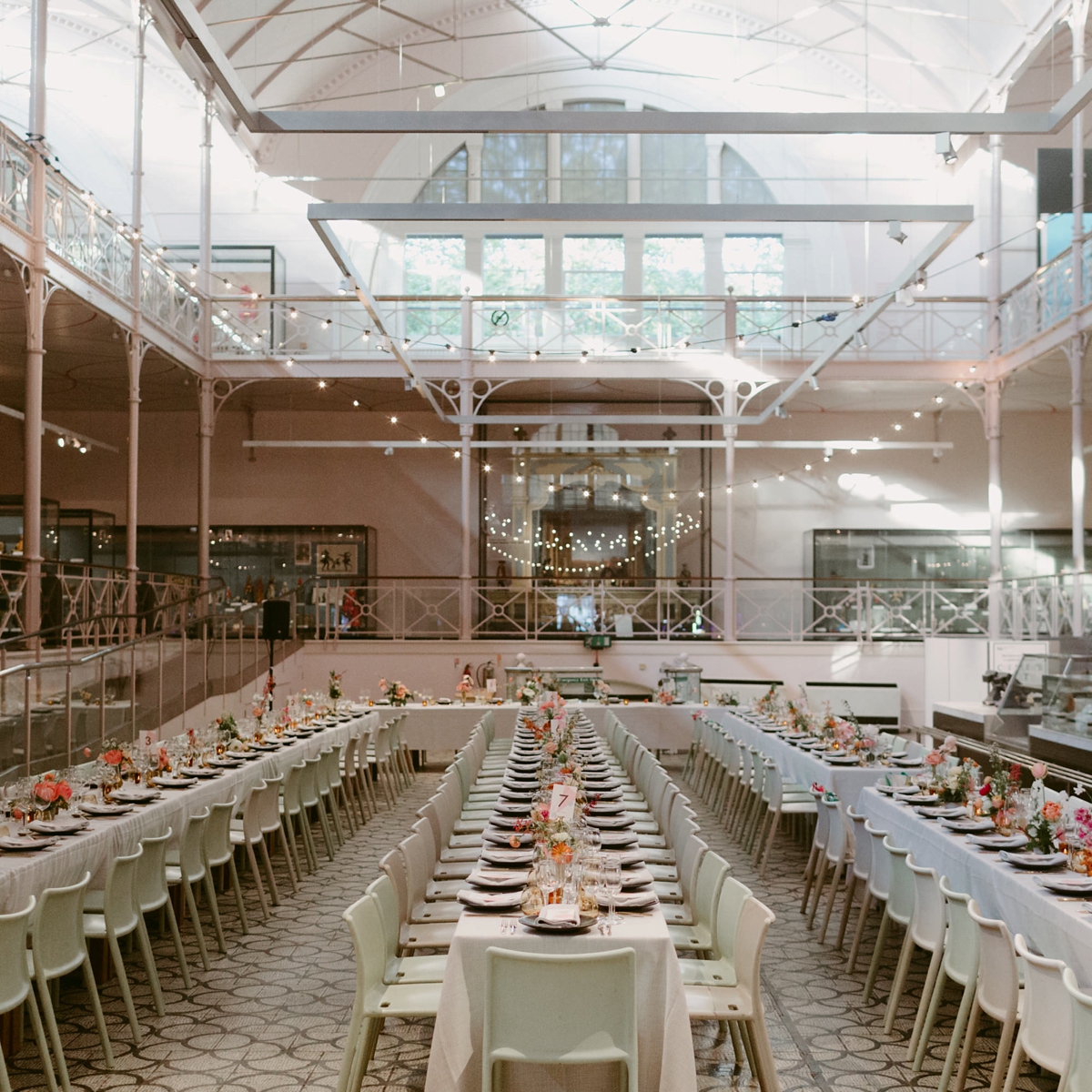 "We had various tables along the edge of the floor with late night snacks (a popcorn cart, sweets table, Romanian pretzels), a photobooth by the The London Lightbox and a DIY tattoo stand which the guests had a lot of fun with."
"We didn't give wedding favours but I did do a first-come first-served give-away of the 30 vases I made in a pottery class to hold the flower arrangements. Wabi-sabi would be the best way to describe them as they were all different shapes and sizes but they were all snapped up."
"Eating and drinking are two of our favourite things to do so we had to make sure the food and drink were on point. Forrest Food came highly recommended by our wedding planner, Liz. We are big foodies and had two tastings with them as their food was so delicious we couldn't narrow it down to what we wanted to serve."
"We went for a mix of some of our favourite world foods for the canapes – a leg of jamon as a nod to meeting in Spain, mini Vietnamese summer rolls, tortilla squares with baba ganoush and a bruschetta table."
"People were definitely not kept hungry. We had a feast for dinner inspired by my favourite chef Ottolenghi – not going light on the Middle Eastern flavours with a sharing mezze platter for starter and either seared beef with pomegranate molasses, sumac onions and oven dried tomatoes or roast cod with coriander seed, fennel seed and parsley chermoula sauce for main. This was followed by some delicious mini desserts: a chocolate caramel tartlet and a lemon tarlet with seasonal fruit."
"My dad sorted out the wines after quite a few wine tastings together which was a fun activity and also gave him a task to get stuck into. We went for some Sauvingnon Blanc from New Zealand and Côtes du Rhône from France through Waitrose Cellar which were super tasty and a big hit with the guests. We also had Crémant de Limoux as our bubbly. I would highly recommend this if you don't want to splash out on champagne and want something different to prosecco – it was really delicious and good value."
"We are craft beer aficionados and had our local and favourite brewery, Redchurch, supply a variety of beers that were all snapped up before the end of the night. We also had a bar that served a selection of spirits that we'd bought in supermarket deals. In hindsight, we may have gone a little overboard with the drinks as we had a fair bit left but what's a party without enough booze?"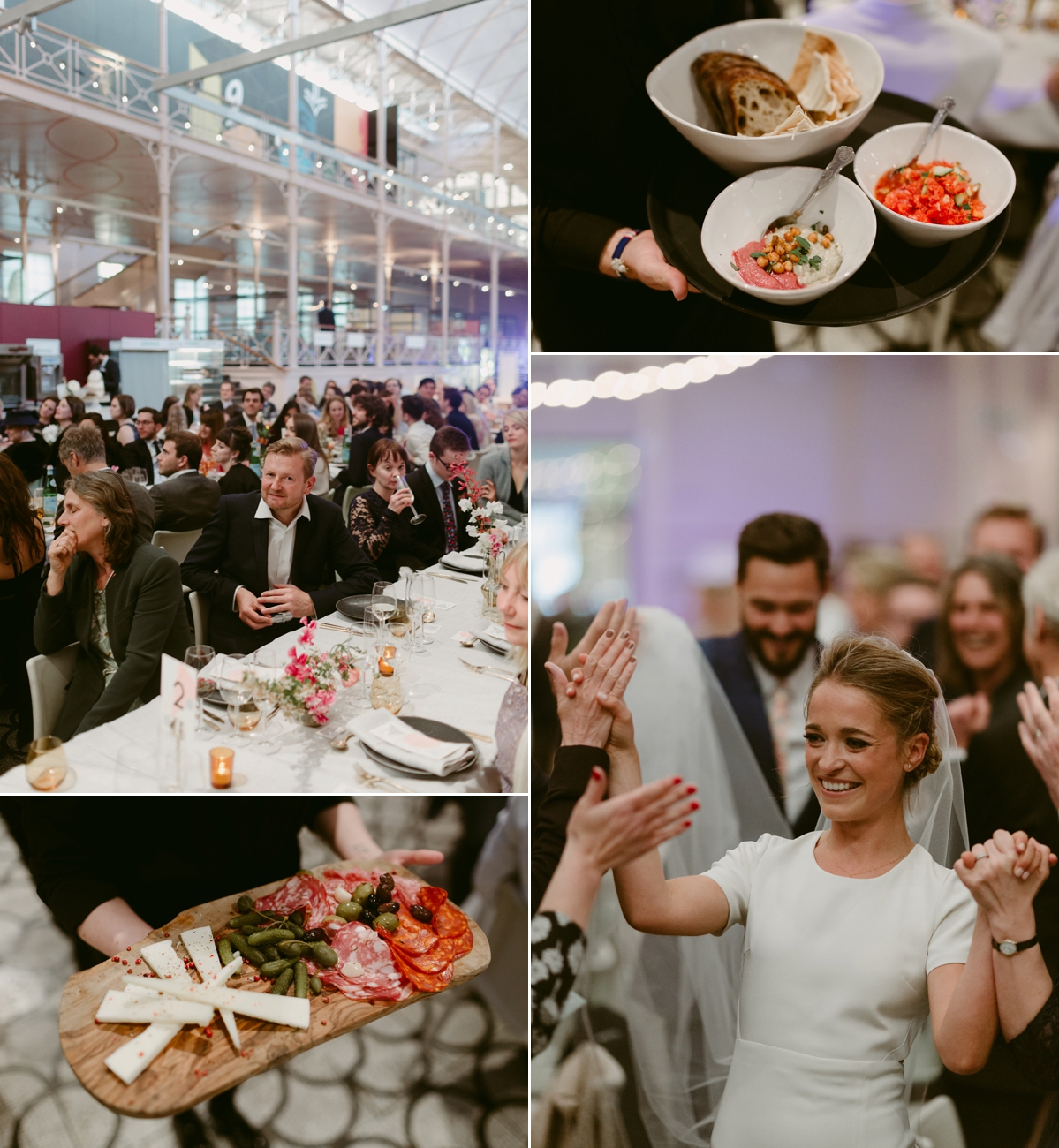 "We went for a cheese cake from Neal's Yard as we wanted something a little bit different from the traditional wedding cake as neither of us has a particularly sweet tooth. We loved the tasting and the fact that all the cheeses were English. We picked some non-traditional cheeses which were a big hit with our guests."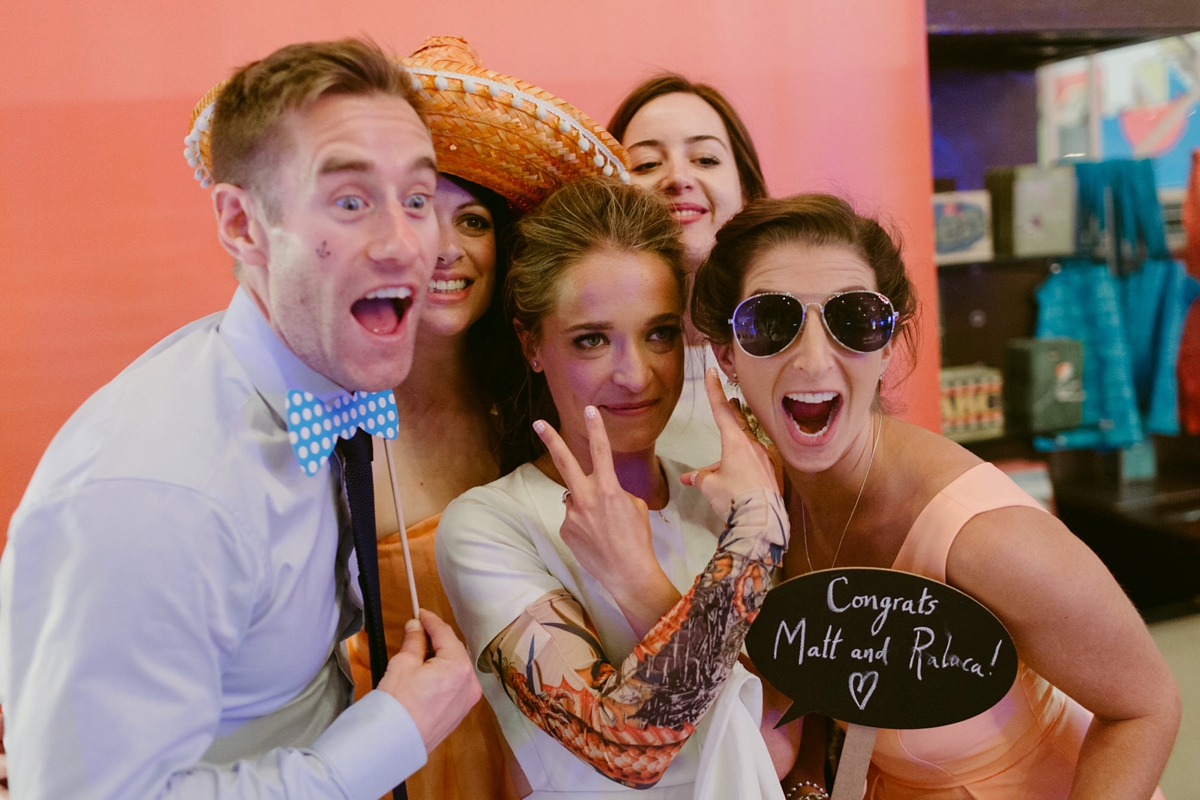 "It's hard to pick a favourite part – it was all amazing and we couldn't have imagined a more perfect day. One of my favourite things however was having both of our families together as Matt's family is from the US and my grandmas' live in Romania."
"We didn't know if one grandma was going to be well enough to come over until the last minute and it was so special to have her celebrate with us. We also did a joint speech where we thanked our families and took it in turns to say some words about each other – this was the only bit I was anxious about but it was definitely worth the nerves and really fun to do together."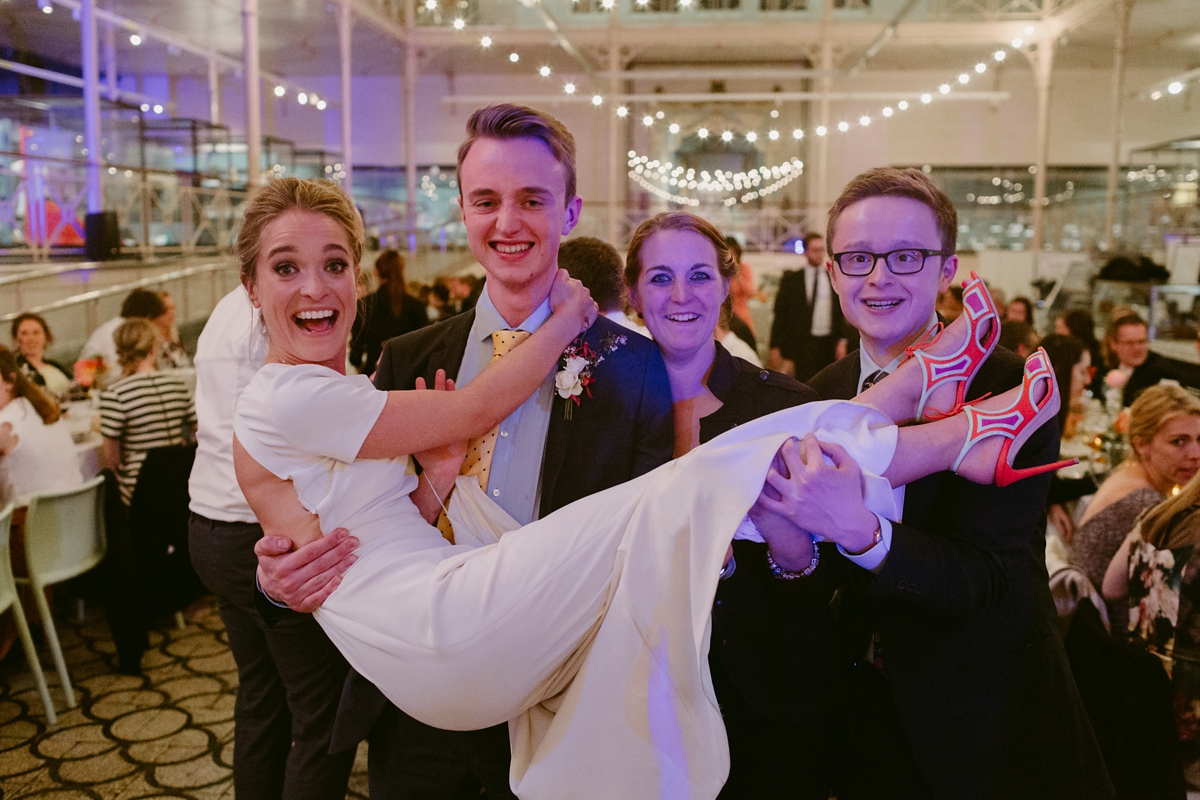 "Matt found Abnormally Funky after an extensive online search and they played after dinner. They had a few different options and we picked the 8 piece with an MC. We got to pick from some mini sets of different genres, from Motown to classic pop to hip-hop. They were amazing and played such an eclectic set that had the dancefloor packed from start to finish."
"We then had a DJ to keep the party going as the venue had an extended license and was ours until 2am. We chose The Wedding Smashers and they totally smashed it. We met with Max, our DJ before the wedding and talked through our likes and dislikes – he got us perfectly and played a great eclectic set – we were so sad when we had to end for the night."
"We danced to "This will be our year" by The Zombies. We first heard it as part of a DJ mix and really liked it. When we realised it was only 2 minutes long, we liked it even more. We took a few dance classes so we didn't embarrass ourselves and managed to throw in a few cool moves including a lift and spin at the end which was very fun."
Words of Wedded Wisdom
"The first big piece of advice is be true to yourselves and don't feel like you have to compromise to make other people happy. Speak to each other and be honest and open about what you want from your wedding day, it is your day after all. Everybody said how "us" our wedding was and that is exactly what we wanted – we were ourselves, in a place that we love, doing the things that we love, surrounded by friends and family that we love and we enjoyed every minute of it."
"Secondly, if you can, hire a wedding planner. This initially felt frivolous and I doubted I needed the help but it was one of the best things we did. Liz was amazing and took so many things off our plate that could've made the experience stressful and not so fun. Instead, I got to get involved in the parts that I liked, such as the creative and design elements and didn't have to do all the admin – the project management in my job is enough. I couldn't resist making a few spreadsheets though. People commented on how relaxed I was leading up to the wedding – I don't think this would've been nearly the case without Liz."
"I also valued having quite a bit of time to plan the wedding and felt like this made wedding planning a lot more relaxed. We got the big stuff sorted first like the venue and got that out of the way, but the décor and other details took a bit more time to come together. I enjoyed browsing online and developed a serious Pinterest and wedding blog addiction but didn't feel under pressure to make immediate decisions."
"Finally, Ben, our photographer, also gave us some great advice. He recommended we factor in some time in the day for ourselves to just hang out and take a breather amidst all of the excitement of the day. This sounded ideal but we were also conscious that we didn't want to take a long time out to do portraits as we wanted to enjoy the reception and hang out with everyone. Thankfully, we took his advice and did our photos along the walk that we did with all the wedding guests between the church and museum so it only took 30 mins.
We had a lot of fun doing some photos in an adventure playground just by the park we walked through and then stopped by Redchurch brewery where we got our beer from for a cheeky drink and breather. It was great to chat about the day so far and share stories and just be together as husband and wife."
Oh Raluca! Thank you for sharing so much amazing information, and inspiration! You looked incredible on your wedding day – your images are just so lovely. Huge congratulations to you lovely lady, wishing you the most wonderful first year of marriage.
Annabel x