As I write this I'm sitting in the conservatory soaking up the last of the summer sun. The beginning of the summer, and those long hot days we enjoyed, seem so far away – where has the summer gone to?
Today's Tuscan wedding is really helping me to remember the balmy days we enjoyed a few months ago, and I have to admit I'm smitten with the vibrant colour palette of coral and deep green.
We're travelling all the way to Siena, Italy to enjoy the intimate wedding of Jenn, a trainee anaesthetist, and Artem, a video producer. The pair wed on 6 July 2017 and celebrated with a spiritual blessing ceremony and week-long holiday with family and friends in the picture-perfect Villa Palentino surrounded by olive trees, hills and vineyards. Wedding celebrants and our highly recommended Little Book for Brides members, Blessings from Italy performed the blessing ceremony. As the couple had legally wed in London the month before, they had the freedom to write their own vows and really personalise their ceremony.
"We wanted an intimate, laid-back day full of fun and thoughtful detail for our guests to enjoy. In terms of themes, our wedding had an undercurrent of Wes Anderson films in our video invite, website, favours and bar. Our main colours were orange and coral to pop against fresh white florals and lots of greenery."
Photography by Howell Jones Photography
It's always wonderful to hear how helpful Love My Dress and our private Facebook group are for brides-to-be.
"We found our wedding planners Wiskow & White through Love My Dress when they were featured on the blog by one of the Lovettes. We also found a couple more of our suppliers based on recommendations from the ladies on the Love My Dress private Facebook group. The blog and Facebook group were a huge source of inspiration and suppliers, and kept my Pinterest goals realistic by seeing other real life weddings with real life budgets."
Wiskow & White, who are also Little Book for Brides members, specialise in Tuscan weddings and come very highly recommended.
"Wiskow and White were a pleasure to work with and helped with the tricky task of sourcing and communicating with our Italian suppliers. They helped bring to life our vision that we had created through mood boards and countless Skype chats."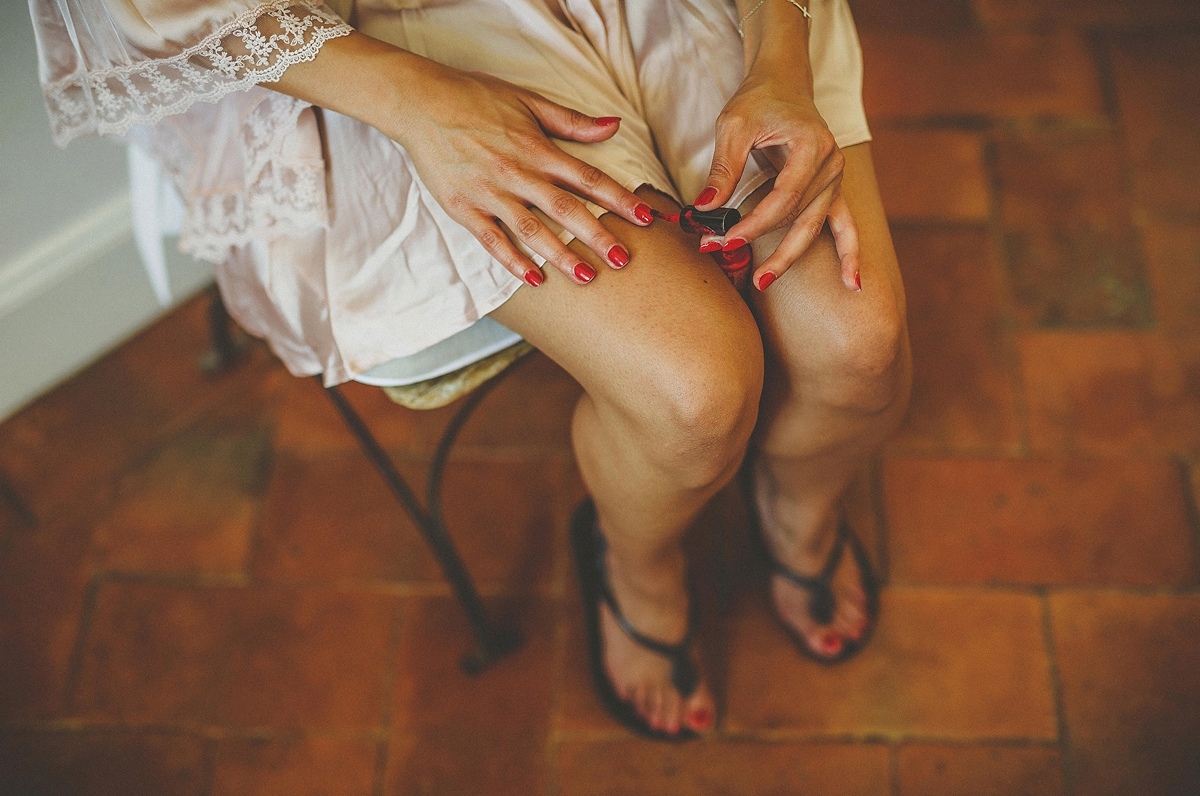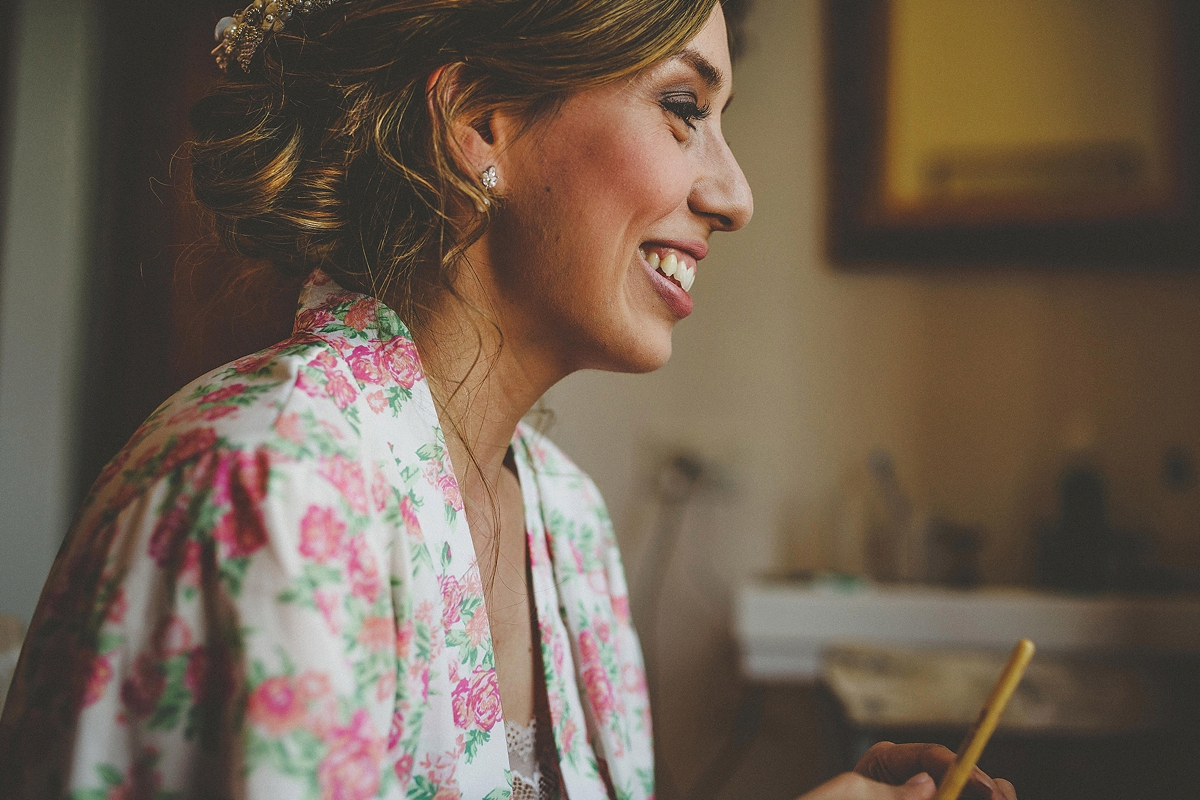 Jenn was the picture of elegance in her Claire Pettibone 'Wren' gown, a sample sale gown from Leonie Claire Bridal (whose Little Book for Brides listing you can see here) via Preloved. The delicate sleeve detail is so pretty, and I love the statement back.
"I wanted a dress that didn't feel too bridal and was a bit bohemian. I loved the delicate floral appliqué, open back and pearlescent sheen of the silk. It was a gorgeous mix of demure and sexy, and not something my husband would be expecting me to wear as I kept complaining about how big my dress was going to be to wear which threw him off the scent."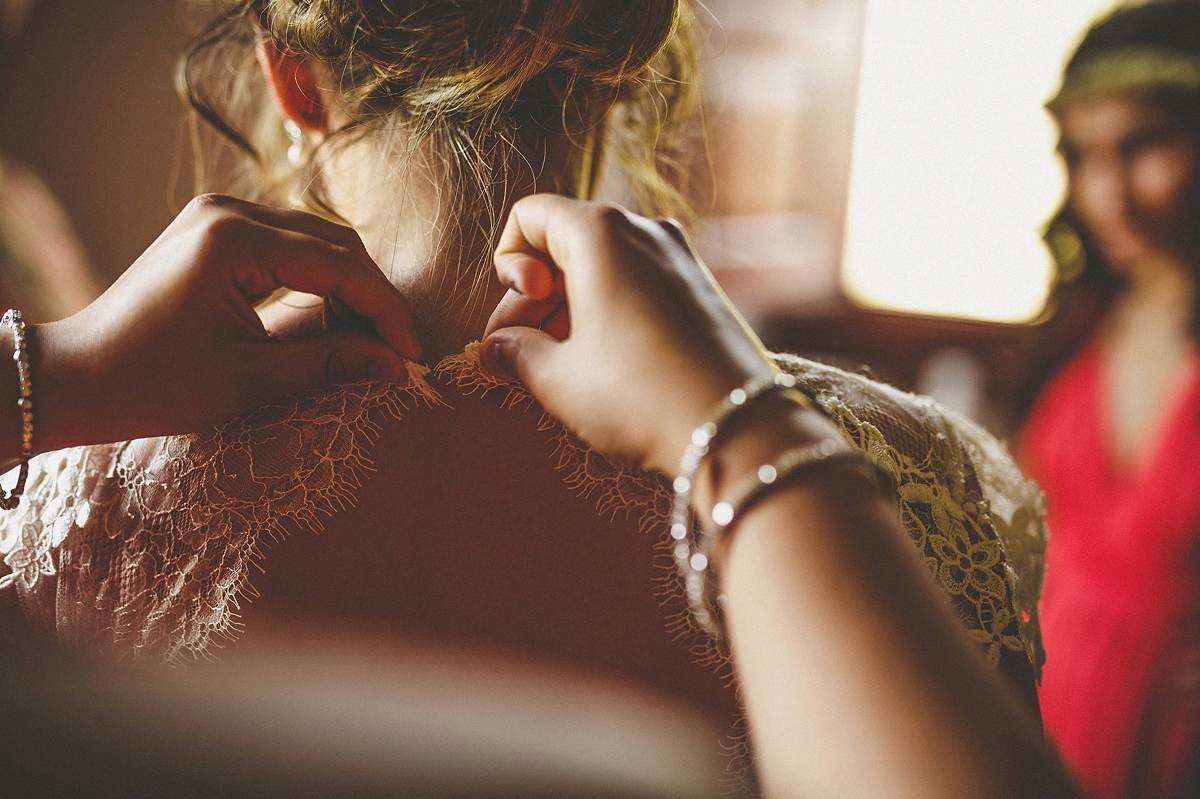 Jenn recruited Miss Kay Seamstress, another of our lovely Little Book for Brides members, to work on the gown's alterations.
"My seamstress, Martine from Miss Kay, was an absolute delight to work with and I cannot recommend the lovely ladies there enough. She had the ingenious idea to add more appliqué to the lower part of the bodice to balance out the appliqué on the top so my dress was truly one of a kind. She made the dress fit like a dream and was so sweet to help me pack it up into my carry-on suitcase."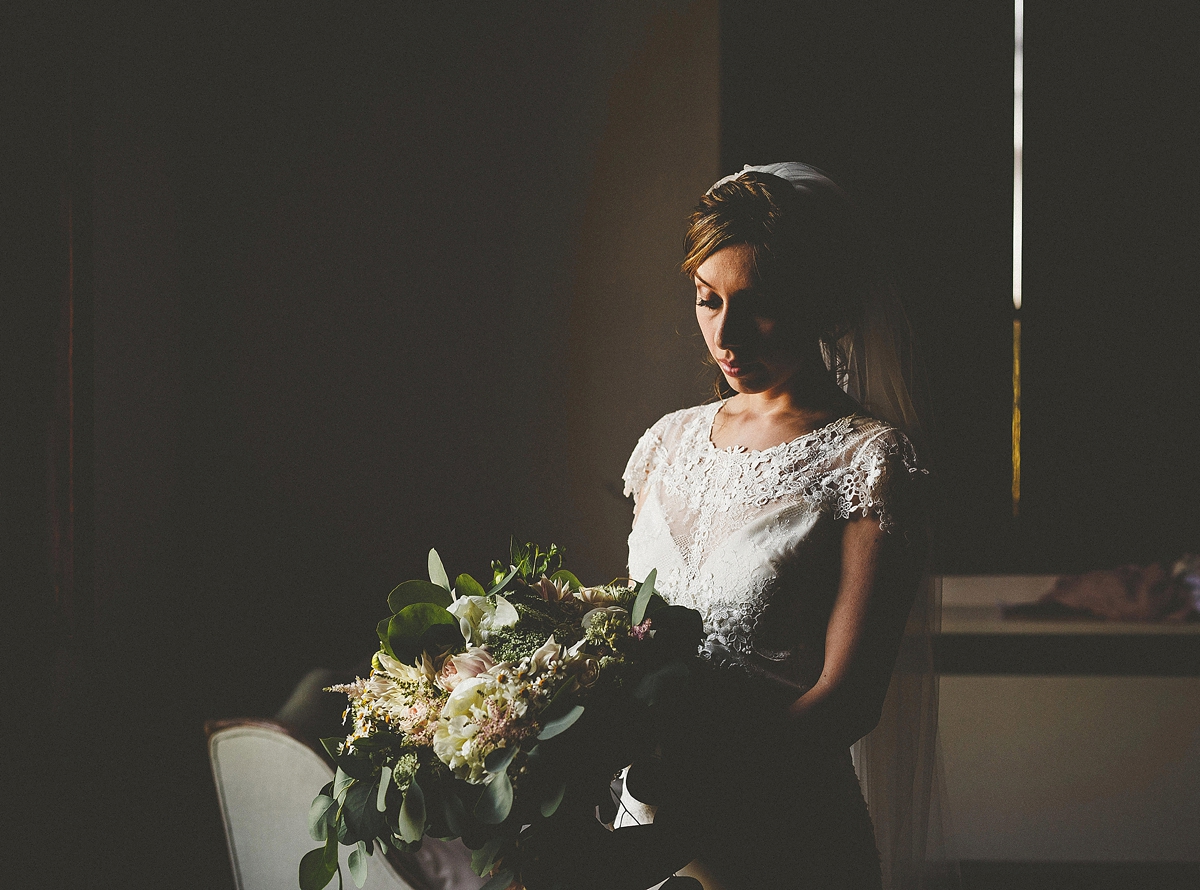 Her sparkly Champagne shoes are Roland Cartier, and their feel is mirrored in the bride's unusual Powder Blue Bijoux cuff bracelet. To set off the lace detailing of her gown, she opted for a simple veil.
"My veil was one of my favourite bridal purchases. I wanted a plain raw edge veil seeing as my dress was quite intricate and sourced it from Blossom and Bluebird. The quality was amazing; it was so soft and light."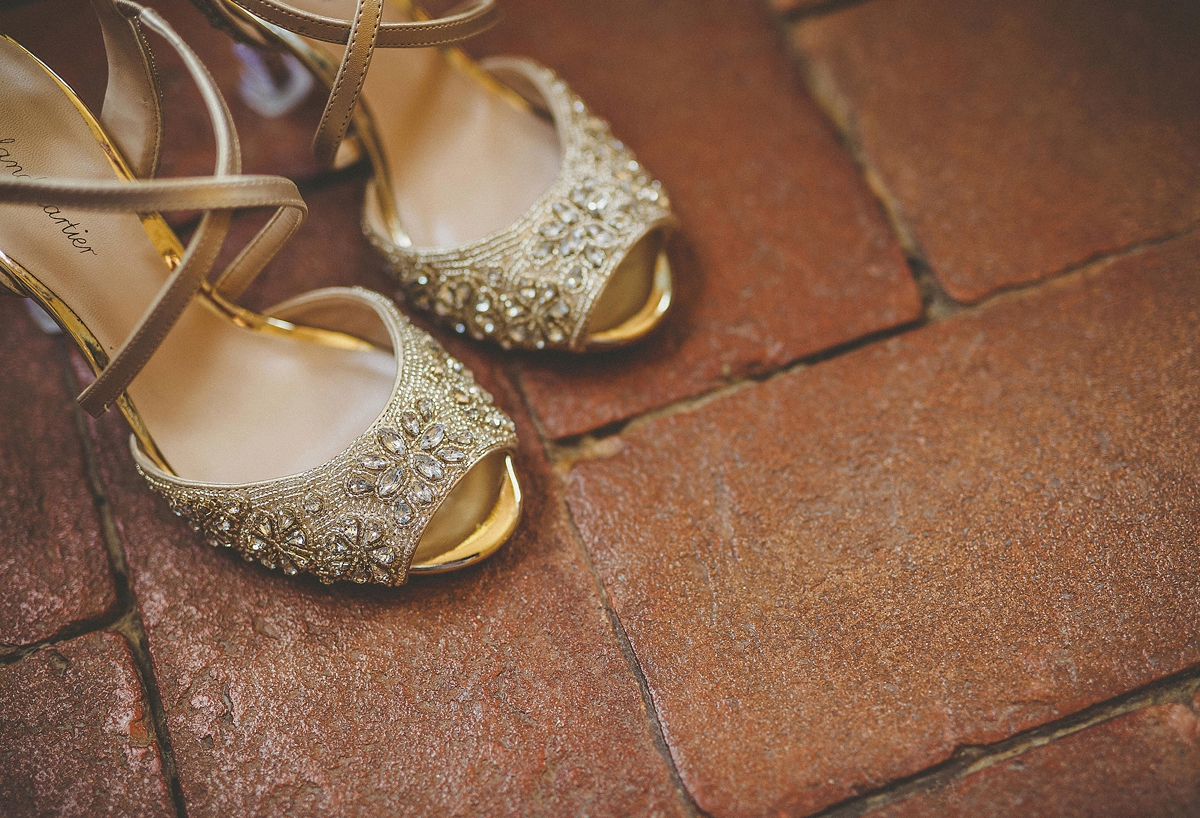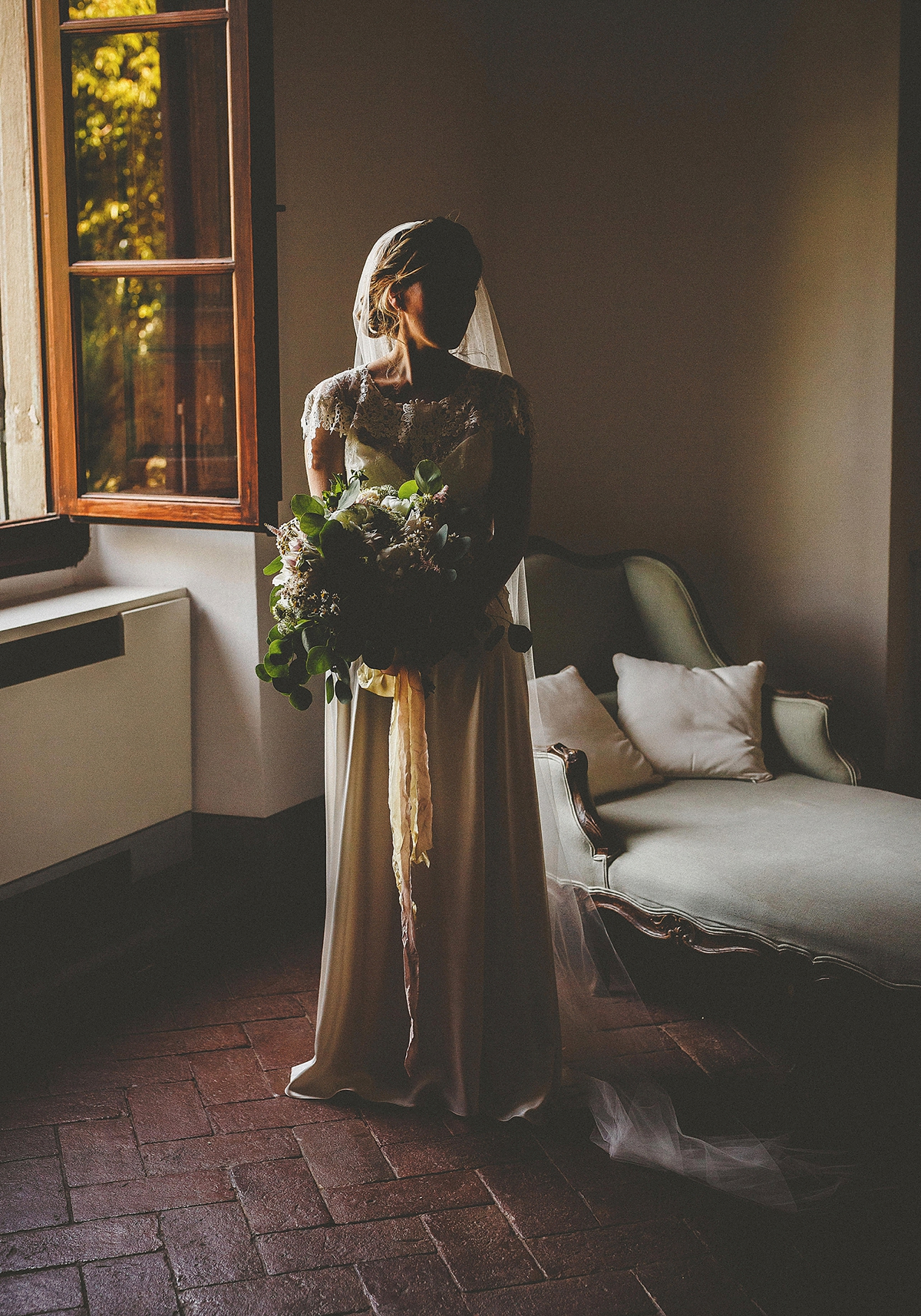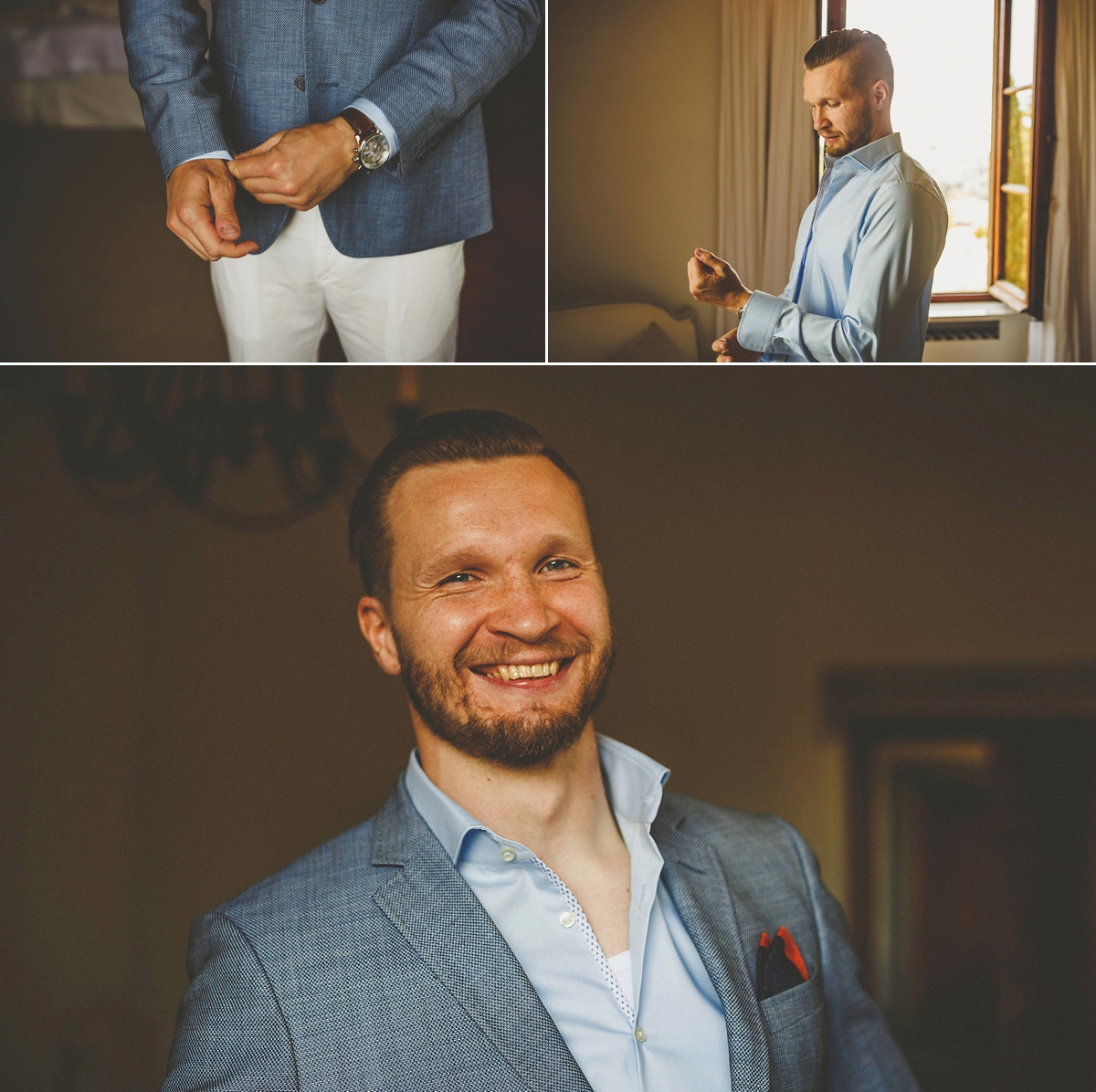 The couple first met face-to-face back in 2013.
"Artem and I were members of a global fitness tracker website and phone app. About two dozen or so UK members met up in Manchester for a weekend of dinner, gym workouts and dancing. I drove across from York where I was still a student and Artem drove up from London."
"I made the first move and text him to say I'd had a great time. He then proceeded to invite himself up to York and promised to bring the best New York cheesecake I'd ever tasted for our first date. Two weeks after meeting we had our first date and that was that. The cheesecake was indeed a hit, and best part was that Art had never baked before. Artem proposed three years after our first date."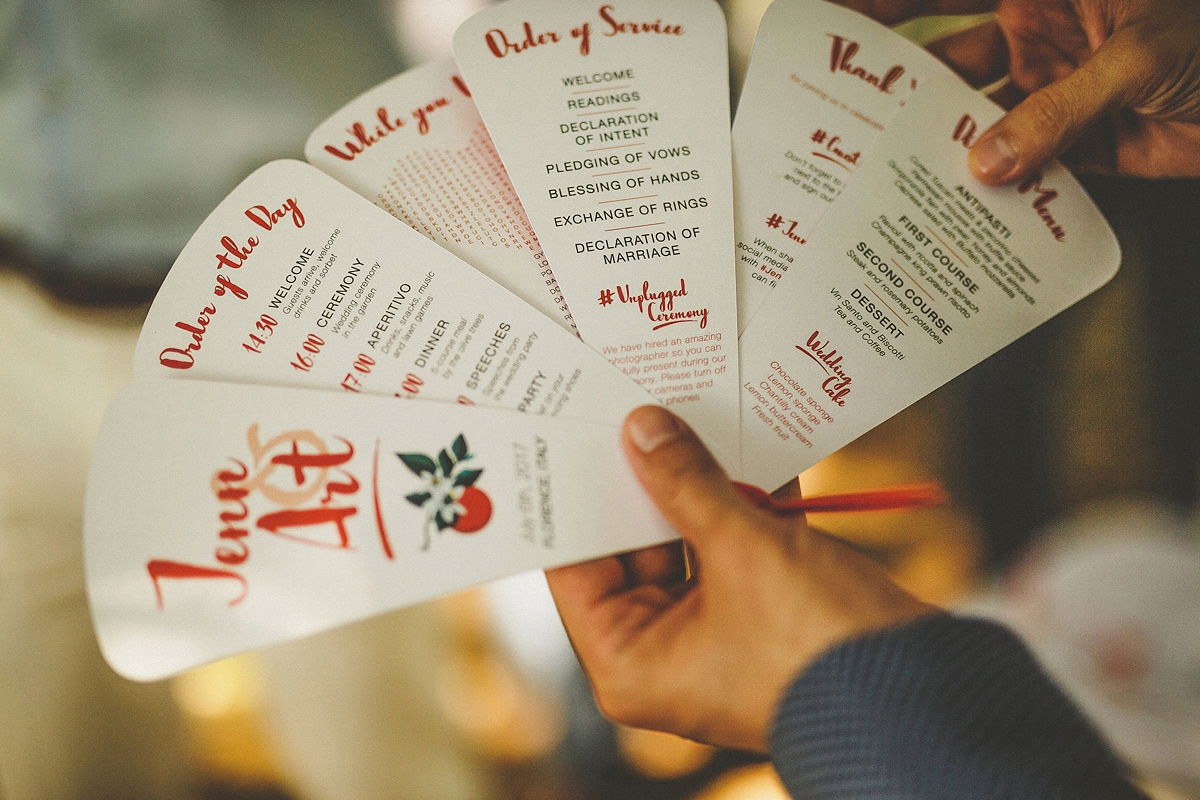 The couple had originally planned to wed in the UK, but switched to a destination wedding.
"We originally had our sights set on a barn wedding in the Cotswolds, but changed our minds on seeing the quotes roll in and our budget inflate. We arranged a last-minute trip to Tuscany, Italy to visit two potential venues; a medieval castle on the outskirts of Siena and a 17th century eight-bed villa in the hilly town of San Casciano on the outskirts of Florence. Within five minutes of strolling through the beautiful villa and its grounds we knew this is where we wanted to get married."
"Having exclusive hire of Villa Palentino for seven nights meant that we could enjoy a vacation with family and friends in the build up to the wedding, and host both the ceremony and reception all in the grounds of the villa. We were very excited about our new venue as we were practically guaranteed amazing food, wine and weather."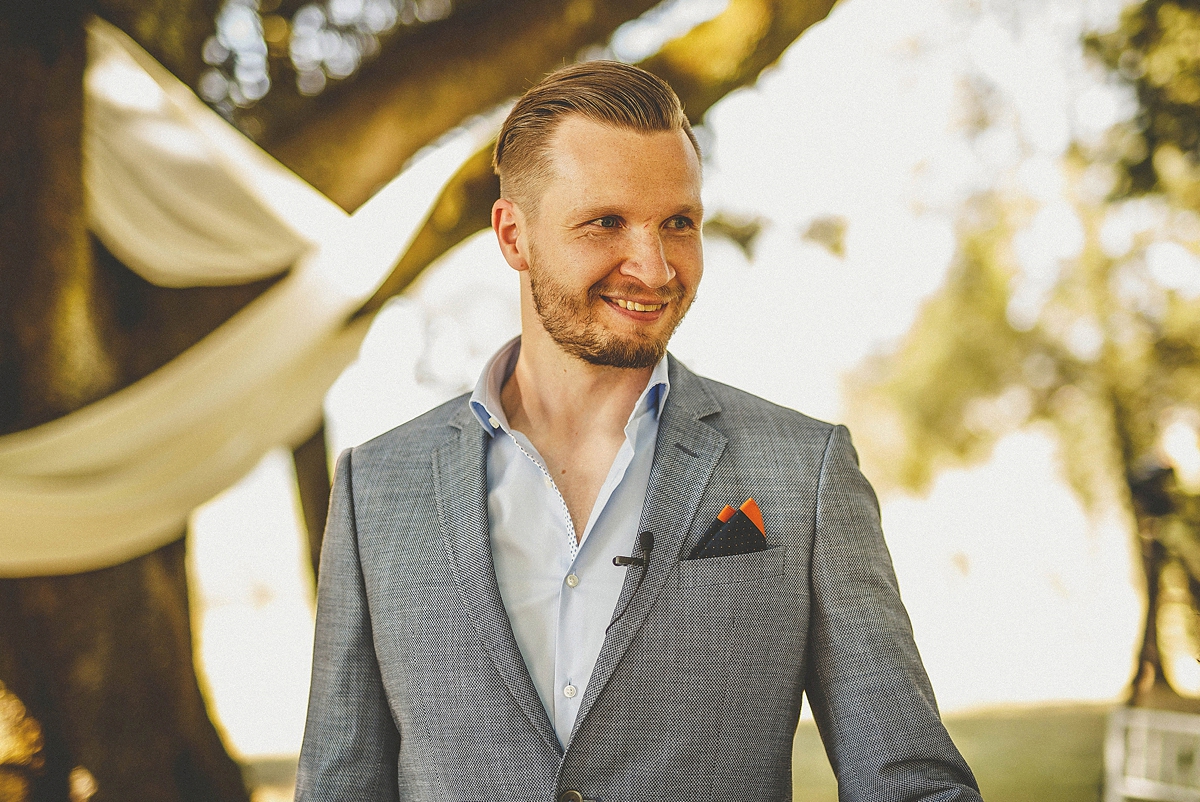 Creative Artem was super-keen to have a hands-on approach to the wedding, designing and emailing an online invitation to the guests (you can watch it here), and building a wedding website too, inspired by Wes Anderson's movies.
"Our wedding programs doubled up as fans for our guests and were created as a collaboration between Artem who provided the design for the programs and were then produced and printed by Infinity Paper Boutique."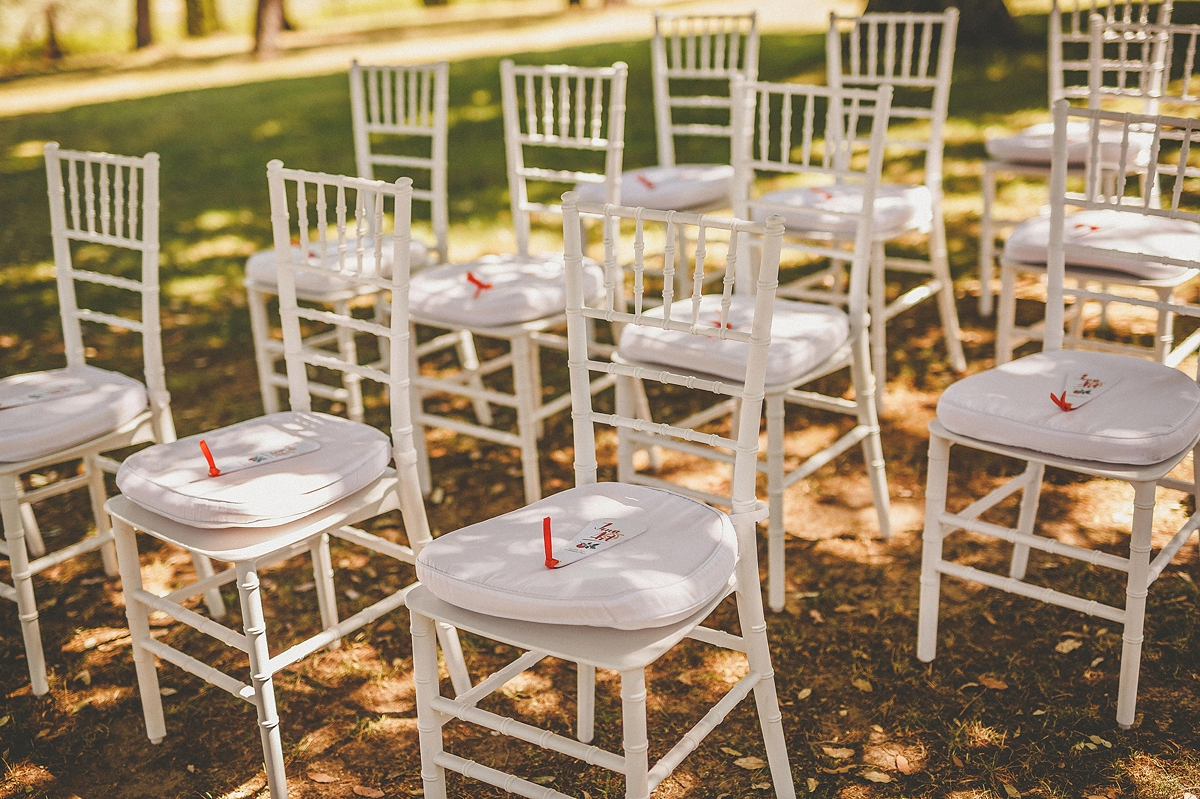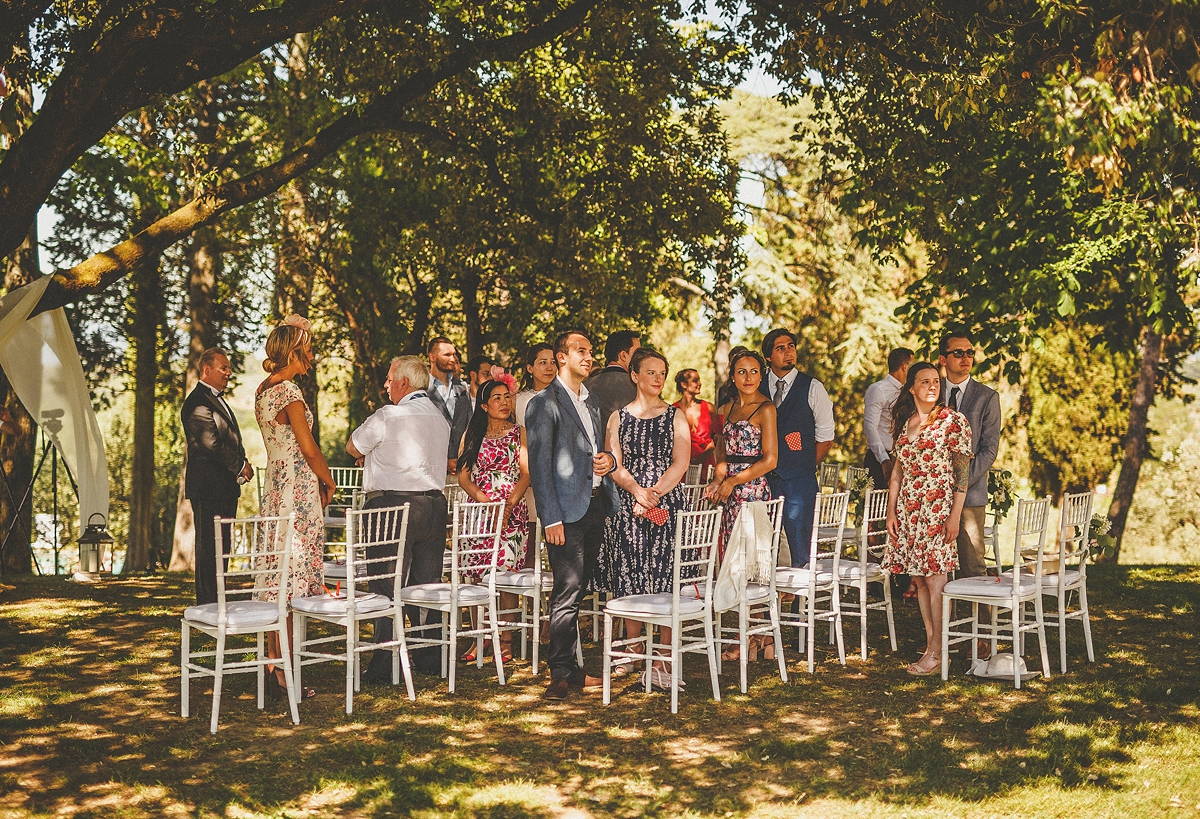 The bright coral gowns of Jenn's bridemaids, found online at The Daint Yard, made sure that they stood out from the crowd. Jenn chose a multi-way design to that the girls could style them as they wished. Their hair accessories were natural and pretty – simple dried gypsophila crowns.
On the day, Jenn walked down the aisle to meet Art on the arm of her younger brother, to the sound of 'Can't Help falling in Love' by Ingrid Michaelson.
Her groom wore a relaxed mix and match suit in the traditional Italian style, with a Hugo Boss jacket by Hugo Boss and Hackett trousers. The couple asked their male guests to dress in a Spezzato style and their female guests to wear cocktail dresses. Many of them wore shades of blue, white and coral for a lovely, coordinated effect.
"My favourite part of the day was the first time I saw Art's face when I walked down the aisle. I'd felt stressed out in the lead up to that moment; I thought my veil looked too 'poofy' and my brother had had a nose bleed only ten minutes before, but when I saw Artem's smiling face, I relaxed and felt a burst of love for him and everyone there. So much of the rest of the day is a happy blur to me but I remember that moment very clearly."
"Before exchanging vows and rings, we had a ring blessing and hand fasting. My husband was at first apprehensive about hand fasting but when we looked into it a bit more, and the origins of hand fasting he was very much on board with the idea which felt very fitting with our spiritual blessing ceremony."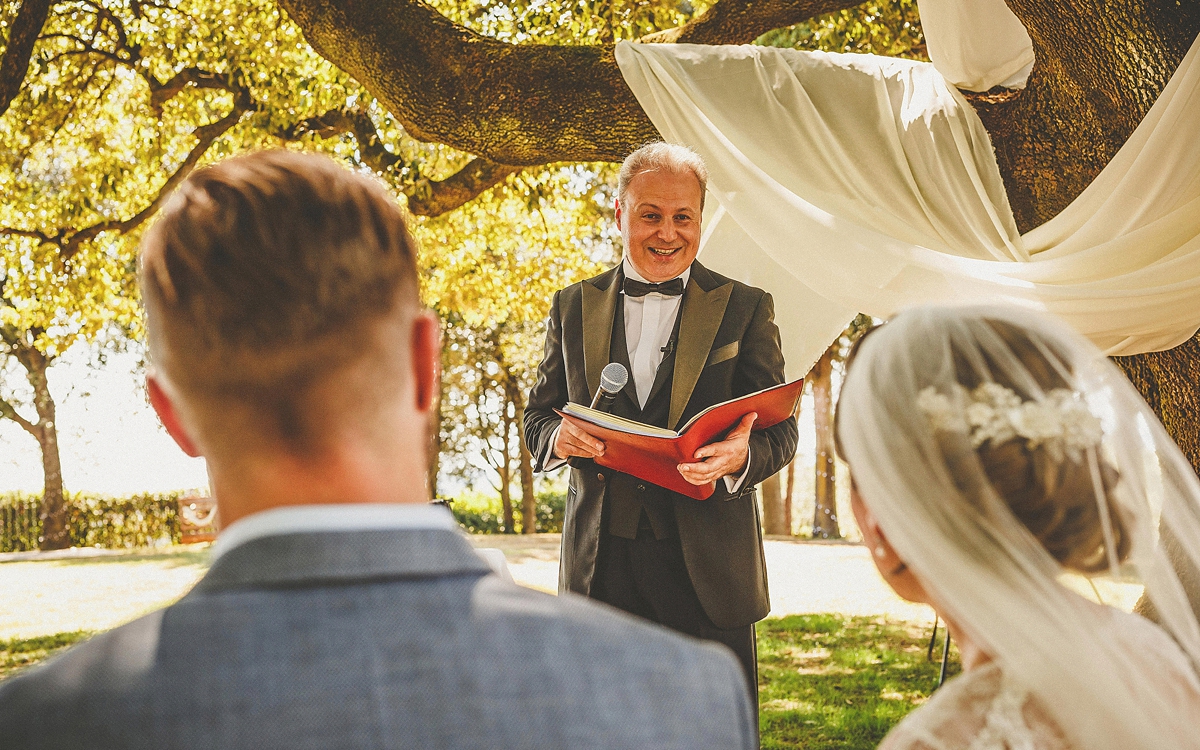 The couple's rings were chosen at 77 Diamonds, where Jenn's engagement ring was from.
"We wanted similar rings so both went for rose gold (which matched my engagement ring) but whilst my husband chose a plain band I went for a vintage looking design with diamonds."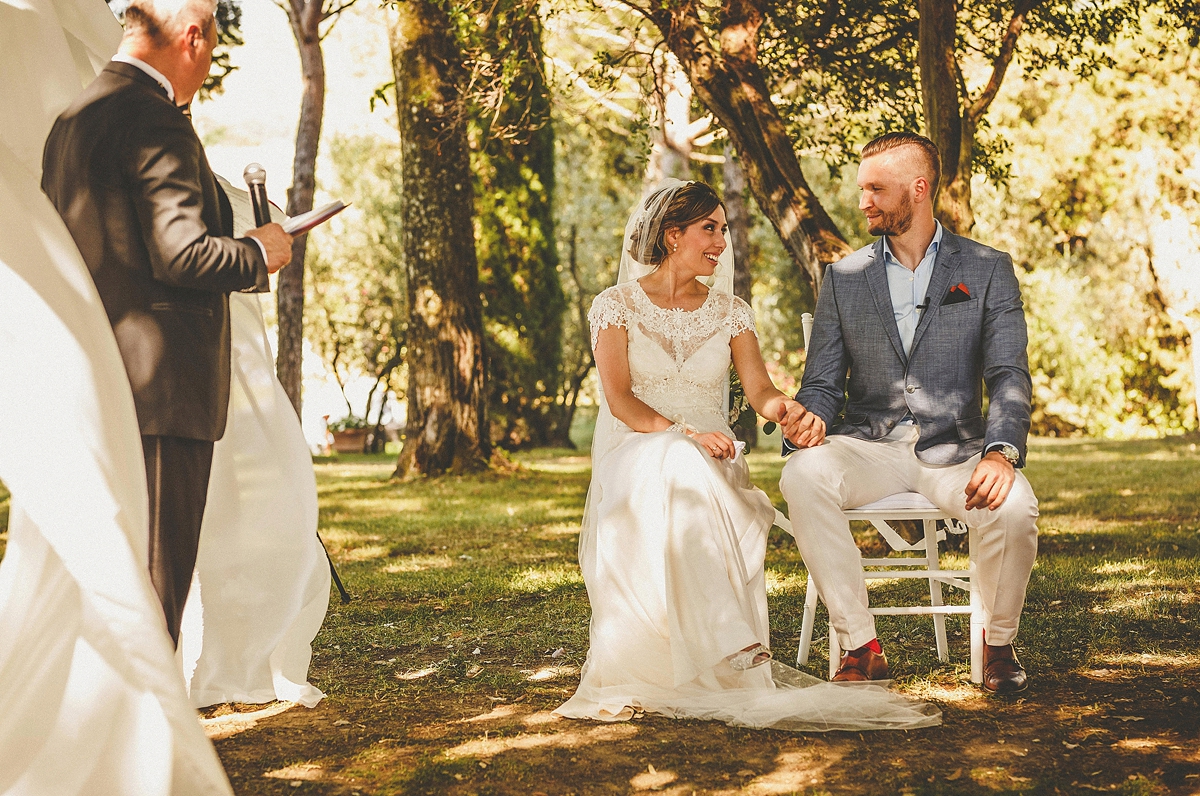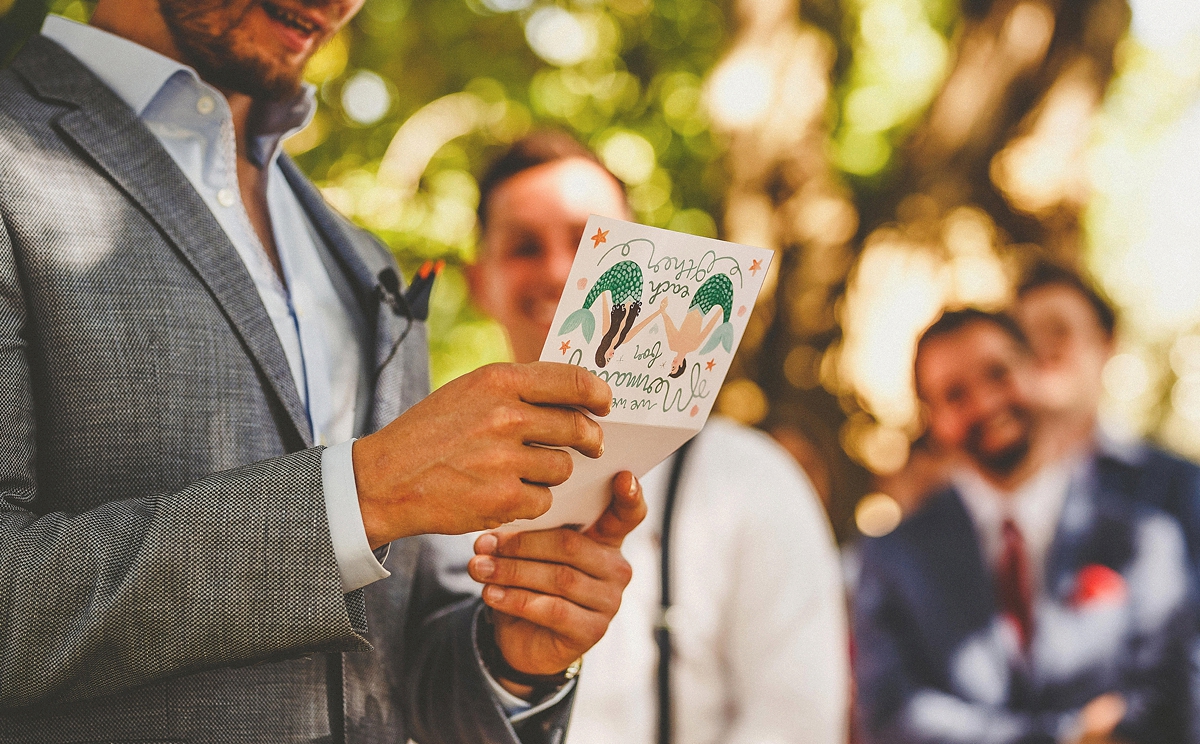 Jenn's bridesmaid Francesca read 'The Blessing of Hands' before their friend Tim read a piece written by him especially for the newly-weds, entitled 'The Theory of Love'.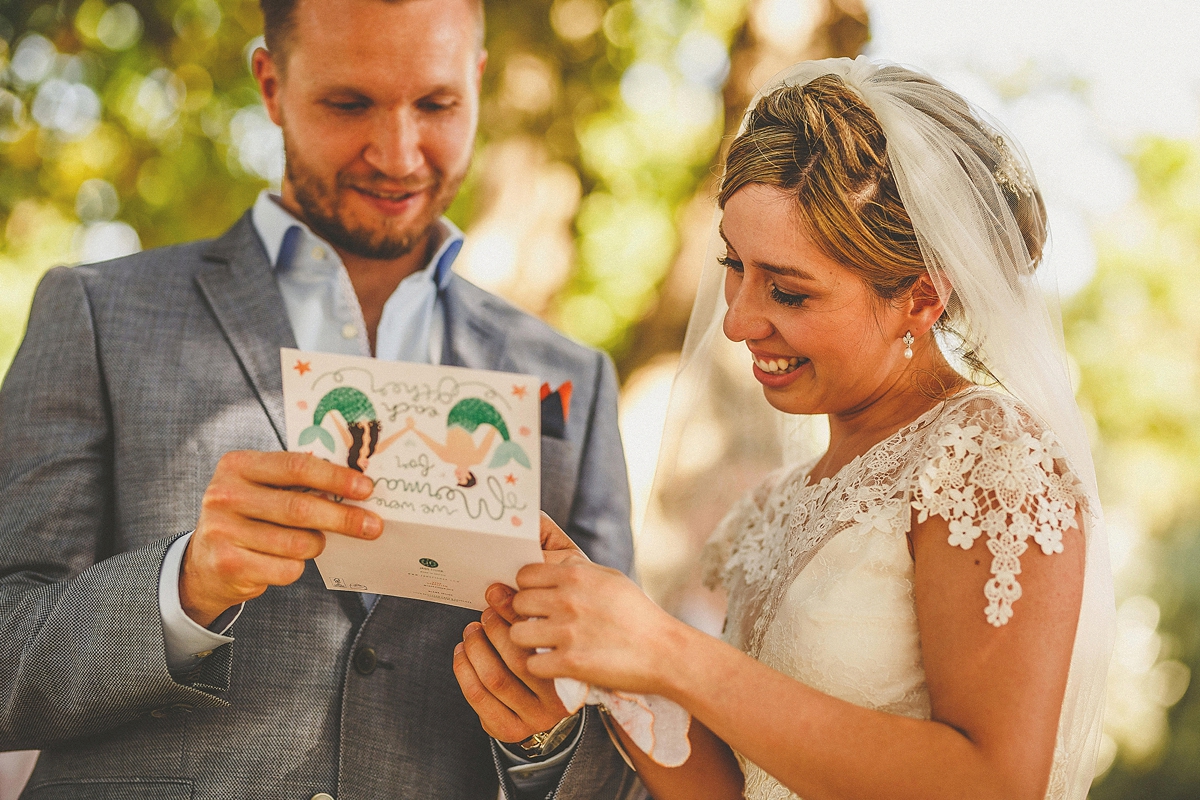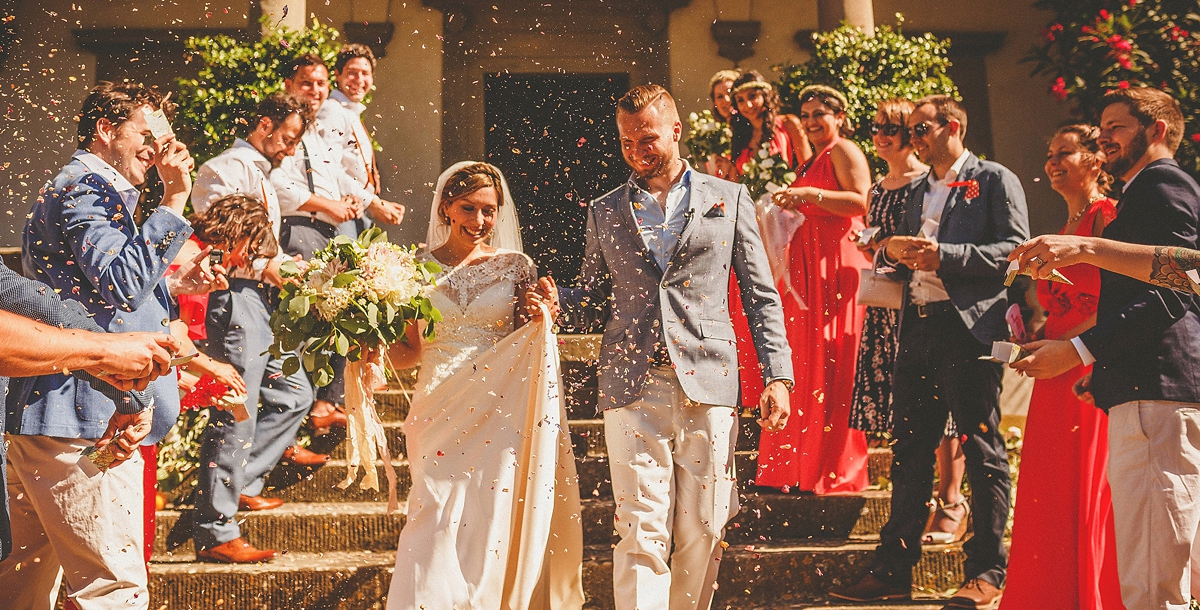 I'm bowled over by the creative details of this wedding – in particular the al fresco dinner table amongst the olive groves with its beautiful floral runner and the chic, elegant place settings with a single apricot. These photographs are by Warren of Howell Jones Photography, whose work captures the wonderful Tuscan light and the relaxed nature of the wedding.
"We love the warmth and dreamy film like quality of his photography. His style is unobtrusive – I didn't even notice him during the ceremony or speeches but he caught so many stunning photographs which take me right back to that moment when I look at them."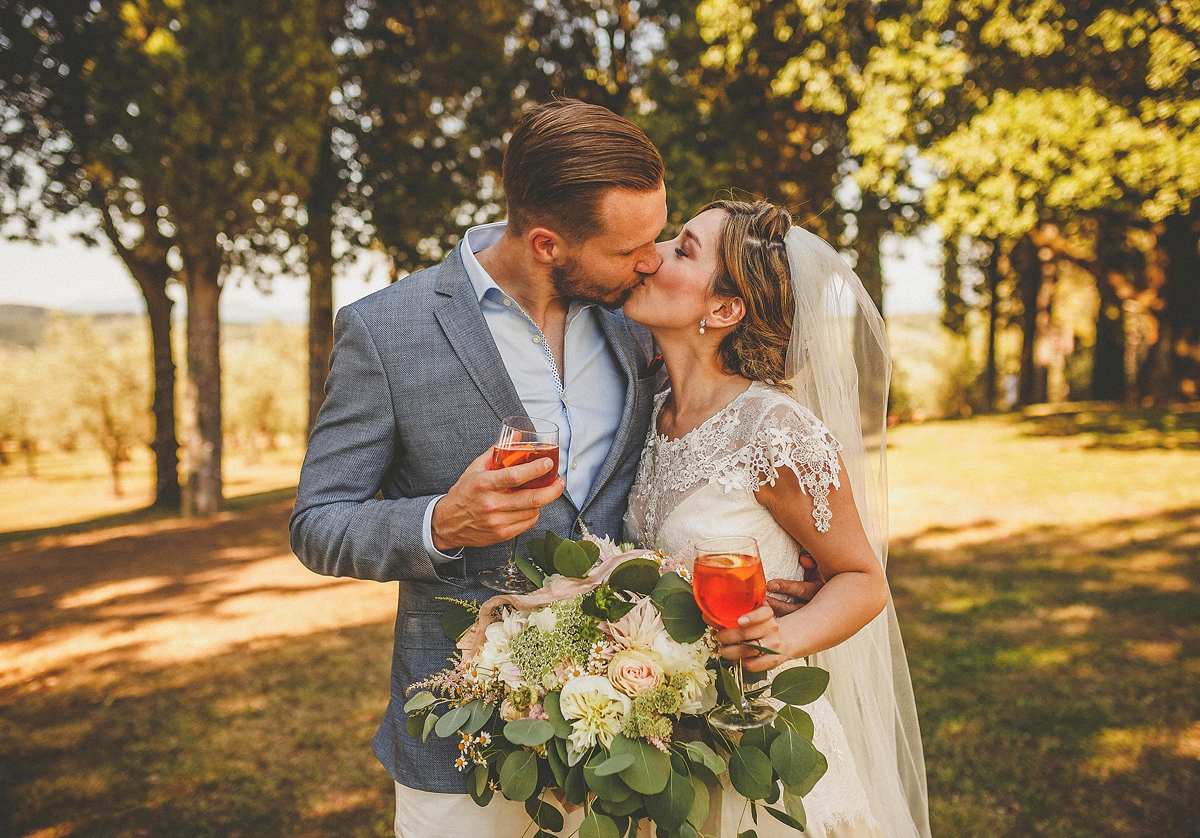 As a professional video producer, Art also worked with wedding filmers Ikki Weddings to create their film.
"Artem works in video production and was keen to take on the challenge of editing and producing our wedding film so we came to an arrangement where the guys filmed everything on handheld cameras and drone, and Artem created our film from the amazing raw footage they captured."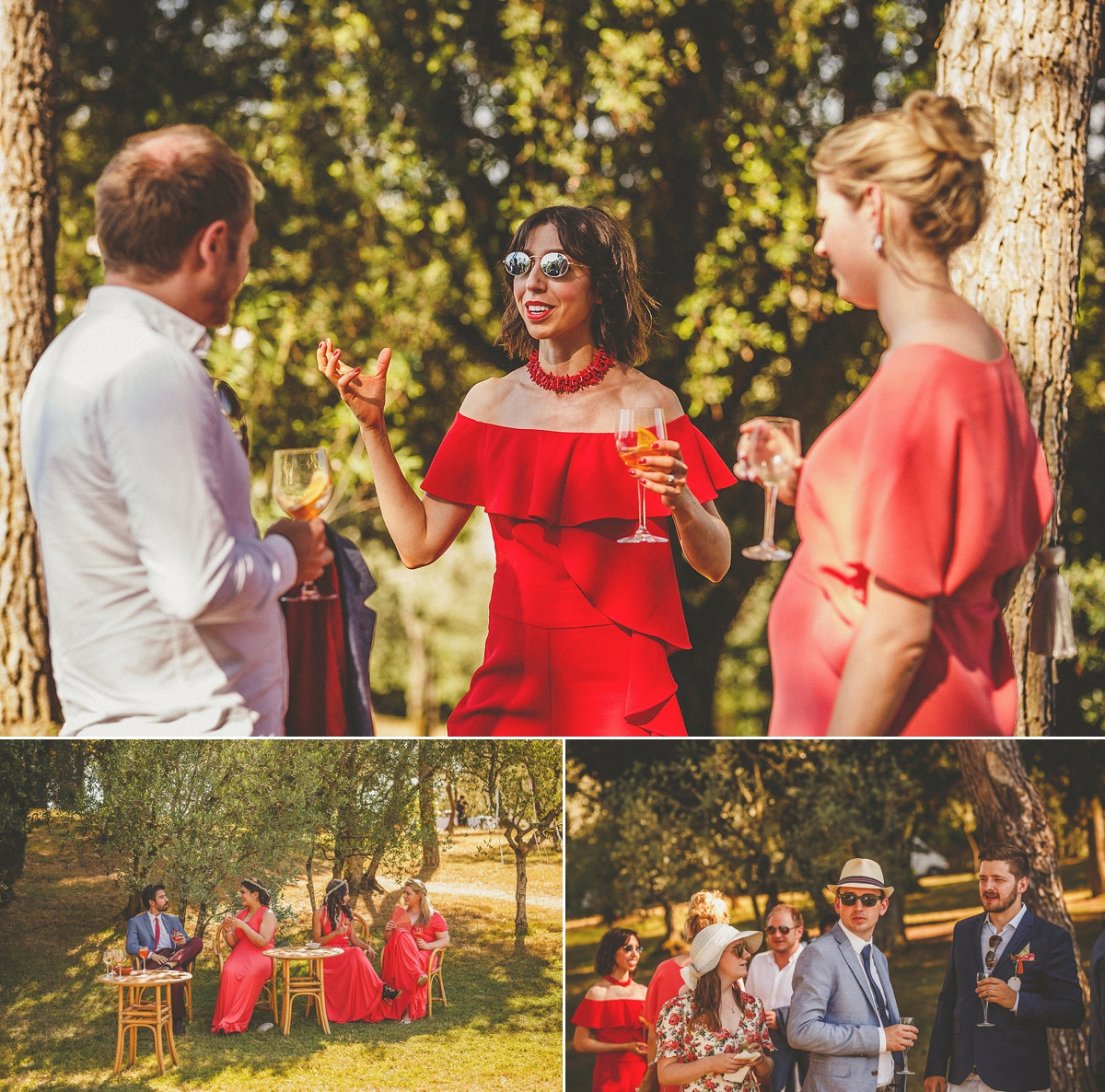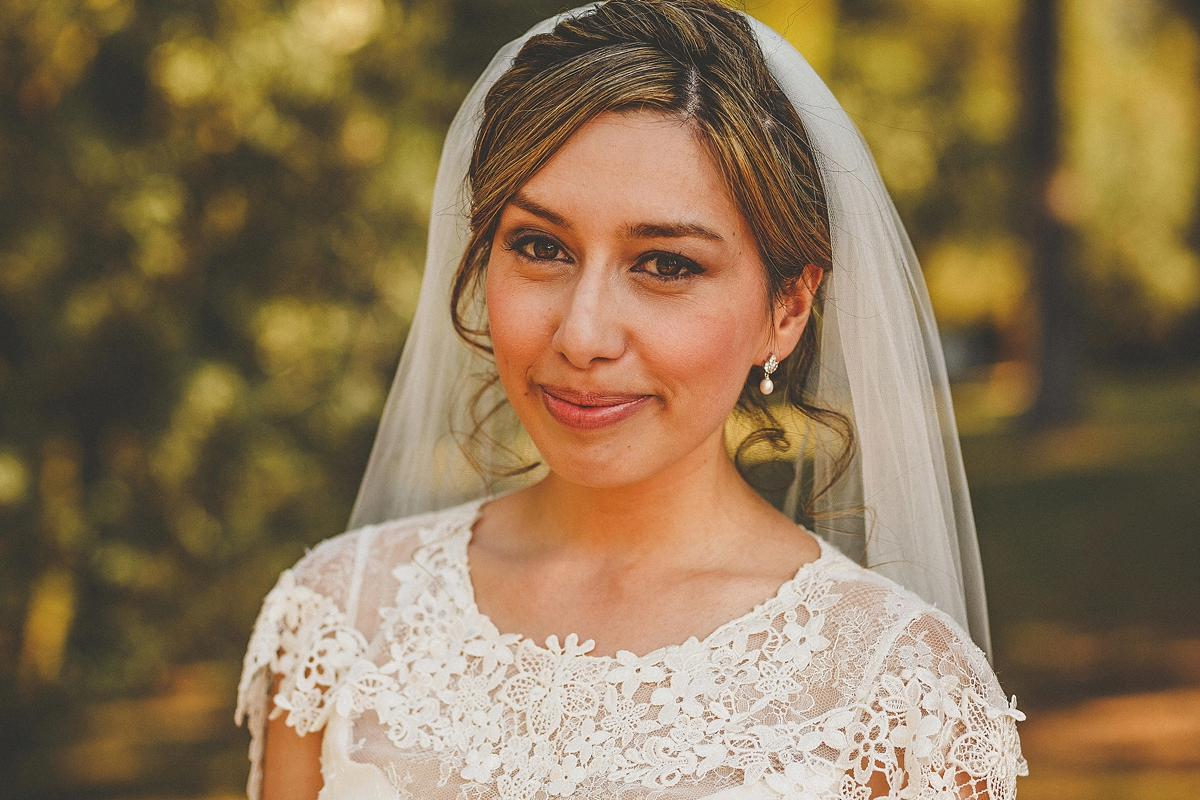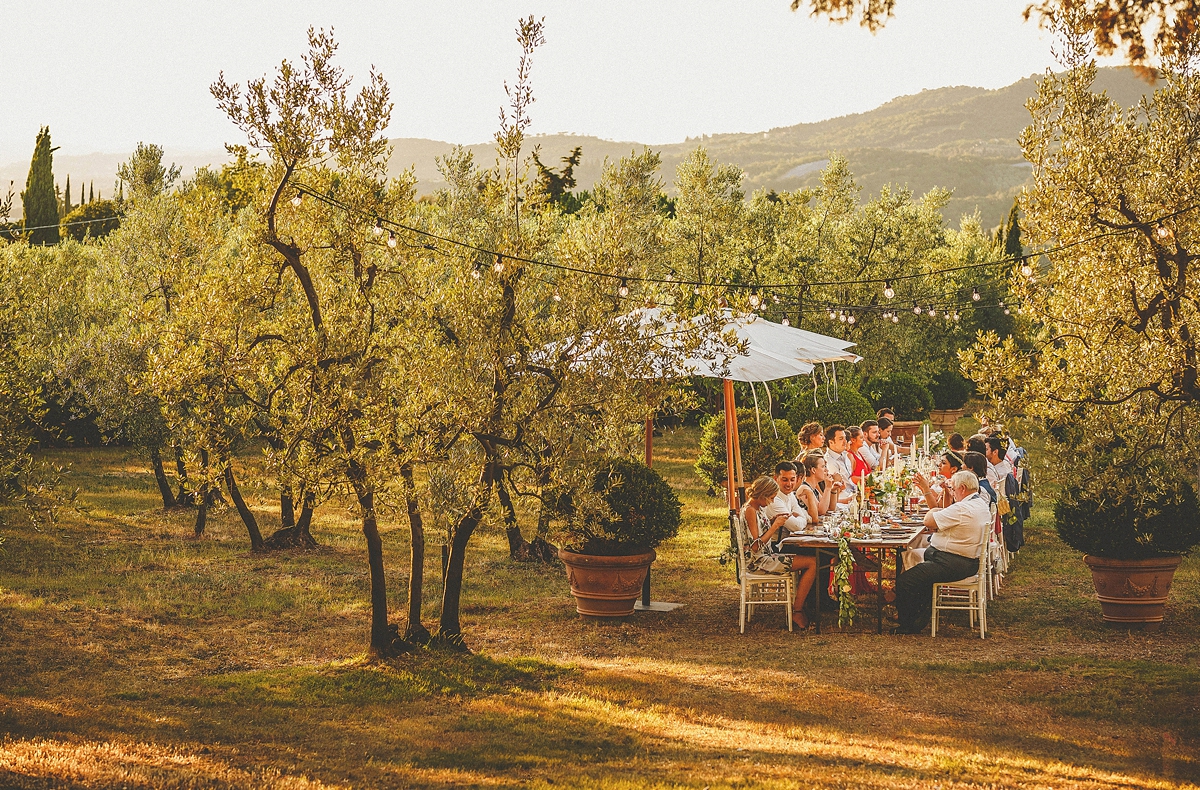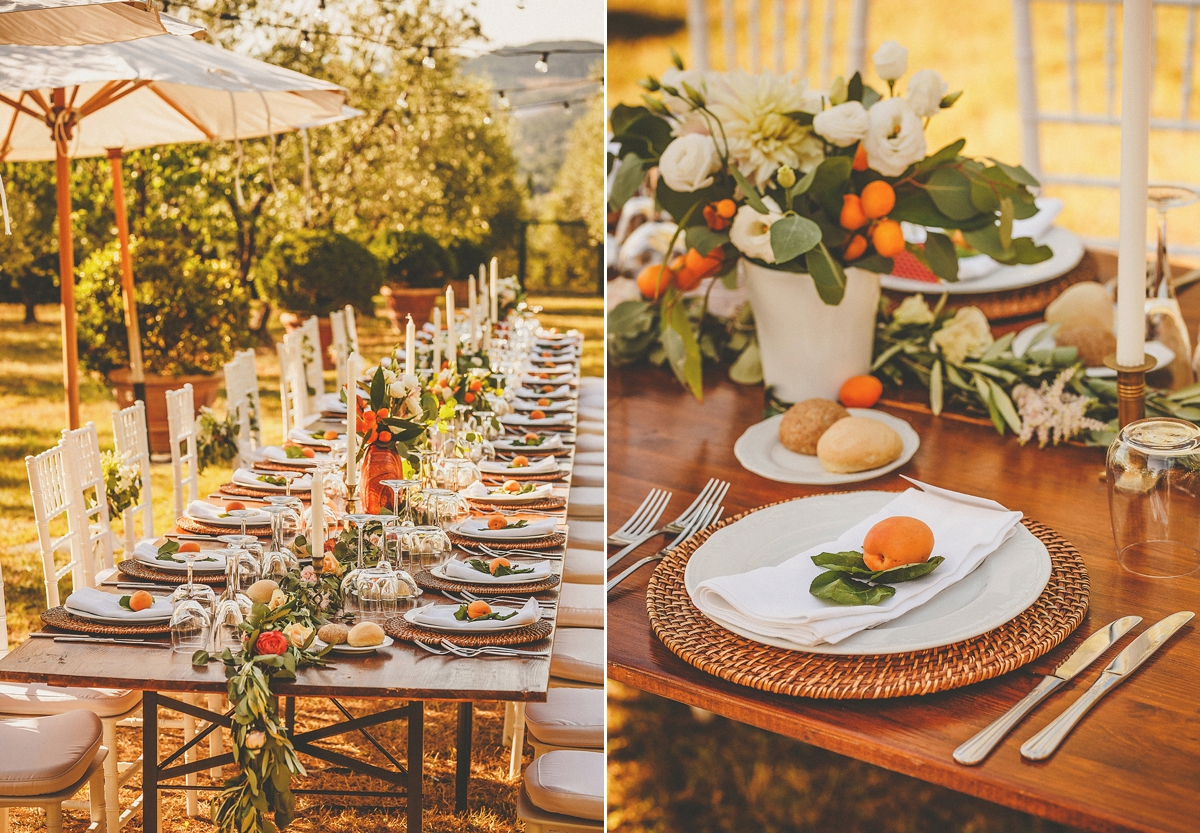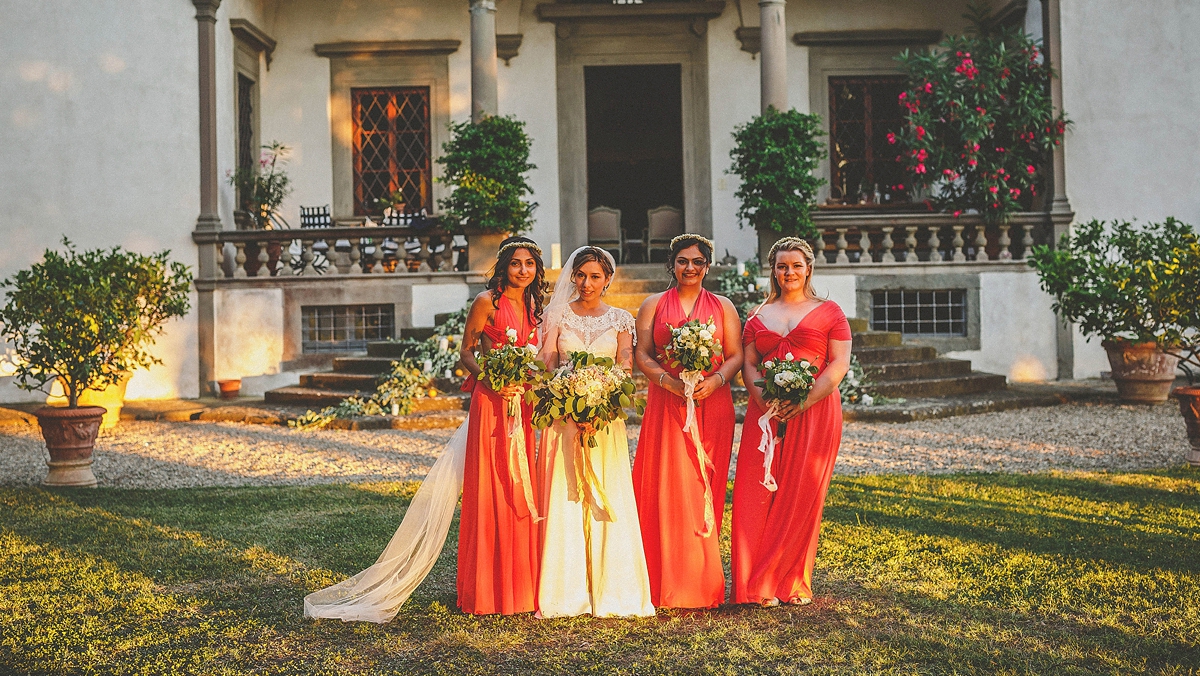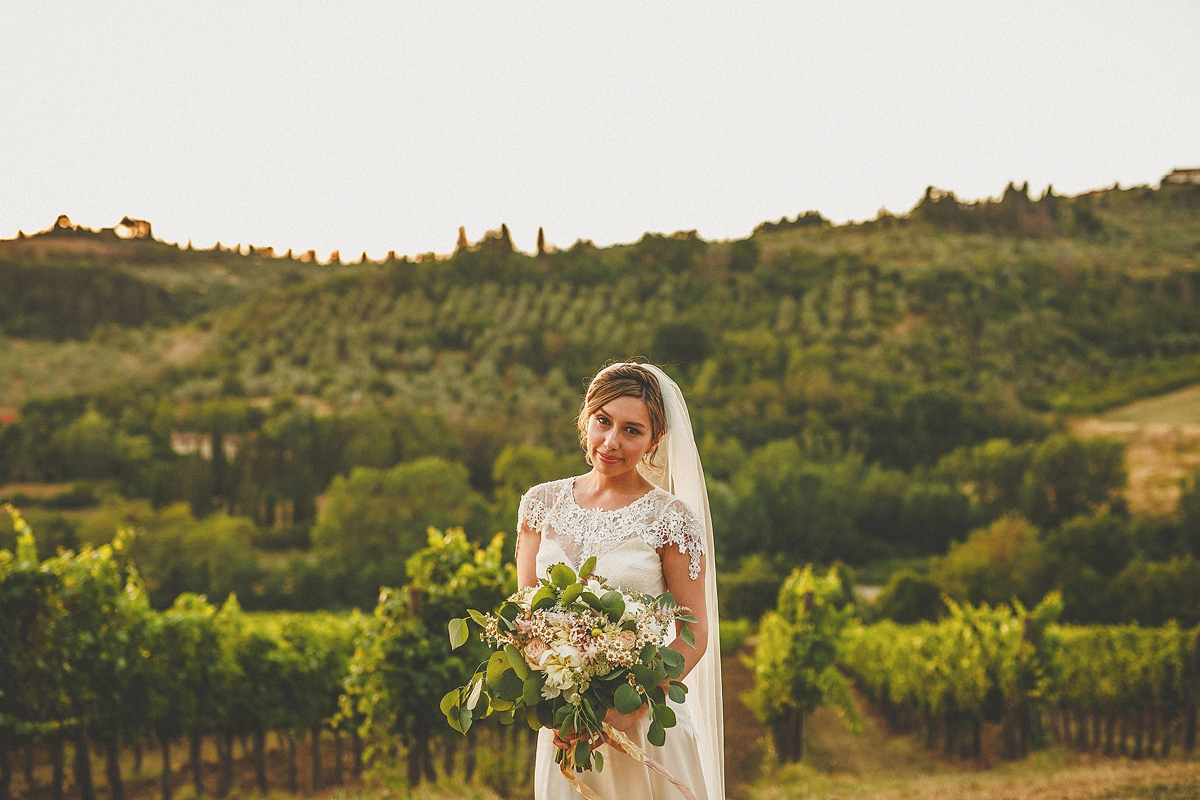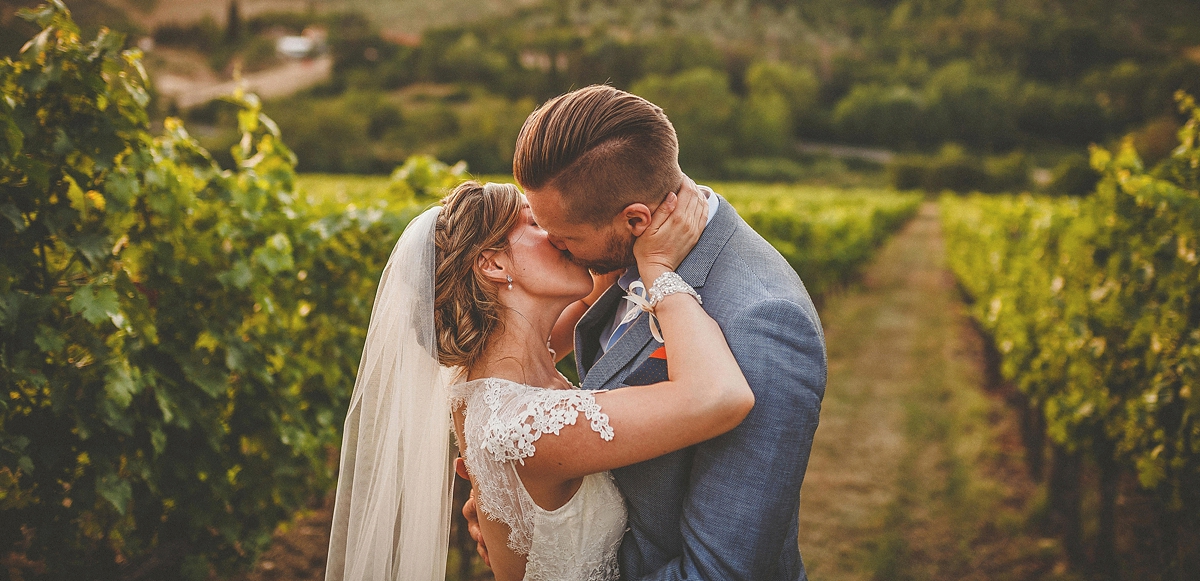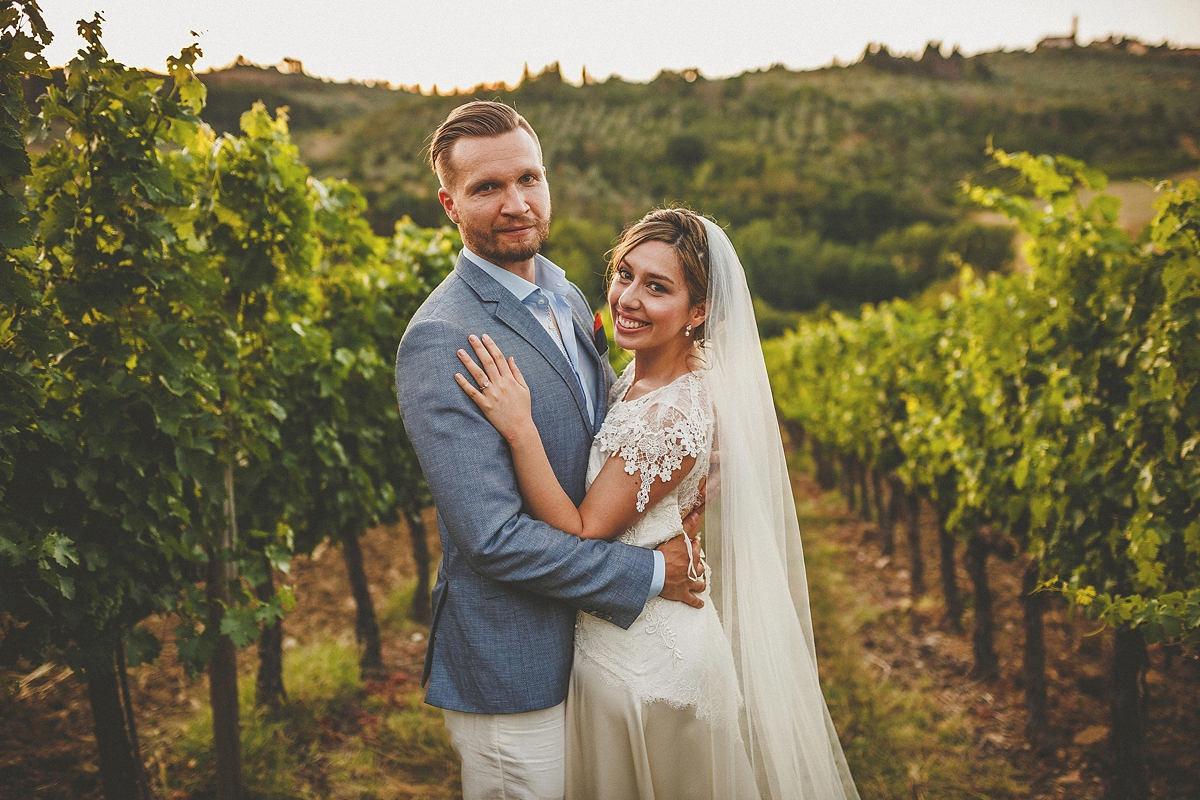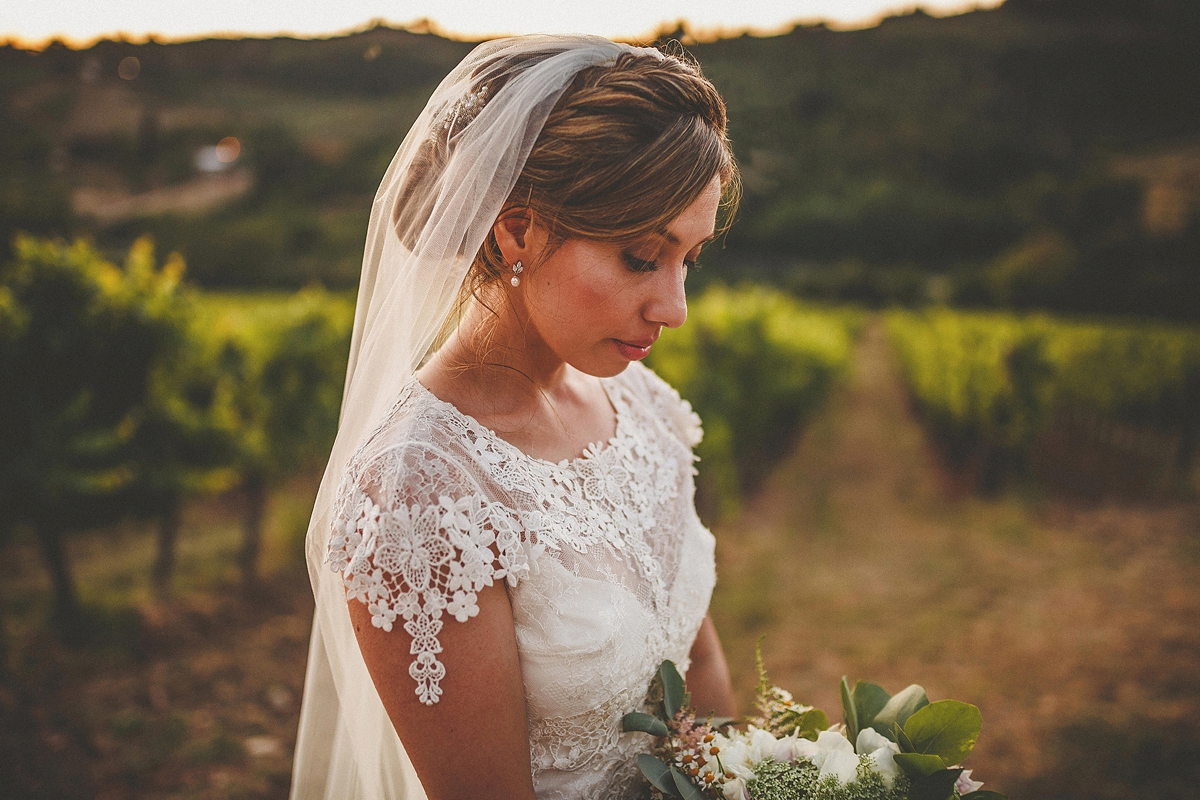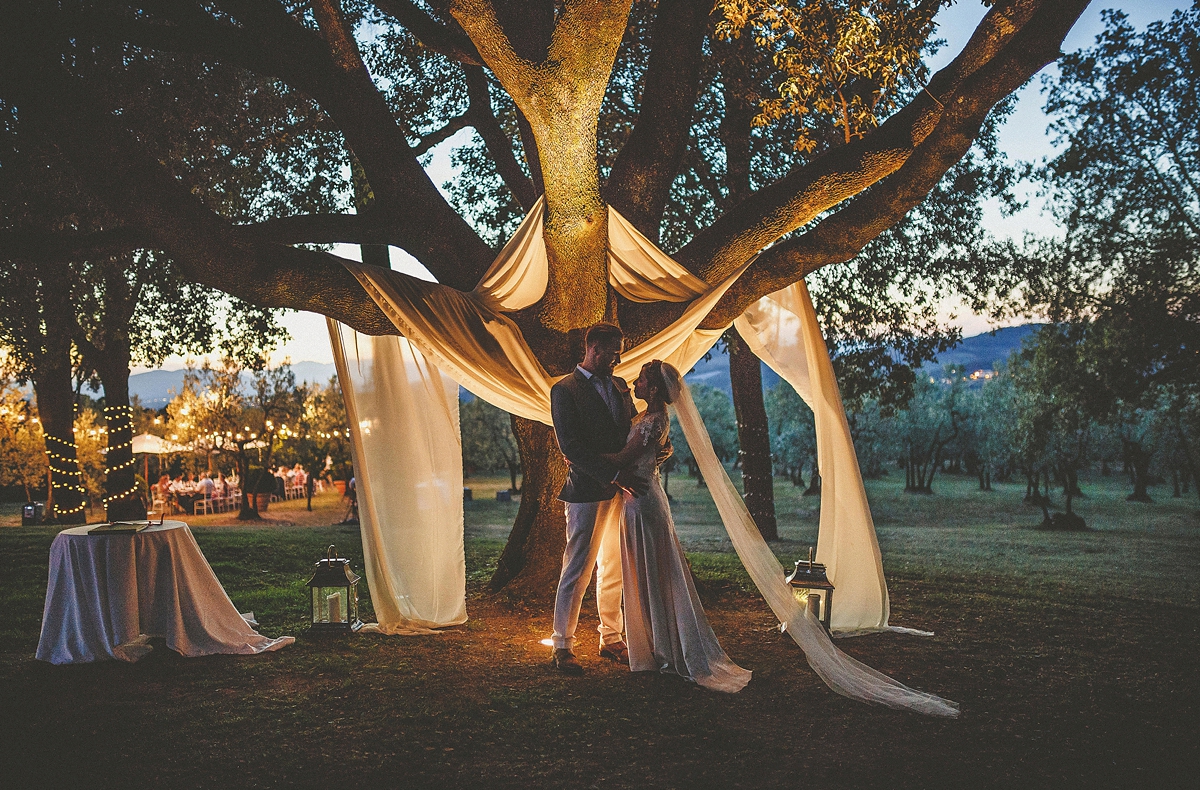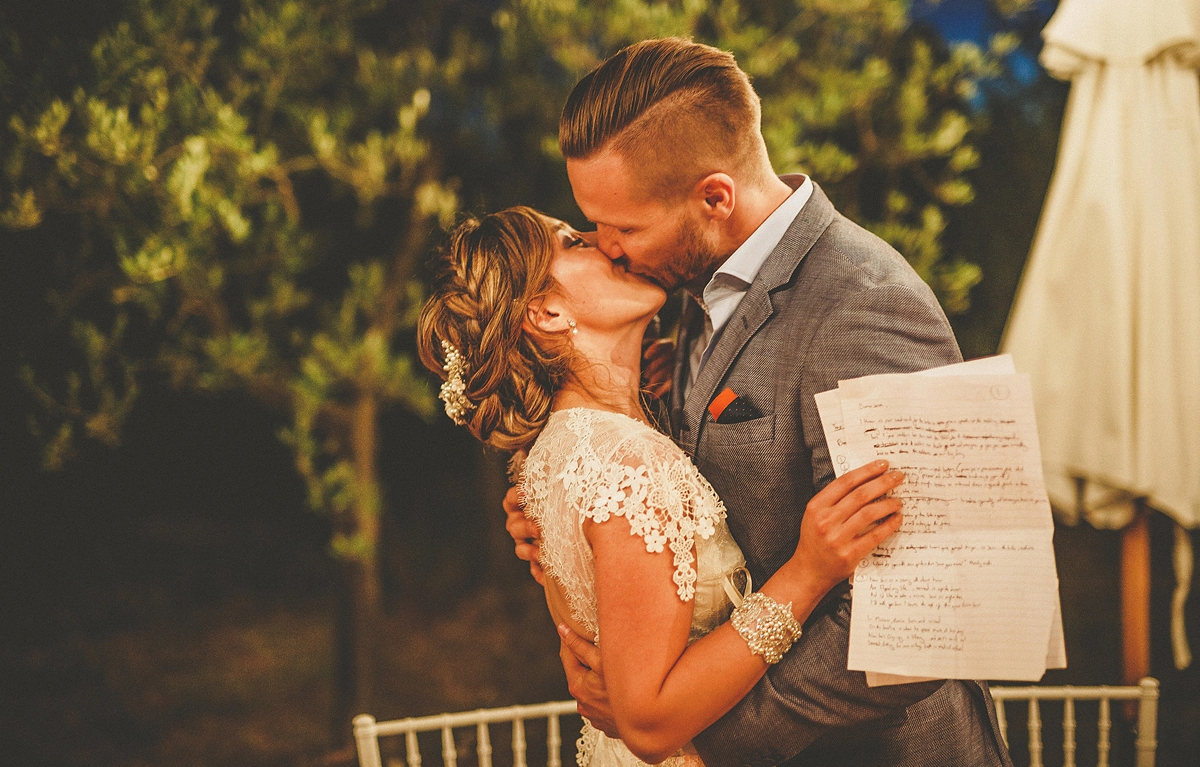 Jenn and Art solved the problem of styling a destination wedding by choosing light-weight, easily-transportable elements including artificial flowers, satin ribbons and swathes of silk to adorn the beautiful gardens. Other decorations were the beautiful coral and white flowers with lots and lots of greenery.
"I wanted a simple, fresh vibrant look for the flowers with lots of eucalyptus. We settled on orange as one of our main colours after Artem made our wedding video invites. This continued in our choice of kumquats in the vases and apricots on guests' plates for a pop of orange amongst the greenery and fresh white flowers."
"The biggest DIY project I took on was an artificial flower wall that I created and shipped across to be our photobooth backdrop for our polaroid guest book. We brought all the flowers back in our suitcases and the flower wall now sits as a little art piece beside my desk at home."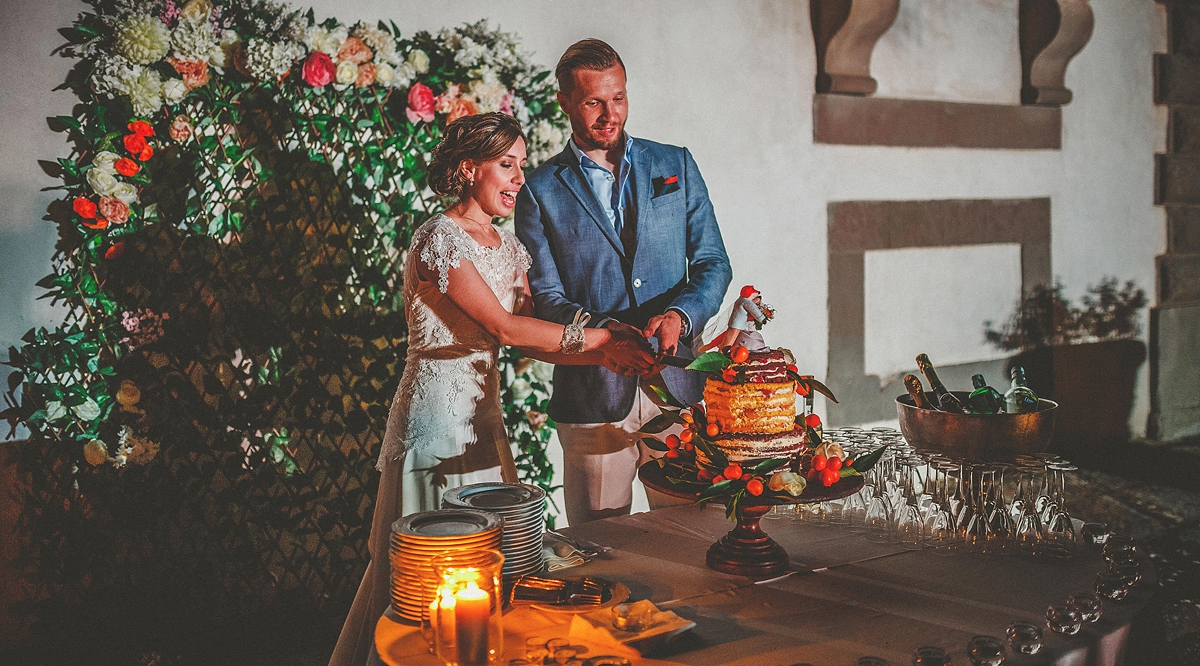 After the ceremony, the guests mingled in the magical grounds of the villa, and enjoyed a six-course Tuscan feast of locally-sourced products and wine, by Dolce Tradition Toscana.
"Our caterer made our three-tiered sponge and buttercream naked cake. We chose a combination of chocolate sponge and lemon buttercream and chocolate sponge with chantilly cream and fresh fruit which we decorated with kumquats and a custom-made cake topper from Nadia of Felt4Soul – a pair of felt foxes dressed to look like us. It was our subtle nod to the Wes Anderson classic 'Fantastic Mr Fox'."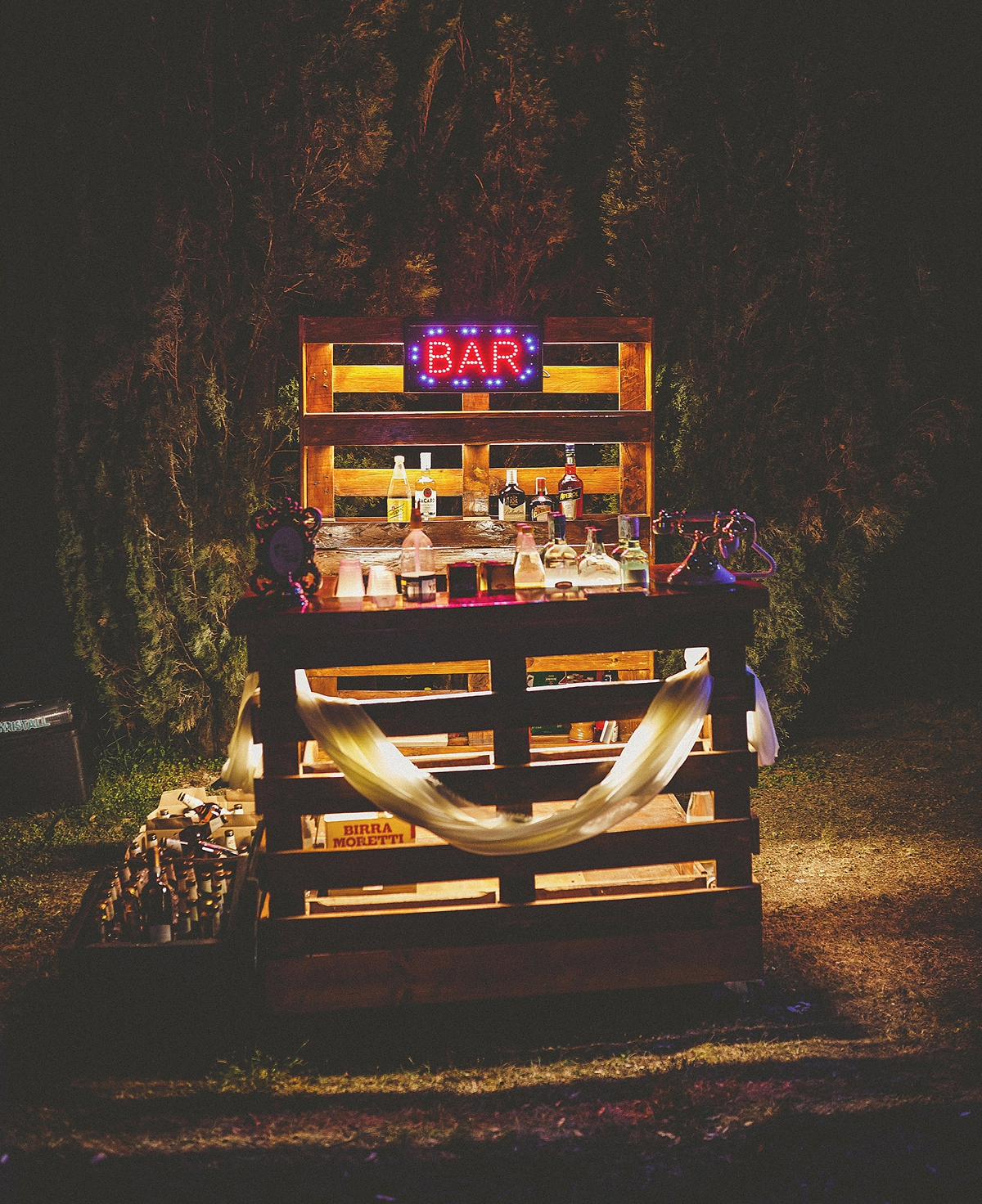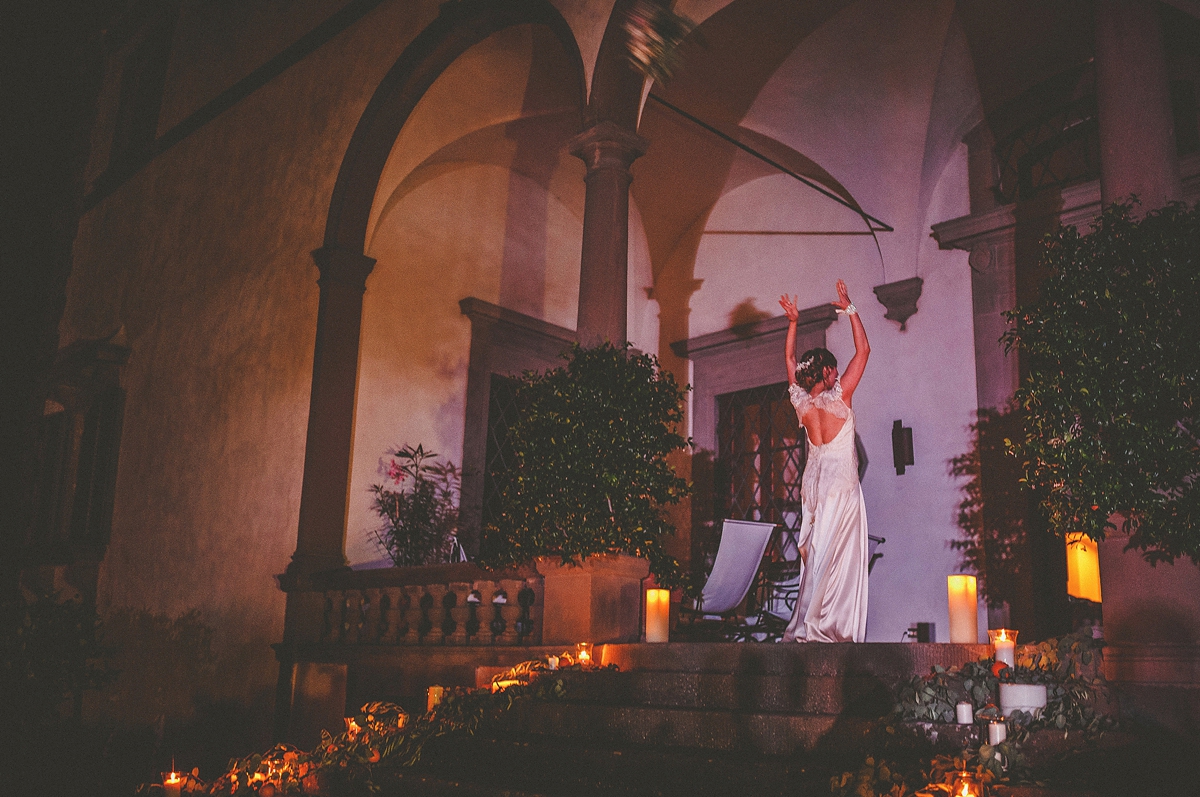 Their entertainment was provided by DJ Maurizio, who coordinated all of the music from the welcome drinks, to the ceremony through to the end of the night.
Jenn chose to change into an alternative gown for dancing, and performed an amazing first dance with her new husband.
"Our first dance started off as a choreographed waltz to Lana del Rey's 'Young and Beautiful' which Art remixed into The BeeGees' 'You Should be Dancing' and we performed the exact dance that Fez and Jackie do in 'That '70s Show'. Art loves funk and I love the cheesiness of disco so it was a perfect way of setting the mood for the night."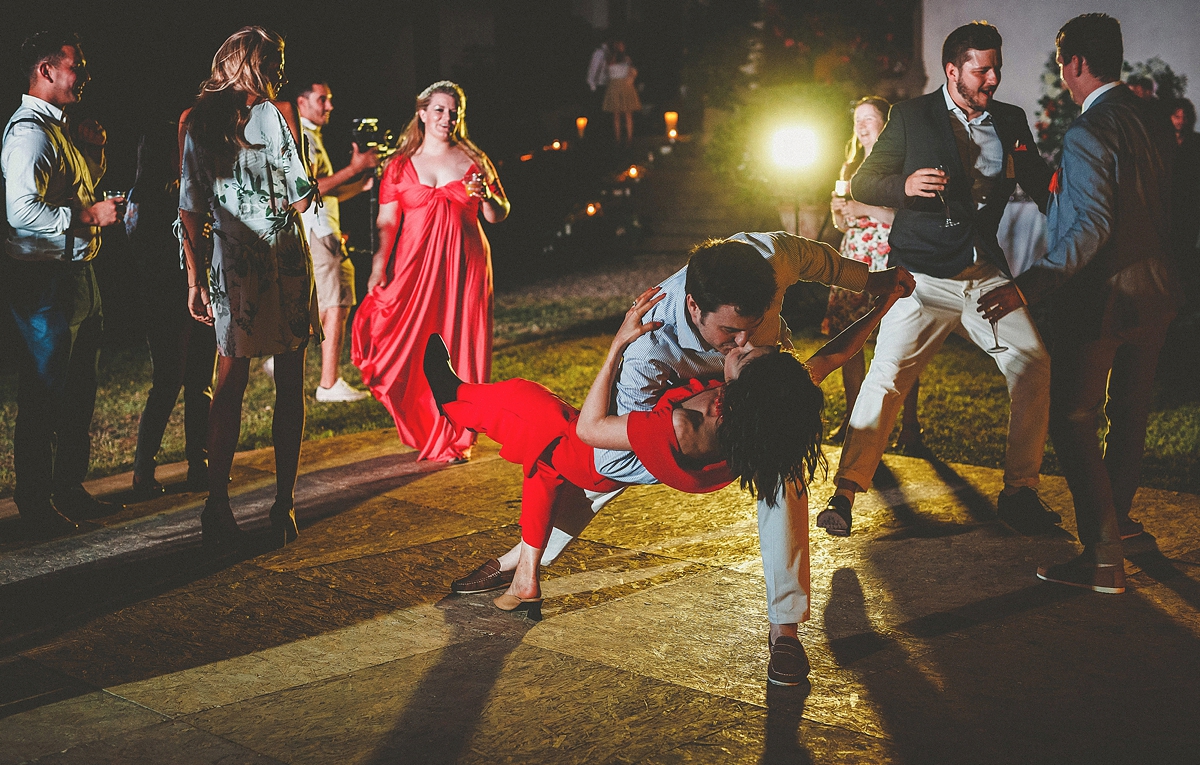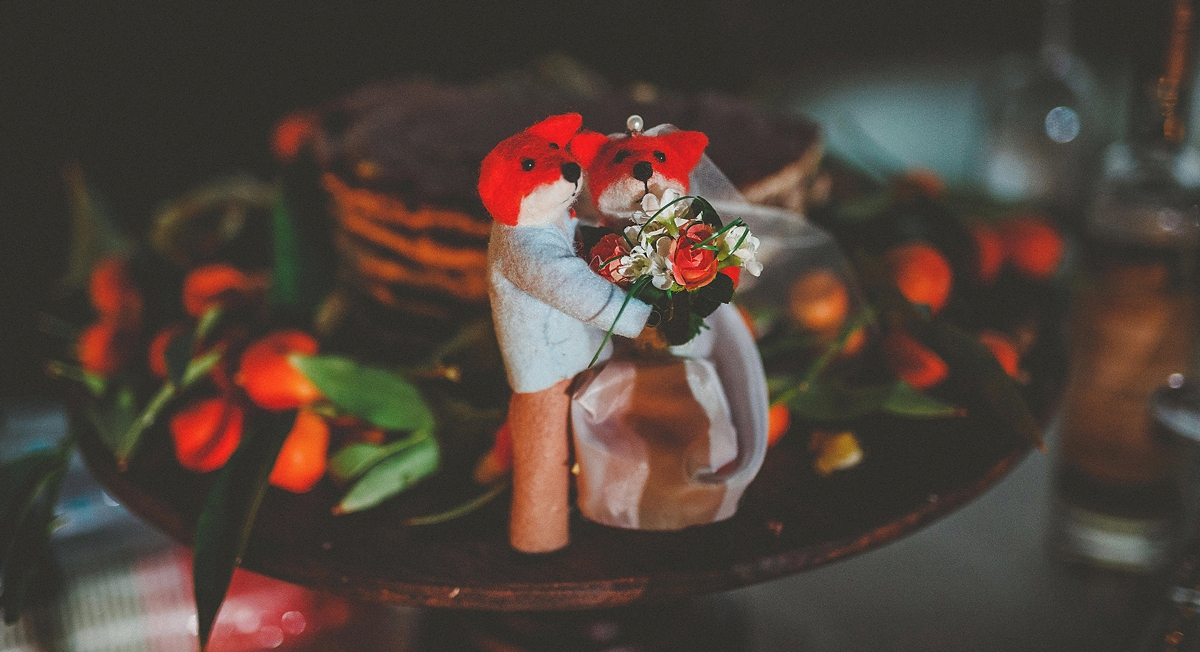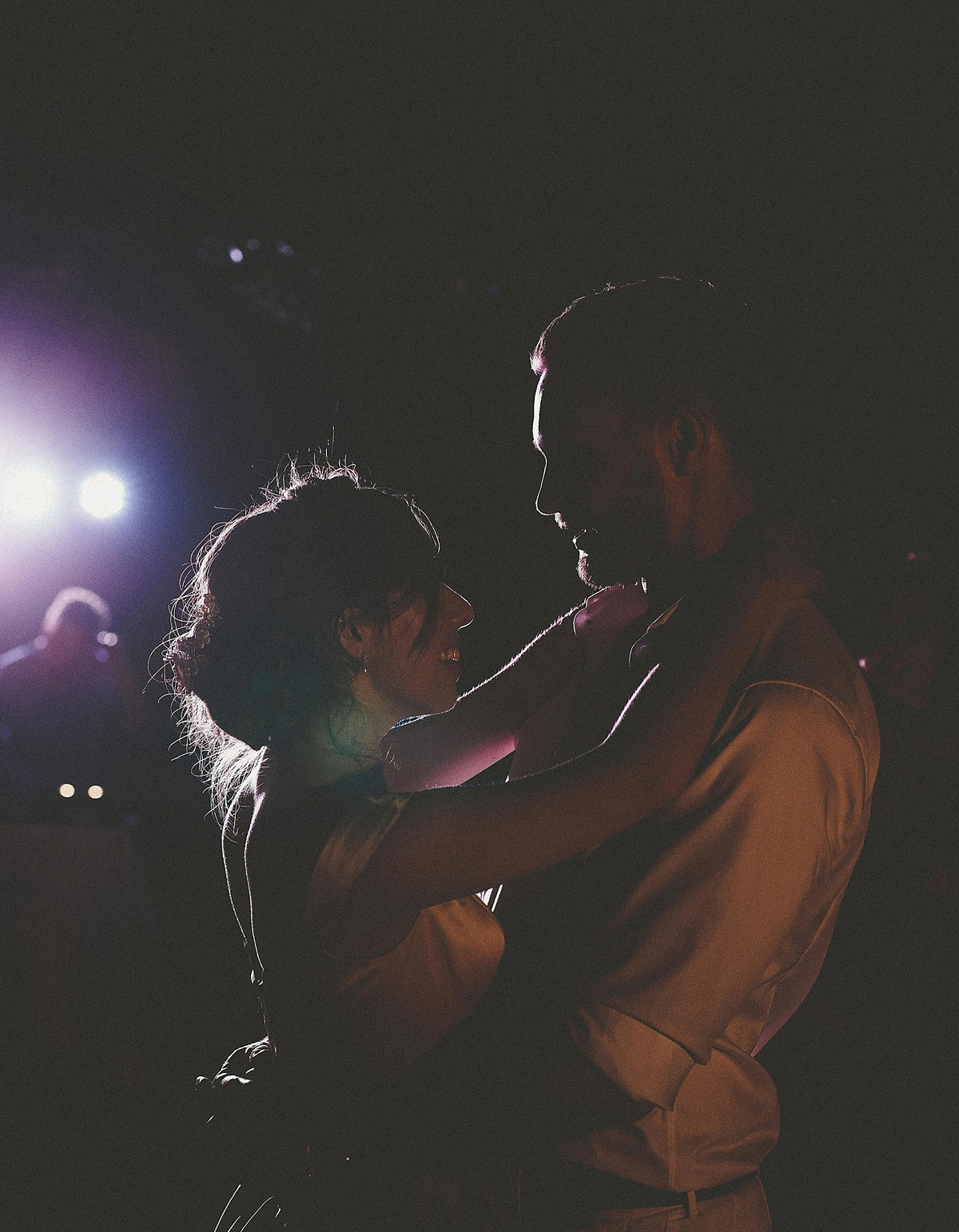 Words of Wedded Wisdom
"Stay calm and ask for help when you need it. The week leading up to the wedding really tested our team work and resilience as a couple. Not only did we miss our connecting flight (thanks to an airline mix up with our boarding passes), the next connecting flight to Florence that we had been booked on was cancelled meaning our luggage arrived in Italy before we did."
"We arrived at baggage claims in Florence the next day to find that our luggage containing his suit, my veil, our wedding decor, a bridesmaids dress, all of my wedding makeup, jewellery and clothes for the next two weeks had been sent back to London. With our wedding in only four days we hardly had the time to find replacements. It was a blessing in disguise as so many friends stepped up; offering to courier the bags from London and find and bring replacements to the wedding."
"With luck and persistence and a barrage of tweets and messages from the lovely ladies of the Love My Dress Facebook group the airline located our bags and we collected them with two days to go to the wedding. What a story to tell the grandkids!"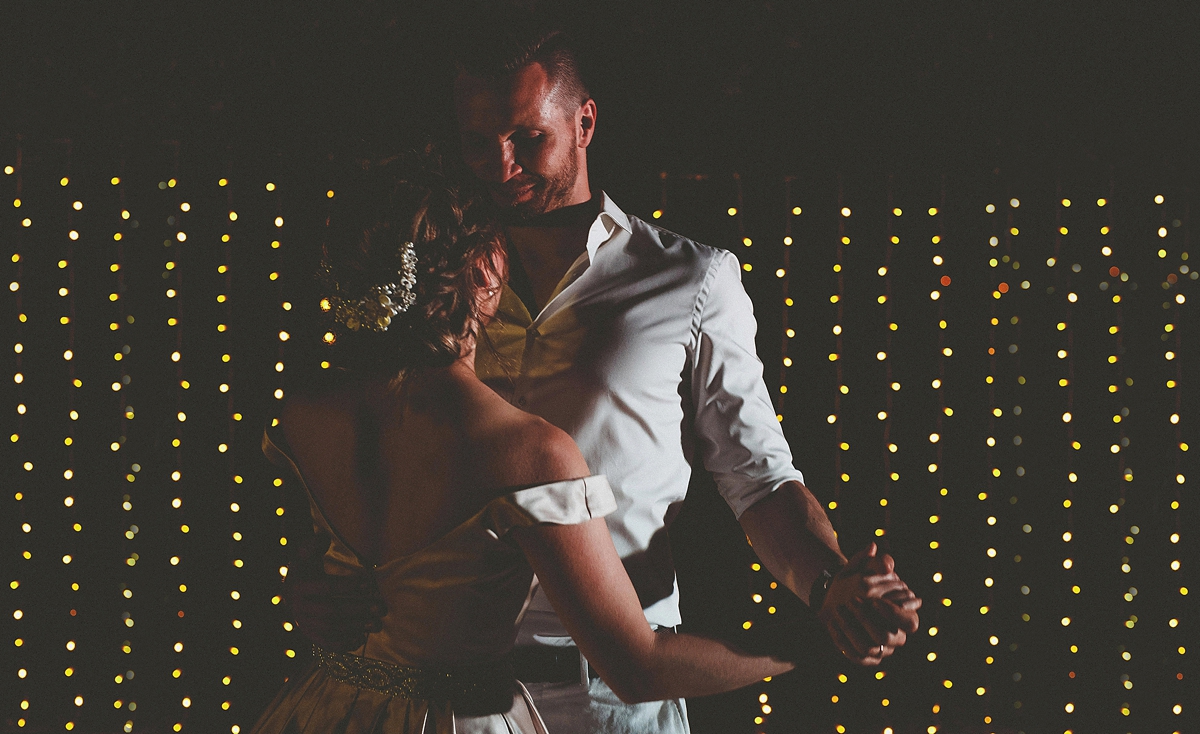 I've thoroughly enjoyed reading all about your beautiful wedding Jenn and Artem, so thank you so much for sharing. It's brilliant to hear how helpful Love My Dress was to you in the planning of your wedding, and we really value your lovely words about the blog and the lovely brides in the private Facebook group. If you're planning an Italian wedding, you can see more destination weddings beautifully styled by Wiskow & White here.
Wishing you all a lovely day
Ele xx