Happy Saturday lovely readers.  Are you doing anything nice with your weekend? Perhaps you have a lovely autumnal wedding to attend, or are doing some planning for your own autumn/ winter day?
I'm loving that we're getting weddings from spring and summer 2017 submitted already- today's is a gorgeous rustic wedding at the beautiful Cripps Barn in Bibury, Gloucestershire and sums up everything that is lovely about early summer. Meet Nick, Head of Sales and Development for an insurance company, and Nicole, a gymnastics coach and ballet teacher, who married on Friday the 12th of May 2017.   I absolutely adore that Nick and Nicole themed the wedding around their favourite tipple- gin!
"We loved the rustic and rural charm of Cripps Barn. We were after a relaxed and intimate venue, and fell in love with Cripps as soon as we saw it."
Photography by Lush Imaging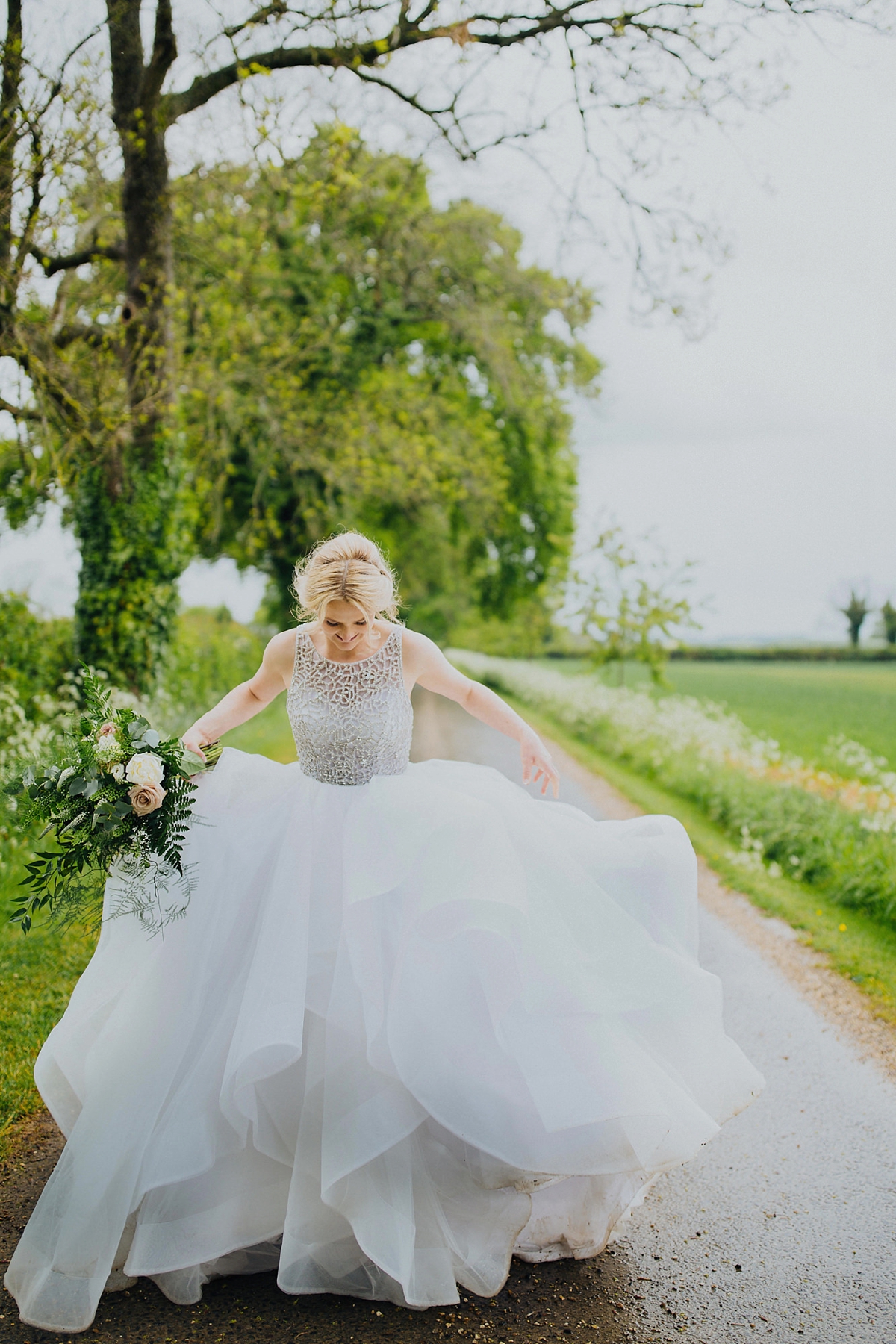 Nicole looked marvelous in a playful gown by Hayley Paige, which she purchased from Coco & Kate Atelier in Hatton, Warwickshire.  I absolutely adore the flirty skirt and that gorgeous gold bodice.
"I was after something a little different, a statement dress, and I fell in love with the bodice and layered skirt.  To me it was fun, young and perfect for the modern bride."Naomi Hudson of Lush Imaging is behind today's beautifully composed shots.  We haven't featured Naomi's work before on Love My Dress so I'm delighted to welcome her to the blog.
"Naomi was just what we were looking for in a photographer.  She made us feel so relaxed and guided us seamlessly through the day in a creative and unobtrusive style.  It was like your friend was capturing your day with you.  We are so pleased with our images and would highly recommend Naomi."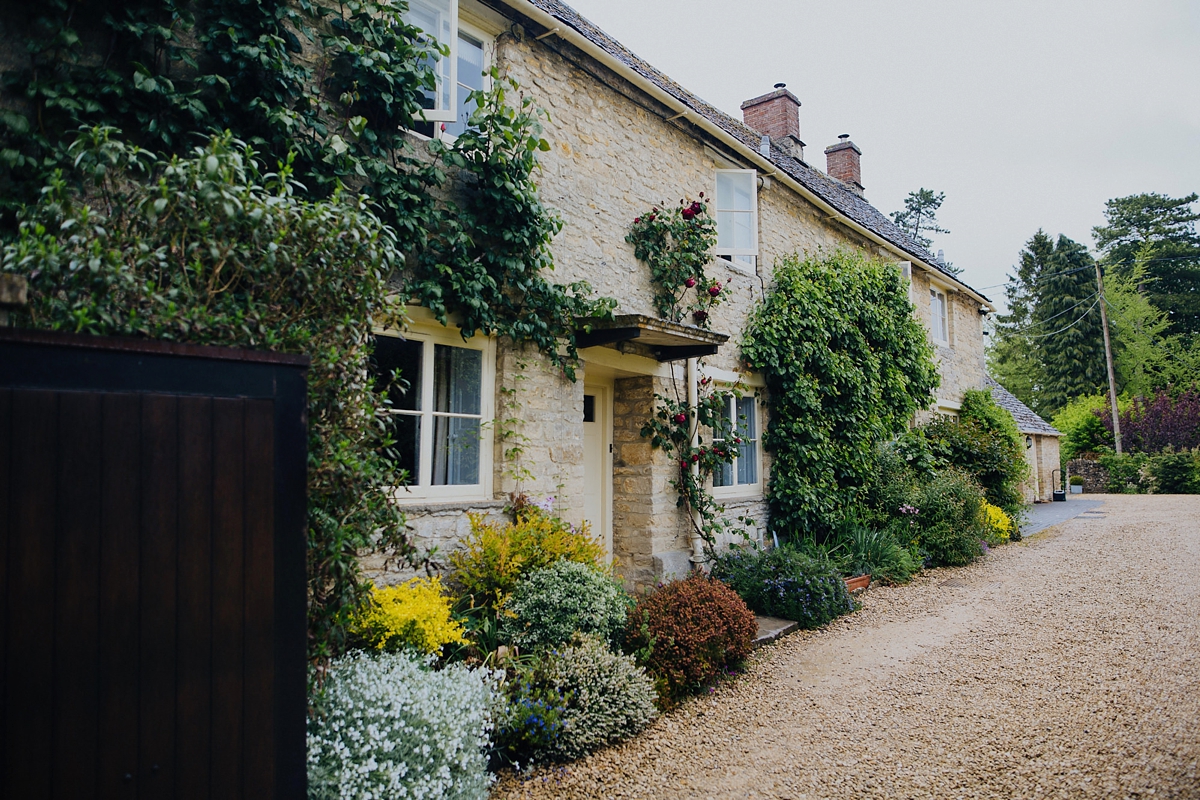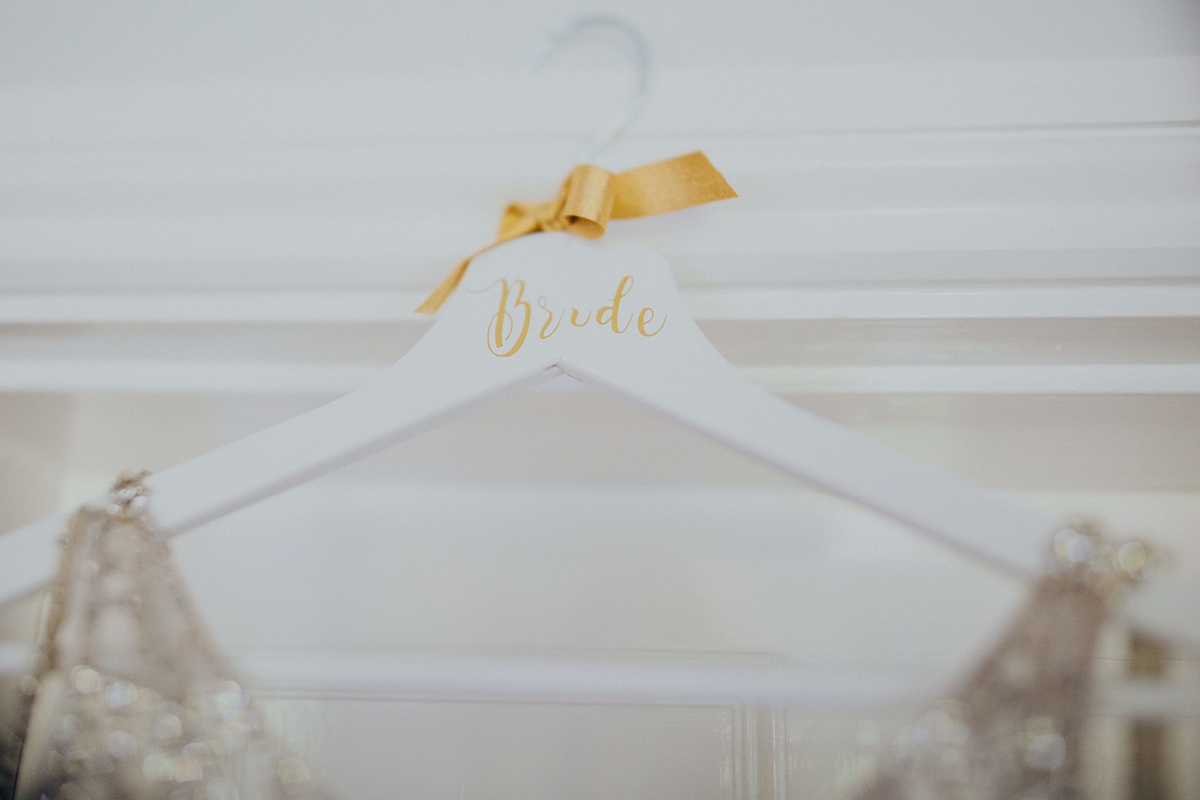 Make up was the work of Bryony Dalton, while hair was by Alice Beetison and Laura Michelle Hairdressing.
Flowers were by Beth at Go Wild Flowers, who turned the interior of the barn into a floral bower- incredible.  Nicole's Godmother did the table centrepiece and the top table flowers (as well as the table plan and place names)- a lovely family touch.
"I wanted the flowers to be unstructured and natural in style with a country garden feel to match the rustic and natural style of Cripps barn.  I was after simplicity and went for mainly white, cream and green with a touch of amnesia and quicksand rose to match the bridesmaid dresses."
The bridesmaids looked lovely in pale purple gowns from Maids to Measure in London, worn with a bracelet and earrings from Pandora, while Nick looked very sharp in a charcoal pinstripe suit from Suit Supply, worn with a pink heart print tie from Ted Baker, Paul Smith cyclist cuff links,a watch from Larrson and Jennings, a pink floral pocket square from Moss Bros and Herring 'Northfields' burgundy brogues.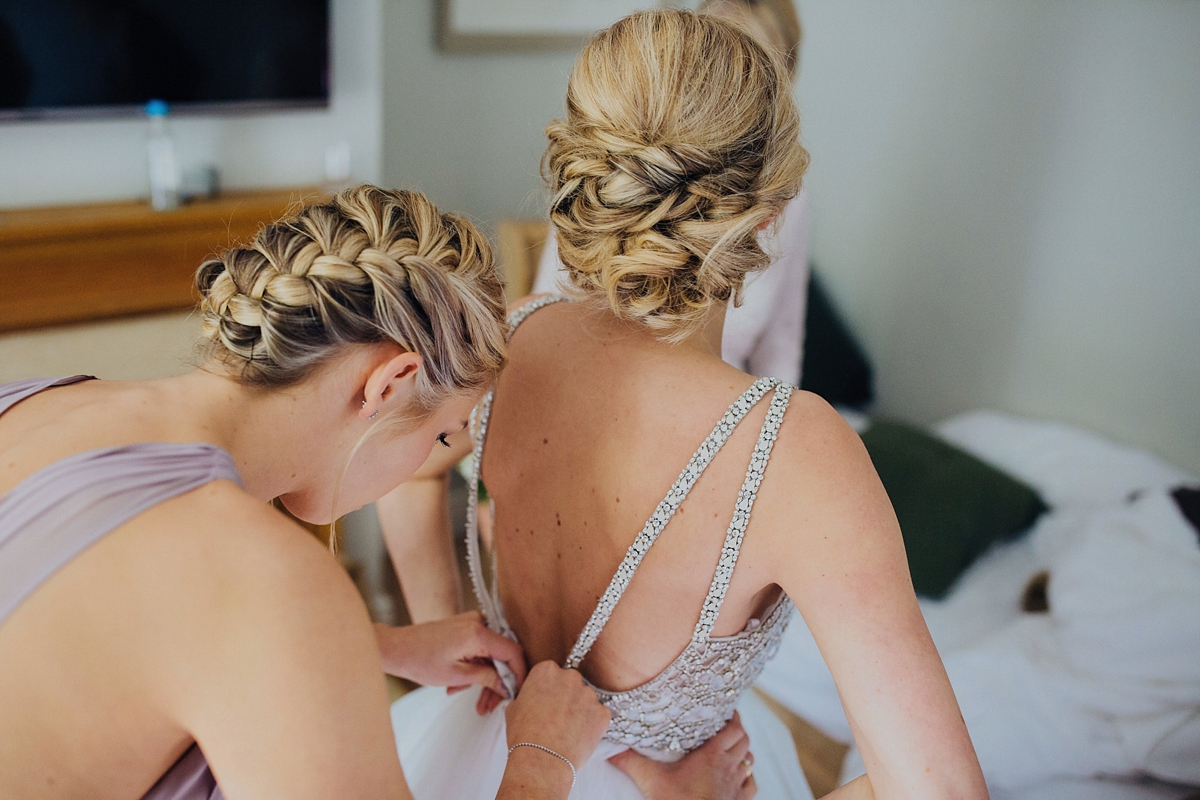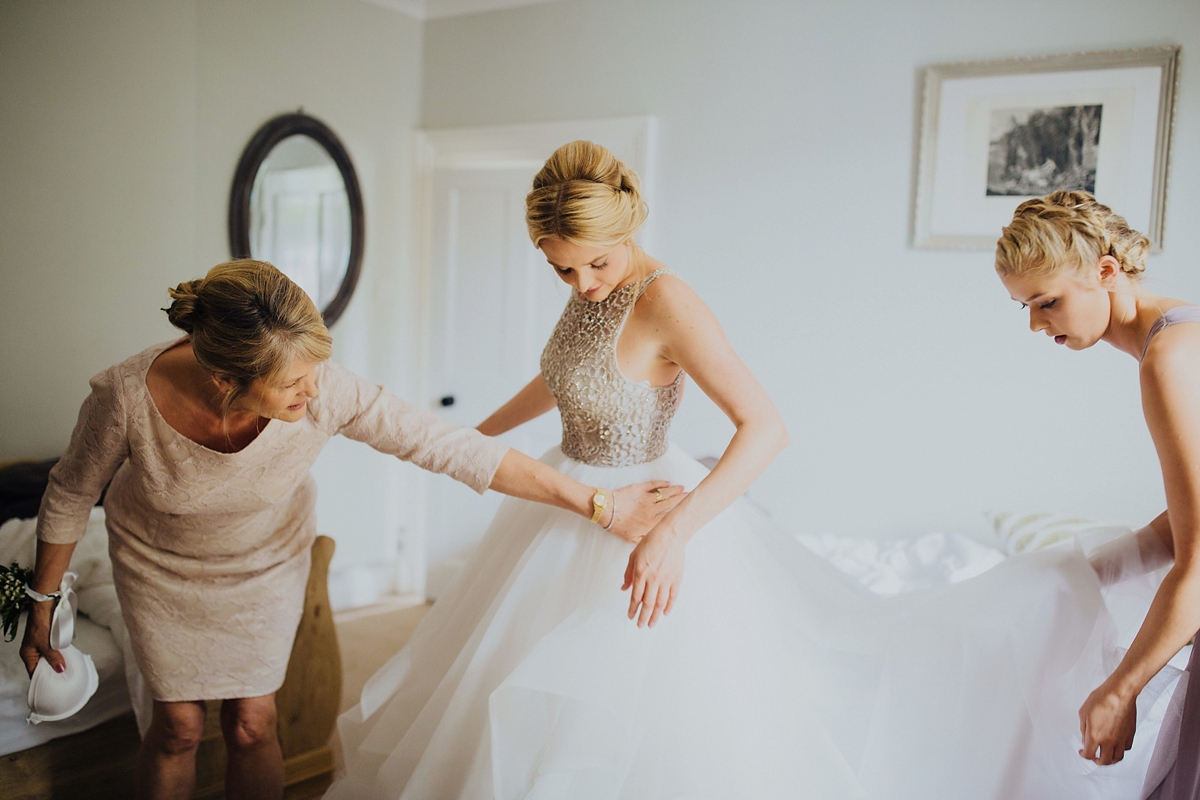 Nicole wore a long, beautifully simple veil by Helen Martin Bridal Veils (also purchased at Coco & Kate) and on her feet, 'Carvela' heels by Kurt Geiger.
For scent she chose her favourite Coco Mademoiselle by Chanel and to finish, she accessorised with earrings from John Lewis.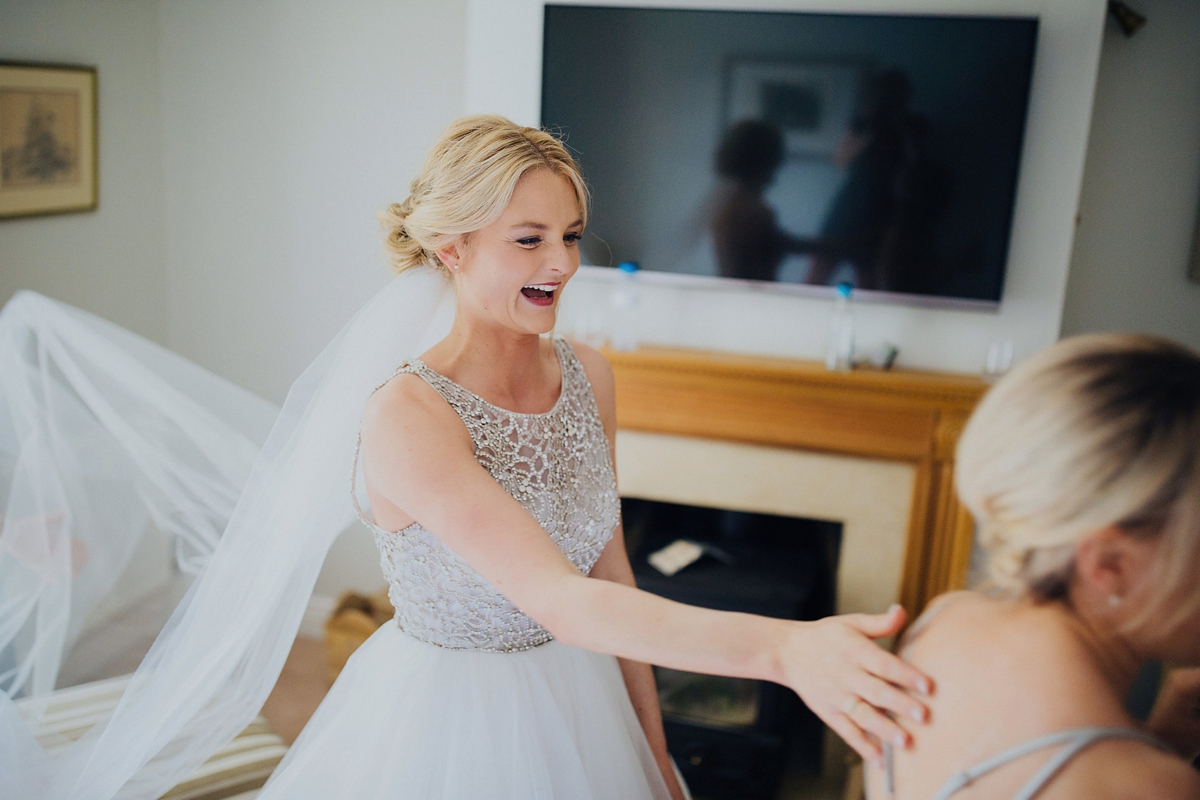 "We met at school at the age of thirteen, and were friends for many years before getting together aged twenty three.  Nick proposed to me in El Campello in Spain, which is very close to our hearts, as I had been going there on holidays since I was small.  We had been engaged for eighteen months by the time we married."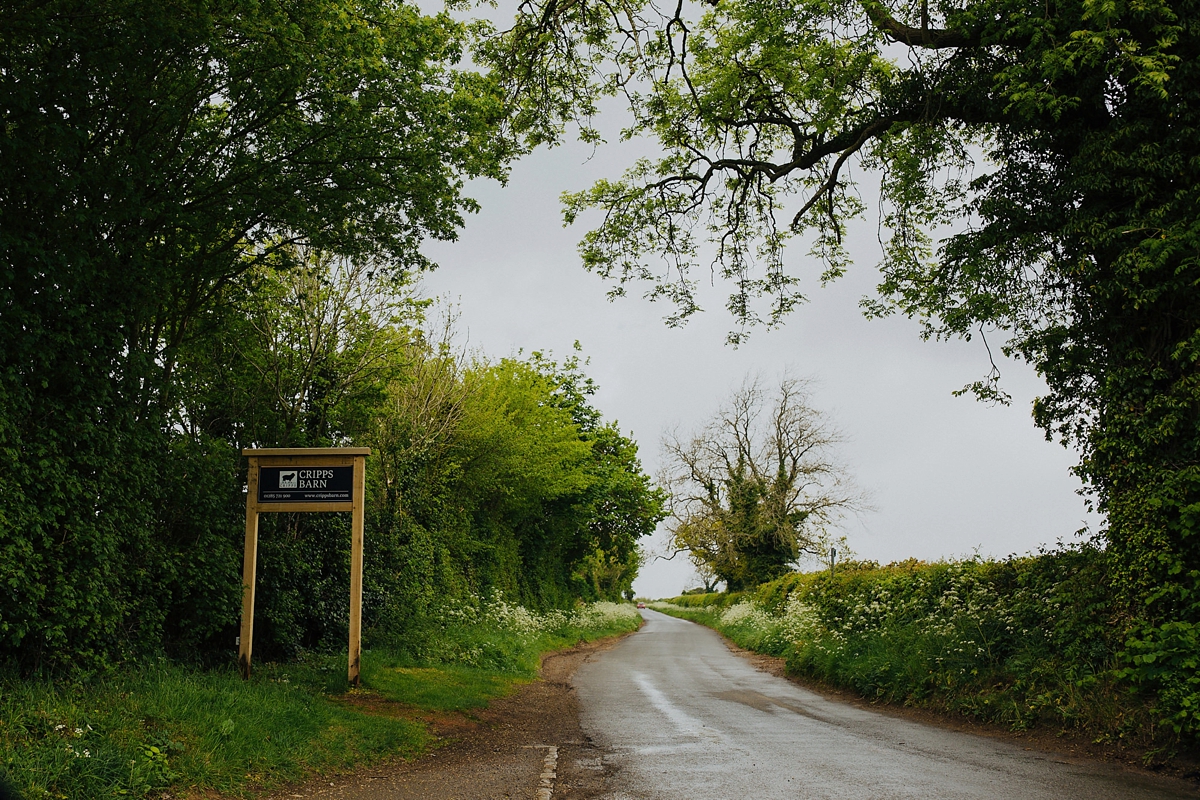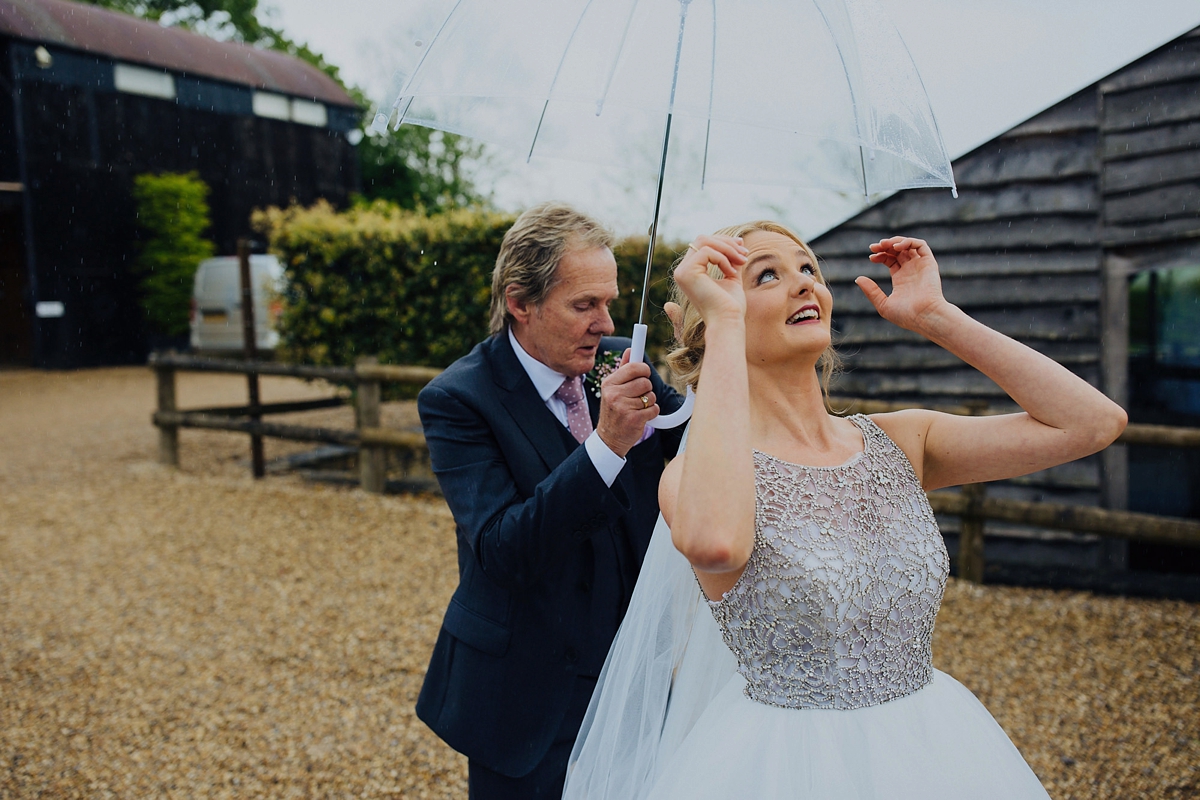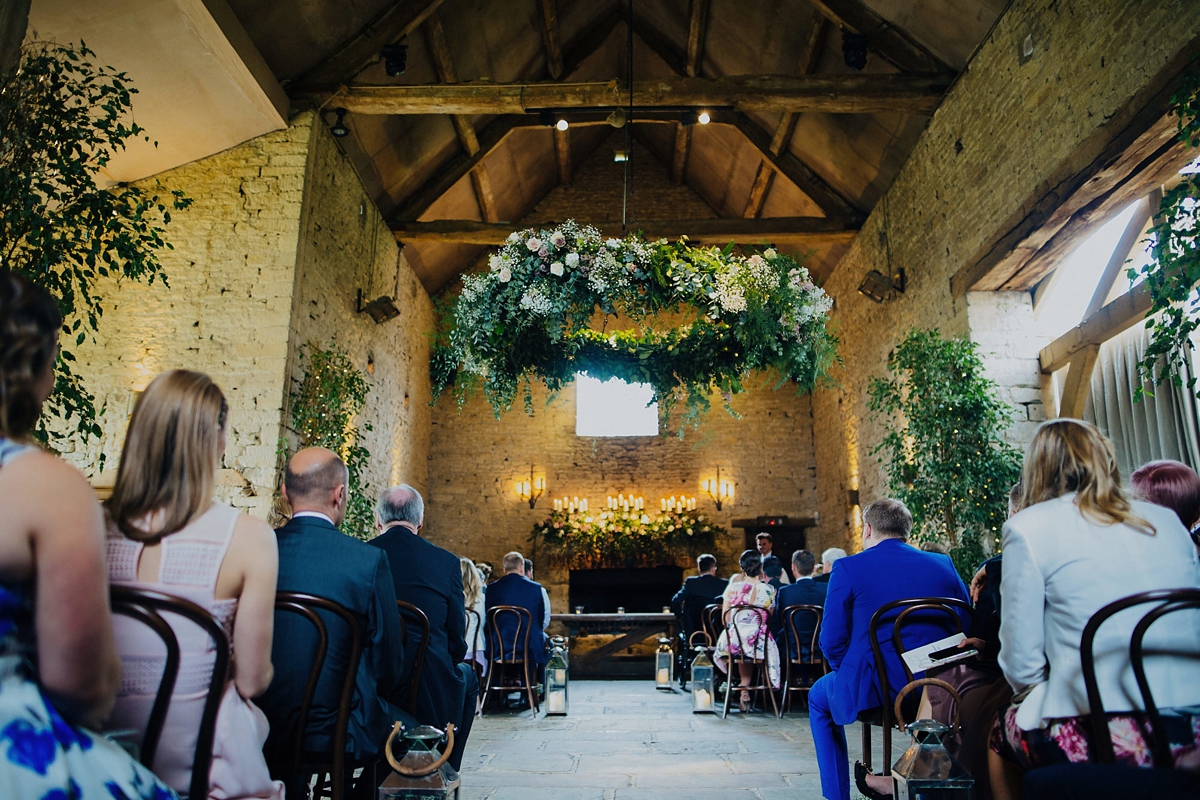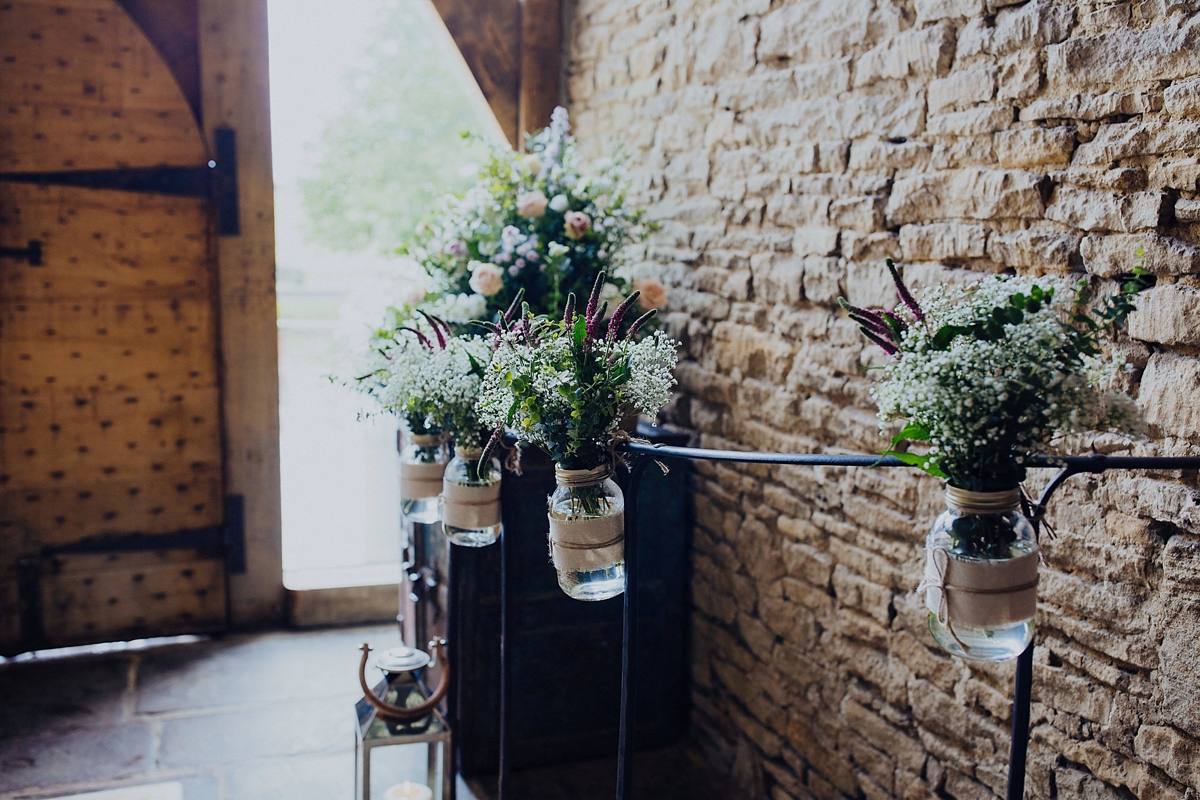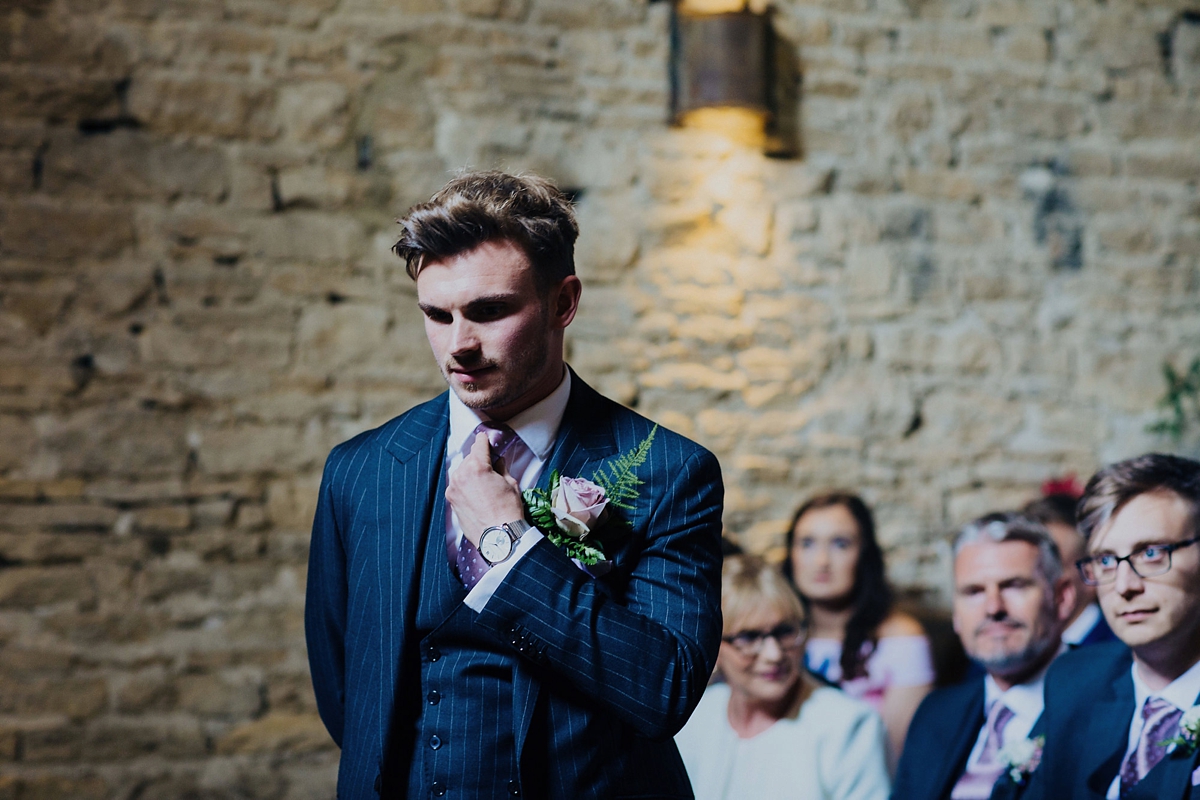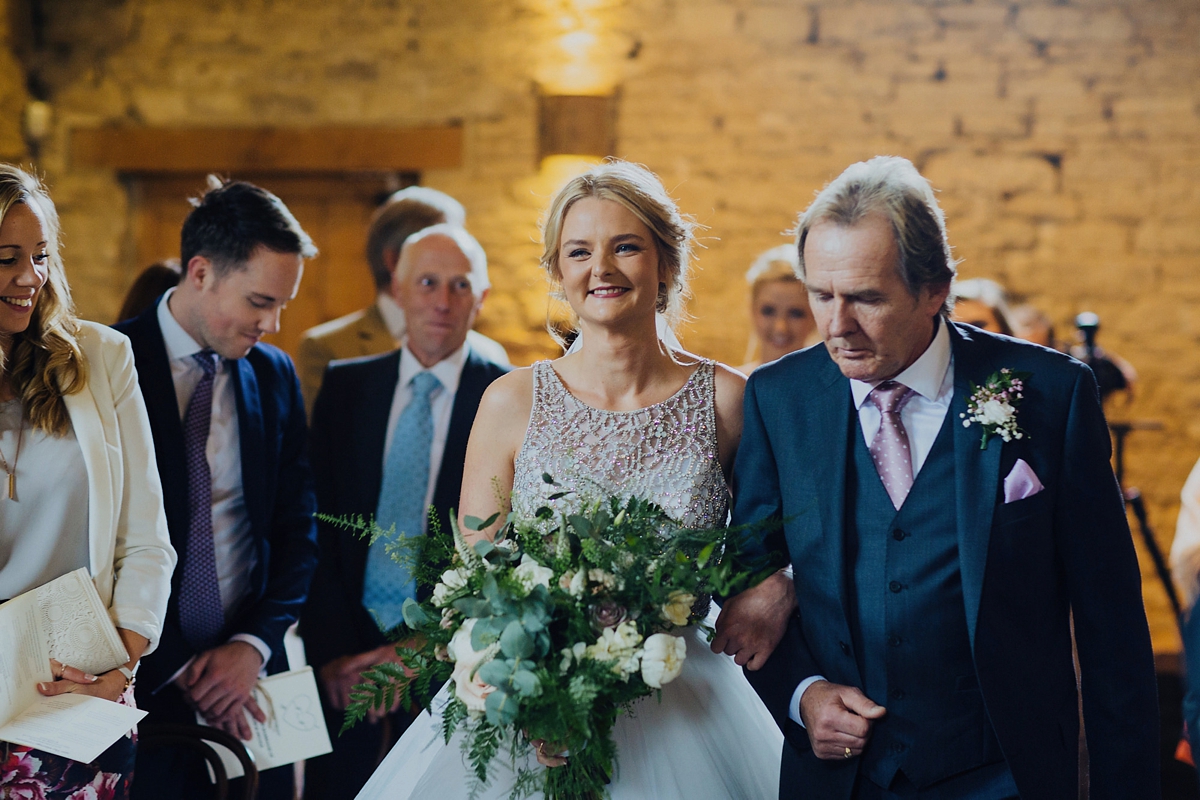 After escorting her from the car and holding an umbrella over her shoulders, Nicole's father accompanied her down the aisle to 'What are you doing the rest of your life' by Frank Sinatra.
"We loved the meanings behind both of these readings and felt they were most relevant to us."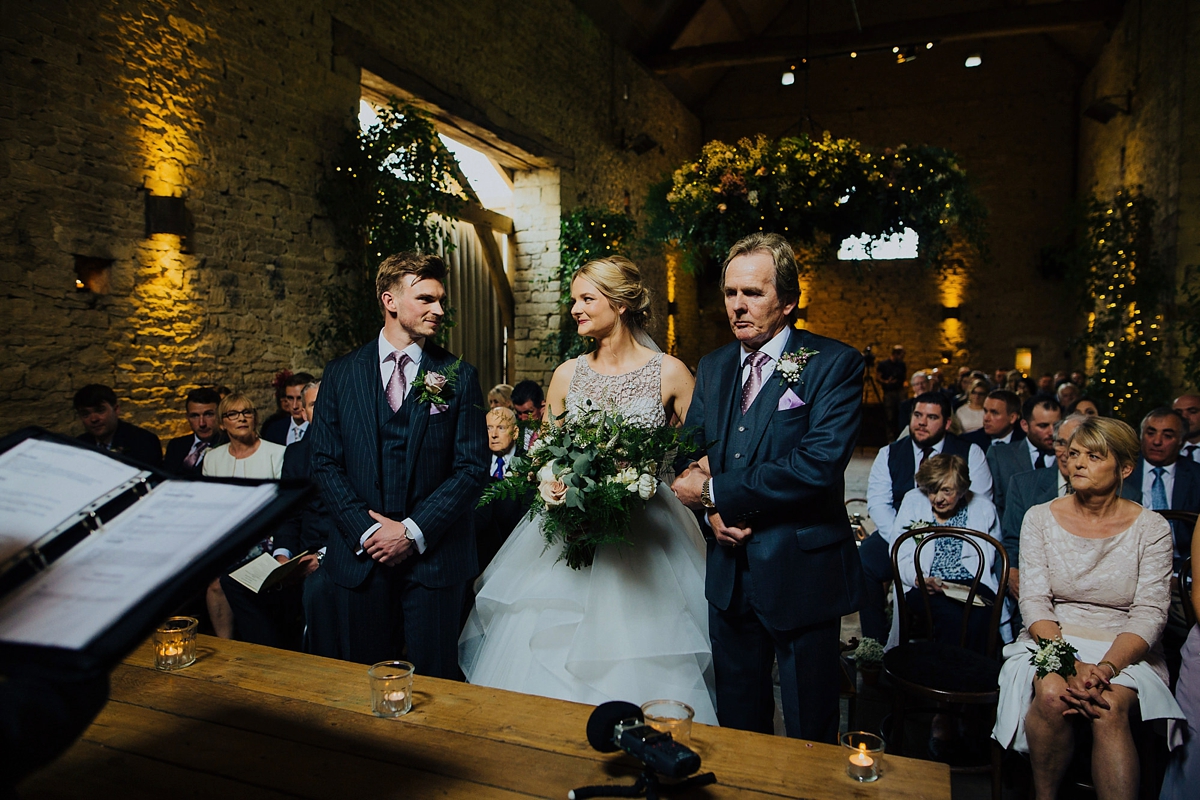 Nicole and Nick chose two readings – 'Love is a Temporary Madness' from Captain Corelli's Mandolin by Louis de Bernières and 'This Day I married My Best Friend' (author unknown) – both lovely choices.
Love is a temporary madness, it erupts like volcanoes and then subsides. And when it subsides you have to make a decision. You have to work out whether your root was so entwined together that it is inconceivable that you should ever part. Because this is what love is. Love is not breathlessness, it is not excitement, it is not the promulgation of promises of eternal passion. that is just being in love, which any fool can do. Love itself is what is left over when being in love has burned away, and this is both an art and a fortunate accident. Those that truly love have roots that grow towards each other underground, and when all the pretty blossoms have fallen from their branches, they find that they are one tree and not two."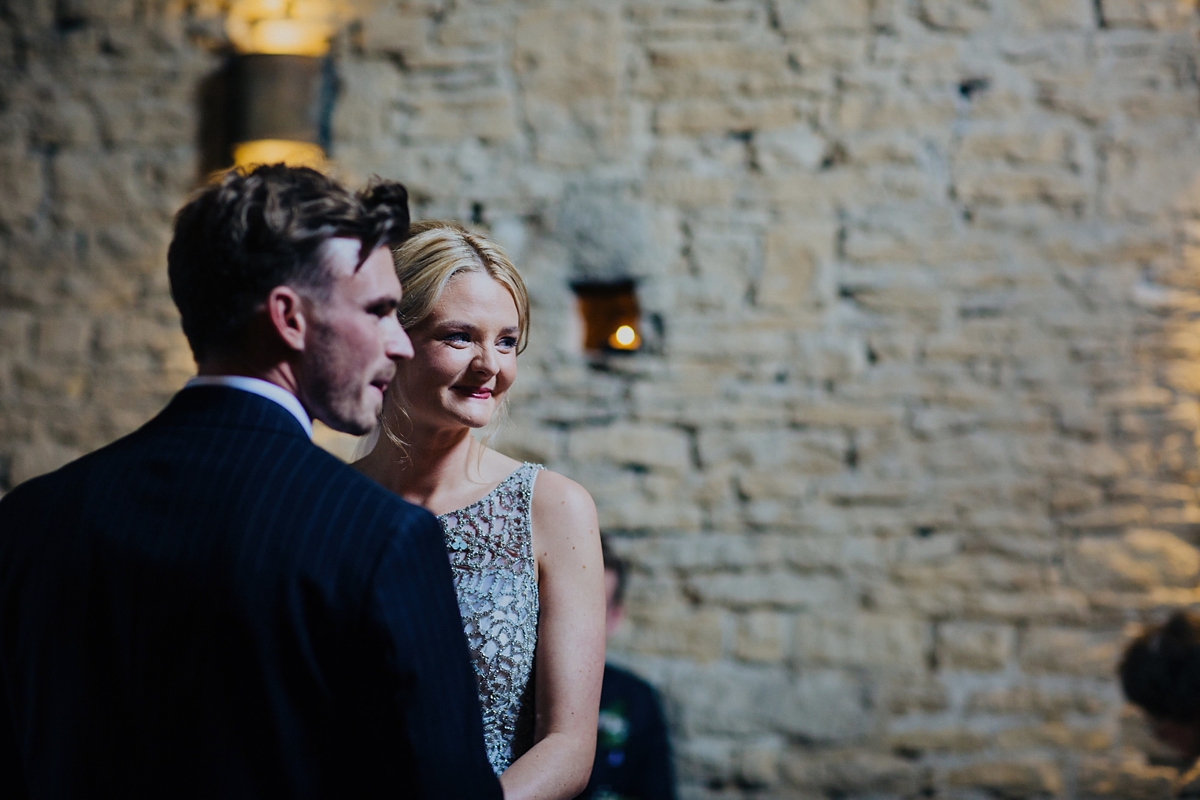 This day I married my best friend
The one I laugh with as we share life's wonderous zest,
as we find new enjoyments and experience all that's best.
The one I live for because the world seems brighter
as our happy times are better and our burdens feel much lighter.
The one I love with every fiber of my soul.
We used to feel vaguely incomplete, now together we are whole.

(This Day I married My Best Friend' (author unknown)
After exchanging vows, Nick and Nicole also swapped rings, which they purchased from jeweller John Aspell, who Nicole describes as part of the family- another very personal touch to the day.
After drinks and canapes outside and hugs all round (to a background of acoustic guitar by Jamie Knight) Nick and Nicole and their guests returned to the barn for food, cake and merriment.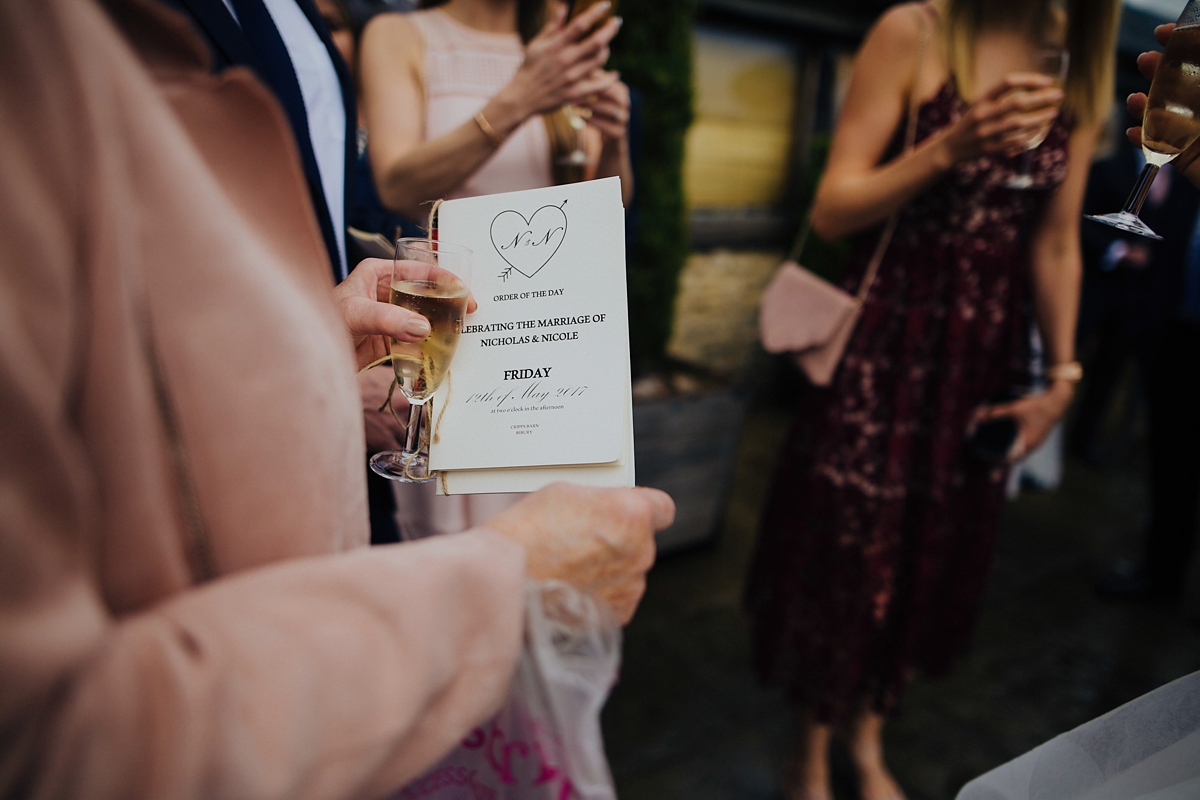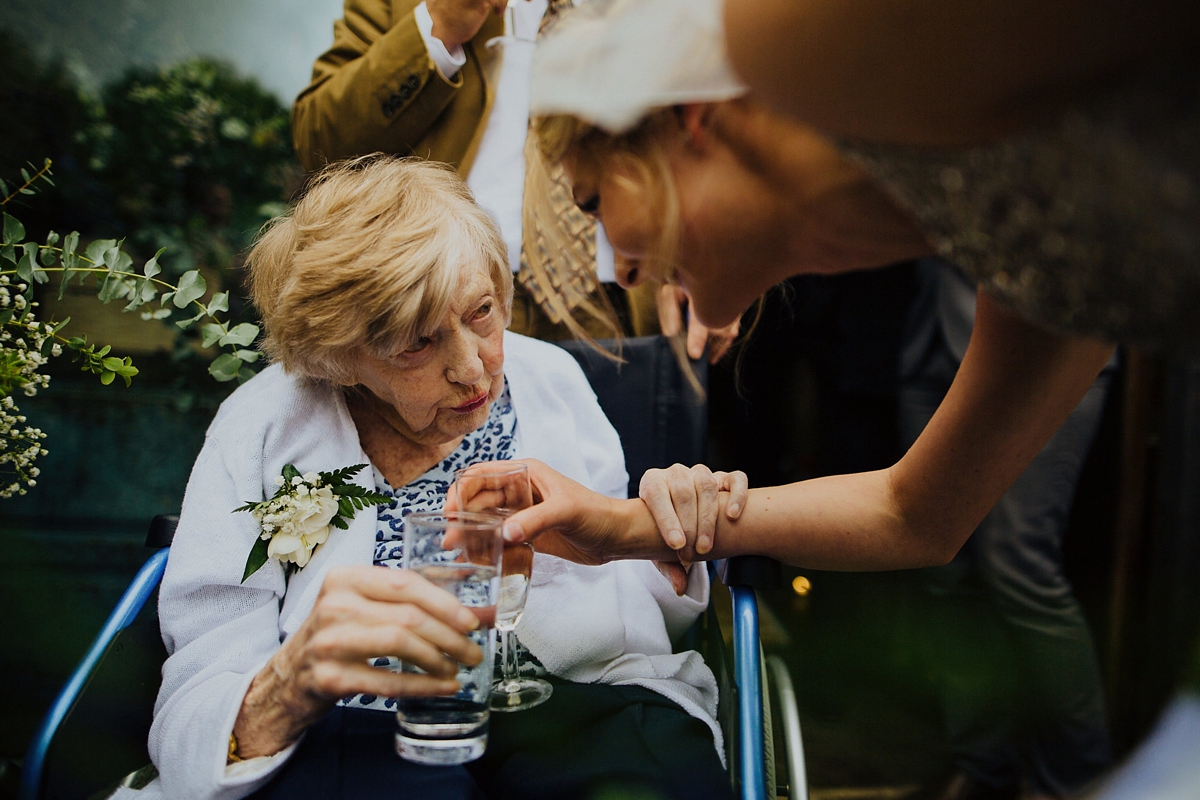 As well as photographs, Nicole and Nick chose to have the day filmed and hired Aimee and Ben of Mrs Mashup for the job.
"We haven't seen our film yet but Aimee and Ben were just brilliant on the day, they seemed to be everywhere capturing as much as they could."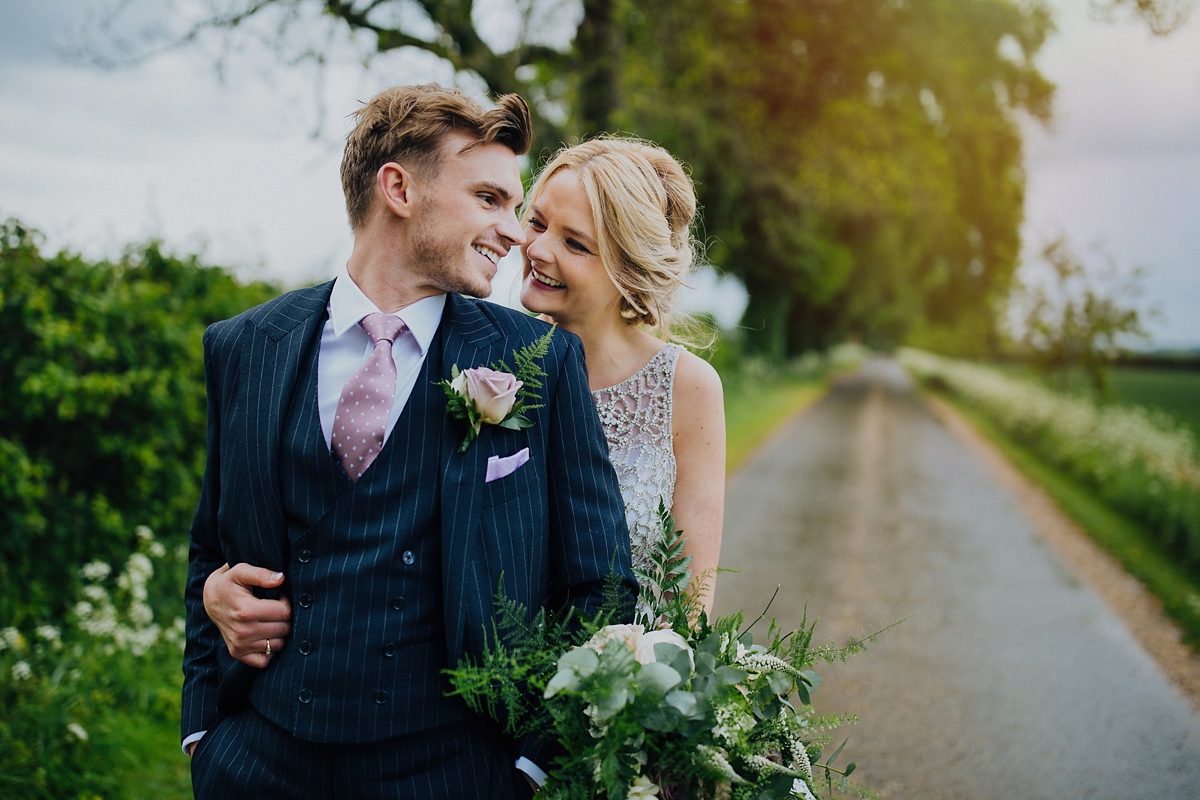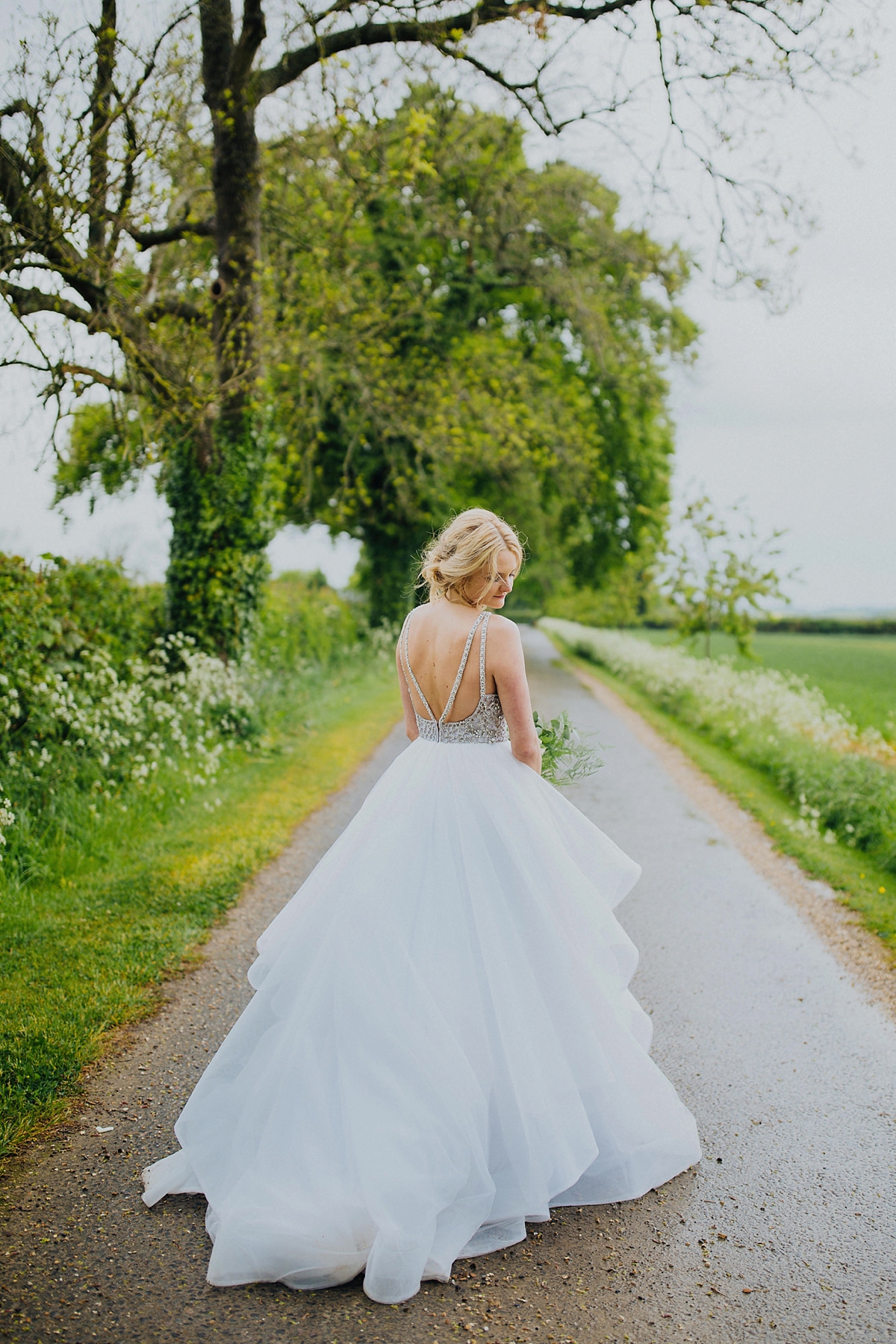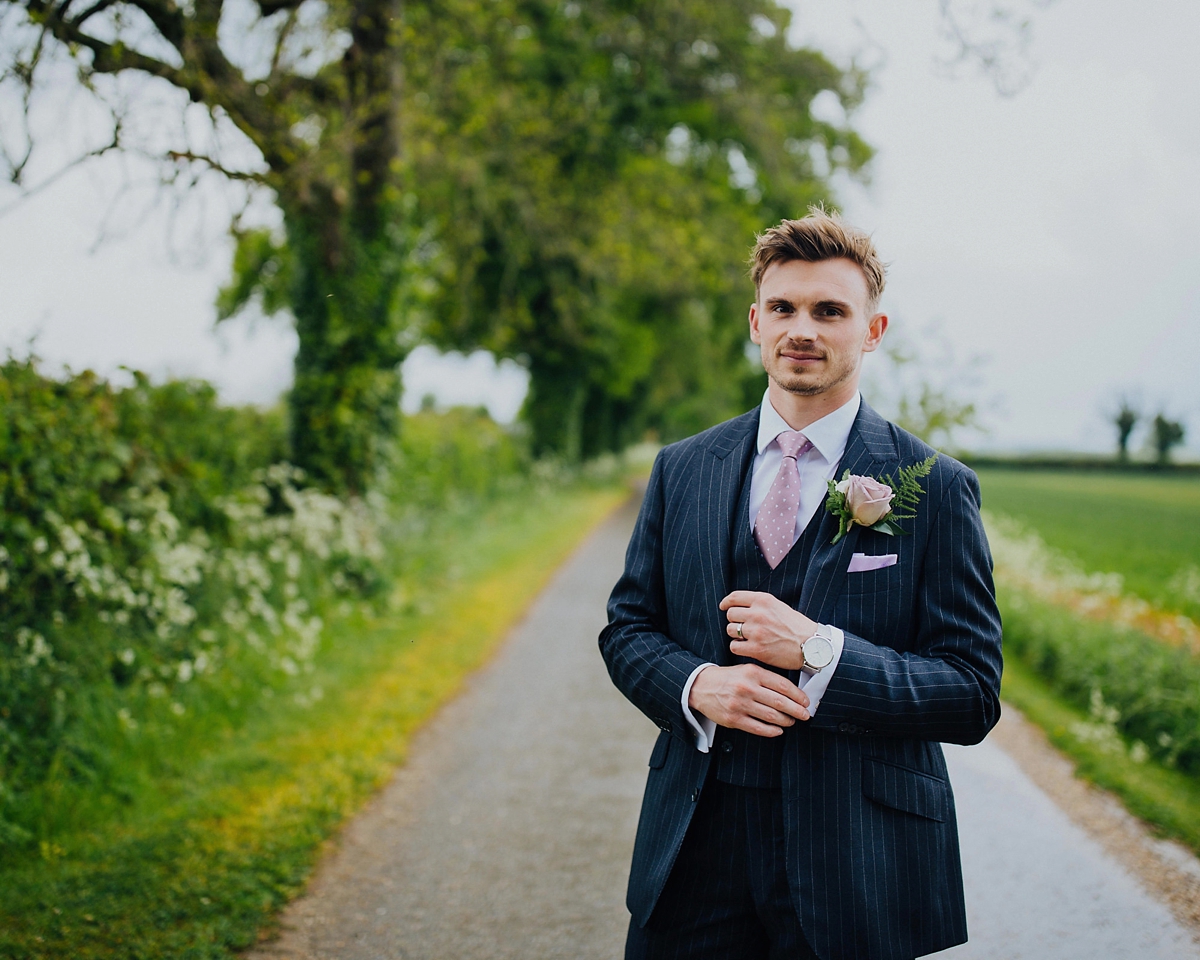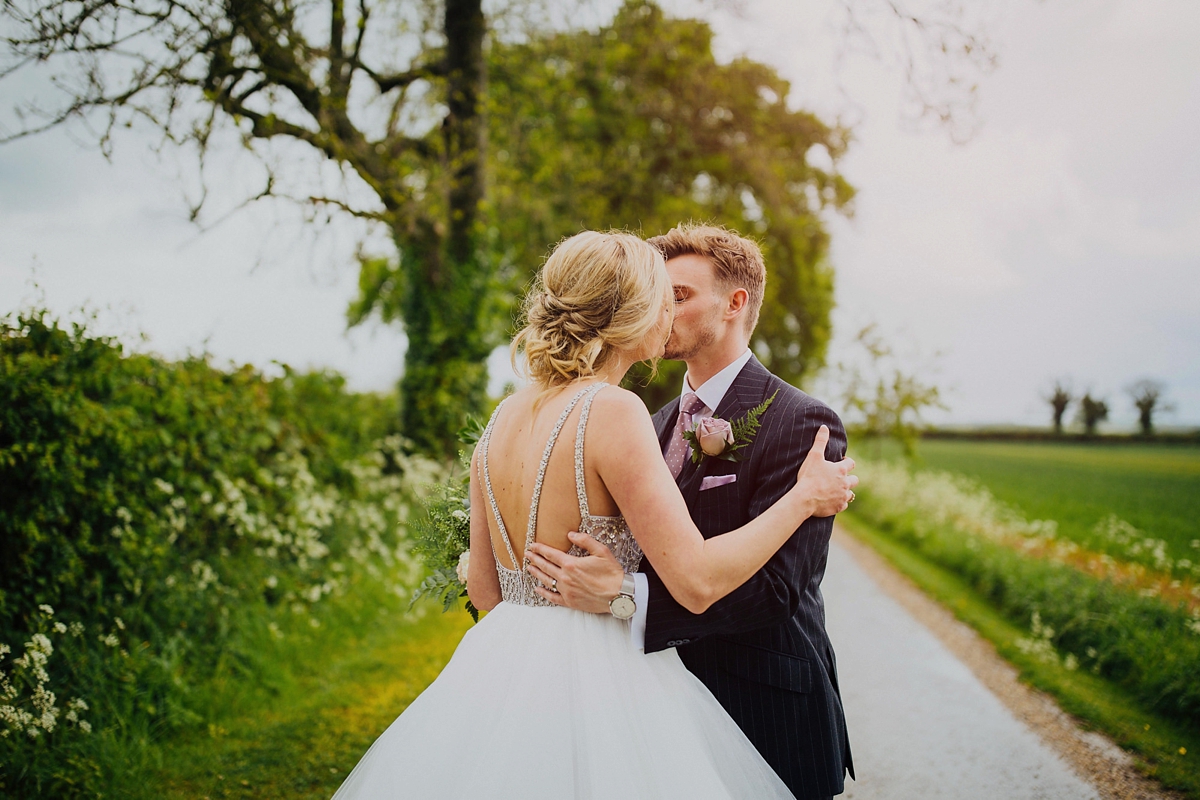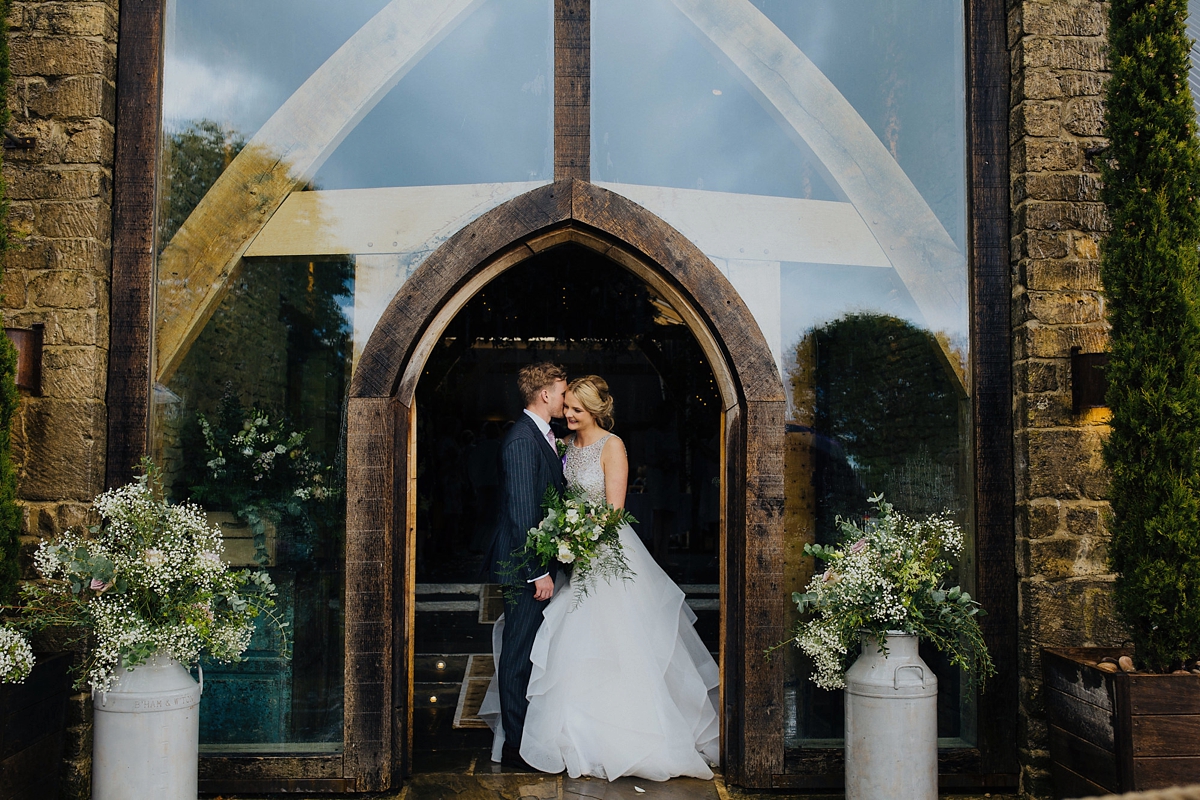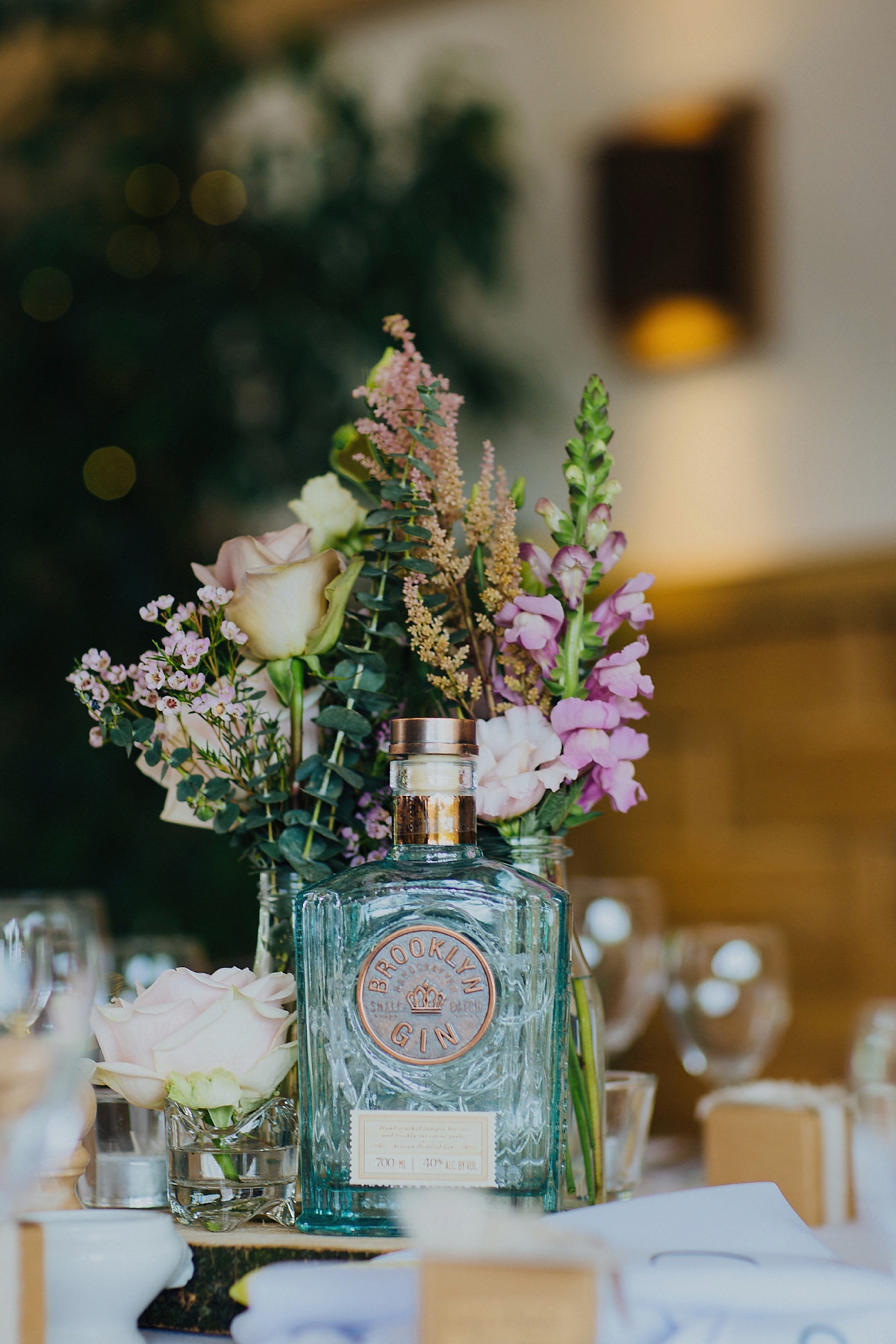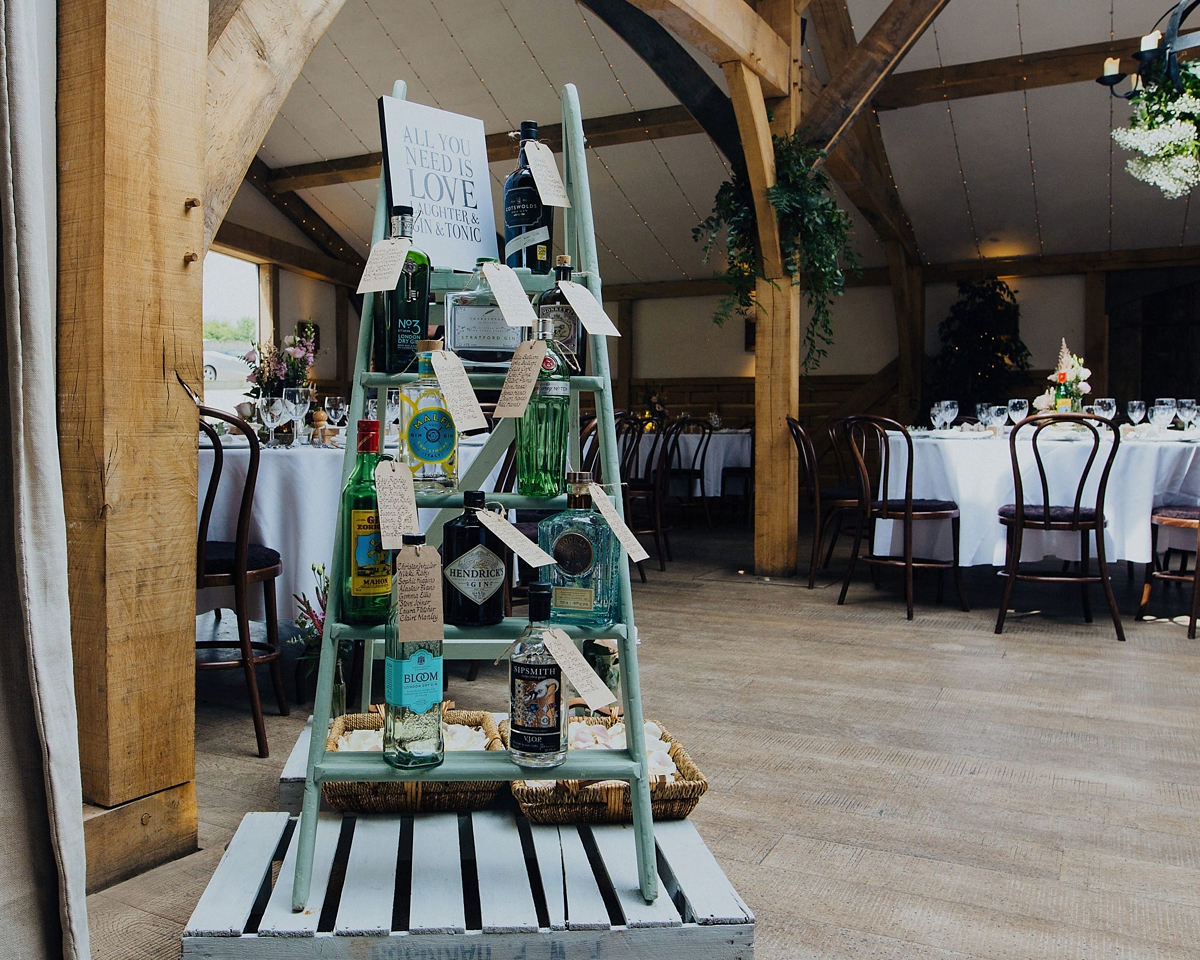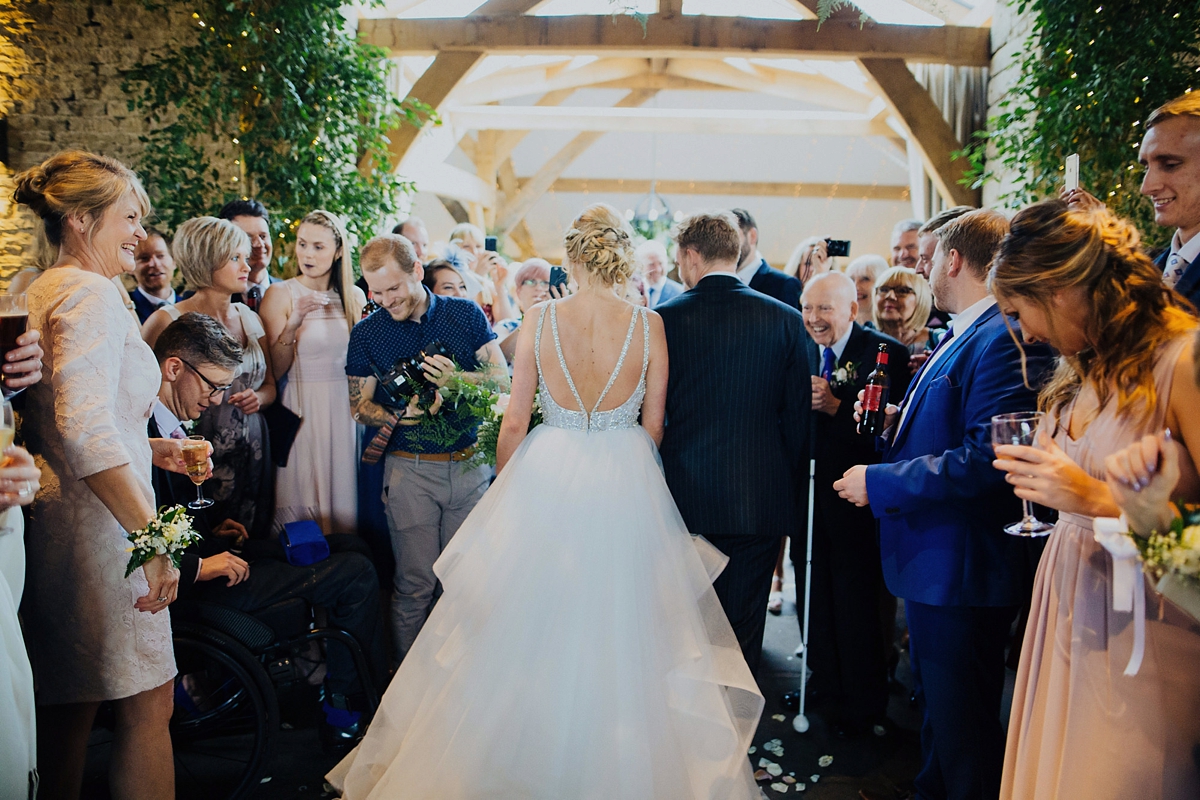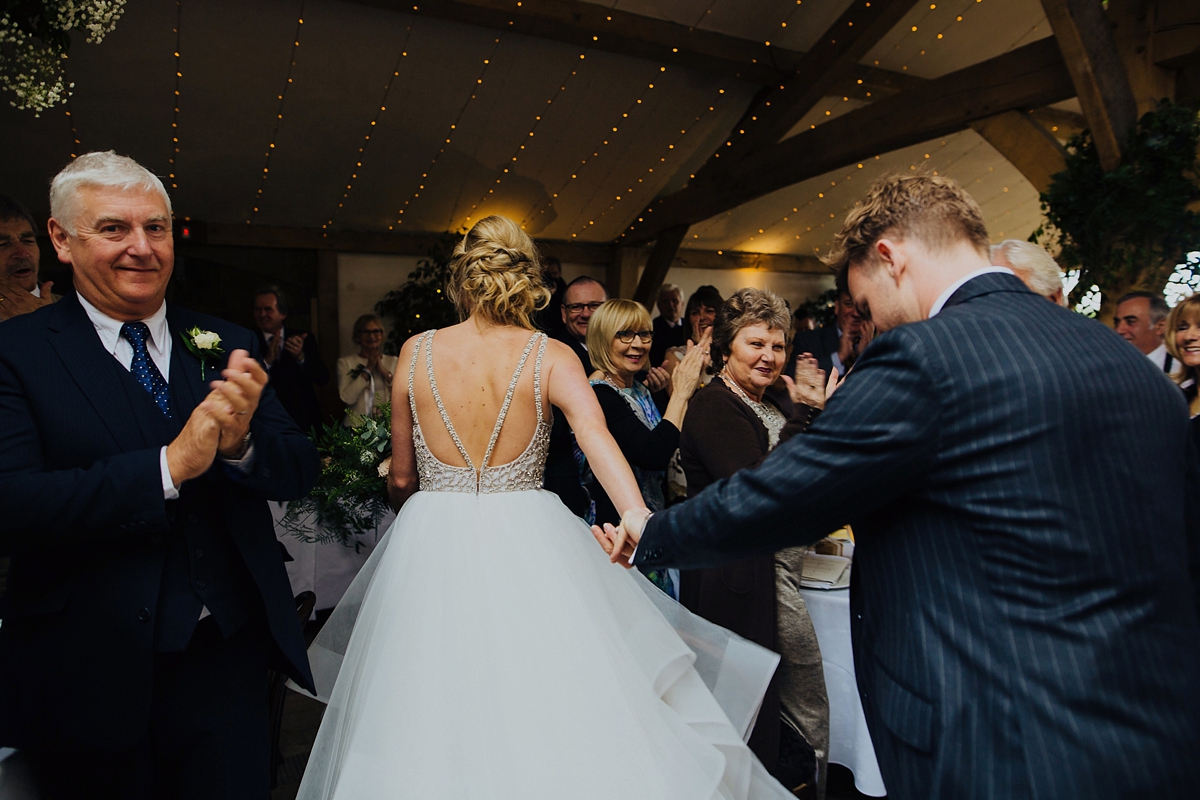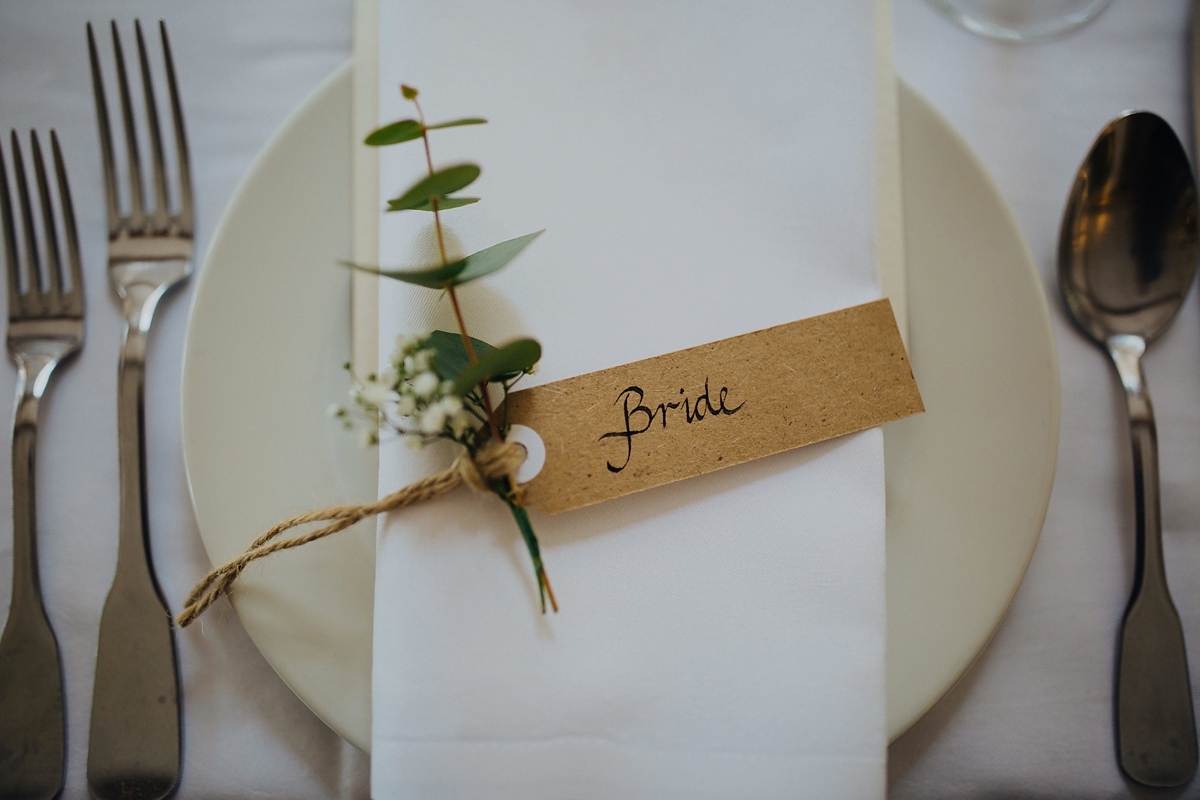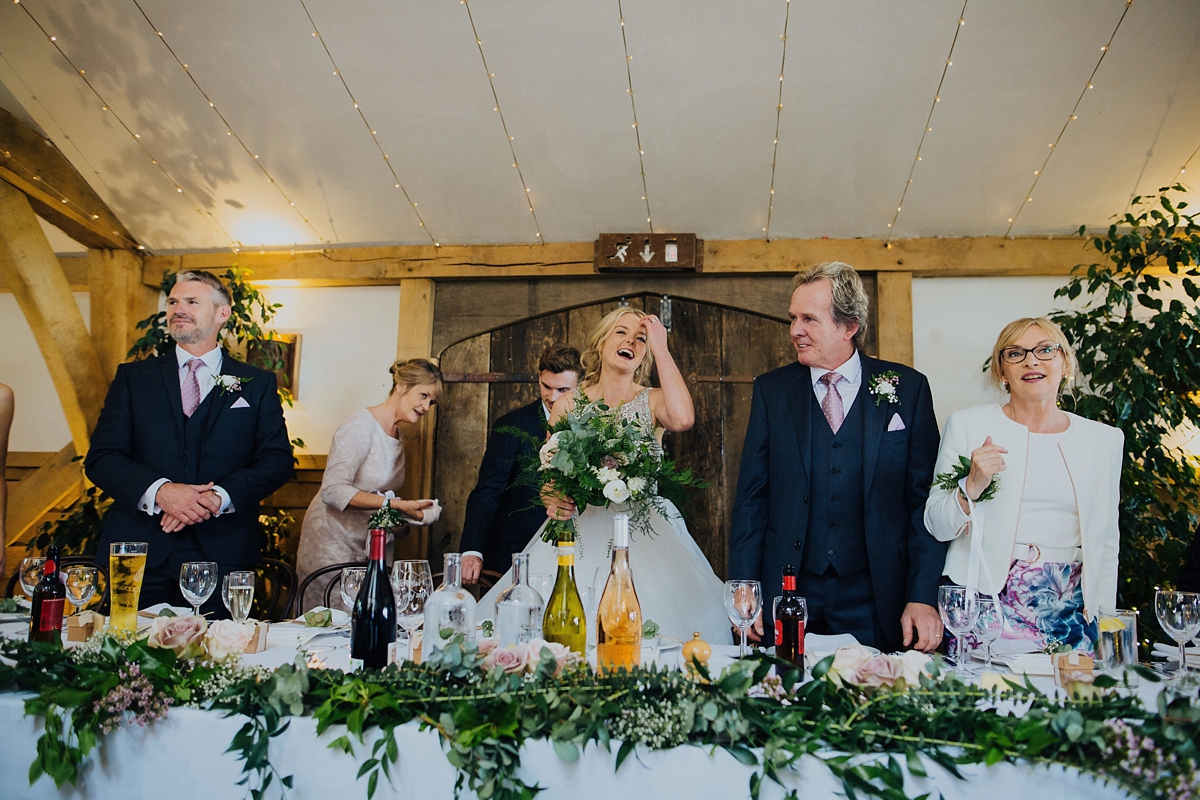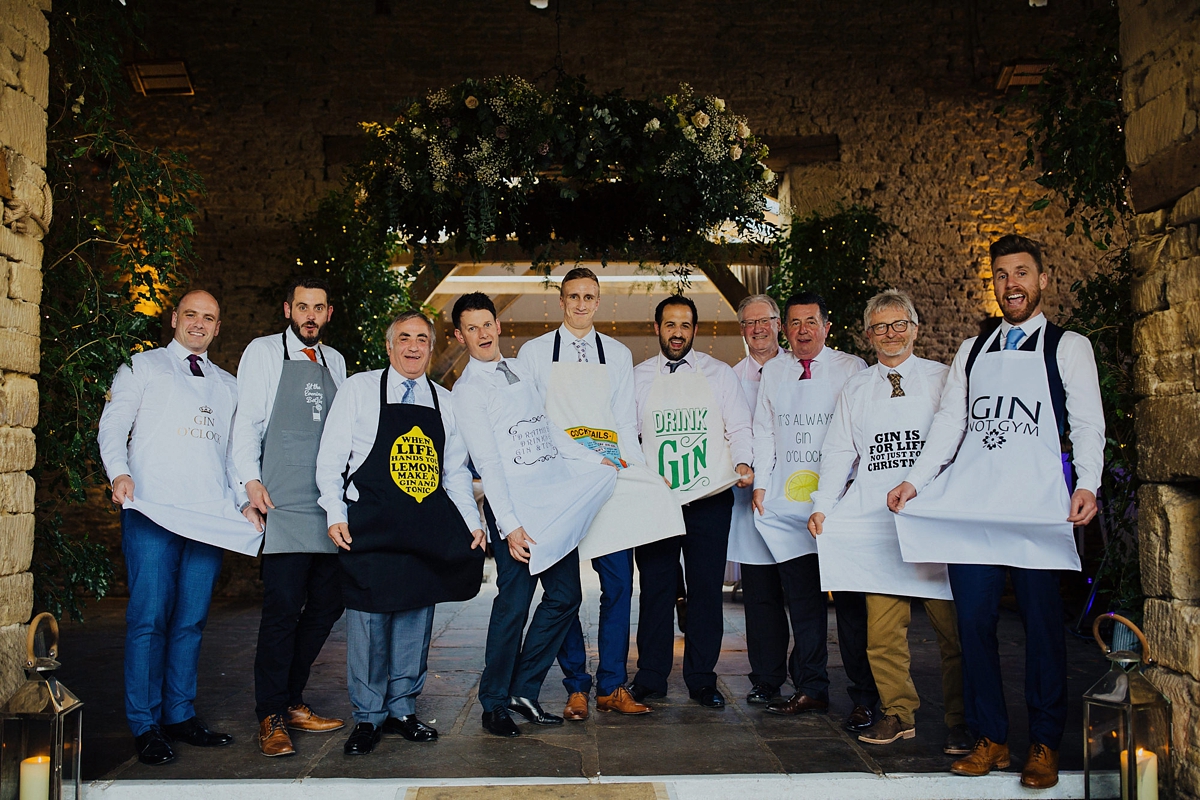 The very tempting looking three-tier chocolate cake was by Cake by Rachel and decorated with amnesia roses, which are so wonderfully dramatic.
"We chose a naked cake as we felt it was in-keeping with the rustic venue.  We had to have chocolate tiers as Nick is a chocoholic."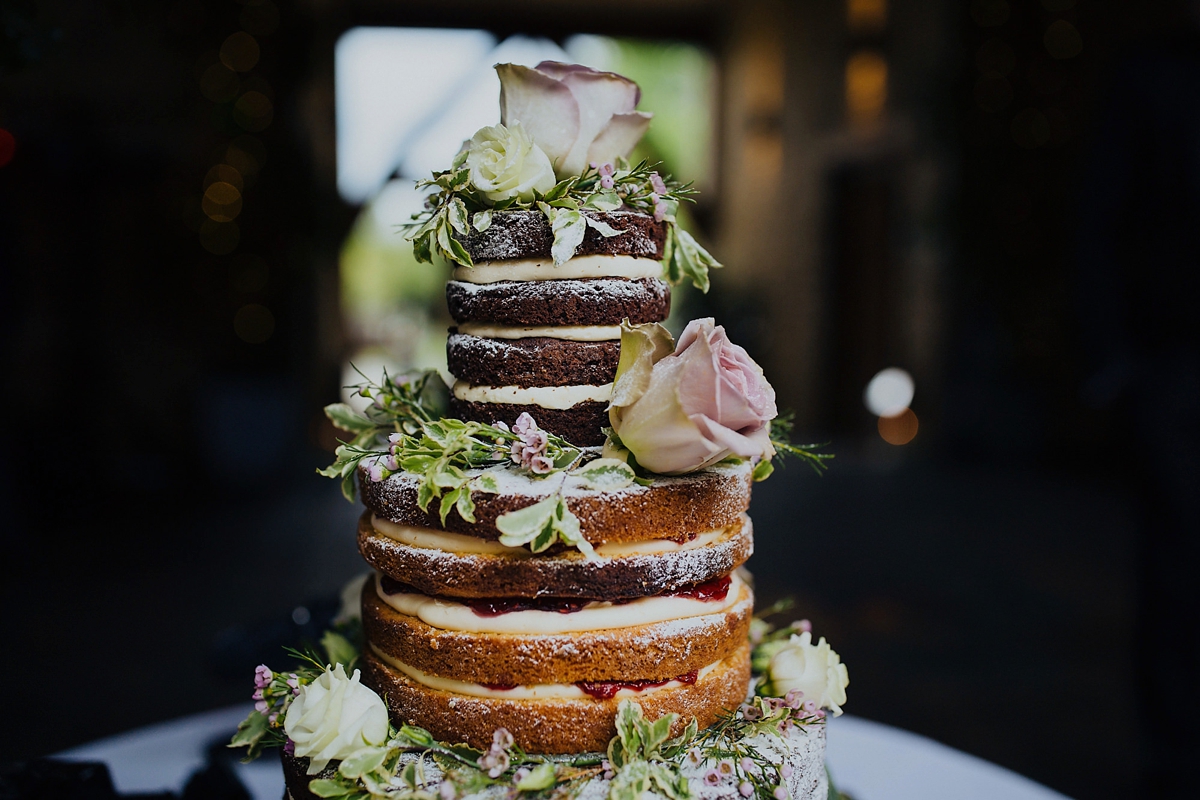 Favours were gin truffles and each guest also received a token for a gin drink at the bar while decor included a range of pretty gin bottles, 'N & N' initial letters and gin posters from Not On the High Street, creating a fabulous rustic-modern look.
The menus, as well as the invitations and orders of service, were designed and printed by a friend.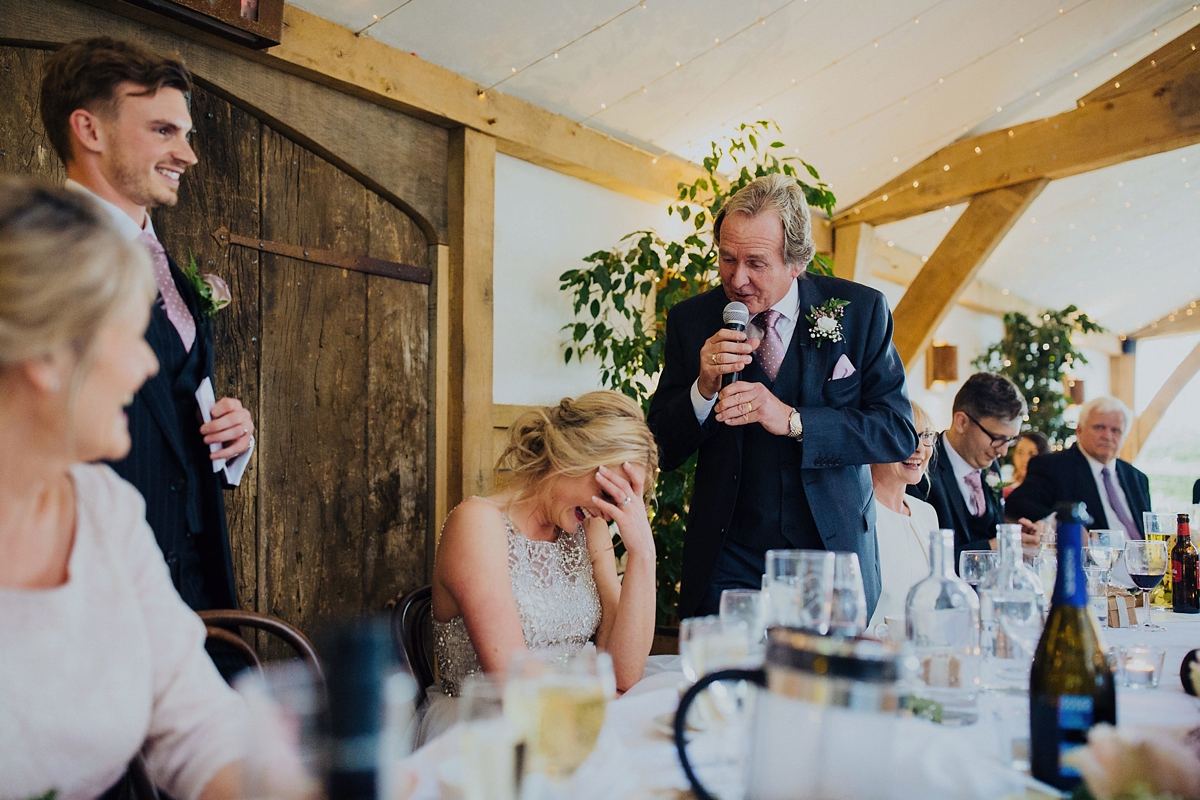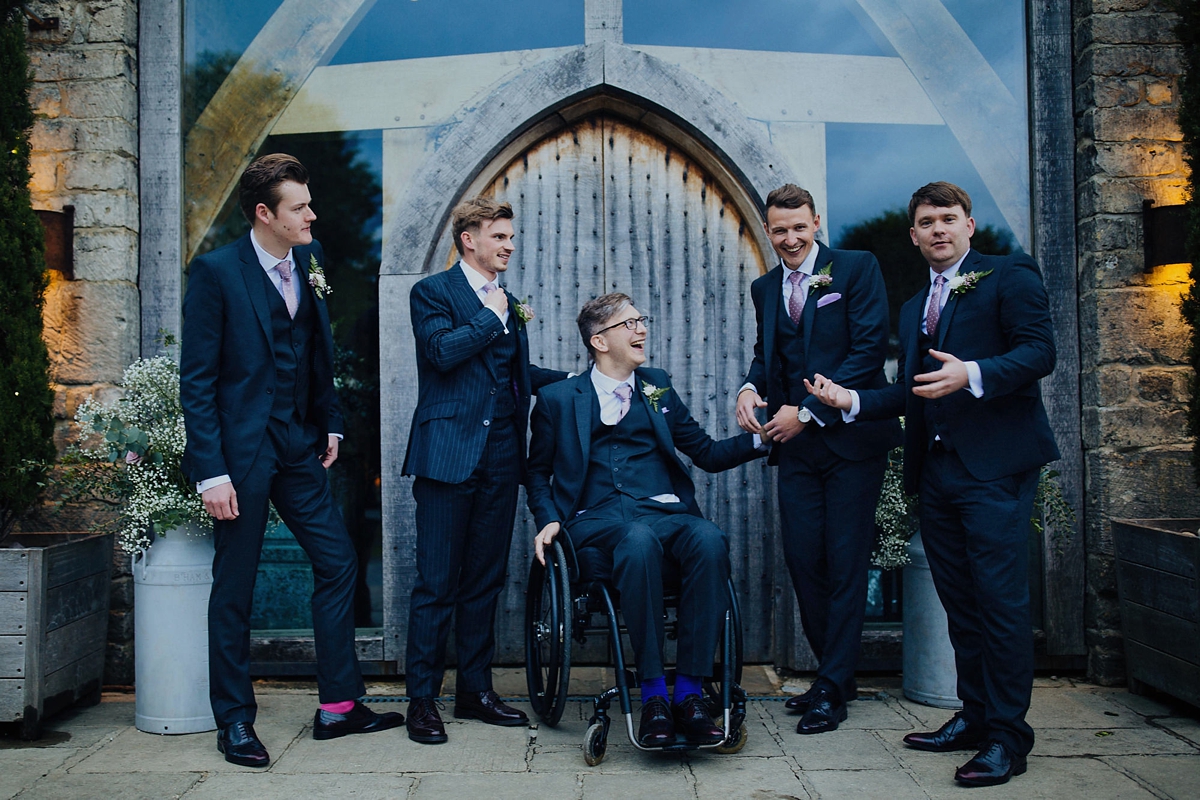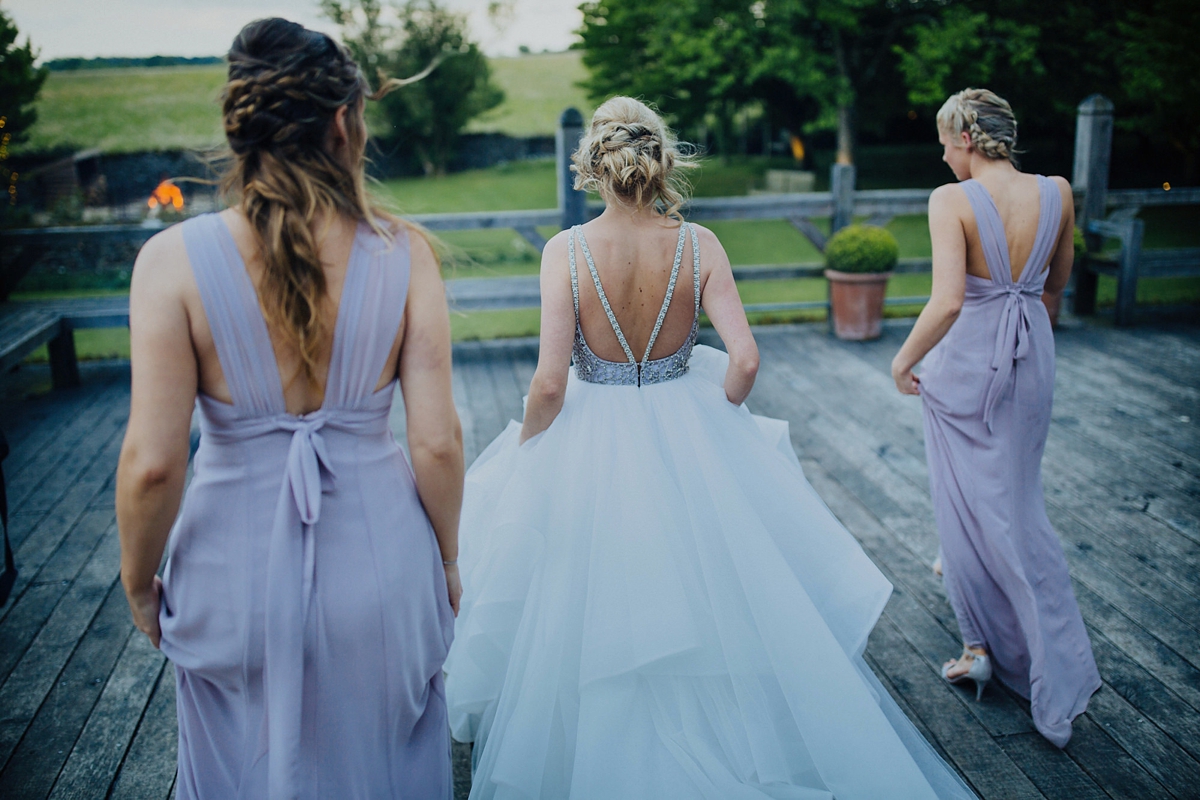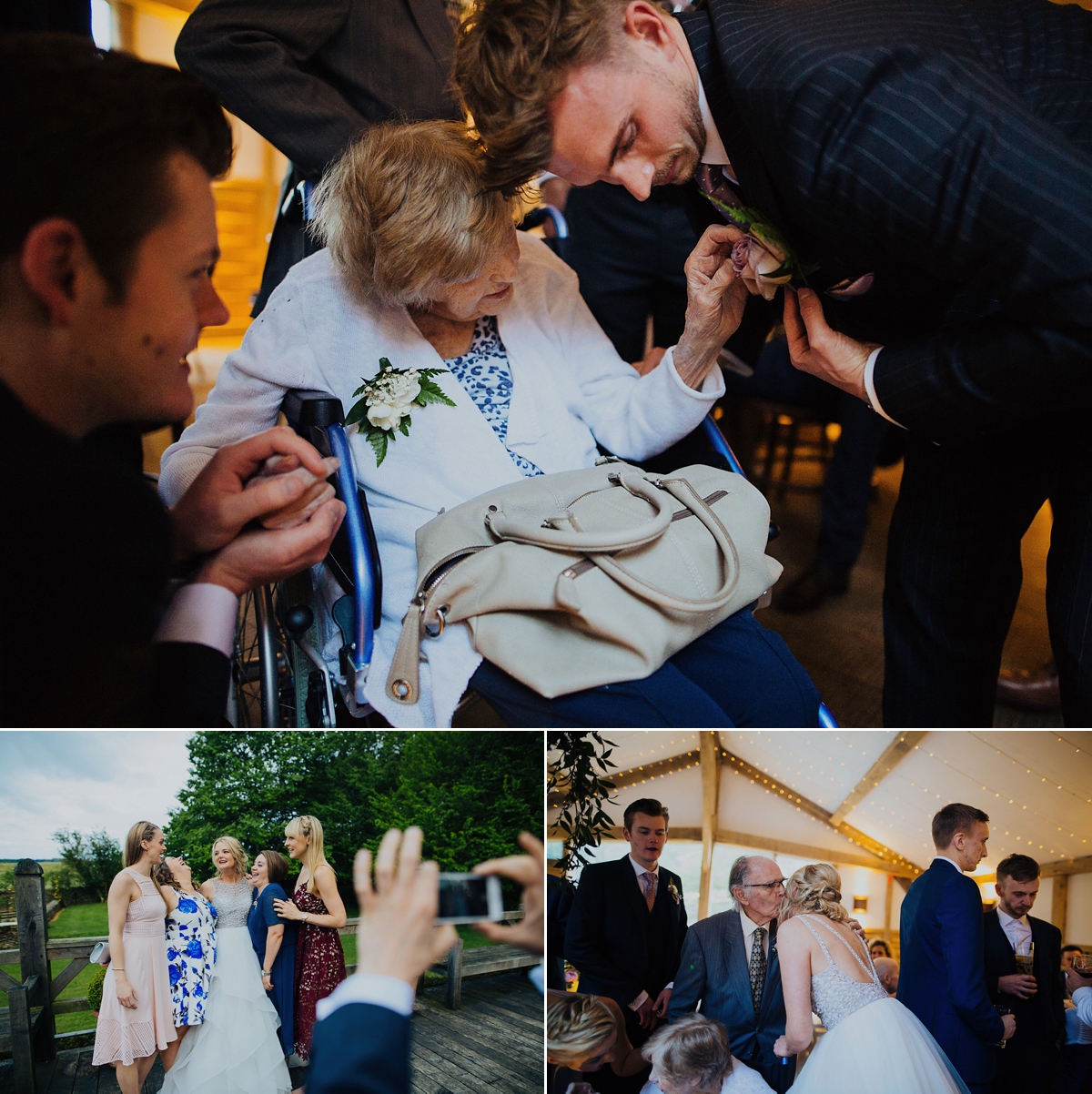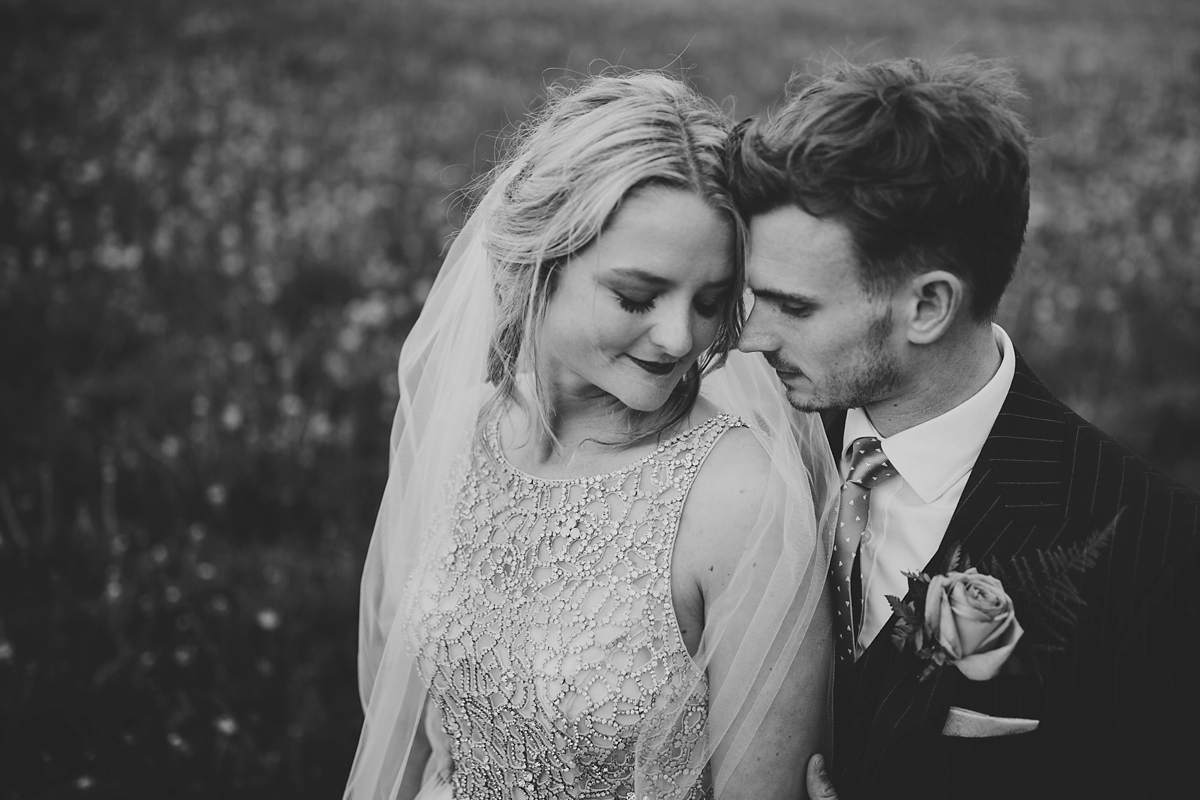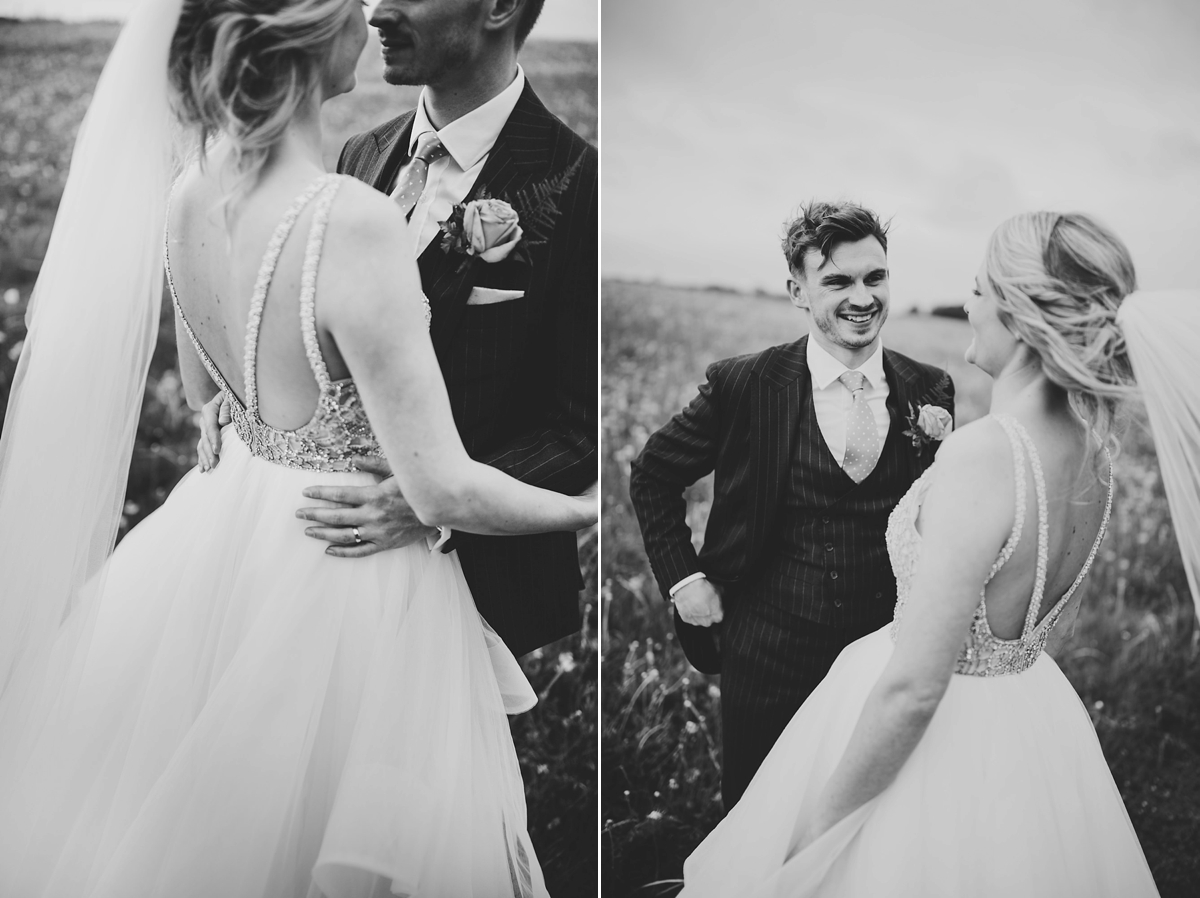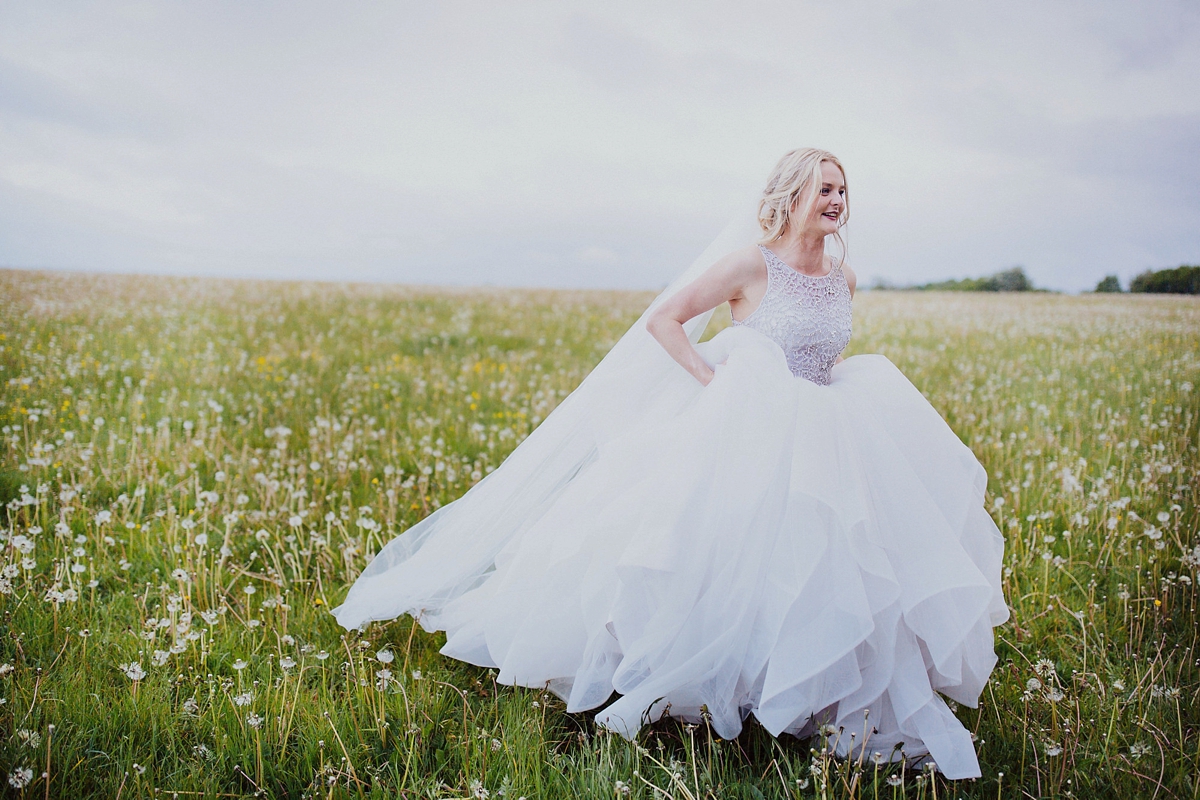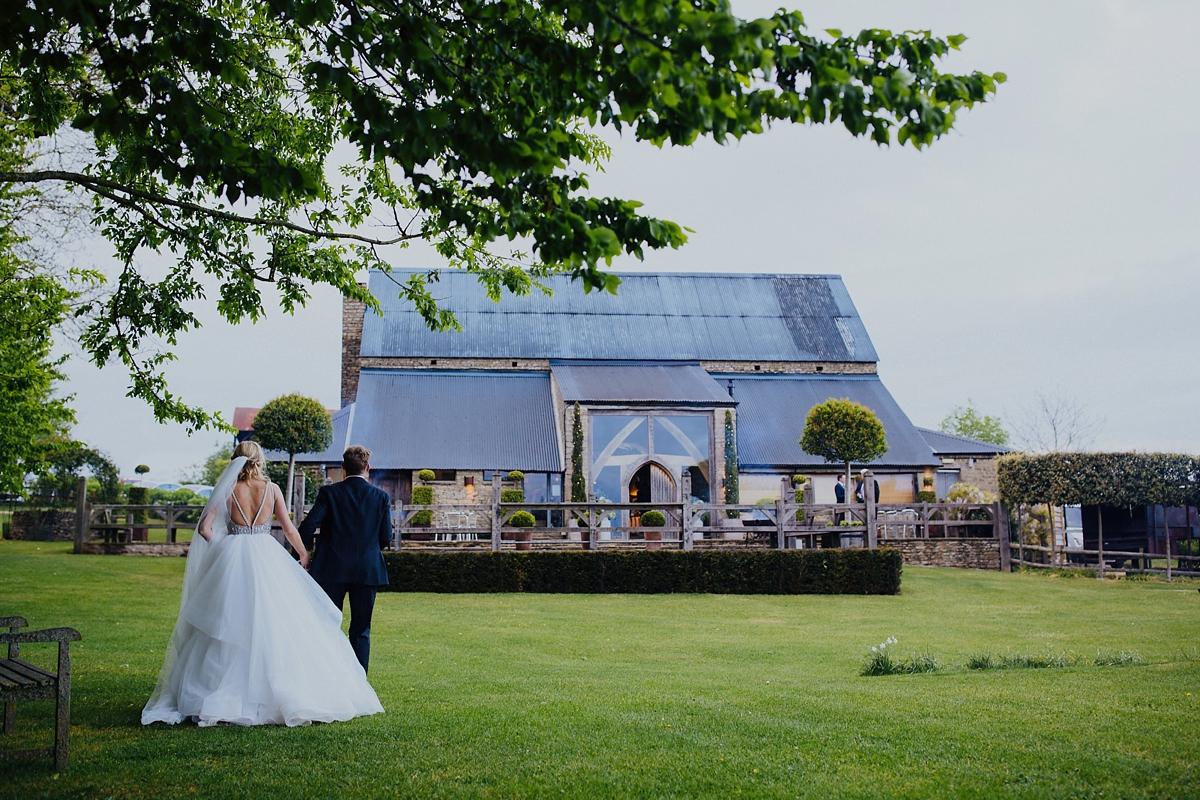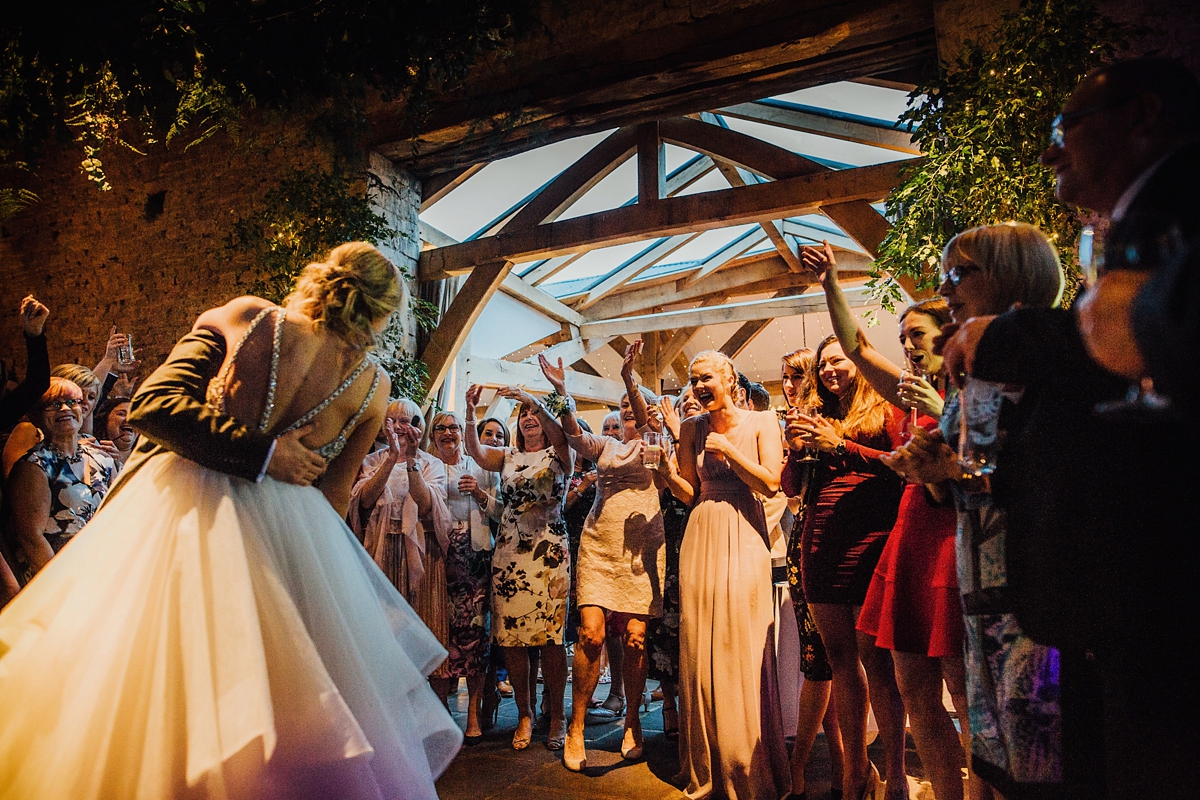 Entertainment came in the form of Jamie Knight and the Manuka Band and to link to Nicole's arrival music, the newlyweds had their first dance to 'Fly Me To The Moon' by Frank Sinatra.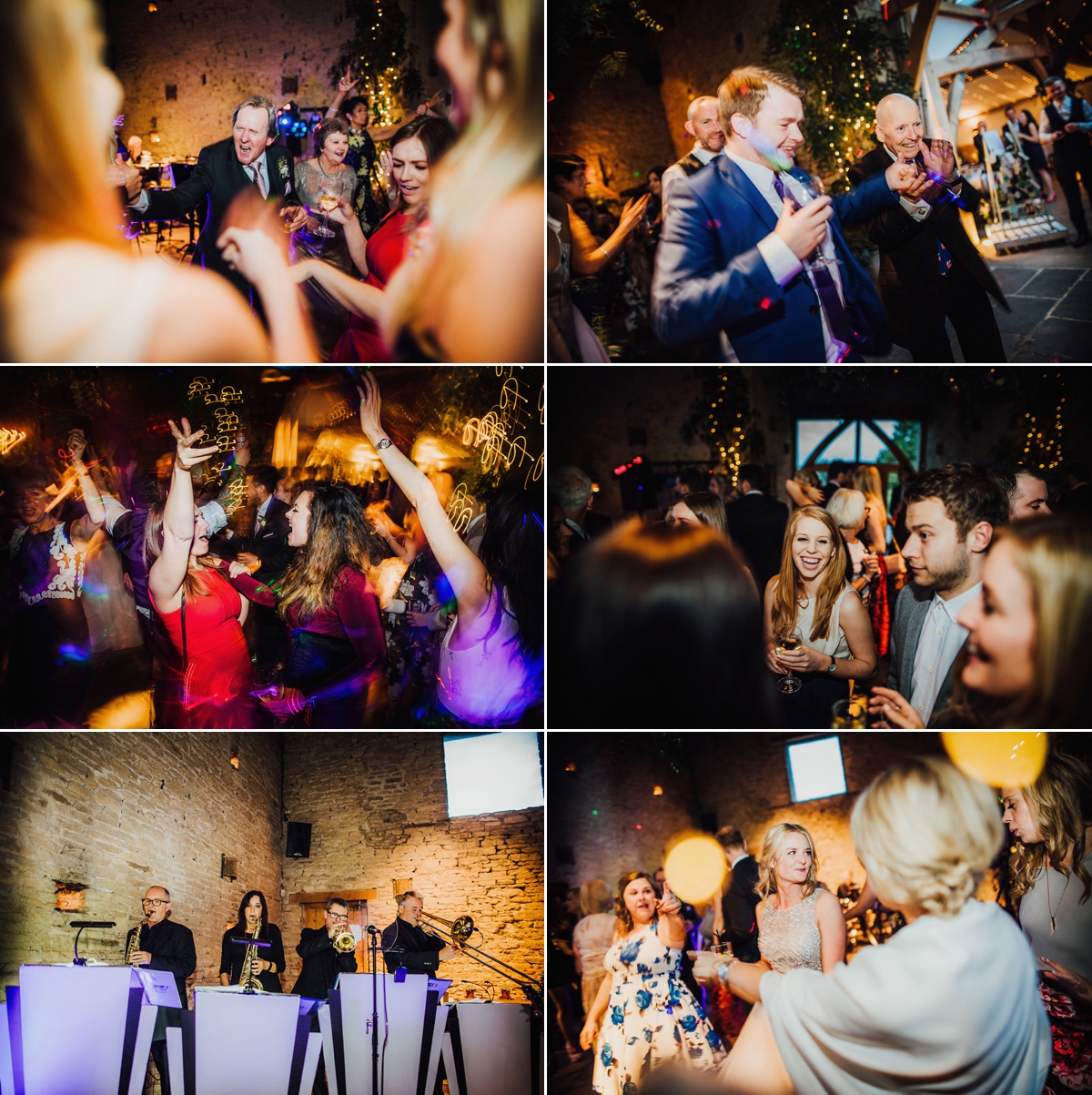 Words of Wedded Wisdom
"Don't get too hooked up on the little details they really won't matter on the day and try and enjoy the planning- get lots of help and delegate tasks to your nearest and dearest to lighten the load."
Such a lovely day!  Huge thanks to Nicole and Nick for sharing it with us.  Have you fallen for Nicole's fun and flirty Hayley Paige dress?  Take a peek here to see another Love My Dress bride in a gown by this designer.  If you have a few spare moments (or hours- we've featured a lot of lovely weddings here!) also take a look at this link for more beautiful weddings at Cripps Barn.
Much love,
S x