Gooood morning! And it will be a good morning, because it's my birthday, and I shall be eating cake for breakfast. But before all that, it is my pleasure today ladies and gents to share the wonderful woodland wedding of Emily and Ben.
Emily and Ben's nuptials took place on 8th July this year at The Dreys at Squirrel Wood in Sittingbourne. The couple shared their vows beneath the trees, in the middle of a beautiful woodland clearing and Emily looked so pretty in her Naomi Neoh gown. For anyone unfamiliar with this bridal fashion brand, Naomi Neoh is all about the romantic and feminine – we absolutely love her designs here at Love My Dress.
"I wore a customised version of the Fleur gown by Naomi Neoh (customised by Naomi herself). Ben also asked Naomi to embroider the words 'Just Love' in to the side of the dress for me to be surprised by on our wedding day. I loved the ethereal dresses with all that movement. Naomi was amazing and completely understood my style and customised the dress to perfection. I found that the original Fleur was a bit too girly for me so she made something with a much more woodland feel to it."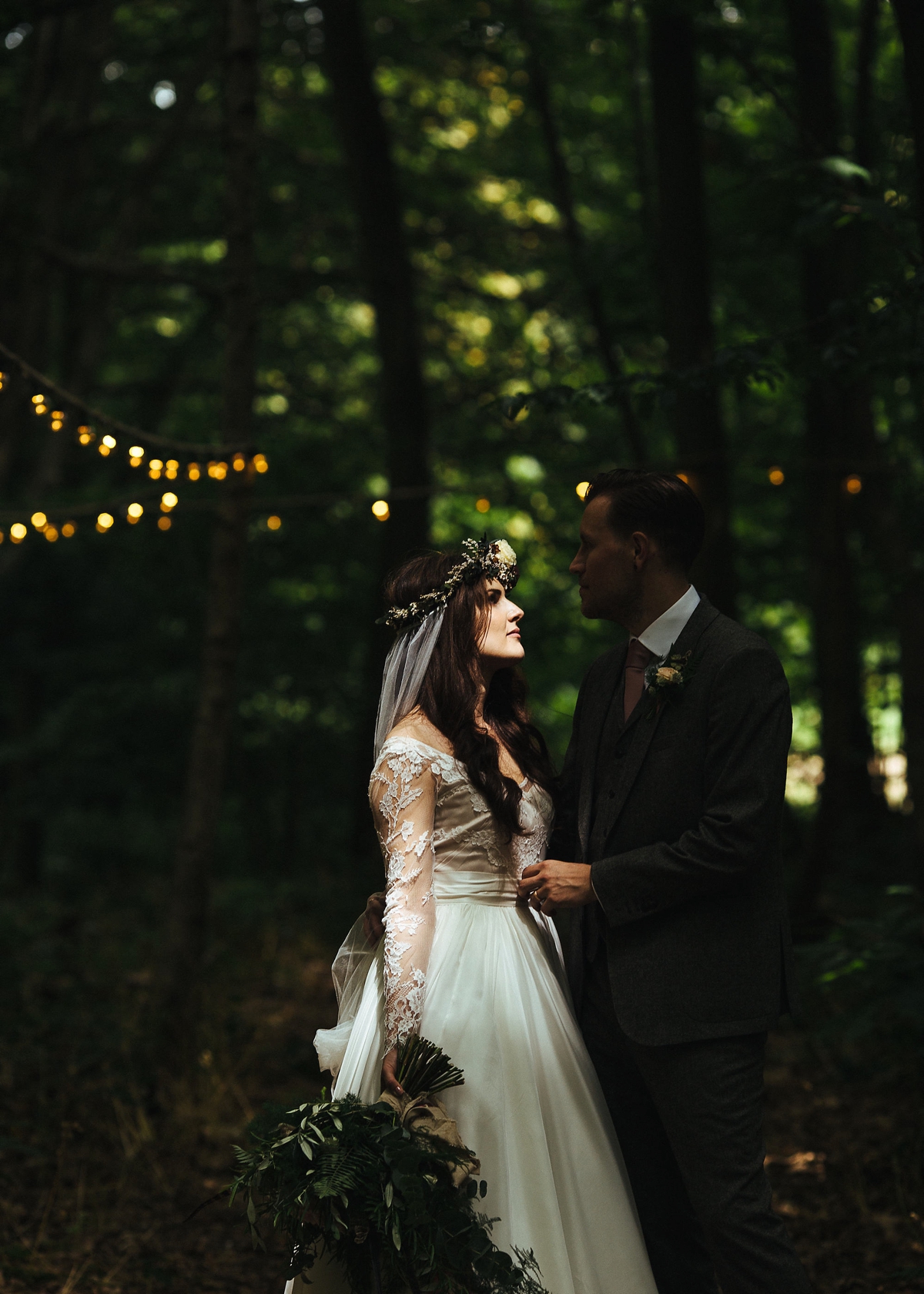 "We were inspired by our love of nature and animals whilst also wanting to bring a more urban feel given we have lived in London for many years. We found pictures of low poly animals that really fitted the brief and we used a similar geometric design on the stationery – making origami birds and geometric animal face masks."The couple were assisted by Susannah Lee at Revelry Events in planning their day.
"We met in 2004 whilst studying at University in Cardiff. We got engaged in January 2016 on top of the French Alps on a skiing trip. Ben got down on one knee at a spot with panoramic views."
Hair was styled by professional stylist Amanda White whilst makeup was applied by Emily's sister in law, Jo.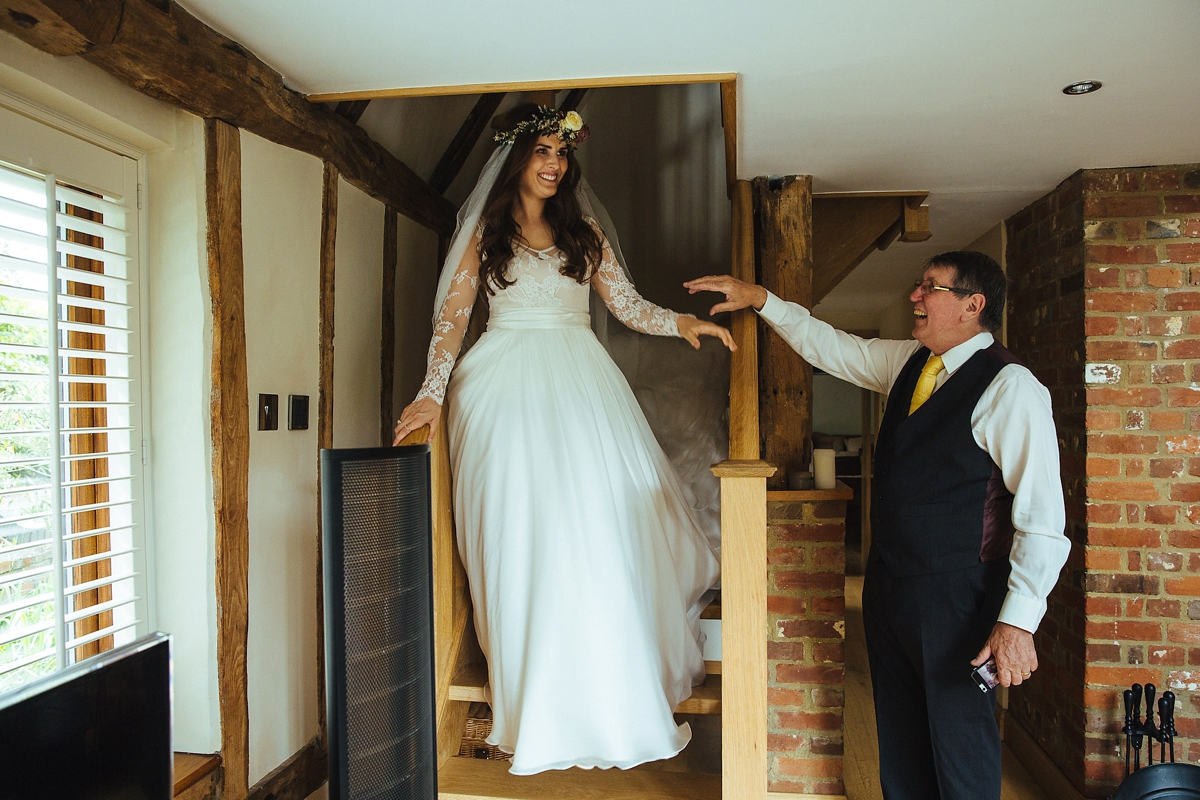 "We wanted a beautiful woodland and when we came across squirrel wood we loved how secluded it was and the large open meadow. When we originally booked there was a small field shelter in the meadow, but over the year they added more space to the shelter using wood from the woodland and also added a large beautiful tent. Many of our guests stayed over at the venue in bell tents and shepherd huts."
Emily carried a head-turner of a bouquet, predominantly in green hues to fit in beautifully with her natural surroundings.
"Our florist was Bohotanical – we wanted flowers that reflect nature, whilst also fitting with the flower crown".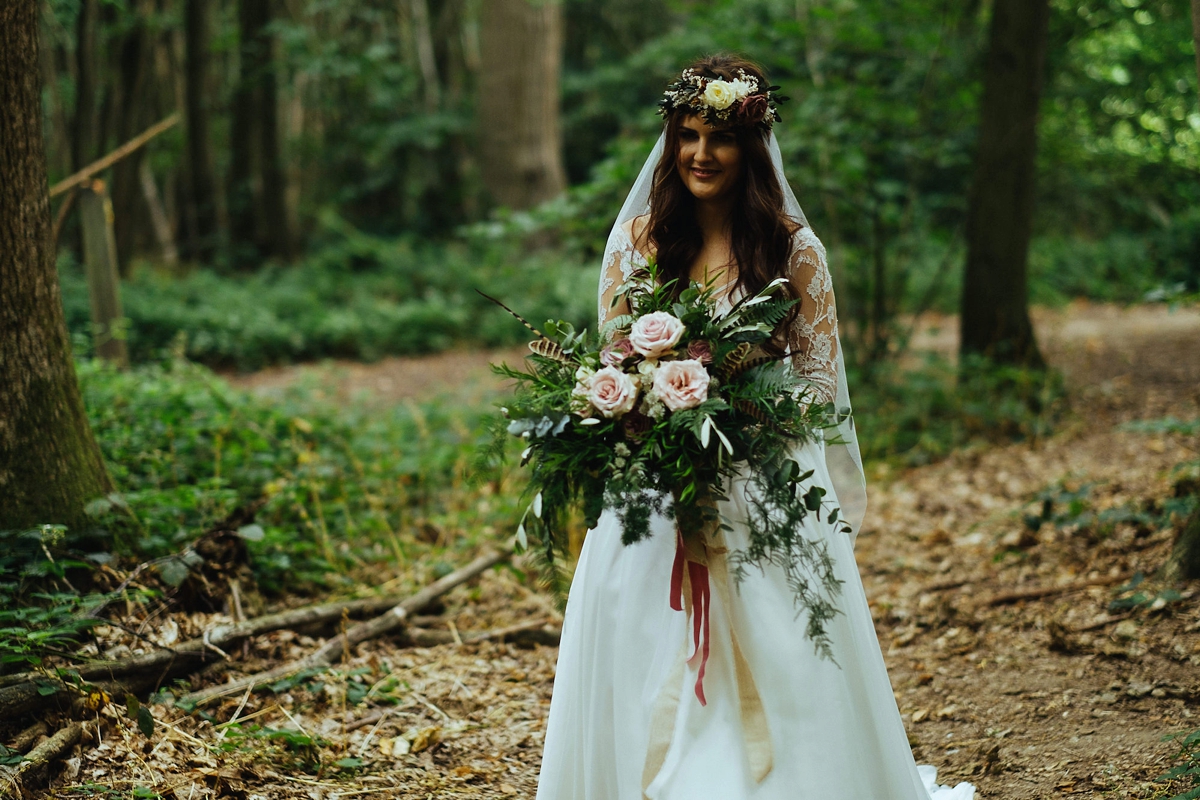 "Our favourite part of the day was the first look and then walking in to the ceremony. It was great to see each other and have a moment to ourselves before the ceremony began and it was super romantic."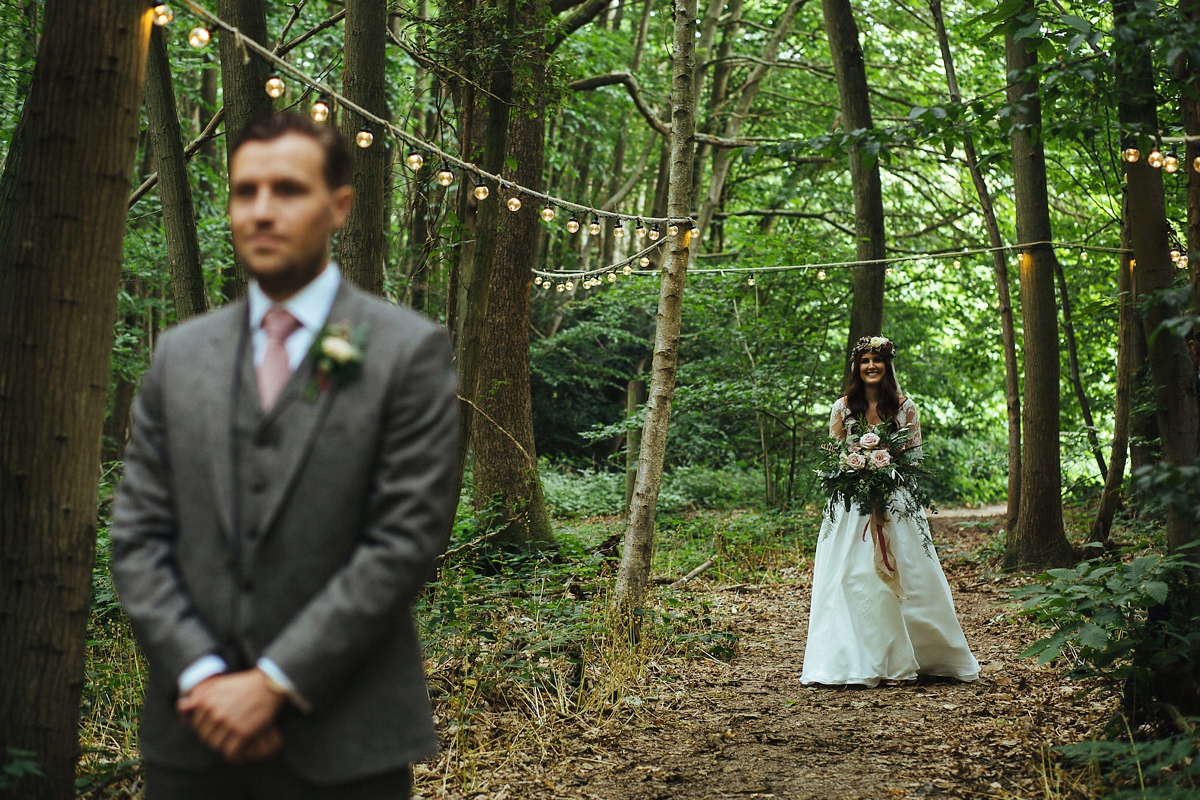 "My twin nieces walked down the aisle ahead of me, then Ben went down with his parents and then I went down with mine. We were accompanied by the sound of 'There's No Place Like Home', from the Lost TV series."
"Our legal ceremony was held the day before in Maidstone, when we happened to end up bumping in to Princess Eugenie and getting papped too!"
"We are both atheists and had a beautiful humanist ceremony delivered by the wonderful Kate Gee."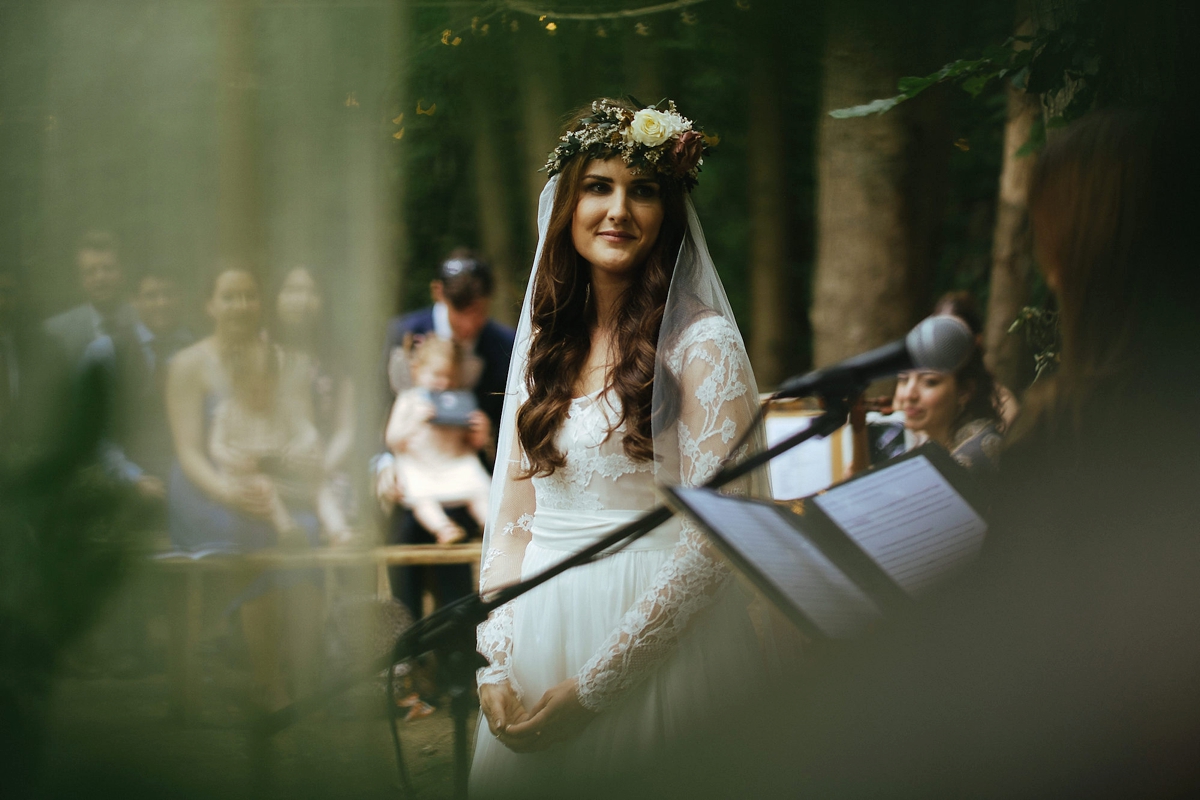 "My engagement ring was rose gold, morganite and diamond. My engraved, rose gold wedding band was from How Wedding Rings. I wanted my band to match my engagement ring and love rose gold."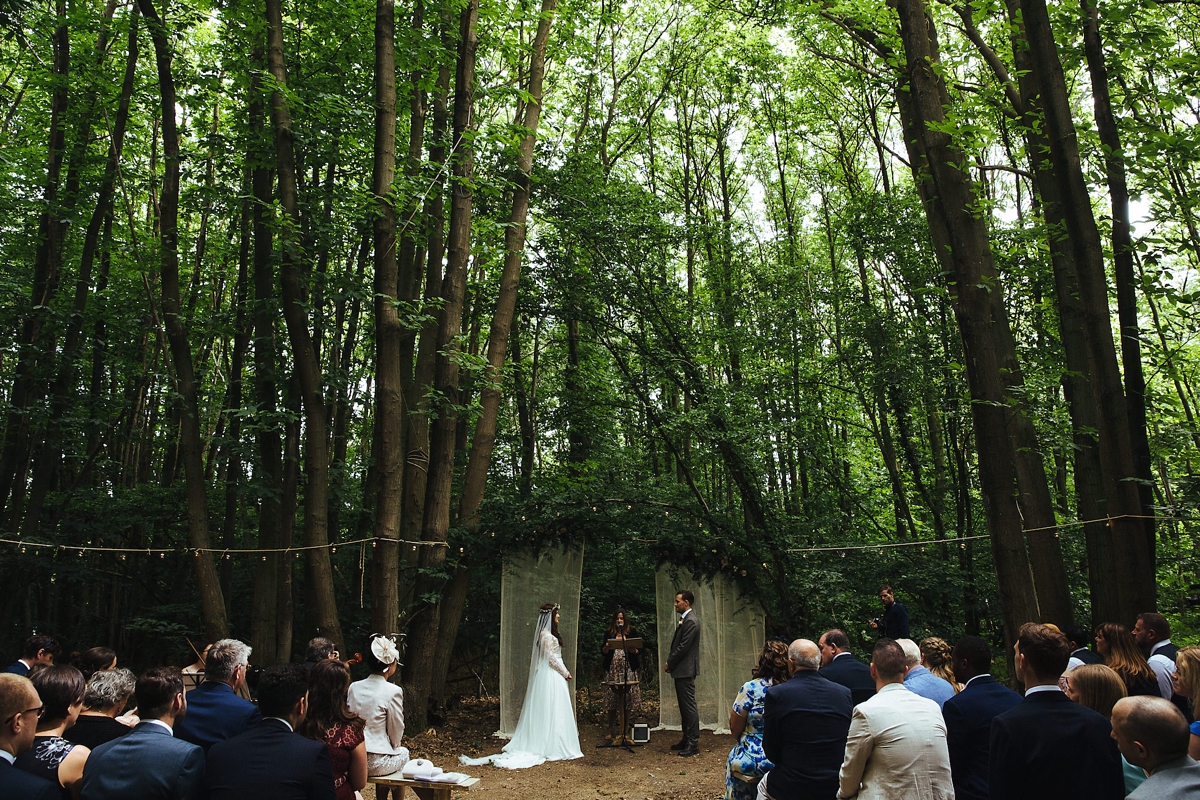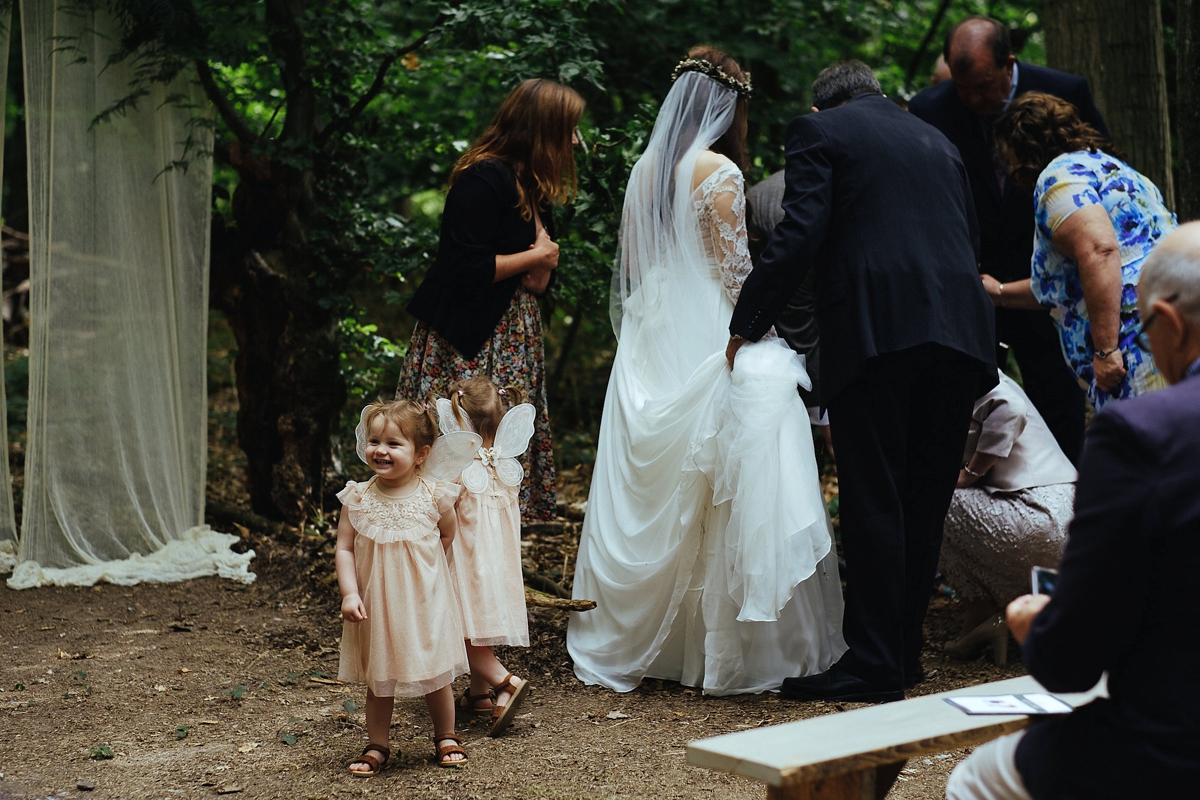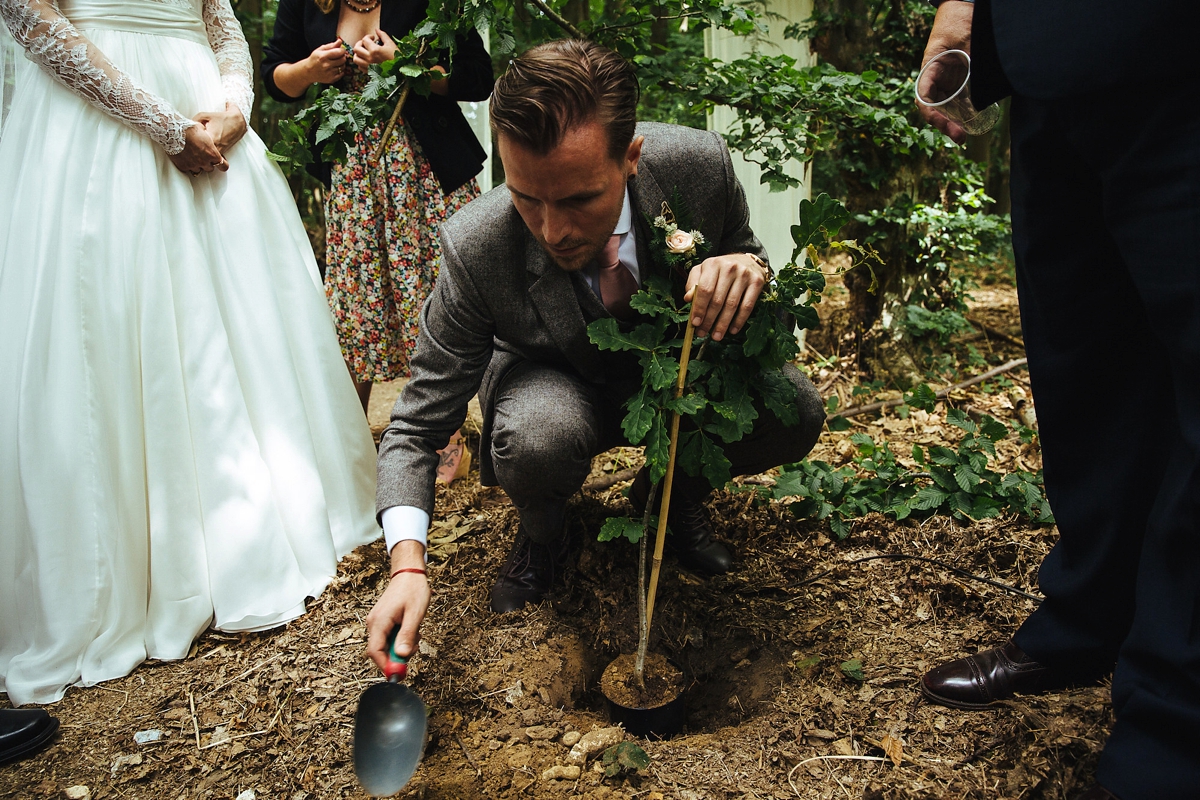 "Our ceremony readings included 'A lovely Love Story', by Edward Monkton, read by Ben's sisters. Then we also had our friend read the start of the lyrics to Florence and The Machine's song, 'You've Got the Love' – the actual song for which played us through to the end of the ceremony. We had everyone singalong to Queen's 'Don't stop me now' at the beginning!"
"Our photographer was Lyndsey Goddard, who was assisted by her husband Steve on the day. Lyndsey was incredible. So much fun, yet discreet and just captured all the moments and emotion of the day."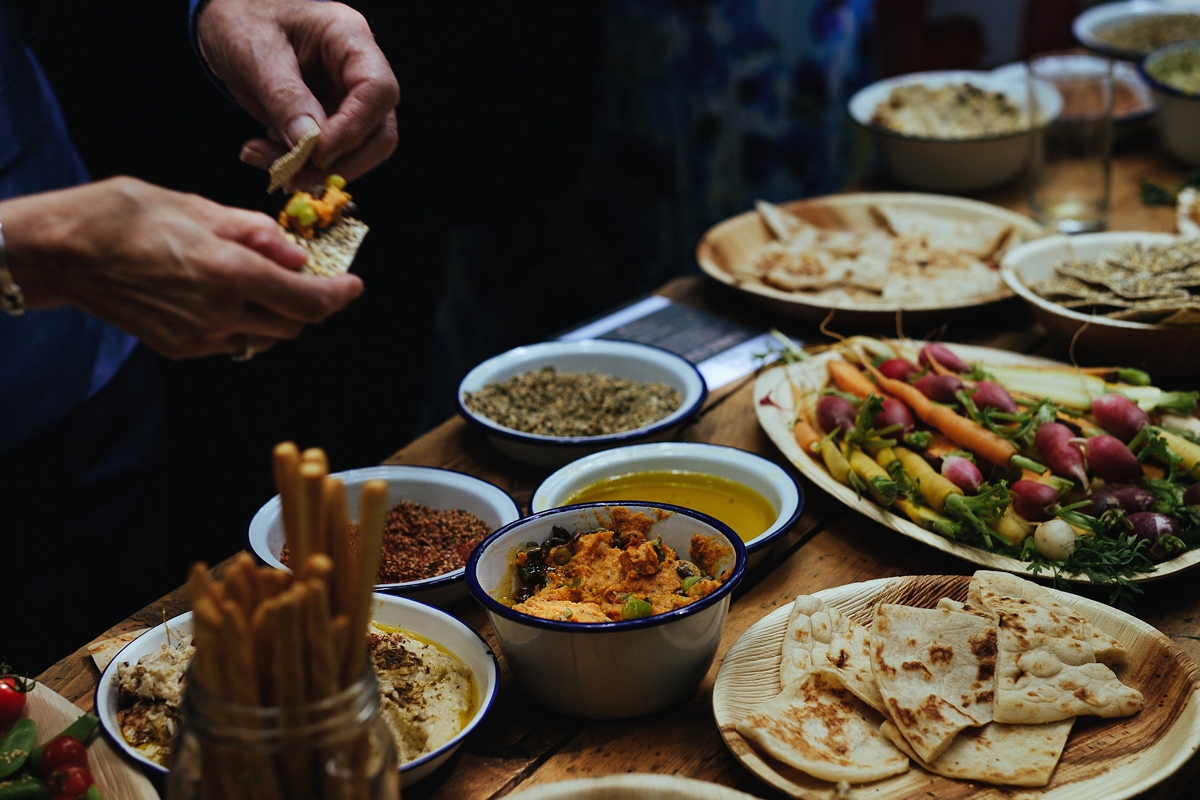 The couple hired caterer Sarah Cotterill of The Little Cooking Pot to provide a vegan, Sri Lankan buffet and hummus station. They also had a vegan Mexican jackfruit burritos and tofish tacos served to guests. It looks utterly delicious.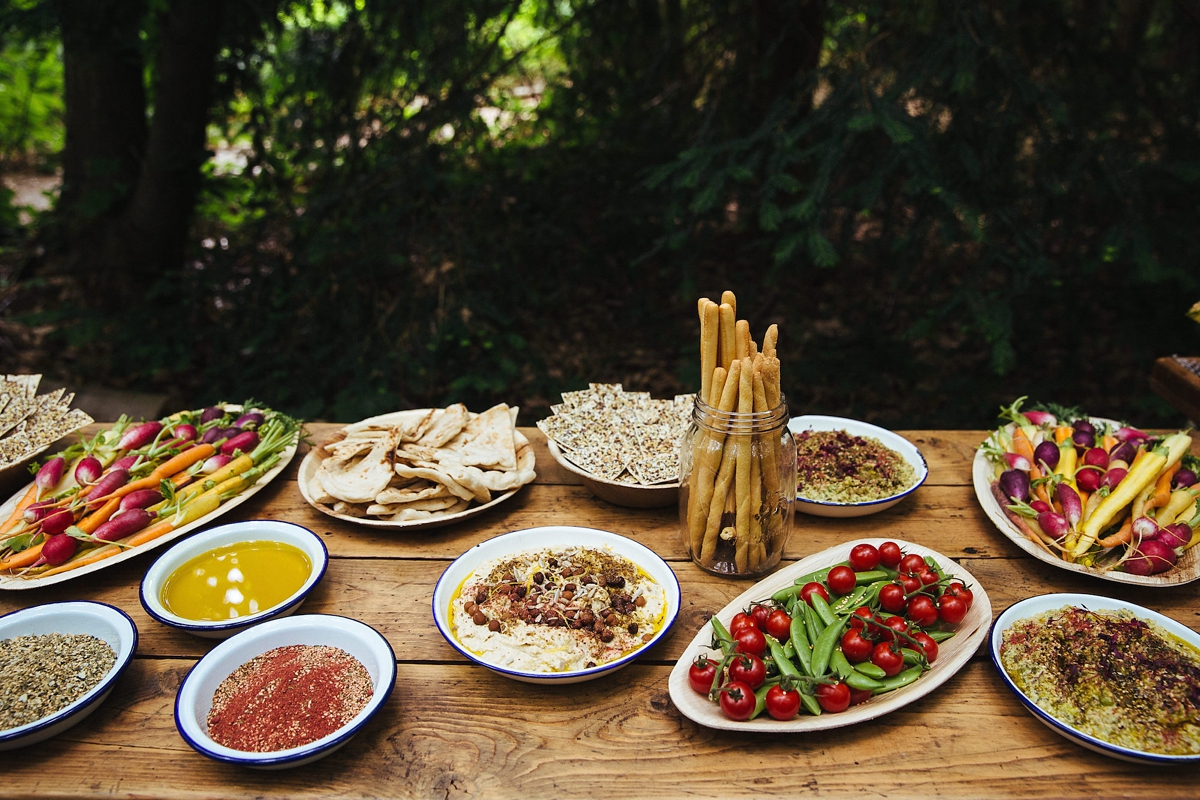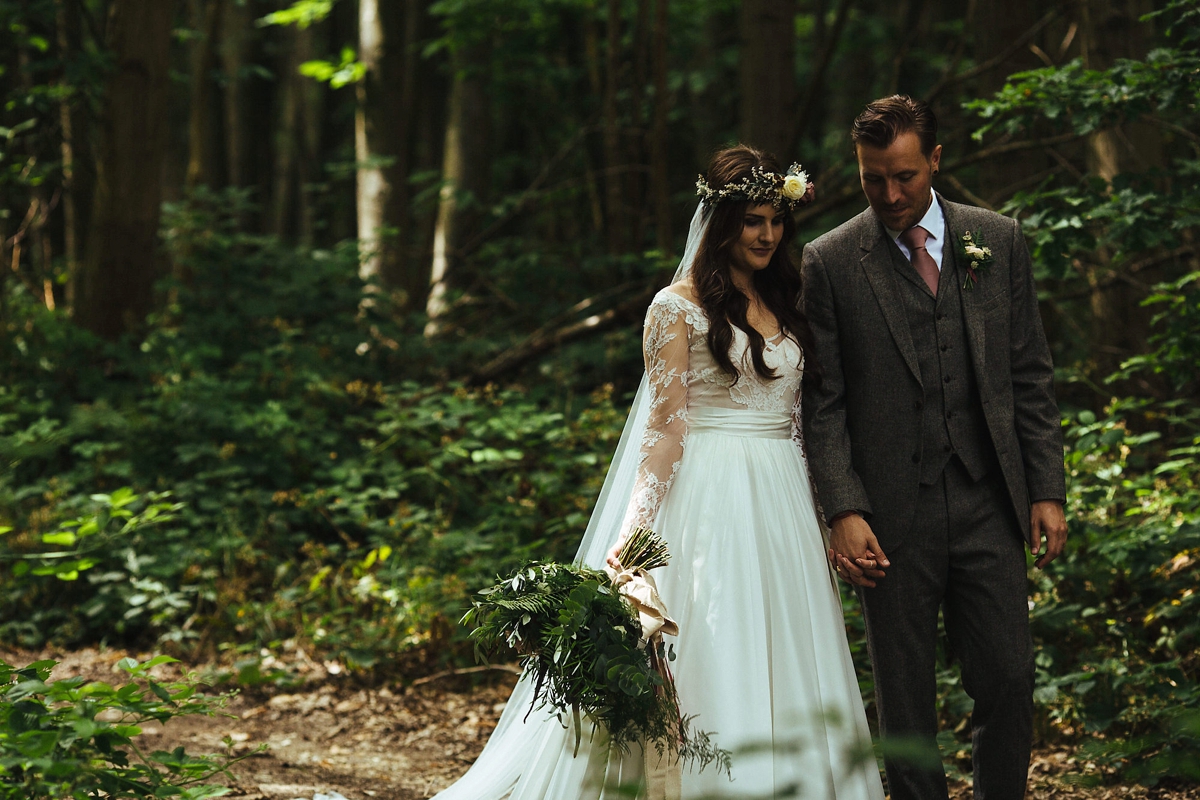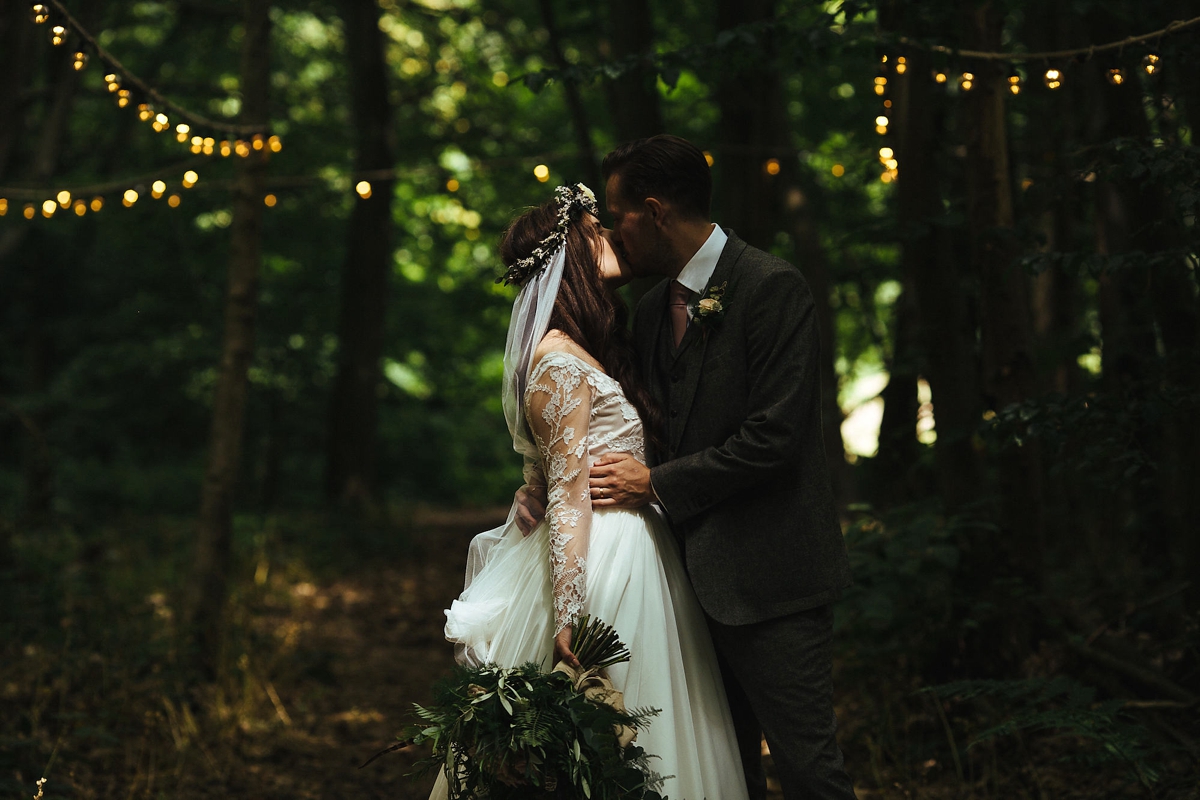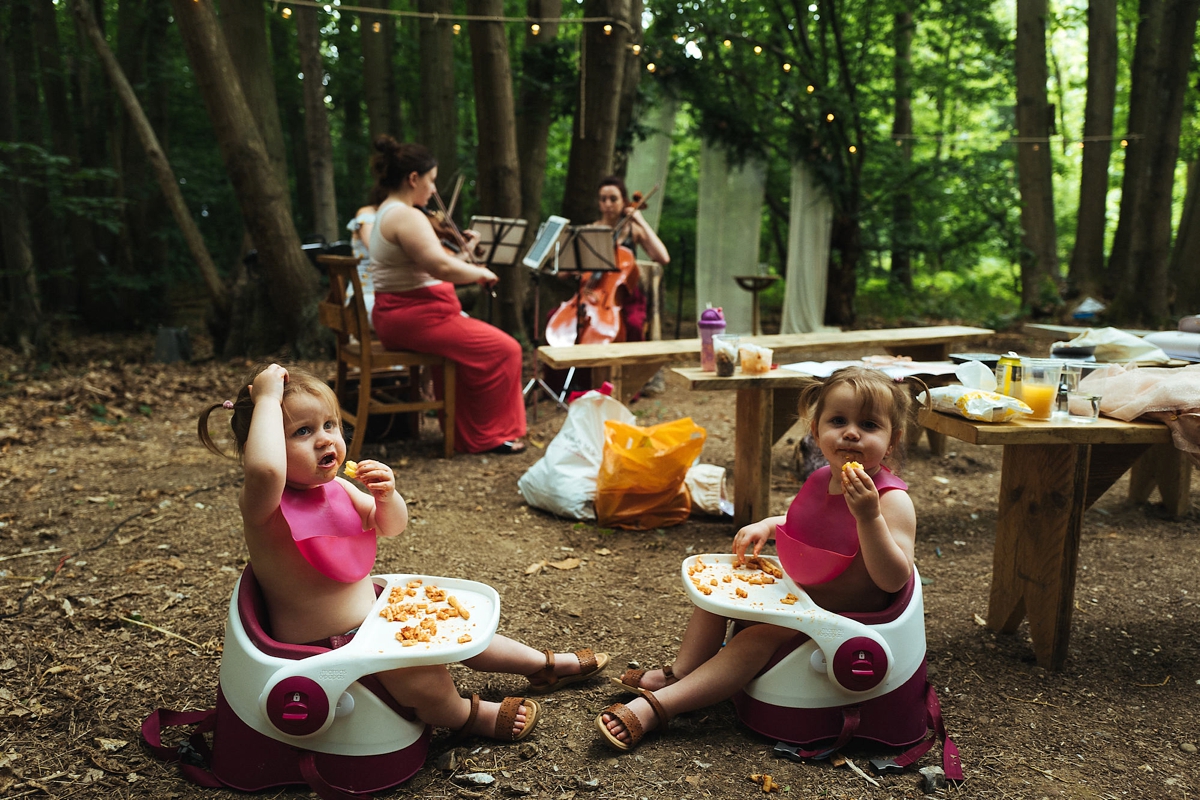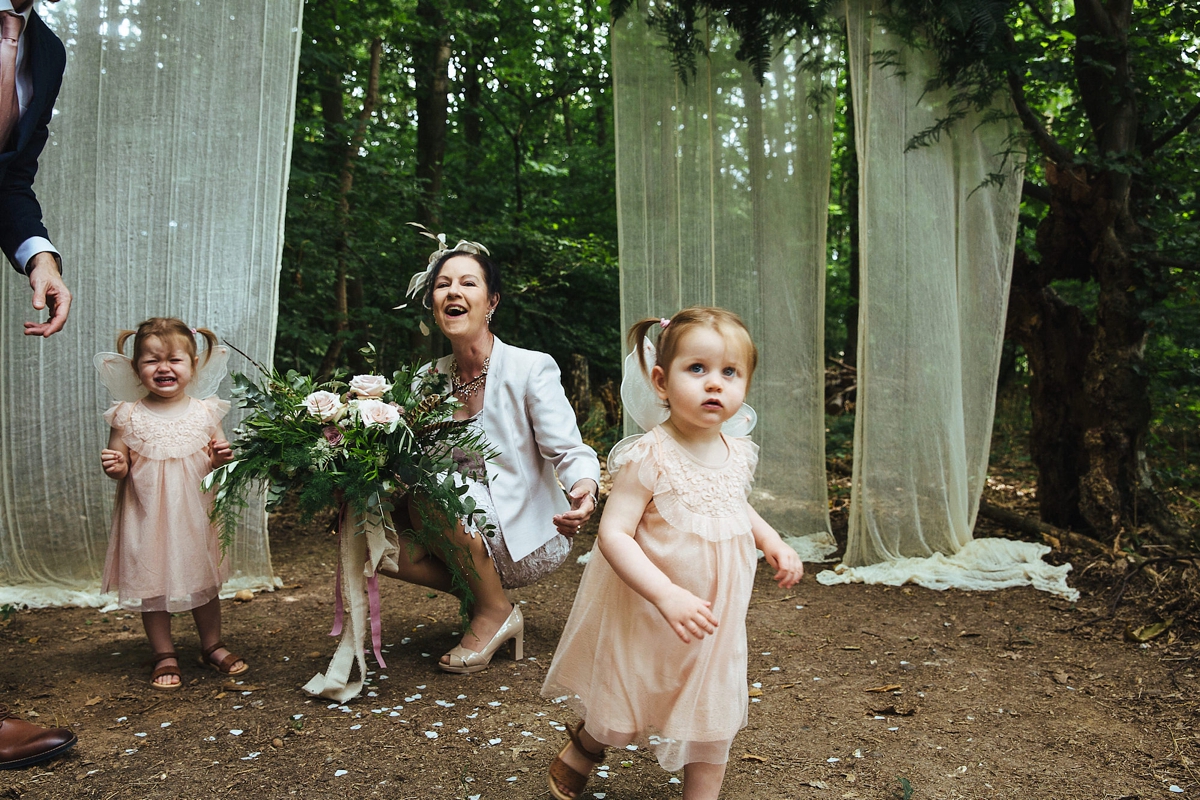 Emily's beautiful horse Zac made a special appearance at the wedding, how wonderful and what a beautiful image below. Are you planning on including your pets in anyway on your wedding day?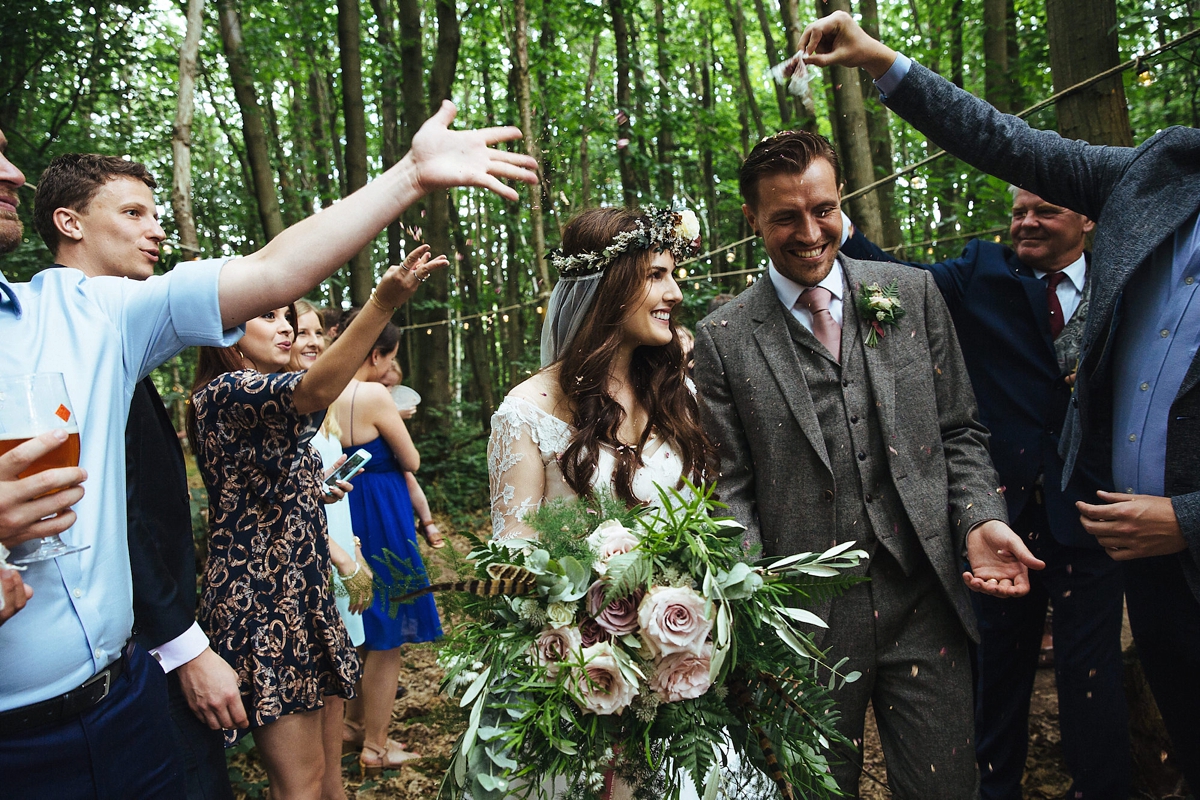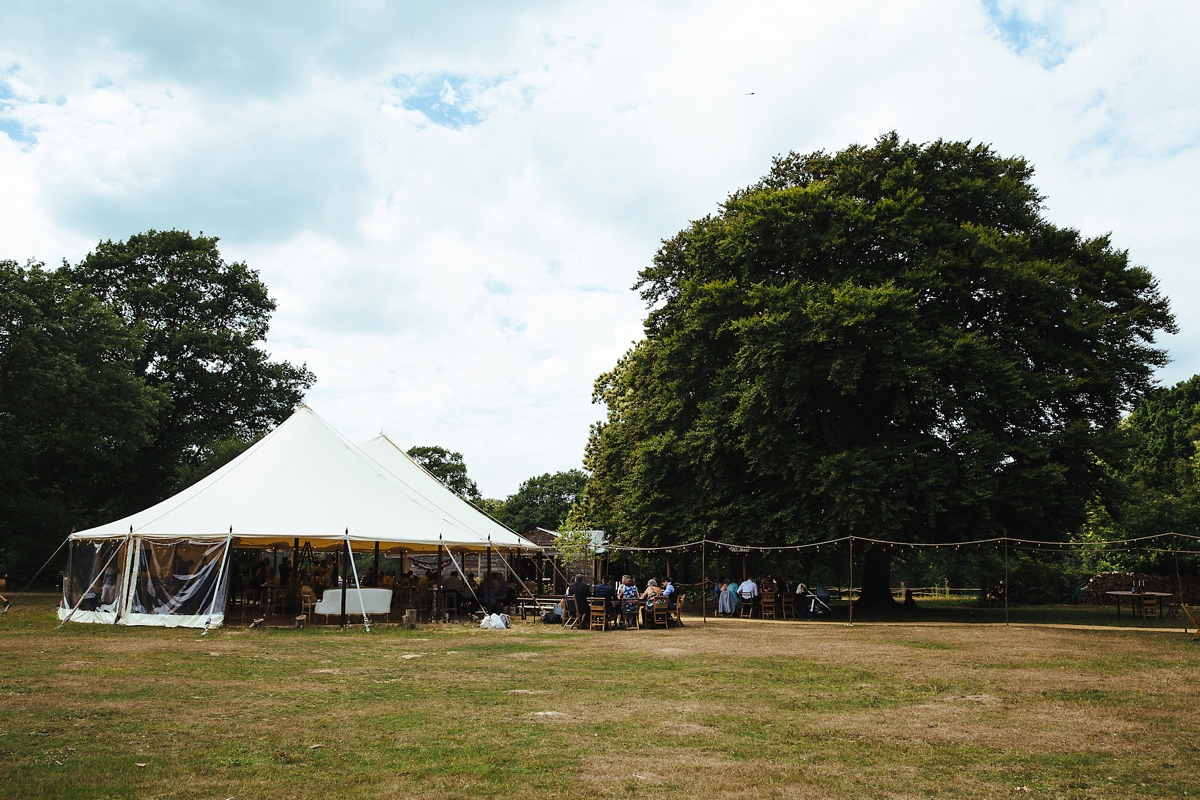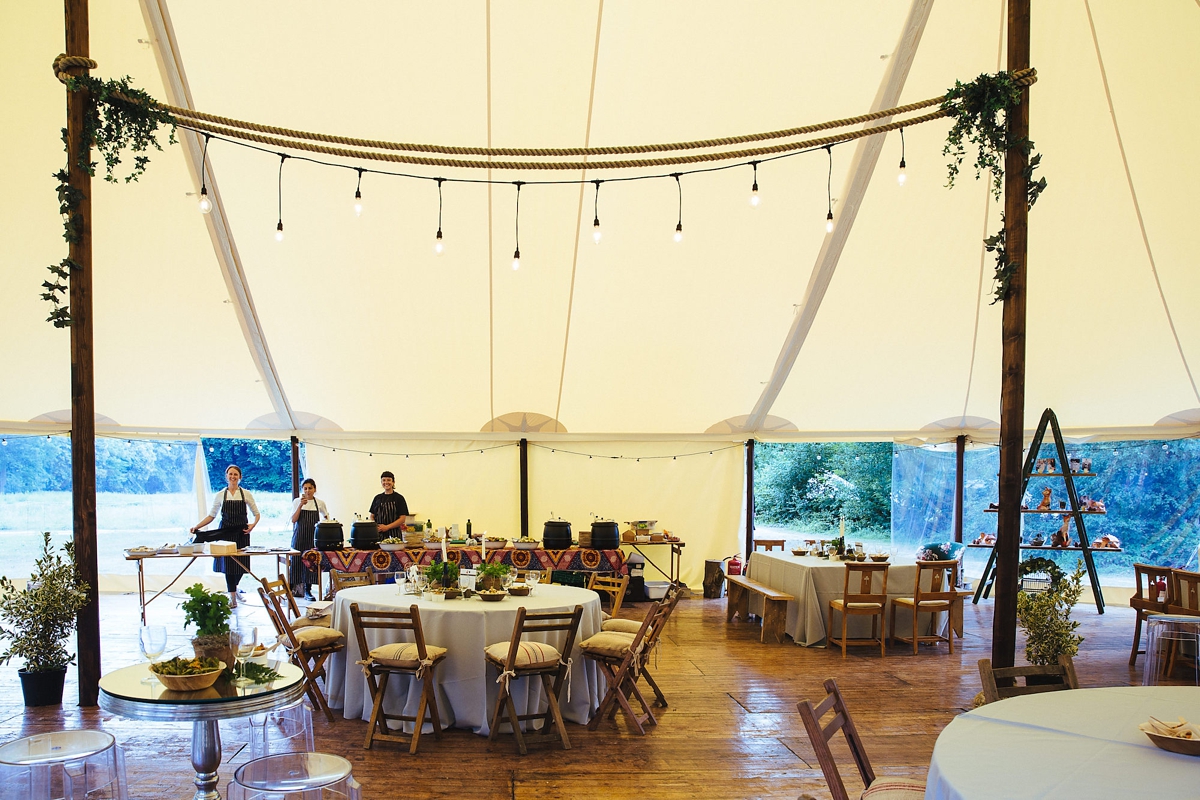 The woodland and nature inspired decor was a handmade labour of love for Emily.
"I made animal masks and sprayed them in copper. We also had handmade origami birds and terraniums hanging from a tree. We draped muslin cloth from the ceremony archway and used Coriander plants on the table for people to add to their food."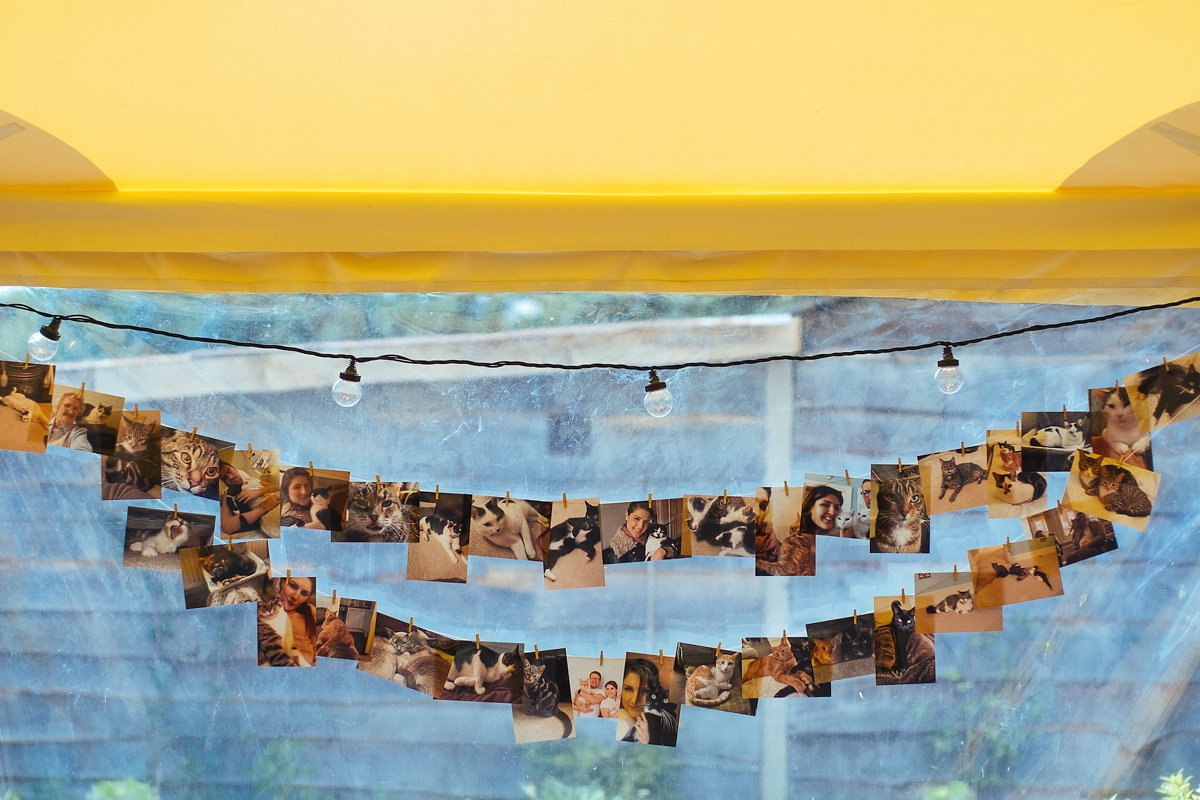 The couple provided dinky terraniums with succulents as favours, which also looked beautiful as table decor.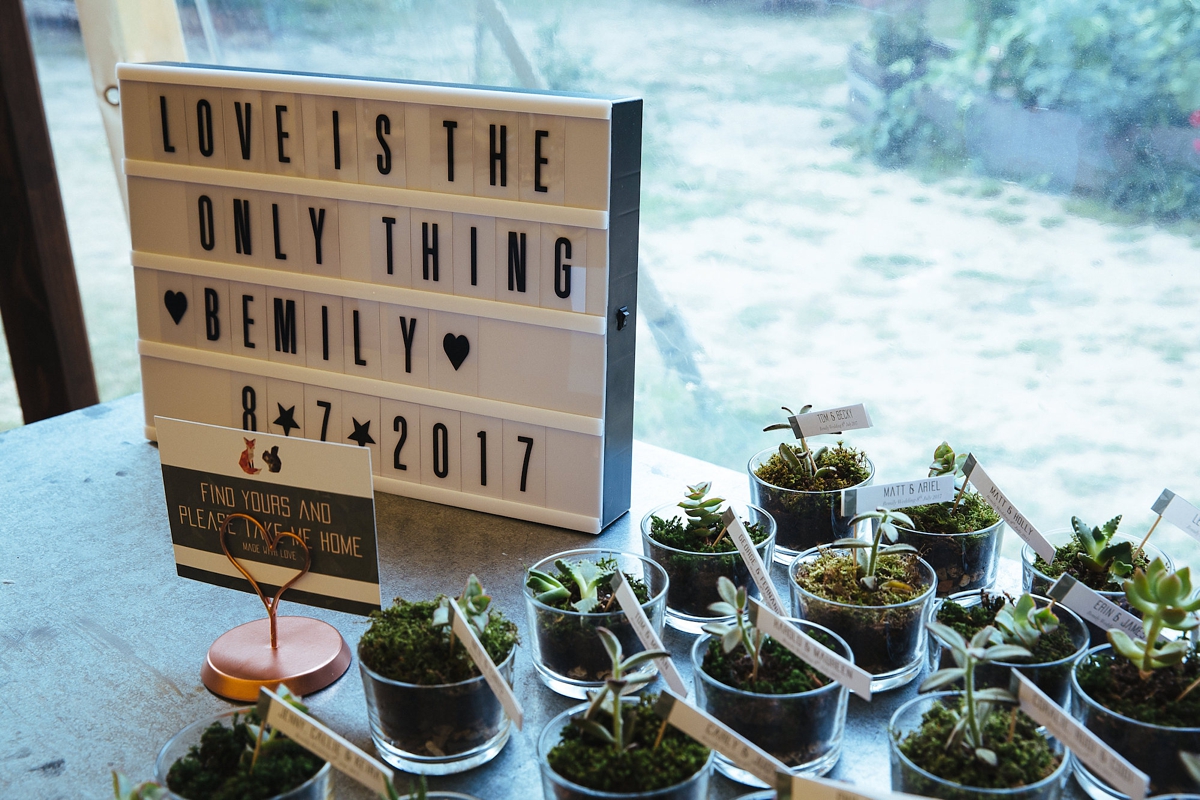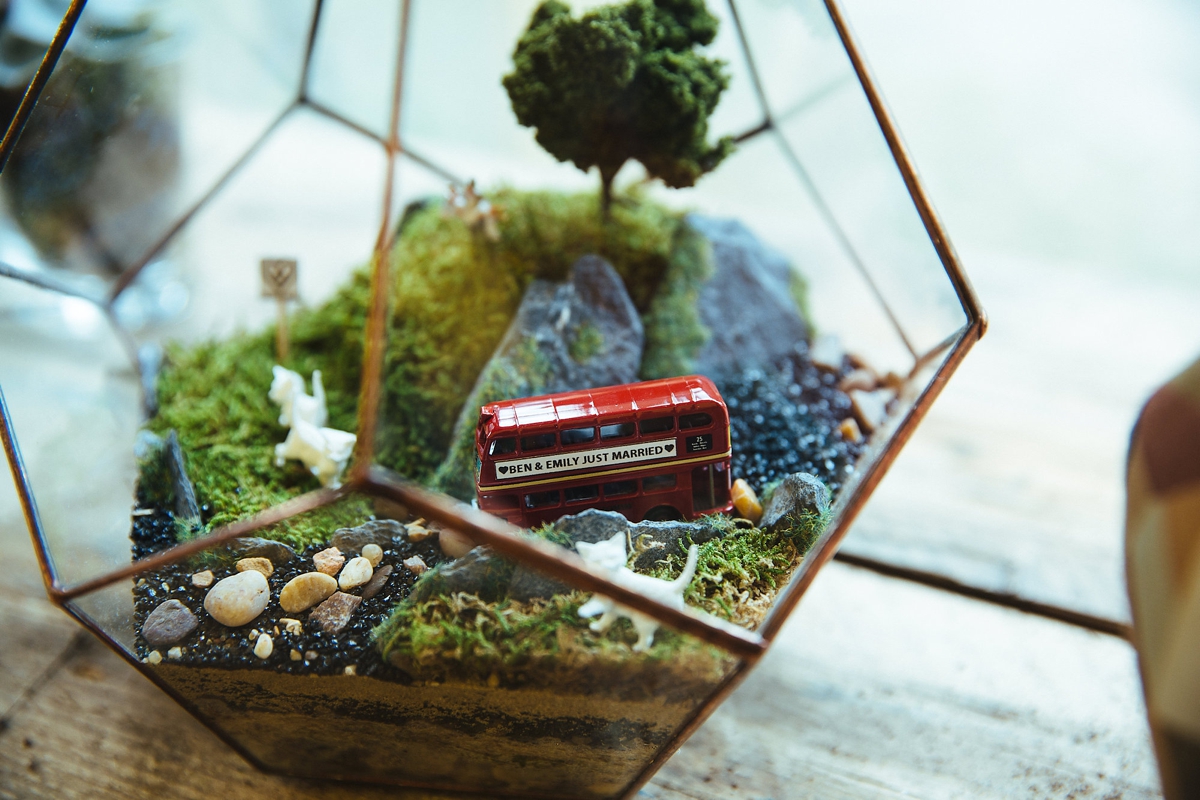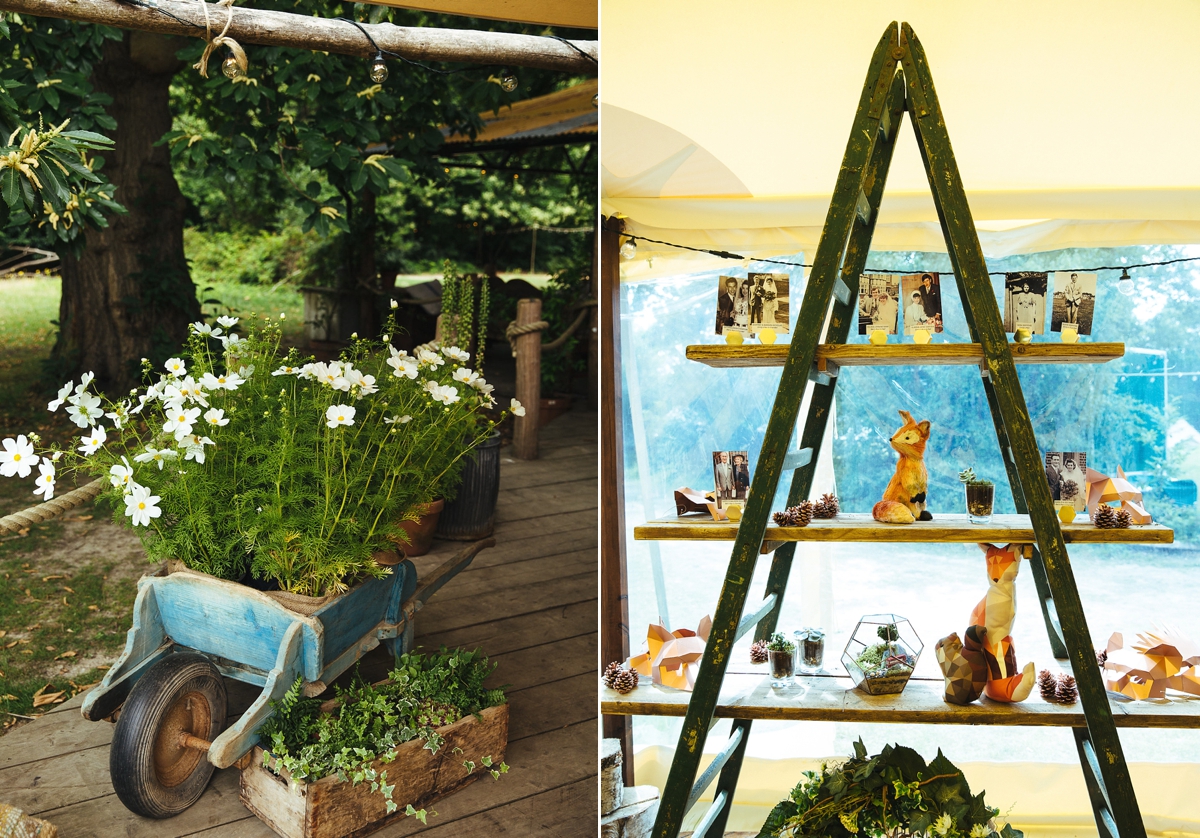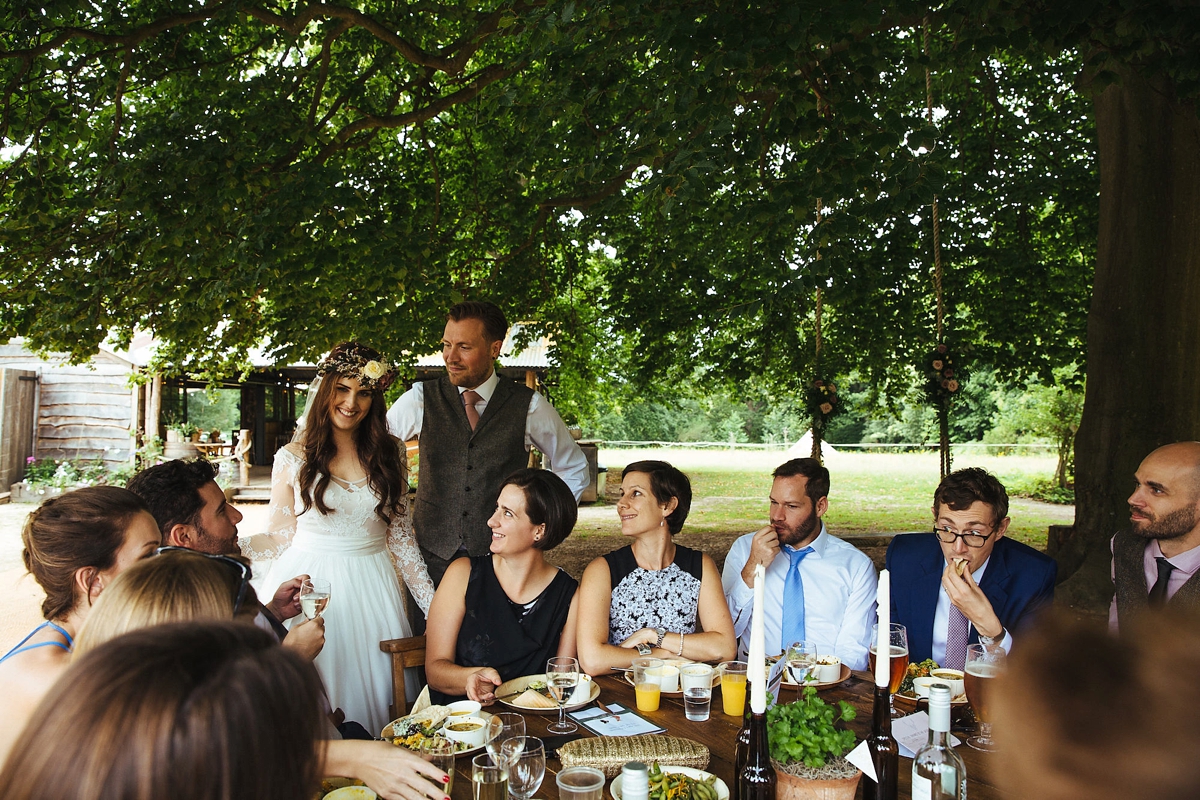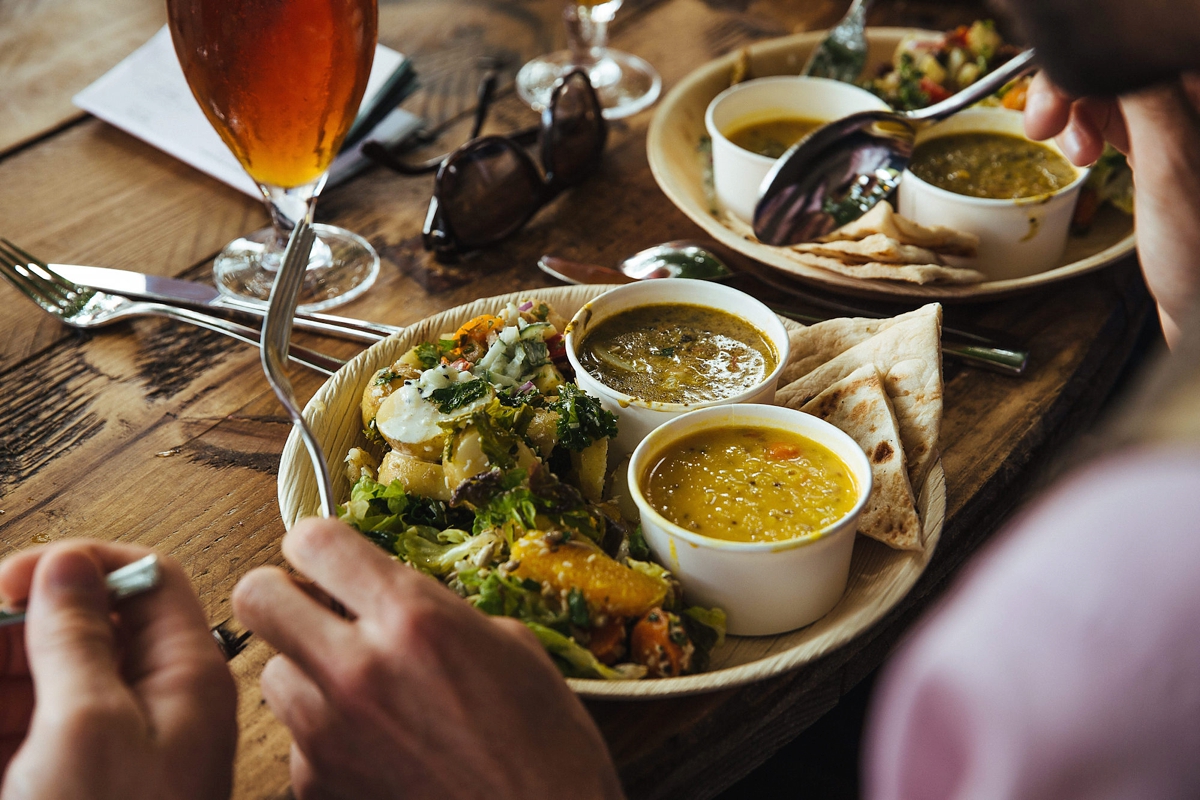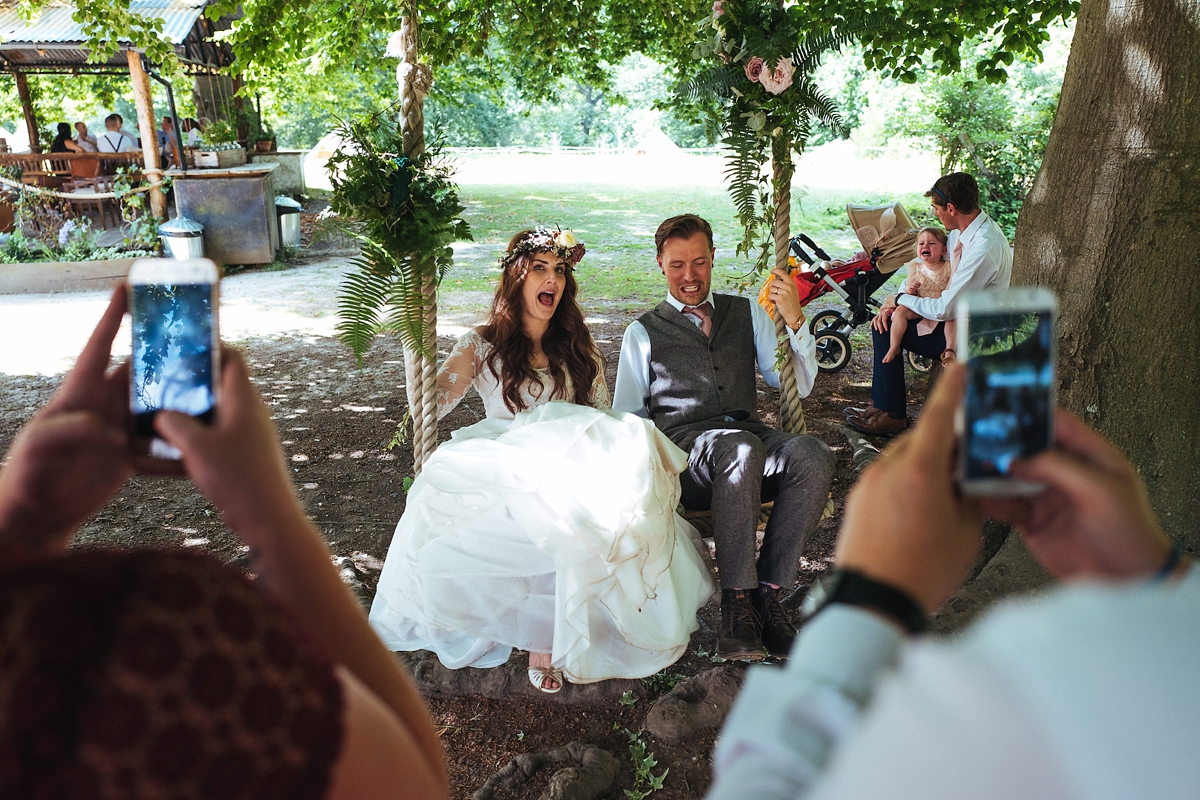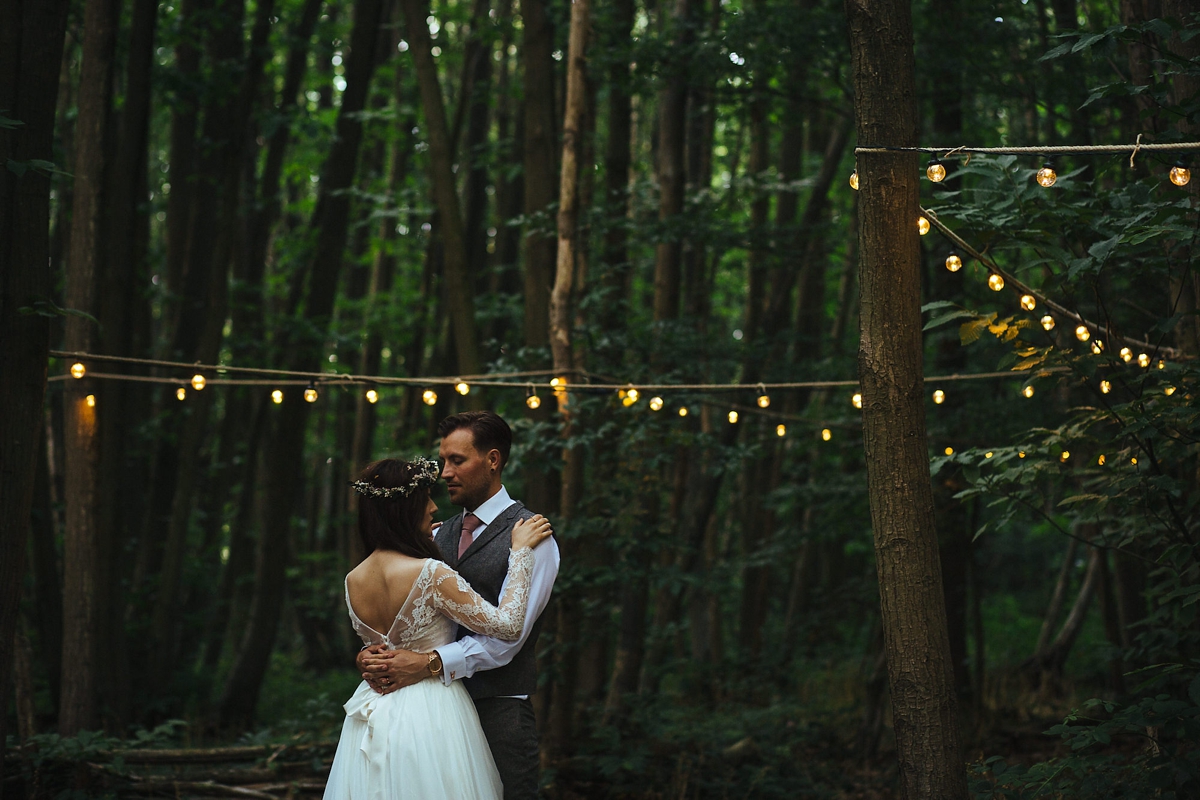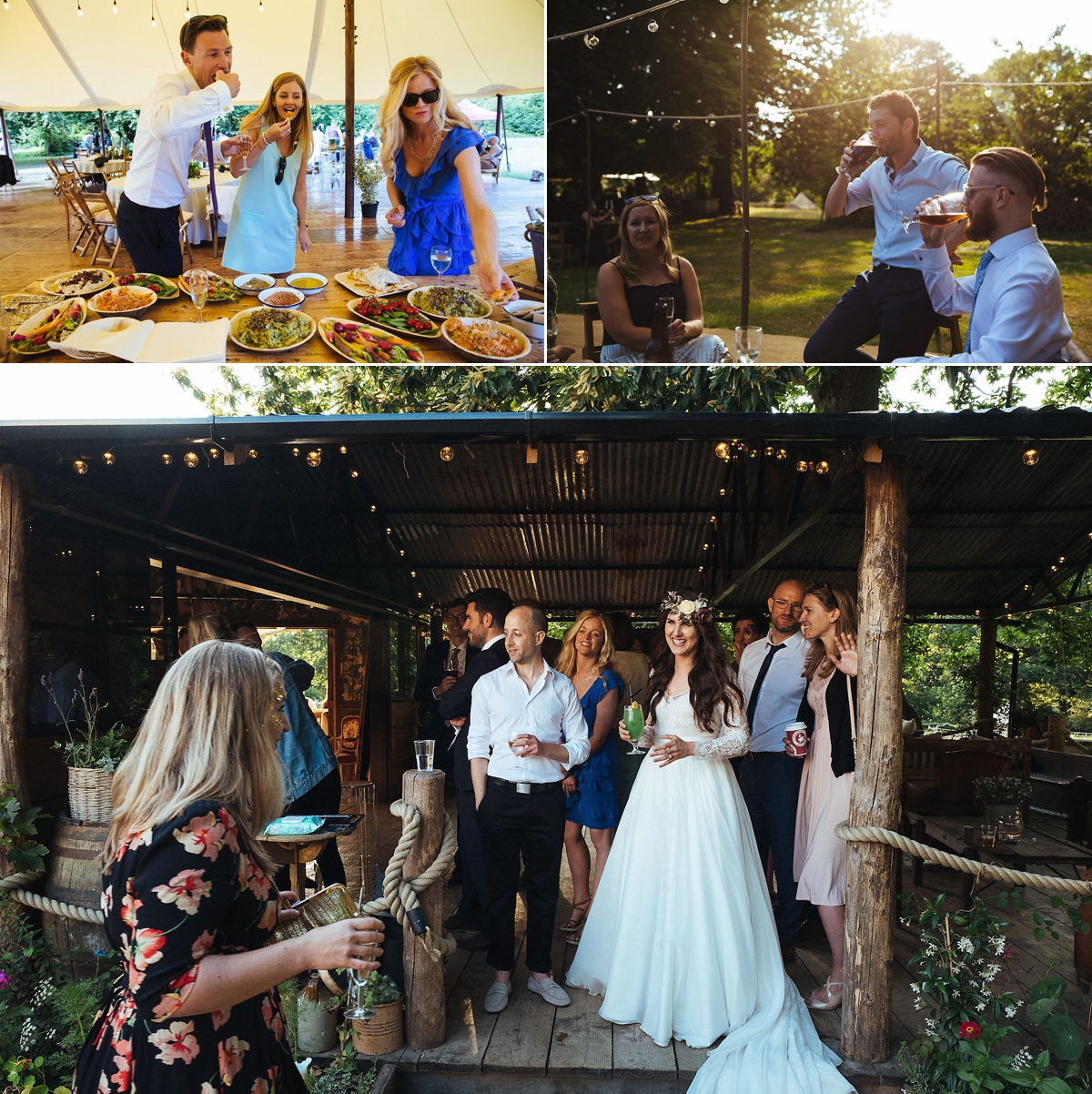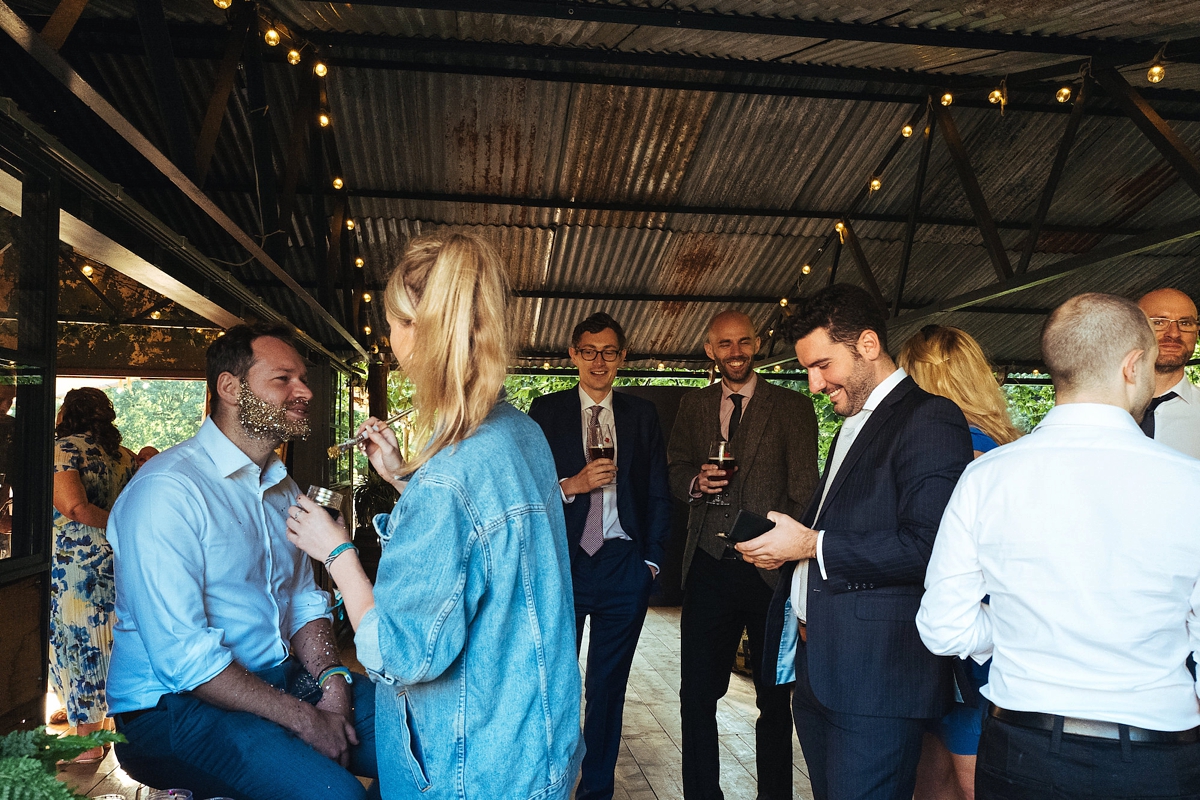 Emily and Ben's first dance was to popular favourite 'I Will Wait', by Mumford and Sons. Will you be choosing a song to dance to on your wedding day?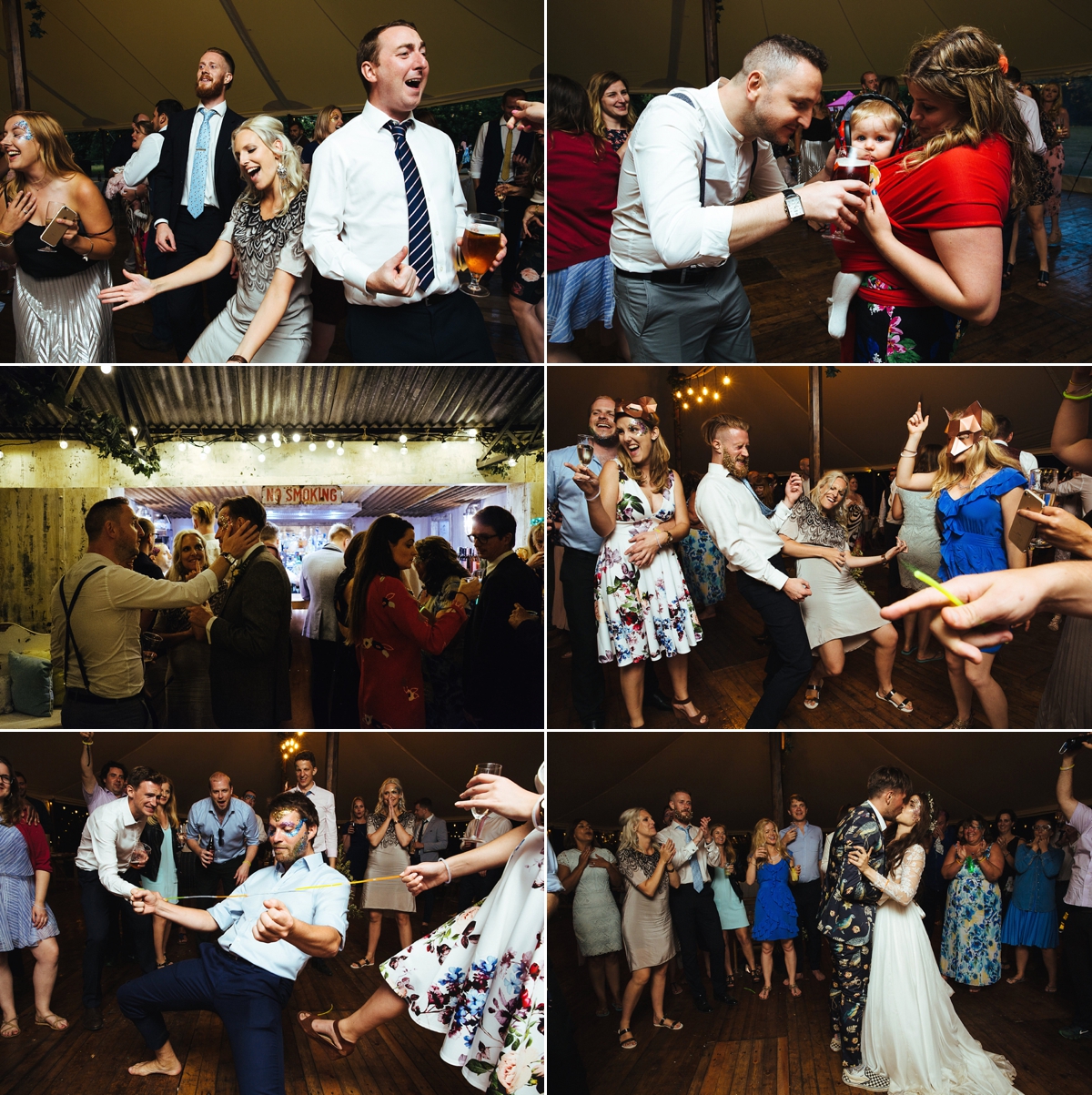 Words of Wedded Wisdom
"Everyone will give you advice on how to be before the wedding day, but I found that there wasn't any right way to be, just do what comes naturally to you and it's totally OK to be stressed out. The other thing is to spend your money on the big things like the photographer and anything else that means a lot to you. Small details like jewellery and shoes aren't the things you are going to remember on the day unless you really care about that stuff."
"Instead of bridesmaids and groomsmen we gave people roles such as Wise Owl, Father Fox, Mother Hen and Mother Goose. It was great to involve lots of our friends in different ways and we wanted something that wasn't so traditional but more unique to us as a couple."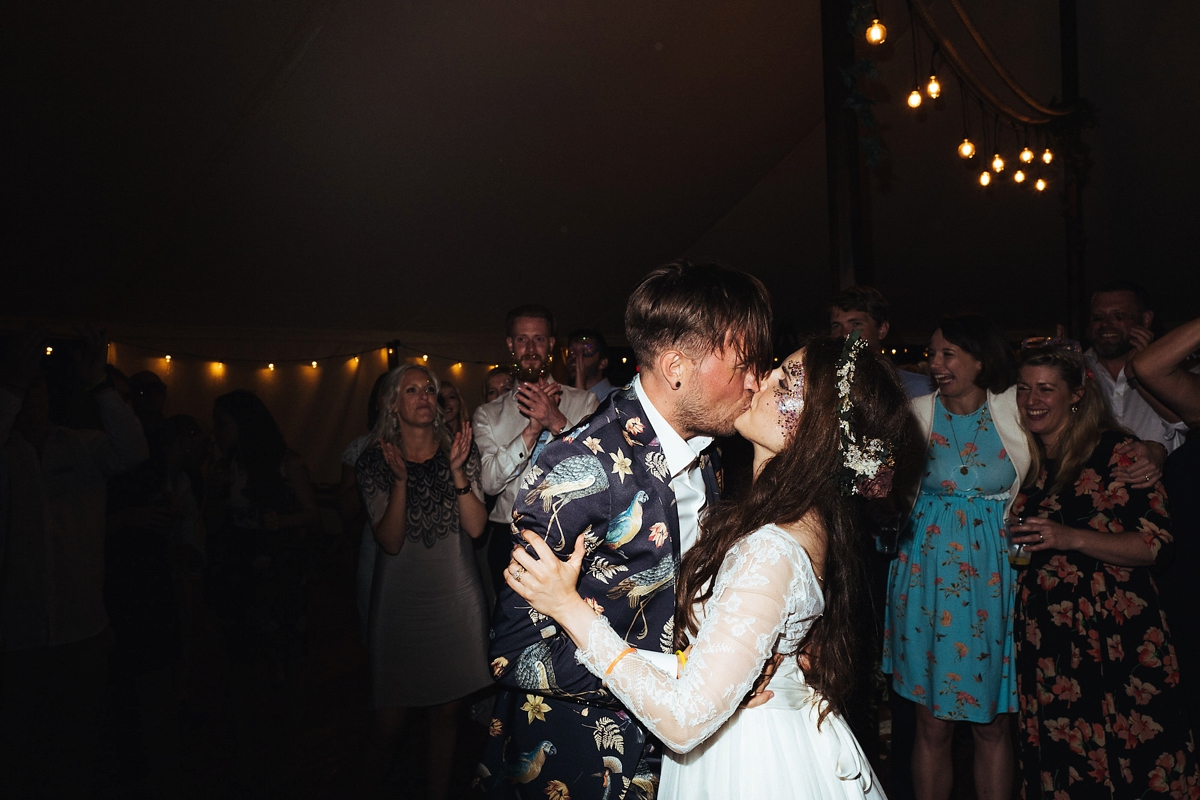 Love and congratulations to you Emily and Ben, it's such a huge pleasure to be able to share your wedding today – thank you ever so much. And readers, if woodland and forest weddings are your style, you can see plenty more of those here.
Have a lovely day everyone, now for that cake!
Annabel x