Ah spring. All delicate fresh green leaves and gentle sunshine. As the leaves start to turn golden and red, with a long winter stretching before us, next spring seems such a long time away. Today's wedding is a true celebration of an English spring in the countryside, and I hope you enjoy the lovely hand-made touches as much as I have.
Mr & Mrs F married on 22 April 2017 in a wedding inspired by spring in the English countryside. Following a church ceremony in St. Helen's Church, Oldcotes, Nottinghamshire, the newlyweds celebrated with a marquee reception in the bride's parents' garden.
"The inspiration for the day came from a more relaxed ͞English country garden theme with the beauty of spring just popping up at the right time. Our colour scheme was dusky pink and sage green with a flash of copper."
Photography by Folega Photography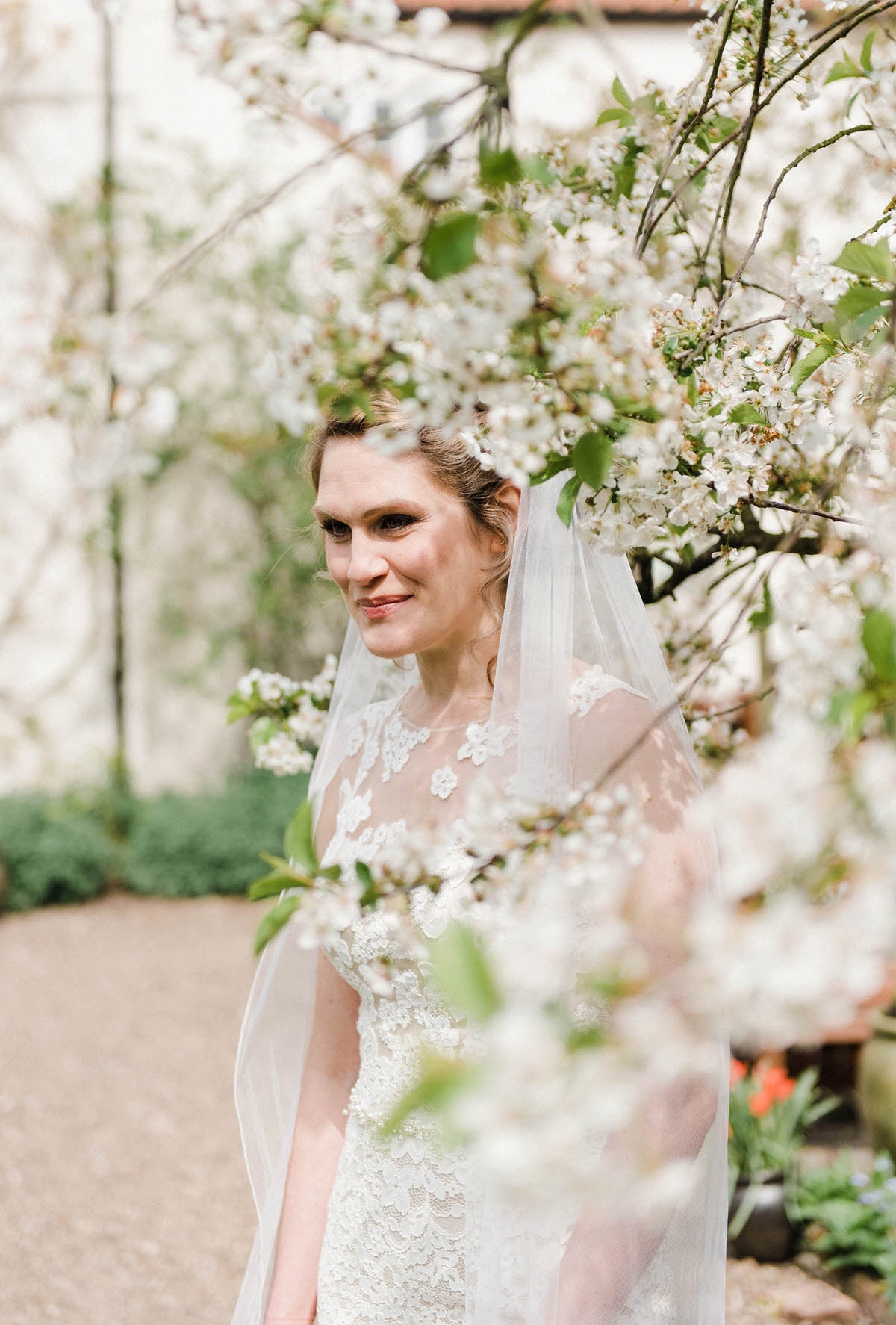 These wonderfully creative, light-filled photographs are by Sarah of Folega Photography, who we are very proud to list on our wedding supplier directory Little Book for Brides. The couple chose Sarah for her relaxed and imaginative style, and she really has captured both the joy and laid-back atmosphere and the beautiful Nottinghamshire garden and church.
"Sarah has a fantastic eye for the more artistic and personal approach to a wedding photo. We had seen her website and felt it really stood out from other photographers with the less formal photos and her ability to capture the moments and take in the atmosphere in a more authentic manner. In particular, using more interesting angles of the various venues and subjects."
The beautiful bride wore a fitted gown from the Papillon collection by Dutch designer Modeca. The garden theme of the wedding is reflected in such a beautiful way with the delicate flowers embroidered all over the bodice and skirt.
"I was keen to wear something that wasn't too fussy and felt comfortable to wear for a long day and night. I didn't go with any fixed ideas in mind and the shop manager was a great help and picked things that she felt would suit me. I ended up with a dress that I would never have picked off the shelf myself."
Mrs F added a breath-taking handmade cathedral-length veil, borrowed from her sister. Its simple design sets off the gown's embroidery so well. Later in the day, she removed her veil to show off her handmade silk flower LAmei hair accessory. Shoes were found at one of our favourites on Love My Dress and Little Book for Brides, Rachel Simpson.
Always elegant with a subtle vintage feel, Mrs F loved how comfortable her pair of 'Eva' shoes were. She also wore a gold bracelet borrowed from her mum and diamond and blue stone earrings which she has owned for many years.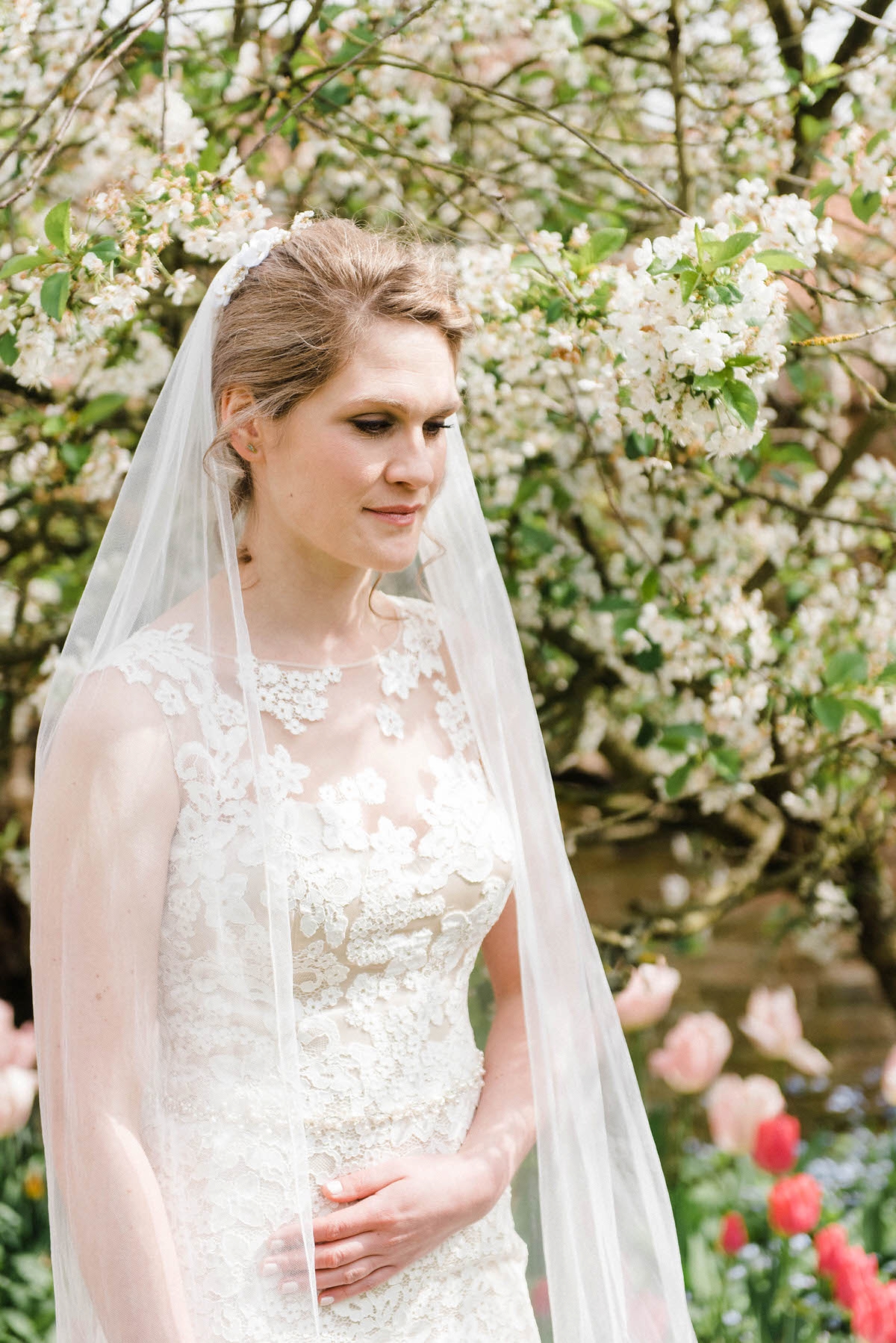 I'm a real devotee of plaits, and Mrs F's beautiful braid is so pretty and relaxed. She chose a local hairdresser, Boons of Retford, to style her hair but created her fresh, natural make-up herself, using Lancôme products.
The bridesmaids wore multi-way knee-length gowns in a warm blush pink, looking elegant and suitably spring-like. The bride found these online at Etsy shop Stitchawayrose.
They were paired with nude satin peep toe slingbacks from Dorothy Perkins, and they carried lovely fresh bouquets in shades of cream and pink.
The wedding flowers were put together by Ranskill florist Flowers by Kay. I love their proper English countryside feel – they mirror the Nottinghamshire countryside in a really lovely way.
"Kay has a very diverse portfolio of wedding flowers and was really receptive to what we wanted. The flowers on the day far surpassed our expectations and we had multiple compliments; also she sources her flowers from the UK. We had informal large bunches of wild flowers with peonies and eucalyptus as centre pieces with hand-tied bouquets for the bride and bridesmaids."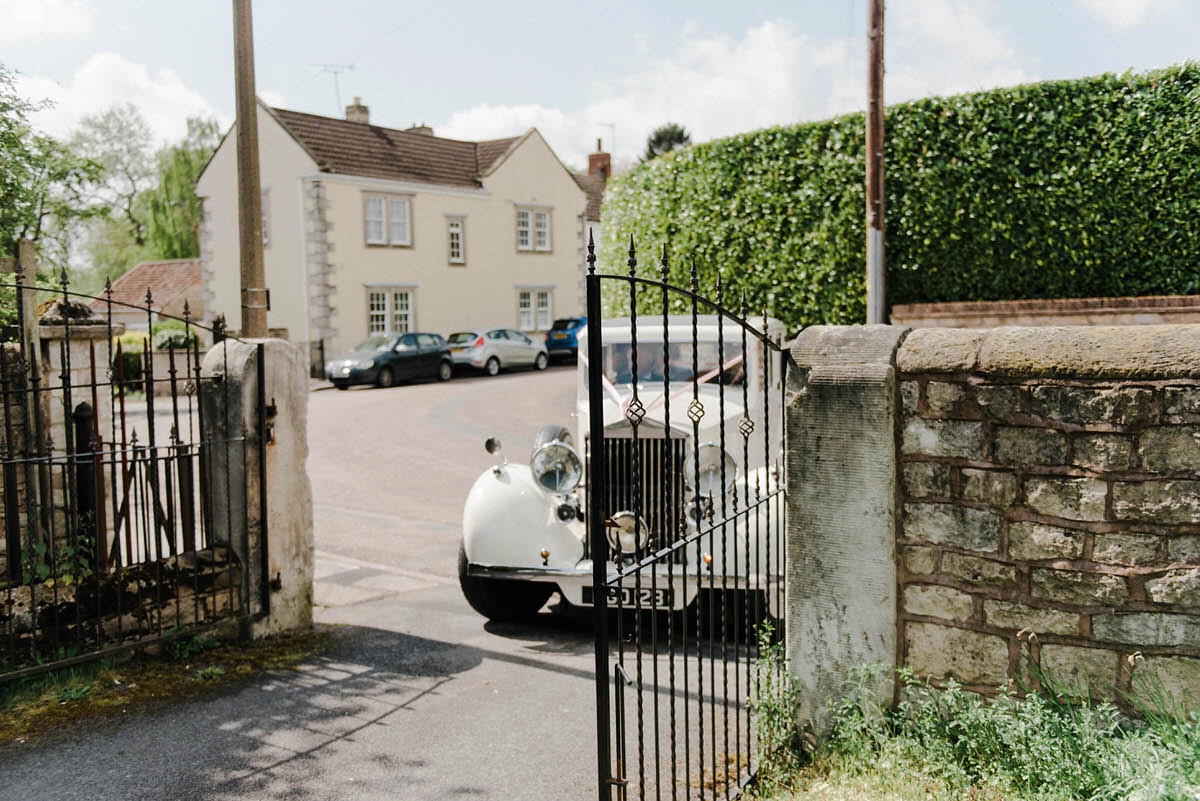 The bride and her father travelled to St. Helen's Church in a majestic Rolls Royce Silver Wraith, before walking down the aisle together to Pachelbel's 'Canon in D'.
The couple were engaged for eleven months before marrying.
"We met whilst both living in Newcastle at a night called the Boiler Shop Steamer where once a month various restaurants and local breweries and pubs come together in an old warehouse with live music and various hawker stalls are pitched. We were engaged after two years in Italy."
The groom looked smart in a dark grey Marks and Spencer suit, styled with Barker shoes, Gant socks and a soft pink tie. The couple chose their own bidding prayers and readings – selecting a religious reading and a contemporary piece.
"We had one biblical reading from the book of Solomon and then a contemporary reading by James Kavanaugh – 'To Love is Not to Possess'."
After the ceremony the couple left the church as the organ played a version of 'All you Need is Love' by The Beatles – it must have sounded so joyful in the church.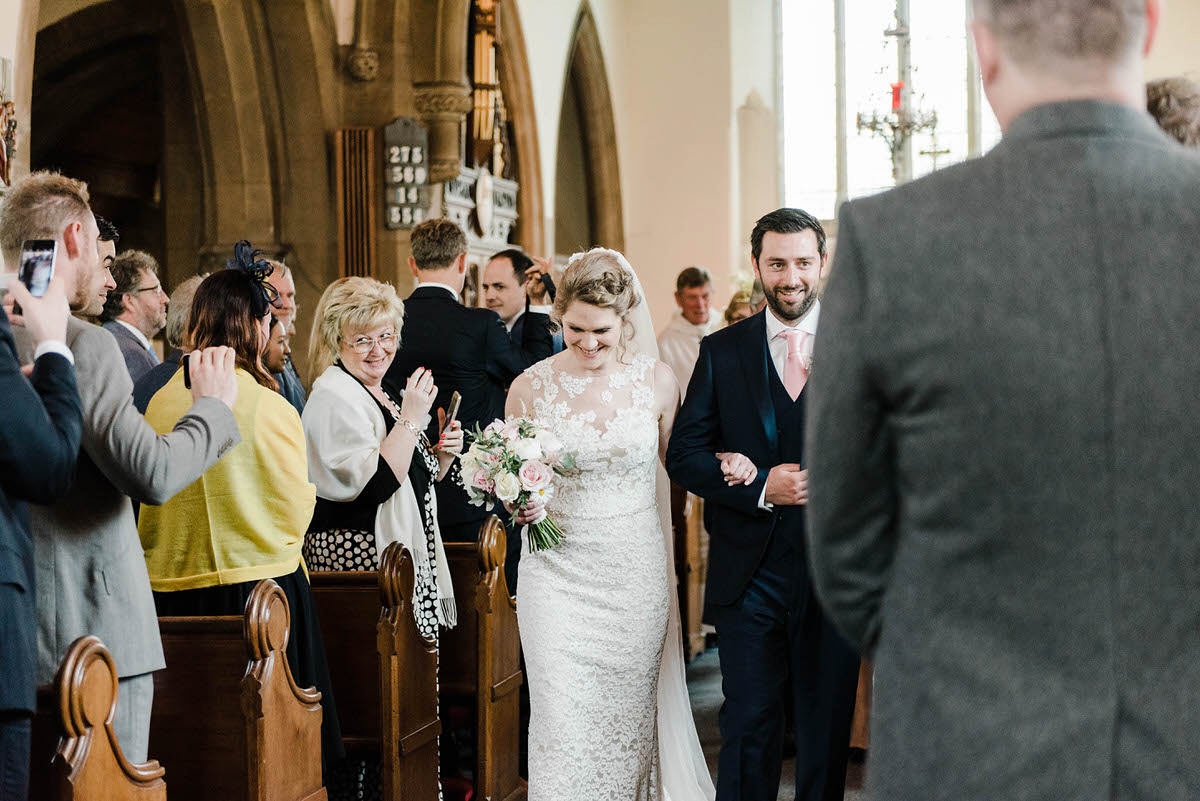 The newlyweds were so lucky to have a fine spring day, which allowed their guests to relax and spend time outside. On arrival, they had a mini afternoon tea, and later on sat down to a three-course dinner, provided by catering company The Cat's Whiskers. The lovely cake was the work of the mother-in-law of Mrs F's elder sister.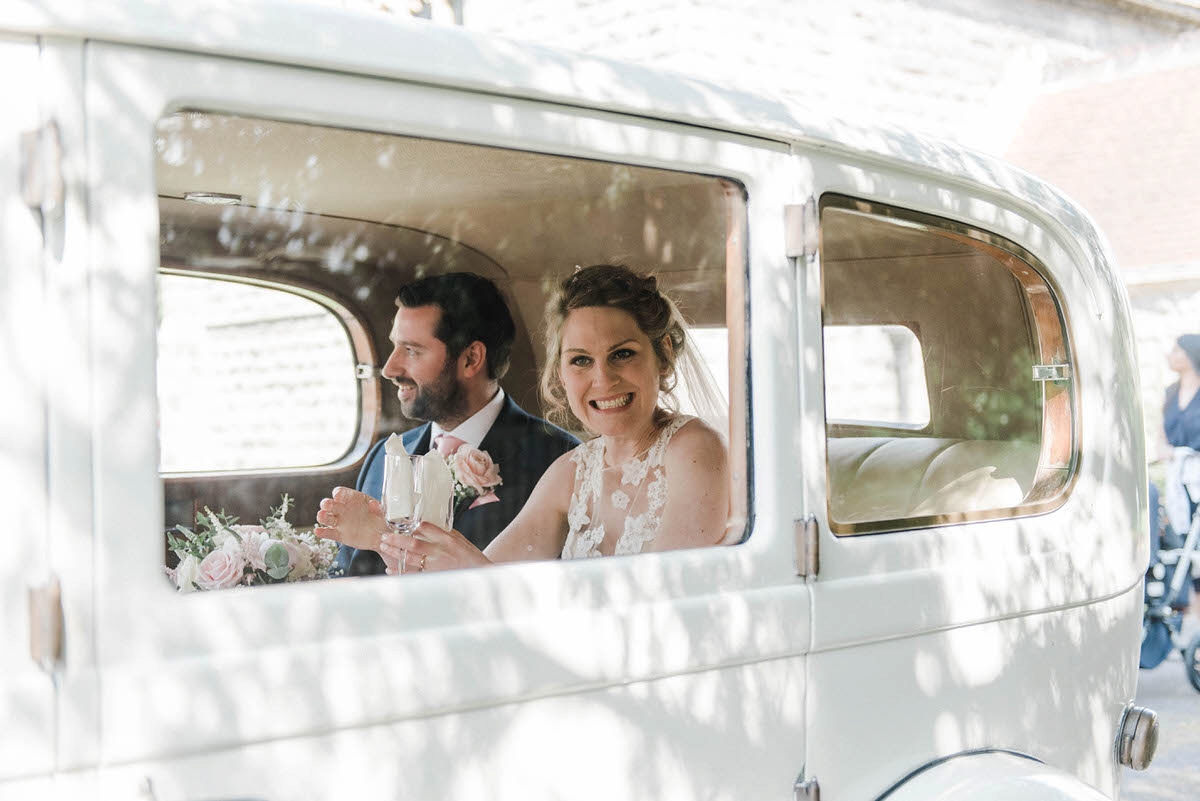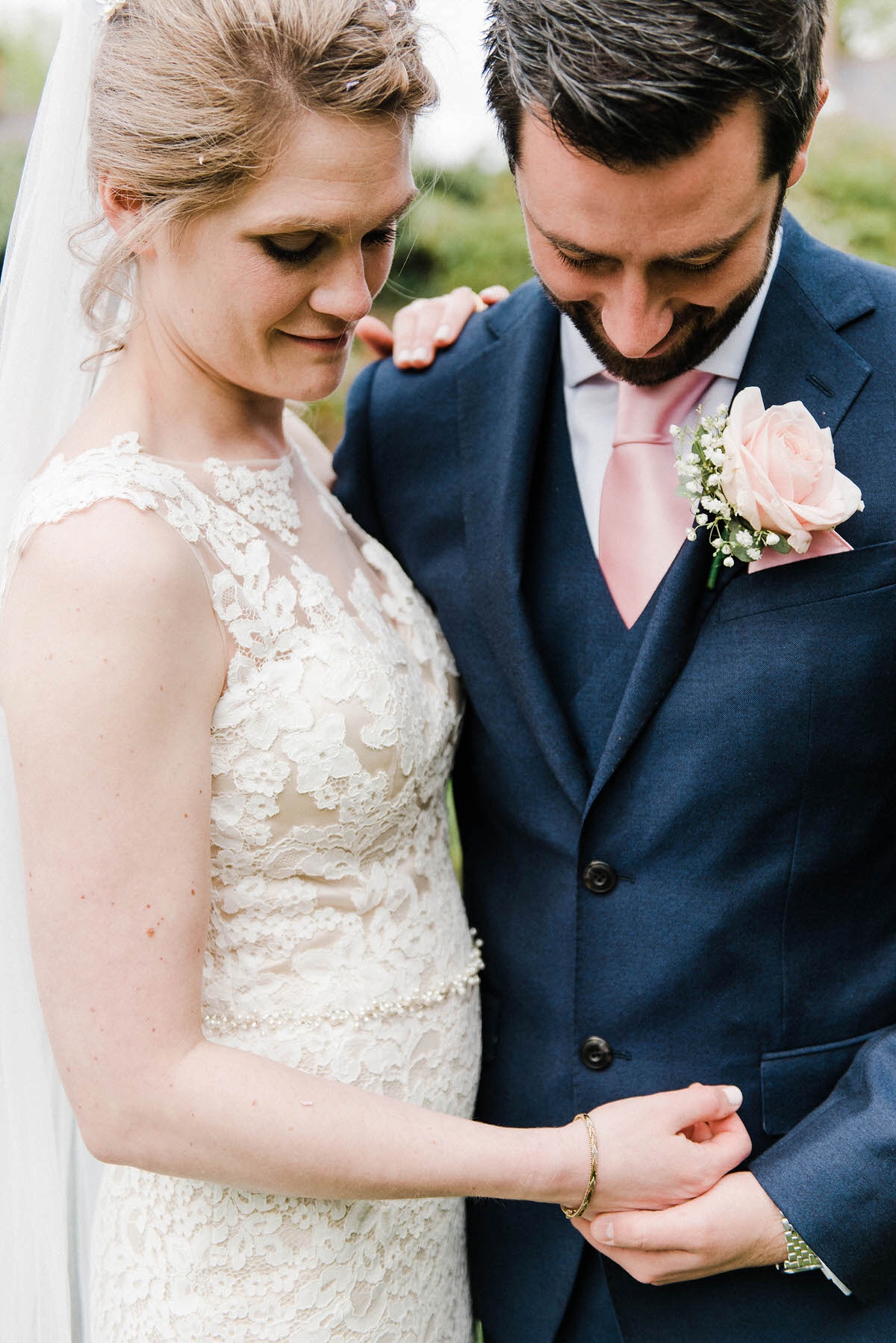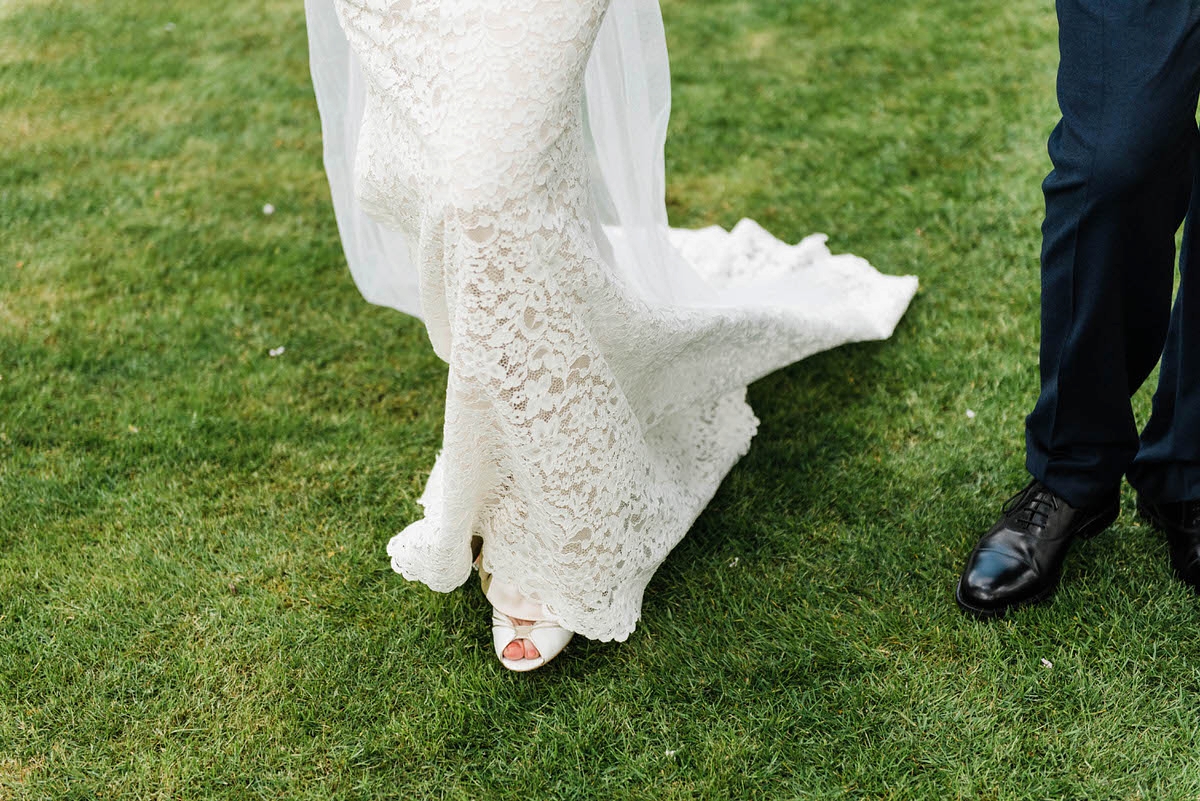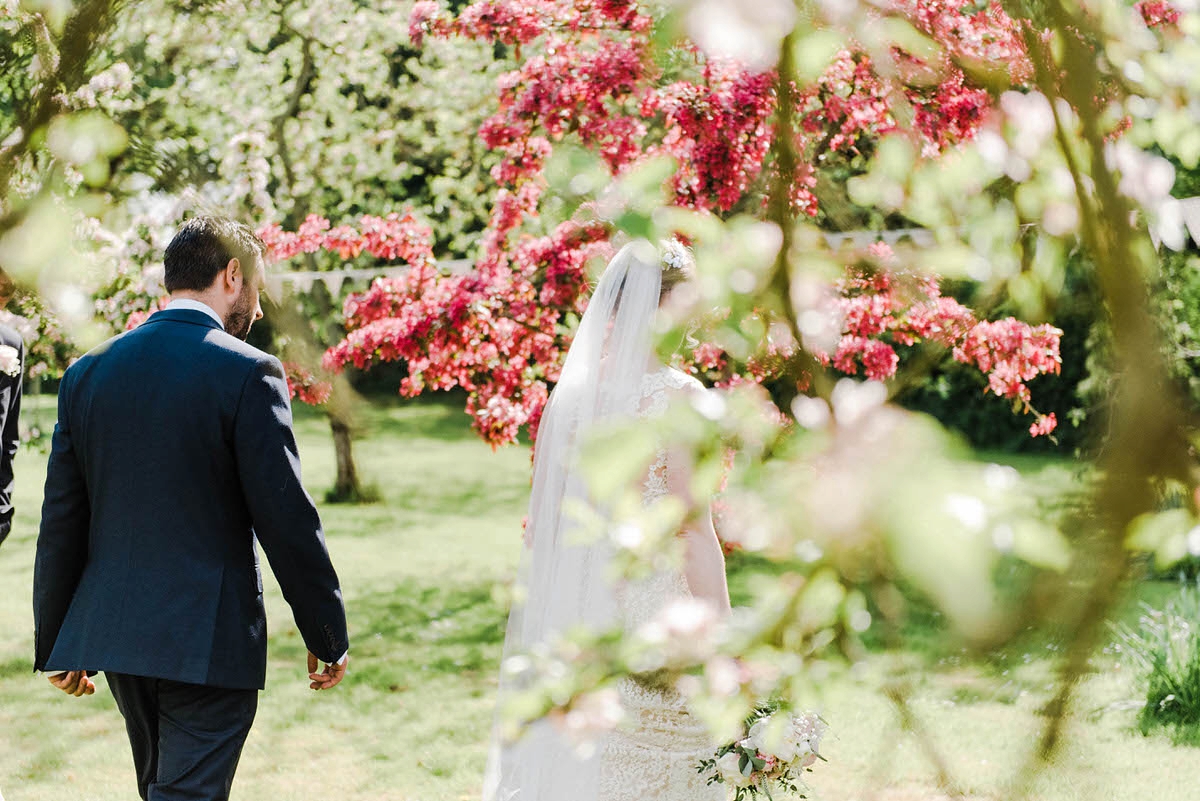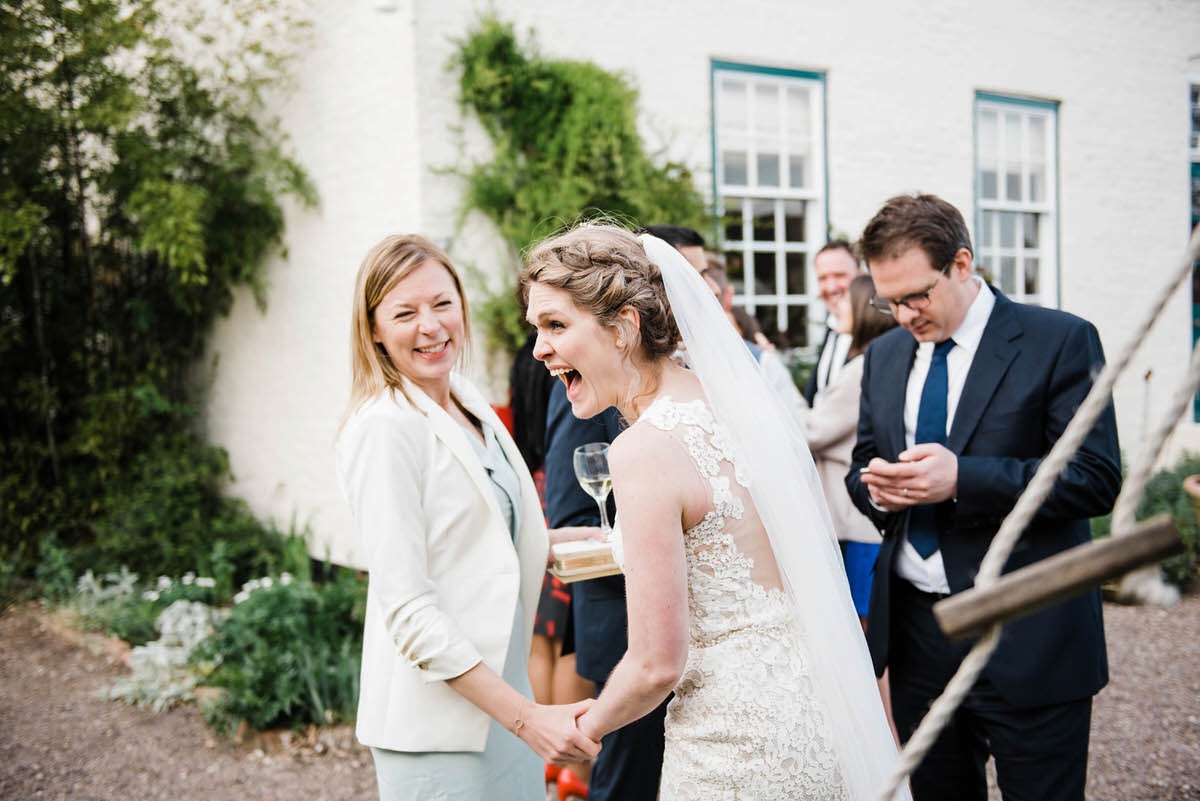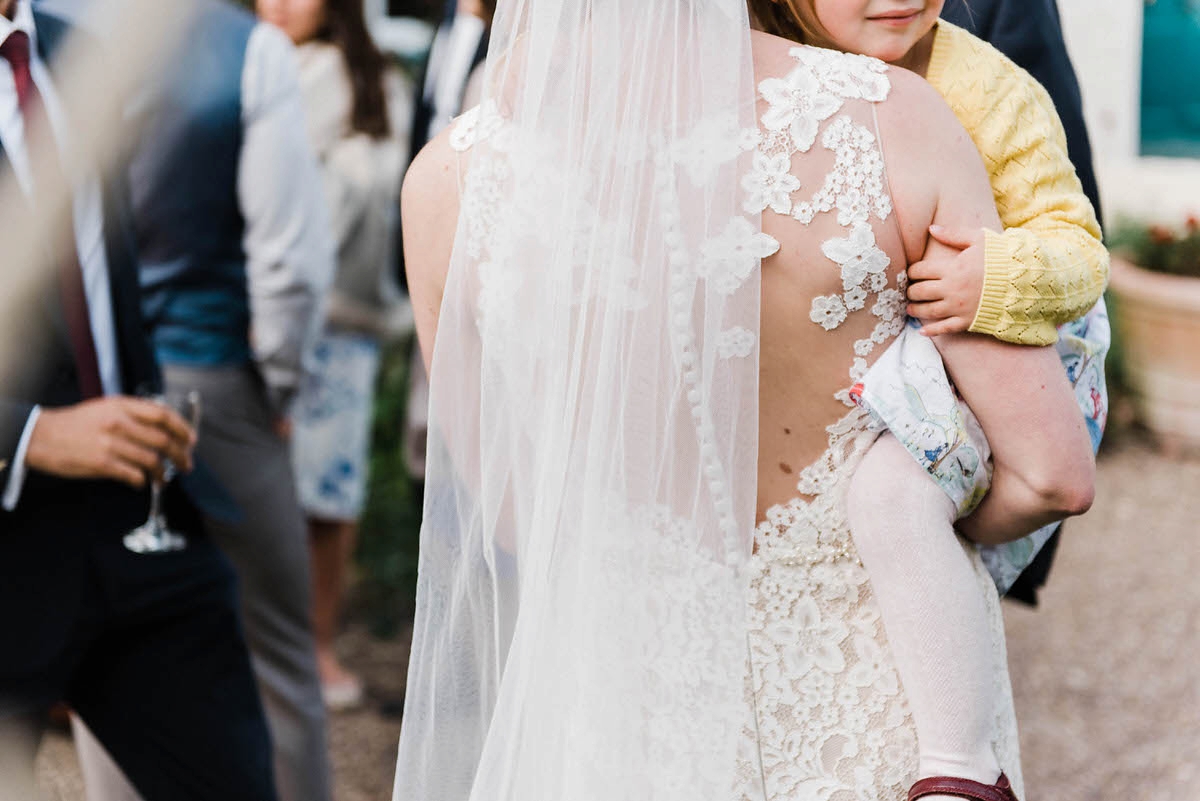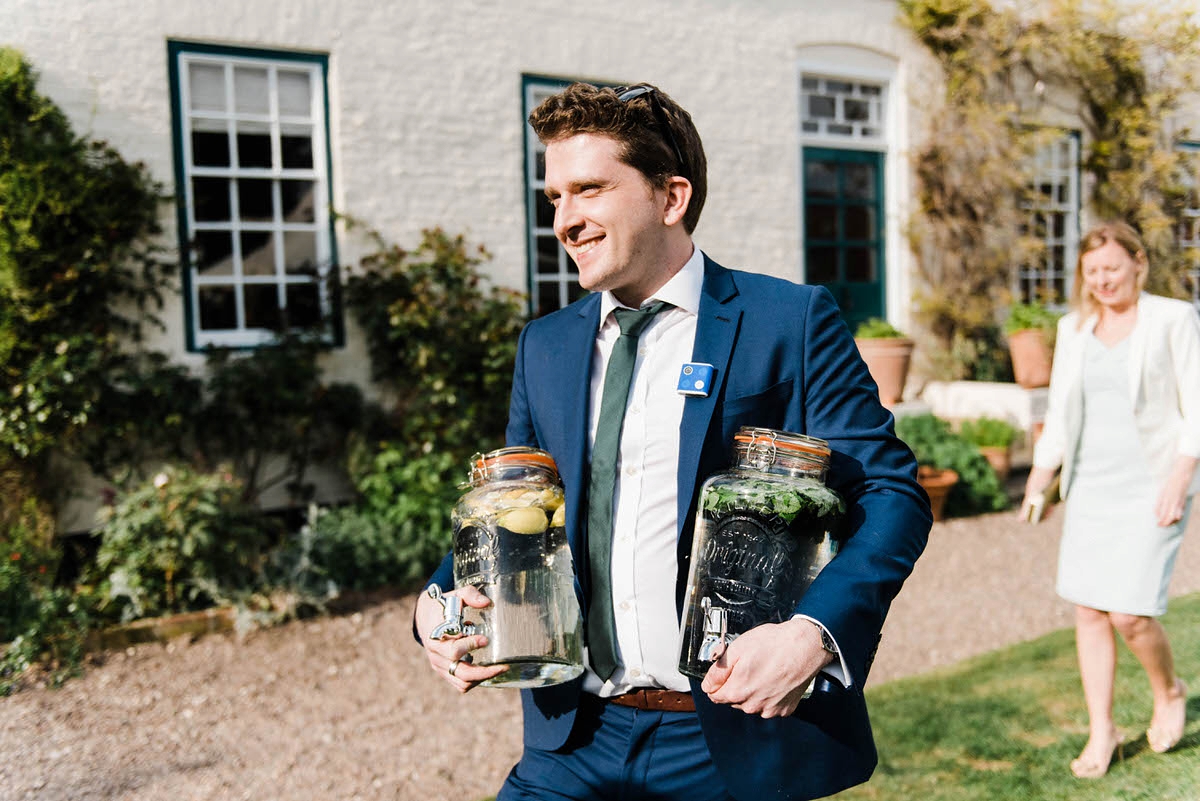 The styling of the light and airy marquee, supplied by Mudford Marquees, immediately caught my eye when I saw these photos.
The paper garlands must have looked beautiful fluttering in the breeze, and the fresh flowers and bunting create such a playful, pretty feel.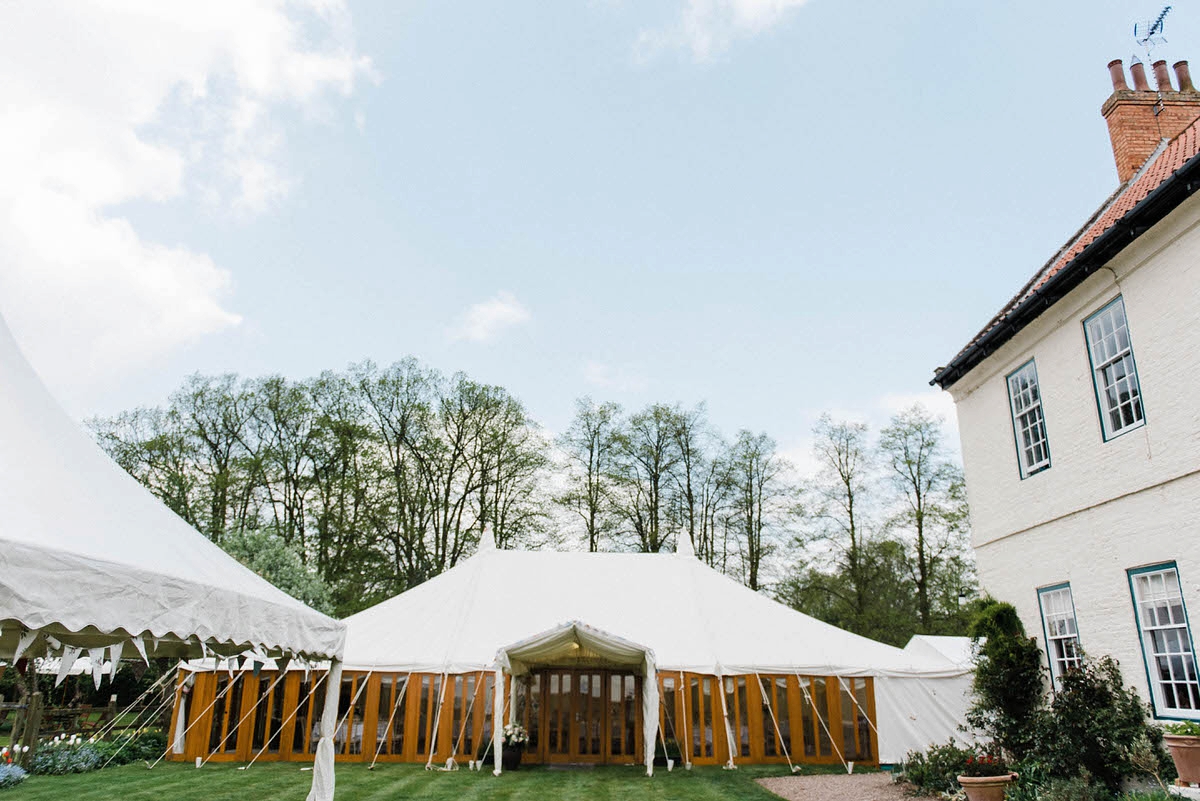 Mrs F's cousin was responsible for the wedding stationery.
"Our stationery was done by my cousin who is a very talented public art installation artist. We had bespoke pictures of the church and venue for the invitations and order of service, and place cards were made using plain white cards customised with stickers in the colour theme."
Rather than giving gifts for wedding favours, the couple chose to buy favour donations from Unicef; such a lovely idea to support those less fortunate on their own special day.
"Unicef provide a fantastic service on their website with packs of ten individual cards in which we wrote a message and placed on each name place. Favours vary from schoolbooks for children, water purification tablets and vitamin sprinkles."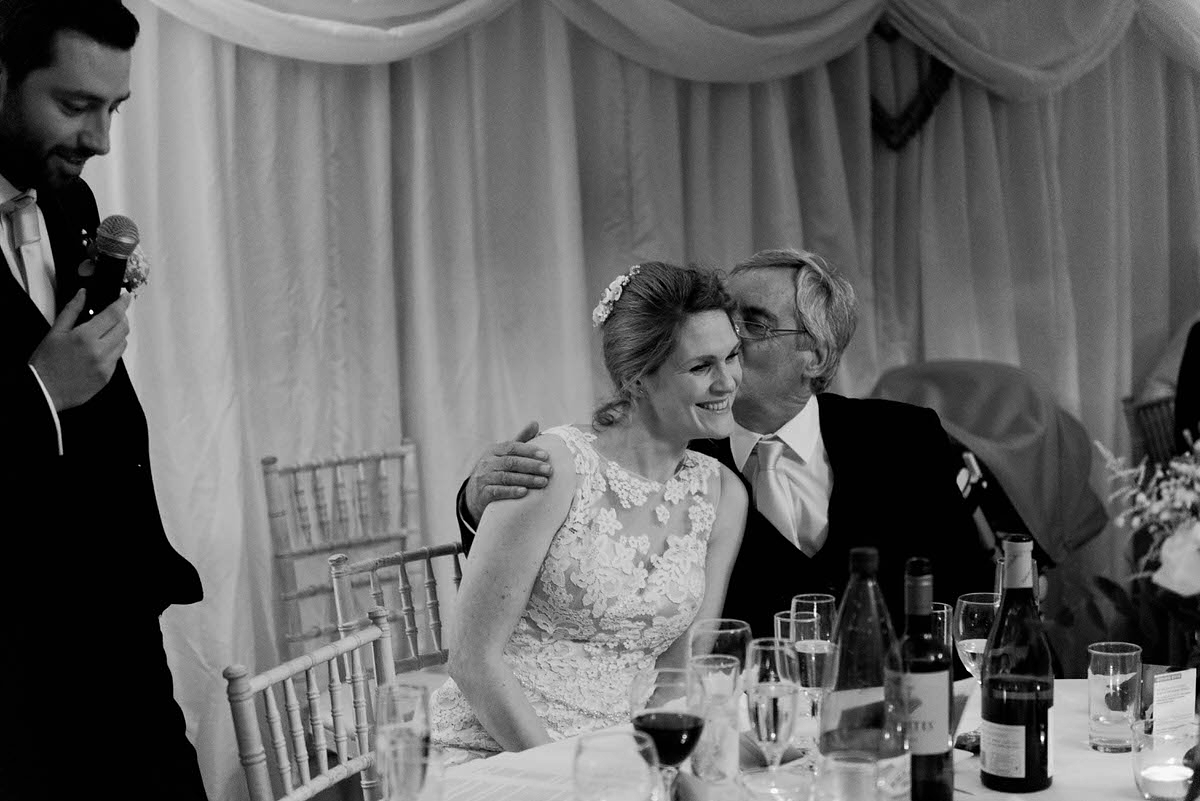 The couple were keen to have the party last in to the small hours, so they got everyone on to the dance floor by hiring a friend of the her father's traditional Irish band.
"They played all the greats and had everyone up swinging each other around on the dance floor."
They also chose an unusual first dance by Queen – 'You're My Best Friend'.
"We liked the sentiment of the lyrics and it wasn't too long – we're not naturally great dancers!"
Words of Wedded Wisdom
"Don't sweat the small stuff! Make a list of things that really matter to you on the day and things that don't matter as much if they fail to go to plan. Then on the day if it's not on the 'too bothered list' don't worry and move on."
"Just enjoy the day, as everyone says it passes quickly. It really does, even with ours finishing around 4.30 am."
Well, I just love the colour palette chosen by Mr and Mrs F, and the beautiful styling of their garden marquee. If you would like more inspiration for spring weddings then we have plenty more to enjoy on Love My Dress here. Thank you so much Folega Photography for sending in these photographs, and many thanks and congratulations to the newlyweds too.
Ele xx