One of my long-term life goals is to set up my own Pilates studio. Ideally, it would be a converted barn, with stripped-back wooden floors, lots and lots of windows letting in as much light as possible, and furnished in such a way to create a relaxed and welcoming feel.
When I saw today's wedding venue, I instantly saw my vision come to life, albeit on a larger scale. I hope that you enjoy this beautiful wedding, full of light, elegance and love. The bride and groom, Sophie and Tom, married on 1 June 2016 in an outdoor ceremony in the grounds of The Old Kent Barn, Swingfield, Kent and created a day full of light and love, keeping their décor simple to create a natural and elegant style with a chic palette of soft blue, pale gold and white.
Tom, a primary school teacher, and Sophie, a supply chain planning manager, went to the same school, only getting together years later and becoming engaged after five and a half years together. They had a two-year engagement, the perfect amount of time to allow them to recruit friends and family to help with the styling and detail of their day.  They chose their venue, The Old Kent Barn, loving its light feel and friendly vibe.
"We instantly fell in love with the barn. We visited one dark evening in February and seeing how stunning it looked even on a cold February evening meant we could relax about décor and the weather come rain or shine. I love to keep things simple and light and wanted as natural yet elegant style as much as possible."
Photography by White Stag Weddings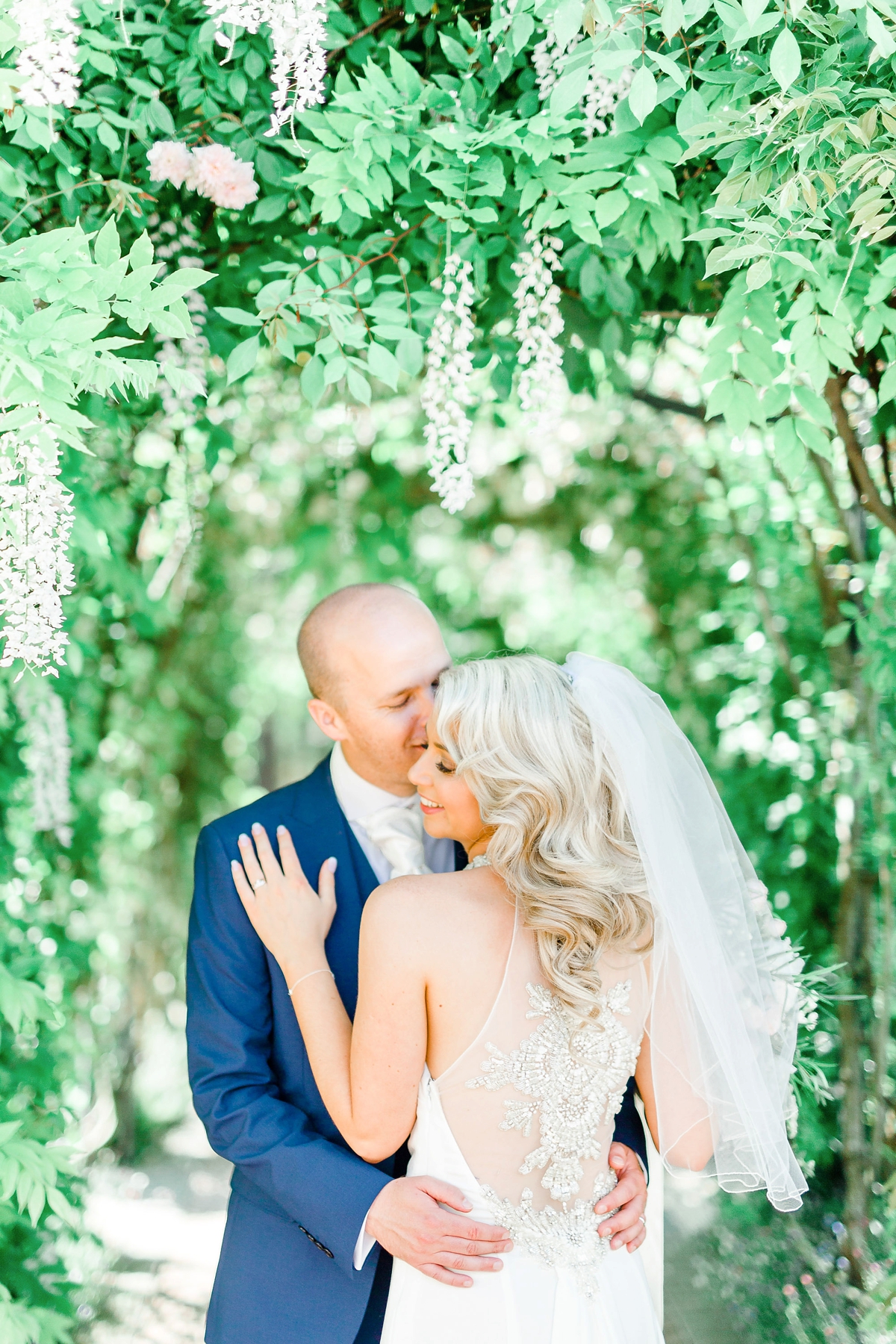 Bride Sophie found her halter-neck Demetrios Bride gown at Tiara and Tails Bridal Boutique in Kent after a lengthy search. Its gathered train has such a beautiful Grecian feel, and the detail on the illusion back and unusual gold beading on the front looks just exquisite. Choosing a shorter veil, borrowed from a friend, allowed the gown to shine and the train to flow behind Sophie.
"I fell in love with my dress just from a tiny picture of a snippet of its back. However when I went to the shop they didn't have it in yet but offered alternatives. I didn't find any others that compared and my search for an alternative took me to nine other shops trying on around 50 – 60 dresses. Feeling deflated, I decided to go back to basics and try the first shop again."
"As luck would have it, we arrived at the shop to see my dress hanging to the side, with it not even having time to be put into the racks. I was elated to have found a dress that was neither shiny satin nor lace yet still looked like a wedding dress. I loved the heavy fabric, the lining was like silk and despite being small, still made me feel like a princess."
Amy of Gorgeous Invites designed the bespoke blue and gold invites, the colours of which ran through the day.
"Amy was incredible and the most patient lady with me! I was dreaming up my invites based on something very similar she had.  She designed these just for us but they are now part of her main collection."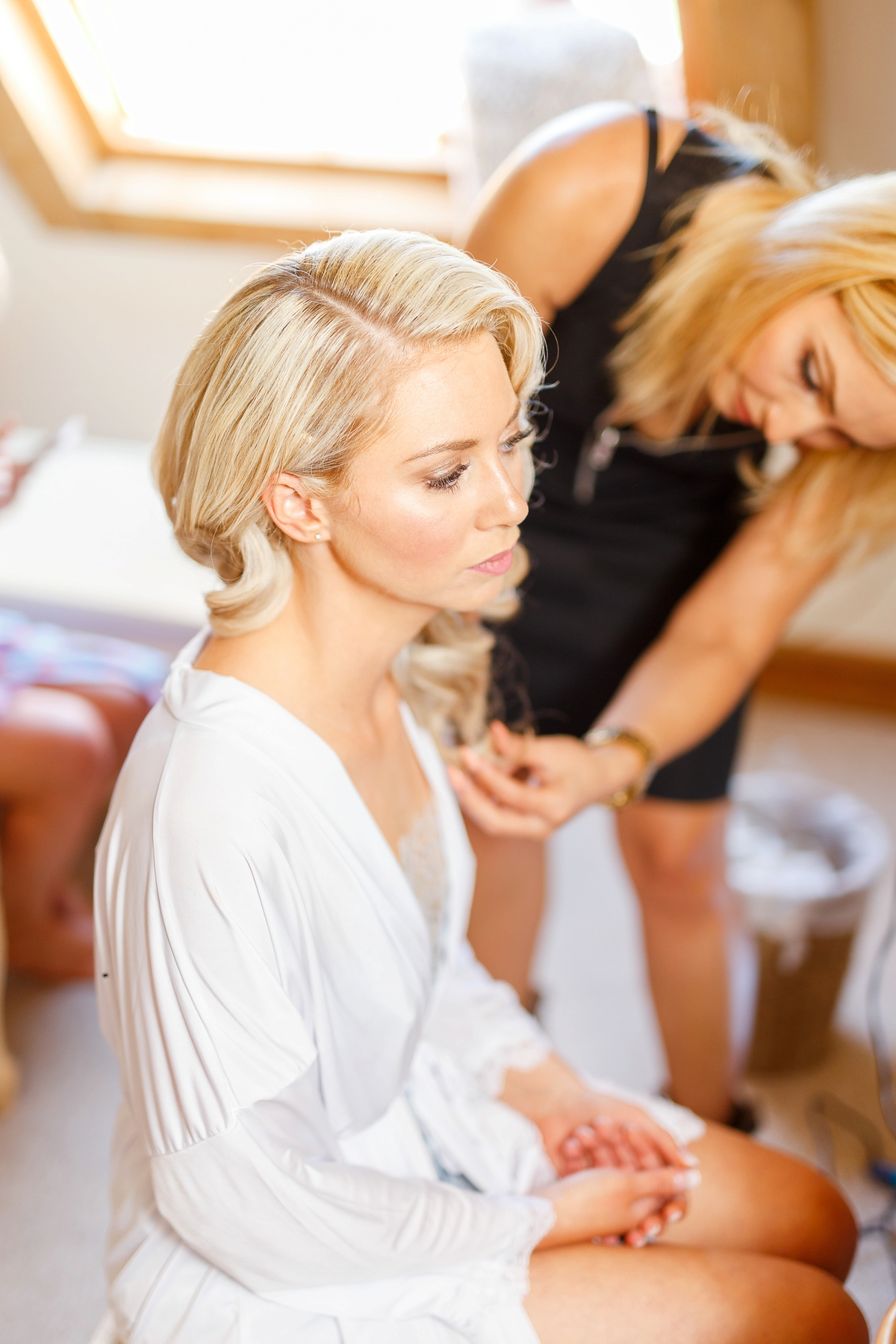 Sophie's blonde hair looks show-stoppingly elegant, curled and swept over one shoulder to show off the gown's detailing. She added a beaded headpiece from Debenhams for a touch of glamour.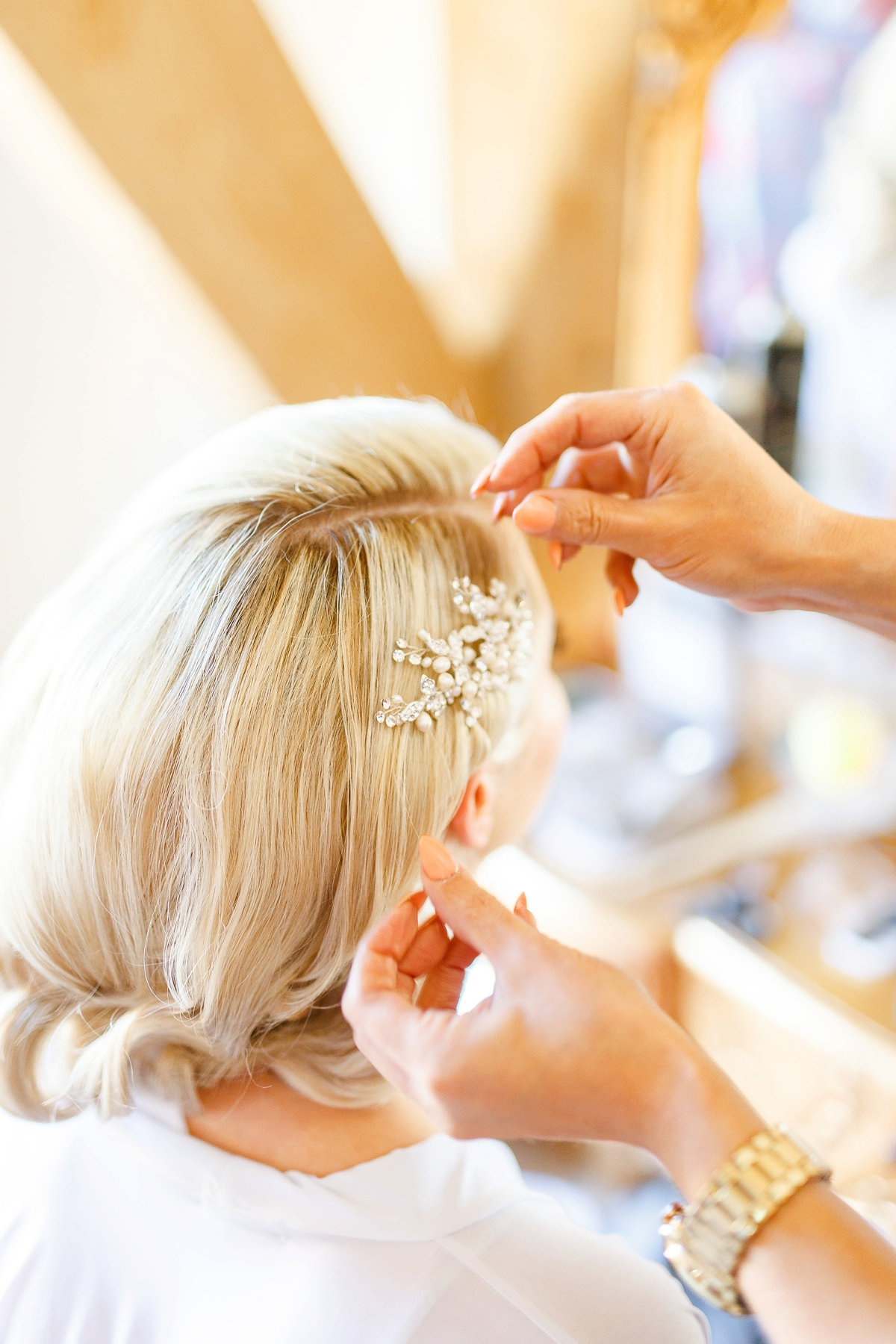 "Zara of Hair & Makeup by Zara saved me at very short notice as things didn't go to plan with the original hairdresser and it just goes to show things really do happen for a reason! "
"Her work on the day was incredible and she is such a lovely lady, it really was like having a friend get ready with us on the day. She guided me to getting the headpiece and I'm so so happy she did!"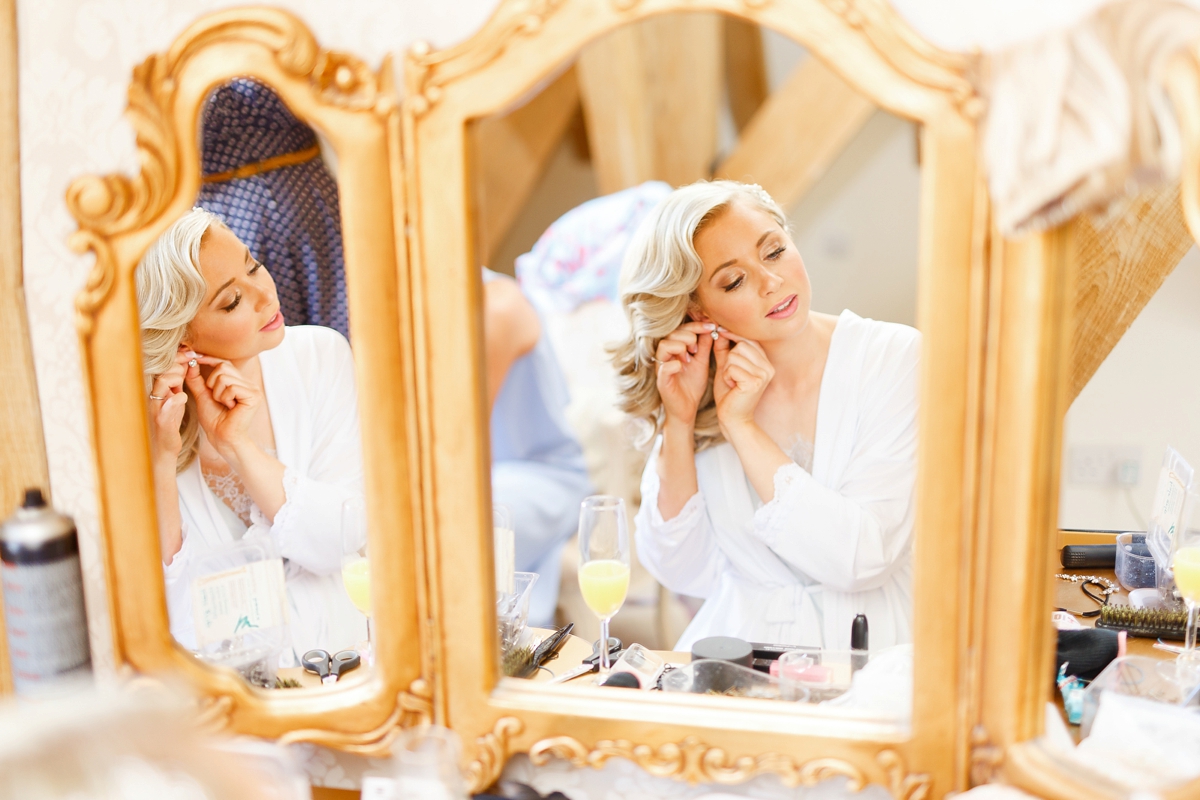 In keeping with the simple, pared-back feeling of the day, Sophie kept her accessories minimal, choosing dainty Accessorize drop earrings, New Look sandals in pale gold and, a gift from her bridesmaids, a chic Links of London bracelet.
"My veil was my something borrowed; it was a friend's whose mum was a seamstress and had made it for her after she'd not been able to find one she liked either."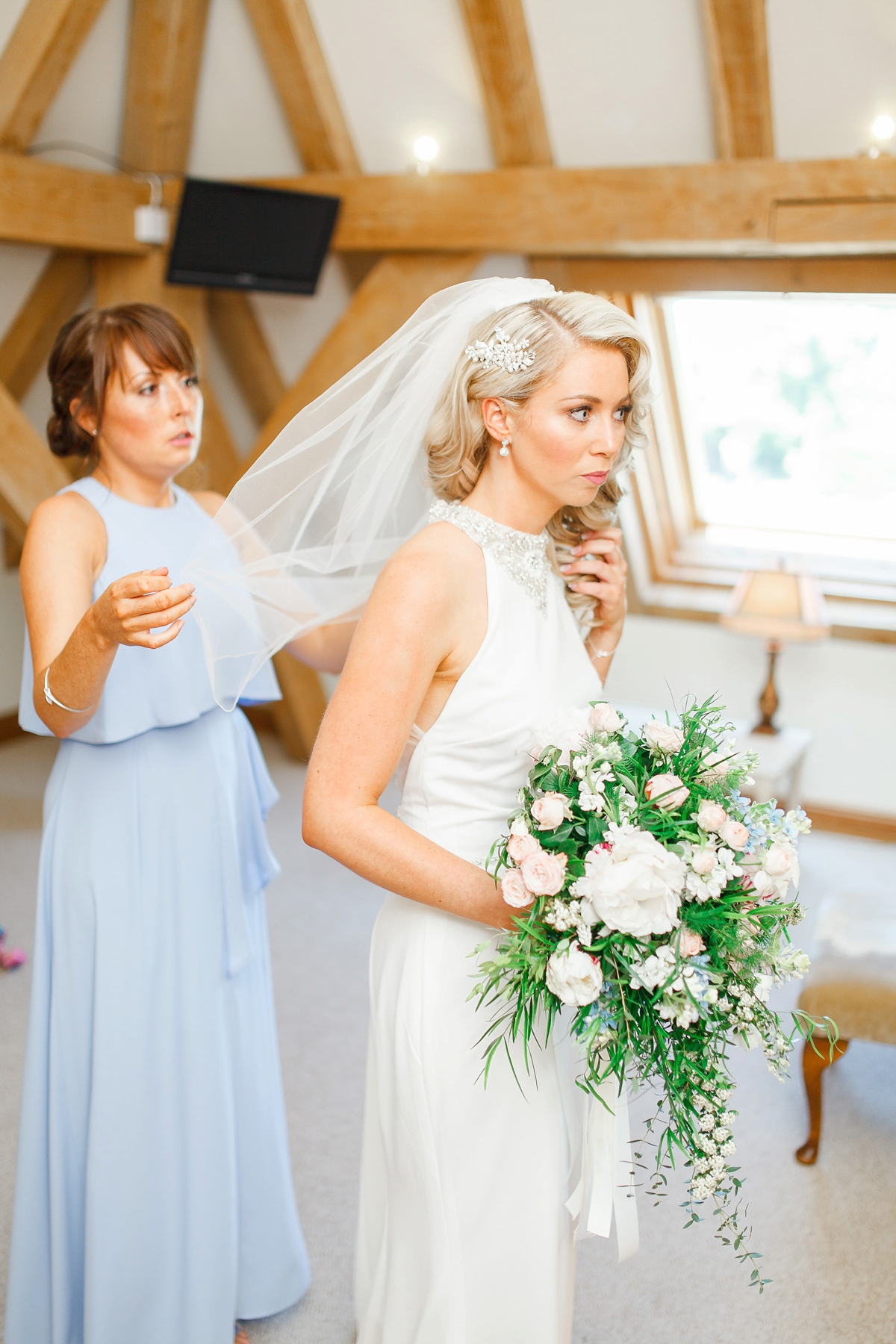 Sophie carried an opulent bouquet of fresh green foliage, pale pink and white blooms, created by florists Heather and Wood. Additional flowers by Heather and Wood decorated the airy barn and the beautiful outdoor pergola in which the ceremony was held. They mirror the gorgeous rose-filled gardens of the barn and really bring the outdoors in.
"Lisa was so creative and knew exactly what I wanted. She took a great length of time to really get to know us and the style of wedding we wanted. The final flowers were incredible and captured the look of the wedding perfectly. When I first saw my bouquet I thought it was a table centre piece – it was huge! I had asked for big and Lisa did not disappoint. It was a work of art."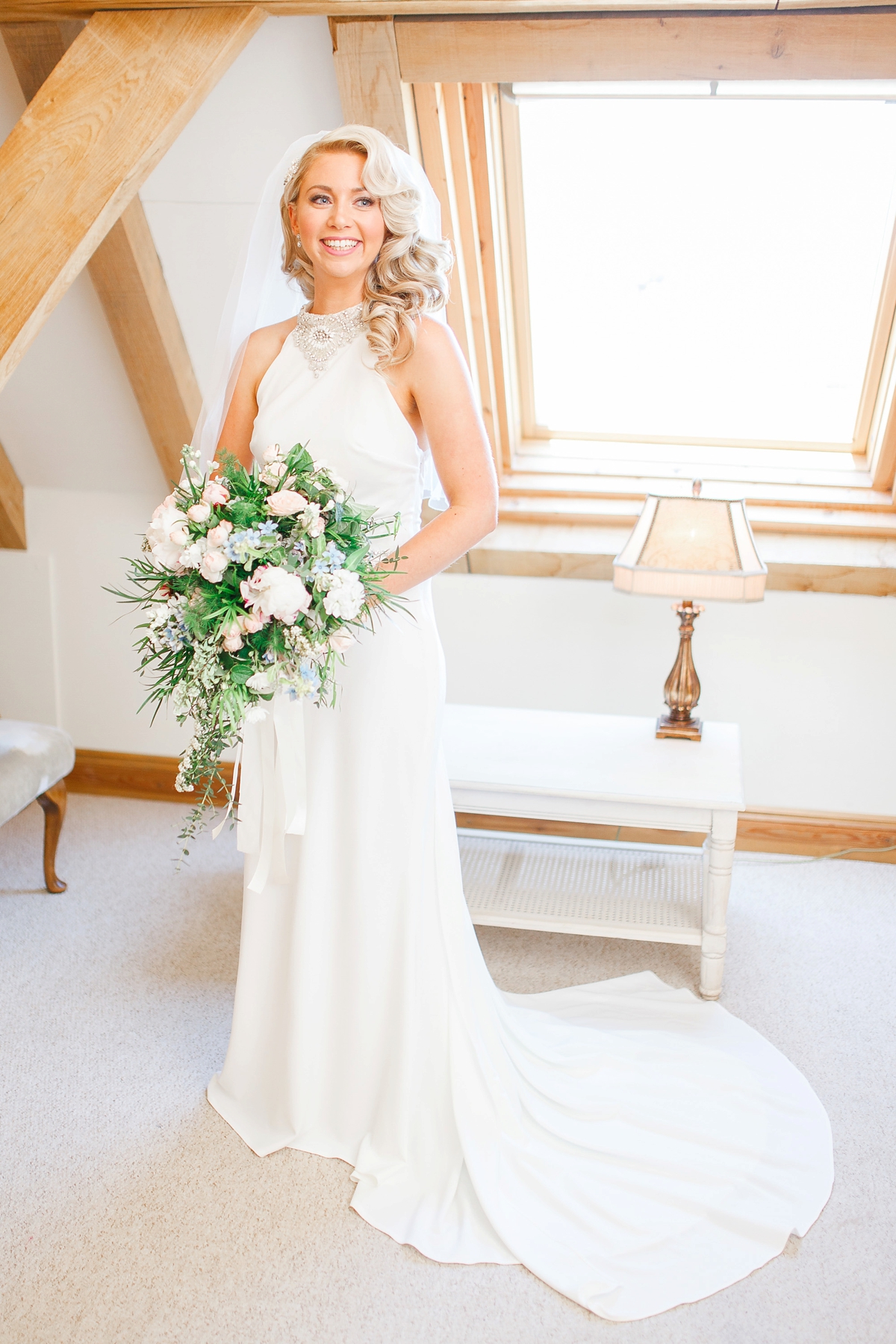 "Make up was by one of my best friends who was also a bridesmaid, Nicole Lee Make-up Artist. We had great fun shopping for the perfect make up for me and she had the patience of a saint helping me choose the right lip colour which ended up being a combination of two Mac lipsticks."
"We knew of each other from secondary school but didn't actually speak until we saw each other at a local pub quiz night and I stood out like a sore thumb after being randomly serenaded by a stranger and that prompted a Facebook message from Tom asking if that was a regular occurrence for me! I had actually fancied Tom since I first started secondary school but with Tom two years above me, I never plucked up the courage to talk to him. For a long time he was known as 'Year 7 Guy' to my friends."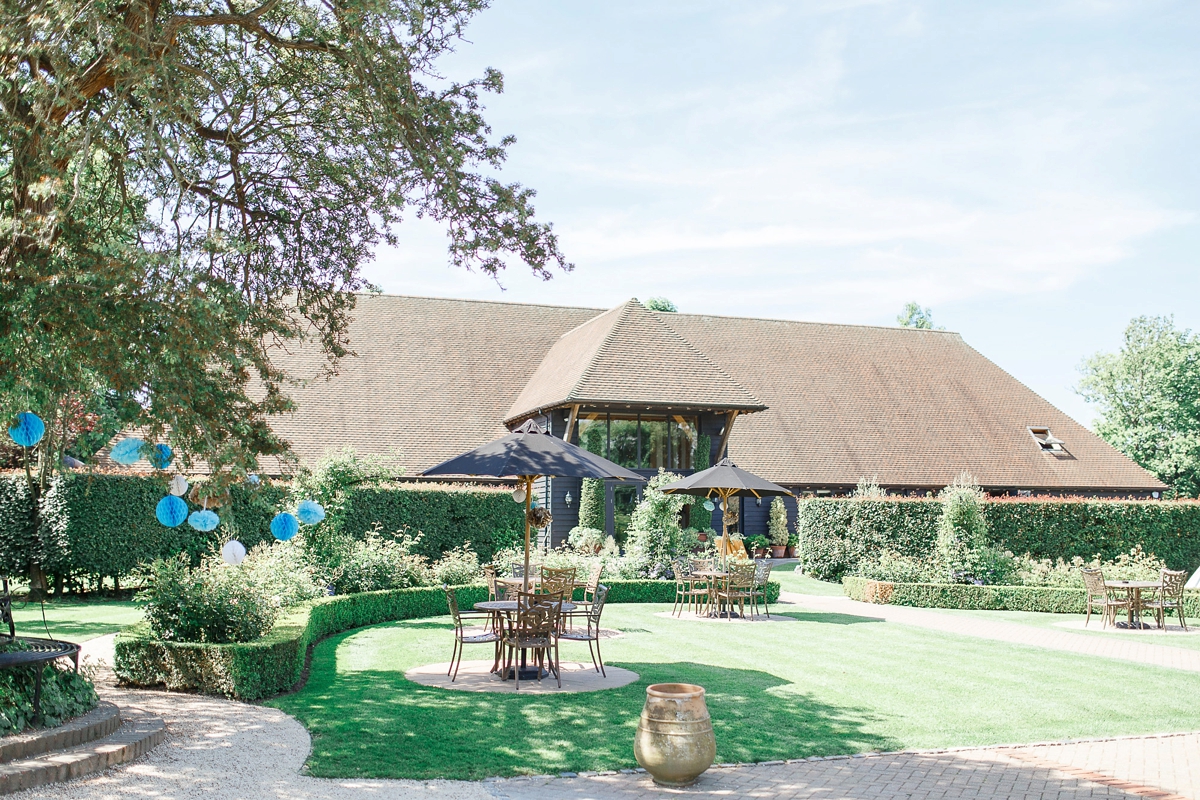 The venue is the proud owners of a cheerful turquoise VW CamperVan, and Sophie decked it out with ribbons and flowers before travelling in it to her garden ceremony. The weather looks absolutely perfect, showing off the beautiful white gazebo and its handmade bunting.
"I was lucky enough to have a friend to make my bunting. We went fabric shopping together in a lovely little shop in Rochester and only a few days later she'd completed the bunting! This played a big feature in the wedding and we had it in the gazebo for the ceremony and was moved afterwards to the top table meaning we got good use out of it."
Sophie was given away by her dad and the couple exchanged their vows before hearing readings from friends and family.
"My brother Paul read 'He never leaves the seat up' and our friend Ezio wrote his own reading for us which was absolutely beautiful and such a touching moment."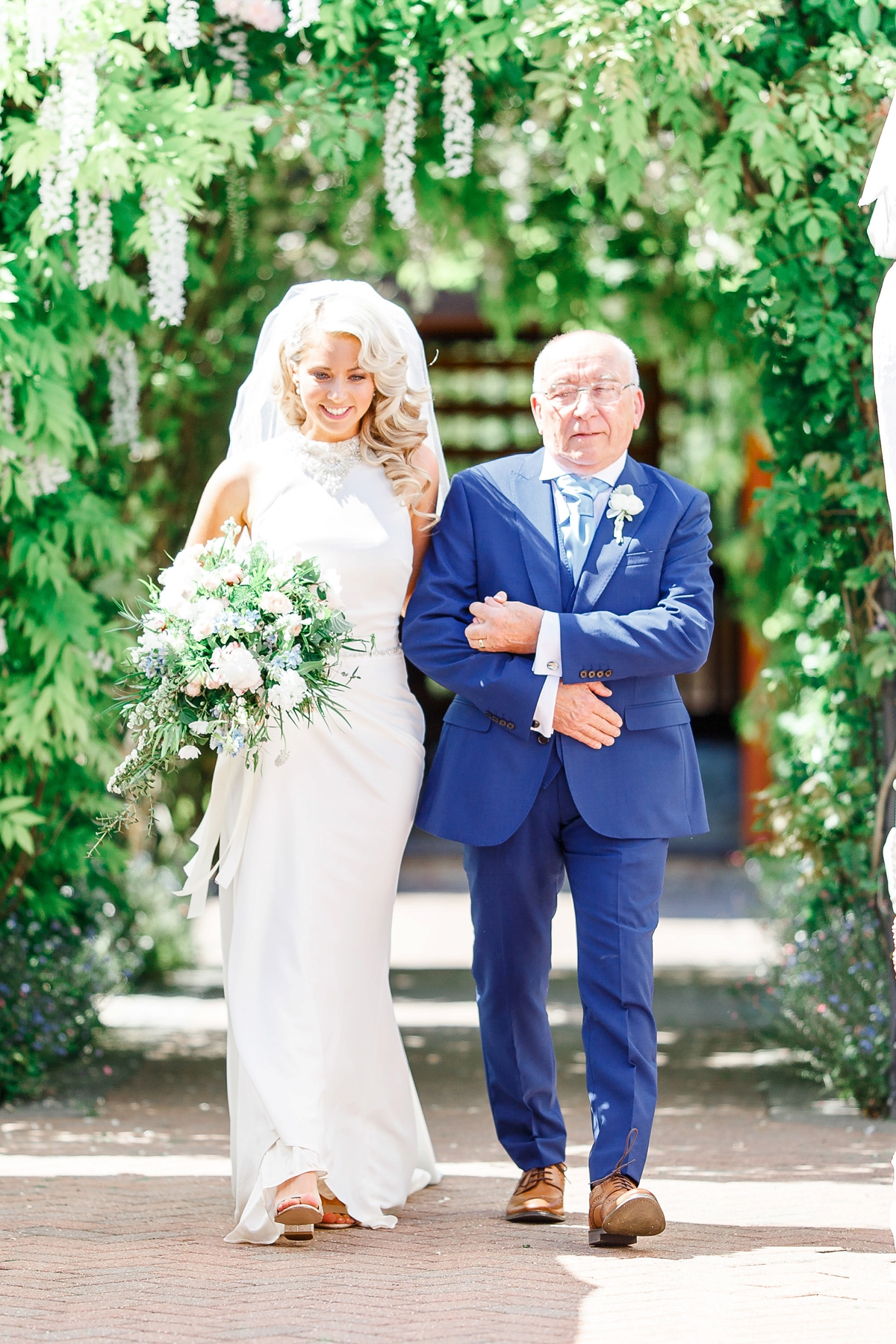 Have you noticed how Sophie's bouquet and the bridesmaids' gowns tone in with the flowers and trailing roses in the garden? So pretty. Her guests were given a warm welcome with handmade signs made by Sophie's dad. Now on to the groom's outfit. One of the coolest grooms I've seen recently, he wore a bright blue suit by French Connection and a simple cream buttonhole and tie. Walking towards Tom was one of Sophie's favourite moments of the day.
"The ceremony was the absolute best bit. Despite being quite nervous about walking down the aisle, when it came to the day I felt no real nerves and was just extremely excited. It's all your favourite people watching you marry your most favourite person and there's something incredibly special about that."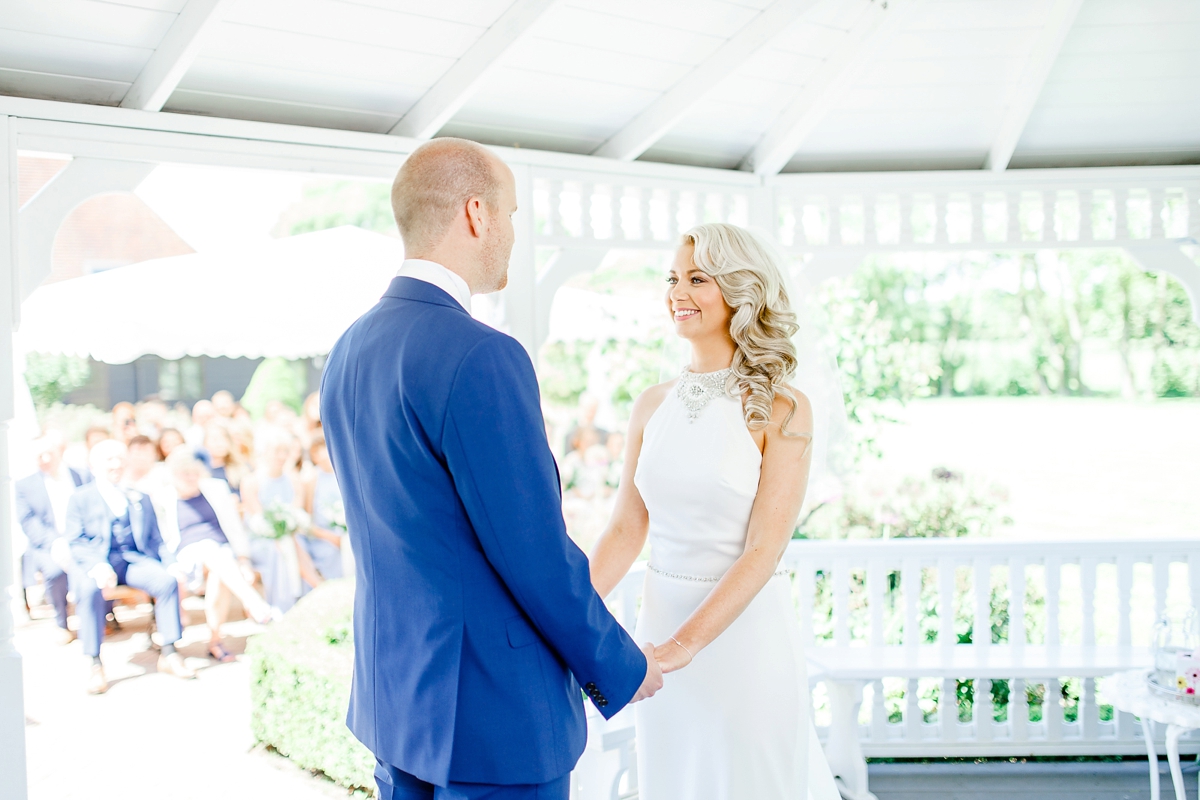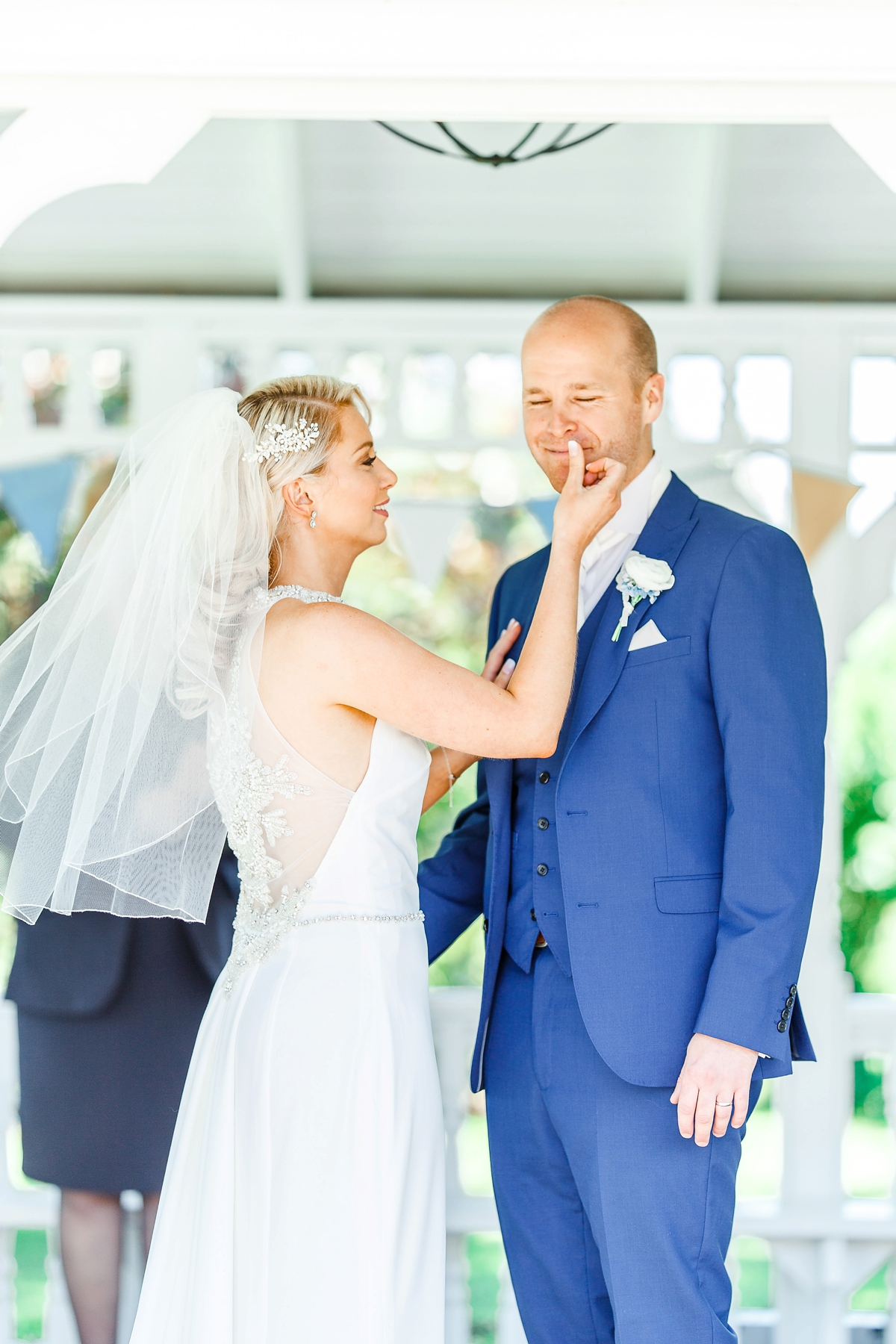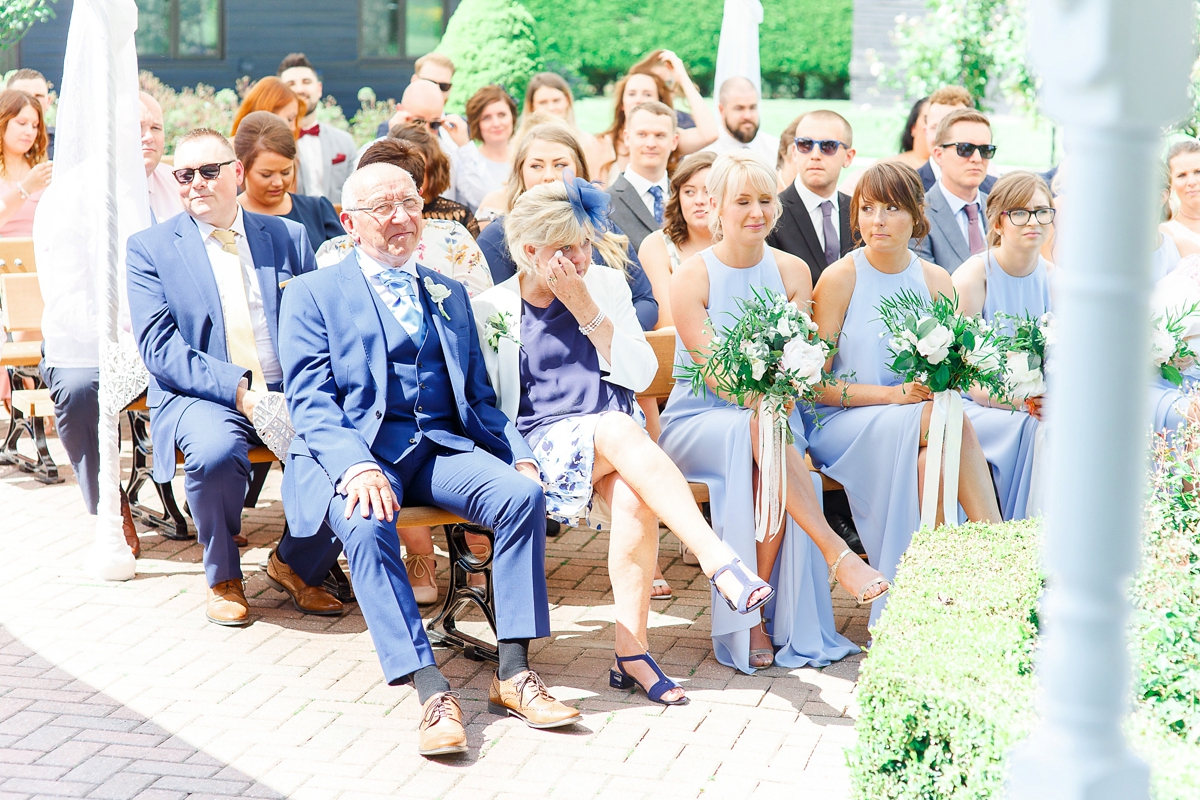 After the ceremony the guests were free to relax in the gorgeous Kent gardens and enjoy the summer weather and the thoughtful touches that Sophie and Tom had provided, including the 20-20 Sounds photobooth.
In recent months on Love My Dress I've seen more and more brides opting for bridesmaids gowns from ASOS. The pale blue and cream gowns have a relaxed, draped style and look so easy to wear.
Their bouquets were smaller versions of the bride's with additional movement added by long ribbons, and I love the hair-vines worn on the back of their head, found at Accessorize. Sophie's flower-girls looked pretty in cream dresses from Debenhams.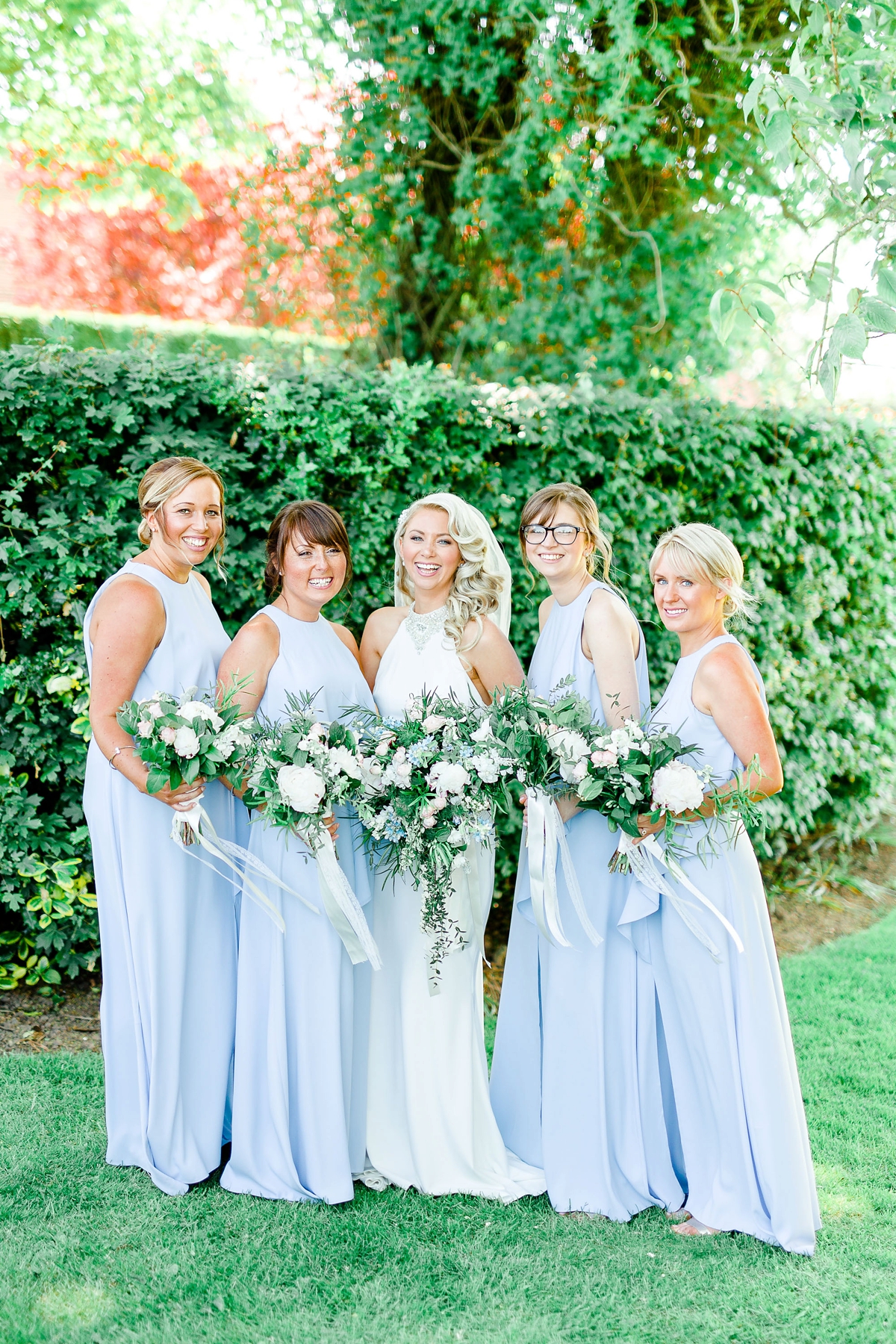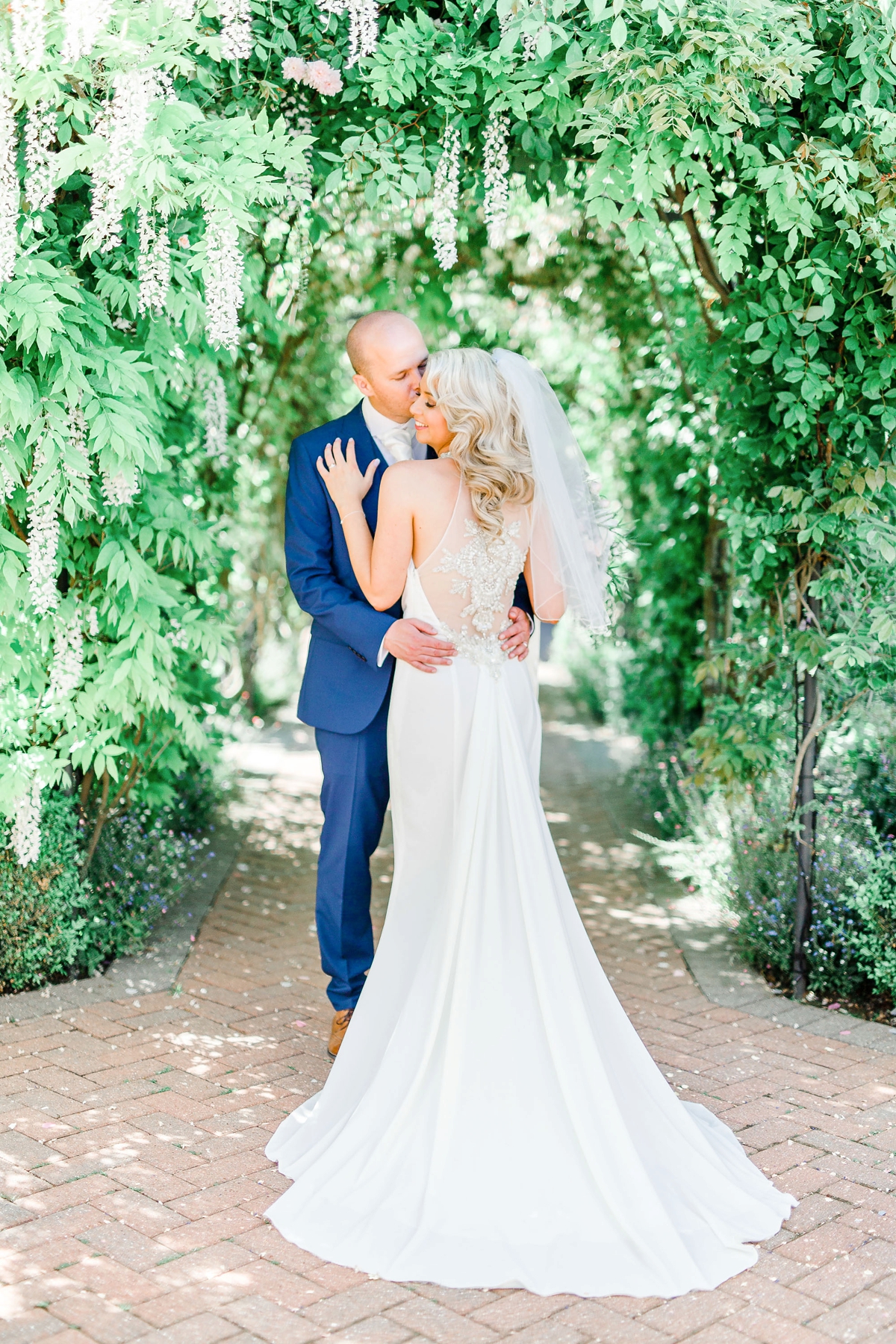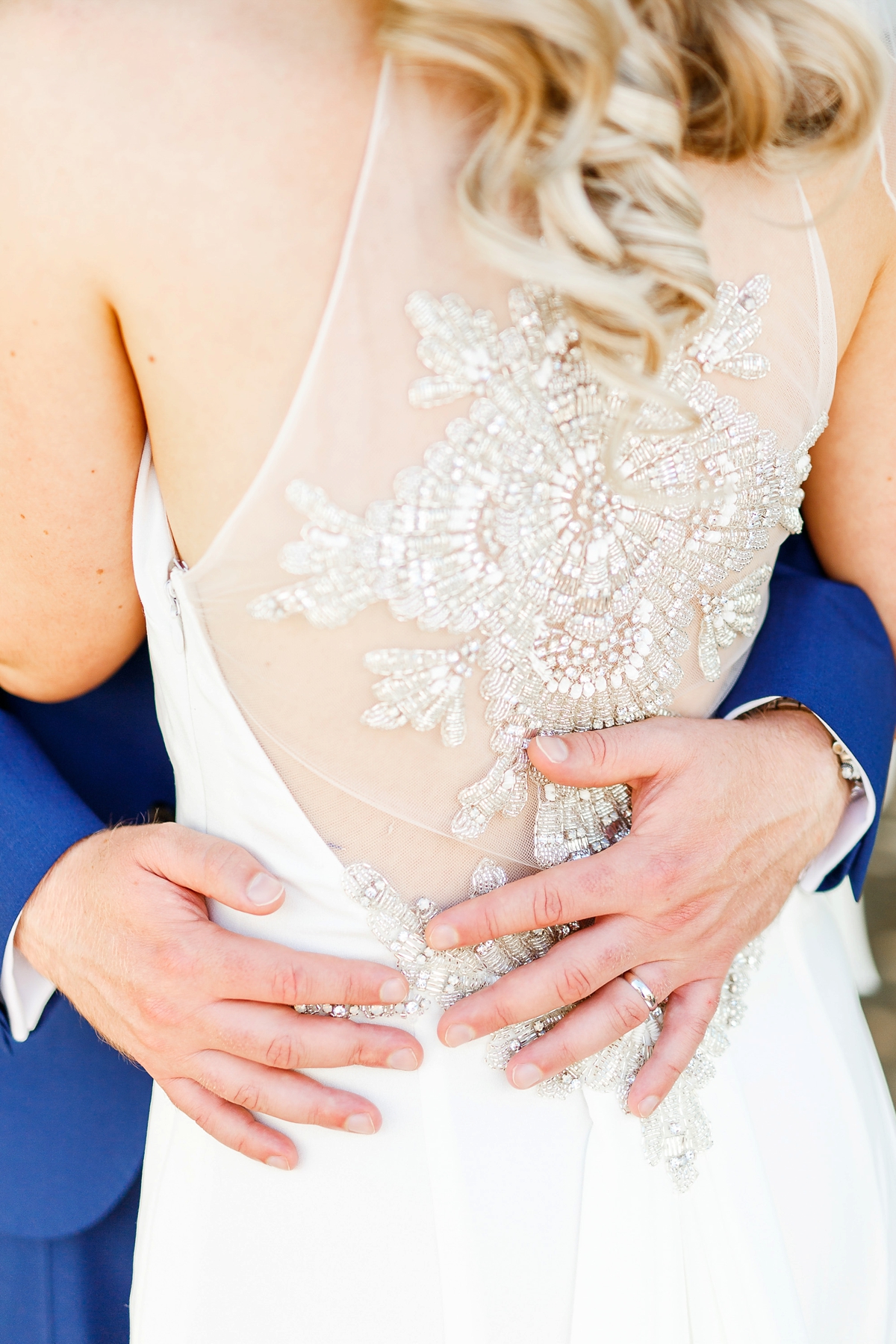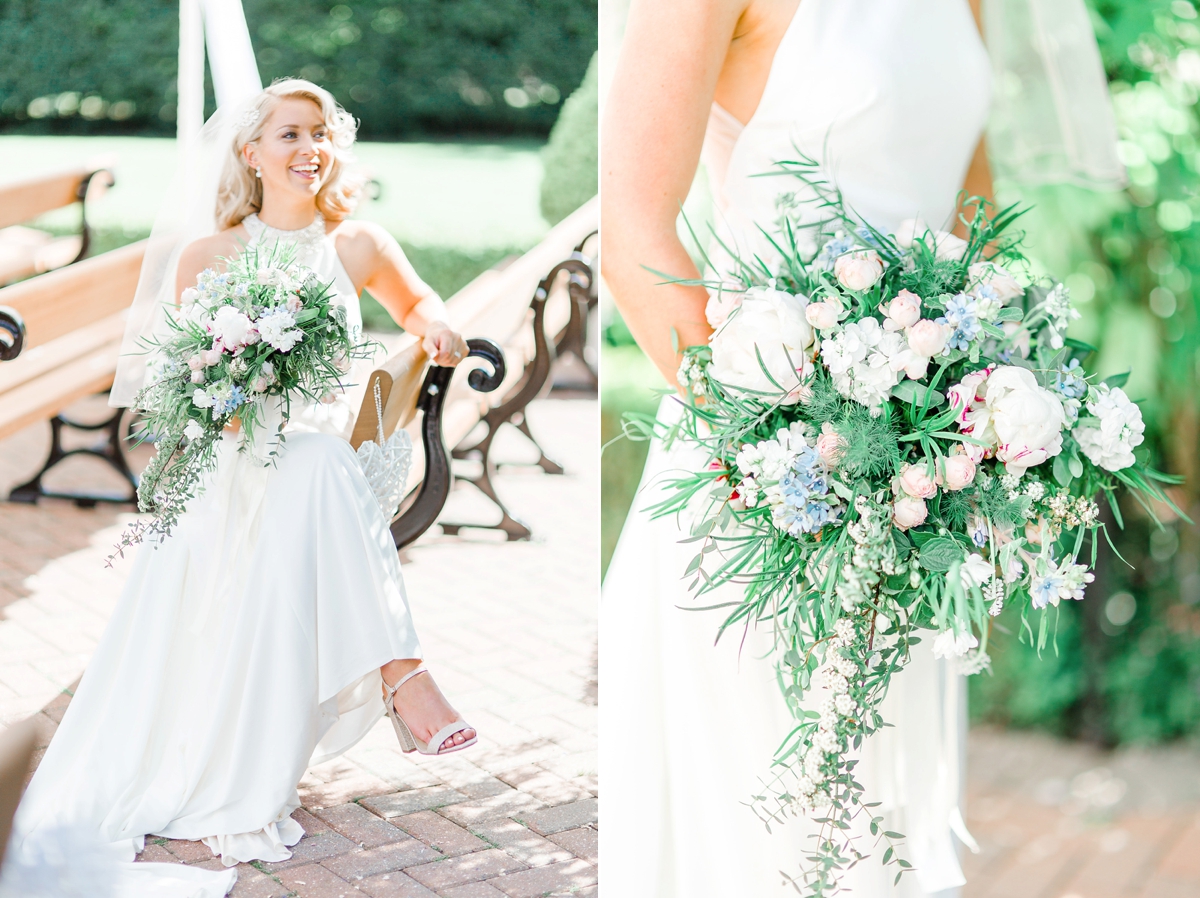 White Stag Weddings have done a wonderful job of capturing the emotion of the ceremony and the reactions of the guests. The photographs of the couple together in the fresh green gardens are amongst my favourites, too.
"Words will never be able to describe how amazing Catherine and Andy are – thoughtful, guiding and helpful on the day as well as being as a pleasure to be around and generally making each photo feel really special. The final photos arrived in less than a month and they do the talking for their photography skills."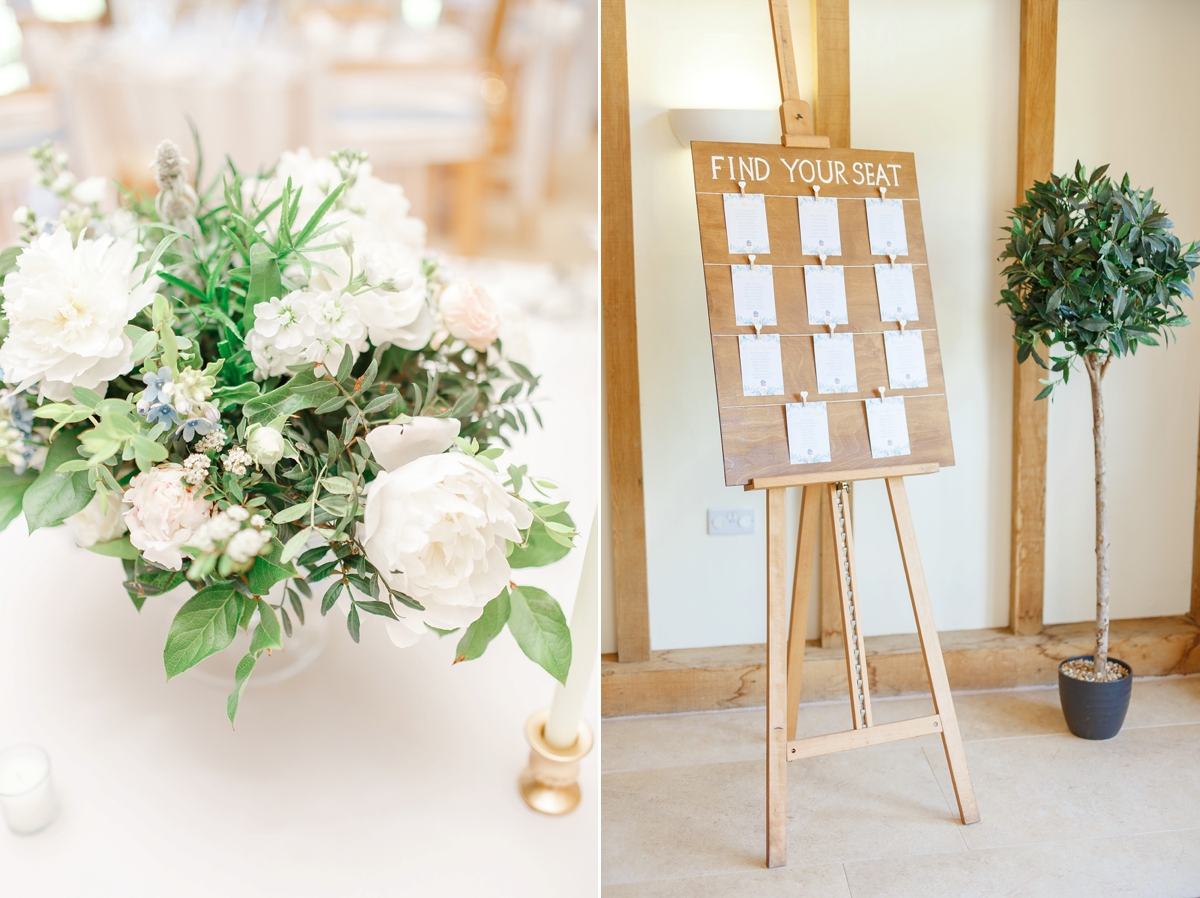 The tables were adorned with blue Kilner jars, and florists Heather and Wood provided floating candles and gold candlesticks.
For Tom and Sophie, décor was clearly important and they've put together such a chic look that still feels light and elegant. Their talented friends and family came together to help decorate the garden and barn; Tom's brother, a coppicer, created a sweet-table from logs and spray-painted glass jars whilst Sophie's Dad made the wedding post-box and table plan. Meanwhile, wedding favours were bags of handmade fudge in Oreo, Malteser and white chocolate and cranberry flavours – yummy! The chairs were dressed by Sophie's friend Georgie who runs Ethereal Events.
"I chose a white bow but with another thin blue ribbon running through it to add a pop of colour. Playing around with this idea with Georgie was so much fun and how she managed it in the end amazed me."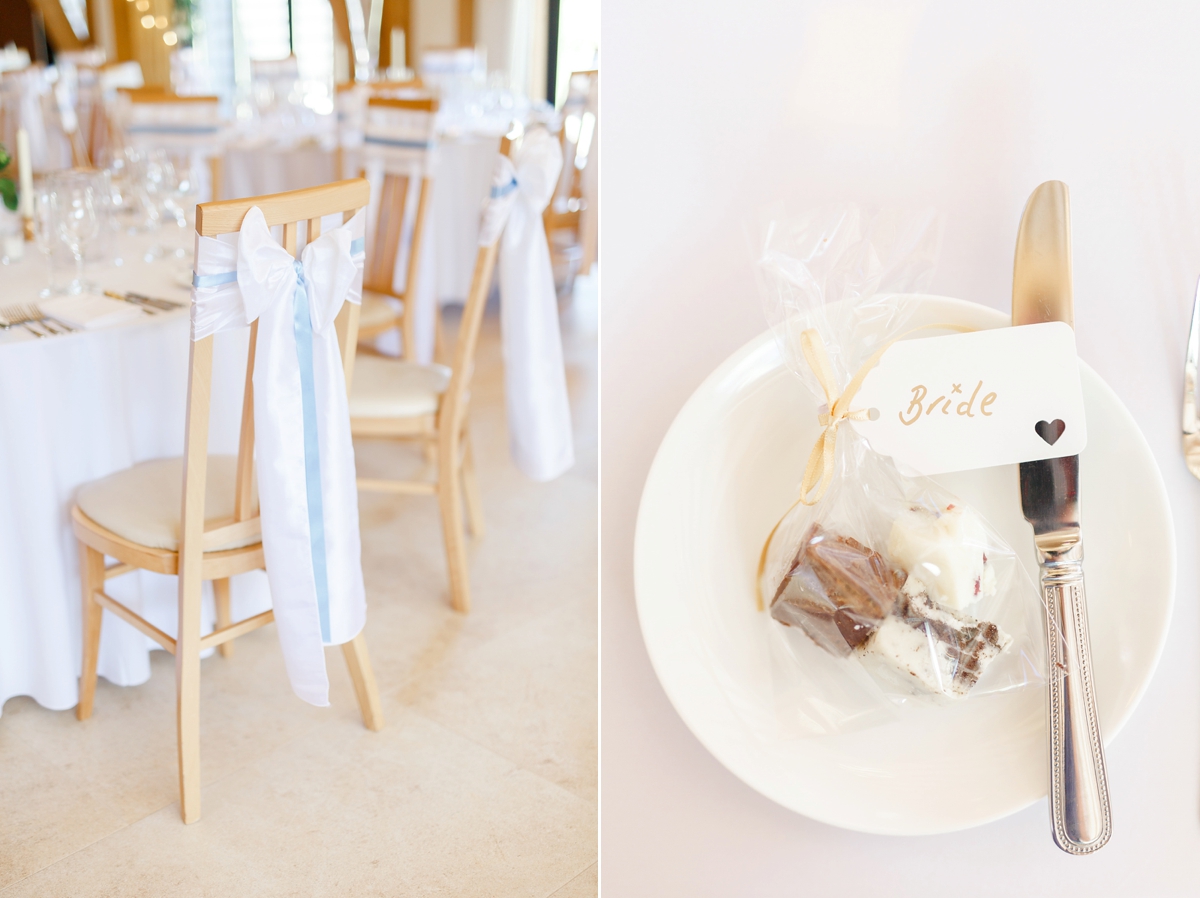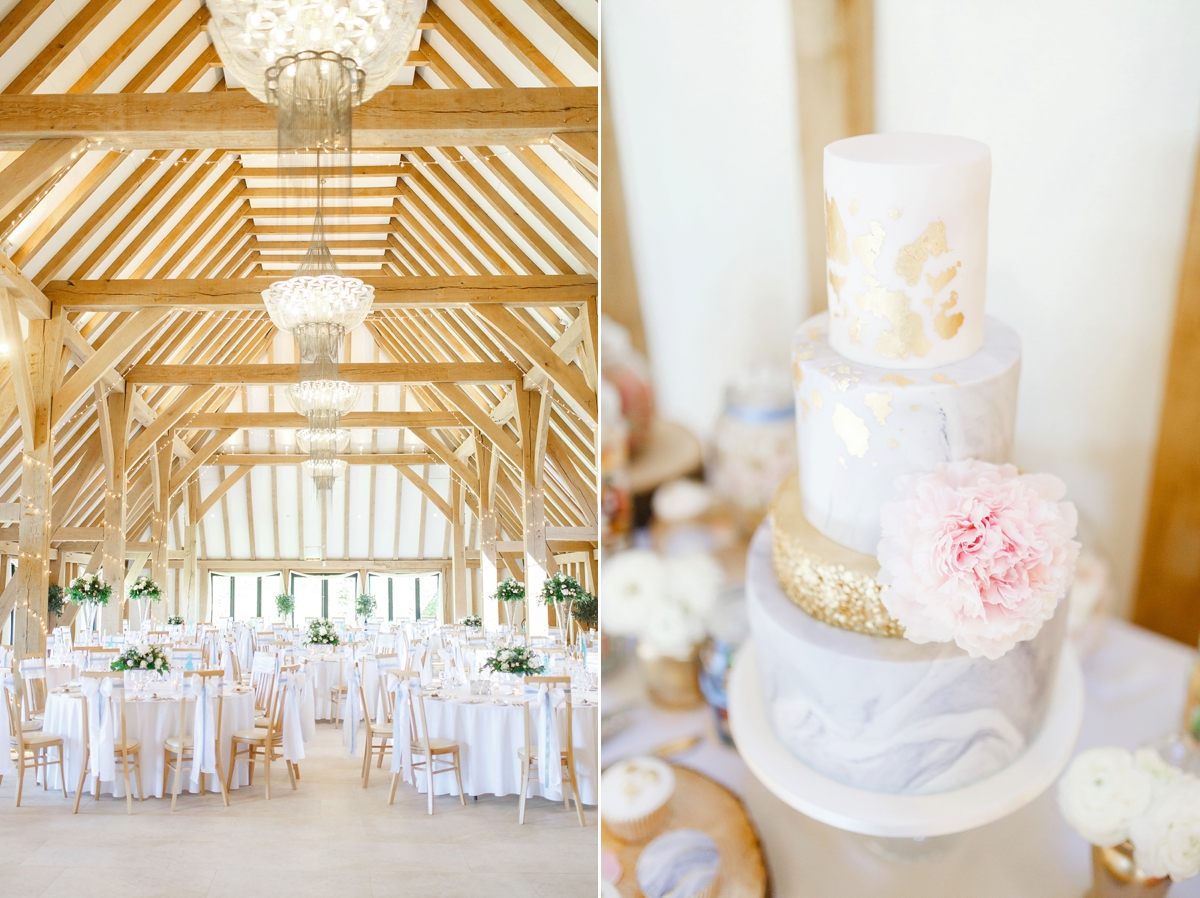 It's clear from the bride's Instagram name – @sophlovescake – that cake should be a highlight of the catering, and cake-maker Chantelle of Belle's Buttercream Dreams designed this beautiful creation with Sophie.
"Chantelle is my best friend from school and I couldn't have had anyone else make my cake. It was so fun helping to design this cake with a friend, I showed Chantelle the many pictures I had pinned on Pinterest and the main features I liked were gold leaf and real flowers. She combined her own designs with what I showed her to create a cake that was even better than I could have dreamed."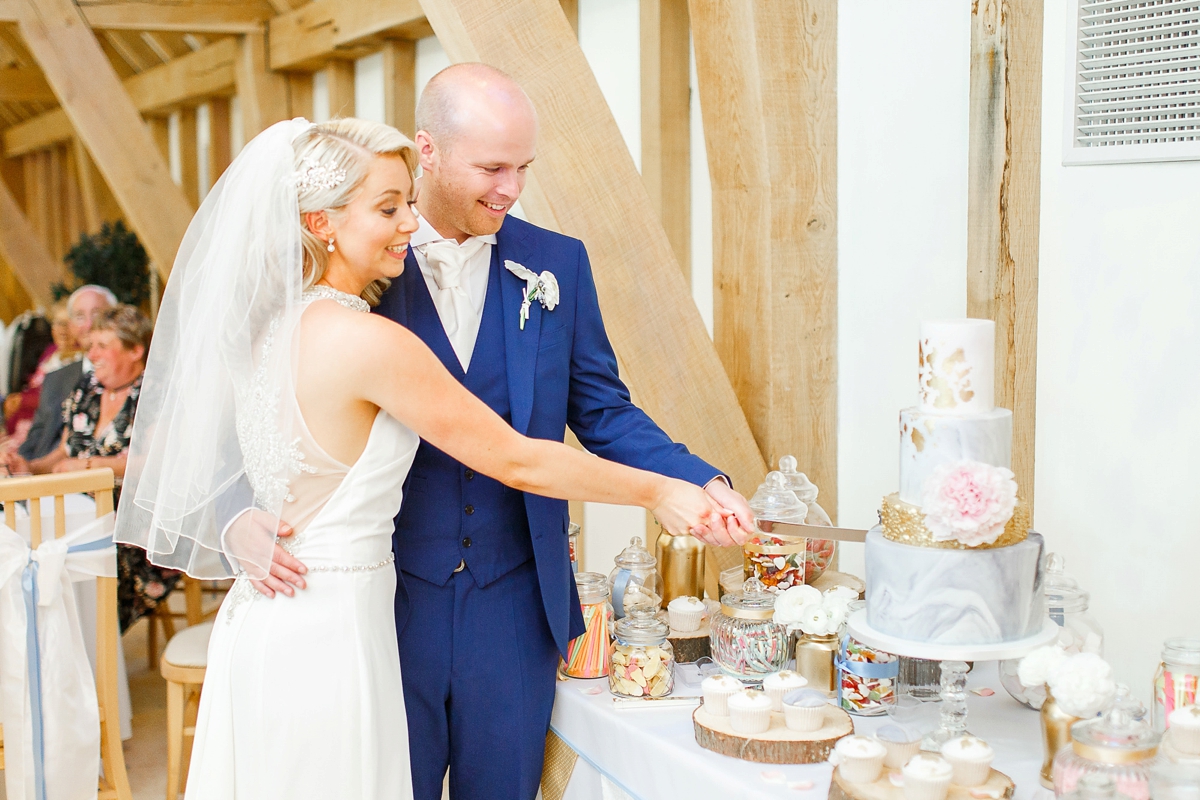 Later in the day the newly-weds celebrated with a first dance to the sound of a Boyce Avenue cover of Coldplay's 'A Sky Full Of Stars.'
"We love Coldplay and wanted to dance to a song that was something we listened to together day-to-day. As it's a bit too upbeat, the Boyce Avenue cover slows it down ever so slightly."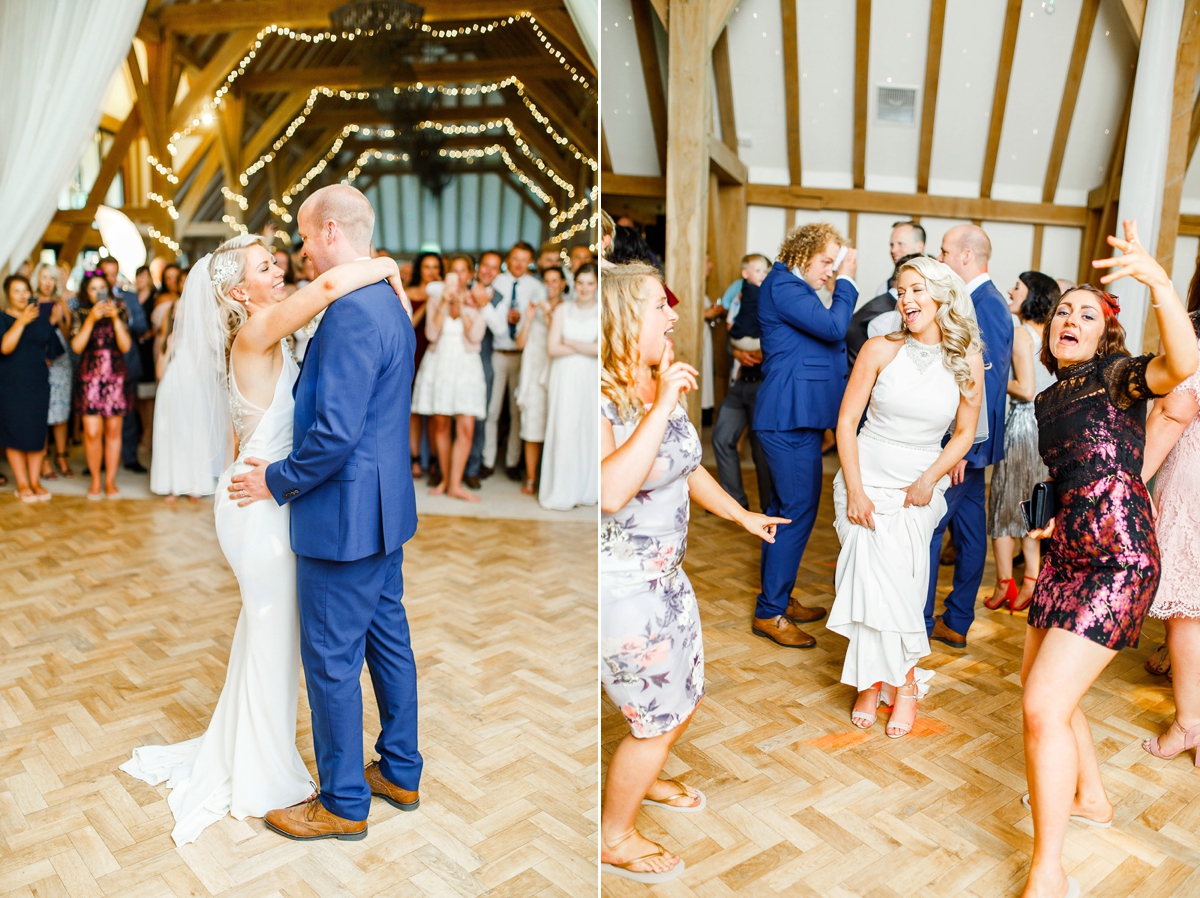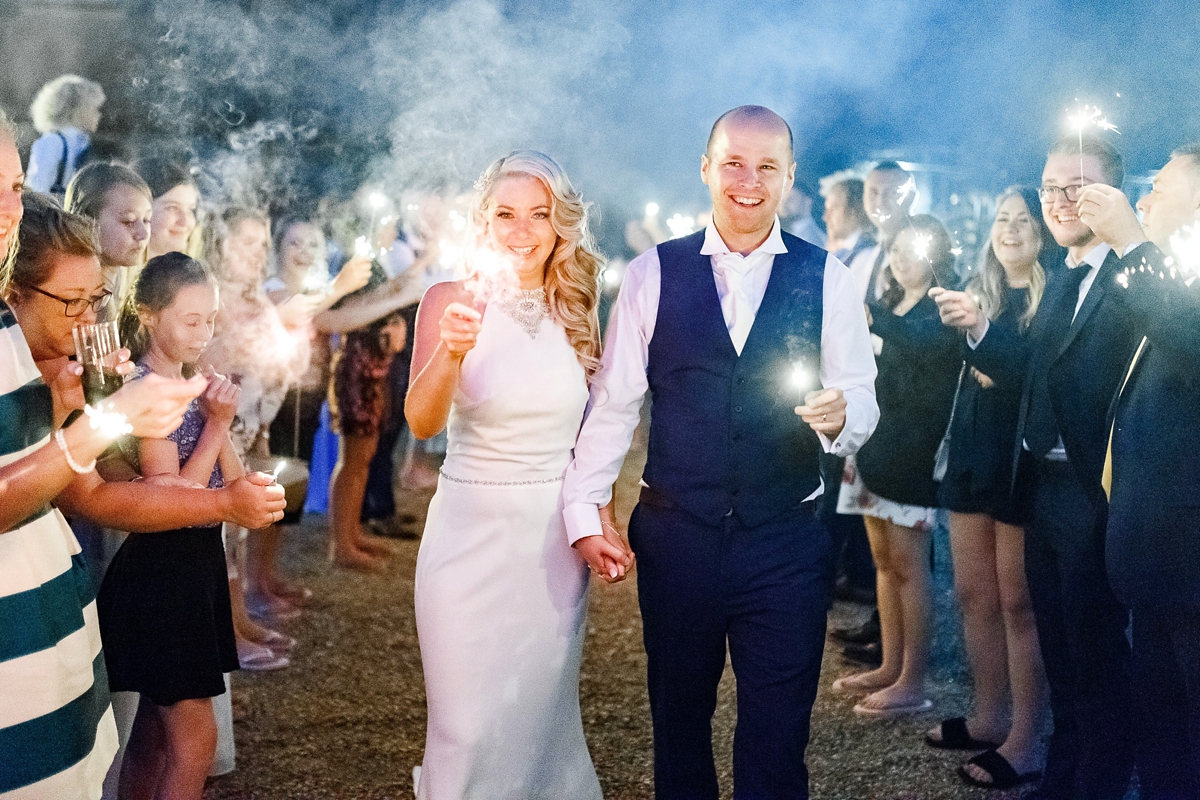 Words of Wedded Wisdom
"Enjoy it, soak up and embrace every moment. Don't think about the 'what ifs' because by the time the day has arrived whatever will be, will be and worrying won't change it. Eventually you'll only look back and laugh on it whatever it may be that didn't go to plan. The happier you are, the happier your wedding party and guests will be as everyone is only there to share yours and your partner's happiness."
"Walking around while people are eating is a great way of ensuring you speak to everyone even if it is only briefly. A great tip from a friend was to ensure you keep your head up as you walk down the aisle and to smile. I wish I'd walked a little slower down the aisle as it felt like I ran down it but that's probably just where it goes so quick. Oh, and make sure you take the stickers off from the bottoms of everyone's shoes!"
"If you want a stress free wedding, ensure you've got the right venue for you. The Old Kent Barn are the most organised group of people I've ever come across and knowing that they had all eventualities covered meant we could relax fully."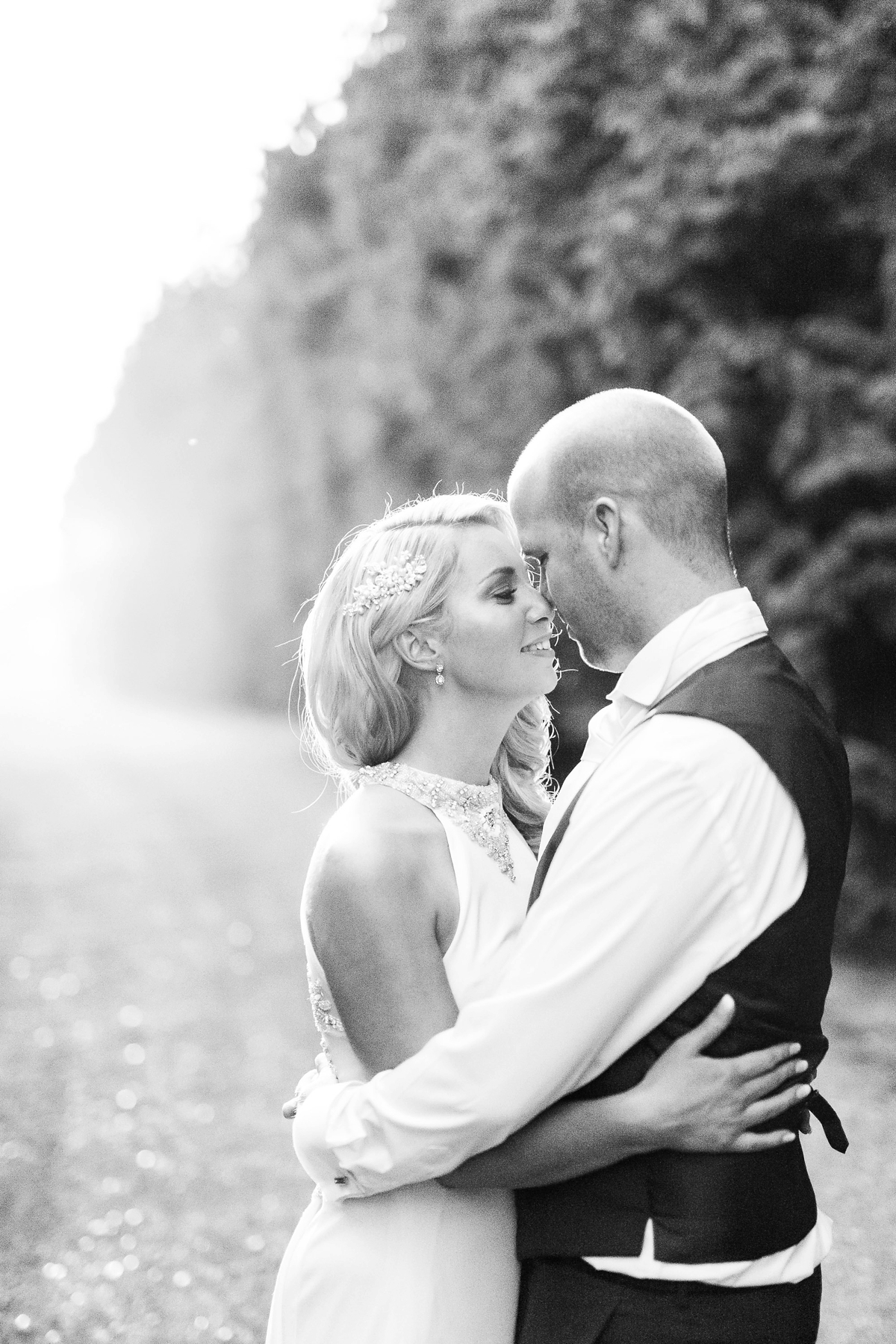 Sophie and Tom, thank you so much for sharing your summer wedding with us today. I love these images by White Stag Photography, so thank you also to Catherine and Andy for their fresh and light pictures.
Ele xx