This week I've been down in Buckinghamshire working, and as I've been driving around I've really appreciated the beauty of the changing seasons. The leaves are just starting to turn but the rolling fields are still green, and in the September sunshine they look just beautiful.
It's easy to understand why today's American bride, Cassandra, chose to embrace the quintessential English countryside in the UK part of her wedding to Gary. Cassandra, a journalist, and Gary, who works in his family business making and selling office furniture, live in New York and planned their wedding at a distance. Luckily, they knew their venue inside out as they chose Gary's parents' house in the village of Potsgrove, Bedfordshire. The couple wed on 28 May 2016 in the neighbouring church of St Mary's, before returning to The Old Rectory's gardens for a beautiful marquee reception complete with garden games and plenty of spring flowers.
"Their beautiful garden was the perfect place to host our marquee reception as it was just steps away from the church. In the case of our family, home is truly where the heart is. 
Photography by Natalie J Weddings
Cassandra and Gary chose Natalie J Weddings as their photographer, and her images of the newly-weds in the Bedfordshire countryside are perhaps my favourites; I love their dreamy, ethereal feel and the greenness of the fields.
"Natalie J Weddings actually went to school with my husband. What drew us to her was that personal connection, but what sealed the deal was her amazing body of work and her tendency to go above and beyond in any way. We couldn't be happier with our photos."
As the couple are based in the US, they had a wedding celebration in New York City, coming over to England to celebrate with Gary's family and friends a month later. To help co-ordinate the wedding on the day, Cassandra recruited planner Jane Riddell of Planned for Perfection. How good to hear that the bride visited the Love My Dress Instagram account for inspiration and ideas.
"I love the @lovemydress Instagram account! I like seeing real wedding photos of people who have typical budgets or tight budgets, rather than routinely extravagant weddings."
With such a statement gown, only simple accessories were needed. The bride added a lace-edged custom-made veil from Bridal Styles Boutique in New York and pearl and diamond droplets, a family heirloom belonging to her grandmother and worn by many brides in her family.
Her lovely shoes, with their blush pink rose detail, were from Badgley Mischka, and she wore a sapphire necklace, a gift from Gary and her 'something blue'. The final touch was a wild flower crown created by local florist Field Gate Flowers. I love these subtle nods to the English countryside inspiration.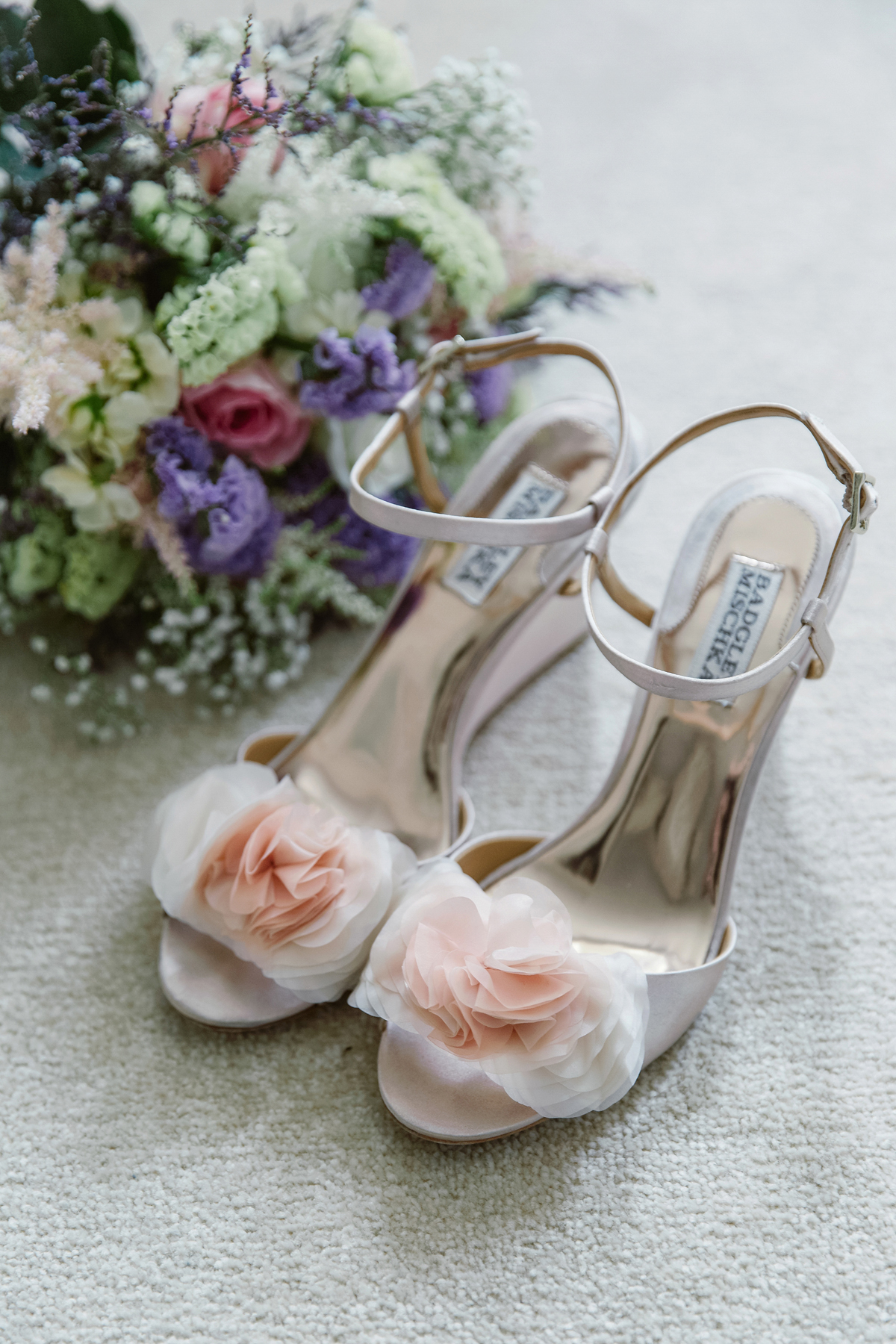 I'm sure you'll agree that Cassandra looks so beautiful in her Claire Pettibone gown. Its back features the designer's signature intricate embroidery, and the cap sleeves with their delicate beadwork are pretty and elegant. I especially like how the gown reflects the garden setting of the reception.
"I have always loved this gown. Claire Pettibone's designs are feminine and intricate, with a vintage feel – exactly what I wanted. It was a perfect design for enjoying myself outside all day and dancing later in the night. It was light and airy and, in my opinion, very unique. The lace back was my favourite part."
Cassandra walked the short distance to the church, and went down the aisle on the arm of her brother Nathan to a live performance of Pachelbel's 'Cannon in D' played by string trio Crystal Strings.
"Since my first visit to Gary's parents' home I was in love with the area. It is so beautiful and peaceful. And really, the perfect place for a wedding, with the church right there and plenty of space for a reception. I envisioned my American family coming over and meeting my new British family and friends in this quintessential English countryside setting and it seemed like the perfect day in our minds. I wanted the garden atmosphere and my husband's English culture to be a big part of the wedding."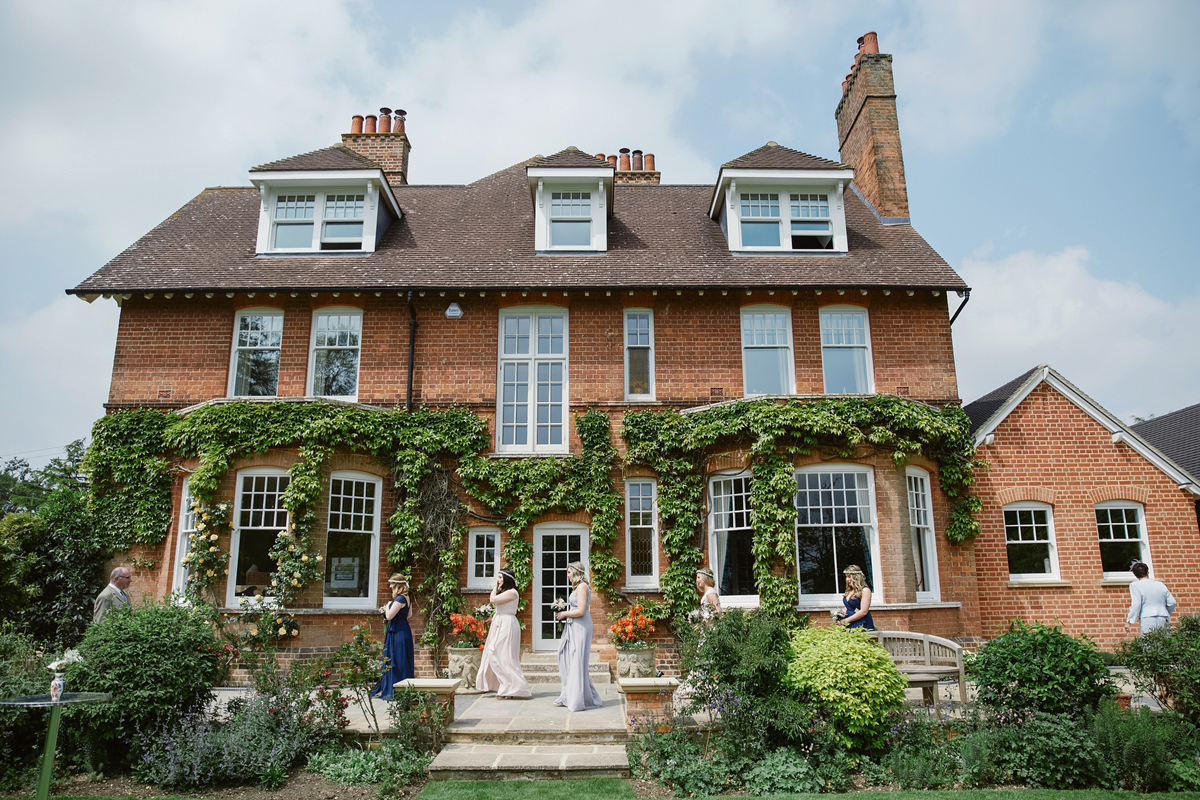 Gary looked classic and smart in his traditional morning suit from Fogarty Formal Hire with personality added in the form of polar bear cufflinks (his 'spirit animal') and a fox tie clip (her 'spirit animal').
The couple met on Match.com, and Gary flew across to New York as a surprise on Christmas Day to propose to Cassandra.
"Gary was the first person who winked at me. I figured he might be a little shy so I decided to send the first message. I read his profile and saw he worked for a family business that makes office desks. I didn't quite know what to write in my first message so I simply said 'Hi, I love desks'. He replied that he had been searching for a woman who loved desks as much as he does! We quickly started dating and fell in love. A year later, Gary headed home to England for Christmas and I went back to Ohio to spend the holiday with my own family. On Christmas morning there was a card from him under the tree. It said my Christmas present was outside (I figured it must be some kind of food– what else would need to be kept cold?)."
"When I went to the backyard, there he was, dressed in a suit. Shocked and bewildered, I thought the present was that he had flown all the way back to America to be with me on Christmas morning. Seconds later, I could see in his face he was very nervous and that's when I realised what was about to happen. He got down on one knee and said 'Cassandra, you've had me since 'I love desks'. Will you marry me?'"
"Of course I said yes and my whole family back inside the house started cheering (they were all in on the secret). Just then, he pointed across the yard and his parents were there, too! Instead of going back to England, they all got in a car and drove to Ohio to be a part of his secret proposal plan. After that, we all went back inside, our families met for the first time, and we shared a beautiful Christmas day together."
Cassandra's criss-cross wedding ring by New York jeweller FrannieB is so beautiful, and perfectly complements her unusual yellow diamond engagement ring from David Morris.  Meanwhile, Gary chose his wedding band at Kleinhenz Jewelers in Ohio.
"One of my husband's good friends is the granddaughter of David Morris. She helped him build a custom design with a yellow diamond."
Having had very personal vows in their New York ceremony, they opted for the traditional Church of England vows and chose two readings – Song of Solomon 2.10-13; 8.6,7 and 1 Corinthians 13.
After the ceremony, the couple meandered back to the gardens to relax and spend time with their guests for a New York-style cocktail hour.
"We had cocktail tables set up throughout the garden and the string trio was playing. The weather was perfect. As I looked around, with my new husband by my side, and watched our American friends and family laughing with our British friends and family, and enjoying food and drink in this beautiful setting, I realised our vision had truly come to life."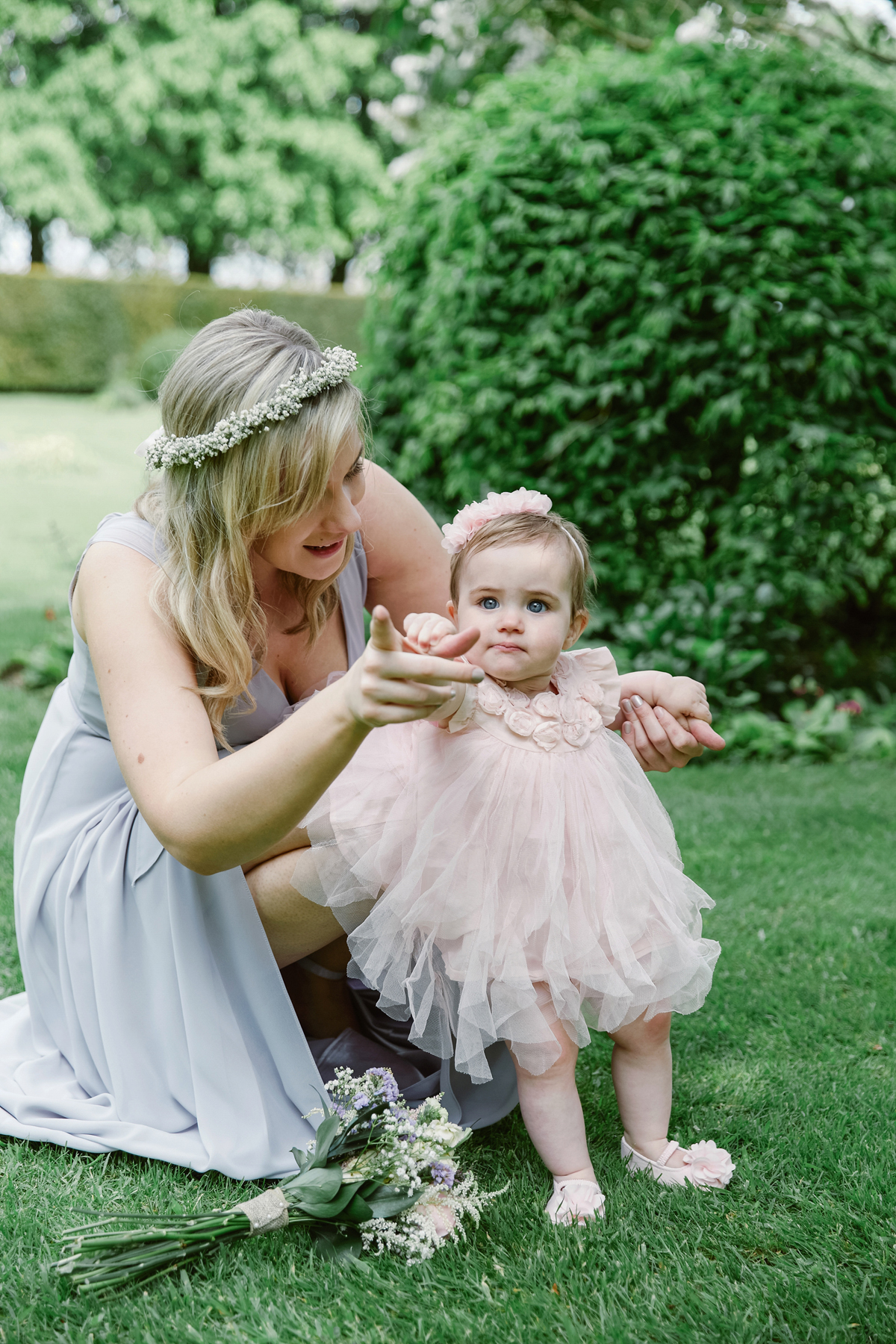 The bridesmaids wore simple and elegant gowns by Joanna August in contrasting colours of deep blue, soft grey and pale apricot. Having the same style and the addition of a sparkling vintage crystal brooch, a gift from the bride, really draws the look together. They all wore dried flower crowns sourced online from The London Wreath Shop for a pretty, elegant look.
It's time to talk about the lovely spring-time blooms which the bridal party carried and which decorated the marquee. The couple chose Field Gate Flowers as they liked their use of local wild flowers in season.
"We opted for DIY centre-pieces and reception decor and this florist offered large buckets of fresh-cut flowers which we could then assemble any way we liked. It was the perfect solution. The personal flowers for the bridal party were also done in a beautiful, natural way."
The couple took a DIY approach to the marquee's styling, using florals, vases and family photographs to create a quaintly vintage-feel that I just love. The tables were decorated with clusters of flowers in tea-cups and vases, photographs and books on mirrors. In a nod to the English love of tea and biscuits, they created favour boxes containing a Twinings tea-bag and packet of Border biscuits.
"We used framed family photos, globes and small cabinets, plus candles and tea sets. We bought many of the things from TK Maxx and got the tea sets from local charity shops, or borrowed from Gary's grandmother."
The wedding breakfast was provided by Leon Catering, and the pure white tiered cake by Sylvie's Wedding Cakes. Aren't the UK and USA birds nesting on top cute?
"My husband wanted a traditional fruit cake but we also realised it might not be to everyone's taste, so our cake maker did a two-tier cake that featured a fruit layer and a white chocolate sponge layer. She also made a fun variety of cupcakes for the evening reception. They went fast!"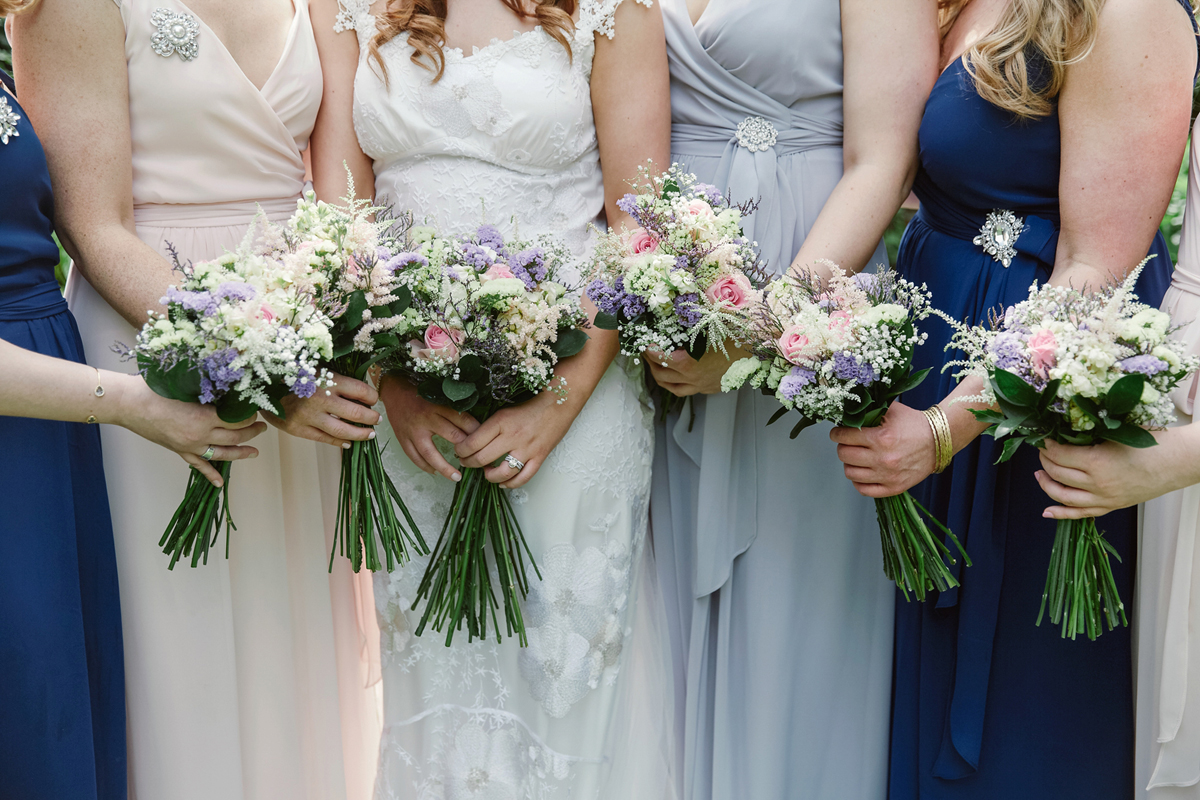 The evening reception saw Cassandra meeting some of Gary's friends and family for the first time, and she names this part of the day as one of her favourites.
"Everyone was so welcoming and happy for us. I immediately felt part of the family. It was a lovely experience. People also were enjoying themselves and we had a few lawn games set up, including a life-size Jenga game – that was a huge hit and we have great photos of people playing – many of them had just met that night but were already fast friends."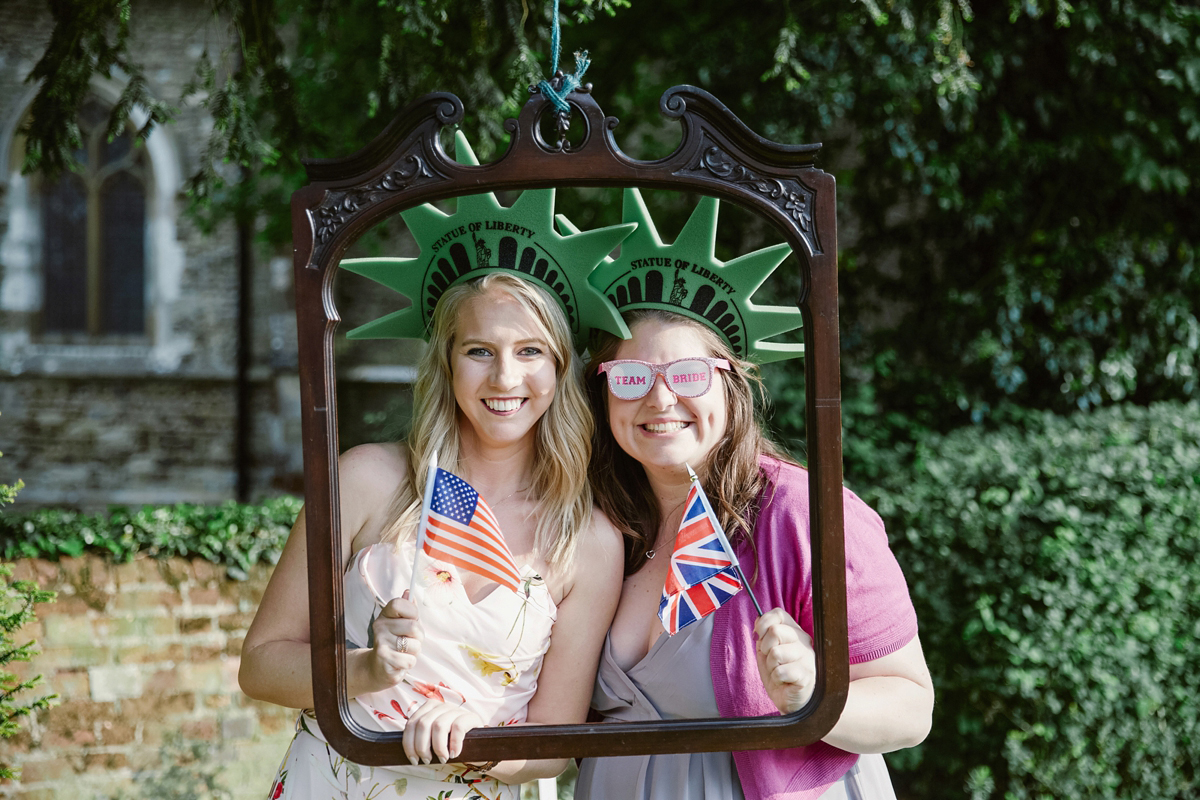 Words of Wedded Wisdom
"DIY decor is not as intimidating as you might think! With a couple of friends, you can whip up some really beautiful centrepieces in an afternoon. Use Pinterest for inspiration and look for affordable elements at party stores and places like TK Maxx."
"Since we planned our wedding from abroad, I was really worried about things running smoothly on the day. Ours was an at-home wedding with no venue manager present. I had only met some of our vendors once in person, and did most communicating over email. We decided to allocate part of our budget for a day-of coordinator – Jane Riddell – and it was an excellent decision. Having her there as a calming presence was essential! She put out many small fires that happened behind the scenes without me even knowing. I would highly recommend this for peace of mind. That is one expense you will not regret."
Well, what a beautiful garden wedding! Thank you so much Cassandra and Gary for sharing with us and taking the time to tell us about your day. It's been lovely to see more of Natalie J Wedding's work; if you'd like to see more please do take a moment to see some other weddings photographed by her on Love My Dress here. We also have lots more inspiration for English countryside-inspired weddings on the blog. Wishing you a very lovely rest of day,
Ele xx