Sheffield is one of my favourite cities in the UK and always seems to produce some seriously fab weddings.  Perhaps the urban cool is just part and parcel of the 'City of Steel' but whatever the reason, it's always a pleasure to write up a celebration from this hip northern city.
Meet Lorelle, a graphic designer and her new husband Ben, who is the Director of a charity, who married on the 22nd of April 2017 at Millennium Galleries, followed by drinks and canapes at Silversmiths Restaurant (where they first met) and finishing with dinner and a party at Trafalgar Warehouse.  I just love this tri-venue day with this bright and beautiful bride.
"I'd always wanted to go to Italy so we decided early on that we would honeymoon there. I liked the idea of linking the wedding and the honeymoon and so we settled on a sort of juxtaposition; an urban setting with fresh, natural details inspired by Tuscany. Neither of us are big on themes though, it was more about a suggestion of place through the atmosphere we created."
Photography by Fiona Oliver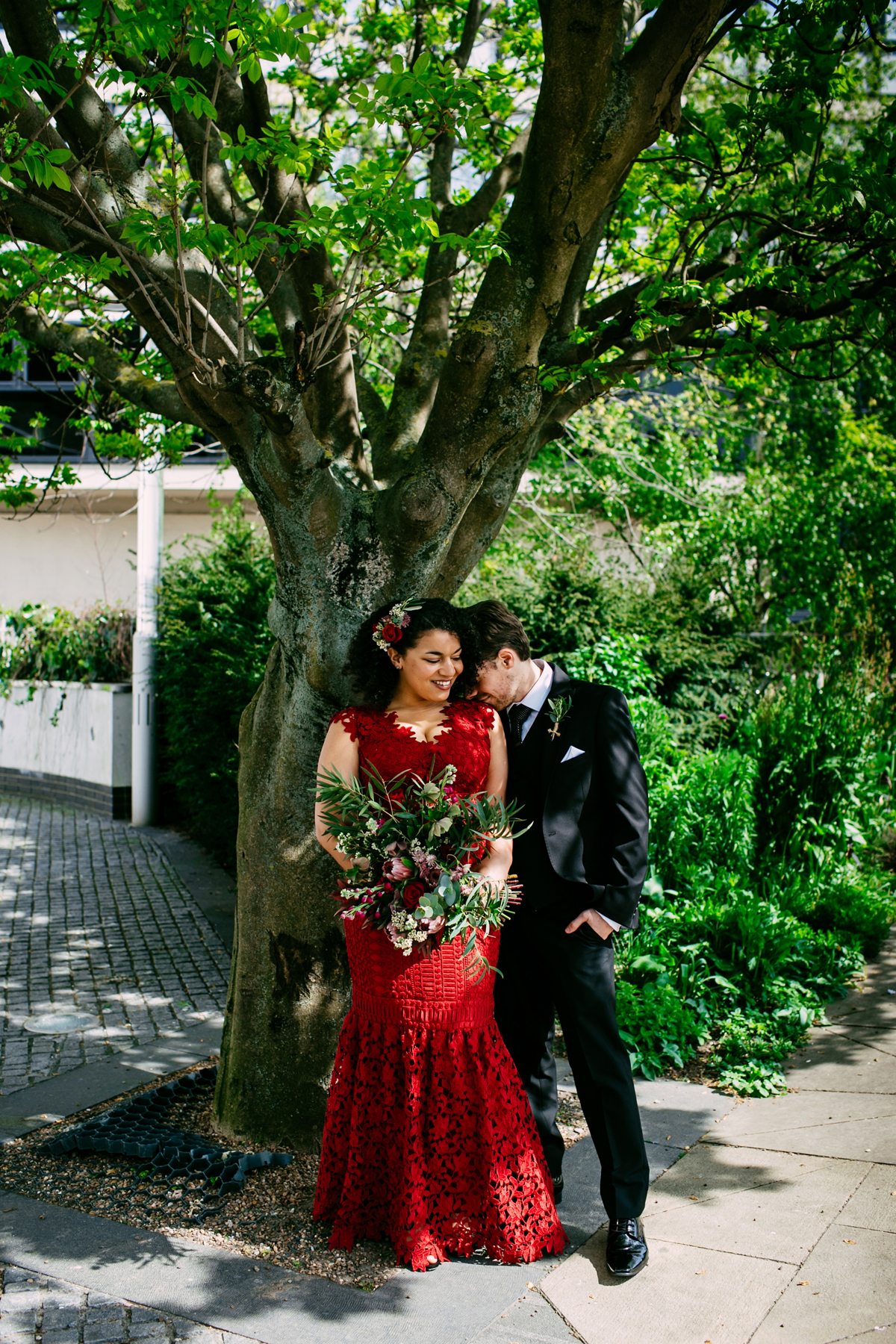 Lorelle looked gorgeous in a red gown by Phase Eight, from the Collection 8 range.  Much as I love traditional wedding gowns I just adore it when a bride bucks tradition and goes for something which suits her personally.
"I didn't intend to buy a red dress but I knew I wanted something a little different.  I came across a couple of beautiful dresses in bridal shops but they weren't anything I would have picked normally.  Once I started to look for a dress that I loved, rather than a wedding dress, I instantly found the perfect one.  The different complementing lace designs are beautiful; I fell for the detail straight away. More than that though, I loved how I felt as soon as I put this dress on, like a classic movie star."
On her feet Lorelle wore black heels from L.K.Bennett, while for accessories she opted for a hair slide made up of some of the same flowers from her bouquet (designed by Campbell's Flowers) and stud earrings by Karen Millen. For scent she chose Amarige by Givenchy Paris.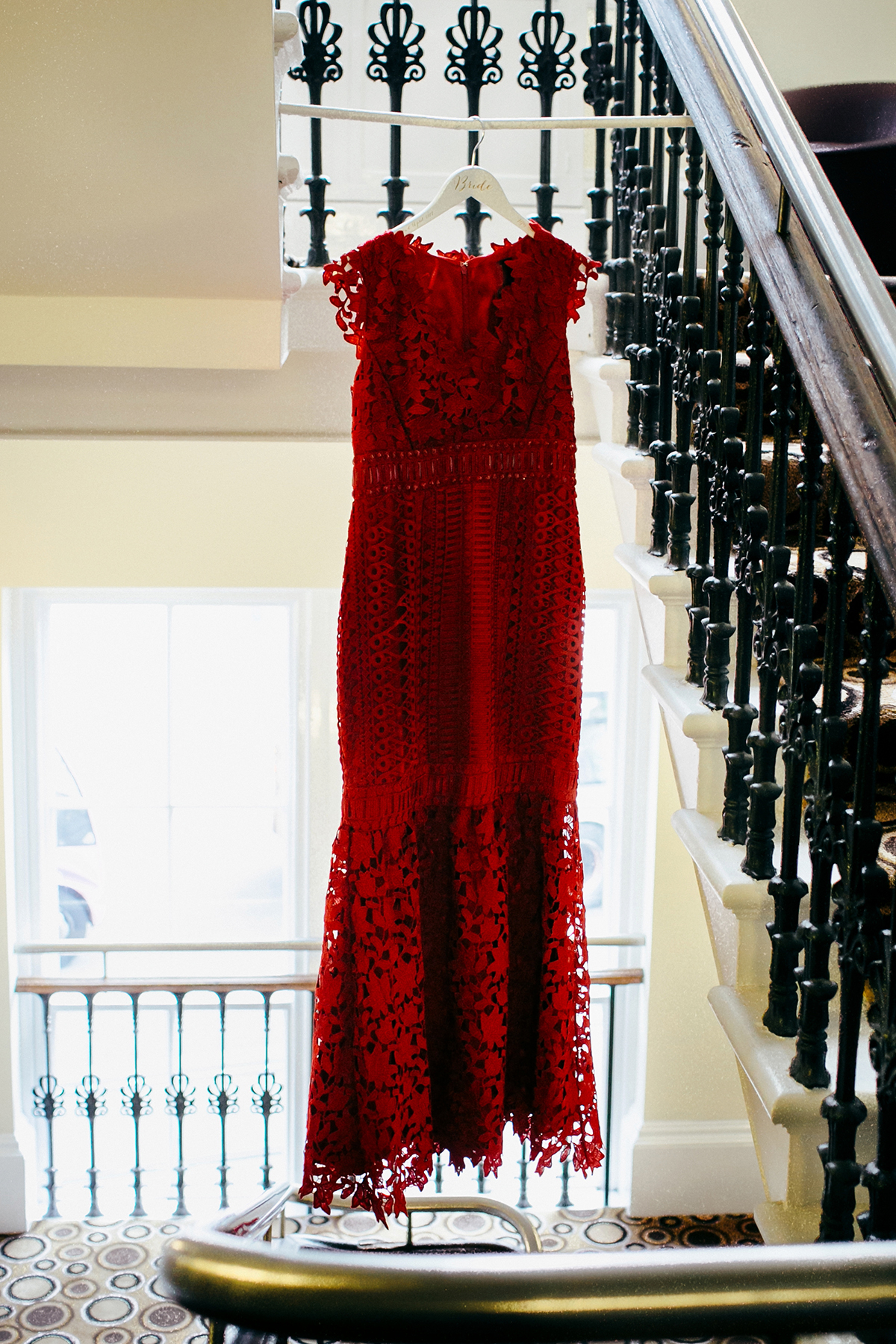 "My mum used to wear Amarige as I was growing up.  A few years ago I walked past someone who was wearing it and couldn't place it.  I eventually realised why I knew the smell and bought a bottle for myself.  It's since become 'my' smell."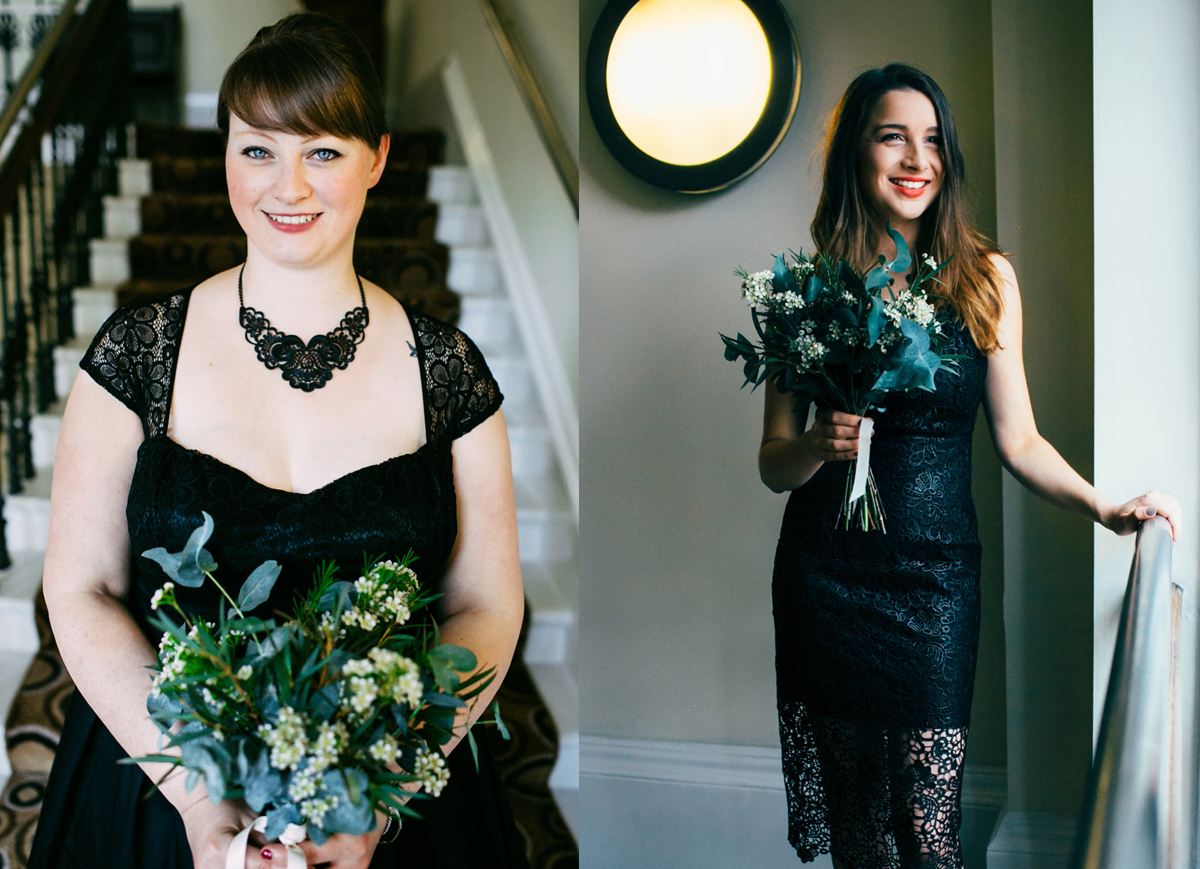 "I don't know much about flowers, so when I met with Tracey Campbell of Campbell's Flowers we talked about shapes, colours, smells and textures rather than specific blooms.  She instantly got me and the atmosphere Ben and I were trying to create."
"I went for a dramatic, asymmetric bouquet with gorgeous proteas, but elsewhere we were keen to keep it simple with lots of green foliage and nods to our Tuscan theme, like the potted rosemary plants and olive trees."
Lorelle's bridesmaids each wore their own choice of black dress and looked (almost) as glamorous as the bride herself.
"I really wanted my bridal party to feel as fantastic as I did on the day so asked them to choose the cut of dress that they liked best."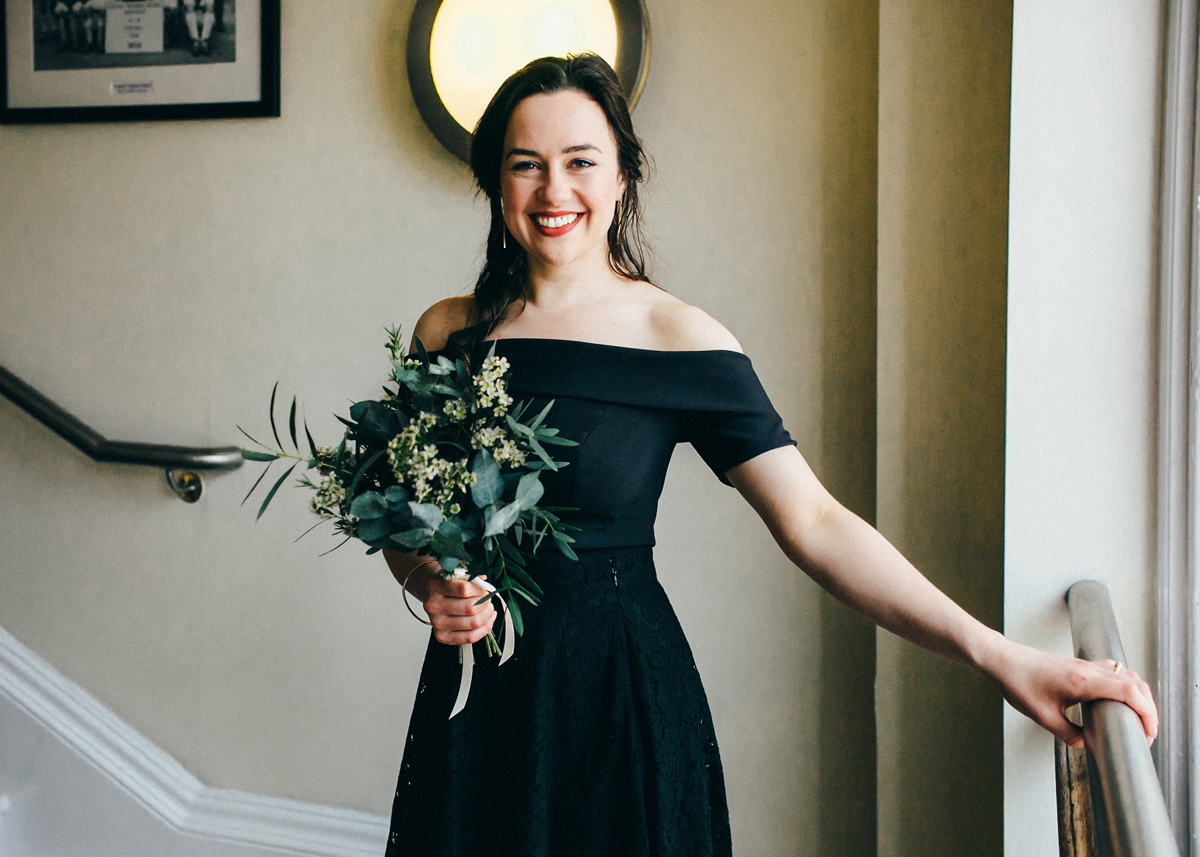 "Both Ben and I were born in Sheffield and couldn't imagine getting married anywhere else. We've both enjoyed spending time at Millennium Gallery over the years and felt it was perfect for our non-religious ceremony.  It's a bright, modern space and, being a creative person, I loved the idea of being surrounded by art on the day."
"Ben and I first met when he was brought along to my birthday party eleven years ago.  It was the start of summer and I had plans to attend university while he was heading to Peru on a gap year.  It wasn't long before I decided to delay university and join him on his adventure!"
"Ben popped the question in May 2016 during a surprise luxury trip to Paris.  He just told me to pack a bag and kept me guessing!  He proposed in the penthouse suite at the incredible Terrass Hotel in Montmartre, my favourite area of Paris. We had a perfect view of the Eiffel Tower from our balcony; the whole weekend was a dream."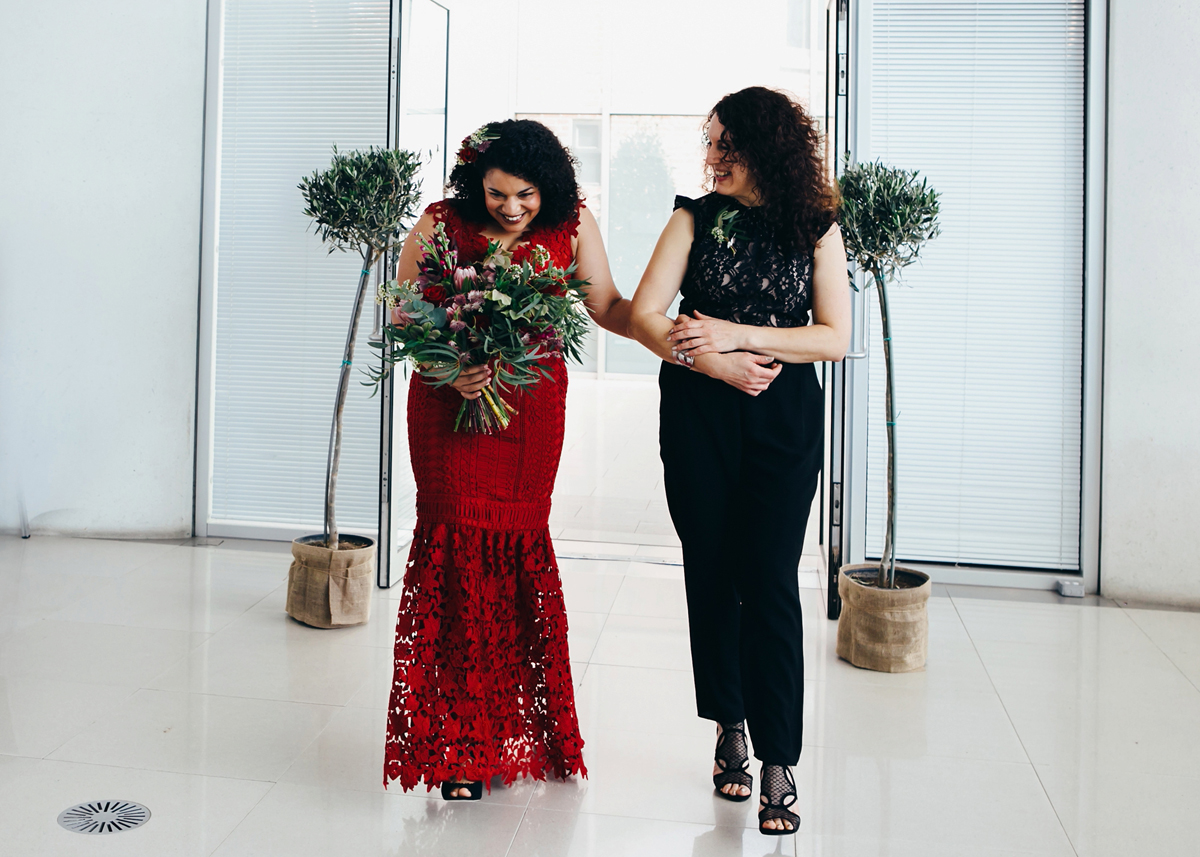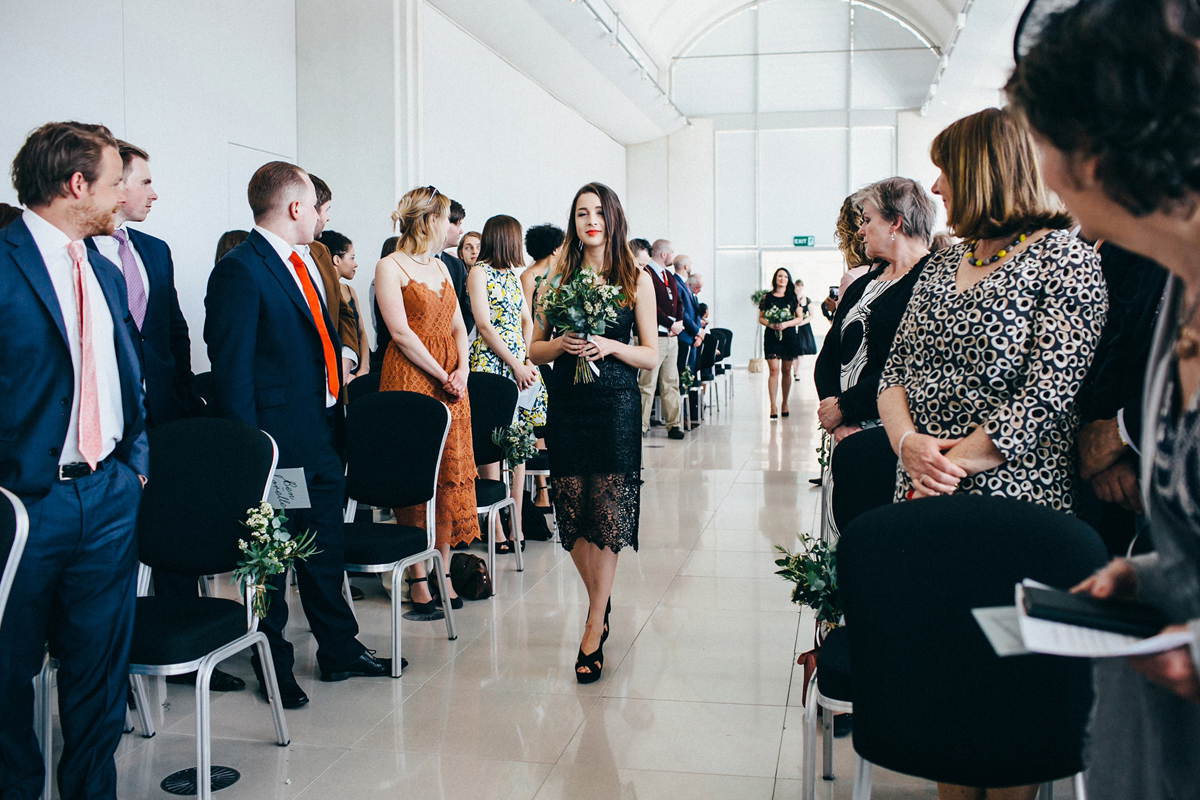 Lorelle was accompanied down the aisle by her mum, to 'Can't Help Falling In Love' by Elvis Presley, played by one of Ben's groomsman, Julian, on the violin.
"I started crying on the first note!"
"We struggled with our readings, as I think many couples do, but settled on an extract from Captain Corelli's Mandolin.  As we had been together for 10 years at that point, it felt appropriate, especially as it was read by Ben's mum who has been married to his dad for a lot longer than that.  We also chose Shakespere's Sonnet 116 which was read by my Maid of Honour, Viv."
Those that truly love have roots that grow towards each other underground, and, when all the pretty blossoms have fallen from their branches, they find that they are one tree and not two."
"I came across Katherine Hurdley of Willowbrook Artistry at a wedding fair I attended with my mum. I loved the simplicity of her rings and the fact that they bear a Sheffield mark."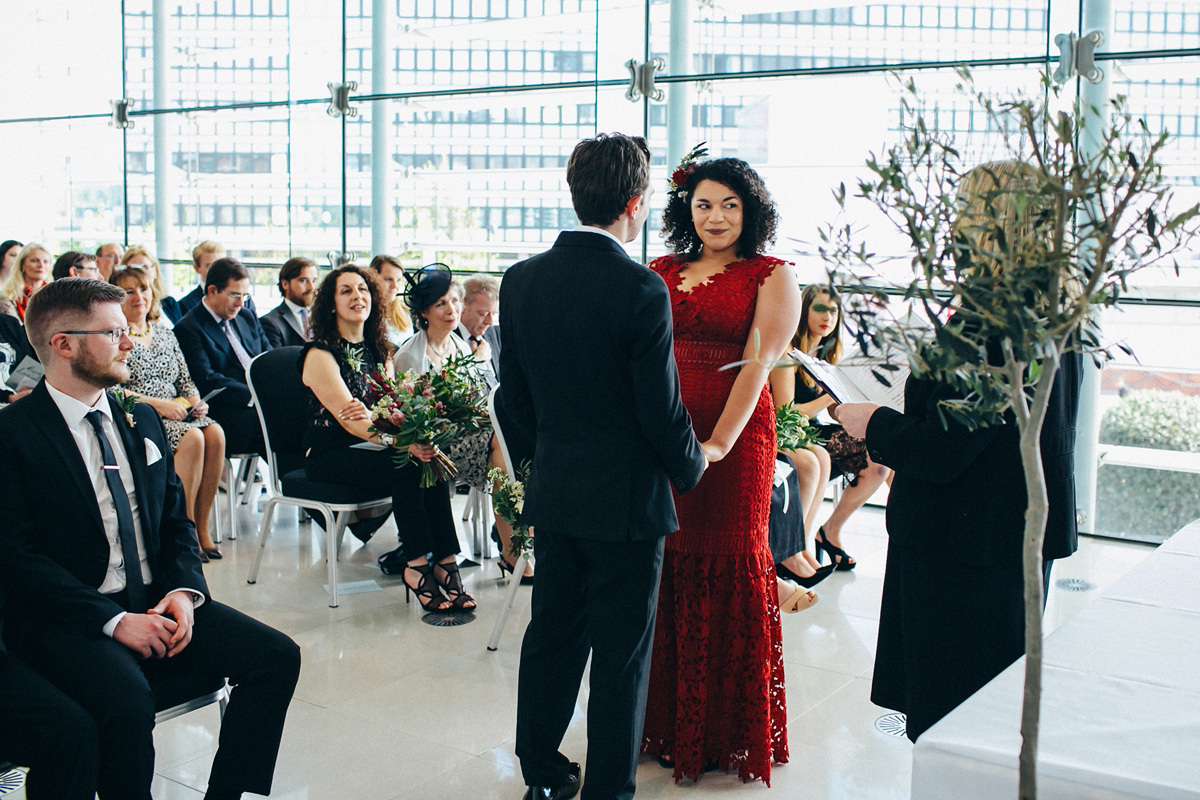 The handsome groom chose a sharply tailored black two piece suit from Slaters, worn with a crisp white tie.  His groomsmen wore the same.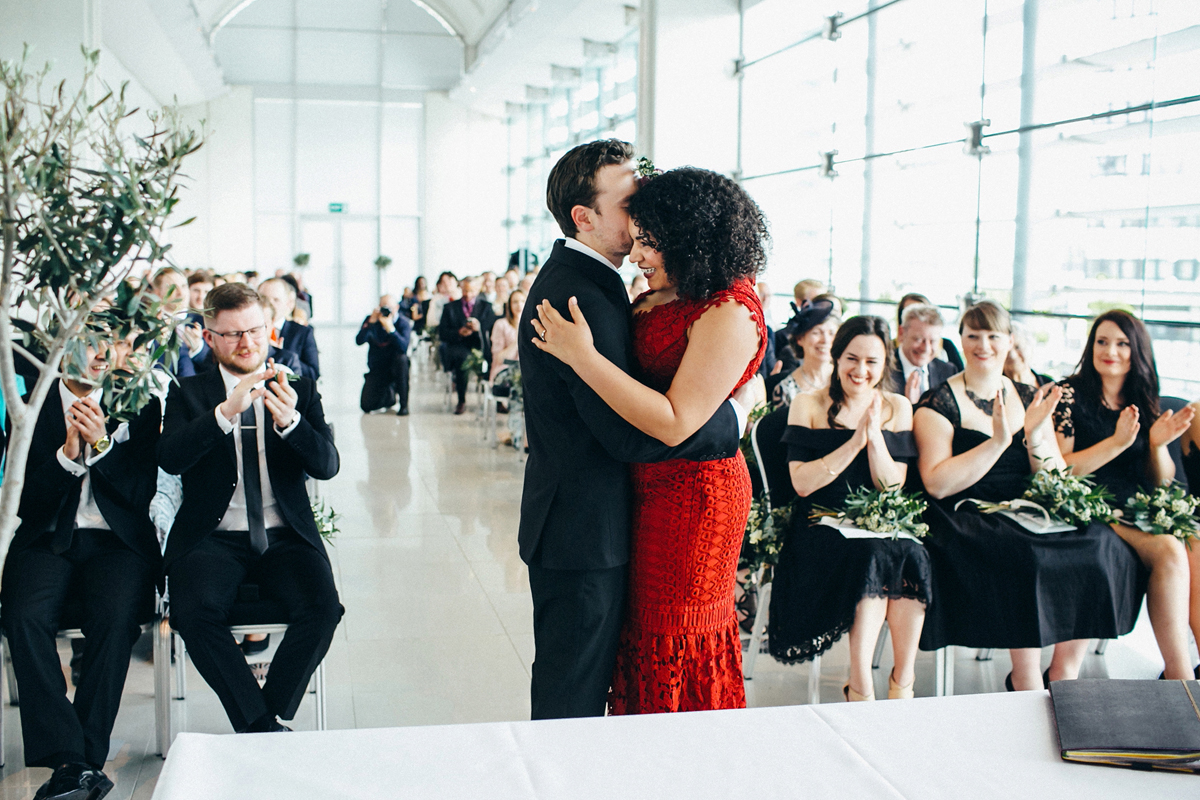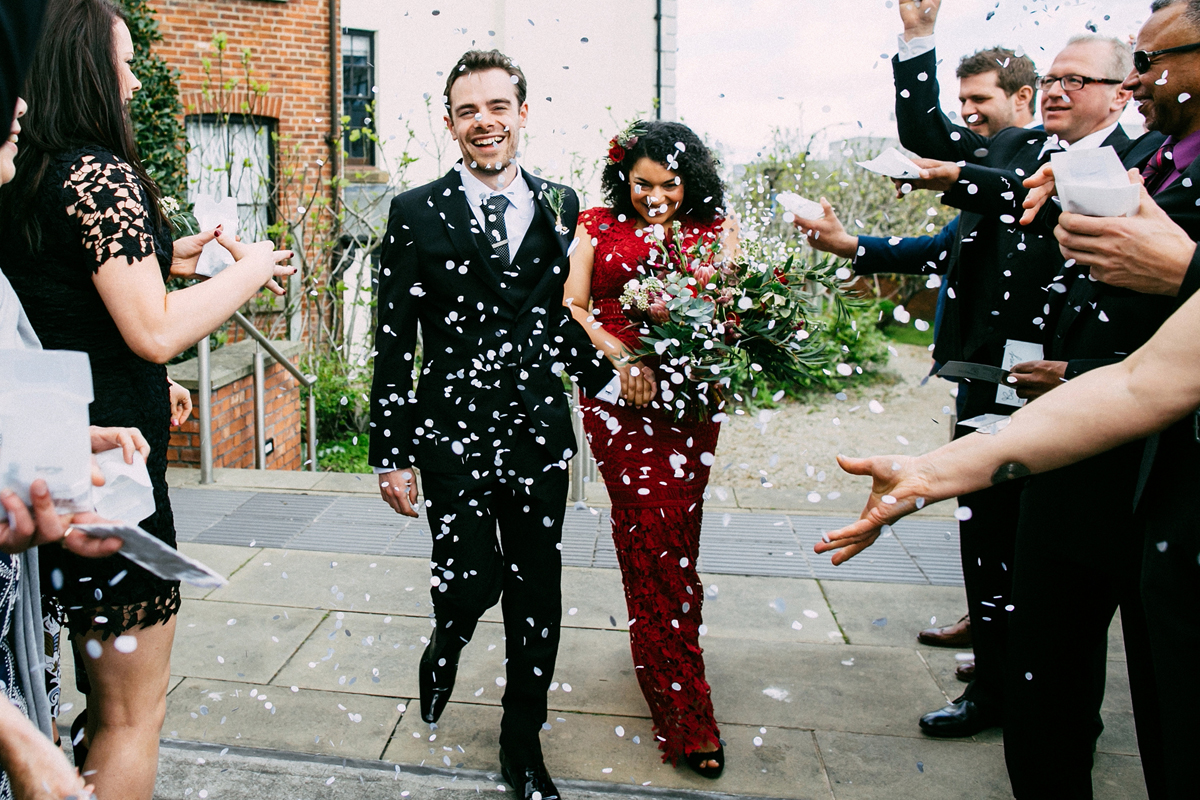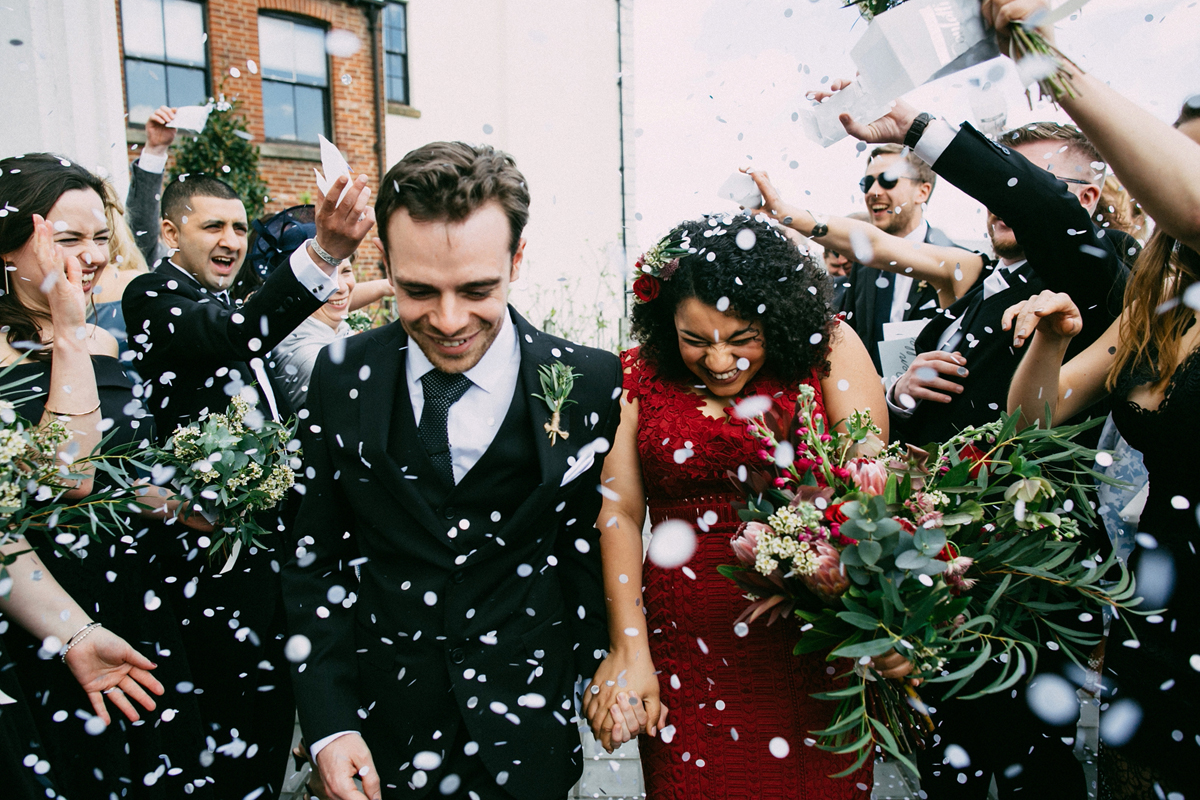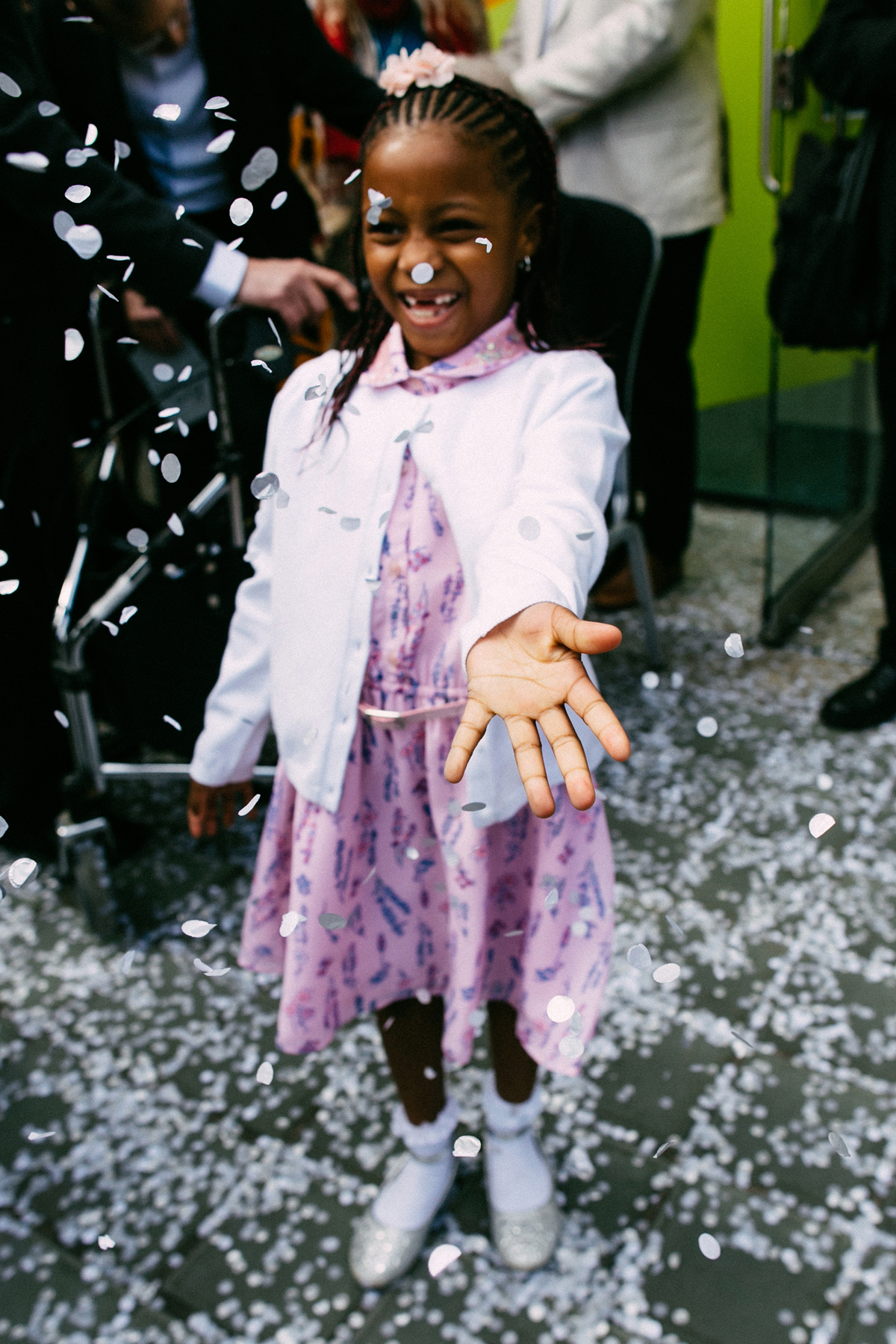 The day was put into memory forever by Fiona Oliver Photography and the reception venue was styled by Felicity Hoy at Inner City Weddings.
"Fiona and Bill were fantastic.  We felt completely at ease with them and couldn't be happier with the moments they captured."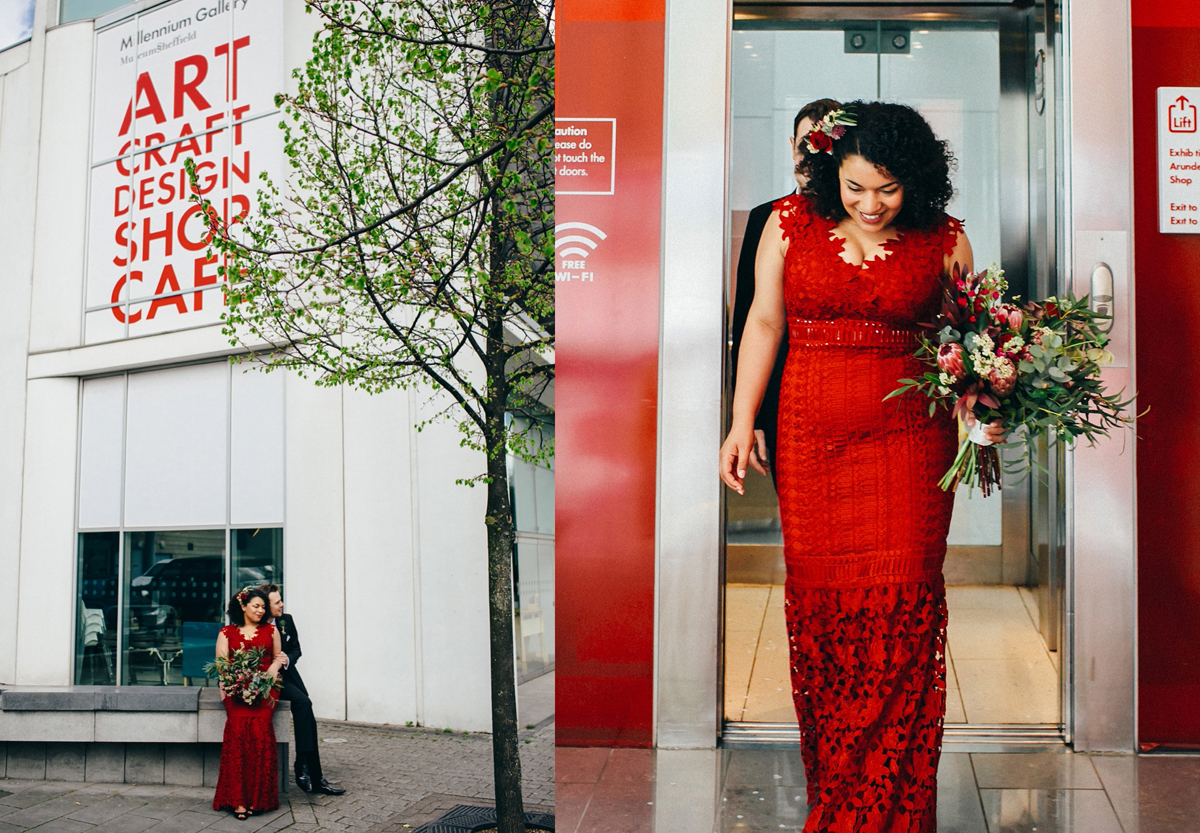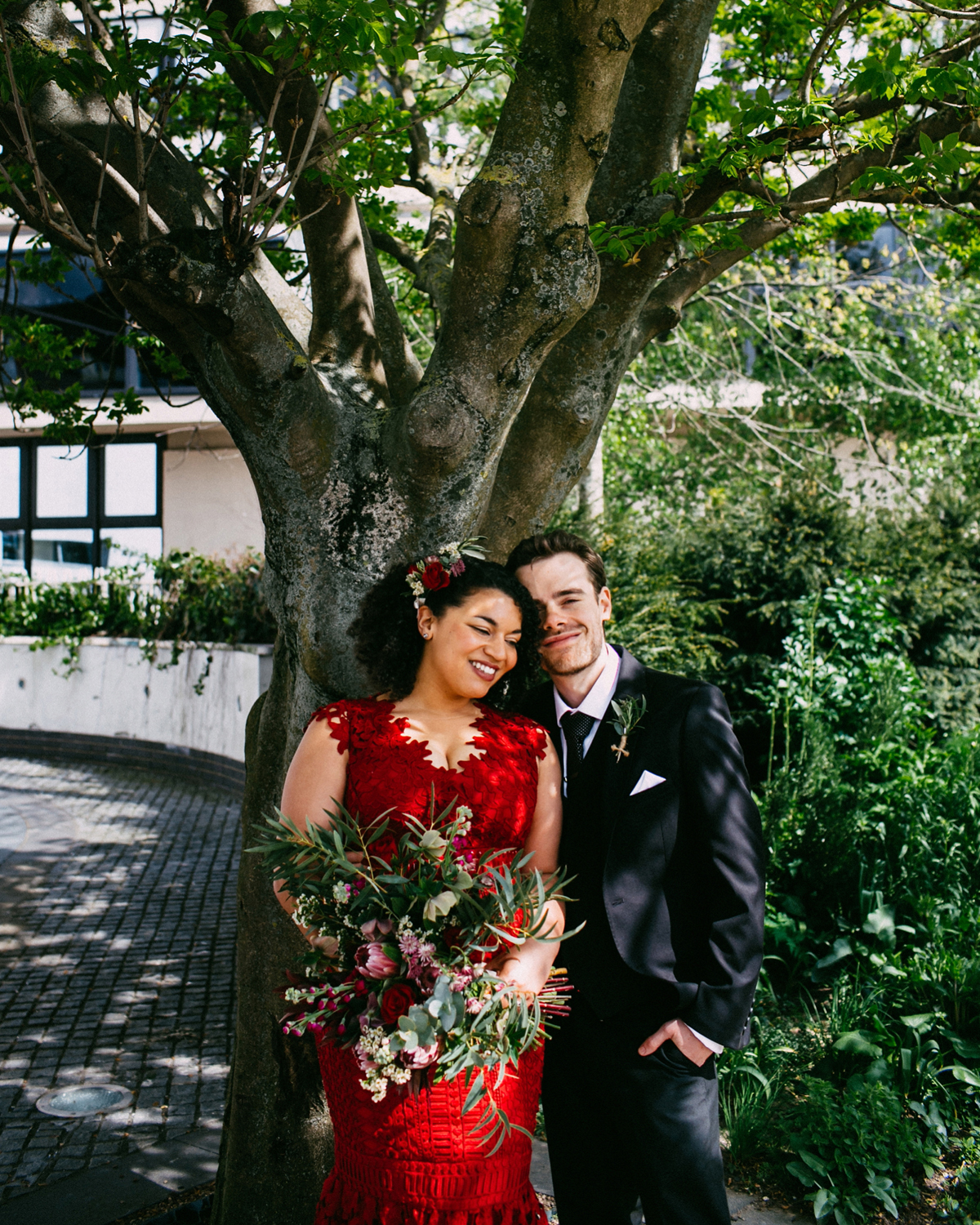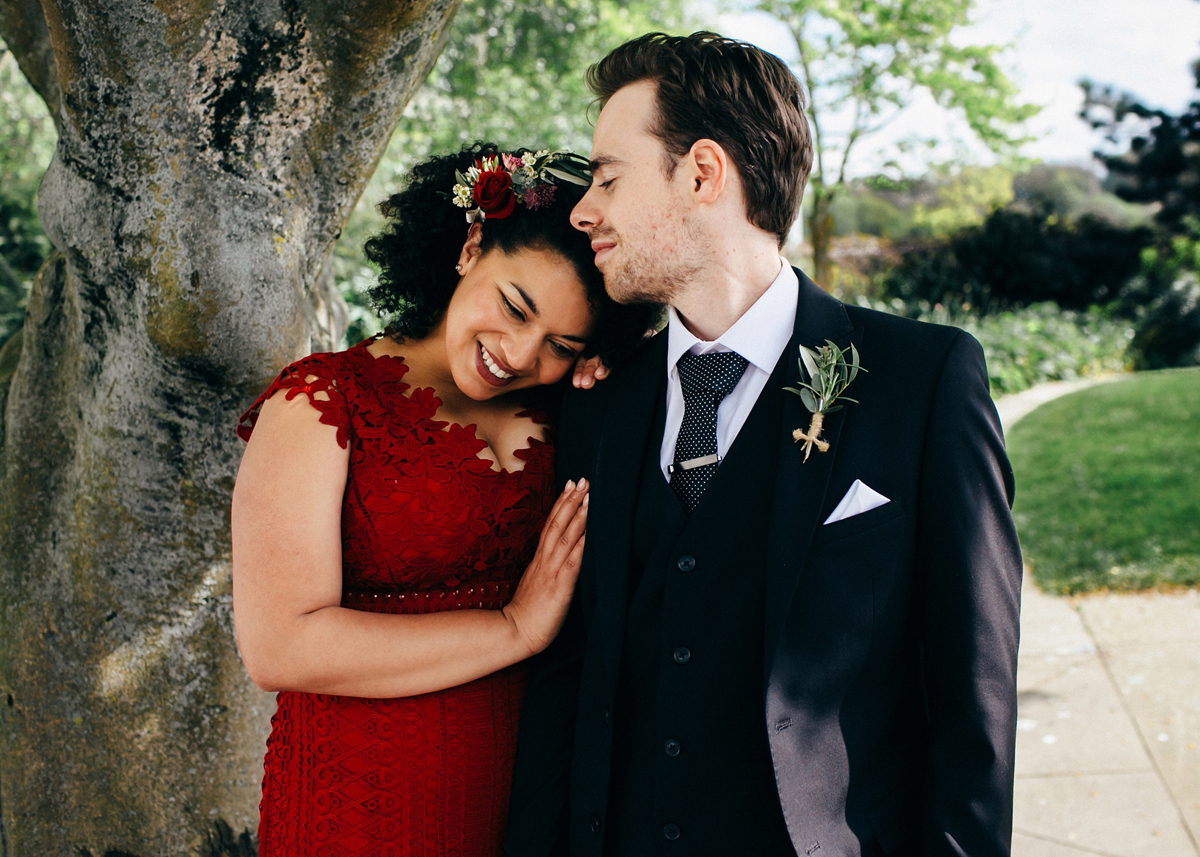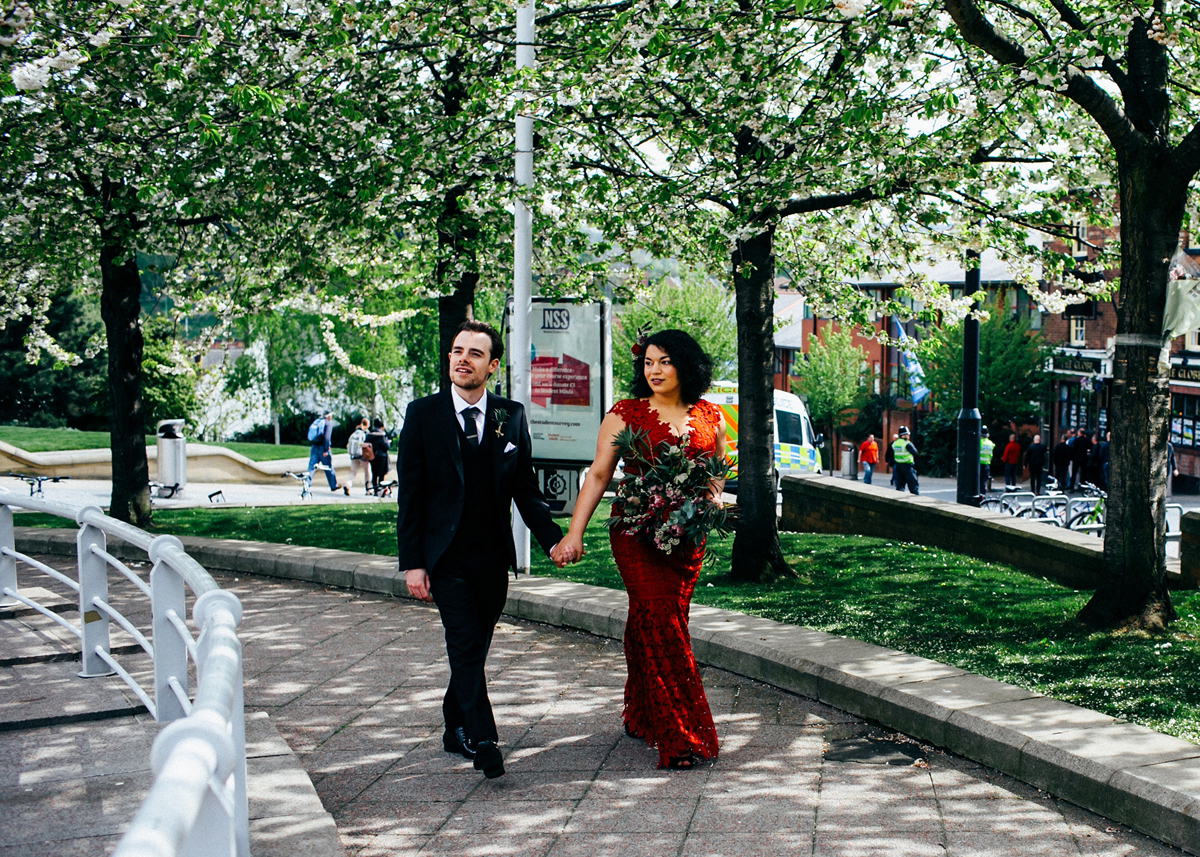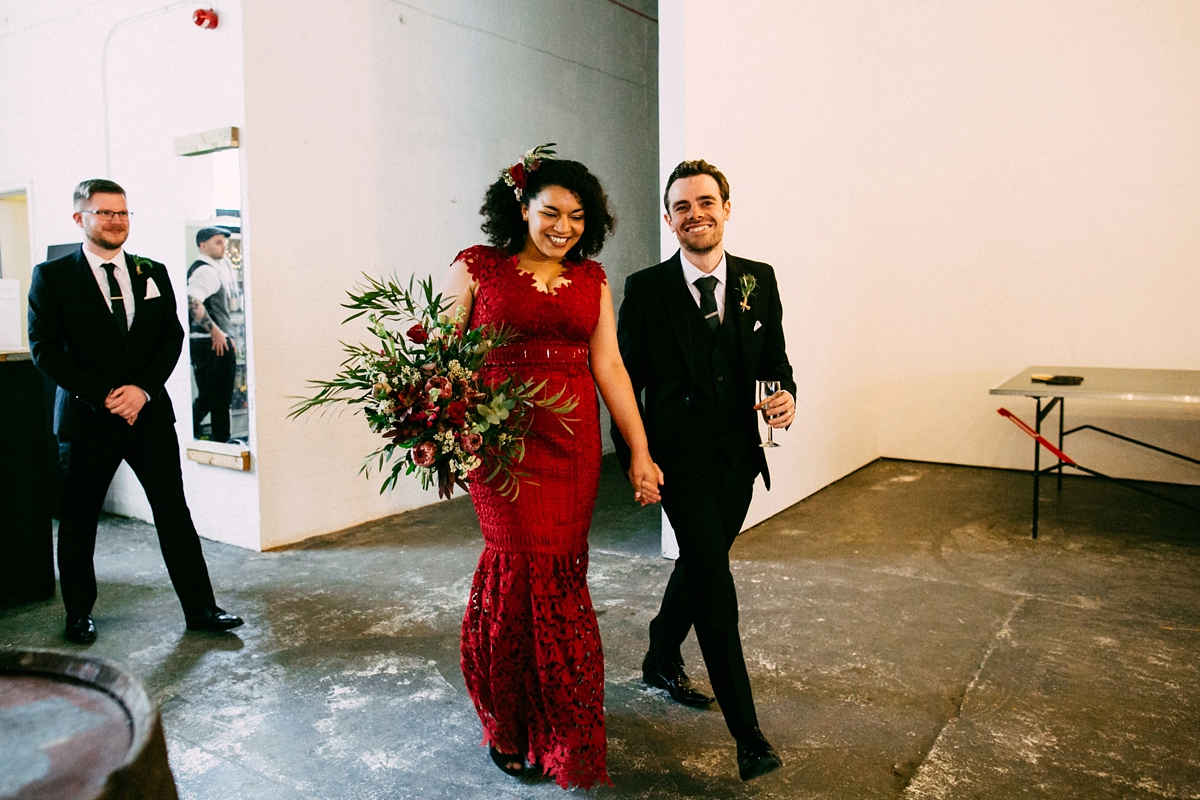 "We kept decor simple with different kinds of atmospheric lighting (candles and festoon lights), foliage, fresh lemons, olive trees and potted rosemary plants."
Catering was the work of Homemade by Thelma's, who designed a Tuscan-themed menu especially for Lorelle and Ben and provided fantastic service as well as amazing food.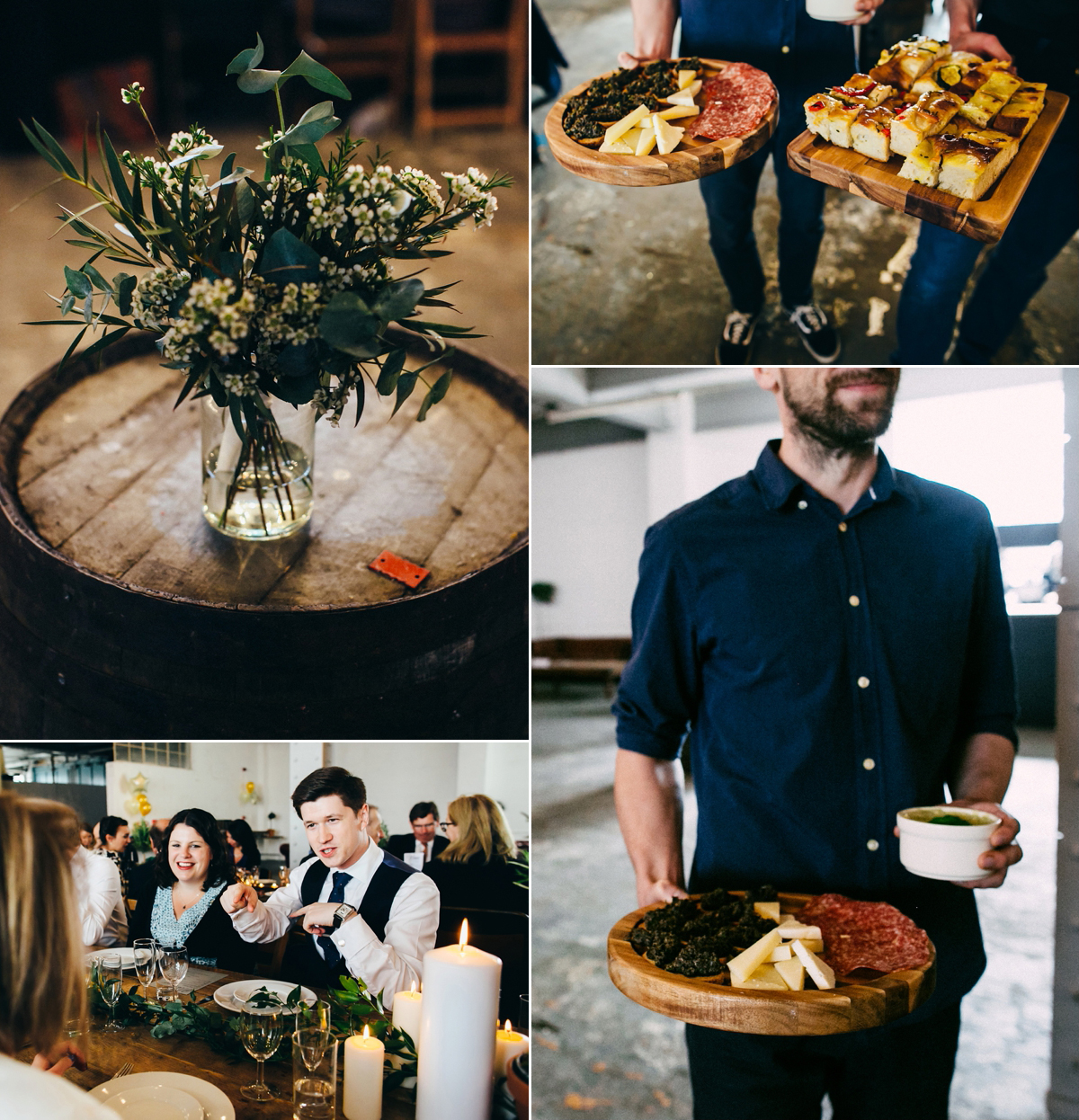 "There were so many amazing moments but my favourite part was probably the speeches. I was so nervous about them; not knowing what anyone would say. Our families are quite different in lots of ways and it struck me as an impossible task but I was blown away.  There were tears, laughter and singing – it was such a celebration of our relationship and all the incredible people in our lives."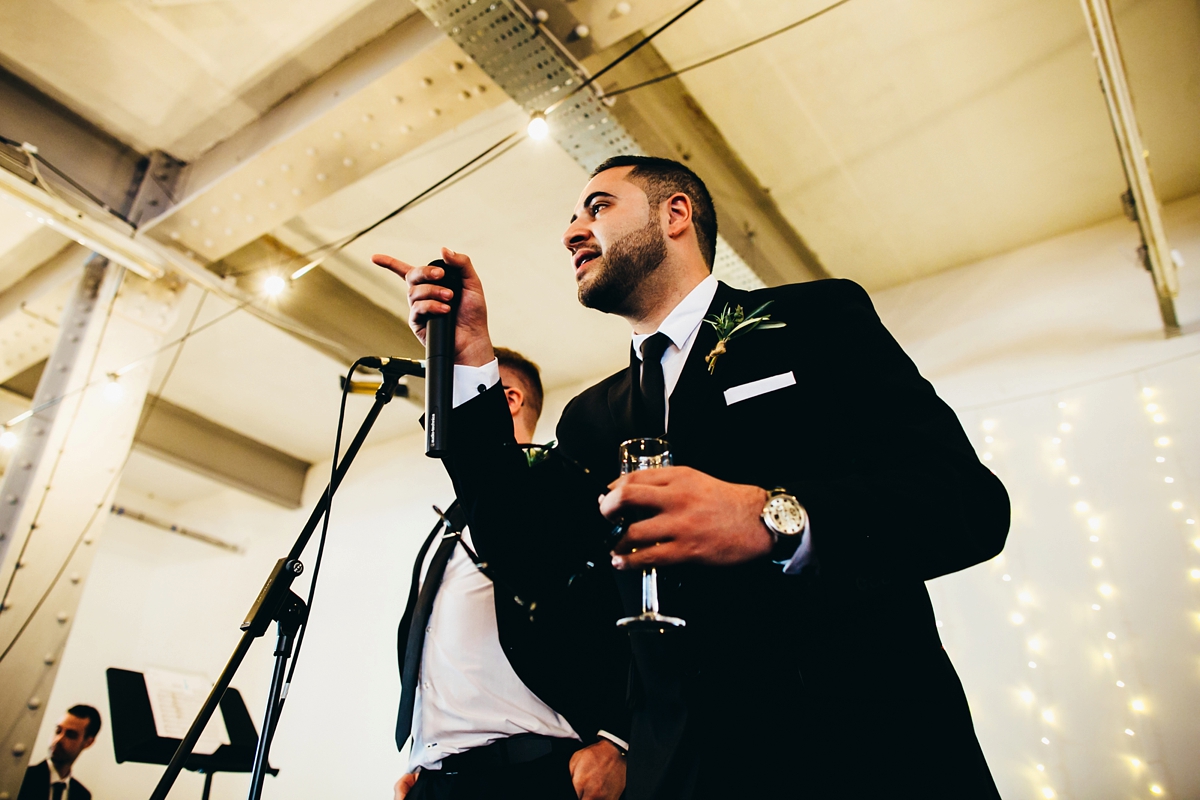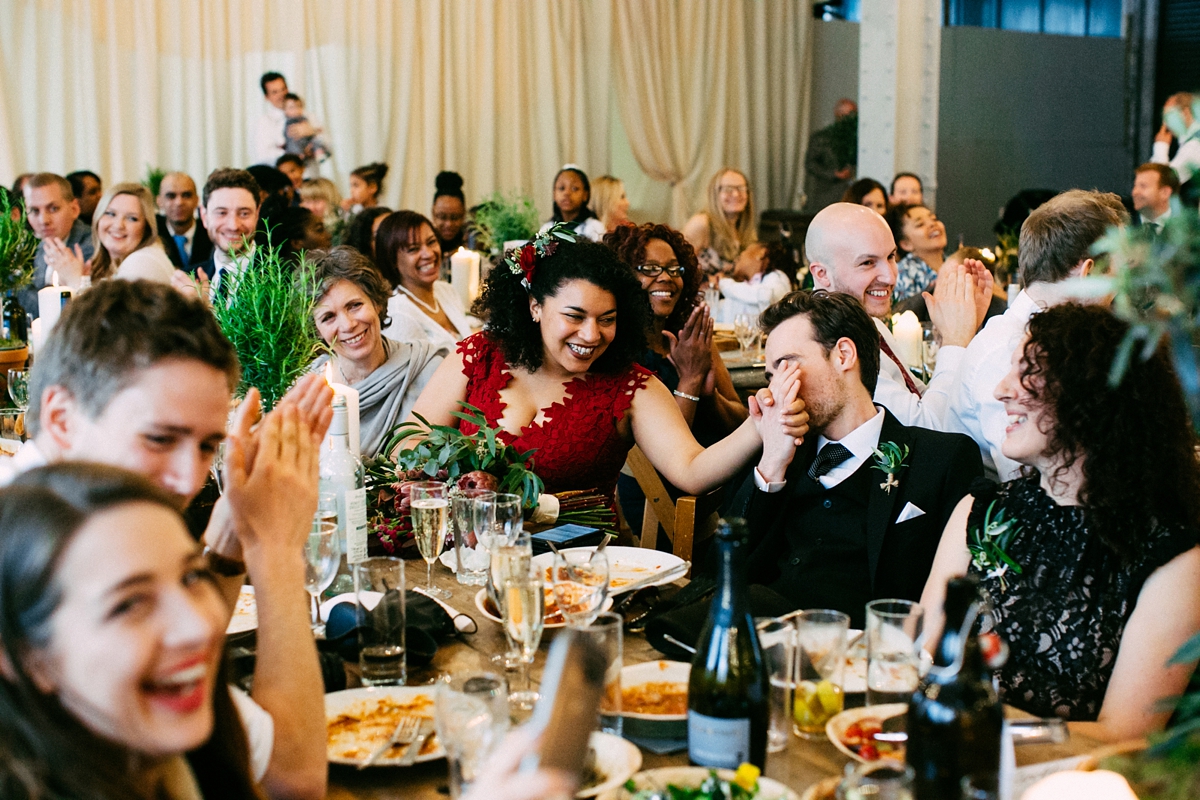 Entertainment came in the form of Ben's cousin's band, followed by a DJ friend, keeping things personal and lovely.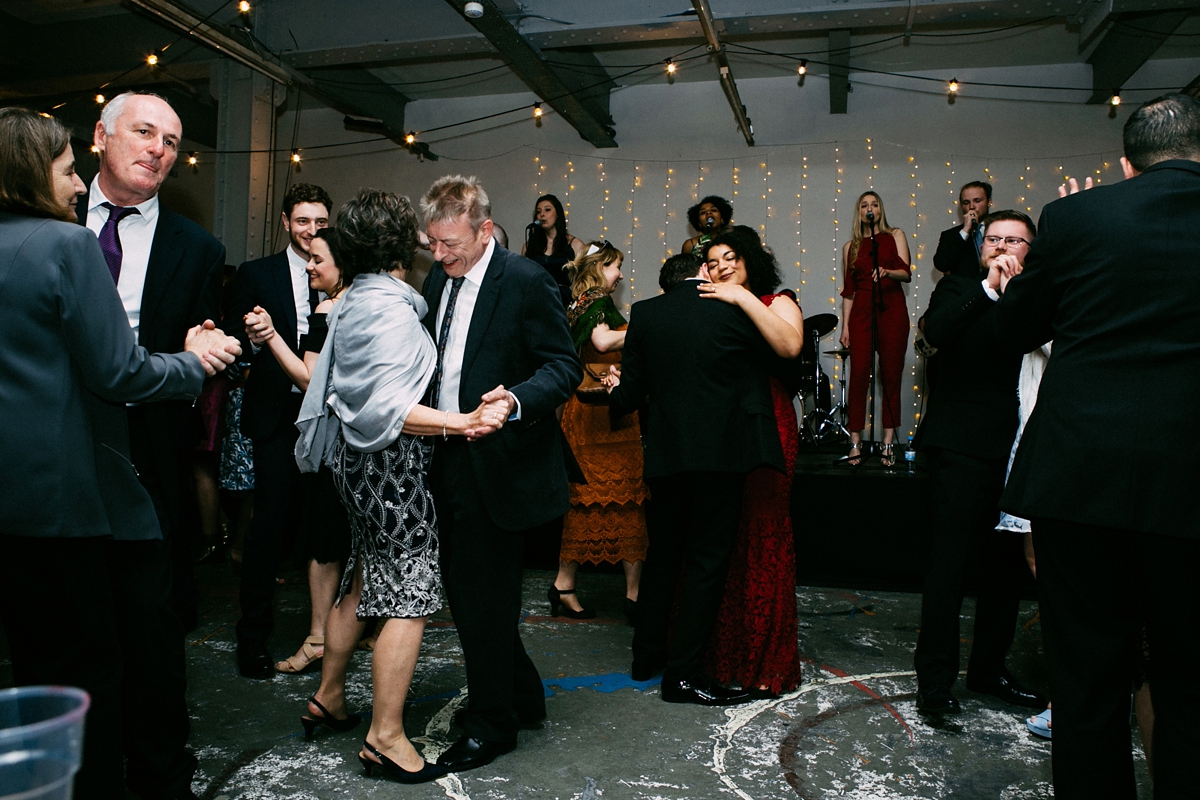 Words of Wedded Wisdom
"Be true to your vision for the day.  That doesn't mean being rigid as family and friends can have some great ideas and be a huge help too, but don't be afraid to make the day your own.  It's a wedding, but more than that it's a celebration of you and your relationship so, if you're unsure how something will be received, don't – you'll be surprised how much your guests enjoy it."
"Your guests are there for you after all and as long as you're having a fabulous time, they will too. Throughout the planning process, you might compromise on some things, or change your mind about what you want – that's OK, just remember that it's your day.  Do what feels right and you can't go far wrong."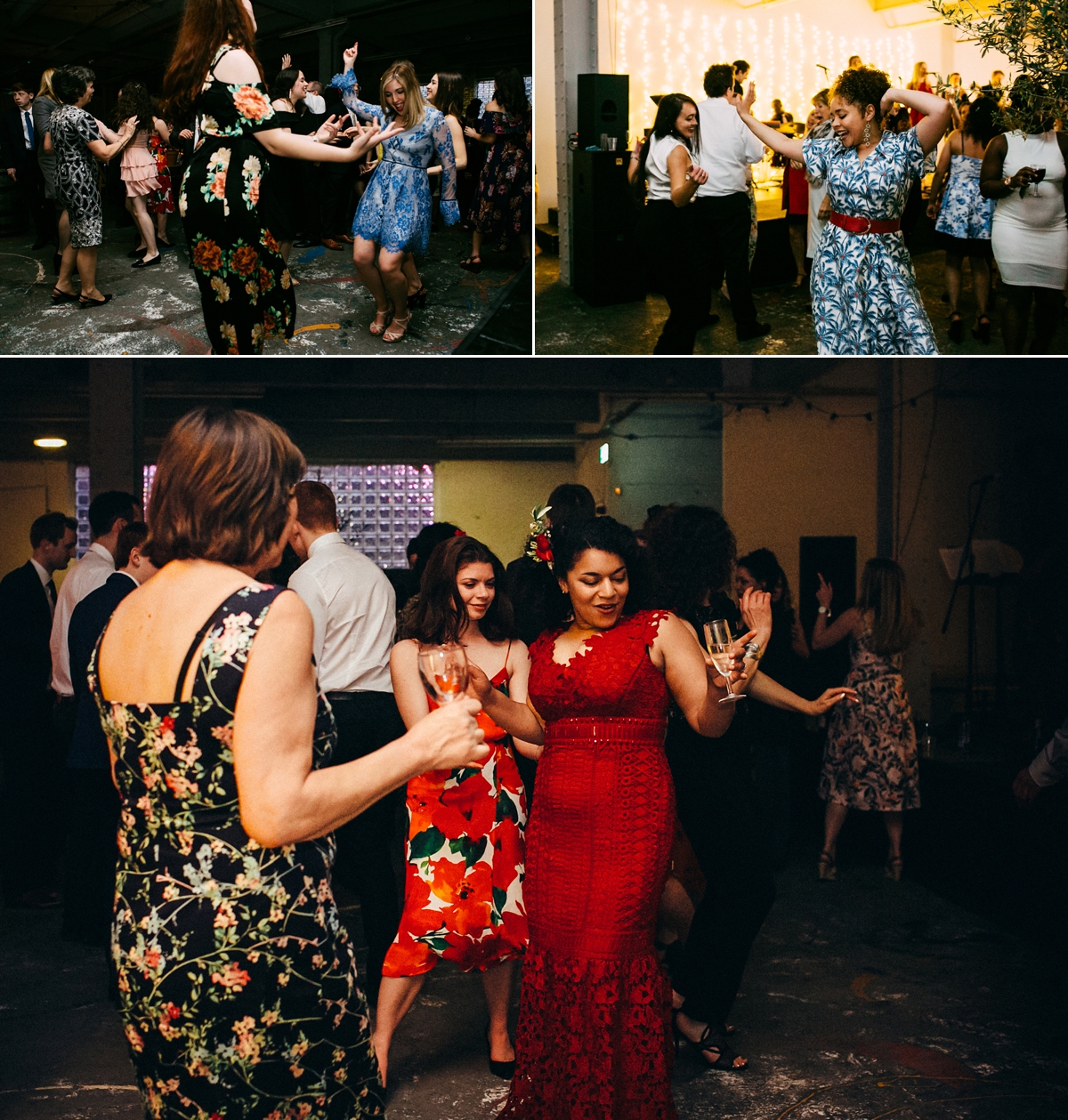 Huge thanks to Lorelle and Ben for sharing their beautiful day with us all. Phase Eight gowns are actually rather popular with our brides- take a peek here for some more beauties in this high street choice and here for more ladies in red (and lots of other colours too- now try not to hum the song…)
Much love,
Shona x