In the immortal words of just about every character on Game of Thrones – 'winter is coming'. And come it will, every year without fail in all it's crisp-cold, magical, dark-evening-ed goodness.
Winter always makes me think of sparkling lights and thick jumpers, steaming cups of tea and families gathered together, and had I not wed in midsummer in an olive grove on top of a Tuscan mountain, I'd have planned a deep winter celebration with dark green foliage and glittering light everywhere, deep berry red tones and a long-sleeved lace Hermione de Paula gown…how many of you married ladies have convinced your husband to allow you to have two weddings?!
Without further ado, it's my pleasure to introduce you to Leah, a sales executive at a website company, who married her husband Rich, a sales director in software on 10th December 2016 at Hedsor House in Buckinghamshire. Their day was planned in all it's wintery splendour by Beattie Bailey and captured on film by one of our Little Book for Brides suppliers, videographers Minty Slippers – I only wish I had the video to share with you all, but you can see more of their work featured on a number of our wonderful real wedding features.
Photography by  Ria Mishaal
"Hedsor is super opulent, glamorous and romantic and we wanted to do the venue justice, so this shaped our inspiration. We also wanted to make sure it was still very 'us' at the same time, with a relaxed and fun vibe."
"We went for black tie, given it was party season but ironically, despite our love of Christmas, we asked to have the decorations taken down (except the huge tree, which couldn't be moved) because we wanted it to be our wedding, not a Christmas party. Our planners, Beattie Bailey were amazing and so supportive. They helped us throughout the whole planning process; with the venue search, matching us to the right suppliers for our style, our budget, with all the logistics and then styling and planning on the day."
"My bridesmaids all wore their own shoes and their dresses were from David's Bridal at Westfield Stratford. They wore the Long Sequin Blouson Dress in gold. We really struggled to find a dress that suited seven heights and shapes, and it was really important to me that my bridesmaids all felt comfortable in their dresses; this one looked stunning on every single one of them and they all loved it."
"It complemented my dress really well and suited the glitz and glam of the day and they looked the part among all the tuxedo's too. They also wore Kate Spade stud earrings from the Pansy range, which were a gift from me that morning and I also bought them all pretty floral pyjamas to wear while we were getting ready."
"Our flowers were by the super fabulous, multi award-winning, Jay Archer. We chose whites and blushes with a touch of foliage and nothing characteristically Christmas-y. We wanted a combination of flowers with lots of texture inkeeping with the relaxed, natural vibe we wanted but also upholding glam and opulence."
"Jay over delivered, she exceeded our expectations by a country mile. The venue was transformed into a floral wonderland, which smelt unbelievable. Guests, even those I least expected to notice the flowers, were complimenting them all day and beyond. She's just incredible."
All of the stationery for the day was designed by Leah's brother, Alex Buller, and in another twist of family-related fate, our bride and her beau actually met through Rich's sister and her boyfriend.
Lorraine Milligan took care of Leah and her mum's hair and make-up on the day, making both ladies feel wonderfully at ease, while Emma Cox was also on hand to take care of the bridesmaids' hair and make-up.
"I wore Peonia Nobile by Acqua Di Parma and layered it with the matching body cream. I wanted a scent that I could purely associate with the wedding day and this was new out just a few months before and was perfect because peonies, one of my favourite flowers, were not in season for my wedding."
Leah found her search for a stylist on the day to be one of the most stressful elements of planning – after two trials with different artists, Lorraine was the perfect fit – taking her time to understand Leah's brief and making expert suggestions on how to perfect the look she was after. All that remained to complete our bride's look was a spritz of floral scent and a bouquet of white and blush tones, studded with feathery astilbe.
Leah chose the Phoenix dress by Suzanne Neville, which she bought along with her beautiful David Fielden veil from Carina Baverstock Couture in Bradford-on-Avon.
"We chose Hedsor because we were able to have full hire exclusivity and this privacy was really important to us.  They have such beautiful bedrooms, including the most stunning bridal suite you could ever imagine. Our wedding planners created the most amazing flow between all the rooms, meaning we could move guests seamlessly throughout the day with little surprises along the way. It's just such a beautiful venue inside and out, so we took comfort that we would have lovely photos whatever the English weather might throw at us."
"I had two friends buy their dresses from Carina Baverstock Couture in previous years, so travelling the distance to this boutique was based purely on high recommendation and it was well worth it. They have a the most stunning collection of gowns in so many different styles and the most helpful, lovely and knowledgeable staff. Carina knew exactly which direction to point me in and has a wonderful honesty about her that just made me feel like I was in the best hands."
"I found choosing a dress really difficult. I had ten first appointments in total and tried on countless dresses, I knew I wanted something simple and fitted and this dress perfectly encompassed all of the small details I had loved about other dresses that weren't quite right. I loved the shape, the sleeves, the train, the lace detail and the gorgeous buttons down the back. It was undoubtedly 'the one' and I hadn't had that feeling with any other dress."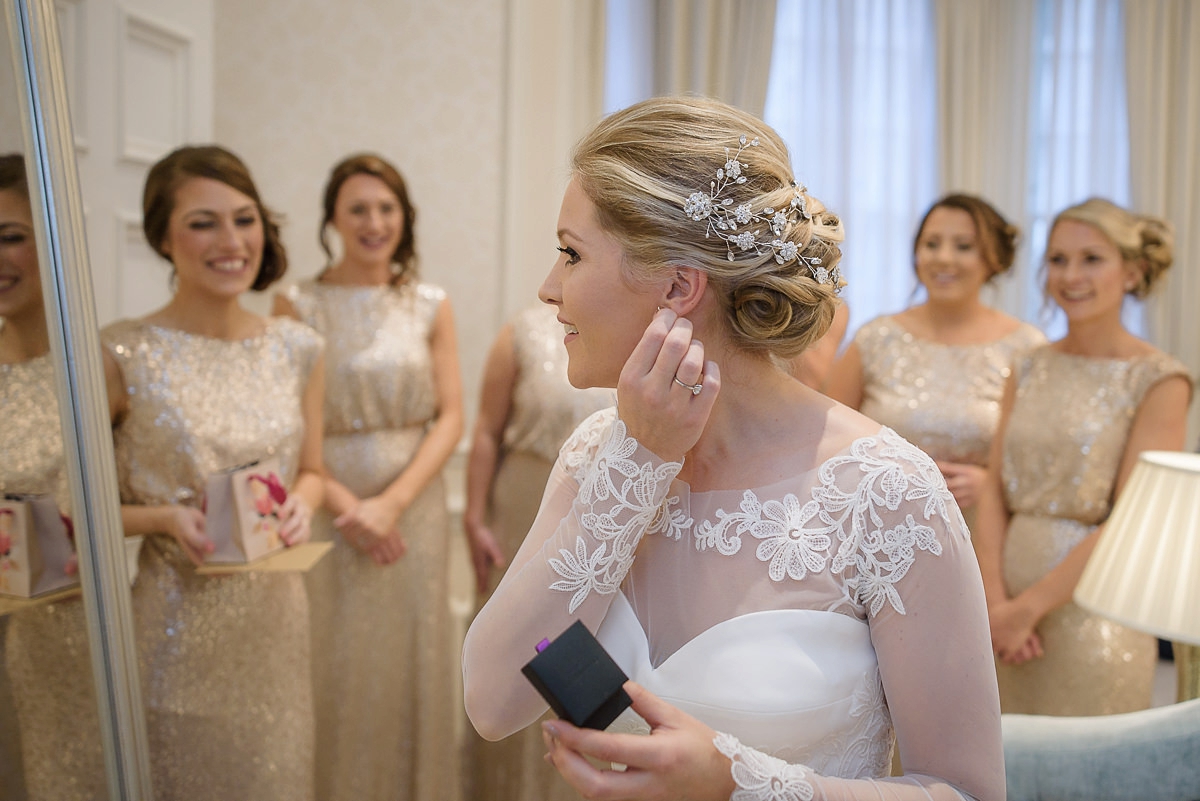 A pair of glimmering shoes from Jimmy Choo set off her gown perfectly, and our bride's perfectly coiffed blonde up-do was woven with the intricate 'Blanche' hair vine, created by one of our Little Book for Brides favourites, the very talented Debbie Carlisle.\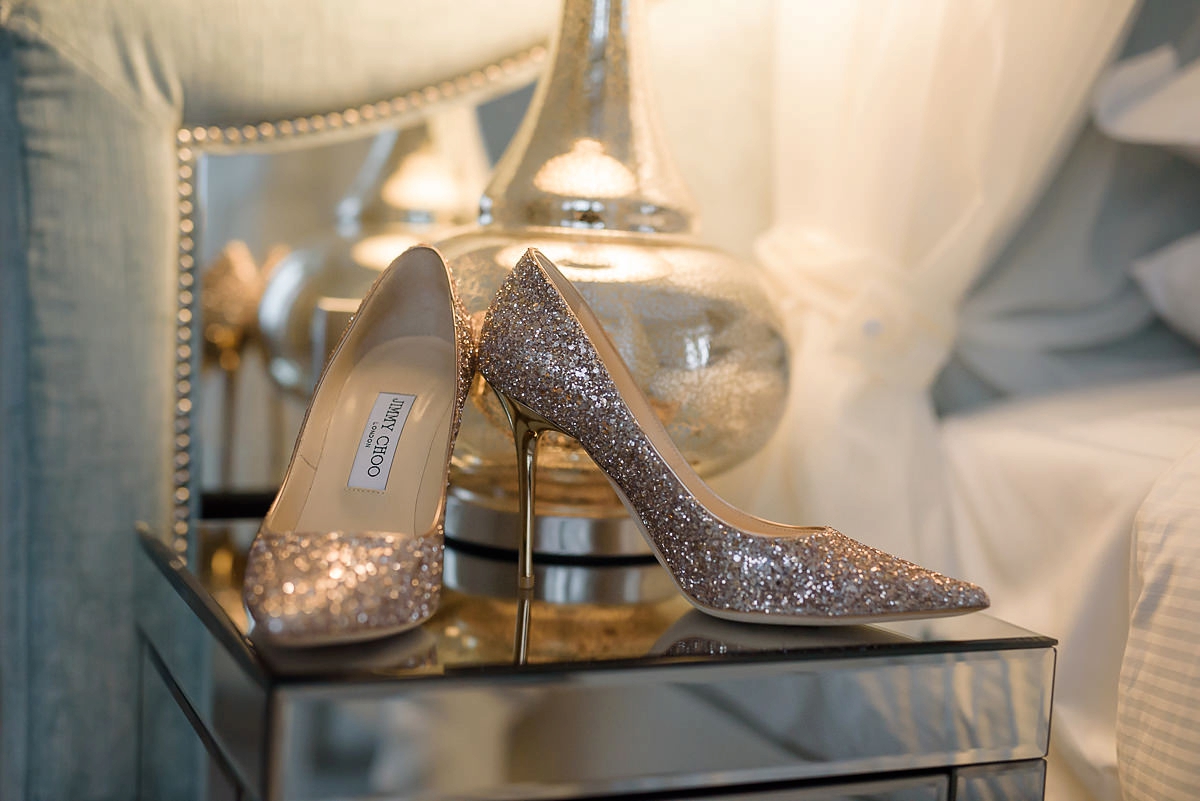 Rich chose a navy and midnight blue tux from Suit Supply, which he had made through the 'Design Your Own' made to measure service. He paired his slick ensemble with a bow tie from Mrs Bow Tie, dark brown shoes from Joseph Cheaney, Lanvin cufflinks, which Leah gave him after they got engaged, and a Raymond Weil watch, which his bride gifted him on the morning of the wedding.
He looks so dapper waiting for his love at the top of the aisle, an instant that alongside the speeches, would turn out to be his favourite of the day – seeing his beloved in her dress for the first time.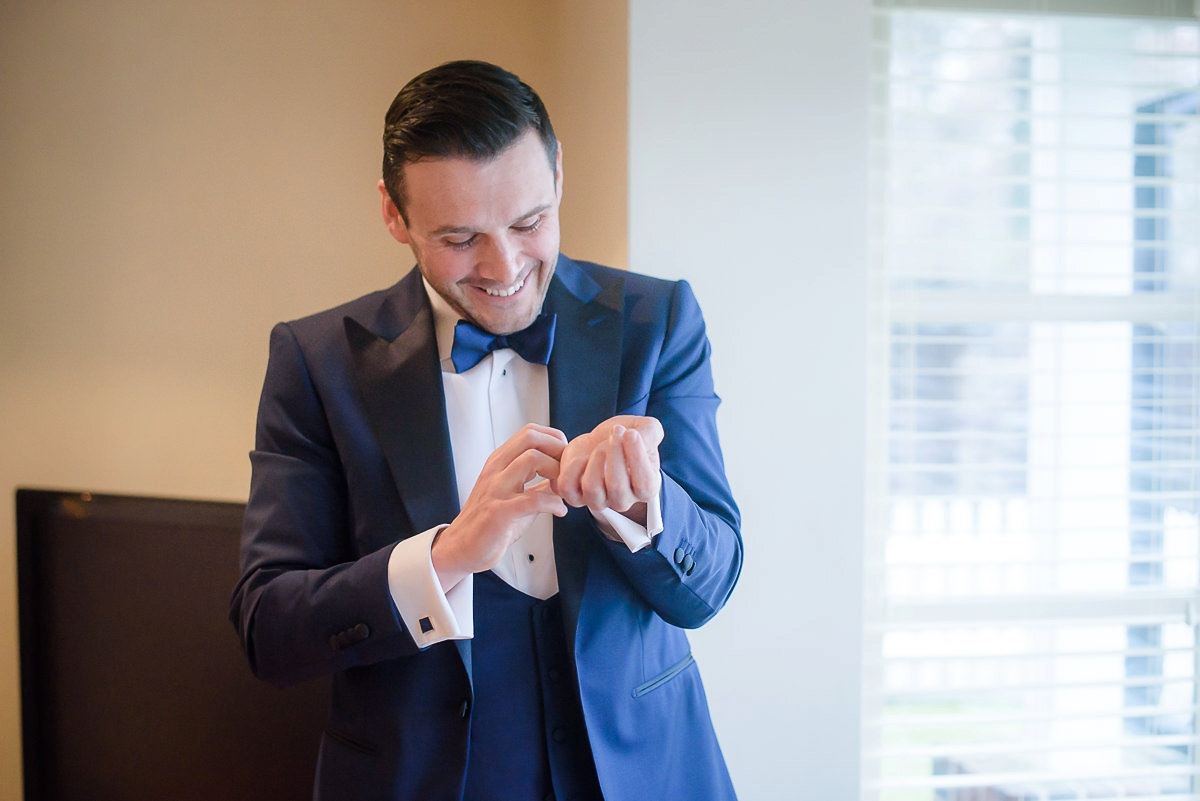 "We met through one of my best friends from uni, who I am now lucky enough to call my sister-in-law; she moved to London with her boyfriend and together, they flat shared with his brother, Rich. I moved to London a couple of months later and the introductions began. The rest, as they say, is history."
"We got engaged on 5th December 2015, a year before our big day. Rich had planned a Christmas tree decorating day in our new home that we bought together just a few months before. Getting a Christmas tree was a big deal to us that year, because we hadn't had one for a couple of years and as soon as the tree was done, Rich, to my surprise, placed a beautifully wrapped gift under it and told me to open it straight away. It was a gorgeous dress, he's always been really good at buying me clothes, he told me to put it on and get ready because we were off to the ballet."
"When I came down ready to leave, Rich had his glad-rags on and was looking very handsome, but a little too comfortable on the sofa considering we were supposed to be leaving in one minute – he told me he had a confession, that we weren't going to the ballet at all, but had a brilliant evening planned for us."
"Before I could interrupt, he then said he needed to ask me something first; he got down on one knee in front of the sparkling Christmas tree and popped the question! And all was forgiven for the fabrications about the ballet! I screamed 'YES' and then spent the next hour shaking and crying in disbelief."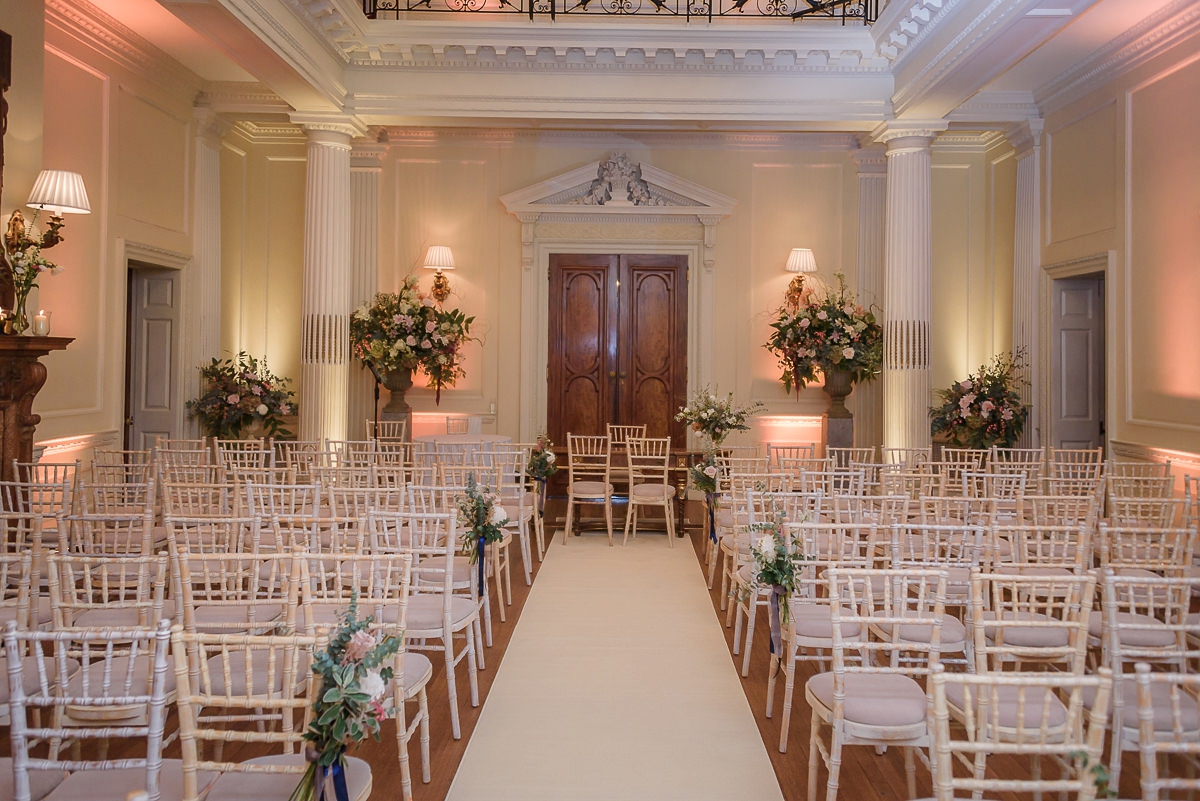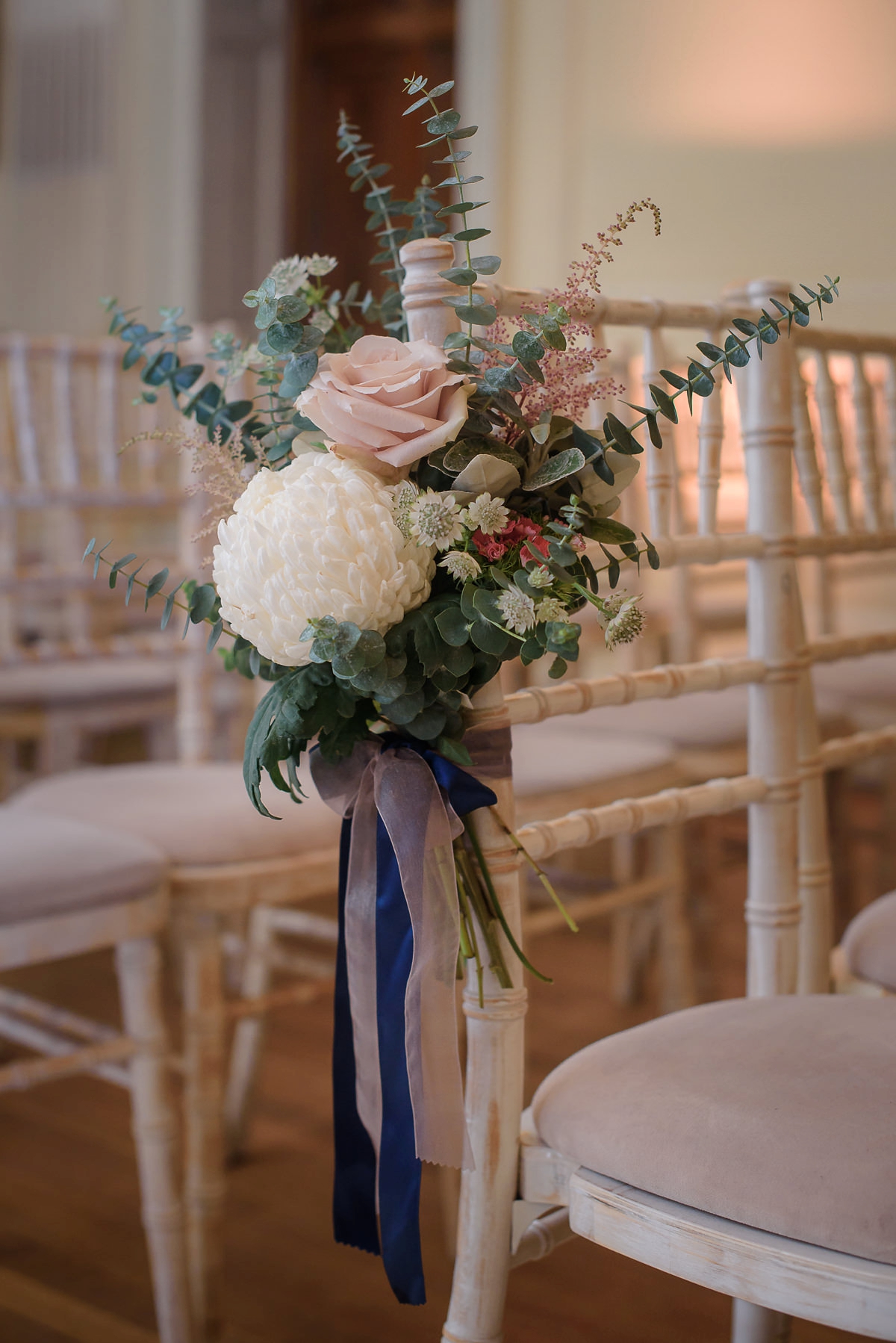 "My lovely dad accompanied me down the aisle. We chose Canon in D, which was played by string quartet, Apollo Strings. We also had them play Bruno Mars' 'Marry You' just before the doors opened for the bridesmaids. A bit cheesy, some might think, but it got us all very excited behind the big doors to the centre hall where Rich and all of the guests were waiting in anticipation."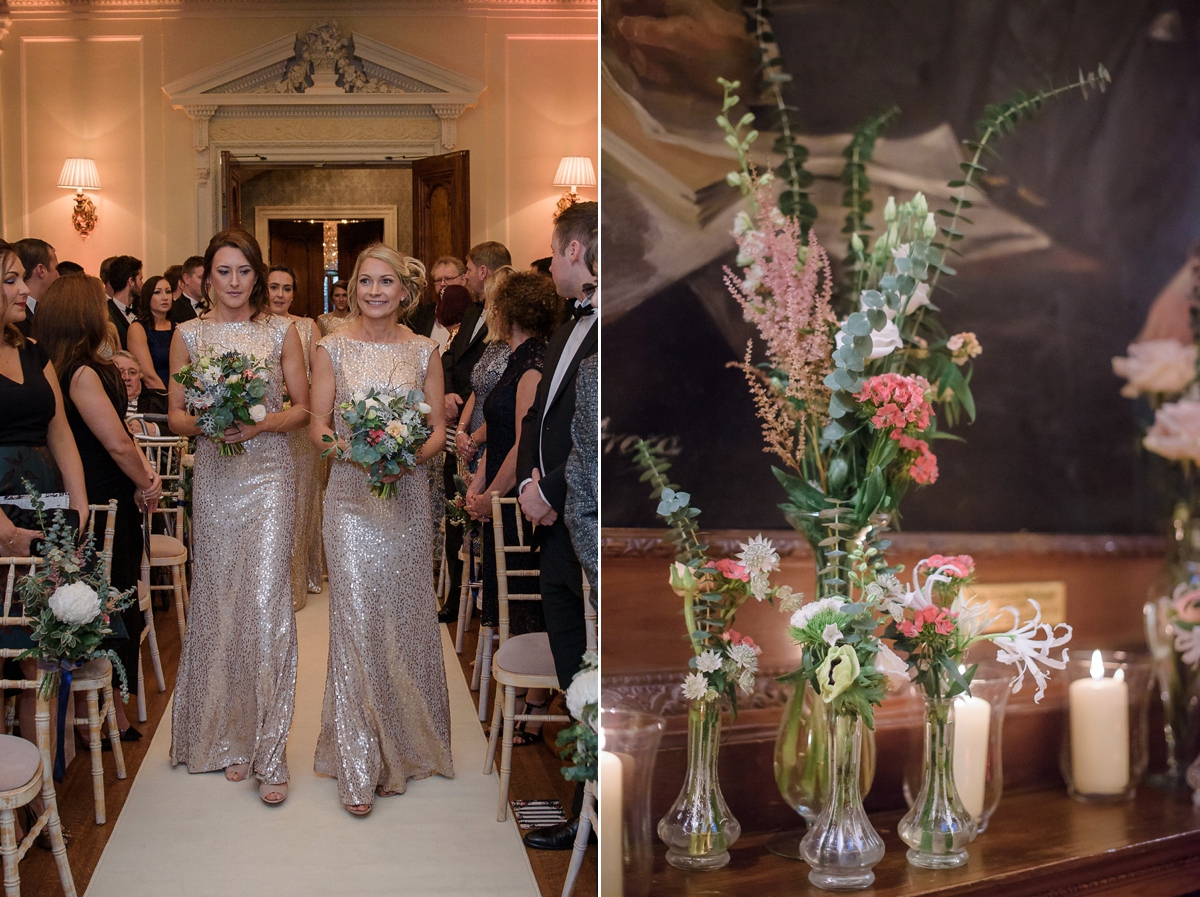 The couple tailored their vows to ensure they contained appropriate heartfelt messages that also reflected them as a couple, and avoided repetition that made them giggle! They chose three readings to incorporate into their ceremony; A Lovely Love Story by Edward Monkton, read by Adrian, Rich's dad, and two poems written by Leah's grandad, original pieces that I just had to share with you.
Of Love
Love is not he-and-she
forever whirling
in nature's tombola of lust.
Love is the Good Samaritan's charity,
a father's joy
at the Prodigal Son's return.
Love is the only raft
afloat in the hurricane;
love is a drowning man reaching the shore.
Love is the bliss of knowing,
without even touching,
that the other is simply there.
The Path
I sing of the immortal journey
of creation scattered over the world,
of rain sent from the drenching sky
to quicken the dead earth.
You are a raindrop in the ocean,
a grain of sand on the beach of the world,
a spec of dust in the shifting wind;
walk in humility.
I sing of created male and Female,
union of lover and beloved.
Plant your tree and nurture it
in the orchard of Truth.
Cross the bridge sharper than a sword
and thinner than a single hair;
follow the caravan of Love
Wherever its camels turn.
"The Edward Monkton reading is such a lovely short story and one that we really related to; when we first read it, we both smirked at one another and agreed on it straight away. Adrian loved reading it too, he even surprised us on the day by handing a book version to us after he'd read it with a little message inside, which was such a lovely touch.
Our other two readings were short poems called 'Of Love' and 'The Path', which are very special to me because they're both written by my grandad, Norman Buller, who is a poet. My grandad was going to read these at our ceremony but unfortunately wasn't able to attend due to illness, so my aunt stepped in and read them instead."
Leah and Rich exchanged rings from Diamond Palace on Hatton Garden – Rich's a simple, understated palladium band with a very subtle curve and Leah's a claw-set round diamond band to complement her classic solitaire engagement ring. I love that after choosing their weddings bands, the lovebirds celebrated by drinking champagne!
Marking those special milestones is a lovely way to make each step of the planning feel exciting and momentous. Rich surprised his bride with a pair of diamond earrings bought from the same jeweller on the morning of the wedding, which Leah adored.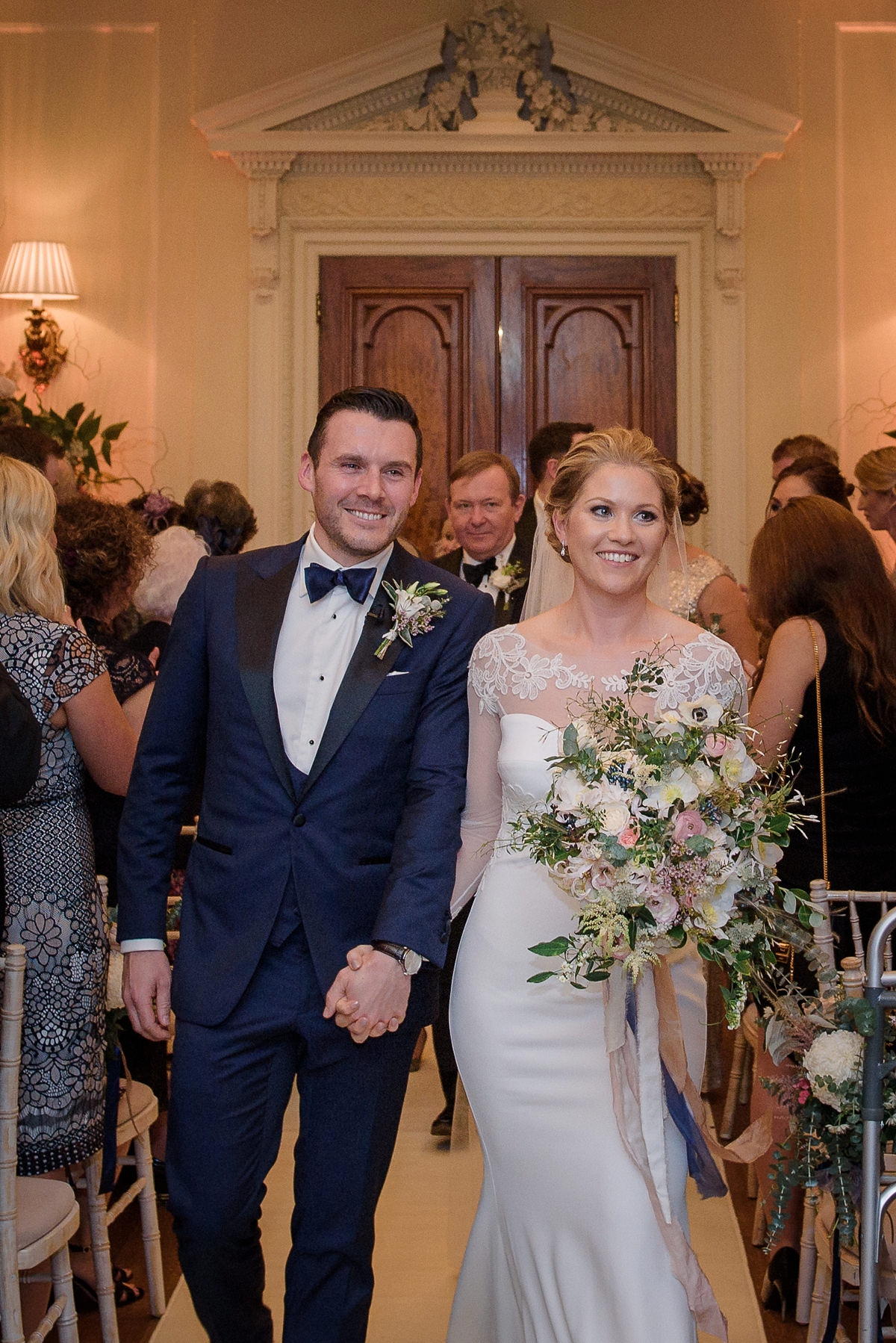 "Our photographer was Ria Mishaal who came recommended by Beattie Bailey. Ria is an exceptional talent, she's warm, enthusiastic and so passionate. She invested so much of her time into making sure she fully understood exactly what we wanted from our wedding photos, and made sure she delivered."
"We absolutely loved working with Ria, 0ur photos are simply beautiful and will be treasured forever. Julie and Danny at Minty Slippers were also amazing, they were unnoticeable on the day and documented everything really well. We haven't stopped watching our film, it really captured the day just as we remembered it. I am so pleased we invested in a wedding film as well as our photos."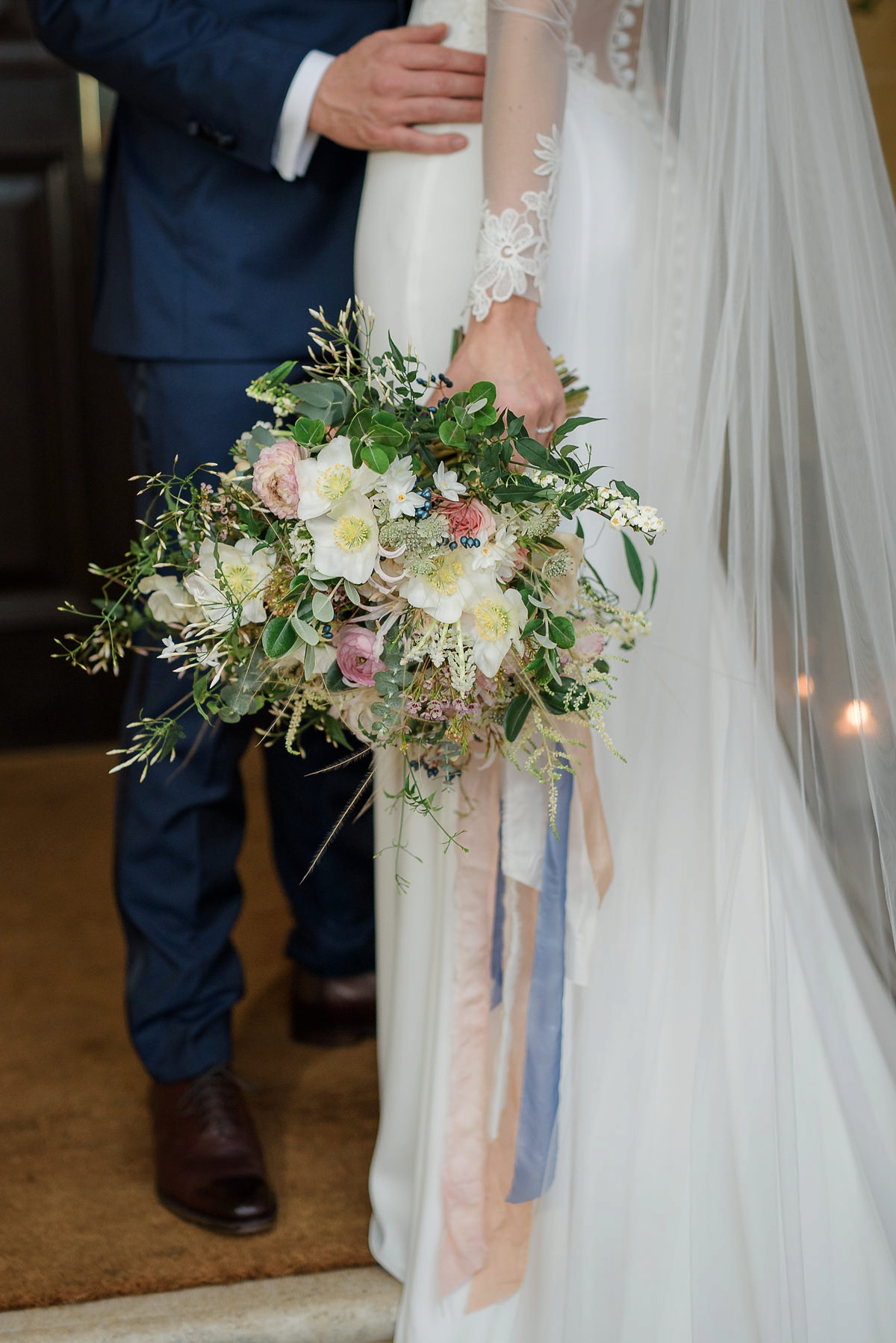 Moving seamlessly through Hedsor House after their ceremony, the wedding party was captured along with all the beautiful decorative touches planned by the couple and their co-ordinator by photographer Ria Mishaal.
I love that the dusky colours of these images are so evocative of the season, and so full of beautifully atmospheric light. Giant cream balloons from Pretty Little Party Shop floated alongside flickering Cire Trudon scented candles – the delicate floral 'Joséphine' scent complementing the amazing smell of an abundance of fresh flowers. The newlyweds are now instantly transported back to their wedding day whenever they light those candles at home.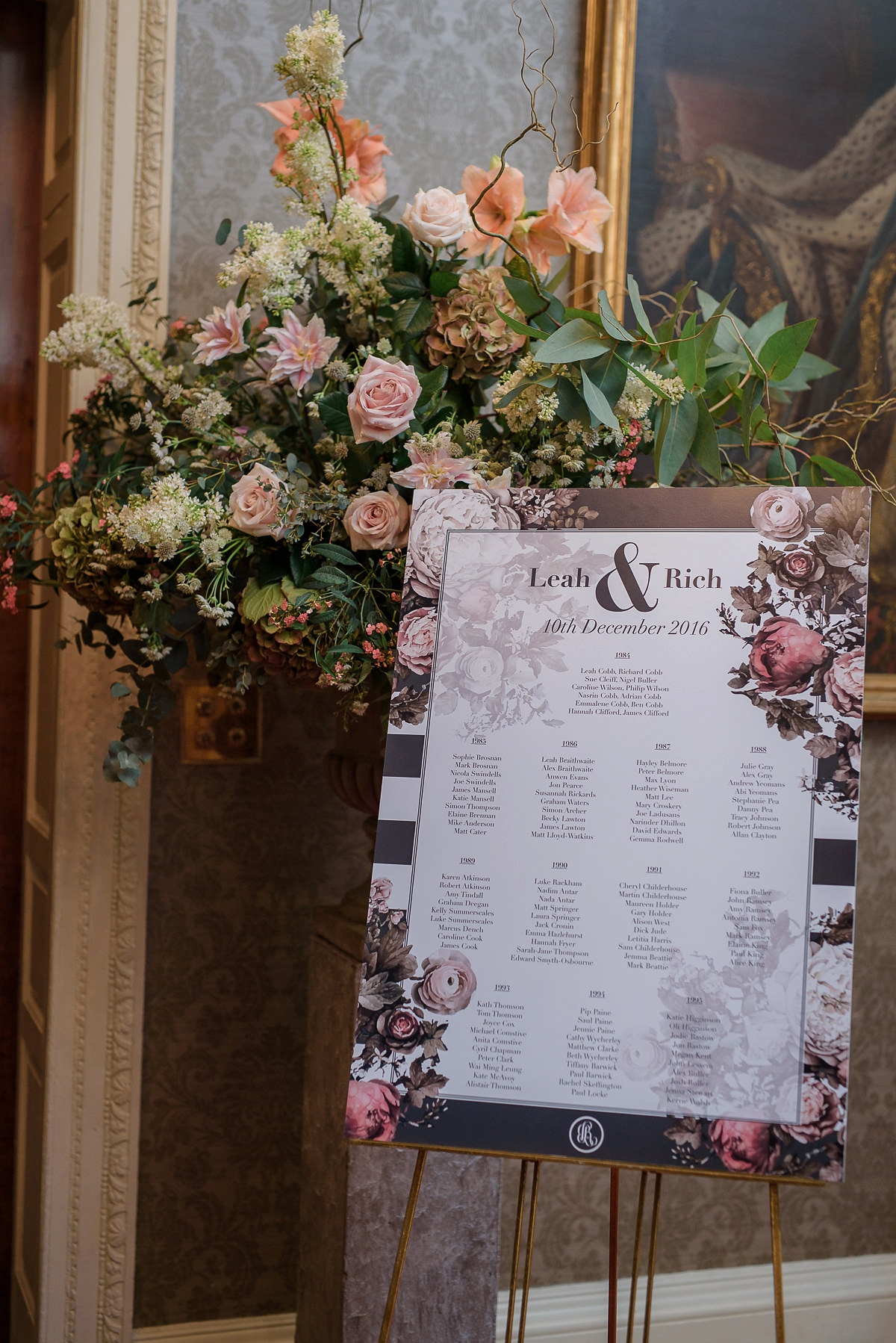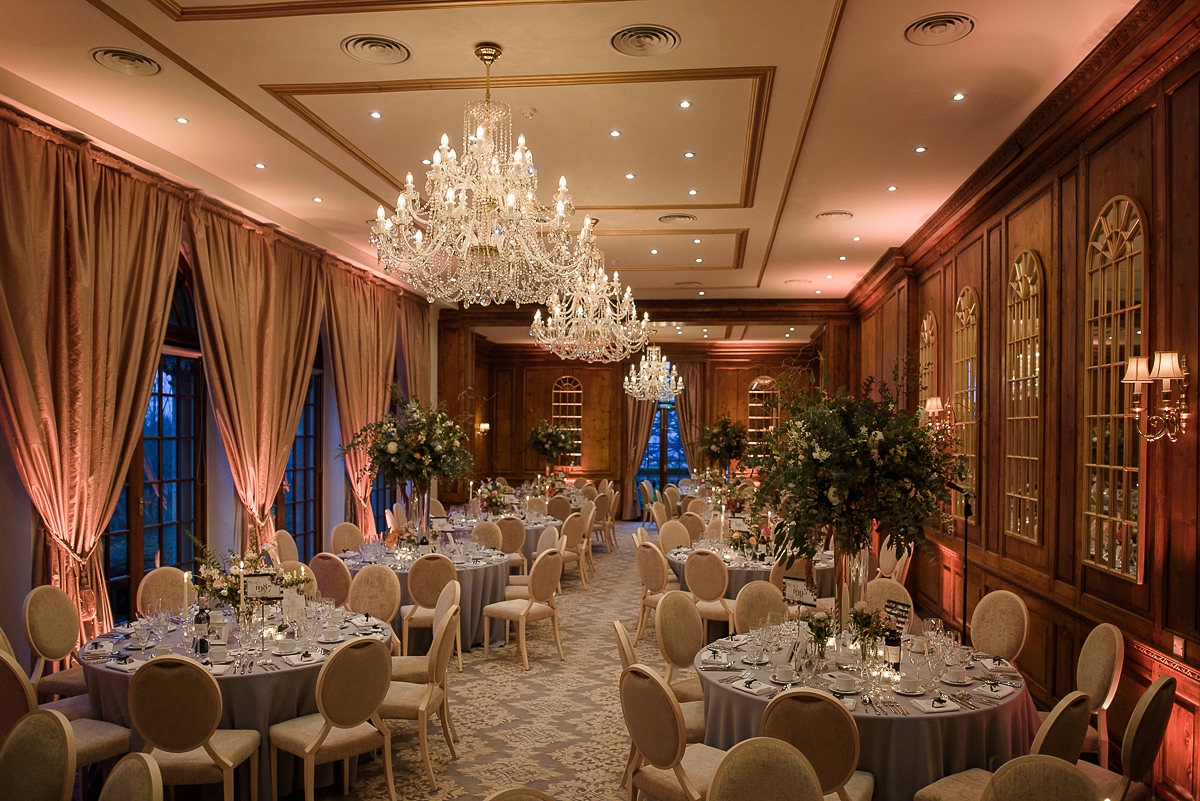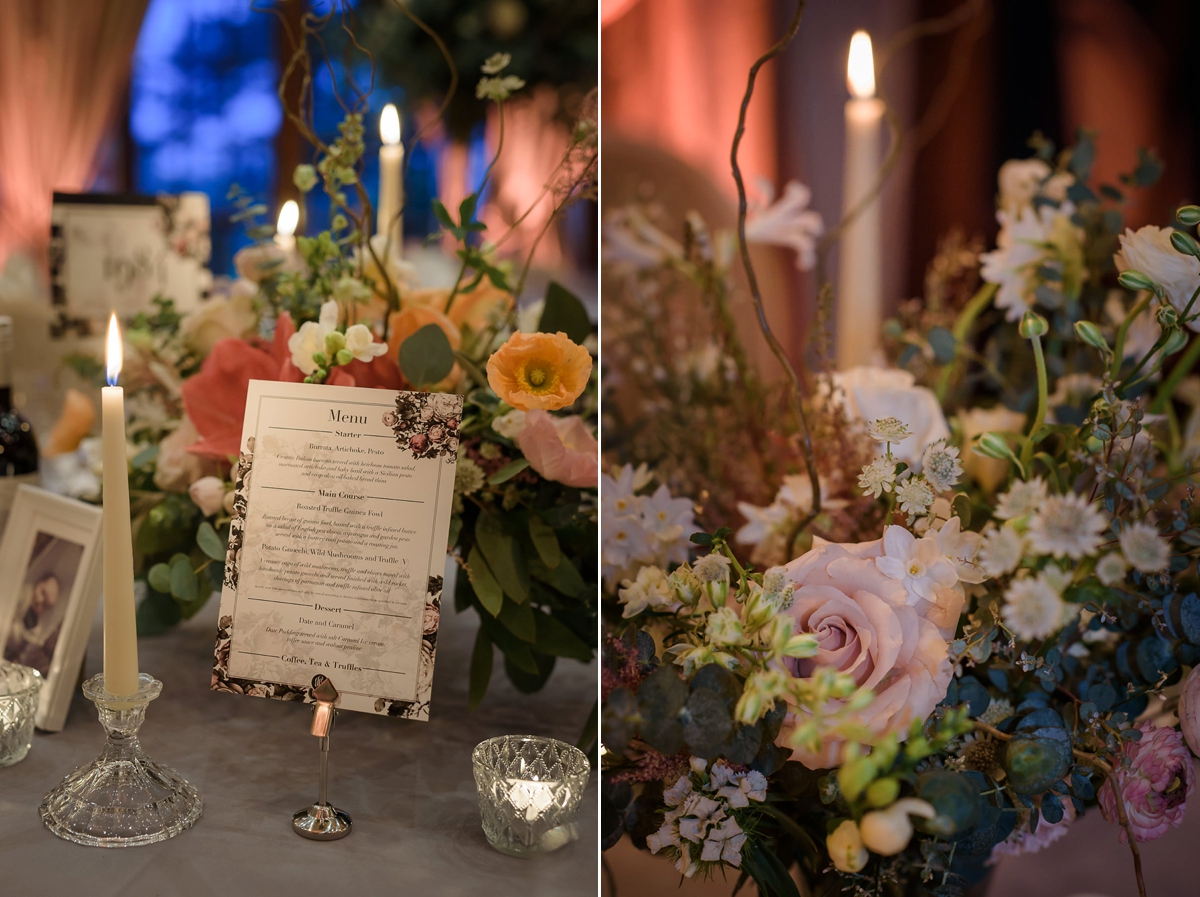 Catering was taken care of by Caper & Berry while a scrumptious cake was whipped up by the award-winning Melissa Woodland. The couple wanted their cake to tie in with the stationery design, smattered with florals, gold and stripes.
Leah and Rich were overjoyed with the masterpiece Melissa created for them, which tasted divine, followed up by a few more sweet treats as the guests indulged in their favours from Hotel Chocolat. All perfect fuel for a night of revelry and dancing – the newlyweds kicking of proceedings with their first dance, played wonderfully by their band.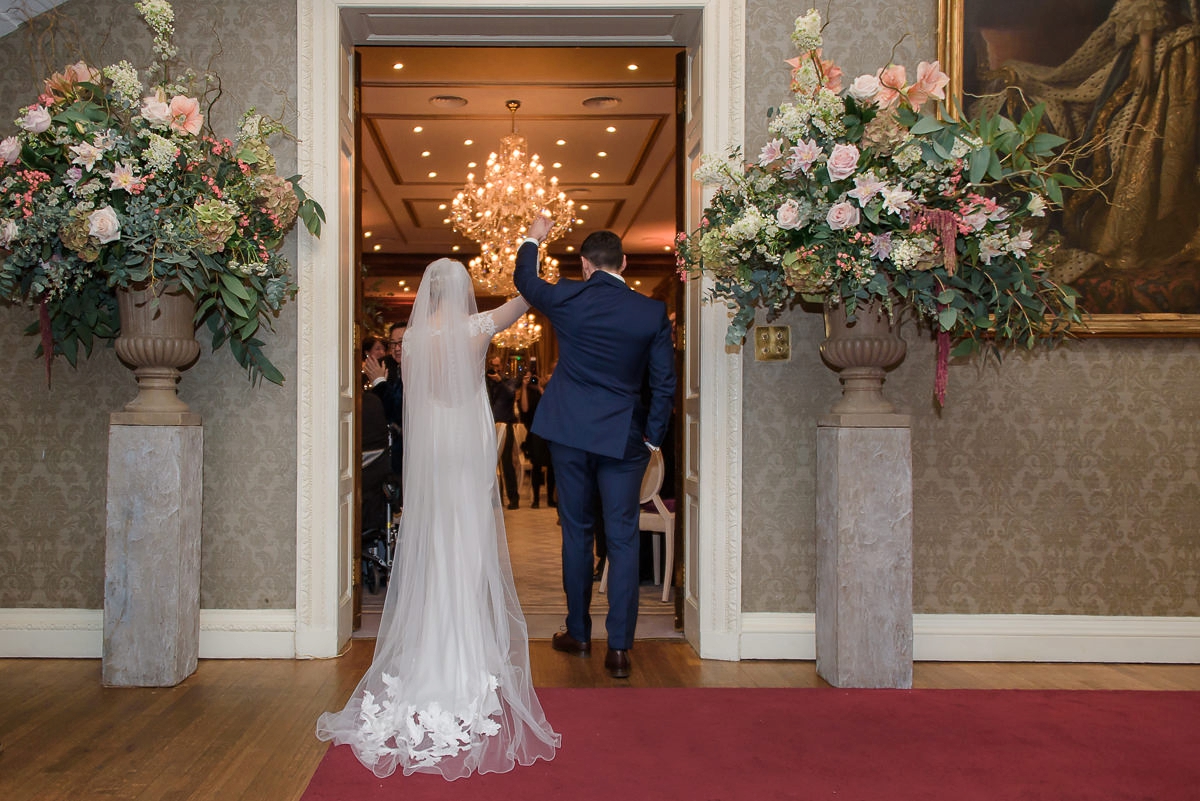 "We had a phenomenal band in the evening called Undercover, they kept the dancefloor going all night. We also hired a really cool photo booth from The Photo Lounge, which everyone absolutely LOVED! We chose Ho Hey by the Lumineers for our first dance."
"A lot of the songs that mean the most to us were not necessarily fitting for a first dance, so we found choosing a song quite challenging. We wanted to dance to something we both really loved, but equally something that wasn't too long and would ultimately get our guests on the dance floor."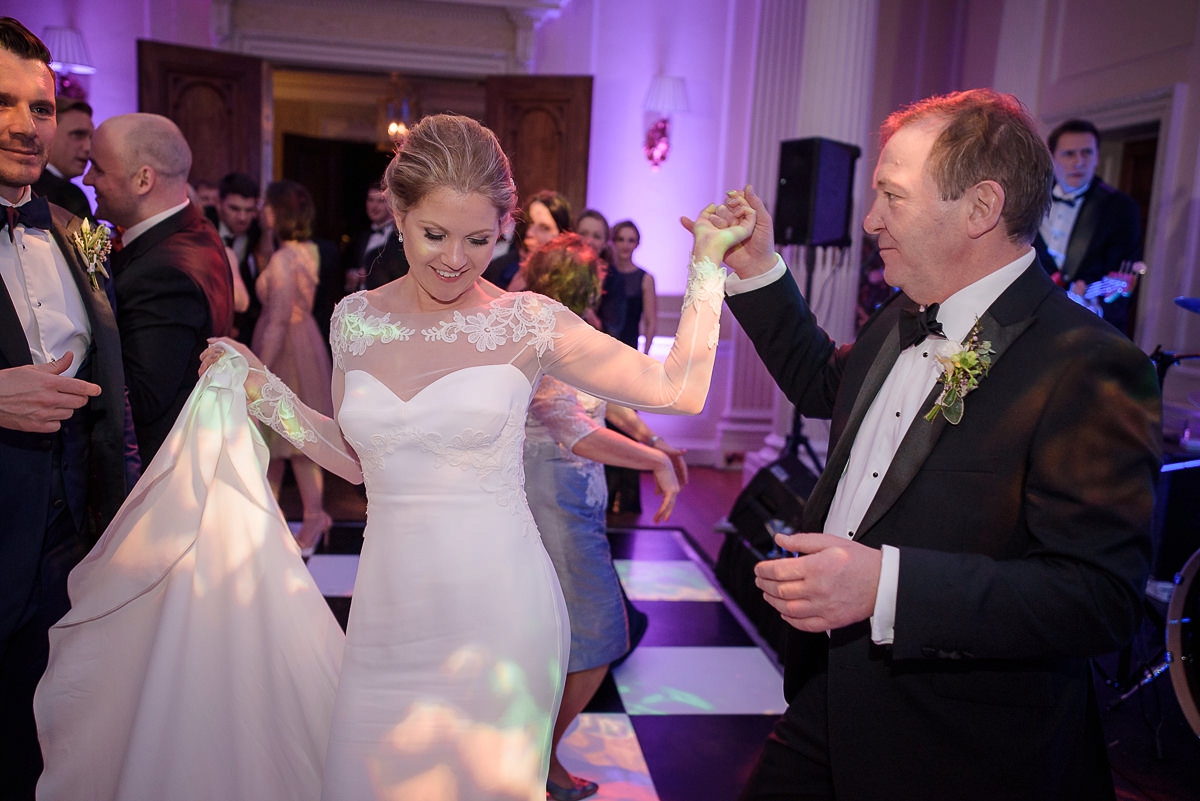 "For me, it's far too difficult to pick just one favourite part, so I will shamelessly indulge in three; I absolutely loved getting ready in the morning with my mum and bridesmaids, there was a wonderful buzz, lots of nerves and excitement and the anticipation of seeing Rich."
"I really loved walking down the aisle to Rich, with my dad, it was a very special moment – my dad looked so proud and made me feel so calm. And finally, the fireworks. Rich had arranged a surprise fireworks display for me after the wedding breakfast, I had no idea at all! Despite the rain, everyone came out to watch – it was magical and so romantic."
Words of Wedded Wisdom
"The wedding itself is typically just one day, and that one day is going to be the most special of your lives but don't forget that the planning is part of it too, so make an effort to enjoy every element of the preparation phase. Among the plethora of tough decisions and stressful times you'll inevitably encounter, it's easy to forget to enjoy it all! Having a wedding planner meant we could have the reassurance and support of someone calm by our side."
"We planned over a year and we made a big effort to celebrate every single milestone, big or small, from our first venue show-round, to buying our wedding rings – for us, this was normally a glass of champagne somewhere lovely. Whatever we did we always made a celebration of it and I loved that. I collected keepsake's of those moments too, which I will one day put in a scrapbook."
I can't thank Leah enough for these incredibly sage pieces of advice – I spent the whole of our two-and-a-bit-year long engagement wishing the time away and all of a sudden the day was upon us and over in a flash. I genuinely believe time hits warp speed on your wedding day; one moment you're waking up with a strangely new, exciting feeling in your stomach, the next you're putting on your dress, walking down the aisle, exchanging rings and vows not sure whether to laugh or cry, laughing with your new husband, dancing the night away with your very inebriated dad…just me!?
Thank you so much to the newlyweds and of course to Ria Mishaal Photography for sharing this glamorous winter's day wedding with us all.
With love,
Em x