I wonder sometimes, if working in the wedding industry helps when planning your wedding, or if it makes everything harder, as you've already got so many ideas, so many contacts, so much insider info.
Sian, a make up artist and co-owner of So Coco Rouge and Tom, who is a project manager at a bank, married on 13th April 2017 at Knowsley Hall, Liverpool. The couple met on Match.com and after a first date at a 1920's Murder Mystery night, they got engaged on a surprise trip to Paris a year later.
"I have worked with Papertwin since they launched, and had built up a lovely work friendship with the whole team.  They quietly capture the raw emotion, excitement and happiness in someone's big day whilst cleverly melting into the background."
Film by Papertwin
"We had travelled to Paris for a long weekend, and it was torrential rain but Tom insisted that after dinner we went for a walk around the Latin Quarter. The walk ended outside St Etienne du Mont church, which features in my favourite film, Midnight in Paris.  Here, the main character is transported back to the 1920's, and Tom chose here to propose.  It really was a dream come true."
Photography by Andrea Ellison Photography
"The 1920's has obviously played a big part in our meeting so we definitely wanted to give a nod to our favourite era. We are also both big fans of musical theatre so, our inspiration became 'Gatsby the Musical'.  Our colour scheme was a mixture of our favourite tones- deep reds, gold and navy, giving an autumnal feel for our spring day.  We also love to travel, so added travel touches too and we drew a lot of inspiration for our décor, cake and general feel for the day from the Love My Dress blog."Sian looked beautiful in 'Idalina' by La Sposa, which she purchased from Boutique Brides of Crosby.
"The team at Boutique Brides were incredible and suggested I try something totally different from what I had tried before and as soon as I stepped into Idalina and added a jacket, I knew it was the one.  My mum and I both burst into tears, so that was it."
Sian accessorised with a two tier cathedral length veil with lace edge detail and a pearl and diamante Amanda Wyatt headband, while on her feet she wore 'Carmen' by Rachel Simpson, a beloved member of our Little Book for Brides.
"I always wear Jo Malone Pomegranate Noir, so as a wedding gift, Tom gave me a new bottle engraved with my married name and our wedding date."
Sian finished her dressing with a garter from the Rosie Huntington Whitely collection at Marks and Spencer, and her mum stitched a blue stone and pearl pendant (made by Sian's late grandad for her mum), onto it as her something old, borrowed and blue.
"My bracelet was a 30th birthday gift from Tom, by Katherine Swaine purchased from Liberty in Love, while my earrings were another gift from Tom, from our first Christmas together."
"Yvette at The Flower Barn was incredible, and totally understood our vision from day one.  We opted for full, blossomy hand-tied bouquets with autumnal colours and textures, such as peonies, ranunculus and berries.  My dad was Scottish, so it was important for me to have thistles in my bouquet, while Tom opted for a simple rose buttonhole with berries and eucalyptus."
"Yvette also helped me decorate my bouquet with a vintage cameo brooch (a gift from my late aunt and my gran who lives too far away to have attended) a opal heart necklace, which belonged to another late aunt, and a framed picture of my late dad.  It was really important for me to have memories of my loved ones who couldn't be with us, as close to me as possible."
"There was only one option for hair and make-up!  I wanted my business partner, close friend and bridesmaid Robyn to style my long hair into a modern take on a vintage up-do and create something soft but striking for my make-up.  She, of course, nailed it.  I completed my look with my signature red lipstick from MAC.
Robyn and I did the hair and make-up for the other three bridesmaids and my mum, and I found this kept my nerves at bay and stress levels in a minimum.  It was so special to get my closest friends and family ready for our big day."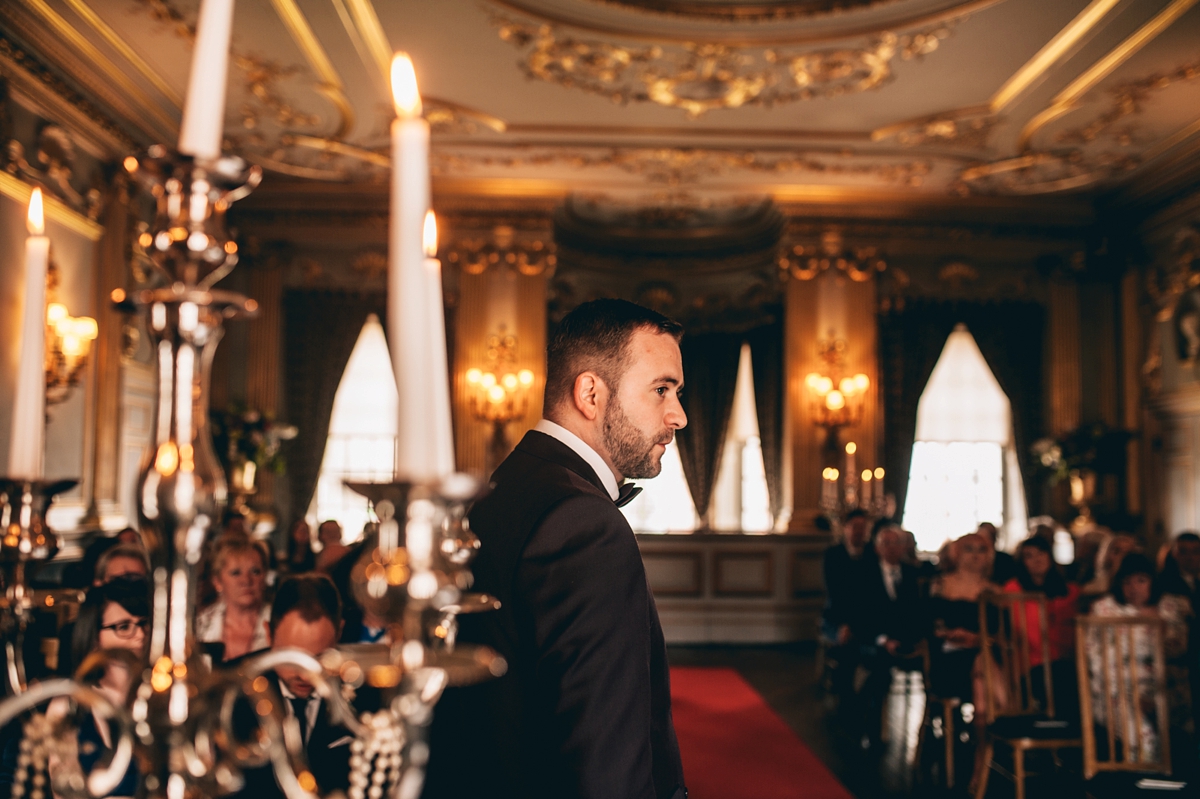 "As I lost my dad seven years ago, my uncle walked me down the aisle to 'She' by Elvis Costello (he wore a kilt, as I knew my dad would have).  Knowsley has a grand staircase and my mum walked me down to meet my uncle at the bottom.  It was wonderful to have this time together too."
The bridesmaids looked lovely in different navy sequin evening gowns from Lipsy and Quiz, worn with their own choice of shoes.  For accessories the ladies wore a hair clip from No 1 Jenny Packham range in Debenhams (a gift from the mother of the bride) and jewellery from Sian, purchased from the Jon Richard range in Debenhams, as well as beaded clutch bags from Accessorize.
"I didn't have any flower girls, but as one of my bridesmaids had only given birth to her daughter six weeks before, I called her my Petal.  She wore a gorgeous dress with a seaside print with matching blue cardigan from Marks and Spencer.  We had my godson, Tom's nephew and a close family friend as our page boys, and they all wore navy trousers and waistcoats with burgundy bow ties and tan brogues from Children's Special Occasion Wear."
Sian and Tom chose two readings – the lyrics of 'Love Never Dies' from the musical and 'On Your Wedding Day', both lovely choices- and exchanged rings from G. H Moore and Son, in Birmingham's jewellery quarter.
"We were conscious of keeping our guests entertained during the drinks reception and booked Amy Diamond to perform during this time.  Amy has years of experience in the West End and she performed some of our favourites from the stage, screen and from the jazz age."
Tom wanted something a bit different for his suit and chose a three piece plum beauty from House of Fraser, paired with a bow tie and white pocket square from Swagger and Swoon and dark brown brogues from Next.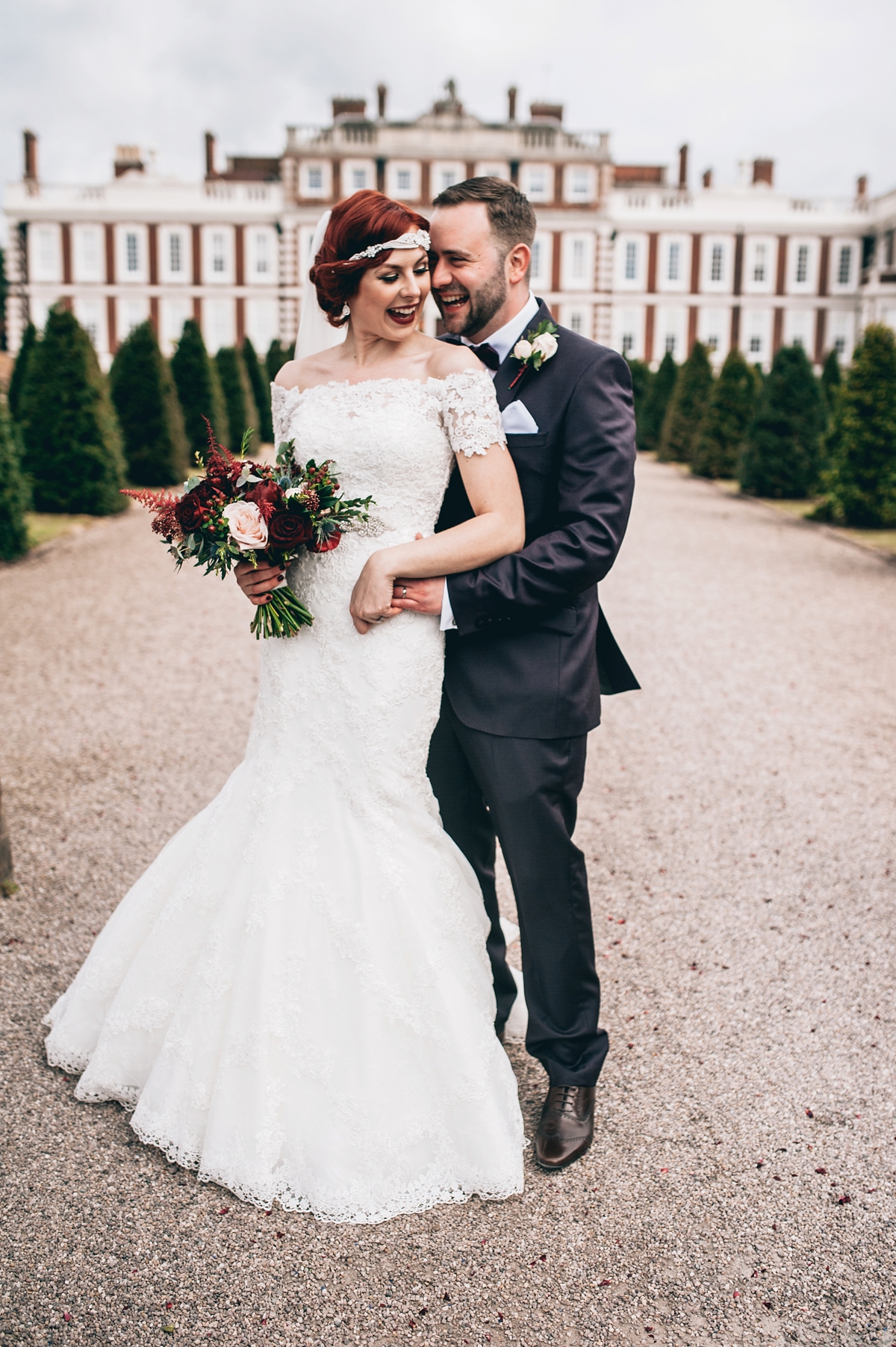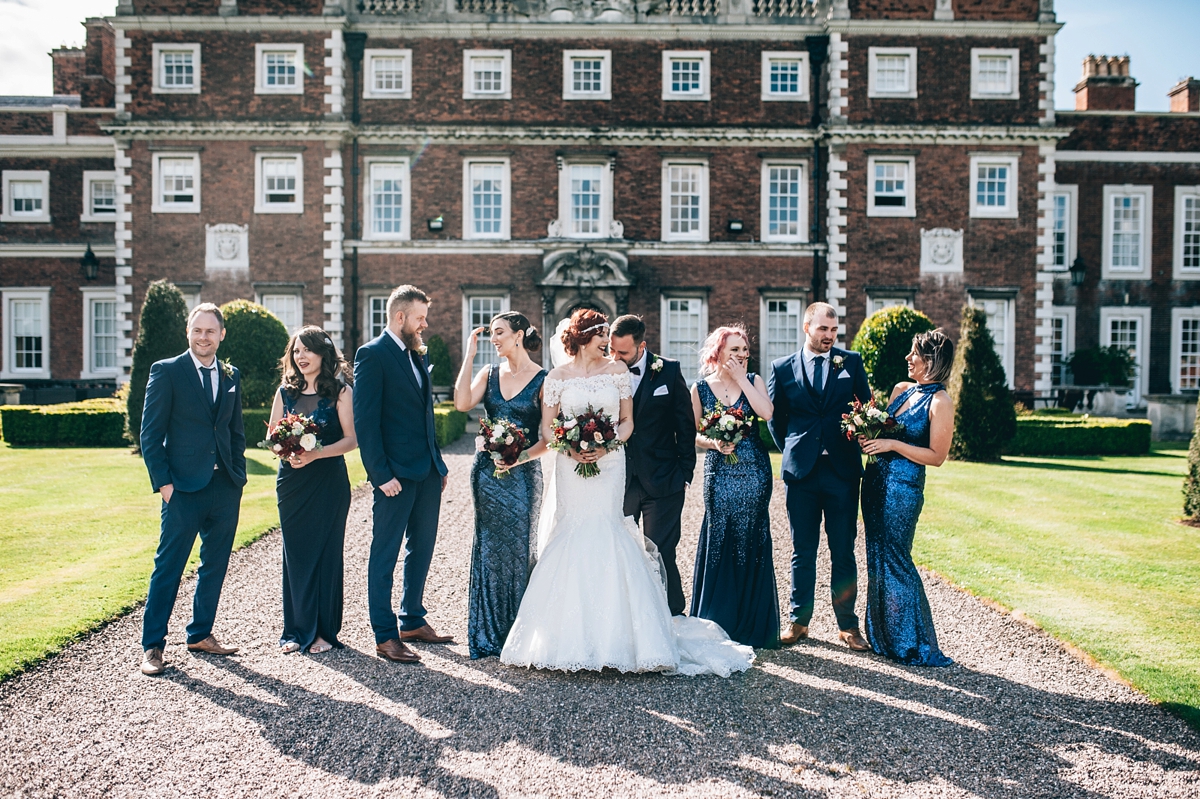 "Picking a photographer was tricky.  We booked our videographers first and asked them who they like to work with most, as we knew their relationship on the day would be key.  They gave us a list, and we  researched every single one before deciding that we both favoured Andrea Ellison's natural style and felt this relaxed approach would suit us best.  One email exchange later, and we knew we'd made the right choice."
"Closer to the big day, Andrea asked if we would be interested in having Michelle Wilson from MSW Photography assist her as a second shooter and we jumped at the chance.  Together they were a dream team and we adore our pictures."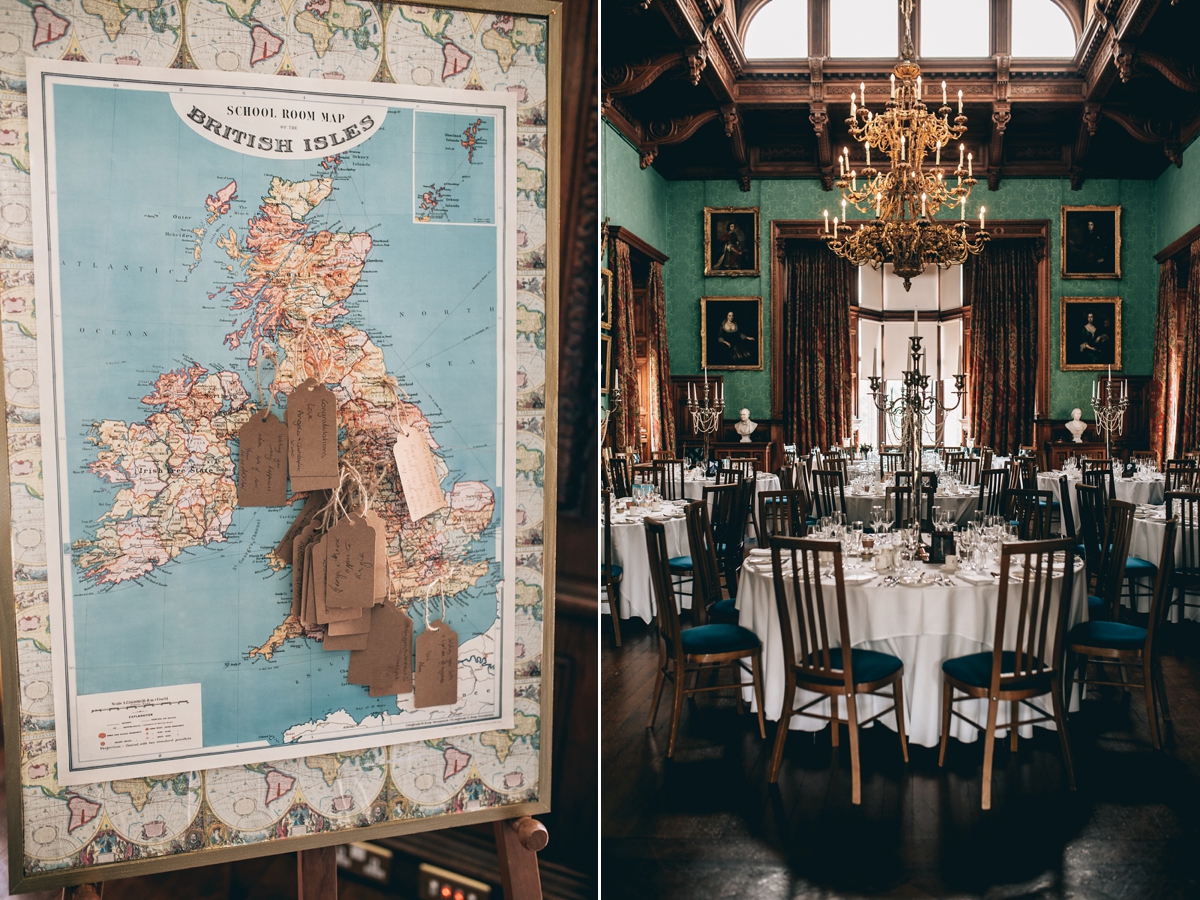 "Knowsley Hall has very grand and ornate features, so we didn't want to overpower the space with too much décor."
"We dressed the aisle and dinner tables with large candelabras draped with pearls, used musical theatre posters in original art deco frames as table names and dressed the top table with black and gold hurricane vases, gold glitter votives, peach ostrich  feathers and our bridal bouquets."
"My Mum used to make and decorate wedding cakes when I was younger, and she always promised to make mine.  She created a four-tier cake, dressed with edible pearls and lace detail, with pearl and diamanté embellishment on the top tier.  She made our ivory fringed cake stand too."
"In the evening, Flynn and Tonics performed two live sets. We had heard of them through the Love My Dress Facebook group, went on to listen to them in a local Liverpool bar and knew immediately that we'd found the band for us."
Words of Wedded Wisdom
"Don't sweat the small stuff.  Four weeks before our big day, my nan had an accident.  It was really hit and miss whether she'd be with us on the day and she was discharged mere hours before the ceremony."
"This put everything into perspective- the only thing that really mattered was having our loved ones with us.  It really is the people that make your day magical, not the colour of the tablecloths or the style of the chairs, as much as they seem important to begin with."
So many thanks to Sian and Tom for sharing their day.  Its always really lovely to write up the wedding of a keen reader of our lovely blog.  If the 1920's is your thing too, take a peek here for lots more wonderful inspiration.
Much love, S x