One of the joys of writing for Love My Dress is seeing so many wonderful brides doing things in their own way, with their own style. Today it's a real pleasure to introduce Fleur, a paediatric nurse, and Jeremy, a behavioural support worker at a primary school. Lovers of simple, relaxed style with a touch of modern cool, you're going to adore this one.
Jeremy and Fleur married on 1 June 2017 at Southend Barns, Donnington, Chichester, West Sussex. Their day was characterised by tones of mustard and grey – influencing everything from the groom's outfit to the wedding flowers, the bride's Converse and socks combo and her suede jacket. Fleur also rocked a beautiful unique style in her choice of wedding dress, an Otaduy design from our Little Book for Brides member, Leonie Claire Bridal in Hove.
"I wanted a dress that fitted the more relaxed, boho style. I loved the lace detail on the top and edging on the sleeves and back.  I loved the simplicity of it but having the open back as the show-stopper."   
Images by Ruby Roux Photography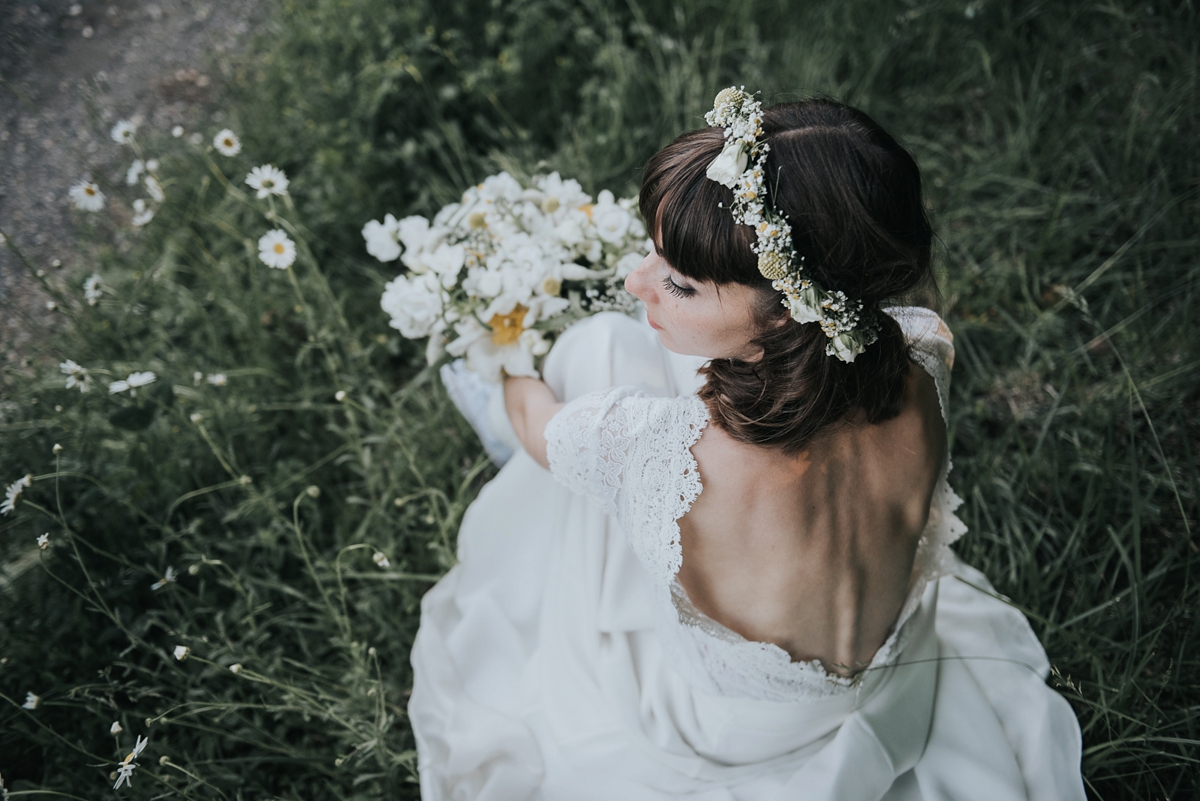 "We wanted a relaxed, rustic, boho feel for the wedding. I love the colour yellow so wanted to incorporate it in the wedding. We decided on the colour theme of mustard and grey, with a mix of yellow and white flowers. We also used significant places we had visited during our holiday to Guernsey where we got engaged as the seating plan and table names to link it all together."The groom also designed all of the rustic-style stationery – save the dates, invitations, table names and place cards – which were printed on Moo.com. He made 'How well do you know the bride and groom' and 'Wedding Advice' cards too to keep their guests entertained. Accompanying these were personalised pencils, which also acted as wedding favours.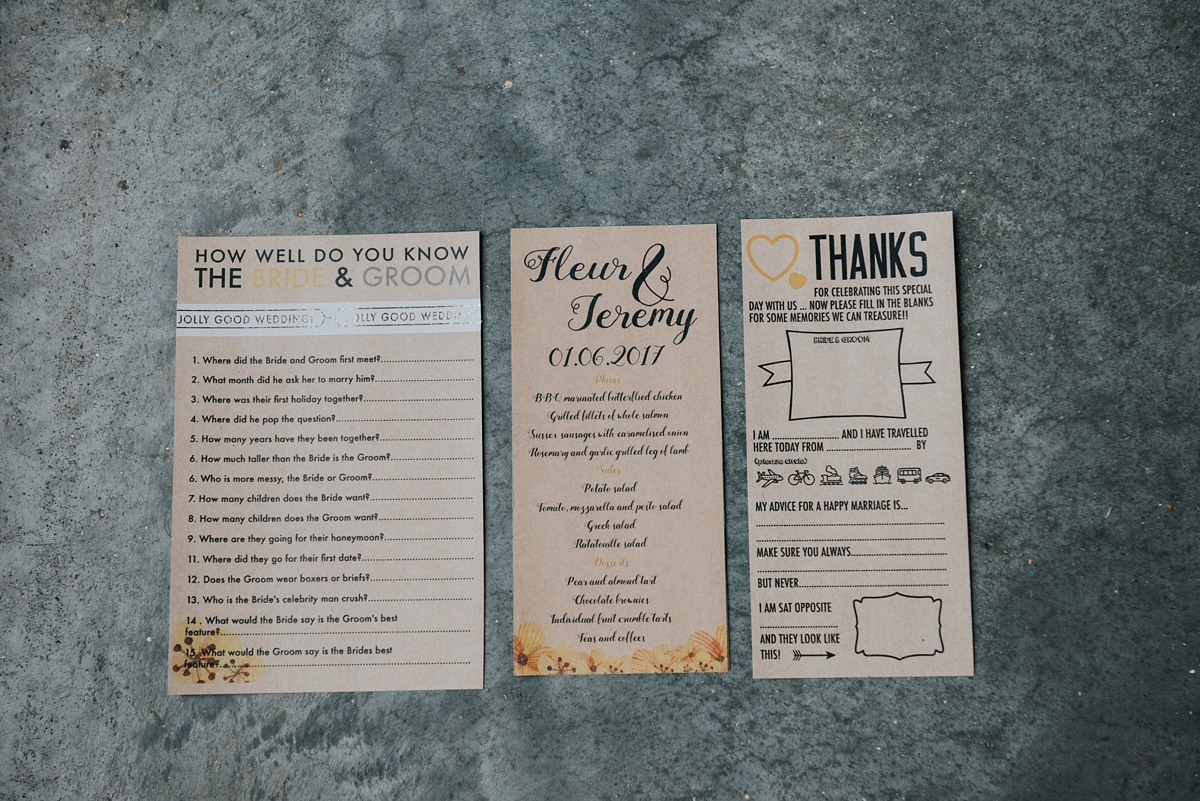 The tale of the couple's engagement is so lovely. They travelled to Guernsey, which Fleur's family has old links with, to visit the Ozanne Steps.
"We met in our local nightclub in Worthing where Jeremy works as a photographer. He photographed me and my friends together. We chatted over the next couple of weeks and a number of dates to the cinema, roller skating along the promenade and beach walks."
"Jeremy proposed to me at the bottom of Ozanne Steps in Guernsey whilst on holiday together. Guernsey was a special place to do it as I have old family connections with the Island. We went to visit the Ozanne Steps as the name is the same as my surname, then Jeremy proposed at the bottom of them on the water's edge."
Fleur's sister applied her make-up for a fresh and natural look whilst her hair was styled into a tousled, relaxed do by a friend from work. These fun personalised t-shirts which Fleur and her bridesmaids wore to get ready in were ordered online from Tallulah's Threads.
The bridesmaids look similarly modern and edgy, yet still romantic, in their For Her and For Him pleated dresses in mustard yellow. They also wore Converse and socks, and their hair was dressed with fresh daisies from Fleur's mum's garden; so pretty and summery.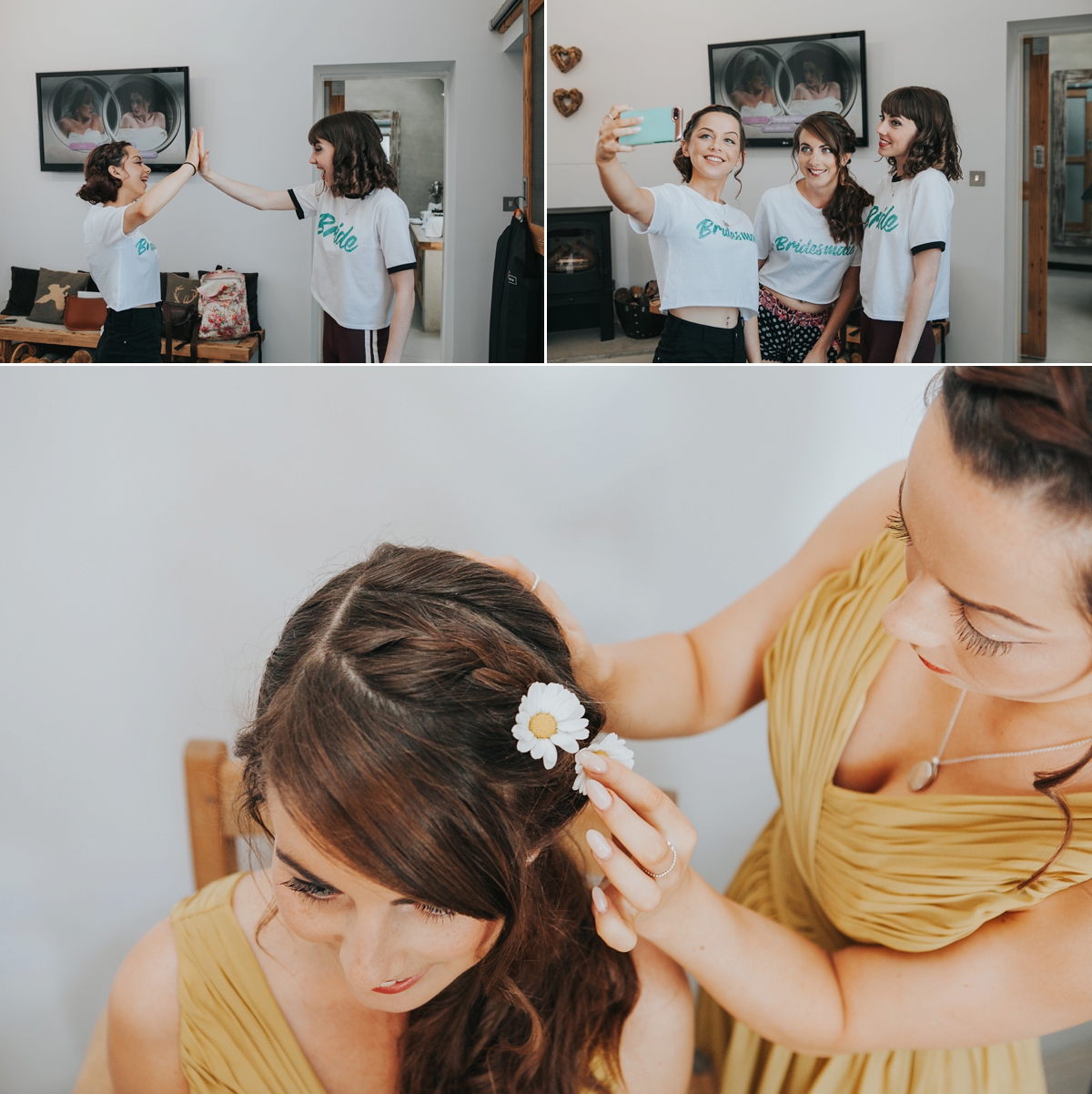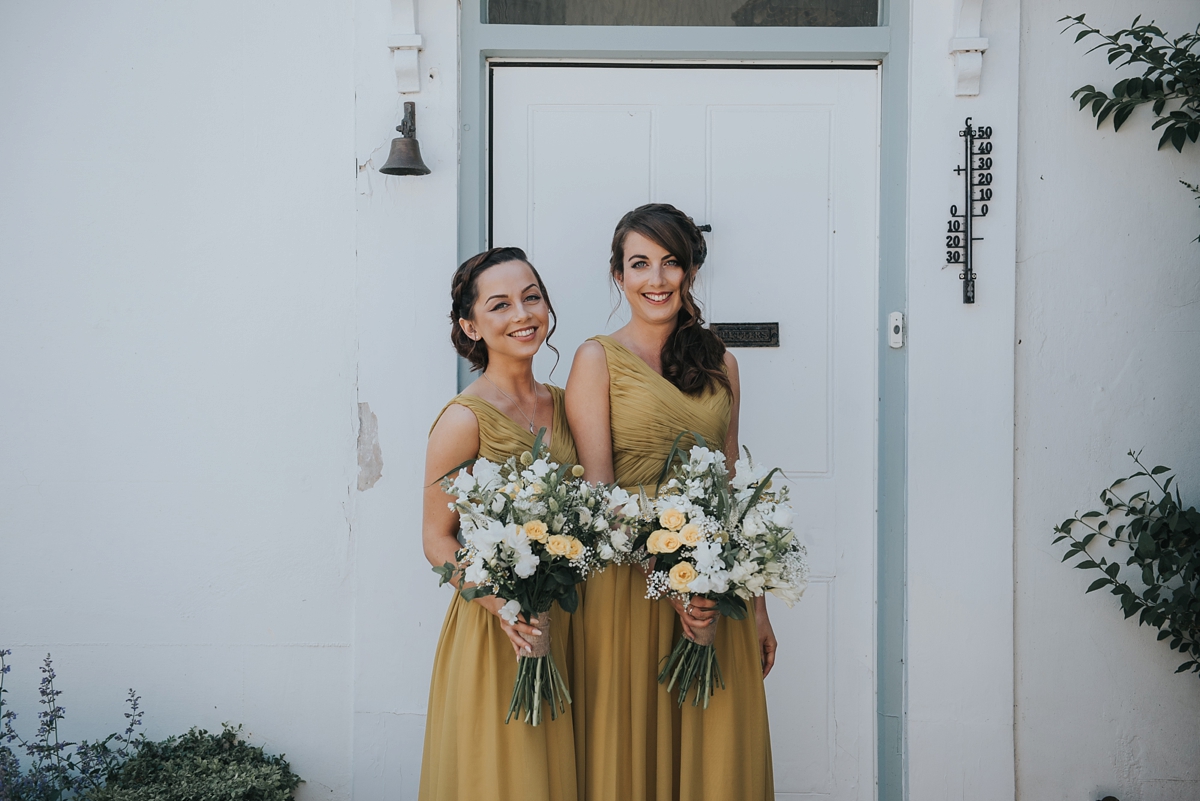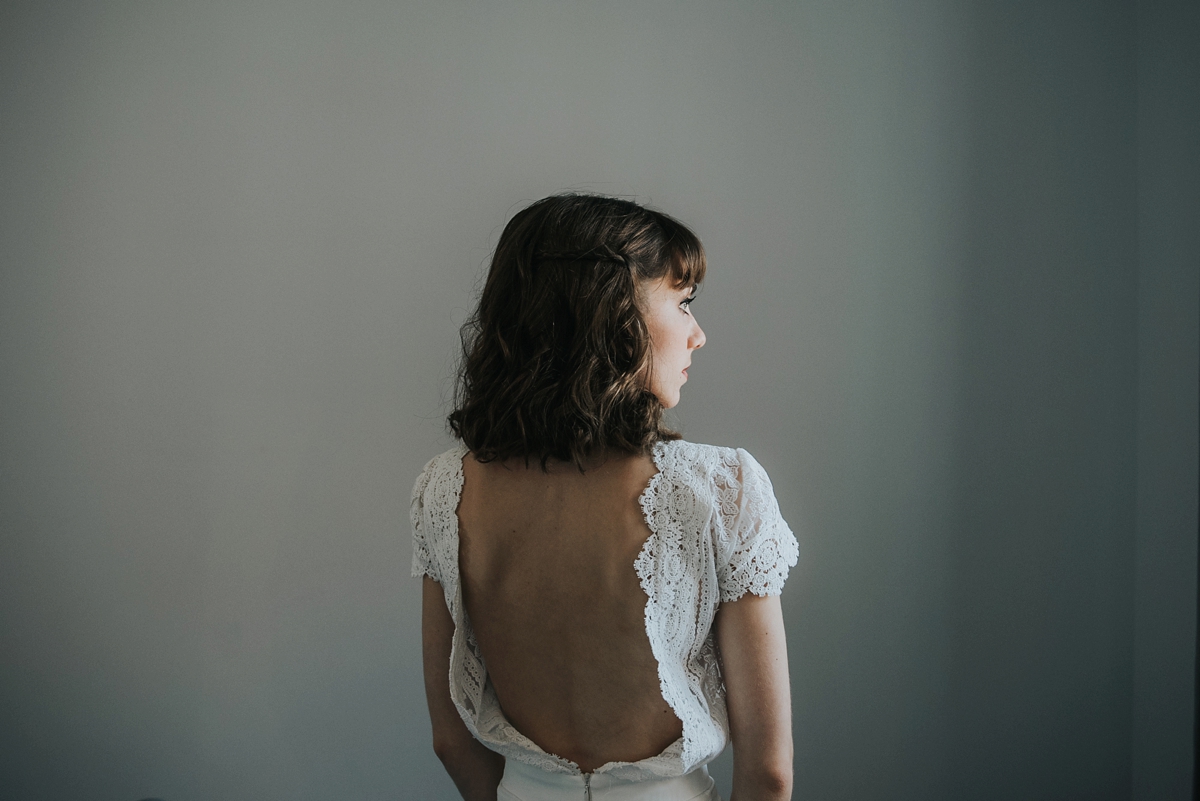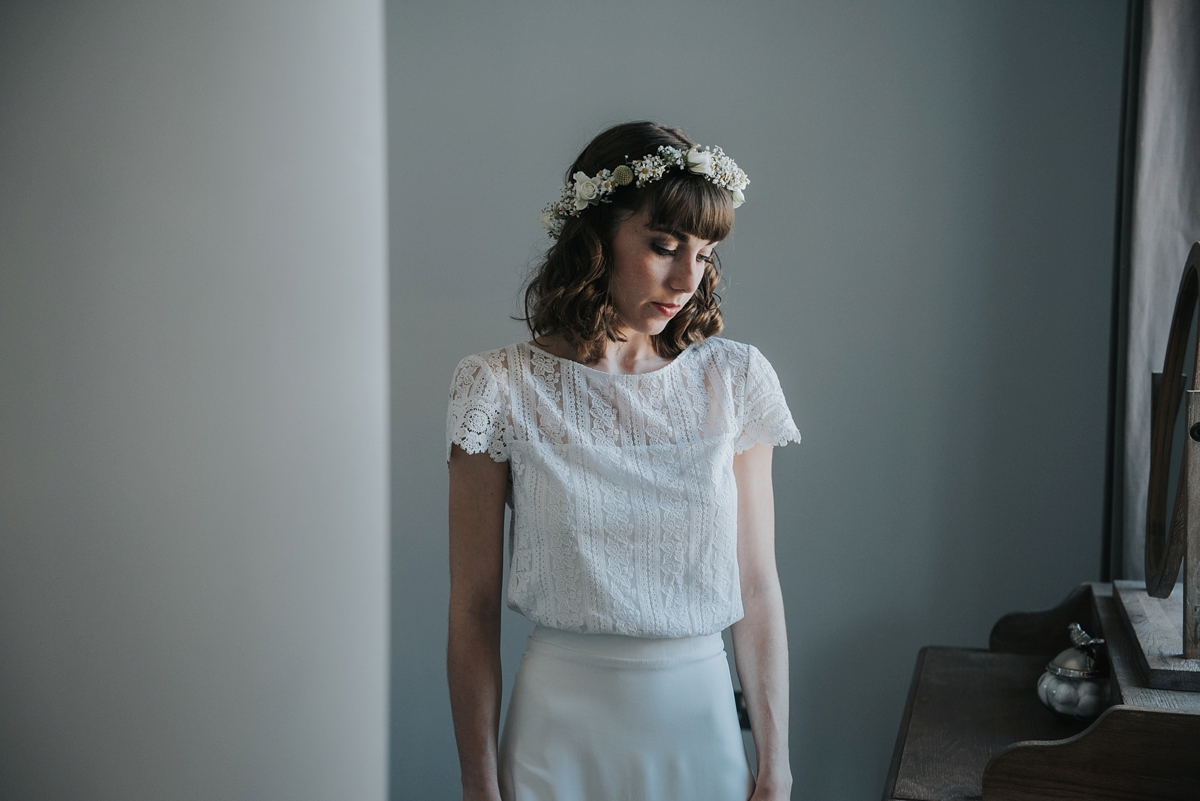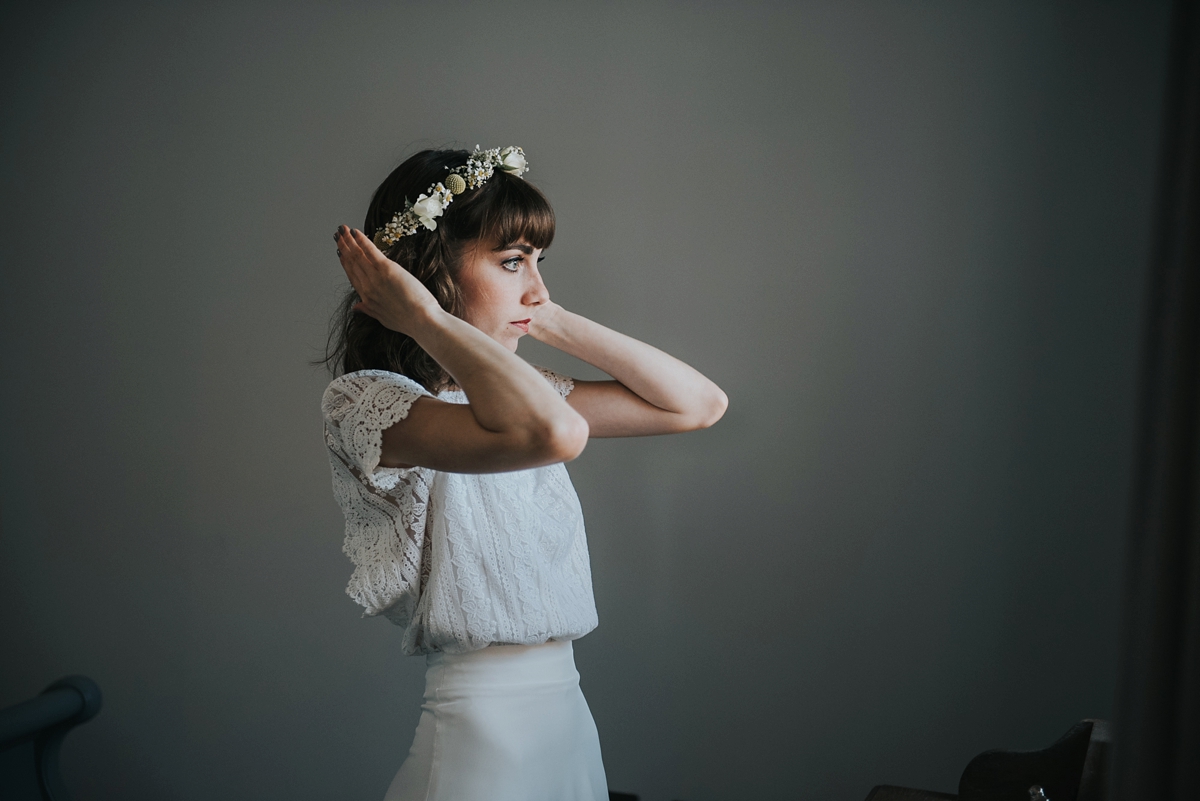 It's the accessories which really transform Fleur's style. She chose to wear a pair of high top Converse with mustard socks, and was the epitome of the boho bride with her simple daisy and craspedia flower crown. The yellow in the crown was picked up in her blossom stud earrings, designed by Alice Stewart and found at Not On the High Street. Later in the day, Fleur added a Missguided jacket for perfect bridal cool.
"Having a flower crown instead of a veil was something I loved the idea of. I thought it would finish the dress off perfectly and capture the whole feel of the day."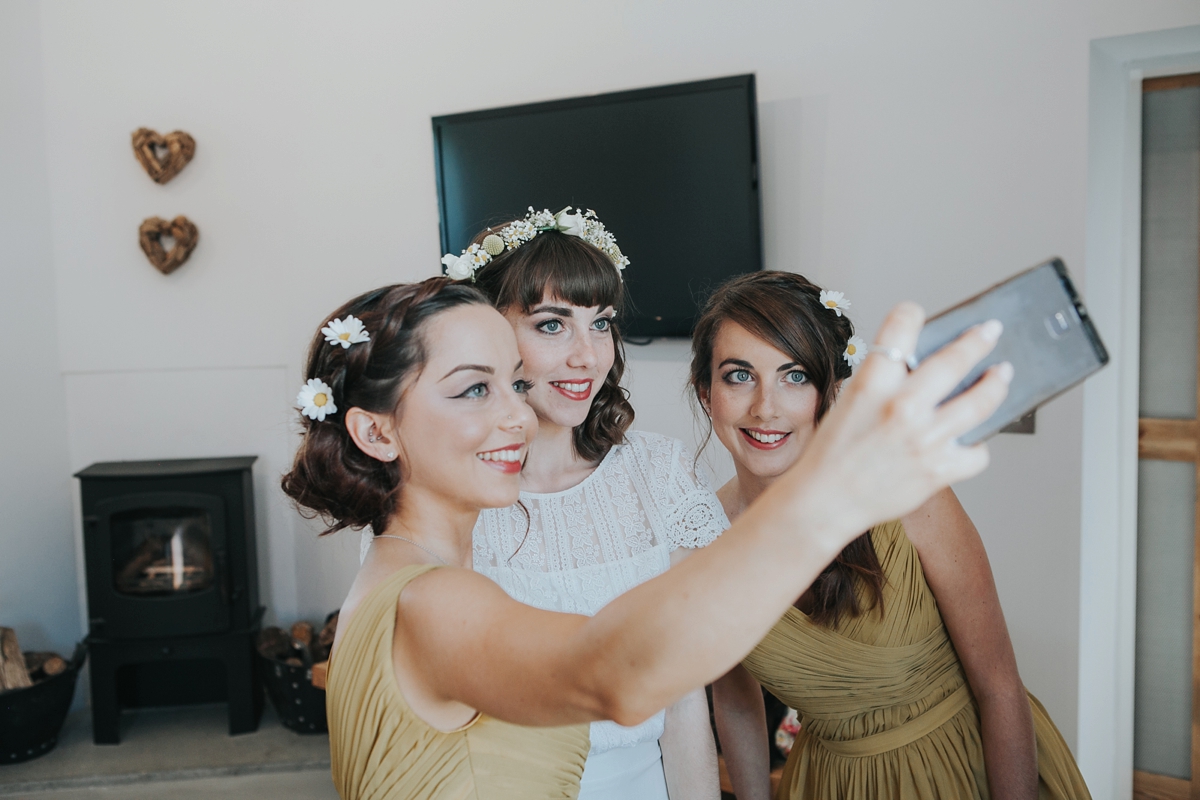 The bouquets, inspired by wild countryside flowers, were put together by florist My Bouquet Day.
"We loved the idea of having bright and fresh colourful flowers that would bring sunshine on the day if it was needed it – thankfully it didn't! I love daisies so I knew I would love those to be included alongside other white and yellow flowers. I did a lot of research before meeting with Lydia the florist and took my wedding scrapbook with me to show her photos of flowers I liked the look of, including daisies and yellow billy balls (craspedia). My Bouquet Day also left me a handwritten note to read when I got to the Bridal Suite which was such a lovely touch."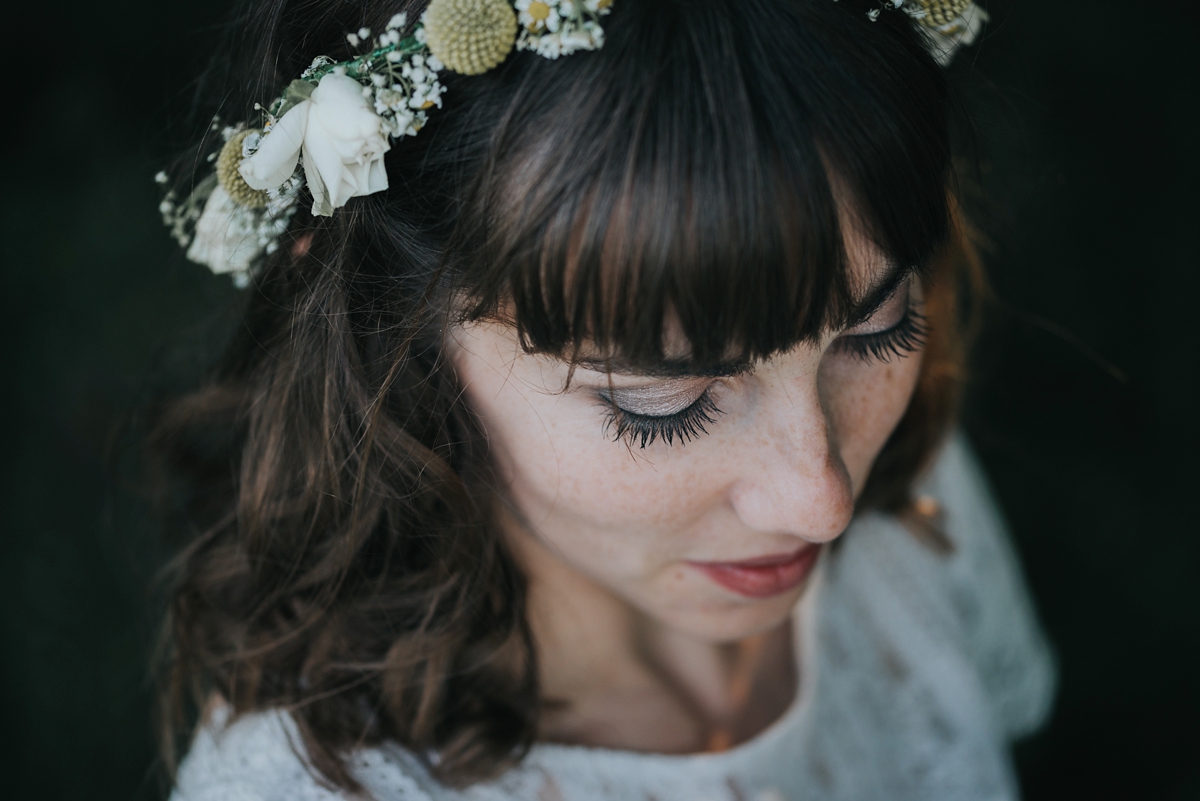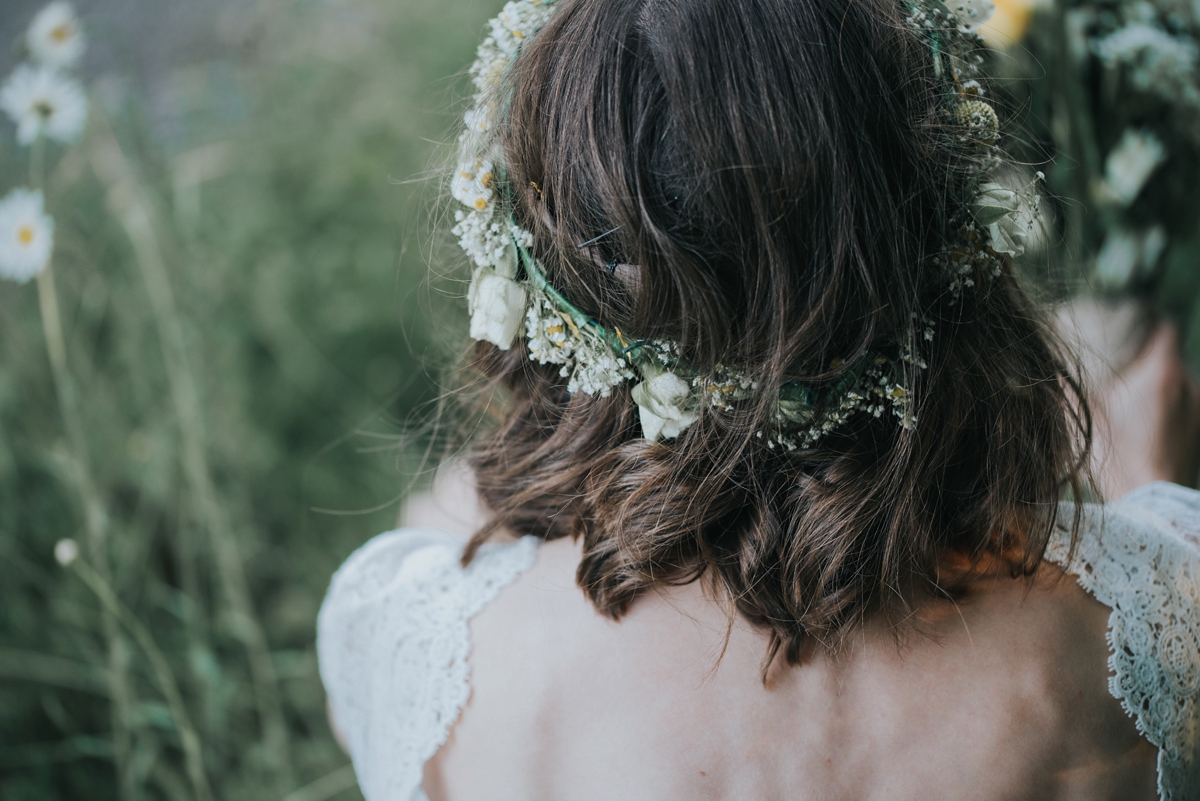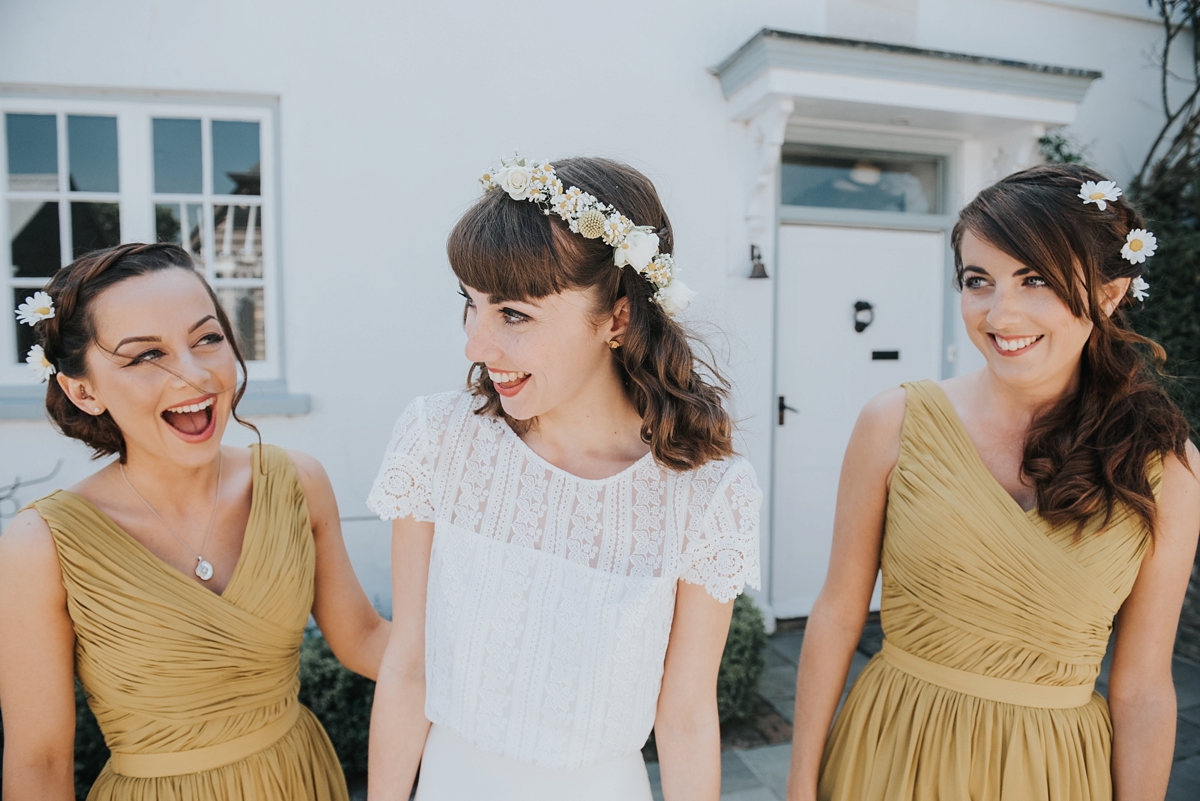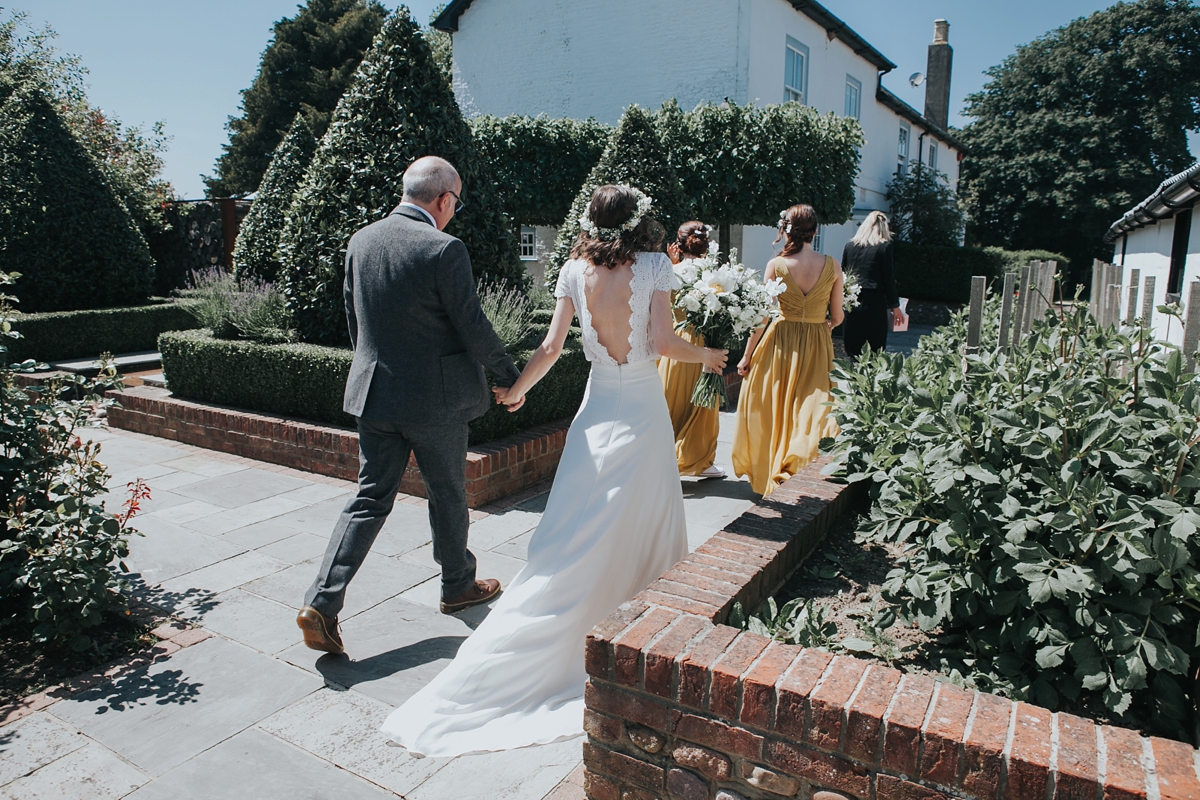 The couple were dedicated to finding a venue that suited their desire of a rustic, relaxed wedding, and chose Southend Barns with its beautiful garden and minimal barn interior. The venue's owners acted as event planners and helped co-ordinate the day as well.
"We chose this venue because it fitted our idea of having a barn wedding with a rustic feel. We loved how we could have both parts of the wedding (the ceremony and reception) in one place."
The couple were lucky to find matching mustard yellow accessories for the groom and his groomsmen to wear with their grey tweet Next suits and mustard yellow knitted ties, also from Next. They added matching socks with brown shoes for a modern look.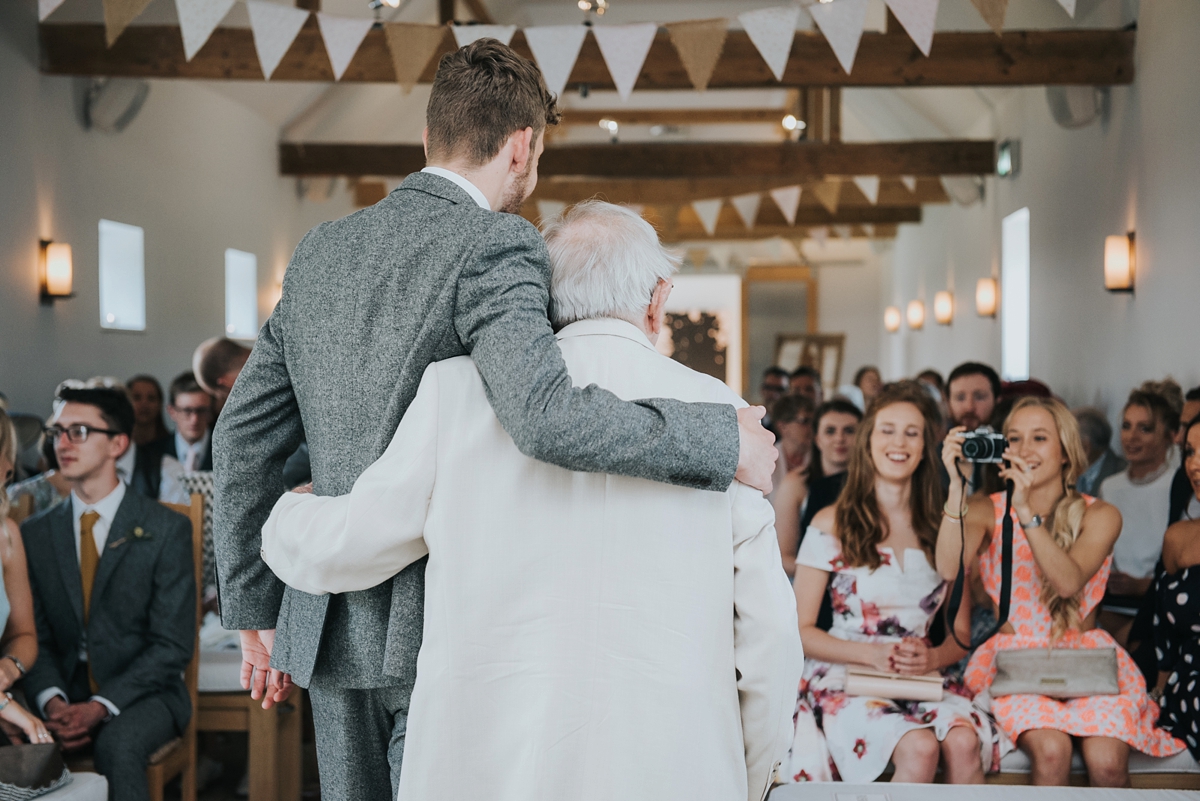 Fleur entered the ceremony room to the beautiful melody of Ben Howard's 'Old Pines' on the arm of her dad.
"My favourite part of the day was waiting behind the doors to the ceremony room, the bridesmaids had just walked up the aisle, listening to the song that will forever remind me of the wedding day. Then the doors opened and I was able to hear and see the guests' reaction seeing me as a bride and then walk up to Jeremy to see him on our wedding day. I also loved seeing how the wedding looked, feeling proud of putting a lot of it together ourselves."
Fleur and Jeremy crafted their own ceremony by picking from a few different vows that the registrar had given them. The bride's ring was a bespoke design from Gold Coast Jewellers in Brighton, made in a wishbone style to fit around her engagement ring.
"Jeremy has never been a ring or jewellery wearer so wanted a ring that was subtle and not too shiny. He went with a gold brushed matt ring."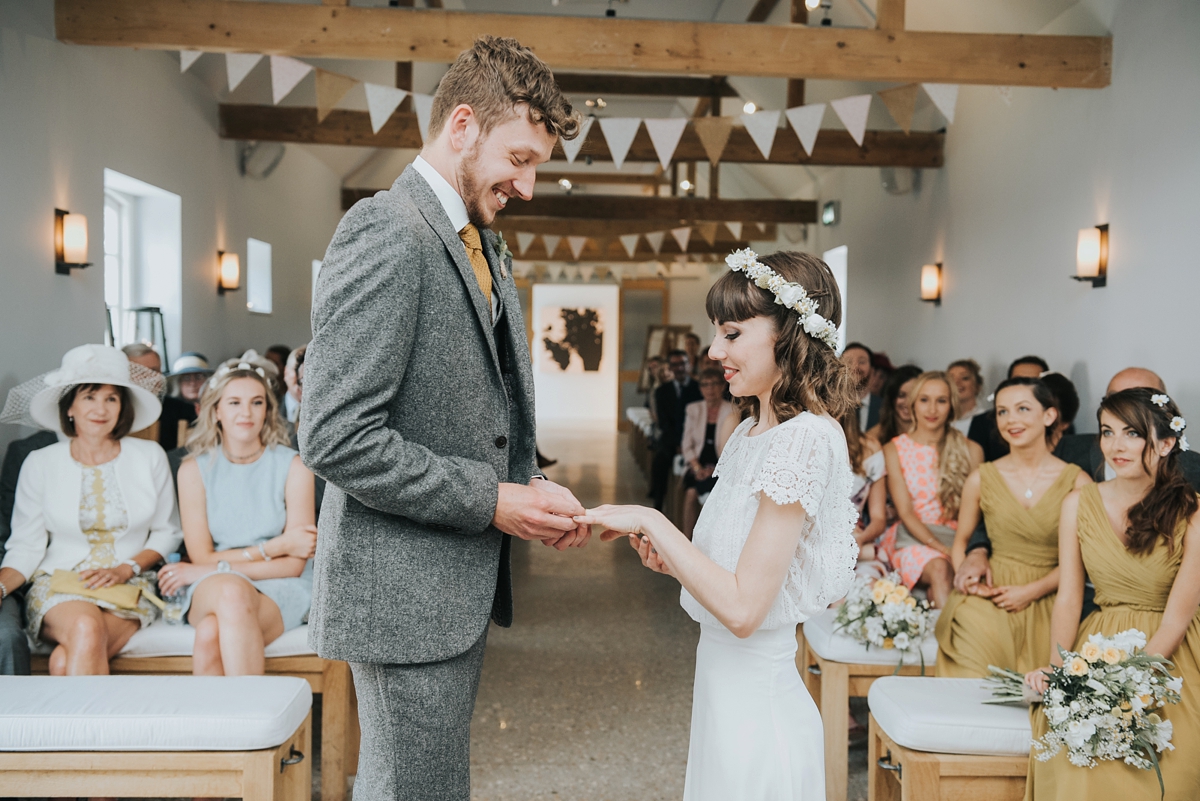 "For our confetti, we had biodegradable dried petals in the Shropshire Petals 'Sunshine Kisses' mix, which matched perfectly with our colour scheme. My bridesmaids had a silver pail each each so guests could come and take a handful ready for our confetti moment out in the sunshine. You are able to get confetti samples from them too so perfect for making sure you are making the right choice for colour scheme or wedding style."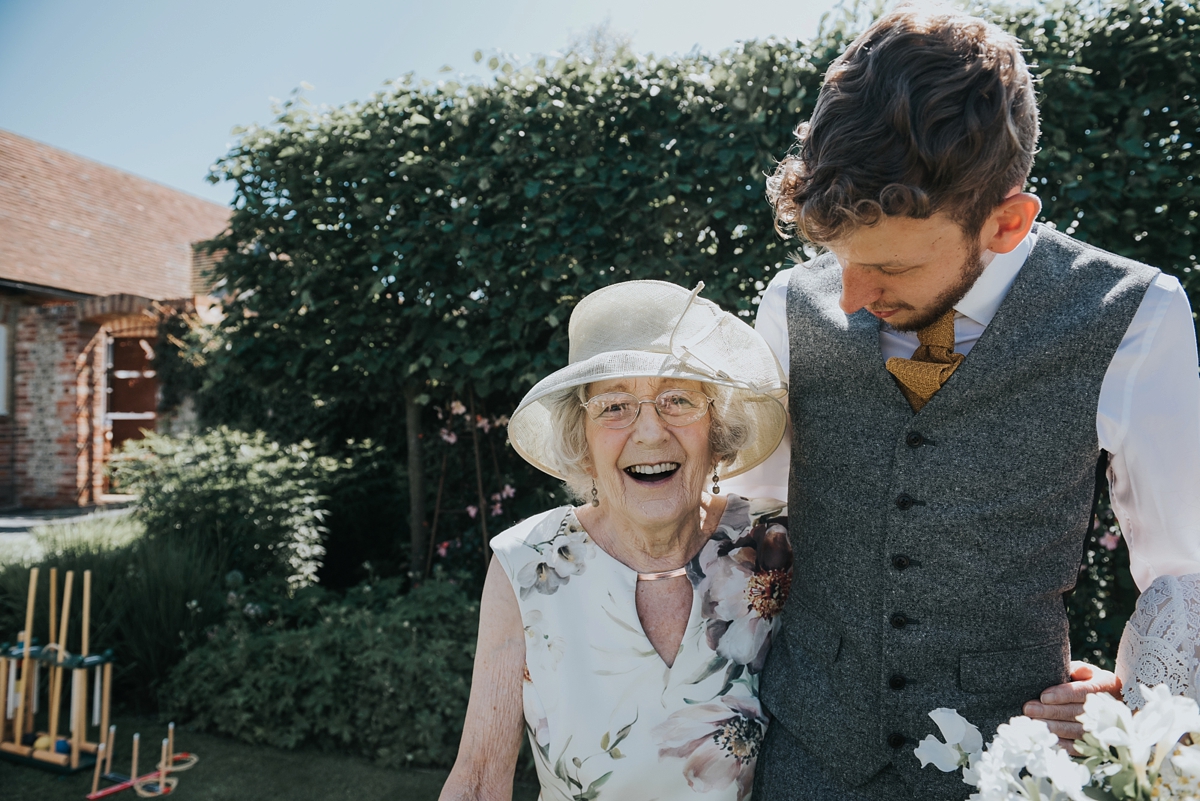 Post-ceremony the guests were well-entertained in the immaculate grounds of the barn by a magician and lawn games, including croquet, ring toss, giant Jenga and dominoes. Meanwhile, the newly-weds escaped away for some beautiful portrait shots in the West Sussex countryside.
V
These wonderful images are the work of Liz of Ruby Roux Photography.
"We couldn't have asked for a more professional photographer. Liz and Charlie were relaxed, calm and such a great laugh. The photos are so beautiful, her style and composition captured our day perfectly."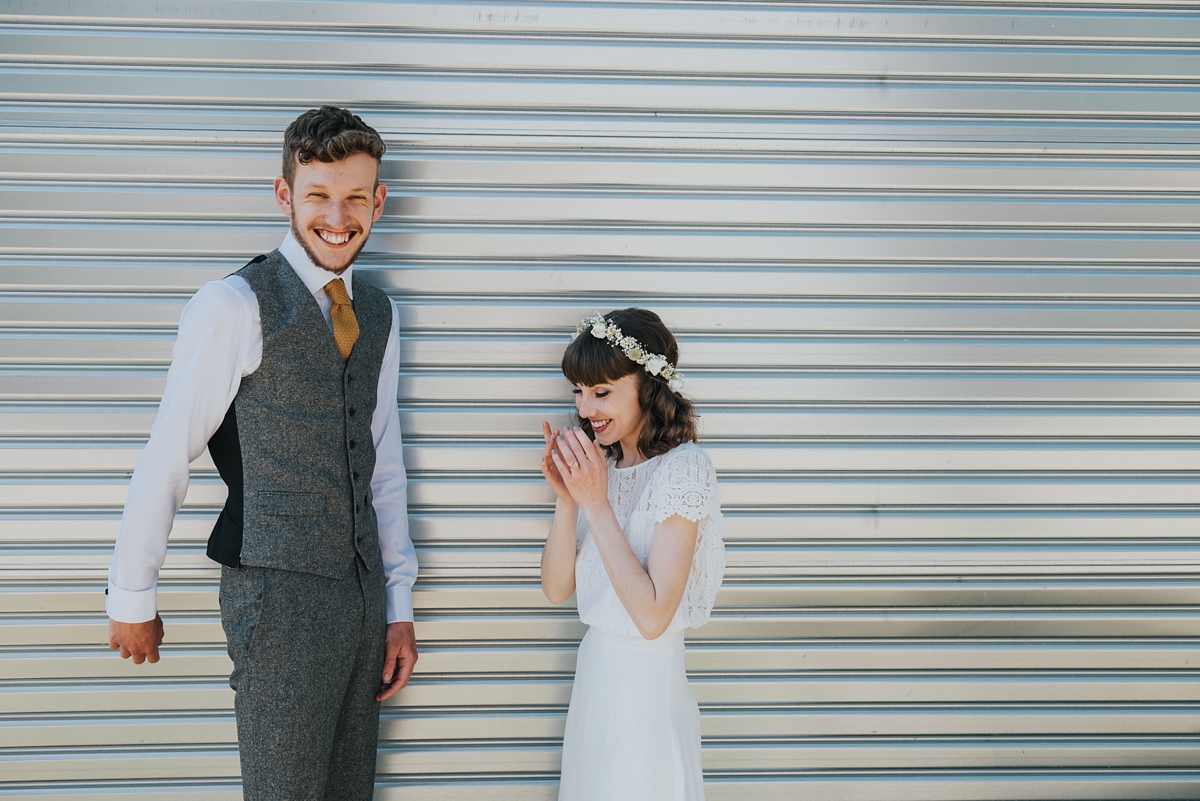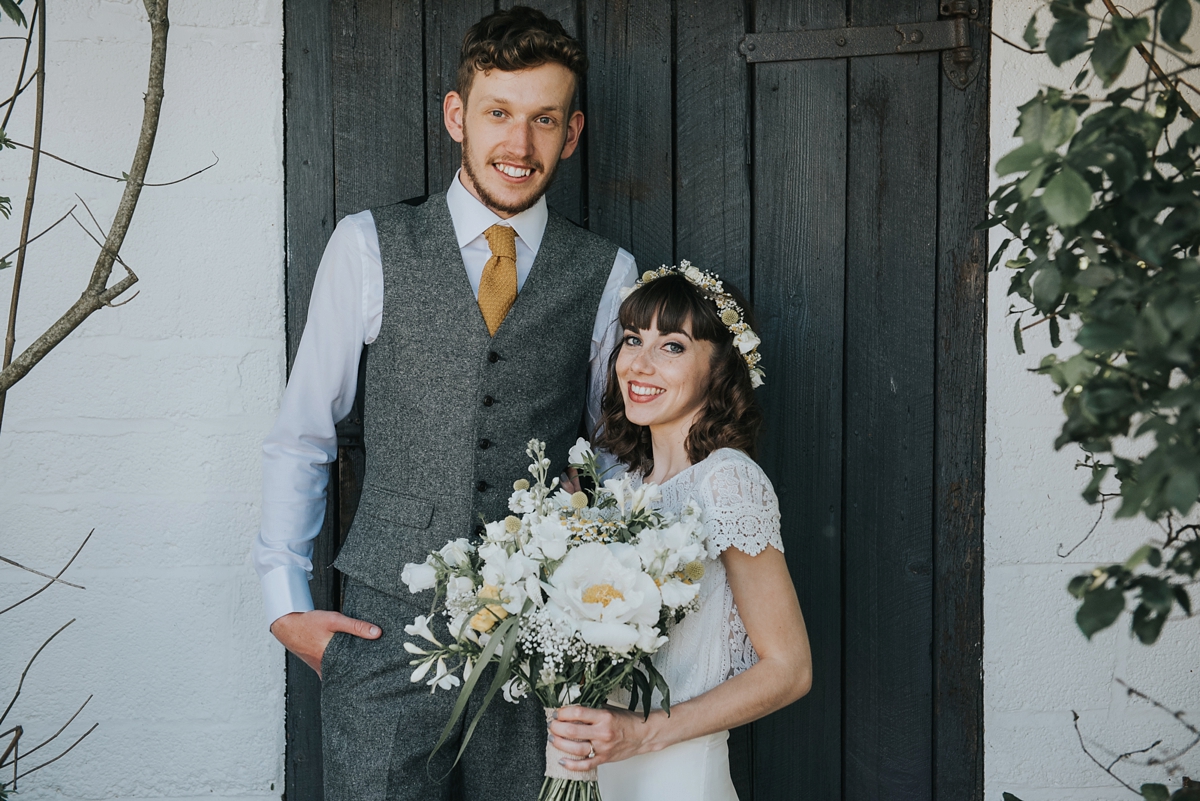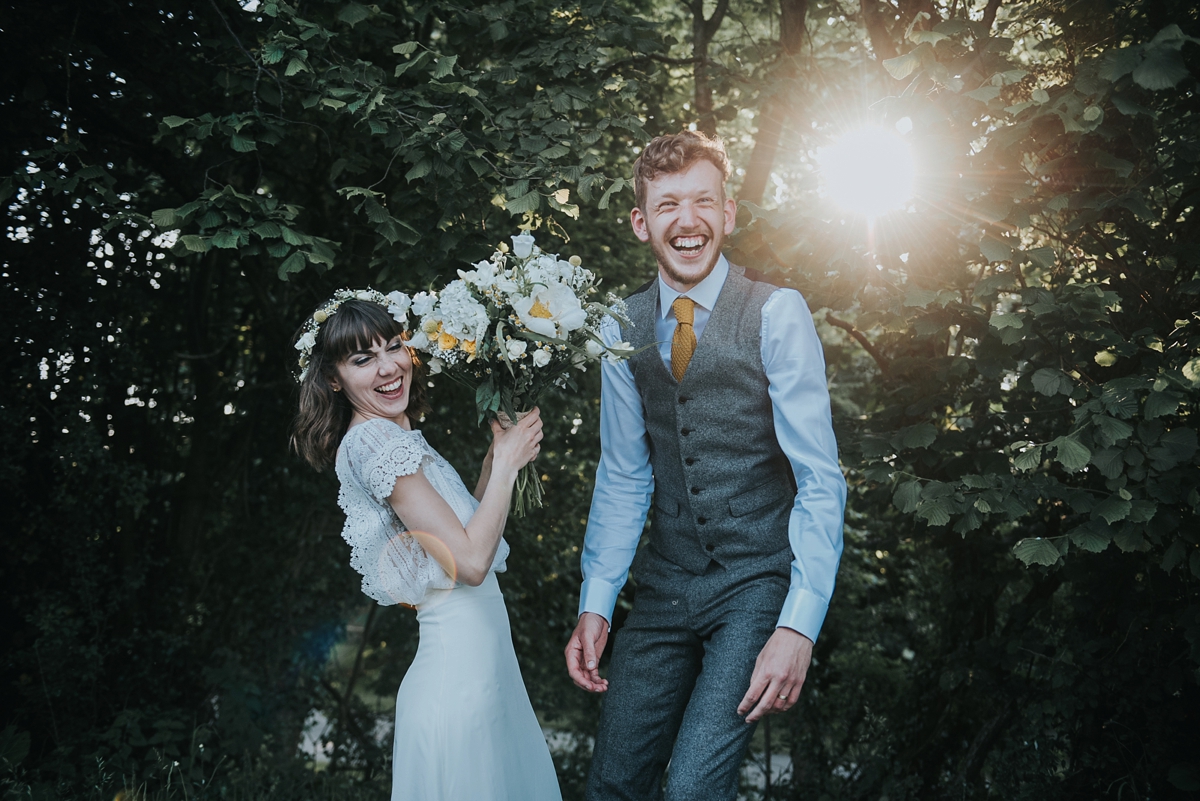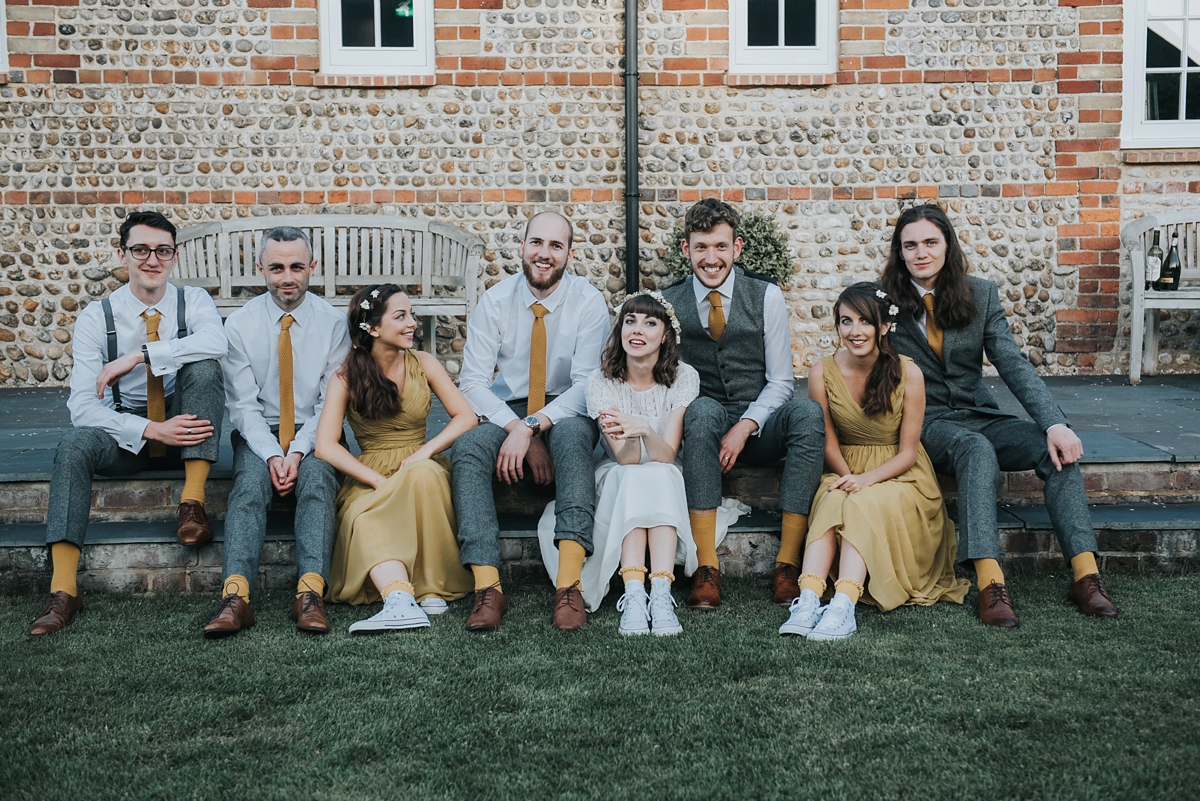 "For the evening I brought a mustard suede jacket. I knew I wanted to get a jacket of some sort because you never know what the weather will be like in England, but we were so lucky with a beautiful hot sunny day."
Fleur and Jeremy got super-crafty to decorate the barn with their chosen colour palette of grey and mustard yellow – including the bunting and fun letter lights – but kept the look simple to keep the focus on the venue's innate charm. Their family and friends all pulled together to help create all the different elements that make the overall look so lovely.
"The Threshing Barn at Southend Barn is the reception barn and has a beautiful rustic feel about it. The venue had fairy lights for the beams which were perfect and something that made us fall in love with the venue. We only added the 'just married' bunting behind the top table, the table decorations and photo backdrop to the barn as we loved the rustic feel and didn't want to take that away from the venue. My mum printed a welcome sign pallet and a timings pallets for the day, and we found an old Guernsey map on Ebay and decided to use this as the seating plan."
An absolute wedding feast was provided by Field & Fork, who are based at the barn.
"We had appetisers after the ceremony, then opted for the BBQ Buffet which was incredible. We had a cheese and biscuit selection in the evening. The venue also had a fire pit where we could roast marshmallows in the evening."
With such beautiful weather, Fleur and Jeremy were able to cut their gorgeous naked cake outside.
"We looked at many cake photos on Pinterest and decided on having a naked cake with jam and buttercream in the middle and daisies as decoration. We felt having a naked cake would fit the relaxed, informal feel of the day. Asking Jeremy's Mum to make the cake also helped to keep to budget."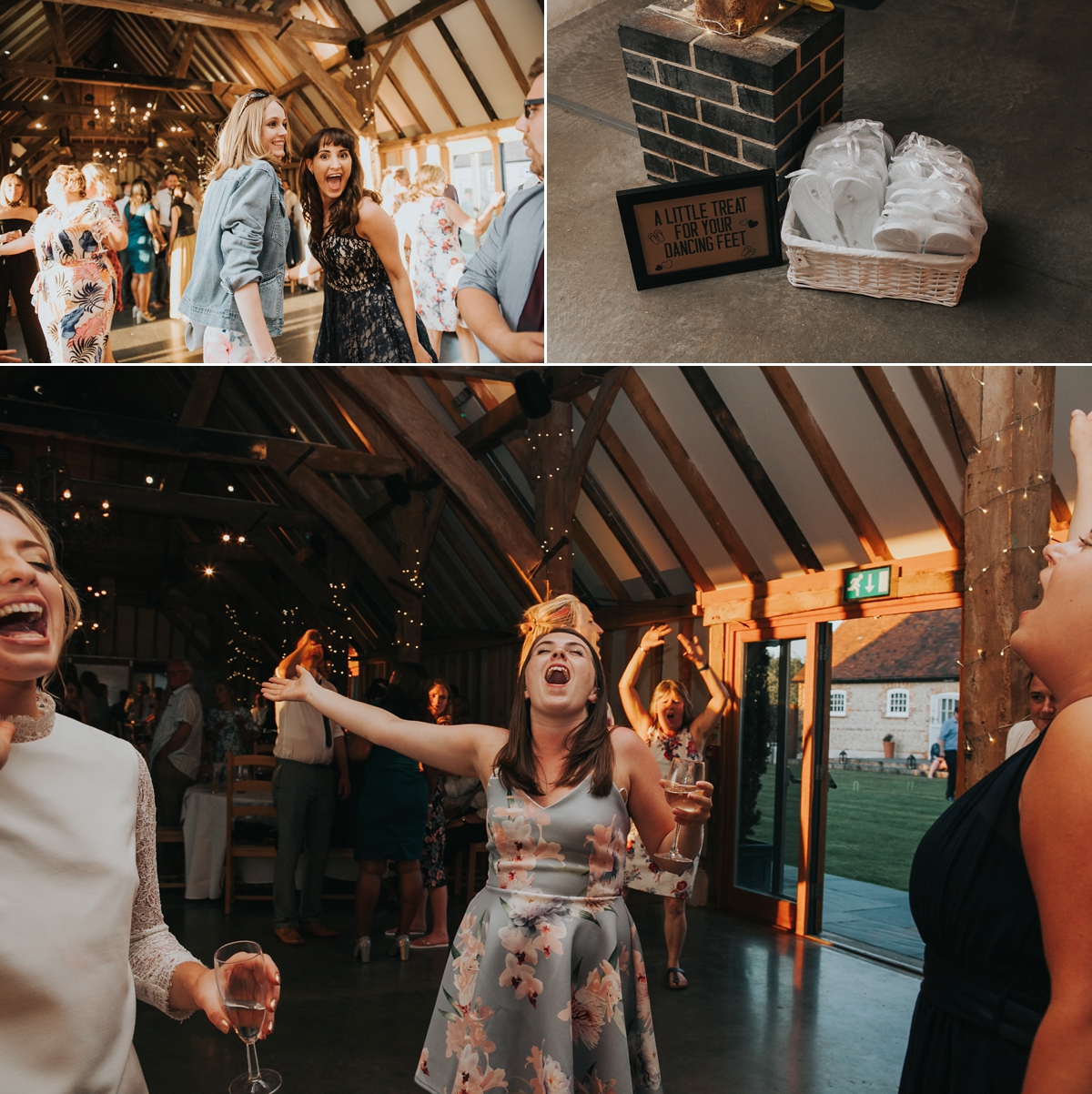 As well as toasting marshmallows, the newlyweds celebrated with a DJ'd party, and chose to dance their first dance to 'The One' by Kodaline.
I love what Jeremy has to say about his favourite parts of the wedding day.
"The highlight of the day for me was seeing Fleur in her dress laughing, chatting and dancing with our friends and family. Another favourite moment was seeing all our guests together enjoying the day and commenting on what an amazing venue and set up it was."
Words of Wedded Wisdom
Fleur has some fabulous advice for couples wanting to keep costs down and get crafty too.
"We wanted to keep the wedding as cost effective as possible, our overall budget was £12,000 which we kept to. We saved a lot by Jeremy designing all the wedding stationery and using a reliable printing company. We asked family and friends to collect and save tin cans which we wrapped with twine for table decorations.
Jeremy's father supplied all the drinks and alcohol as a wedding gift which he and Jeremy bought during a weekend trip to France. Choosing to get married on a Thursday also saved us around £2,000. We made the photo-booth backdrop, the pallet signs, table quiz, advice cards, menu, table names, place cards and seating plan. "
"If you can, make things yourself. We did quite a bit of this, saving money in the process but also made us feel we were much more involved in the wedding and meant that we weren't carried away with getting 'wedding extras' that weren't going to be actually used.
It was an amazing feeling on the day to be able to look around and see so many things that we and our family had made, and we were able to tell people we had done this. It made our day really personal to us. We felt proud of ourselves that we were able to do so much ourselves and have a beautiful end result."
Fleur, you look absolutely beautiful in your relaxed lacy gown and beautiful floral crown. I love your colour scheme and all of your home-made decorations too. Sending so many congratulations to you both. Many thanks also to Ruby Roux Photography for your beautiful work. I do hope to see more on Love My Dress soon.
Ele xx