Lovelies, you're going to want to don a flower crown and twirl about in a stunning gown the moment you view these simply gorgeous images by Kerry Bartlett Photography.
Bride Jessy is a bridal hair specialist (handy!) and Steve is national key accounts manager for a lighting company.They chose the 13th of May 2017 for their beautiful service at St Mary's Church followed by the reception at Cossington Park, both in Cossington, Somerset. Jessy was born in Cossington, grew up on her family farm in the village, and her grandfather Charles who passed away 4 years ago was also church warden at the church for 42 years, so it was very special for her to be able to get married and have the reception here.
"My vision was a traditional old style village wedding. I wanted it to feel like guests had come to a traditional village wedding that was organic and natural and full of country florals with an ethereal twist. I didn't want to have a specific colour theme for the wedding but I am a very keen gardener and I'm obsessed with flowers, so my main theme was that everywhere you looked there MUST be flowers! I wanted everything to look like it had been gathered from a cottage garden."
Photography by Kerry Bartlett
Jessy's Essense of Australia dress is so exquisite, isn't it? Things of beauty sure are born in Australia! Jessy found her flowing gown via Lynn and Kylie at Rookery Bridal.
"It was the 3rd out of about 30 dresses I tried on and it was the only one I was actually excited to try on. I loved how organic and flowing it was. I loved the layers and layers of light tulle and the flowered delicate bodice, how it moved and was at its best when naturally gathered up in my hands.""Steve and I both went to Crispin School in Street but were 3 years apart so didn't really know each other. We then met years later on a night out and things went from there. When we first got together in December 2010, Steve had already booked to go travelling around the world for 7 months with his friend Toby in July. So off he went and I went to meet him in September for 3 weeks. He then returned home in Feb 2011. Steve then proposed to me at a beach front restaurant in Barcelona on my birthday in May 2014 with a beautiful antique aquamarine ring! We were engaged for 2 years and then in May 2016 I decided I was ready to set the date for the following year."
"My bridesmaid wore my engagement ring until after the ceremony and then I put that on after. My engagement ring is an 18ct gold antique ring with 3ct aquamarine and diamond solitaire from Byworth and Nowell in Wells."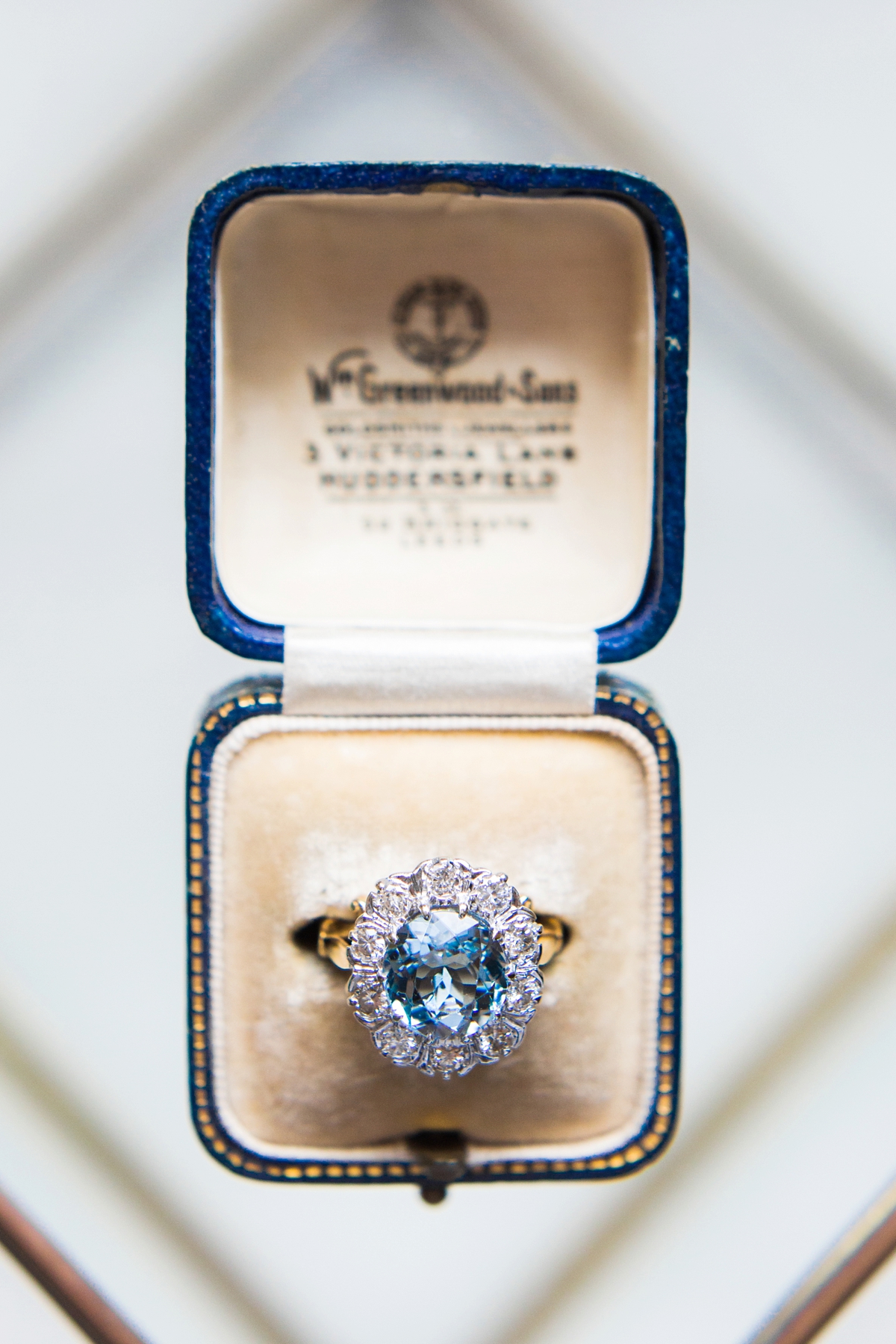 The bridal bouquets, flower crowns and buttonholes were all supplied by Grace at Bramble and Wild, who created such lovely arrangements and totally nailed Jessy's brief.
"Grace's natural approach and creativity is amazing and as soon as I saw her shop I knew she was the one. We met at her shop and as a flower freak I listed all the flowers I wanted and showed her pictures of the ones I didn't know the names of and she got me perfectly."
"I had David Austin roses and peonies as the main parts of my bouquet with lots of small delicate flowers in between."
"The table flowers, church flowers, church floral arch, church gate, milk churns, and hanging marquee flowers were all done by my mum Sally, myself and mum's friend Angela. My mum spent the whole of Wednesday making the greenery swag to attach around the arch of the church door."
"We purchased waistcoasts from Hammond & Co via Debenhams with Jeff Banks chinos and shirts for the ushers and dads. Steve wore a Marc Darcy waistcoat with the same Jeff banks chino and shirt. The ties were £2 each from Next!"
"Each fella had a leather covered hip flask from notonthehighstreet as a thank you gift with their initials carved into the leather. The best men were Steve's best friends Alex and James and the groomsmen were his brother Jimmy and friends Dan, Sam and Toby."
The bride donned the most stunning cathedral-length veil from Richard Designs, shoes that were a very lucky find in Monsoon and a pretty floral crown made by Grace at Bramble and Wild.
"I did my own make-up, hair and all my bridesmaid's hair and the only accessories I wanted were flowers, so I had a beautiful fresh floral crown from the florist."
She then finished off her elegant look with a spritz of 'Miss Dior' scent and a range of exquisite jewellery pieces.
"My earrings were my something old – they were aquamarine and gold clasp earrings given to me from my Great Auntie Dot before she died. My necklace was given to me by Steve on the wedding morning as my wedding present from the The Antique Jewellery Company in London and is an Edwardian pendant with a heart-shaped kunzite stone with diamonds set into the bow and a single diamond drop. It blew me away when I opened it!"
"We walked from Cossington Park to the church and back again and it was one of the loveliest moments of the day. Kerry captured it perfectly in a photo of me and my bridesmaids/bridesman all holding my dress as we walked through the village."
The bridesmaid's wore a range of stunning gowns. The pale pink and sequin dress worn by Jessy's cousin Lizzy was from Monsoon. Friend Laura donned a light grey Jenny Packham dress with beading. And the dark grey with all-over beading was worn by her friend Beth and from Phase Eight. Aren't they stunning? The bride also had a bridesman, who looked very stylish in his attire.
"My bridesman Christian wore a Topshop jacket, chinos and shirt with a bow tie from Mrs Bow Tie."
The pretty maids wore their own shoes and fresh flowers from Jessy's mum's garden in their hair, plus lovely jewellery pieces which were thoughtful gifts from the bride.
"I bought two of my bridesmaid bracelets which had little bumble bees on and also a set of earrings each from Anthropologie. My bridesmaid Beth got a watch from Olivia Burton but this wasn't worn on the day."
[AS-PREMIUM]
"Molly the flower girl's outfit was from Monsoon, including her dress, shoes and bolero and a Joma Jewellery 'Thank you for being my flower girl bracelet'. My nephews Thomas and Henry were in Primark top to toe.
"My father Mike (who later sang a hilarious song during his speech which went on for 22 minutes!) accompanied me down the aisle at the church to the 'Glasgow Theme' from Love Actually."
"We had traditional church vows and adapted a poem for our friend Sarah to read which was originally by Pam Ayres but we changed it so it worked for quibbles we have with each other.
Yes, I'll marry you, my Steve,
And here's the reason why;
I didn't mean to leave the house
Like a scene from CSI
And yes I know the toothbrush
Belongs back in the pot
But when I'm in my morning rush
My brain just goes to shot!
It doesn't really matter how many times you say
'You need to shut the microwave'
I'll leave the door astray,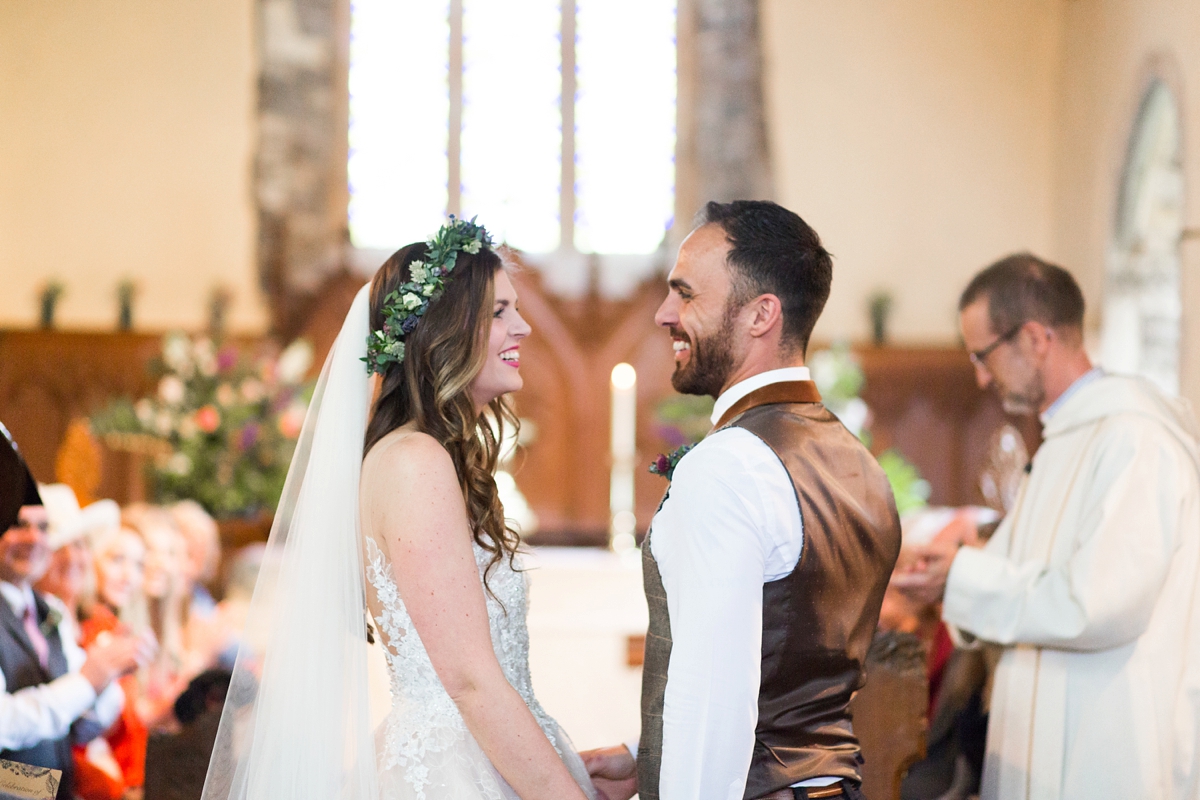 Yes I'll marry you, my Jess,
You may not quite believe it,
But when you say I'm just a nag
You know that means I mean it
Sundays are a day for me
To spend lounging in my pants
So please stop arranging things
And go and prune your plants
You make me speak to Luvvies
And tell them they were Fab
When all I want to do hide
As Jazz hands makes me Gag
Yes, I'll marry you My Steve,
You're virile and you're lean,
My brain is like a pigsty
But you strive to keep it clean.
That little saying 'I'll do it later'
Has become a fave of mine.
Its something I will work on
And jobs I'll preassign
But it's you who has to work the drill
To put up all my tat,
And when I'm never home at night
There's Betsy, our cat,
So, I do see great advantages,
But none of them for you,
And so before you see the light,
I do, I do, I do!
"My wedding ring was again second hand 18 carat gold thin band with diamonds set intermittently – this was purchased at the Bath and West Antique's and Collectors Fair and as I have very small fingers I was told I wouldn't find an old ring in my size."
"However, in the front left hand corner of a glass cabinet there it was in just my size waiting for me! Steve chose a matte oxidised silver band from notonthehighstreet."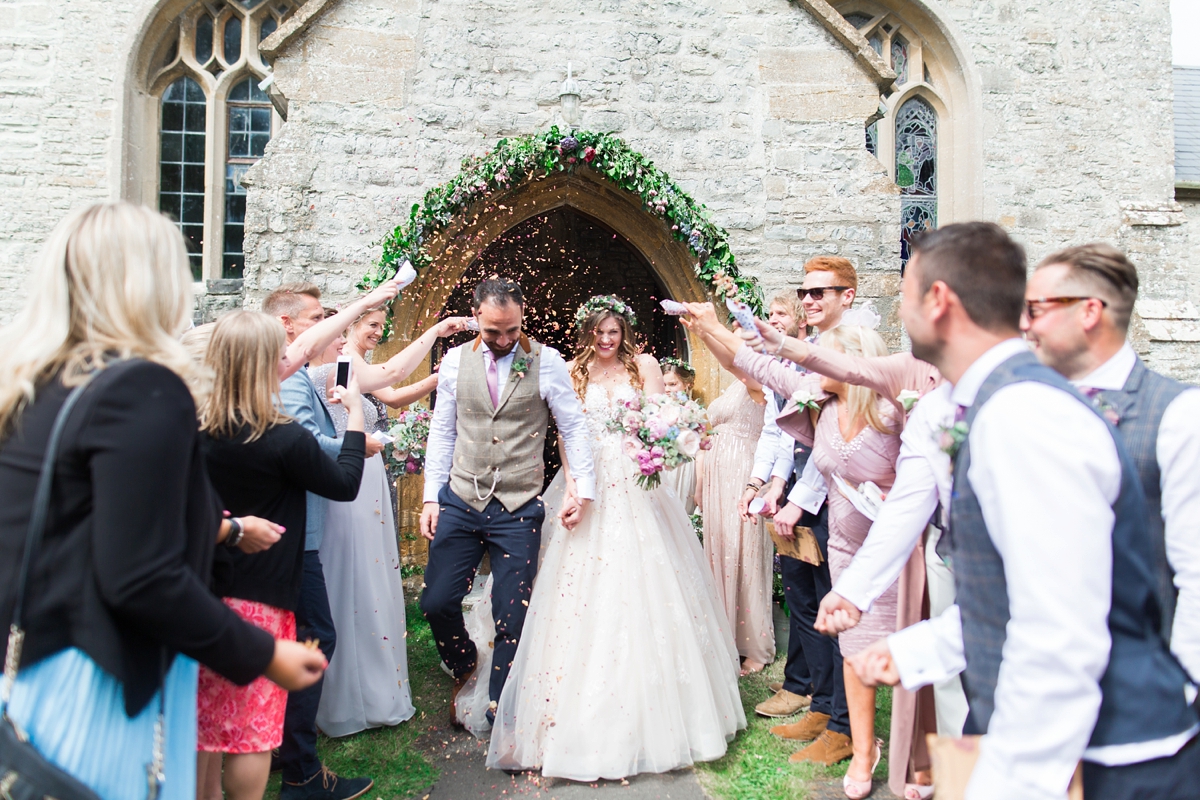 "Kerry of Kerry Bartlett Photography was incredible. She captured the very essence I wanted for my wedding. Her style is soft and feminine and the light colours and delicacy of her work just amplified the look of our wedding."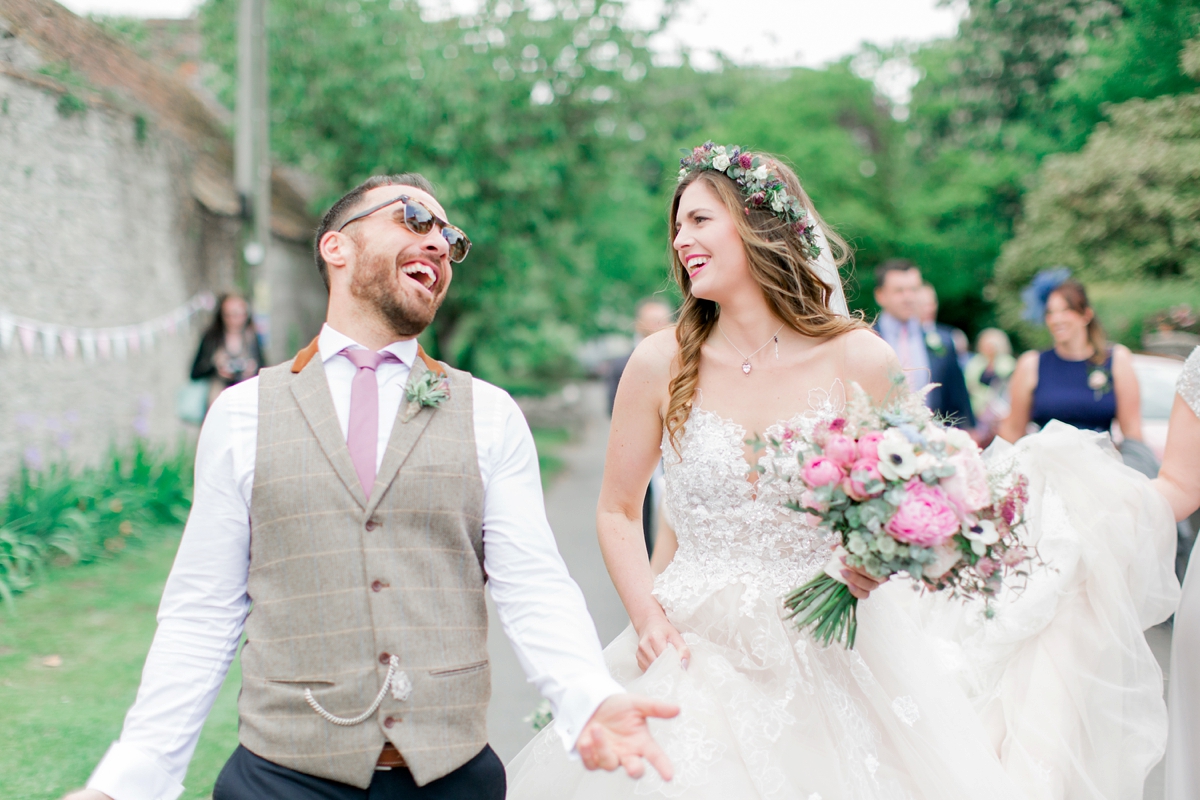 "From the moment I saw her website I knew I wanted her and luckily for me she lived in the next village! Her relaxed style of photography was also something Steve and I were both very keen on, as we wanted everything to be captured very naturally including our portraits. I have to admit one of my favourite parts of the day was when Kerry and I sneaked off to take some pictures of my dress and I had so much fun and felt so special. Every future bride must have Kerry!"
"I absolutely loved the church. It was so relaxed and so much fun and full of laughter and cheering. Steve is not a religious person and also hates being centre of attention (unlike me!) and was most nervous about it but even he says he really enjoyed it. Steve's favourite part was being called in to the marquee by his best man Alex as Mr and Mrs Russell and everyone cheering massively!"
Jessy's good friend Harriet Popham designed the wedding invitations and order of service, whilst the very crafty bride got stuck into sorting the spectacular array of decor. How amazing are hanging flowers in the marquee and the funky lampshades?
"The table plan, wooden welcome signs, signposts, place cards were all made by me. I made a hanging floral display to hang through the centre of the marquee with ribbon also attached. I collected a lot of vintage lampshades from charity shops and carboot sales and suspended them at one end of the marquee. I also put ribbons and tiny old lampshades in the trees at the back of the marquee. I collected teapots, jugs, teacups, jugs, glass bottles etc to use as vessels to put all my table flowers in."
Parsnip Mash provided canapés at the reception with prosecco, then high tea for the wedding breakfast and a hog roast in the evening. And the tasty delights continued with their deliciously delectable cake, made by Abbie Corfield, one of Jessy's hair clients.
"It was a four-tier cake consisting of carrot, lemon drizzle, Victoria sponge and chocolate cake all with rough flavoured butter icing. My mum then decorated it with fresh flowers from her garden which she had kept in the fridge from the day before."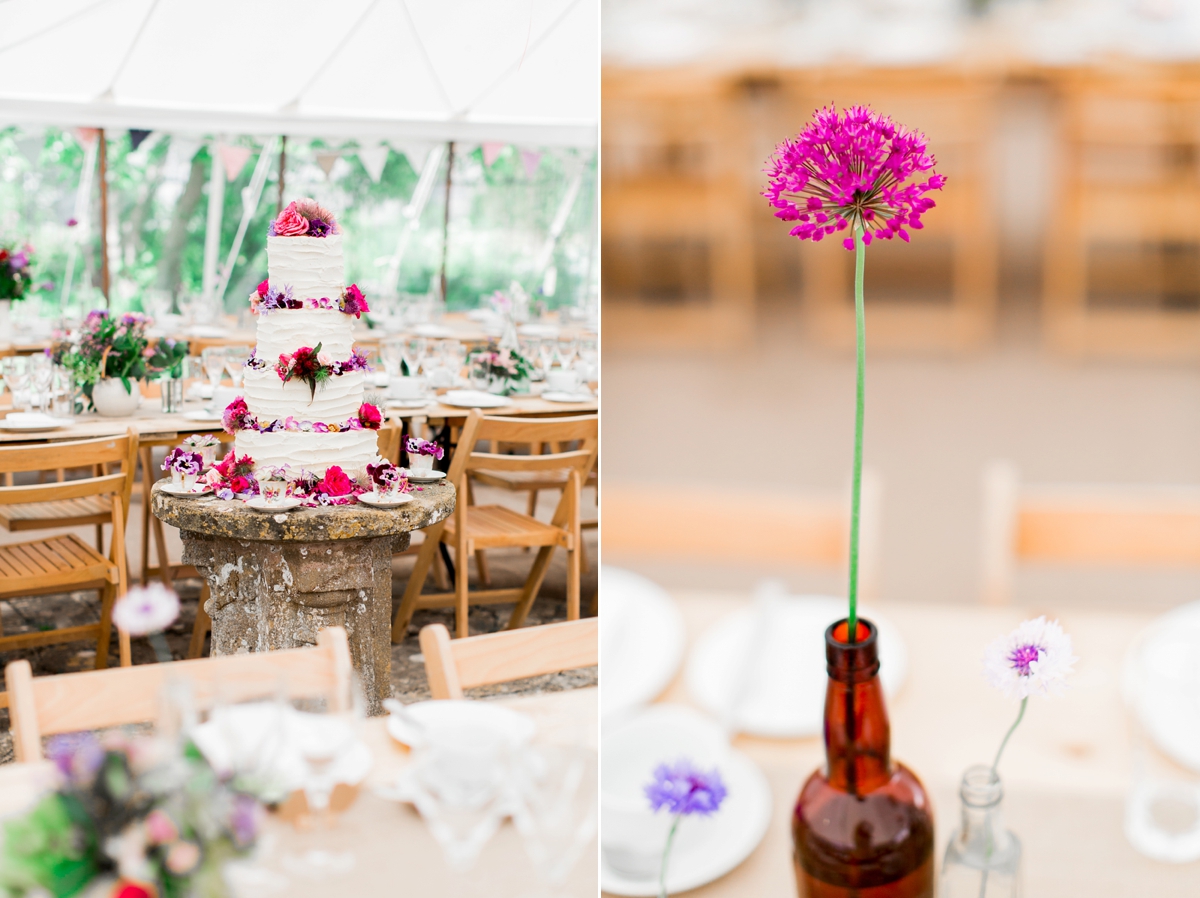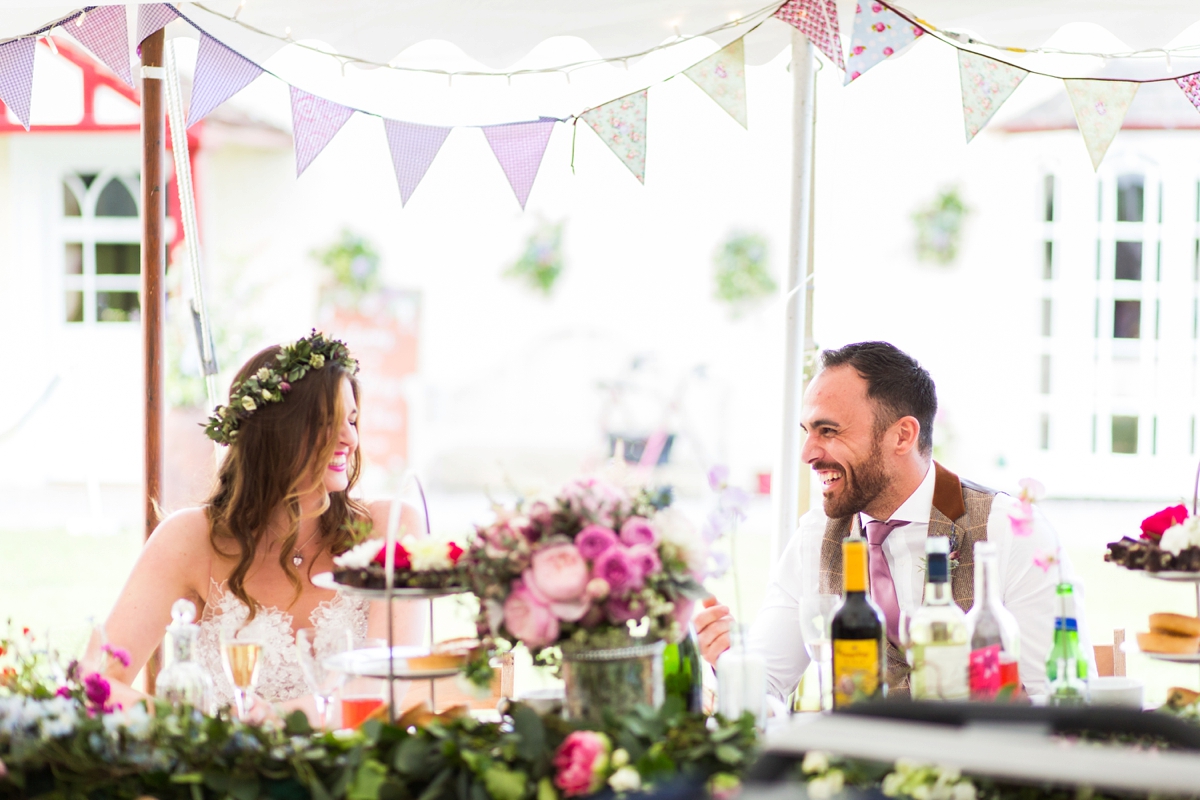 "The River Brew were AMAZING – the best party band in the South West. The whole dancefloor was full from the moment they started to when they finished and we couldn't have asked for a better performance."
"Steve chose our first dance song and was one of the only choices I let him have! It was 'Is This Love' by Bob Marley and was the perfect song for our first dance."
Words of Wedded Wisdom
"I was an anxious mess the night before our wedding. I did not sleep at all and spent the whole night in my friend's rooms having a panic attack and freaking out irrationally, thinking I couldn't do it. At no point was I thinking I didn't want to marry Steve, it was the overwhelming thought of the whole event.
I was going to be a wife. That was massive. Having suffered with anxiety this was not the first time for me. I wished I hadn't but unfortunately that's something that happens to me when BIG changes in my life happen – even when they are happy changes."
"No one would have known on the day except me and I just wish I could have done the whole day again with a full night's sleep as I had a few moments during the day where I felt very overwhelmed. Sometimes my brain works in overtime and I feel like I'm the only one it happens too. I absolutely know this isn't true, but when you're in that zone it's hard to think rationally.
I would like to give reassurance to any bride who has these feelings. I would spend nights googling if I was normal and thinking why don't other brides feel this. But having felt it and having done it, you can too. I even struggled the day after the wedding."
"Not with post wedding blues or the 'what am I going to do now?' feeling. Just an overpowering anxiety of how my life had changed now. Steve was even doubtful if I would make it on our honeymoon but again I DID and I relaxed and loved it. If I could do it again now, a few weeks after by mind had adjusted to our new life, I 100% would. So relax, ride out the brainstorm that is an anxious bride's nightmare and enjoy the day!"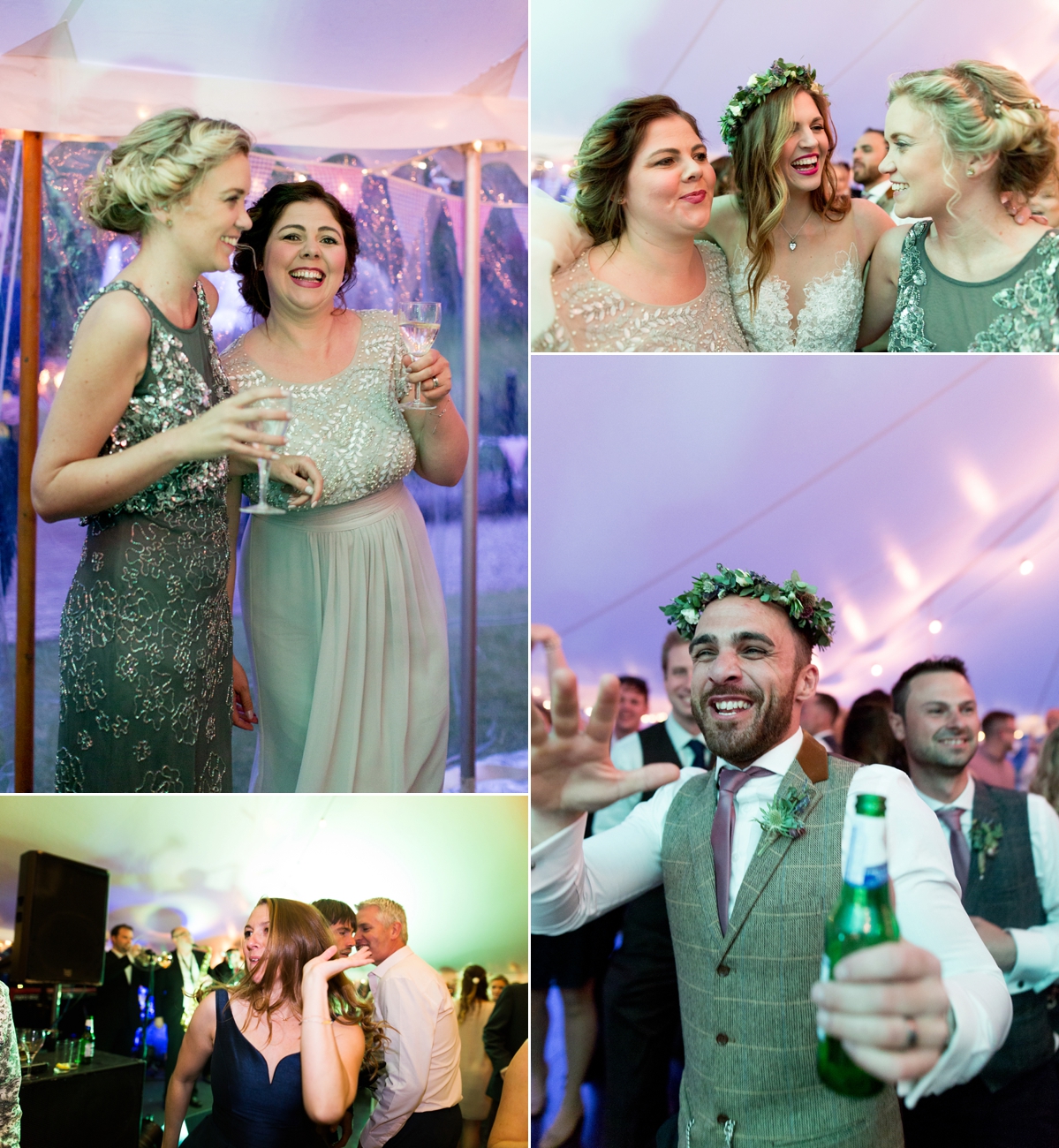 Thank you Jessy for your heartfelt, honest and reassuring words – our upcoming brides will be very thankful for the realistic heads-up. Can you please make me a hanging floral display? I'm in utter awe of the beautiful florals and so glad your vision for your day came true. And a huge thank you to Kerry for capturing such delight and happy memories for the beautiful bride and groom.
Enjoy the rest of the week lovelies – and go forth and conquer that wedmin!
Love Jo -xo-