Well hello again and how the devil are you all today? I have to say that I'm beyond excited today as my adored French aunt arrives tomorrow and I can't wait. It's fair to say I have a lot planned.
And that leads me rather neatly into today's feature because Eleganza Sposa, Scotland's leading luxury bridal boutique has SO much planned this autumn that I just have to tell you all about their upcoming events and exciting designer news.
For the past 25 years, Eleganza Sposa has been leading the way in bridal style in Scotland. Their Glasgow boutique has become the place to visit for a gorgeous luxe experience where the experienced and attentive team will help you find your dress from an amazing mix of designers. Jesus Peiro rubs shoulders with Yolan Cris while designs from Tarik Ediz, Suzanne Neville, Essense of Australia and the boutique's own label, Eleganza Iconica, give you even more choice.
Elle, from the Noya by Riki Dalal Collection
Anna Cirignaco founded Eleganza Sposa after she visited a bridal atelier in southern Italy whilst on holiday. She fell absolutely in love with the gowns that were totally different to those in the UK. Her Italian heritage and love of anything luxurious and glamorous has made Eleganza Sposa what it is today and their own Iconica label is designed, made and produced in Scotland. Everything about Eleganza Sposa is very special indeed.
And this autumn, it's going to get even better.
Amara, from the Noya by Riki Dalal Collection
Eleganza Sposa is delighted to announce that two new exclusive collections can now be found in their boutique near Blythswood Square. For the first time ever, they're offering brides Rosa Clara gowns and these beautiful pieces are beyond perfect for fashion-forward brides. I love the new 2018 collection – it's just so feminine and immaculately made plus the fabric choices are perfection.
The exquisite new NOYA collection by Riki Dalal is also now at Eleganza Sposa and really, you just have to see these gowns. Daring backs, simple silhouettes and intricate details combine to make these dresses truly adorable.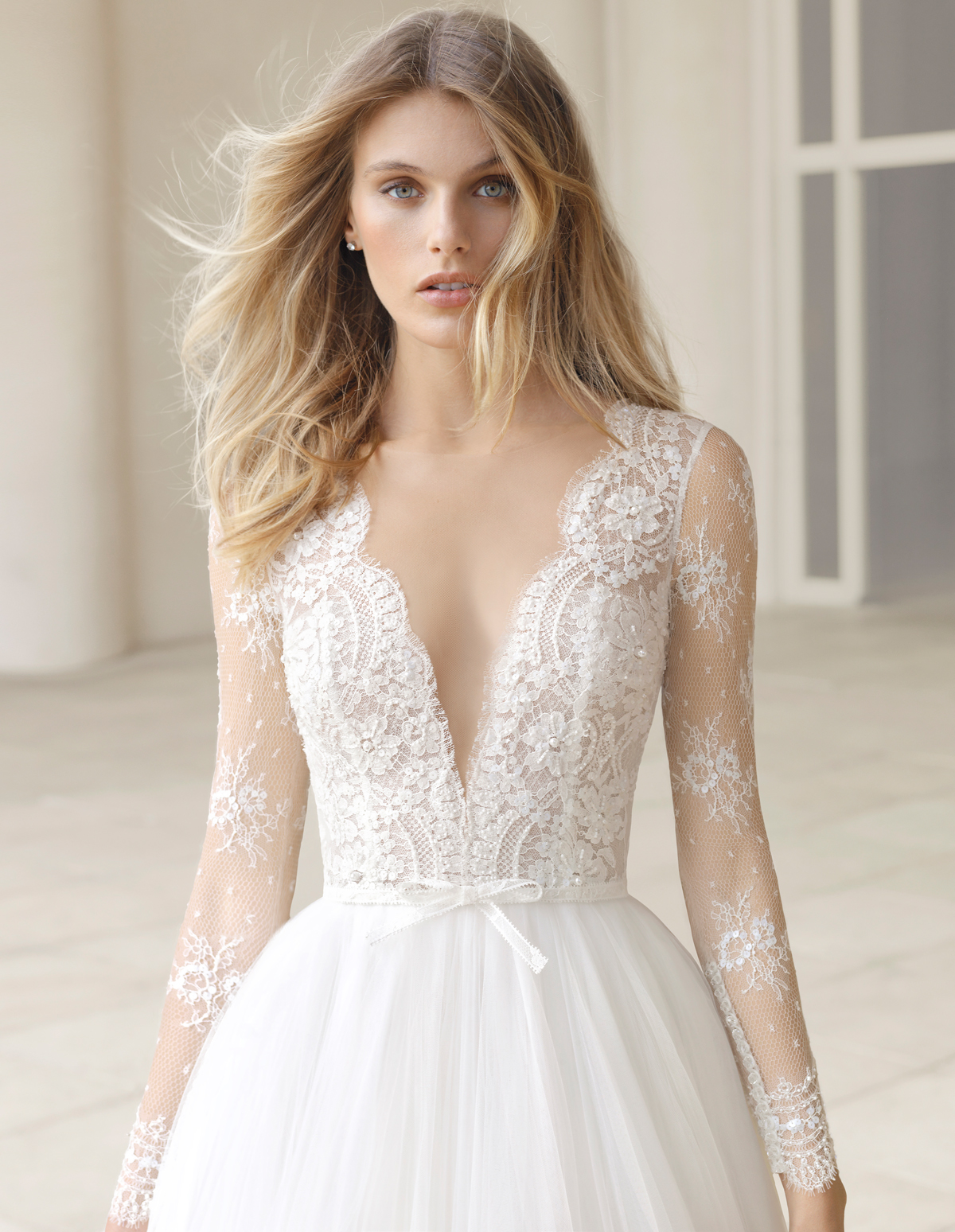 Pergola by Rosa Clara
To celebrate these stunning new arrivals, Eleganza Sposa is hosting a number of exclusive events over the coming weeks. So, now's the moment to grab your diary…
The first date that you need to know about is 4th November when the boutique will be holding a Designer Day for the latest Rosa Clara collections. You'll not only have the chance to preview the new pieces (swoon!) but you'll also be able to meet the team behind the Rosa Clara label and chat to them about your wedding.
25th November is an absolutely unmissable occasion as Suzanne Neville will be in the boutique. You'll be able to meet this brilliant and iconic designer yourself and get a first look at the outstanding new 2018 Belle Epoque collection, which has also just launched in store.
Lastly, do keep your eyes on Eleganza Sposa's social media feeds because they're just in the process of confirming an October Designer Day with Riki Dalal too.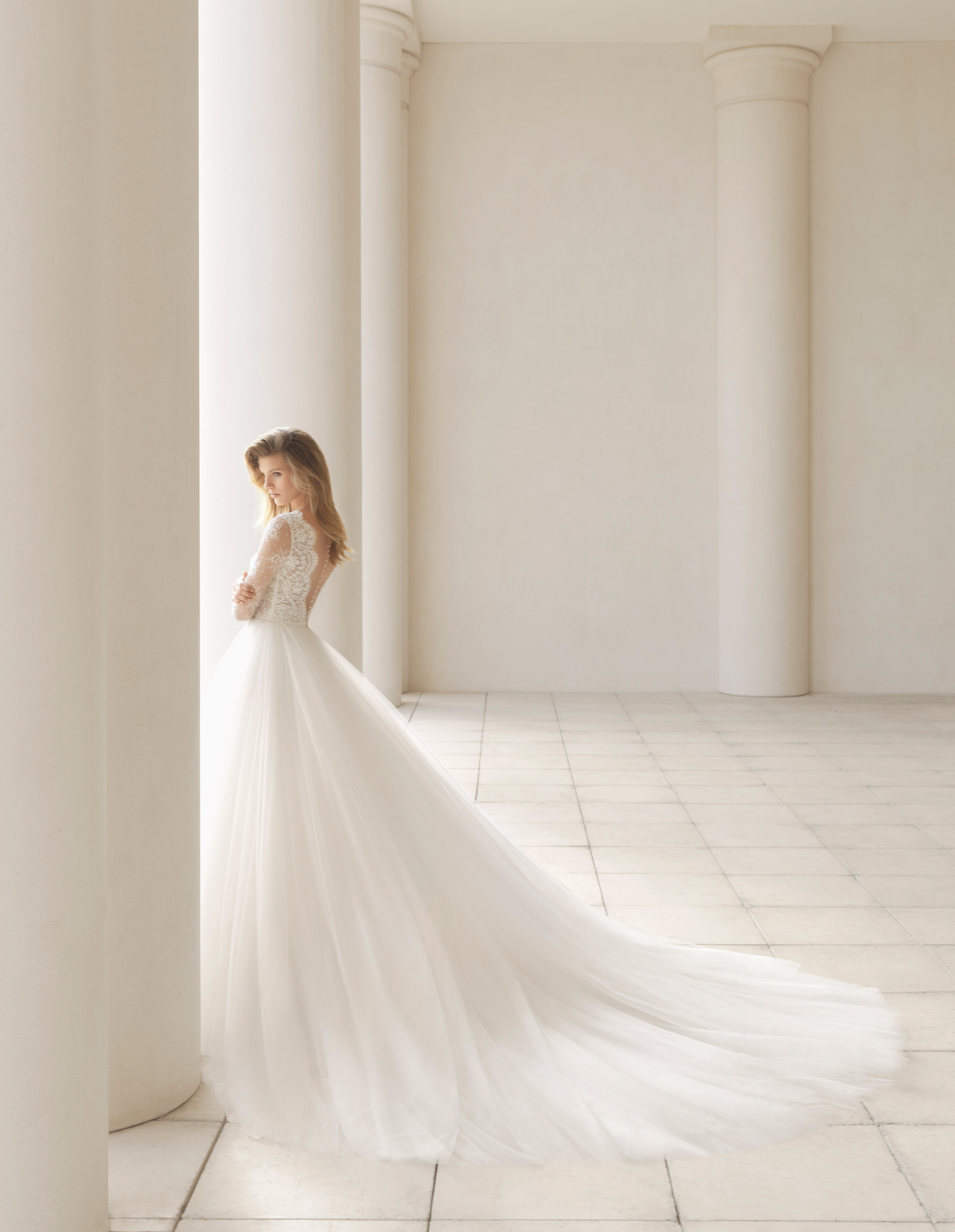 Pergola by Rosa Clara
All of the designer days are sure to be super busy so to avoid disappointment, I'd urge you to get in touch and book your appointment as soon as you possibly can. These luxury styling appointments are not to be missed and they're already filling up fast.
Finally, Eleganza Sposa are celebrating their own 25th anniversary this month and to celebrate, they will be launching a series of competitions on their social media pages over the coming weeks so keep your eyes open for those – they're sure to be fantastic.
Gowns from Eleganza Sposa range in price from £1,000 to £8,000 and you'll find their boutique at 183 Bath Street, Glasgow. For more information, do view their website where you can book an appointment, view the collections and much more.
Love,
Tamryn x