I've said it before but I'll say it again – I LOVE this time of year because I feel like I'm being treated every day to a new bridal collection from designers I just adore.
Today, it's such a pleasure to welcome the incomparable Caroline Castigliano to Love My Dress to share not only her gorgeous 2018 collection, 'Celebrating Romance', but also to hear from Caroline herself in this rather special interview.
Welcome Caroline! Before we talk about your new collection, 'Celebrating Romance', would you like to introduce yourself to readers who are new to your label?
"I am a British designer of luxury hand crafted bridal and eveningwear. I am well known for my understated classic designs with a glamorous but effortless feel. I am married and live in Surrey with my husband, daughter and two of my three step-daughters."
"All Caroline Castigliano gowns are crafted by expert technicians here in the United Kingdom where I have now been established for over 26 years. I am proud to say my designs are sold across the world in some of the most prestigious stores. I am dedicated to creating excellence from my studio in Lincolnshire."
Now, let's talk gowns! Can you tell us more about 'Celebrating Romance'?
"The 2018 'Celebrating Romance' collection features timeless designs with ultra-feminine twists, elevated textures and highly luxurious accents."
"There is a light airy feel throughout the collection, with a range of silhouettes from A-line, to circle skirts and fishtails, all creating beautiful movement and a powerful but understated vision. I have continued to build the collection around our structure and corsetry so even in the most effortless gown there is a secret hidden structure." 
What are the standout features in the new collection in terms of fabrics and styles?
"I have a number of unique features in the collection! There is a lot of layering – this creates a beautiful texture and 3 d depth – and I have continued with our unique stretch corset that is to die for. Not only does this corset fit well but it's also really comfortable. You'll also see new necklines along with new skirt silhouettes too."
What was the inspiration for the new collection?
"The inspiration for 'Celebrating Romance' was ultra feminine, very fluid gowns. I just wanted to create gowns that feel light and airy but create shape and power and the collection needed to be sensual and playful yet only suggestive."
"I get inspired by fashion and pick different elements that are in vogue and create these, along with my signature look of classic lines. This fusion really inspires me and keeps me excited."
Can you tell us more about how you go about designing a brand new collection?
"I start with mood boards that conjure up the feel of what the collection will look like – this will cover detail like beadings, laces, structured dresses and soft floaty dresses. The mood boards bring together all the ideas that have been going on in mine and the teams' heads for some months."
"I then decide how many pieces will be in the collection. I break this down to general silhouettes, for instance how many bias dresses, how many ball gowns etc. and then I do the same for necklines shapes; I am quite into simplifying the process." 
"I then go through all the hangers of fabrics that have been sent to me by the fabric houses I work with and start to choose the fabrics I want to work with for the season. I then start sketching the dresses and writing detailed specifications on how they are to be cut and layered."
"The sketches are turned in to patterns and then toiled, this is a process whereby the dress base is created in calico. From there, the dress will develop and will be toiled again before being created as a development sample. In total, the collection usually takes about six months to develop."
Do you have a favourite design from the new range?
"I love the whole collection and was really pleased with the result. My favourites change from day to day as they all suit different personalities, and body shapes – asking me this is a bit like asking a parent who their favourite child is – you love them all equally!"
Did you have a specific bride in mind when you were designing these gowns?
"I try to design across the board for brides looking to create different visions – there are brides wanting to be classic and have very clean lines, brides wanting to be very glamorous and everyone is different. However, the one thing all Caroline Castigliano brides have in common is they love beautiful quality and excellent cutting to fit their figure – their ideal is understated effortless glamour and that is what I specialise in."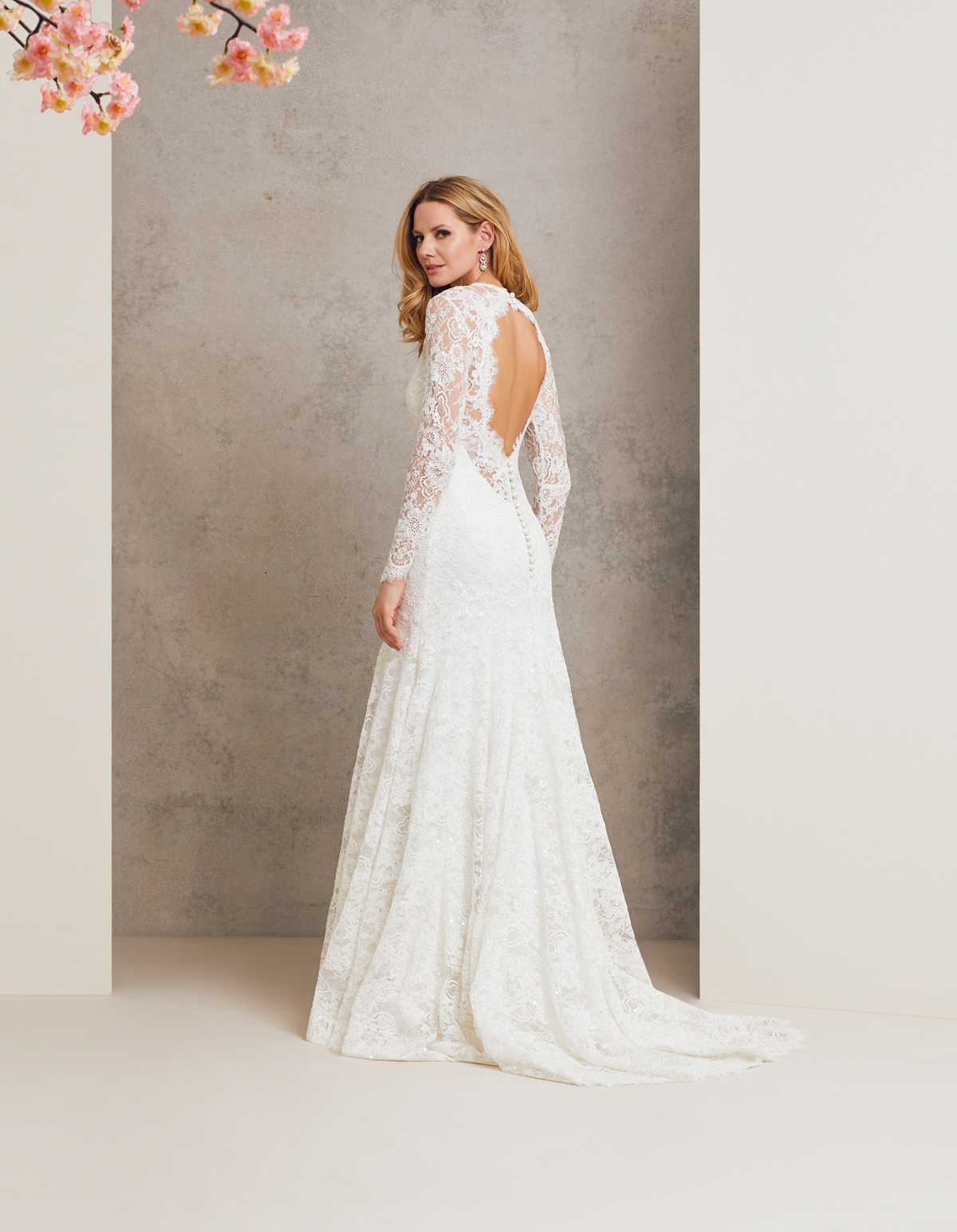 What advice would you like to give brides who are looking for their perfect wedding dress?
"First, you must consider the 'vision' you want to create for the big day. Do you want to be remembered for being traditional, contemporary, classic, boho, vintage, romantic or elegant and understated?"
"Without considering the silhouette decide on the vision – once this has been determined go to a bridal store and you will get advice. It is important to work with someone that understands silhouettes and fabrics so they can show you what suits you what creates a strong silhouette for you. For example, if you are 5ft you will suit totally different silhouettes to someone that is 5'8" tall, if you are full busted you will suit different silhouettes to a bride that is more petite."
"Once you get going it is all quite easy but it starts with that one all important question – What vision do I want my future husband and my guests to see when I arrive at the wedding?" 
Thank you so much for your time Caroline – it's been a joy having your with us and a huge congratulations to you on the new collection. 'Celebrating Romance' really is the most perfect name for these designs. 
The 2018 collection from Caroline Castigliano is now available from their stockists across the country. For more information, do take a look at the website.
Love,
Tamryn x
There are no photos with those IDs or post 681427 does not have any attached images!