Welcome to a new week beautiful people! I hope you've all had the loveliest of weekends – what have you been up to? I've been in London since Thursday now, having a variety of meetings, but none of them more exciting than the meetings we had to discuss A Life Loved.
For those of you not yet in the know, A Life Loved is the new lifestyle blog project we're launching in December – you can sign up for email updates via the website and follow us on Instagram too. We're soooooo excited about this, it's going to be a truly exciting new space for visitors to Love My Dress to enjoy. For now though lovelies, let's get straight on to our first wedding of this week.
Lynne, an Administrator for a private equity company married Subsea engineer Al on 7th May at Villa Catureglio, Borgo a Mozzano in Lucca, Italy.
"I was always keen on the idea of an Italian wedding as I really wanted something laid back and we love Italy! Luckily, I managed to persuade Al to go down the Italian wedding route instead of having a traditional Scottish wedding. Villa Catureglio is located in the foothills of the Alpe Alpuane and it was perfect for us as we love the outdoors and it had the added bonus of having enough room to accommodate most of our guests."
Photography by The Curries
"My bridesmaids dresses were the best bargain ever from Matalan. It wasn't my plan to use so little money on my bridesmaid dresses but they fitted the bill perfectly. The girls loved them and for my friend Sara who was 5 months pregnant, it was super comfy. I gave each of my bridesmaids a different piece of jewellery from Dyrberg Kern."
"My favourite flowers are peonies, so I wanted these with a mix of roses and other smaller flowers. I love peach/coral tones and as we didn't have much other colour in the wedding I wanted quite a bright bouquet. Our wedding was in spring and all the local flowers were in bloom, it was stunning. We had herbs pots on the dinner table and kept the table flowers to a minimum. We let the natural surroundings do the talking."
"I knew that I wanted something different but something that I could eat, drink and dance the night away in. I still wanted it to look like a wedding dress though and have a glamorous look about it. I felt amazing in it!"
"I found my shoes in the sale at Monsoon. I considered buying designer shoes but I knew they'd get ruined."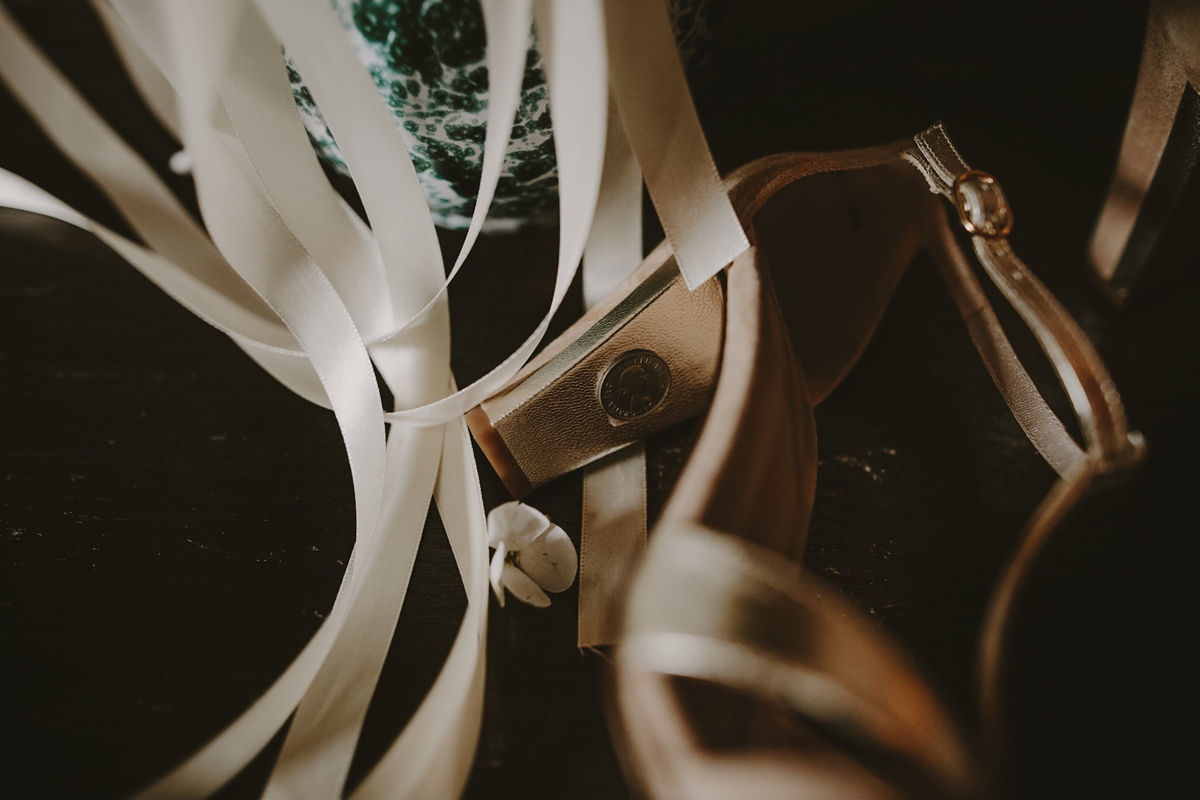 "I had two Charlie Brear dresses, one was a champagne silk slip and I layered a cream lace dress on top of it. Mari of Maria Schei bridal boutique in Bryne, Norway is a qualified seamstress and she customised my dresses into one wedding gown, in the exact style that I wanted."
"My dress and headpiece had a very distinctive 1920's look about it and this inspired some of our choices. Apart from that, we didn't have a particular theme. We just picked things we liked and it seemed to work. The most important thing for us was to have our close friends and family around us in a laid back atmosphere."
"Mari made me a cap veil which had a detachable headband. I kept the veil on for dinner, and removed it to leave the headband once the dancing started."
"I wore Chanel Coco Mademoiselle – A gift from by bridesmaids as they knew it was one of my favourites."
"I wore a vintage ring that my mum got for her 21st birthday. All my other jewellery, earrings, necklace, bracelets was by Danish jewellery designer Dyrberg Kern."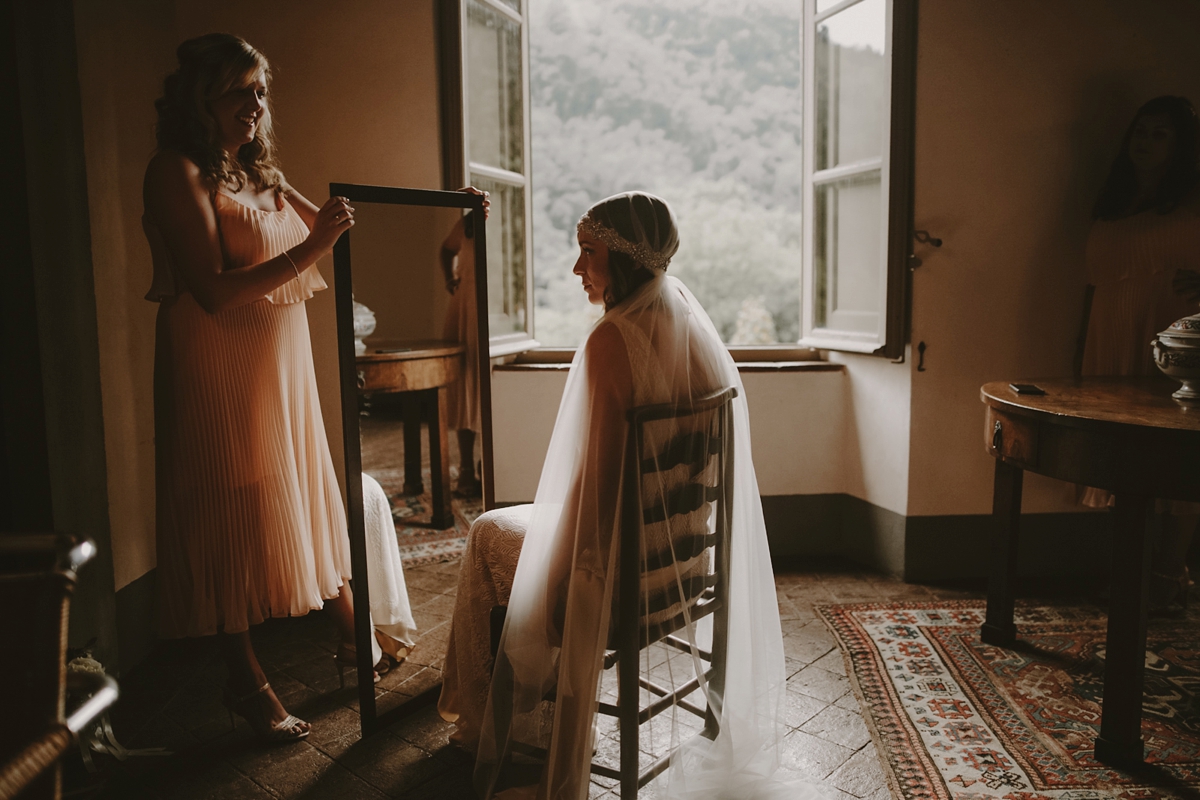 "Al wore his kilt in Ancient Hunting McRae tartan. He bought his best man and groomsmen classic Rayban sunglasses for the day. Al's best friend Steve was his best man and his two brothers Andrew and Colin were his groomsmen. They all wore their own kilts."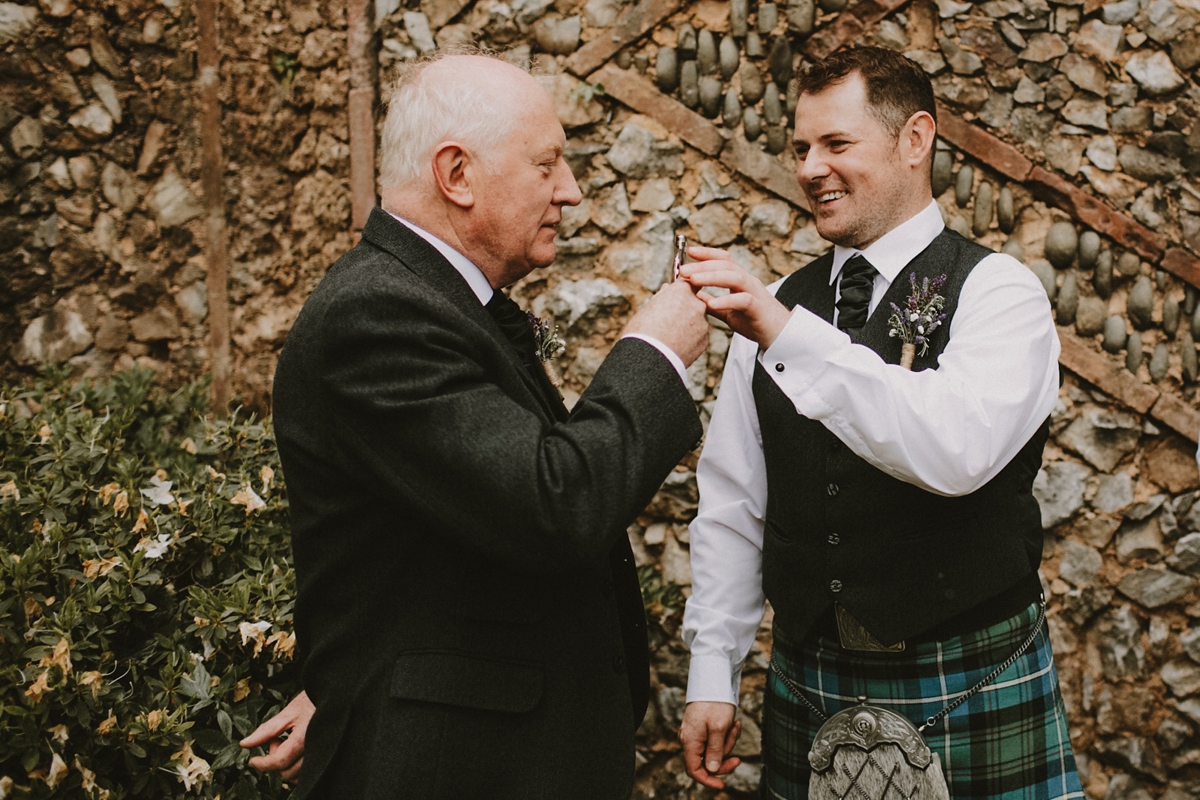 "When we visited Villa Catureglio in February, we were so nervous after already having booked and cancelled one venue in Scotland. But when we saw it, even with the bare trees and winter atmosphere, we knew we'd absolutely made the right choice. We also knew, that the venue wouldn't need that much decoration as it has shed loads of character. The main theme was to drink bubbles, eat good food and have fun with those that had travelled to celebrate our marriage over the course of four days."
"Kate, her husband Richard and their daughter Rose run the Villa Catureglio and they took care of all aspects of the planning. It was like having built in wedding planners. They were an enormous help, especially with the language barrier and nothing was too much bother for them. Kate and Rose are so laid back and luckily for Al, this rubbed off a little on me."
"Al and I are Scottish but we both moved to Norway for work and we met at the office. Funnily enough, we grew up about 20 miles away from each other, frequented the same pubs and nightclubs, but our paths didn't cross until I moved to Norway in 2010."
"I had always wanted to see the Northern Lights so as a Christmas present, Al booked a trip to Tromso in Northern Norway for the following valentines day. We had to drive all the way to the border between Sweden and Finland in the most hideous, smelly suits to catch a glimpse of the lights. I had absolutely no expectations of a proposal on the trip as he'd told me on numerous occasions that he would never do a cliché proposal on my birthday, valentines day etc."
He made me walk out onto a frozen lake, under millions of stars and the northern lights. When I had my back turned he got down on one knee and shouted my name. When I turned around I couldn't see what he was doing because he had a head torch on and the light was shining up into my eyes. It was without a doubt, the best proposal in the world because it was so romantic but also hilarious. We were engaged for 15 months before our wedding."
"Al's Uncle Doug read My Love is Like a Red Red Rose by Robert Burns. We asked him to read this as we really wanted a Scottish reading and he definitely did it justice. He had a few people in tears! My bridesmaid Sara read an excerpt from Meet Joe Black, it still makes me cry…"
Love is passion, obsession, someone you can't live without. If you don't start with that, what are you going to end up with? Fall head over heels. I say find someone you can love like crazy and who'll love you the same way back. And how do you find him? Forget your head and listen to your heart.
I'm not hearing any heart. Run the risk, if you get hurt, you'll come back. Because, the truth is there is no sense living your life without this. To make the journey and not fall deeply in love—well, you haven't lived a life at all. You have to try. Because if you haven't tried, you haven't lived.
"I have a plain rose gold band and Al has a frosted gold band from Valberget Gull and Sølv. We both wanted something plain that we can wear everyday and doesn't feel too blingy."
"My dad, John, accompanied me down the aisle to the sound of 'One Day Like This', by the Cairn String Quartet."
"Giuseppe from Blessings from Italy was our officiant – he was wonderful and really took the time to make our service personal."
"We chose our own vows and also included a Quaich in the ceremony. We wanted to include a Scottish tradition and it was something new for our Norwegian guests."
"Al and I aren't really lovey dovey people in the traditional sense so we didn't want any of the typical wedding readings."
"Our photographers were The Curries. Chris and Gill are amazeballs! From our first meeting with them, they felt like people we could have a laugh with and they put us at ease straight away. We are so glad we made the decision to ask them to come to Italy."
"Their style of photography is so unobtrusive and natural. So many of our guests still comment on how cool our photographers were and how beautiful the photos are."
"I did my own hair and my friend Louise helped my bridesmaids with theirs. Our make-up was by Elena Luisi of Carpe Diem (organised by Kate and Rose)."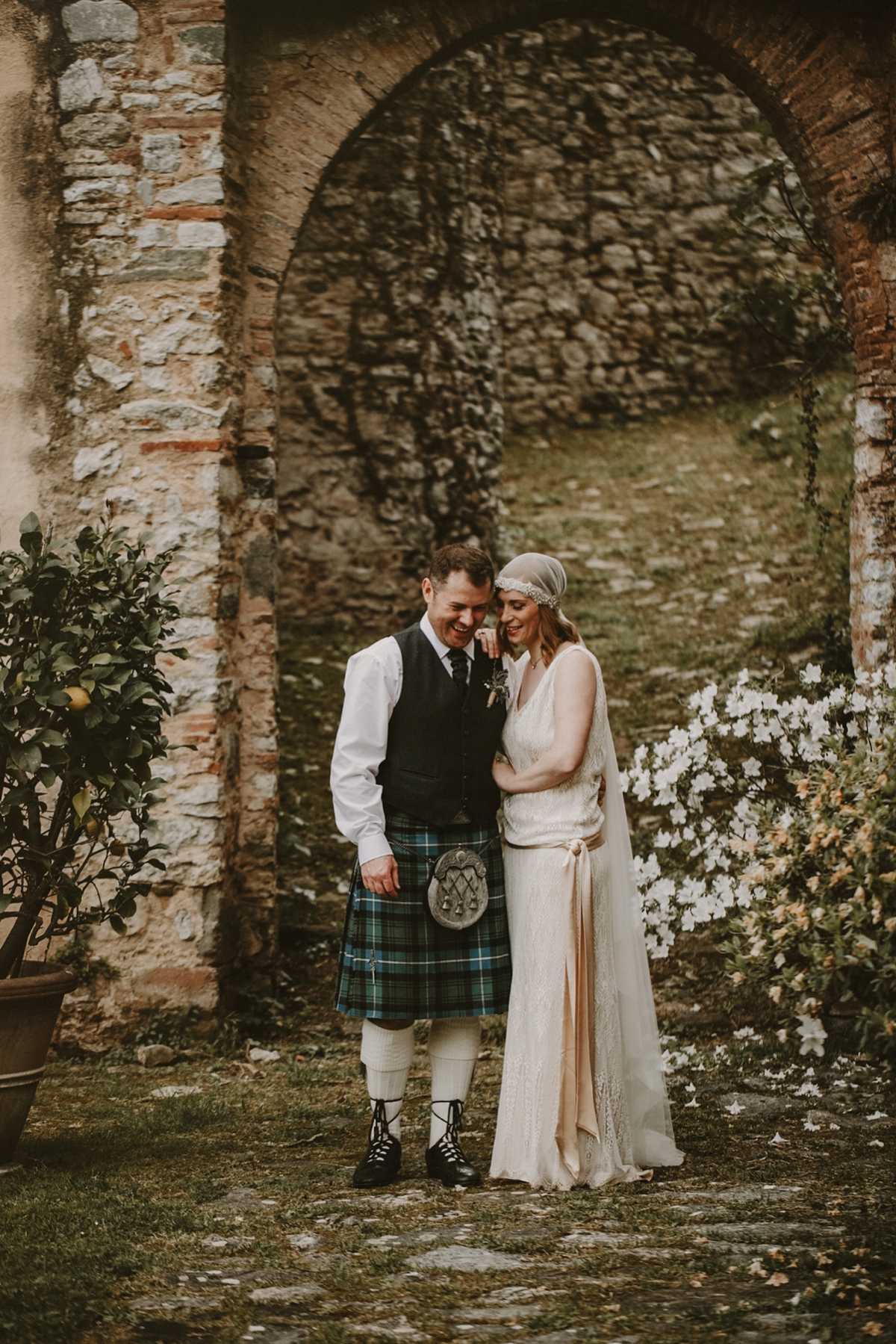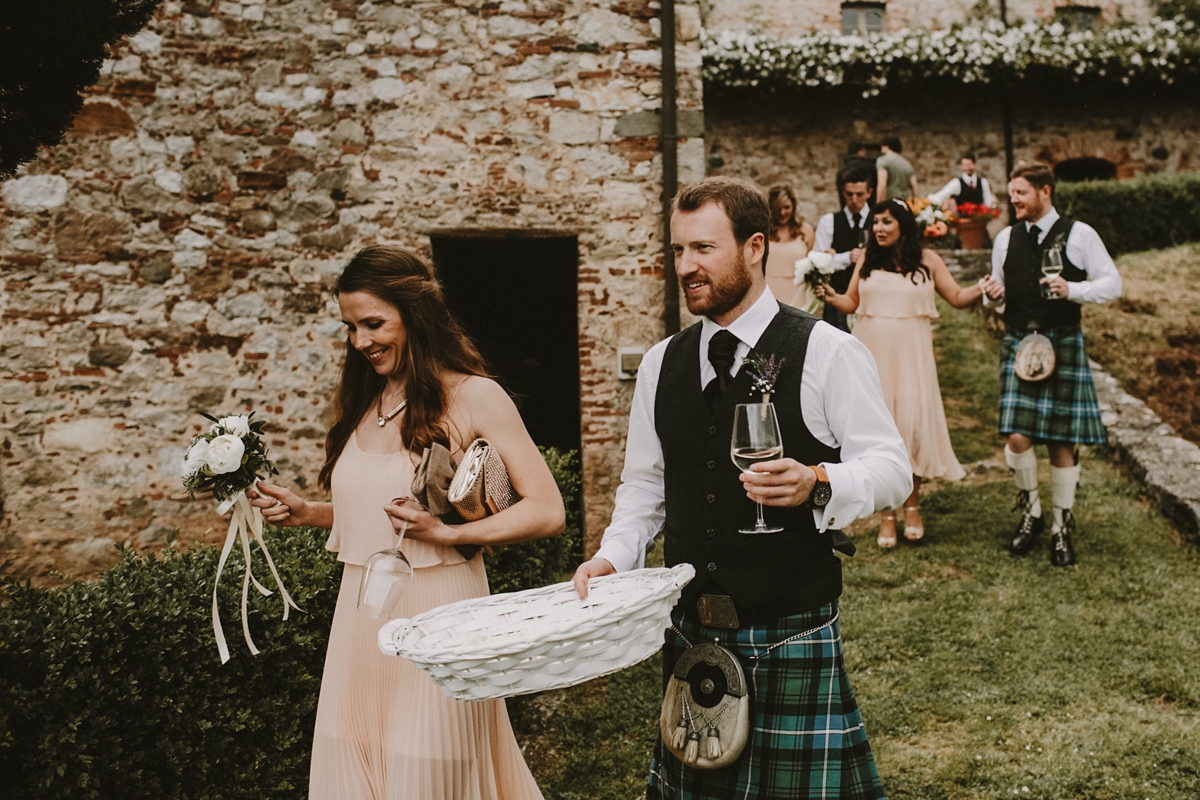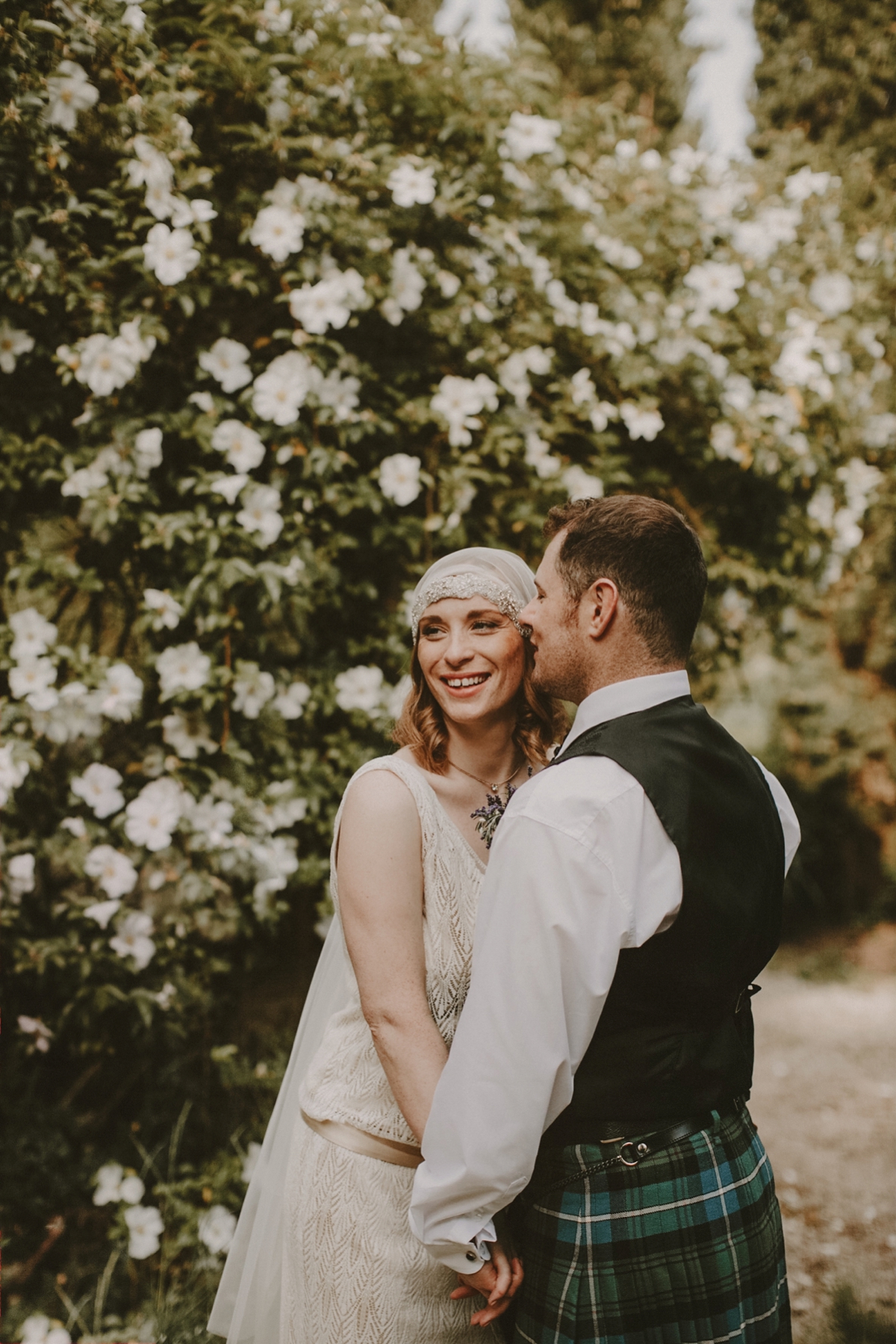 "We asked Kate and Rose to make home made limoncello and put it in lovely little glass bottles. We wanted everyone to have something Italian that would actually be used. A wee tipple never goes wrong with our friends."
"We are very lucky to have two graphic designer friends who helped us with our invitations. My lovely Swedish friend Frida designed them and Al's best man Steve arranged to have them printed out for us."
"I sourced the order of the day booklets online and hand wrote the place cards. The menus were provided by the caterer. Frida drew up the drinks menu on a blackboard for us. Rose kindly wrote up our table plan on a blackboard."
"Our cake was half traditional Italian wedding cake and half cheese cake. The traditional part was a mille-feuille style filled with fresh berries and custard. It was amazing! We chose this as neither of us is that into cake. It doubled up as our dessert. Our caterers made the cake."
"We had fairy lights in the olive trees in the garden where dinner was held. There were also fairy lights strung across the courtyard and in the barn where the party was. We decorated the barn with paper pom poms and lanterns."
"We turned the loggia outside the barn into a whisky and cigar area with seating. We put up some framed pictures on the wall to make it more homely. The barman made a very cool bar with some old whisky barrels and an old door."
"Our first dance was the Foo Fighters Everlong. We asked the band to start off with a slowed down, acapella version and they speeded up into the normal version after the first chorus. Everyone joined us on the dance floor then for a good dance."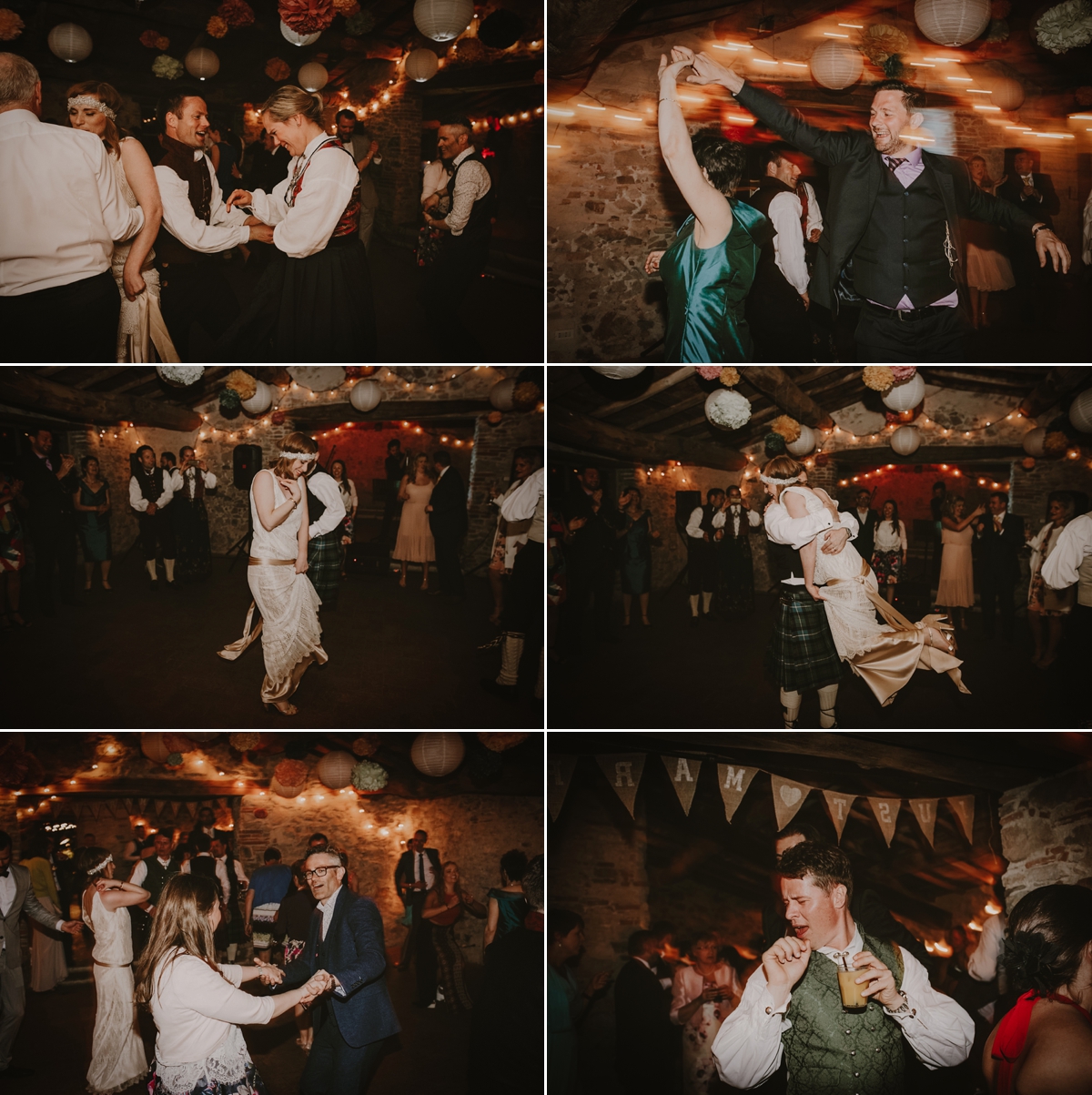 "The whole day was so unbelievable, like a fairytale, but of course our favourite part was the ceremony and getting married."
"We couldn't have asked for anything better, it went above and beyond our expectations. We really think it helped having everyone there with us for a couple of days prior to the wedding. Everyone had time to get to know each other before the wedding so everyone was so relaxed and ready to party on the day. We genuinely don't think we would have done anything differently!"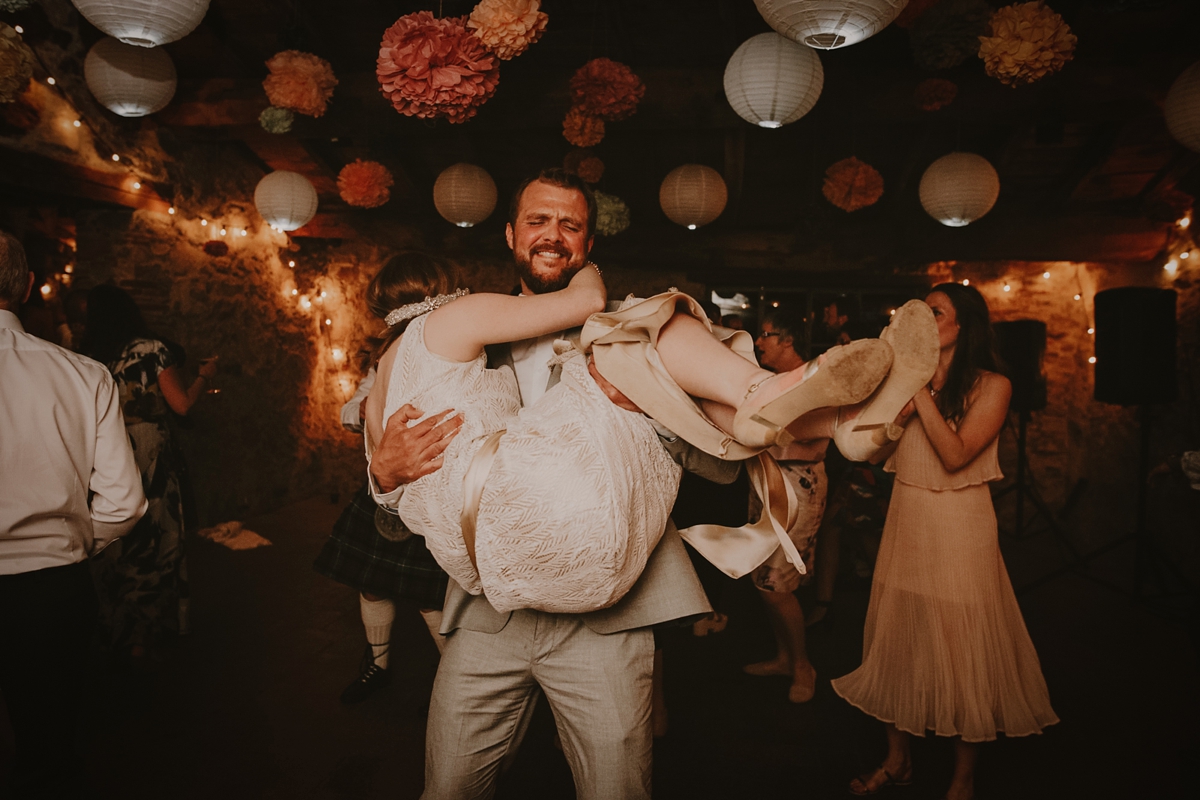 Words of wisdom
"We didn't really have a budget as such but there were certain things we knew we wanted to spend our money on and other things that weren't as important. We used more money than what we were expecting to but it cost us the same price to have our friends and family at Villa Catureglio for 4 days as what it would have done to get married in Scotland in one afternoon and there just isn't any comparison."
"Do not stress about the small things in the run up to the wedding. At the end of the day, if you haven't managed to get your table décor right, or you've forgotten to order those pom poms, absolutely nobody is going to notice apart from you."
"Enjoy every second of the day and make sure you get to taste all the food that you have spent ages picking!"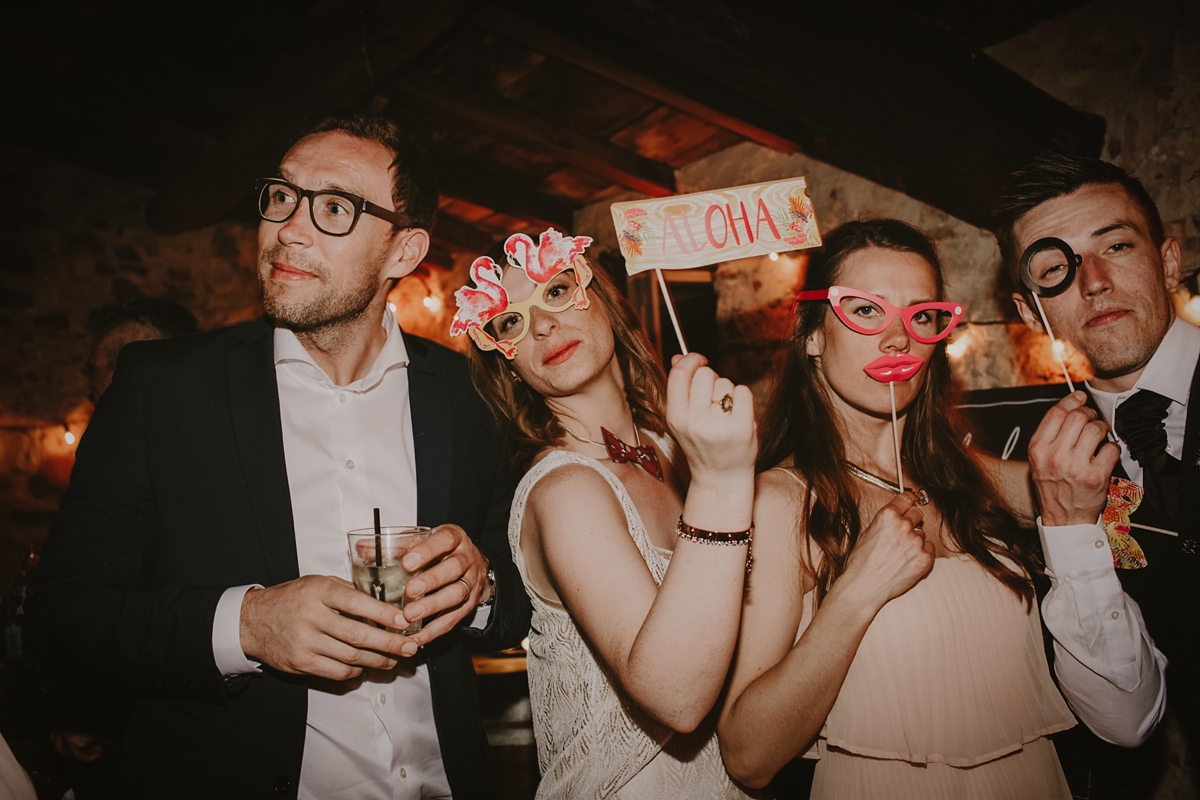 Truly, truly gorgeous. You can see more weddings captured by The Curries here and lots more brides wearing beautiful Charlie Brear gowns here. And if  you're dreaming about your own wedding in Italy, take a look here.
Enormous thanks to Lynne and Al for sharing their beautiful wedding.
Love Annabel x