I urge you to stay in bed just that little bit longer today lovely ones, and feast your eyes on the simply delightful summer wedding of Zoe and Adam. The beautiful bride who works as an international account manager at OAG married her handsome beau Adam, who is head of the special educational needs department and a qualified maths teacher at a school in Potters Bar, on the 12th of  August 2017.
They chose the picturesque North Hill Farm in Chorley Wood, Hertfordshire for their outdoor tipi wedding; loving a blank canvas where Zoe's creative flair could shine with handmade decor, touches of gold, and bright florals. Being big 'foodies', the couple was keen to provide a delicious range of tasty cuisine for their lucky guests.
"We love being outside and we always wanted an outdoor wedding. A few years ago I came across tipi weddings and fell in love with the idea. I always wanted to make lots of elements and design the theme for the wedding, as I am quite creative and wanted my artistic flair to be present through the day."
Images by Anesta Broad Photography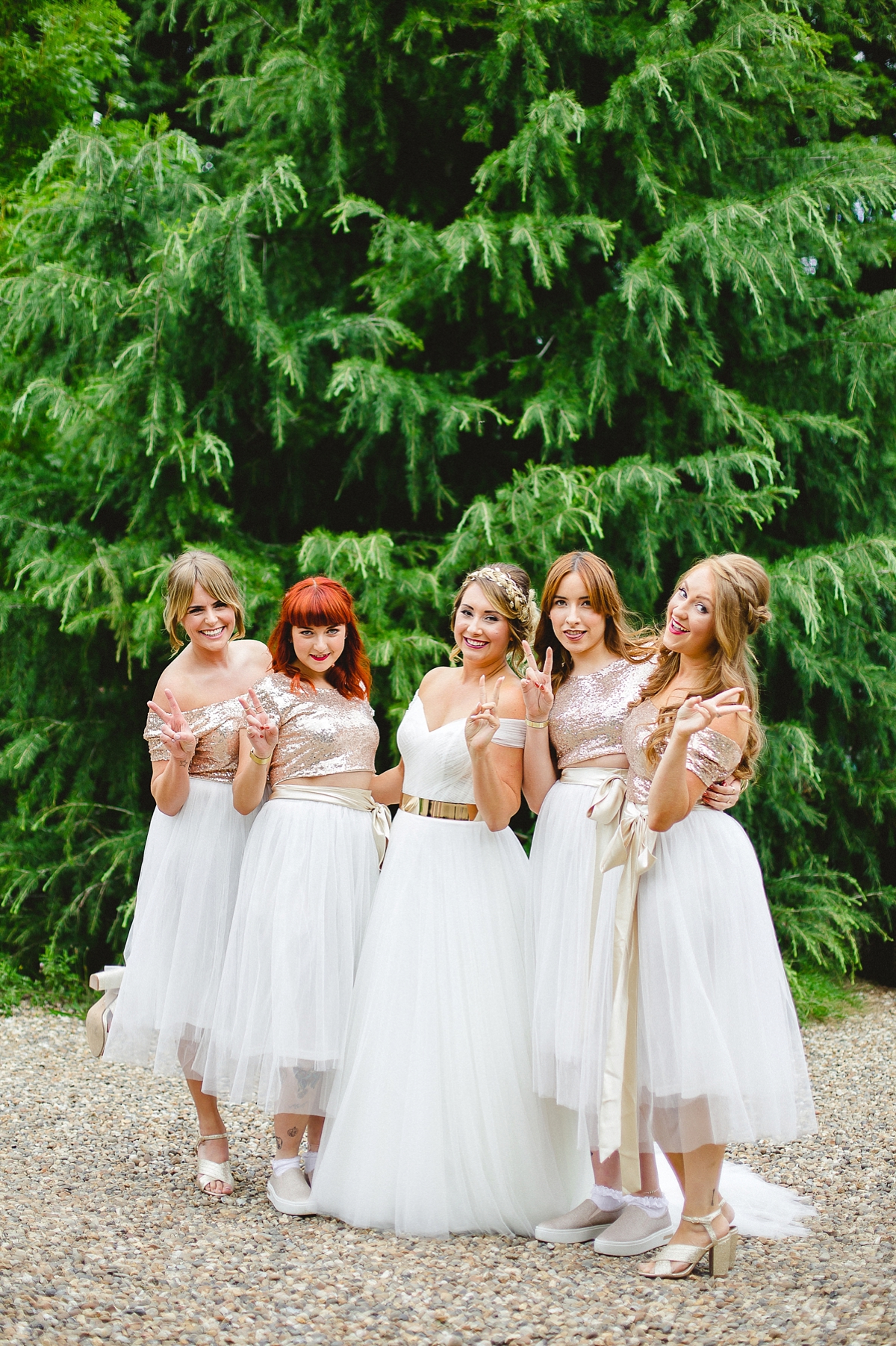 "Having the venue that we chose meant we had a blank canvas that we could decorate ourselves, so incorporated dream catchers, feathers, arrows, cacti and bold colours with tropical colourful flowers. I chose gold as the colour that would run throughout everything, as I felt it just tied everything together nicely. Also, we are big foodie people, so lots of good food was important to us, as well as games and laughter to make sure our guests had the best time ever."Armed with a range of brightly coloured blooms, sourced via New Covent Garden Flower market on the Thursday before the wedding, Zoe assembled such beautiful displays herself.
"For my mum's wedding two years ago, I made all of the bouquets, button holes and cake flowers, so knew this was something I could do myself. It meant I managed to get all of the flowers for the bouquets, centrepieces and button holes exactly in the flowers and colours I wanted and how I wanted them to look. We went to the flower market a couple of weeks before and chose tropical flowers that came from Miami, so knew what to buy on the Thursday when we went and how much we needed."
"I found a designer from Australia who made gorgeous hair pieces called Ulyana Aster and bought two of her Lana gold leaf design pieces to wear in the halo plait I had on the day. My hairdresser was my bridesmaid's very talented younger sister called Shelby Shinkwin – she does my hair normally so I trusted her completely."
"She did my hair, the four bridesmaid's and my mum's hair. My makeup artist was a lovely lady called Laura Allen – she was recommended to me and I would highly recommend her as well."
Now, get set to add these images to your inspo boards lovelies, as you check out Zoe's most stylish maids. Aren't they fabulous in their sparkly gold attire?
"I didn't want anything traditional so the four bridesmaids wore white tulle skirts, gold sashes and gold sequinned tops. The younger two wore the tops with the shoulders up and then the other two wore the sleeves with a Bardot style. I bought them all a gold clip to wear in their hair which looked like a feather and birthstone earrings from Pandora."
"Having my two younger cousins aged 19 and 21 and then my best friend and sister who are a bit older as bridesmaids, I knew they all wouldn't like the same kind of shoes. So the younger two had sparkly gold platform trainers from Aldo and the other two had matching gold strappy chunky-heeled sandals from Dorothy Perkins."
Zoe's divine Wtoo by Watters gown was found via London Bride UK, who she highly recommends. I adore the addition of a contrasting gold belt, which worked so well with her gold gladiator Kurt Geiger sandals; a present bought for her by her work friends.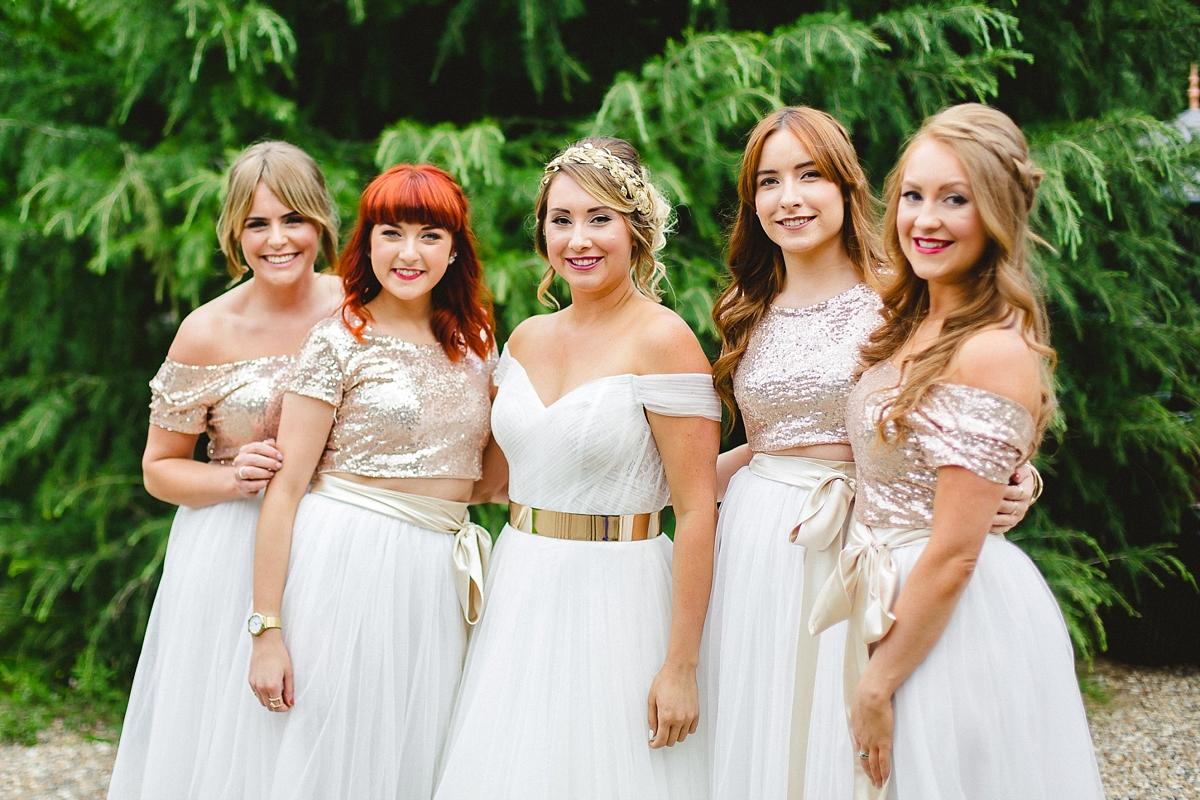 "As we were getting married outside, I didn't want a dress that I couldn't move around in or eat in (again, big foodie people). I love Bardot-style tops and tulle, so when I found the dress I knew it was the right one for me. It was simple but elegant and the detail in the top made it special."
"I have also never seen a bride wearing something similar, so loved that it would be different. I then added a wide gold metal belt I found online. I decided that I wanted something modern and not something I had seen before. With a degree in jewellery design, I knew that the gold metal of the belt would contrast beautifully with the simplicity of the dress and the bridesmaid's outfits."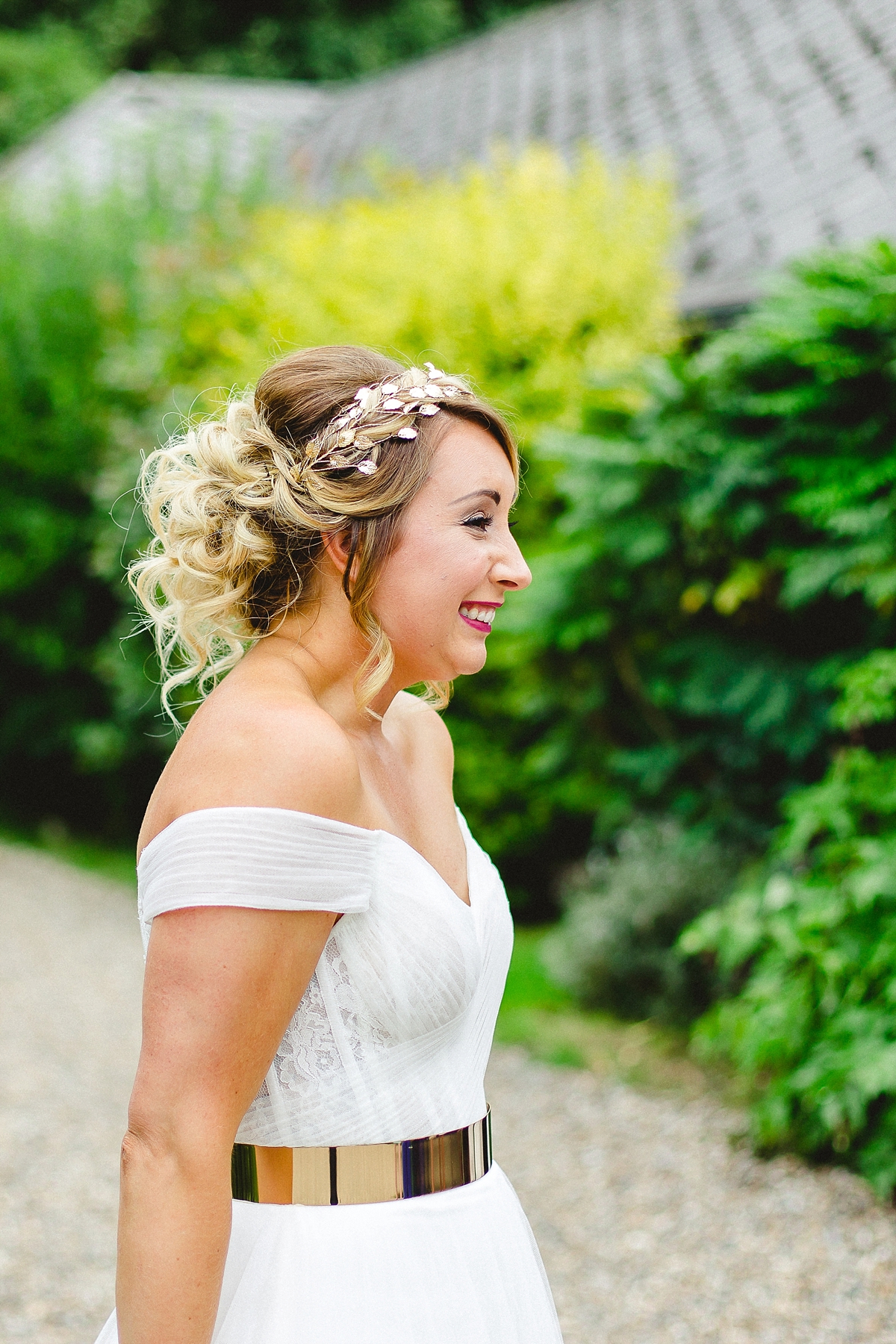 "I wore gorgeous gold cacti earrings that I bought from Madrid (where my hen party was held) as my something new and a spritz of 'Miss Dior' by Dior. This is my favourite scent and Adam loves it, so I didn't want to get anything that he might not like."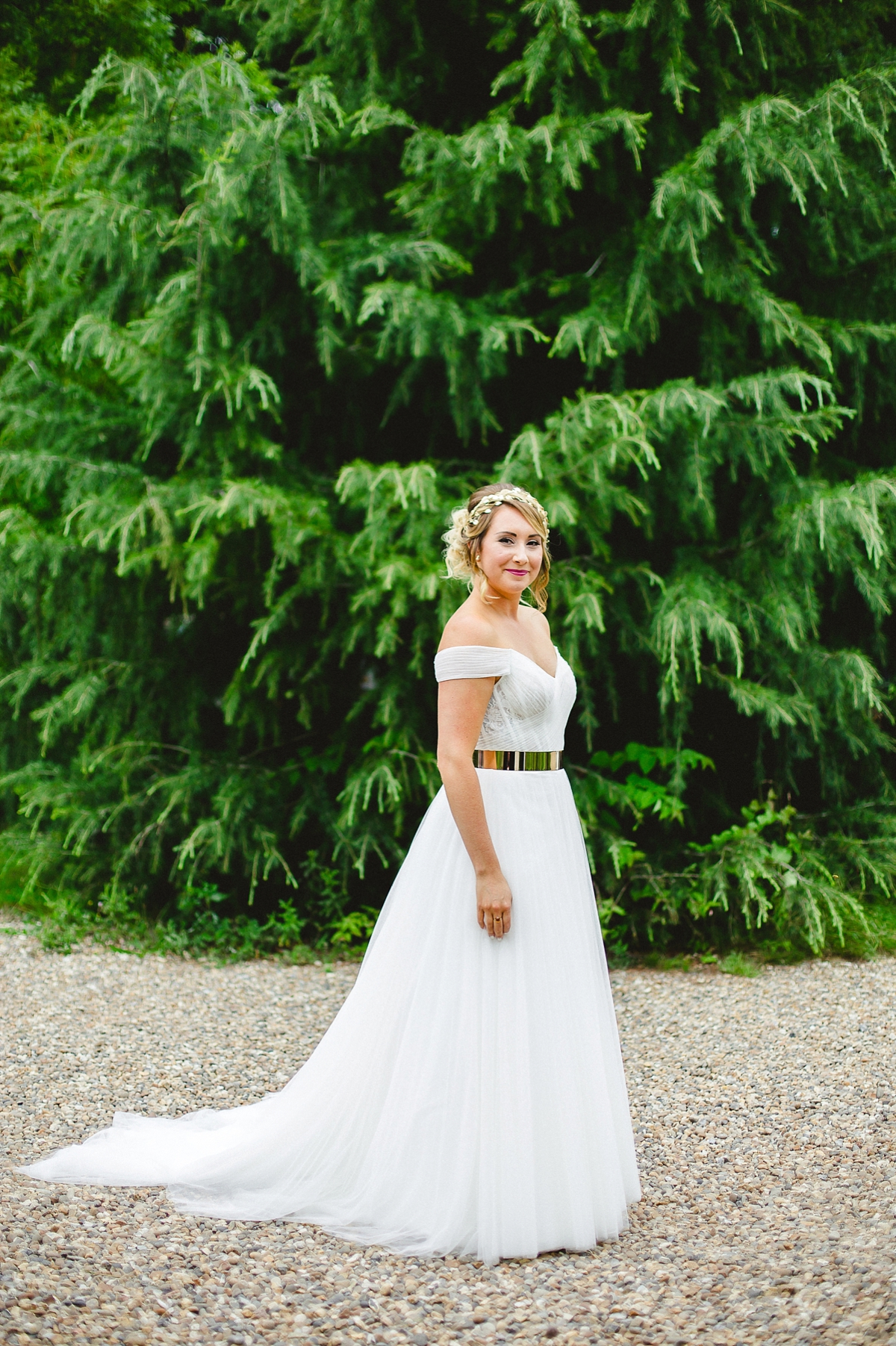 "We met when Adam came on a night out for a friend's leaving drinks in Watford (he is originally from Letchworth). I was working as a waitress in a cocktail bar (no joke, it was Cocktail Revolutions). I saw him across the bar and flirted up a storm, he then plucked up the courage and asked me for my number and the rest was history."
"Adam proposed to me eight years later by taking us on our first three dates we ever went on. On Sunday the 14th March he took me to a pub in Watford for a drink, then bowling where, like on our second date, I beat him again."
"We then went to Whipsnade Zoo where we had our lunch on our third date and he proposed to me overlooking Dunstable Downs. It was the most perfect day and I had no idea he was going to propose. He had called and asked my mum if he could marry me the week before, so she was expecting the call and was very very excited. We were engaged for a year and five months before we married."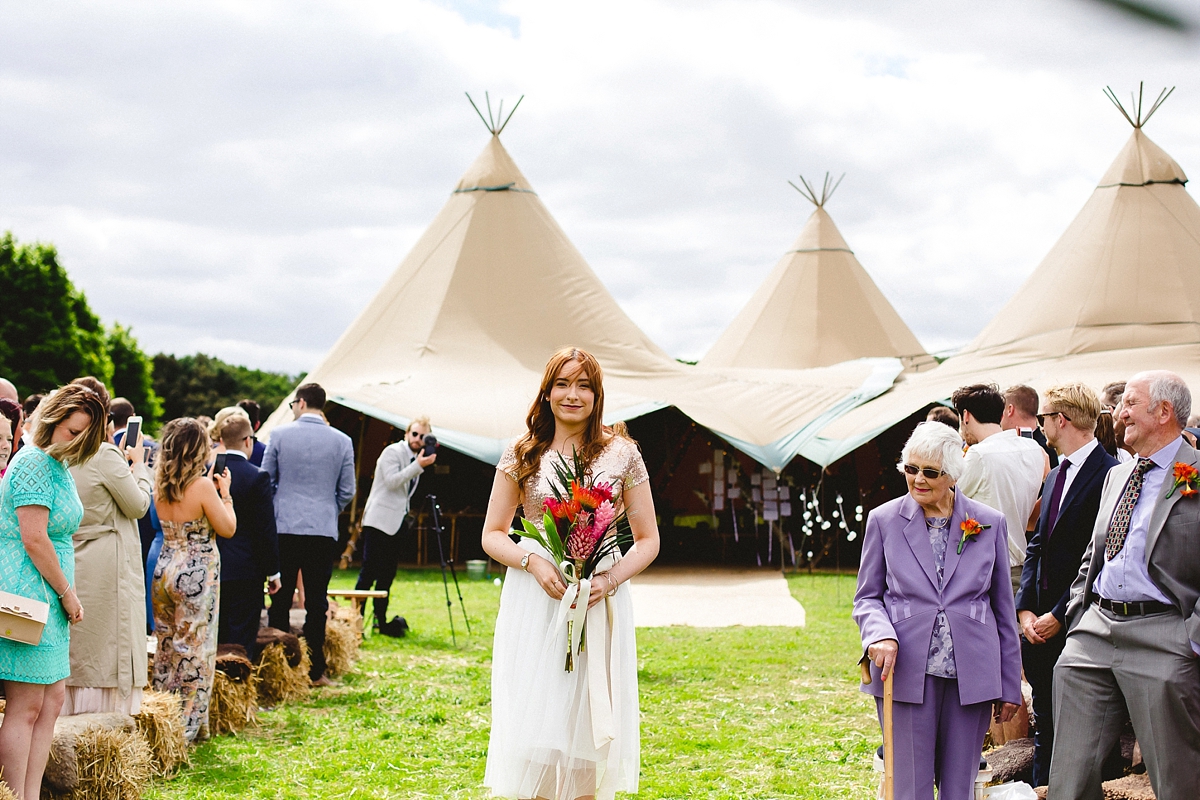 Zoe's proud mum accompanied her beautiful daughter for the aisle walk. As a huge Disney fan, the bride was keen for some sort of Disney influence in the day, so walked to 'Tale As Old As Time' from Beauty and the Beast.
"I hadn't told Adam this was what I was walking down the aisle too, but he thought it was perfect, even though he jokes I was calling him the beast!"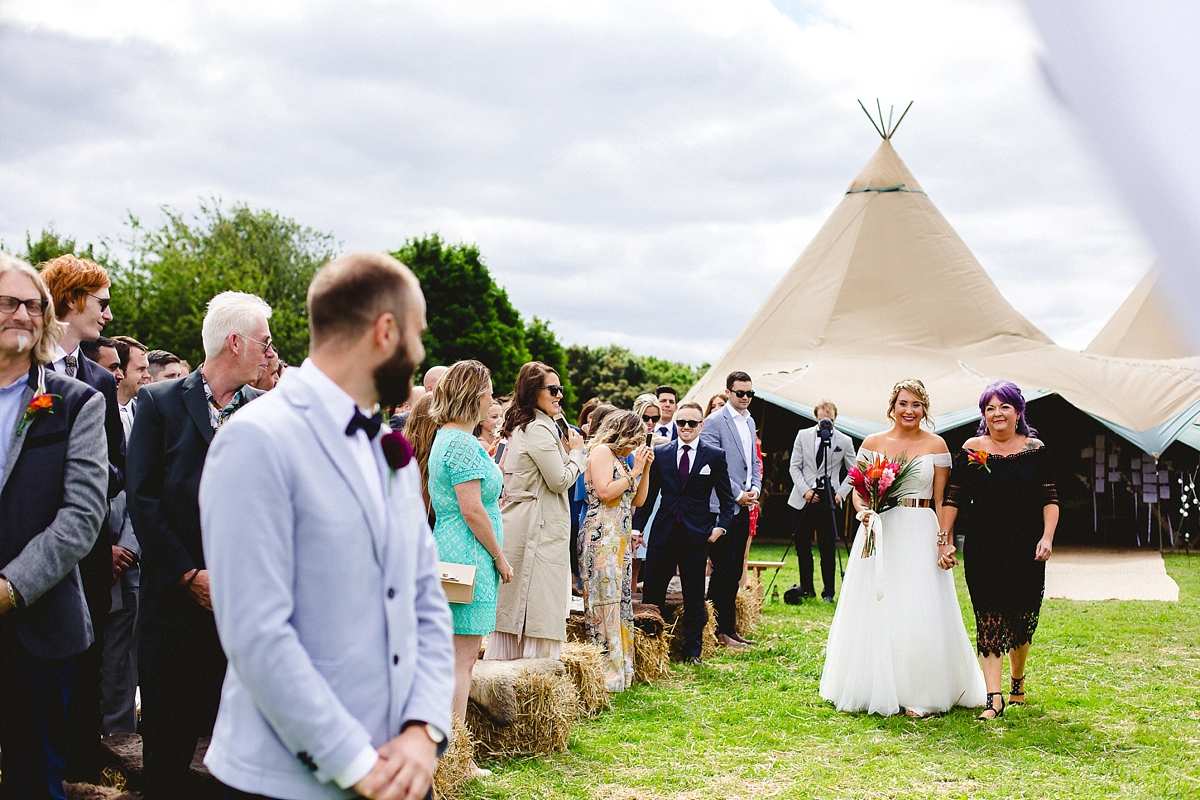 "We decided to write our own ring words to each other, as we wanted to make sure what we said to each other was personal and had meaning for us. Below are my vows to Adam: 
Adam you are my best friend, my confidante, my playmate, my greatest challenge and my partner in crime, but most importantly you are the love of my life and you make me happier than I could ever imagine and feel more loved than I ever thought possible. These are my promises to you, as we move forward with the rest of our lives together.

With this ring
I promise to listen to your advice, and occasionally take it
I promise to never take score….. Even if I am totally winning
I promise to always admire your huge…… strong, kind and determined heart
I promise that I will love you always, even when we can't stand the sight of each other
I promise to only laugh at 50 percent of your jokes, even if they are all funny
I promise to listen to you for as long as it takes for you to feel heard
I promise to be your unrelenting cheer squad on the days it feels too much
I promise to always help you navigate your way back to the right path, literally and metaphorically
I promise to pretend I love star wars as much as you do and to see all the films with you
I promise to support all of your faddy hobbies, even though our house is filled with sports equipment
I promise to grow old together with you very disgracefully, but to always be a kid at heart

But most importantly I promise to always accept you for who you are and never try and change you, because to me you are perfect in every way."
"My mother-in-law did a reading during the ceremony, which she had tailored for us. It was personal, beautiful and brought us to tears. My best friend who was also my bridesmaid did a reading called 'He never leaves the seat up'."
"For my ring I had to be careful what I chose, so we went to the same company that made my engagement ring – The Ring Factory – and it fits perfectly with my engagement ring. Adam's ring took a little while longer for us to find. He didn't want a normal gold band but we finally found a tungsten dark grey band with bevelled edges in H.Samuel."
"Adam didn't want the usual matching suits for the day, but outfits they could all wear again after the day. The suits came from a few different high street stores – the jackets and trousers from Zara and the shirts and shoes from Next, whilst the bow ties and braces were via ASOS. I then bought Adam an Indian headdress to wear during the meal and in the evening, which he absolutely loved and wore all night."
"Adam is very close to his two younger brothers Tom and Chris and wanted to have them both as his best men. They did a brilliant job and their speech was fantastic."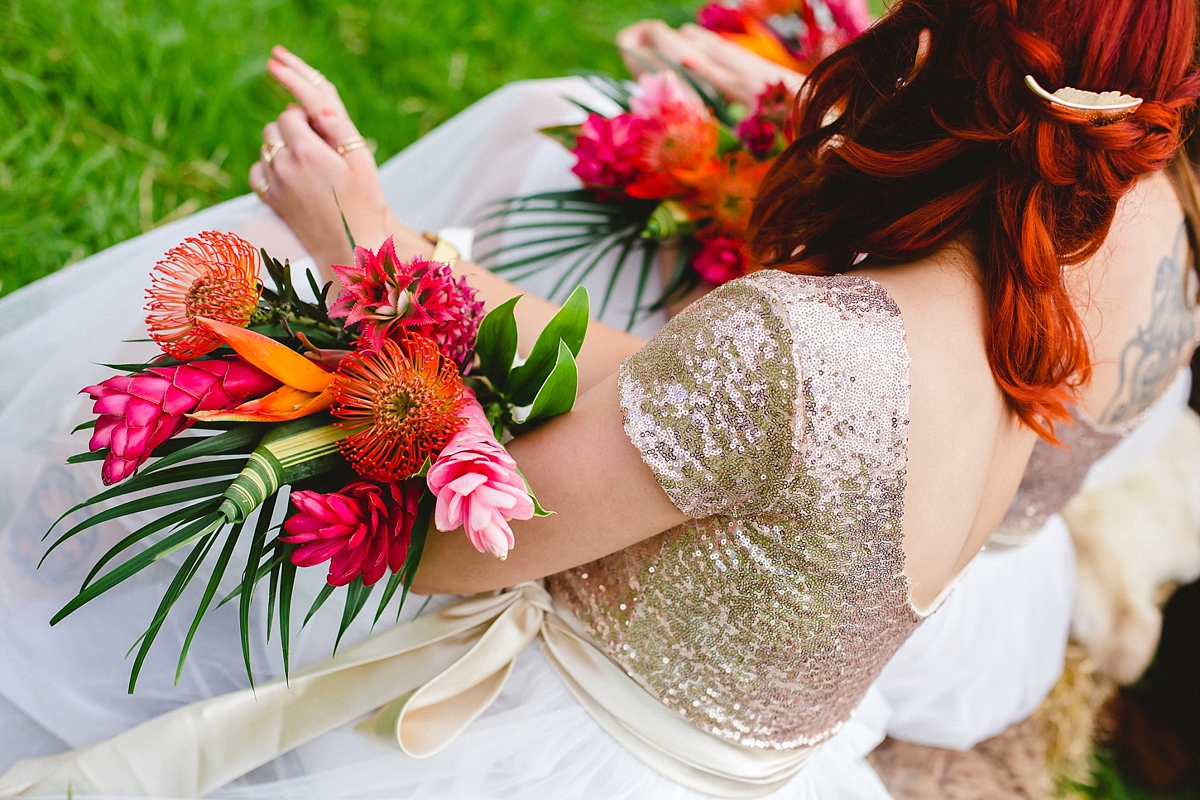 "Anesta of Anesta Broad Photography was absolutely wonderful, listened to everything we asked for and delivered even more than we could have hoped for. Adam doesn't love having his picture taken, so didn't want our photo session to be too long."
"Anesta kept him engaged and got the best photos for us in a short space of time, before the groom had had enough. She captured the day perfectly and I would highly recommend her."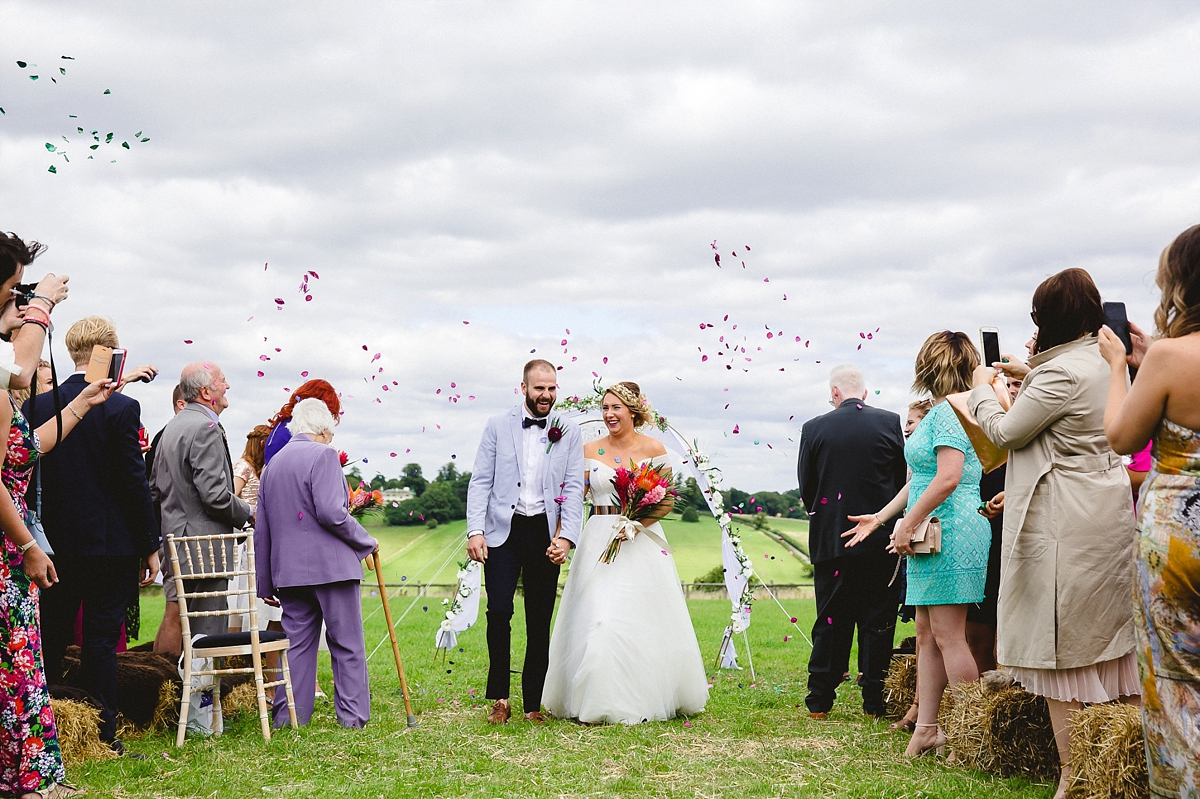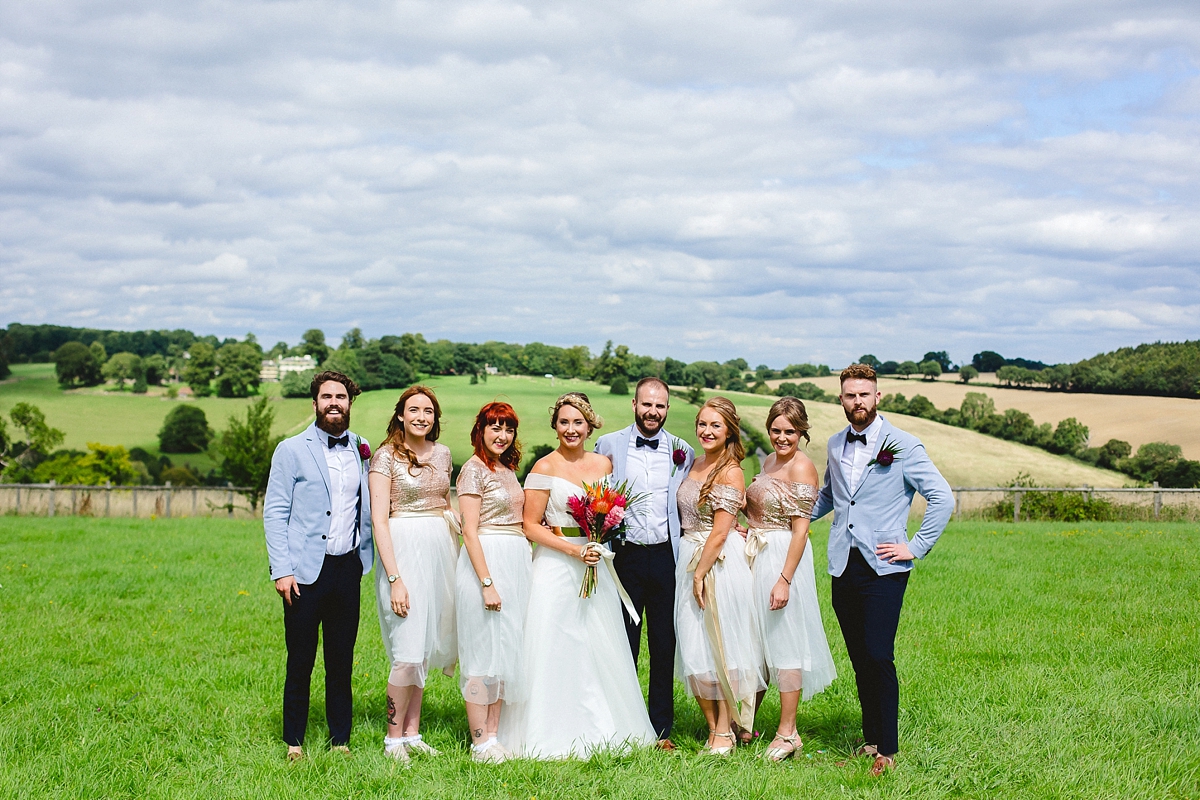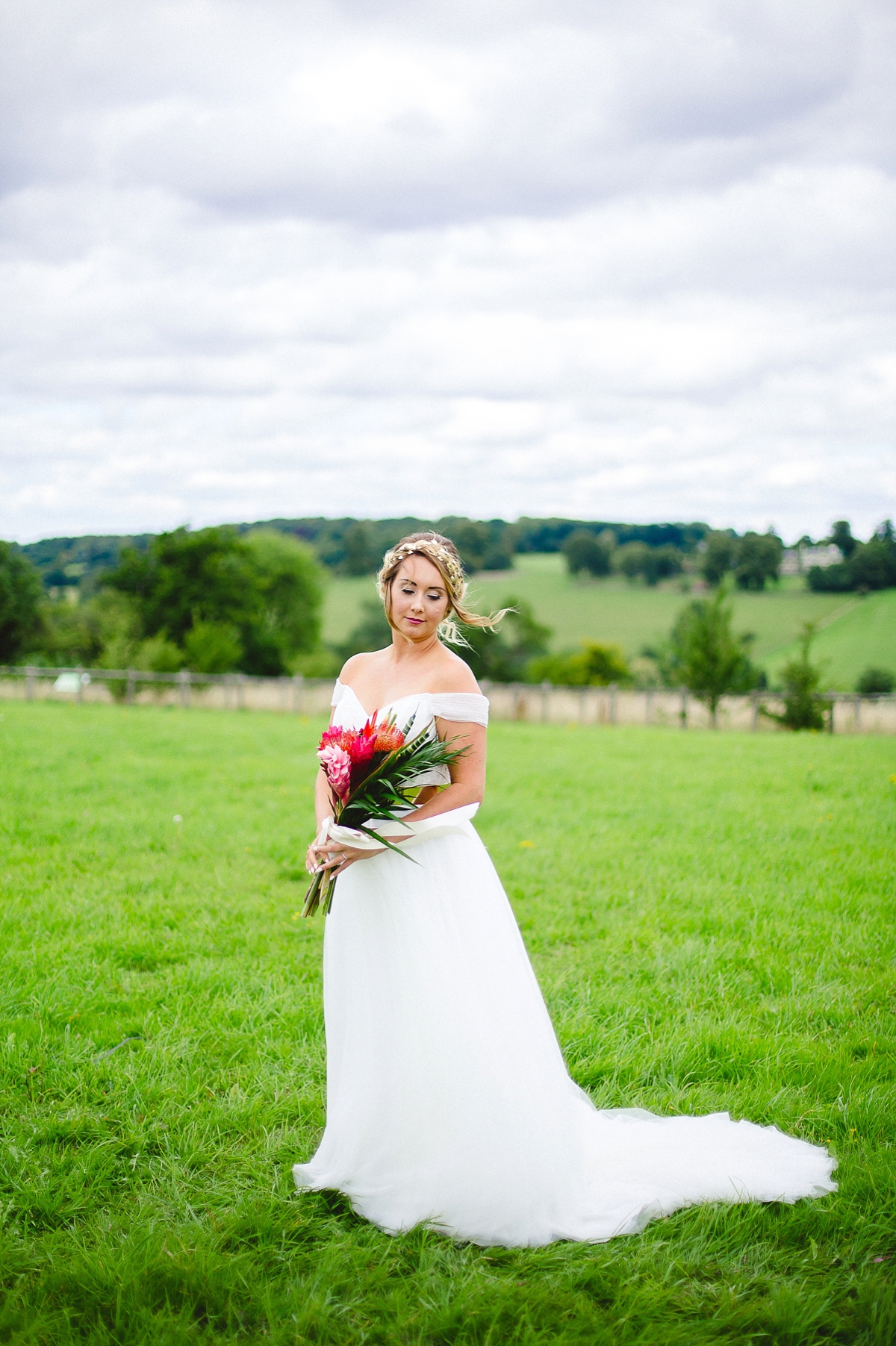 Adam and Zoe sorted a fun range of entertainment for their guests. They had a face painter come for the day to do glitter and festival face painting for the day guests, then a glitter box for the evening guests. They created a games box for people to use and had a DJ called Corabar DJ play all day. The couple also hired sax player Abi Rose Sax to come and play funky house music against the DJ in the evening, which got everyone up dancing.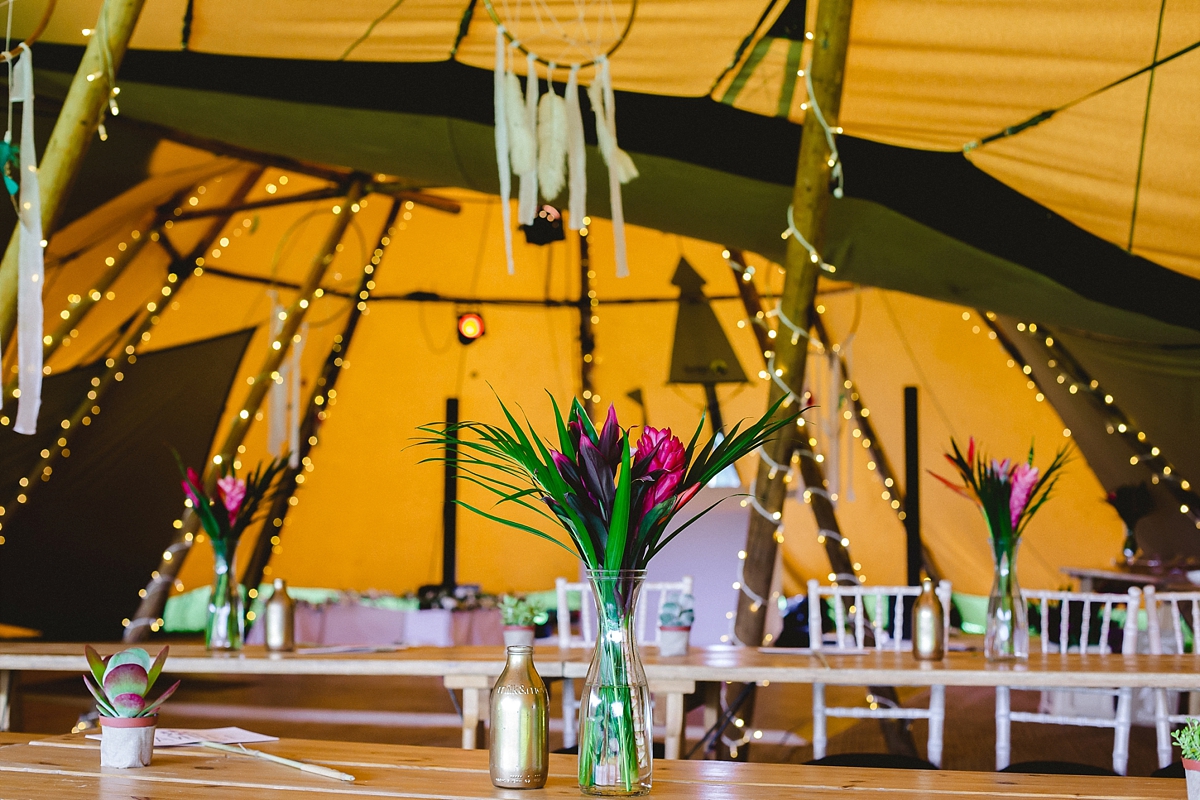 The bride's crafty sister-in-law Kez designed all of the stationery, including their invites, menus, spirit animal name places and table names.
The couple made their own favours, which were individual s'more kits to be used on the outside fire pit, and the bride had help from her friends to make the incredible dream catchers dotted around the venue.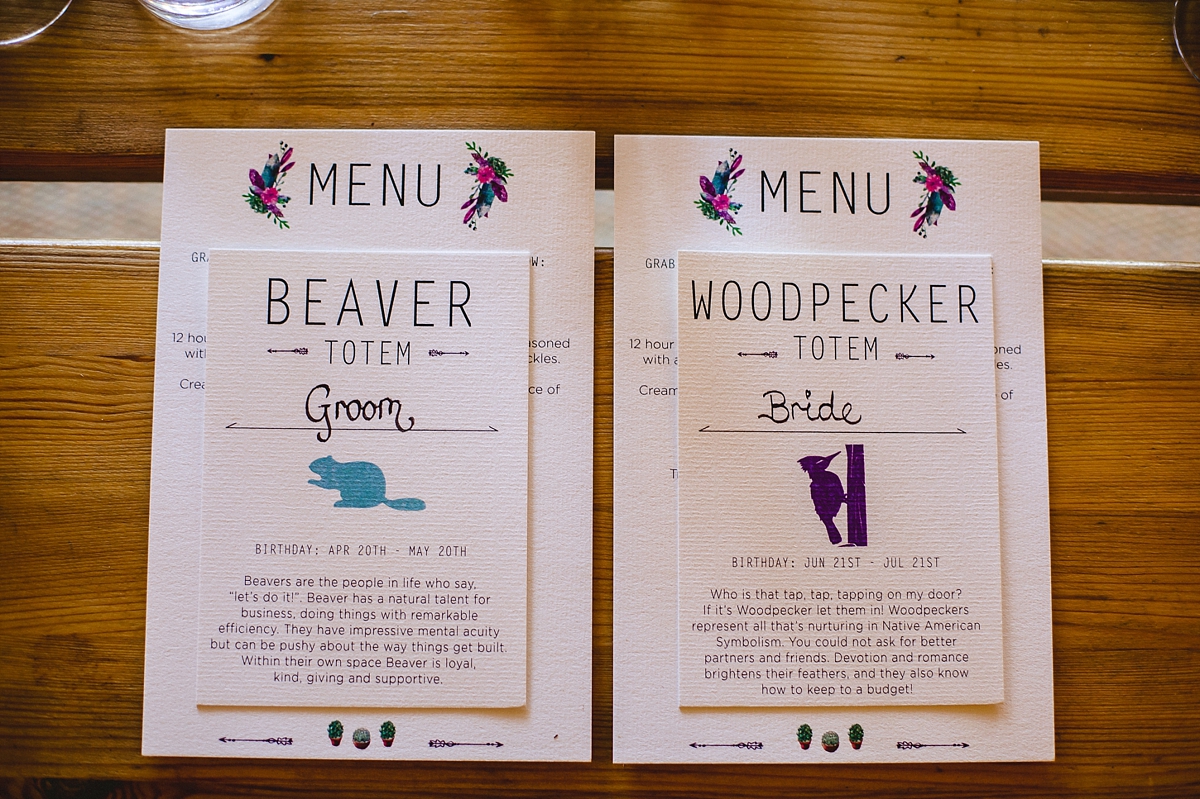 "We made about ten large dream catchers with the help of my friends and sister. I spray-painted hula hoops gold and then one evening all of my friends came over and with string, ribbons and beads we made lots of dream catchers to hang in the tipi."
"We also made a gold arch and decorated it with a big dream catcher, muslin and flowers for the end of the aisle. We then used flowers, small dream catchers, succulents and cacti to decorate the tables, walkway and arch. We also had hay bales for the guests to sit on during the ceremony with fur throws and colourful blankets for around the firepit."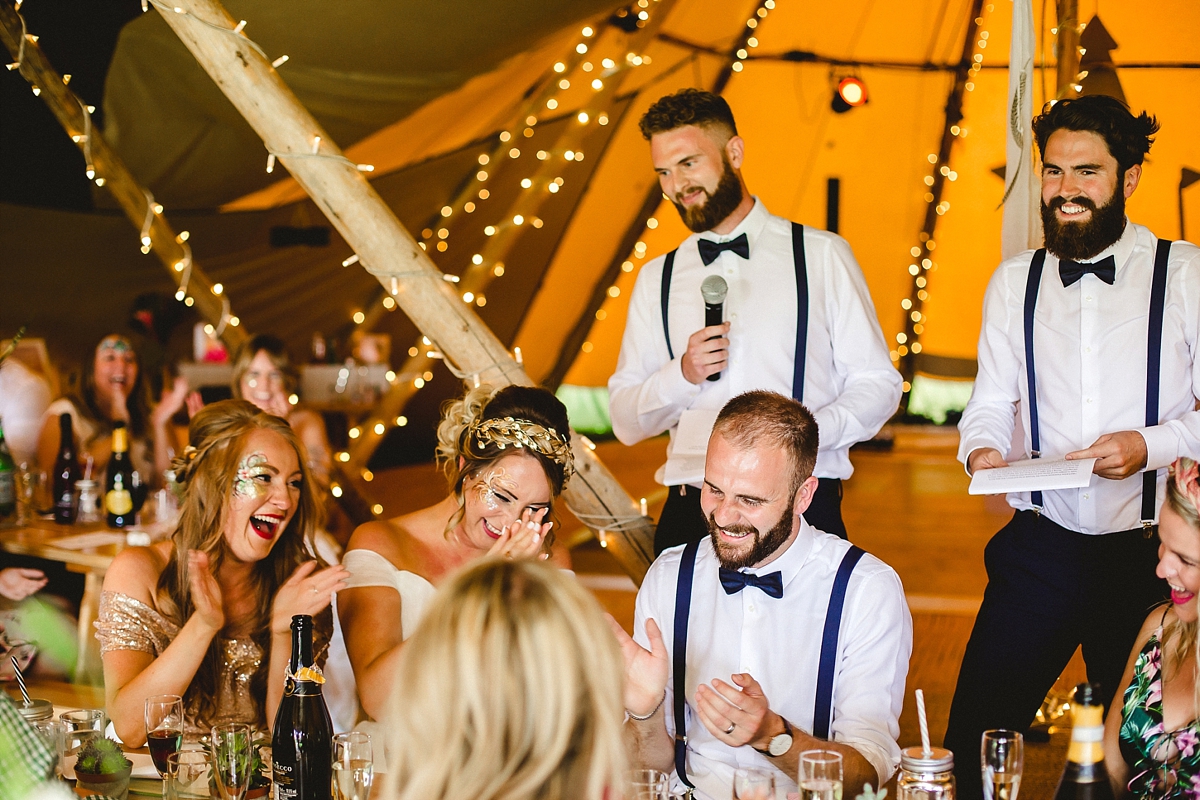 My mouth is watering at the sound of the delectable cuisine the couple arranged for everyone to enjoy. Bon appetite!
"We decided we wanted lots of food at the wedding and as Adam used to own a street food van we wanted to go down this route. We had a company come and do sweet crepes for the drinks reception called Simmons Creperie."
"We then had Soho Pizza who also own Soho Paella and they served pizzas and paella to our guests. And finally we had Smokey Mac BBQ come and serve beef brisket burgers with a side of mac and cheese. We had ordered 130 servings of all of the food options so our guests could have one of everything. We then did cheese, crackers, chutneys and pork pies in the evening with some of the leftover pizza and a sweet table for our evening guests."
"My mum made our wedding cake. She is a nurse but over the years has made wedding and birthday cakes for friends and family, so when I got married I knew I didn't trust anyone else to make the cake but her. We had a four-tiered hexagonal cake with a cocktail theme for the sponges."
"The bottom tier was a Black Russian, then a Porn Star Martini, a Pina Colada and a Raspberry Mojito. As you can image the cake went down very well and she also made 150 cupcakes for the day."
"We chose 'Sail Away With Me' by David Gray for our first dance song – this is Adam's favourite song and means a lot to us both."
"The whole day was my favourite bit, honestly it was the best day of our lives. But if I had to pick, I think it would be Adam's speech. It was beautiful, funny and romantic and he wrote a poem and dedicated it to me at the end which made me blub. The only thing I would do differently would be to hire cleaners to come and clear out the tipi the next day before they were taken down – that part wasn't fun!"
Words of Wedded Wisdom
"This is so clichéd, but the day really does go so fast, so make sure you enjoy every minute of it – and don't get too drunk because you won't remember everything.
Someone told me to take ten minutes out with your groom, to stand off to the side and just watch everything that is going on. Have a chat and a kiss and make sure you are both having the best time. It is important to come back together after the ceremony because you will be pulled in lots of different directions. You will also feel like you spoke to everyone and yet no one – this is normal. People understand that you have to speak to everyone on the day."
"Make the most of being a bride, get people to get you drinks and help you to the toilet; it's your special day so make the most of it.
Do everything exactly how you want it and have fun whilst organising it. After the day you will feel a bit lost, so make sure you have some fun things to look forward to after the day.
My sister was my maid of honour and is also my best friend. She organised my two amazing hen parties for me; taking all of that stress away from me. She did a speech for us on the day of the wedding and kept me sane throughout the whole planning process. I wanted to mention how amazing she is and what a great job she did for us."
"Our original budget was £15,000 but after realising the tipi's and the venue hire came to £11,000, we put this up to £20,000 which was what it ended up coming in at. We were also very lucky as my mum and her partner gave us a very generous amount as a gift for the big day.
Love My Dress had a big impact on how I planned our day. I love the easy layout and all of the useful information and your DIY tutorial section and look book. I made a couple of inspiration boards and sat down with Adam to choose the colours and discuss ideas and these were greatly influenced by Love My Dress."
These are such wise words – and I'm so chuffed that you were inspired by this beautiful blog Zoe. I've so adored sharing all the gorgeous moments captured so wonderfully by Anesta.
Be sure to check out these tipi weddings we've previously highlighted on the blog if you're keen to hold your nuptials outdoors and add your own unique touches, just like Zoe and Adam did so brilliantly.
Love Jo -xo-