And hello again! I do hope you're having the most fantastic week, whatever you're doing. I have to say that today I'm super excited because tomorrow, I'm heading to London to meet up with Annabel and I can't wait! It's been too long.
Right now however, I couldn't be more excited about this feature if I tried because I'm absolutely delighted to be focusing on one of our favourite EVER designers, the incomparable Jenny Packham. Today, we're taking a look at Jenny Packham's new bridal collections and trust me when I tell you, 2018 is looking truly fabulous.
It's actually a bit of an understatement when I say that all of us here at Love My Dress have got quite the crush on Jenny Packham. In fact, we're way past that stage and are, I feel sure, into full adoration of Jenny and her beautifully contemporary approach to design and styling.
Dare, in ivory
It's no exaggeration to say that Jenny Packham has utterly revolutionised the bridal industry and her label is one of the UK's most successful independent fashion brands. Her evening gowns have been worn by The Duchess of Cambridge, Taylor Swift, Kate Winslet and Angelina Jolie to name but a few. However, it's her bridal designs that always make my heart beat a little faster and for 2018, there's a lot to love.
Cadeau
New for 2018 is an absolutely exquisite collection of bridal separates and oh my goodness, I feel I need to sit down for a moment. Blouson style t-shirt blouses and embellished bodices are styled over slinky slip dresses in crepe or satin or paired with skirts in tulle (swoon!), chiffon, crepe and taffeta not to mention stunning wide leg palazzo trousers.
Freedom, in illusion
It's a super glamorous collection and you can totally see the influences of Jenny's eveningwear collection on these pieces. It's daring and elegant and it's also an homage to an otherworldly romance.
"This collection feels reflective of our bride and how she's thinking," says Jenny. "The style is signature Jenny Packham with the versatility to make the look more individual. Whether that be for the engagement party, rehearsal dinner or different combinations on their wedding day; I wanted to give our brides the option to transform their look by playing with different silhouette and style options."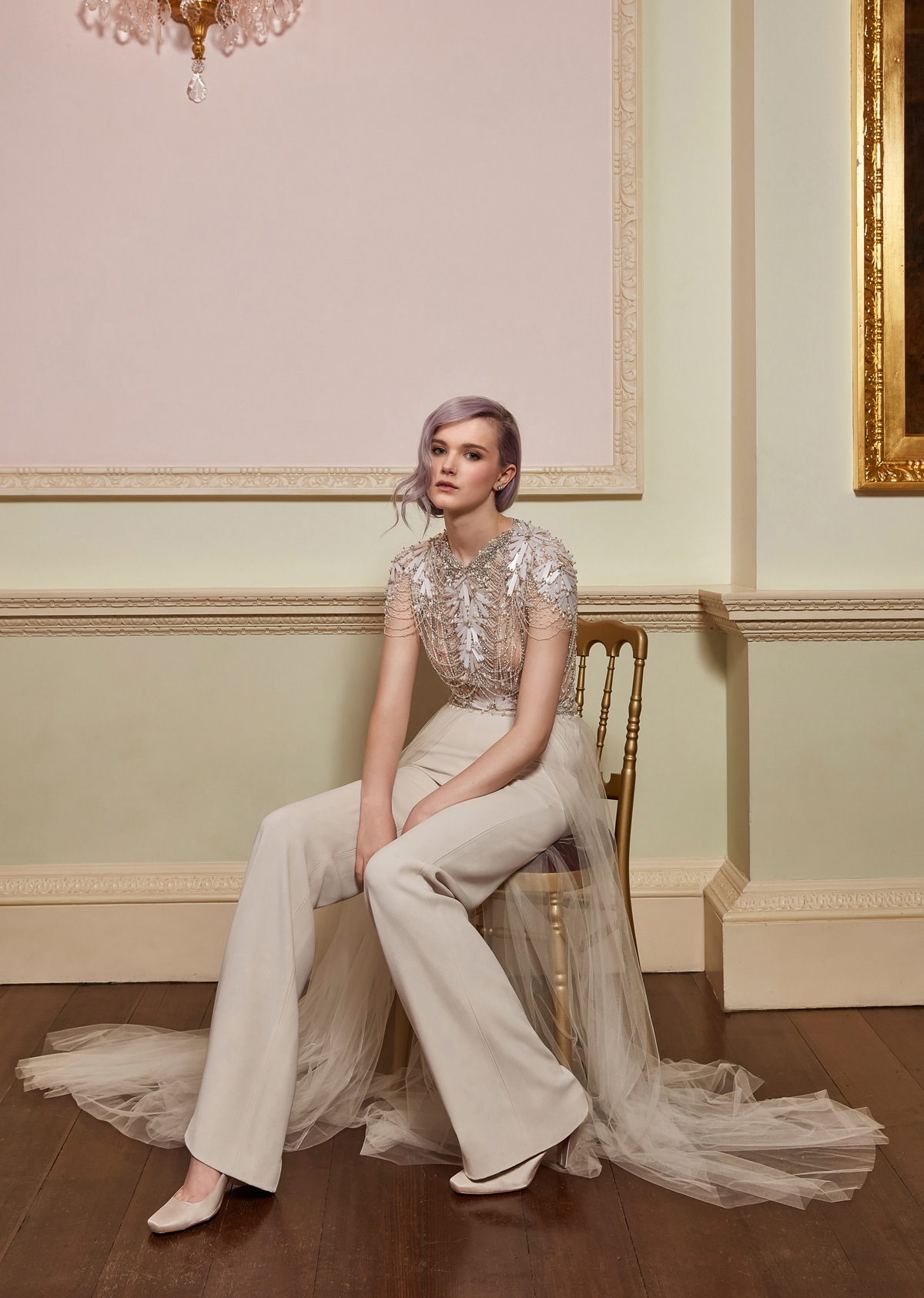 Magic top and Clemence trousers
Of course, these options extend beyond the bridal separates collection and into the 2018 Bridal Collection itself and already, the most popular designs are emerging. The appropriately named Awe is certainly a jaw-dropping design and I love this crystal embellished illusion bodice with its deep V-neck and embellished cap sleeves. Another of my favourites, Dare in Ivory, is proving very popular with brides. I adore the 1920s styling, the unique embellishments on the skirt and the bodice and oh yes, this gown would make my personal shortlist for sure.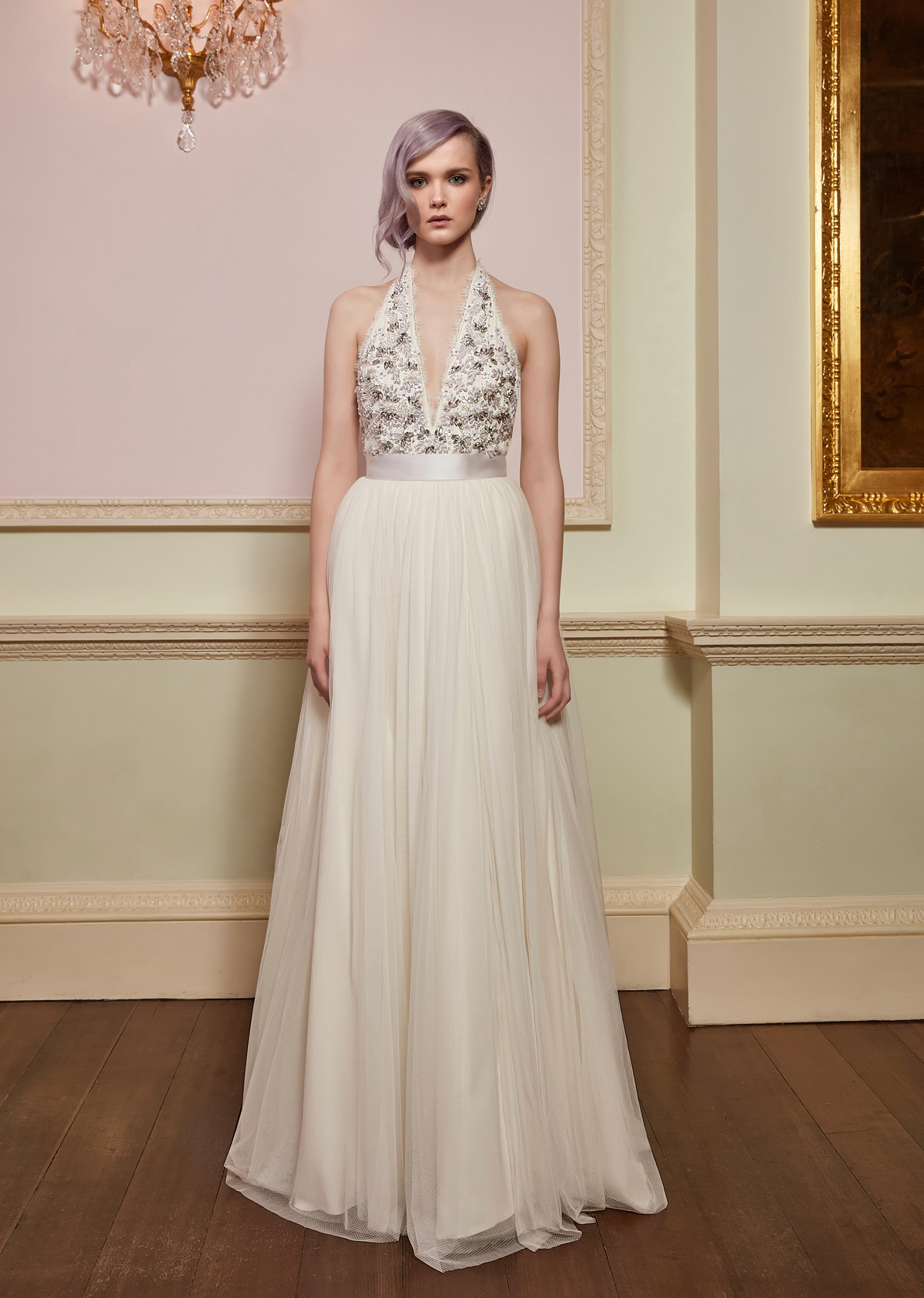 Verity top, Bloom skirt
The embellishments are definitely the highlight of this collection and it's no surprise that the gowns featuring the most exquisite additions are becoming much-loved favourites with brides. Blythe, Serenity, Destiny and Dare are all elegant in the extreme. If you're looking for a true statement gown, you must MUST take a look at Freedom because oh my goodness, this illusion embellished tulle gown somehow manages to be bold and audacious as well as being beautiful and refined. It's perfection but really, what else would you expect from Jenny Packham?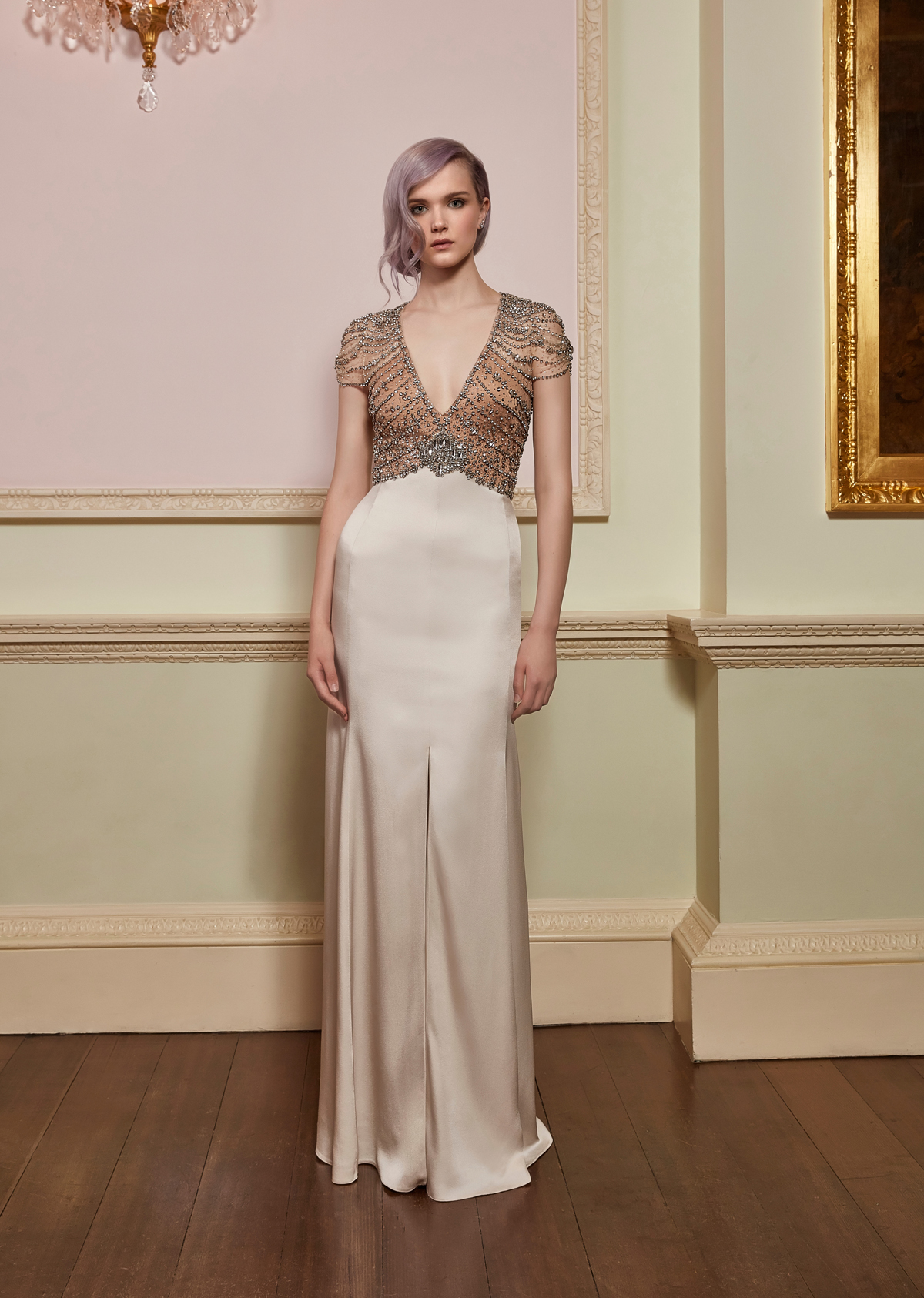 Awe
If you'd like to view the 2018 collections from Jenny Packham for yourself, then now is probably the best time of year to visit your nearest stockist because it's Trunk Show time when boutiques host designer events to showcase the entire collection. Take a look at the Jenny Packham bridal trunk show diary to make sure that you don't miss out.
To find out more about the collections and the Jenny Packham label, do take a look at the beautiful website and be sure to follow on Instagram too.
Love,
Tamryn x
There are no photos with those IDs or post 681418 does not have any attached images!