I absolutely get it. You fall in love with a designer's work (via this blog of course!) and end up in not one, but two of her stylish gowns. That's exactly what happened to the very beautiful bride you're about to see.
Mr and Mrs Thurkettle-Hinde – dental technician Jack and Fiona, a professional dog walker – married on the 22nd of July 2017 in their little village of Great Hockham in Norfolk, after experiencing a last minute drama.
"Our original venue fell through two months before the wedding. On a gloomy bank holiday Monday, Jack took me to the pub to cheer me up, and whilst there we were speaking to the local landlord and gamekeeper who suggested the village. Two days later we had a church ceremony and our original tipis on the local playing field. The original plan was a Midsummer Night's Dream, but with the venue change we decided to focus solely on having fun, adding splashes of colour, and being true to ourselves."
Photography by Sam and Louise Photography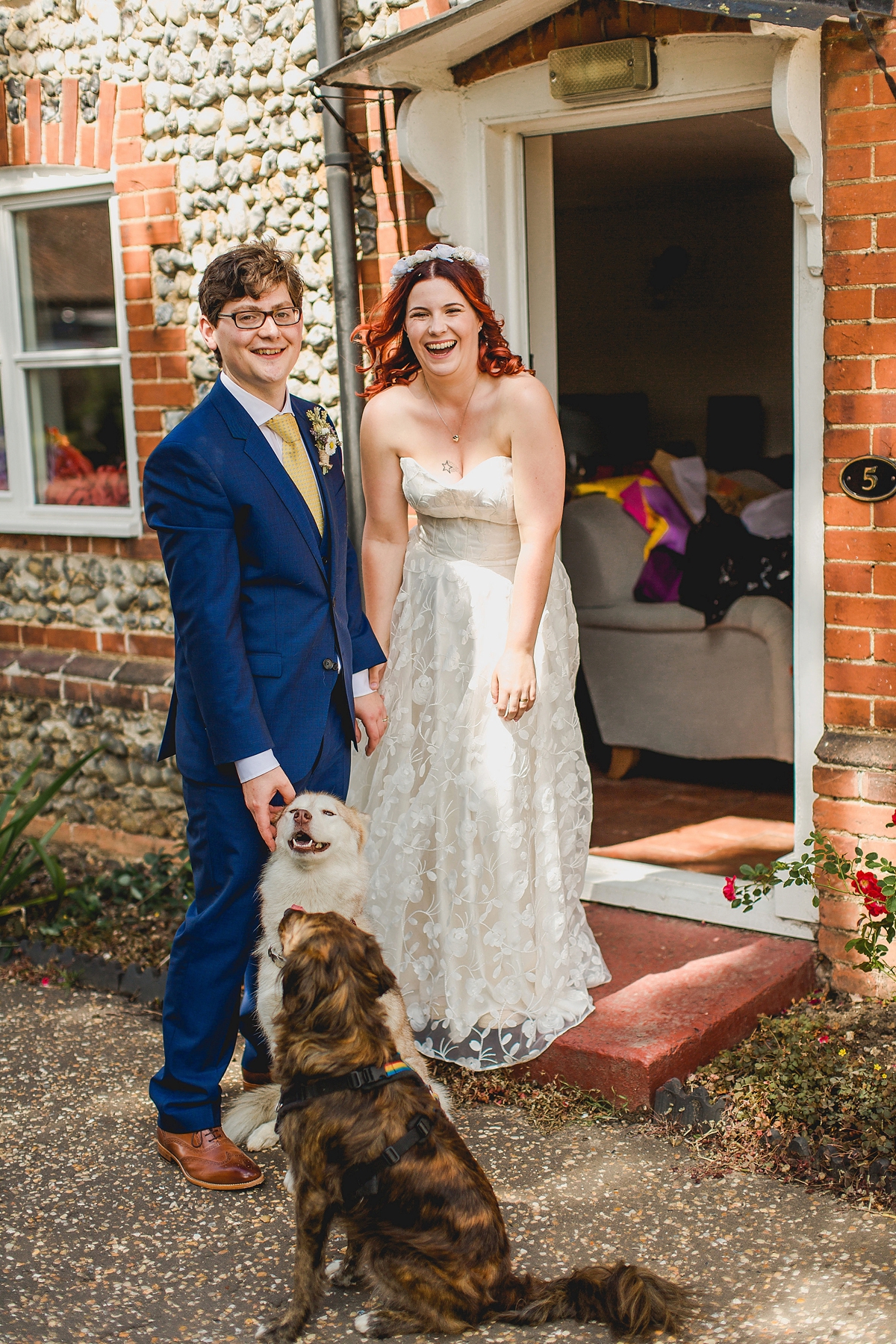 Fiona fell in love with designer Kate Halfpenny of Halfpenny London after seeing her dresses on this very blog, so much so that she needed two! She started following Leonie Claire Bridal Boutique after looking through our handy bridal resource Little Book for Brides and it was there that she discovered her 'Esme' dress she wore for the ceremony. The reception dress was 'Thea' from The Bespoke Wardrobe Bridal Boutique and the 'Iris' overlay purchased via Ellie Sanderson Bridal Boutique."I purchased the Thea slip firstly as I was just in love with the fabric after trying on loads of dresses that just felt itchy. Unfortunately they didn't have a slip I liked available, so I made the trip to the Halfpenny store in London. I couldn't make my mind up, so the assistant promptly had me try on the 'Esme' and, uh oh, I'd fallen in love all over again."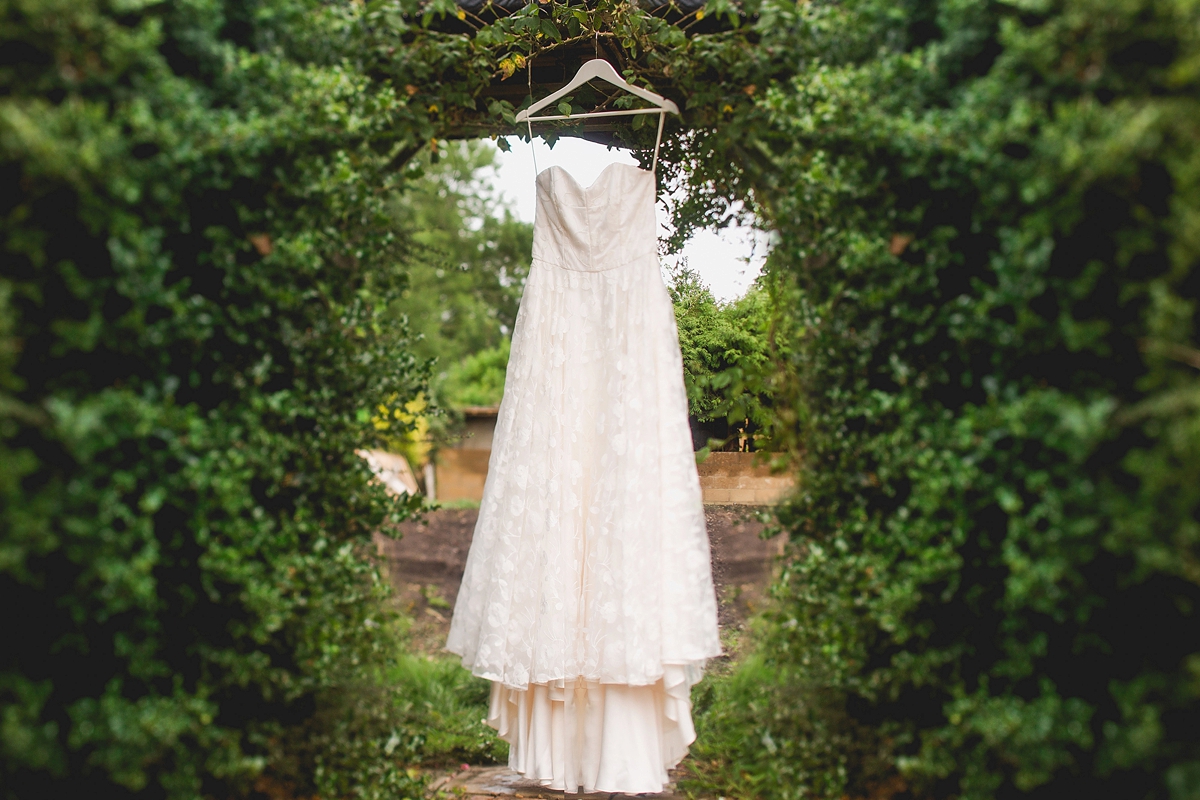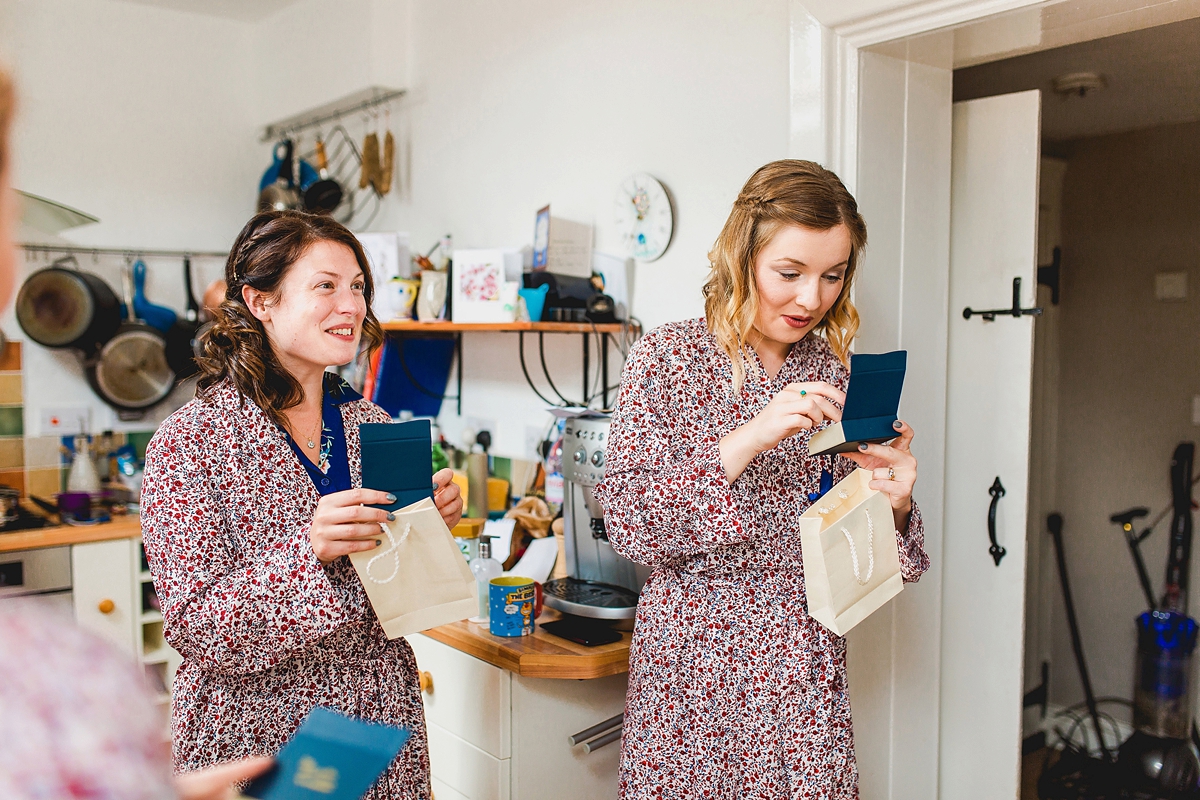 The bridesmaid's stunning blue dresses were via ASOS with lace inserts sewn in by Jack's mum. They wore their own shoes and hair grips found in the Accessorize sale.
"I had always planned that I would wear more mum's veil from her marriage to my dad. We had a little hiccup with my original hair vine (it was left at the family home 25 miles away), but the girls from Libby Ferris Florist stepped in and fixed the white flower crown that Mum had originally worn as well. Later in the day, I changed my floral crown to one from Rambling Rose."
"One of my best friends Katy worked her magic with our hair and Tina Whall Make-up Artist did our makeup. I've known Tina for about 7 years, as we worked together for a while and it was so nice to have a friendly face there which put me at ease."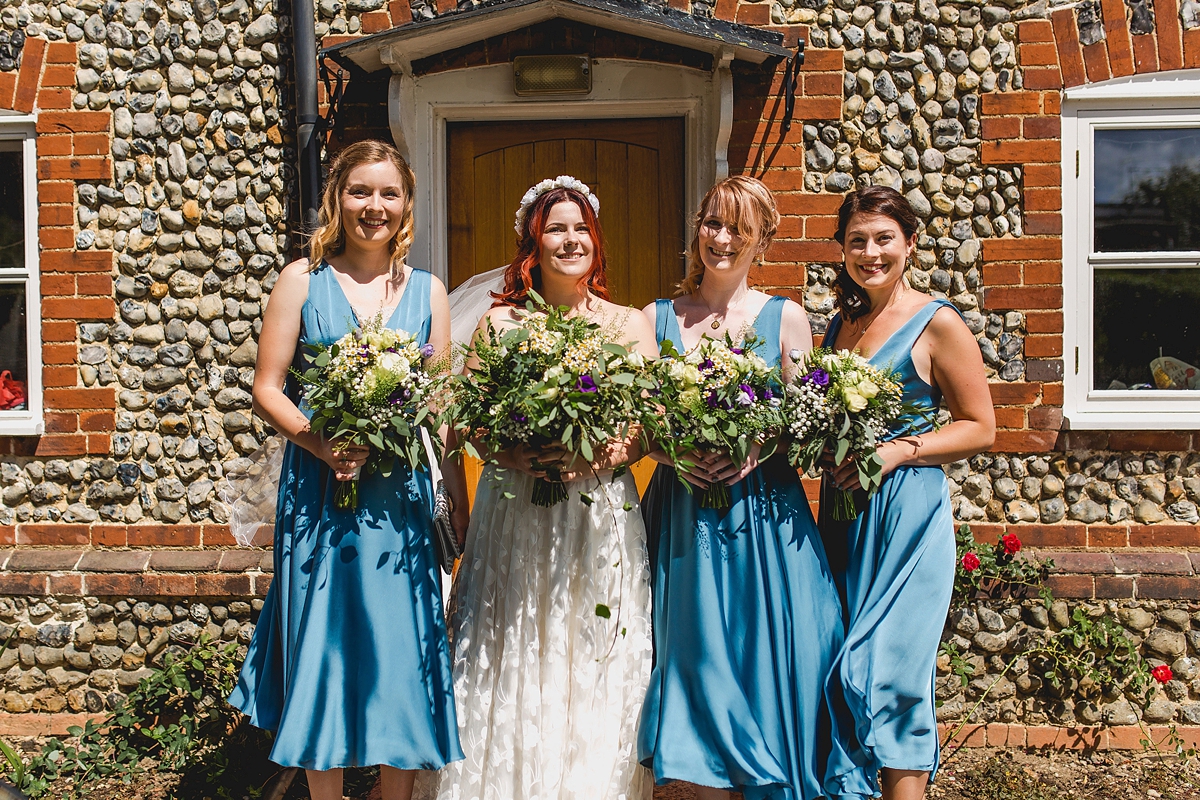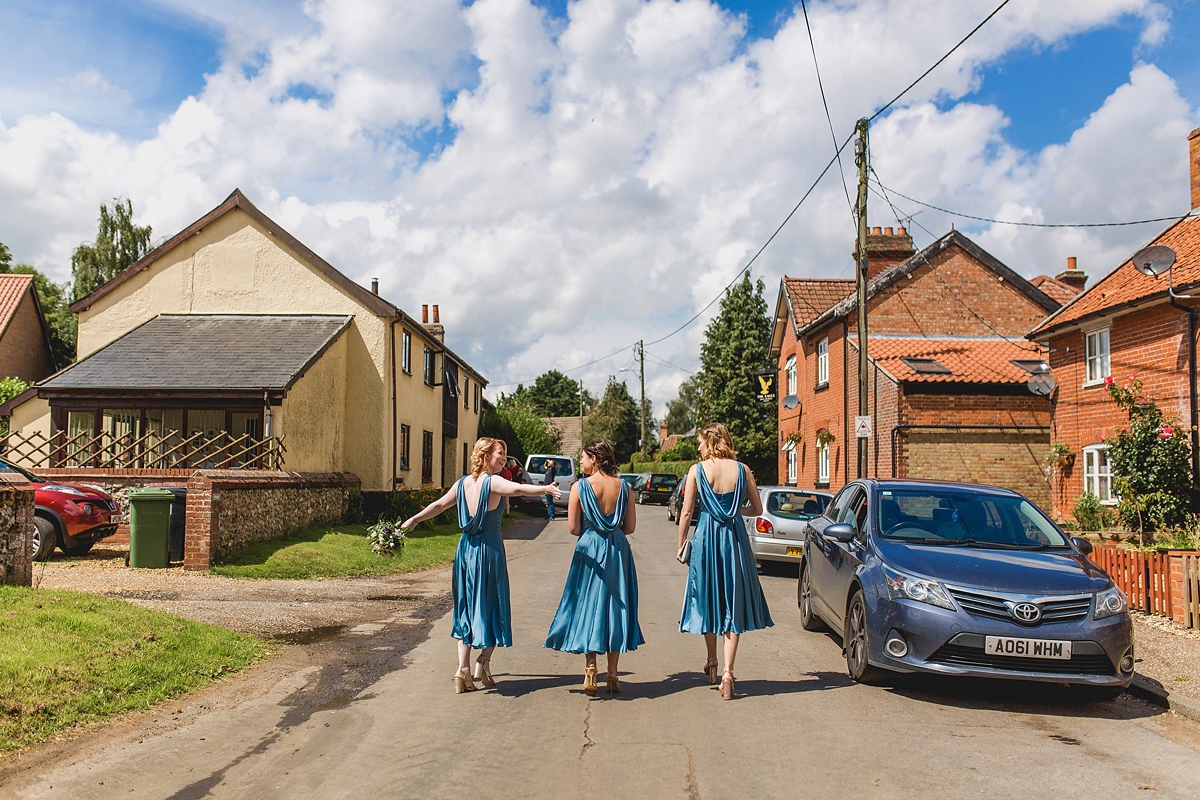 The groom sported the most stylish Hugo Boss suit, which he paired with a tie from John Lewis.
"We met at a friend's BBQ, while Jack was visiting Norfolk for the weekend (he grew up in Great Hockham but moved to Bristol with friends at 20). We got talking and met up for the rest of the weekend, which led to a long distance relationship for a year before I moved to Bristol to be with him and then back to Great Hockham five years later."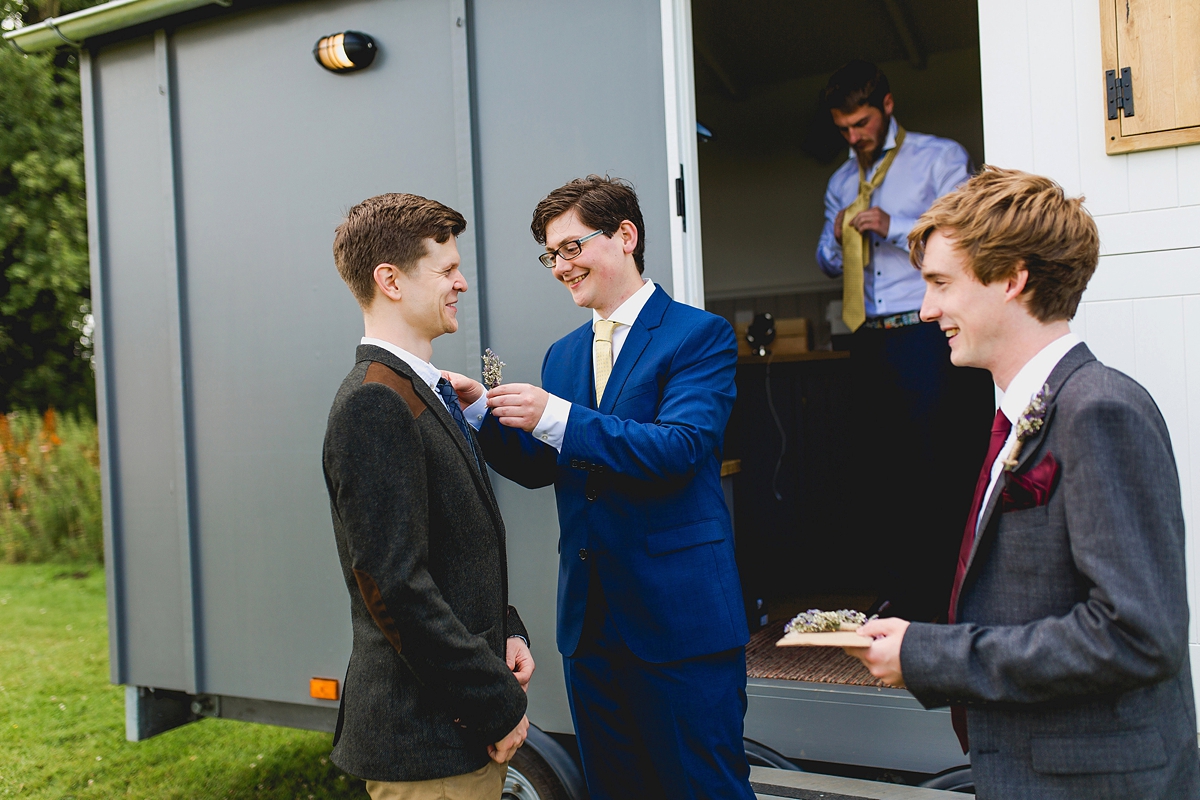 "On my birthday in February 2016, it was rainy and windy but we had a day off work together and Jack suggested a dog walk, climbing Glastonbury Tor and a pub lunch. It was there that he got down on one knee to present a gorgeous vintage pearl ring."
"Very unromantically I proceeded to nod but laugh in his face (I'm a nervous laugher, I couldn't help it). Jack has always said the South West is where our relationship blossomed and so he took me to see it all for our engagement."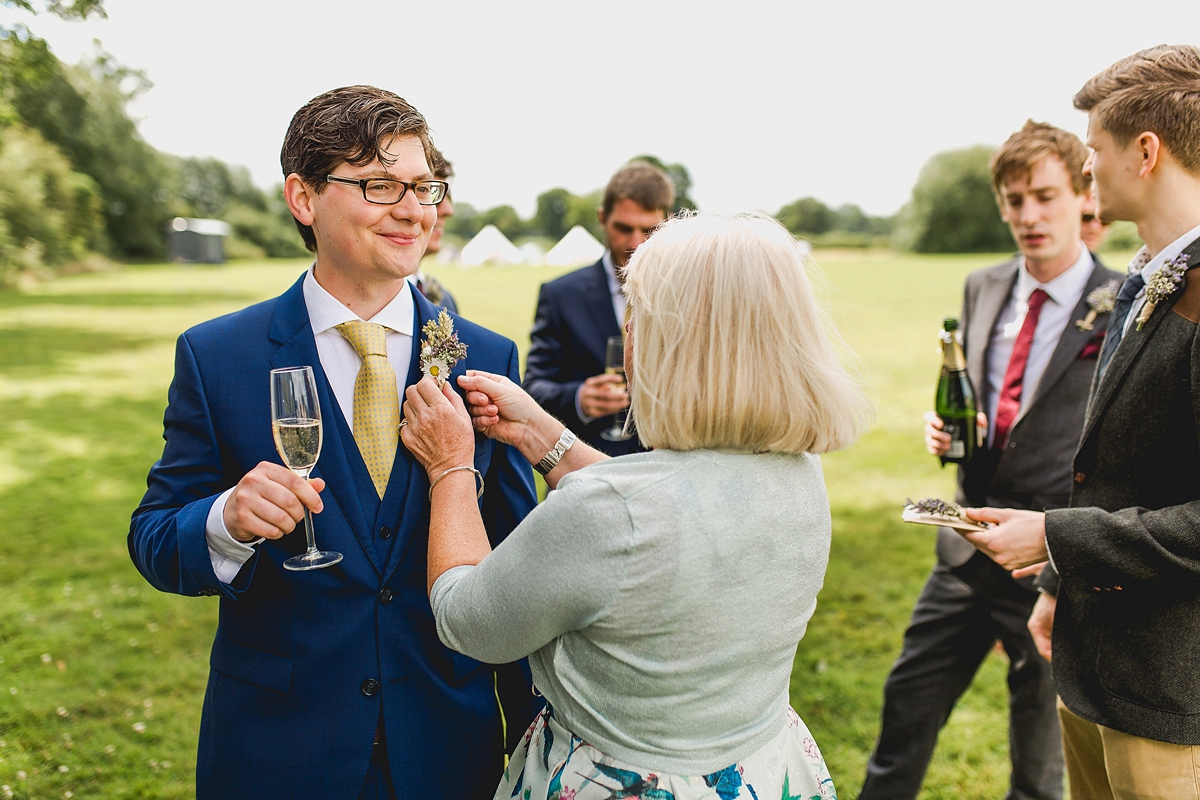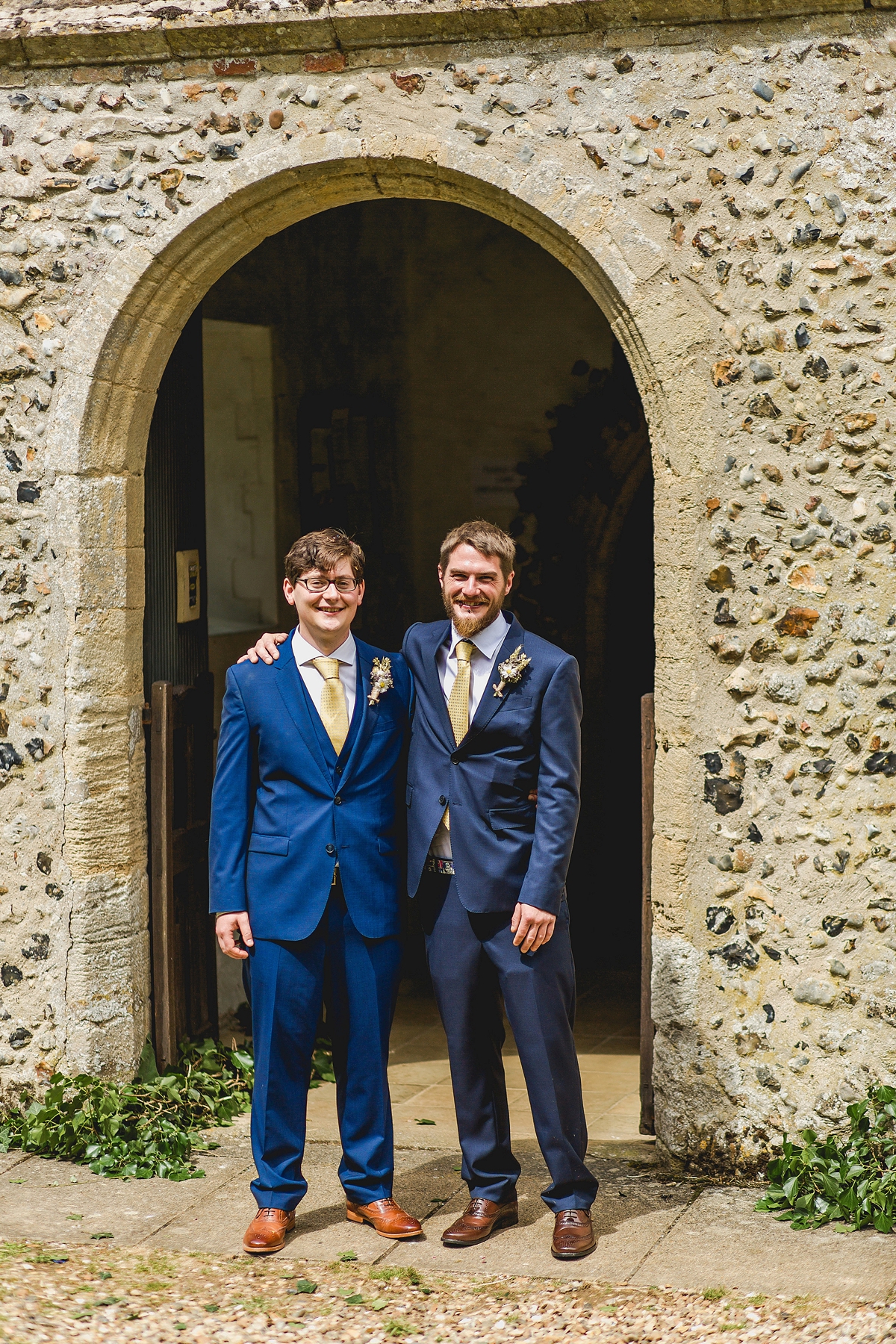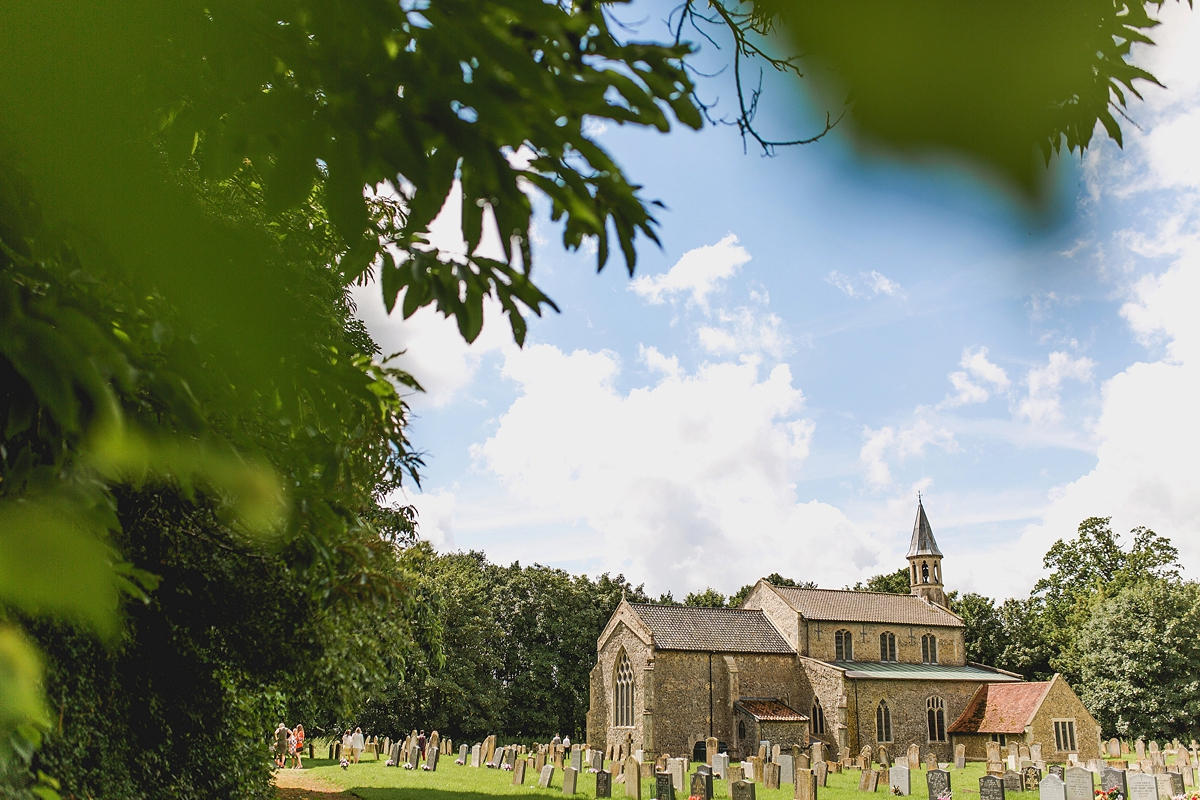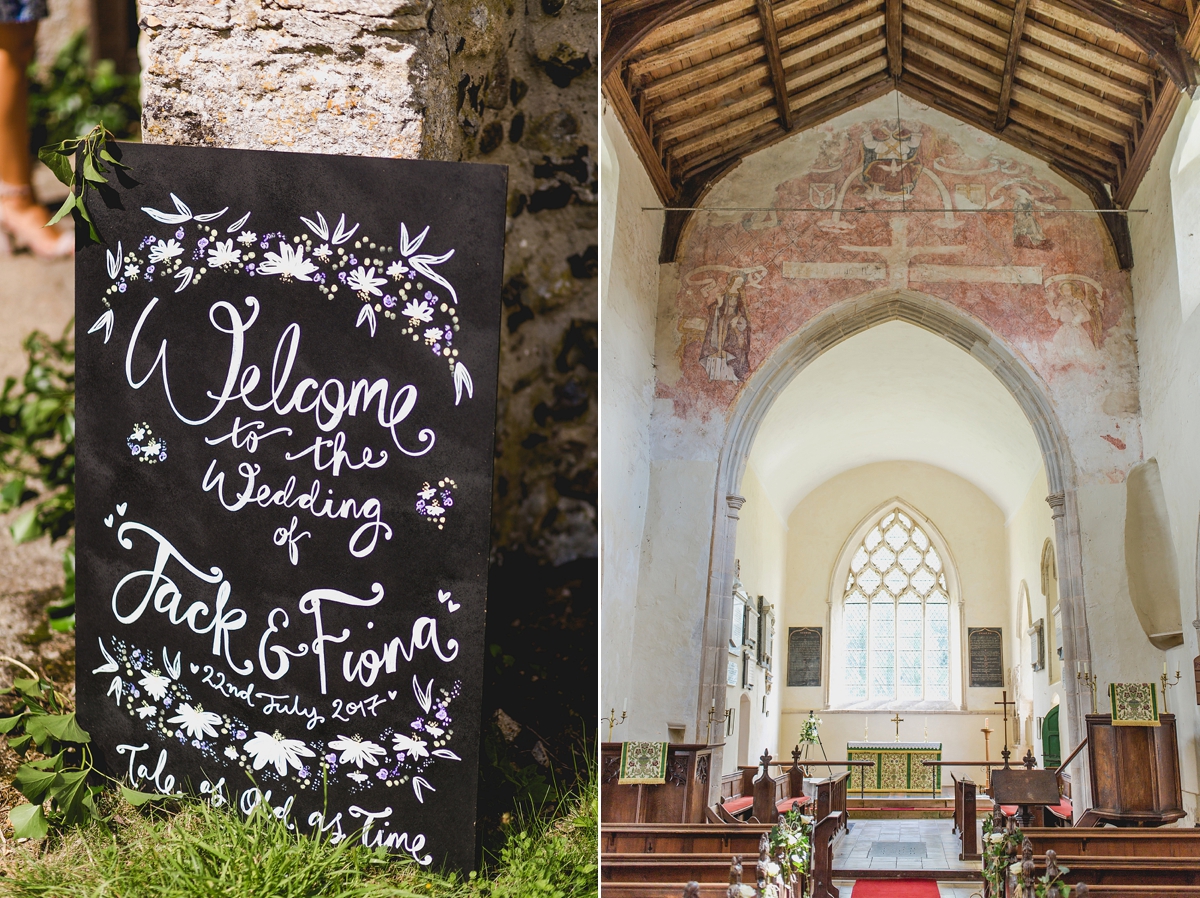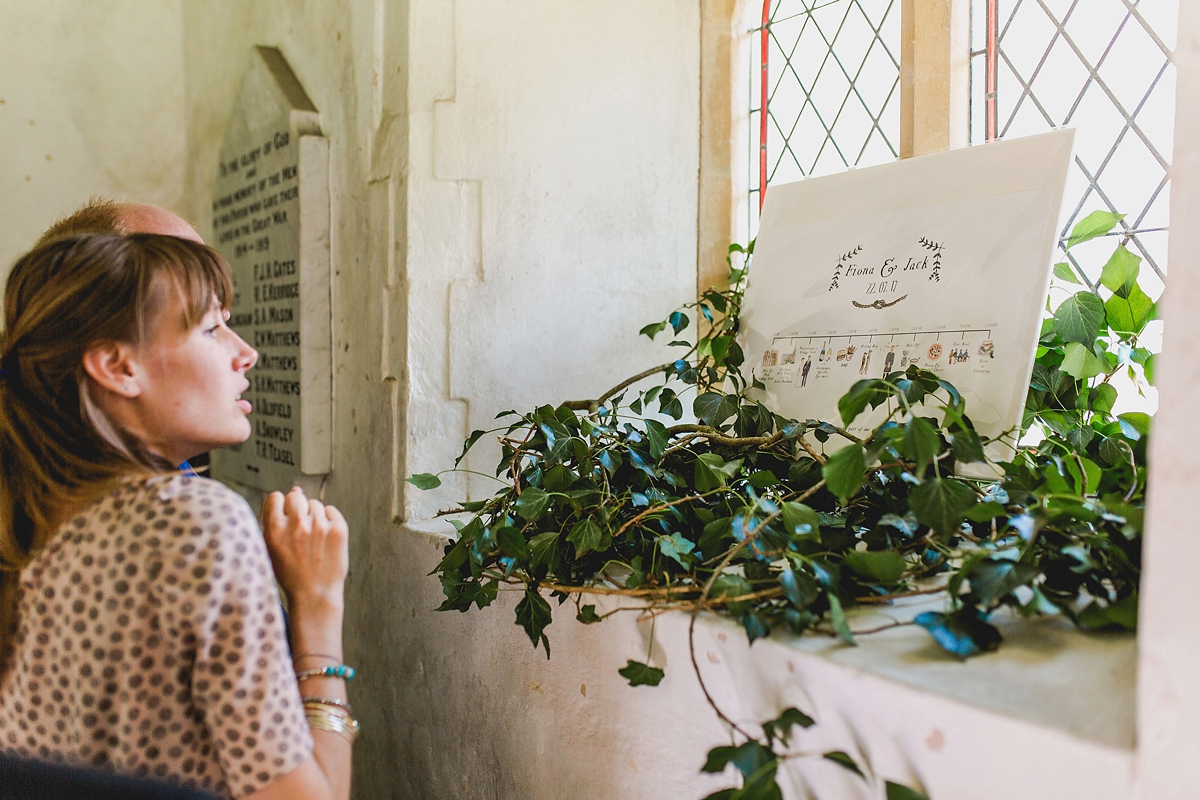 The couple found the amazing Wildflower Illustration Co. through the private Love My Dress Facebook group. I just adore their schedule for the day with the sweet, heartfelt illustrations.
"The now husband and wife team Karl and Rebecca were absolutely brilliant, especially considering their wedding was one week before ours! They made our orders of service and schedules."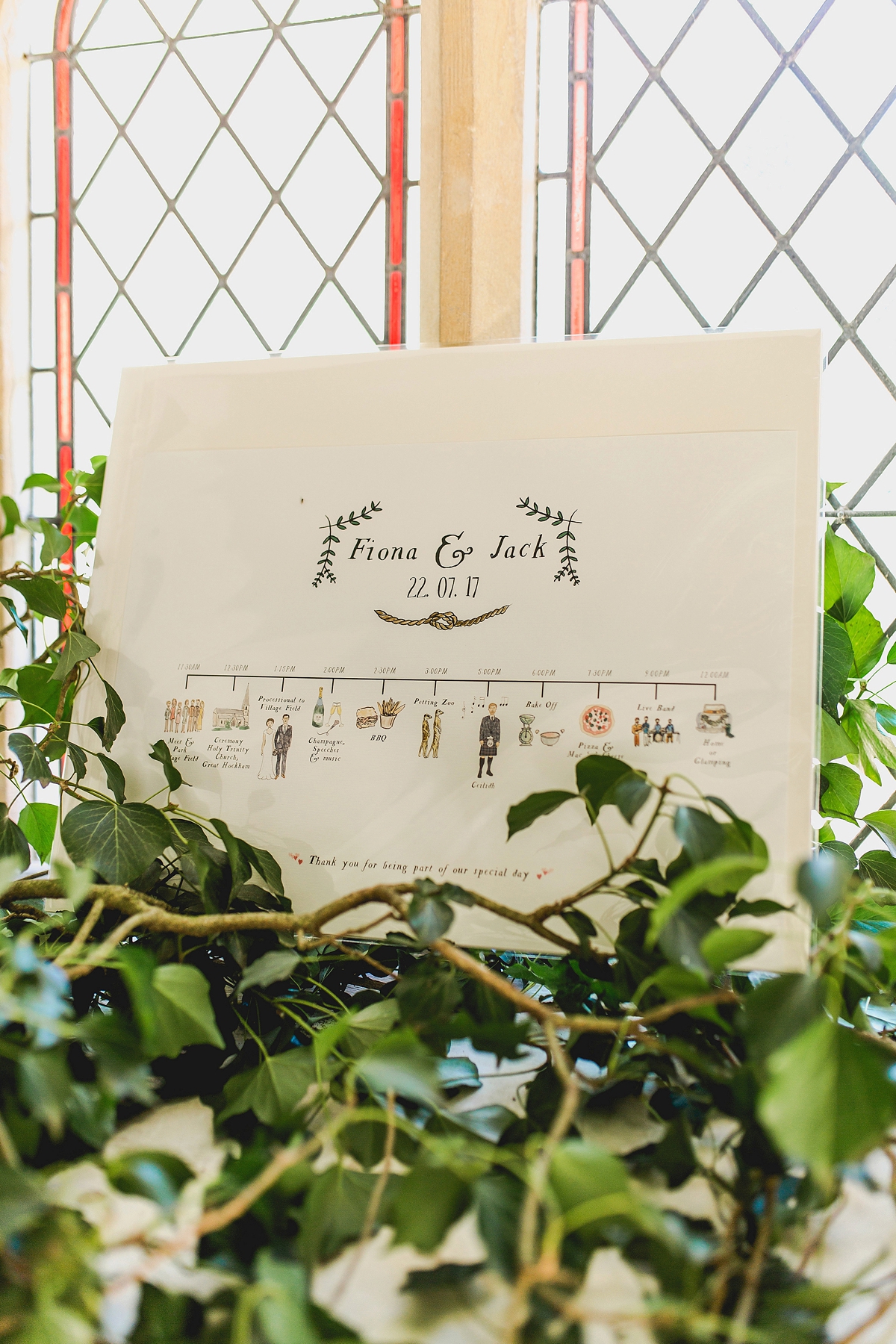 In their John Lewis pretty floral dresses, the flower girls painted the sweetest picture – and the adorable pageboy wore a mixture of his own attire with additions from Sainsburys.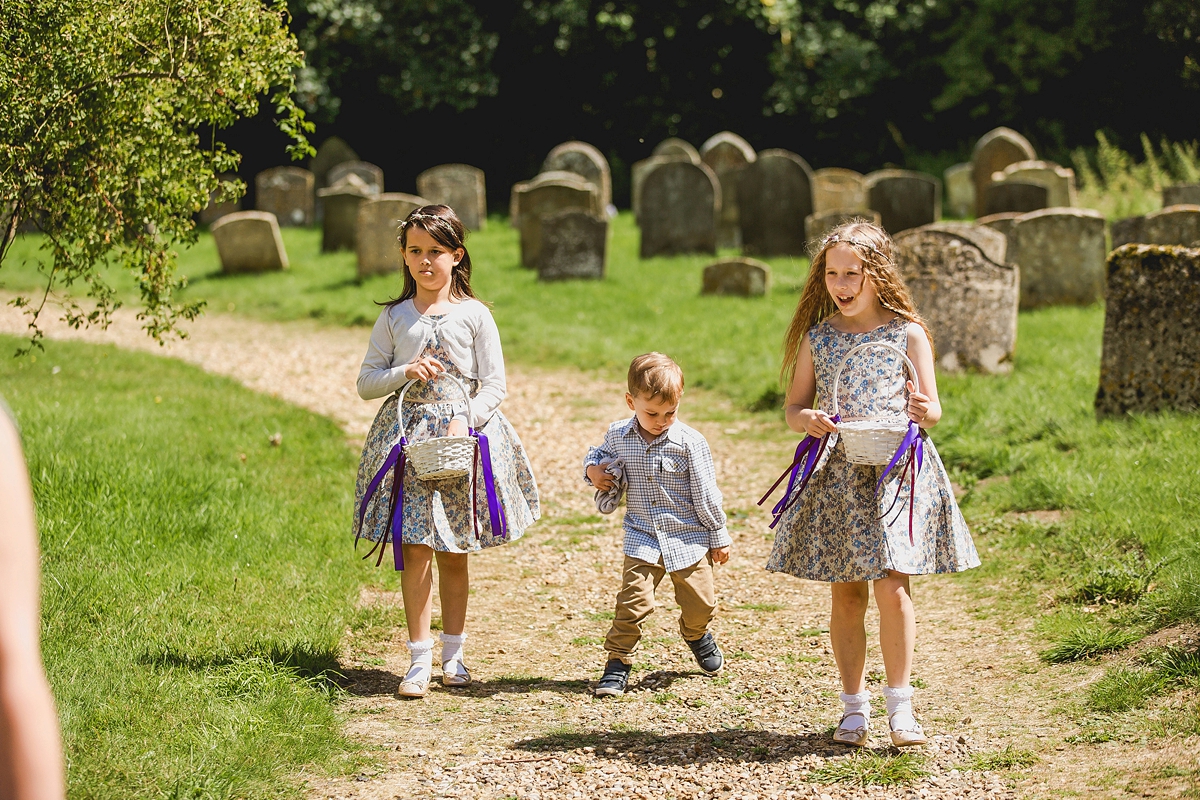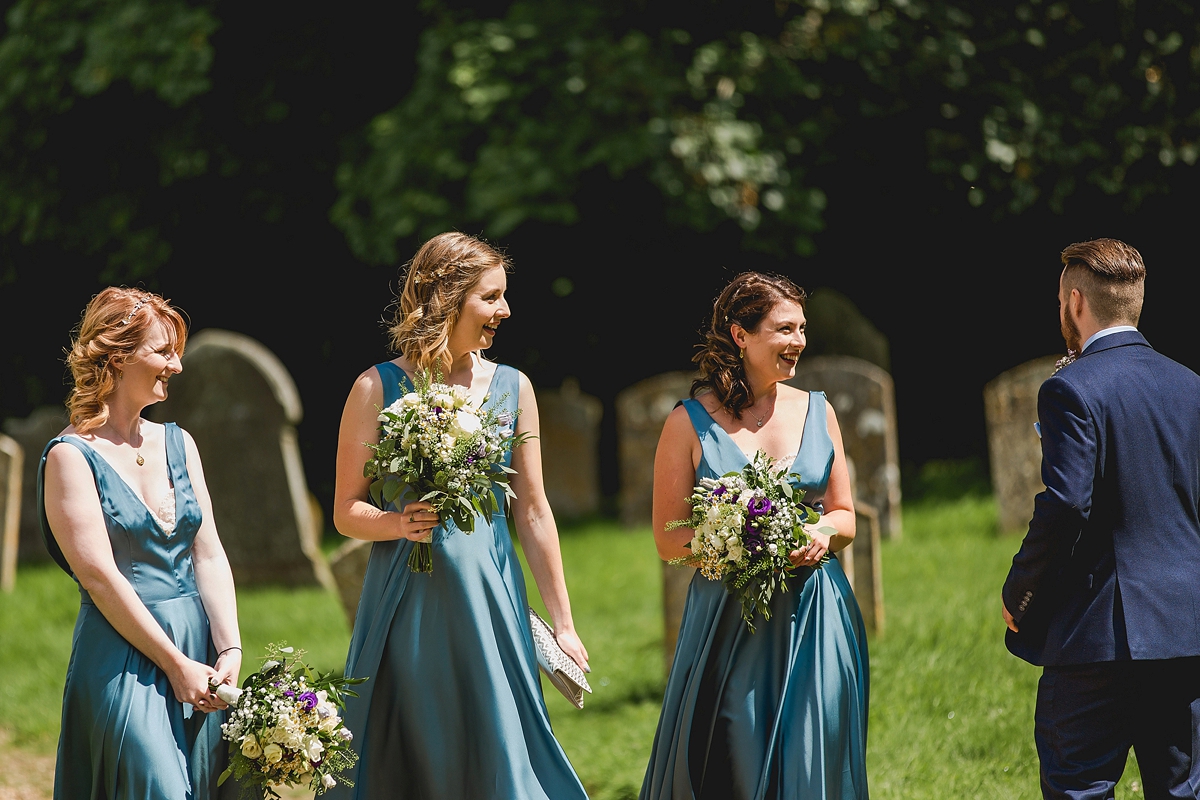 The bridal party travelled in style in a Rolls Royce owned by one of the usher's dads, who kindly chauffeured them to and from the ceremony. I can't stop looking at these simply heartfelt images of the happy bride and groom throughout their ceremony. I can attest that this really is such a special moment – oh my, the photos captured so beautifully by Sam and Louise are bringing my own day and the sweet ceremony flooding back!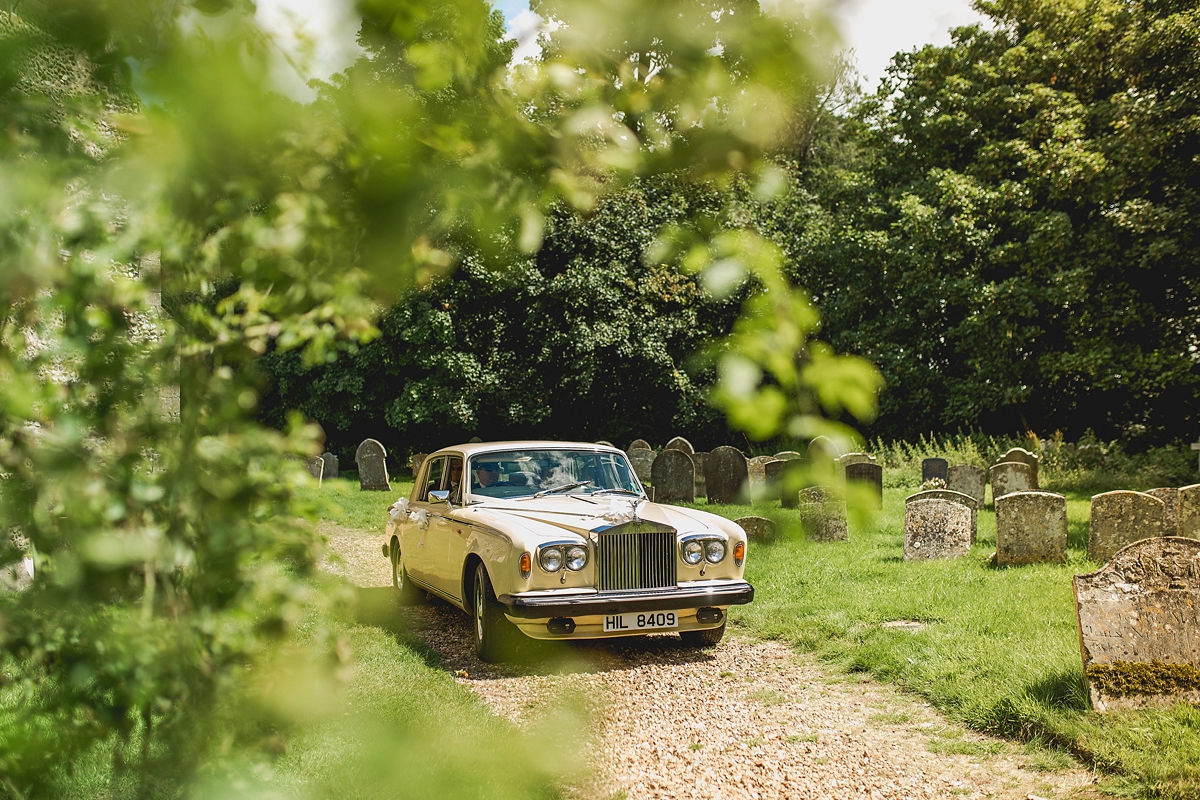 "From the moment we got engaged I knew my dad would accompany me down the aisle. It was a really special moment, especially with how nervous he got just before entering the church. We walked together to the 'Tale as Old as Time' theme from Beauty and the Beast – it was always my favourite film and was made extra amazing by being played on violin by my bridesmaid, Jack's sister Daisy. We also walked out to Jack's cousin Benji playing 'Under the Sea' from The Little Mermaid on guitar."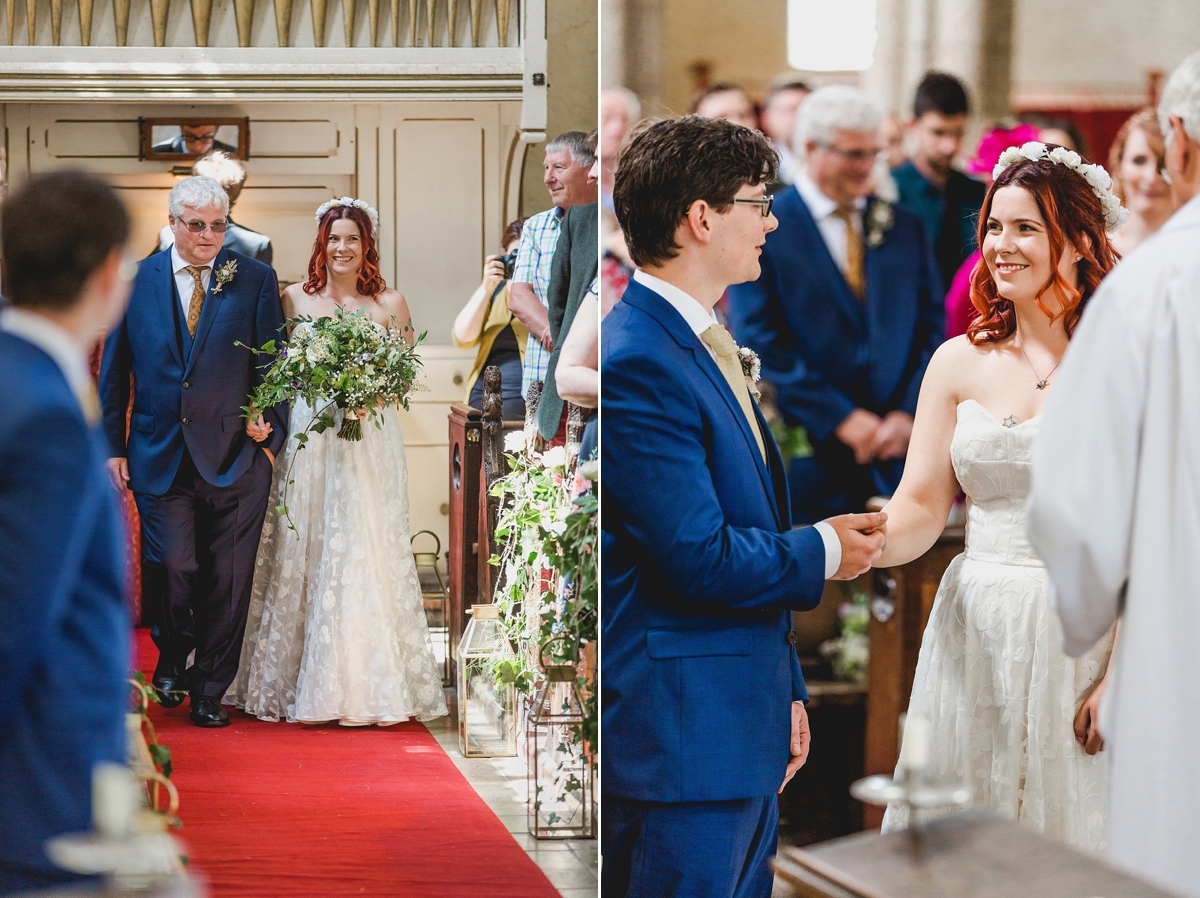 "We wrote our own vows to each other to share how we truly felt. It was a little funny when Jack forgot his halfway through, which made us all laugh!"
"Jack made his own ring; a floral wreath which was moulded from tiny leaves out of our back garden, to keep with a natural theme. My ring was made by Eily O'Connell Jewellery cast from bark and with sustainable gems."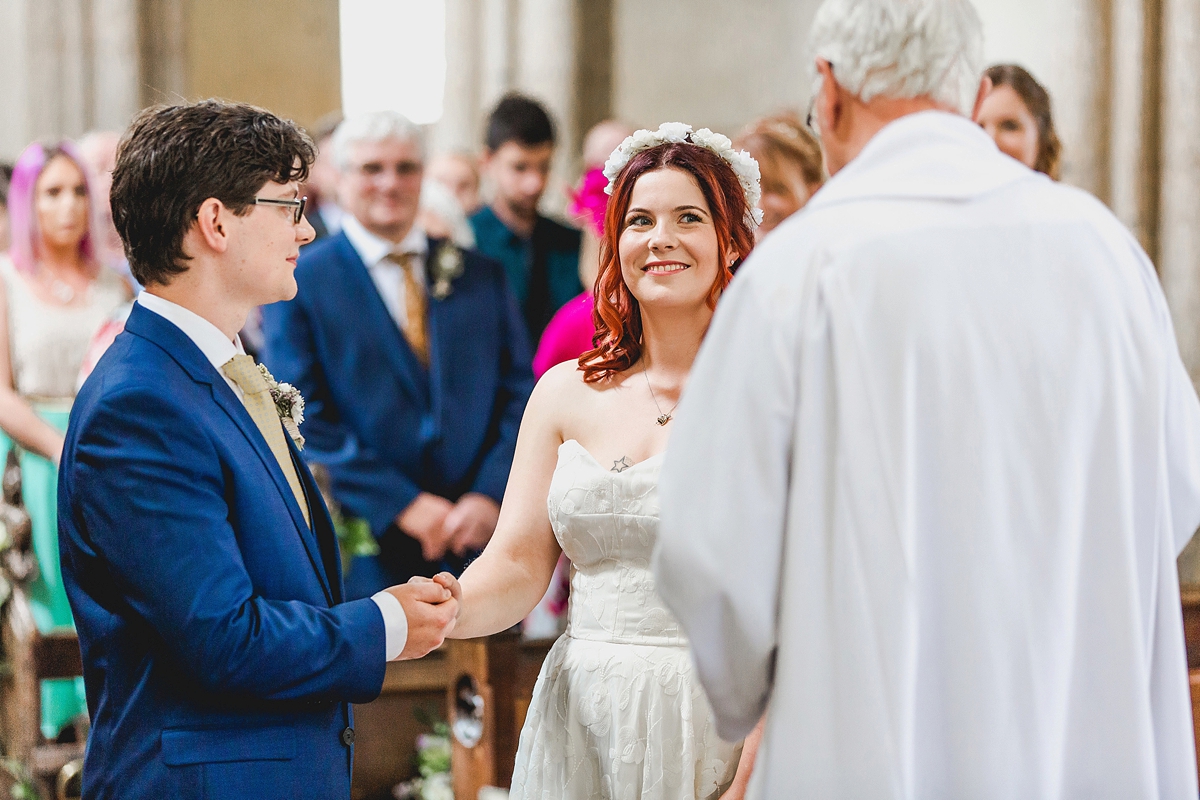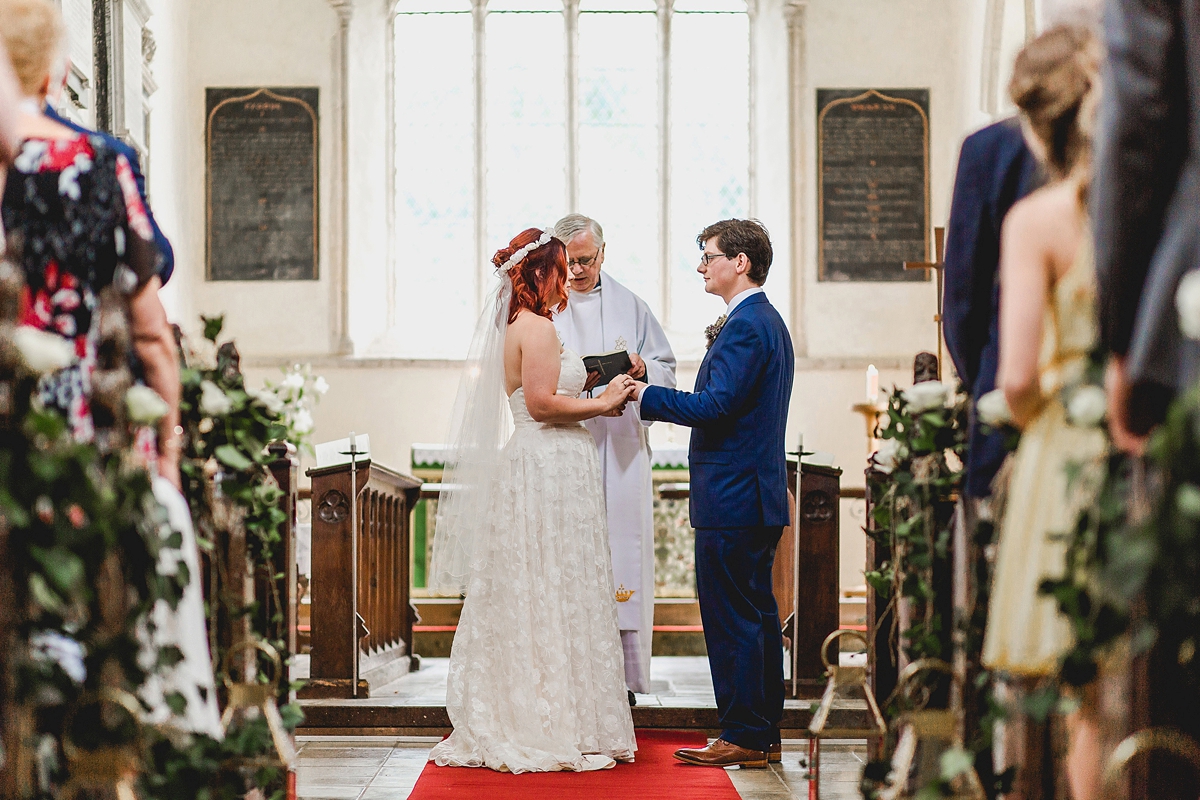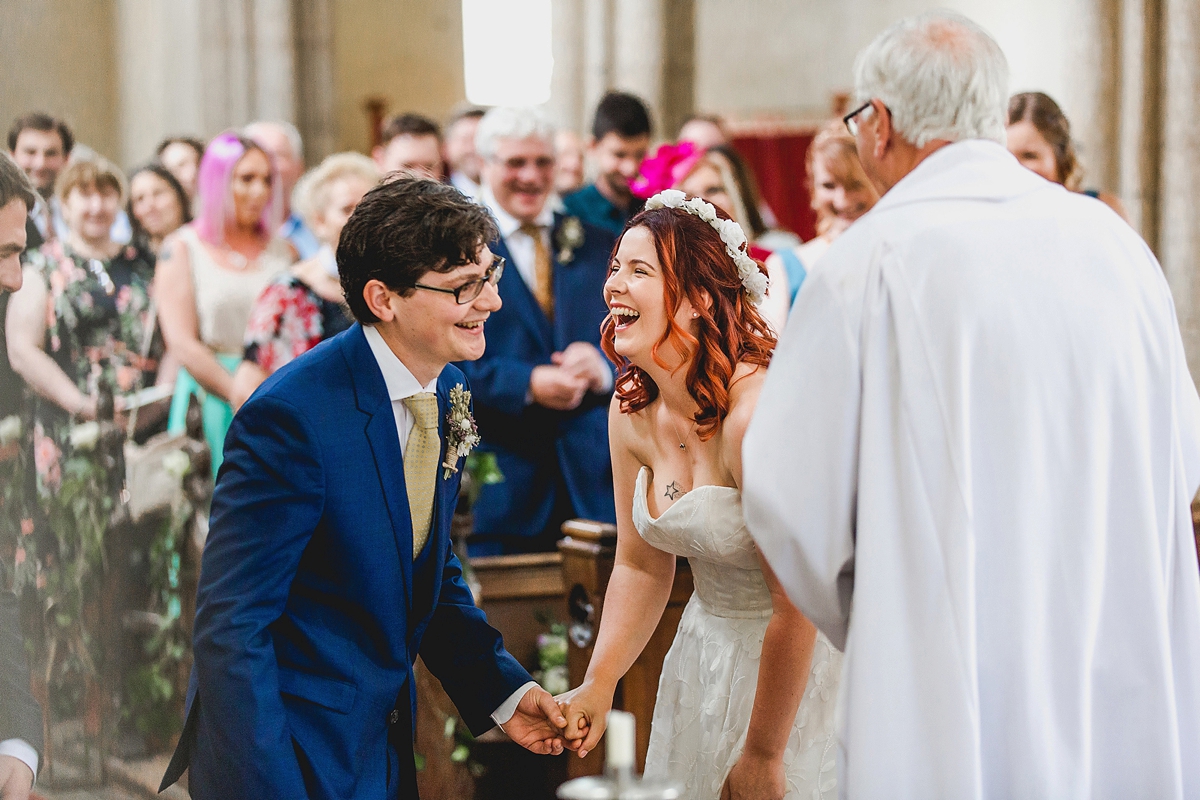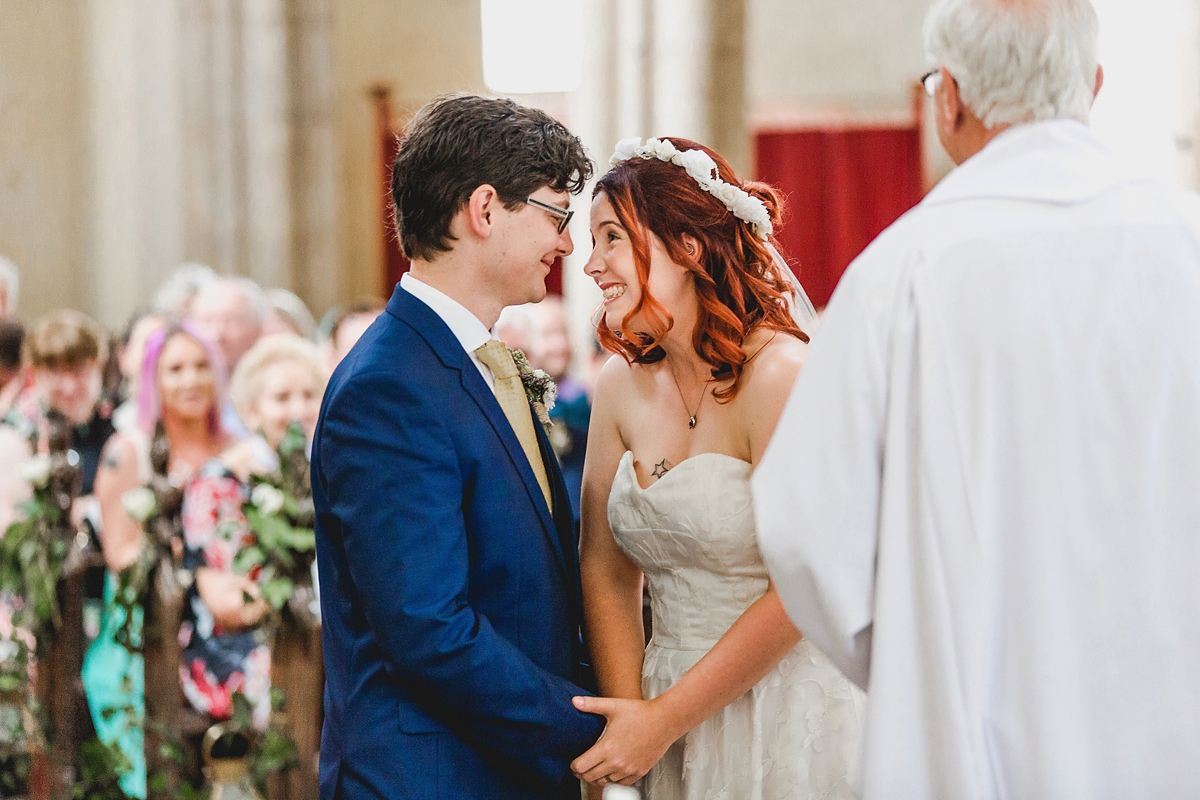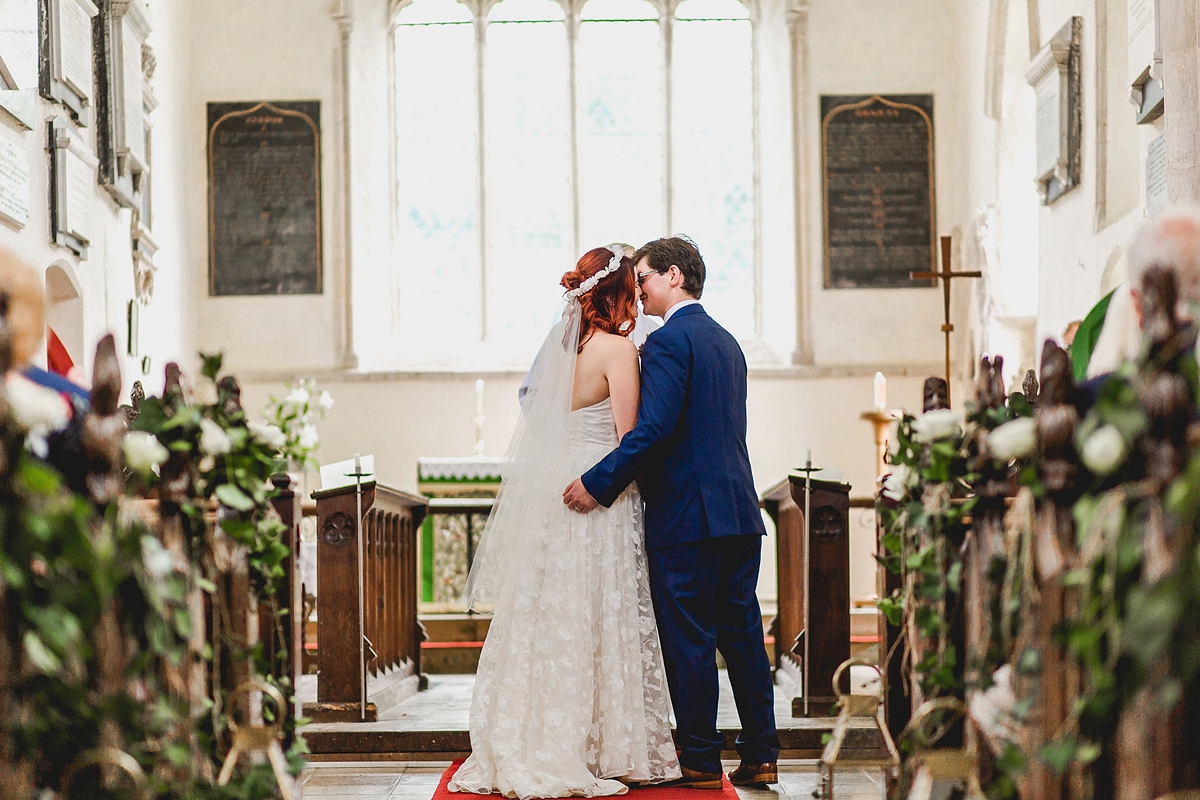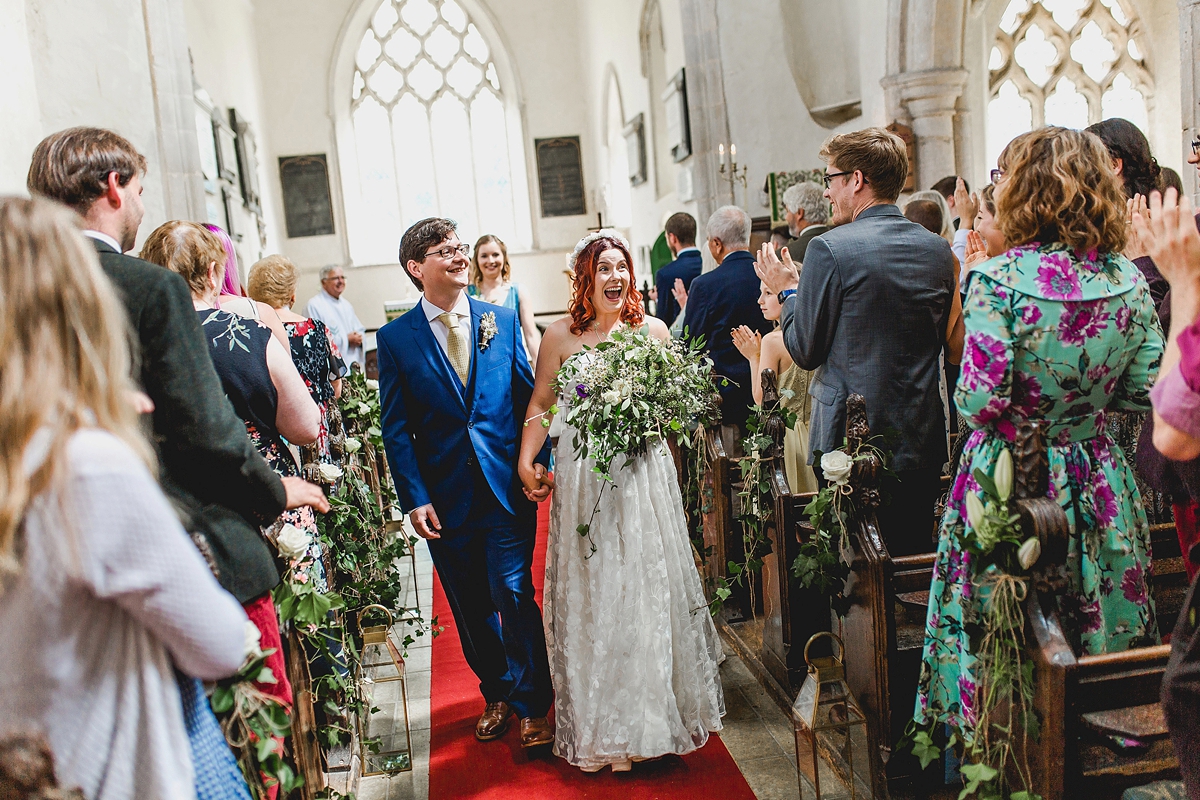 "Sam and Louise Photography were amazing in every way, from our first call to the speed in which they got our photos back to us. In fact, they were the only photographers I considered."
"Jack's cousin from America is currently studying film and we were honoured that he would shoot our wedding, as he is just starting out. He was so dedicated."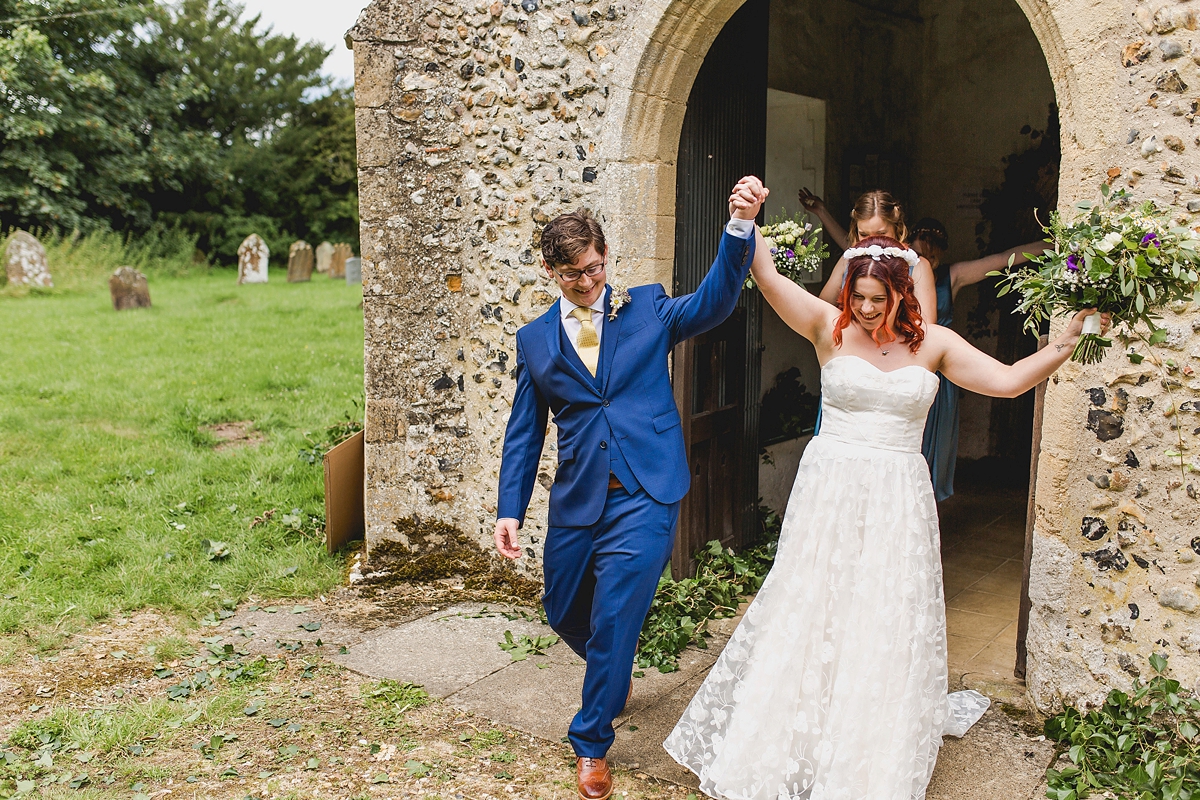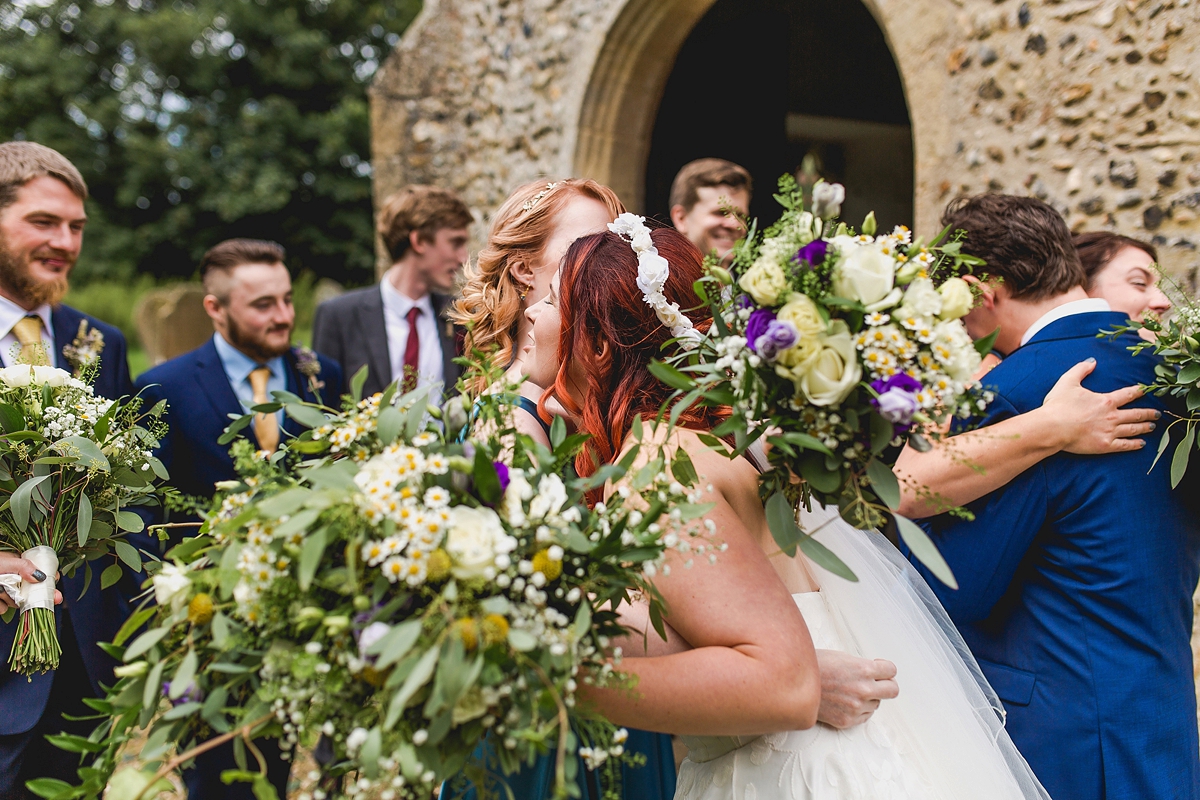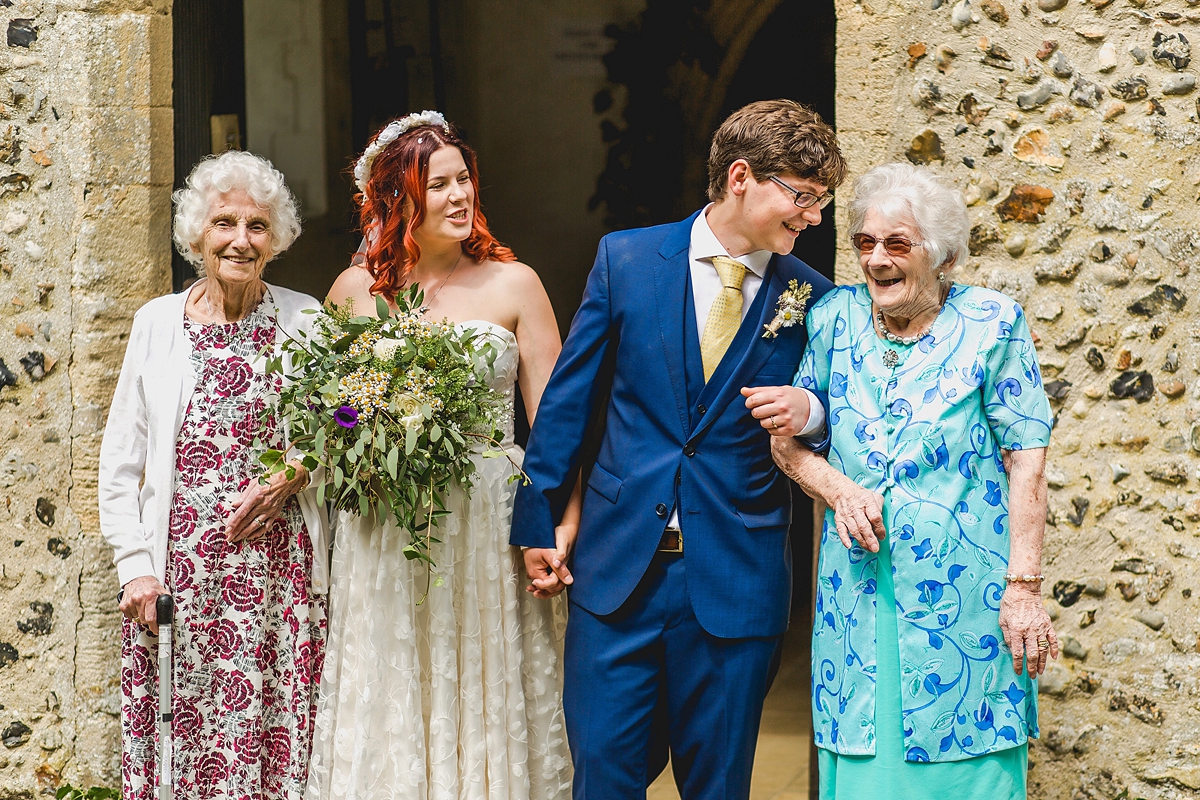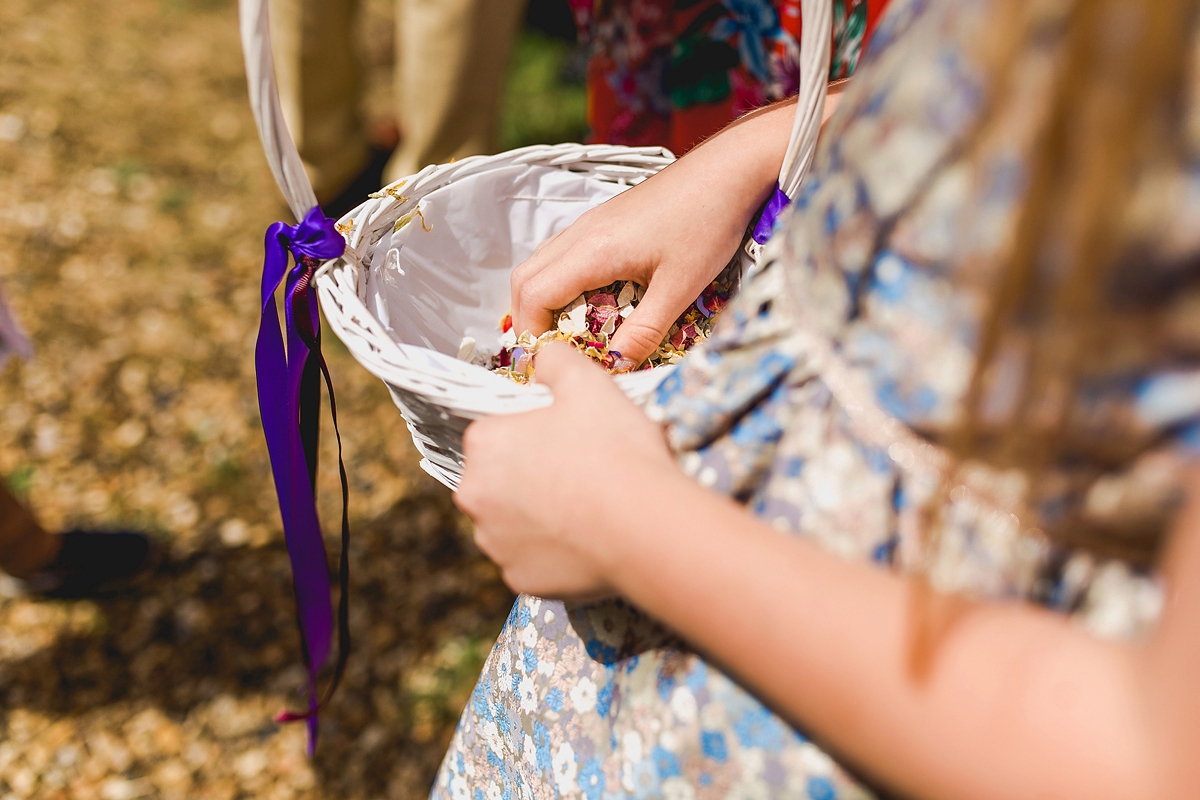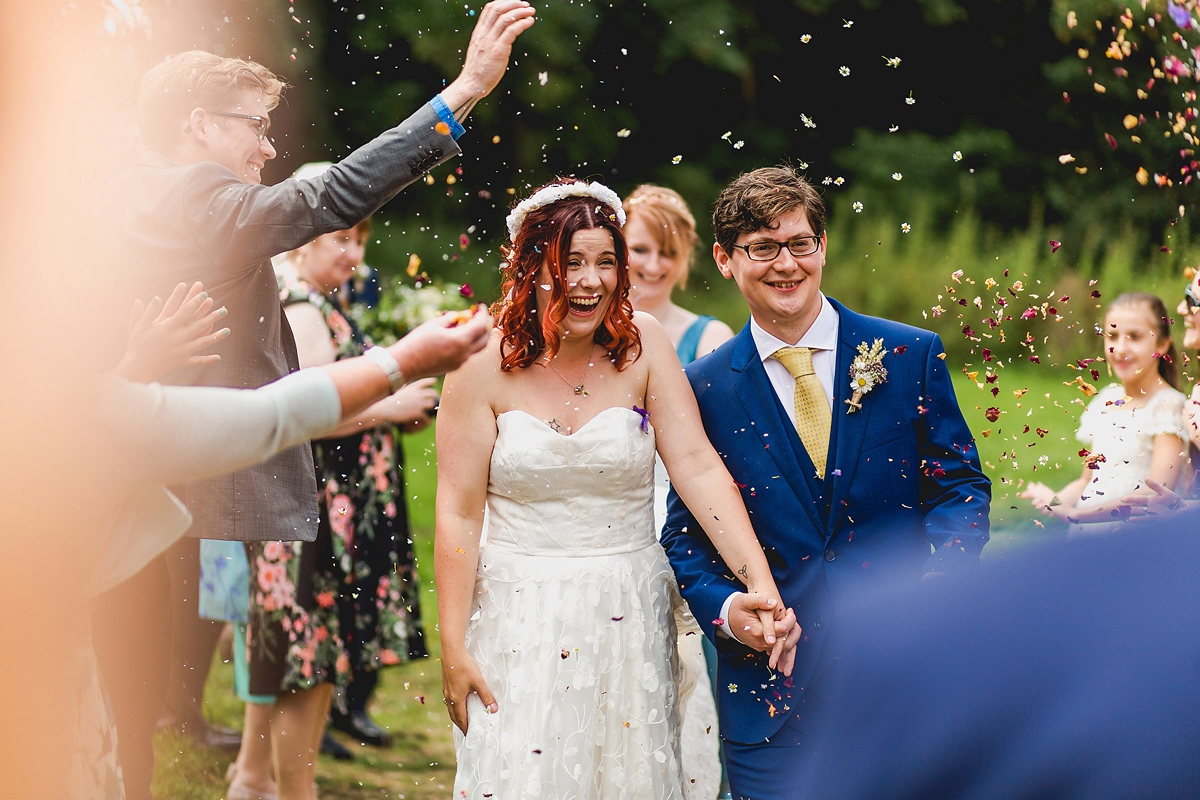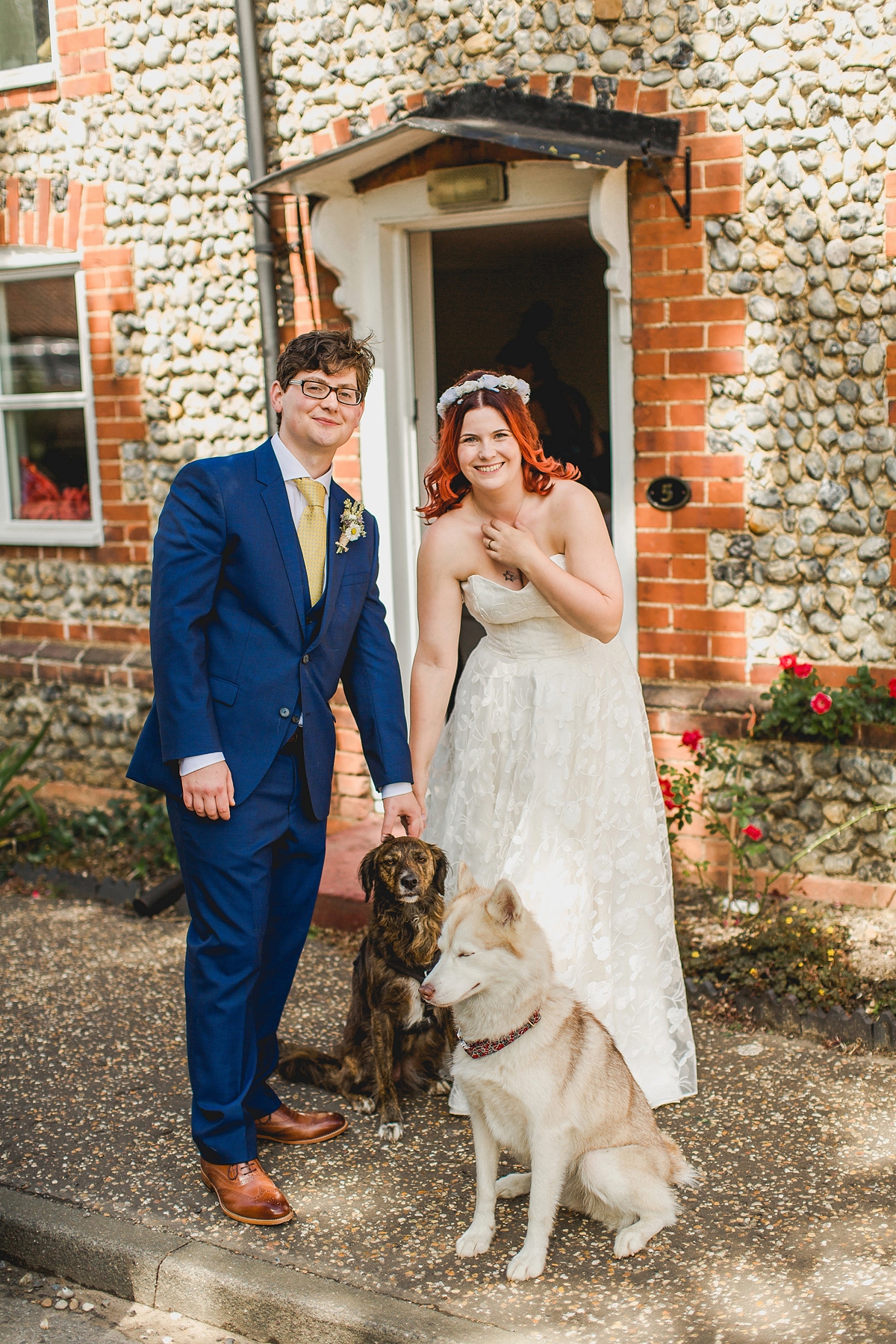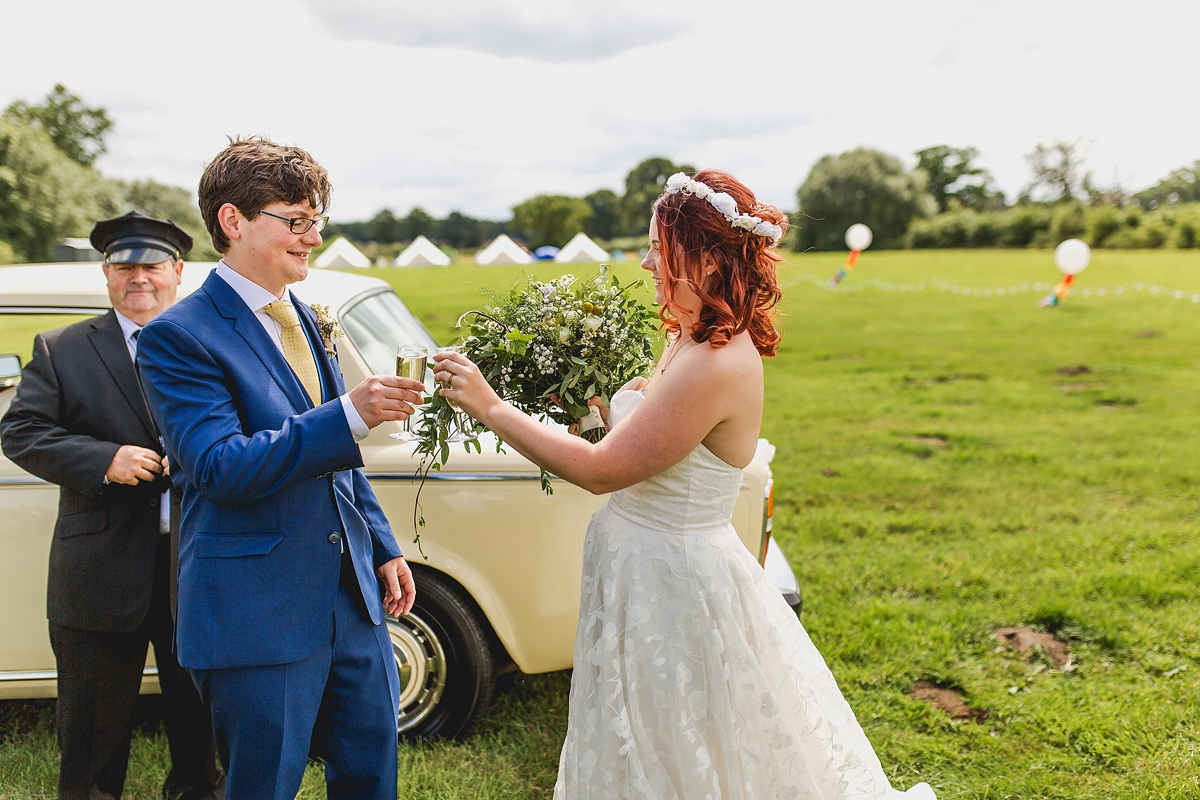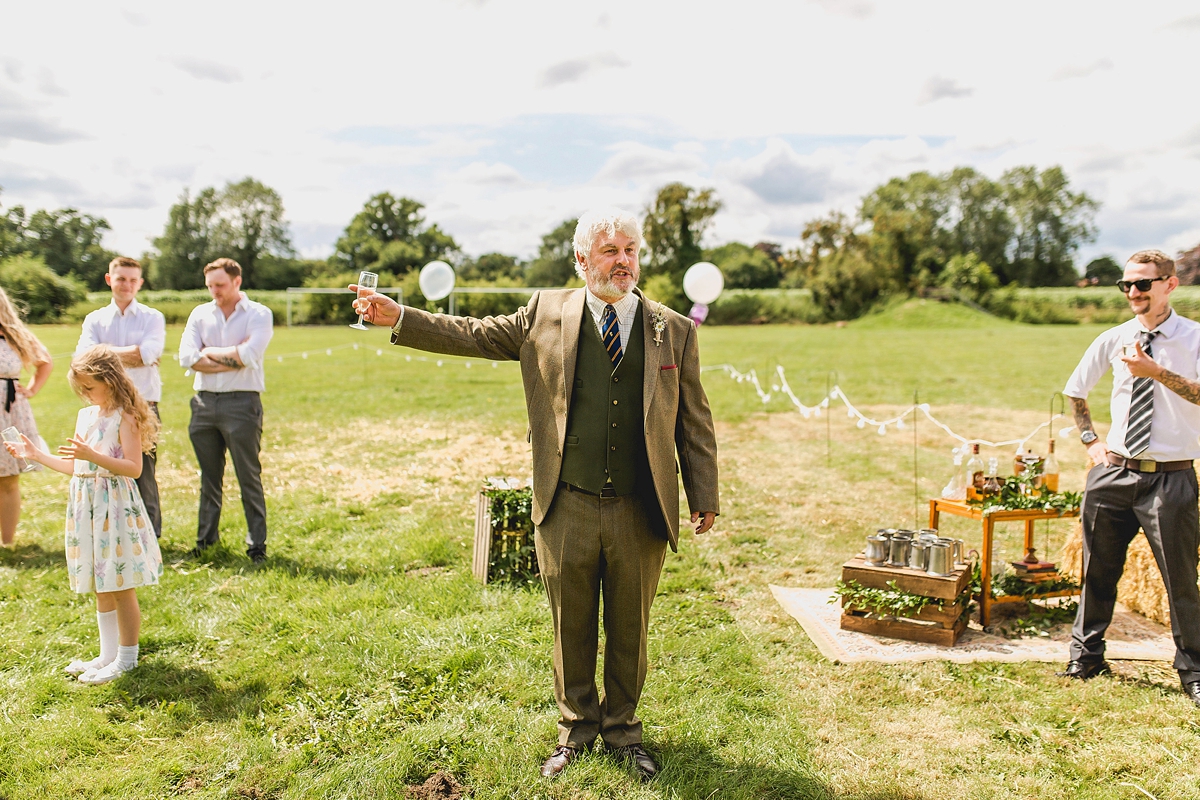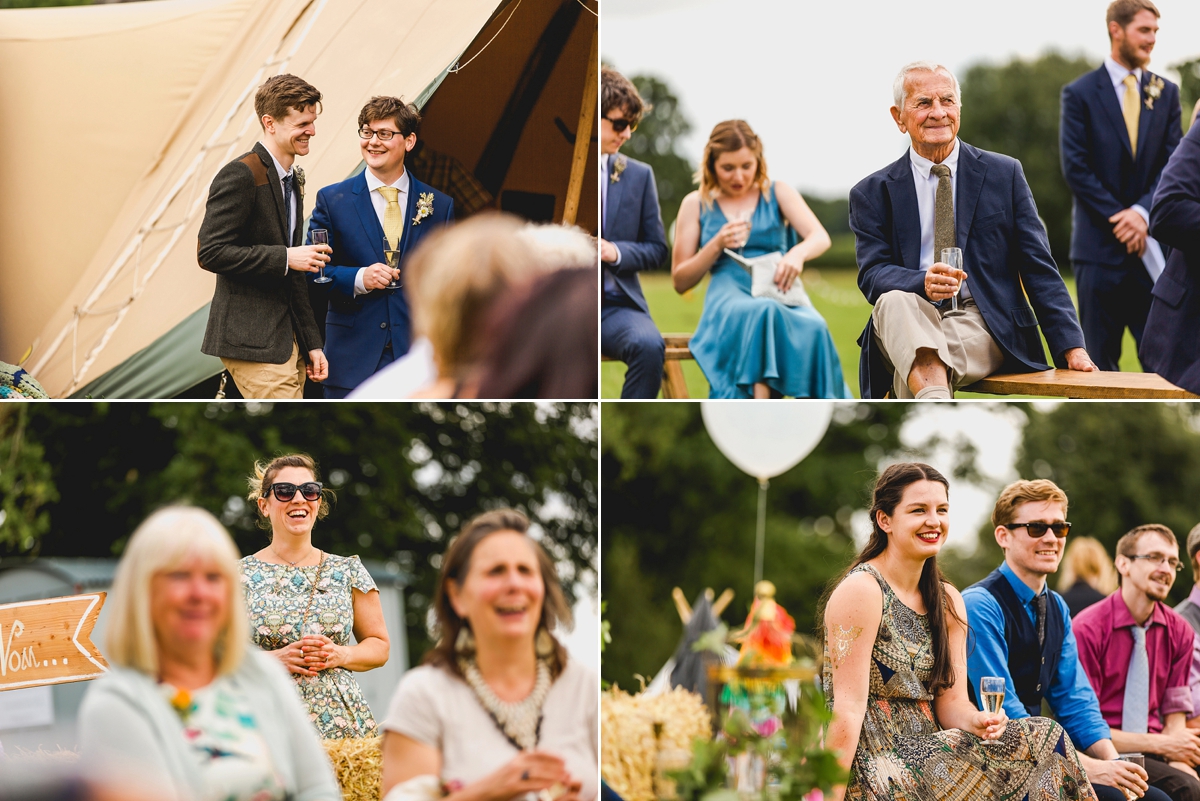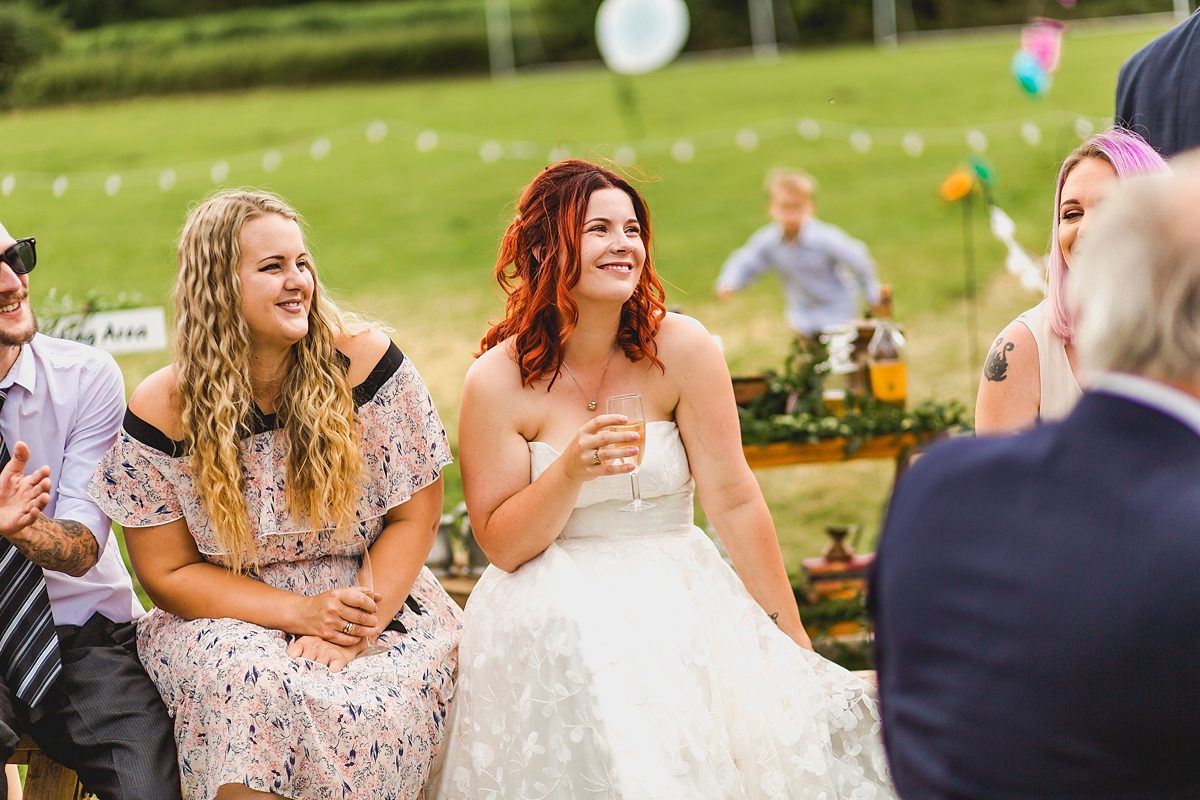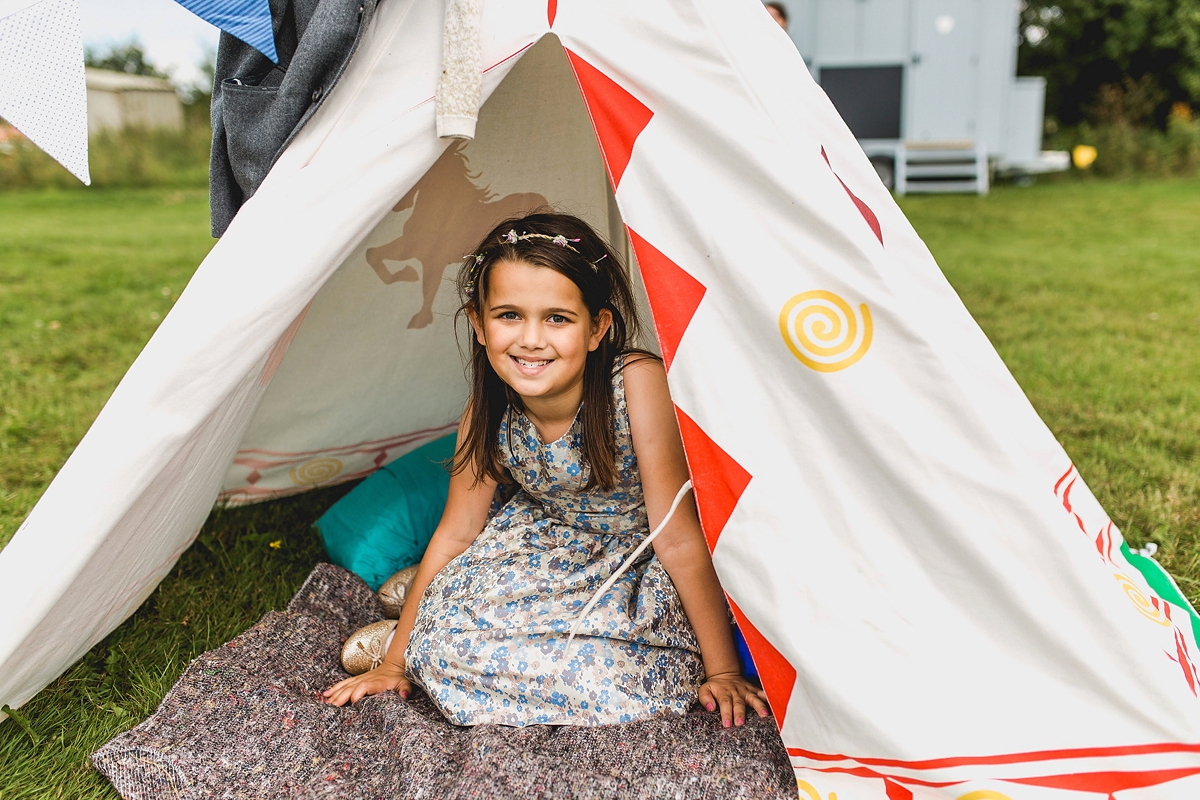 "We had games hired from One Curious Dream such as a sack race, tug of war and a tin can alley. Our main surprise for our guests was the petting zoo by Kimmys Mobile Petting Zoo. It included a skunk called Fifi, meerkats, a python, pygmy hedgehogs, a giant millipede and a leopard gecko."
"So many people loved this and it turned out to be a really special highlight. We also had a photobooth via Police Box Photobooth and a DIY glitter station (put together a week before the wedding)."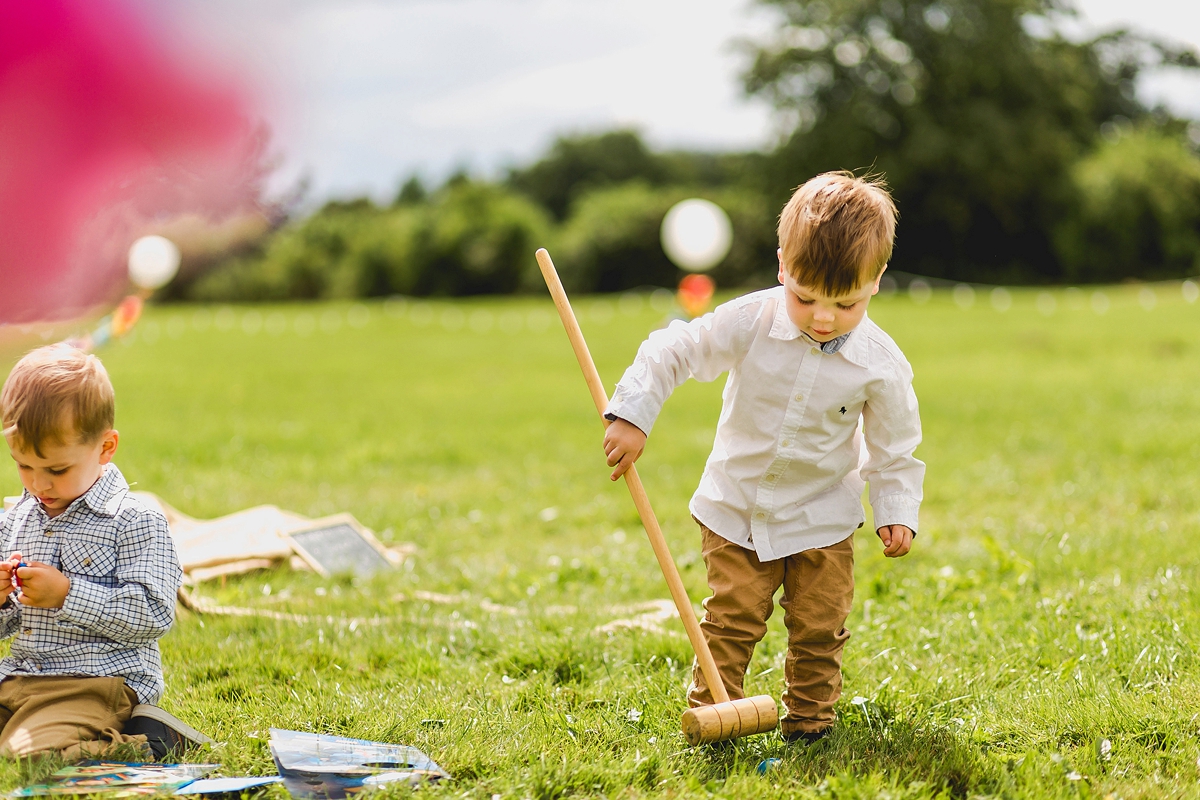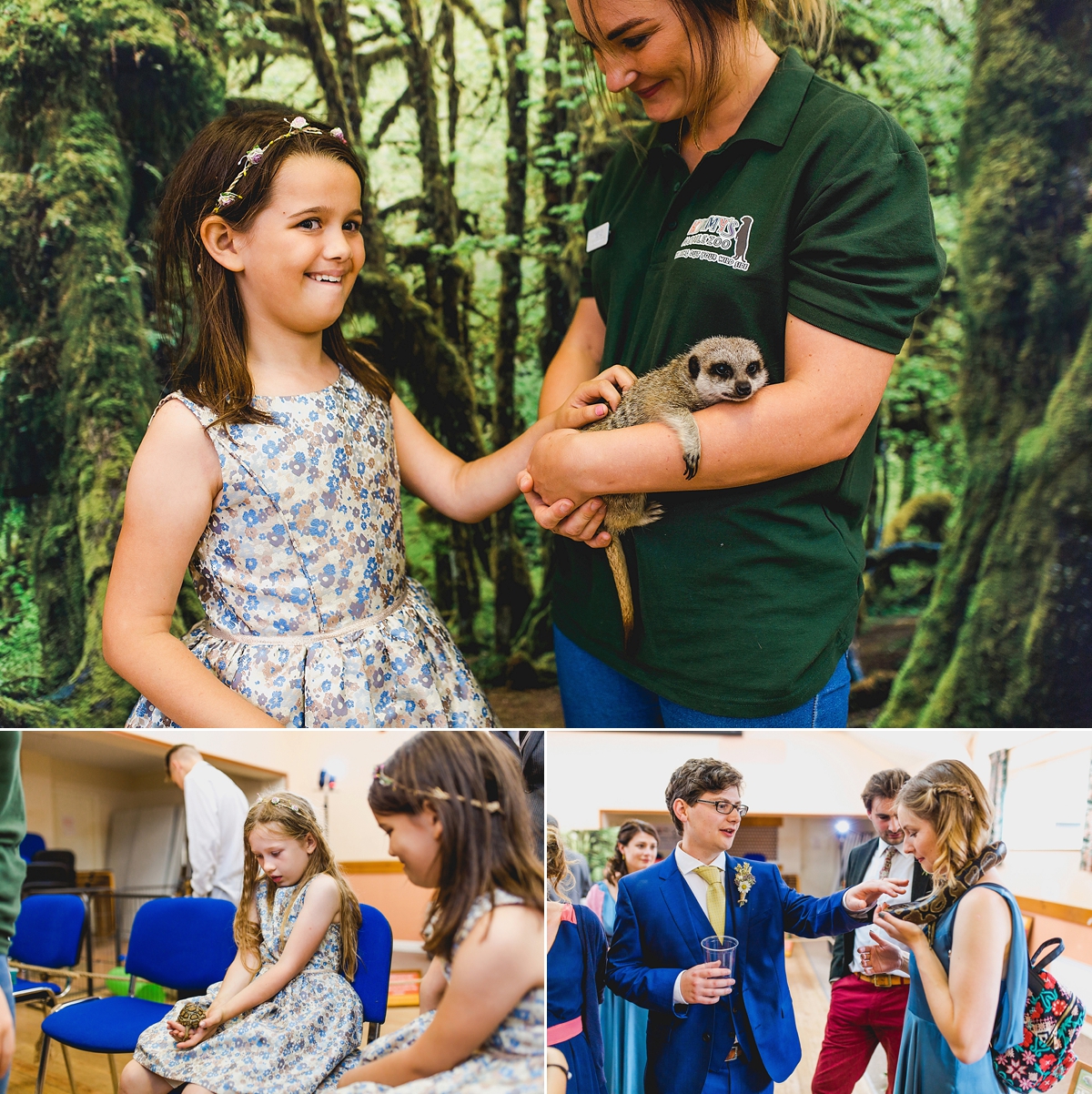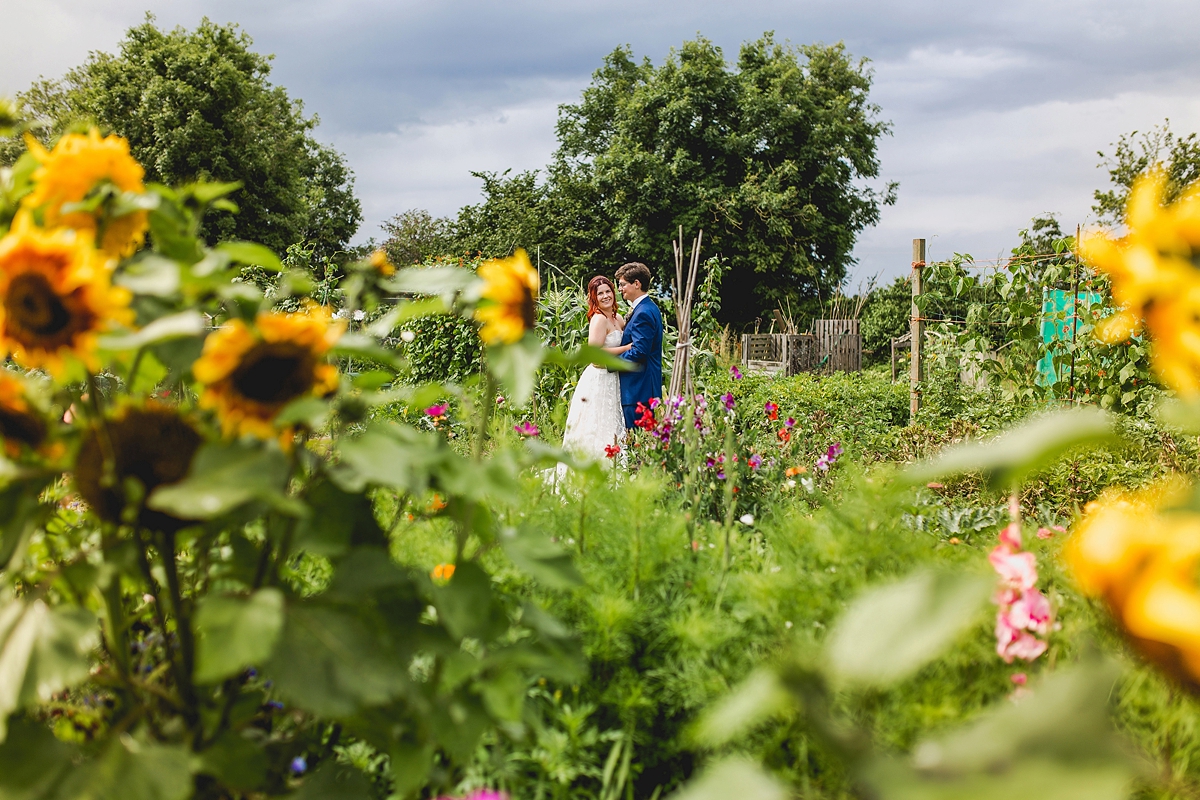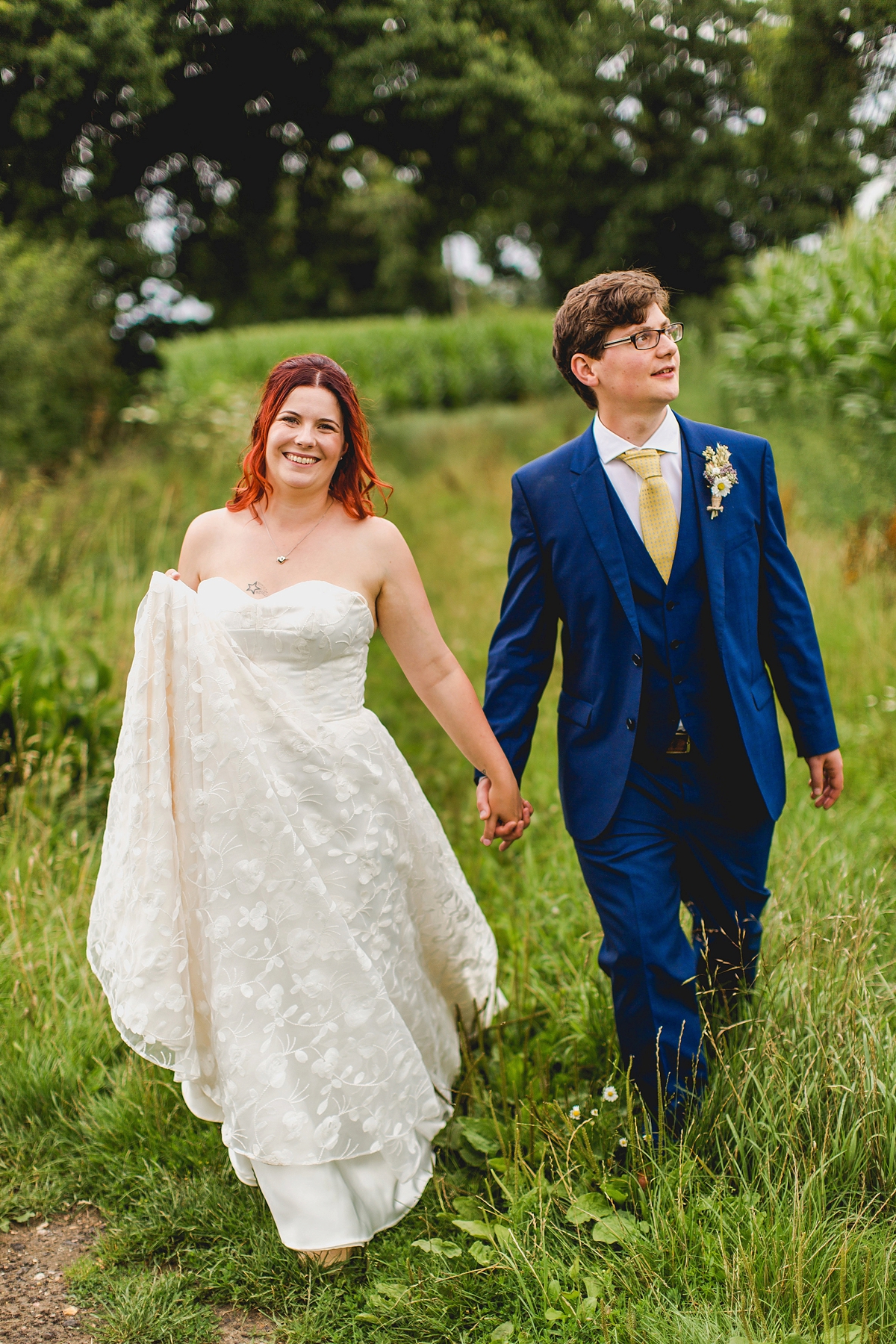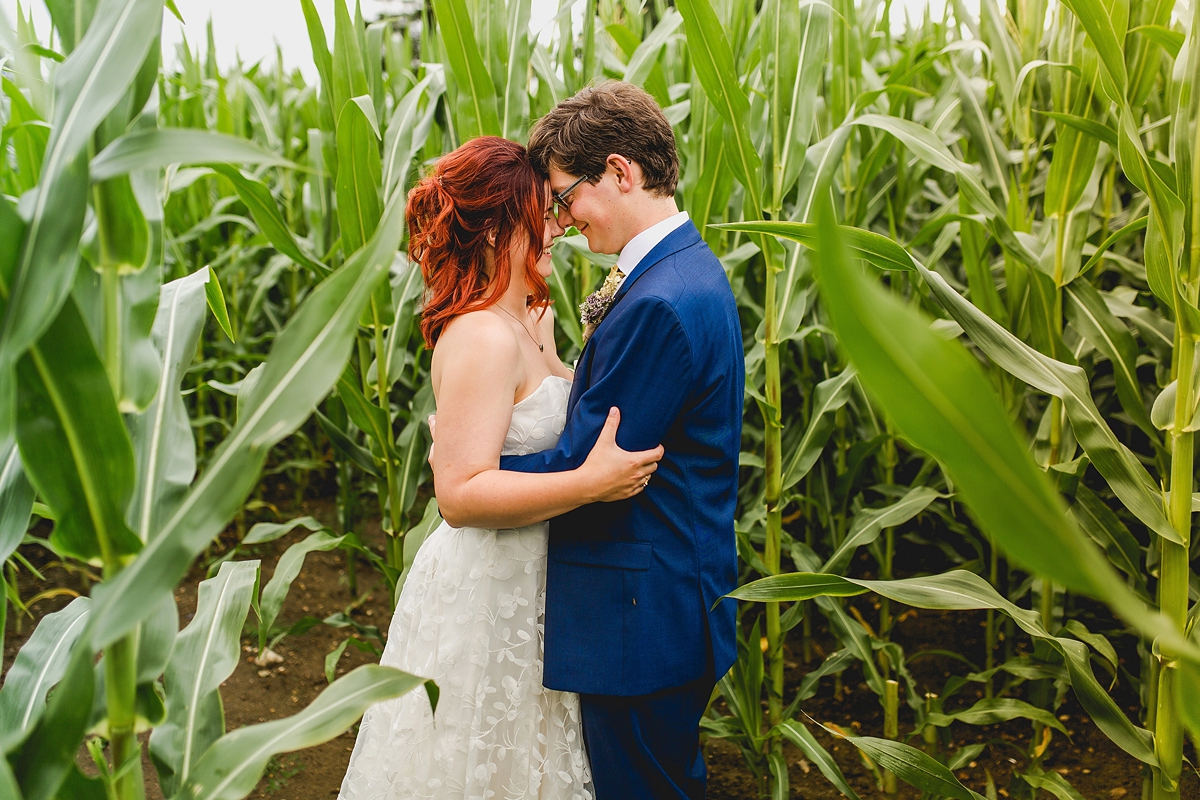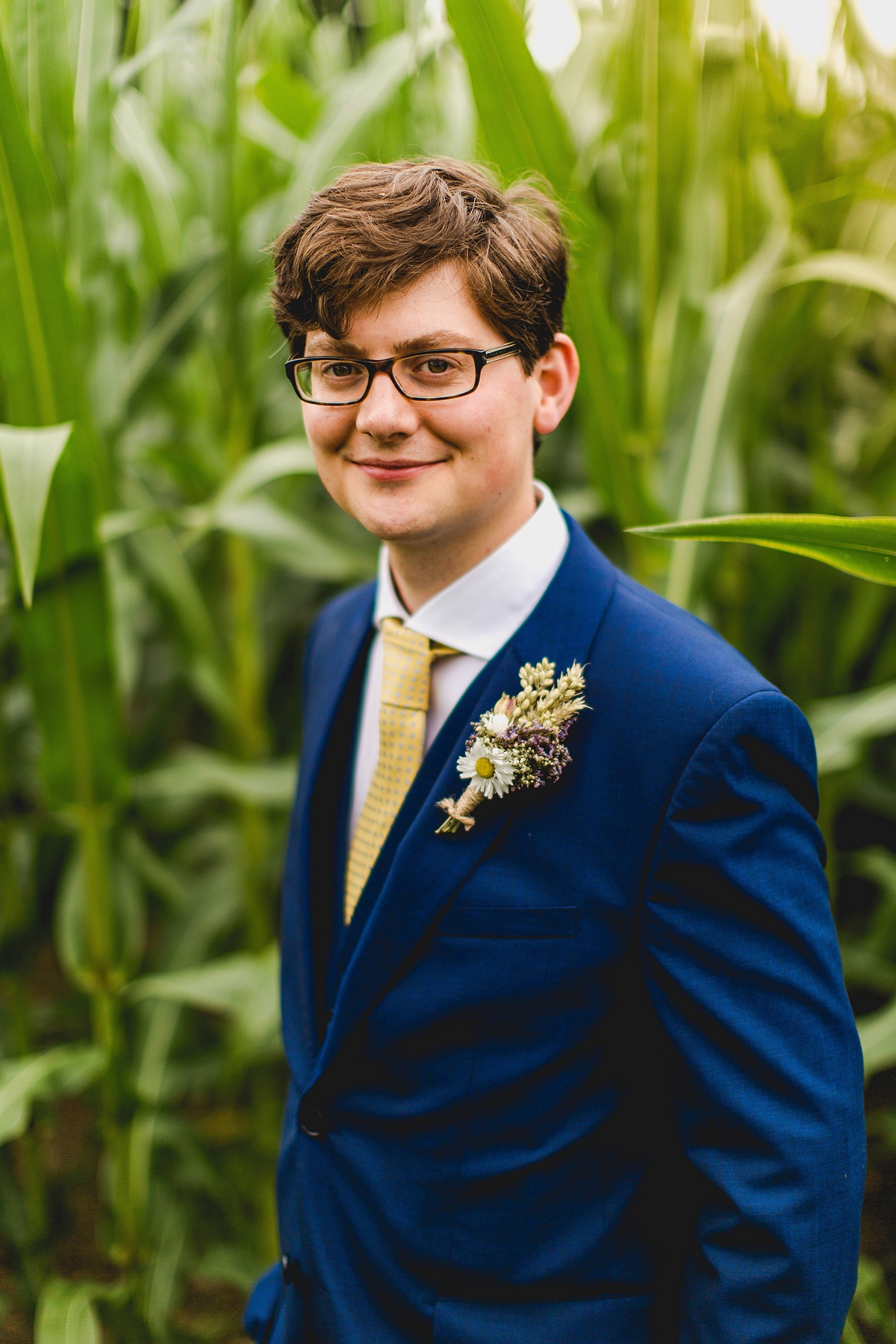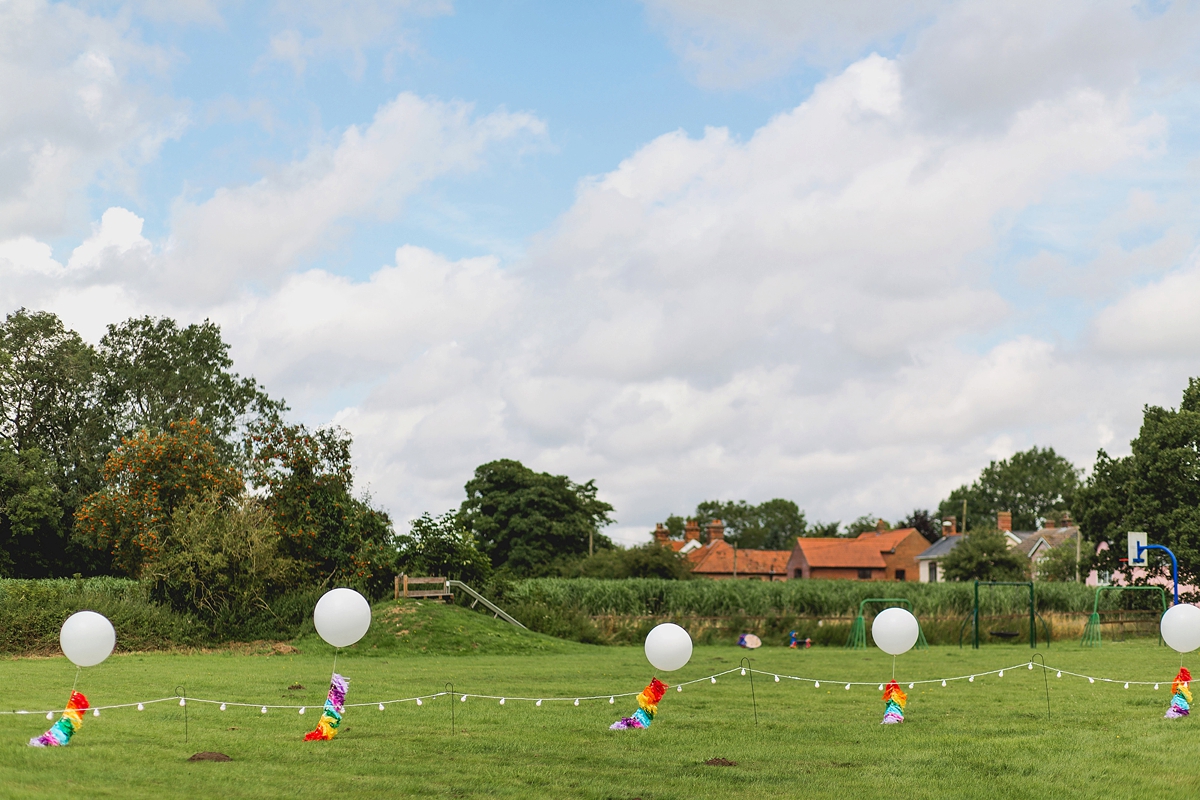 "We had all of our favourite foods, including local Norfolk free-range farm Ottleys Blue Welly Farm providing a hog roast, and Florentina supplying canapés (bruschetta, beef and horseradish yorkshire puddings) and then our evening food of pizza and mac 'n' cheese."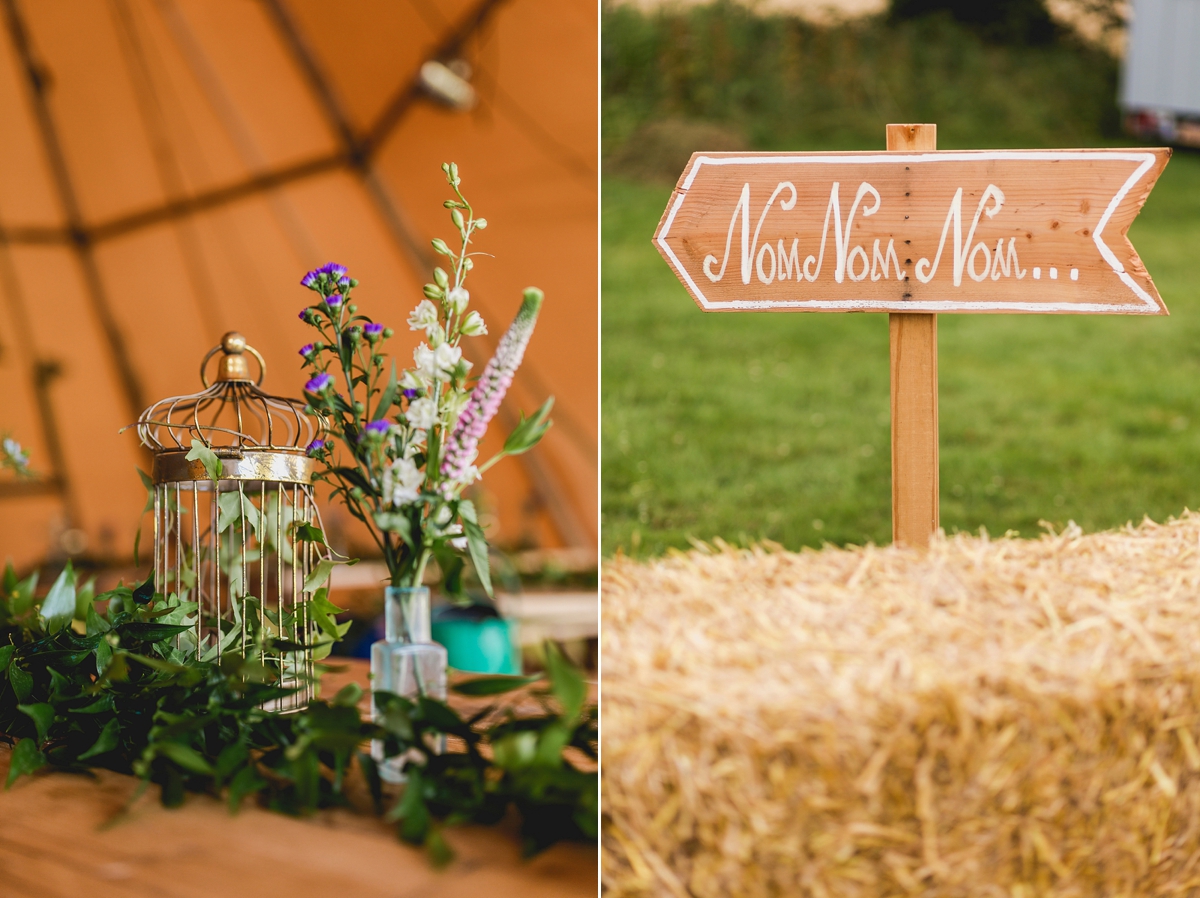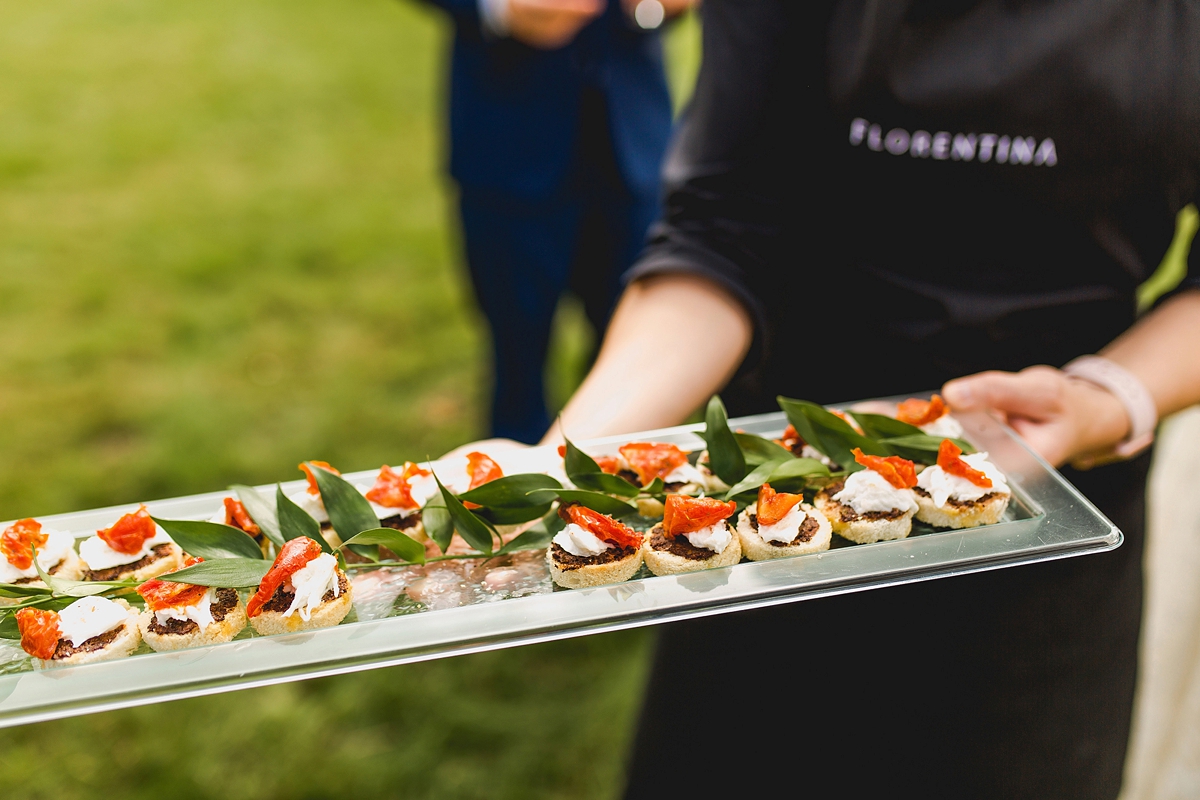 After the original venue falling through, Jack and Fiona already had prop hire arranged with One Curious Dream but then decided to bring them on board to set everything up on Friday and sort out on-the-day co-ordination.
"We hired most decor items from One Curious Dream including the whisky bar and then added small bits which we had found such as crates and wood slices, and birdcages which were wrapped with ivy. Outside we also had festoon lighting along with giant balloons and handmade colourful balloon tassels."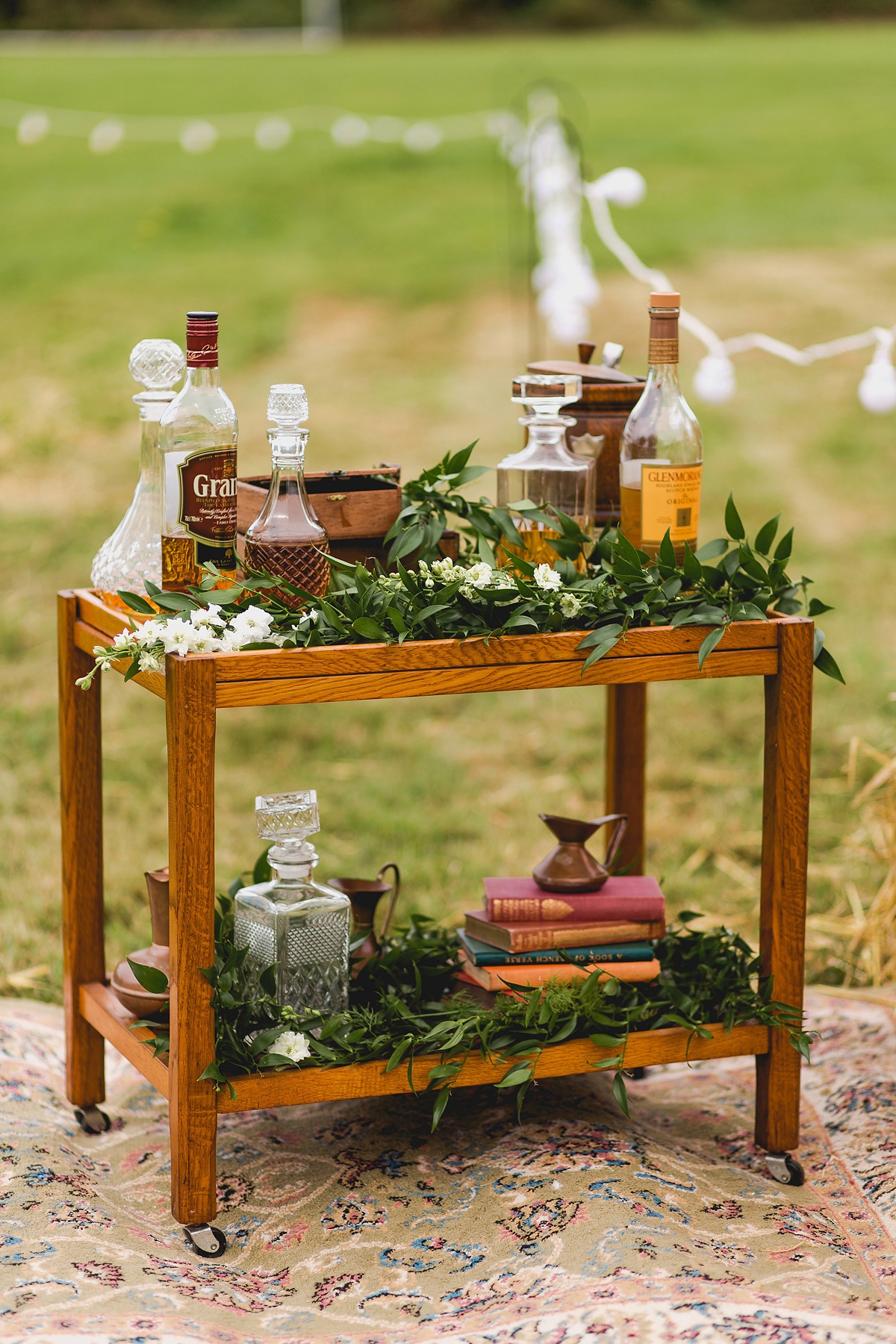 "Jack's dad is a forester, so we knew we wanted lots of greenery especially when we live in a village surrounded by woods. Our tables and the tipis were dotted with ivy and wild flowers. We used Libby Ferris Florist in Norwich as we had heard great things about them. We wanted a wild and natural feel with lots of small touches, but made the wreath our massive centrepiece in the tipi. Rambling Rose supplied the small homegrown wildflowers that we used on the tables."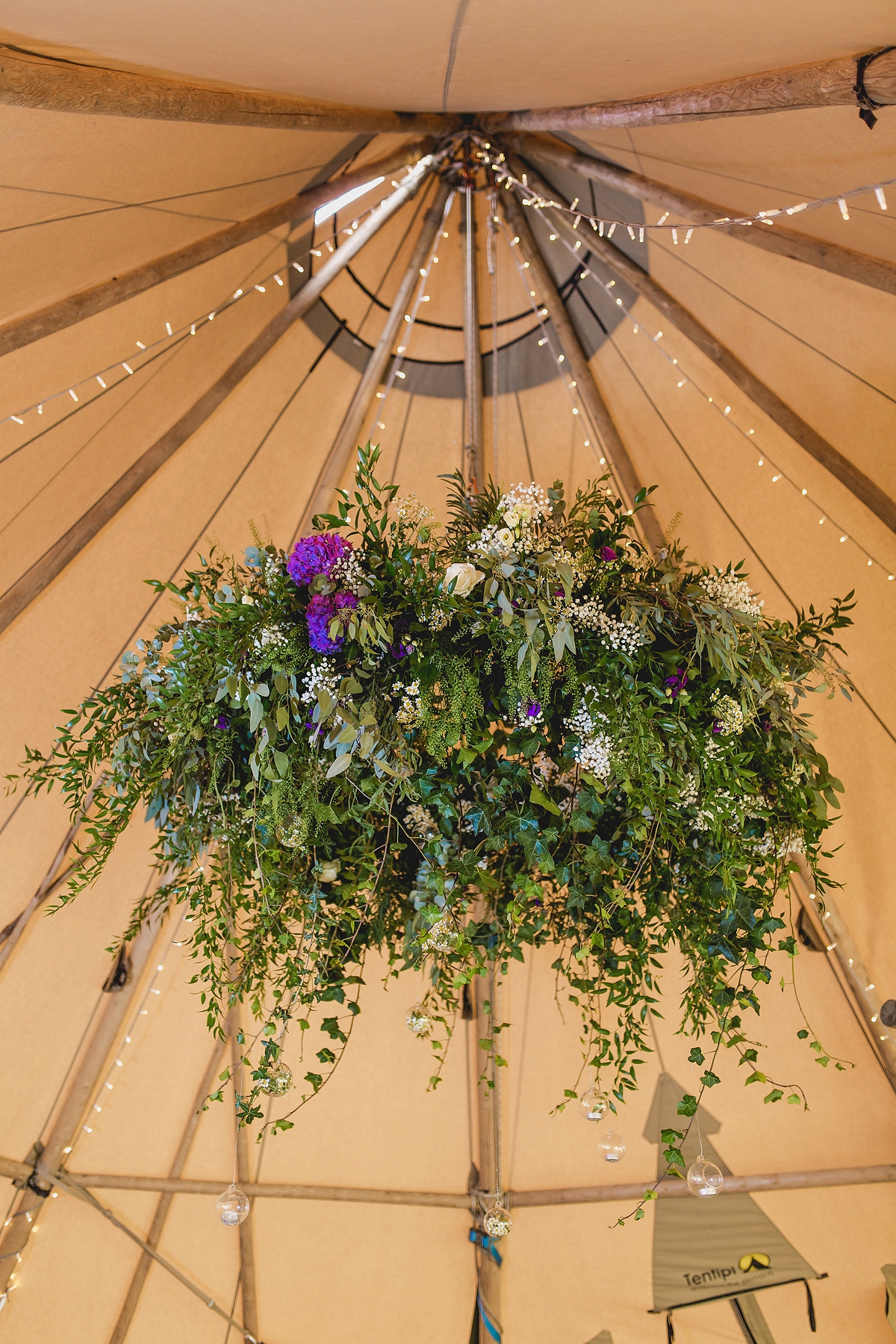 Fiona met Emma of Buns of Fun at Norwich's Most Curious Wedding Fair and it was here that she saw the cake they later chose. How funky are their cool cake-toppers?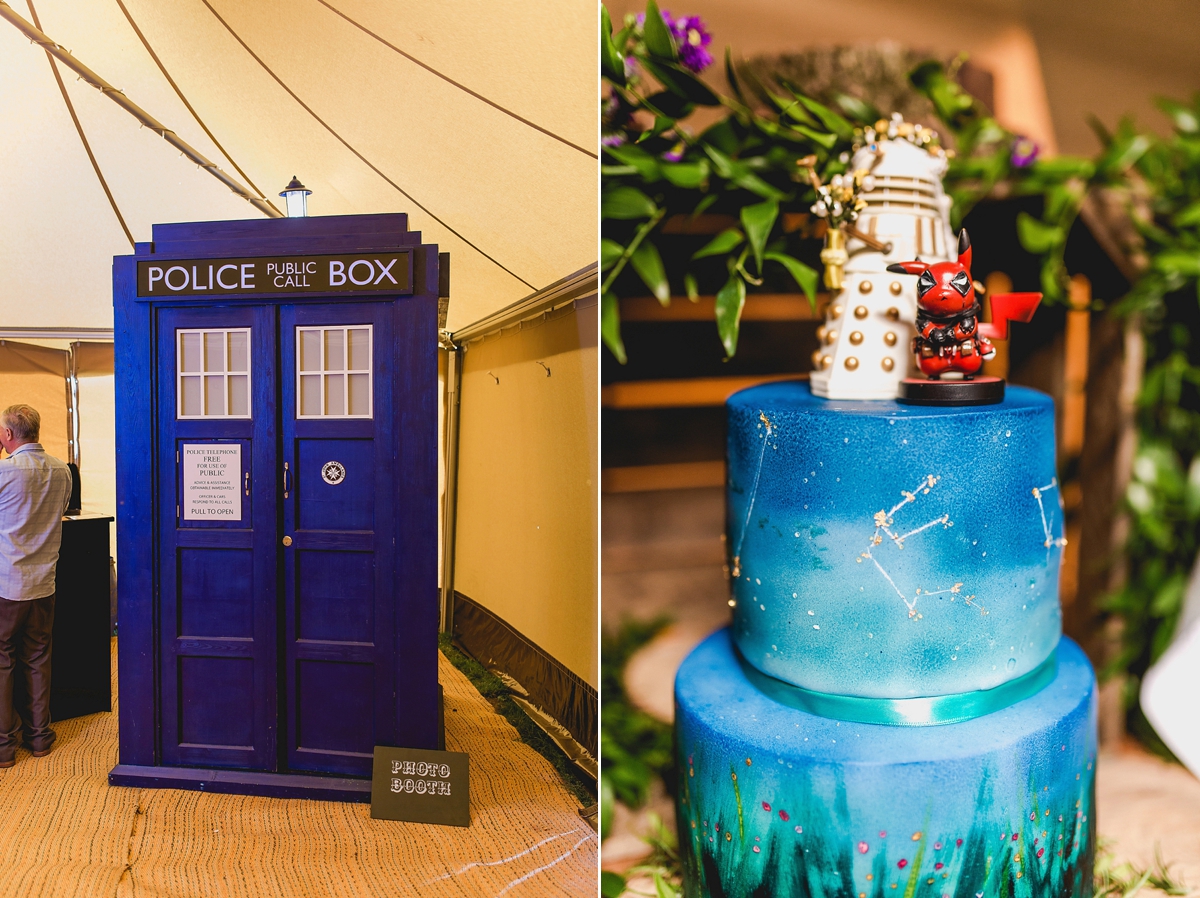 "The cake really stood out with our original midsummer theme (so we could keep a little of it) and we loved that we could personalise the constellations. We chose our birthday signs Aquarius and Libra and also the stars we can see from our House – The Big Dipper and North Star. Our cake toppers came from Etsy – an amazing wedding Darlek bride and Deadchu (mix of Deadpool and Pikachu)."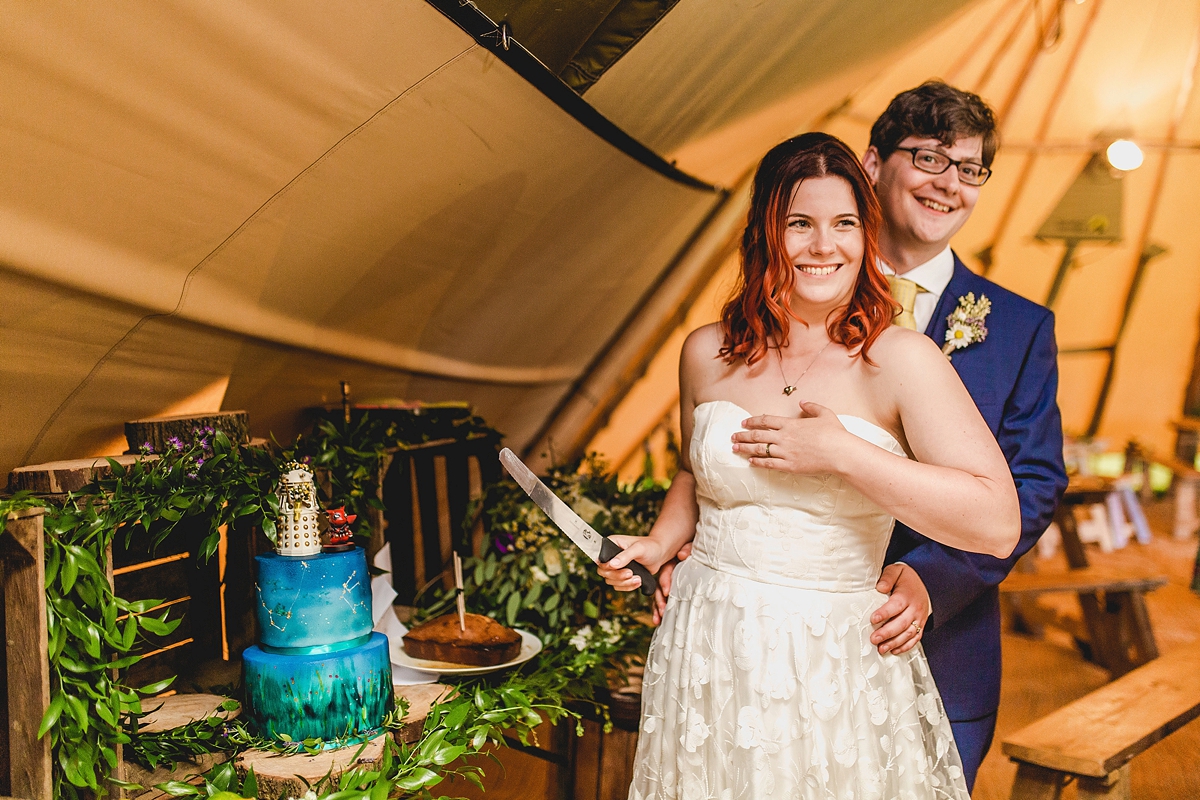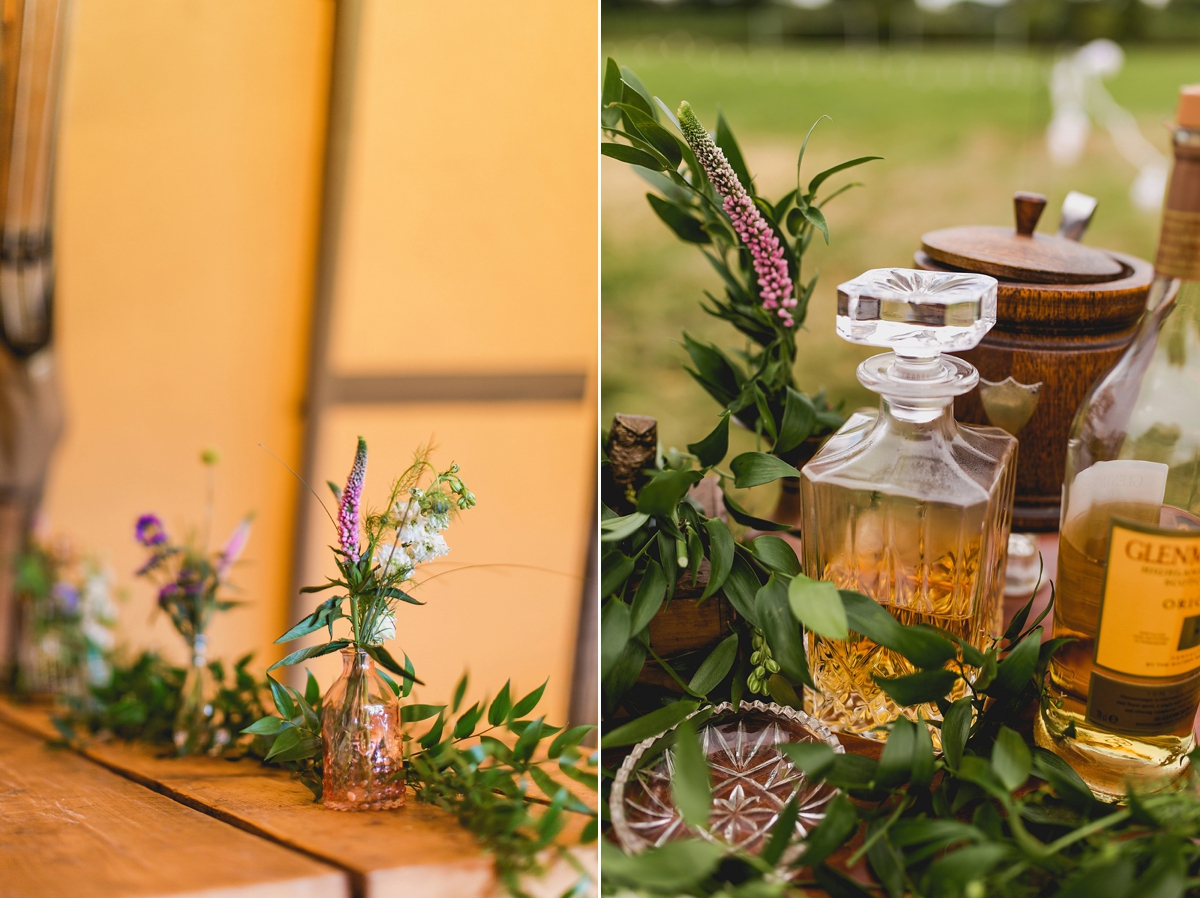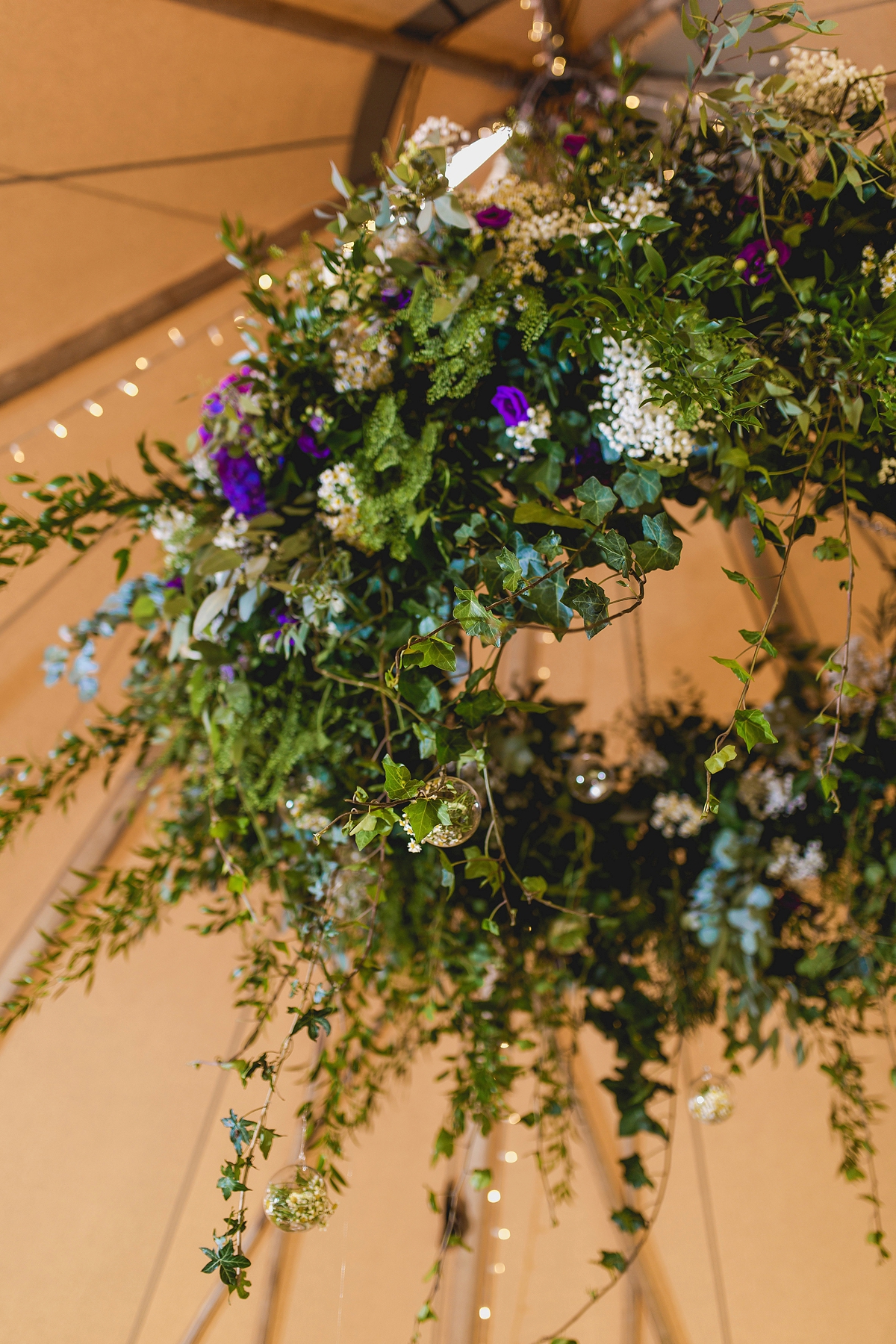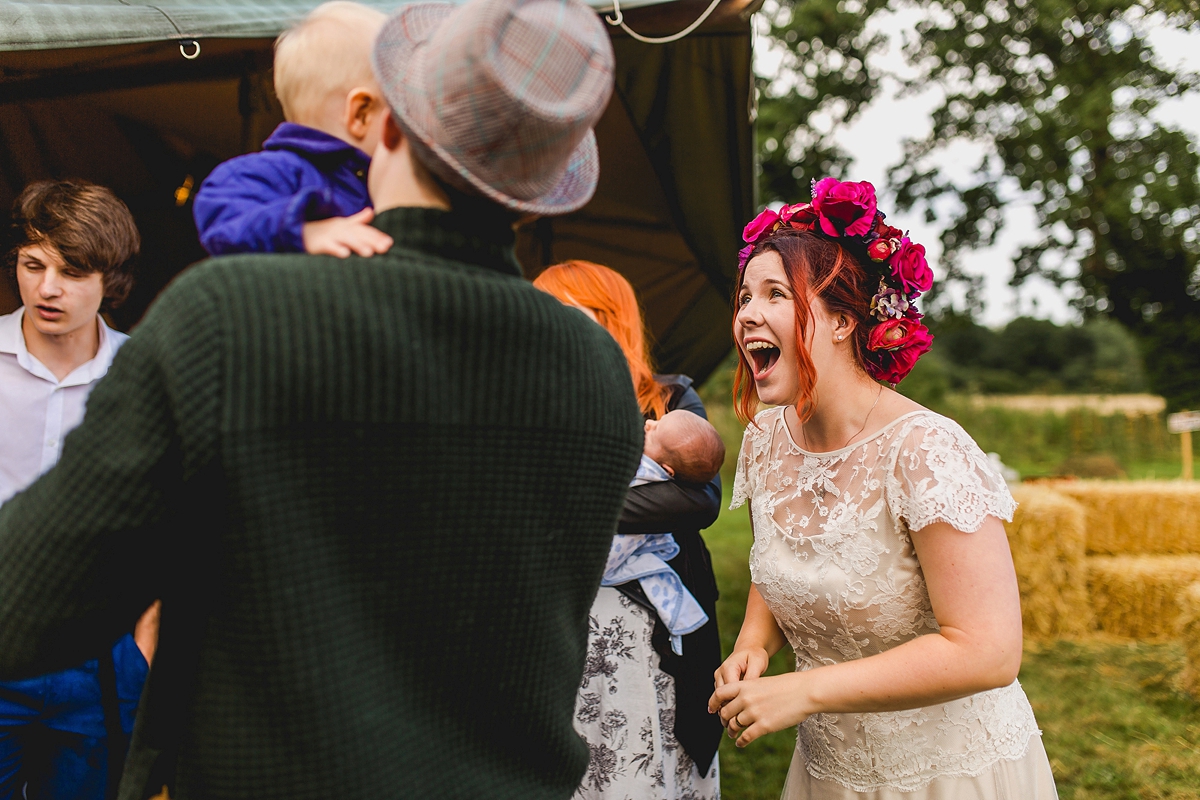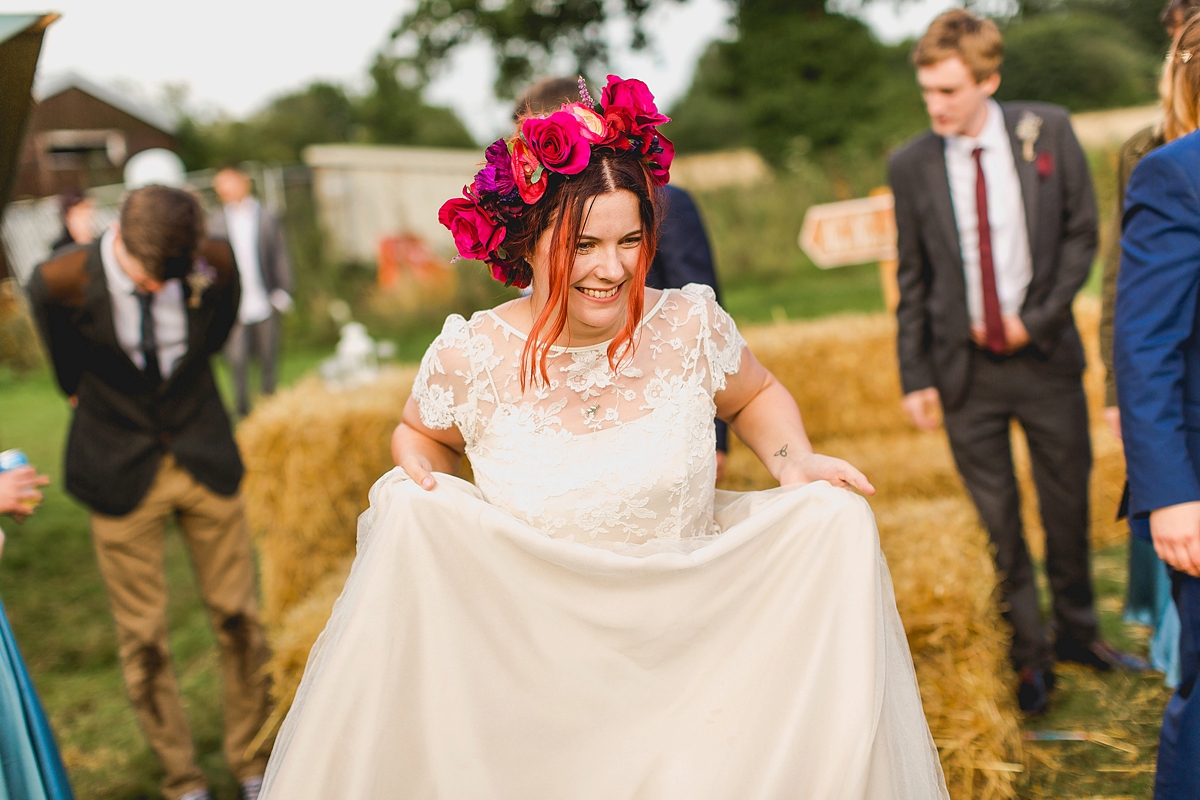 Music and festival lovers, the couple incorporated a range of music into their day. They also had a bunch of fun activities including party games, a petting zoo (yay!) and a glitter station.
"With our love of Glastonbury and festivals we knew we needed music to play a big part of our day, so we started with an acoustic duo, our friends Rhys and Lily, then a ceilidh from  The Polkaworks (Jack's mum and aunt are part of the band) then onto our night band The Walks."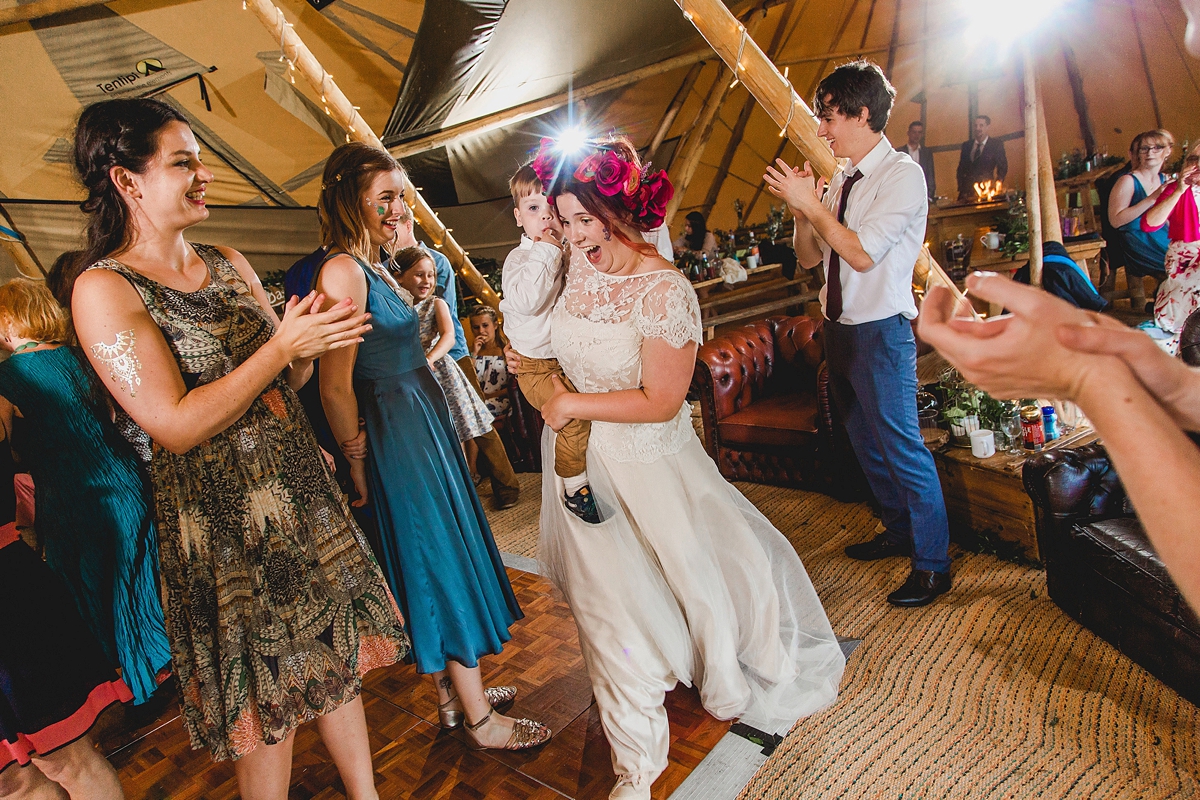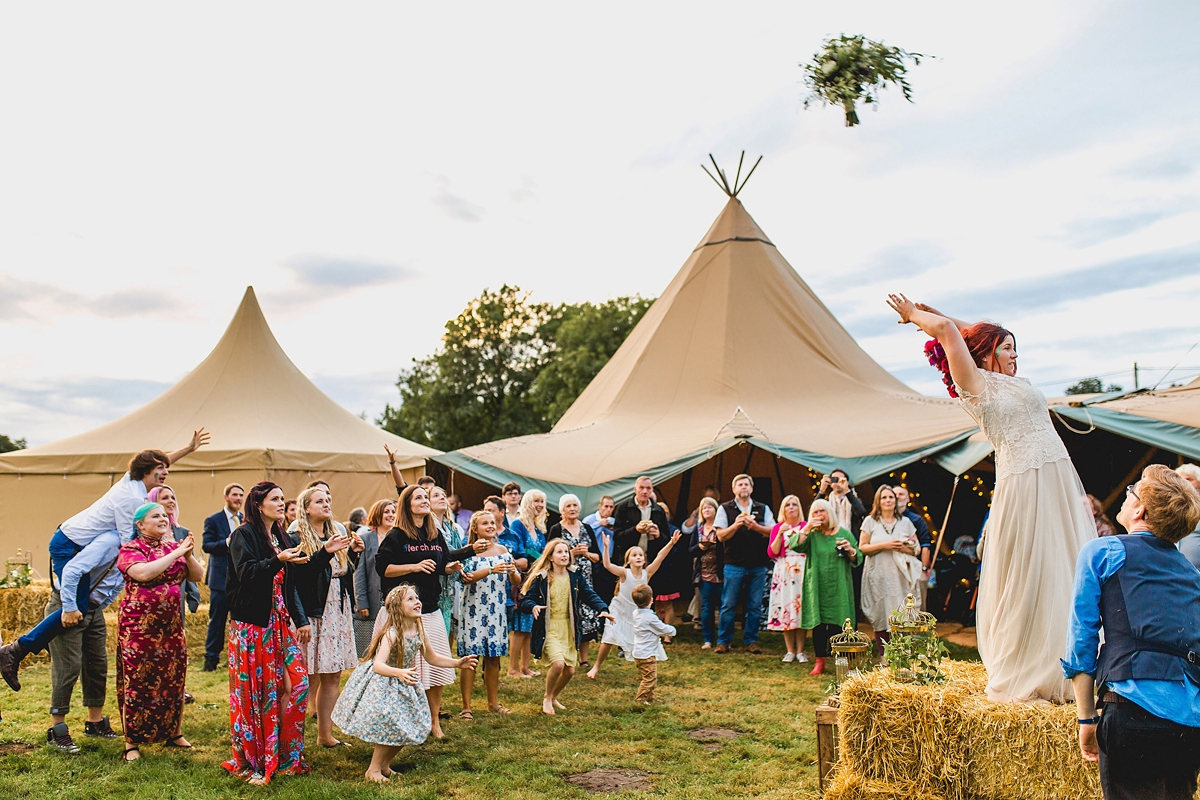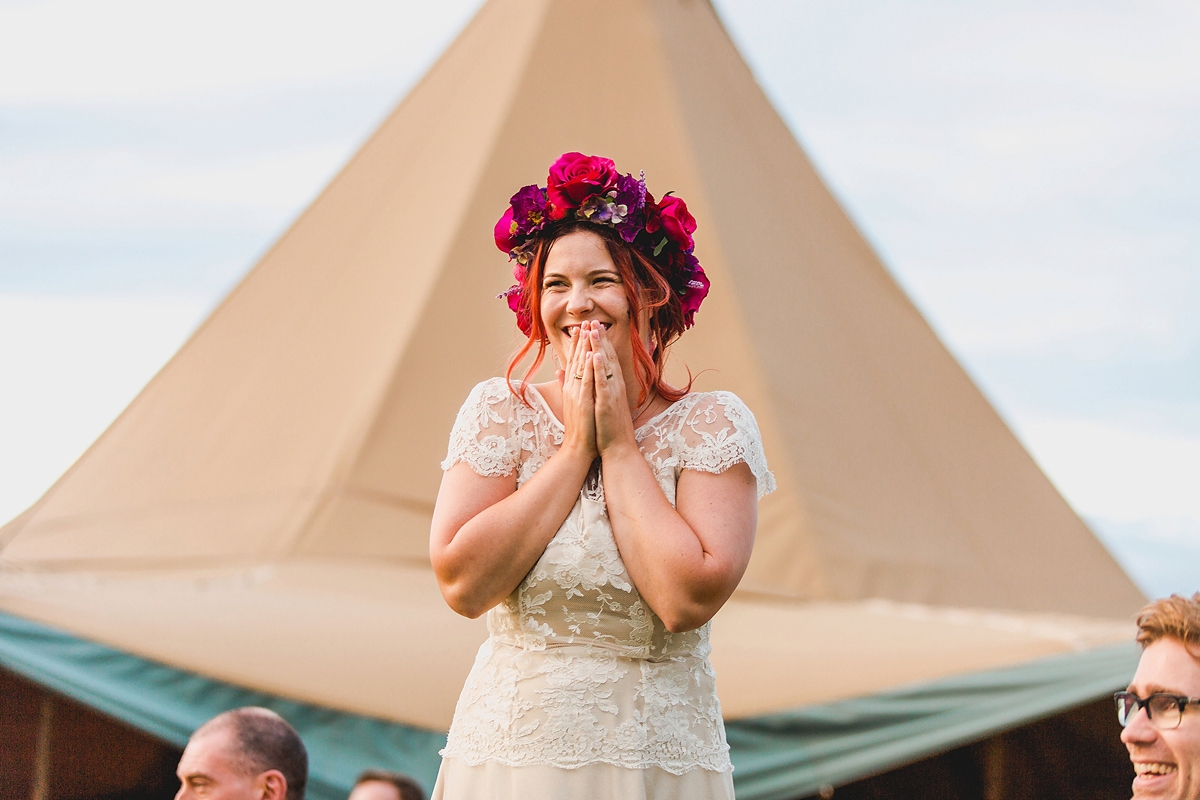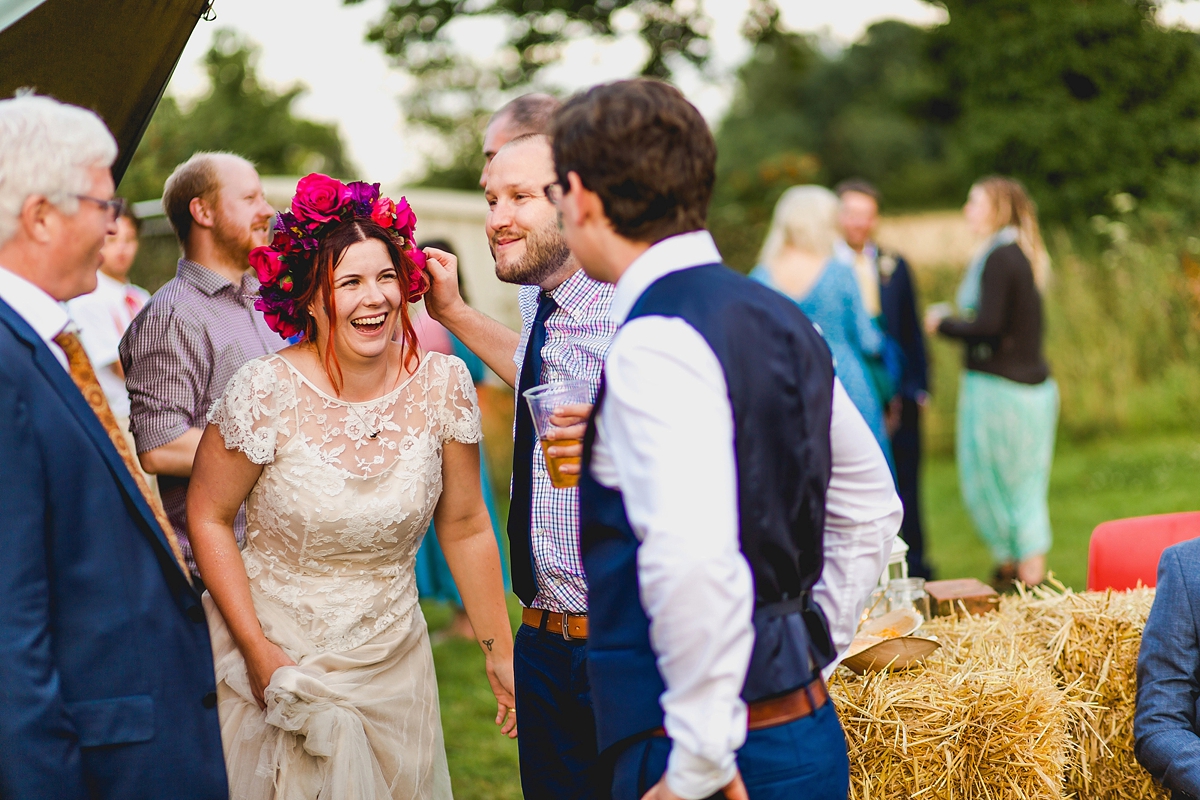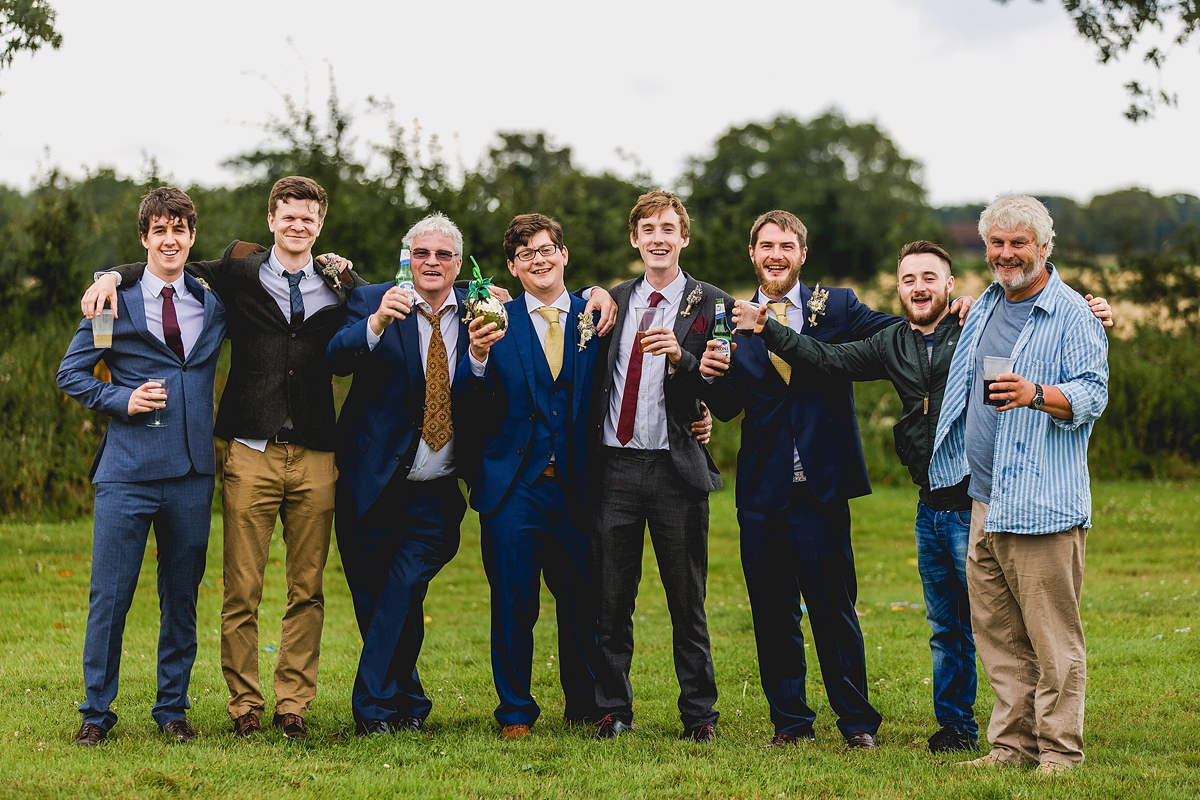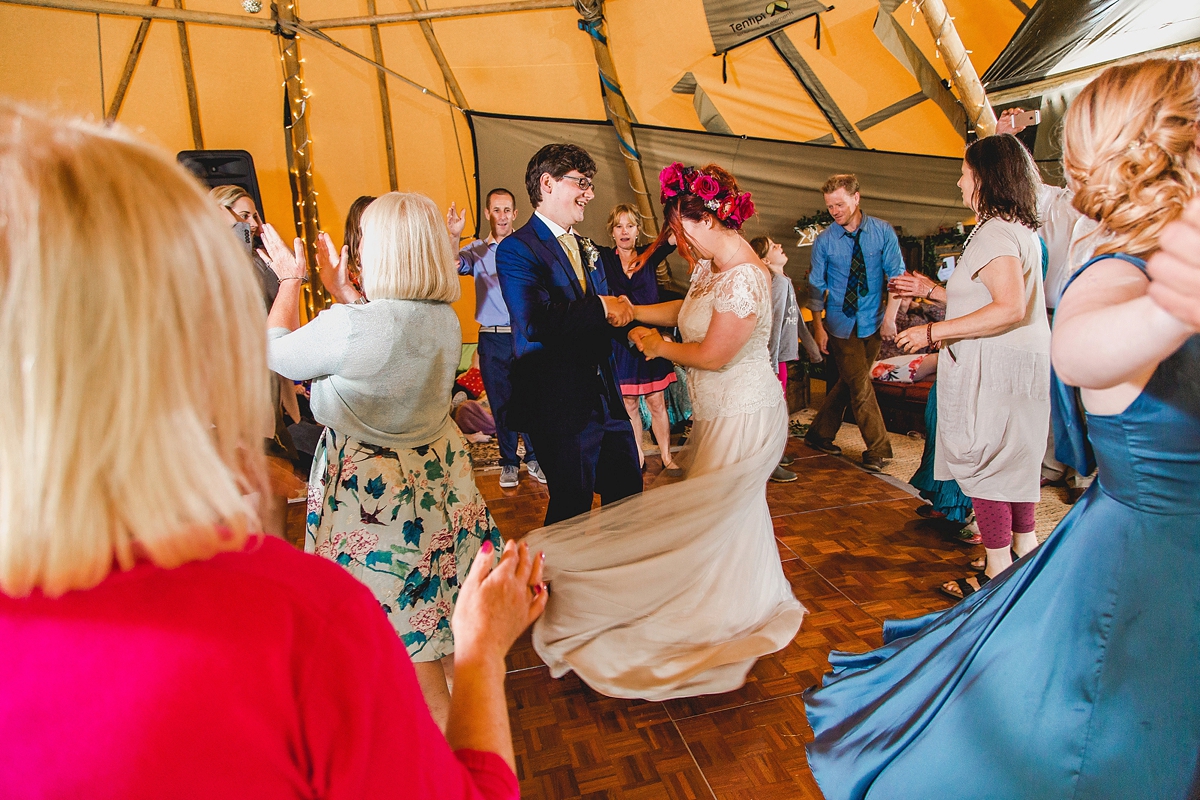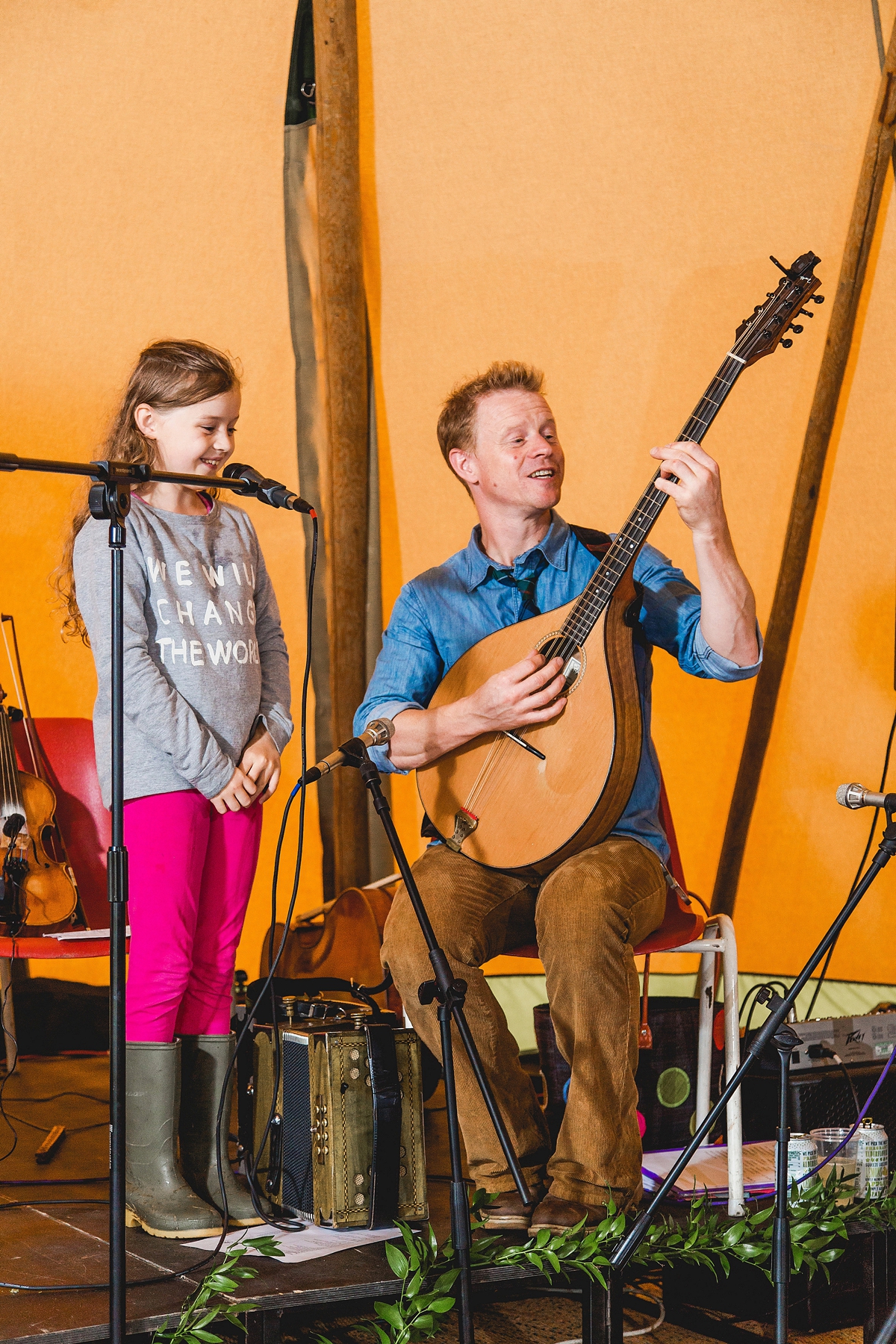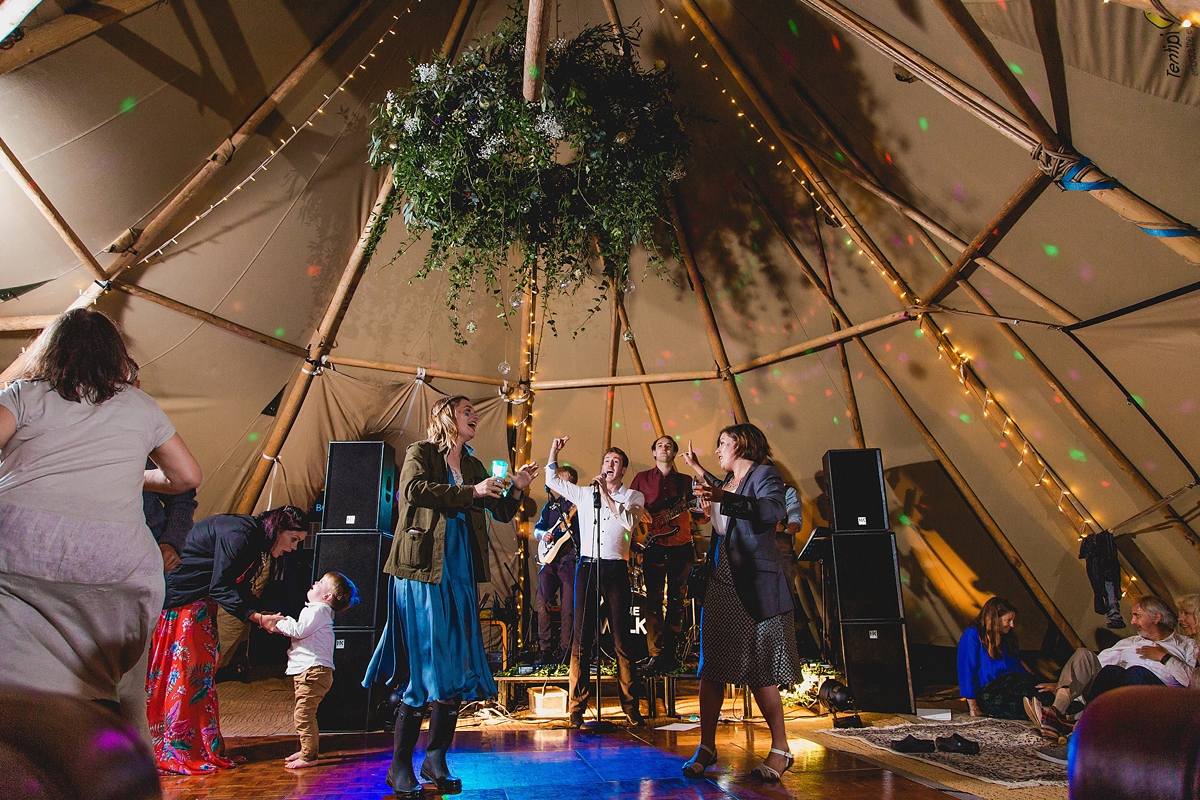 "We had decided not to have a first dance, although we were surprised at the Ceilidh when the band asked us to come to the dancefloor so they could have everyone dance around us – it was perfect and spontaneous."
"We had 'Love is a Temporary Madness' from Captain Corelli's Mandolin; it perfectly summed up how we feel. It also seemed right and a bit like fate as we have spent a lot of time in Kefalonia where the film was shot (our favourite place in the world)."
"Jack's favourite part was the speeches and hearing other people's thoughts and feelings on the day and our love and then getting the opportunity to share his. My favourite part was at the end of the night with the band, everyone was still having fun, laughing, joking and then they played one of our favourite Two Door Cinema Club songs that we always listen to in the car. Getting a chance to jump around together and share this moment with each other but also our family and friends was amazing."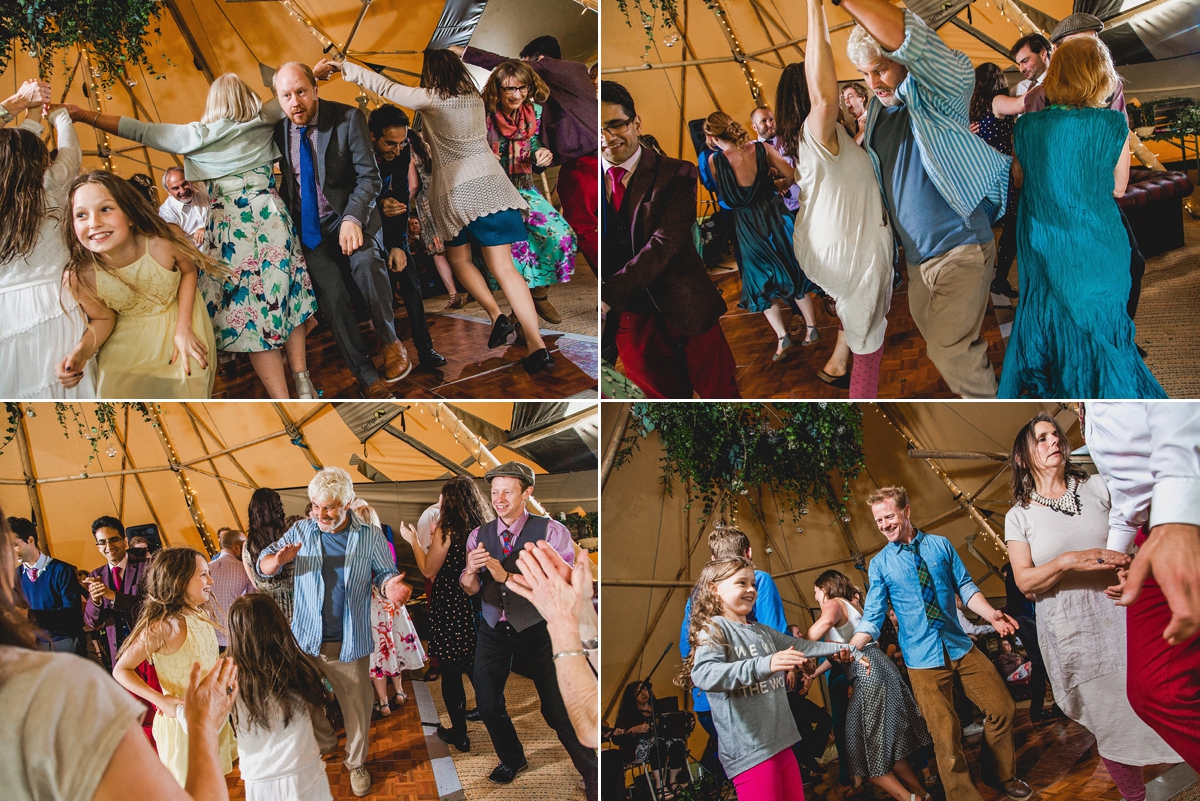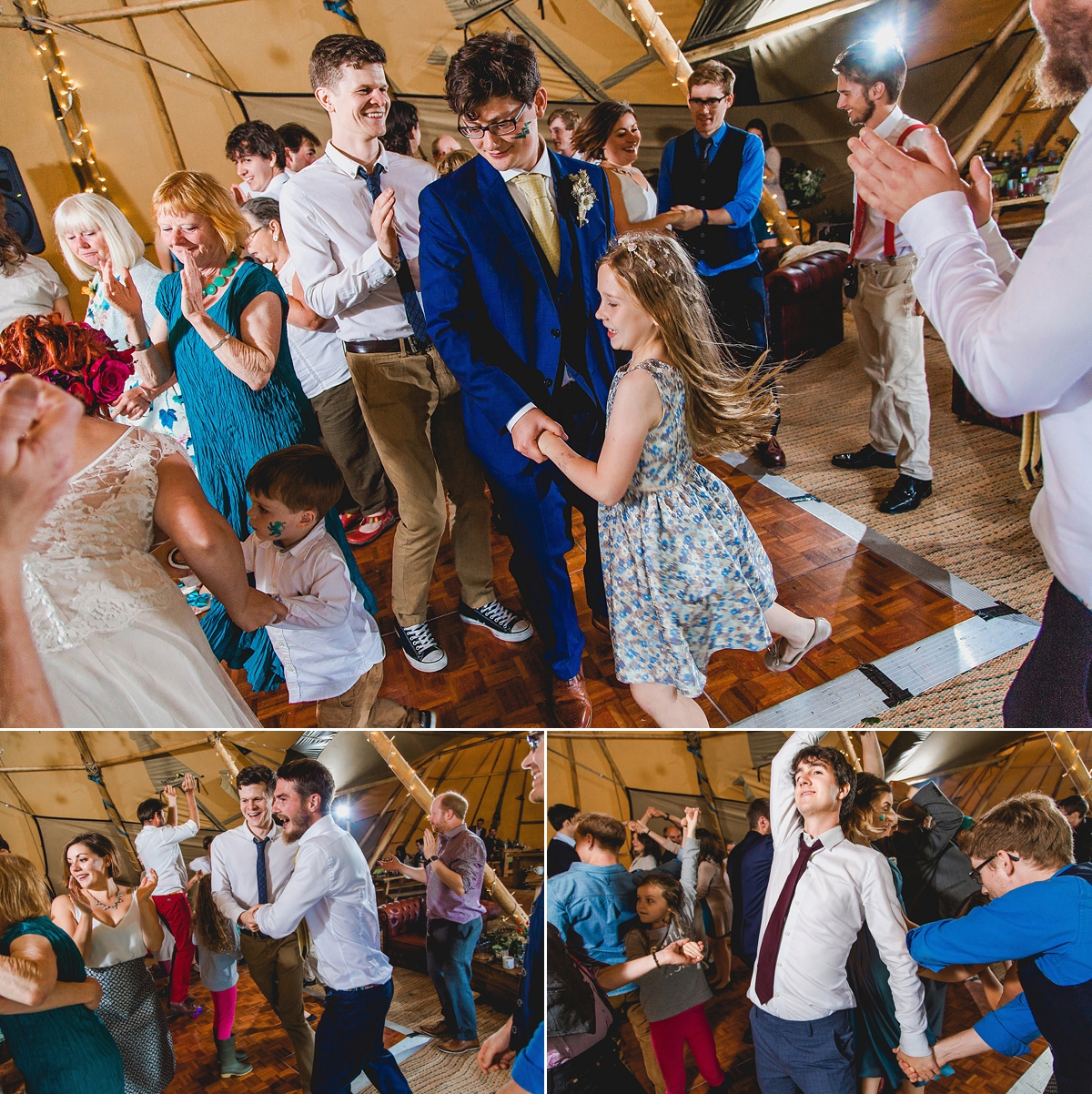 Words of Wedded Wisdom
"On the day co-ordinators – get them, they are worth every penny! I thought I could do it all until Jack stepped in and decided we needed them. I'm so glad he's so good at making calls like this, it meant I had the whole day to have fun with my friends and family without worrying."
"Also, it's your wedding, so do what you want, and if this means a petting zoo, glitter station and random nods to Disney and the Doctor do it, because it will make your day special and meaningful to you both. So many people have said afterwards that the wedding was great because it just had our stamps all over it!"
"I was on Love My Dress religiously and also the private Facebook group – words cannot describe how amazing the ladies in this group are and it was great being able to take ideas from real brides, people that live in the UK."
"If I had my time again, I wouldn't have stressed so much about the little things. Making 800 balloon tassels was stressful and we hardly noticed them!"
"Our original budget was 10k but we were lucky to have family that helped out and so this doubled to 20k by our actual wedding day."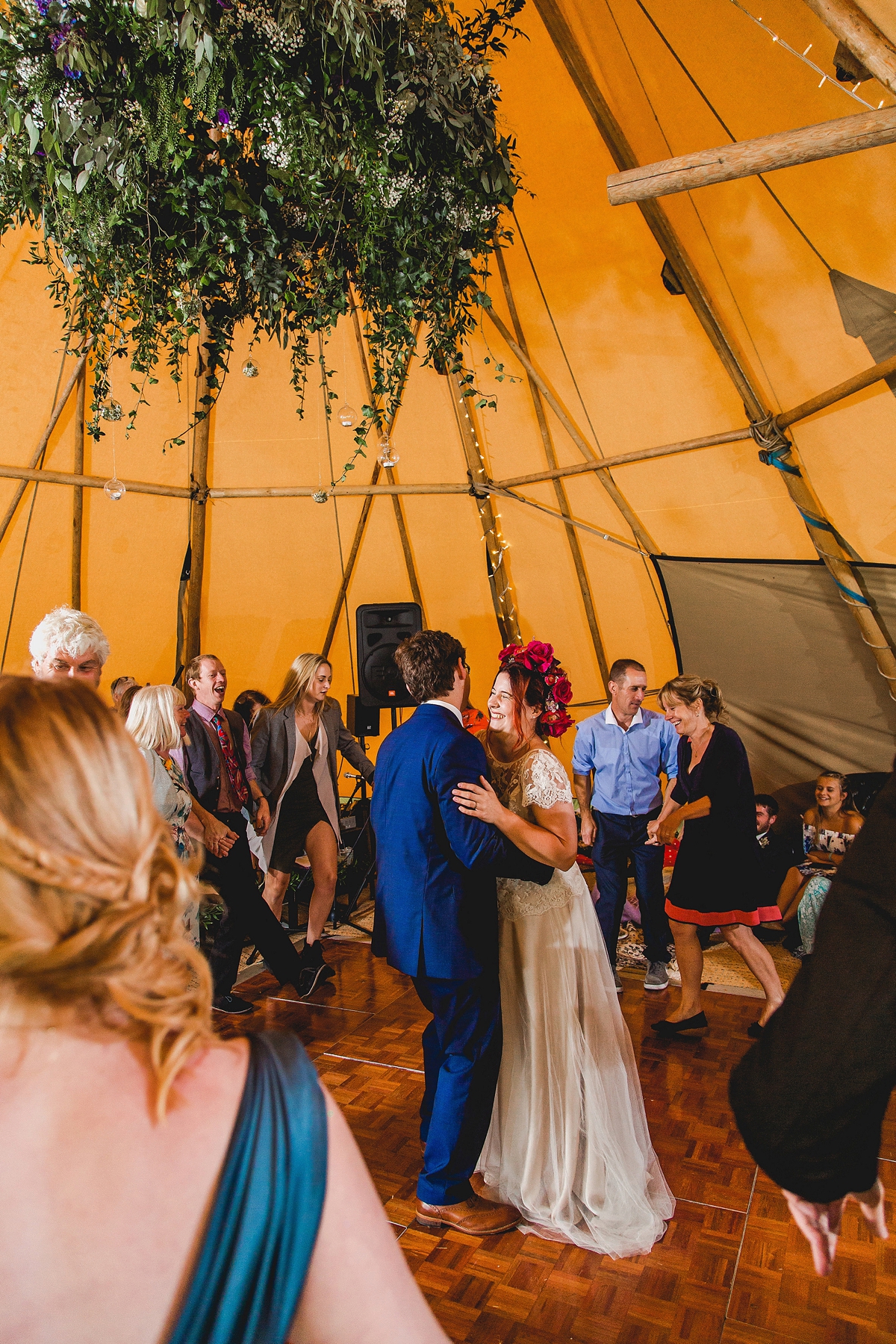 You are so very wise lovely Fiona – and we are so proud to have you as part of such a helpful and certifiably gorgeous gaggle of lassies! Thank you for these very kind words and I'm so chuffed to have been tasked with writing about your delightful day. I love that it reflects you and Jack to a tee – and lovelies, that's what your wedding day is all about.
If you've completely fallen for Fiona's dresses, take a squiz here at more incredible designs by Halfpenny London we've previously highlighted from our archives – it'll be hard to choose, so follow the bride's lead and go for two 🙂
Love Jo -xo-