How on earth is it nearly November? I can't tell you how excited I am that we're nearly one month closer to Christmas! I know, I know, I'm getting a little ahead of myself, so let's turn back the clock a few months and bask in the loveliness of the wedding of Justine and James. This sweet pair wed on  27th May this year at St Peter's Church in the parish of St Mary Bourne, followed by a reception at Norton Park Hotel in Winchester.
They trusted the creative hands of florist, The Wild Fox, to arrange their whimsical British blooms, a truly wonderful talent that you can discover more of over on our Little Book for Brides. The combination of loose, meadow-style stems is stunning, and all souarrced from local growers and arranged with natural materials.
"We love the colours blue and yellow so knew we wanted to include those in our laid back wedding. We both like the Midsummer Night's Dream, ethereal feel – wild and whimsical, with seasonal flowers that looked like they had been picked from the hedgerow. I also love craft so wanted to include some handmade things such as bunting, limoncello favours, handmade menus and place settings."
Photography by Carrie Lavers 
Norton Park Hotel not only provided enough rooms in site for all of the wedding guests, it also took care of catering Justine and James' reception in it's beautiful barn and manor house. Our bride came up with ideas for styling and decor, and with help from florist Joey, she created a table plan and photo display.
"Joey of The Wild Fox creates floral arrangements from what is available that season. She had the wild and whimsical style I wanted and was very good at listening to my ideas and creating a vision. She not only did the flowers, but also helped me work out how to style the barn to bring it all together."
Justine turned to another of our wonderful Little Book for Brides suppliers when it came to finding her dream dress. Laura and her team at Brides of Winchester have created a haven of loveliness for brides, stocking a range of beautiful bridalwear.
Justine worked with designer Tracey Salt of Chanticleer to dream up her stunning lace and tulle gown, pairing her custom creation with Rainbow Club shoes for church, which she swapped for blush heels from Dune in the evening.
"I liked a number of the Chanticleer dresses but none of them were quite what I was looking for. I advised the lady who was helping me at my fitting that I wished that I could amalgamate three of the dresses to make my dream dress. She then revealed that she was actually the designer of the dresses, and had just been down helping her friend Laura out at her shop as she was very busy."
"I was mortified having just spent the last hour telling her which bit of the dresses I loved and hated! But it was brilliant because she was happy to design a bespoke dress with me and I ended up with something that was exactly what I had pictured."
"Tracey first made the design on a mannequin in dress maker's fabric, we altered bits of it until the design looked right, and then she made it. I loved the delicate French lace and floaty tulle skirt. I felt it was the romantic dreamy style I wanted and was also light and easy to move around in. I wanted a dress I could dance and have lots of fun in without worrying."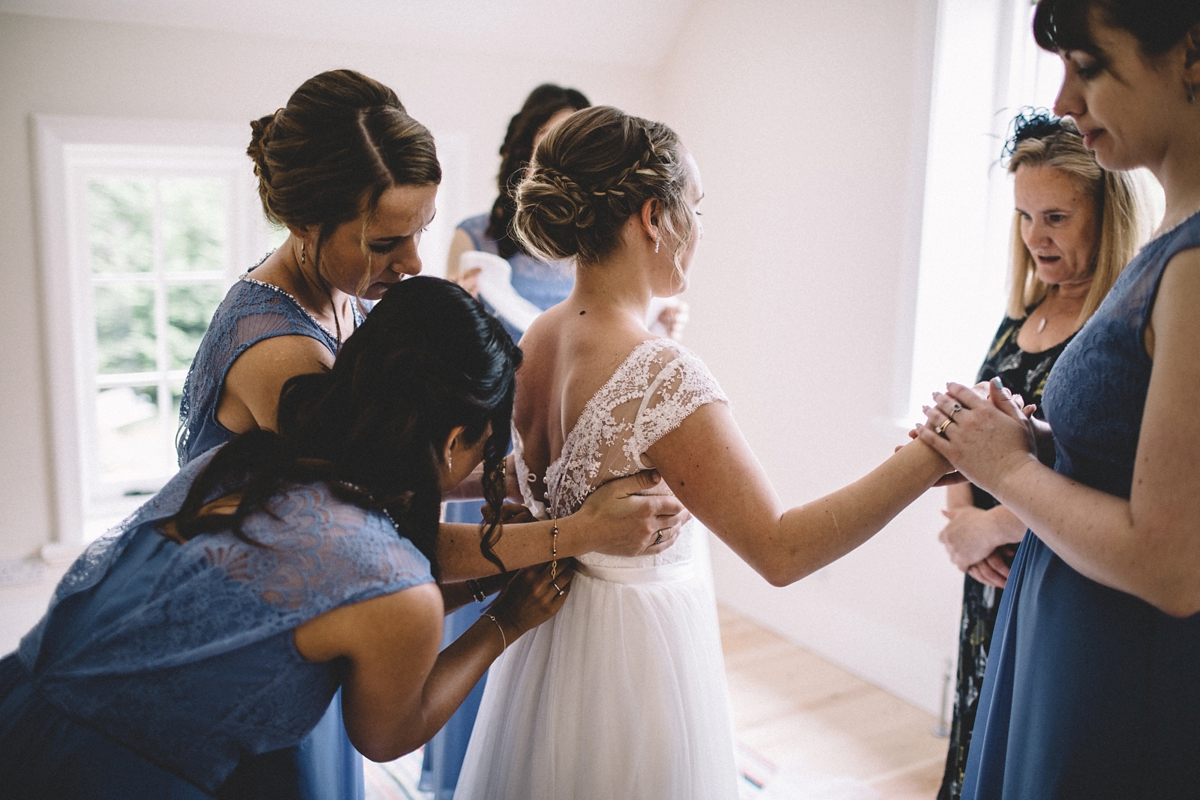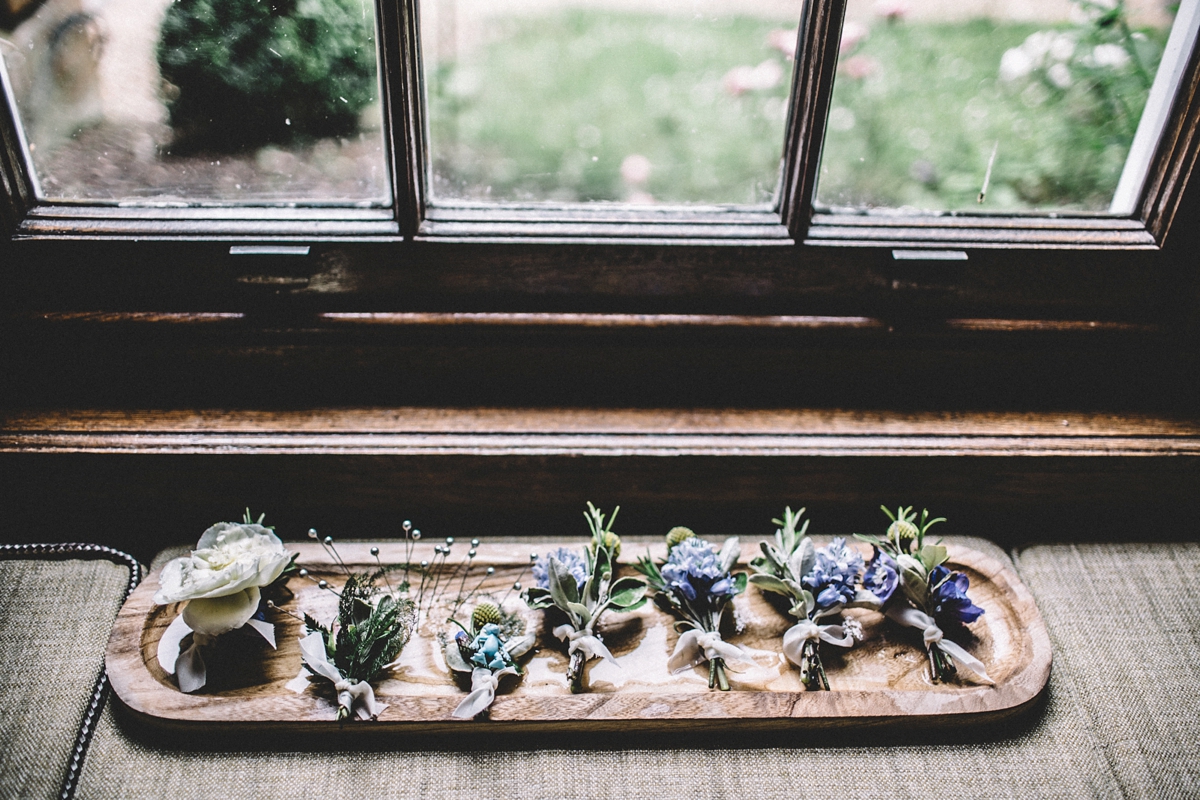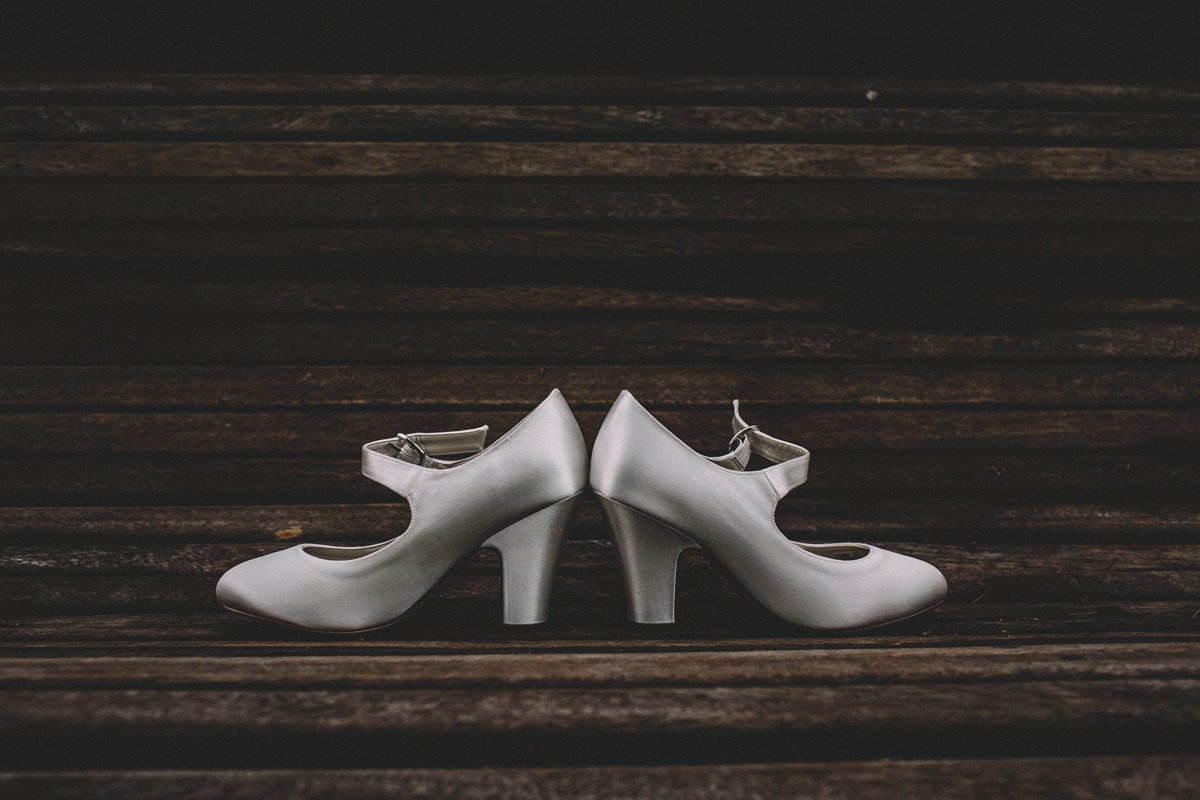 "Reena, who has a salon in Slough, knows Shegufta well so we chose her to do my hair and my bridesmaids hair. I knew I wanted loose plaits down each side with the rest pulled back. She listened to my description and I showed her some photos, then she created my perfect look first time."
The floral scent of Sunflower by Elizabeth Arden was a surprise gift from James a few days before the wedding, which he sweetly followed up with a pair of earring from Swarovski on the morning of the big day.
A soft simple veil by Helen Martin floated serenely around our bride, worn to cover her shoulders in church and then moved to the back of her head during the reception. Justine kept her veil on much longer than she anticipated, only removing it for the first dance.
"My bridesmaid, Shegufta, did my make-up using Clinique products. I don't usually wear any make-up so it was a learning experience. I was told I needed to wear some foundation, as it makes the skin look better in photos, but I couldn't stand it, so after a number of tries so we decided to stick with a tinted moisturiser, which was much lighter. I loved how she managed to make me look natural."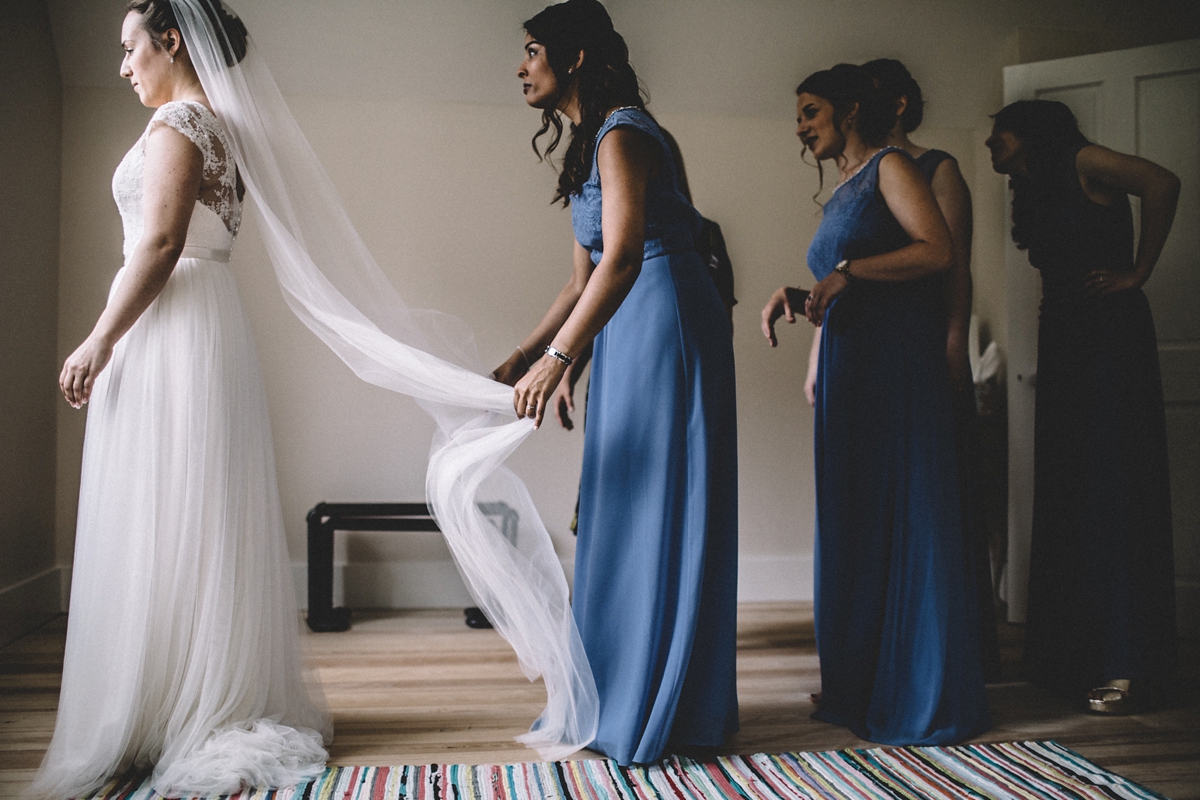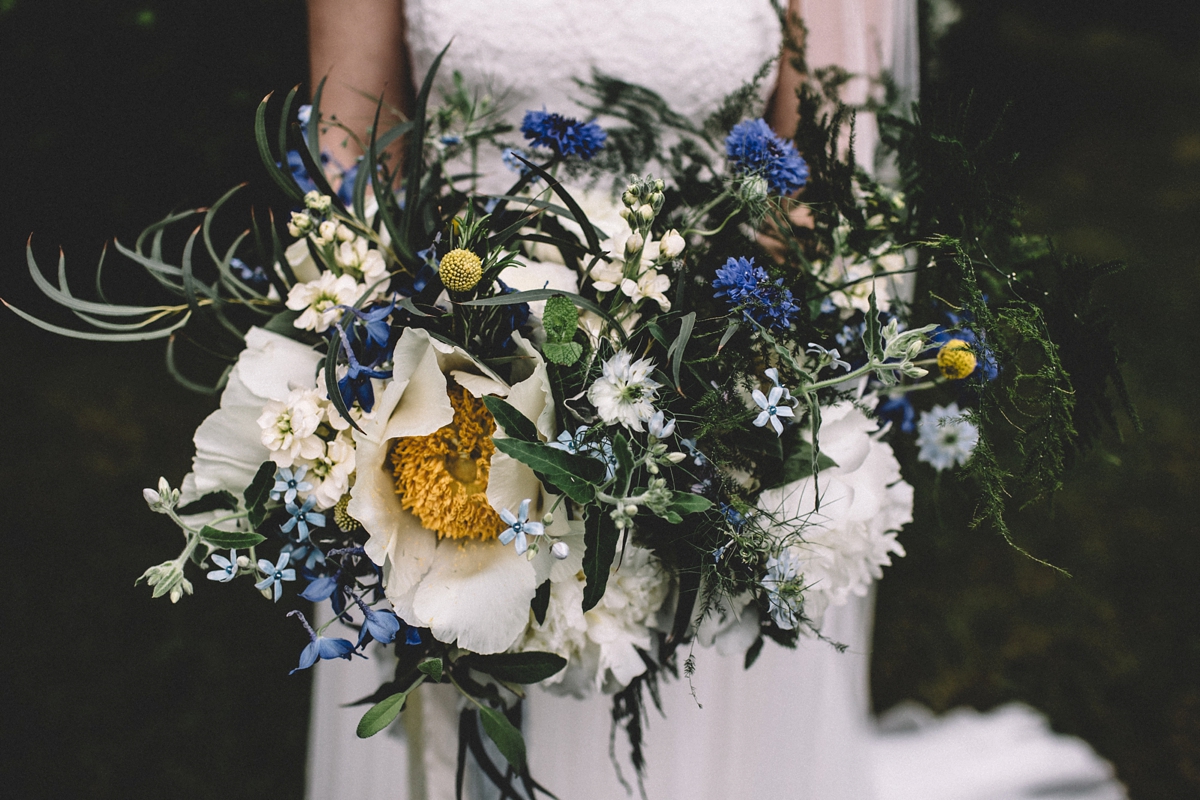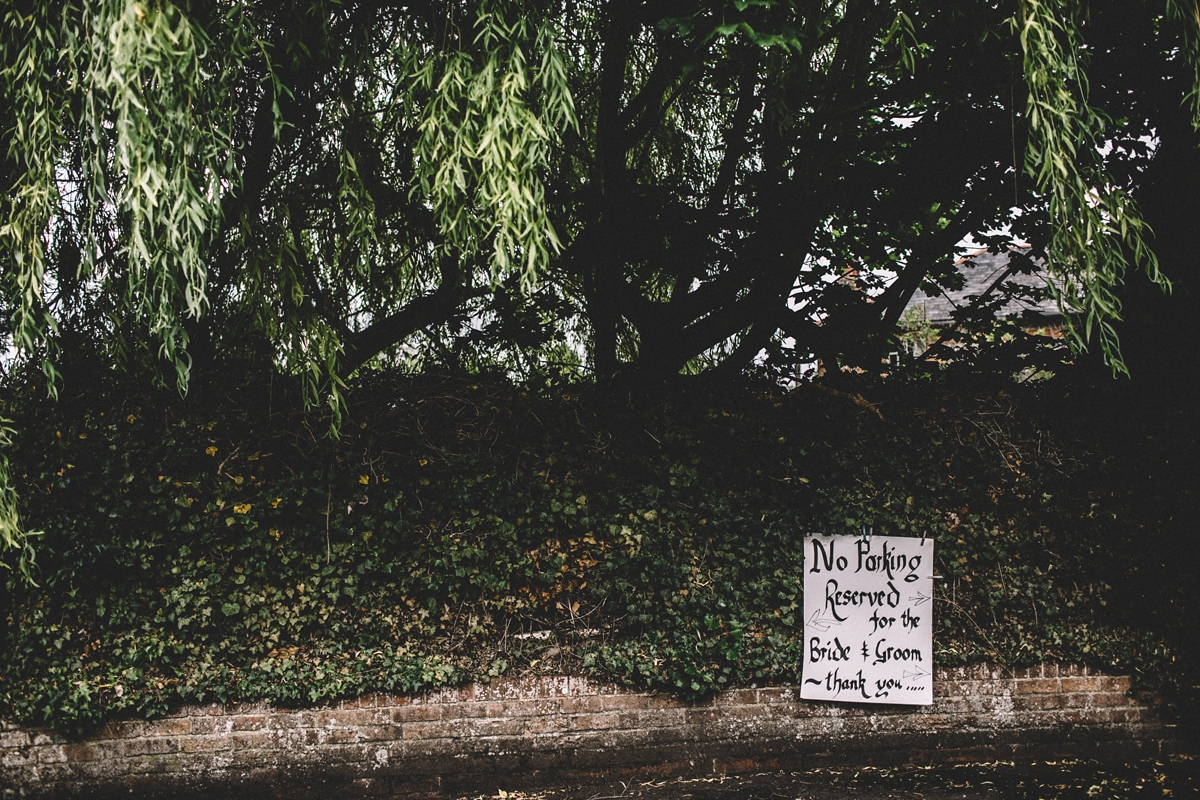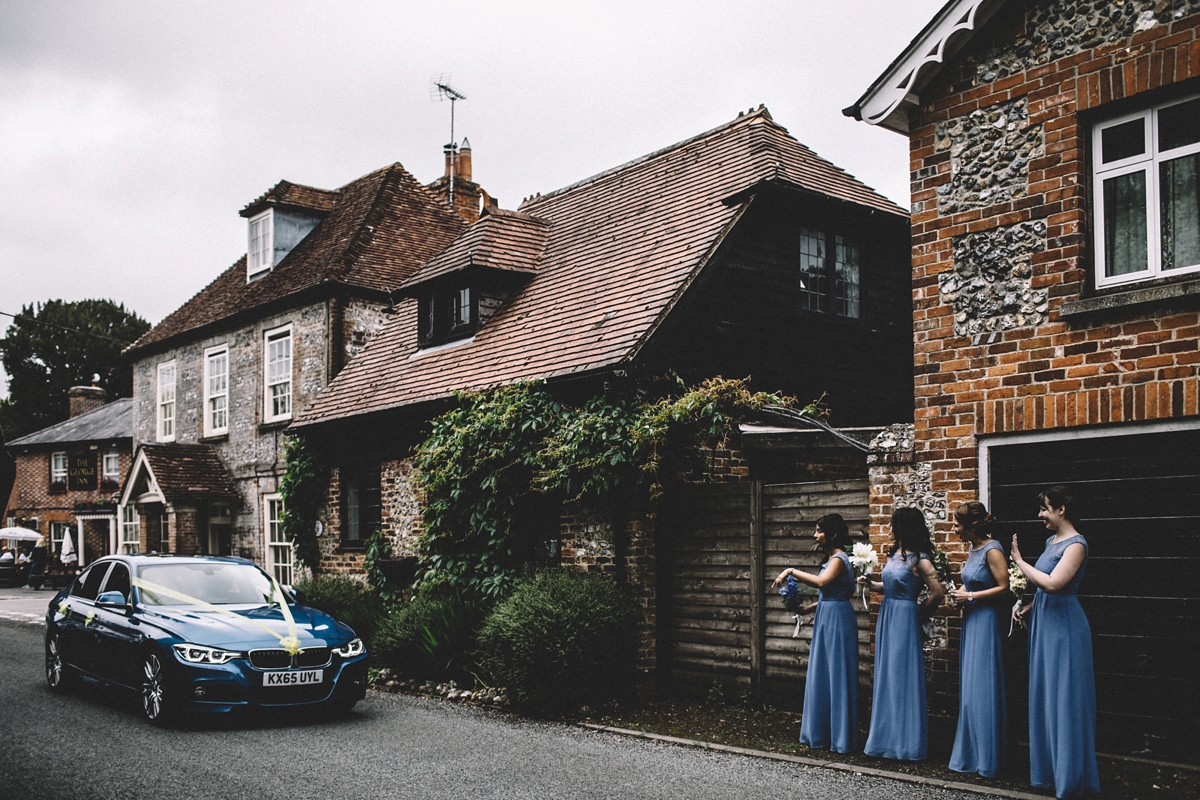 "My dad had a blue car which luckily matched our theme so we decided to use that for transportation. He lovingly decorated it with yellow ribbons to make it look special. I love craft so I designed and made all of the stationery myself with lots of help from James and the bridal party."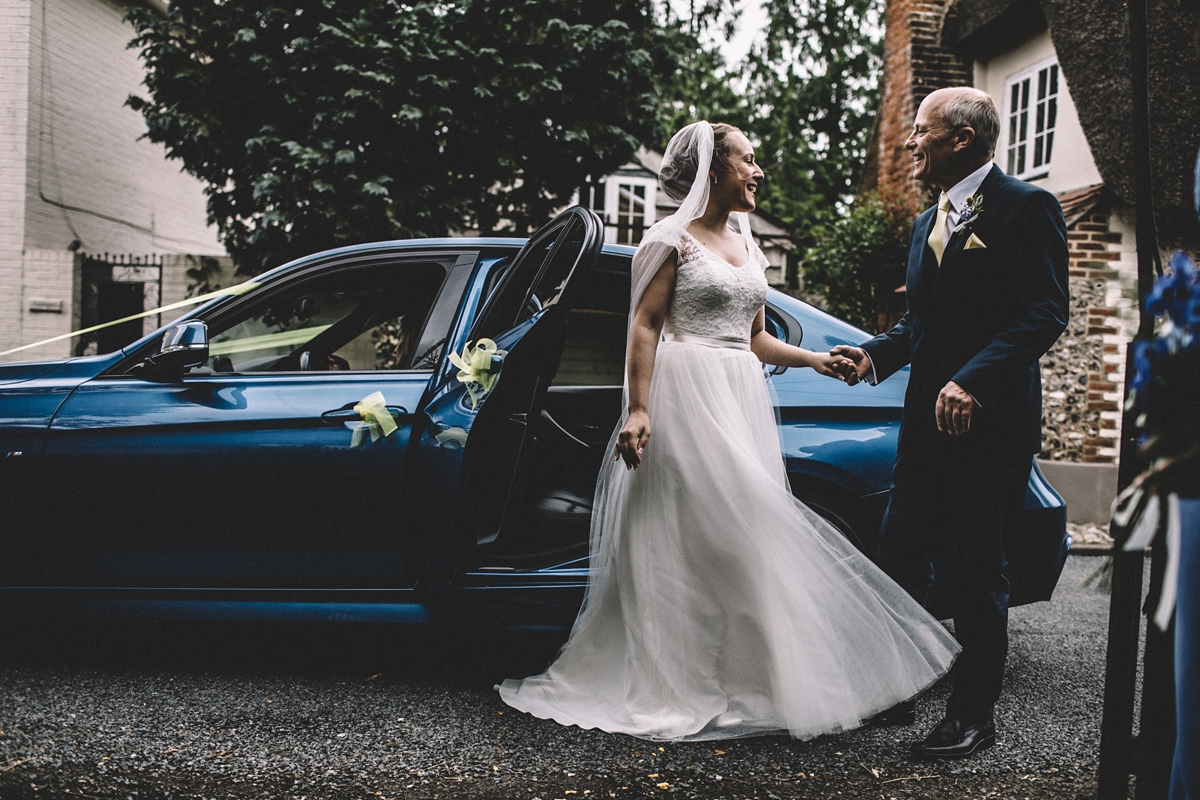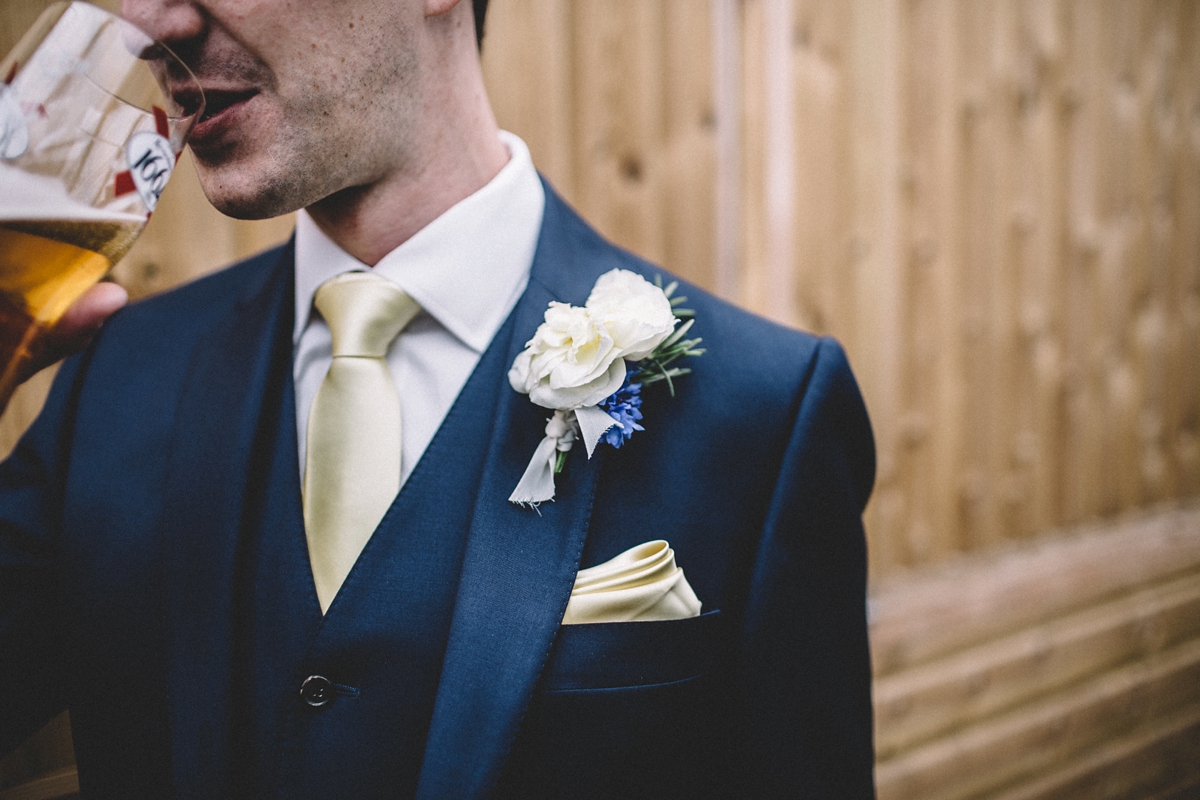 "My bridesmaids dresses were from Monsoon. I was happy for them to have different dresses but they all ended up liking the same one, which we found in the sale. We didn't even need to do a shopping trip and decided it all by sending pictures in a watsapp group. I gave them each a bracelet with a short message, written in my handwriting and made into silver and gold."
Justine walked down the aisle with her dad to the beautiful sounds of To Build A Home by The Cinematic Orchestra, rearranged from piano music by organist, Nigel. I can only imagine how incredible it must have been to experience. Our bride's very favourite part of the day was the ceremony, excitement and happiness all around her as she and her new husband exchanged vows and rings from Blue Nile. Justine and James both opted for plain platinum bands, engraved with a line from one of their wedding readings.
"James and I have known each other for 13 years. We were friends first and then started dating in 2012. We moved in together in 2013 and got two cats Sukie and Tilly, and James proposed in February 2015 in London, and then surprised me with a trip to Venice."
James hired his suit from Yardsmen in London and both he and his groomsmen wore ties purchased from Swagger & Swoon. The two best men were gifted sand timer cufflinks containing blue and yellow sand, a sweet and subtle nod to the couple's colour scheme. The bridesmaids looked radiant in flowing gowns from Monsoon, accompanying Justine to St Peter's Church, where she was christened as a child.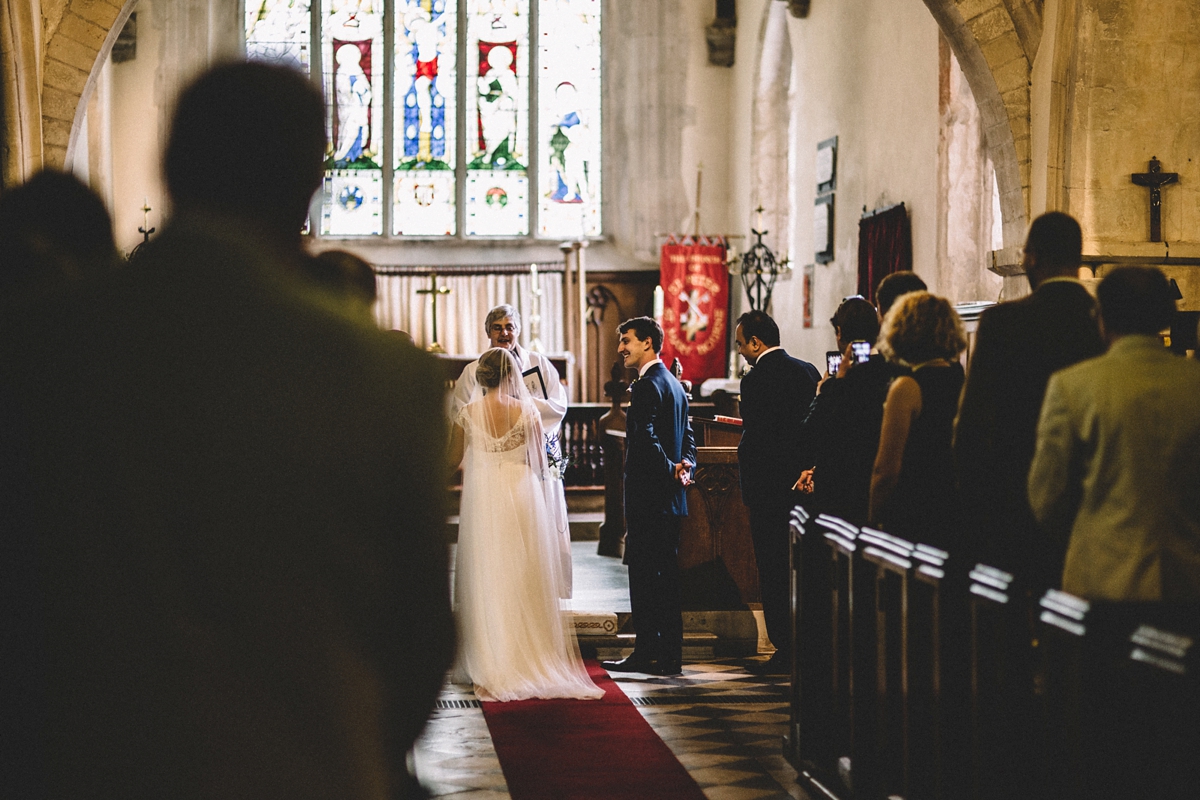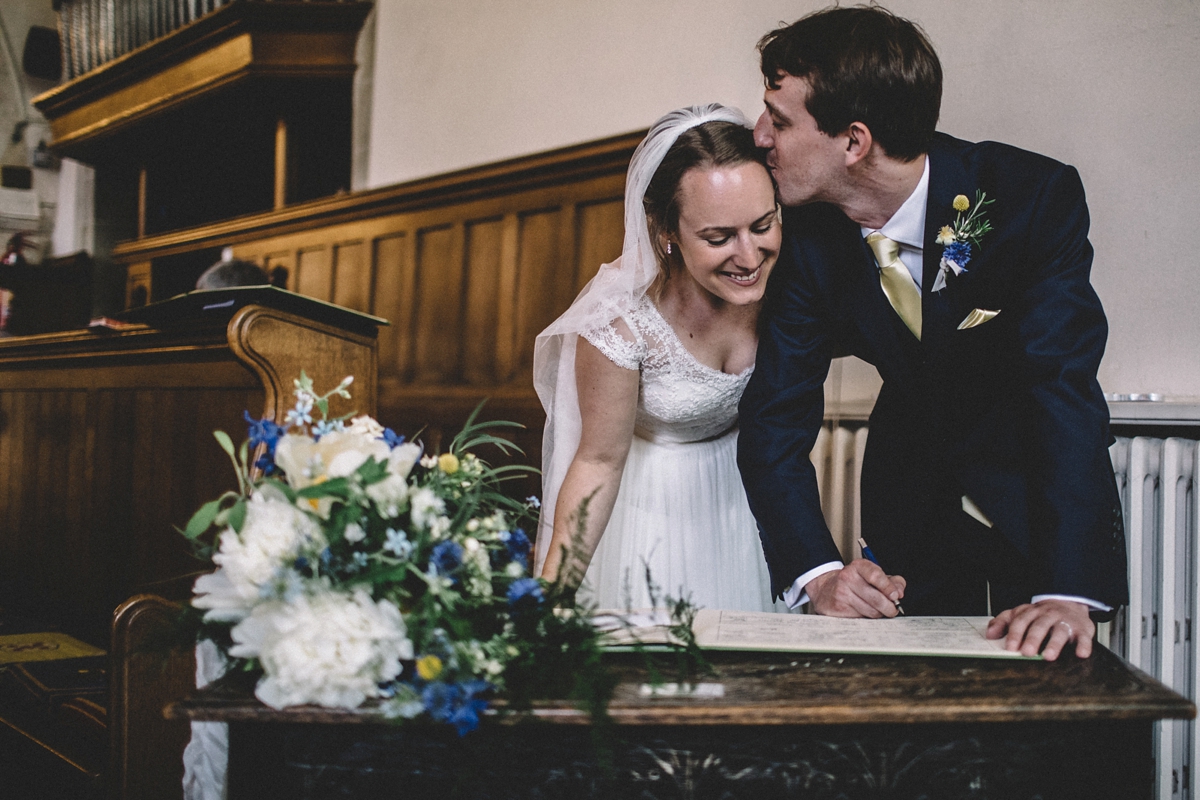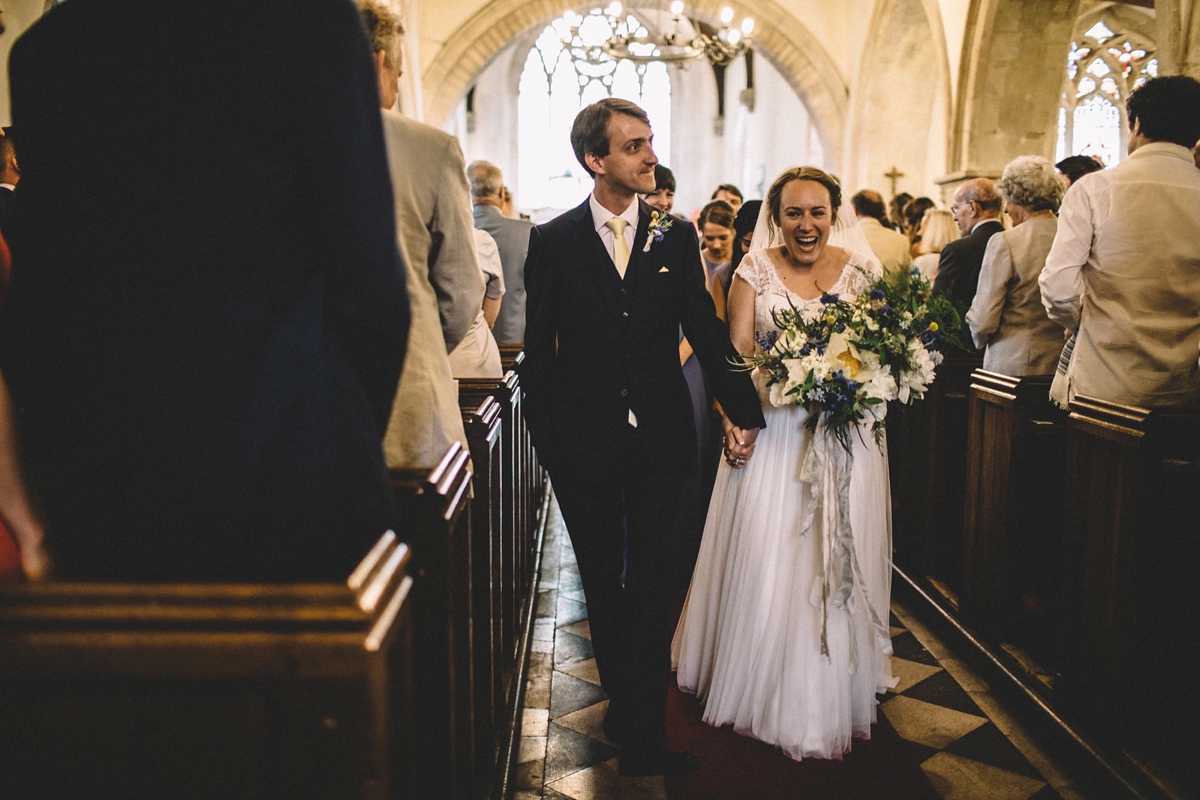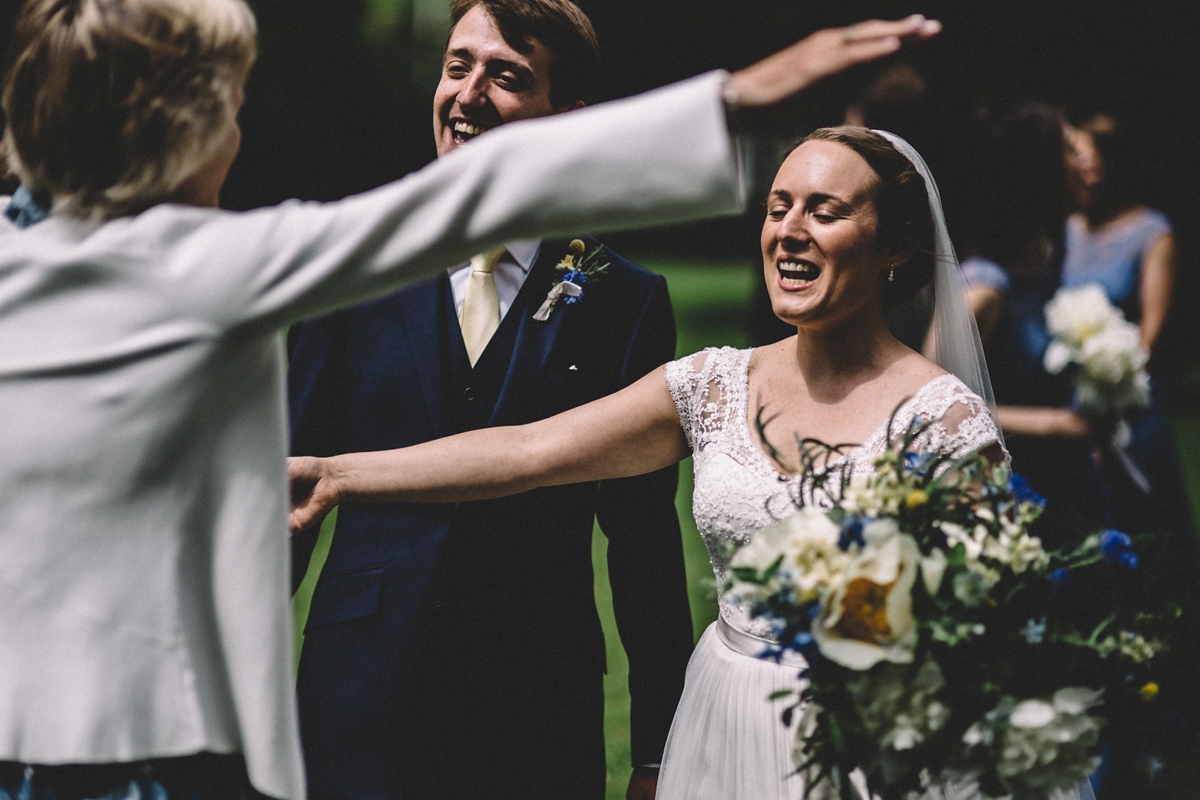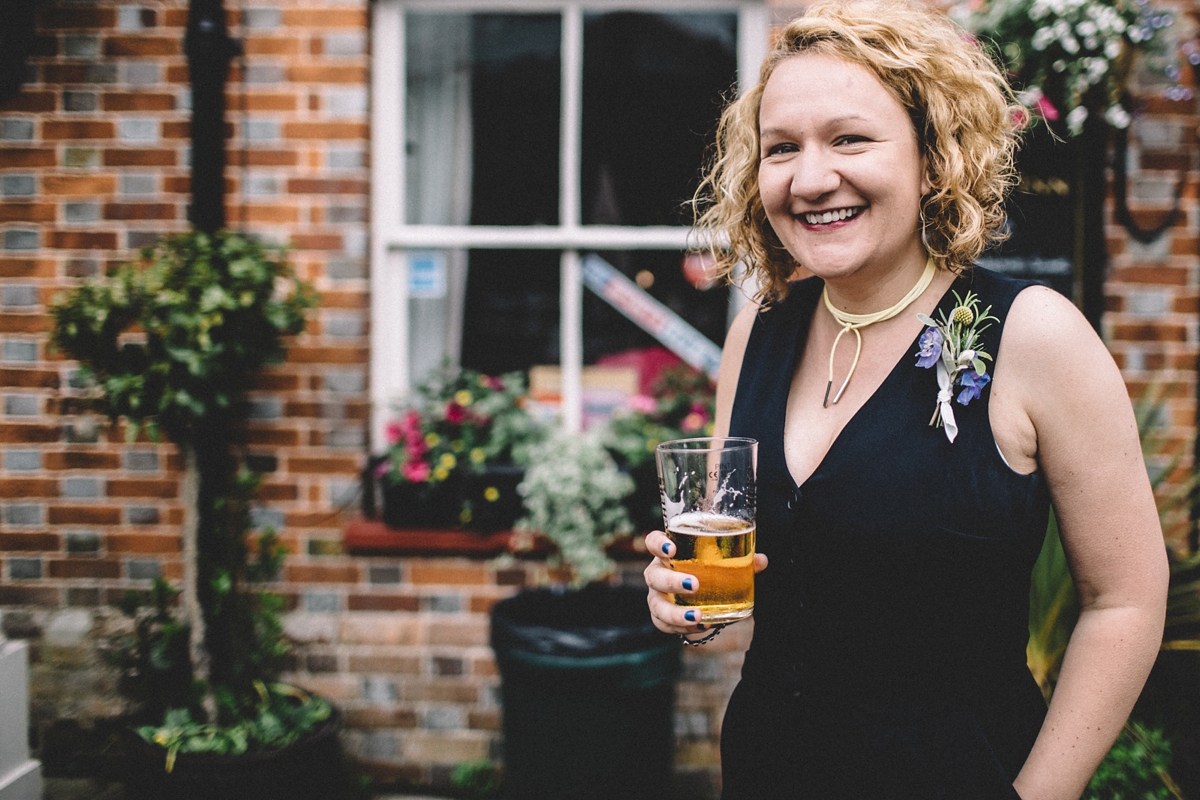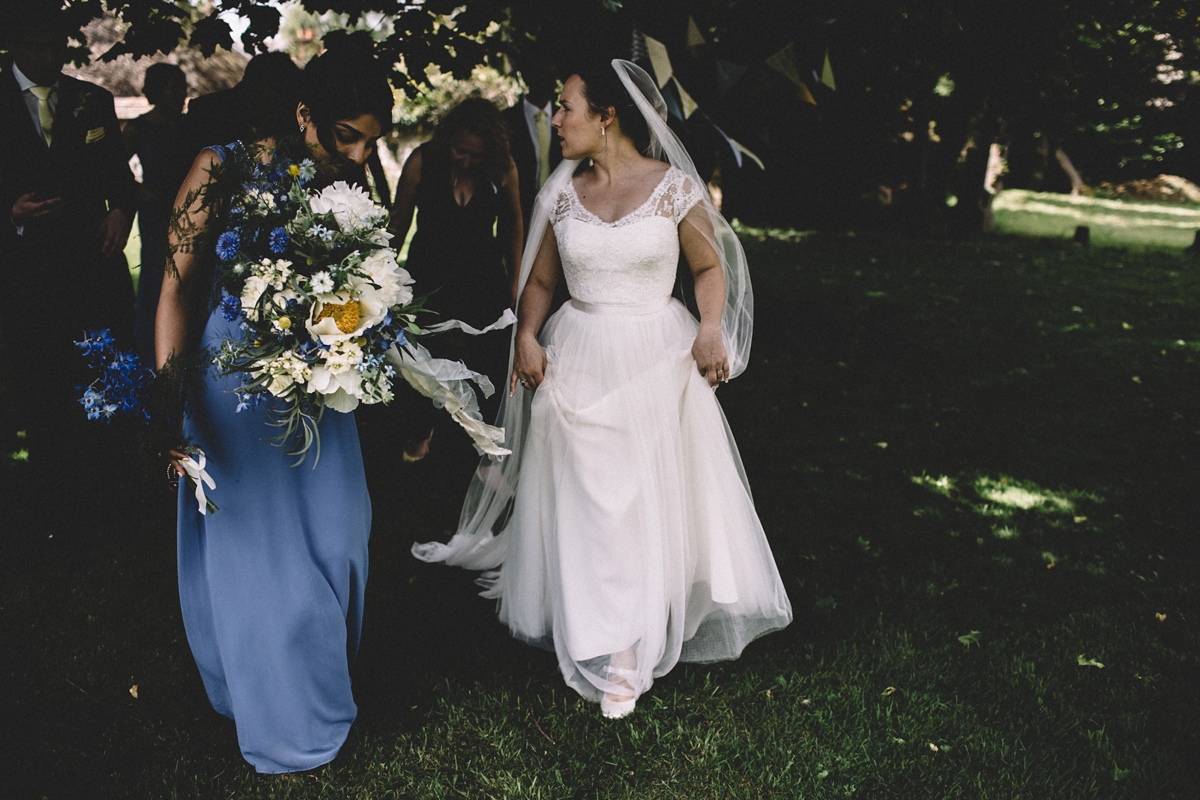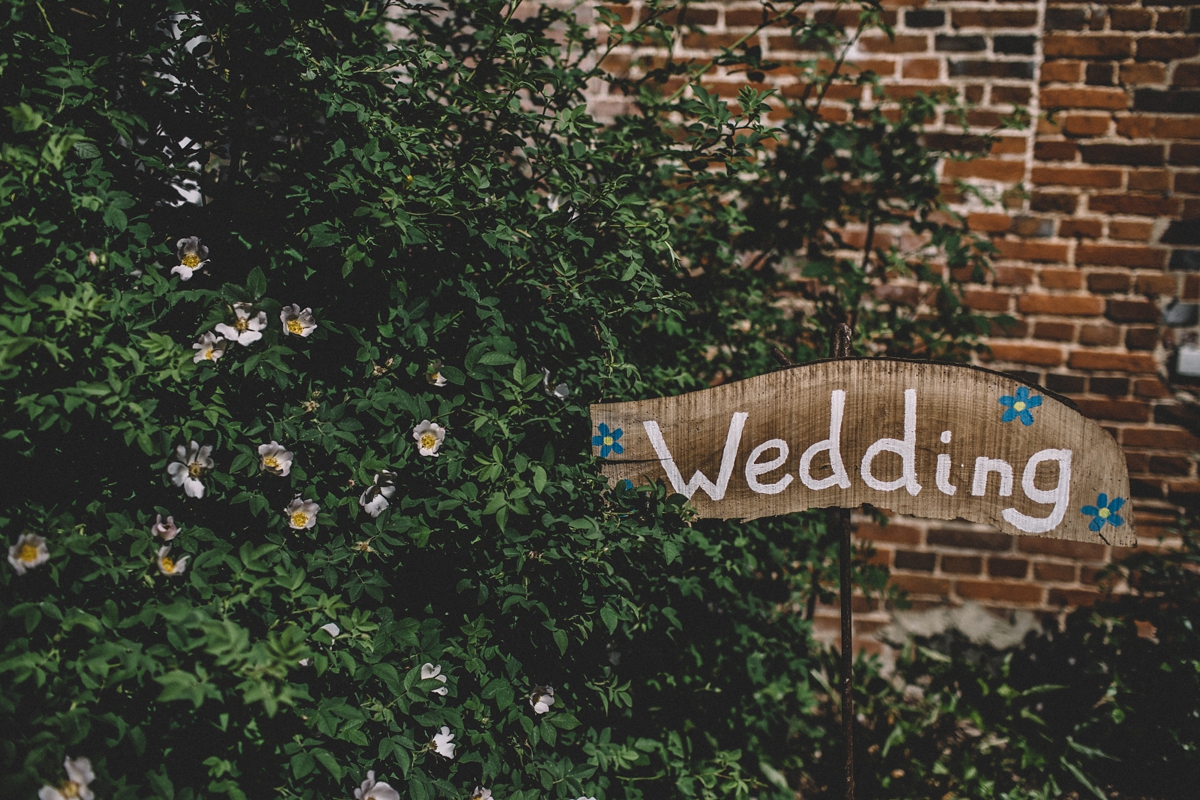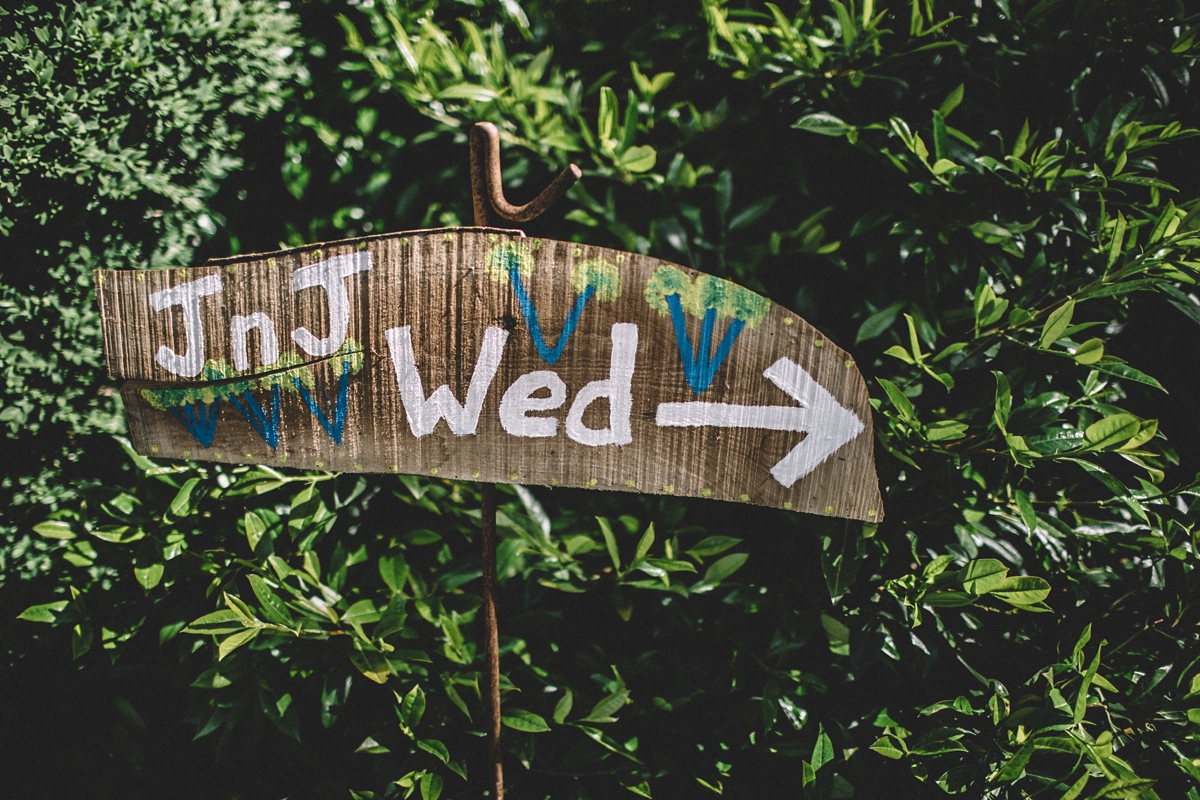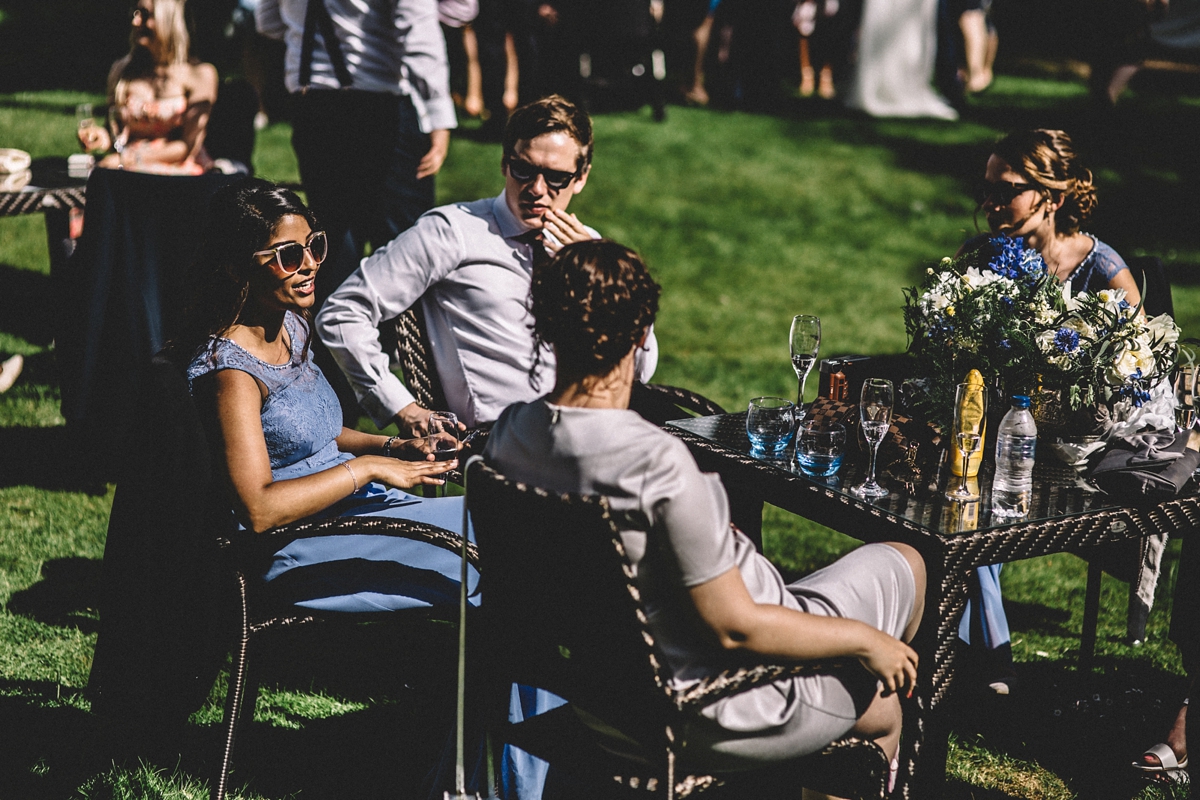 Carrie Lavers has captured this day so beautifully, and the soft spring light seeping through these stills is stunning. I wholeheartedly agree with Justine that having an engagement shoot with your photographer is a fantastic way to meet before the big day, and start to relax a little in front of the camera. The couple also had their day immortalised on film by Justine's talented brother.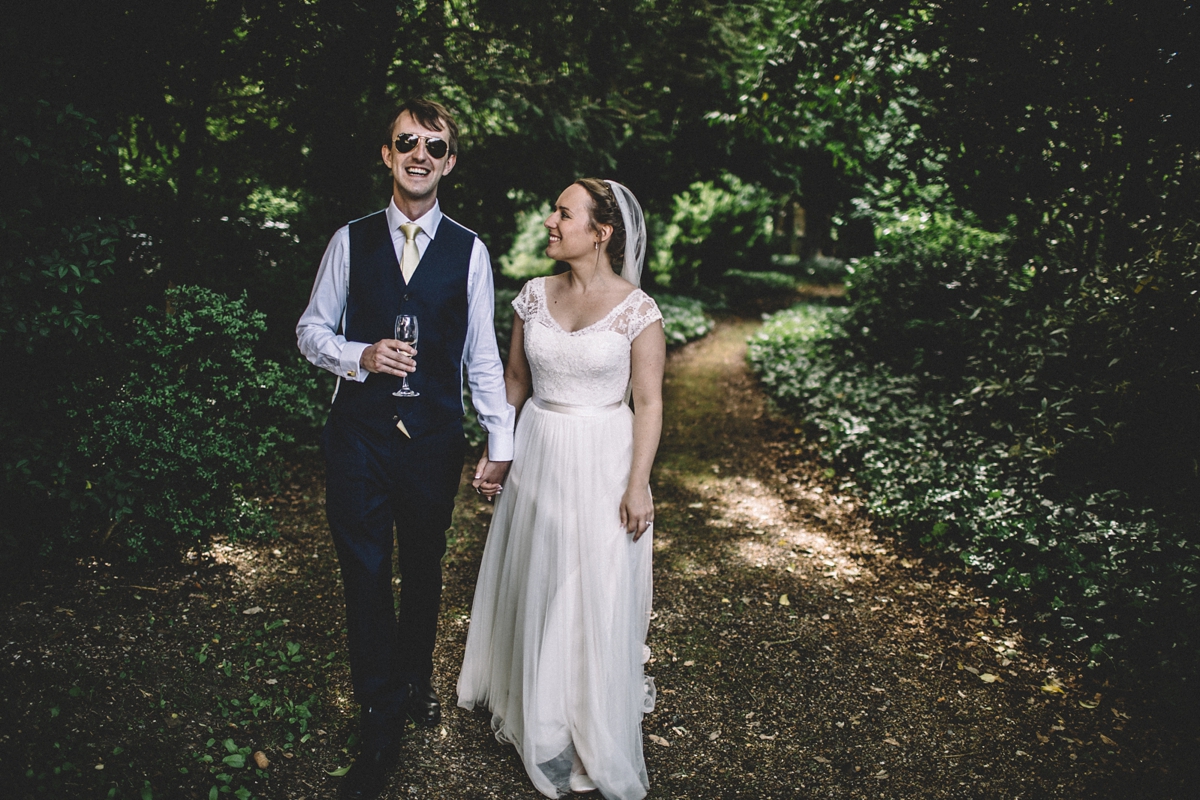 "Carrie's style was exactly what we wanted – not too many staged shots and lots of photos which tell a story of the day. She captured our excitement and the feel of the day perfectly and got us a small selection of photos within days of our wedding, which was lovely, and sent us the full set within four weeks."
"She was super friendly and easy to work with and I would recommend her 100% to any couples looking for a wedding photographer. She offers an engagement shoot as part of the package which was great, as it gave us the opportunity to meet with her before the wedding and be reassured that she was going to be perfect."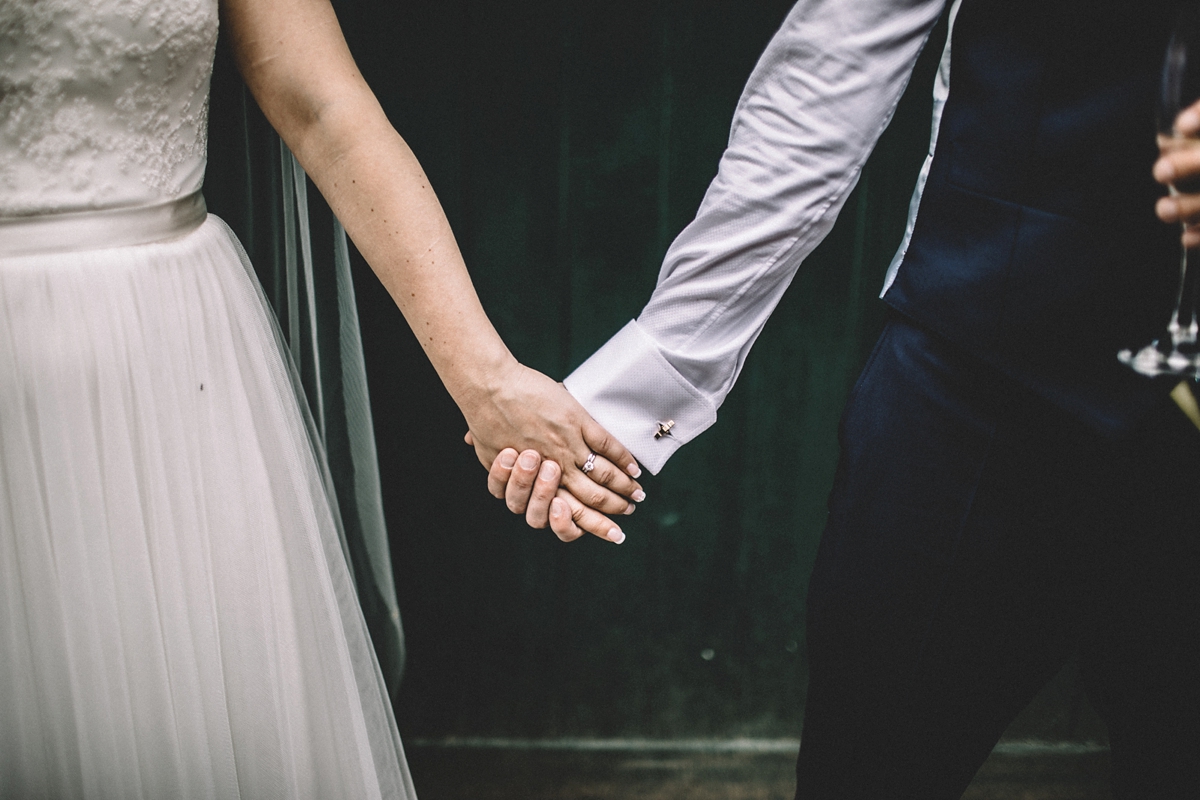 "Lucky for me my brother Ashley Ramsden is a cameraman, editor and video producer. He videoed much of the day including the church service and speeches, and then Colette, one of my bridesmaids, used one of the cameras to capture the evening of fun and dancing. Ashley is in the process of making the footage into a video for us."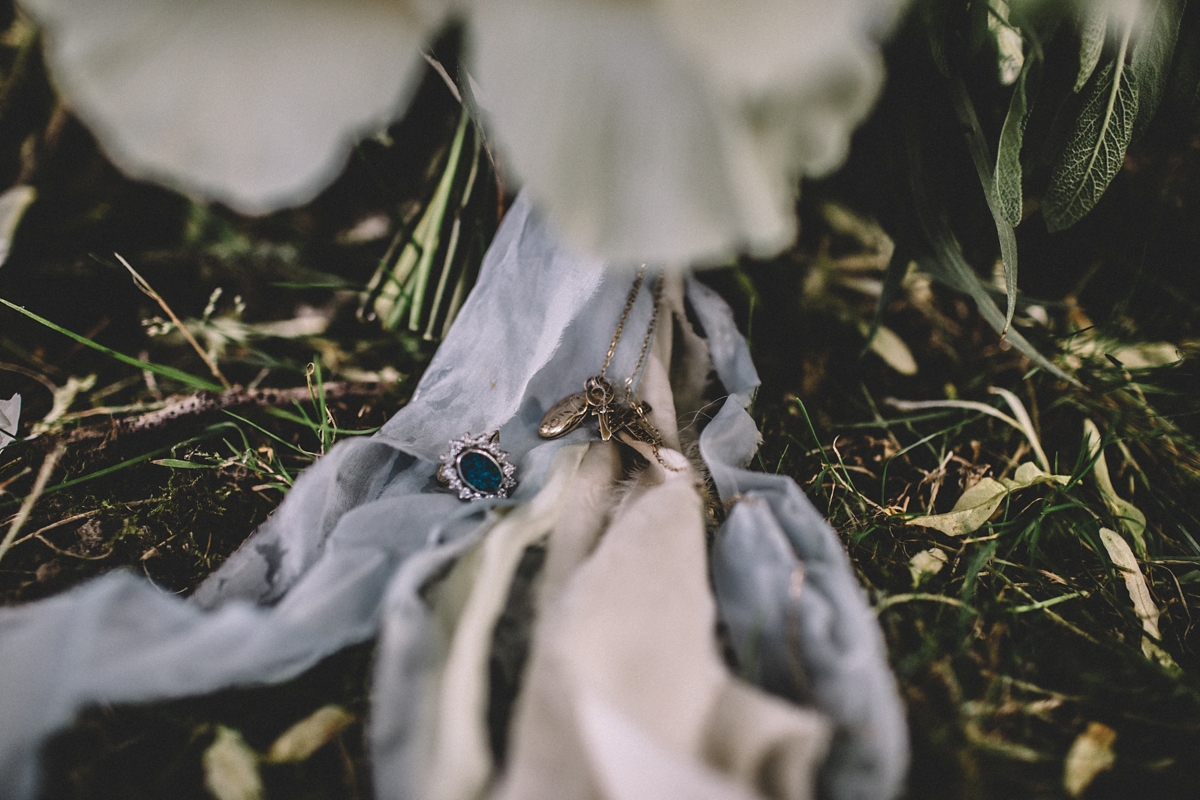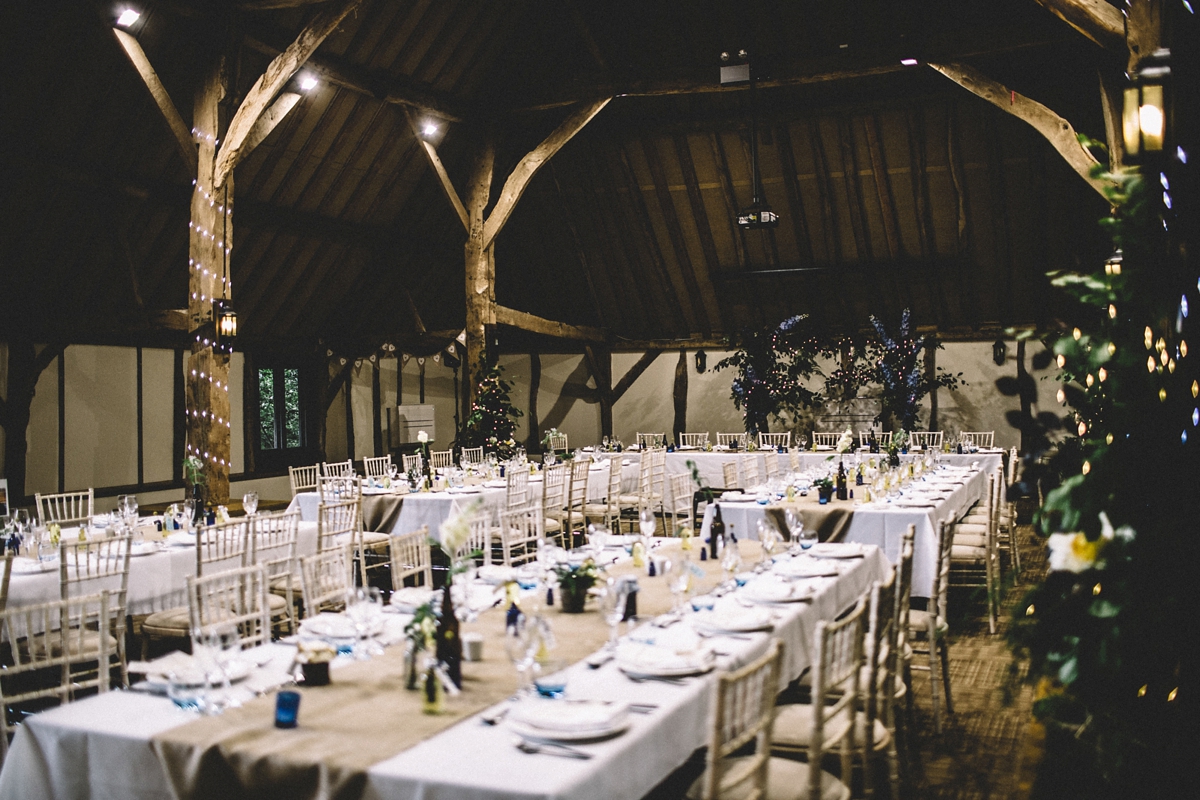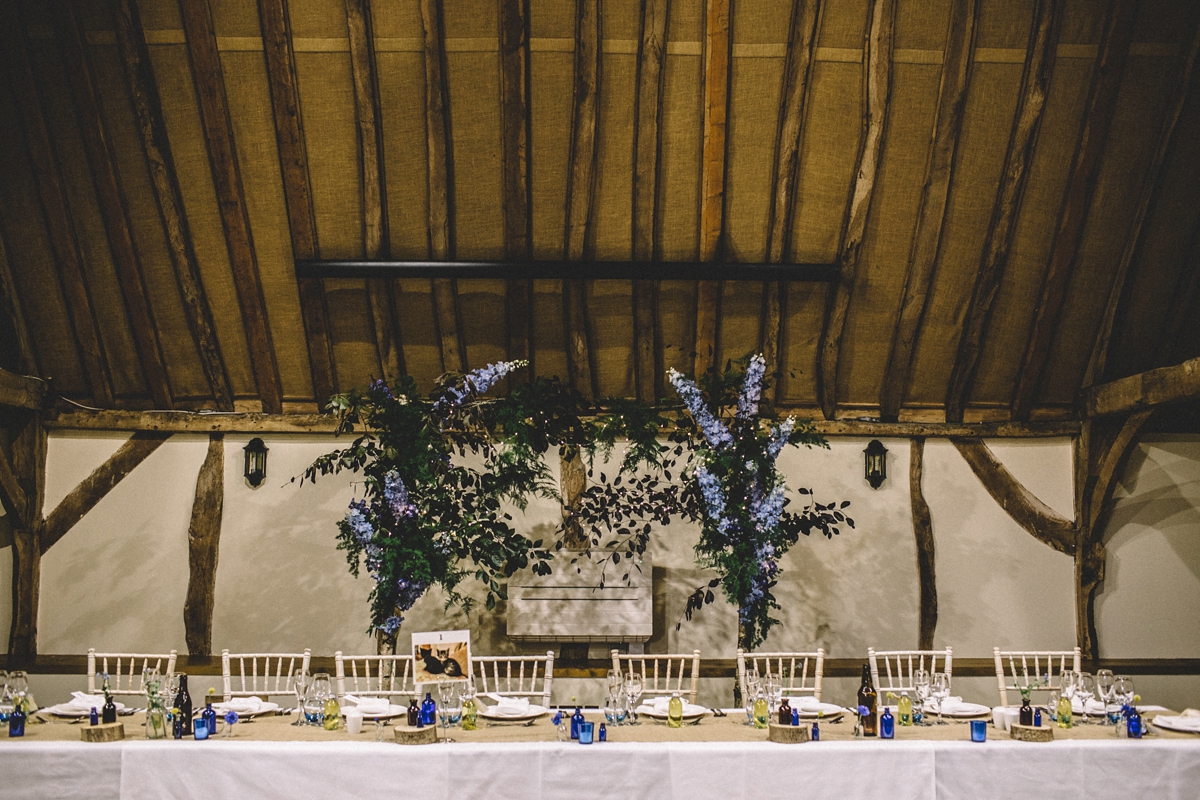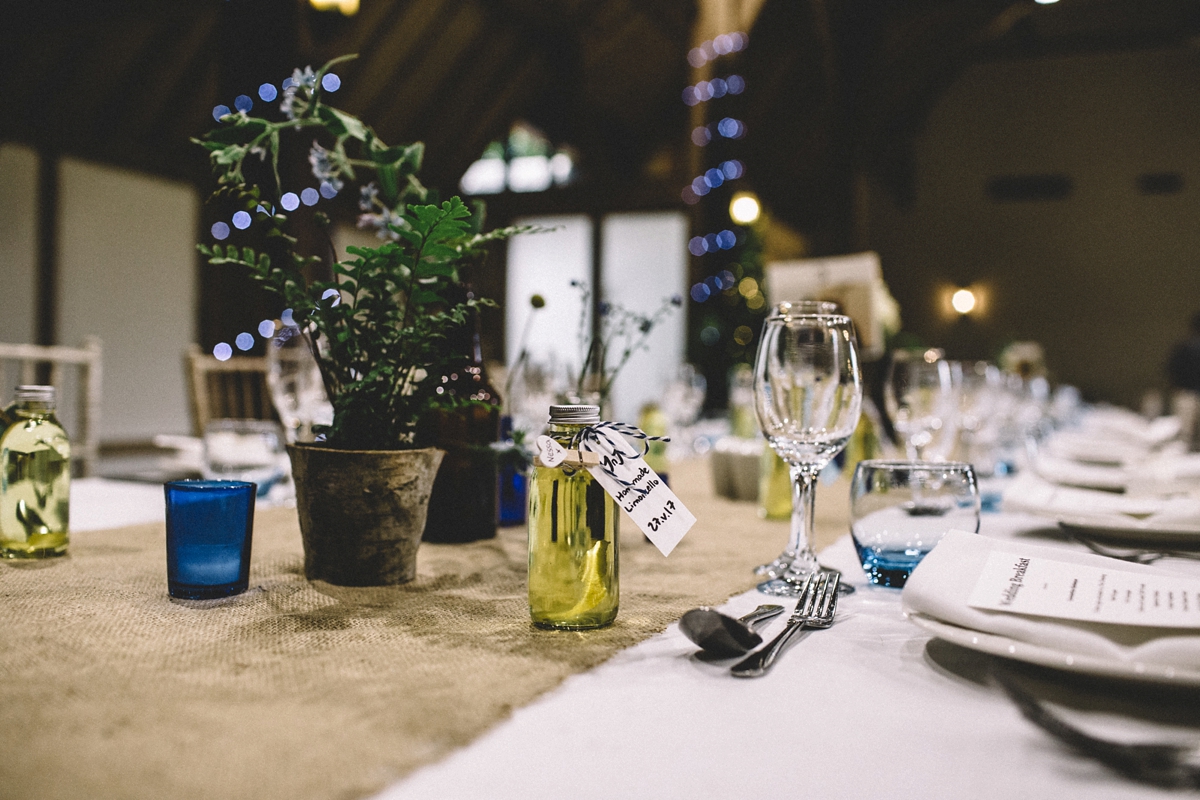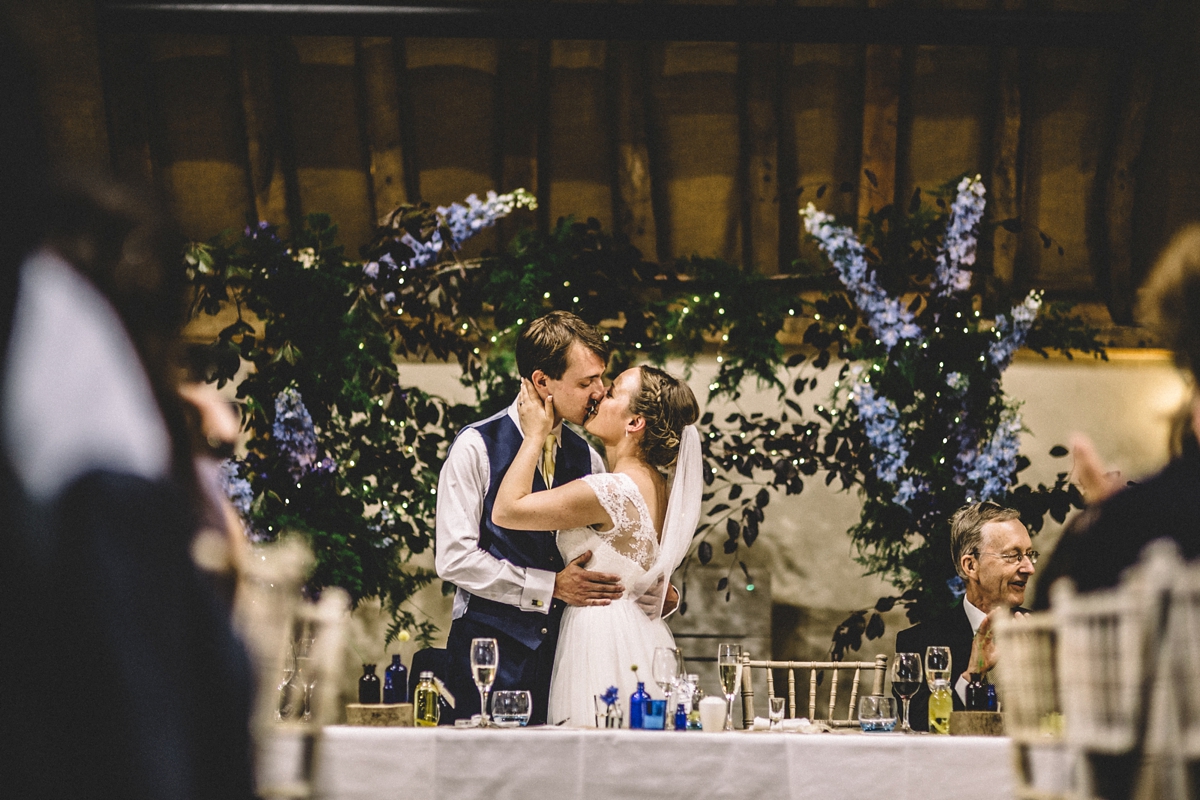 "We had a cheese wedding cake from Godminster, decorated by our florist using blooms, fruit and chillies I bought. We both love cheese and aren't fussed about sponge cake, so there was never a question that we would have anything other than a cheese wedding cake."
"We even got a blacksmith, Philip Grobb in Nether Wallop, Hampshire, to make us a bespoke cheese slicer so we could each hold an end and cut the cake. It is very special, with our wedding date stamped into the metal."
Oh yum, I so love a cheese wedding cake and Godminster is my all time favourite! Justine has such a fond memory of cutting their creation, the cheese heart on top wobbling as the scrumptious layers melted slightly in the heat.
The newlyweds made their own limoncello from 54 lemons, vodka and many many bags of sugar, the bottles individually decorated and adorned with heart pegs displaying their guest's names, perfect fuel for a night of revelry!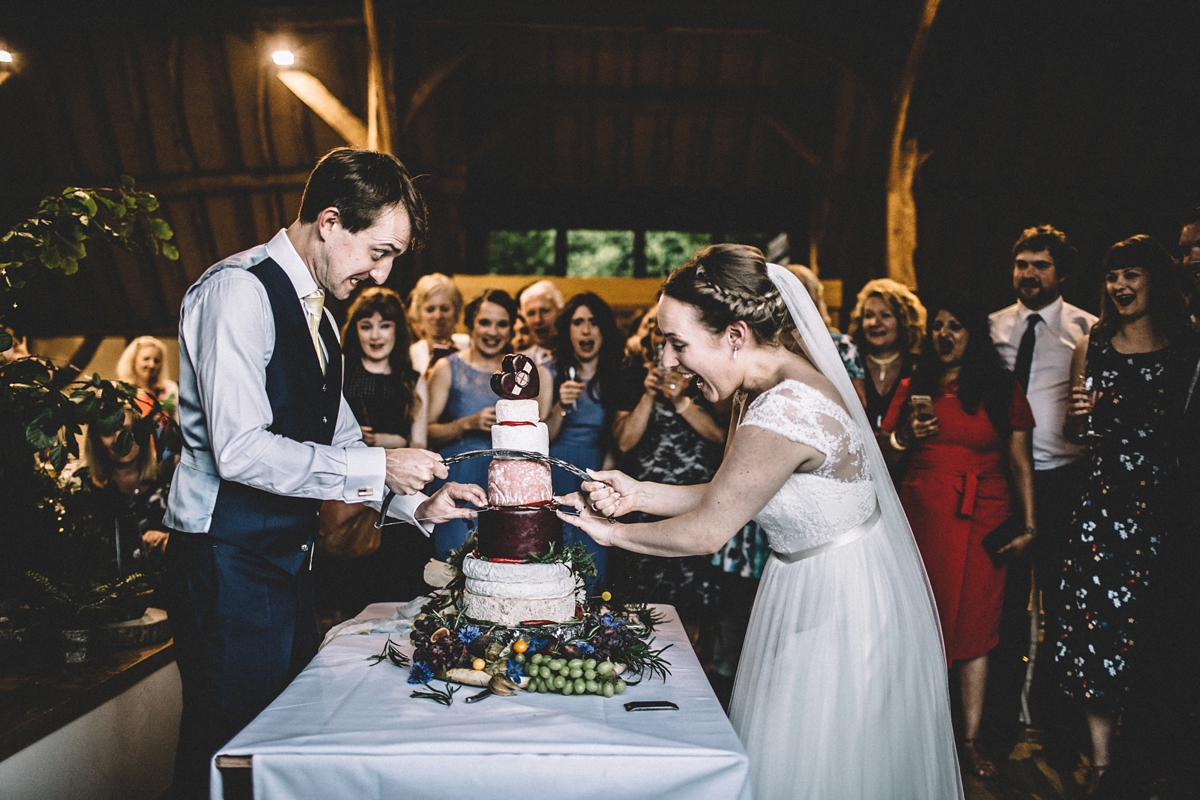 Words of Wedded Wisdom
"Make sure you take time during the day to go off with your husband or wife and take a pause and take it all in. It goes by so fast it's all a blur."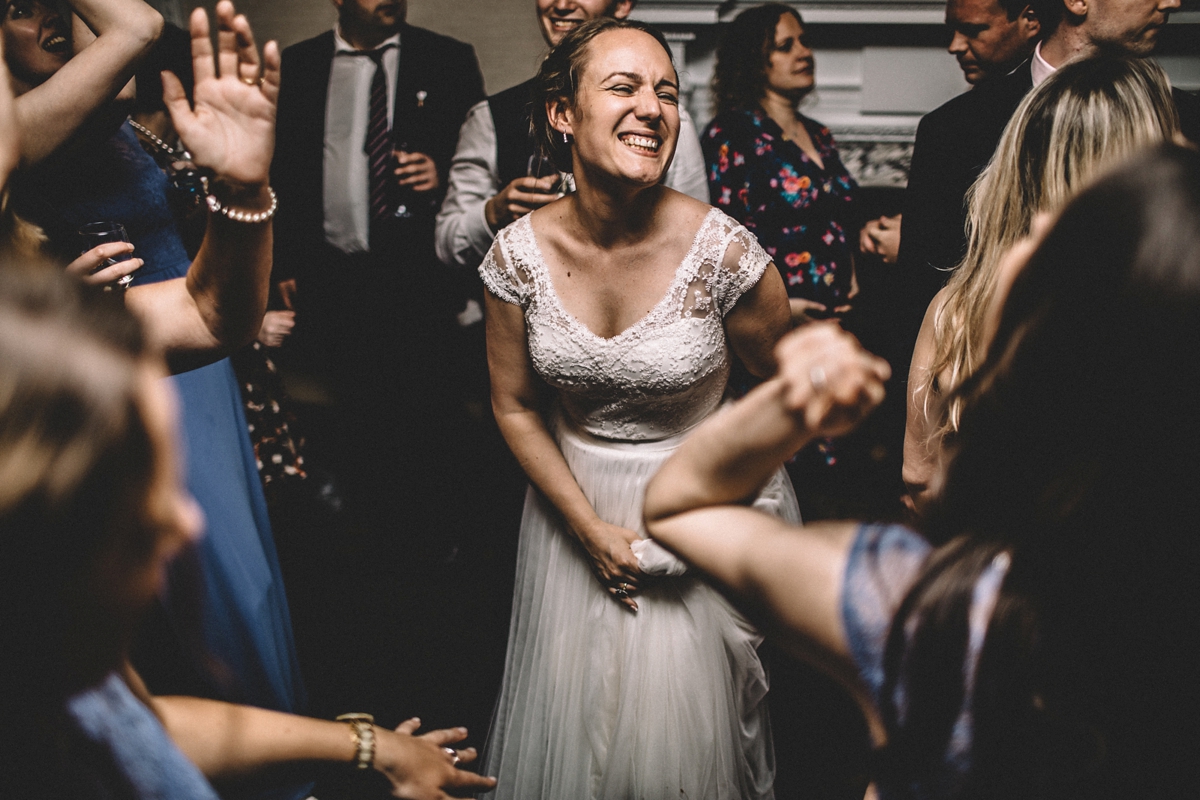 That just leaves me to say a huge thank you to the lovely Justine (who can be found on Instagram by the way), James and of course Carrie Lavers Photography for these lovely images.
Em x