Happy Saturday morning lovelies. I am so pleased the weekend has arrived – time to slow down and kick back a little. I need it after this week.
This charming set of images, the capture the elegance of the English countryside so beautifully, were sent in by Natalie Hewitt of Natalie Hewitt Wedding & Event Planner – who tells us more below. Every member of the creative team behind these images is someone I personally hugely admire and respect, but special shout has to go to bridal fashion designer, Naomi Neoh. Naomi creates the most divine, romantic bridal gowns, I'm one of her biggest fans and adore her style.
"When an incredibly talented photographer tells you they would love to do a styled shoot in a lavender field, you don't just agree politely, you jump on board and tell them you'll plan it. I met Hannah Duffy at a UK Alliance of Wedding Planners networking event last year and we instantly started talking about collaborating.  I am a huge fan of film photography and just love Hannah's work, so a few days after she had mentioned this idea, I called her to say I had found a beautiful grower and oil distiller in Norfolk who had given us permission to shoot there."
Photography by  Hannah Duffy
"I absolutely love my job! As a wedding planner, I get to work with so many unbelievably talented suppliers.  I am so inspired by creative and hardworking people and it's such an honour to bring a team together to produce something beautiful and inspirational.  I am not only passionate about the planning but also the designing element of a wedding, event or styled shoot and really enjoy pulling a cohesive look together."

"My starting point for the inspiration was lavender but there were so many directions we could take.  I wanted to keep this shoot simple, uncomplicated, intimate and beautiful, focusing mainly on the models and a few key pieces of styling."
"The dress is one of the most important focal points of a wedding.  Brides will often choose their gown first which will then dictate the colour palette or styling.  It's remarkable how an item of clothing can play such an integral role but that's exactly where I continued my hunt for inspiration. One of my brides was having her gown made by the talented Naomi Neoh and invited me along to one of her fittings."
"By pure coincidence it just so happens that Hannah has been photographing Naomi's collections for a few years so knew the gowns and how best to photograph them.  I headed down to her Pimlico show room and found a gown called 'Venus' which is a stunning dusky lilac corset and tulle skirt which has a subtle silver fleck within the fabric.  It's a stunning gown and was perfect for our setting."
"I didn't want to overwhelm the shoot with too much of one colour; the fields and gown provided lilacs and lavenders but I wanted to achieve a depth and texture to the styling.  Pinks and greys are one of my favourite colour combinations and compliment the purple hue's we were using.  Adding a hint of deep aubergine to the mix created a stunning texture and depth which resulted in a stunning yet striking colour palette."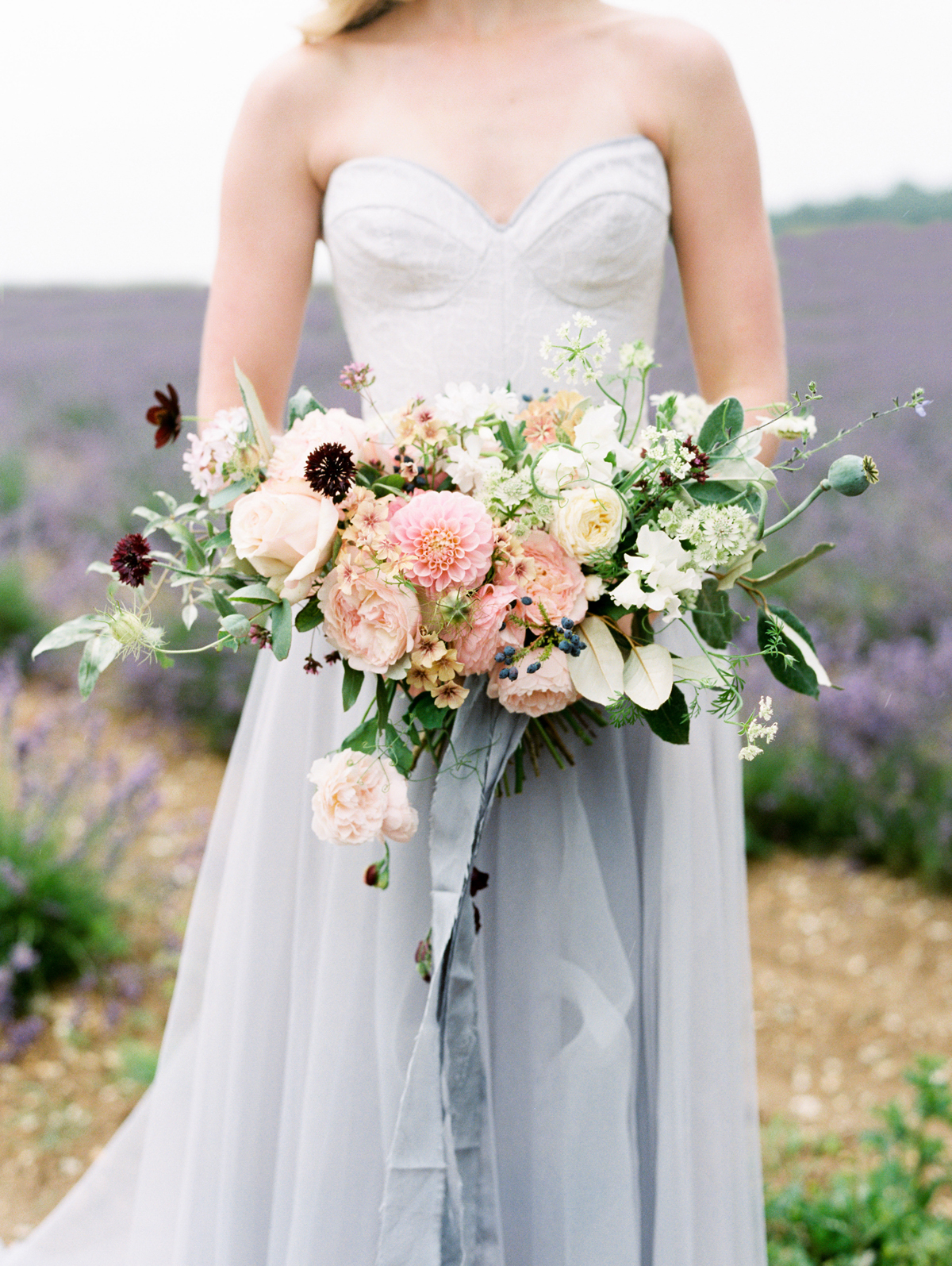 "Brigitte from Moss and Stone is a true master of her craft and I absolutely love the British grown bridal bouquet she created.  The carefully placed sweet-peas and chocolate cosmos creates a visually pleasing dimension of darker tones, and the Kate Cullen grey silk ribbon introduced a grey tone beautifully."
"The fabric archway was something I had envisioned with the drapes gently blowing in the wind.  It created such a simple but striking backdrop and is something that is inexpensive and easily recreated as a ceremony focal point.  Brigitte's urn arrangement looked so elegant as an altar show piece and resulted in such a beautiful backdrop for our 'bride' and 'groom'."
"The day of the shoot was grey and rainy; a perfect representation of typical English weather!  Laura E Patrick's imposing stationery, with its moody grey watercolour design characterised the stormy skies and brought a darker element to the theme.  I love the juxtaposition of the dark greys and bright white envelopes, and her calligraphy is just out of this world!  The greys of the stationery subtly complimented the use of dark flowers and made the colour palette consistent throughout."
"We borrowed a beautiful Edwardian inspired engagement ring and earrings from The London Victorian Ring Co which we showed off in a grey velvet ring box from The Mrs. Box; again, keeping the colour palette consistent."
"PJ is the master mind behind Emily Harmston cakes. Her paper flower skills are incredible and she was an obvious choice to create a lifelike representation of the floral arrangements.  I didn't want to showcase just one cake, but wanted to demonstrate a range of small beautiful cakes that each represented the shoots bright, yet stormy feel. I adore the way in which each cake works alongside the bouquet and stationery simultaneously; showcasing elements from both perfectly.
Three cakes allowed us to create a more interesting arrangement and I'm seeing a lot more brides opting for multiple smaller cakes to feed more guests and to show off a styled dessert table."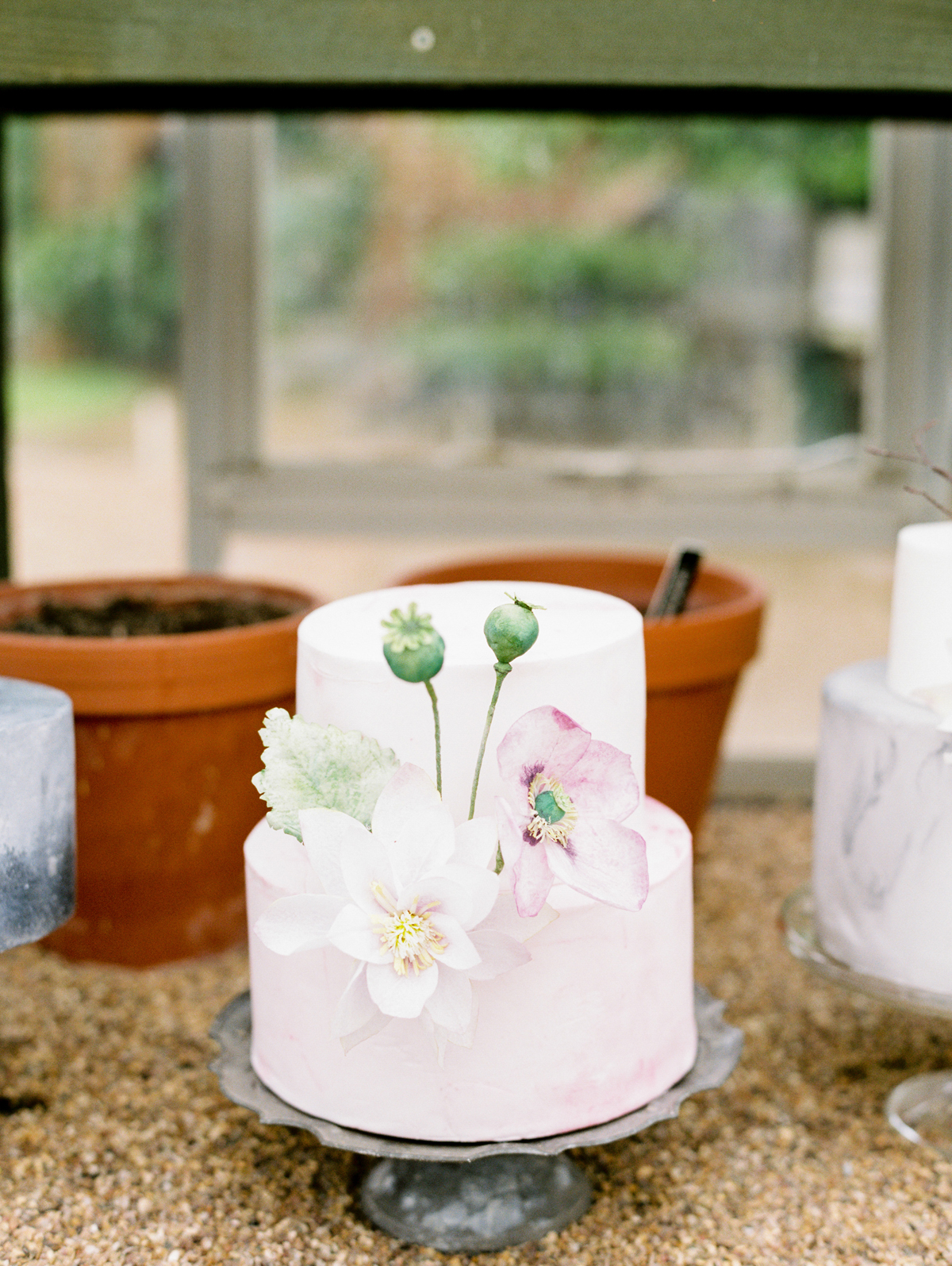 "The styling was the foundation for the shoot but the images we captured were just as significant. I had wanted the photography to tell a story of a couple in love. The groom waiting for his bride in anticipation, the couple seeing each other for the first time at the altar, intimate moments of romance and joy at the meaning of the day. Hannah has captured the shoot impeccably and I can really feel the intimacy of the couple."
"Georgia R and Adam from Blakes Models UK worked exceptionally well together and their look really complimented the overall feel of the shoot.  Adam wore a suit by Moss Bros which added a high end feel and again, brought in the darker colour combination, and who doesn't love a man in a bow tie!"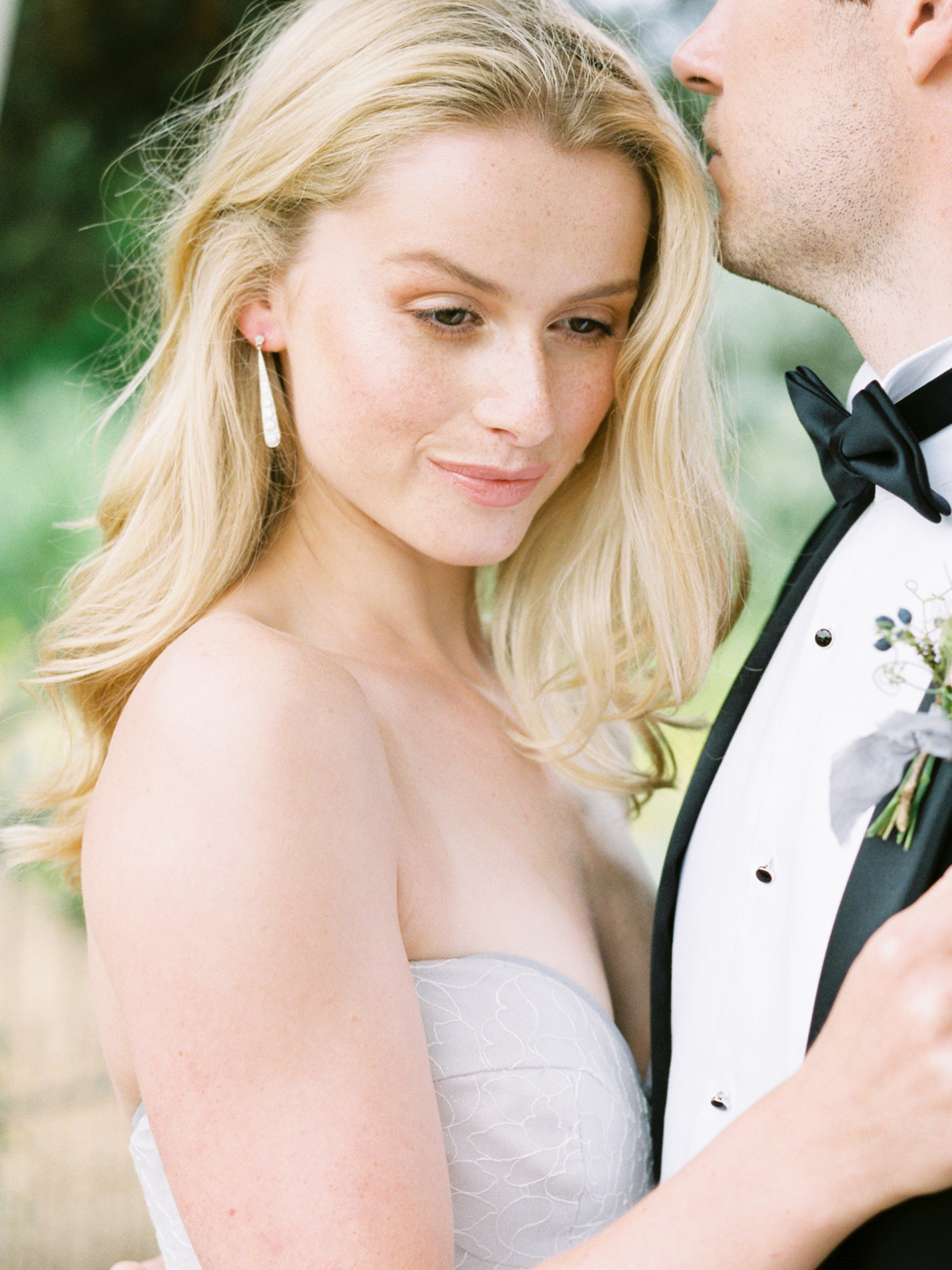 "Natty from Jenn Edwards and Co achieved a beautiful look for Georgia.  A lot of brides want to look "themselves" on their wedding day and not wear too much makeup. Natty has done such an incredible job of fulfilling that brief. Georgia's features have been subtly highlighted whilst retaining her natural beauty.  And James White is renowned for his ability to create effortless curls and sophisticate finishes."
"I had wanted Georgia to have a natural look so we could capture the wind lifting her hair.  Surprisingly I found the rain an interesting addition to the shoot however, it did result in James' gorgeous curls dropping out by the time we made it over to the lavender fields."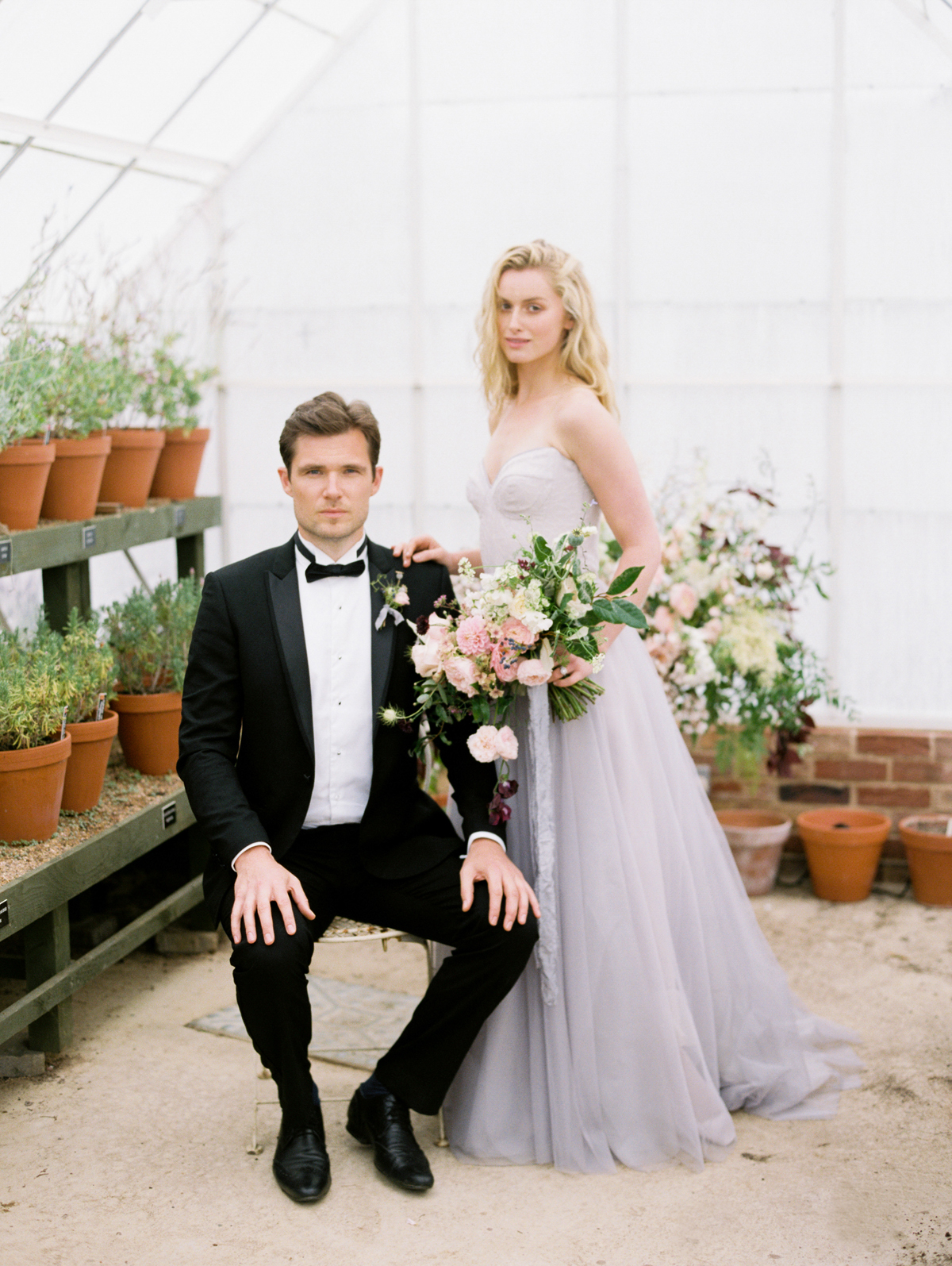 "It was a shame but one of my favourite images of this shoot is Georgia in the lavender field whilst it was raining! You can't get more quintessentially English than that!"
"I love this shoot; the simplicity yet detail of it and the incredible team behind these images have made it everything I imagined it would be and so much more!"