OK, I'm going to do it – I'm going to make an official mention of Christmas! We're at mid October now so I feel totally justified AND I am such a huge fan of winter weddings that I get even more excited at this time of year.
Today, I've got the huge pleasure of introducing you to the brilliant King Street Townhouse in Manchester and I've got details of their amazing winter wedding offers for you too so if you fancy an early seasonal treat, read on.
So King Street Townhouse really is rather special. Not only does it sit in the upper area of the fantastic King Street Conservation Area in Manchester city centre but also, as a building, it's just gorgeous. Designed by local architect Edward Salomons, it was originally built in 1872 for the Manchester Salford Trustees Bank and it's oozing with history.
Now, it's been given a complete makeover and behind the impressive Italian renaissance exterior, something all new is going on. Owned by the Eclectic Hotel Collection, this baby grand hotel has been respectfully and tastefully designed to expand on the charm and unique qualities of the historic building. There's no denying it, King Street Townhouse is a luxurious, desirable and brilliantly versatile wedding venue, right in the heart of Manchester.
And to me, it's that versatility that makes King Street Townhouse such a brilliant venue for a wedding. Whether you're planning an intimate gathering for close friends and family or a huge reception for 150 guests, there's a perfect space for you inside this amazing hotel.
For larger groups, you can take over the 6th floor lounge and heated South Terrace, which offers outstanding view of Manchester. If you're planning a more intimate occasion, there are truly gorgeous spaces with dark, solid wood floors and wall paneling that could have been made for smaller weddings. As you'd expect, the hotel is licensed for civil ceremonies in several areas and the fabulous staff will happily show you what's possible.
Of course, that's not all King Street Townhouse also boasts its own tavern, 40 bedrooms and suites, afternoon tea lounges and an infinity spa pool not to mention The Cellars, home of an exclusive private dining area and cinema. Contemporary, historic and truly individual, it's a remarkable venue to be sure.
If you've fallen for King Street Townhouse and you've not yet booked your venue, then they're currently offering a range of exclusive winter wedding offers for January AND, when you book your winter wedding package for January 2018, you'll also receive a £500 contribution towards your wedding dress* so let's take a look at what's on offer from King Street Townhouse:
Winter Wedding Package includes private hire of the 6th floor South Terrace and lounge plus blankets & sparklers, drinks reception, three-course meal, tea & coffee or the Winter BBQ menu. Live entertainment (not included) is permitted until 11pm and last orders for non-residents are at 1.30am. The price, based on 50 guests, is £4500 for Friday & Saturday dates or £3500 for Sundays. Additional all day guests can be booked for £50 per person and the space can accommodate 100 seated guests or 150 informally.
The All Wrapped Up Package includes all the above plus arrival canapés, a toast drink, midnight munchies and a sweet table. Again, based on 50 guests, the price for this is £6250 for Fridays and Saturdays or £5250 on Sundays. Additional all day guests can be added for £85 per person and evening only guests (who still get the midnight munchies and sweet table!) cost £20 per person.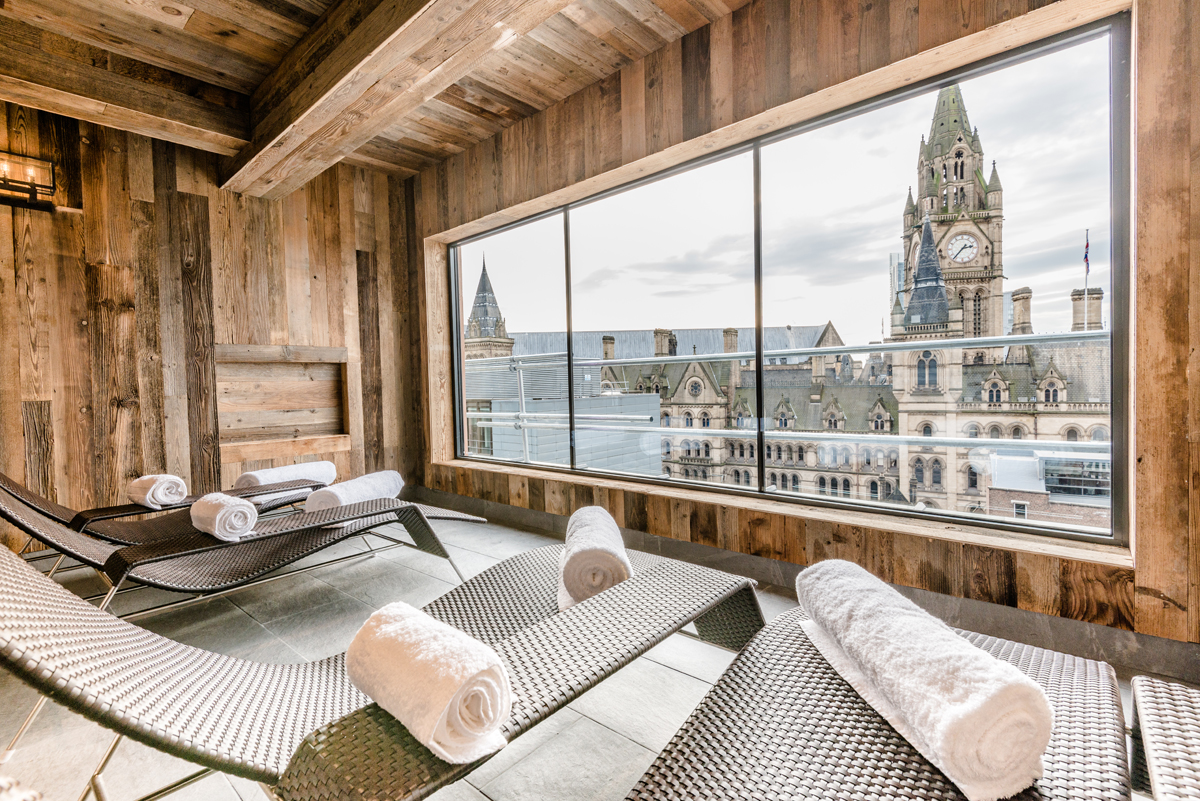 My favourite option however has to be the Sleepover Package because for an additional £2000 (Fridays and Saturdays) or an additional £1500 for Sundays, you can add the following to your choice of the two packages above: 2 one bedroom suites and 6 snug rooms plus private breakfast the following morning for you and yours guests (who can also make use of the 24 hours bar service!). When you add the Sleepover Package to your wedding, you can extend your DJ until 1am to really make the most of your party. There's also the option for your guests to pay for their own rooms on departure at a rate of your choosing and this is then deducted from the amount you have to pay.
So, if you'd like to find out more about any of the winter wedding packages or if you'd like to visit King Street Townhouse to talk about your non-winter wedding, just get in touch with Sarah Graham, the wedding coordinator on 0161 667 0707 or via [email protected].
Is it just me or is Manchester calling right now?
Love,
Tamryn x
There are no photos with those IDs or post 681424 does not have any attached images!