It's always such a privilege to share the weddings of the amazing women who make up our Love My Dress girl gang, and even more special when the bride is a cherished member of our Facebook community. The very lovely (and drop-dead gorgeous) Nicola, a primary school teacher, is also a part of our A Life Loved group. And what is 'A Life Loved' I hear you cry? Well it's a beautiful new blog created by our founder Annabel, and it's coming very soon!
Nicola wed her husband Oli, a creative technical manager on 29th July this year at Cripps Barn in Gloucestershire. She found several of her suppliers, including botanical wizzes, Vervain Flowers and our all time girl-crush, Halfpenny London through Love My Dress. I cannot stress enough how much love I have for the amazing Halfpenny London girls. I recently attended the launch of designer Kate's stunning Black Edit along with fellow Little Book for Brides megababe, Tilly Thomas Lux, who designed all the jewellery shot alongside Kate's beautiful inky designs, and our very own editor and all-round wonder woman, Annabel – and let me tell you, it is stunning.
"I purchased my dress from Carina Baverstock Couture and alterations were made by Louise Allberry. When shopping for a wedding dress, I had no idea what style I wanted. What I did know was I wanted to stay true to my own style and tastes, and wanted to be able to eat, drink and dance in it without feeling constricted. When I first put my dress on, it was two sizes too small, but the train reminded me of Galadriel's dress from 'The Hobbit' movies and I fell in love with it instantly."
Photography by Sam Gibson
How dreamy is Nicola's Iris Rose gown, even more delicate and whimsical overlaid with a bespoke lace cape and set off by our bride's vibrant, silken tresses. Halfpenny London designs are heart-stoppingly beautiful and just oozing with elegance, personality and style – you only have to check out our Look Book to see what I mean.
And referencing the elvish Lady of Lothlórien in her dress was always going to make me want to hunt Nicola down and make her be friends with me!
"We aimed for a relaxed vibe with details that blended the timeless with the contemporary, taking inspiration from rustic, industrial and geometric sources, as well as from a few of our favourite books, TV shows and stories. It was important to us that we reflected our tastes, while also showing off the raw beauty of our venue."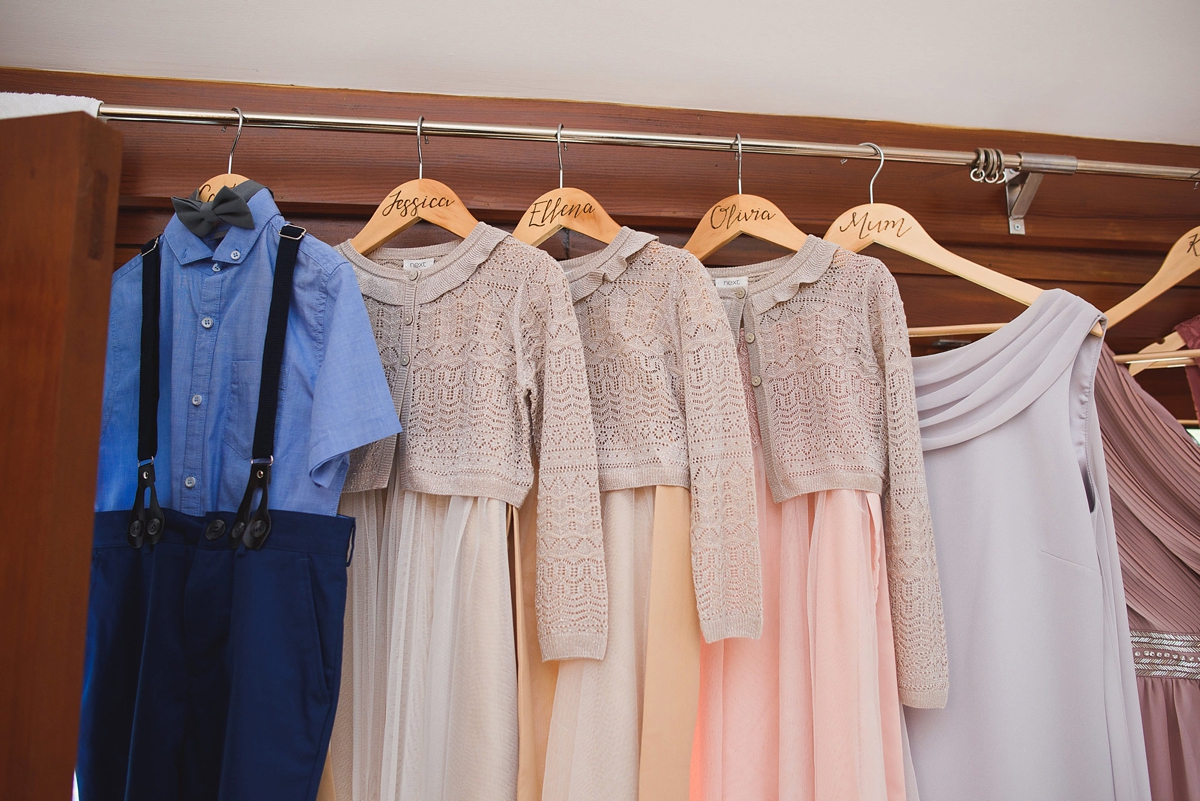 "My headpiece was from Britten. I was torn between wanting fresh flowers and something more subtle, but the second I saw the Delia hair vine, I knew it was what I'd been searching for."
Nicola also wore the 'Ginger' shoes by Rachel Simpson, which were comfy enough to dance the night away in. You can find more of these gorgeous creations on our Little Book for Brides, along with intricate headpieces from Britten, who crafted our bride's floral hair accessory. Nicola's finishing touch, which was also her 'something blue,' was a forget-me-not bracelet by Marie Canning, custom made in gold to tie in with the rest of her accessories.
"While I loved the look of veils and knew this would be my only chance to wear one, I couldn't help feeling it was a step too traditional for me. I spoke with my seamstress and asked her about creating a veil-cape for me. She sourced the most beautiful tulle and lace and did a wonderful job, I loved it."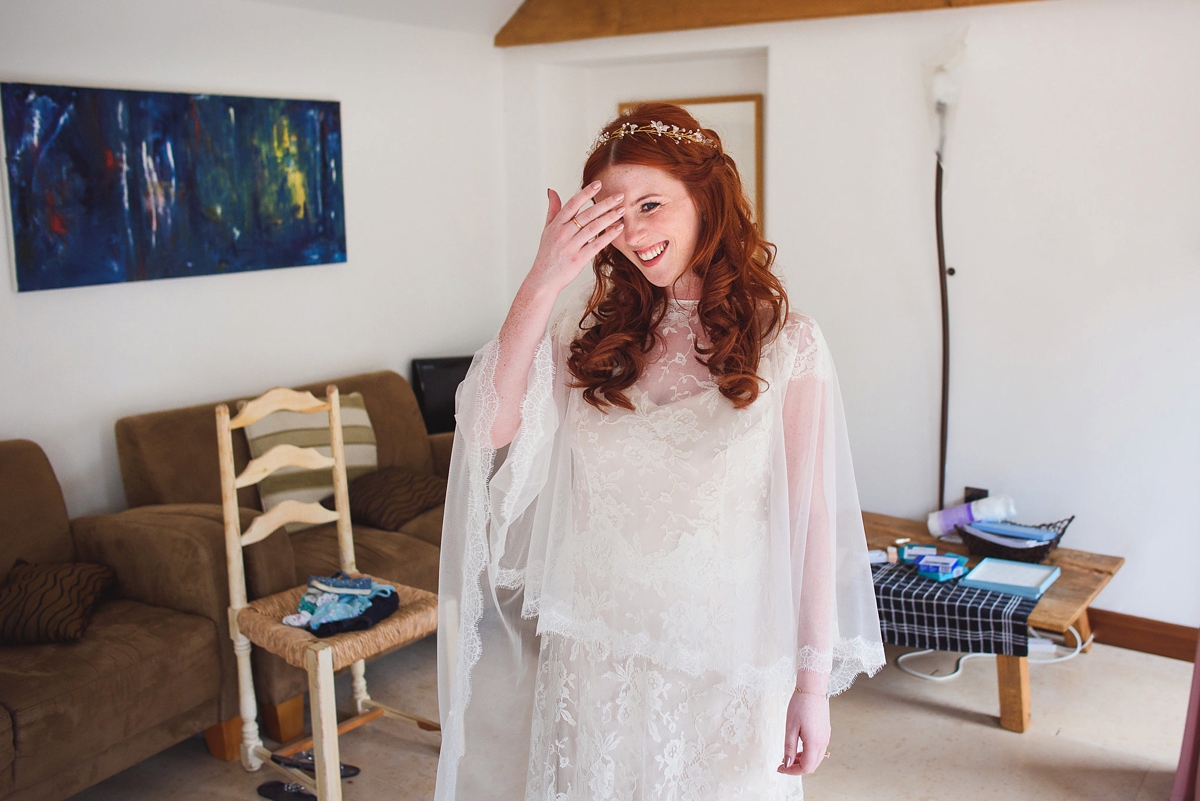 Nicola and her bridesmaids were in the capable hands of Vicky of Goldsworthy's when it came to hair and make-up. The ladies were thrilled with her work and grateful for her calm and focused presence while creating the looks they all wanted. Our bride asked her best girls to find long, pink dresses that they felt fabulous in and the stylish bunch did just that, sourcing gowns from ASOS, Monsoon and Debenhams.
As part of their thank you gifts, Nicola gave each of her girls a bracelet from Kate Spade and she dressed her cute flower girls in frocks from Monsoon, which also came up trumps for the page boys, their little shorts worn with shirts from Marks & Spencer and braces and bow ties from Etsy.
"I found India at Vervain through Love My Dress, she is a floral genius! I asked for blousy, green and fragrant and she produced the most amazing bouquets and decorations. We were thrilled with her work."
"All the men's suits were purchased from Next and then tailored to fit and Oli's shirt was from Paul Smith, we loved how it made him stand out from the other groomsmen. I gave Oli a Maurice Lacroix watch and a bottle of Creed aftershave on the morning of the wedding. He smelt so good all day, there are actually photographs of me sniffing him!"
"Oli and I met at university ten years ago. An old school friend of mine ended up being his flatmate. Once I enrolled, she and I became much closer and she is now one of my very best friends. Our engagement happened the day before my birthday, we'd just been to visit a litter of puppies so we could bring one home, and then went off to stay at Harptree Court Yurt."
"We were toasting marshmallows, stargazing and listening to music when Oli told me he'd like to give me an early birthday present. The first thing I noticed was how beautifully he'd wrapped it. I spent so long trying to unwrap it without spoiling the beautiful wrapping paper, I didn't notice him slip to one knee as I opened the ring box. Our wedding happened exactly three years later, which happened to be a few weeks earlier than our ten year anniversary."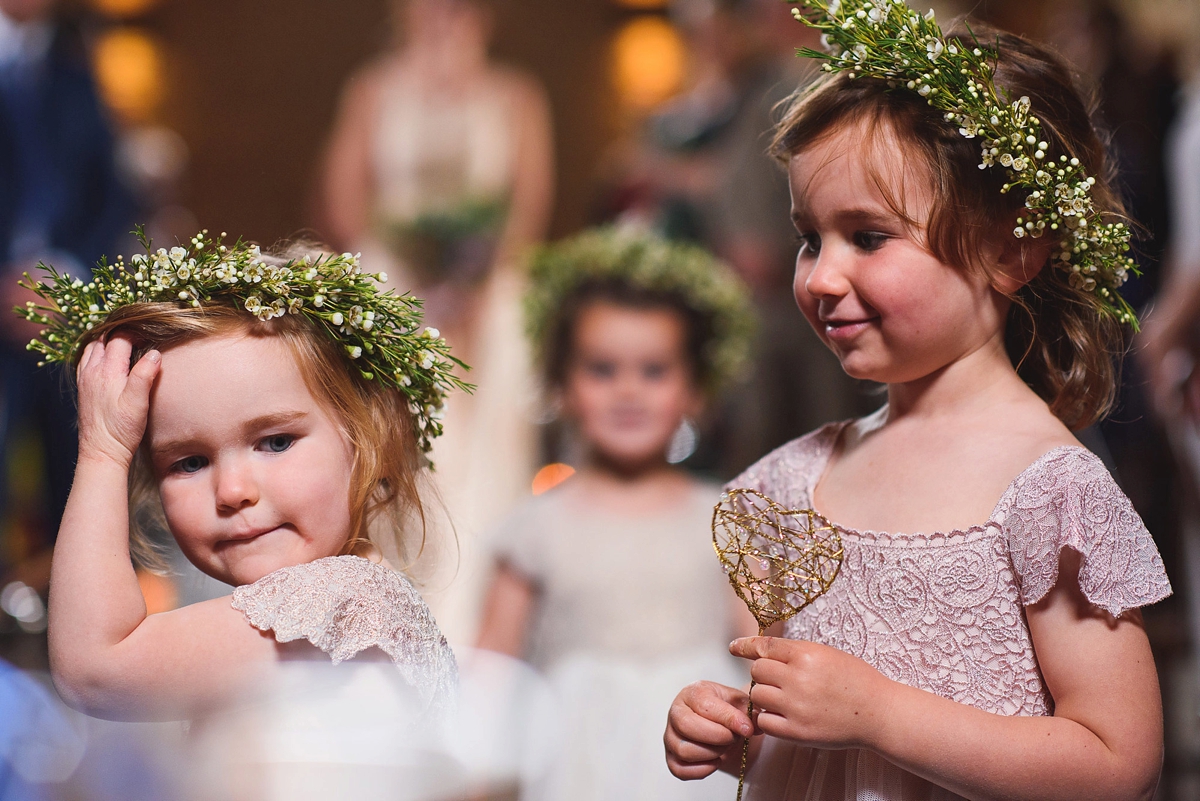 Nicola's dad walked her down the aisle, a really special moment for both of them, drawing strength from one another as they're both uncomfortable in crowds. 'Here Comes the Sun' by The Beatles serenaded the lovely pair as they took those significant steps, and the tradition has been so beautifully captured on camera by the talented Sam Gibson. The image of Nicola resting her head on her dad's shoulder, her striking flame-red hair tumbling around her serenely happy face, just gives me all the feels.
The ceremony was easily Nicola's favourite part of the day. She knew she'd be emotional, but just wasn't prepared for the overwhelming feeling of love and support from everyone in the room.
Our bride also loved being taken away for photos with her brand new husband, gifting them the time to catch up with each other away from the crowds.
"For us the ceremony was the most important and significant part of our wedding, but the words provided didn't resonate with us. We wrote our ceremony from scratch and finished it off with personalised vows. As we knew I'd cry, we decided to split our vows up in a way that meant neither of us would be talking for a large amount of time. We tried to keep them light-hearted but sincere:"
(Oli) I vow to love you
(Nic) I vow to love you
To respect you
To be your best friend
To always be on your side
To be patient
To hold you when you need comfort
To step back when you need to breathe
To be your biggest fan
To be open-minded
To take you on dates 
To appreciate the little things
To never stop learning
To dream big dreams
To cheer you up and cheer you on
To stay young, even when my body says otherwise
To always be grateful for you
To cherish you always
To be faithful to you and have faith in you
To be faithful to you and have faith in you
To work every day towards being the man you deserve
To work every day towards being the woman you deserve
"Two of my cousins read 'A Lovely Love Story' by Edward Monkton – I gave the book to Oli for our first valentine's day over ten years ago, so it felt fitting. Our other reading was chosen and delivered by my best friend. She chose Blessing for a Marriage by James Dillet Freeman and it brought a lot of people to tears."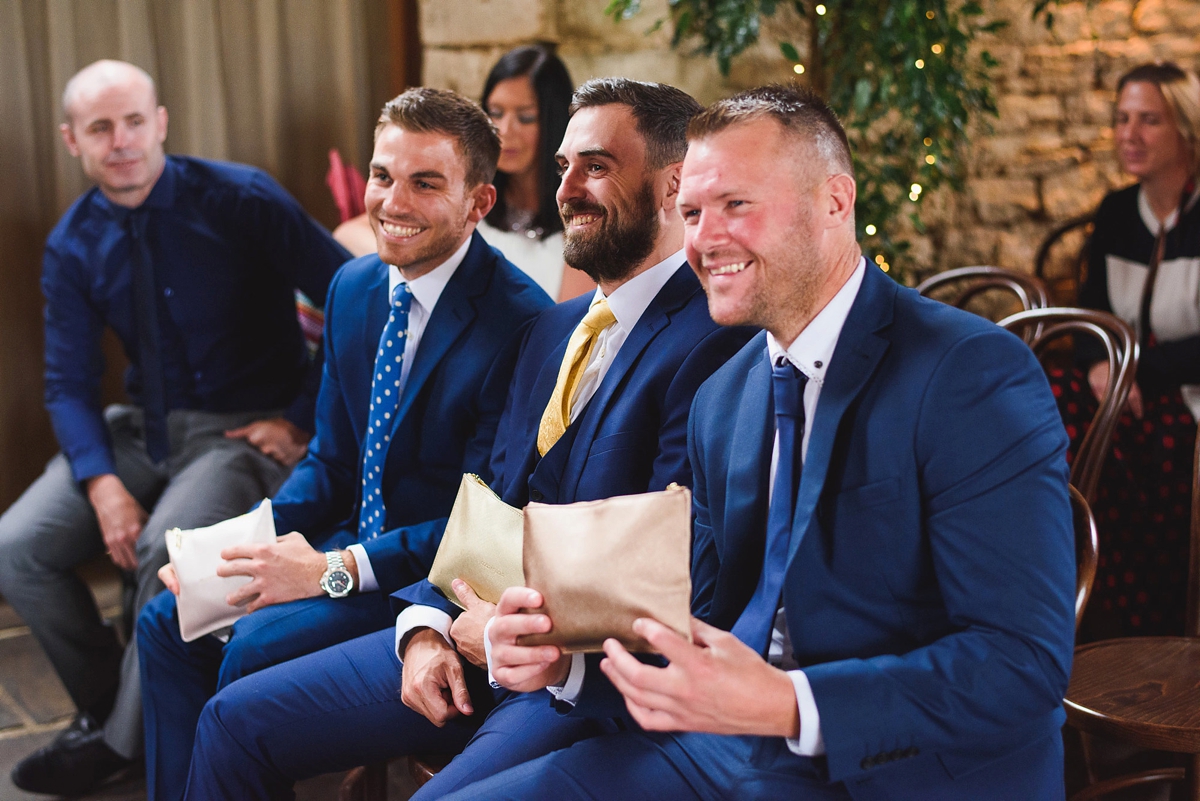 "Our photographer Sam Gibson was an absolute pleasure right from the beginning. He was the first vendor we booked, almost two years early. Having the right photographer was of paramount importance to us, and his candid, unobtrusive style was everything we had envisioned."
"All of our guests commented on how hard he worked, how lovely he was and how wonderful his pictures are. We could not be more pleased we found him."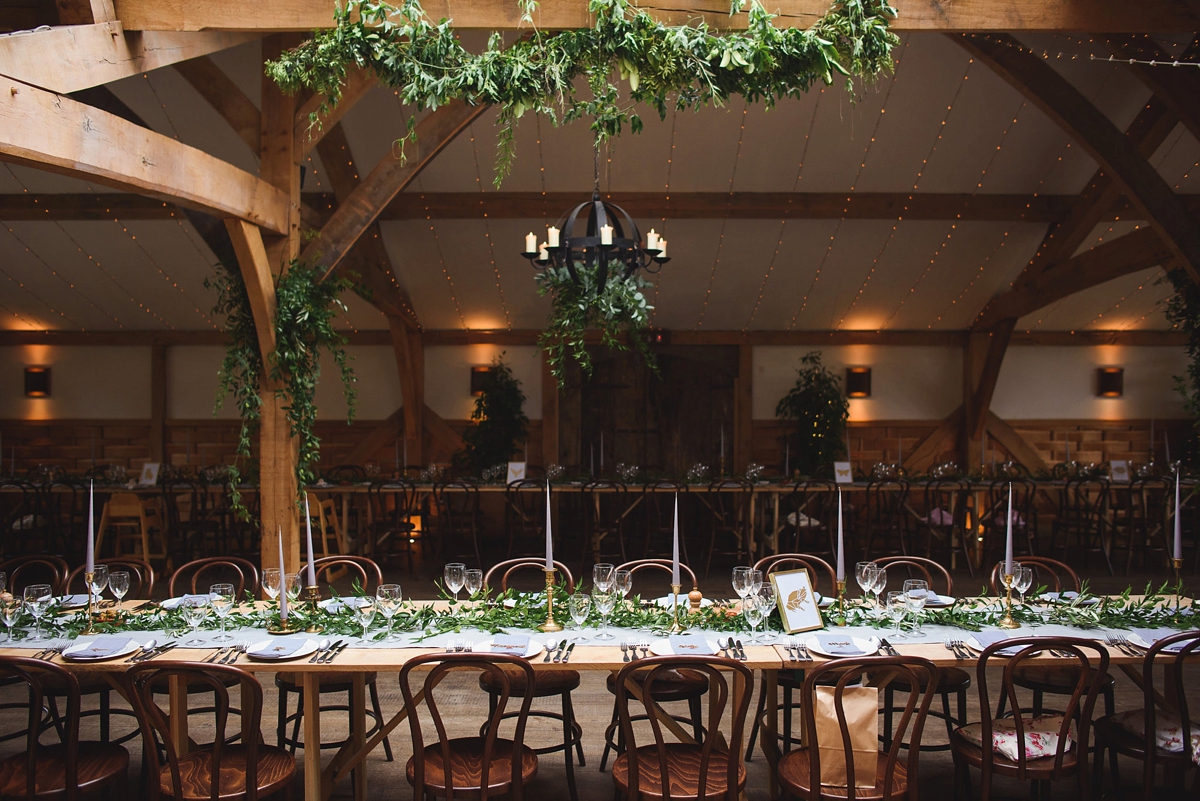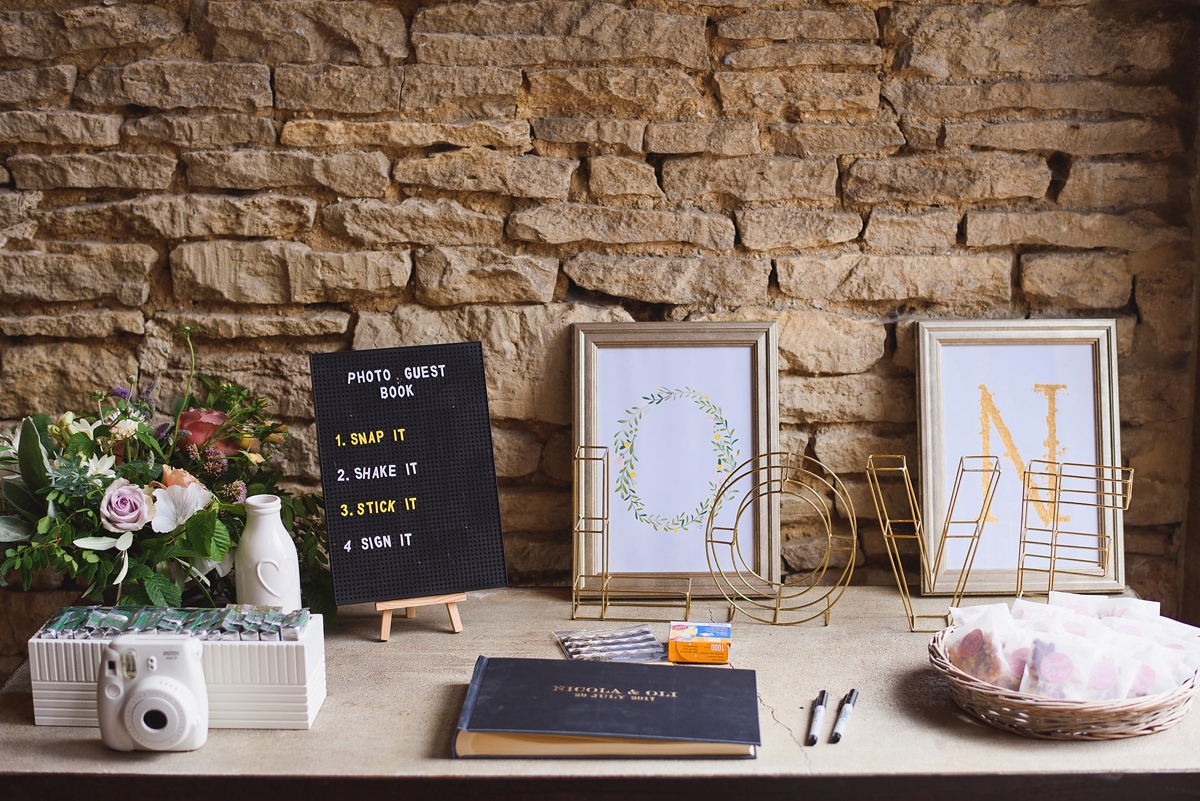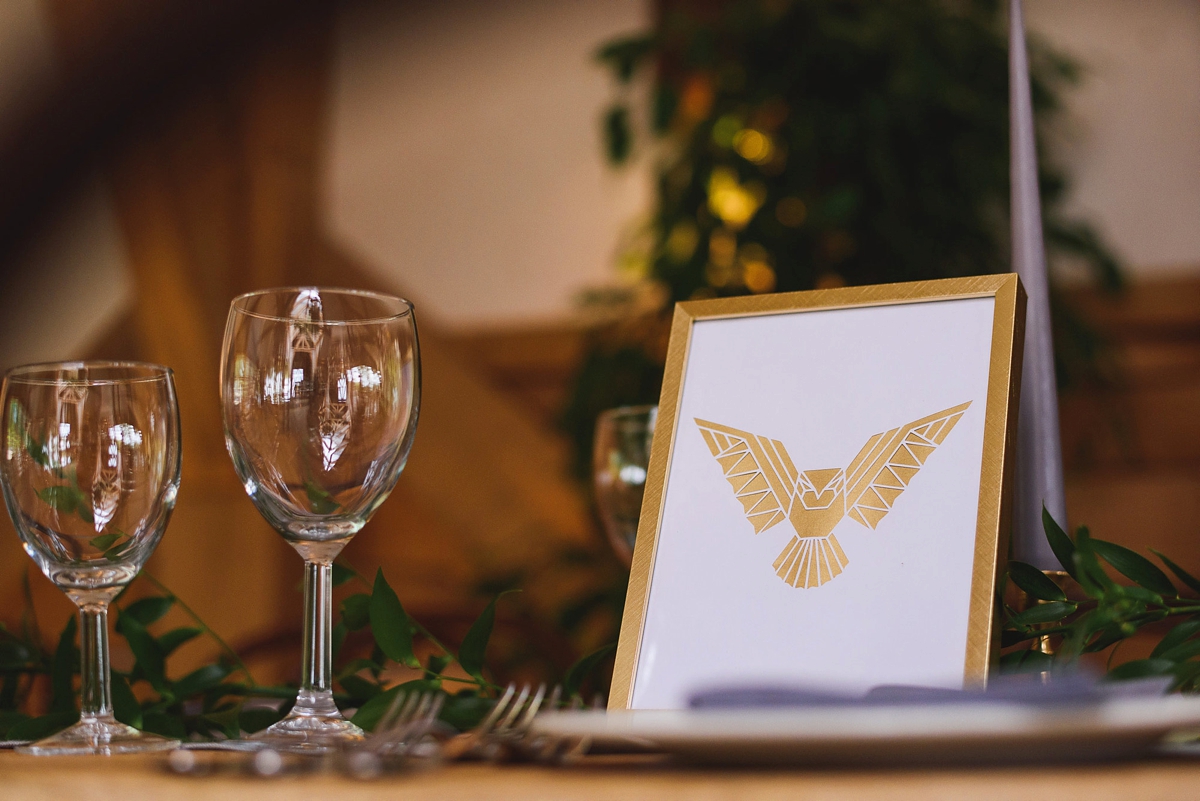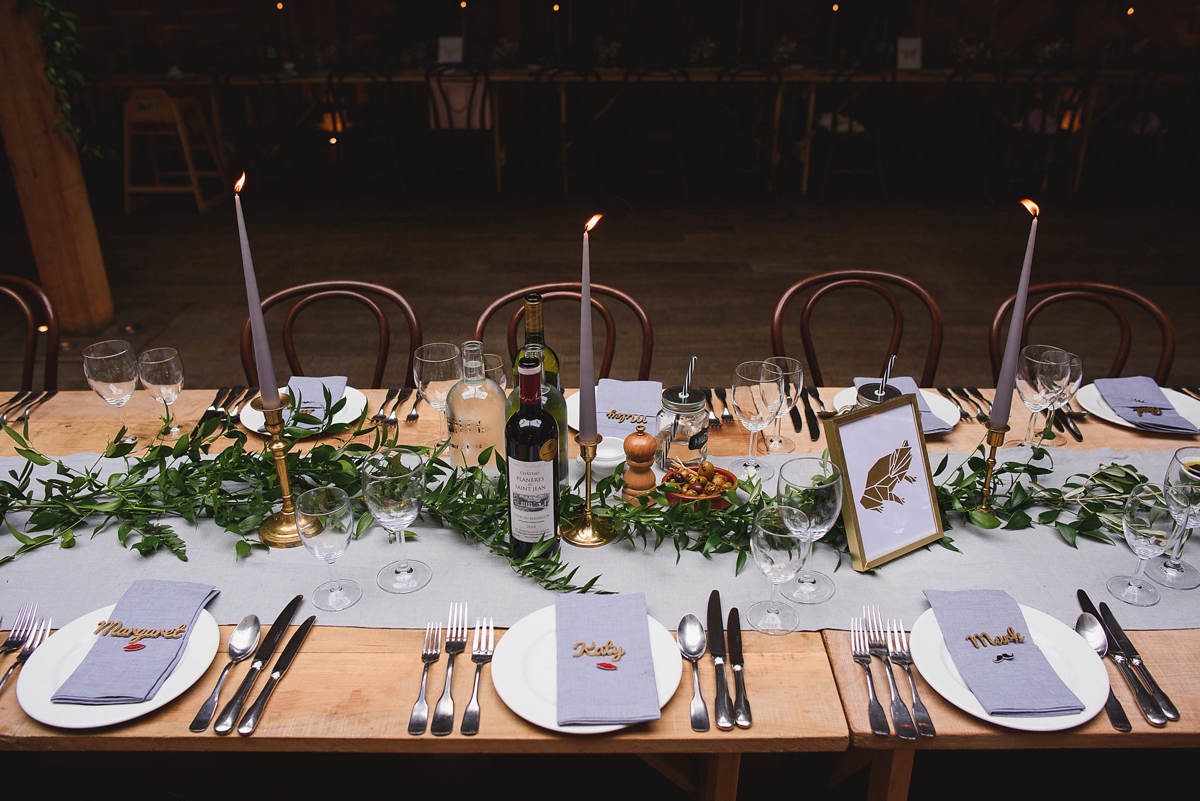 Cripps Barn, as well as hosting the beautiful union of Nicola and Oli, also took care of catering the wedding breakfast. Nicola's exceptionally talented sister-in-law crafted the couple's delicious tiered cake, which sat scrumptiously alongside a sweet creation made by Oli's mum and shop-bought beauties from Marks & Spencer and Waitrose. Oli meanwhile built that amazing doughnut wall, which was filled with Krispy Kremes.
"Cripps Barn have their own in-house catering, and it was phenomenal. Our guests have been raving about it ever since, and everyone has a different favourite."
"We served canapés of honey sausages, mini burgers and halloumi during the drinks reception, then served a charcuterie board for starters and a brick of sirloin steak with dauphinoise potatoes for the main course. In the evening we had pizzas by Baz and Fred for the people who could manage it."
"We drew from the beautiful untamed grounds at Cripps and created a woodland-inspired table plan which also served as favours alongside our charity pins. I couldn't find what I was looking for anywhere, so we painstakingly made the silicone moulds and cast the animals out of resin ourselves. Our guests loved them, and apparently were trying to trade with each other to get a complete set! For the children, we made goody bags of toys, a colouring book, crayons and sweets."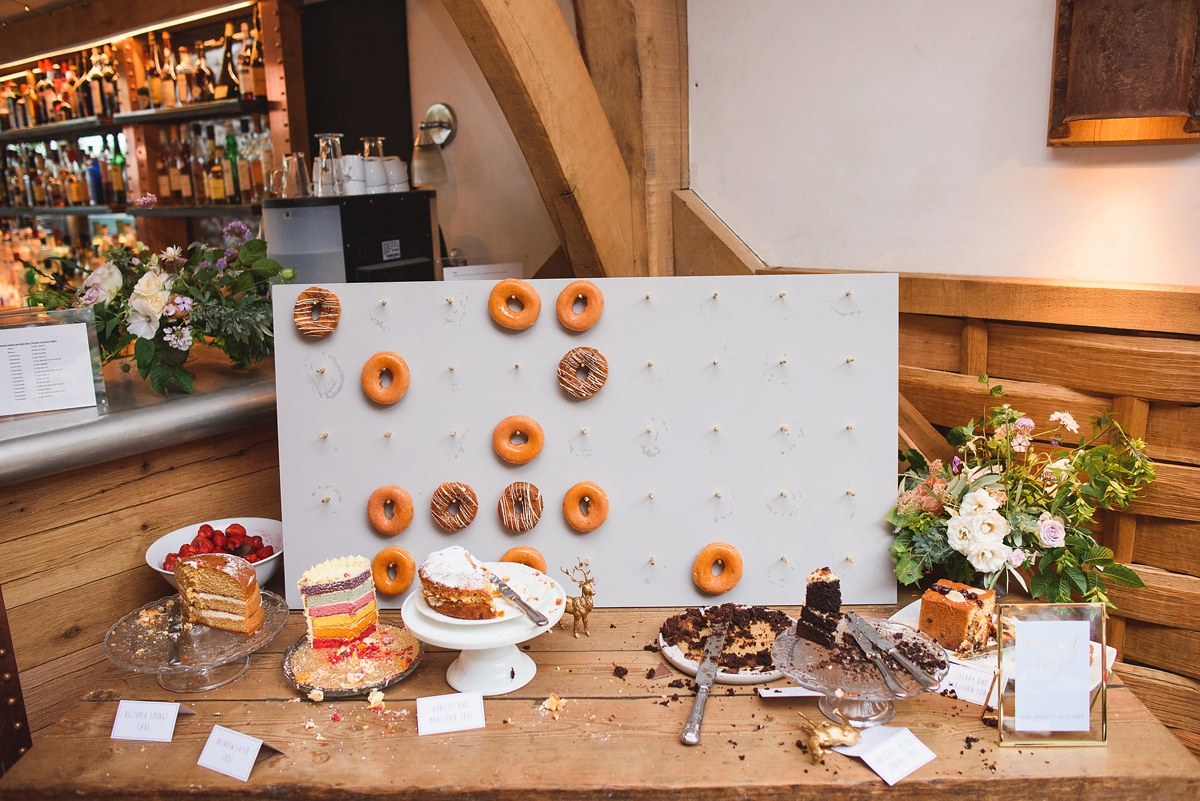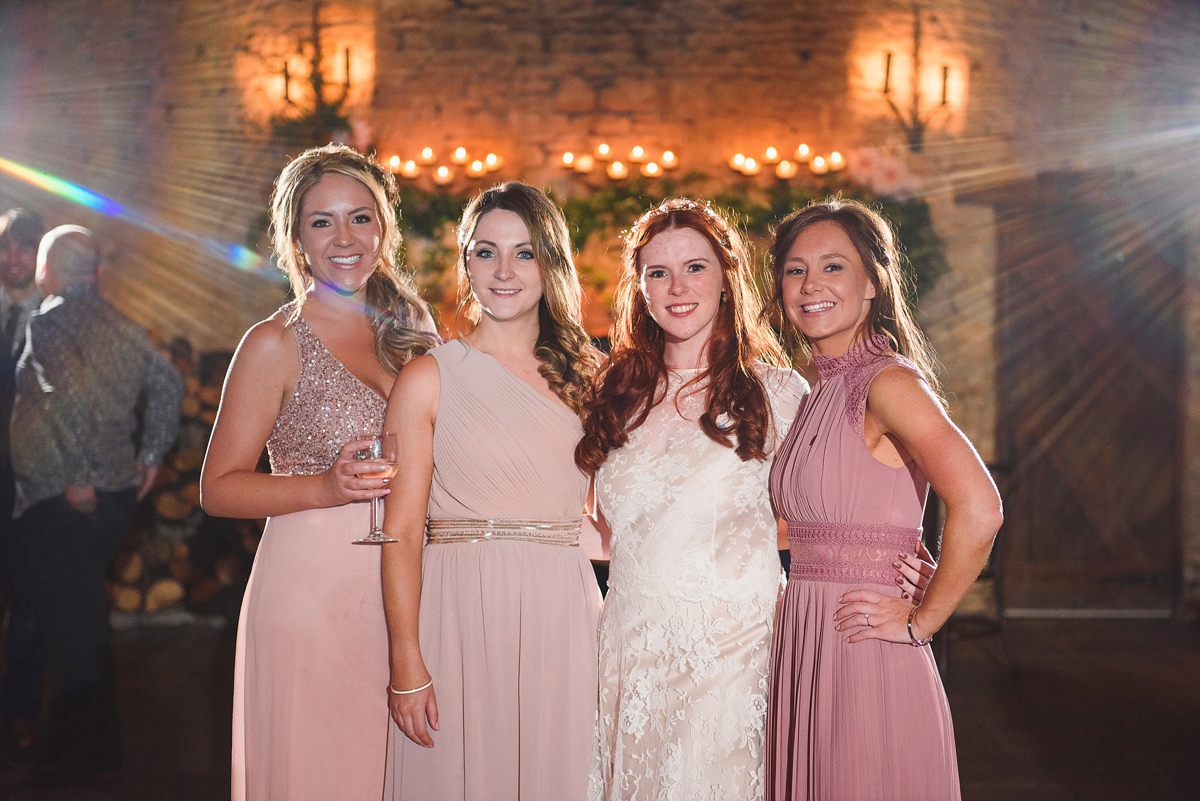 The talented groom programmed and built a photo booth that was operated by a pedal on the floor, and the fact that it was unmanned meant even the couple's most camera-shy guests had a go. Nicola informs us they got some really cracking pictures – pun intended – as some of their guests took their clothes off for the camera!
"A friend of a friend recommended Riot! to us after seeing them at another wedding. They didn't disappoint. Our first dance was the Gareth Bush cover of 'Still Into You' by Paramore. We love how the words could have been written about our relationship, but were reluctant to dance to the original since we're rubbish at dancing so finding Gareth Bush's cover was a dream come true."
Words of Wedded Wisdom
"Surround yourself with suppliers you trust. On the morning of the wedding I was completely relaxed because I knew everything was in safe hands. Also, plan beforehand to seek each other out during the party in the evening. When you're in a room surrounded by everyone you love, some of whom you might not see as frequently as you'd like, they want a lot of your attention."
"Finally, please, please, please don't worry about the weather! I was convinced rain would ruin our day but it actually meant that our guests stayed together and danced rather than sitting around the fire. Some of our favourite photographs wouldn't have been possible without the downpour."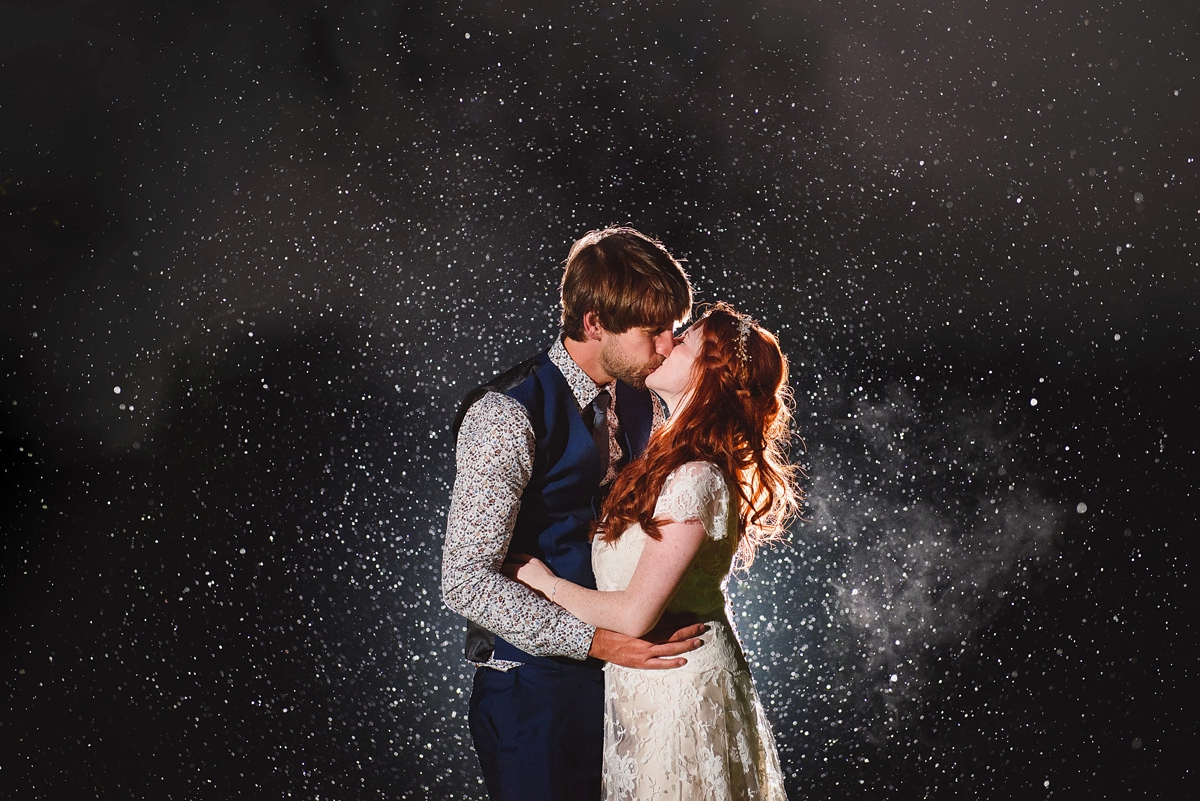 And what incredible photos they are, positively magical and Galadriel-worthy! My hugest, most heartfelt thanks to the beautiful Nicola and Oli and the talented Sam Gibson Photography for allowing us to share this truly beautiful day.
With love,
Em x