If you're a regular reader of Love My Dress then you may have noticed that we are proud supporters of The Wedding Collective Market.  The Wedding Collective is unquestionably Scotland's coolest wedding event, bringing together the cream of Scottish wedding suppliers to help brides create unique, stylish weddings.
I was delighted to find out that today's bride Liz discovered the Glasgow Wedding Collective on Love My Dress. Through it she found many of her amazing suppliers including her caterer, photographer and wedding dress designer. So please, make yourself a cup of tea and enjoy this spring Scottish wedding.
Liz and Joe married in a humanist ceremony in the incredible setting of Ardtornish Estate, Morvern, Argyll, Scotland on 15 April 2017. Hiring the house and its estate (which sleeps one hundred) for the entire weekend, the couple planned a relaxed celebration full of personal touches to reflect their life together. These images are by Caro Weiss Photography. We love featuring her creative, beautifully composed work on Love My Dress, and are so proud to list her on our wedding supplier directory Little Book for Brides.
"When we started looking at photographers, we just kept coming back to Caro. She offered exactly what we wanted – minimal posing, natural, beautiful, a true reflection of our day. On the day she was a lovely, calming presence, but also practically invisible a lot of the time! She only ever stole us away for short periods of time for photography, letting us enjoy the day and spend time with our guests. Our photos aren't just a record of what happened on the day, they reflect the feeling and atmosphere in a way we never expected."
Photography Caro Weiss Photography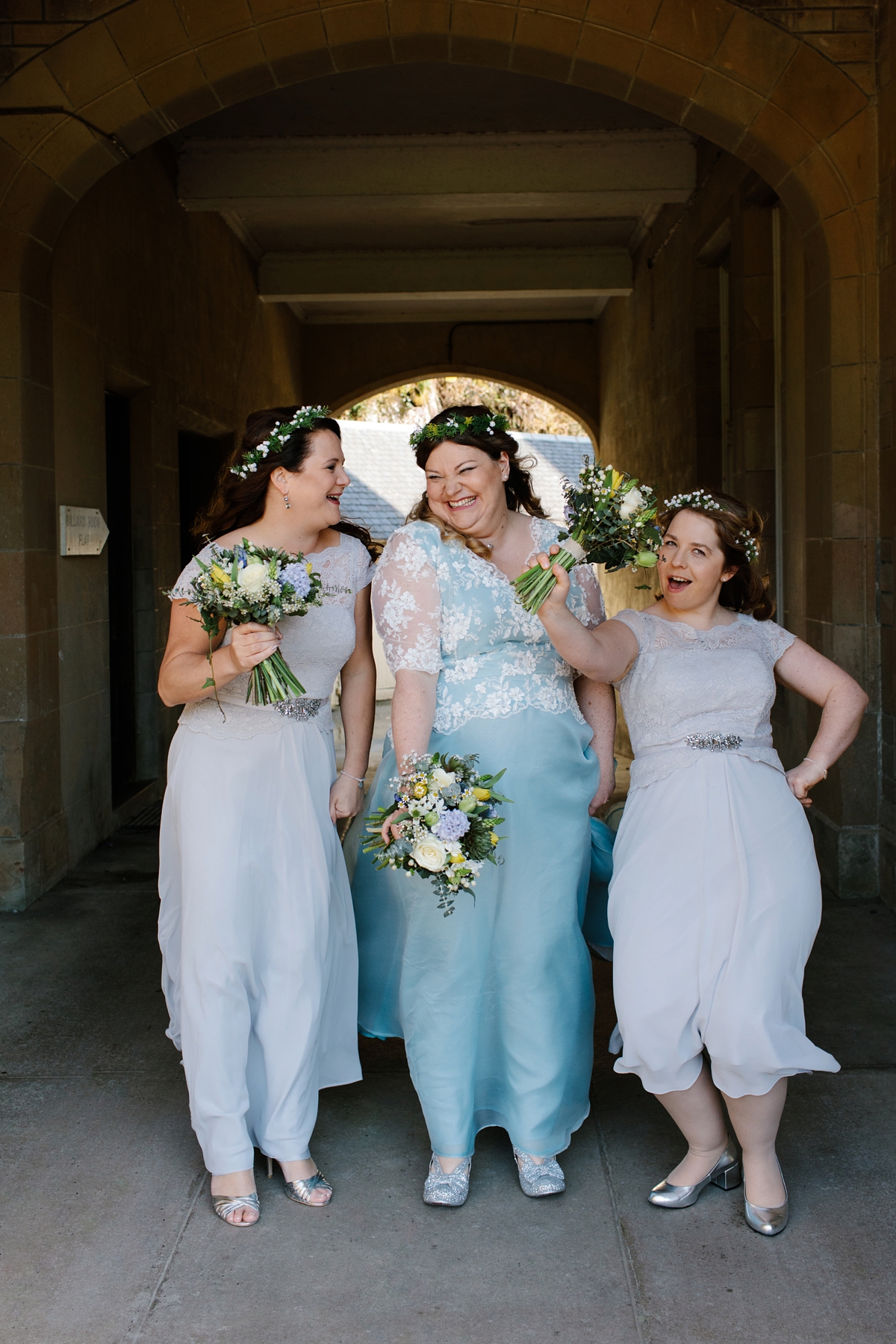 Struggling to find a gown that she loved, Liz designed her beautiful bespoke blue gown with its pretty lace overlay and three-quarter length sleeves with designer Rowan Joy Bridal. Over to the bride to explain the process.
"As a plus size bride, although there is plenty of online resource and support, I still found it tough going to shops with only a limited number of dresses in my size. It also didn't help that I wanted something different and coloured. It seemed plus size dresses were either the tea-length style, or just a bigger version of a standard design, which did me no favours."
"We really wanted to get married in Scotland because it was important to us to have a humanist ceremony, which are not legally binding in England yet. We did get a lot of raised eyebrows because neither of us have any connection to Scotland nor have any friends or family there!"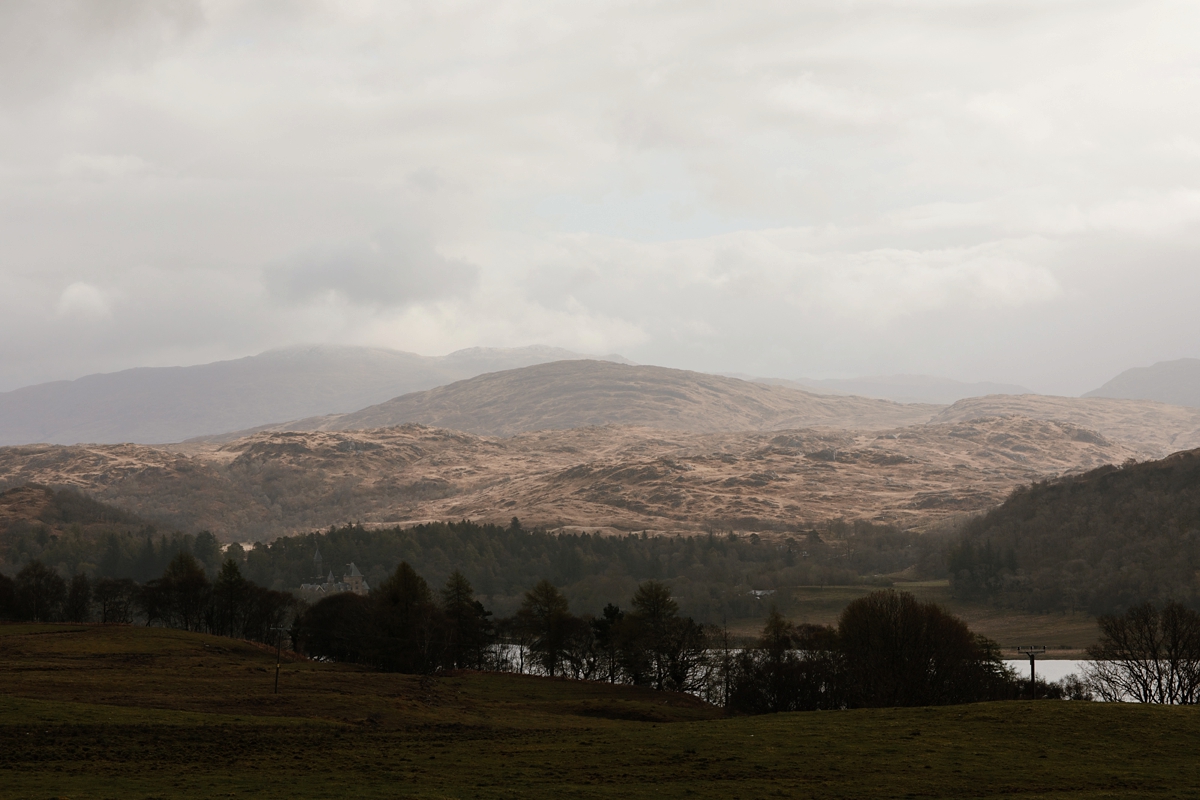 "We knew so many of our guests would be travelling a long way (Joe is American, and we have a lot of international friends), so we wanted a venue that we could have exclusively for a whole weekend, and could sleep as many people as possible so we could have everyone on site."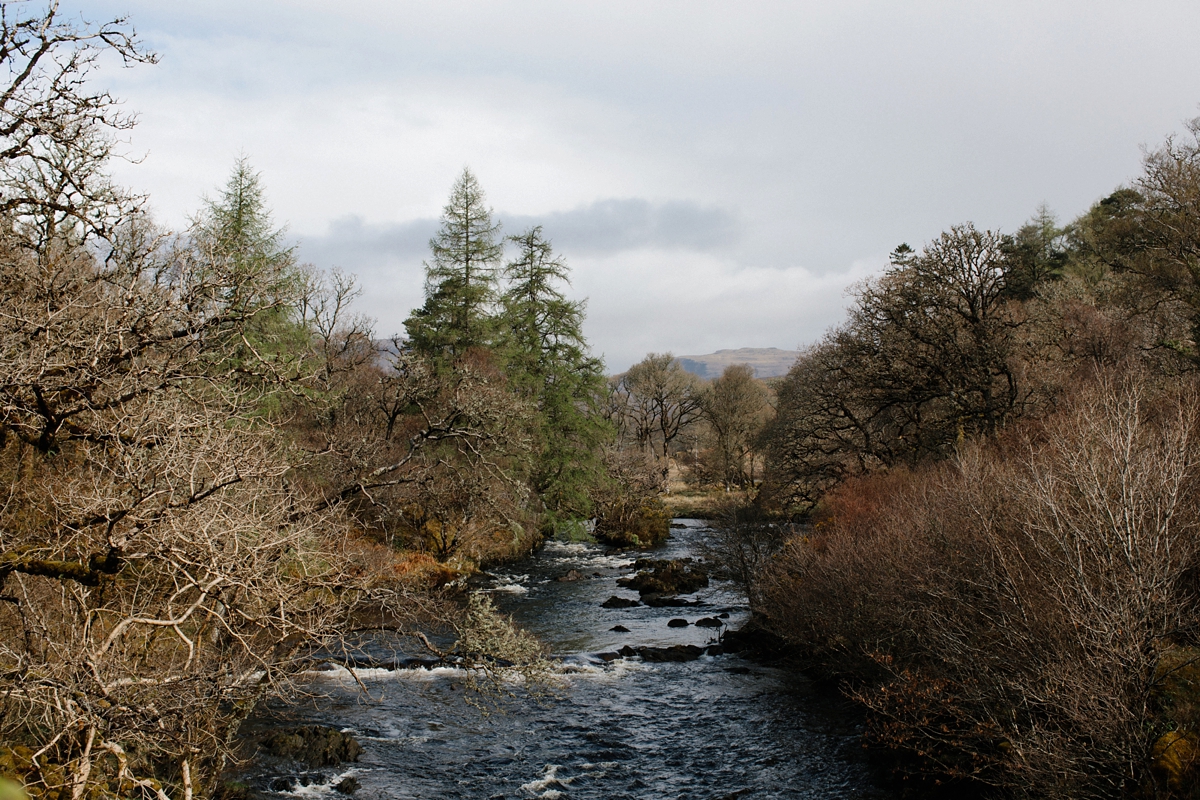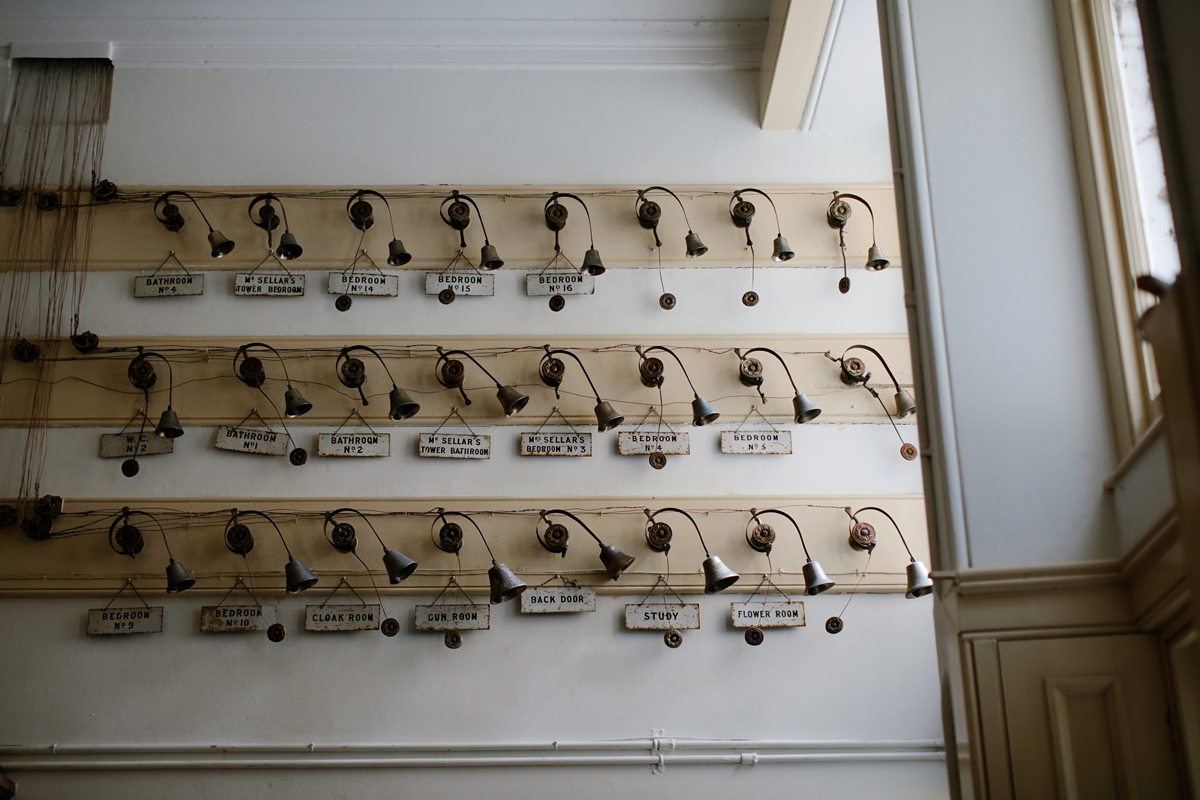 Liz found Ardtonish online, and fell in love with the imposing Victorian house with its views over the loch and Sound of Mull. Its extensive accommodation for the wedding party was also a key attraction for the couple.
"We loved that being a wedding venue isn't their main business – they don't churn them out every weekend like a well-oiled machine. They mainly concentrate on self-catering holidays, and only have a few weddings a year, which made it all the more special."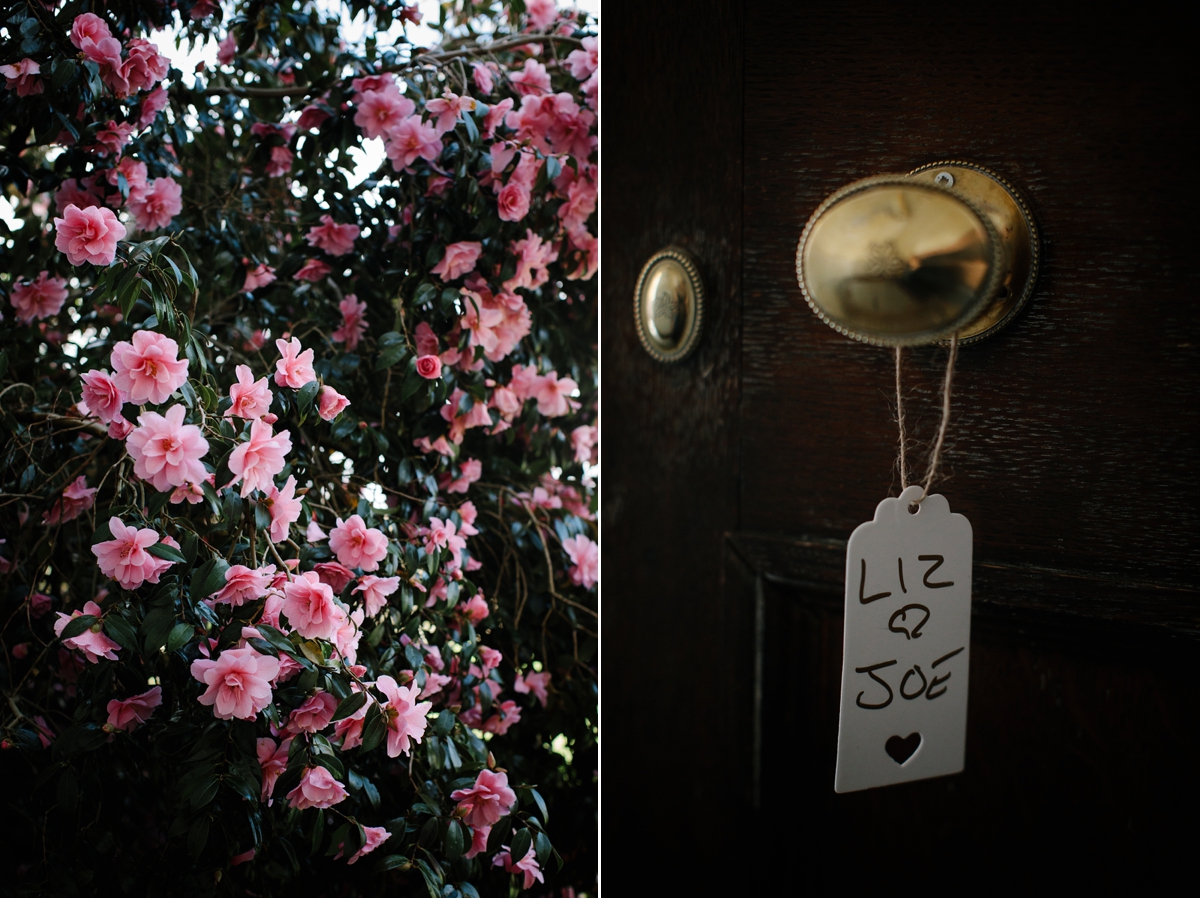 Liz, who is a copywriter for Virgin Atlantic, and Joe, a lecturer in Political Theory at Queen Mary University, met online. After three years together, Joe proposed on Easter weekend 2016. They chose the following Easter for their wedding date.
"I really enjoyed looking through Love My Dress, especially that I could sort the real weddings by location so I could look at other Scottish weddings! It shines through that Annabel is a bonafide wedding lover, and it is a very inclusive site. I found this even more strongly in the Love My Dress Facebook group, where I found inspiration, support and great tips."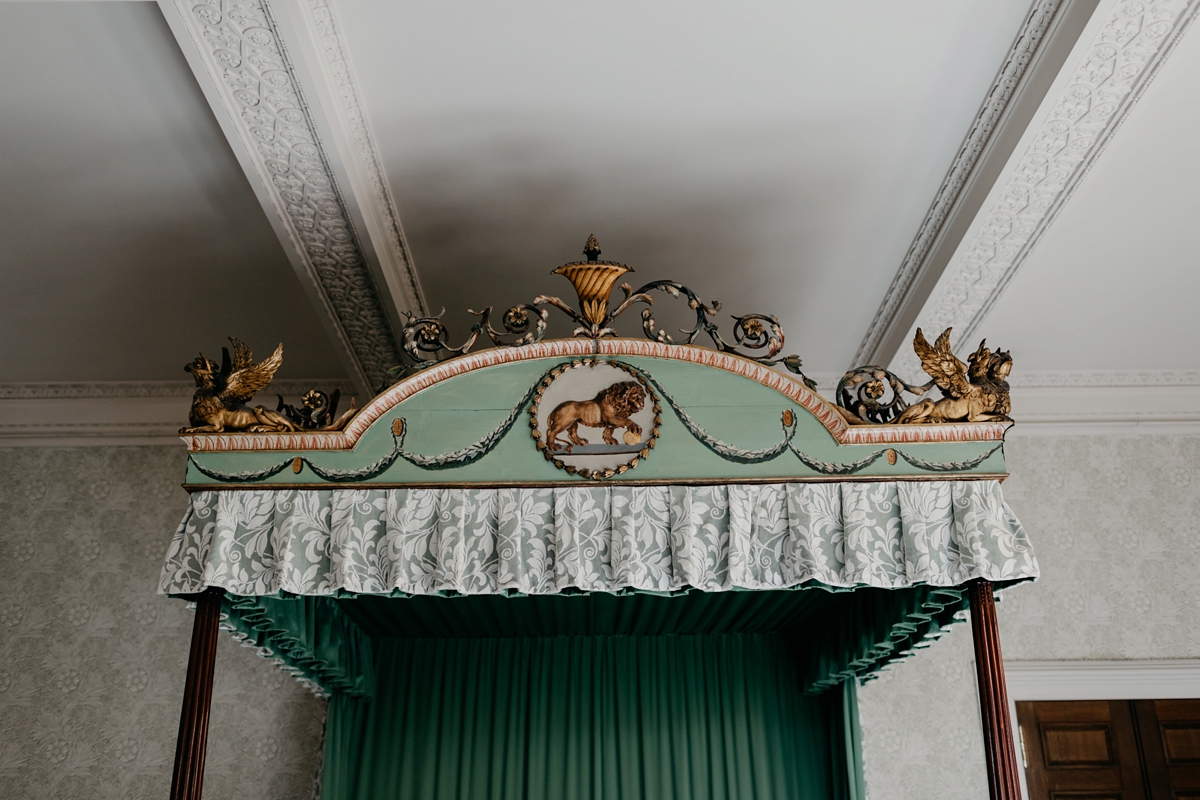 "I saw Rowanjoy's work on The Wedding Collective, and met her at one of their markets in Glasgow. I was sold. She guided me through the process of having a bespoke dress made, and totally understood all my ideas and didn't mind being bombarded with Pinterest boards and grainy Google images."
"I knew I wanted colour but still a bridal look, and we settled on layered grey and blue silk organza with a white sequin floral lace over the top half of the dress. Rowan talked me into having a cut-out in the back which I never would have considered but absolutely loved. It was wonderful having something made just for me, that I could contribute to and comment on during the whole process, and Rowan was a joy to work with."
I simply love Liz's bespoke silk flower crown by Meadow Isle, a company found at The Wedding Collective. Designer Gigha also made a bespoke collar for the couple's dog Beatrice! She wore sparkly Irregular Choice shoes in the daytime, changing in to Kate Spade glittery sneakers for dancing in the evening.
Her jewellery was kept simple and personal – pearl earrings given to her by her best friend, an engraved silver Tiffany locket from her father on her 30th birthday, and a pearl and diamond Tiffany bracelet.
These stunning flowers actually travelled all the way from Kent in the back of Liz's sister-in-law's car, but still look fresh and pretty.
"We're lucky that my sister-in-law Tracy is a talented florist. She's based in Kent but drove all the way to Scotland with a car full of flowers and made magic for us. I wanted pastel spring colours that would work well with my dress – pale yellows, greys and blues – with natural foliage. Joe wanted chillies! She delivered on this and more."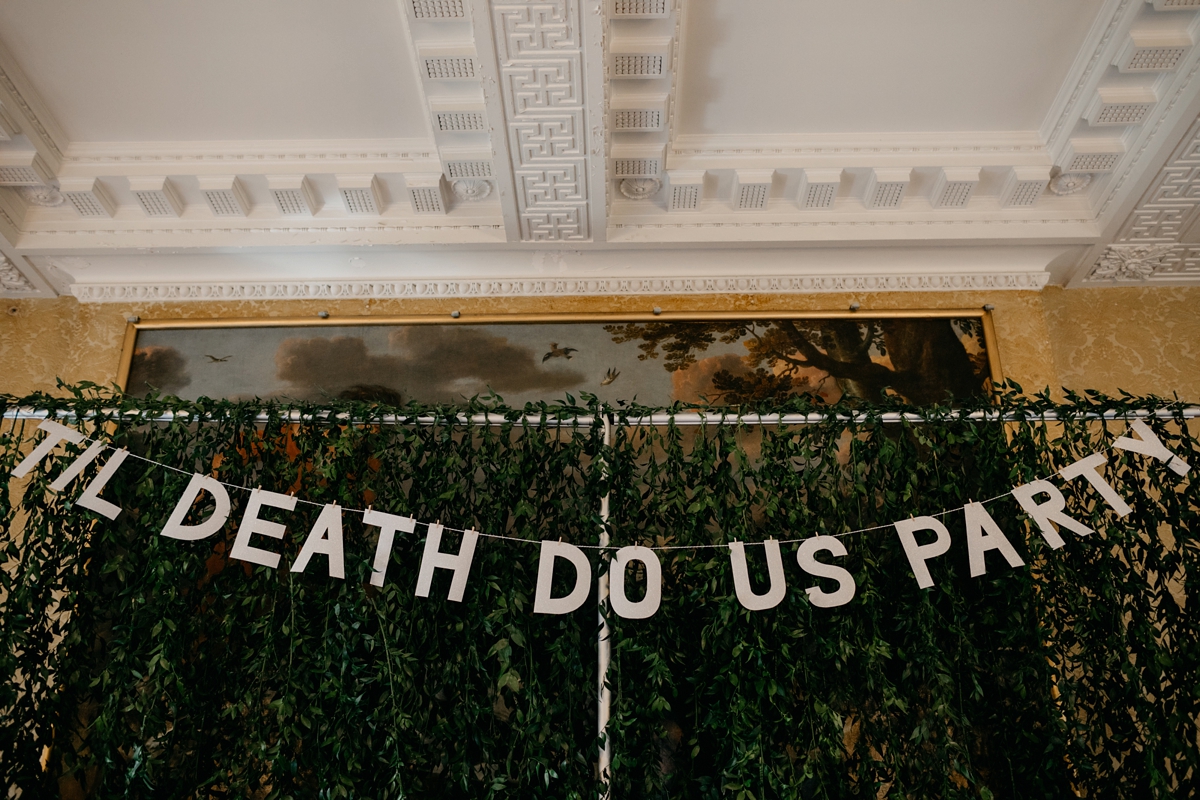 It looks as if the bridal party had an incredible amount of fun preparing for the ceremony. Hair and make-up was kept natural and relaxed.
"Kate Elliot-Muir is a truly talented and lovely lady who made me look like myself, but one hundred times better."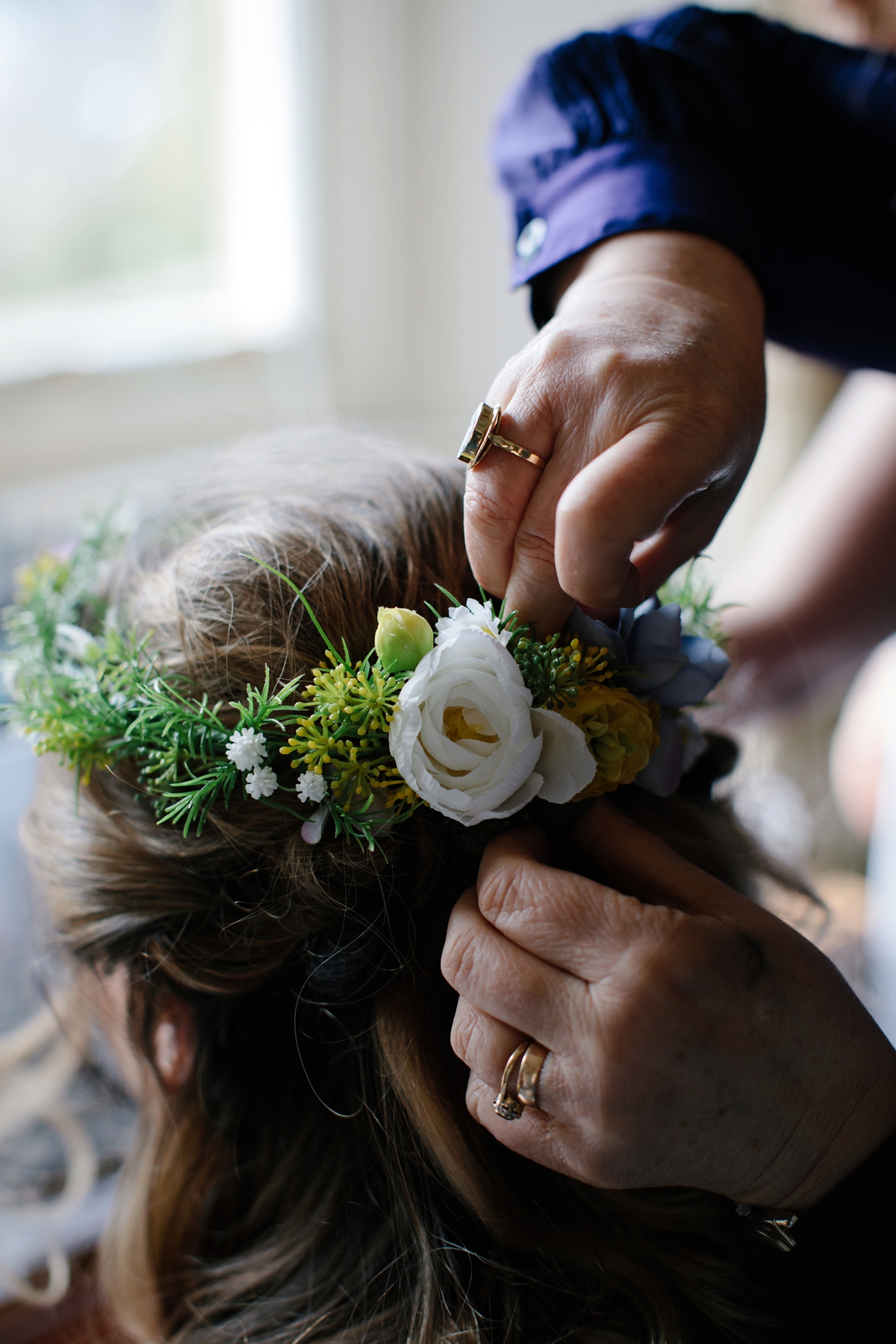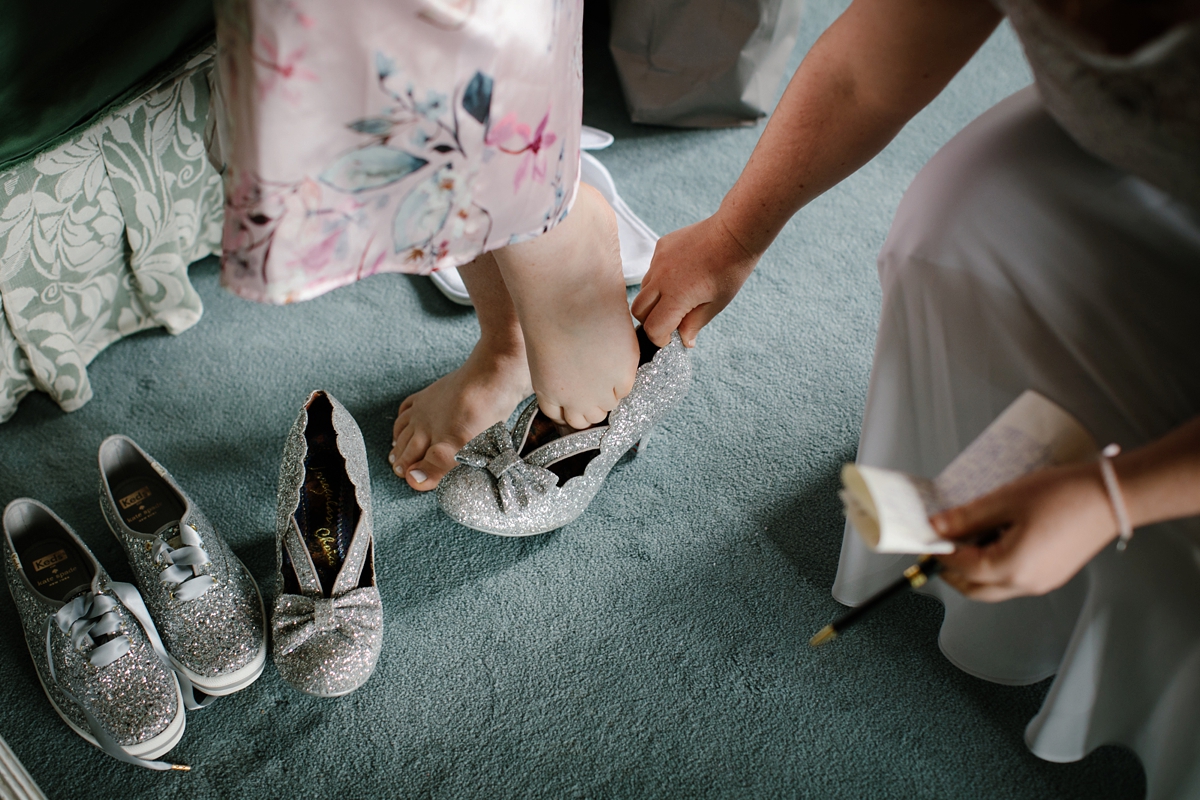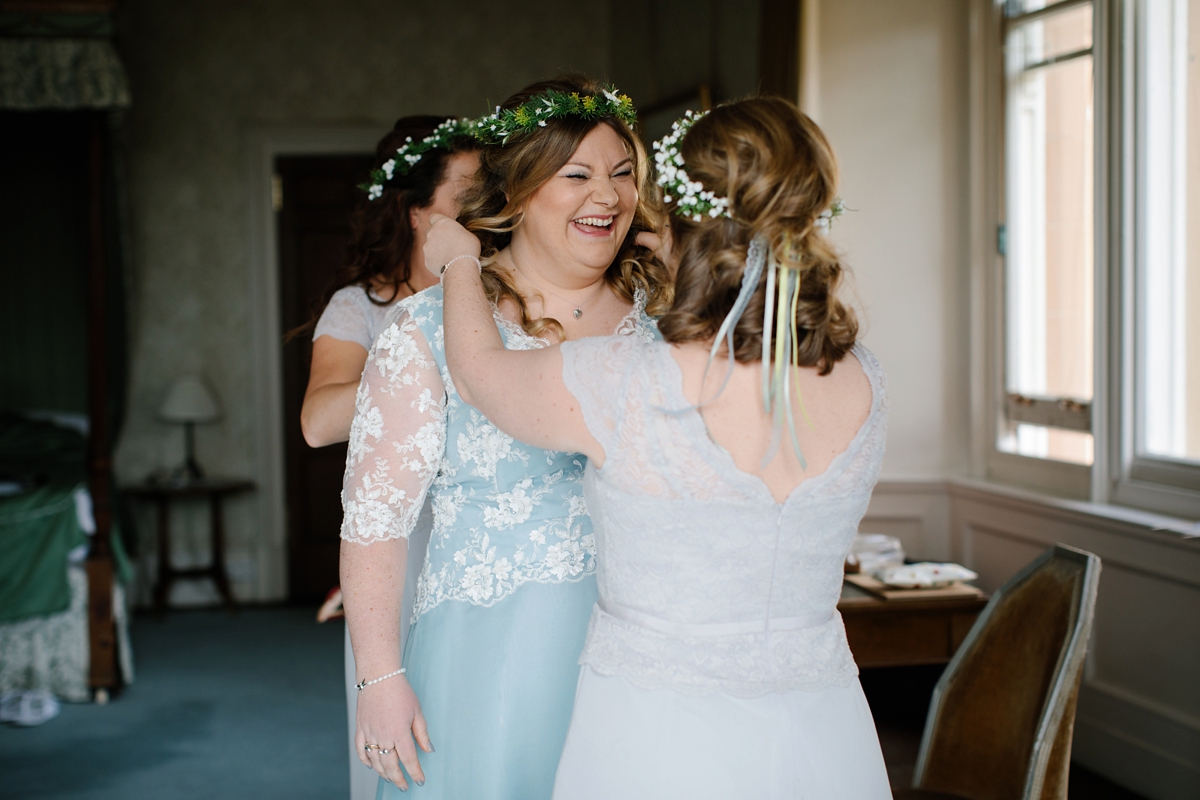 The bridesmaids wore bespoke flower crowns to complement the bride's. They look so lovely with their silvery-grey Jenny Packham at Debenhams gowns and personalised pearl bracelets by Little Grey Moon. Dog Beatrice acted as flowergirl, looking adorable in her own collar and an ivory lead found on Etsy shop Cupid Collars.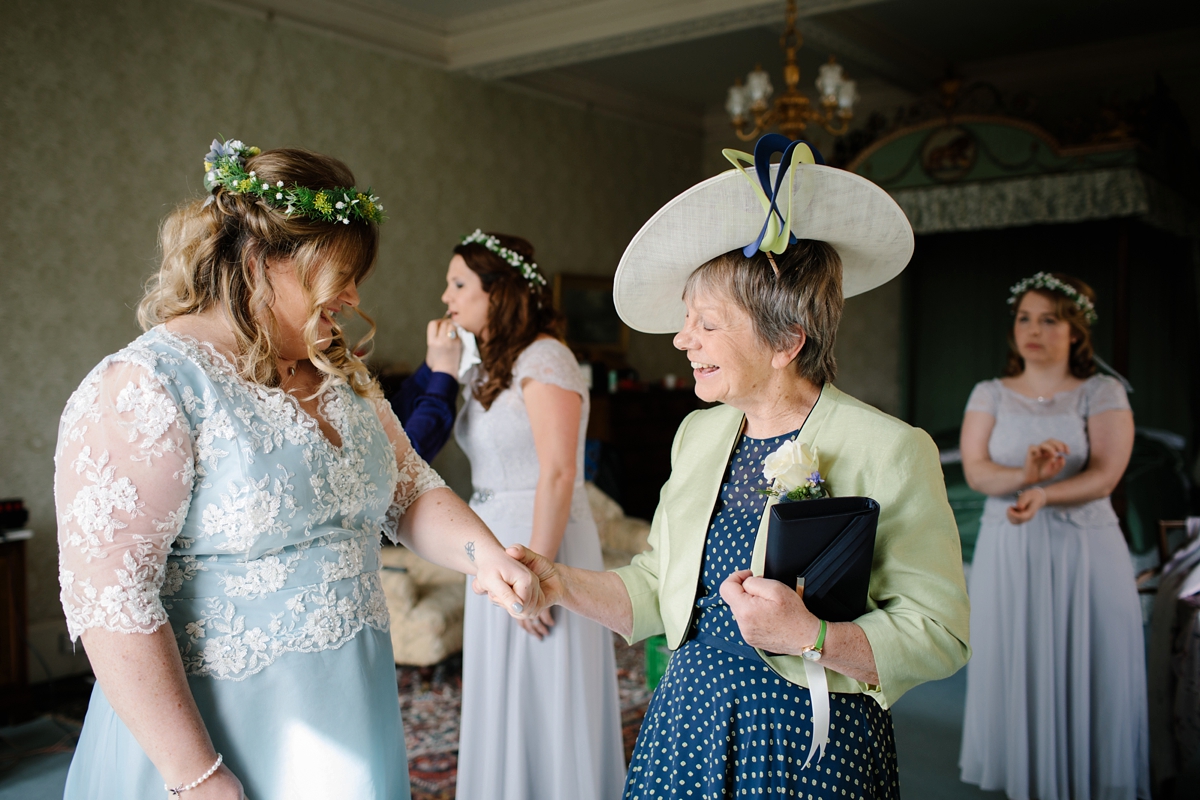 Just as the bride chose to channel her own style in her gown design, groom Joe went for an unusual take on a suit.
"Joe hates suits, and particularly ties! He wore jeans with a shirt, waistcoat and blazer from Jacamo with an Ascot and pocket square from Fort & Stone."
Liz walked down the aisle to an acoustic performance of the theme from 'Jurassic Park', played on the violin by friend Ciaran McCabe.
"My dad walked me down the aisle, which was lovely. We did include a bit in the introduction to the ceremony that said that even though traditionally a father walking his daughter down the aisle was to transfer ownership, today my dad was walking with me as a declaration of his happiness at our marriage."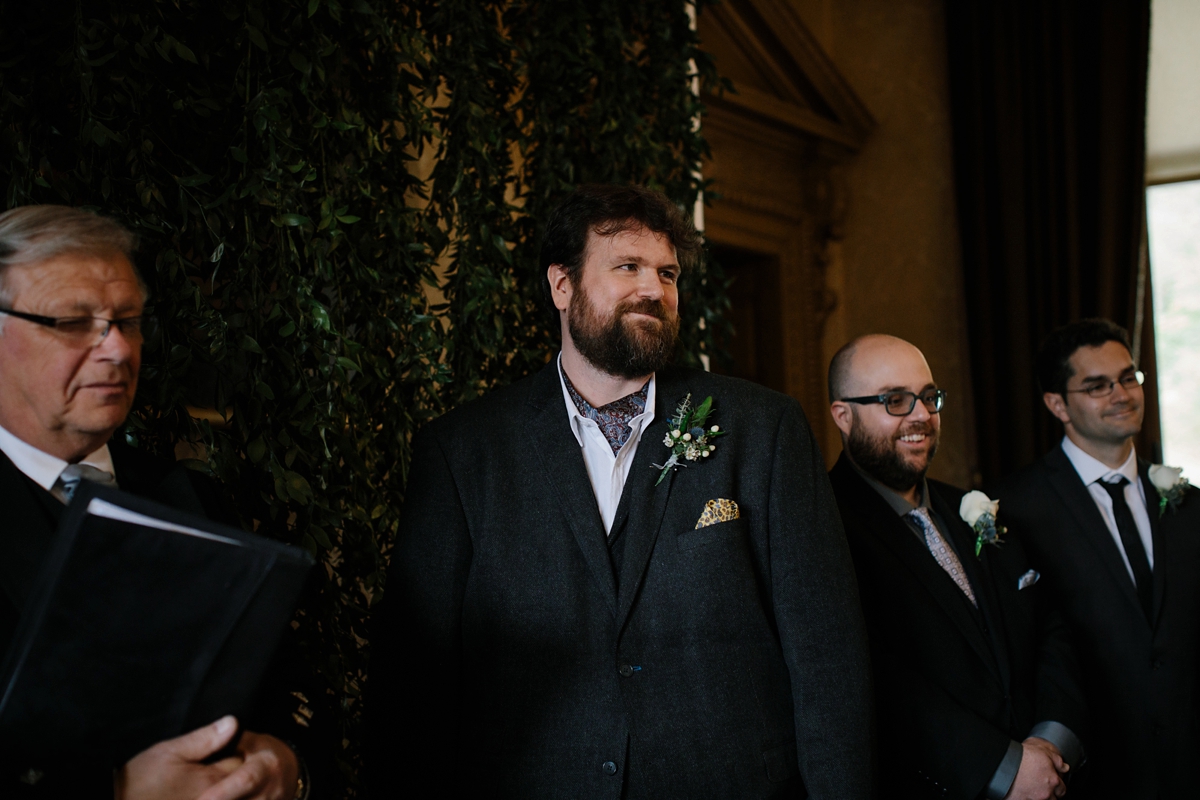 The couple's humanist ceremony and its traditional handfasting were held in the beautiful hall at Ardtonish. They really dressed the area up for the celebration, adding a handmade 'Til Death Do Us Party' sign (made by Liz's best friend and bridesmaid) and framing the area with a foliage backdrop, made by Bespoke Catering.
"There is a huge painting in the hall at Ardtornish depicting dogs killing a boar, which is very impressive, but not particularly romantic! They had a cloth hanging to cover it, but I asked Kelly if she could create something more stylish, and man did she deliver."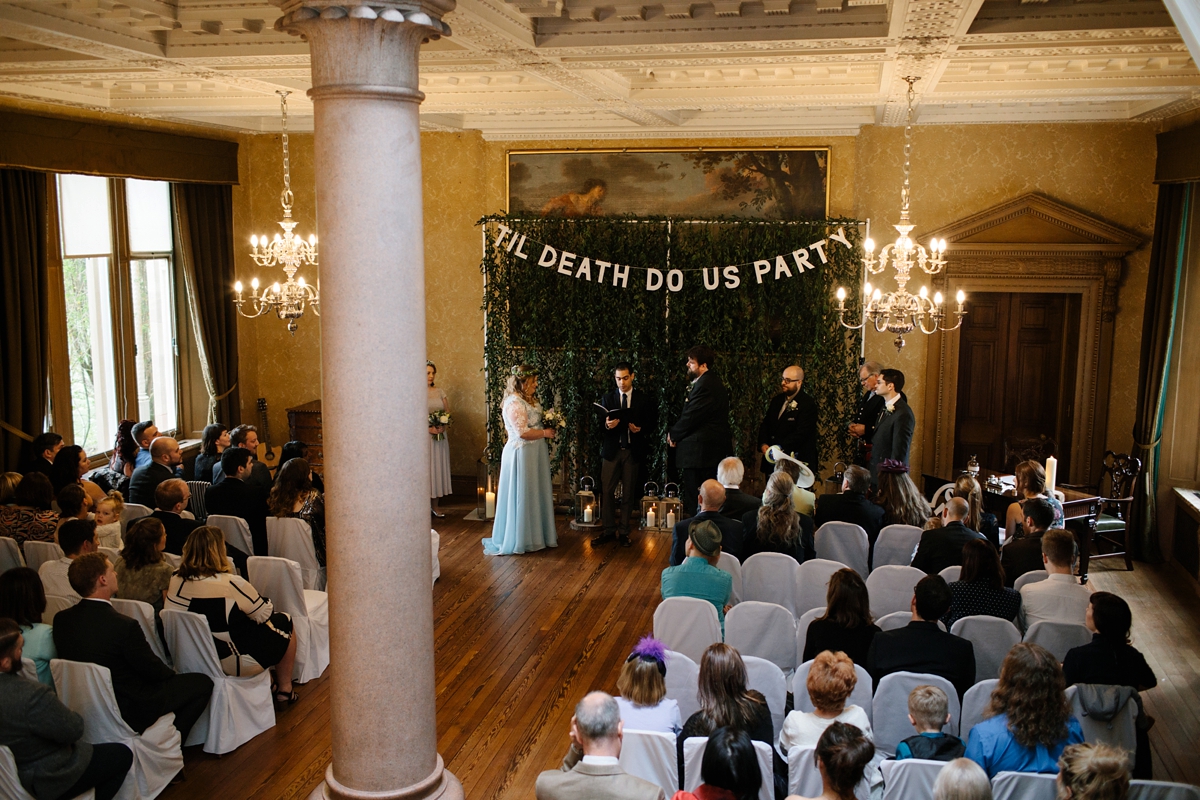 As they had a humanist ceremony, the couple were able to write the entire ceremony, including the vows.
"We wrote our vows separately so the wedding day was the first time hearing them from each other. It was so emotional and meaningful to be able to express our love for each other and promises in our own words. Our wonderful celebrant, Duncan Robertson, gave us guidance and told us the ceremony should have three things – solemnity, romance and lightheartedness."
The bride and groom each chose a reading, and a guest to deliver them. Joe's choice was extracts from the letters of Rainer Maria Rilke whilst Liz chose the lyrics to 'I Love You Cause You're You' by Johnny Cash, found on Love My Dress.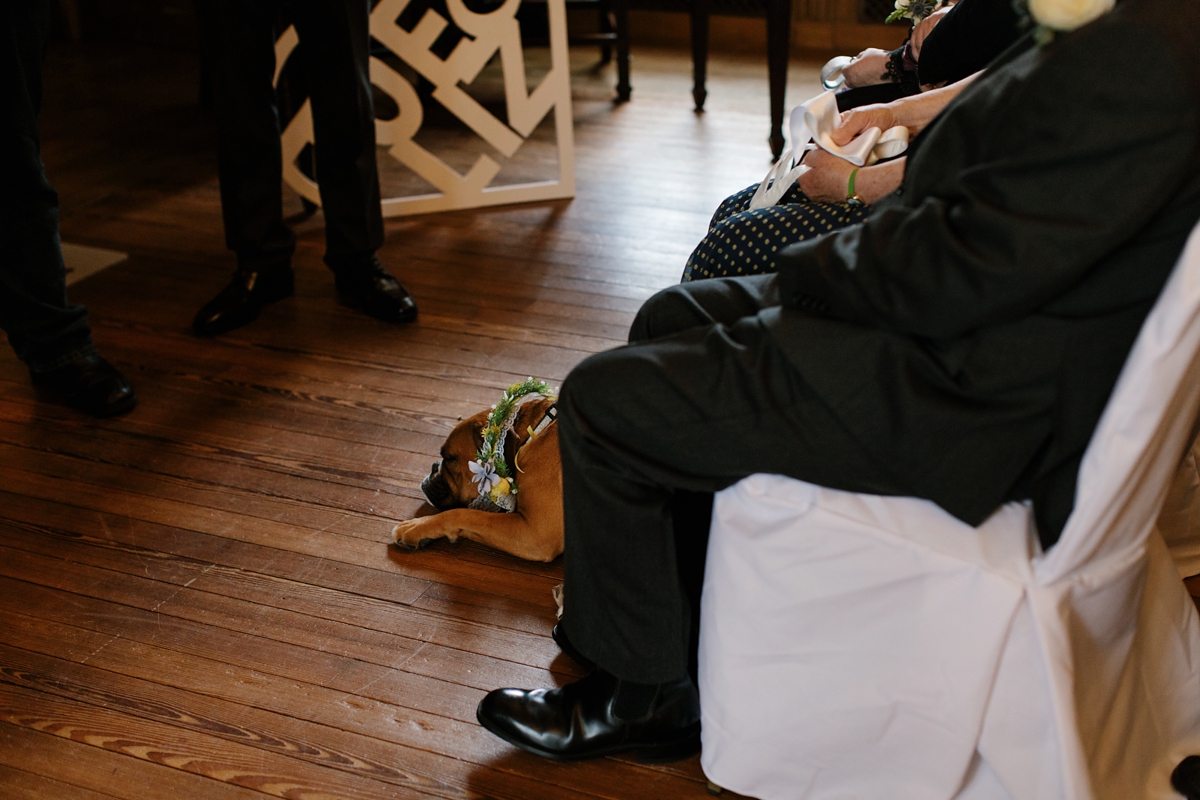 "Joe has always loved Rilke's poetry and letters, and thought the reading expressed a mature view of love/romance grounded in the equality of the partners."
The ceremony was undoubtedly Liz's favourite moment of the day.
"We've had so many comments from people who had never been to a humanist ceremony before, and really enjoyed it and found it more emotional than they expected. It felt so personal to us, and we were able to build in some Scottish traditions to involve all our family members, like tying the knot and drinking whisky out of a Quaich."
The couple exchanged rings found on Etsy, loving that they were supporting small businesses in this way.
"My ring is a simple skinny gold band with tiny diamonds from Elegant Jewel Box and Joe's is a brushed silver band from Paul Zozem. We both wanted very simple bands."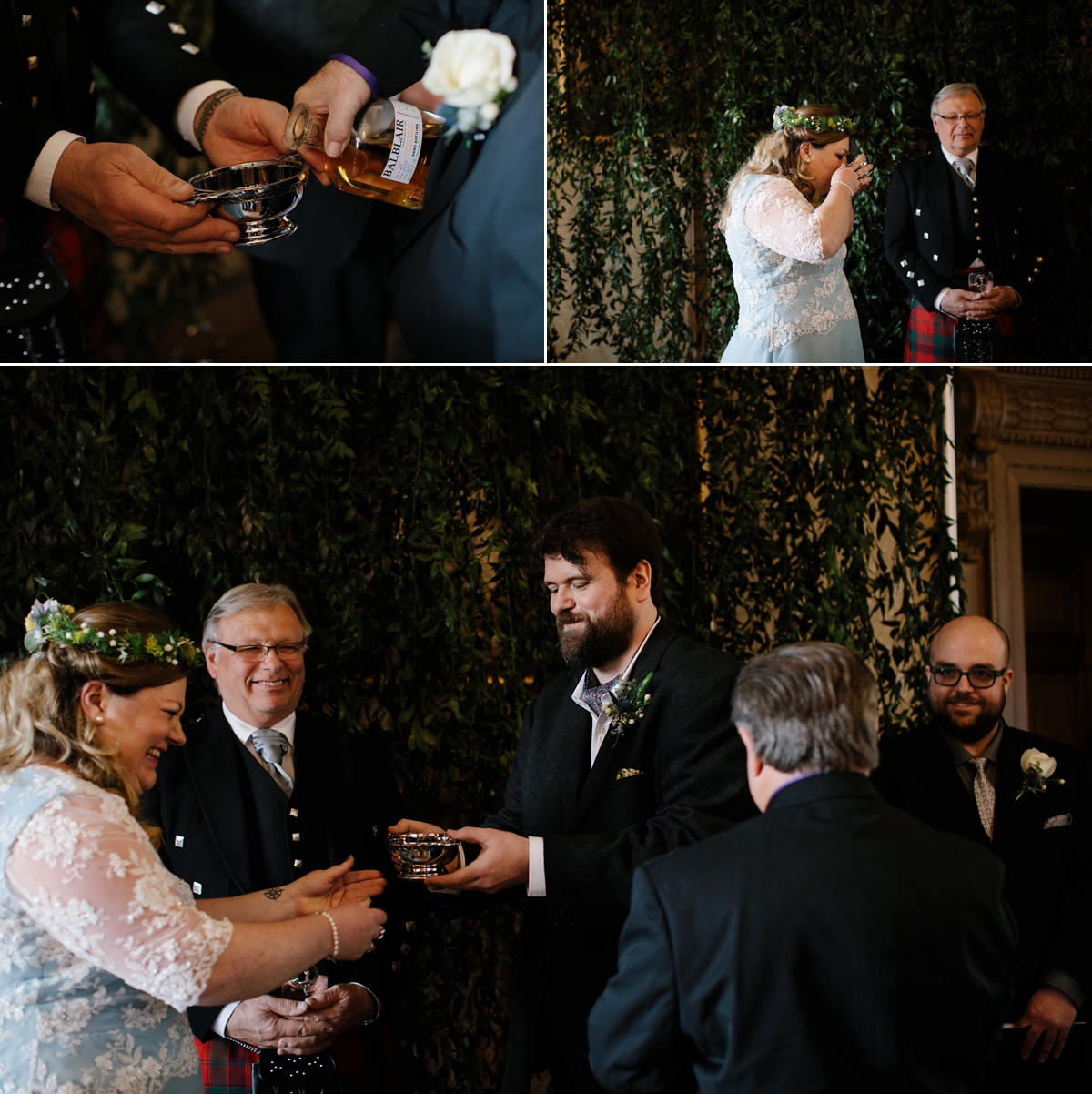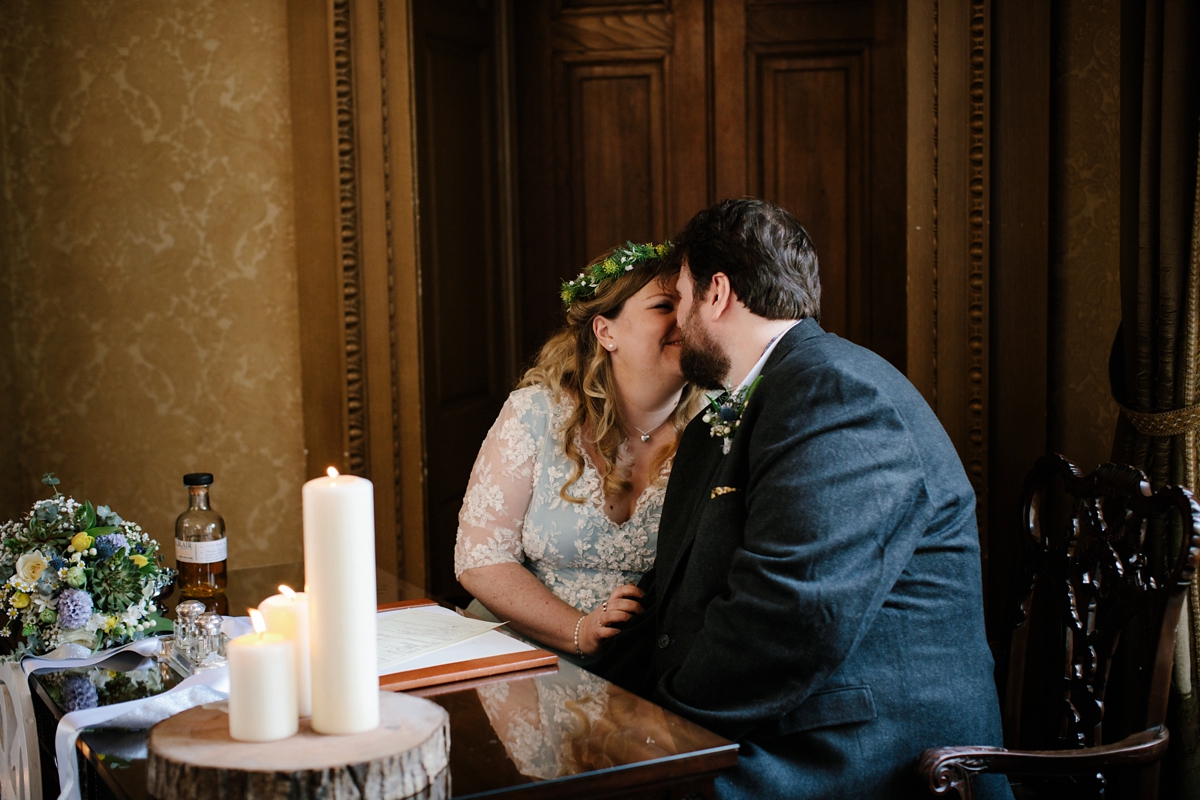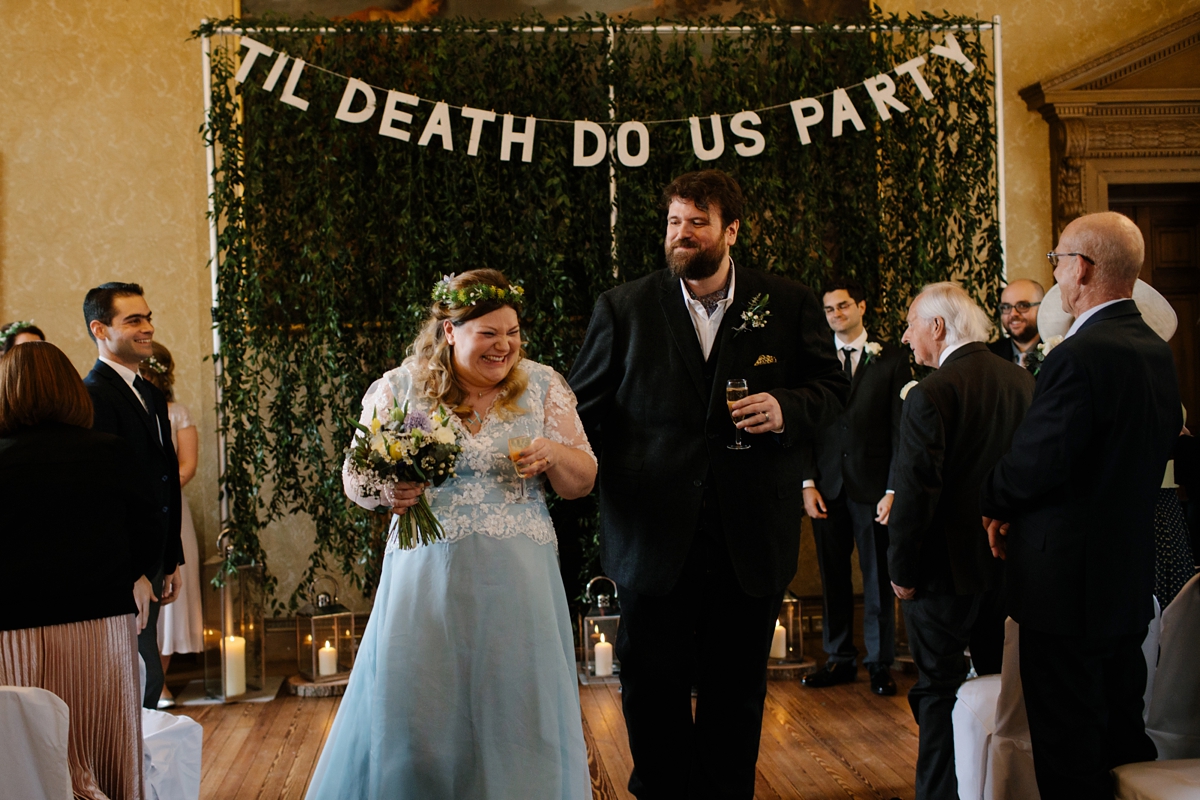 Having a 'house party' wedding meant that the couple got to spend so much time with their family and friends. They asked Bespoke Catering to provide for the whole weekend, and come extremely highly-recommended by the newly-weds.
"These guys were beyond brilliant. They effortlessly turned out a Friday night hog roast, Mexican-themed canapes, the most delicious huge hunks of steak for our wedding breakfast, a hangover brunch and an Easter Sunday afternoon tea. They helped out left, right and centre, and always had smiles on their faces – even after running the bar until 2am then clearing up, before cooking breakfast at 7am."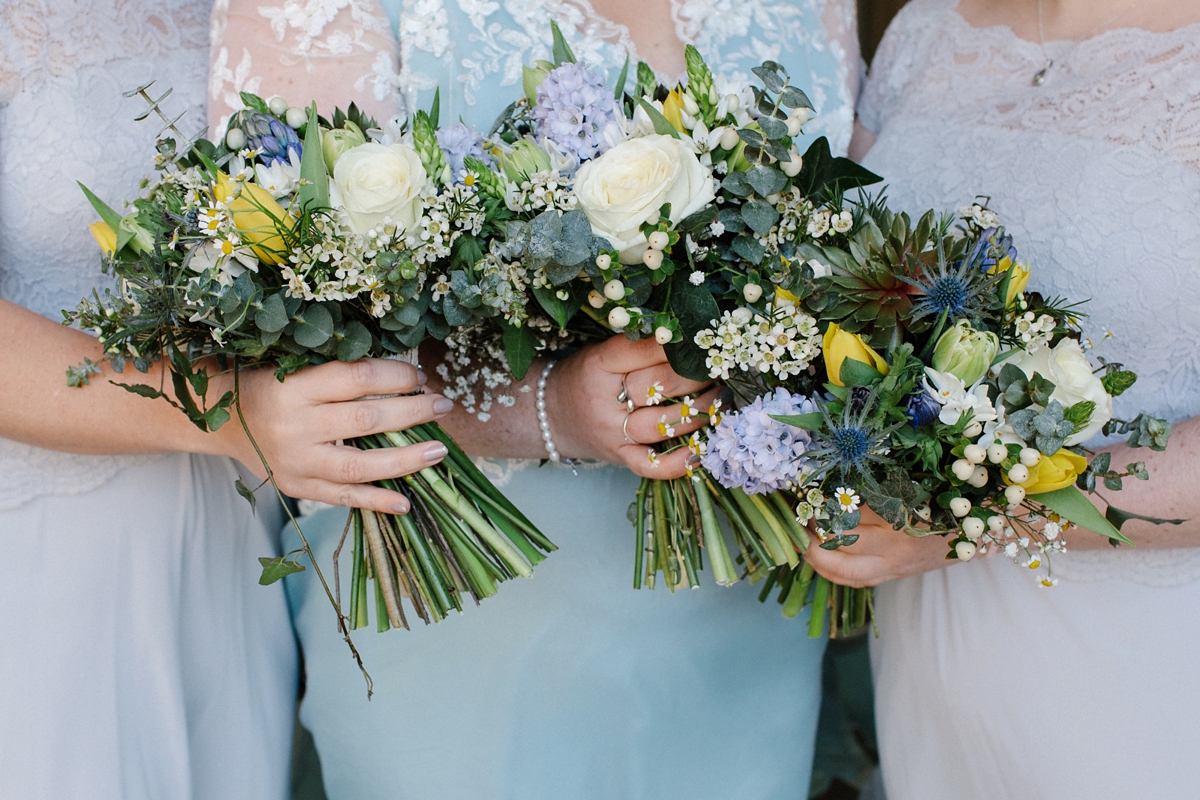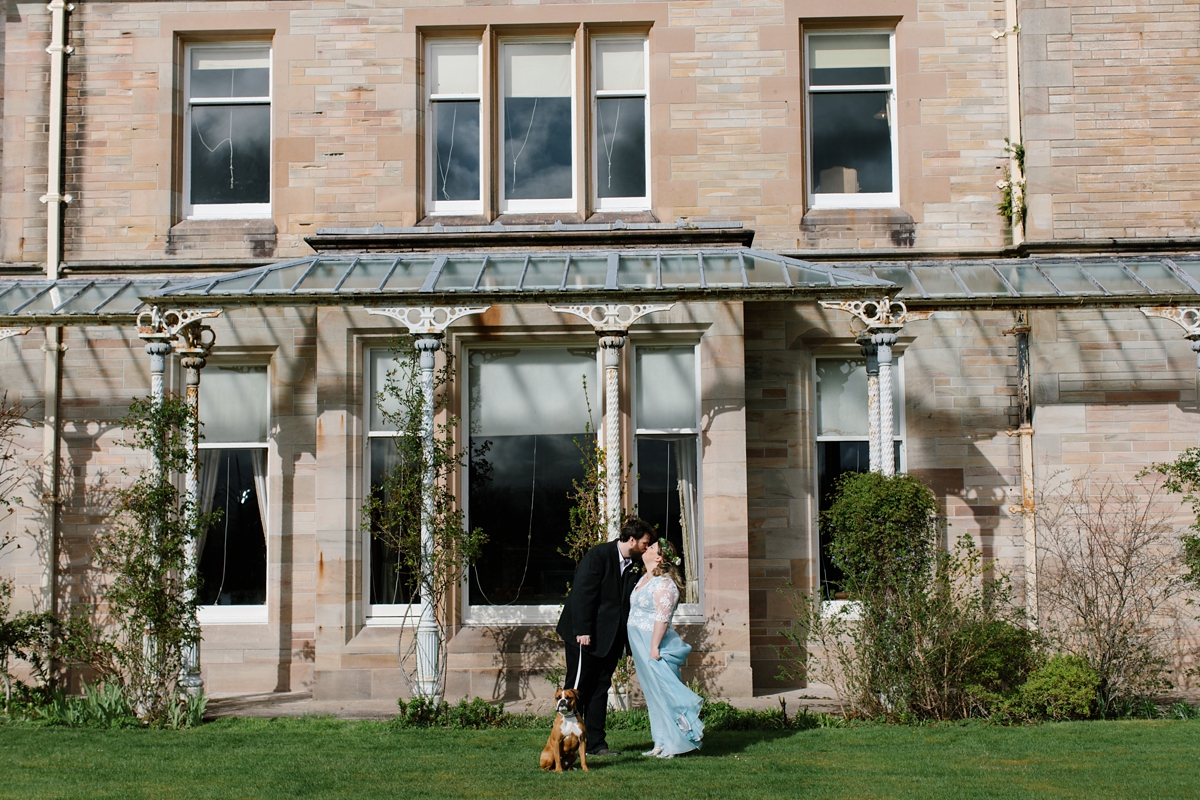 I love the personal and elegant styling of the venue; adding personal touches here and there in sympathy with the historic features of the house.
"Nearly everything we used as decor had some significance – gin bottles for flowers to reference our first date (at London Gin Club), Tabasco bottles for Joe's deep passion for hot sauce, vintage books as we're both writers, a guitar case for cards as Joe is in a band, pictures of our dog Beatrice as table numbers, spray painted dinosaurs for my obsession with Jurassic Park… you get the picture!"
I love the personal and elegant styling of the venue; adding personal touches here and there in sympathy with the historic features of the house.
"Nearly everything we used as decor had some significance – gin bottles for flowers to reference our first date (at London Gin Club), Tabasco bottles for Joe's deep passion for hot sauce, vintage books as we're both writers, a guitar case for cards as Joe is in a band, pictures of our dog Beatrice as table numbers, spray painted dinosaurs for my obsession with Jurassic Park… you get the picture!"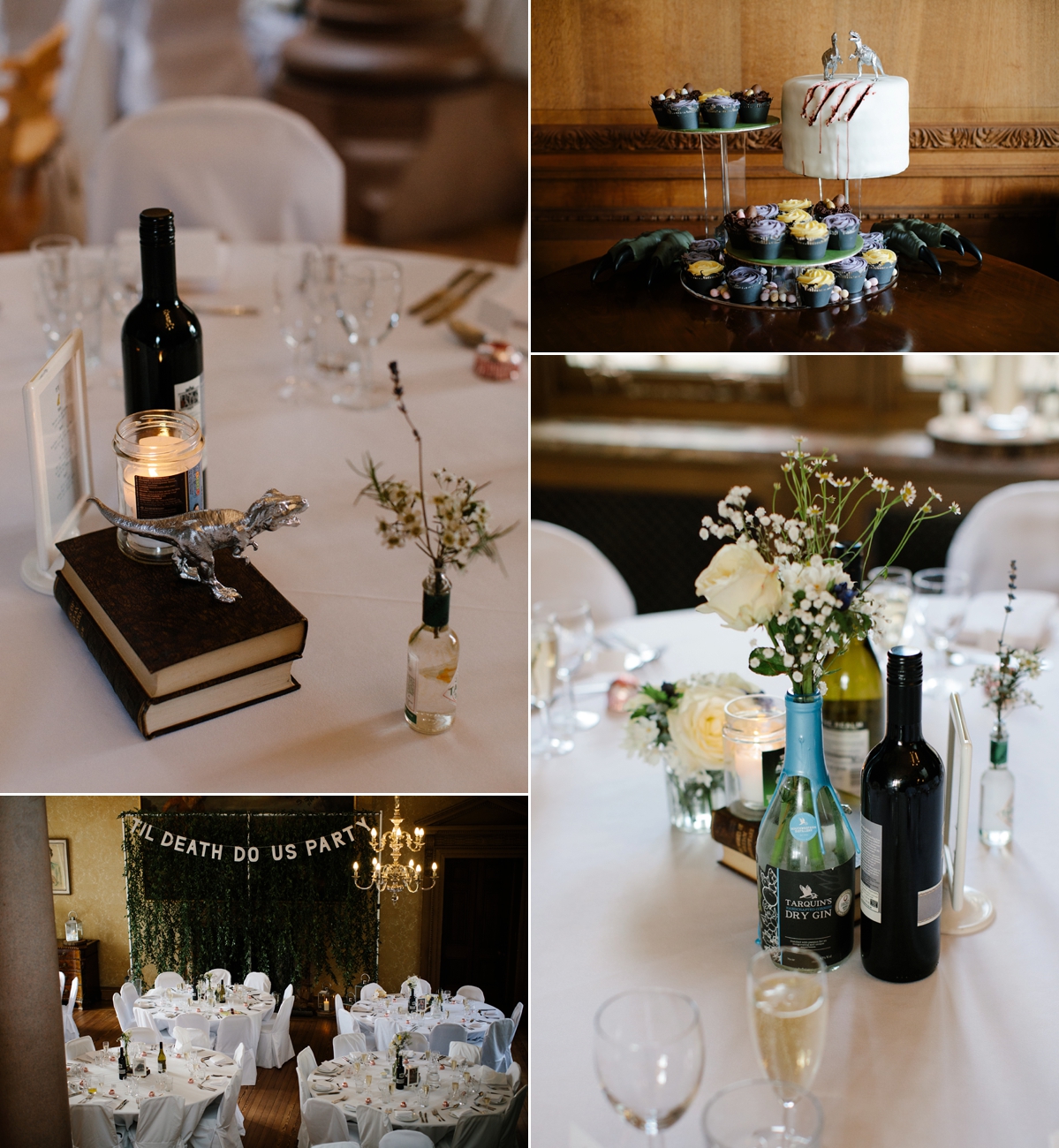 Sweet treats were provided in the form of Tunnock's teacakes for place name holders and the wonderful cake, with its creative claw slash.
"My amazing cousin Emma made our cake for us. Our brief was dinosaurs and she didn't bat an eyelid. We had a centrepiece red velvet cake with a claw slash through it, surrounded by lemon and vanilla cupcakes topped with dinosaur eggs. It was delicious and looked incredible!"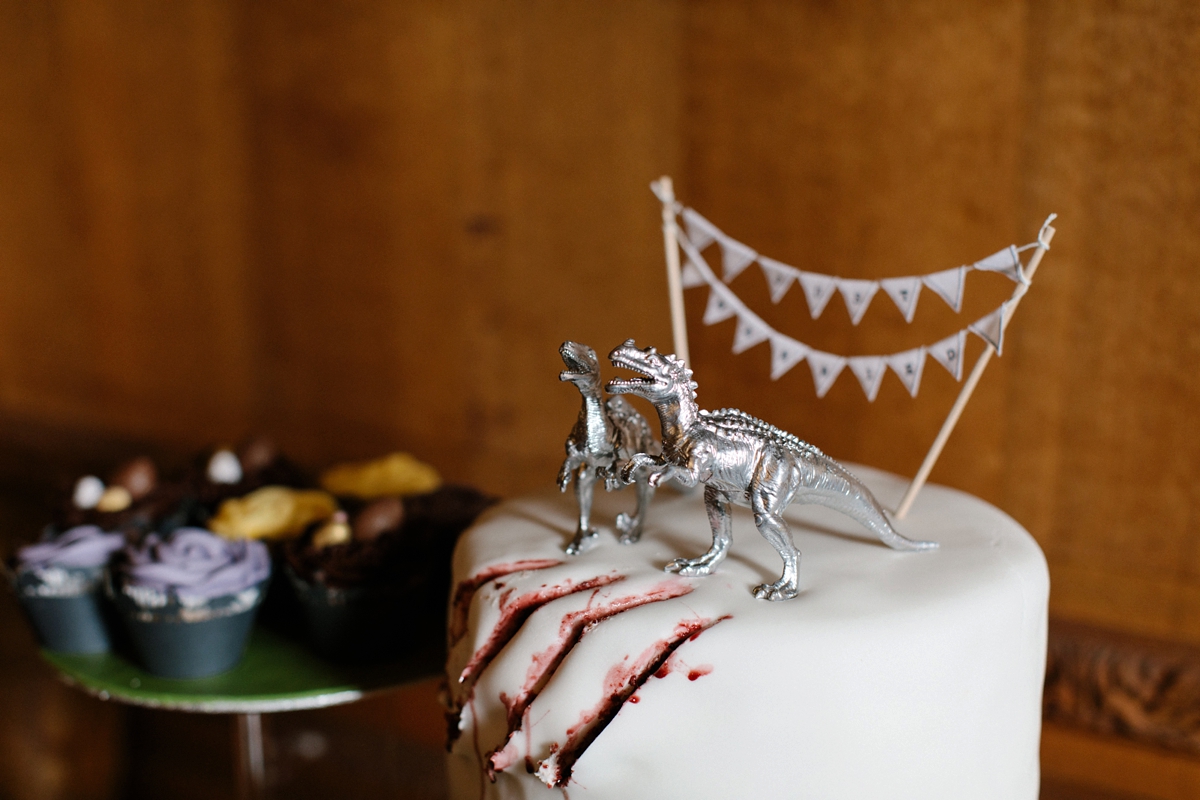 Liz and Joe really did think of everything, putting a lot of love and care into keeping everyone entertained and happy.
"If you have a lot of kids at the wedding, it really does help to think about how to entertain them. It makes life so much easier for parents and everyone will be more relaxed. We hired soft play for the entire day and put it in a side room next to the main hall, so parents and kids could pop in and out. We also provided activity books, bubbles and toys to play with during dinner and bespoke-made lovely kids meals. We gave the older kids cameras and a hit list of photos to take."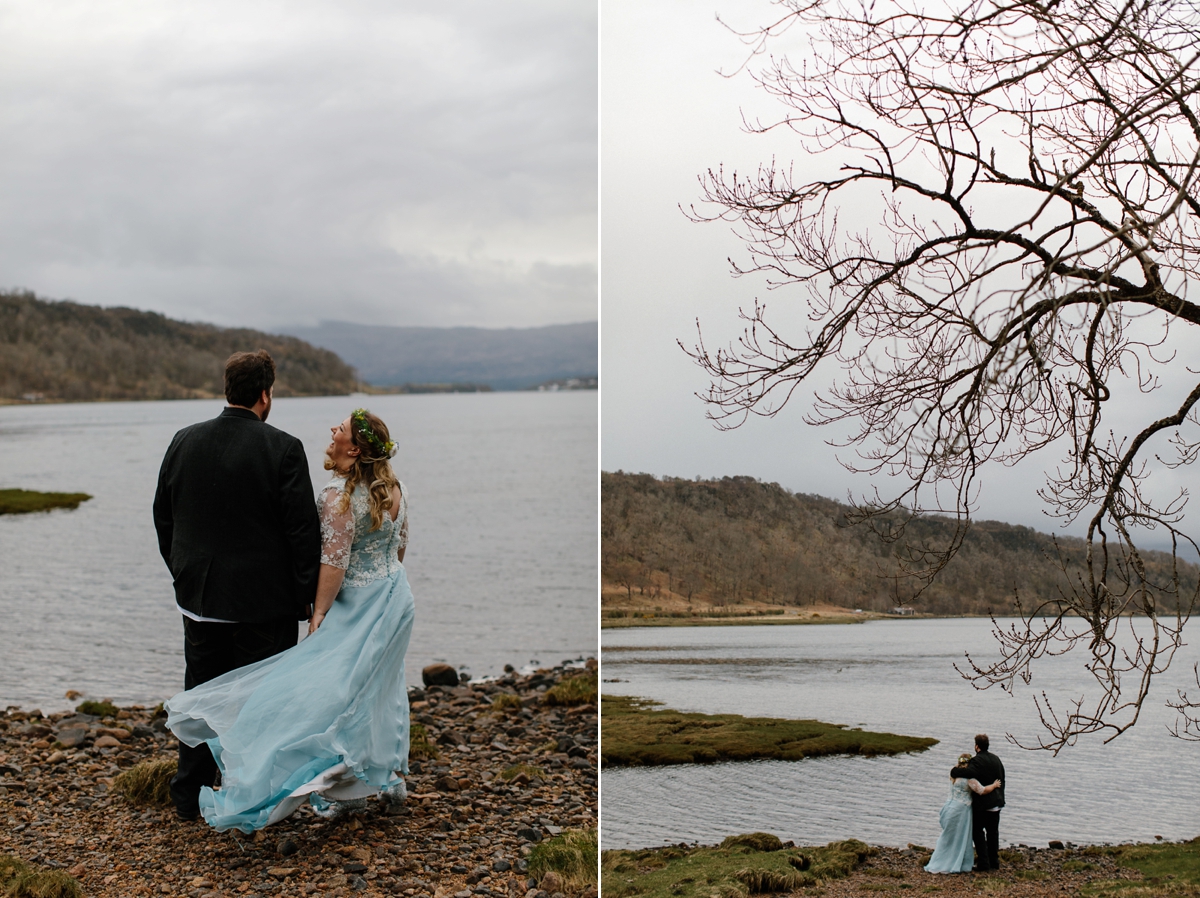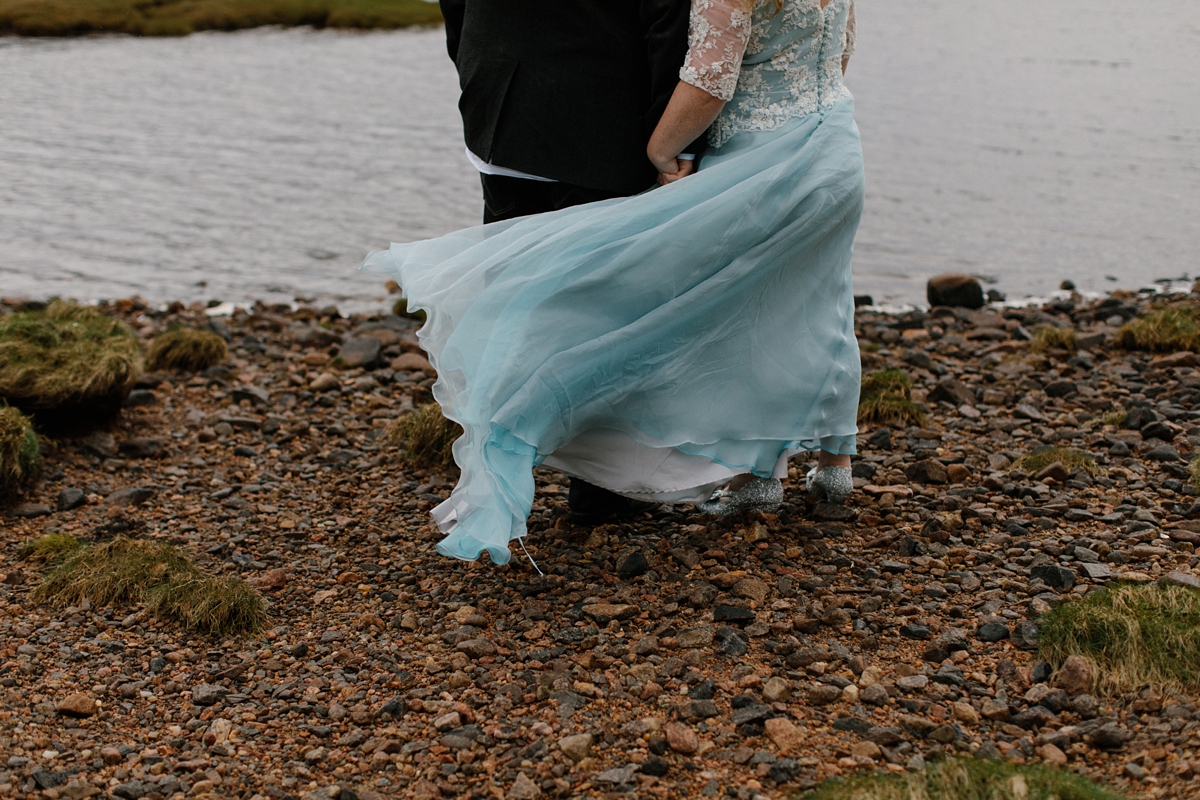 In keeping with the fun feel of the day, the couple chose live music from Franco and had a 'mini-Ceilidh' for their first dance.
"As Joe is in a band, he was extremely picky about the live music. Franco impressed him from the get-go, and on the day they were fantastic – they even learnt to play 'Gangsta's Paradise' on their break between sets so one of the groomsmen could perform it."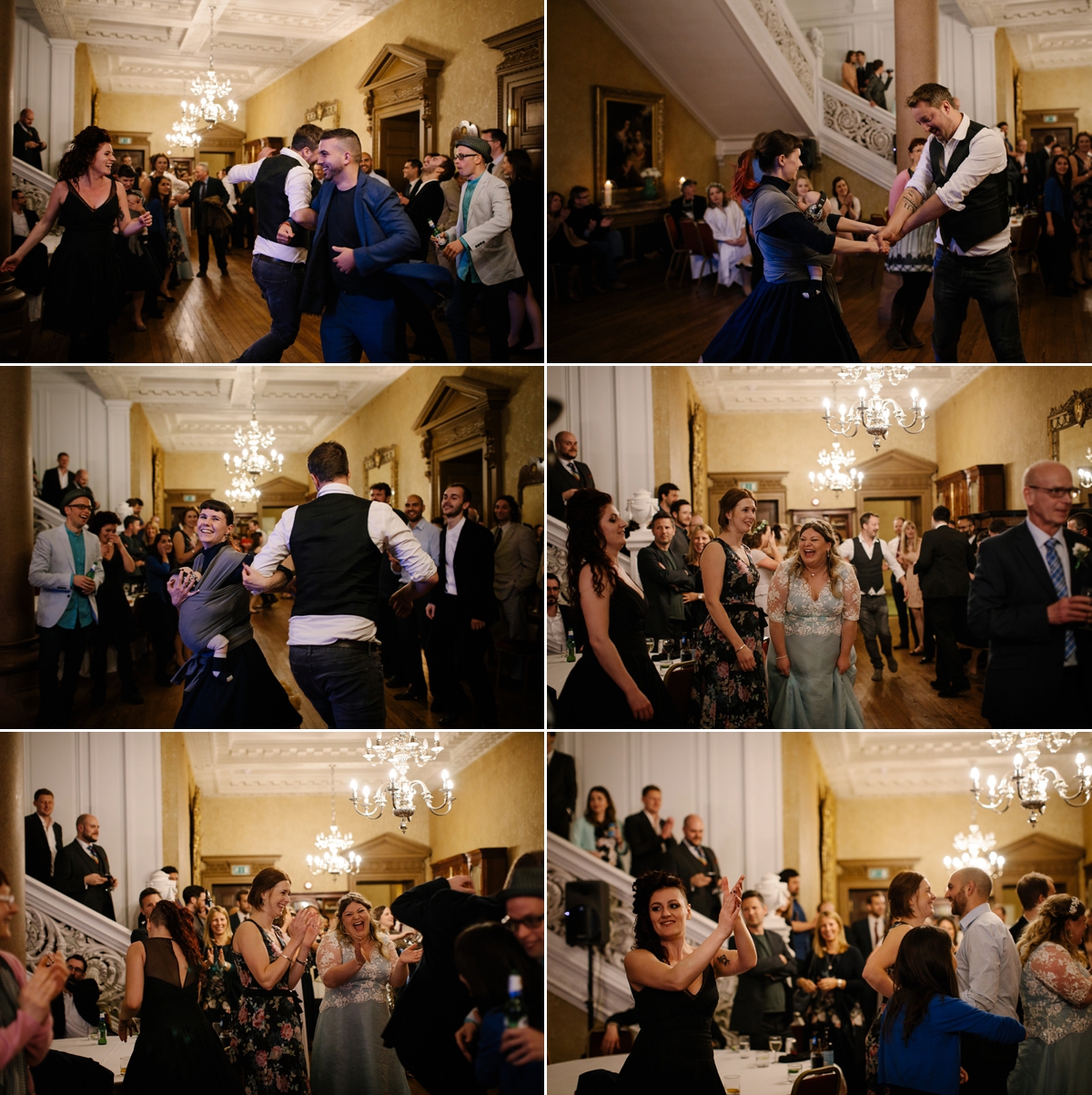 "We didn't have a proper first dance. Instead we had Franco kick off with a mini ceilidh, and everyone lined up to Strip the Willow. We were up first and got to spin our way down the line, dancing with loads of our guests, laughing and clapping as it inevitably descended into dance chaos. It was lovely and a great way to kick off the party."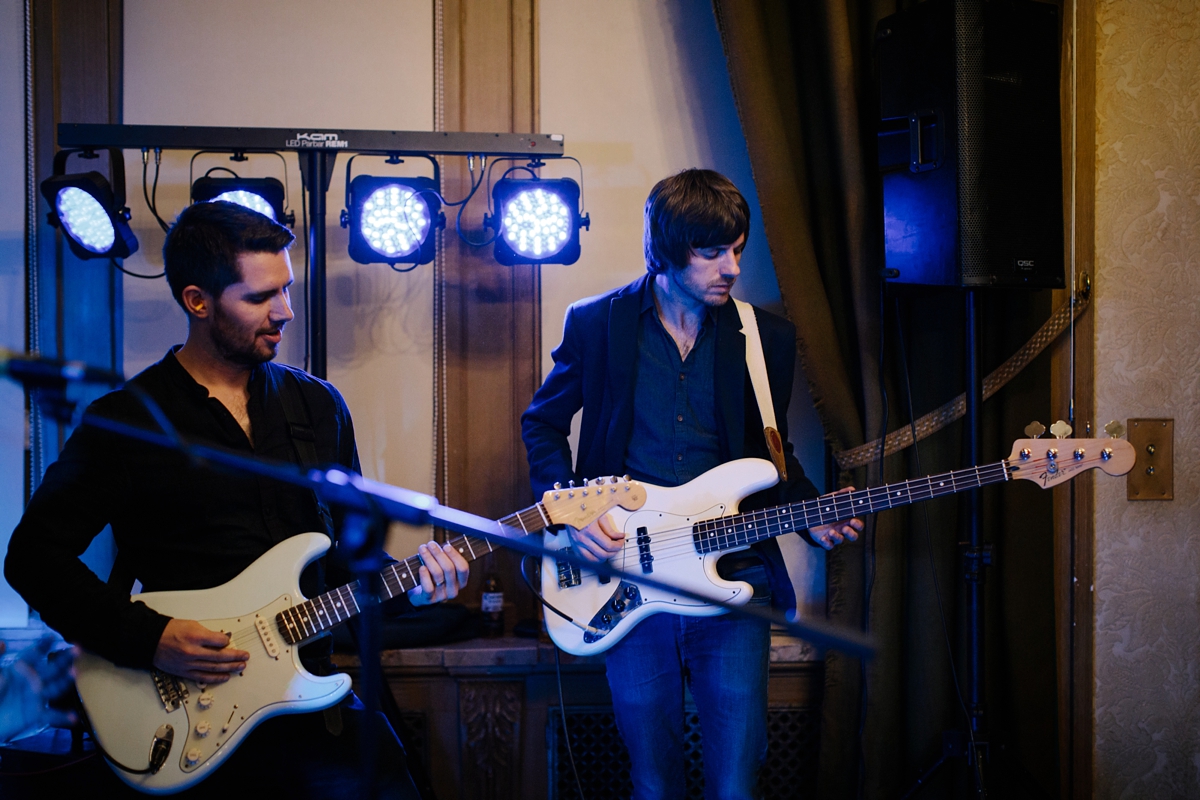 Words of Wedded Wisdom
"Spreadsheets are your friend. Planning a three-day extravaganza was hard enough, so keeping all the information in one place made a huge difference."
"Choose your suppliers with care, especially if you don't live close to the venue. Ardtornish is practically the other end of the country from where we live, so we had to rely on suppliers who responded to queries, kept us updated and who we could trust."
"If you can, take some time just the two of you during the day. We spent half an hour before dinner holed up having a bit of quiet time with our dog, just reflecting (and drinking champagne). It was lovely to have that little bit of downtime together."
"Everyone says it, but don't sweat the small stuff. We'd been to loads of weddings before planning ours, and our mantra was that nothing else mattered as long as people were well fed, well boozed and well entertained. People genuinely don't remember centrepieces or favours or place settings, but they do remember if they were hungry, left hanging around or had to pay £15 for a gin and tonic."
Thank you so much Caro Weiss for your beautiful photography; please do visit Love My Dress here to see more of her work. Many congratulations to Liz and Joe too for sharing your wedding and wonderful words of wisdom with us all. If you'd like to find out more about The Wedding Collective you can visit their website here and keep an eye on our Events Diary for details of forthcoming markets.
Ele xx