For me, getting married in my home county of Northumberland was important (although we did seriously consider a beautiful rural venue in North Yorkshire for a long time) but I can also completely see the attraction of a destination wedding- perhaps somewhere you have been on holiday together, or even a brand new place to make 'yours'.  Somewhere where you are guaranteed sunshine and warm weather is also a great draw I'm sure!
Tiffany and Juan Pablo, who are both self employed, decided upon Casa Querencia in hot and sunny Mexico for their wedding on the 19th May 2017- what a fabulous choice.  The day was planned by Marweddings and captured on camera by Tiarra Sorte.
"I just wanted a relaxing but beautiful layout and a very familiar ambience.  I'm in love with Mexican talavera."
As well as the beautiful images we're sharing today (by Tiarra Sorte), Tiffany and Juan also chose to have the day captured on film, and booked Maxim Kondratiev to do the honours.
Photography by Tiarra Sorte
Tiffany wore an amazing gown by modern and edgy designer Rue de Seine which she purchased from Lovely Bride in Miami, Florida.  The simple shape is perfect for the hot weather and the lace is just incredible, don't you think- its almost like very delicate crochet.  I also just adore the fun addition of the fringing and the elegant cut out back.
"The moment I put this dress on I just knew.  The movement, the fabric, the details, it just made me want to dance!"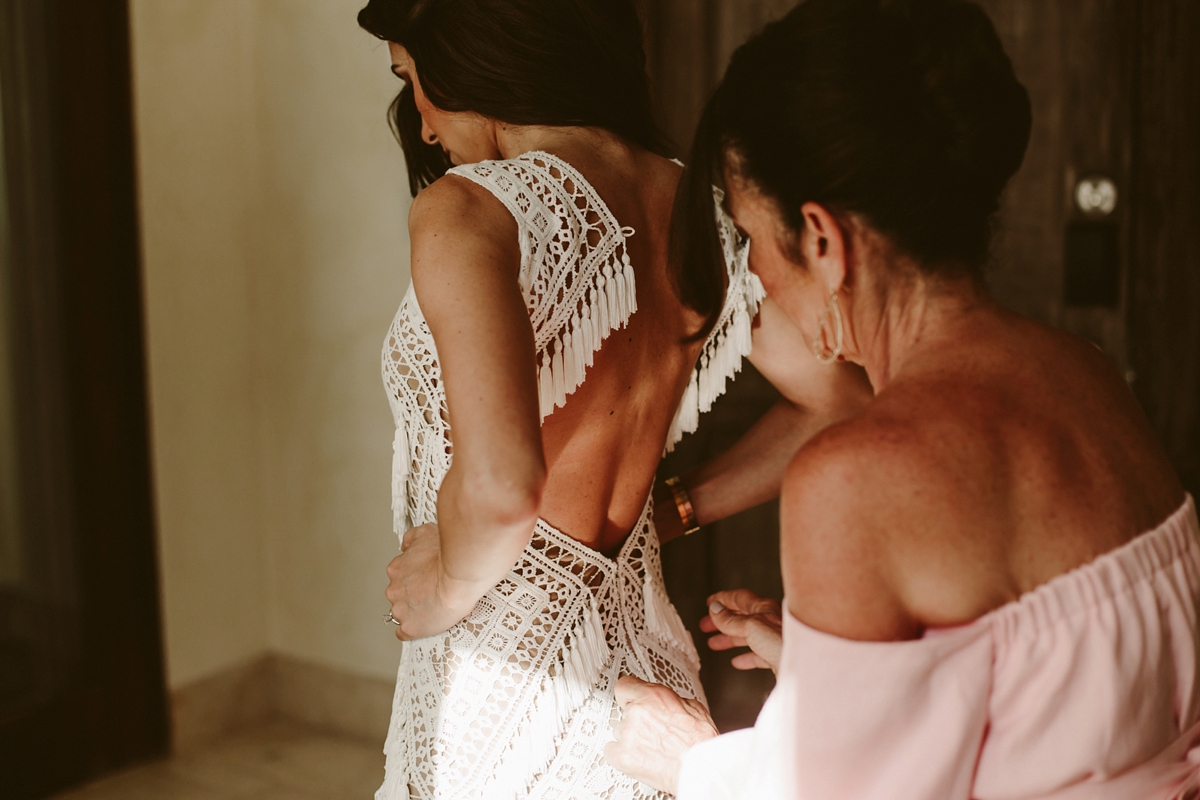 On her feet, Tiffany wore dark blue heels by Alexandre Birman, while for scent she chose Philosykos by Diptyque.  Her earrings were by David Yurman while her bracelets were her Grandmother's custom made gold bangles.  I do love a bit of very personal jewellery.
Juan looked very smart indeed in a suit by Ermenegildo Zegna, worn with a Patek Philippe bracelet by Cartier.
"Juan and I have known each other many years, through mutual friends. We were engaged December 2013 in Semanyak, Bali."
The ceremony took place right on the edge of the beach, overlooking the sea.  The sound of the waves and the smell of the salty air must have been amazing.  Tiffany's mother and twin brothers accompanied her down the aisle, to an instrumental version of 'Somos Novios' by Luis Miguel.
"Juan and I wrote our own vows and it was the most magical love filled moment of our lives."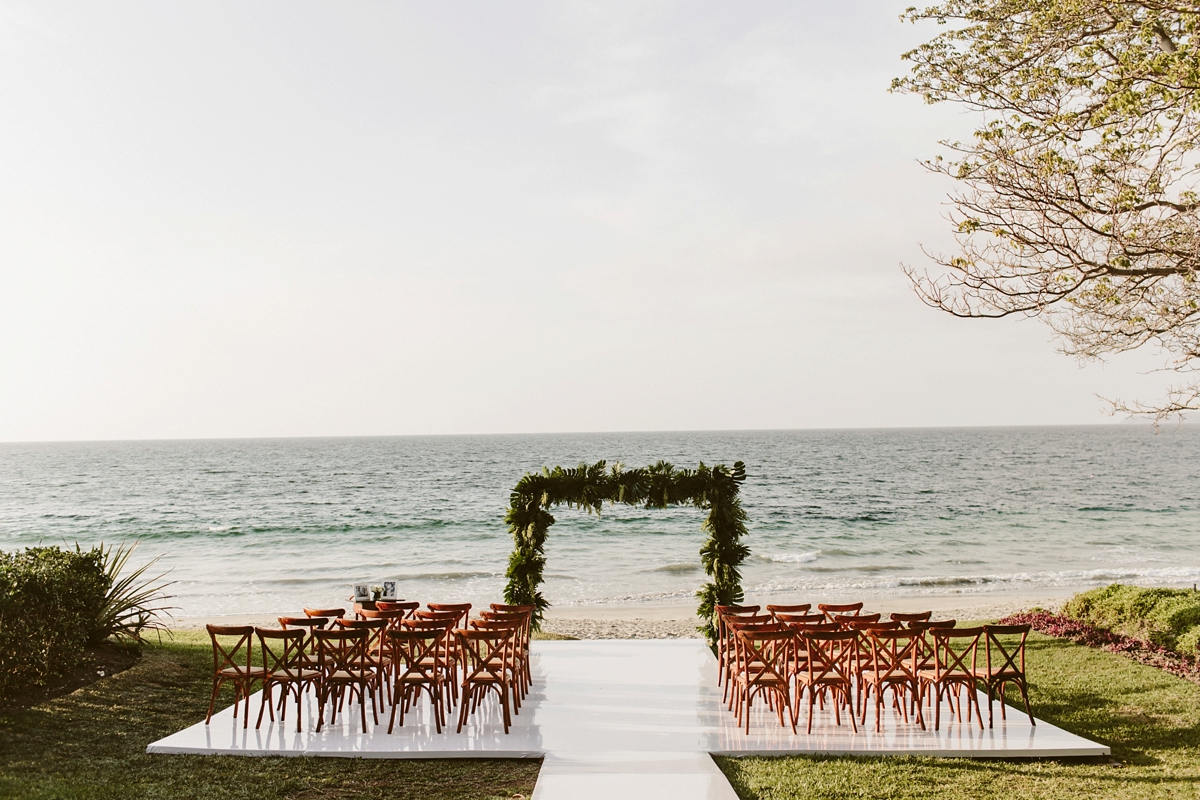 "Decor was simple and effortless, lighting was important and I wanted a casual home feeling.  A long table for thirty-five guests was the core of the evening and this was decorated with white flowers including orchids and parrot tulips."
Both Tiffany's engagement ring and Juan's wedding band were custom made, while Tiffany's wedding band came from Bvlgari.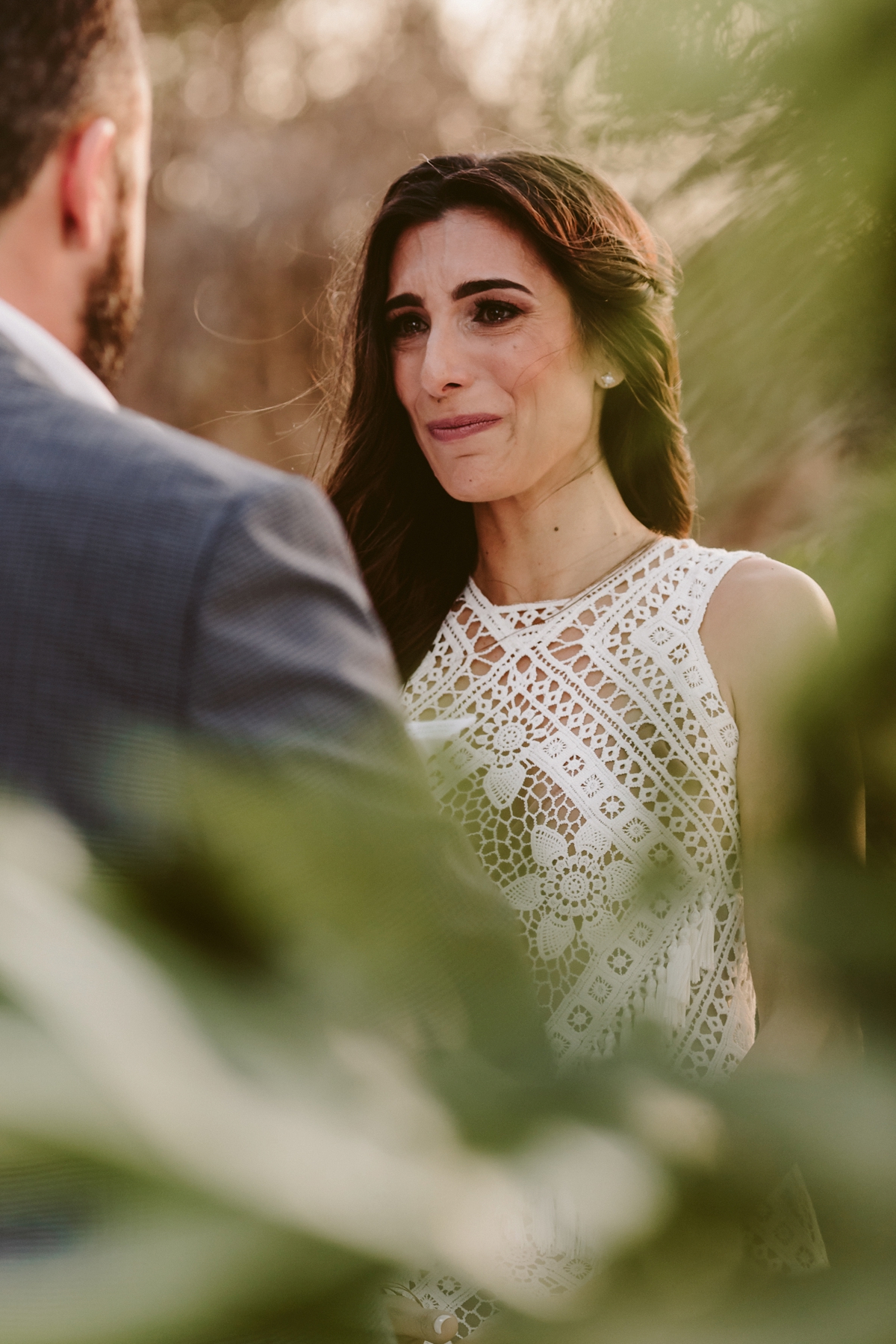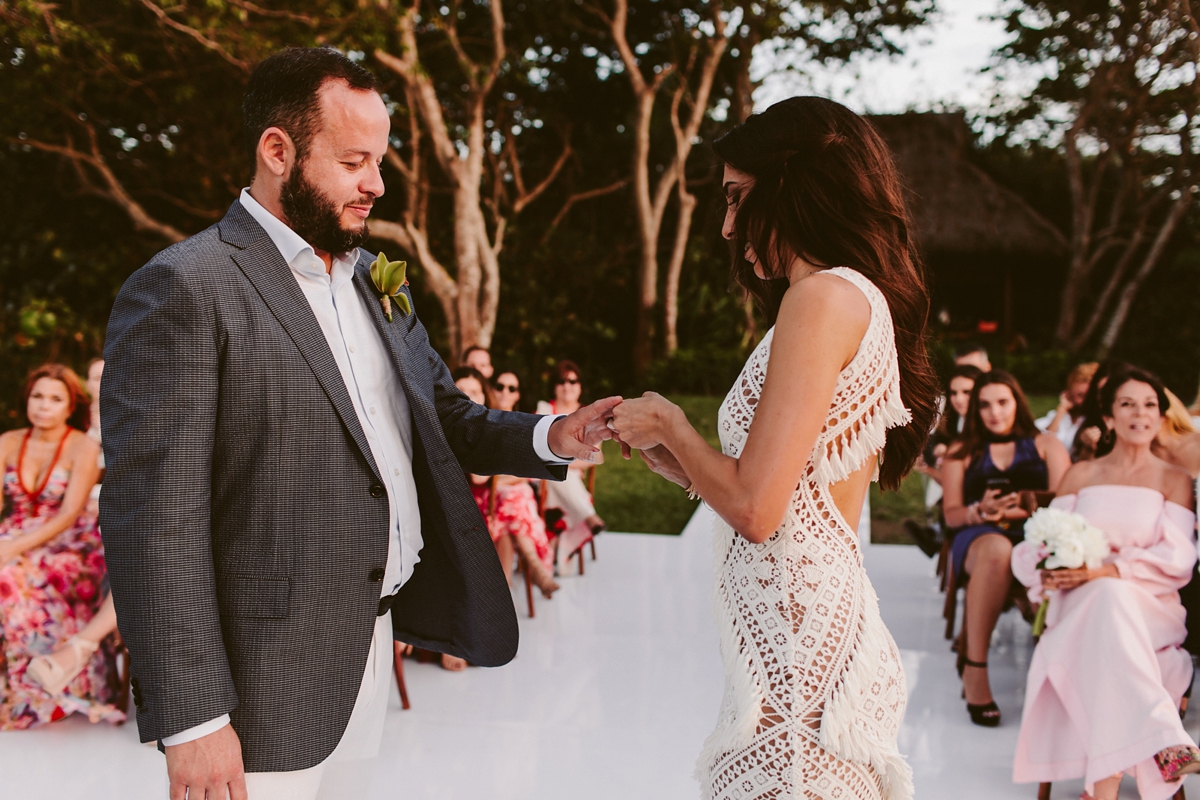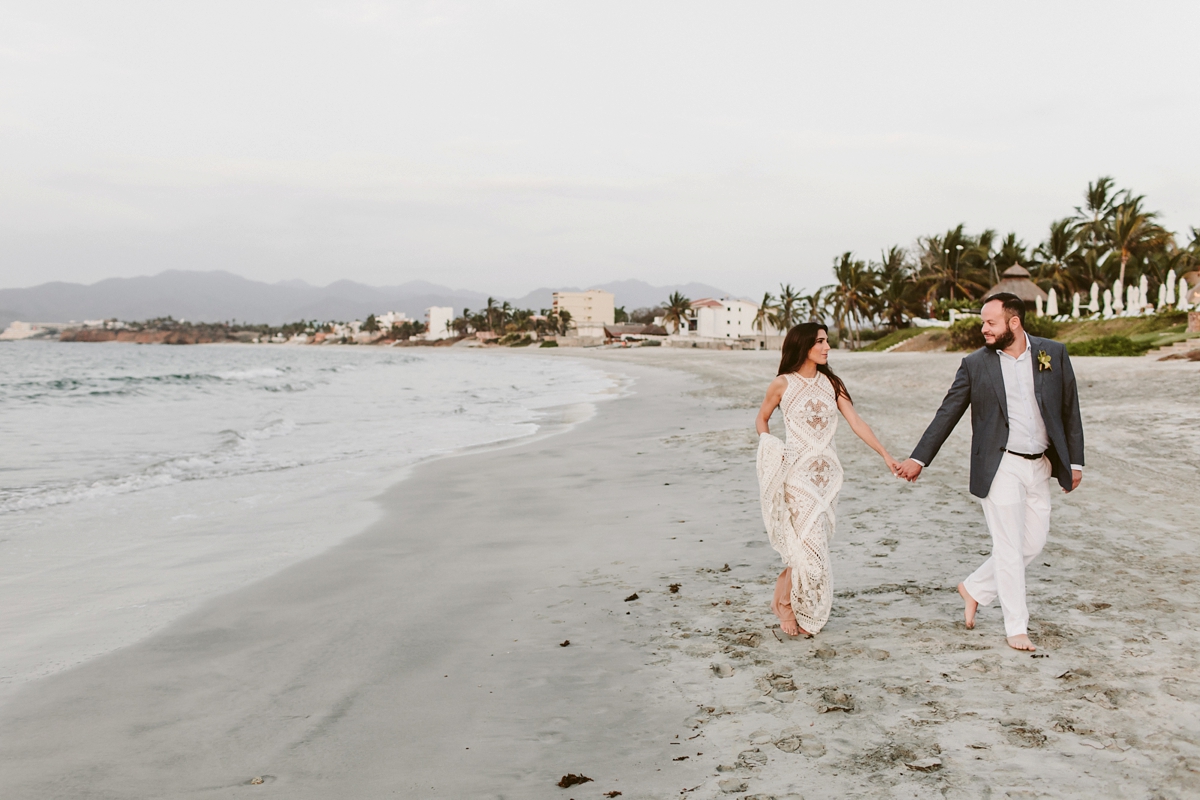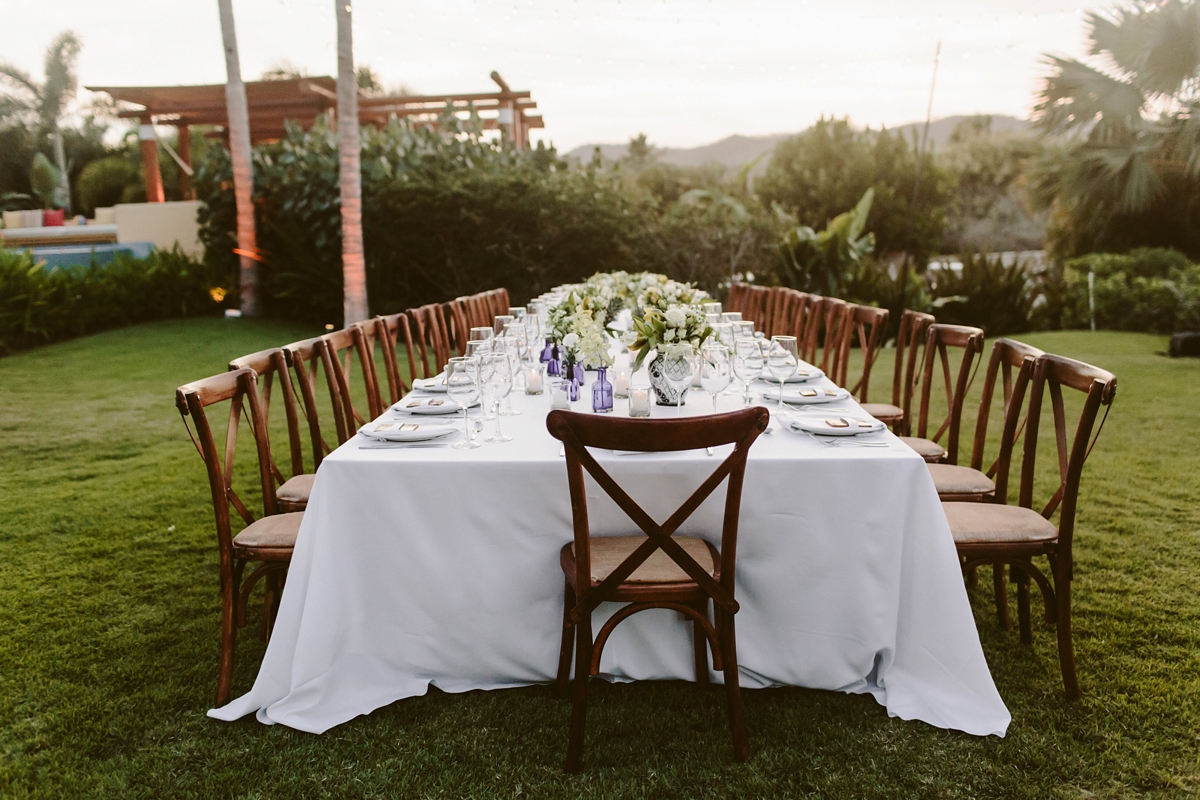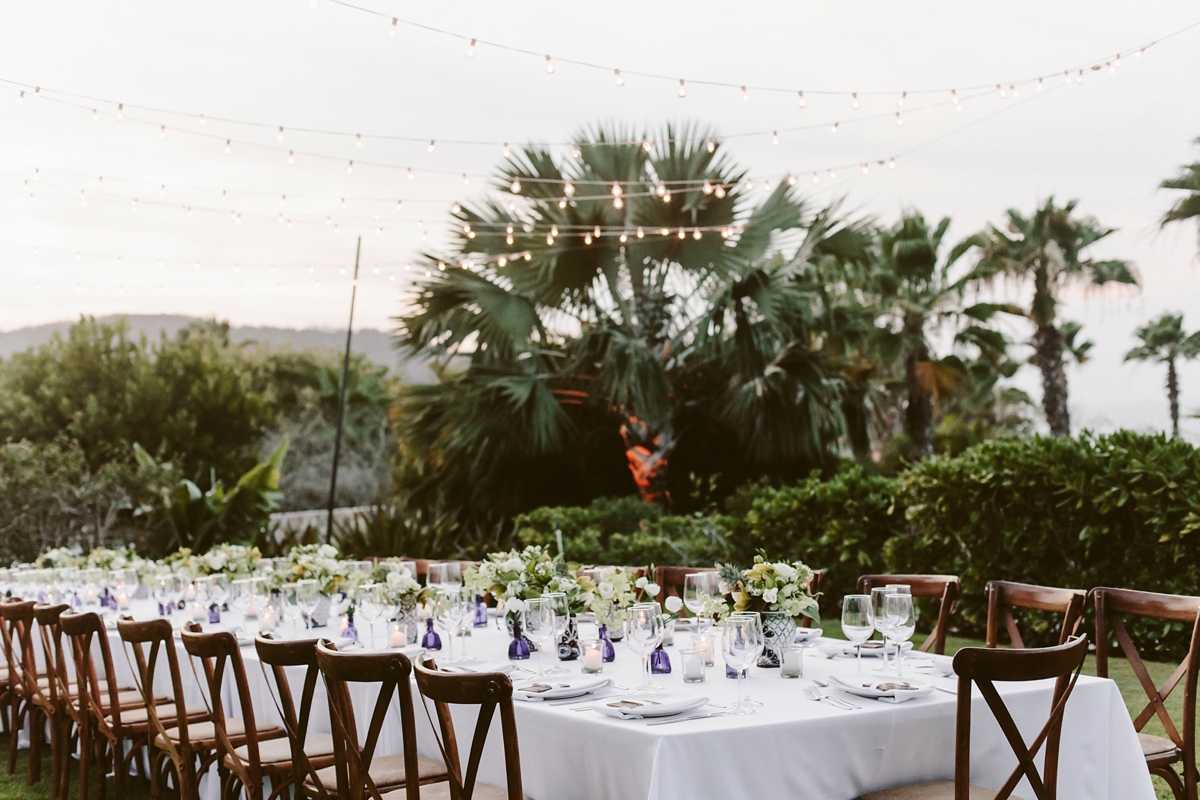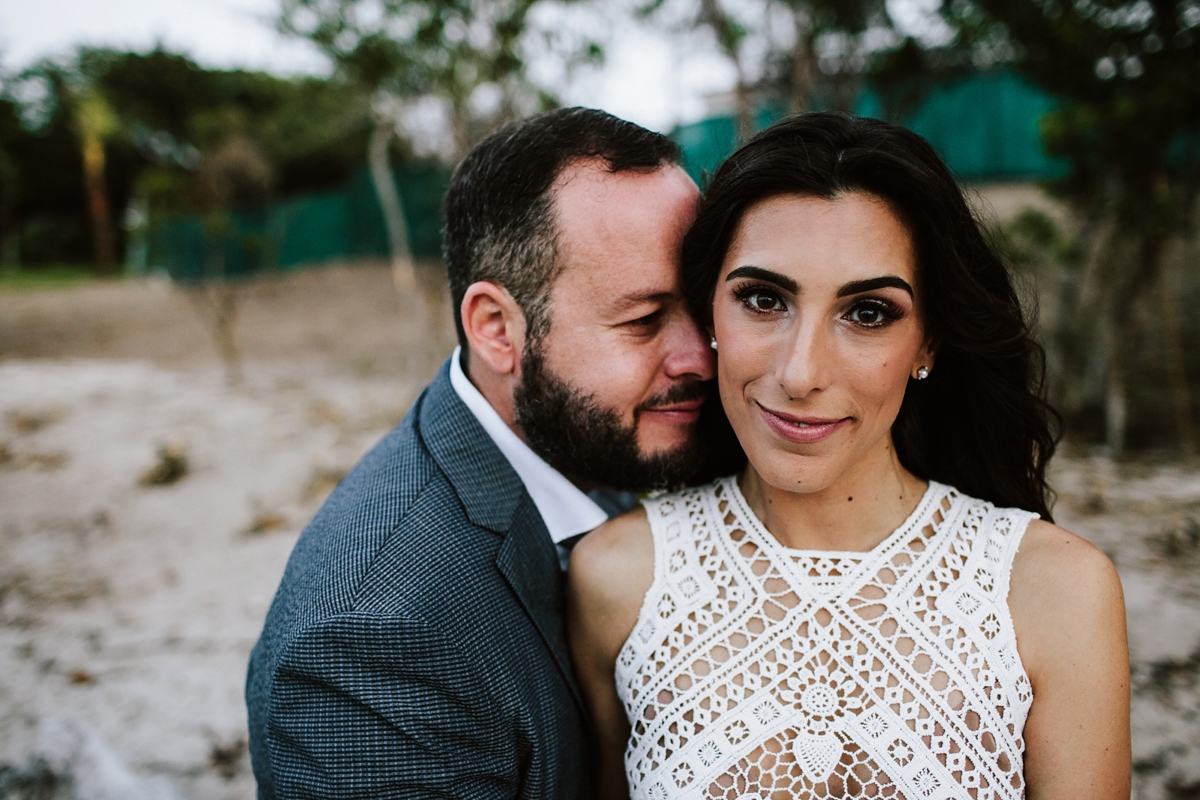 Catering was the work of Turquoise Catering and the food was served to guests under fairy lights, strung in the palm trees.  So romantic.
Entertainment came in the form of live music by Curiel Producciones and a DJ by Mariachi Sol Azteca, keeping guests up and dancing all through the warm evening.  Tiffancy and Juan shared their first dance to 'The Way You Look Tonight' by Frank Sinatra.
"Everything was absolutely perfect.  From the moment I started getting ready to the very last minute of the evening, I couldn't have asked for more.  If I had to choose, my favourite part of the day was when Juan and I exchanged our vows as it was so special and heartfelt."
"I wouldn't have changed a thing.  If I did get one wish granted by a fairy godmother I would wish that our grandparents could have been present, but we know that they were there in spirit."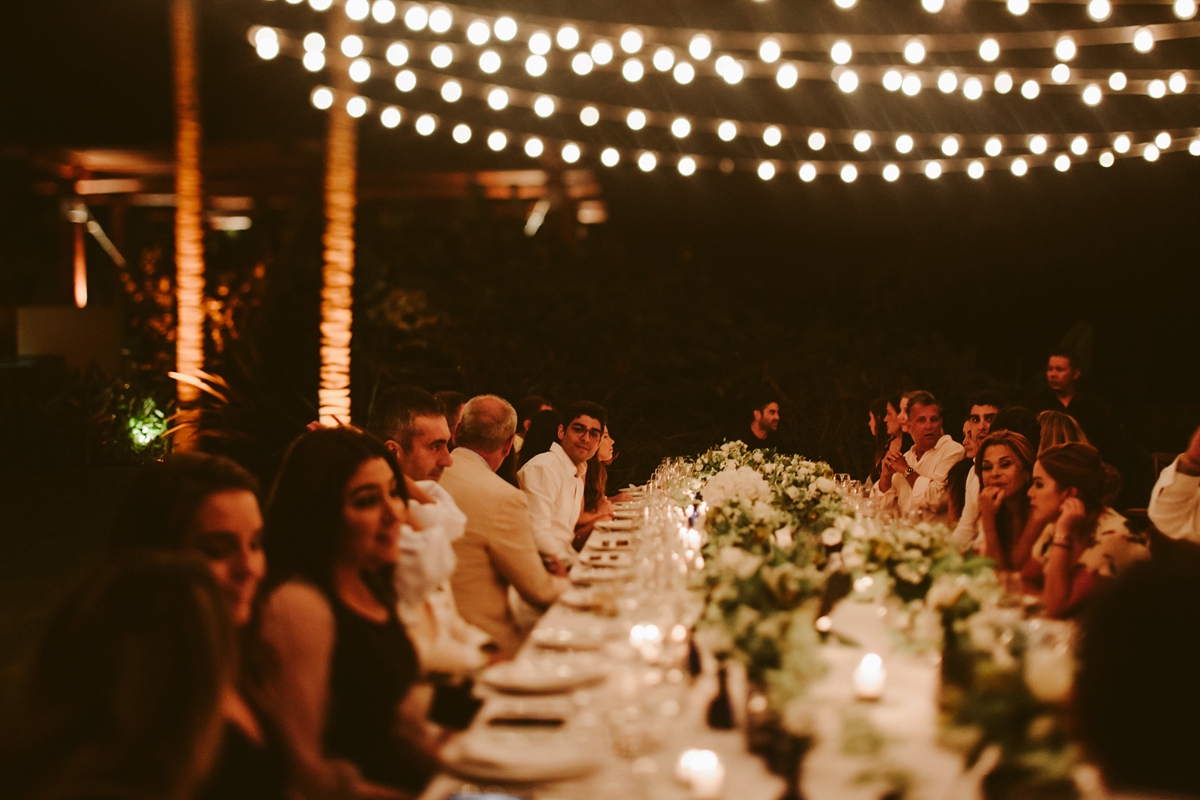 Words of Wedded Wisdom
"Enjoy every moment.  Savour it all- from the planning to very last minute of the wedding.  If your budget permits enlist the services of a planner/wedding coordinator that you click with and that understands your visions.  Our wedding planner really gave us the opportunity to enjoy everything stress free."
"Don't sweat the small stuff.  Remember what your wedding day is all about- love.  Its about the beautiful union of two people that want to join their lives and start a journey as one.  Enjoy your partner, your family and remember you're all there celebrating your love."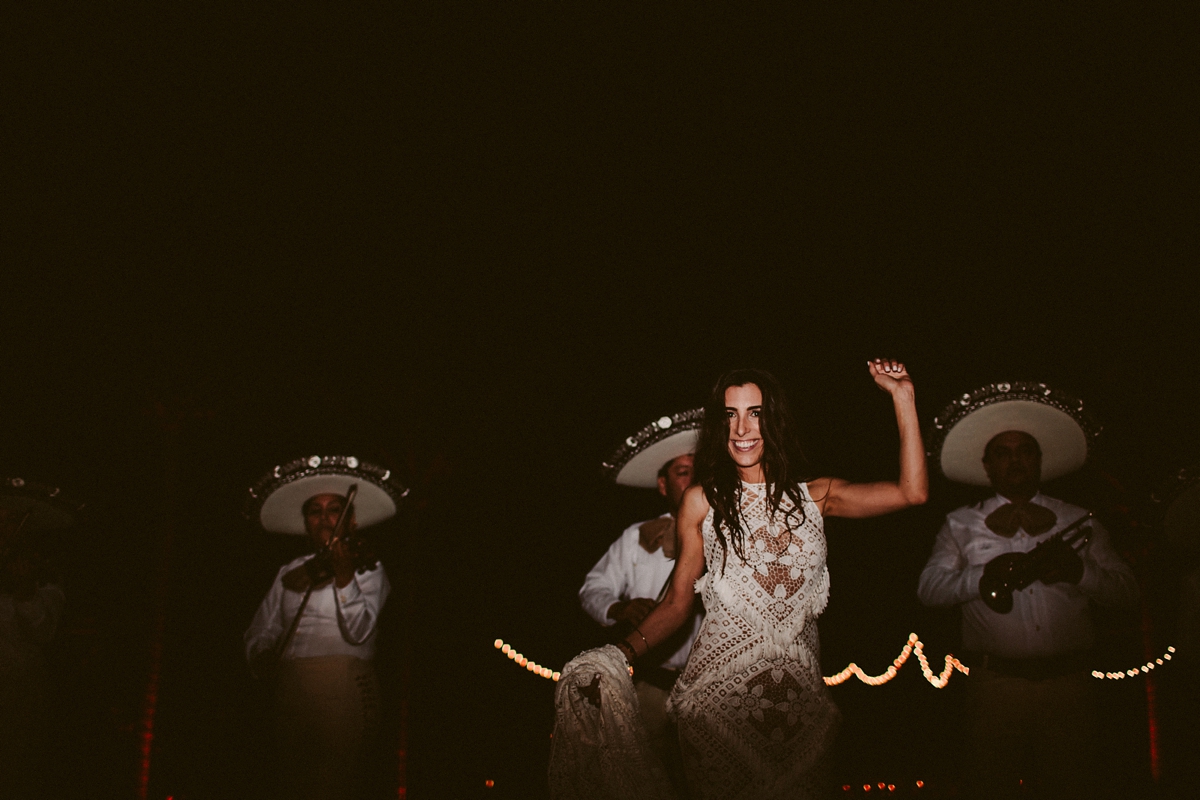 Huge thanks to Tiffany and Juan for sharing their beautiful destination wedding with us today.  Thank you too, to Tiarra Sorte for sharing her images.  I can almost hear the sea and feel the breeze on all of these evocative shots.  Are you dreaming of a wedding by the sea?  Take a look here for beautiful destination weddings to fall in love with, or here for stunning UK seaside and coastal weddings– home or away the beach is always a gorgeous choice.
Much love,
Shona x