In the last few years, planning my own wedding and writing for Love My Dress, I have seen more wedding dresses than I ever thought possible. But every time I open a new real wedding to feature on our glorious blog, I get that tingle, that bubbling excited feeling that only comes with the joy of all things wedding dress related. Today's ensemble? Next. Level. Amazing. And made from scratch by the very talented bride.
Beautiful Sally, a creative pattern cutter for a luxury womenswear designer, wed sound engineer and music producer, Tom, on 30th April this year in Tom's native West London. After a friend recommended York House, the couple realised they had stumbled upon the beautiful Italian fountain in the gardens a couple of years earlier, so the venue already felt like a part of their family history. The Turk's Head played host to the laid-back pub reception Sally and Tom always wanted, smattered liberally with gorgeous botanical influences.
"I guess we had a botanical themed wedding as I was inspired by magazines like 'Elle Decoration' and 'World of Interiors' and the lovely Urban Jungle Instagram account. I used to work at House of Hackney and have been obsessed with their Palmeral print ever since. We wanted everything to look very fresh and spring-like, so there was lots of greenery and a few splashes of yellow. In an ideal world we would have held our wedding in a conservatory or palm house, but at the end of the day keeping to a reasonable budget was just way more important to us so this was our way of incorporating that vibe."
Photography by Kris Piotrowski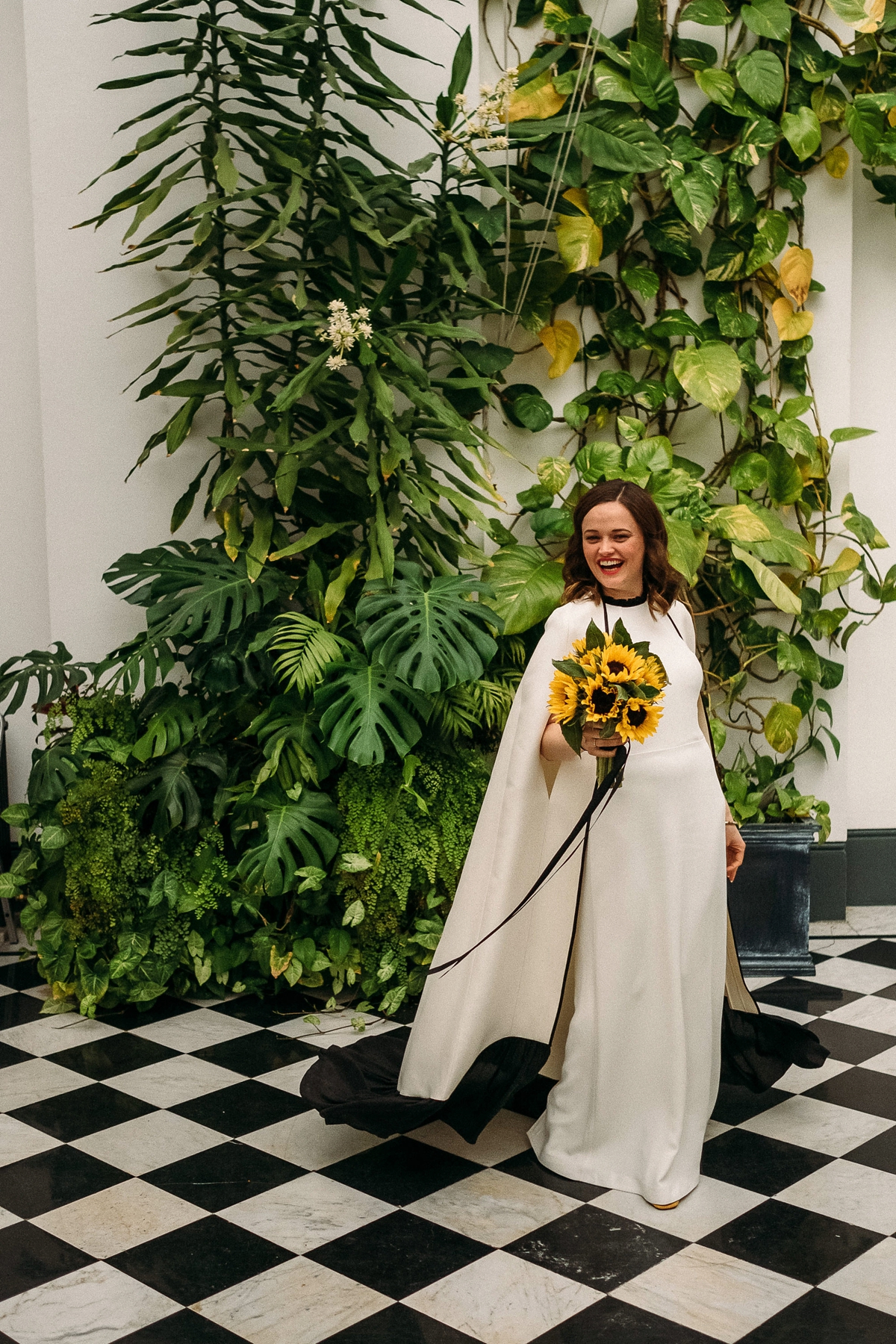 "Another strong influence on our day has to be the 1950's and 1960's. We both love the music from this era and I was obsessed with sixties style growing up, although I didn't realise how retro my dress was until it was pointed out to me on our wedding day. Our primary aim for our wedding was to keep it simple for ourselves and all our guests. We always said we'd have a London based registry office and pub wedding, and this is what we did ultimately, just a fancier version than anticipated."
The couple met through dating site, Guardian Soulmates, Sally self-confessedly skipping the coy 'like' option and messaging Tom straight away, prompting him to pay his membership fee in order to reply. Their first date at a riverside pub in East London led to a proposal four years later after drinks in the pub where they first met, and fifteen months on the couple tied the knot. Sally's engagement ring used to belong to Tom's mum, given to her son when it became to small for her, and remounted for his love on a white gold band. Our bride treasures her ring knowing that Tom's mum chose it herself when she and his dad got married.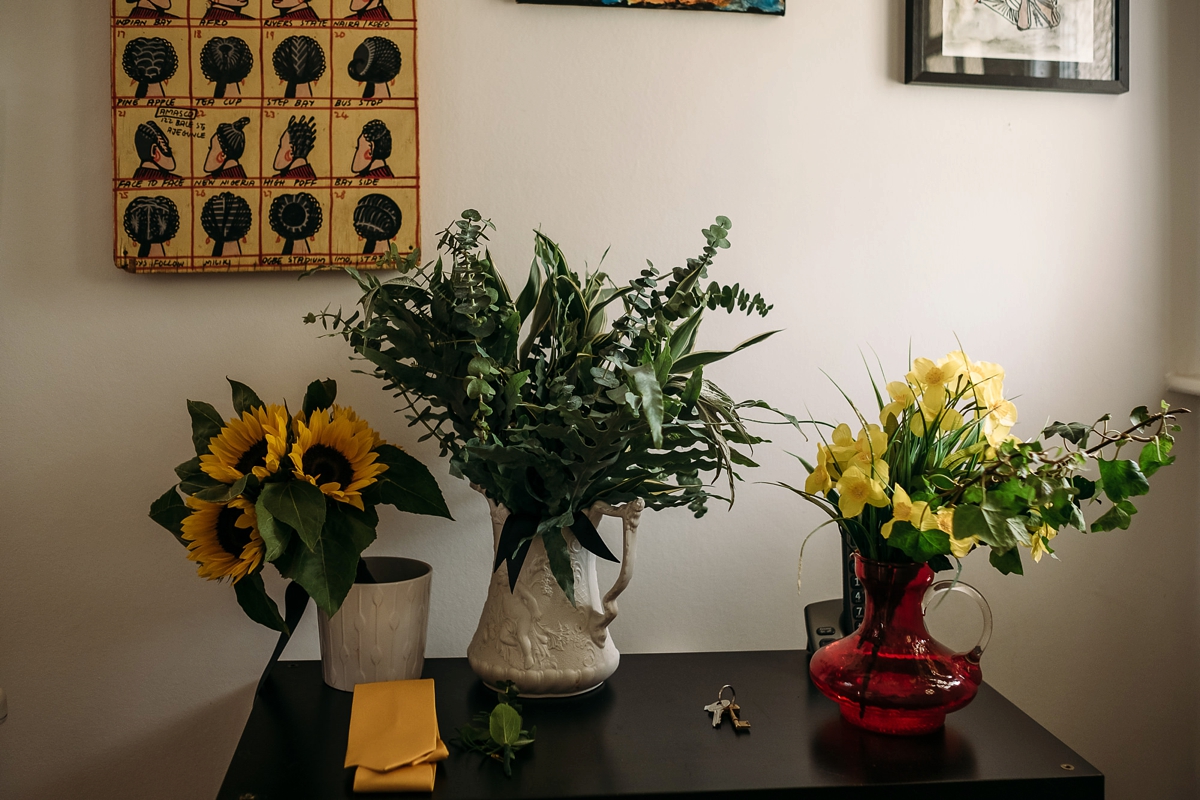 "I designed and made my dress and cape, I've been a professional pattern cutter for seven years now, so it made sense to make my own outfit. My dress fabric was silk bought from The Silk Society in Berwick Street and my cape fabric was a silk and viscose twill bought from UK Textiles on Goldhawk Road."
"I spent a long time looking online at shops like Net-a-Porter, Selfridges and Matches and didn't find anything that would work with my frame and my style. I knew I didn't want to wear a proper bridal gown as I was worried that if I wore something lacy or corseted I wouldn't feel like myself."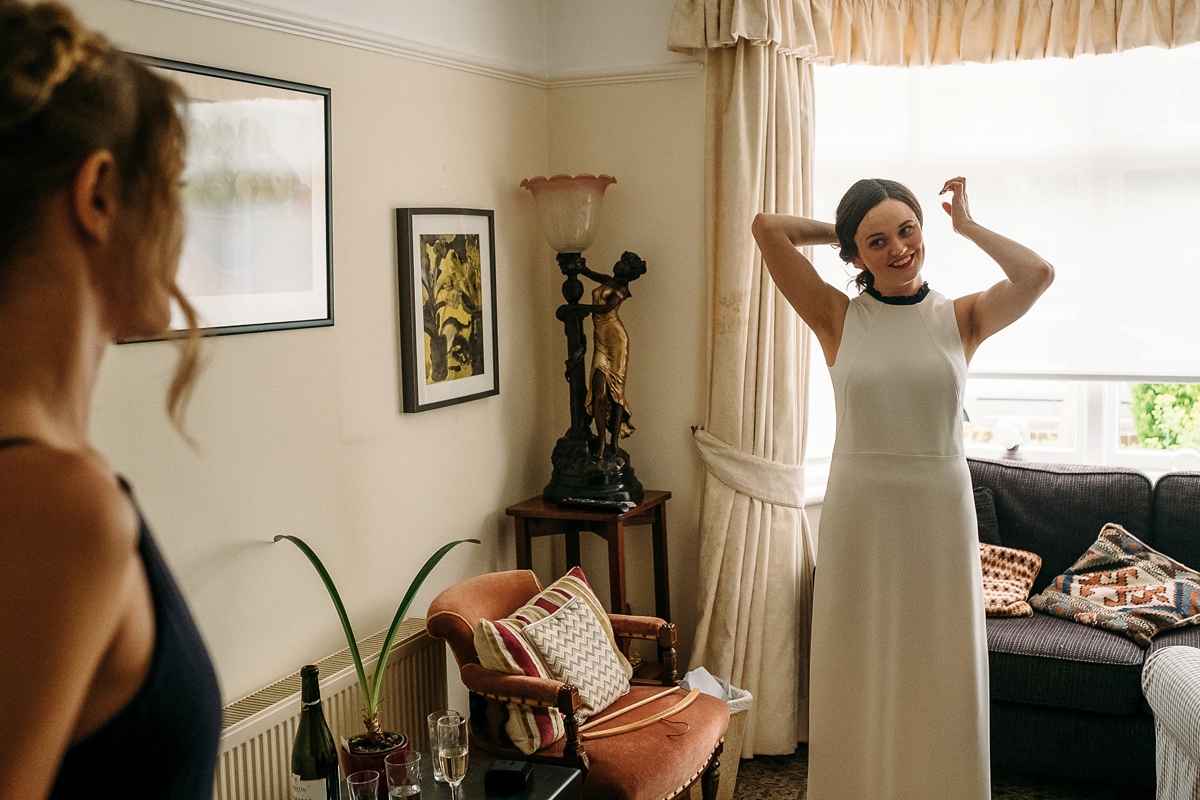 "I struggled to finalise my designs so I just got started developing my first toile before the ideas were fully formed. The designs evolved to become a simple column dress with a deep 'v' back neckline with a contrast neck ruffle, and a cut-away cape with a deep contrast hem frill."
"Both the dress and the cape were in ivory silk with contrasting elements in black, the contrast details there to make the outfit look less traditionally bridal and more modern. I was heavily inspired by Solange Knowles's incredible wedding outfits and designers such as Balenciaga, Valentino and Erdem."
"As I couldn't sit down in my cape, I took it off during the ceremony to sign the register. My friend later told me this was a big reveal moment as I showed the back of my dress for the first time."
"I love that my outfit had two different looks and I actually added a third look later in the evening when I wore an ivory leather biker jacket for the golden hour photographs outside."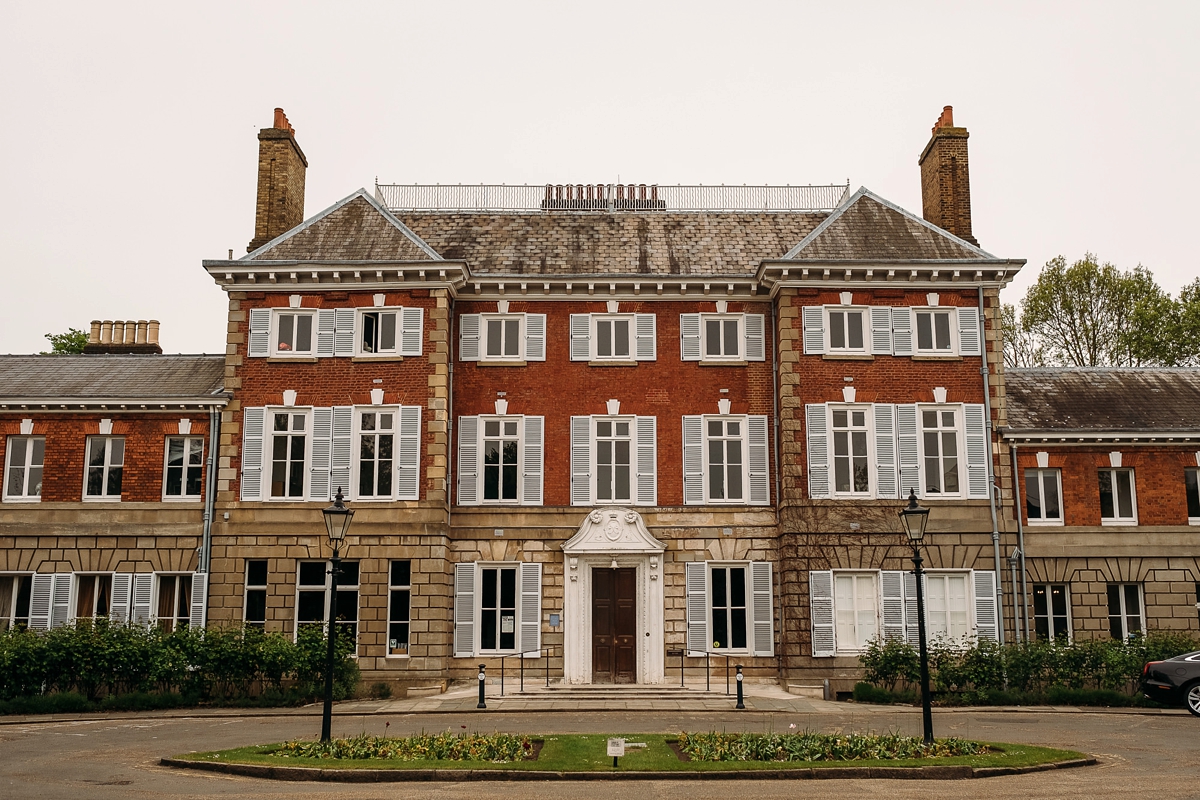 Sally's dress and cape are things of absolute beauty, modern, unique, quirky but effortlessly timeless. Our bride paired her stunning ensemble with chunky yellow suede mules from Topshop, which she later swapped for plimsolls for dancing and eventually even they got kicked off in favour of polka dot socks. A cute yellow leather mini bag from M&S and a spritz of Sally's favourite scent, Petite Cherie by Annick Goutal were the penultimate finishing touches.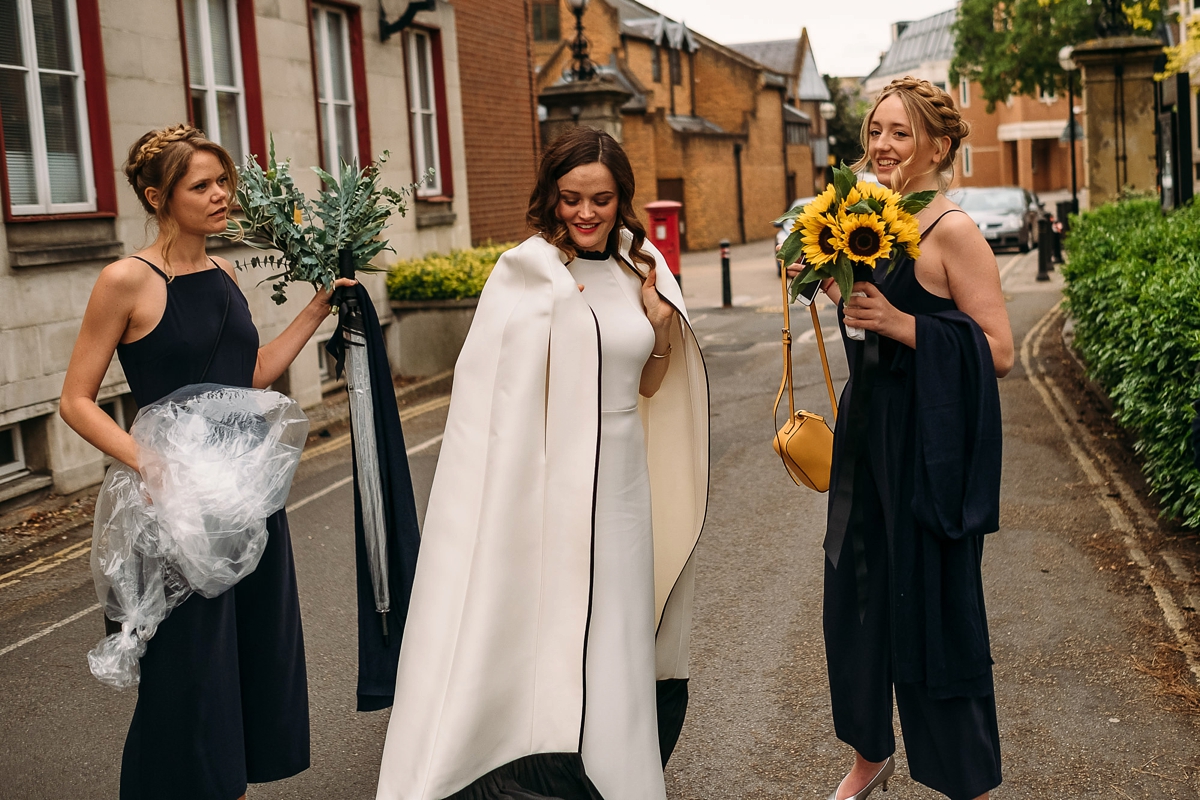 "I wore my late nan Dora's bracelet – it would have been her 99th birthday on our wedding day, so it was really lovely to wear something that had been hers. She was a huge fan of Tom's and would have been very happy to see us get married. We're so pleased that our anniversary will forever be intertwined with happy memories of her."
"The lovely Cat Parnell at Unveil Hair did my hair in loose curls and my best woman and bridesmaid had beautiful tousled halo braids. They both wore navy pinafore style wide leg jumpsuits from Warehouse with silver brogues and silver pointed kitten heels from ASOS, and my bridesman wore a navy collarless shirt and grey wool trousers from Zara."
Tying in the sunny yellow of her bag and mules, Sally carried a bouquet of six open sunflowers, which she bought from Wheelers of Turnham Green the day before the wedding and tied with a long black grosgrain ribbon.
Bundles of eucalyptus and large leaves made up the fresh bridal party bouquets and buttonholes were comprised of eucalyptus, rosemary from the couple's kitchen window, and leaves from Tom's mum's garden and Chiswick House Grounds.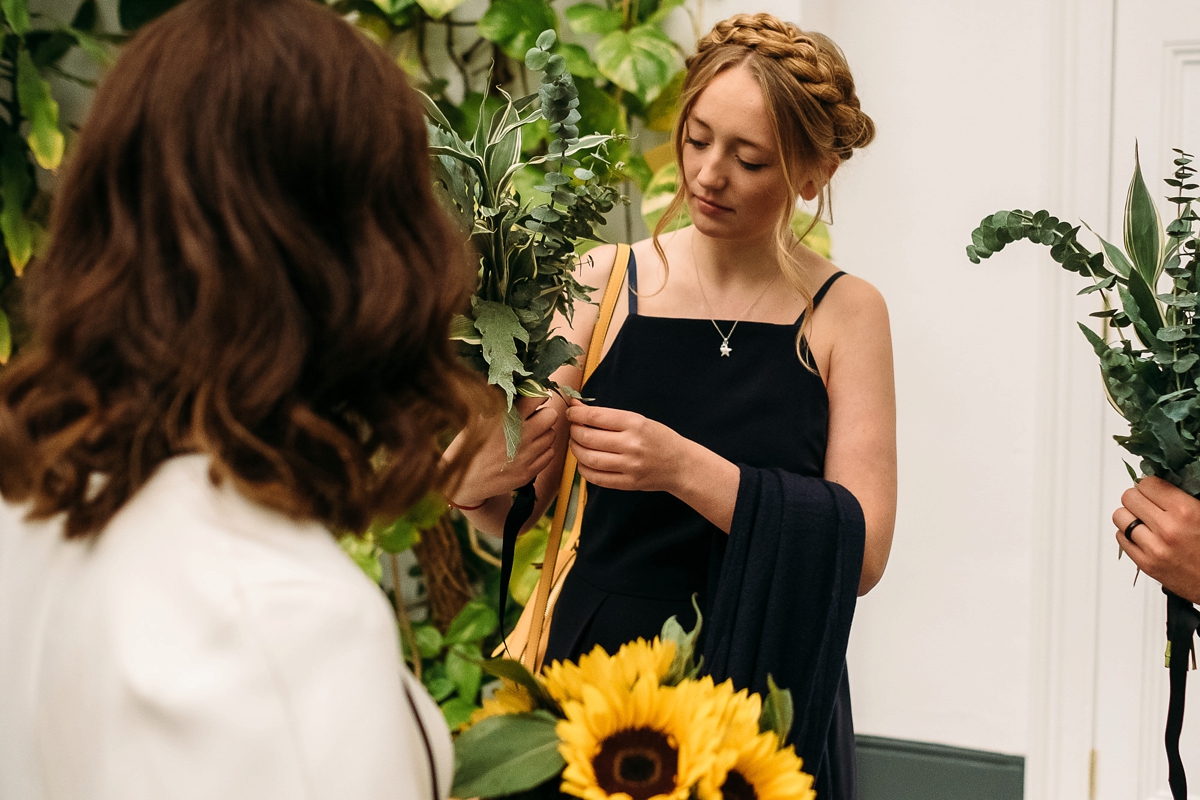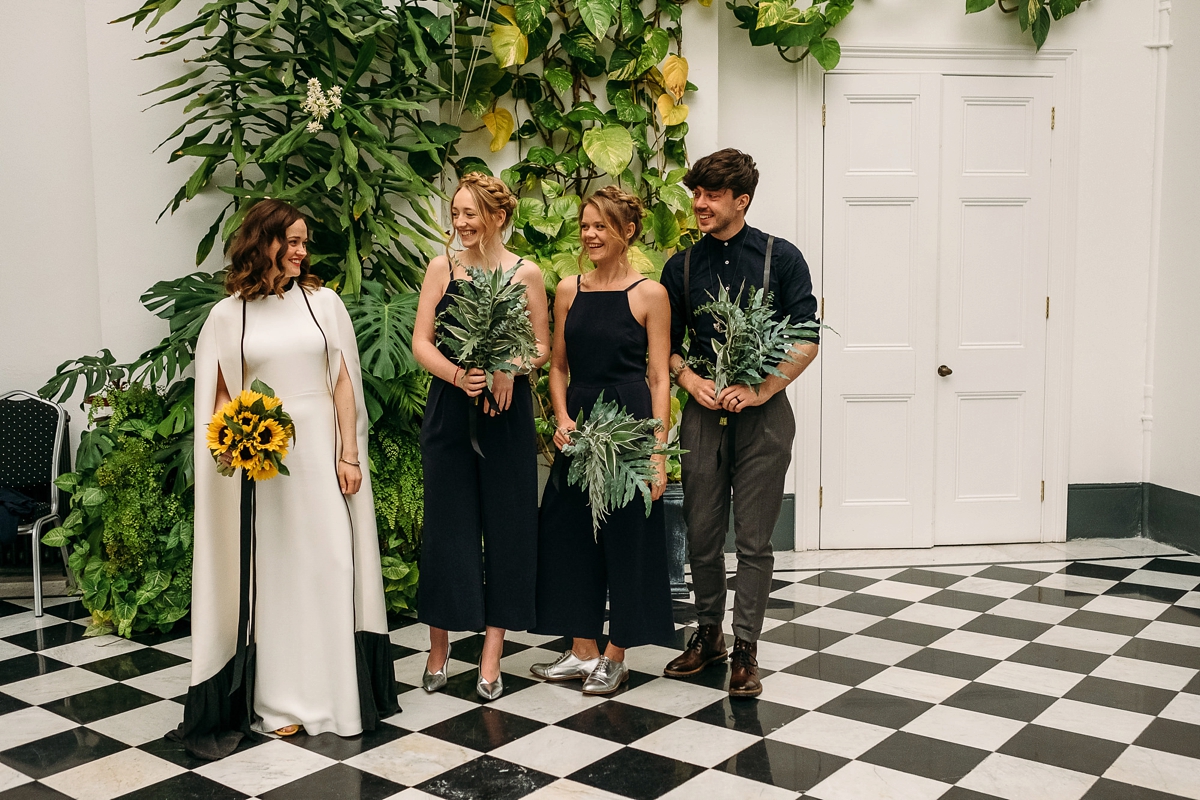 The simple foliage looks so effective against Tom's trusted ASOS grey herringbone tweed suit, set off by a John Lewis yellow silk twill tie. He also donned his old brown leather Dr. Martens boots, which were later worn all over the Scilly Isles on the couple's honeymoon.
"My dad walked me down the aisle to 'By Your Side' by CocoRosie. The intended meaning of this song is way off track for a wedding but what the hell! My dad really loves Tom and I know he's very happy for us both. I was so glad to get to Tom's side, I'd been so nervous before that point, and once I got to the end of the aisle I held onto Tom's hand so tightly all the way through the ceremony and never let go. Leaving the ceremony and being covered in confetti was the signal to really relax."
"We're very soppy and silly people normally but didn't want to get too sentimental during the ceremony. We went for the simplest vows on offer and chose not to have any readings. This also helped to keep this part of the day moving along quite swiftly. I also don't think we trusted ourselves to hold it together if we started being romantic this early in the day."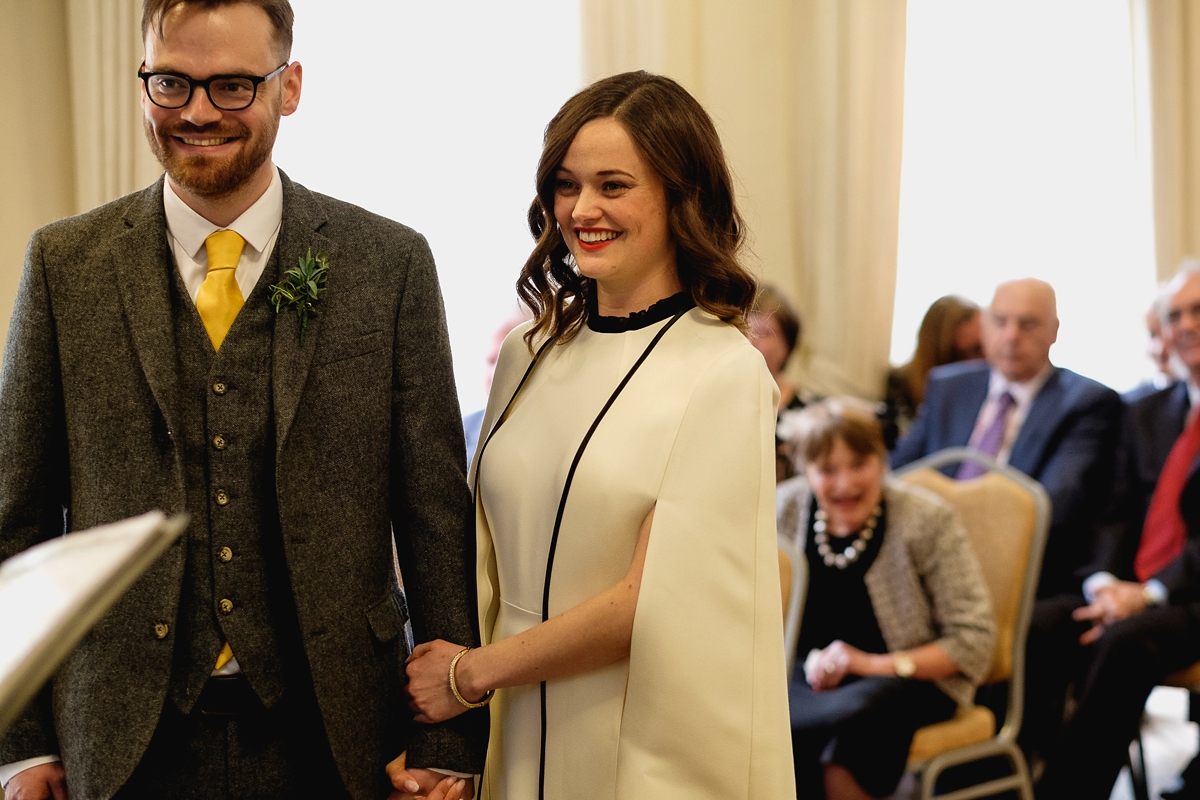 During the ceremony, Sally added a delicate halo shaped white gold band made by Anna D'Cruz alongside her engagement ring, while Tom acquired a white gold half court band from The Beautiful Company from his new wife.
The newlyweds signed the register to Good Intentions Paving Company by Joanna Newsom and played Here Comes the Sun by The Beatles as they left the ceremony as husband and wife, a song they've been singing to each other for years.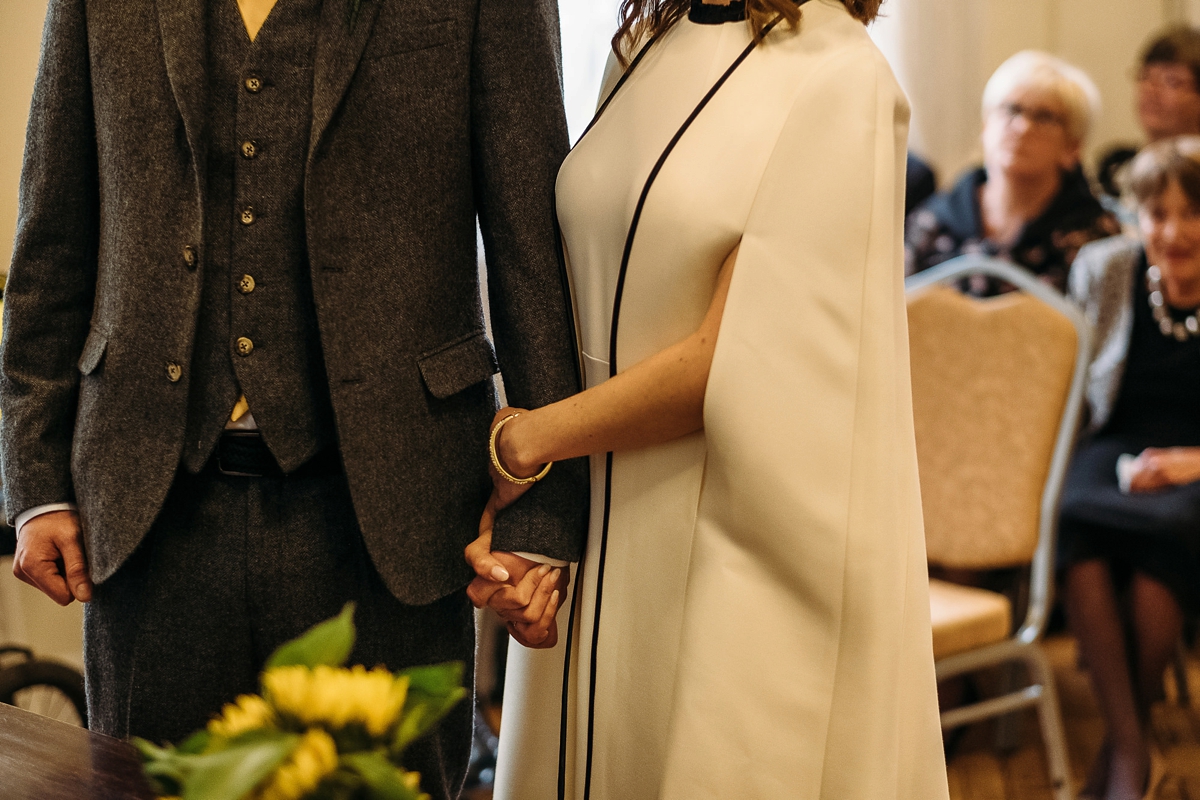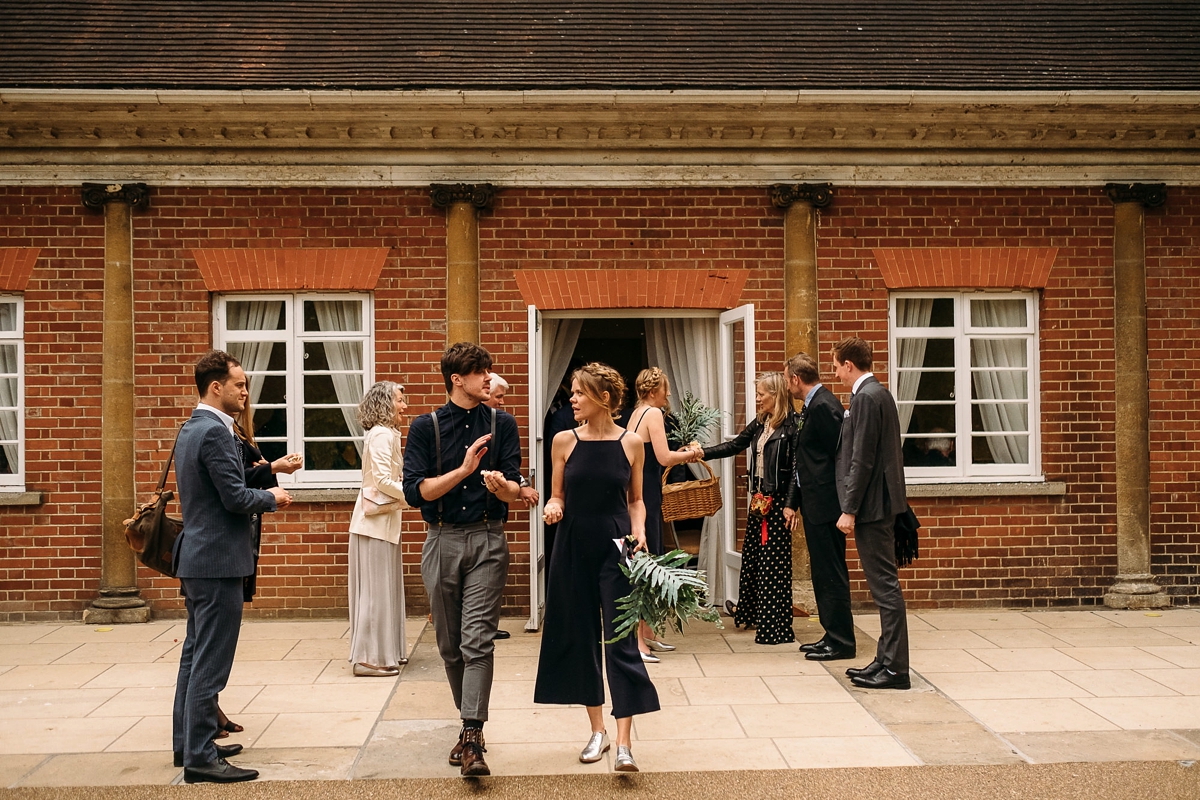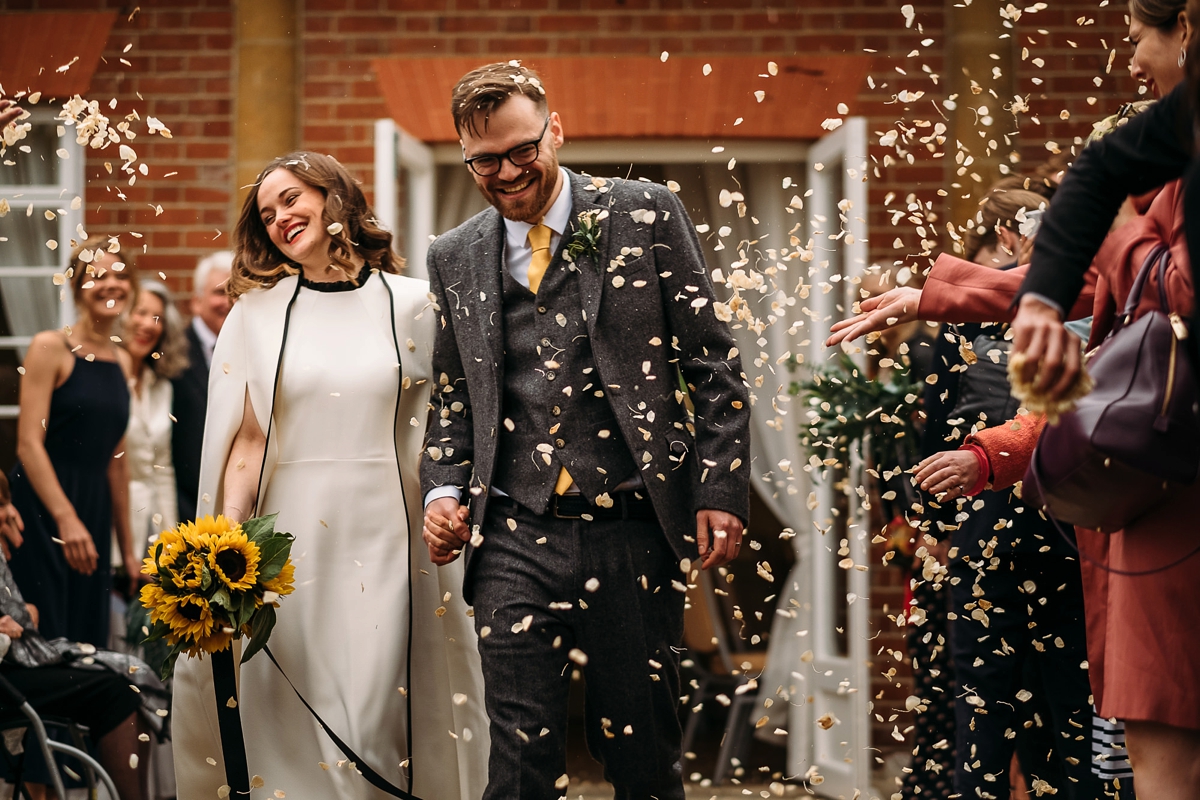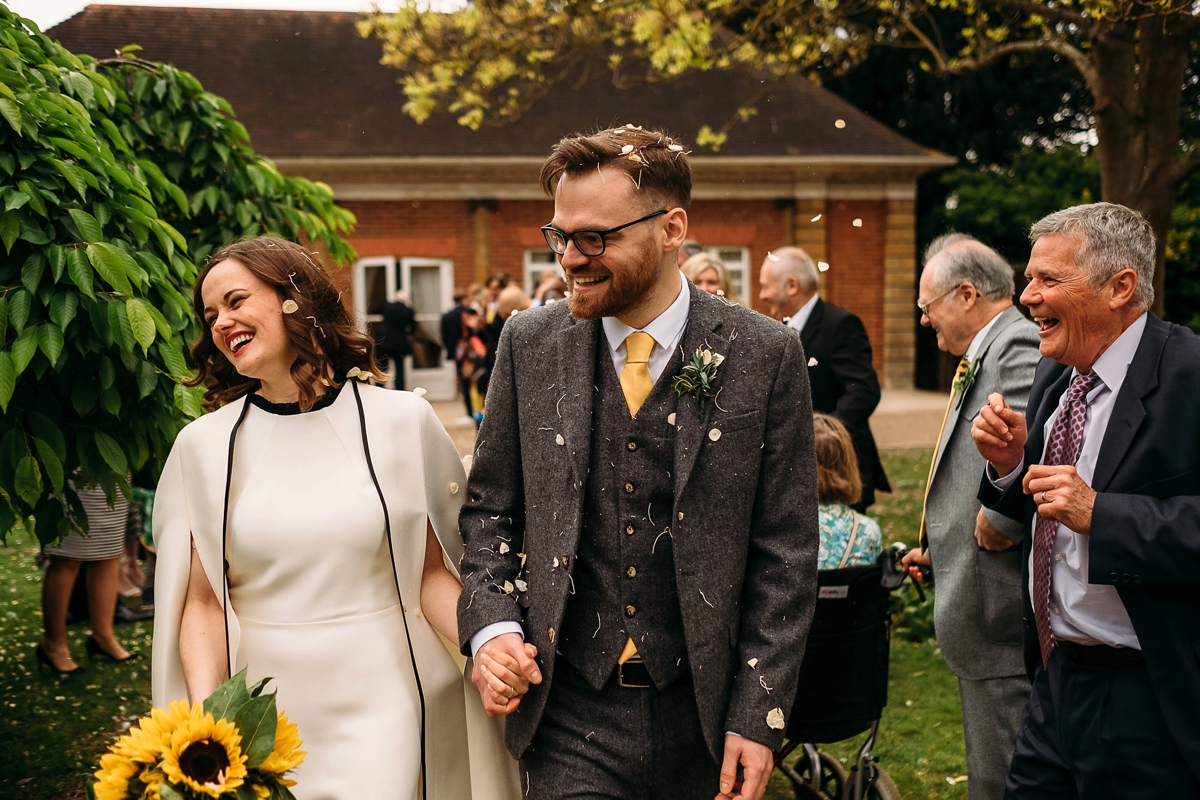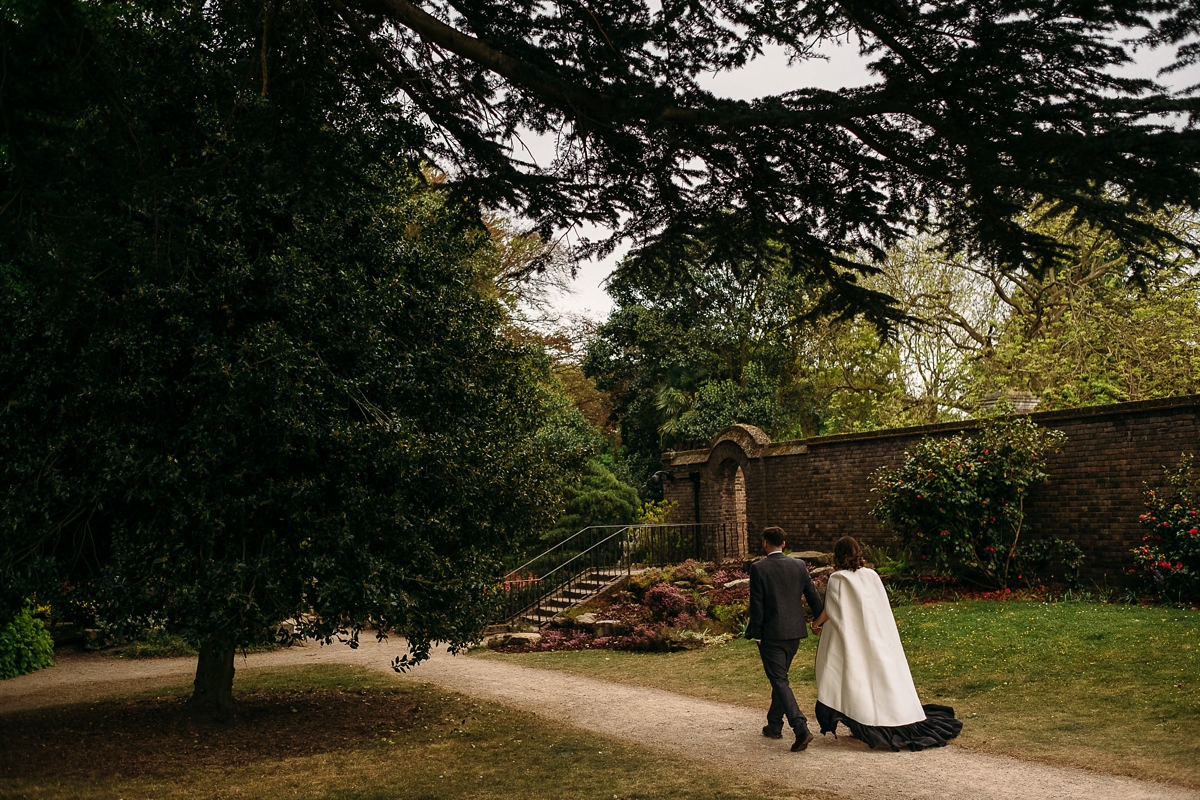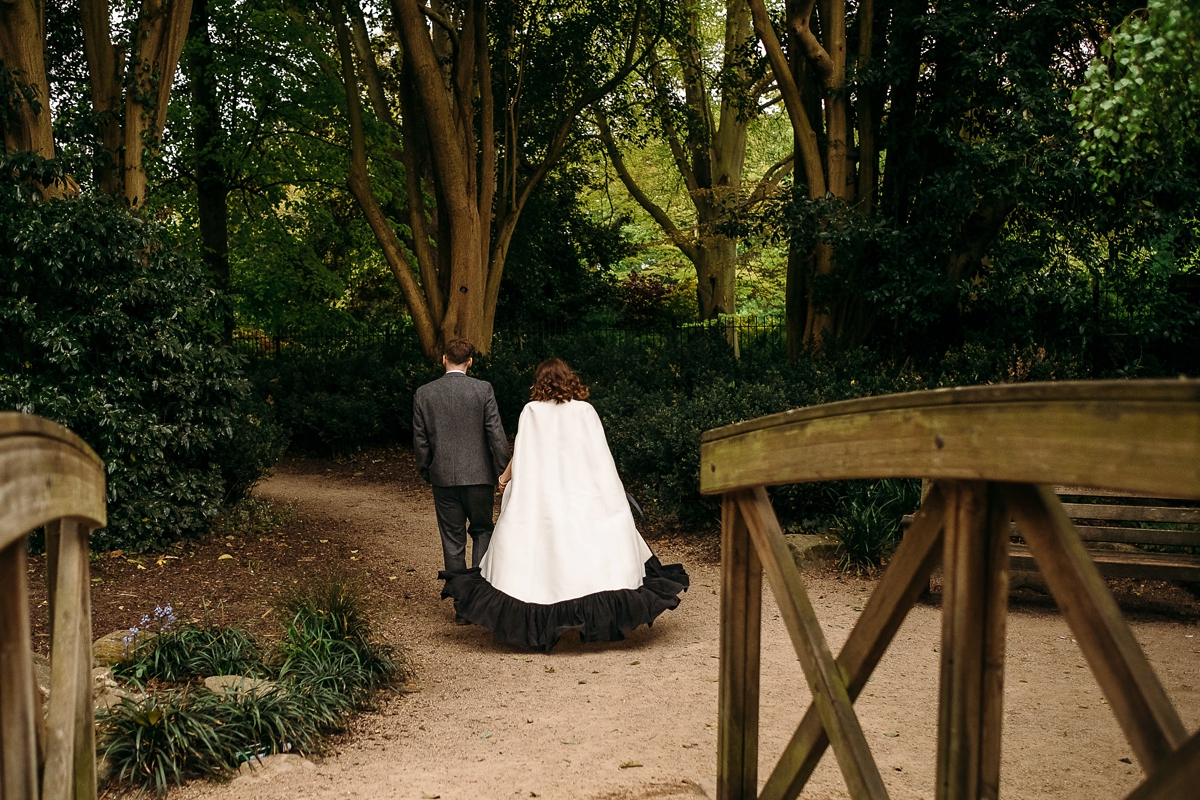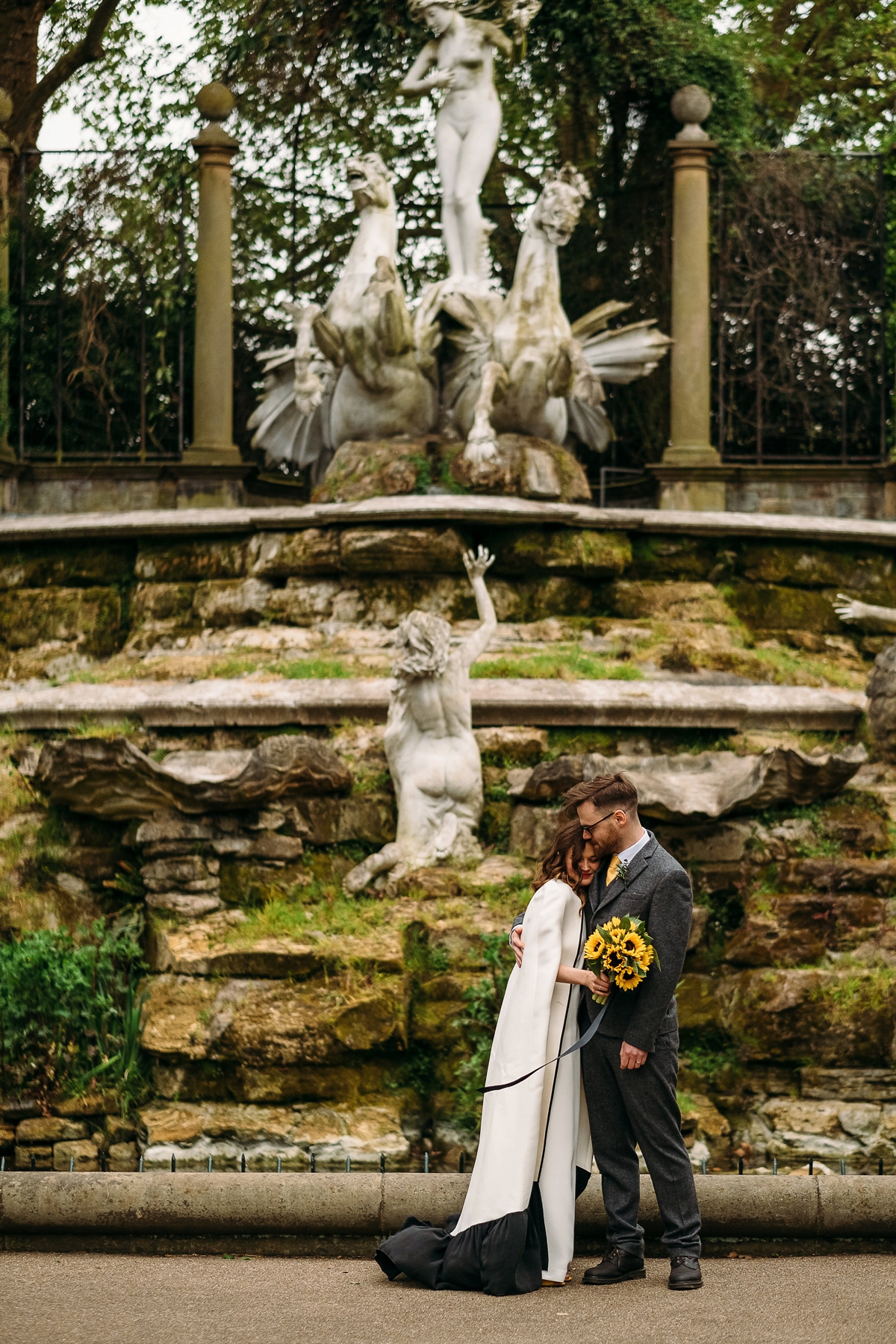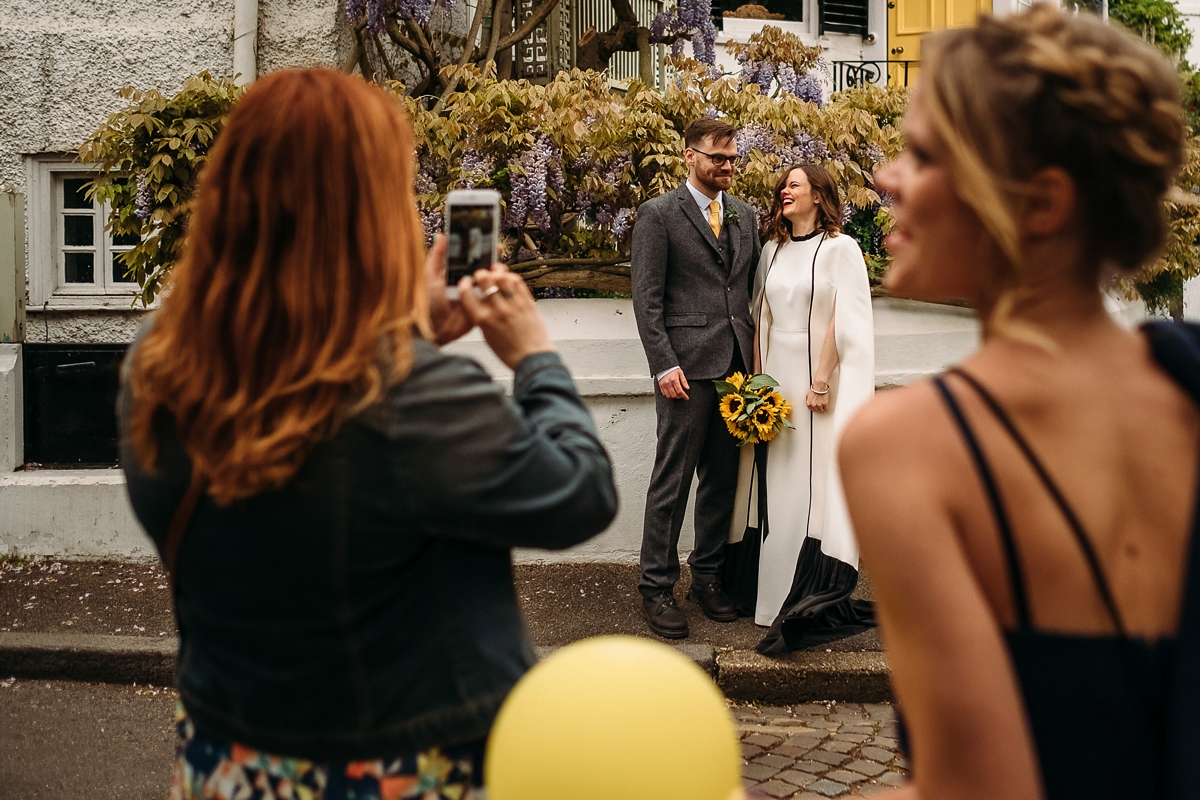 "Kris Piotrowski was our wonderful photographer. Tom and I are both pretty rubbish in front of the camera so we were really keen to have a candid style of photography with just a few formal shots to avoid too much posing. This is exactly Kris's style so we worked perfectly together. He's a really lovely guy and just blended into our day perfectly, we hardly ever noticed we were having our photo taken and yet he seemed to capture everything."
"We honestly couldn't be happier with the results. He did a really good job of photographing all of our guests and capturing moments we missed. The three of us sneaked away at twilight for a few posed couple shots, one of the pictures taken at that time is my favourite from the whole day."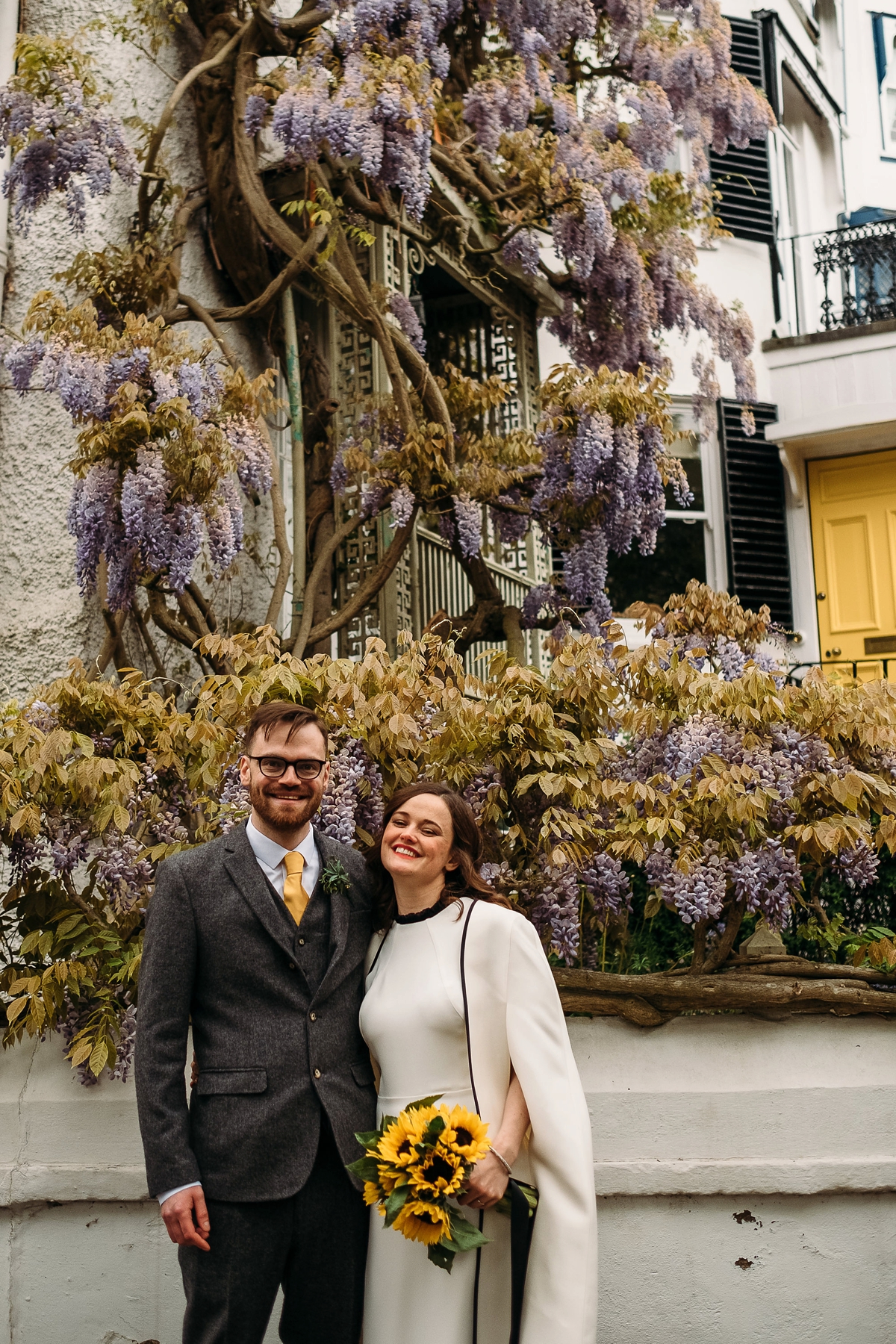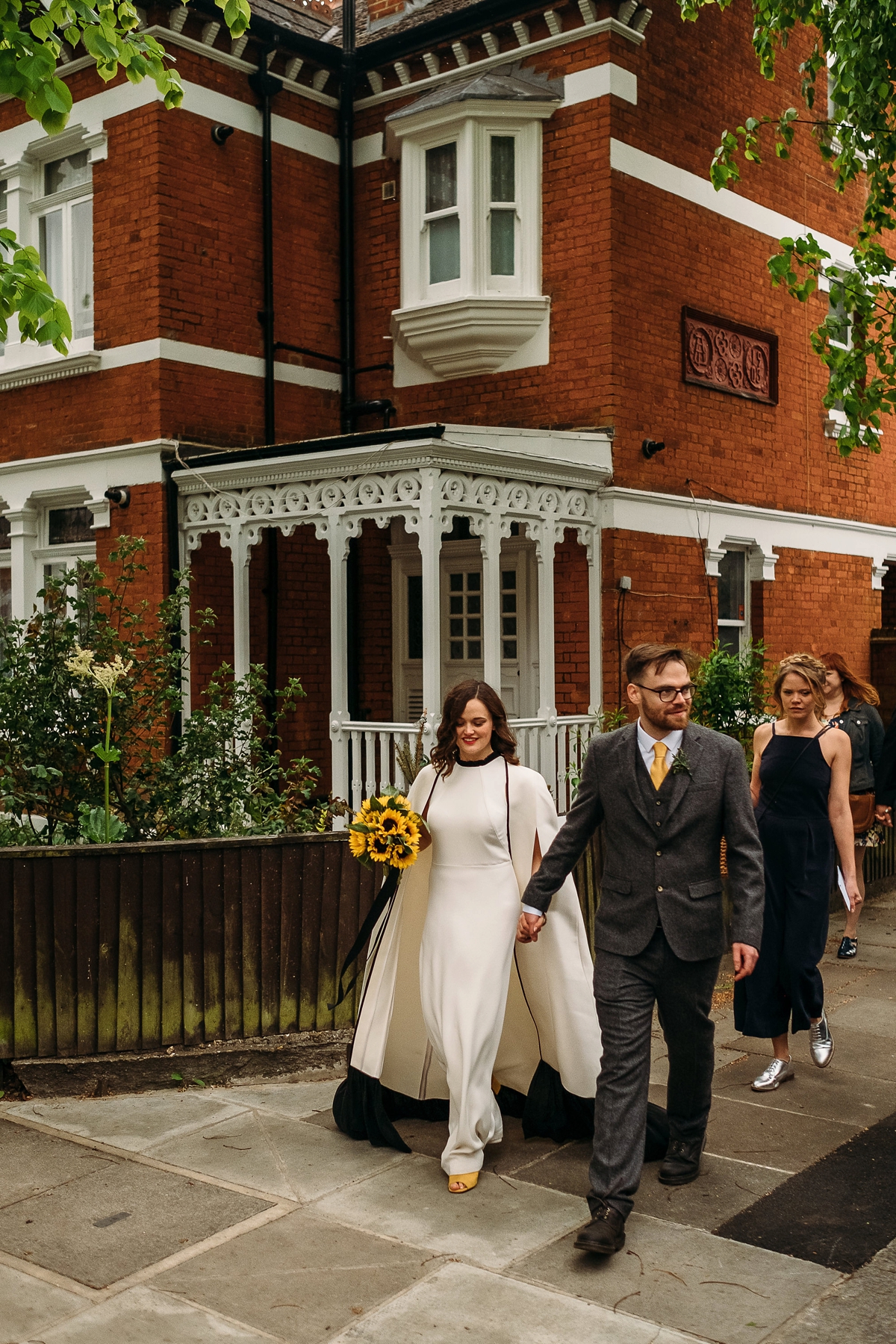 Sally and Tom chose not to hire a wedding planner, feeling fortunate that they had the skills and time available to plan themselves. Now my husband and Sally are truly kindred spirits when it comes to their love of spreadsheets and once she and Tom had found their two venues, everything seemed to fall into place.
Catering was handled by The Turk's Head pub and photography was left in the very capable hands of Kris Piotrowski, who has truly captured the spirit and the beauty of this incredibly stylish union.
"I designed our stationery myself after being inspired by designs I'd seen online. I was particularly in love with the work of Rachel Marvin, but felt motivated to create it myself as I love working with Adobe Illustrator but don't have much cause to in daily life. I bought image files from Shutterstock to ensure a good quality result and printed on a great quality textured paper. I had everything printed at Pronta Print in Camden. I designed the invites, the RSVP's and the thank you cards."
Sally and Tom's reception decor was a beautiful ode to modern botanicals, with a touch of local Mexican charm, the customised white papel picado bunting traditional at celebrations in the country where best woman Denise lives. Festoon fairy lights and chunky concrete pots filled with succulents and cacti sat alongside homegrown cuttings of Monstera and palm leaves in assorted glass jars, and geometric copper candle holders from H&M topped homemade striped table runners.
The couple sourced mini succulents and cacti in pastel pink and mint glazed ceramic pots from Vicki Pearce at Columbia Road Flower Market for their favours, and following an online tutorial, Sally set about making marbled paper to create name place flags to stick in the pots.
In a final botanical nod, our lovely bride surprised her husband with a bonsai tree he'd had his eye on as his place setting – a tree they hope will live a life as long and as happy as their own.
"Tom's favourite part of the day was sitting down to eat as we'd planned it so we were surrounded by our closest family as well as our closest friends, so we could all have a good chat and get the bubbles flowing. The most memorable part of the day for everyone else though, is probably when my nephew made a dash across the bridge and mistook the pond for a nice patch of grass and jumped straight in. He was totally unharmed and was swiftly dried off and changed."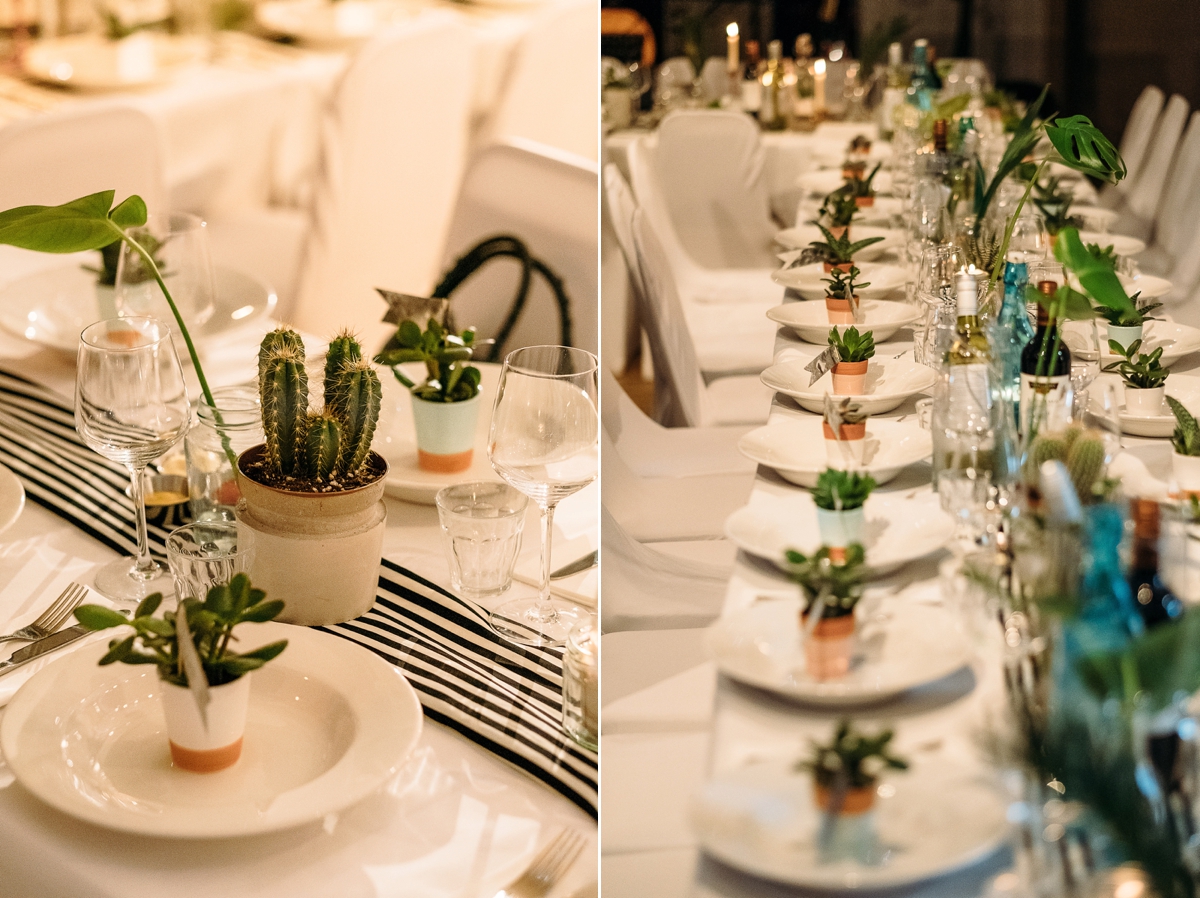 "I created our table plan using software called Gerber, which I normally use for my pattern cutting work in the fashion industry. I love the look this software creates when it's printed out and wanted to include an element of my job in our wedding day as it's a huge part of my life that I'm passionate about."
Kitsch foil balloons from Sunny Life and Flexmetal decorated the back of the reception venue, all of them bar one getting pinched by the end of the night, with Sally just about managing to keep hold of her favourite, an ice cream, which is now framed in the couple's hallway with their wedding table plan.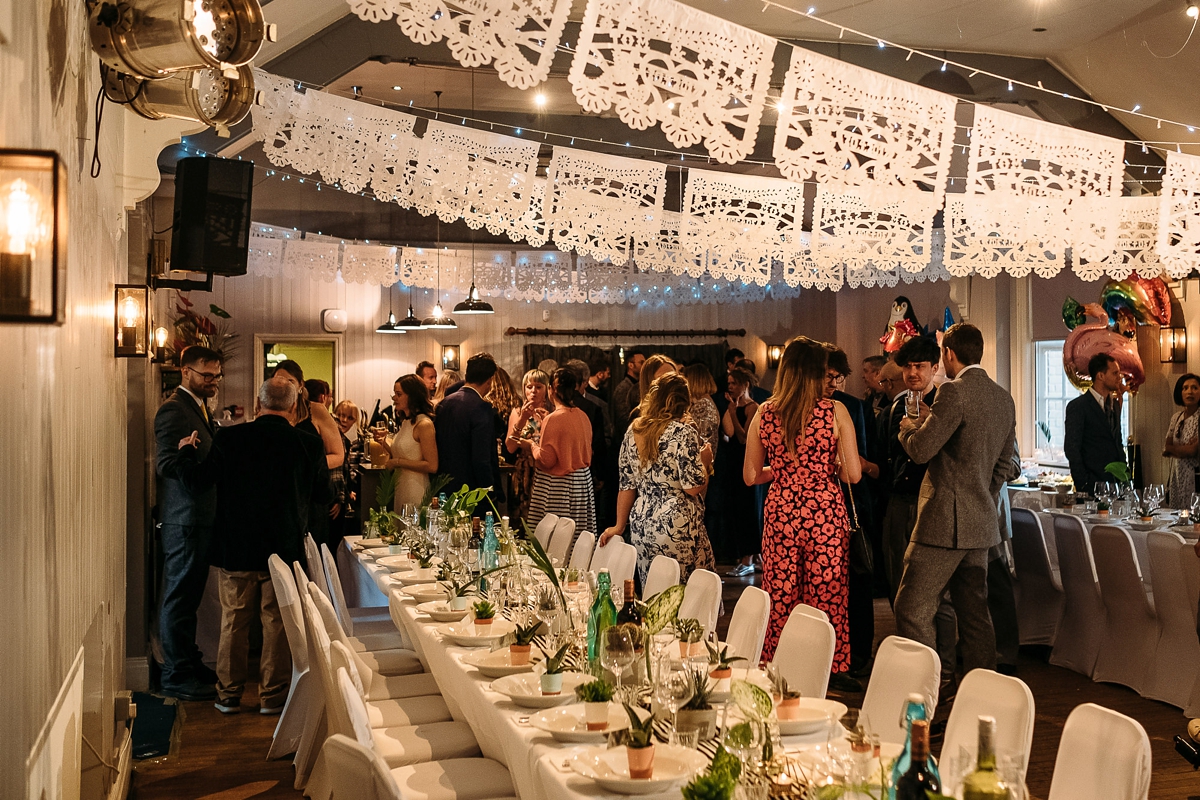 Sally and Tom's cake buffet bore contributions of chocolate cake, lemon meringue pie and vanilla cupcakes, and a scrumptious banoffee pie, made by their good friend Hollie was cut as the official wedding cake.
"We tried to keep costs as low as possible, we never wanted to spend a huge amount of money on one day. We ended up going slightly over what we'd initially hoped for but it would definitely still be classed as a budget wedding and we kept account of every single pound that was spent."
"I'm always happy to talk money because although it is a lot to spend on one day, it's a lot less than most weddings, so I hope ours can be proof that it can be done nicely on a small budget. Keeping an accurate spreadsheet was the key to keeping costs under control."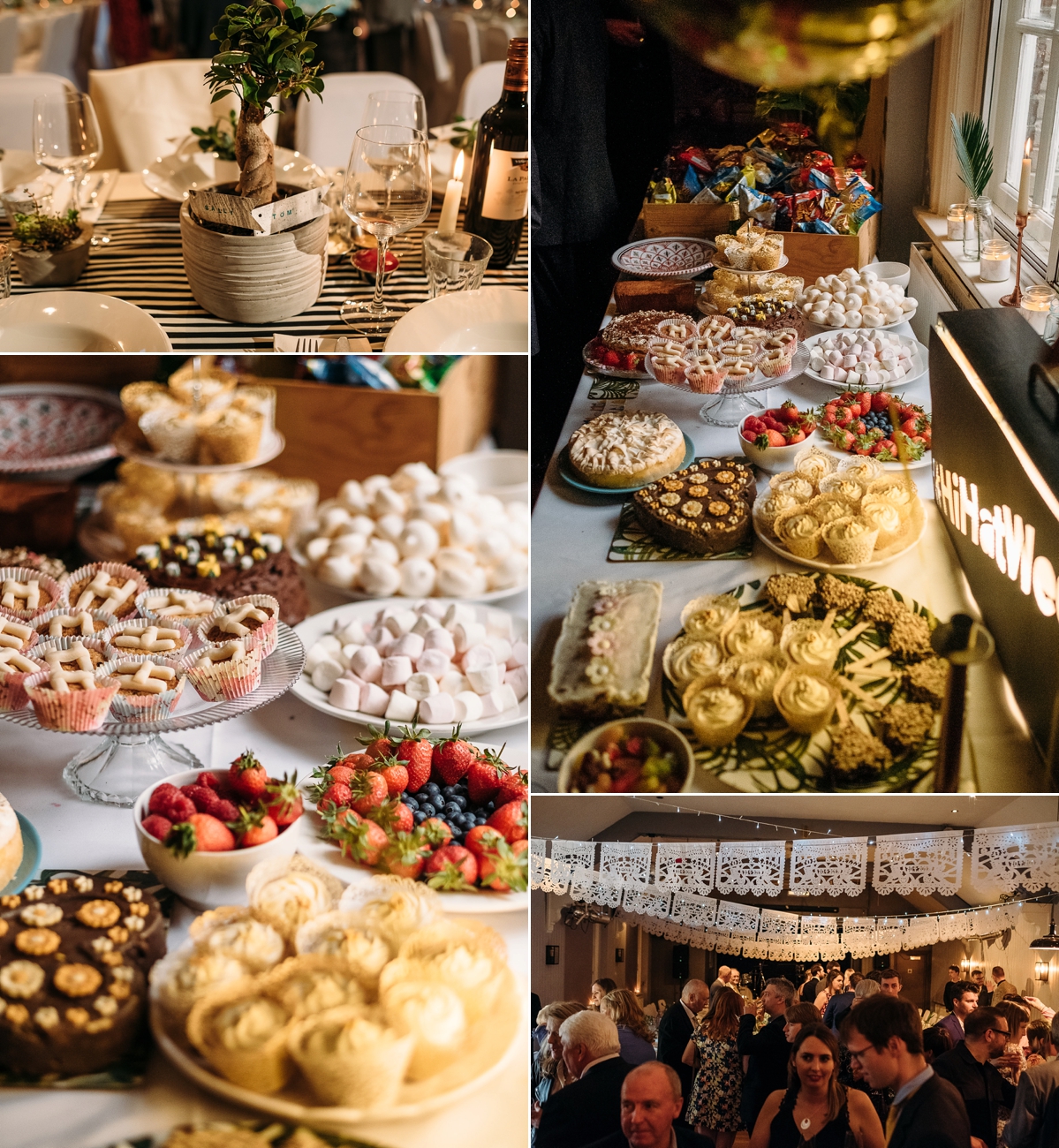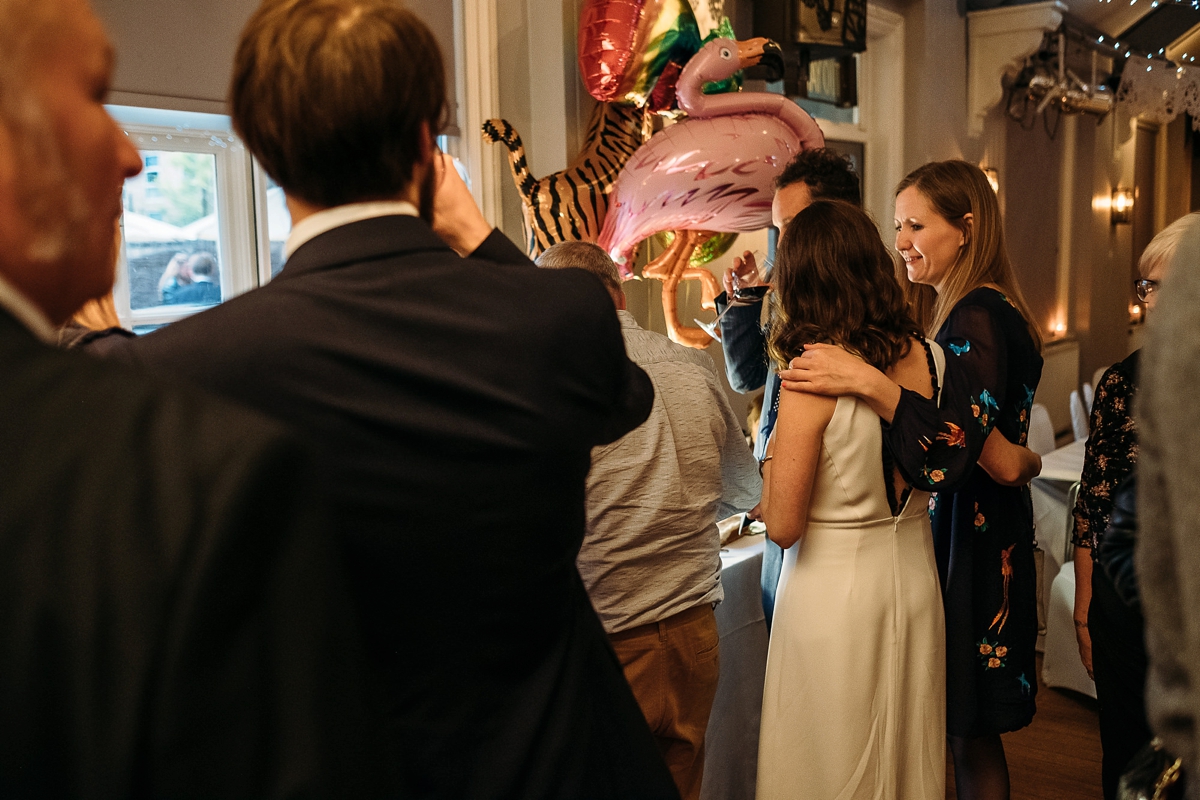 Band Those Unfortunates, whose album Tom recorded last year, formed a wedding band for the night, with Tom joining them as a guest vocalist, and the couple's friend John on trumpet. The band have become good friends of Sally and Tom's, and were kind enough to learn a set of 50's and 60's covers to perform for the newlyweds and their loved ones.
"Tom kept it a secret that he would be singing with the band and opened with a surprise rendition of one of my favourite songs 'The Shoop Shoop Song', followed by 'My Girl' and 'I Don't Need No Doctor'. Tom was a professional musician with his band the Good Gods! before we met, but I've only seen him on stage a couple of times as he doesn't perform any more."
"It was so exciting and special to share that moment with all our loved ones. Tom's wonderful cousin, James, followed this with a few hours DJ'ing and then we played classics from Spotify until the small hours, ending the night with hysterical group renditions of 'Total Eclipse of the Heart', 'Praise You' and 'Wuthering Heights,' accompanied by some rather special dancing."

"We had already chosen the song for our first dance, when my dad sent us my parents requests for our evening playlist. When Tom and I listened to my dad's favourite song, 'I Love You Because' by Jim Reeves, it was clear he had unintentionally found us a song more perfect than the one we had chosen ourselves. I absolutely adore country music and this is the song that first got my dad hooked, so it's really special to him. We had kept our plan a secret from him so after the dance I went over to give him a hug and told him that his favourite song is now our favourite song too."

Words of Wedded Wisdom
"Break the rules! It's really important to take a moment to think about every aspect that will demand your time, effort or money and decide for yourselves if it's important to you and if you need it. If you're worried what your guests will think, don't! Chances are they won't even notice if something traditional is missing from the order of the day or if the groom has worn his suit before."
"Also, cut all the costs you can. We had an epiphany when we looked at the timings of the day and realised our guests wouldn't have time to get hungry enough for an evening snack. Deleting that from the budget spreadsheet was a lot of fun."
Thank you so much to Sally and Tom for allowing us to share this most stunning day, which makes me want to get married all over again. And of course a huge thank you too to Kris Piotrowski Photography for these gorgeous stills.
With love,
Em x