Happy Monday lovelies! Today I'm super happy to be sharing the beautiful union of Jenny, a chief of staff, and Gonzalo, a management consultant, who wed on 8th July 2017 in vibrant, multicultural style in Devon.
I've actually had the pleasure of meeting Jenny in real life, so I'm particularly honoured to be paying tribute to her day. She and Gonzalo searched for a dry hire venue with beautiful gardens to host their celebrations, falling for Torre Abbey on their first visit.
"We were keen on incorporating Swedish and Peruvian traditions, and generally tailoring the day to suit us. We wanted our guests to enjoy themselves, eat delicious food, have plenty to drink and fun music to dance to, and we didn't want to make things unnecessarily complicated, expensive or formal."
Photography by Oxiphotography
"We didn't really have a colour scheme but I love bold colours so we incorporated dark green, bright red, orange and blue, combined with rustic (and cheap!) elements like hand-stamped programmes, luggage tag place names, jars and hessian runners.""Gonzalo's parents live in Peru and my mother lives in Sweden, but both of us have lived in the UK for years, so we knew we wanted to get married here. We chose Torquay because my Dad lives there – we liked the idea of getting married near at least part of our family – and because Devon is so beautiful and makes a change from London, where our day-to-day lives are.
Our ceremony, dinner and party were in the 800-year old stone 'Spanish Barn,' so called because it was used to hold prisoners of war from the Spanish Armada, and our drinks and photos in the beautiful Torre Abbey gardens and greenhouses. It's such a magical venue, and we were so lucky to have sunny weather to enjoy it in its full glory."
"I really loved the getting ready time. We stayed together the night before the wedding in Avron House, a friendly and cute B&B, filling all eight rooms with family and friends. The morning of the wedding, Gonzalo headed to my Dad's house to get ready watch the rugby with my brother-in-law and I got ready in our room in the B&B . Family and friends including my bridesmaids poked their heads in and hung out and brought me scones and bubbly from downstairs, where the B&B owners, William and Andrew, had put on a lovely lunch spread for us. Before I headed off, they even gave me a lucky charm."
"I then jumped in a taxi with our photographer to go to my dad and stepmum's house for a first look, though that was mainly an excuse to get some nice photos in my dad's garden and for us to spend some downtime before the ceremony. We even sat down for a light lunch, me wearing an apron over my dress! Then we headed down to the venue in a taxi with my Dad, waving to a handful of (mostly Latin American…) guests who were running late as we passed them coming into the venue. Greeting the stragglers together before we went into the barn added to the relaxed vibe. It just felt like a really chilled way to start the wedding."
Wanting a new scent for her wedding day, Jenny chose Vaara by Penhaligons, warm and interesting with subtle spices, but  light enough to be summery. Her flower-like diamond earrings were purchased on a trip to Mumbai and complemented with a matching Swarovski necklace, snapped up in the online sales. I just love the joy written all over Jenny's face as she got ready with her friends and family, her bridesmaids resplendent in varying navy dresses, one already owned by her sister and the other two purchased from Chi Chi London and Little Book for Brides member Little Mistress.
Jenny chose a feminine, full-skirted gown from Ellis Bridals, purchased from Brides By Losners. She paired the classic beauty of her dress with sparkling, low-heeled shoes from Russell & Bromley, and her hair and make-up was styled by the inimitable Lipstick & Curls and we're super proud to support founder Amanda through our Little Book for Brides.
"I really wanted a vintage look, someone who could style my wavy short-ish hair in 1930s/40s curls and do quite bold make-up, and Lipstick & Curls fit the bill perfectly. I felt so glamorous and at the same time just like myself."
"I had been browsing styles I liked online, but weirdly I ended up choosing the first dress I wanted to try on and I wasn't even properly looking at the time. A couple of months after getting engaged I was in Brides By Losners with a friend who was trying on dresses and I spotted it and decided book an appointment to come back and try it on."
"I loved how simple it was, clean lines and no fuss, but at the same time felt very special, with its swishy full skirt, buttons all the way down along the back and flattering wrap-around style top."
"I tried on quite a few other dresses just to be sure, but couldn't stop thinking about 'my' dress, so bought it almost a year and a half before our wedding. I had originally thought I would go for tea length, since we were planning quite a relaxed day, so I didn't really like the idea of a train. All that fabric felt too formal and impractical, so I had it cut off. I also bought a taupe grosgrain ribbon from VV Rouleaux to use as a sash."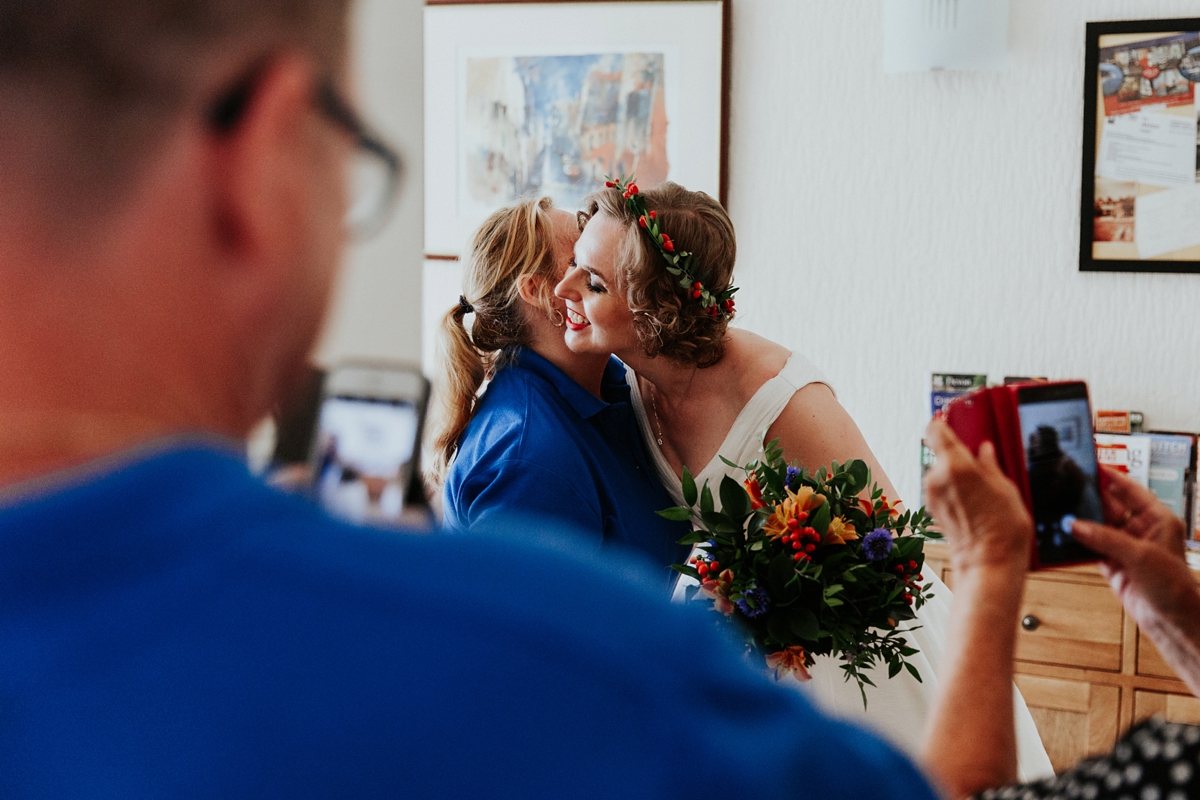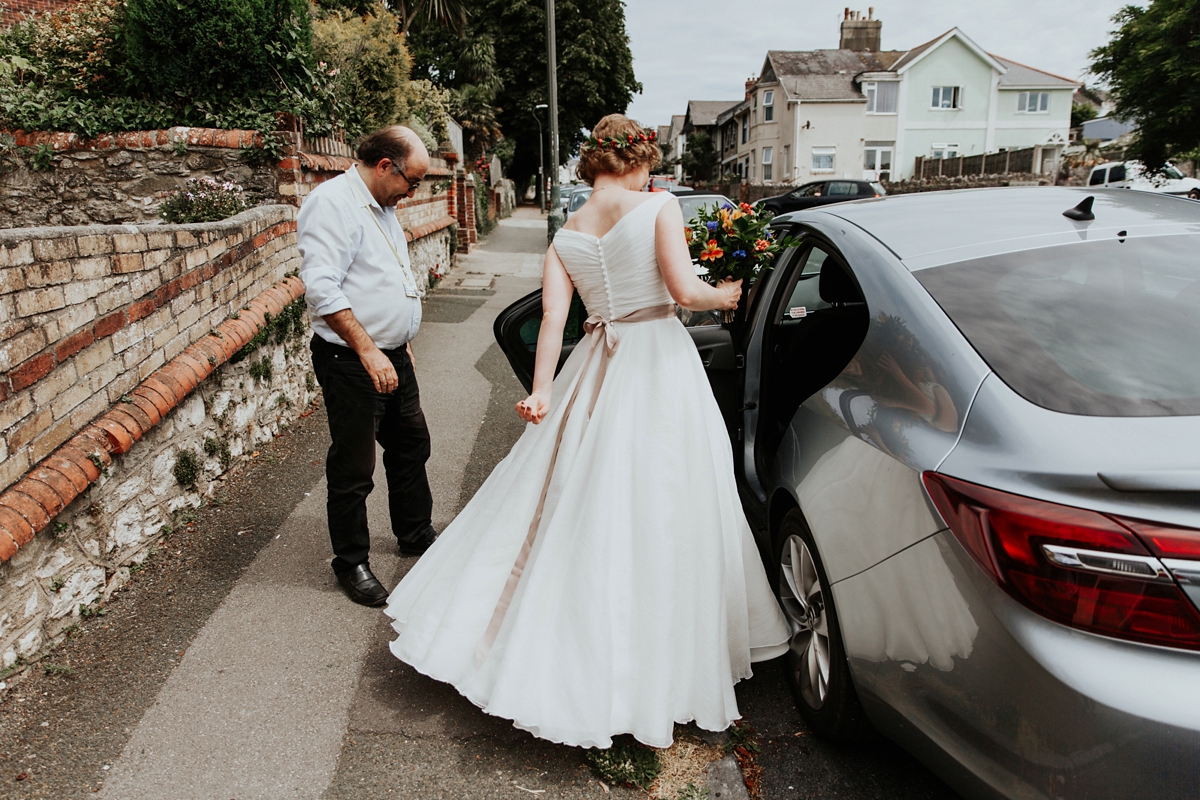 Jenny and Gonzalo met through lovestruck.com in November 2012, and moved in together just under a year later. In 2015, on the day she landed back in London after three months spent working in Spain, Gonzalo proposed and he and Jenny set about planning their wedding. We have featured some truly beautiful love stories on our beloved blog, just take a look at our gorgeous collection of married couples who met online.
Gonzalo meanwhile chose a pale grey-blue linen jacket and navy linen trousers from his favourite suit shop, Oliver Brown. His main rule for the wedding (apart from 'no first dance') was that he didn't want to wear a tie, and his relaxed and stylish ensemble perfectly hits the mark.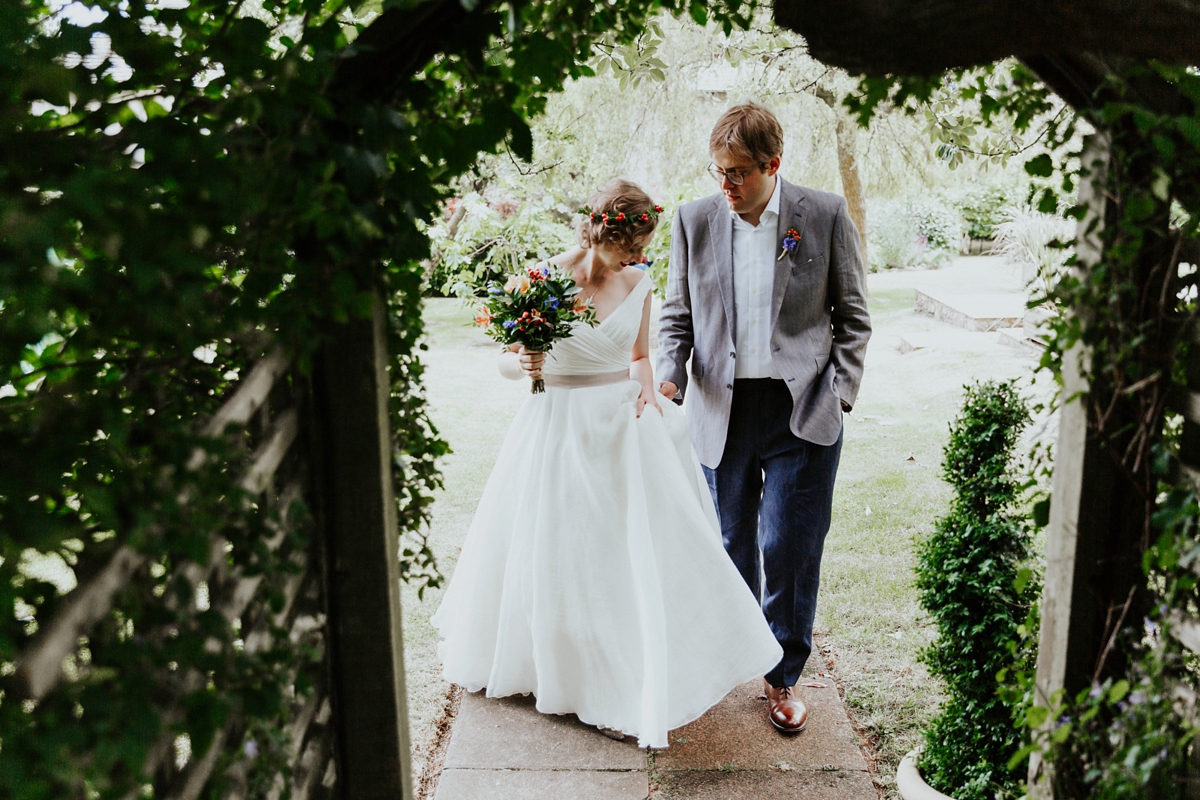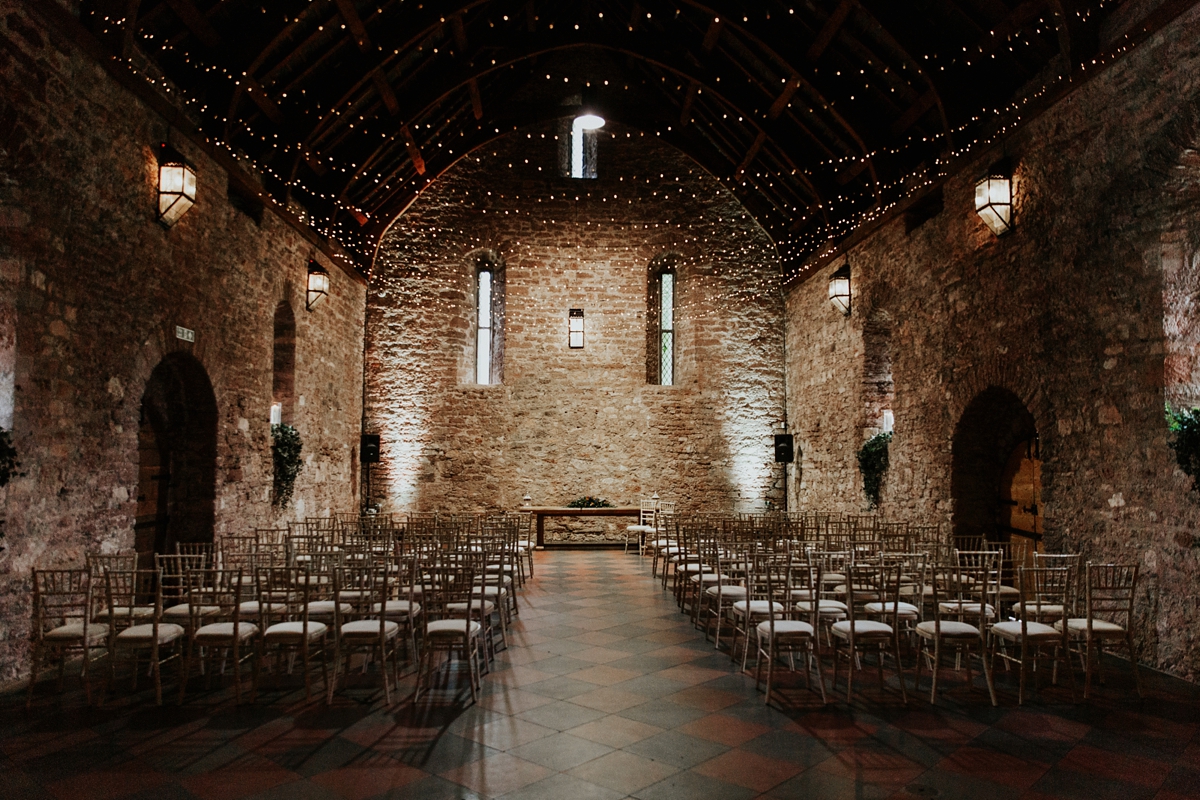 In Sweden it's traditional for the bride and groom to walk down the aisle together, but Jenny and Gonzalo thought it would be nice for her to make that journey with her father. They entered the ceremony to Så skimrande var aldrig havet (so shimmering was never the sea), a 1948 love ballad written by Evert Taube, a Swedish author, and sung by the Norwegian choir, Koret Viva.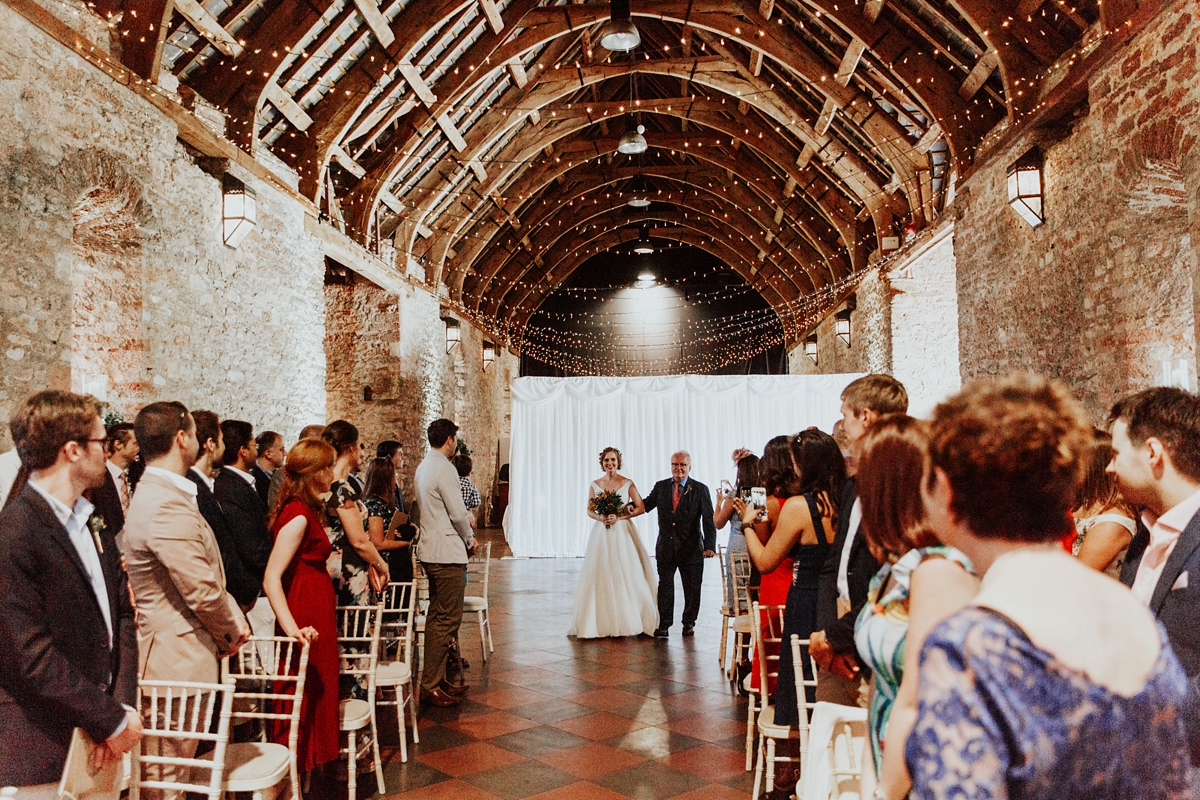 "One of Gonzalo's favourite authors is Javier Marias, and he was reading a Javier Marias book while waiting for me on our first date, so we included a quote from one of his books. The other reading I found while googling unusual wedding readings, and then I liked it so much that I bought the book it's taken from:"
People are like cities: We all have alleys and gardens and secret rooftops and places where daisies sprout between the sidewalk cracks, but most of the time all we let each other see is is a postcard glimpse of a skyline or a polished square. Love lets you find those hidden places in another person, even the ones they didn't know were there, even the ones they wouldn't have thought to call beautiful themselves.

― Hilary T. Smith, Wild Awake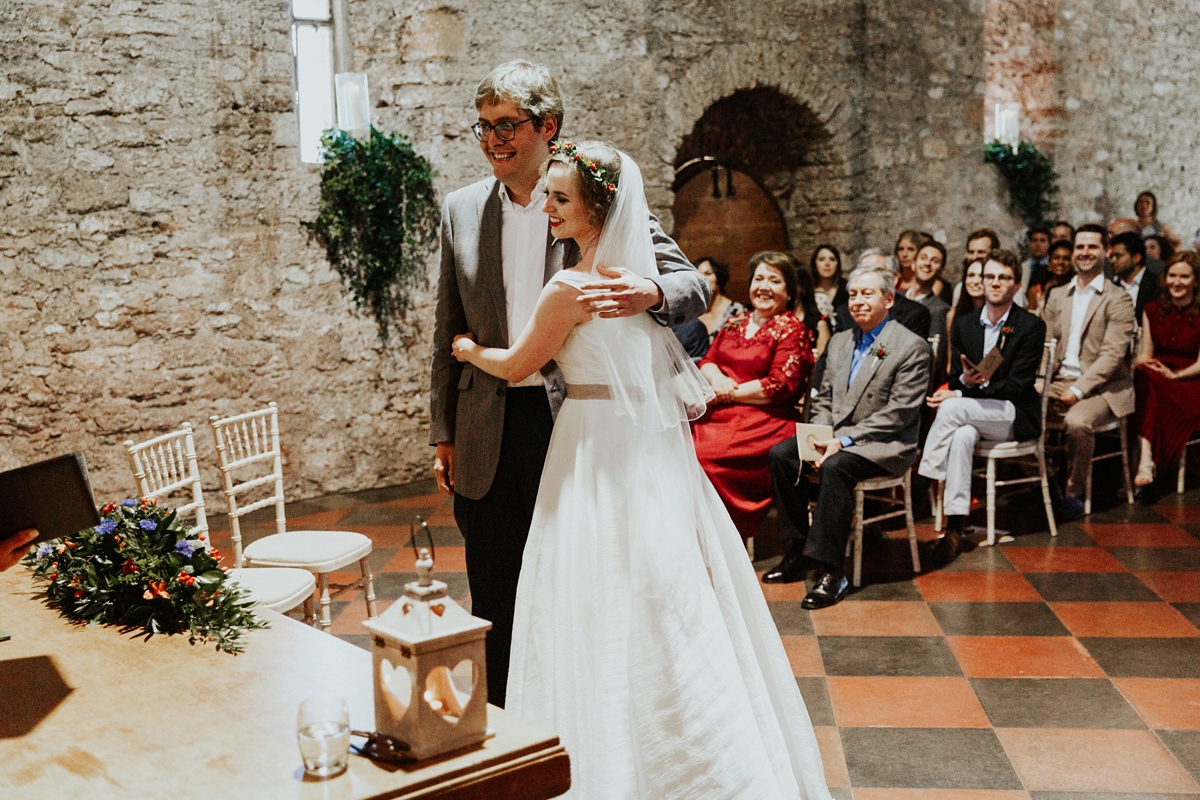 "My engagement ring is a ring of my mother's. After two years of wearing it I still absolutely love it, it's yellow gold with a cluster of diamonds, like a small flower. When we talked about getting married I mentioned to Gonzalo how my Mum had said she would give me that ring, so he managed to get it from her without me realising. We went with 77 Diamonds for our wedding rings as it came so highly recommended by other members of the Love My Dress Facebook group. Mine is a half eternity in white gold and Gonzalo's a plain band in rose gold."
Jenny and Gonzalo exchanged vows and rings purchased from 77 Diamonds, before emerging into the summer sun under a storm of colourful confetti sourced from Adam Apple. The newlyweds and their guests enjoyed the musical stylings of a classical guitarist during the drinks reception, who Jenny's dad found through MidSummer Music. In a haze of wedded bliss, the couple slipped quietly away for some just married portraits, set against the beautiful botanical backdrop of Torre Abbey gardens.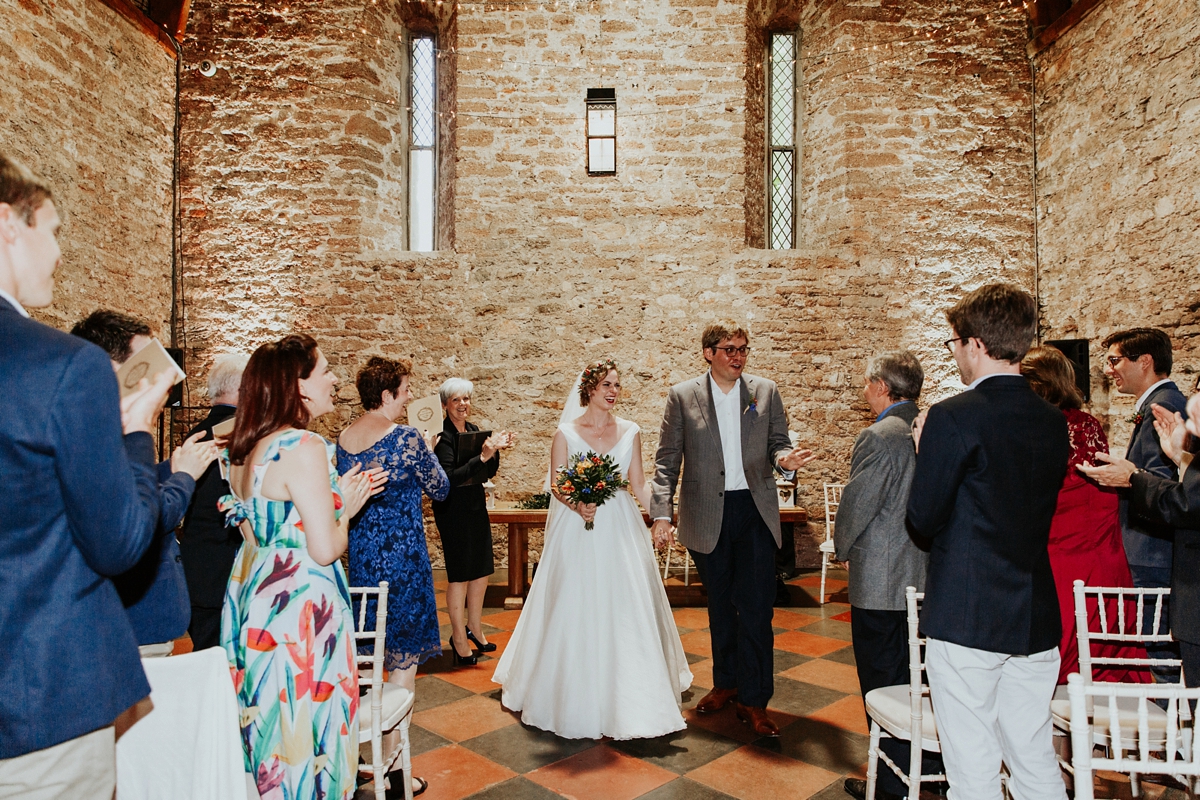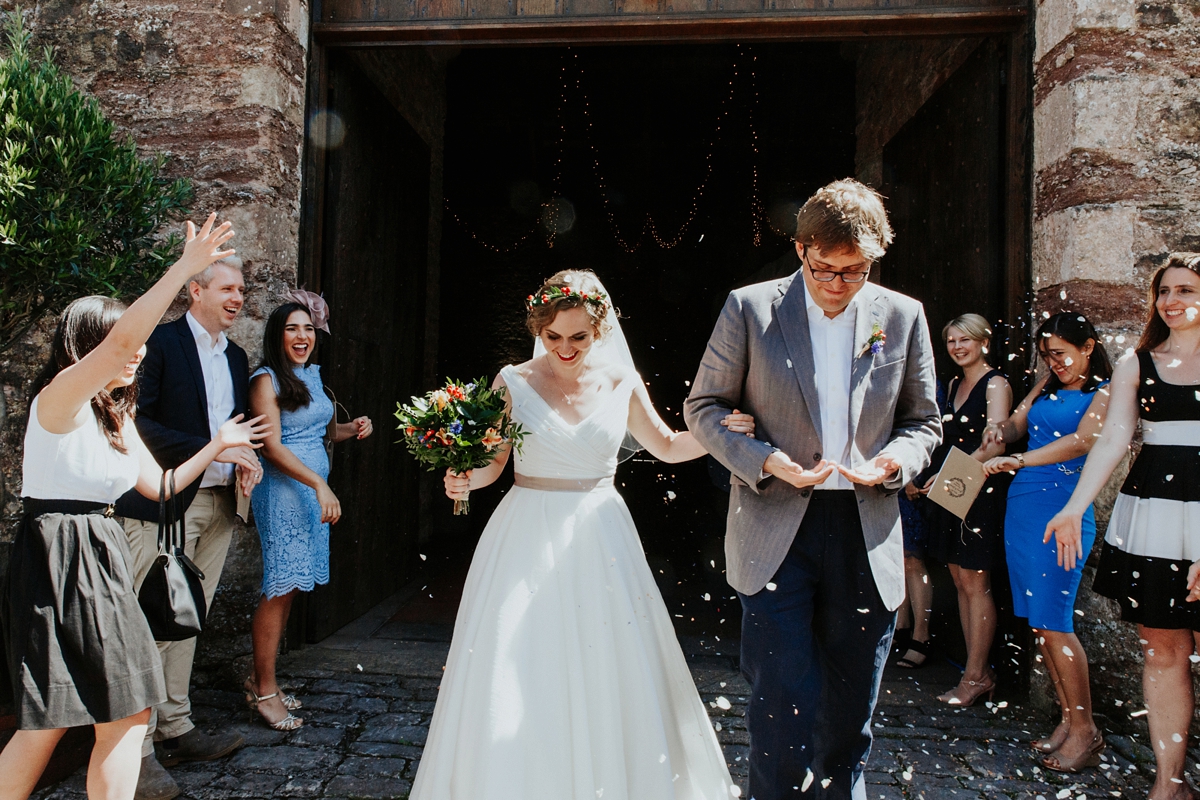 "Our caterers, Dartmoor Kitchen, came recommended by my stepmother's colleague, who had also gotten married at Torre Abbey. After having our tasting with them we knew the food would be delicious, and they were also super organised, helpful and friendly, taking any stress out of our dry hire wedding. They provided amazing canapés for our drinks in the gorgeous gardens, and then managed to turn the barn for dinner and whip up an incredible meal for our 80 guests in a small catering marquee."
"After doing some research online, I found Oxana Mazur from Oxiphotography, and her reportage, arty style was exactly what I was looking for. She was so lovely and made us feel really relaxed, even Gonzalo who hates having his picture taken. I'm amazed at how she captured the joy and fun of our day, as well as the gorgeous venue and all the little details."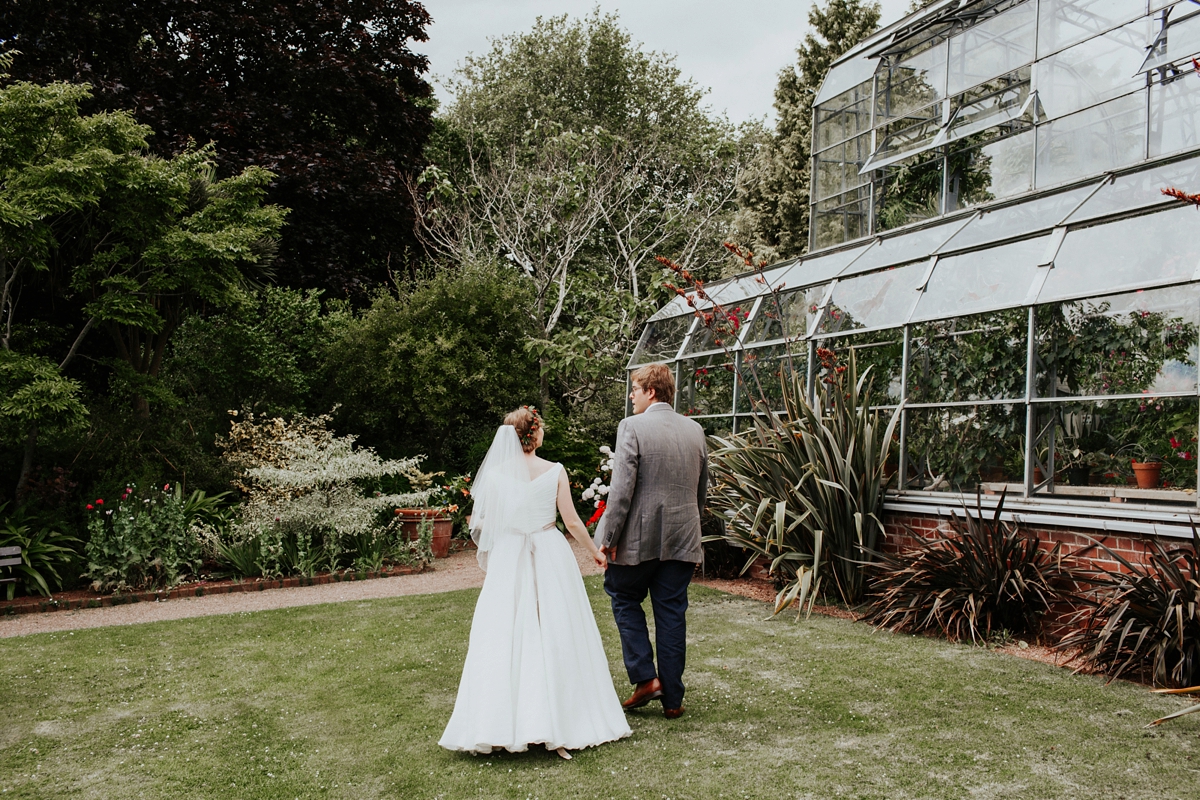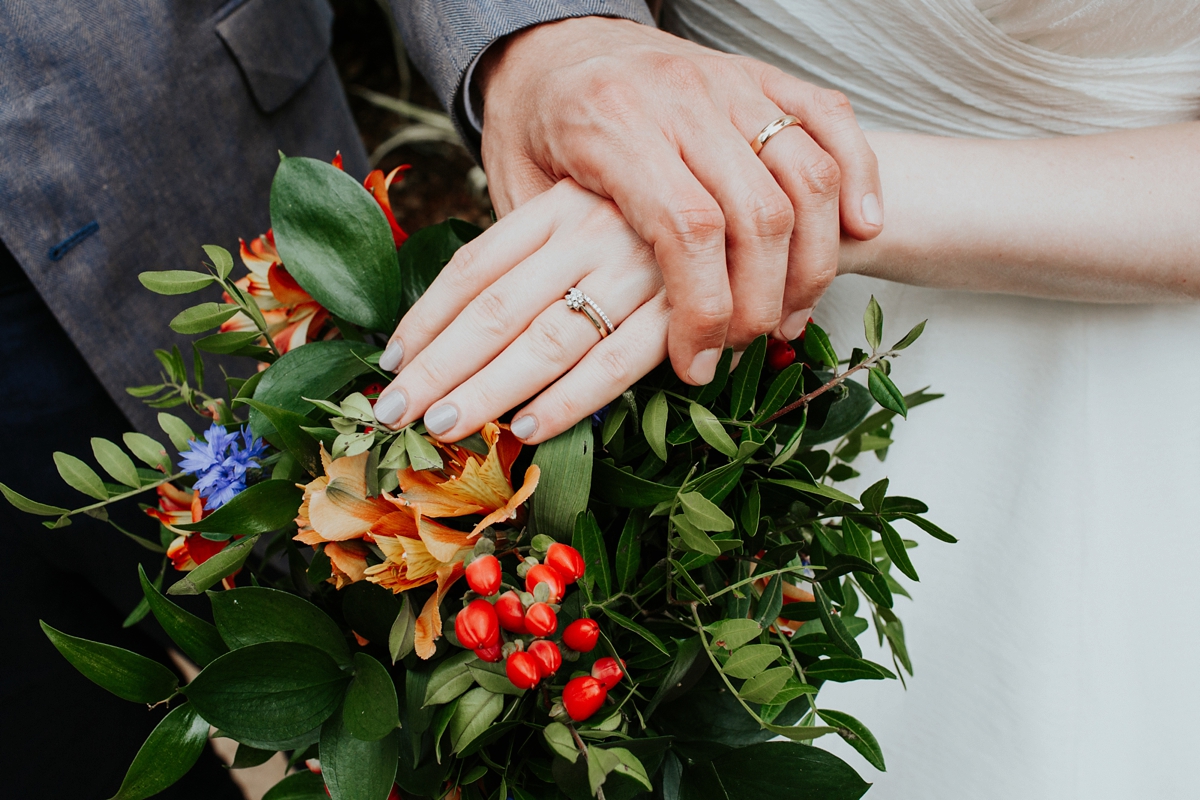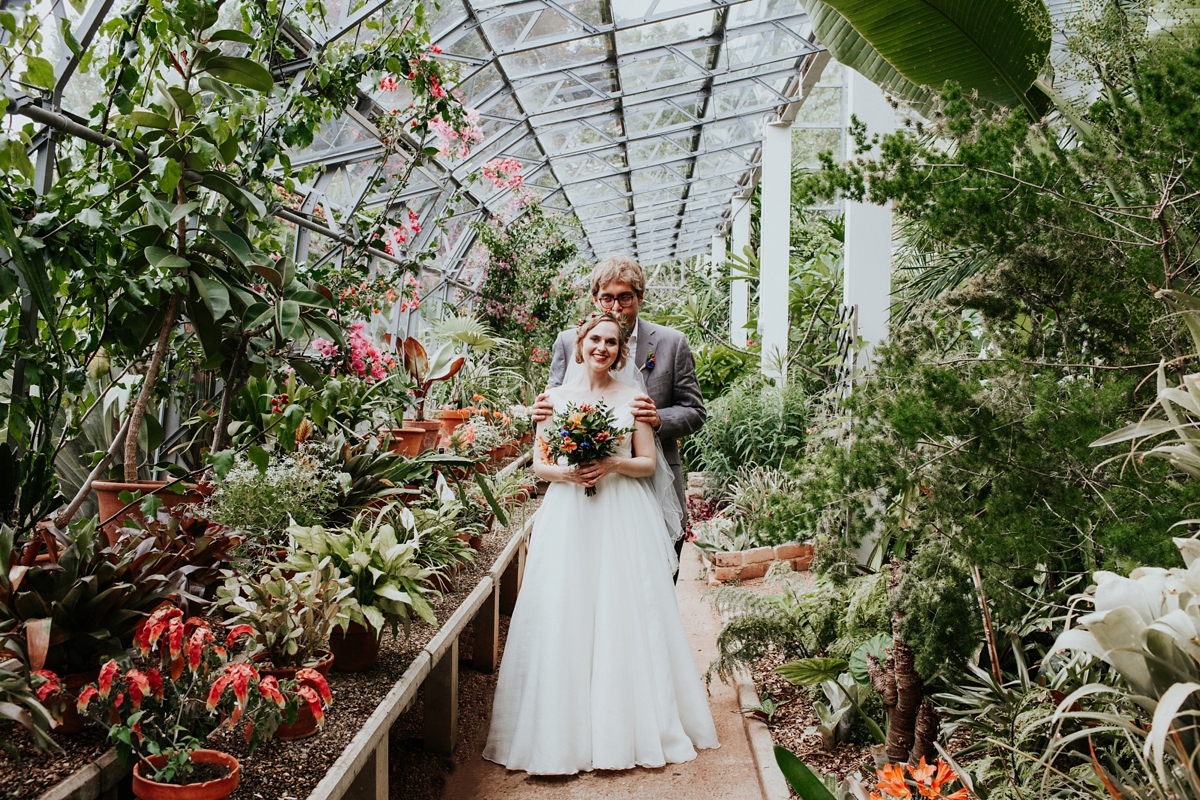 "Susan's Flower Shop in Paignton came recommended, but at first I wasn't sure as the photos on the website were much more formal than the style I was looking for. I'm so glad I went to see Susan, because our flowers were even more stunning than I could have imagined. She was so down-to-earth, we just spent a few minutes chatting through what I was looking for, and then she picked out a few flowers from around her shop and pulled together my perfect bouquet – dark greenery dotted with stunning brightly coloured flowers and berries."
"Originally we were going to buy wildflowers and do our own table decorations but the farm I had planned to order from stopped doing weddings and returned our deposit, which was lucky actually, as Susan ended up doing our flowers for the ceremony, top table and for our jam jars on the tables as well."
After searching for veils online but not falling in love with anything, Jenny found just what she was after at Brides By Losners during one of her fittings, a fingertip length, lightly scalloped design with faint silver edging. She also purchased a Linzi Jay crystal head band to replace her luscious berry and greenery crown in the evening.
"Because we were planning quite a nature-inspired wedding I asked our florist, Susan, for a simple flower circlet. Since my hair is quite fine and short I didn't want a huge flower crown, just something with a bit of dark greenery and maybe a few flowers dotted in. Susan suggested using hypericum berries and it was perfect. Part of me would have loved an autumn or Christmas wedding and with its dark green and bright red I think my circlet wouldn't have looked out of place in the winter, but also worked really well with our summery vibe."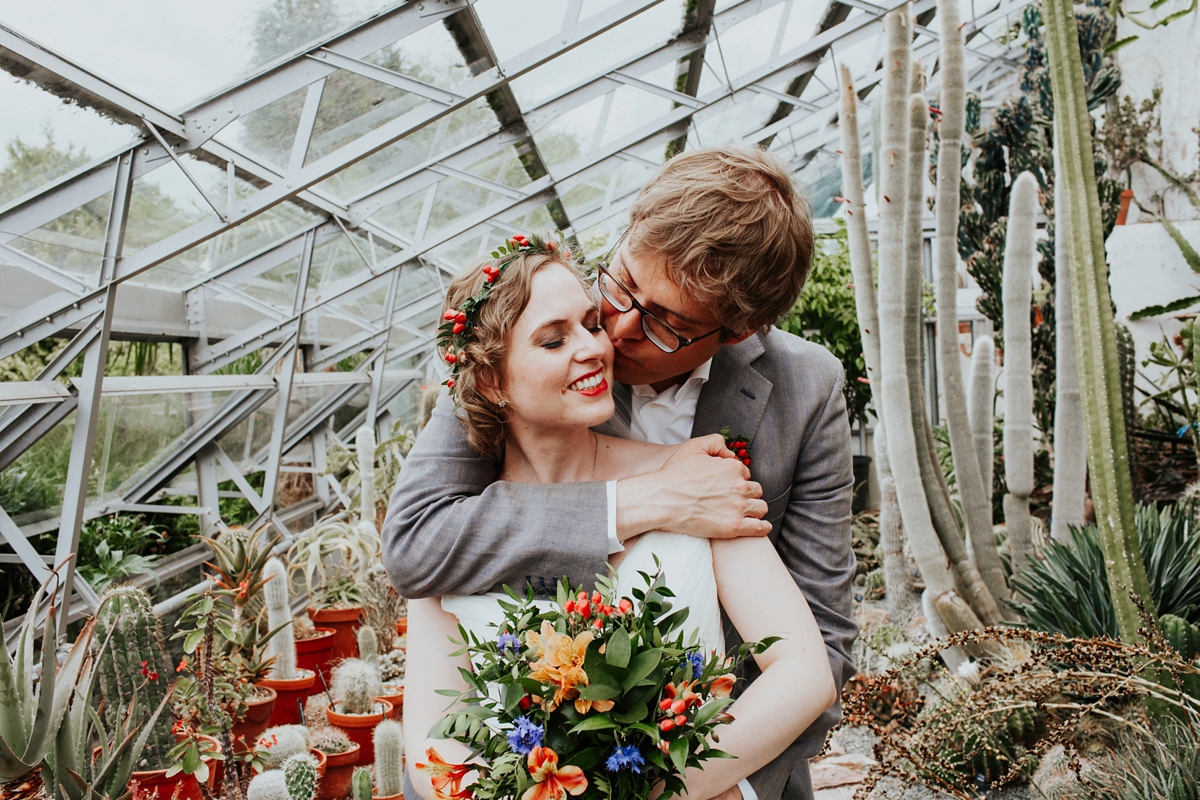 In an effort to keep the stationery as affordable as possible, and because she was keen to make something hand-crafted, Jenny created the invites and programmes herself using kraft card and an adapted template from The English Stamp Company. Their stone barn venue was smattered with a gorgeous collection of fairy lights and greenery, and transformed from intimate ceremony space to an area for a sit-down dinner.
"In Sweden you tend to have a programme rather than an order of service, with a bit more detail – we had the order of service, timings, menu, and drinking song lyrics, but they often have a list of guests with funny facts, speeches, bingo and jokes. We didn't want to clutter the beautiful stone barn with too many decorations, so we had Torbay Display add fairy lights, candles and dark greenery. The bright colours mainly came from my meeting with our florist – I then used the orange, green and blue flowers as inspiration for the tea lights, saving up jars and ordering tissue paper and decoupage glue from Amazon, gradually making them over the course of the year leading up to the wedding."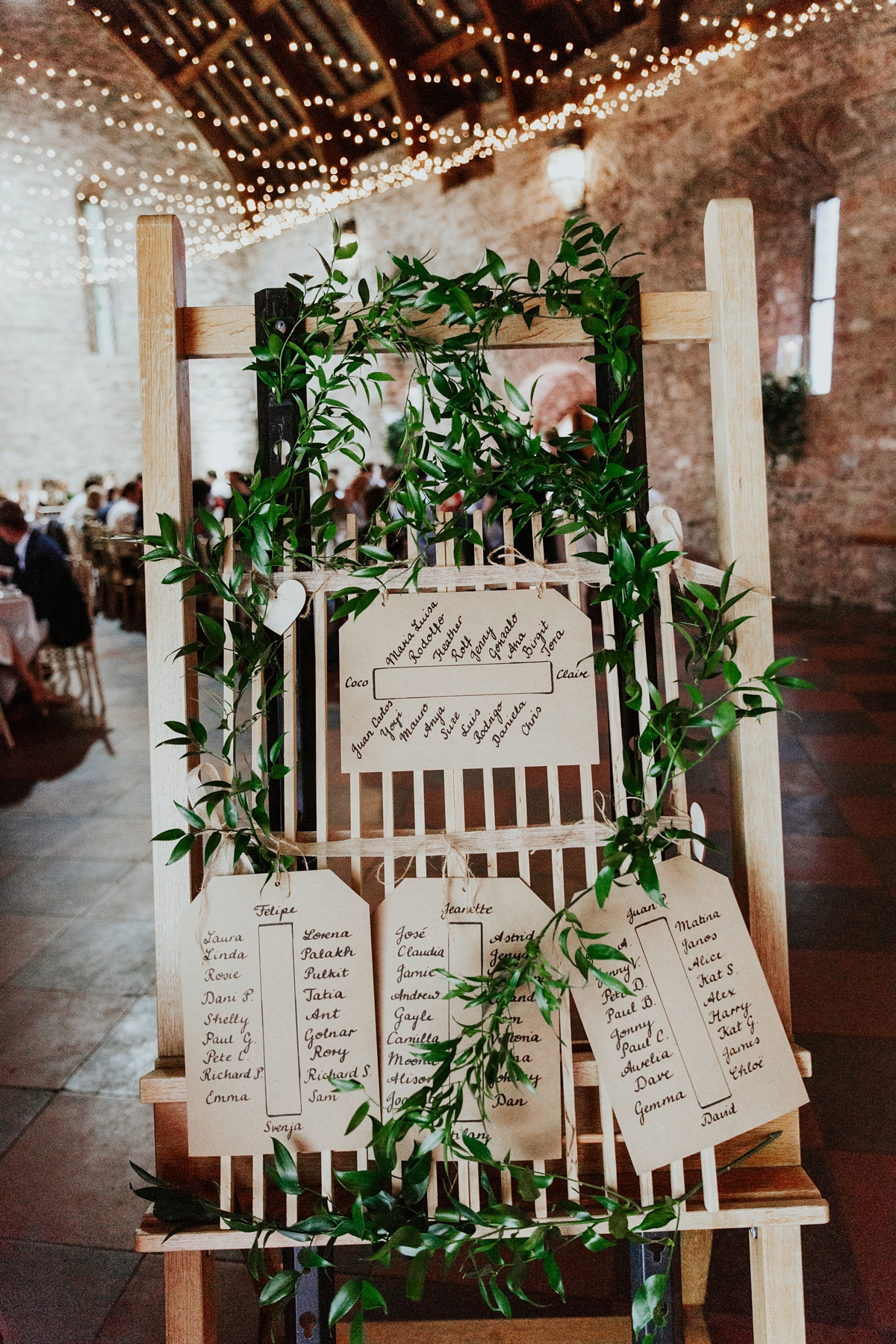 The couple booked Elite Mobile Event Bars, who after dinner set up with beer on tap and produced Jenny and Gonzalo's  favourite cocktails. They kindly doubled up as transportation too, unexpectedly driving the newlywed's parents back to the B&B towards the end of the night when they couldn't get a taxi. Jenny spent a long time researching cake makers online, as she and Gonzalo knew they wanted to serve their cake as dessert – they wanted something delicious and a little less formal than a traditional wedding cake.
"I had a moment of considering making my own Swedish princess cake, but fortunately I found the lovely Claire Makes Cakes. Gonzalo doesn't eat cake so my dad, sister and I drove to Honiton to taste lots different types of cakes in Claire's cosy house. We opted for raspberry and white chocolate buttercream – I normally find white chocolate a bit too sweet but with the tart raspberries it worked perfectly. Claire decorated the cake simply and beautifully with dark greenery and raspberries."
"I loved the speeches, and some of my favourite photos are of our guests laughing during them. In Scandinavia there are lots of speeches and in Peru there are none, so we had a bit of a mix. One of my friends was our toast master, she did an amazing job tying it all together in a funny and relaxed way. My Dad did his speech before starters were served, then Gonzalo and I made a speech after the main course (we had planned to do separate ones but then combined them the day before the wedding) and we finished with my maid of honour's speech after dessert."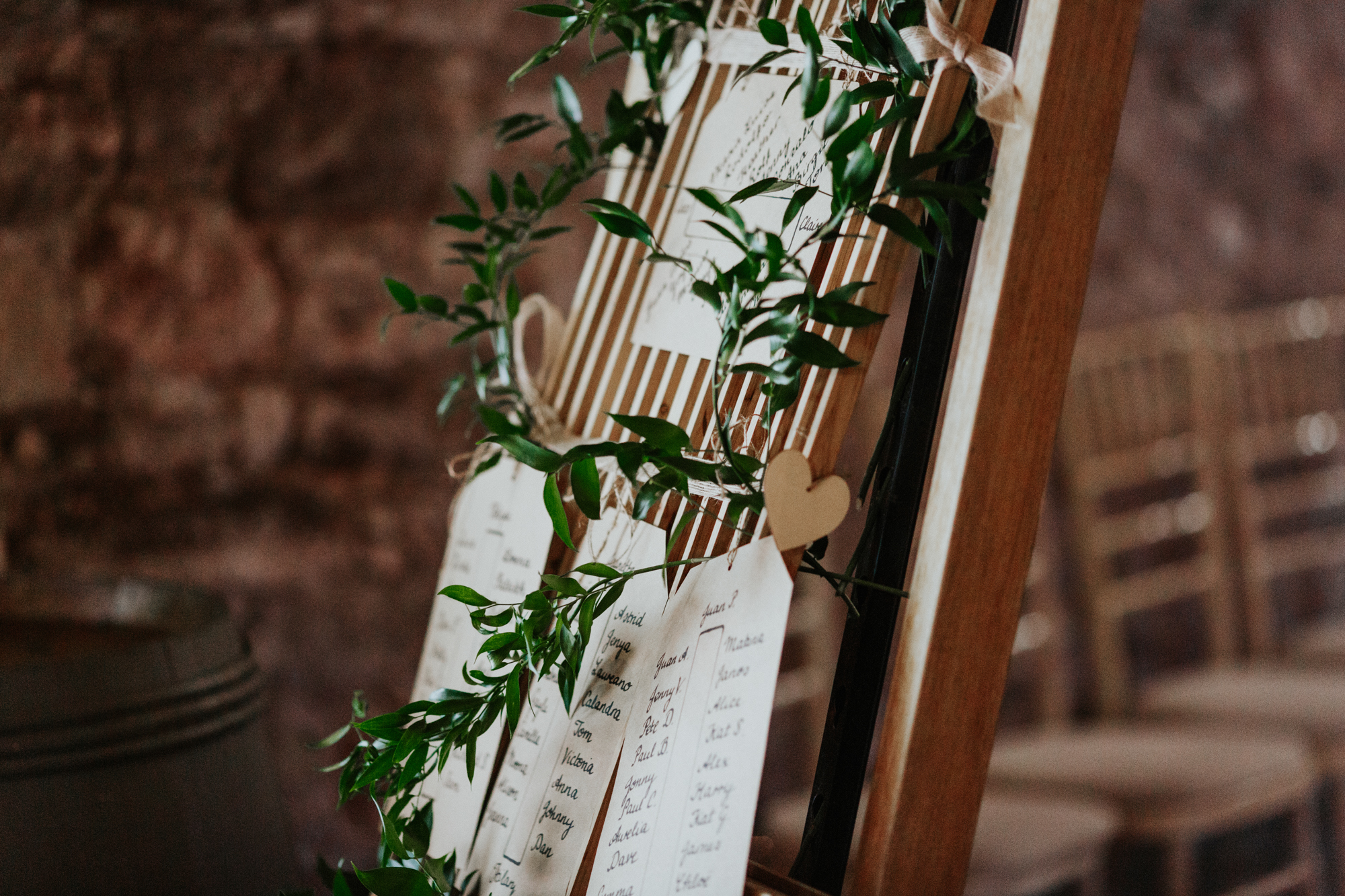 "To keep things simple we decided against favours, but over the year leading up to the wedding I made twelve bottles of liqueur, rhubarb, gooseberry and raspberry. I used Aldi lemonade bottles, removing the labels – it took a while but was much cheaper than buying empty bottles. In Sweden we sing 'snapsvisor' – drinking songs – during special occasions, so my sister wrote a drinking song about us to the tune of ABBA's 'Waterloo', which we all sang at the end of the meal with shots of the liqueur!"

"We chose to spend a bit more on some things – a drinks tab, great catering including lots of canapés, a proper photo booth, hiring chiavari chairs instead of using the chairs the venue provided – because to us they were important (well, Gonzalo really didn't care about the chairs but I did!) But then we kept other things more affordable, making our invitations and decorations, buying supermarket wine, taxis instead of a fancy car, not bothering with favours, serving the cake as dessert. But when doing dry hire don't underestimate the costs of hiring portaloos, catering marquees, tables, chairs, linen, cutlery and crockery, PA system etc – it does add up."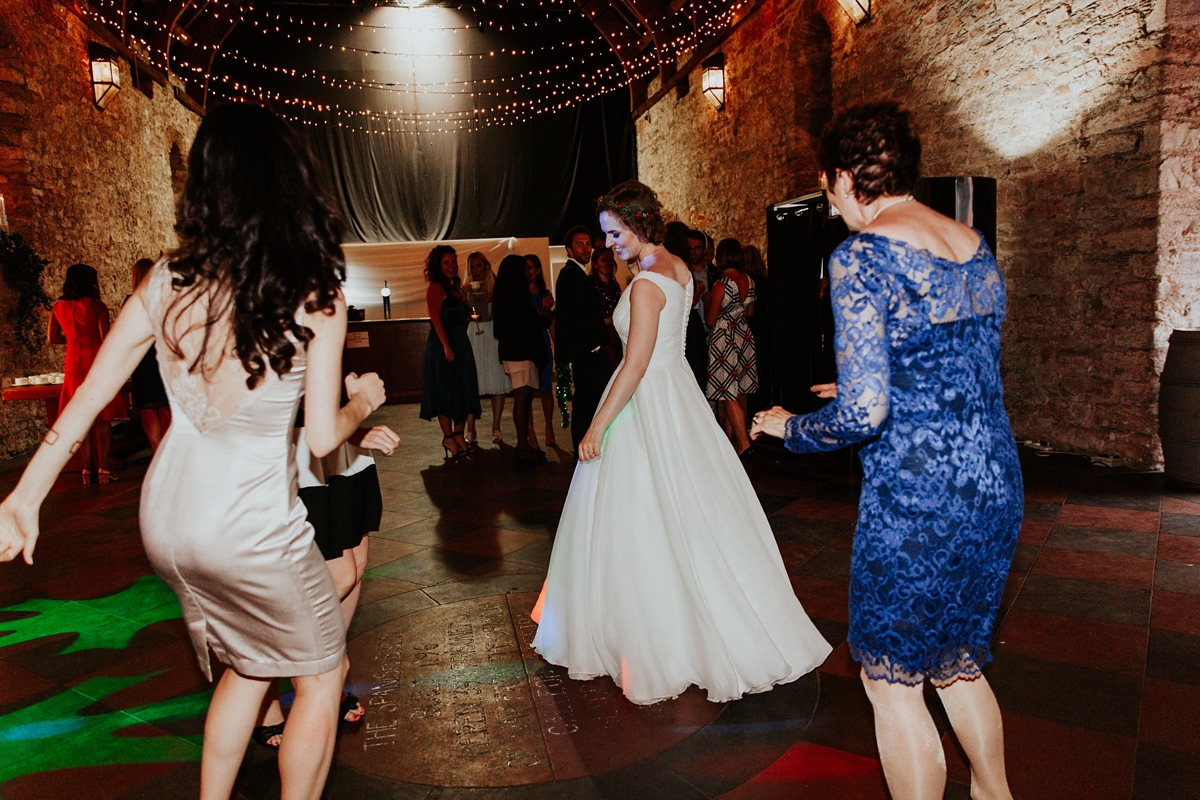 A well-stocked photo booth proved a huge hit, complete with themed props from Peruvian and Swedish flags, to pan pipes and a Viking helmet. And after dinner the entire wedding party took to the dance floor for a traditional Latin American 'crazy hour,' boogie-ing the night away to the couple's favourite Latin American and Scandinavian pop songs, played by DJ Mike from Fun Machine.
"We decided to do a 'hora loca', which is traditional in Latin America when entertainers come out to liven up the party, but an affordable, home-made version. My bridesmaids, toastmaster and a couple of other friends handed out glow sticks, glitter party poppers, and put face glitter on everyone, including parents, photo booth attendants and bar staff! By the end of the night we were all completely covered in glitter and glow sticks – it was such an easy thing but everyone seemed to really enjoy the silliness of it."
Words of Wedded Wisdom
"I went with my gut quite a lot in making wedding supplier decisions – of course it's important to do a bit of research so you have a sense of prices and what's out there – but then when you find something you love, I say just go for it, and don't worry too much about it afterwards. You can go crazy otherwise looking at all the options out there on Pinterest and Instagram and second-guessing your choices. And as many brides have said, it's best not to stress about what you're 'supposed' to do – it's your wedding after all!"
"I think it helps to remember that wedding traditions vary so much in different countries and across different decades, so there really is no one correct way. It's probably the biggest, most expensive party you'll ever organise, so it should be about what's important to you and your other half. Finally, I'd say that you can do a dry hire wedding without a planner without much stress – it helps if you have plenty of time, suppliers who are used to working with your venue and then some helpful friends and in the days before and on the day itself."
"With hindsight I would probably have paid for our photographer to stay later. We only had her until 8.30pm and although we have funny guest snapshots and videos and the photo booth photos are amazing, it would have been fun to also have professional shots of the glitter-glow-stick-crazy-dancing extravaganza! Though we did all look a sweaty drunken mess so perhaps it was for the best."
Thank you so much to Jenny and Gonzalo for allowing us this glorious insight into their vibrant, multicultural day. And of course our heartfelt thanks also to Oxiphotography for these beautiful images.
With love,
Em x