I have a big treat in store for you lovelies! Please find enclosed the absolutely beautiful and completely personalised winter wedding of Lyndsey and Callum to kick start the week in total and utter style.
The couple chose to do a 'first look' – out in the garden under the tree where Callum had previously proposed just a few months earlier – before the humanist ceremony in their living room on the 28th of December 2016. Lyndsey, an ecologist, and Callum, whose line of work is in television production, then hosted their celebrations at Singl-end Café in Glasgow, with these emotion-filled images caught by the talented duo Sarah and Darren of  The Hendrys Photography.
"Callum proposed in August 2016 at home under the giant Leylandi tree in our garden and just four months later we were having our humanist wedding ceremony in our very own living room. We decided we would rather keep our wedding ceremony intimate and small (with 30 of our closest family and friends), so that we could have it at home and make the most special memories in our forever home. I wanted to avoid typical wedding 'must haves', so the style of the wedding day reflected our own personal tastes and didn't stick to one set theme."
Images by The Hendrys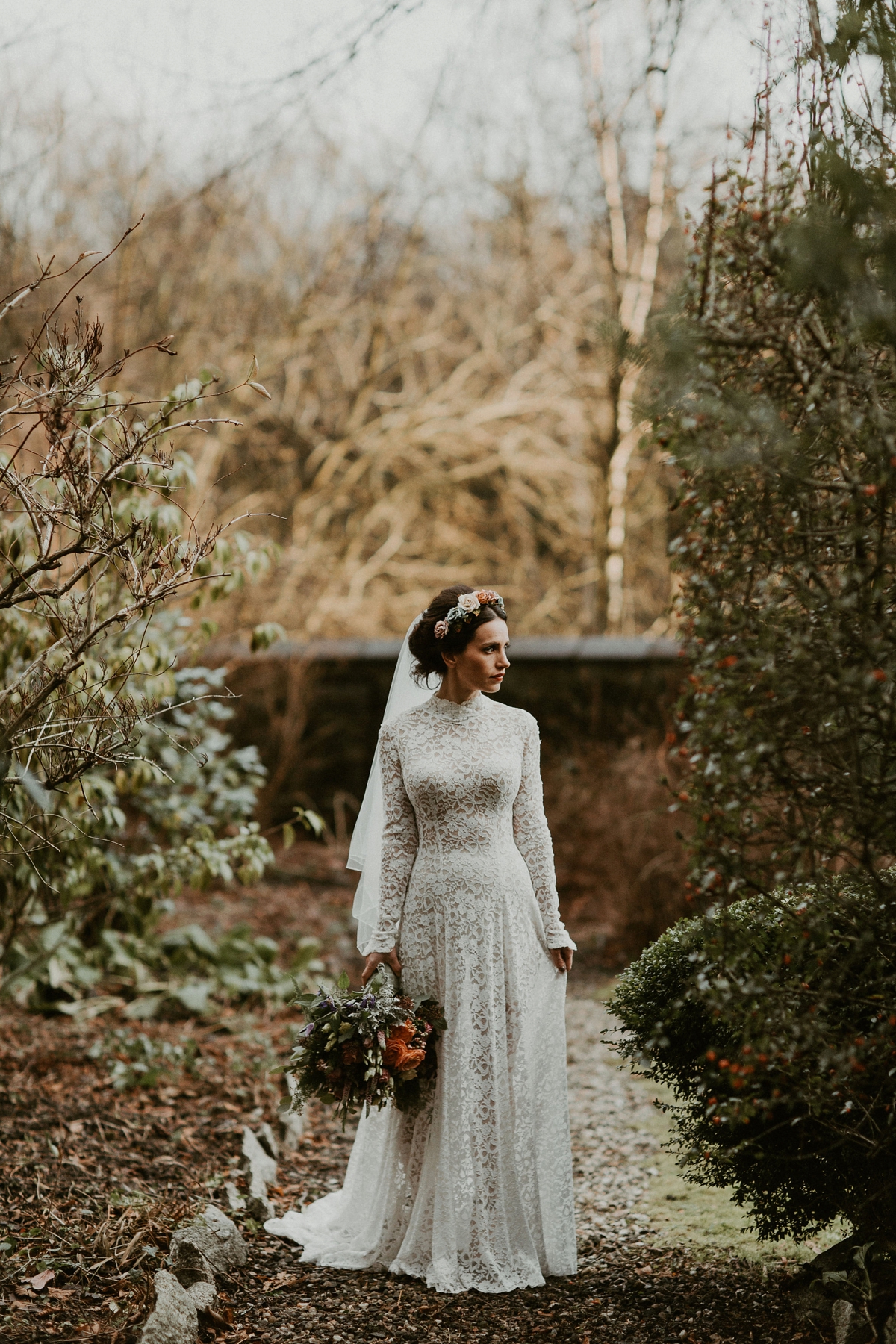 "Sarah and Darren from The Hendrys Photography are the most laid back couple you could ask for and they made us both feel extremely comfortable on our wedding day. Their style is very non-traditional and pretty offbeat. We enjoyed their approach to taking photos which is mostly documentary and they captured the action of our wedding as it unfolded throughout the day. They avoided cheesy clichés and let everyone have a good old knees up without any interference from them."We first met in 2008 working at a bar in Glasgow around the same time, and quickly became close over a shared love of music. Our relationship was platonic for the first few years (Callum was not very good at reading signs from the opposite sex) but we became great friends through work and going to gigs together."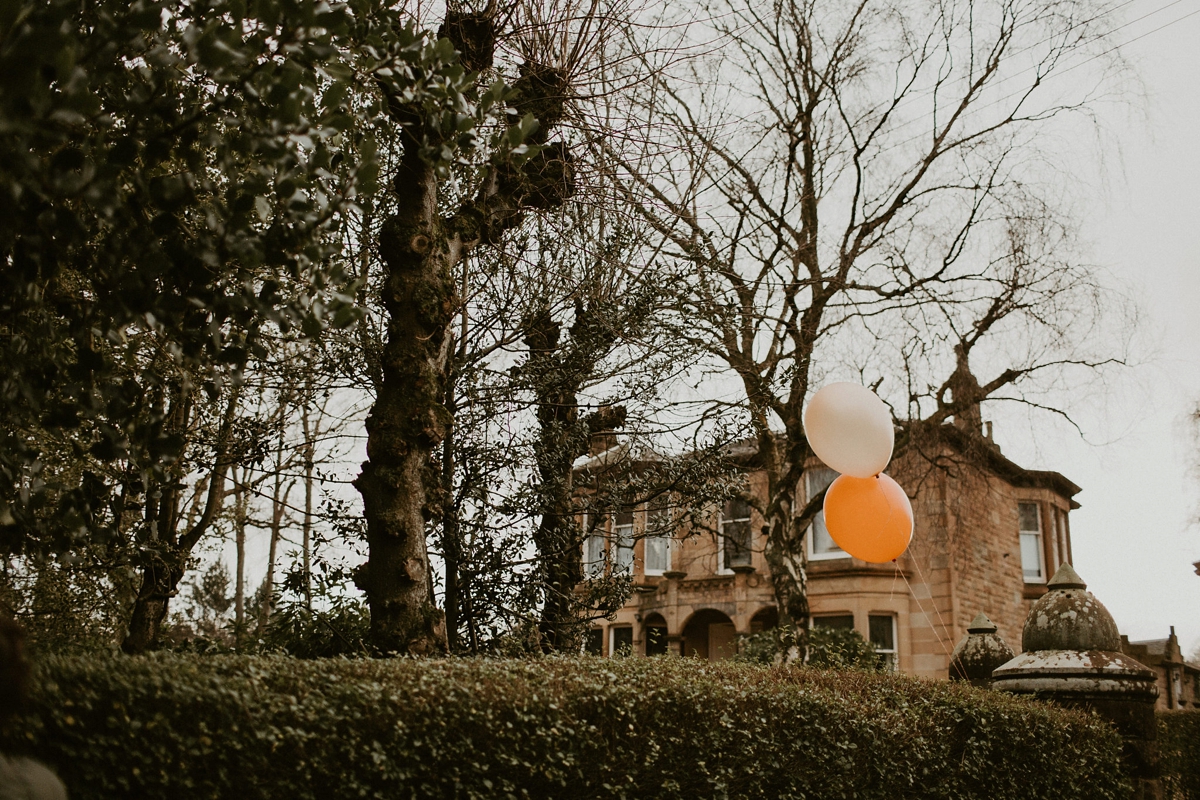 "Finally, we became a couple on the 1st of January 2010. After a night of Hogmanay partying, I persuaded Callum back to my place to try my failed attempt at parsnip and apple soup and we finally told each other how we felt. He even pretended to like the soup (people often wonder who his brother Iain, an actor, learnt his craft from!)."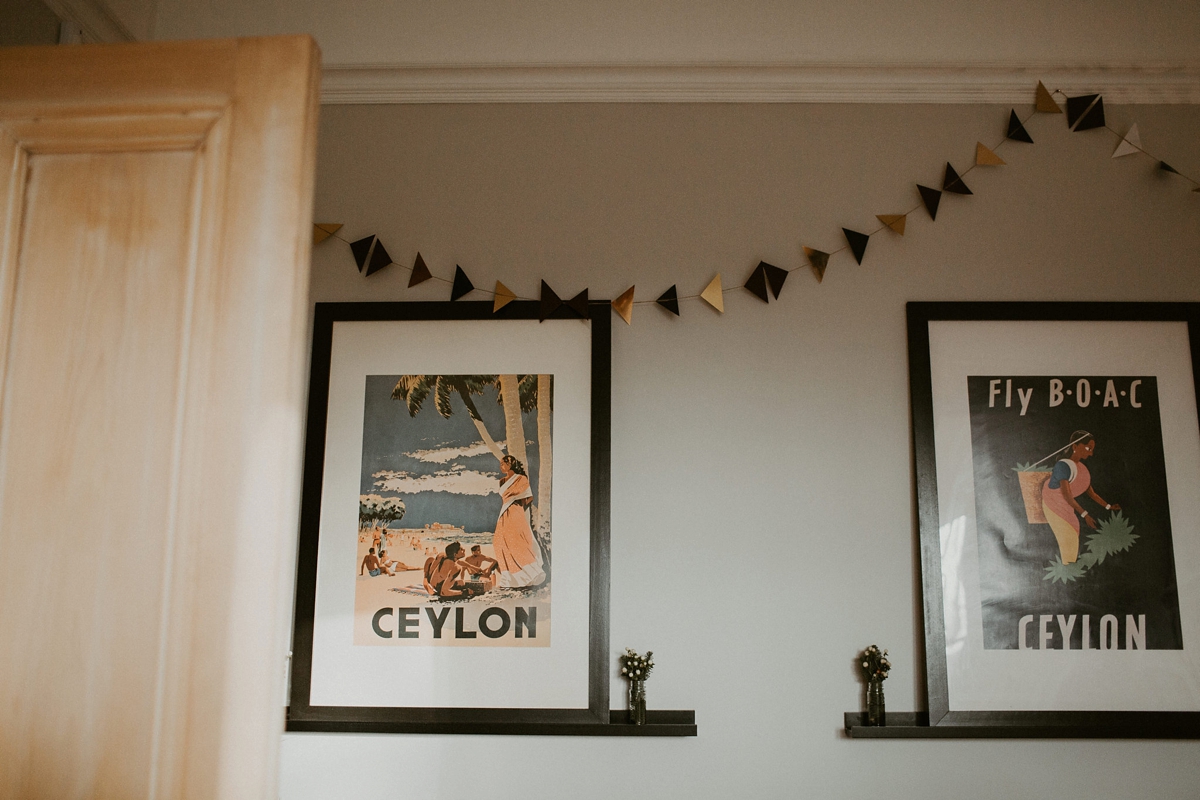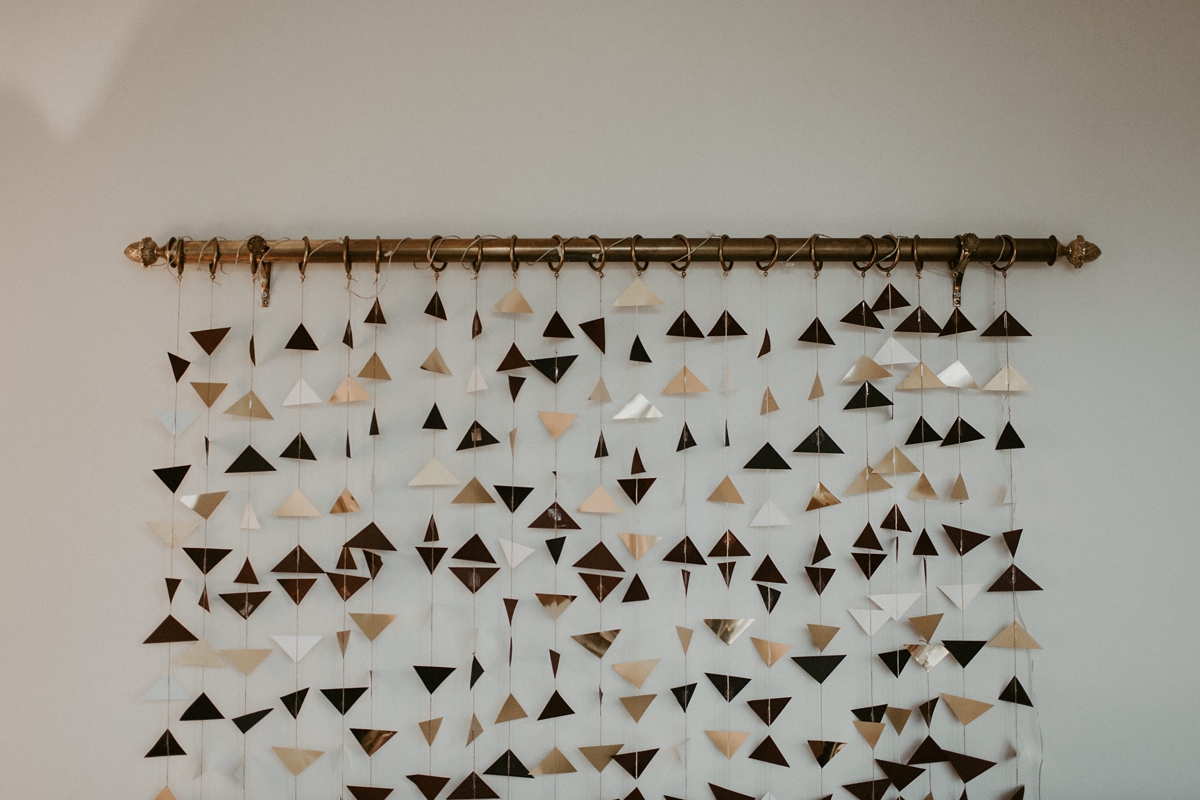 The clever bride spied a local sign painter (James Graham of Saloon Signs) creating magnificent hand-painted shop signs around the city, so arranged for James to paint one in gold leaf on the living room window to create the perfect back drop for their humanist ceremony. What a wonderful idea! And I do adore this tale about her aisle walk companion.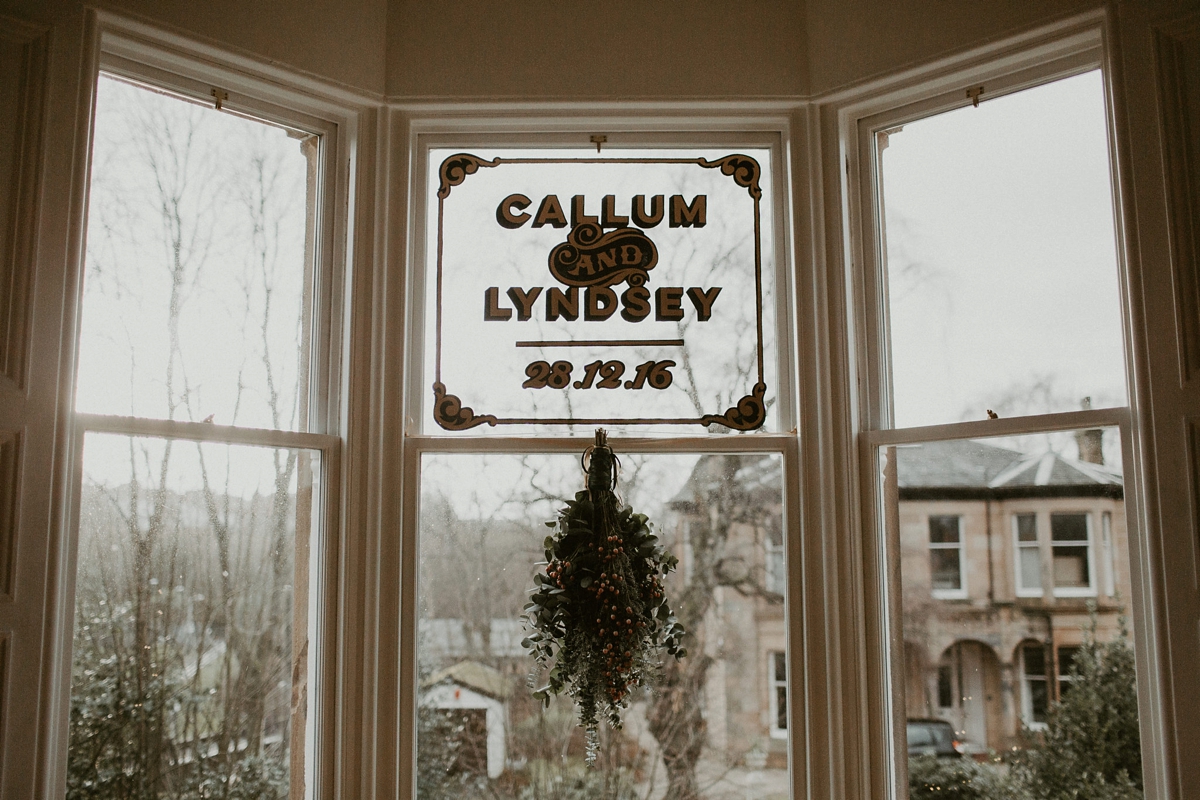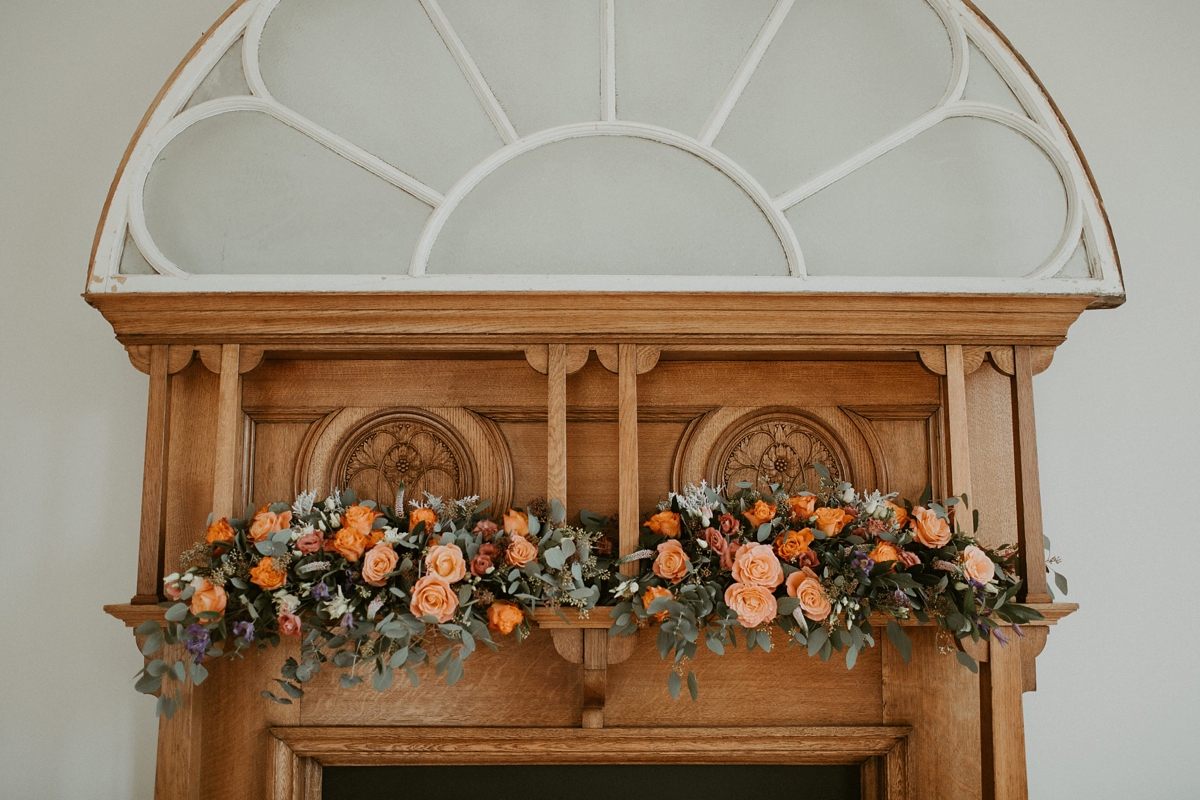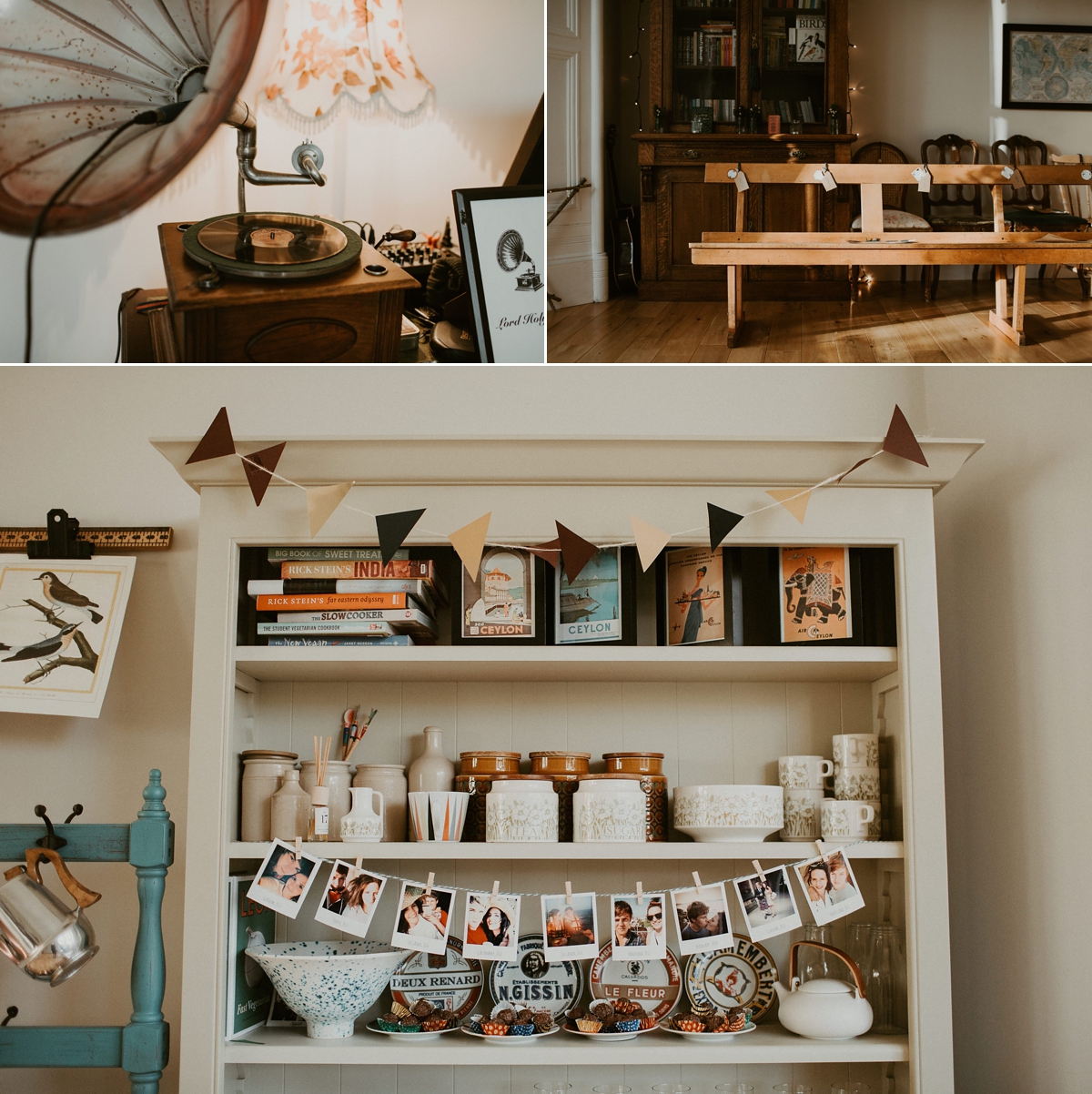 The story behind Lyndsey's stunning dress was one of those incredible 'meant to be' situations.
"I didn't want to spend a lot of money on my dress, as the rest of the day was more important to me."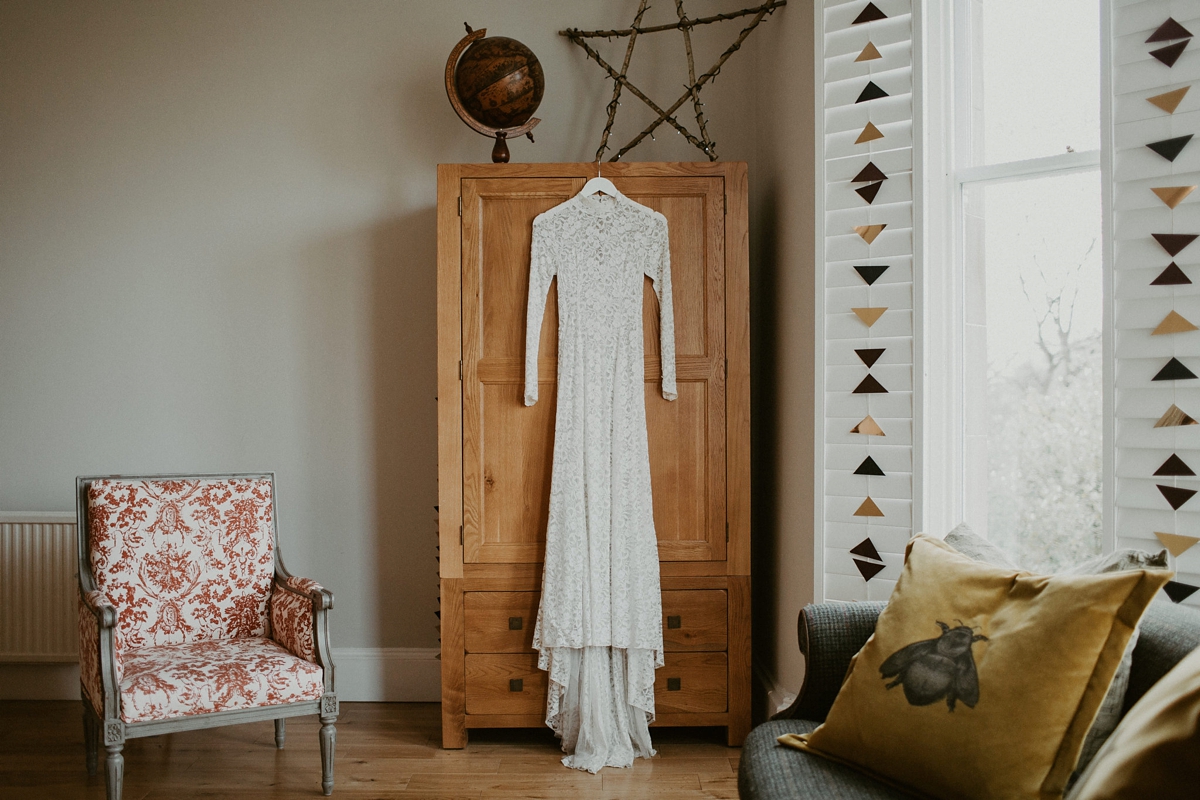 "I loved how it didn't have a label – and as I was having a winter wedding I enjoyed how it completely covered me, but at the same time was figure-hugging. Just by chance when I was trying on this dress in the vintage shop Starry Starry Night in Ruthven Lane, Glasgow, my brother happened to be walking by and stopped past the shop to browse."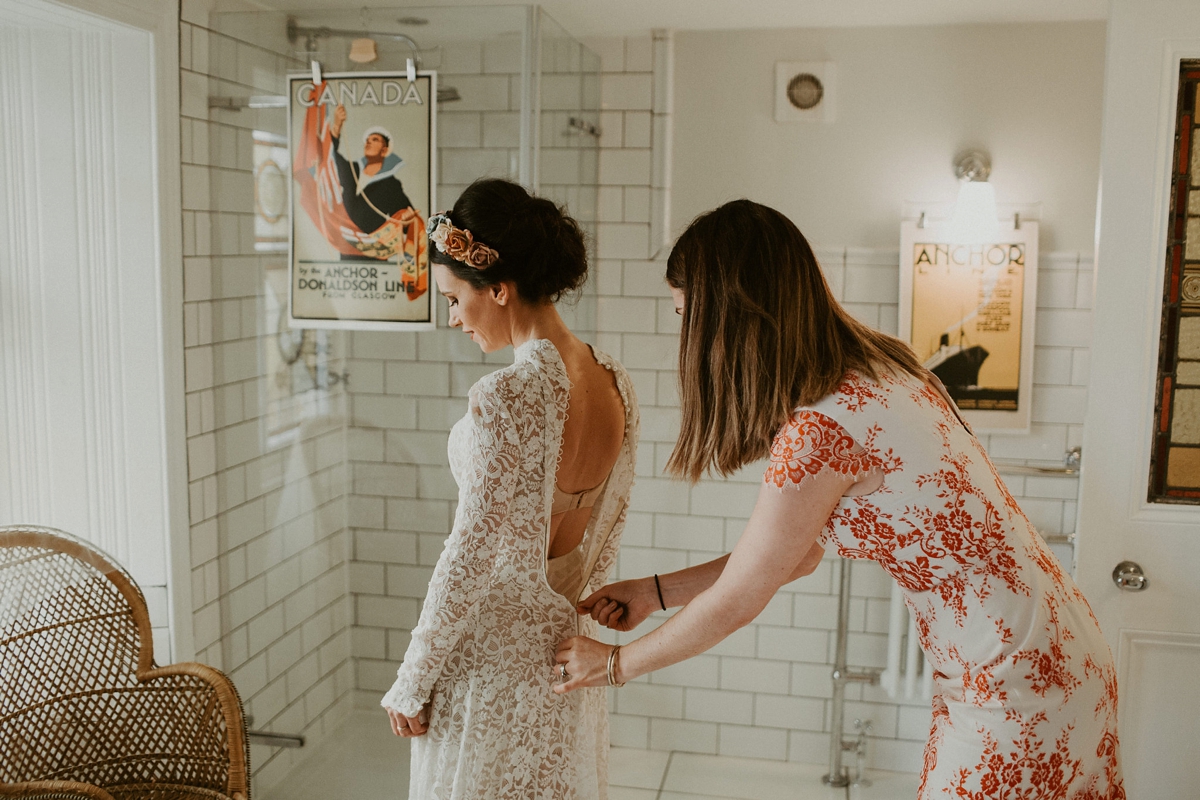 "It felt too much of a coincidence and it was meant to be. It wasn't your usual dressing room; it was a tiny square foot space behind a rack of clothes that you had to crawl through to get in. It is a very quirky shop!"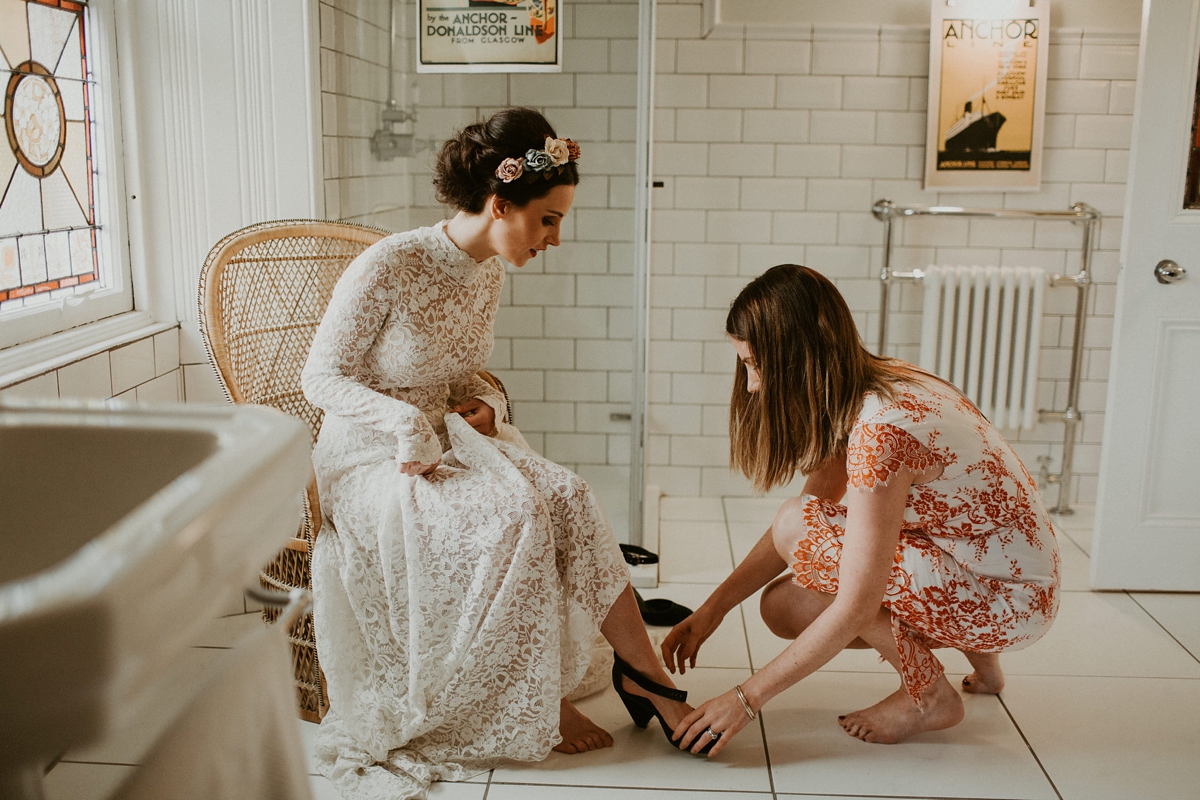 The beautiful bride wore a lovely floral hairband from Her Curious Nature and shoes from Marks and Spencer. Her pretty hairstyle was by Gosh Hairdressing and she did her make-up herself.
Lyndsey's handsome groom donned attire from Next.
"Trying to find a florist to work on the 28th December straight after Christmas was a difficult task! All the flower markets are shut over Christmas in Holland, so many florists are reluctant to work and commit to this date. Thankfully, Roots, Fruits and Flowers are workaholics and can work miracles. My bouquet was a total surprise as they couldn't guarantee what stock they would have. My only request was that the bouquet didn't have a stiff feel to it and to match it as close to my hairband as possible."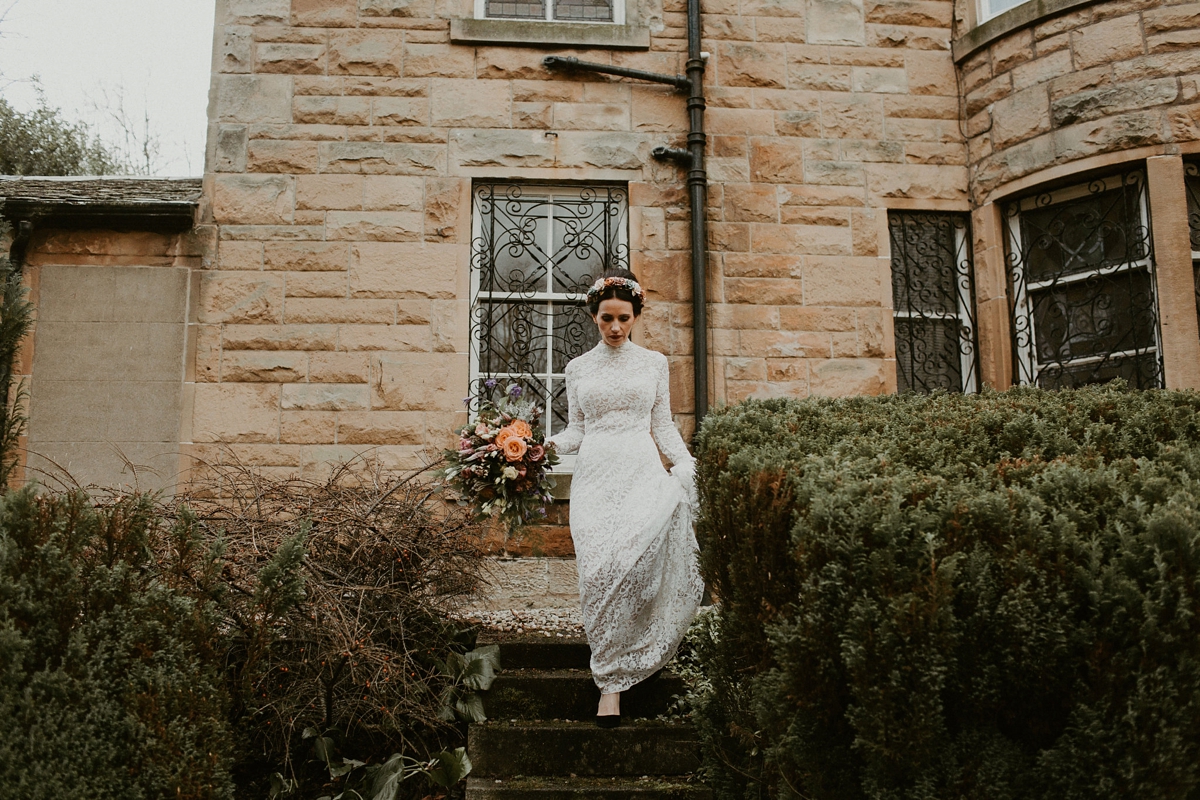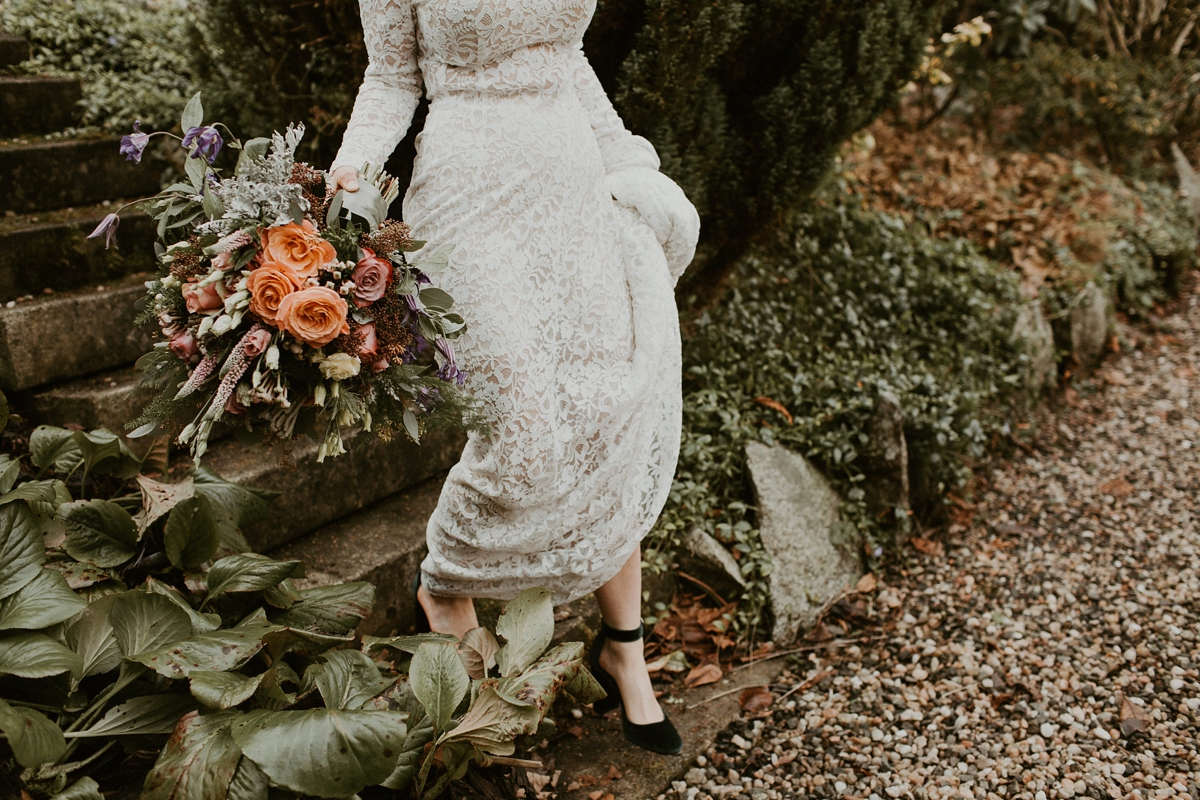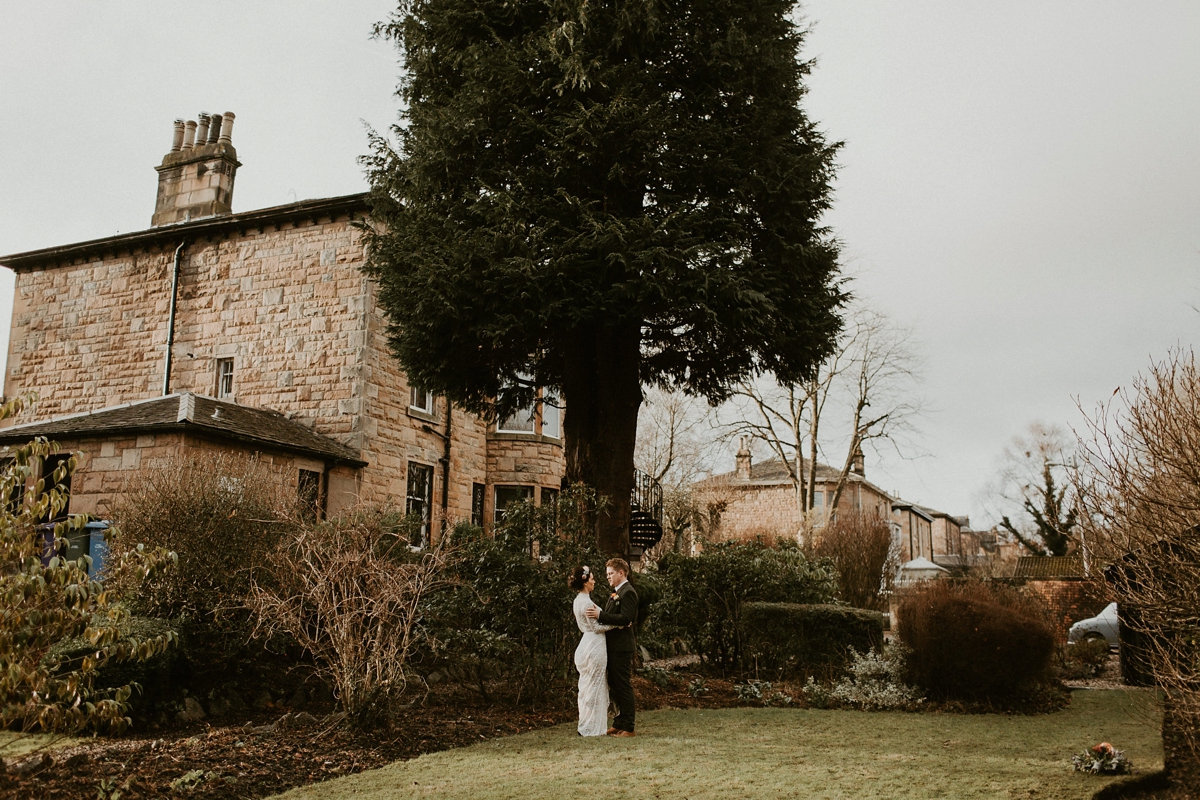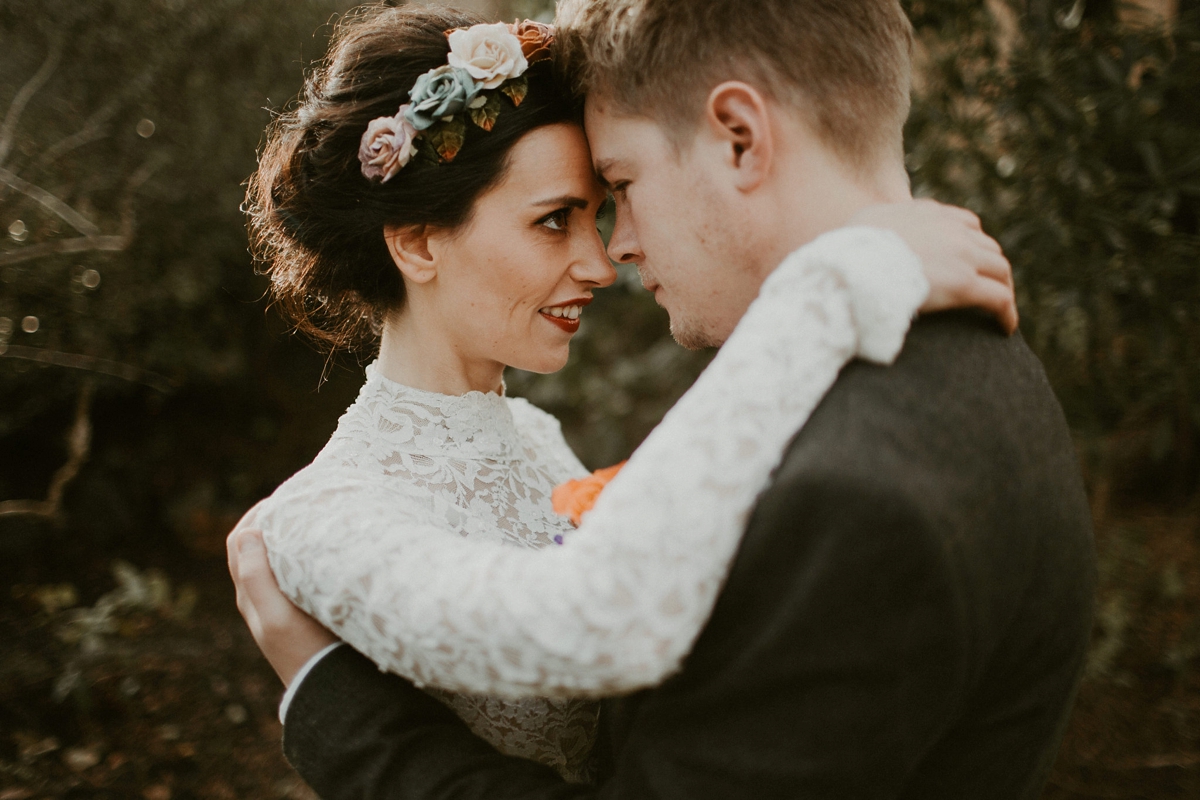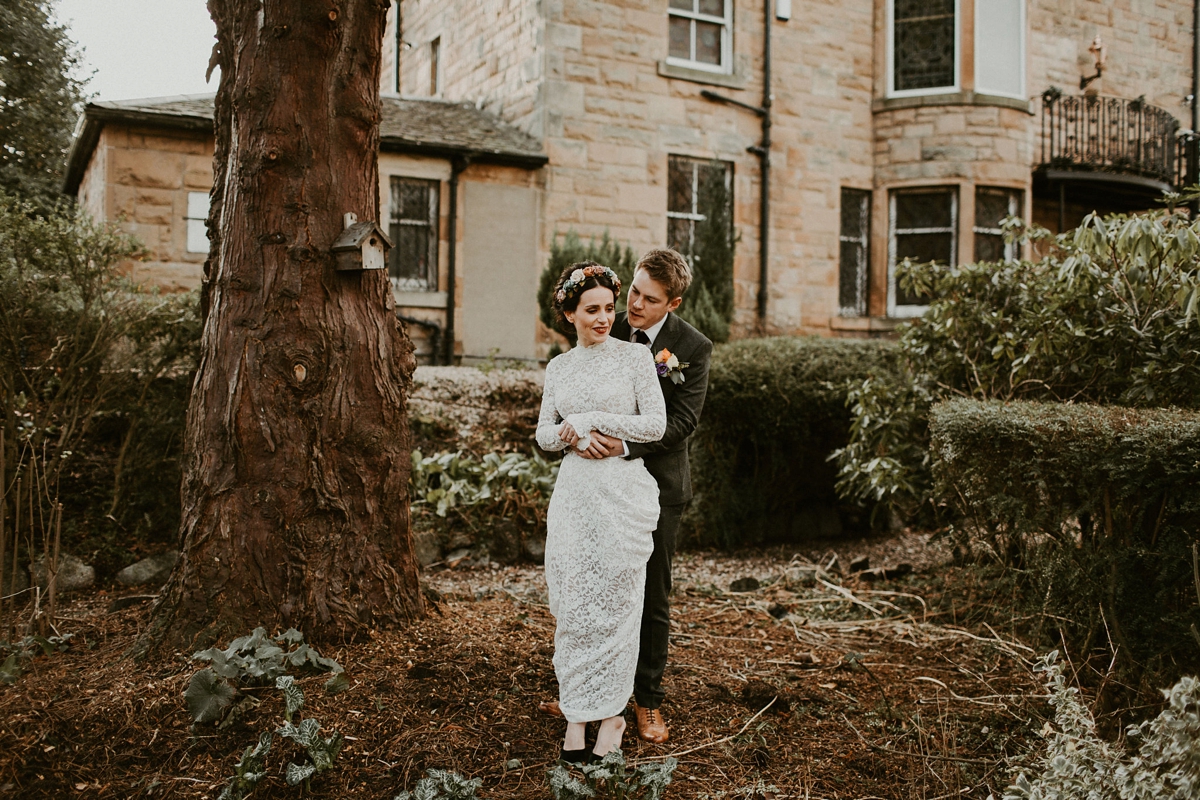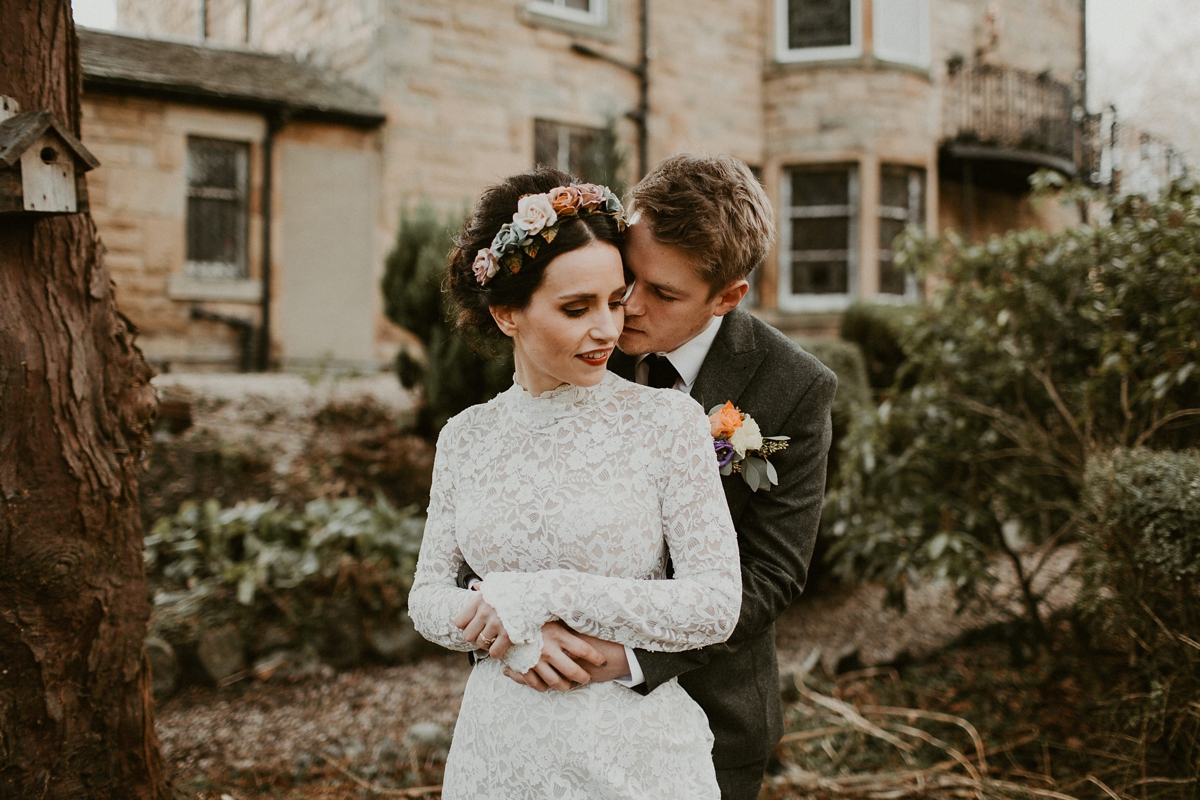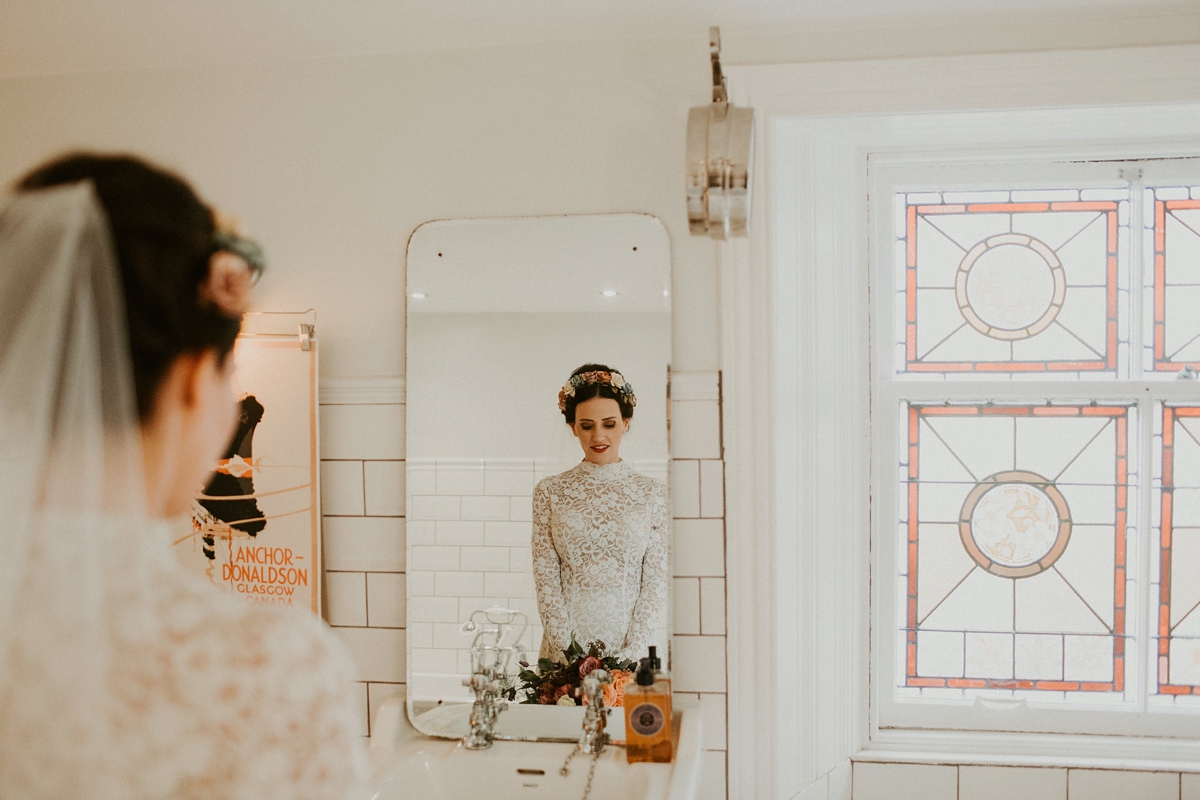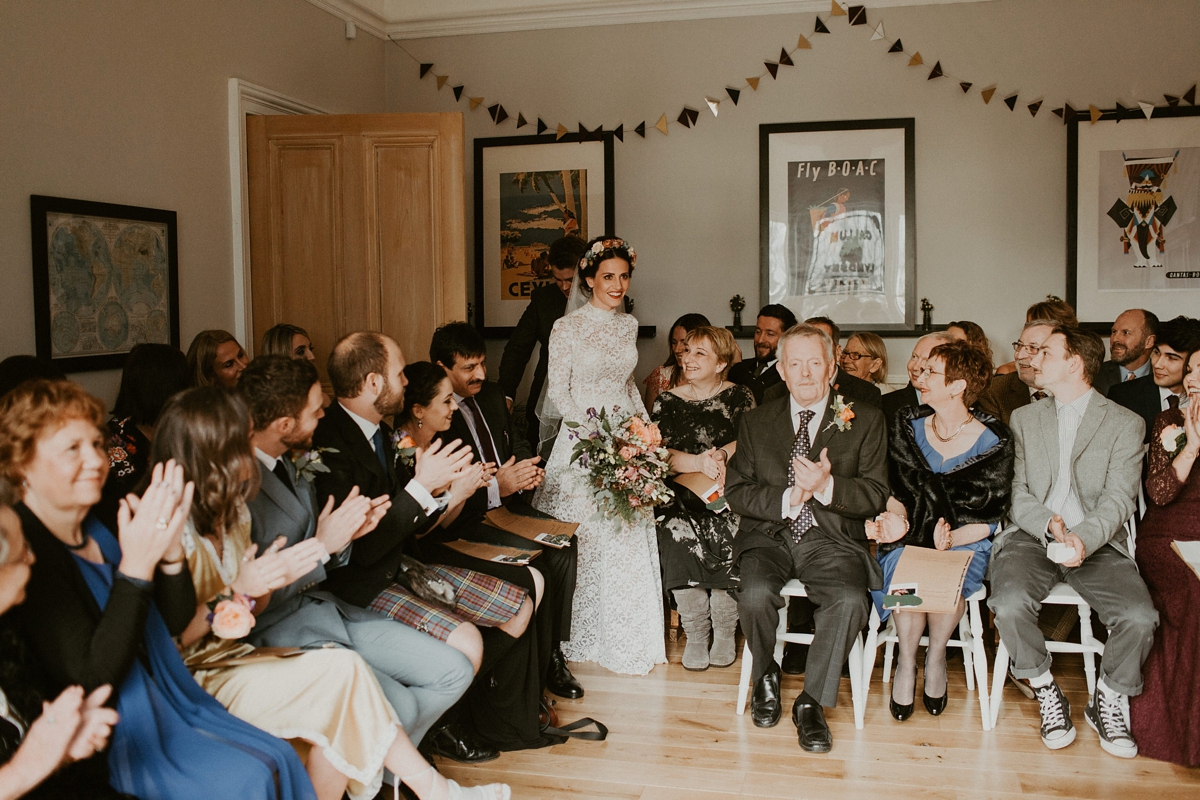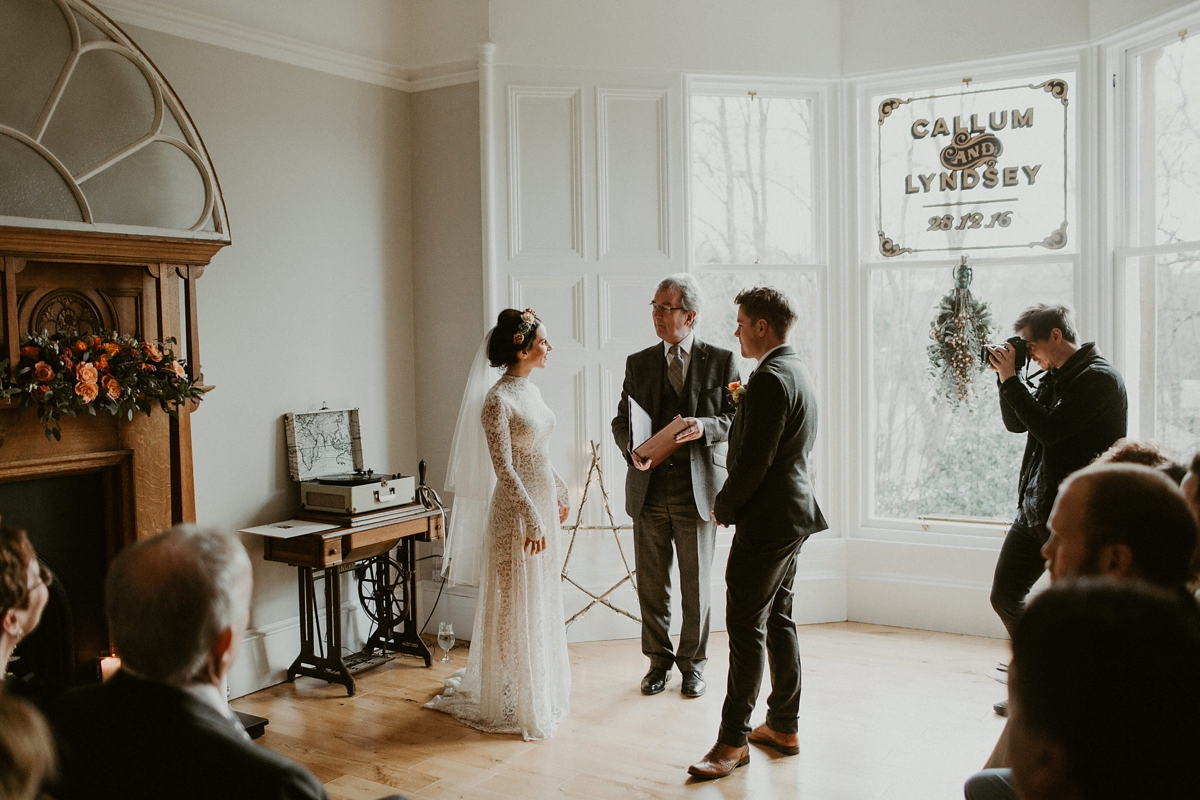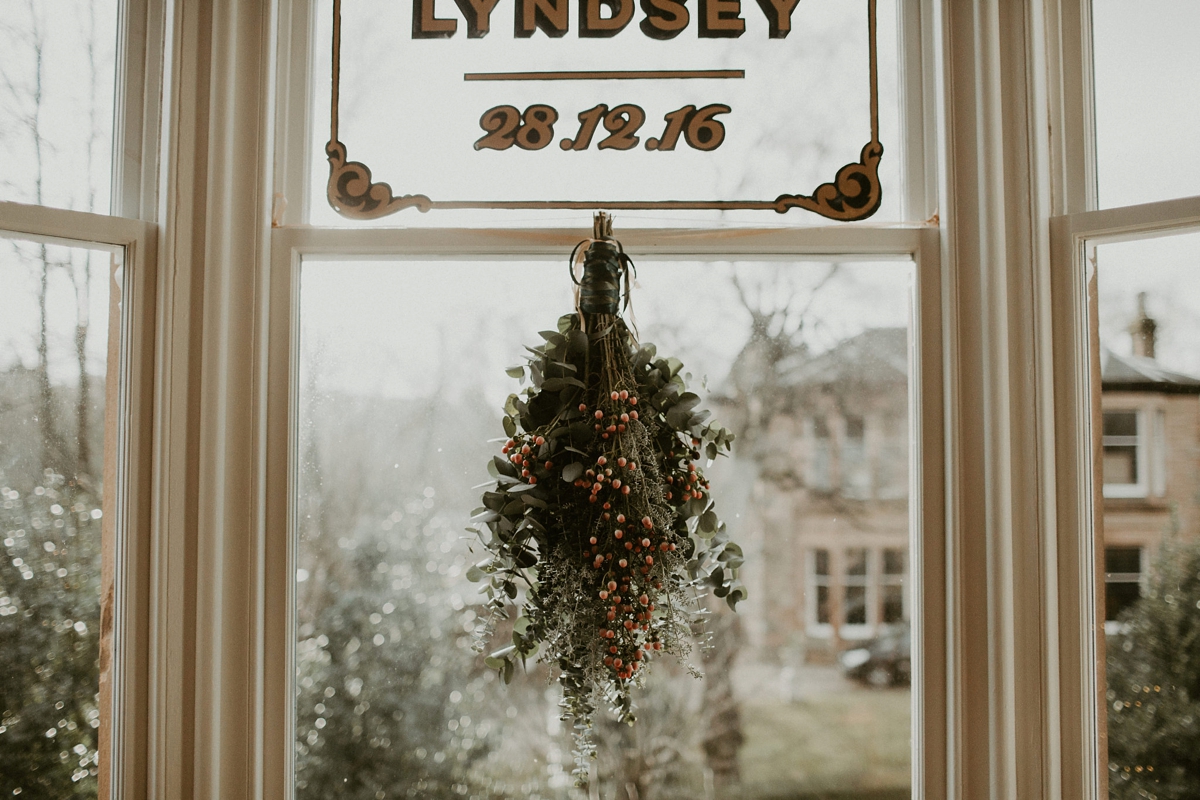 I simply adore the meaning behind Lyndsey and Callum's gorgeous rings. It's such a special way to personalise these symbols of the couple's union.
"Sarah Brown Jewellery is inspired by shapes and forms she finds in nature. Sarah is from the island of Islay and I was attracted to her style straight away, as my degree was in marine biology and it reminded me of my scuba diving days searching for treasure. I made Callum's ring at a CARVE workshop run by founder of Vanilla Ink Studios, Kate Pickering and Glasgow-based jeweller Katie Lees."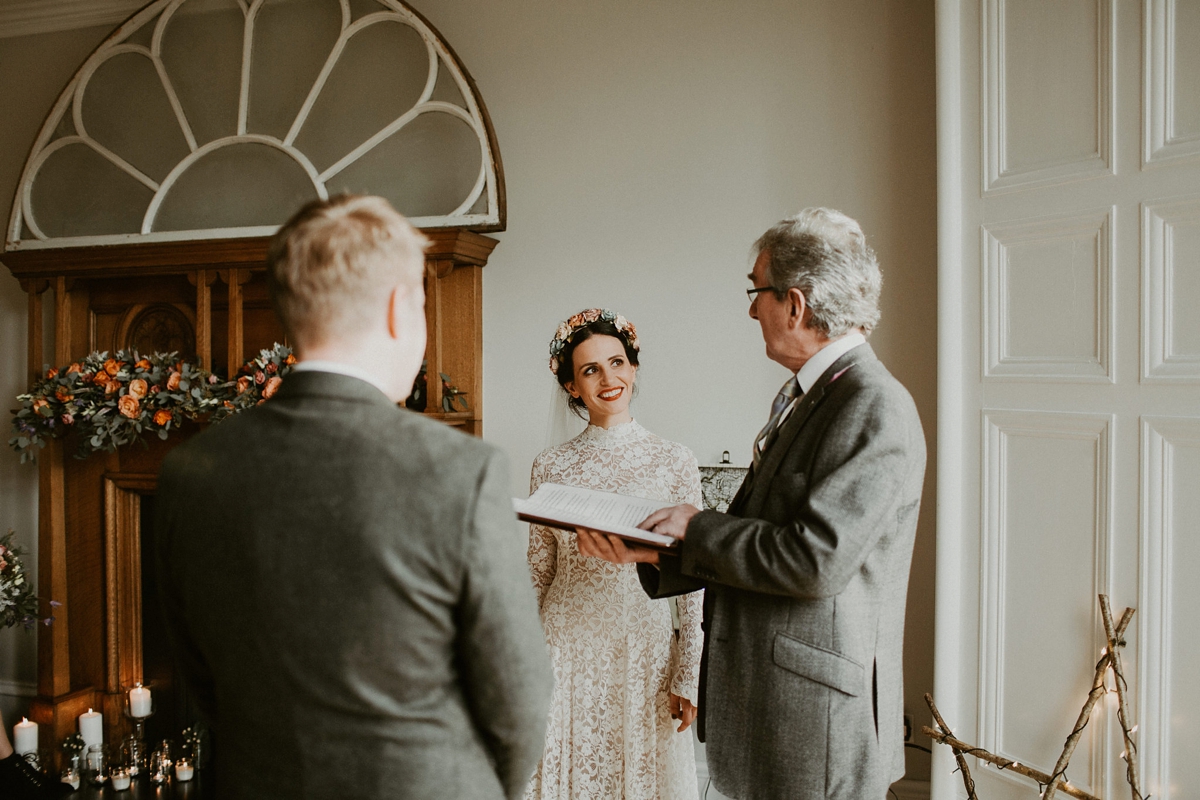 We rang a 'bell of truce' at our ceremony – the idea being that if any arguments arose in the future we would ring the bell and be reminded of our wedding day. The bell now sits on the mantelpiece but hasn't been used quite yet!"
We vow to stay by each other's side in sickness and in health.
We vow to respect each other, to trust in each other and encourage each other.
We vow to have grand life adventures with each other, travelling as equals.
In times of struggle we promise to turn toward each other and not away from each other.
We vow to actively love each other for the rest of our lives.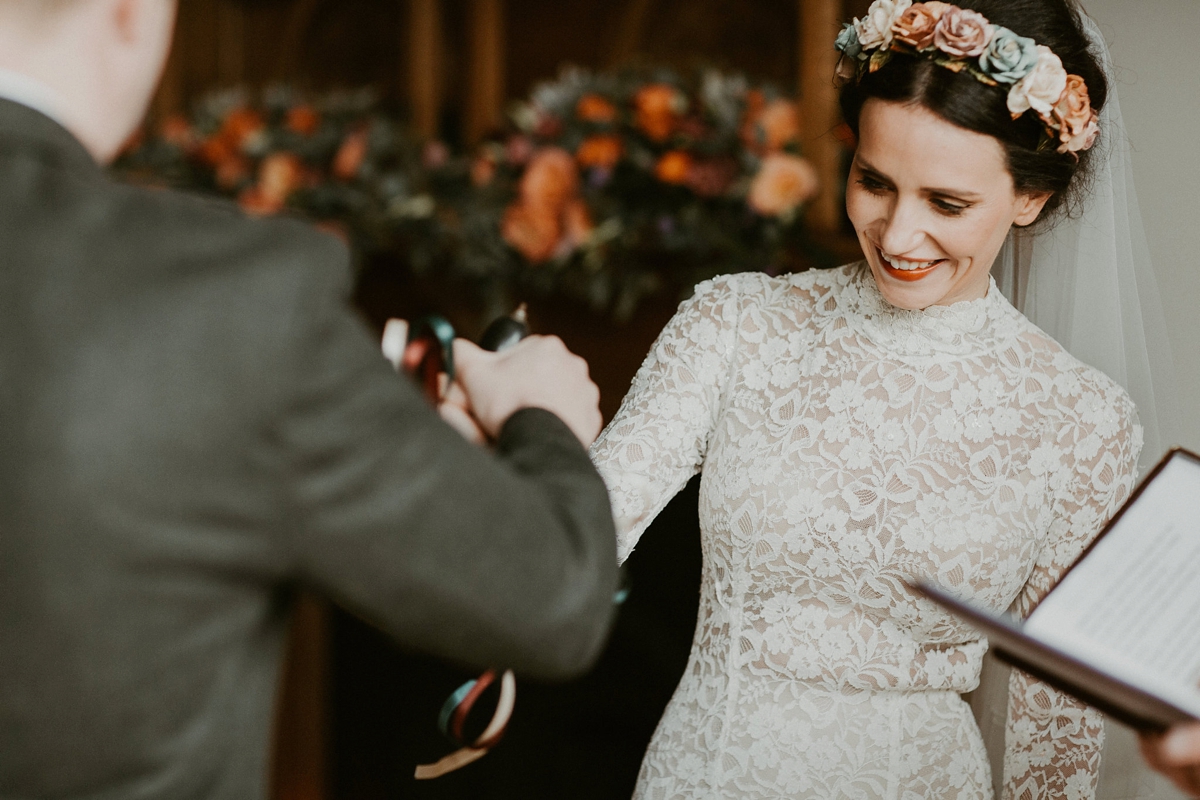 "We had three readings – 'Epithalamium' by Liz Lochhead, 'The Confirmation' by Edwin Muir and 'John Anderson, My Jo' by Robert Burns. This was my favourite, as it resonated with us that we were going to grow old and grey together and that we were going have a great time doing it."
John Anderson my jo, John,
When we were first acquent,
Your locks were like the raven,
Your bonie brow was brent;
But now your brow is beld, John,
Your locks are like the snaw,
but blessings on your frosty pow,
John Anderson, my jo!

John Anderson my jo, John,
We clamb the hill thegither,
And monie a cantie day, John,
We've had wi' ane anither;
Now we maun totter down, John,
And hand in hand we'll go,
And sleep thegither at the foot,
John Anderson, my jo!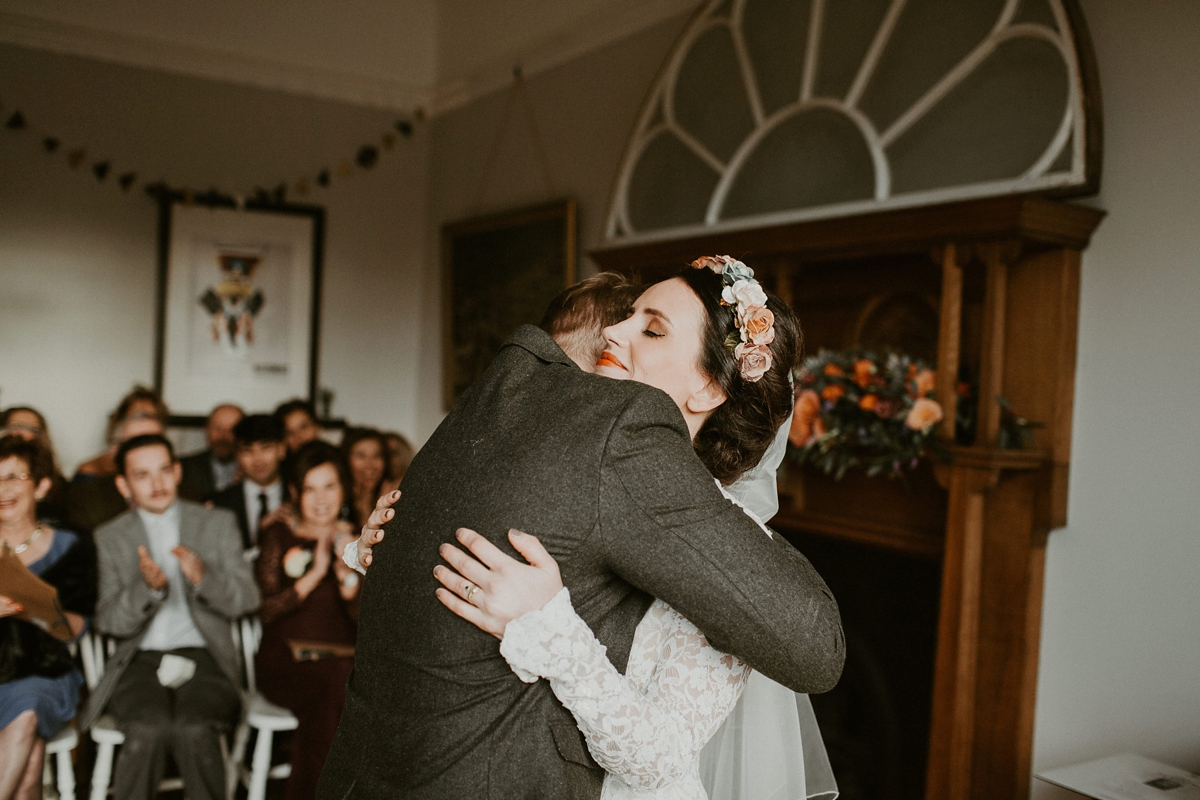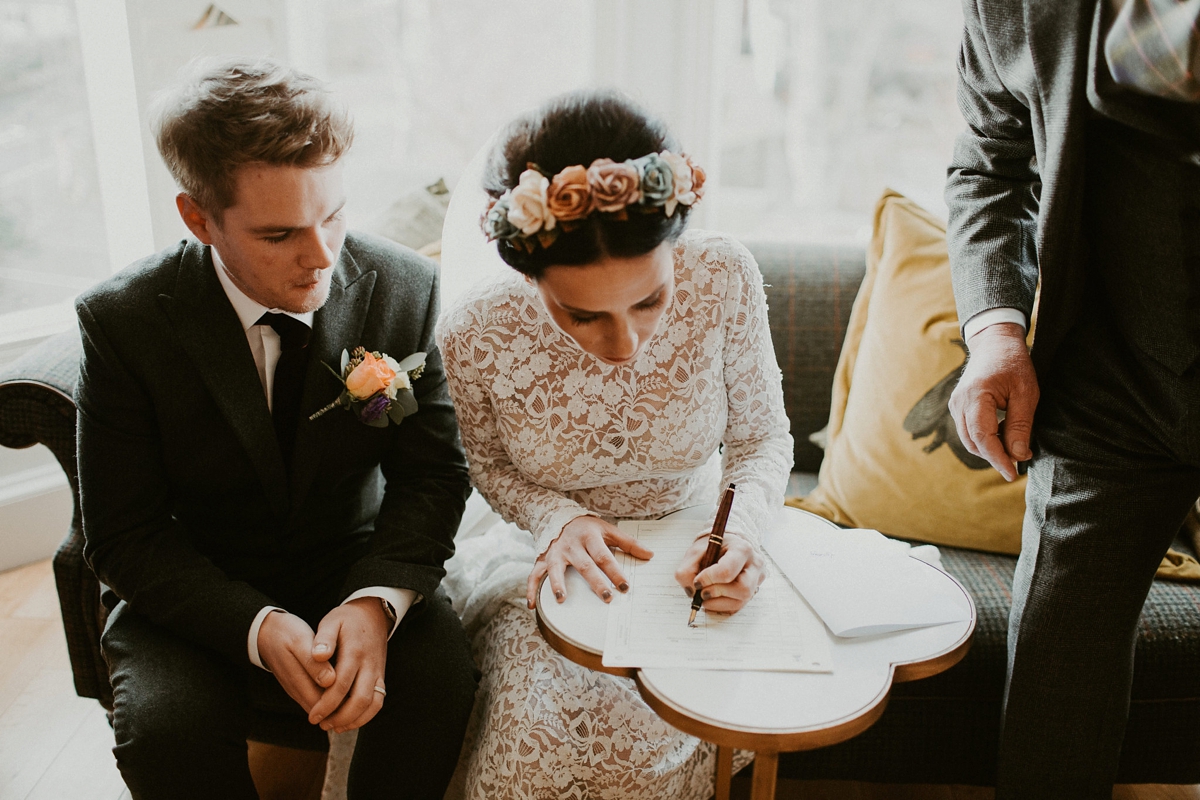 "I let my dog Charlie my Lakeland terrier escape from the bedroom (deliberately) so she ran into the living room with me as I walked into the ceremony to Van Morrison's 'Astral Weeks', which was playing on the record player!"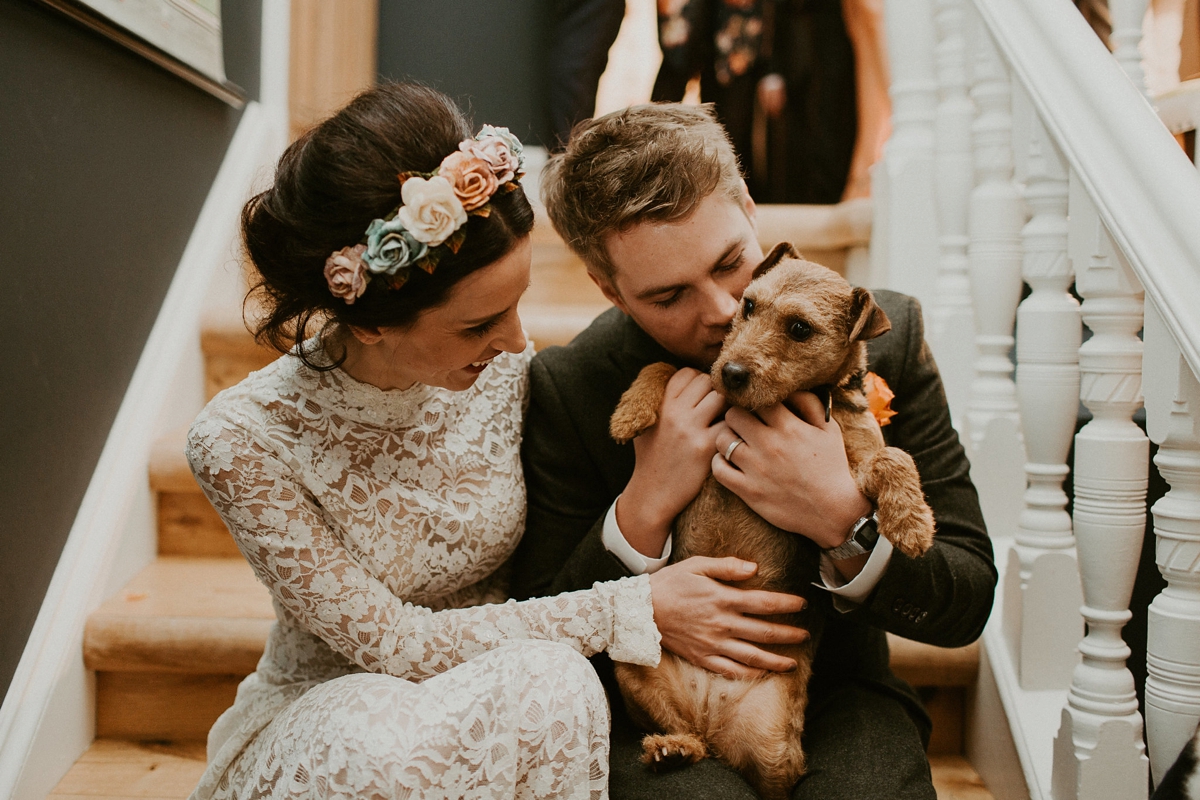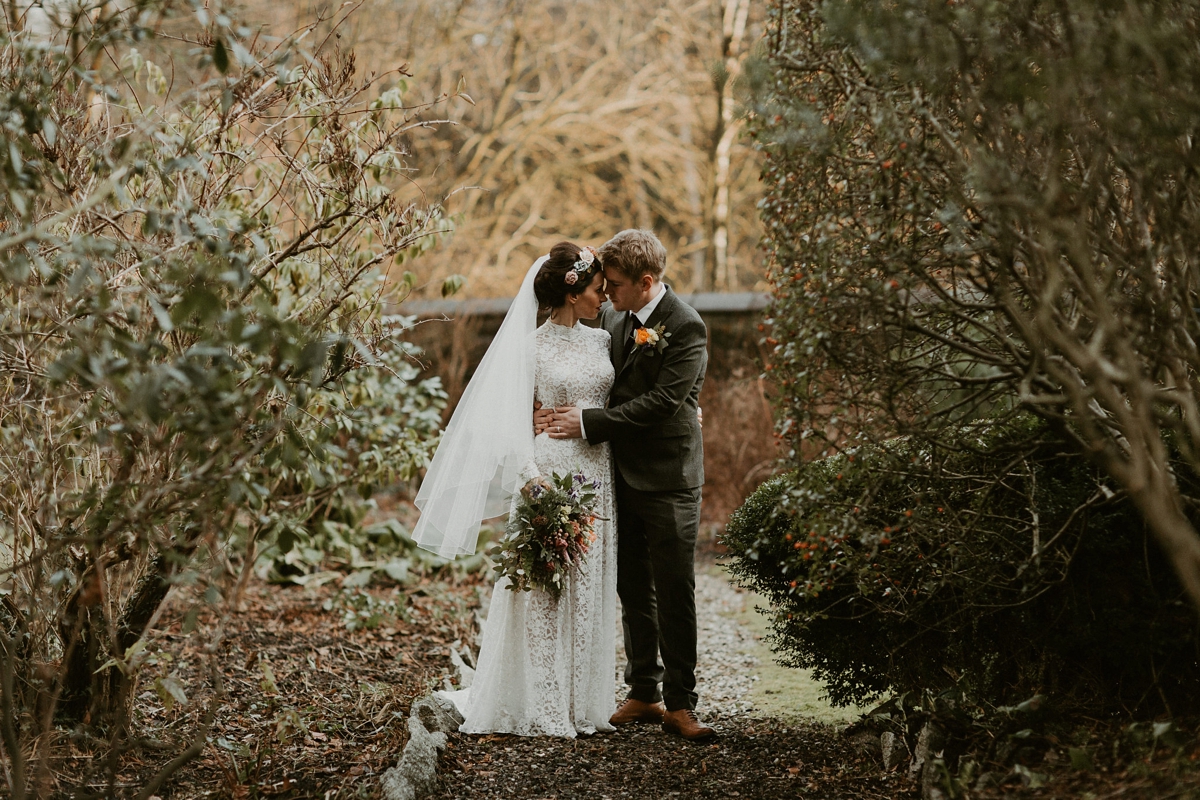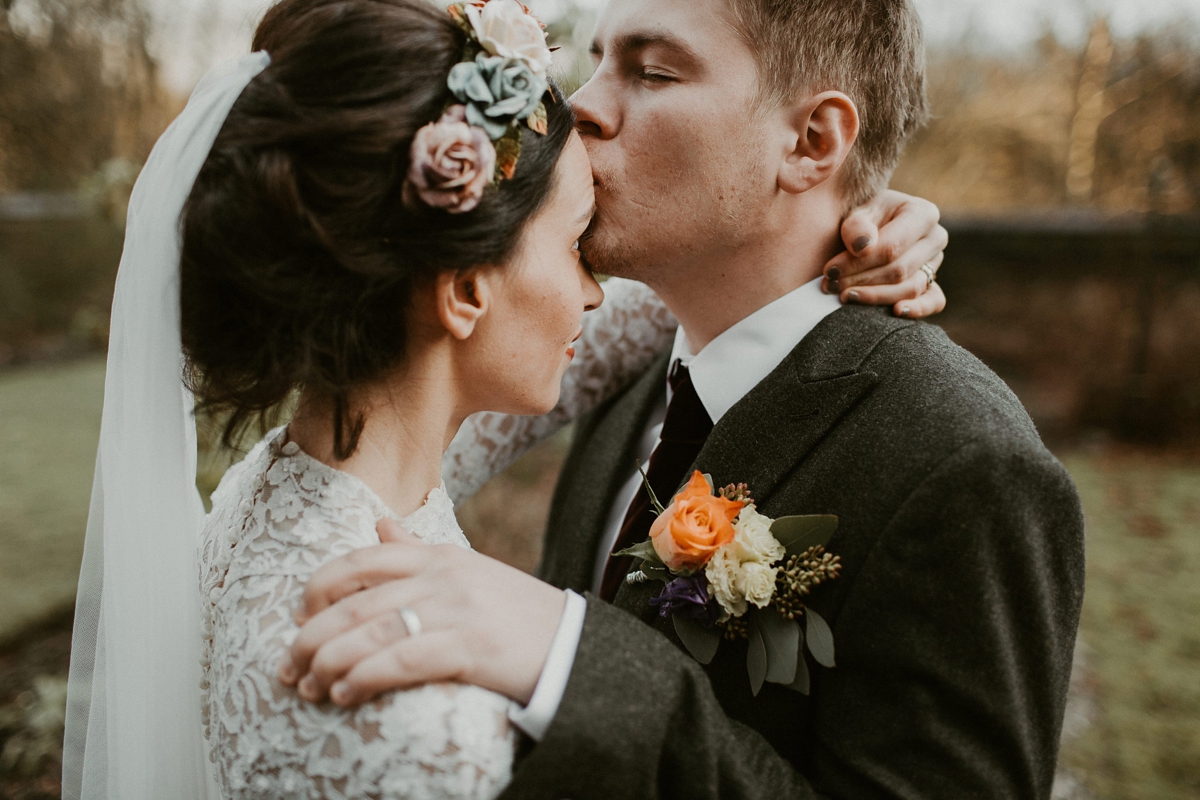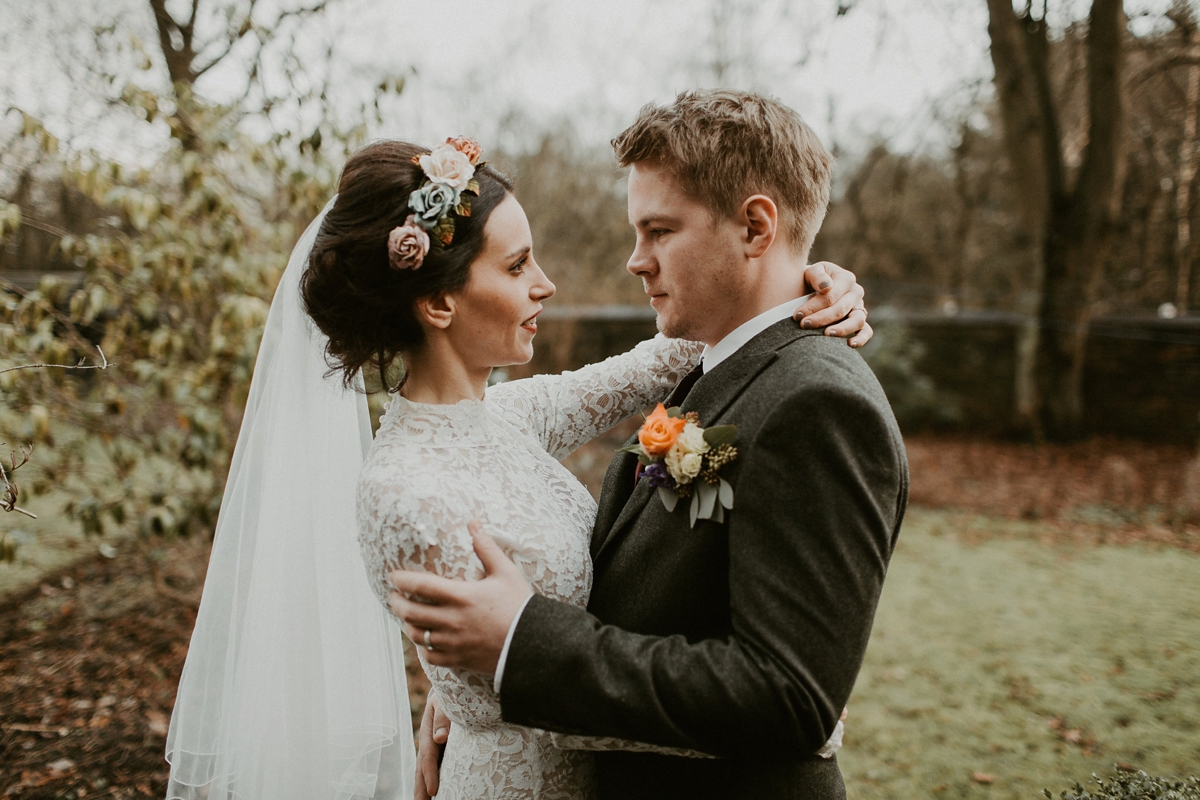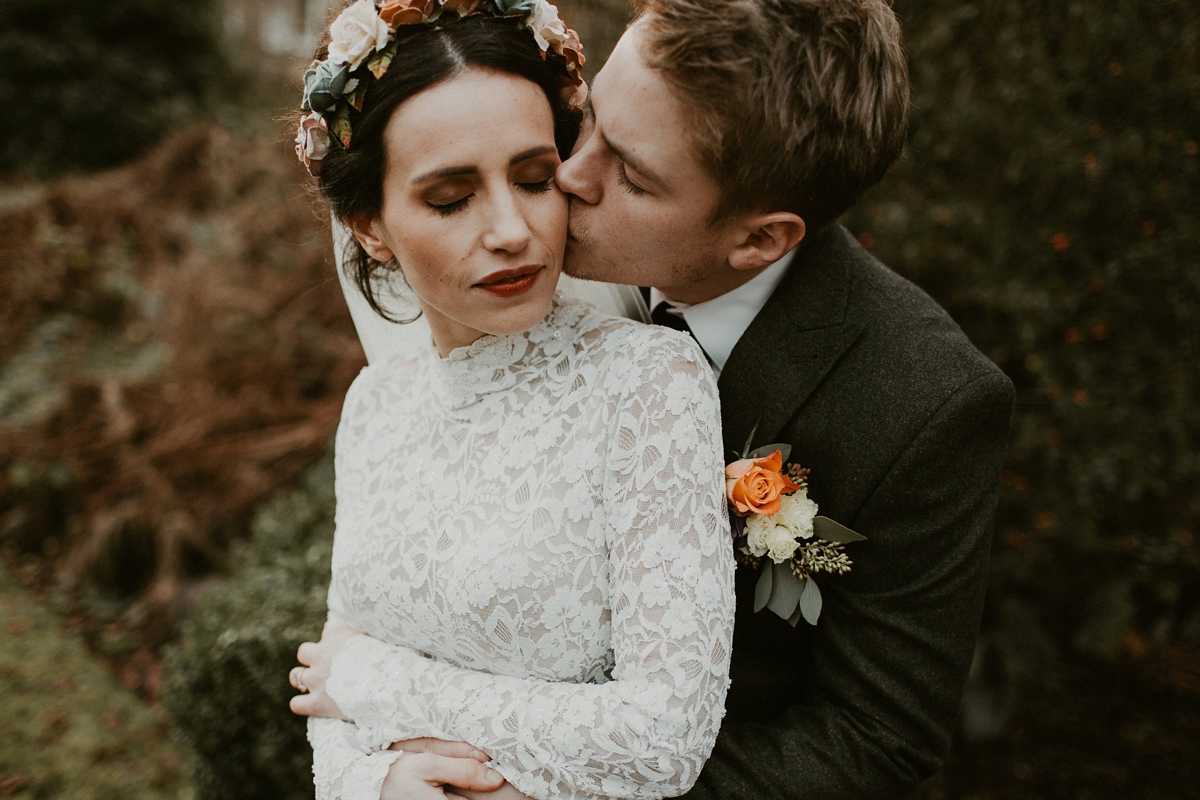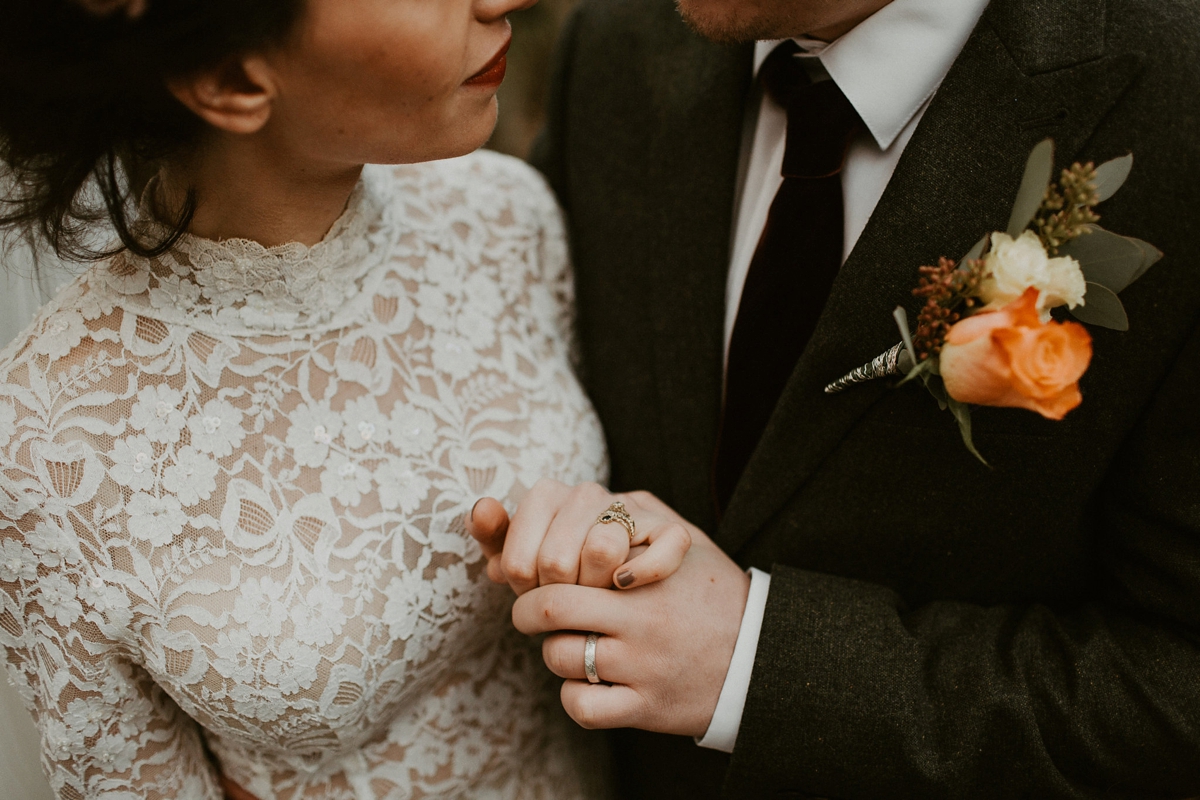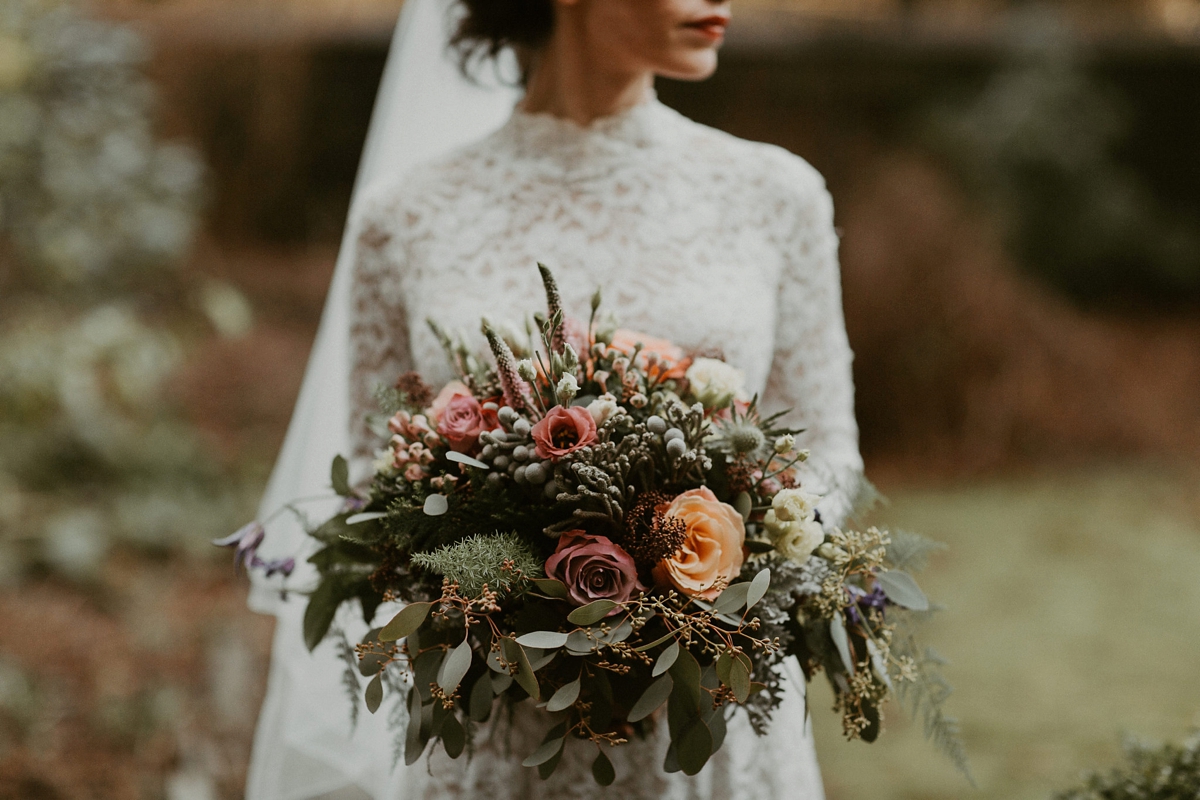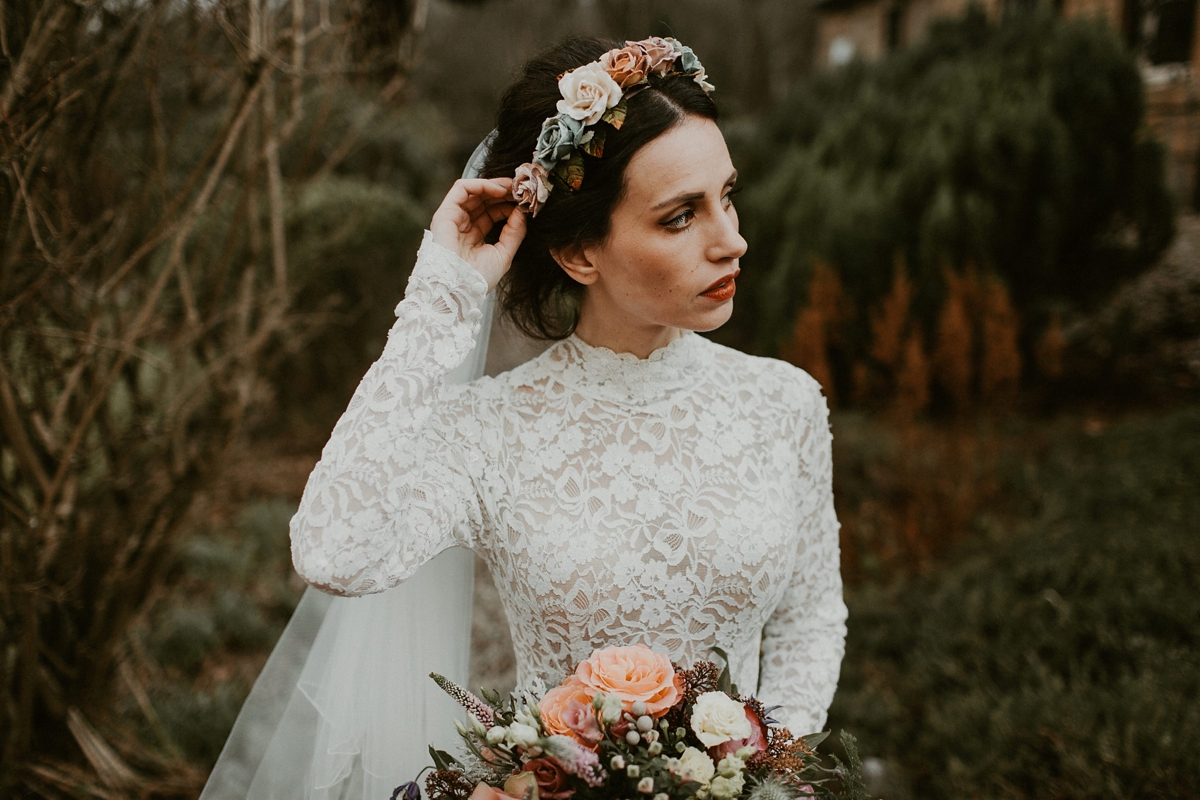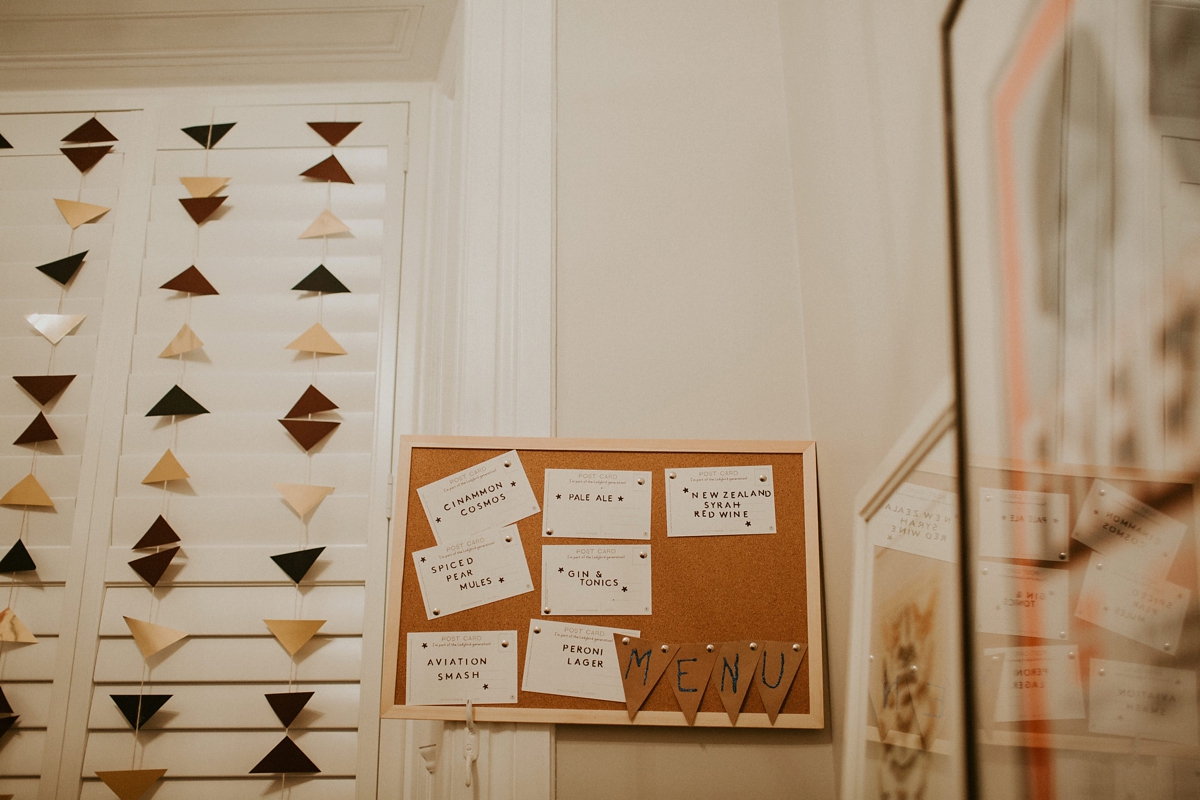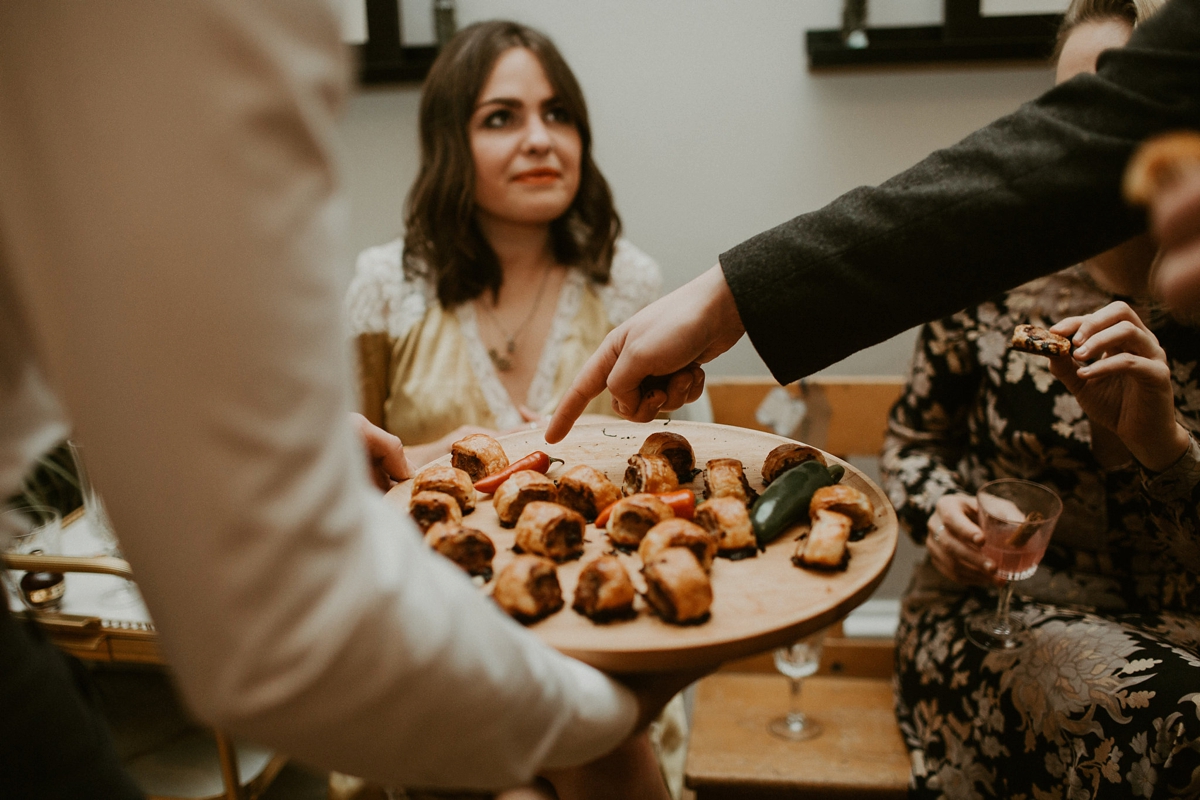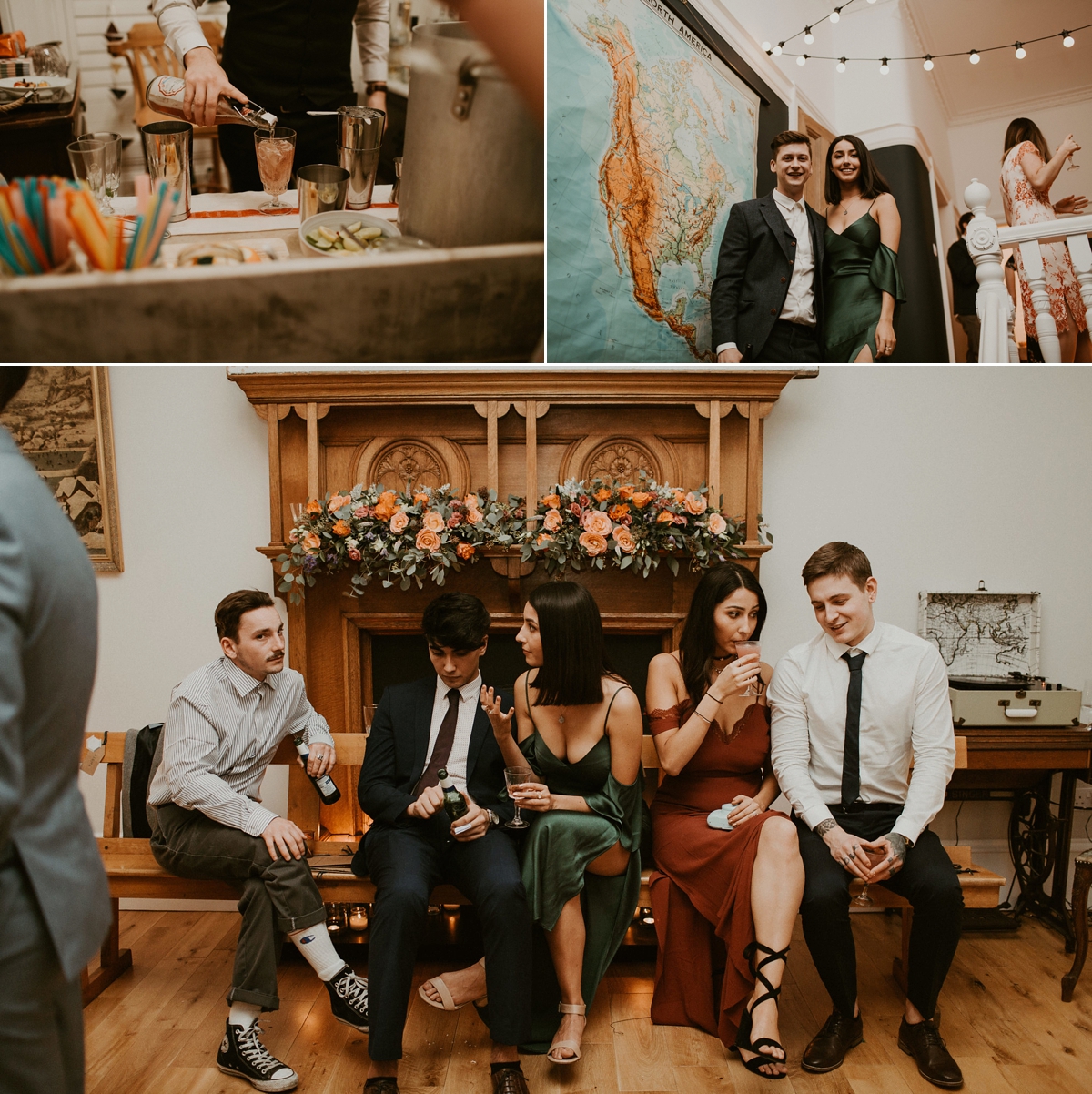 Lyndsey explains where the couple was able to cut costs to focus on the things that really mattered.
"My purse strings were tight for things that were less important to me, such as my dress which I bagged for £200. I kept decorations minimal and made my own bunting for the venue using strips of different-coloured fabric that I picked up by the metre in Mandors Fabric Store in Glasgow. The only flowers were my fireplace display in the living room and my bouquet."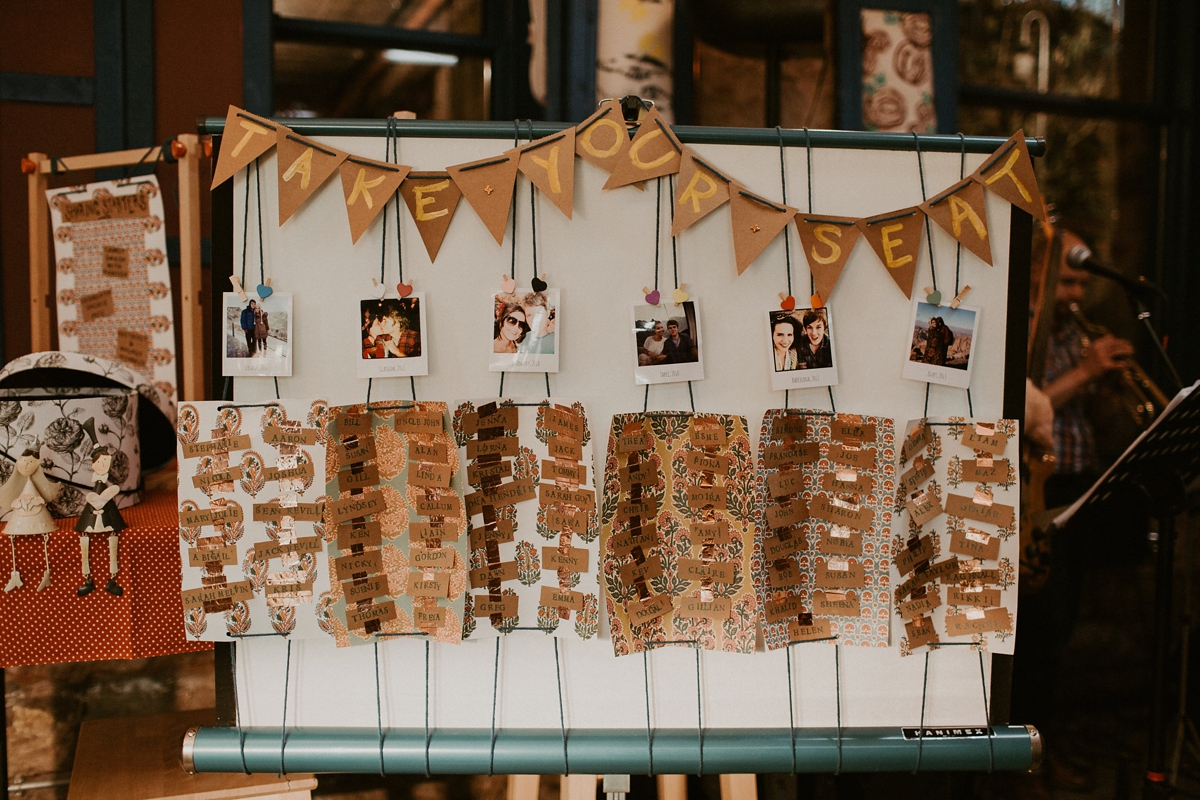 "Any other floral features were done myself by going straight to the flower wholesale market on Christmas eve before it shut. I splashed out on the entertainment rather than the finer decorative details as I wanted our wedding guests to have the best time! We had fireworks in the back garden before we met the rest of our guests at the cafe. Including my brothers flight from Melbourne Australia to attend the wedding, we did it just under £10K."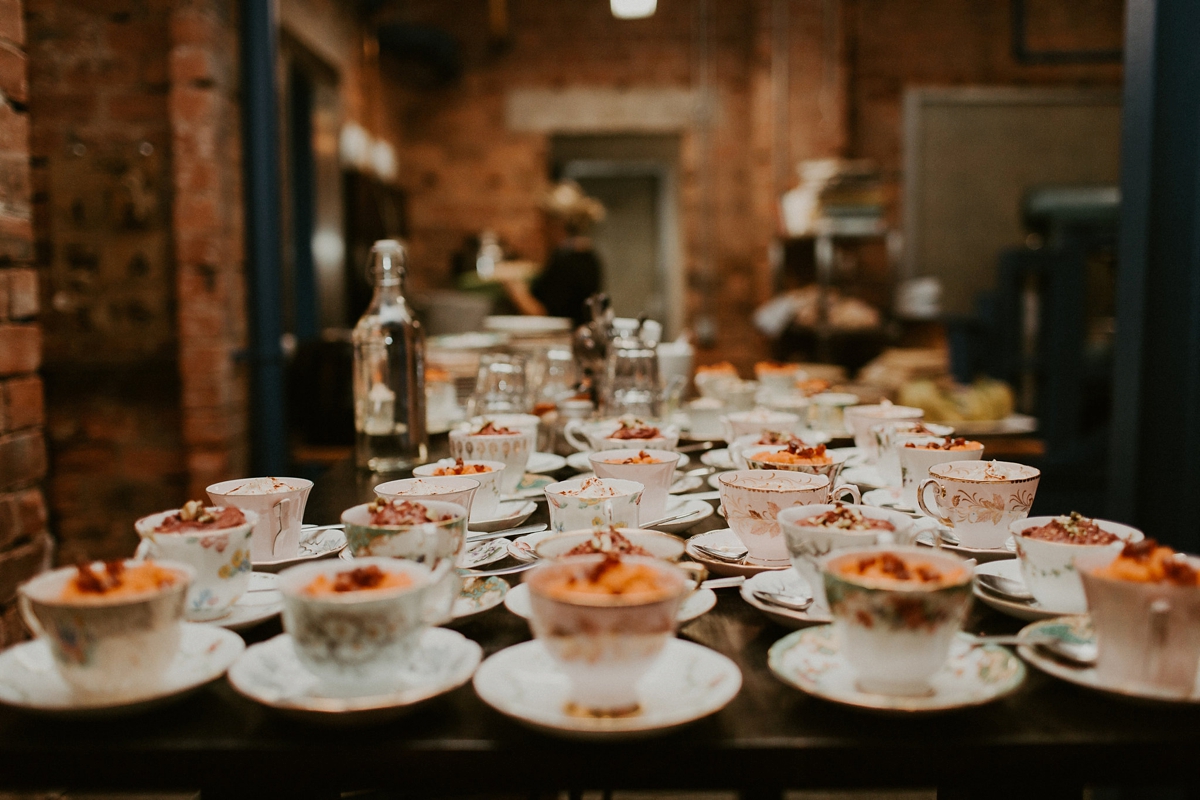 The crafty bride made the stationery herself and for the guest's favours, everybody received a strip of raffle tickets with the winner receiving a voucher from their wedding reception venue to enjoy the café again.
"Singl-end Café had never hosted a wedding party before and this made it a special experience planning it together and they completely rocked it! We got married within four months of getting engaged so more typical venues were not on our radar. D'Urban Dining catered for us at the cafe. The team at Singl-end Café were the heroes of my wedding day."
"They had free reign on my wedding cake and it turned out brilliantly. I had a dessert table where everyone could go up and help themselves, rather than a proper sit down dessert course. The cake was lemon and was served with a spiced vanilla custard to give it a festive feel."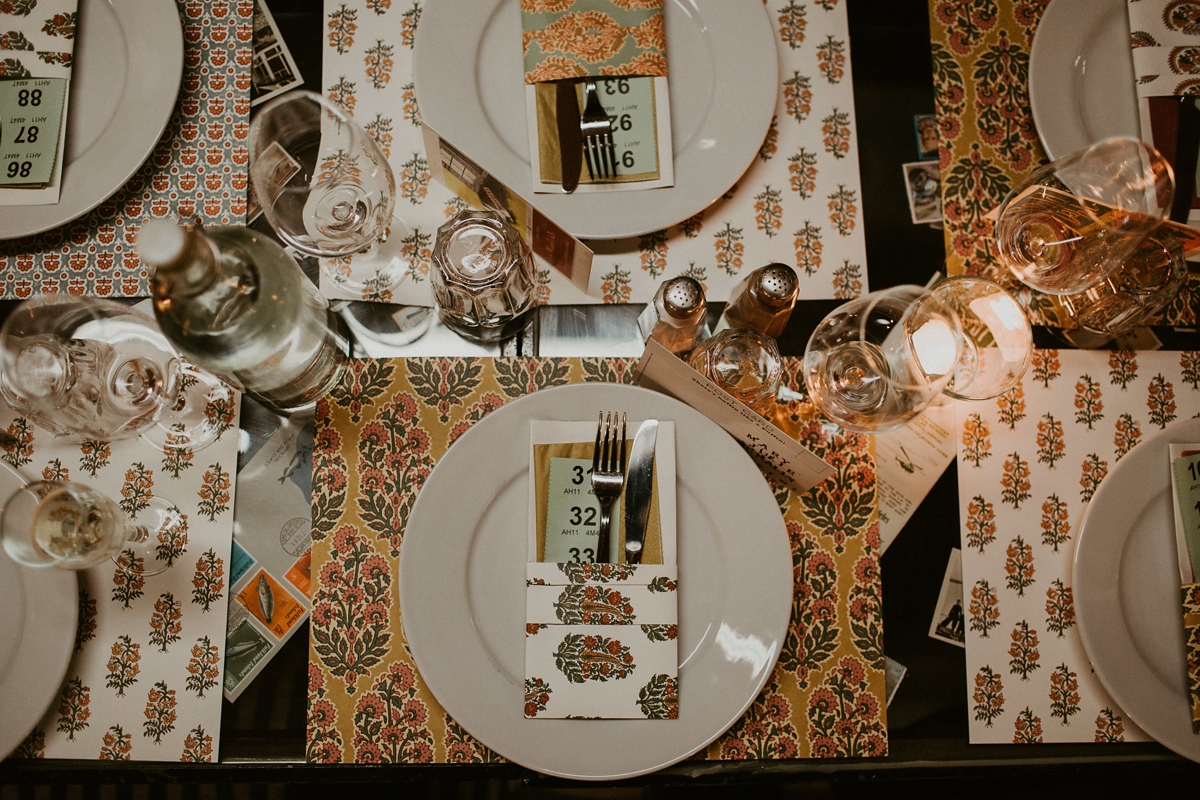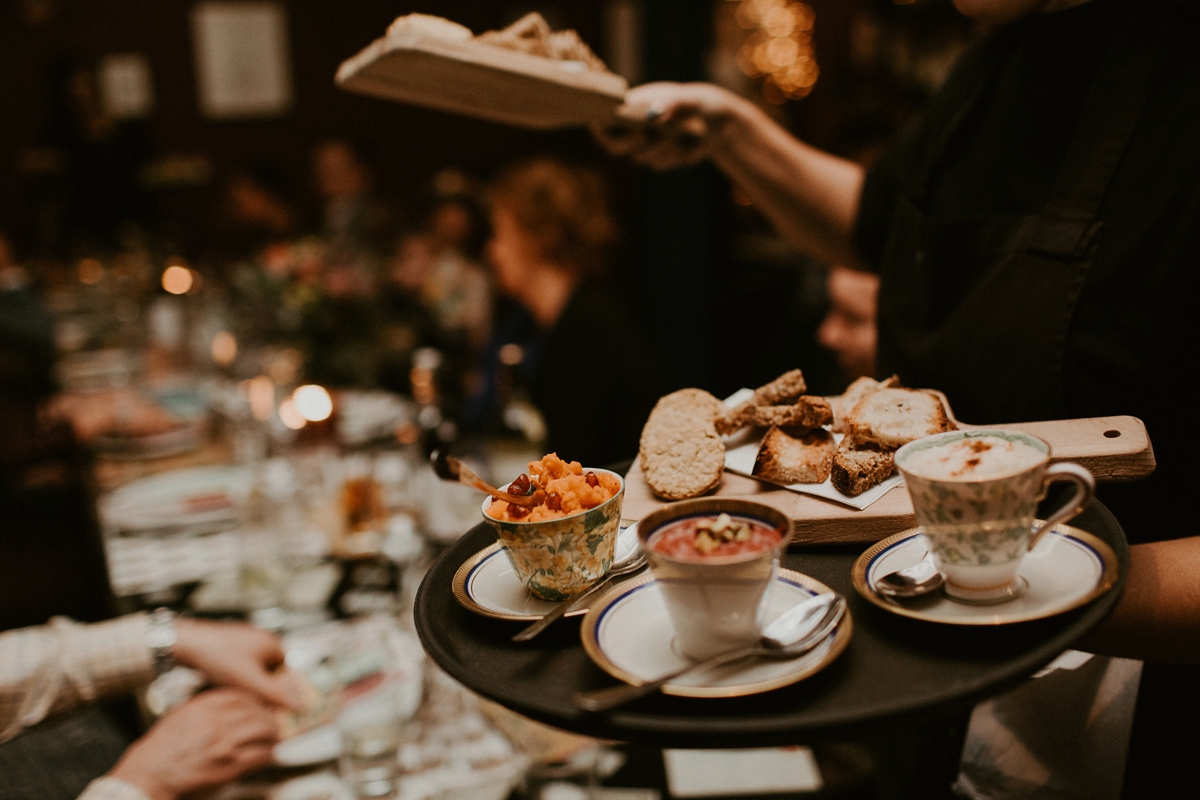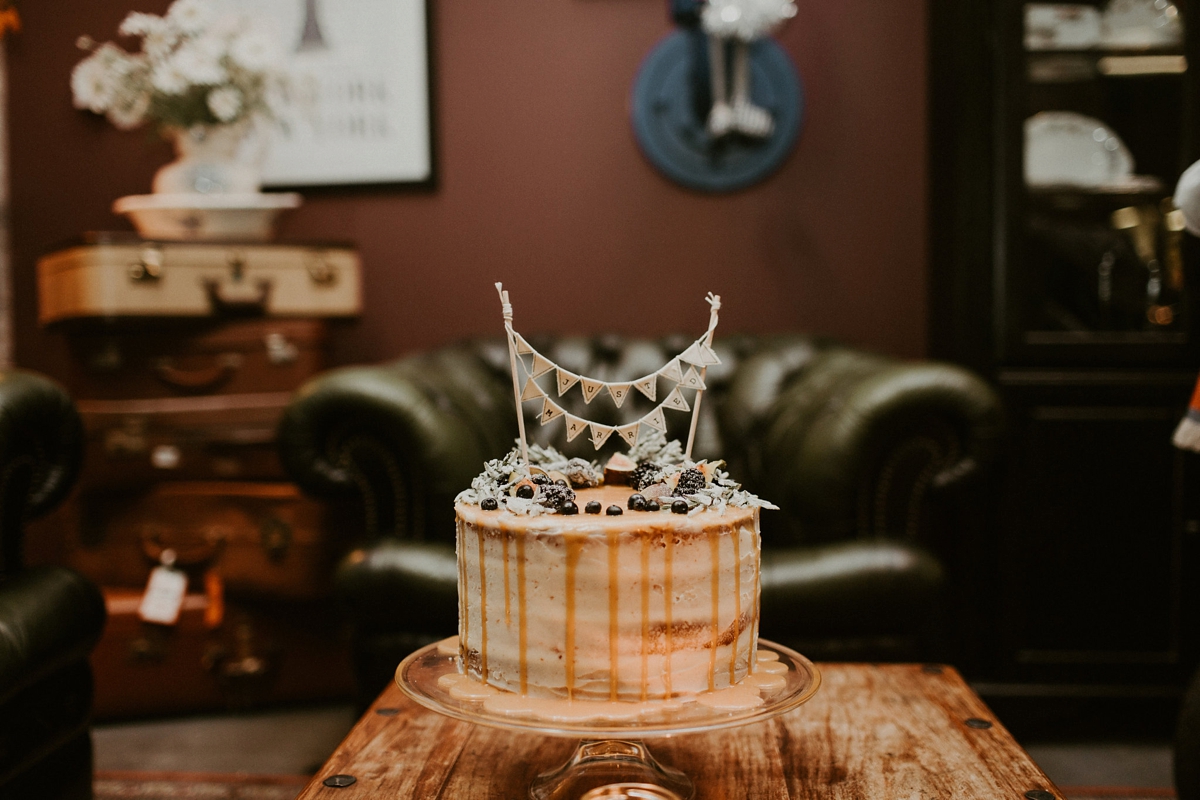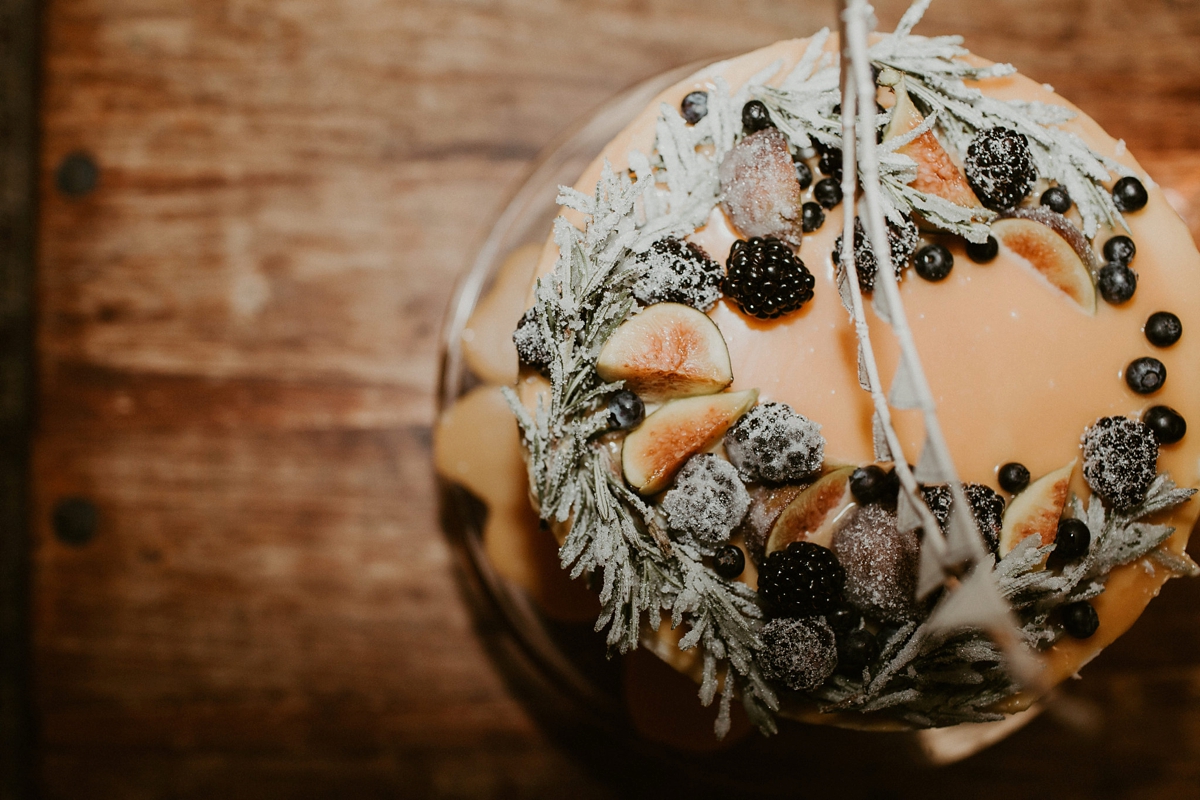 "Our new married name is de Caestecker which means cheese cutter in Flemish, so the best men and groom insisted that a 'cheese-cutting ritual' must be undertaken before entry into the family was legitimate. This resulted in me being presented with a block of shop-bought cheddar that I cut and spread around the wedding guests to celebrate."
Entertainment for the day was in the form of a groovy gramophone via Lord Holyrude – Gramaphone DJ, cuban band Son Al Son and a DJ via Pinup Nights.
"Our favourite memory of the day was leaving the evening venue with big smiles on our faces after such a fantastic day and being accidentally left to join the taxi queue in the middle of the city. The local chip shop man gave us a free poke of chips and we sat on the window seats and shared them and blethered non stop about the day."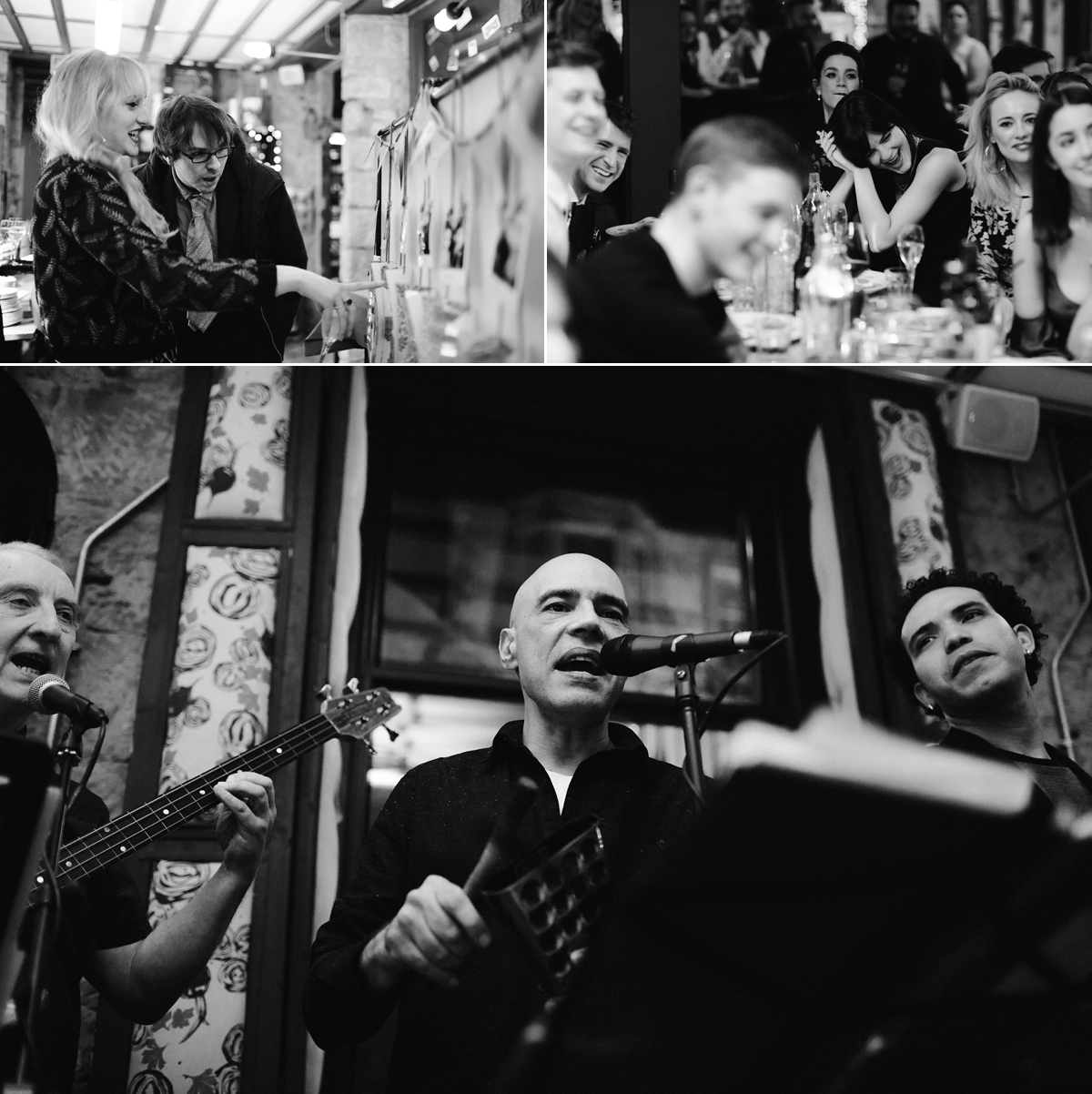 "Without knowing, that turned out to be our best memory, alongside all the drunk people in the chip shop giving us 'hip hip hoorays' and the chip shop owner giving us free toiletries to take to our overnight stay at a hotel. Our best friends had treated us to the hotel as our wedding present and we had forgotten to pack an overnight bag in all the excitement!"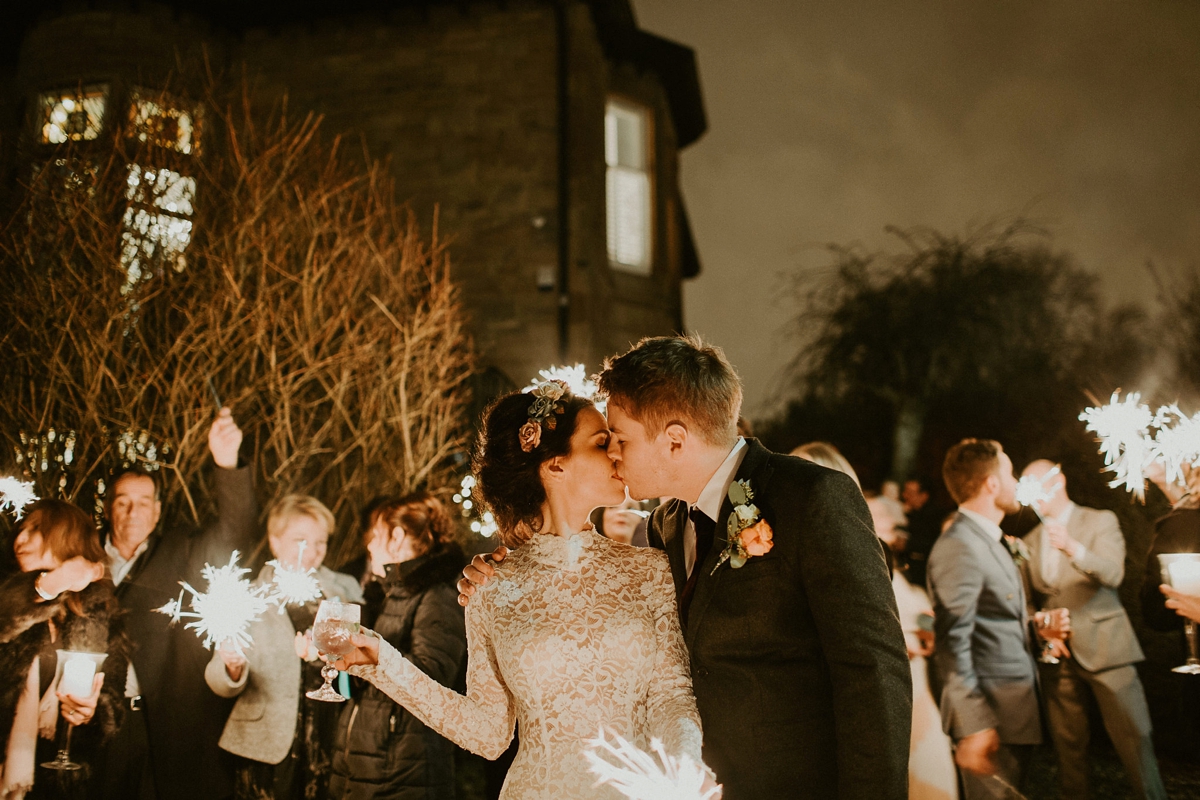 Words of Wedded Wisdom
"Strip it back! Bin the wedding rule book. Anything goes as long as what shines through on the day is the pair of you – everything else will fall into place! Ditch the venues that have you on a waiting list for a year to get married and think outside the box – your wedding guests will find it refreshing and will thank you for it."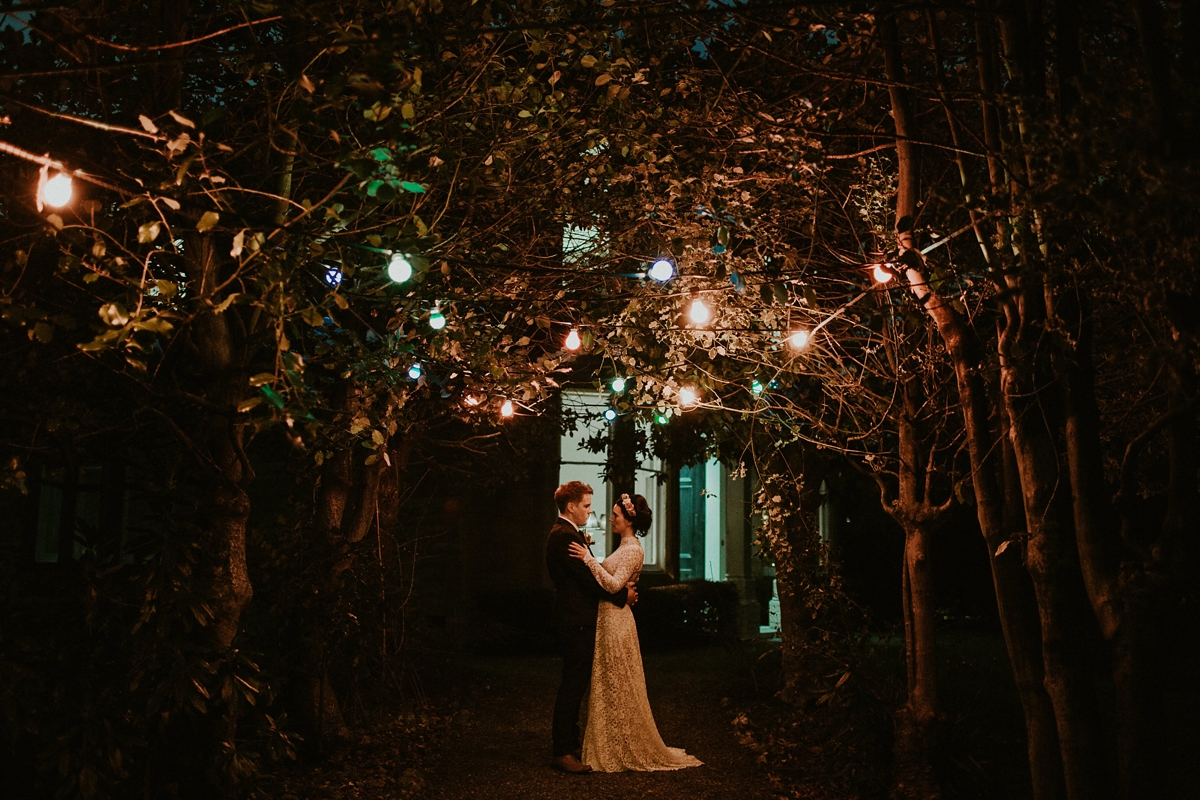 There is something very special about a small and intimate wedding for your nearest and dearest – and I just love how Callum and Lyndsey held their nuptials in their own living room. For even more inspiration if you're planning an intimate wedding, view our extensive archives. Thank you to The Hendrys Photography for sharing the couple's big day and perfectly capturing their first look, heartfelt ceremony, and all of the smiles of their relaxed celebrations.
Love Jo -xo