I often look at beautiful wedding venues on the blog and wish I could afford to go and stay there (in the case of a hotel venue) or that they allowed people to just go and visit for an afternoon (in many other cases!) so today's lovely restaurant-based celebration (in my adopted county of Yorkshire as well) pleased me greatly and I fully intend to go there sometime soon.
I love the quirky, friendly feel of this particular wedding day and how the couple have clearly put their own stamp on the celebrations.  Stefan, a packing development manager, and Kirsty, a curator, who married firstly on the 8th of April in Warwick, so their grandmothers could attend the occasion and then again on the 3rd of June 2017 at the The Cheerful Chilli, Otley, Yorkshire, where today's photographs were taken.  Kirsty wore the beautiful 'Portia' by Jenny Packham, which she purchased from Ava Rose Hamilton in Silsden.  As ever, this JP gown is just glorious and suits Kirsty perfectly, don't you think?
"I am slightly obsessed with 1920's design so when I saw it on the mannequin I had to try it on.  I work in galleries and museums and it's always this style of dress that I ogle over when looking through the costume collections.  I had no regrets about my dress at all, I absolutely loved everything about it."
Images by Eliza Claire Photography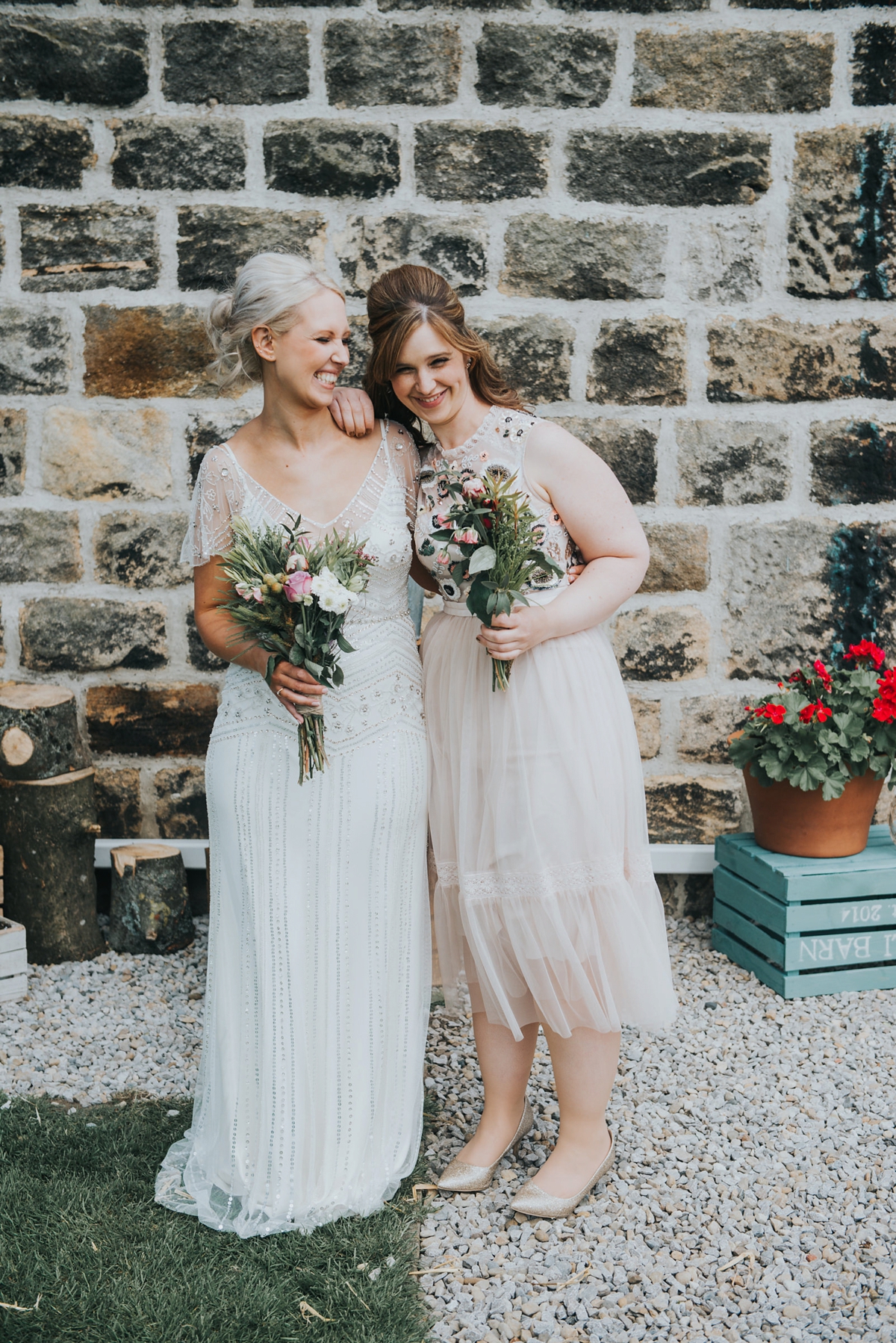 The bridesmaids looked lovely in different dresses from Needle and Thread, all in pastel shades, while the little flower girl looked very sweet in a dress from Monsoon.
"Our wedding was rustic with a hint of vintage and the most exciting part for us was that our two dogs Lola and Geoffrey joined us for the ceremony."
The Cheerful Chilli is a converted barn with mezzanine level and large doors opening to a small field with a yurt, so perfect for the relaxed and friendly day Stefan and Kirsty had planned.
"We worked with the aesthetics of the barn and our surroundings. We spend a lot of time outdoors with the dogs, surrounding ourselves by nature which came through in our decorations and invitations and then our table centres were based around the adventures that we've had together, including camping in our 1970's caravan Elsie and our obsession with polaroid cameras."
"We go to the Cheerful Chilli restaurant on a regular basis, so when we saw that they had converted the barn it seemed like a good choice for our wedding as it was somewhere that already held good memories."
"We actually went there for an anniversary meal a week before Stefan proposed."
"Stefan and I met at Queen's court in Leeds, I was a bit worried that he wasn't interested in me to begin with as we were in a gay bar, but as it turned out we were there with the same friend!  We were together for six years before Stefan proposed on a beach in Norfolk, in front of two important members of our family, Lola and Geoff (our dogs)."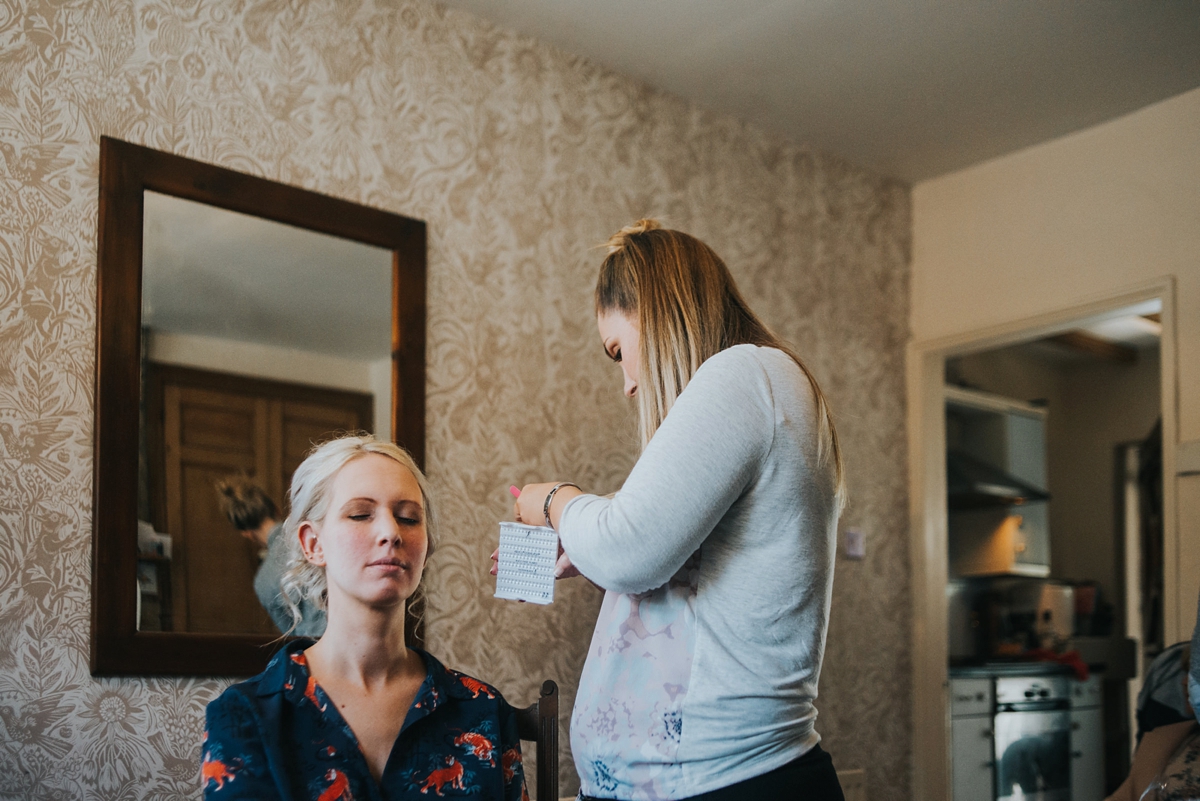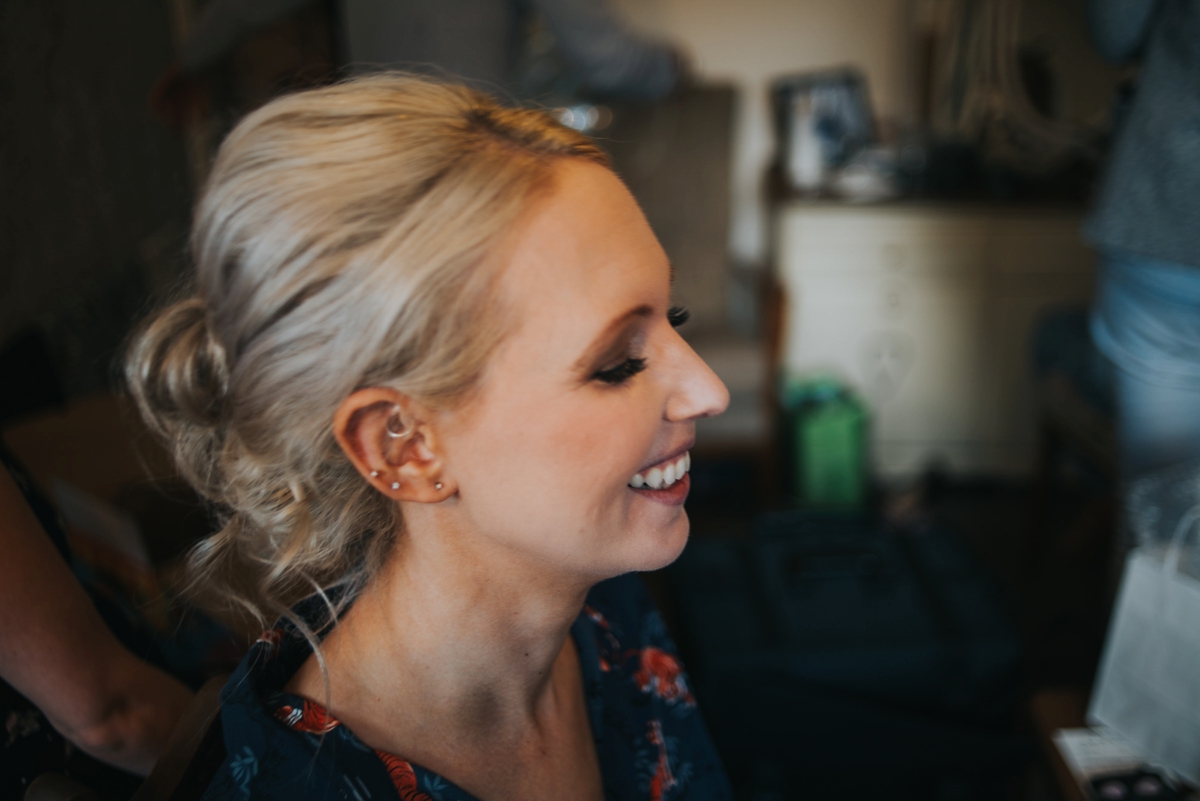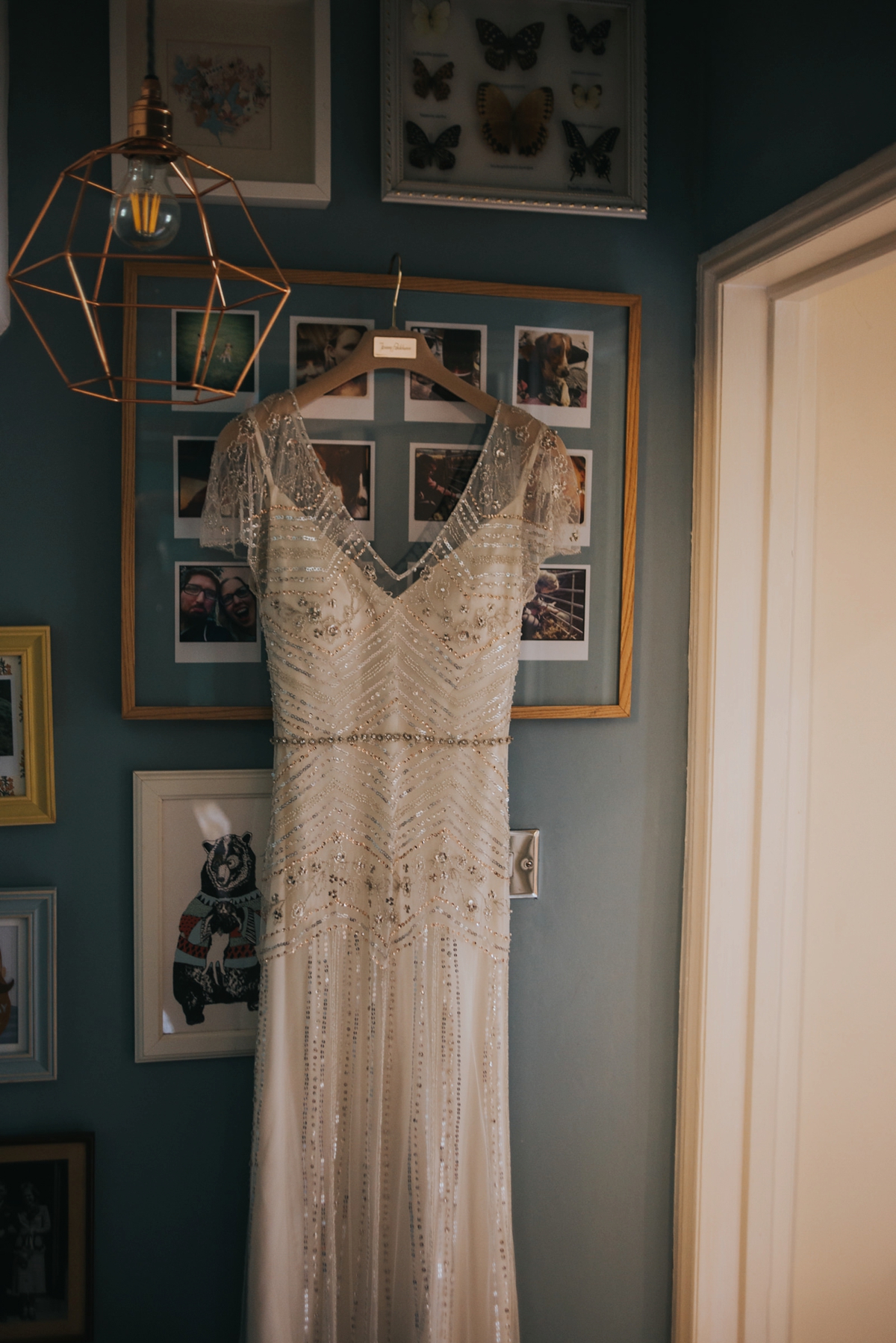 Transport came in the form of Kirsty's Nissan Figaro (whose name is Ethelburt), who was specially dressed for the occasion.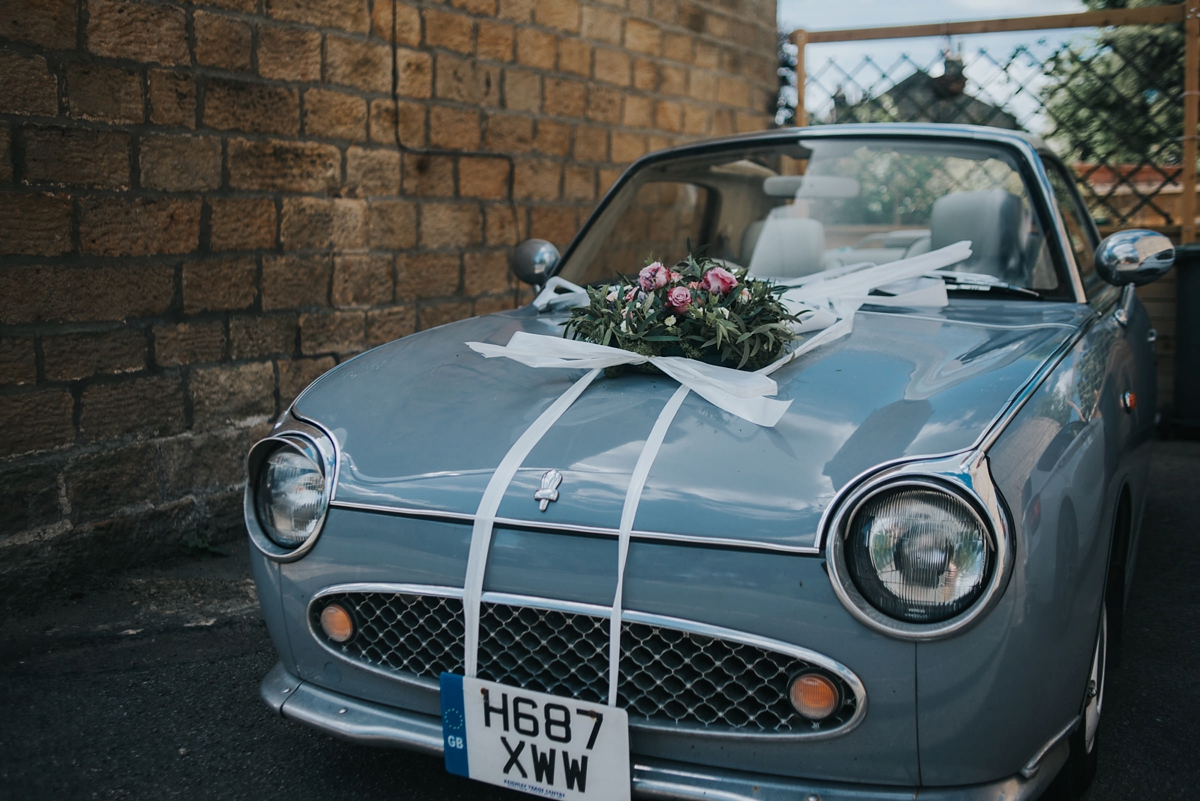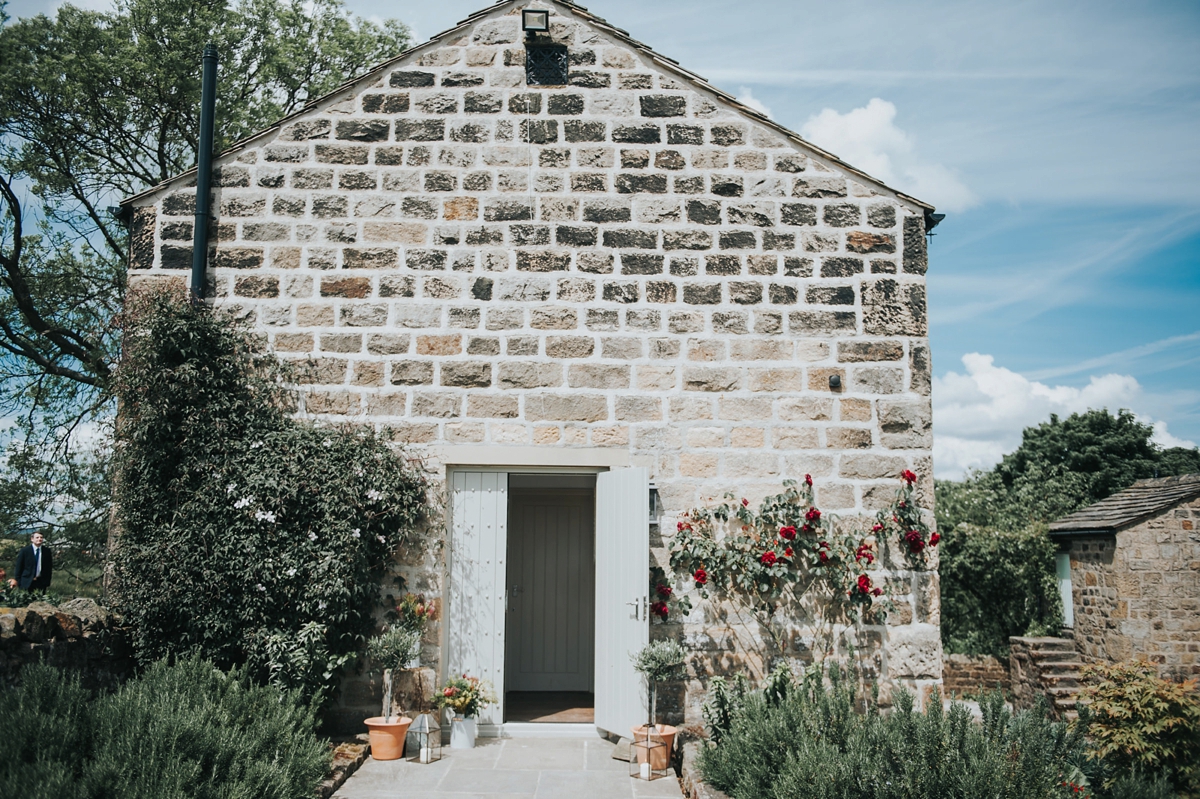 Kirsty also wore a floor length veil from Ava Rose Hamilton for the ceremony, and on her feet, heels from Kurt Geiger, with Irregular Choice flats for later.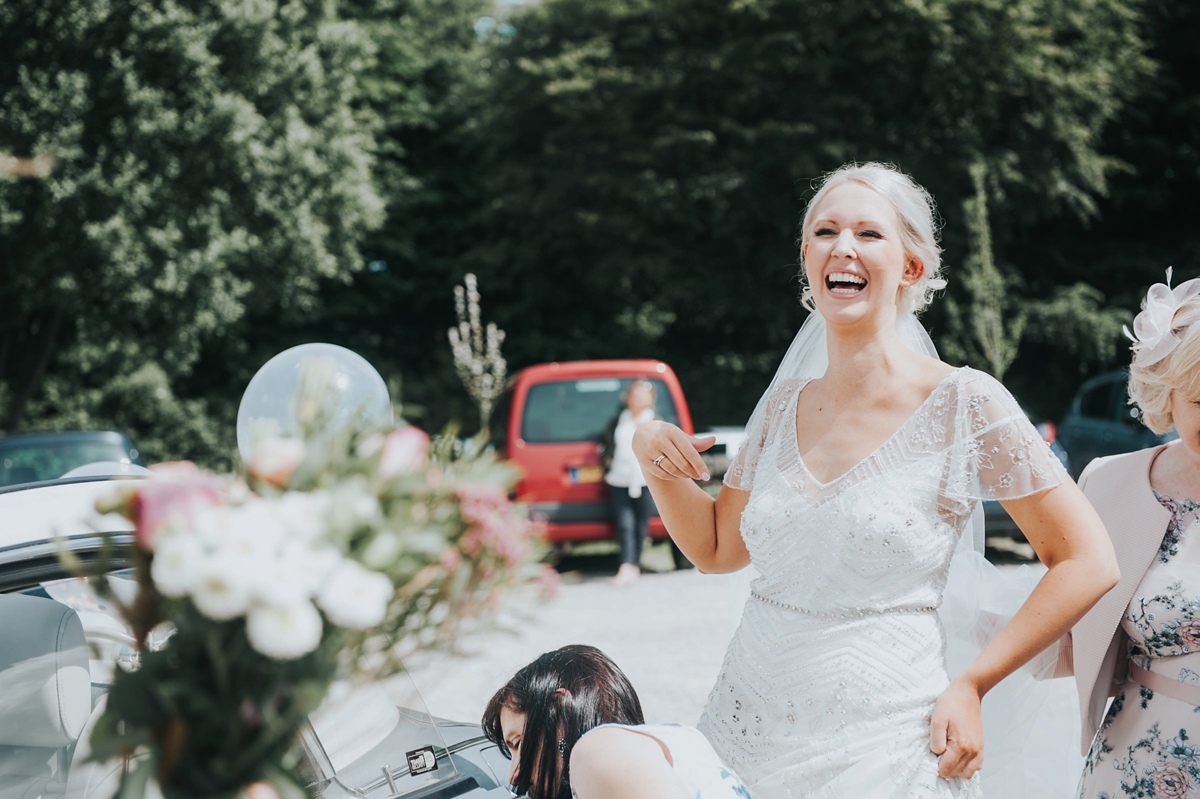 As Kirsty and Stefan had already done the legal formalities earlier in the year, they were able to hold the whole of their 'second wedding' outdoors.  Guests sat on hay bales and the sun shone down on everyone.  Kirsty was accompanied down the aisle by her Dad and (unexpectedly) her two year old flower girl to 'June Hymm' by The Decemberists.
"I saw the bottom lip wobble when her mum (my best friend Francesca) tried to take her hand, so I decided to go without my bouquet and let her hold my hand and walk with me instead."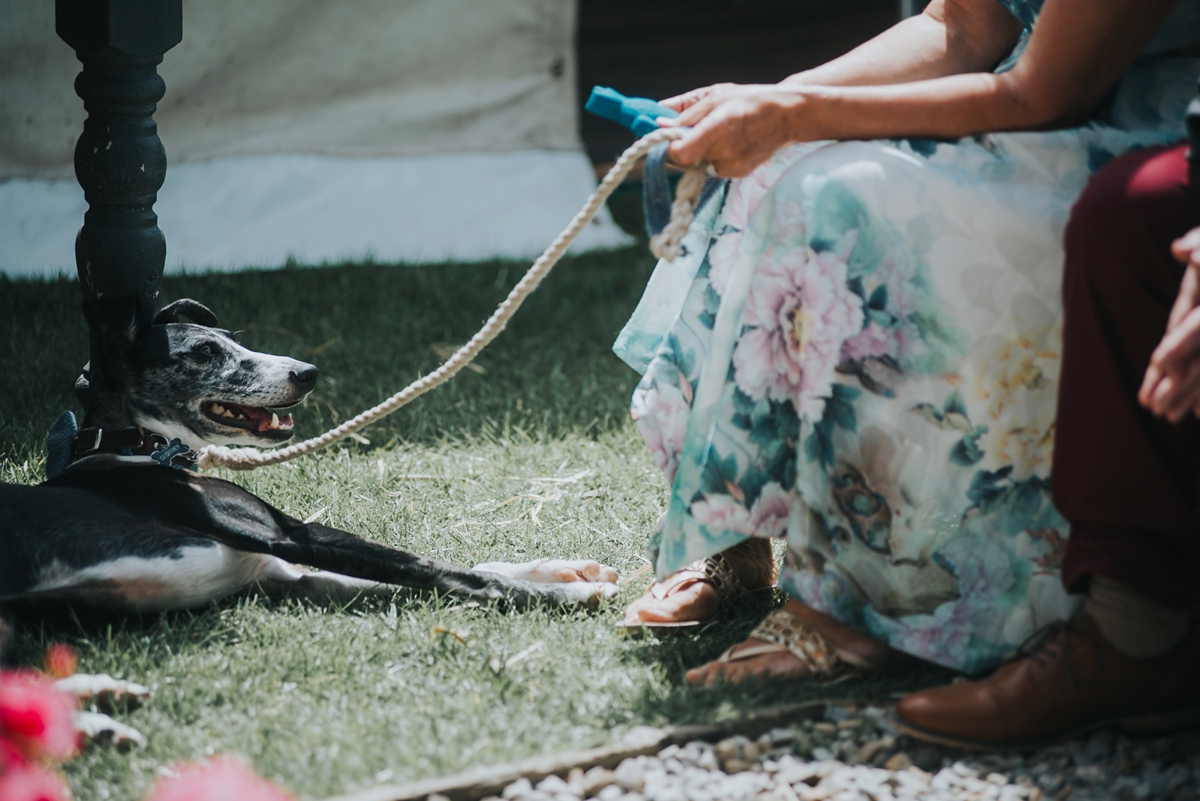 "We wrote our vows ourselves over a drink in the pub.  Nothing about the wedding was too serious, so we just wrote what we thought was meaningful but funny."
Readings included an extract from Philip Pullman's 'The Amber Spyglass', an section from 'Winnie the Pooh' by AA Milne, wise words from 'Fantastic Mr Fox' by Roald Dahl and Kirsty's Dad also wrote his own poem, which is so lovely.
The newlyweds swapped rings, purchased from jeweller Anthony Blakeny.
"I fell in love with Anthony's work a few years ago.  He's a local Leeds jeweller and his bands are cast from rose roots. With our love for nature they just seemed perfect."
Stefan looked very smart in a suit from Next, worn with a tie from Yorkshire Lad.  To accessorize he wore Kirsty's great great grandfather's pocket watch, which was given to him as an engagement present.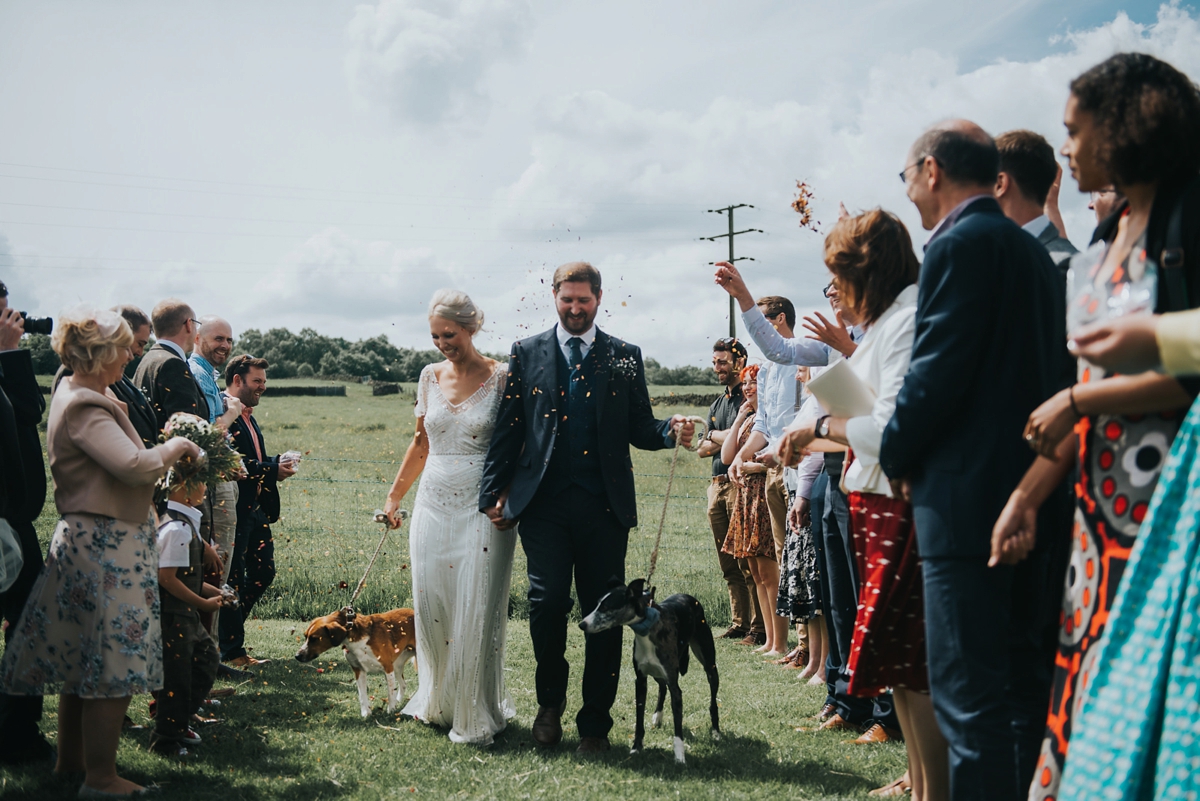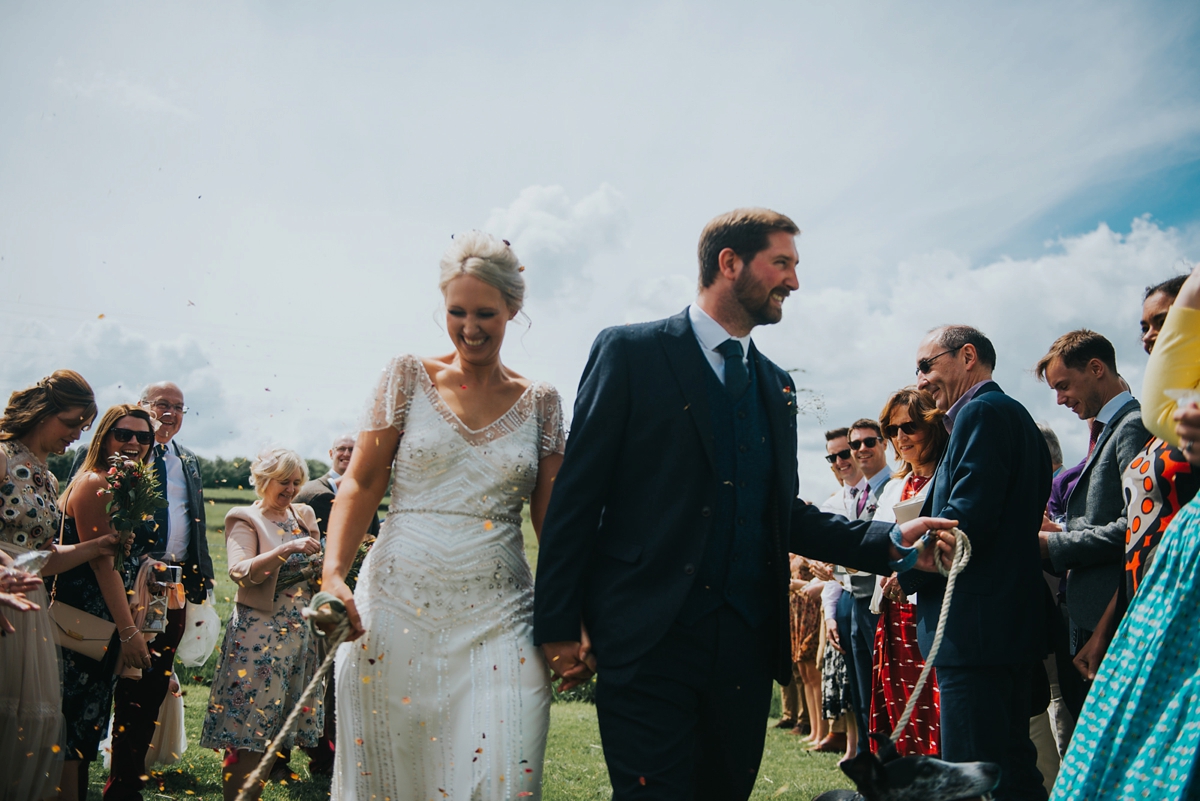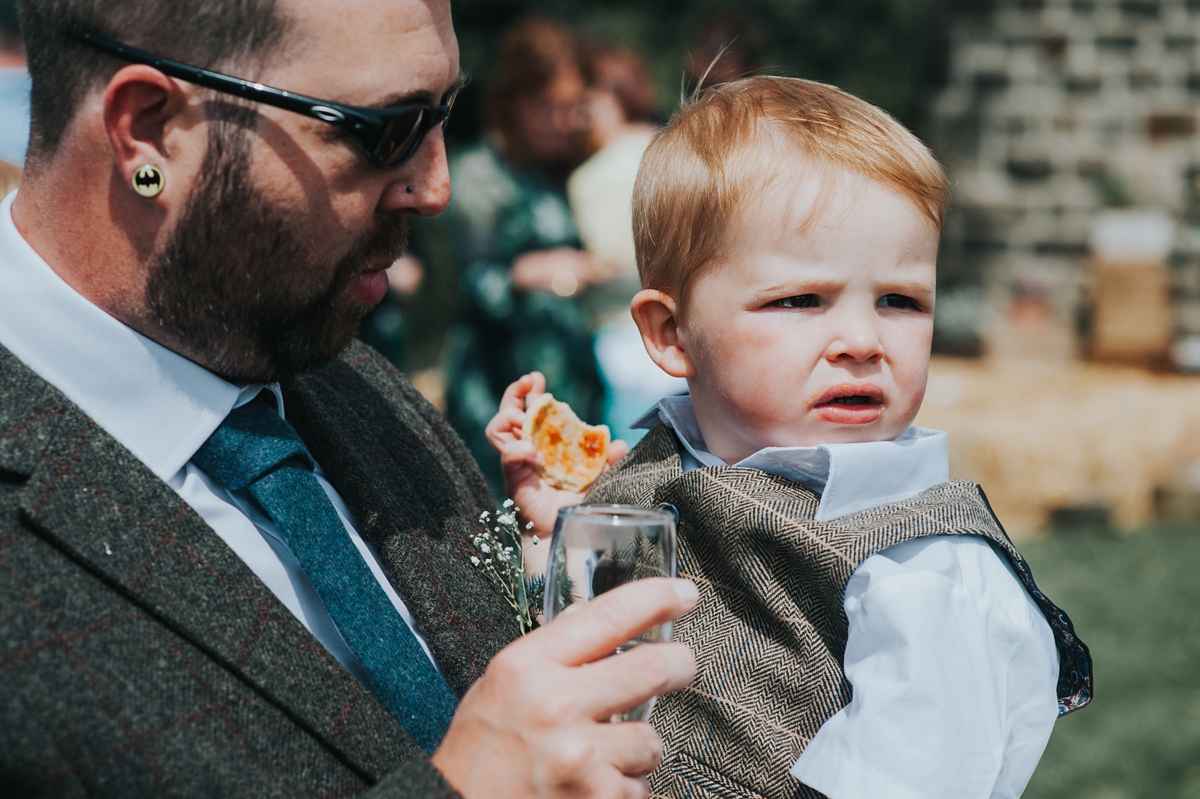 The talent behind today's gorgeous photos is Eliza Claire Photography, one of my personal favourite photographers.  I just love her use of light and the slightly vintage feel to the shots.  Take a peek here for some more of Eliza's work on Love My Dress.
The flowers were put together by Kirsty and her friends, the night before the big day. Charming English country flower bouquets were carried by all of the ladies.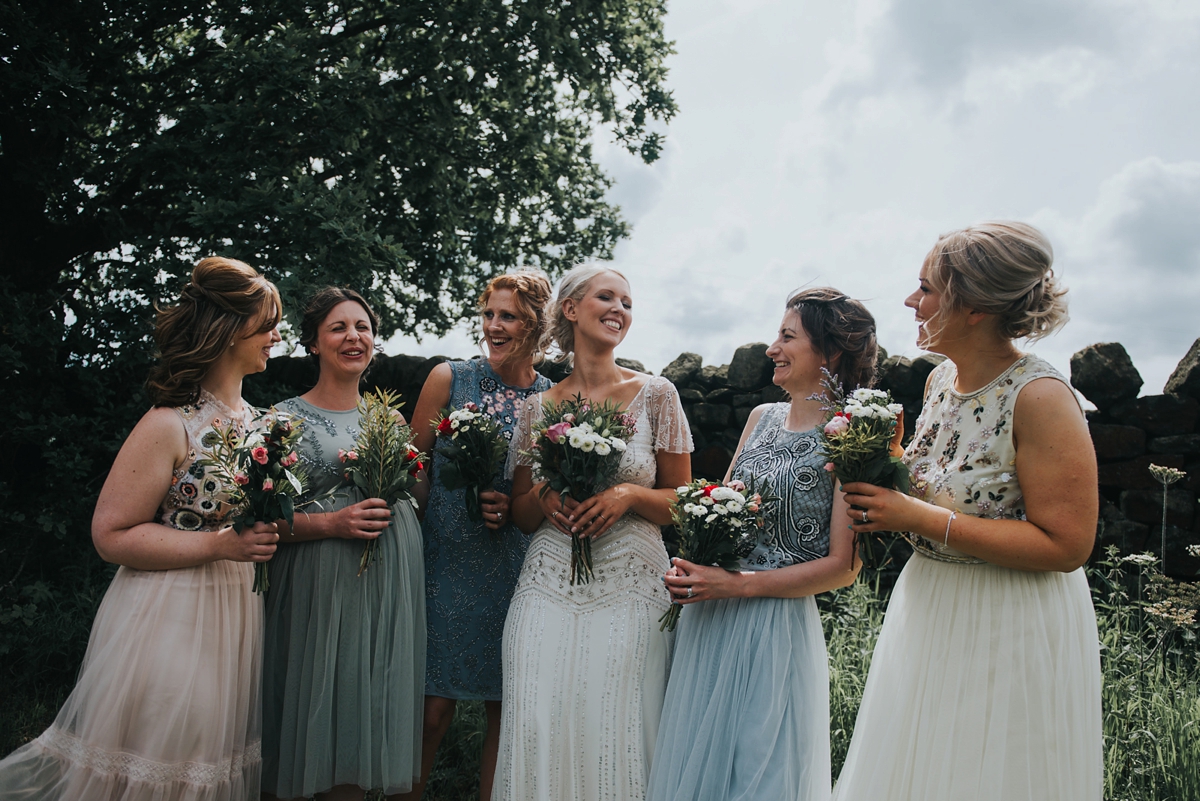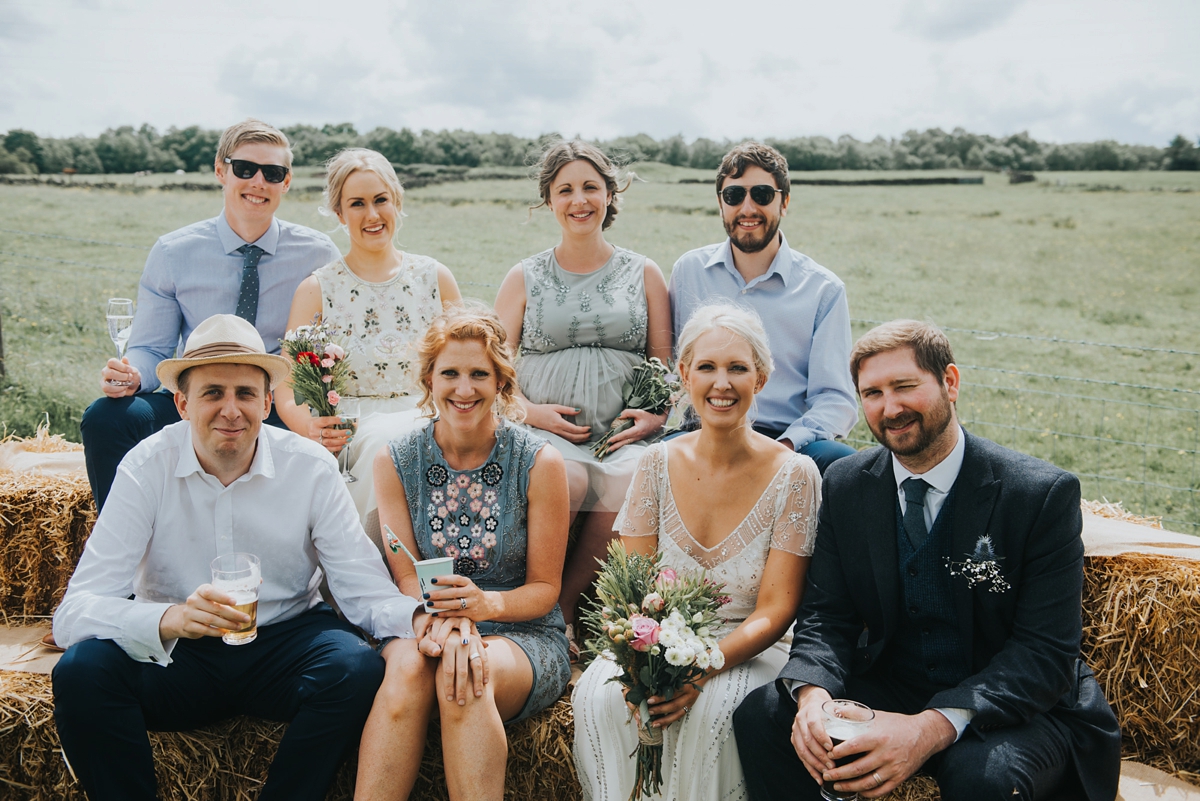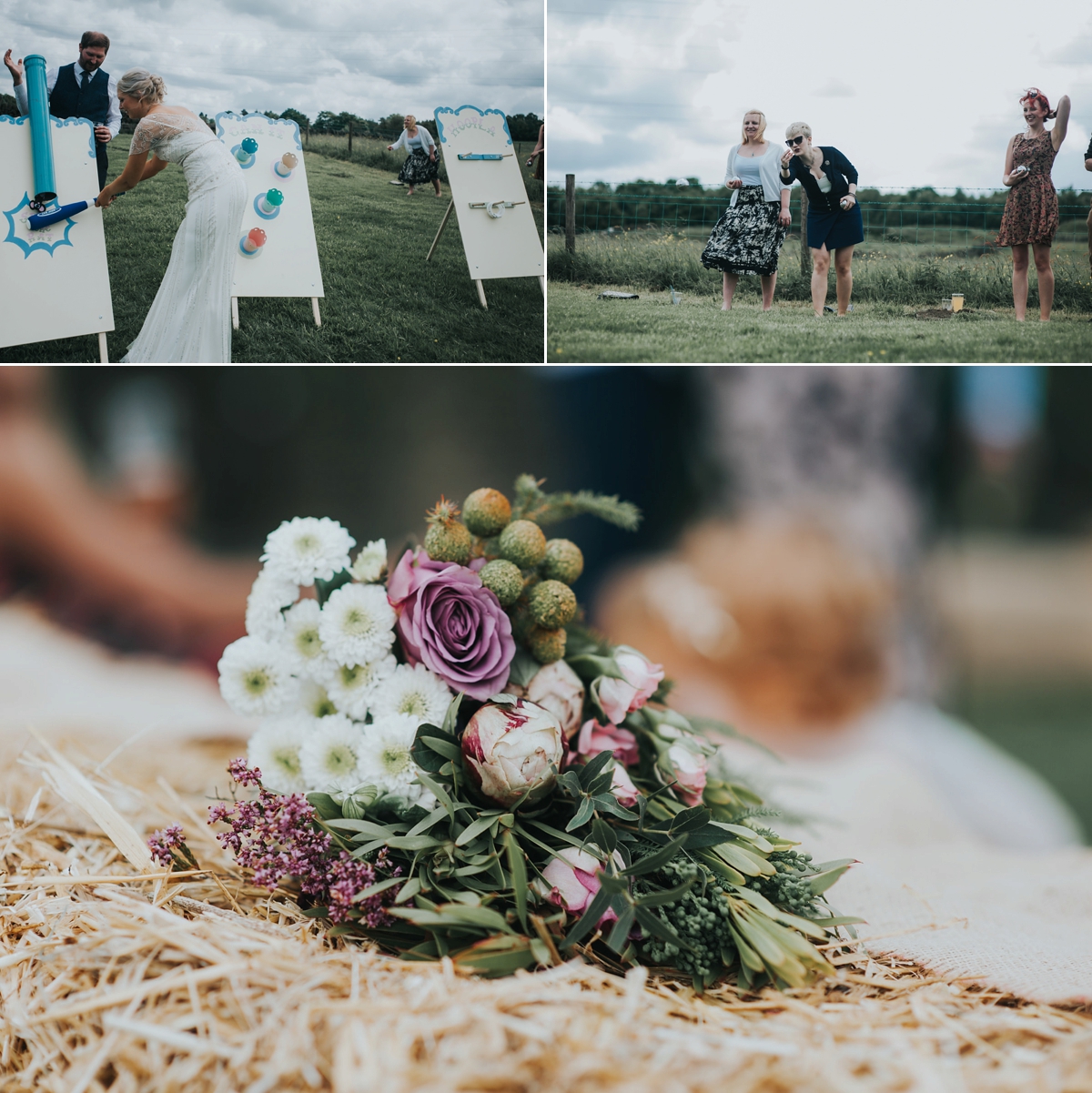 "One of my (Kirsty) favourite moments was when the bridesmaids did a surprise speech which Stefan had asked them to do.  It was both embarrassing and hilarious."
"It was such a wonderful surprise for them to have all arranged and they even managed to root around my house and bring props along from our times together."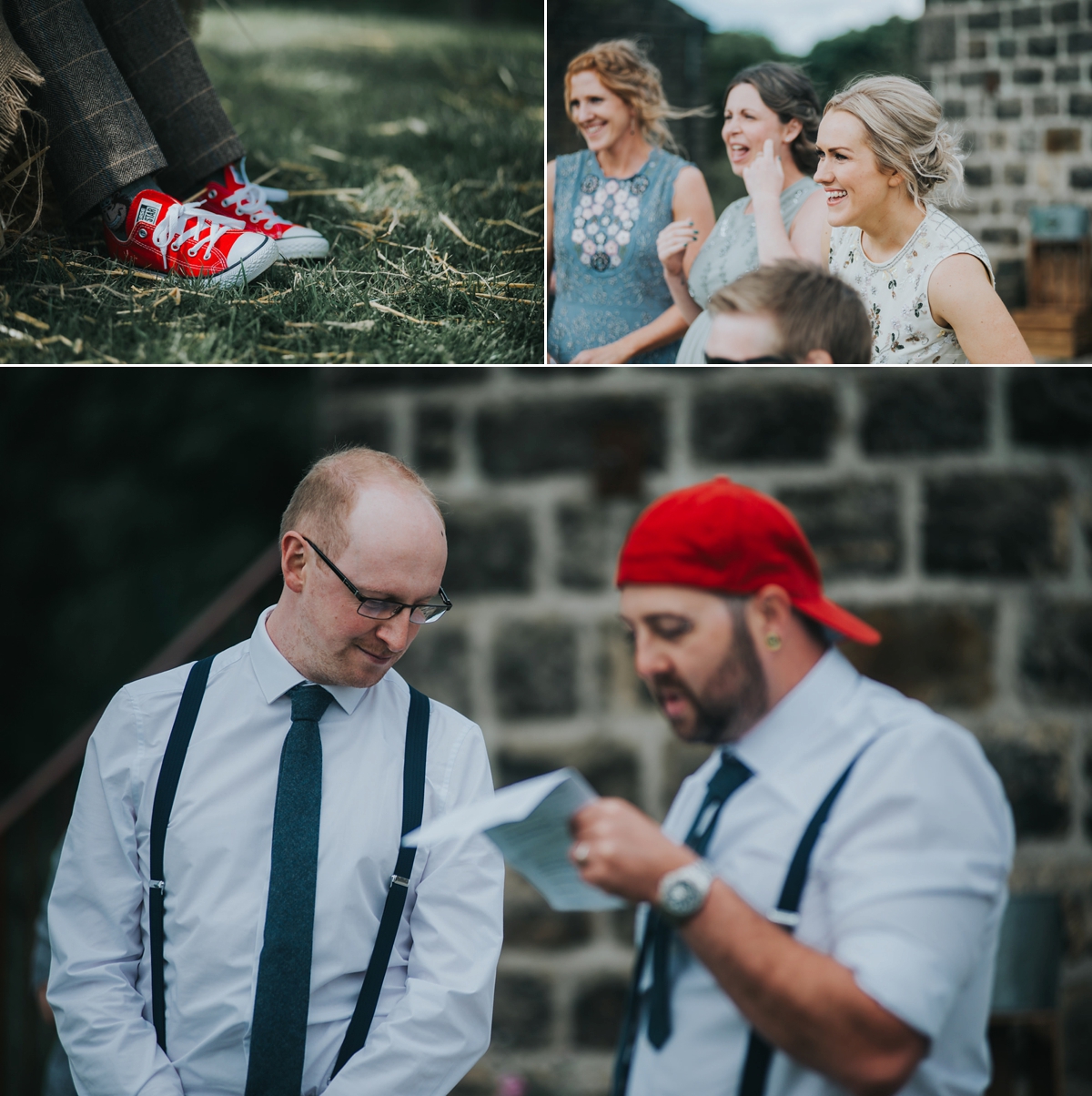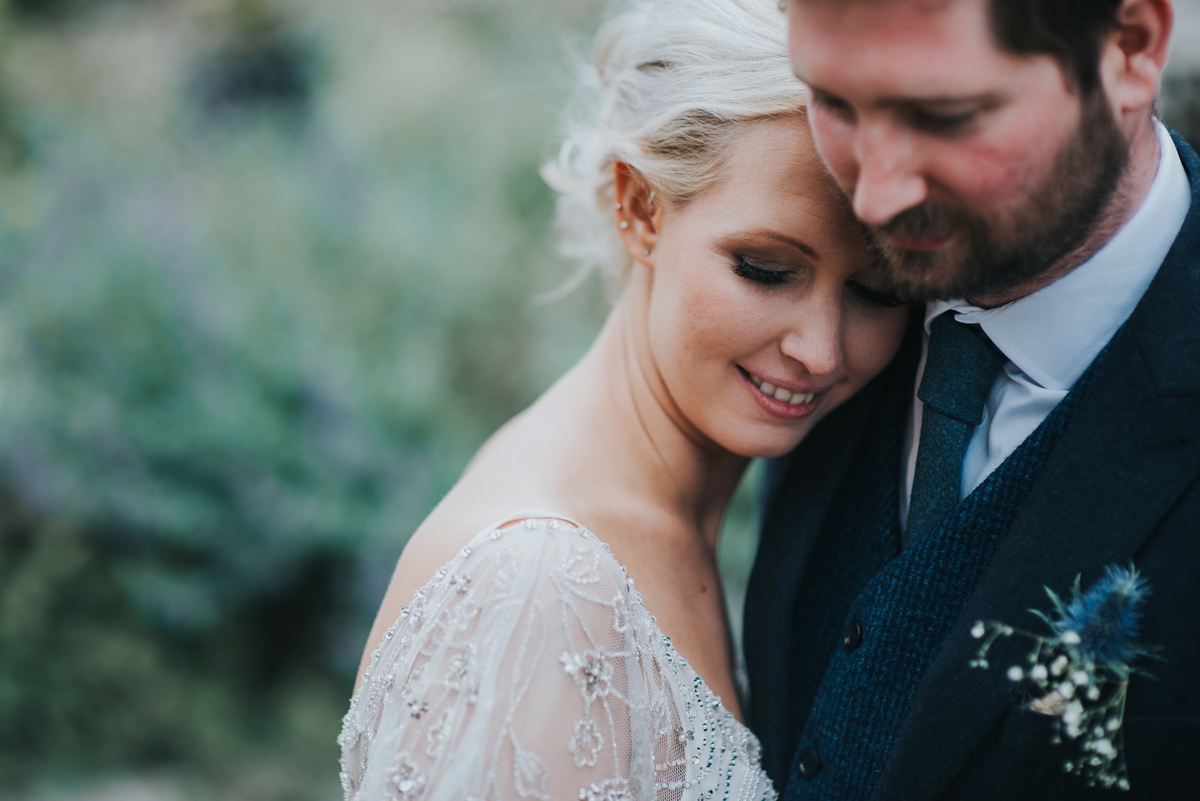 Decor took the form of tealights, succulents (which were both favours and place names and came from seedhouseplants on Etsy) and reindeer moss, while the stationery was all the work of Kirsty and Stefan.
The centrepieces were utterly delightful…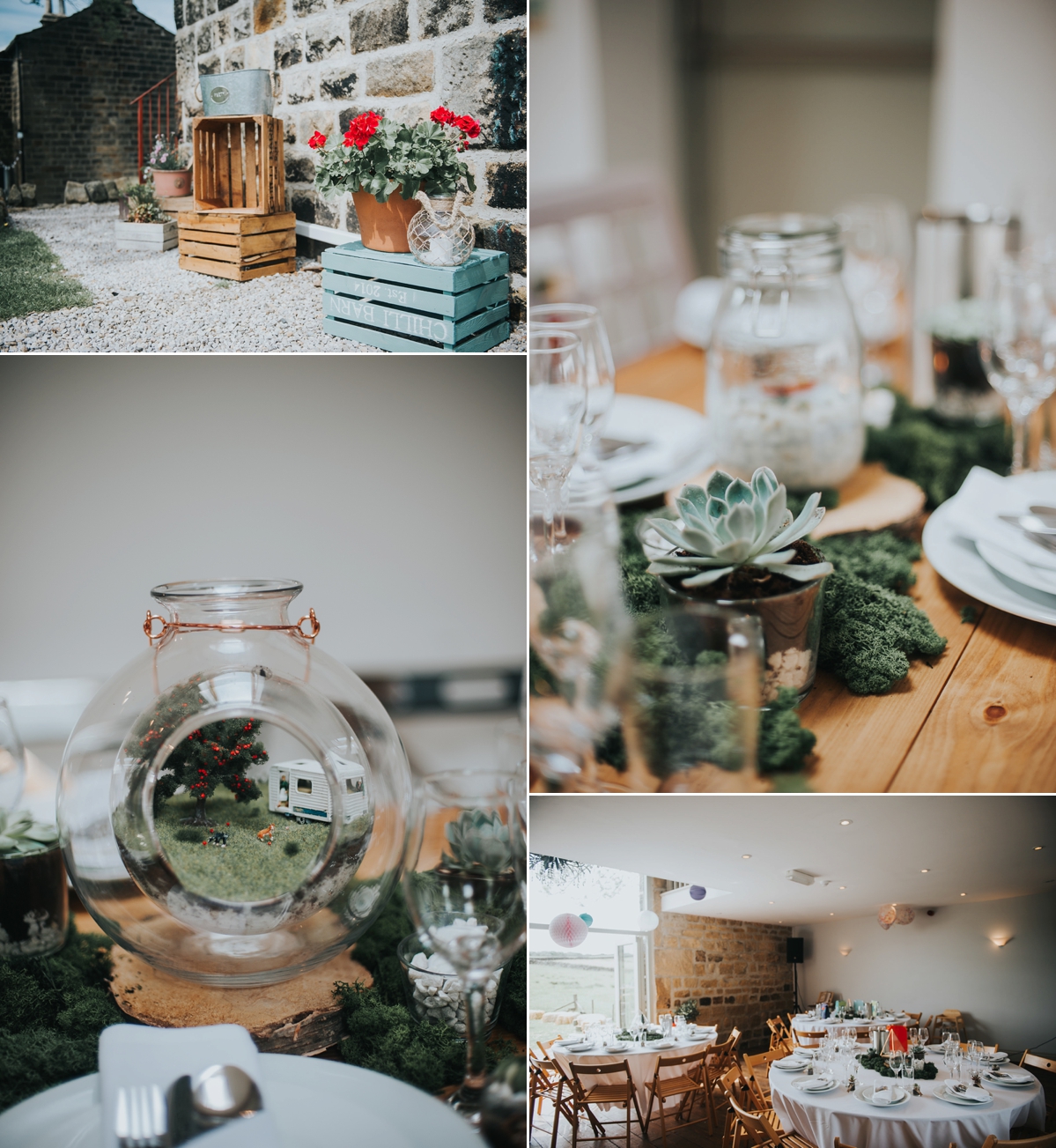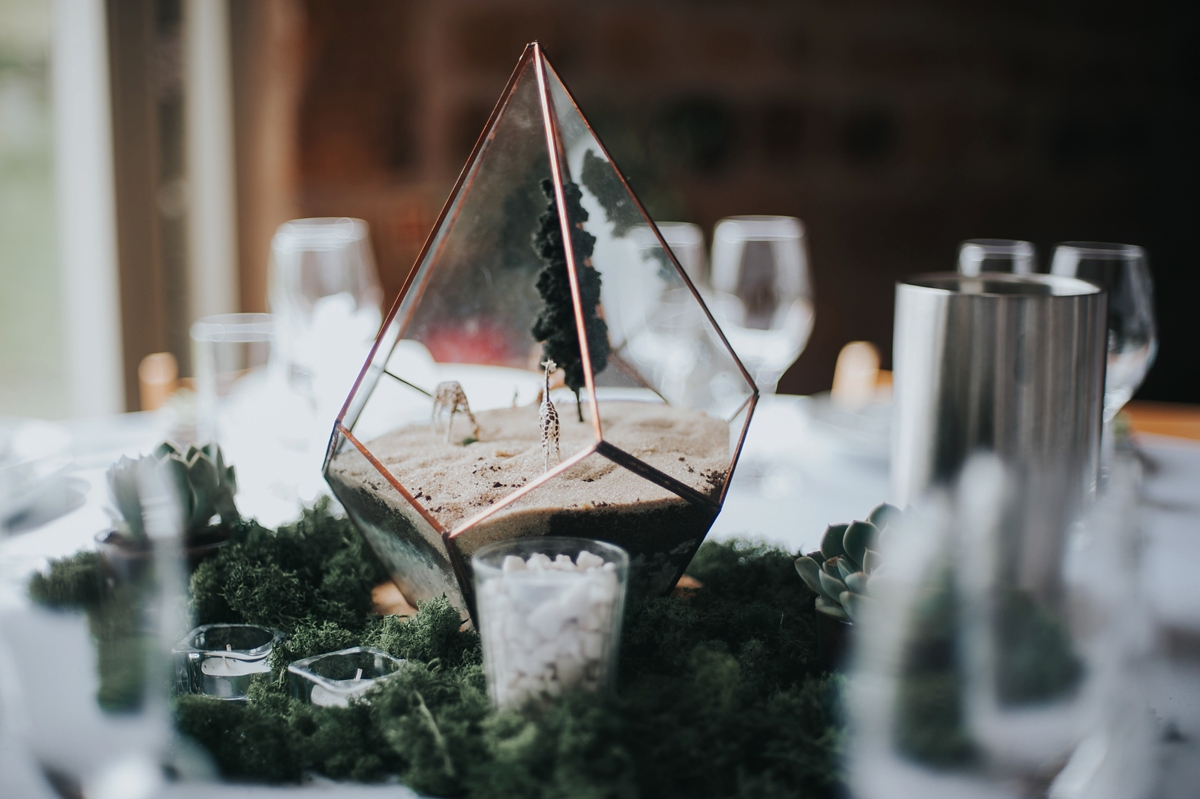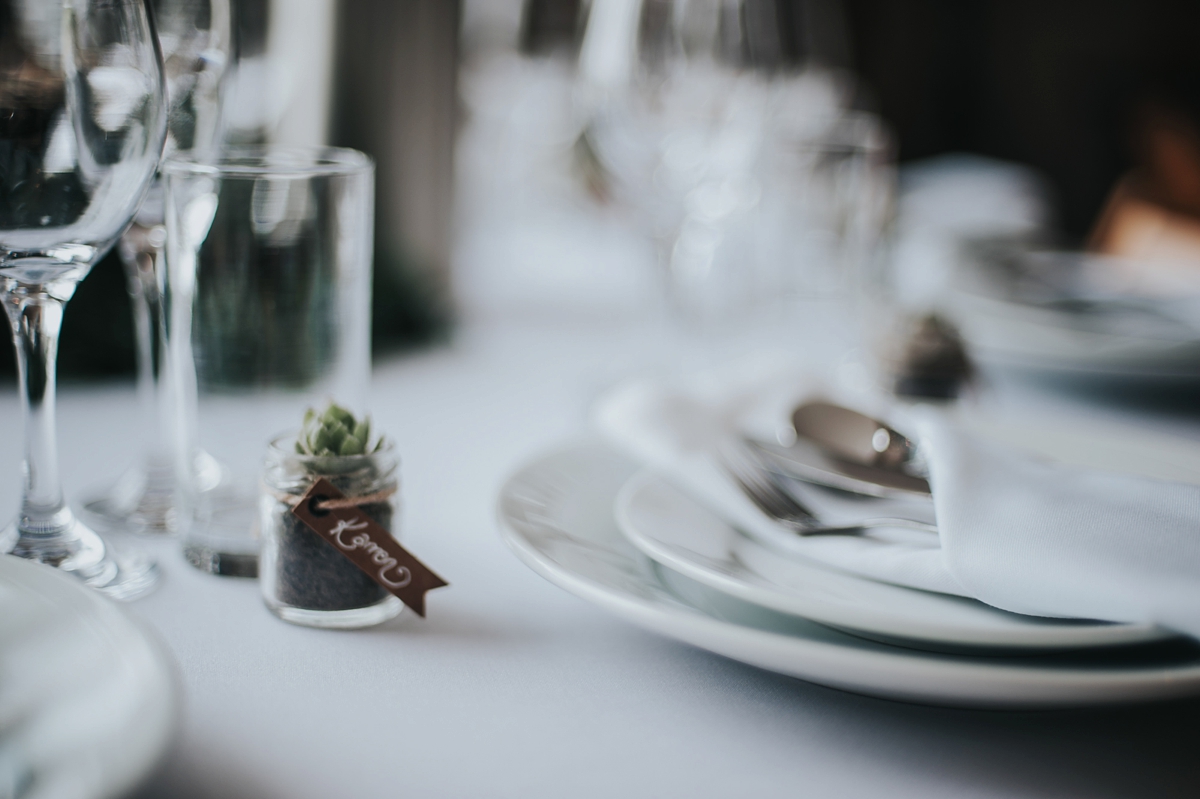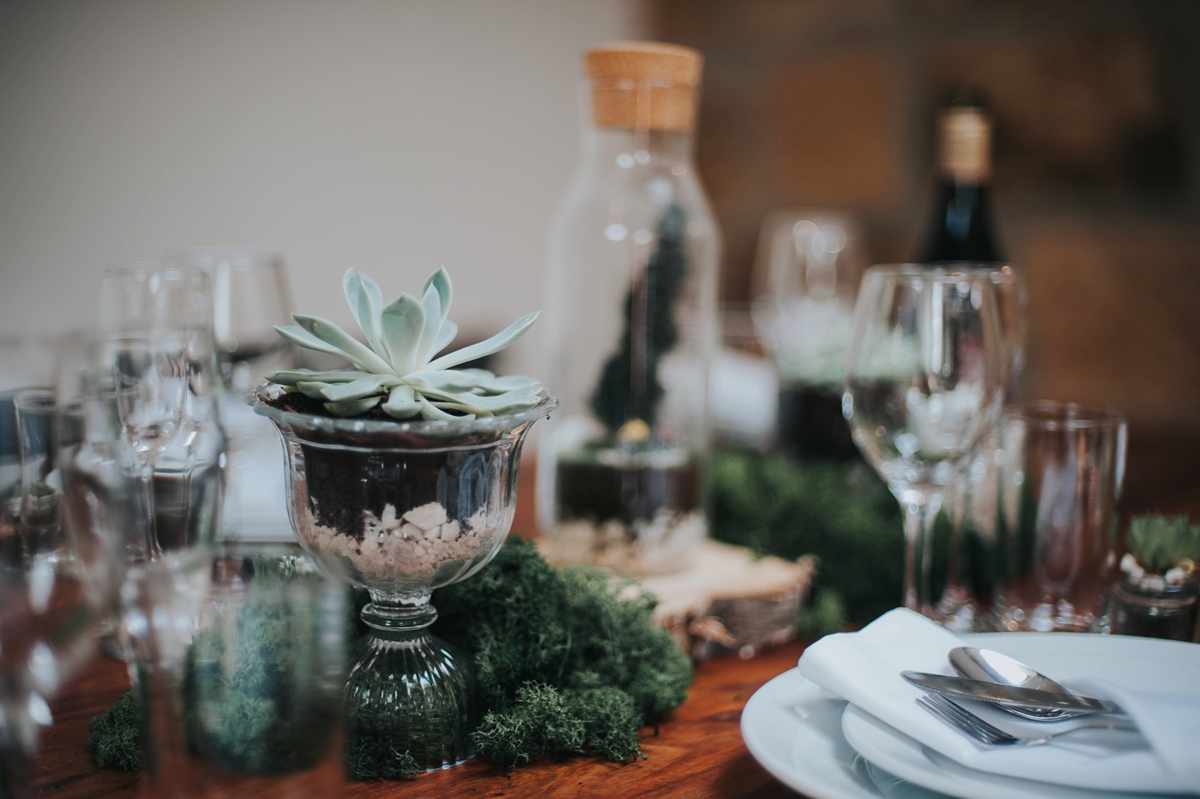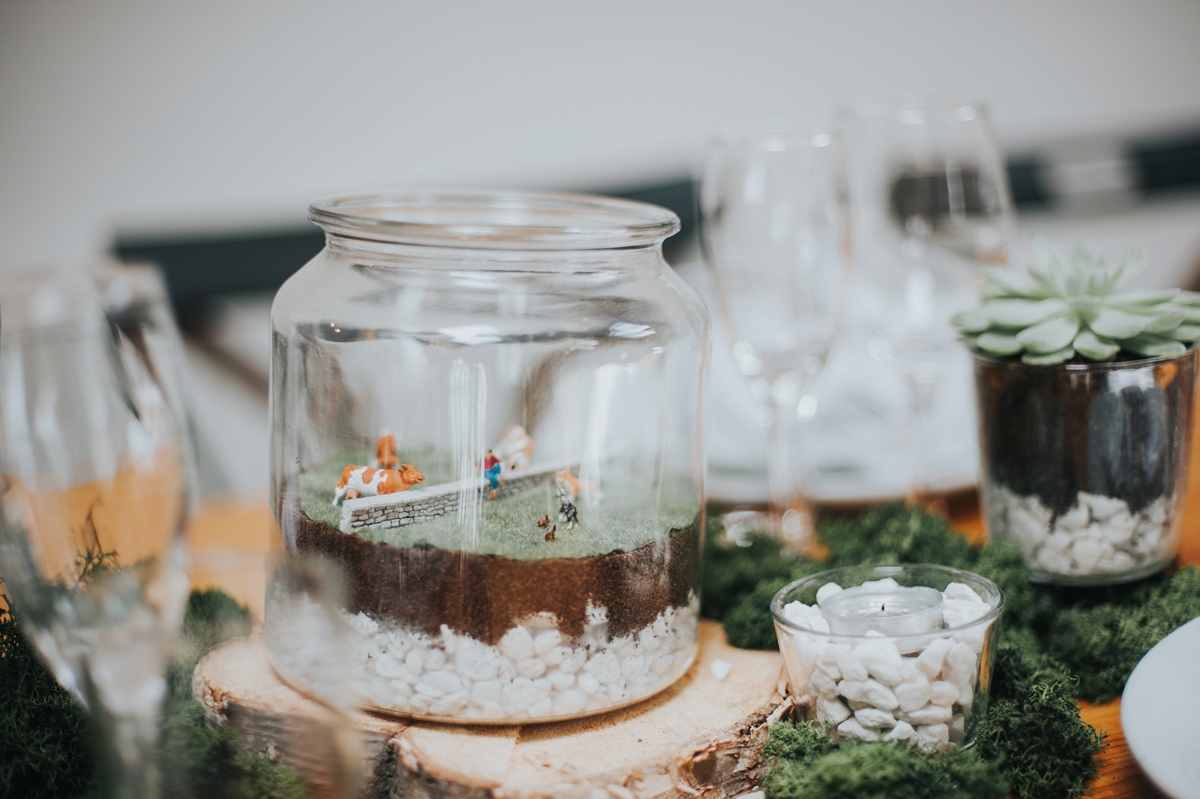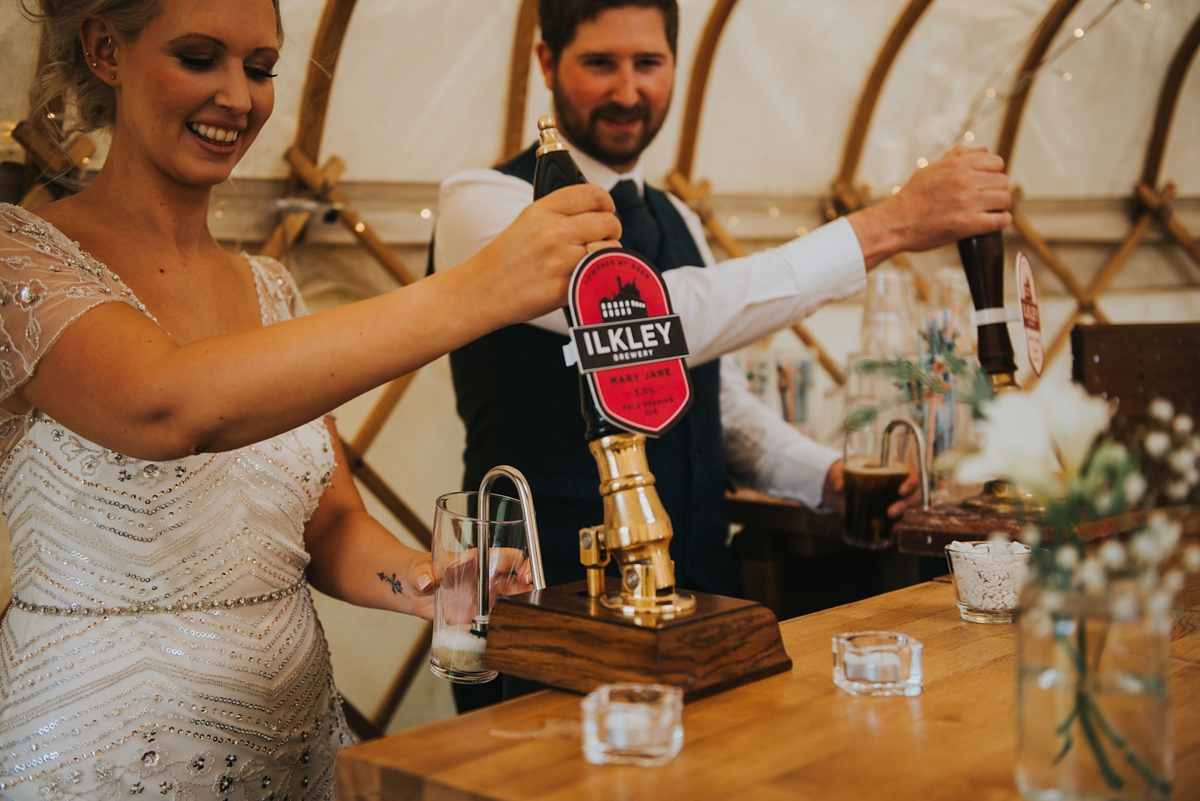 The happy couple had their first dance to 'All I Want Is You' by Barry Louis Polisar.
"It's just a happy song that we'd sing on car journeys and as we are no good at dancing we didn't want anything too serious.  Luckily our two year old flower girl was happy to step in a after a minute of our awkward dancing."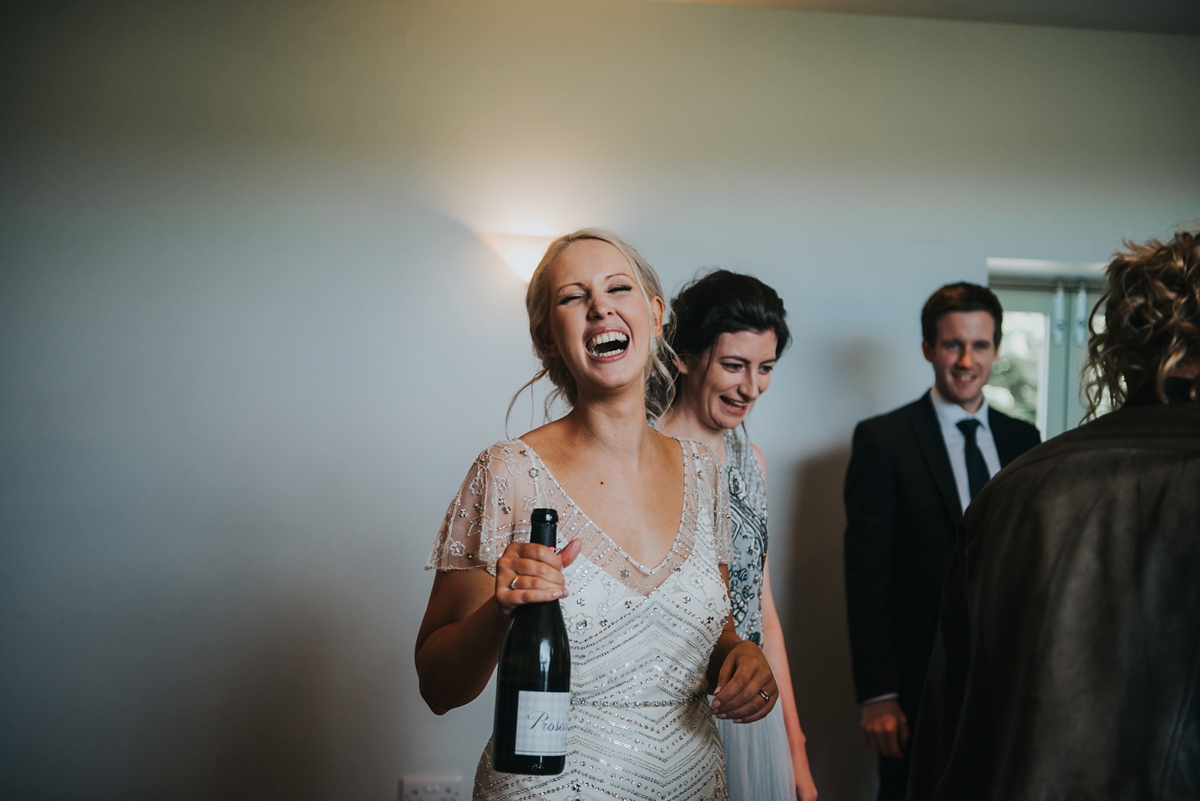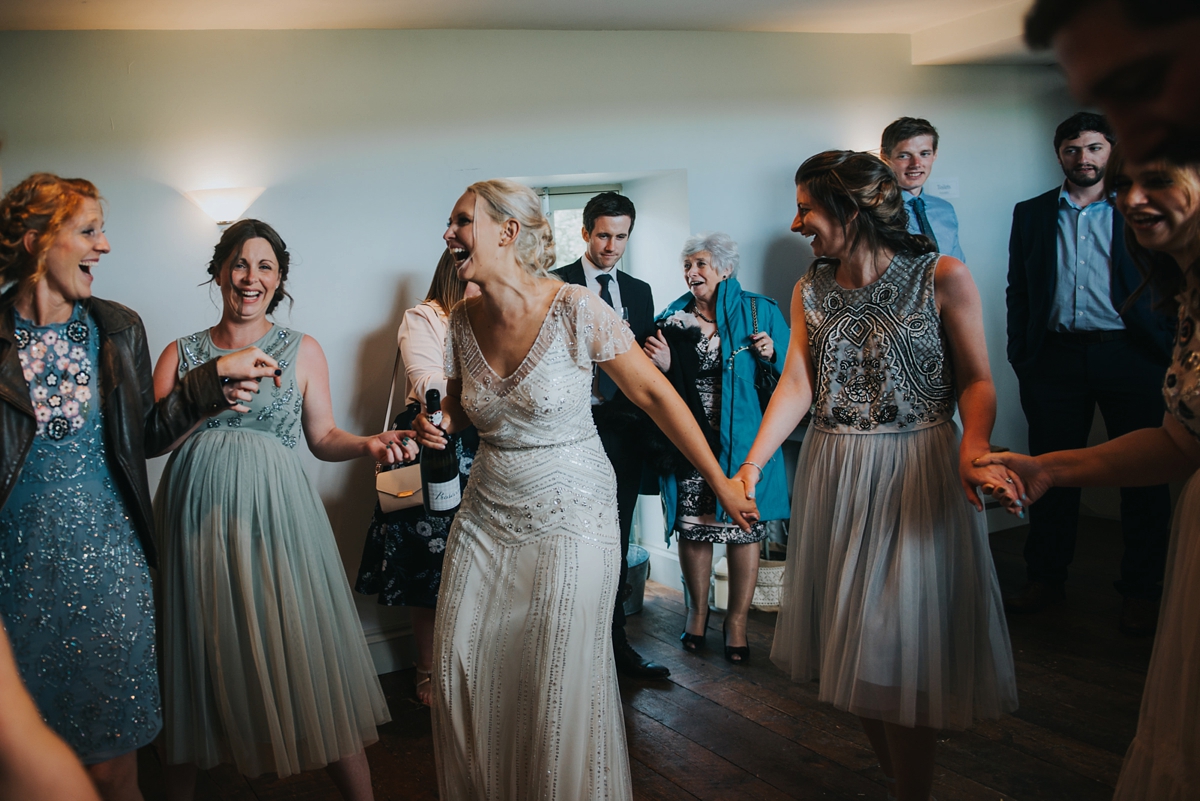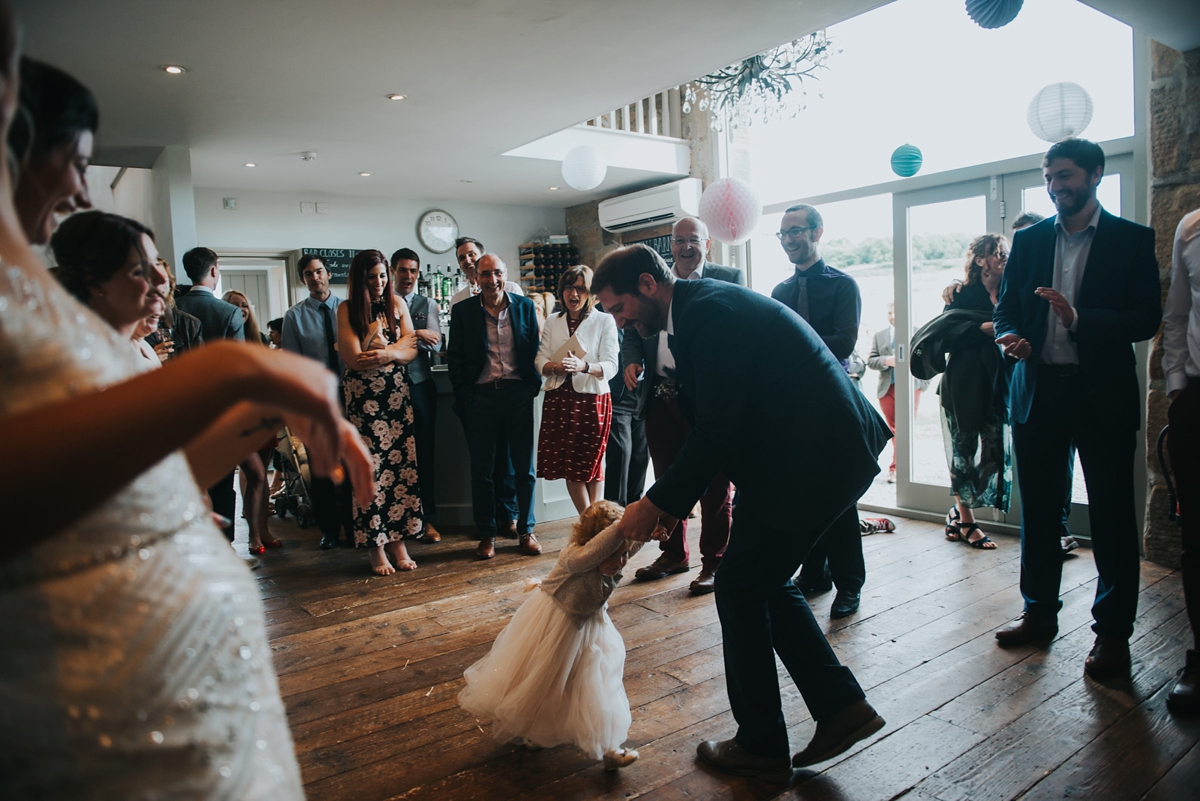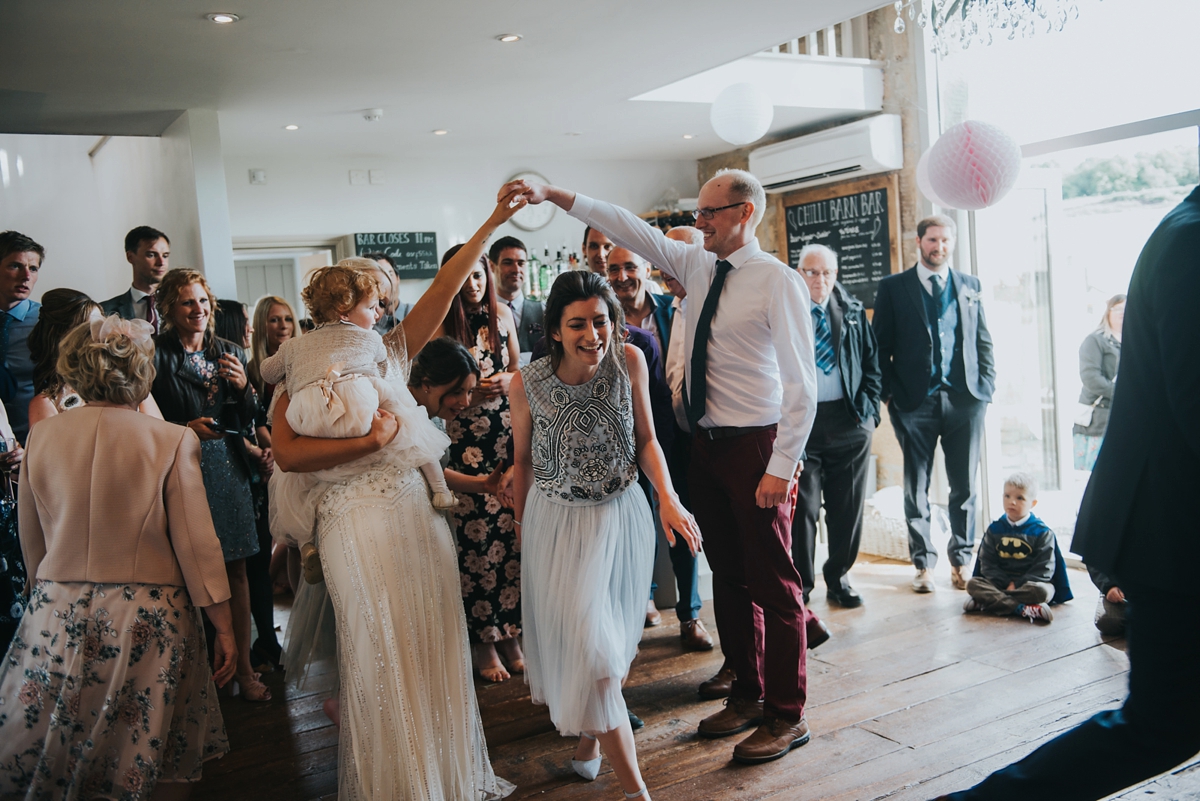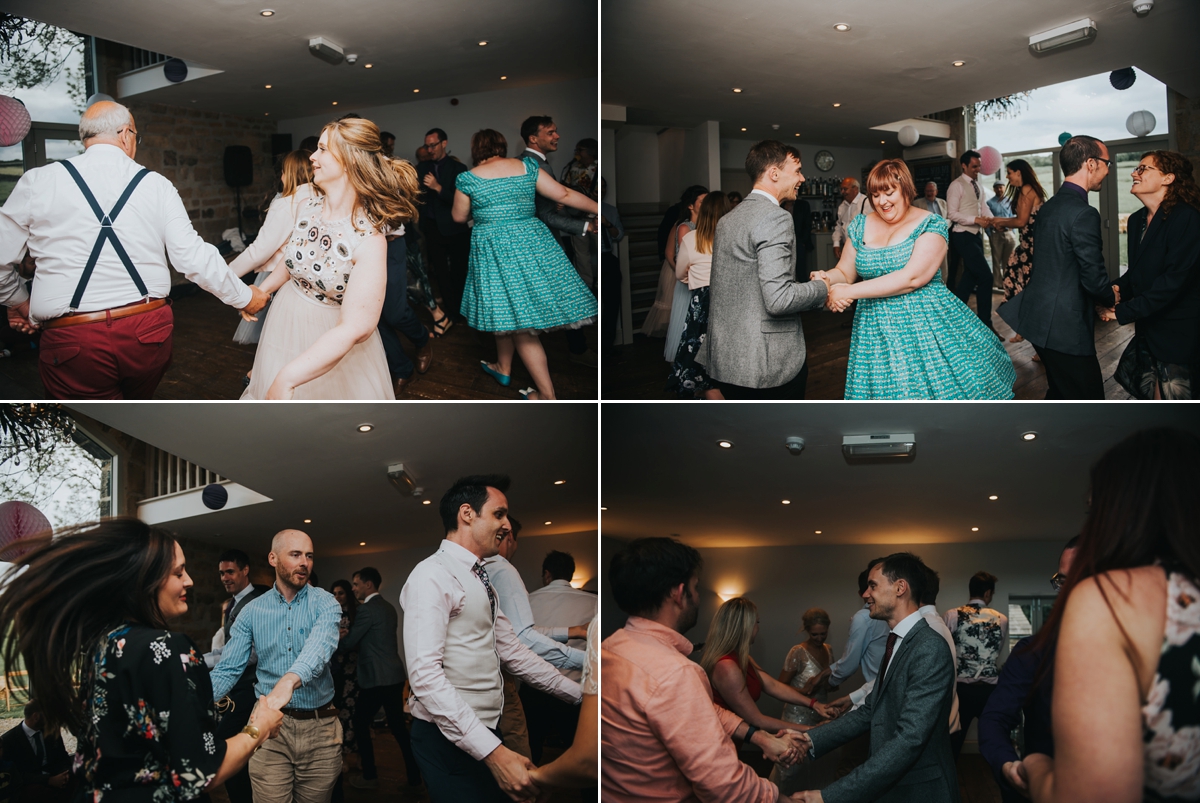 Garden games and fireside conversations kept guests entertained and The Rhythm Chaps provided a fabulous looking ceilidh to get everyone on their feet.  I love a ceilidh (although I can't spell it correctly first time, ever) and everyone certainly looks very happy indeed here.
Words of Wedded Wisdom
"Don't spend two years thinking what you might do and then try and do it all in the two weeks leading up to the wedding!"
"Don't stress over the little details, no one will know what you had planned so they won't know if it's missing on the day.
Enjoy your day, and everyone else will enjoy it too. Don't worry about what other people will think."
"One regret is that we didn't spend more time together as we were so busy having fun with everyone else!  I also think that we should have been a little more prepared.  Making bouquets at 11.30pm the night before the wedding and assembling the cake the morning of the wedding probably wasn't the best idea!  All in all though we don't have any big regrets and looking at Eliza's photos we can see that the day was filled with laughter, smiles and beer.  What more could we ask for?"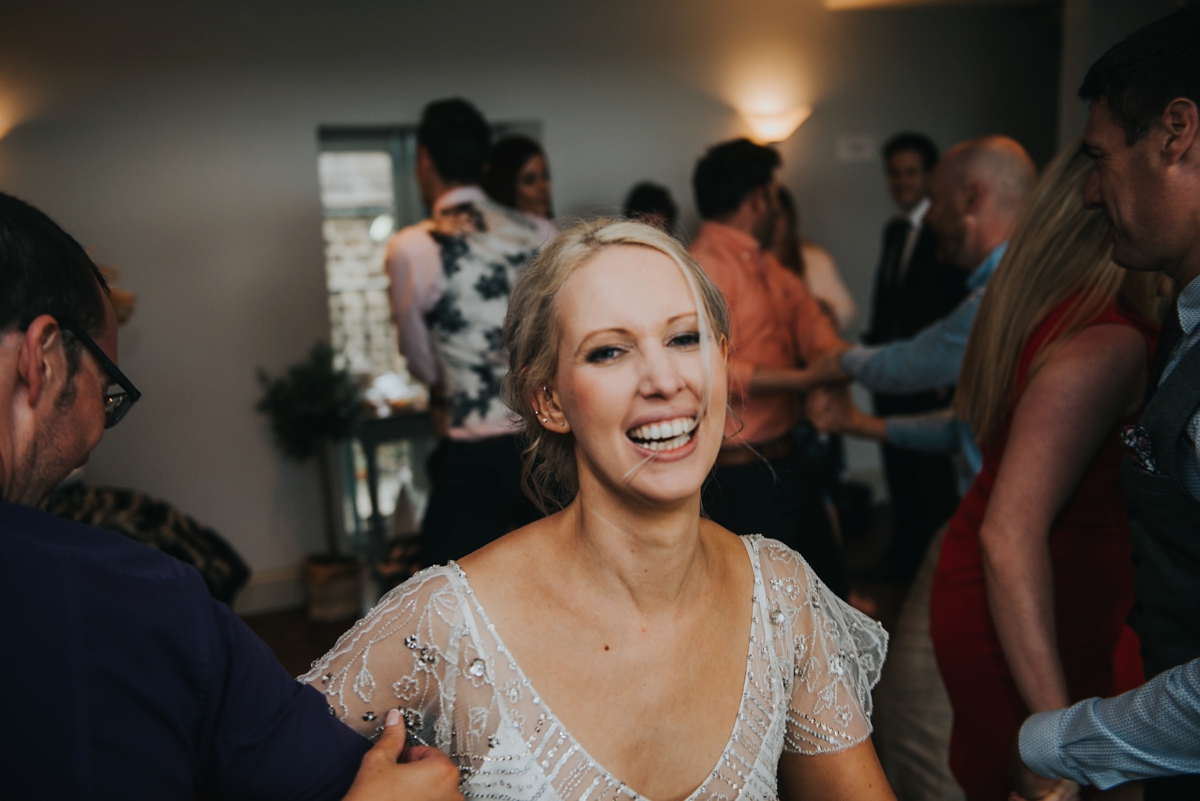 Huge thanks to Kirsty and Stefan for sharing this super happy, lovely day with us all today- its been a pleasure to write up.  If you've fallen in love with Kirsty's beautiful frock, take a look here for lots more brides in Jenny Packham gowns- they're all as gorgeous as each other.
Much love,
Shona x