Oh my! This utter showstopper of a wedding I'm about to share is making me want to plan my wedding all over again! It's also taken me back to the delightful days I spent in the West Sussex countryside with my UK family and where many glorious Sunday pub lunches were had after a long walk in wellies.
Online marketing manager Rebecca and Sam, a company director, married on the 26th of November 2016 at Farbridge in West Dean, Chichester, a beautiful flint barn set amonst the rolling Sussex Downs. They chose this stunning location as thought it would be perfect for their late autumn/winter wedding and it was halfway between where they grew up in the New Forest and their home in Brighton. Rebecca's divine Jenny Packham bejewelled dress largely inspired their day that was filled with glamorous gold and berry shades – all the colours that remind us of winter.
Our talented Little Book For Brides member, photographer Jade Osborne, took these images.
"Jade of Jade Osborne Photography is the wonderfully talented daughter of my lovely godparents. When I decided to get married I knew I would love to have her as our photographer and was absolutely thrilled to find out that she was available. I cannot stop gushing about how wonderful our wedding photos are. Jade captured the day in such a way, that I can't quite believe how beautiful it all was. I can't thank her enough for turning our special day into a collection of beautifully documented memories that we will have to treasure forever. I wouldn't have trusted anyone else!"
Images by Jade Osborne Photography
"Sam and I actually met at school when we were about 14 years old and became good friends. Although we went our separate ways after school – we've always been close and have stayed in touch. We eventually got together when we were 29 – moving in with each other in Brighton.
I had been living in Canada for a while and Sam had been working in the south of France for a couple of years. By coincidence we both came back to the UK around the same time and agreed to catch up having not seen each other for a few years. And that was it. Ultimately – it was meant to be. We got engaged on Christmas Day 2015; Sam proposing with a bottle of champers and a placeholder ring in the place where we first met ☺ I later chose a solitaire cut Canadian diamond ring which I love." 
"We used Paperless Post which is a lovely little website and app that helps you to design (and print if you want) beautiful wedding invitations and other stationery. We liked the idea of a digital invite – it made the RSVP process so straight forward, we were able to chat and post messages easily for our guests – and we liked knowing there were no trees harmed in the making."
"I wasn't 100% sure what I wanted until I found my dress, and then to be honest, everything fell into place from there. I love gold and glamour and knew I wanted to complement this with rich and warm winter colours – deep reds, pinks and purples with green foliage – perfect for a winter wedding."
"It was love at first sight. I tried on some more traditional looking dresses but none of them looked right. I knew I liked Jenny Packham but hadn't singled out a specific dress. My eye was immediately drawn to the 'Hermia' style as I walked into Exquisite Bridal Couture in Winchester."  
These beautiful lasercut shoes are by another of our Little Book For Brides members, the wonderful Harriet Wilde – if you've not checked out her shoe collection yet, you must, perfect for the modern bride wanting to make a gorgeous statement with her shoes.  Harriet Wilde, a bridal shoe brand synonymous with unique signature designs, luxurious embellishments, high quality and comfort.
Established by the designer Ruth Shaw, the brand was named after her grand mother, the second collection was snapped up by Harrods and has become the go to bridal brand of royalty and celebrities. Services include: a ready to wear collection of shoes and other bridal accessories, customisation and a bespoke service.  Book an appointment to try the shoes from the London studio, or buy online, also available across Europe, the US and Australia in selected bridal stores. We can't recommend these shoes highly enough ladies (our founder Annabel owns several pairs herself).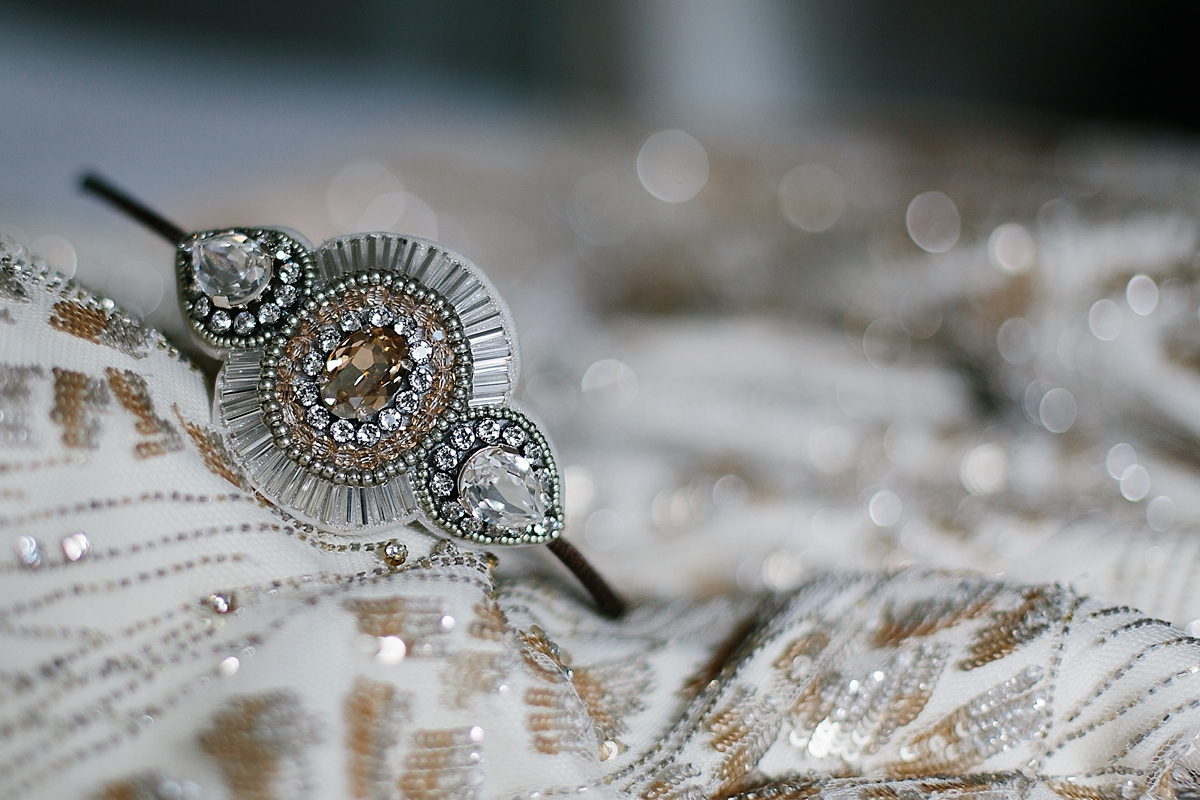 The florals, by Barbara from Miss Mole's Flower Emporium, simply pop and make me think of all things Christmassy with the choice of berry colours and types of blooms. Absolutely exquisite work.
"Barbara is a genius and by far the biggest contributor to the aesthetics of the day. I like flowers but I can't say I know too much about them. I took in some photos of what I liked and she produced the simply stunning arrangements that you see in these images."
"She completely exceeded my expectations which were already very high. The flowers brought the whole day together from a visual point of view and I loved the warmth and richness of the bouquets. Barbara included a range of roses, stocks, skimmia, pieris, tulips, ranunculus (picotee pink), anemones, and autumnal foliage."
The two lovely bridesmaid's wore gowns by Maid to Measure via Exquisite Bridal Couture in a berry shade that perfectly complemented Rebecca's dress and the flowers. Hannah Brannigan was the creative force behind hairstyles for the bride, bridesmaids, mother-of-the-bride and Rebecca's sister-in-law, whilst make-up was expertly applied by Victoria Oke.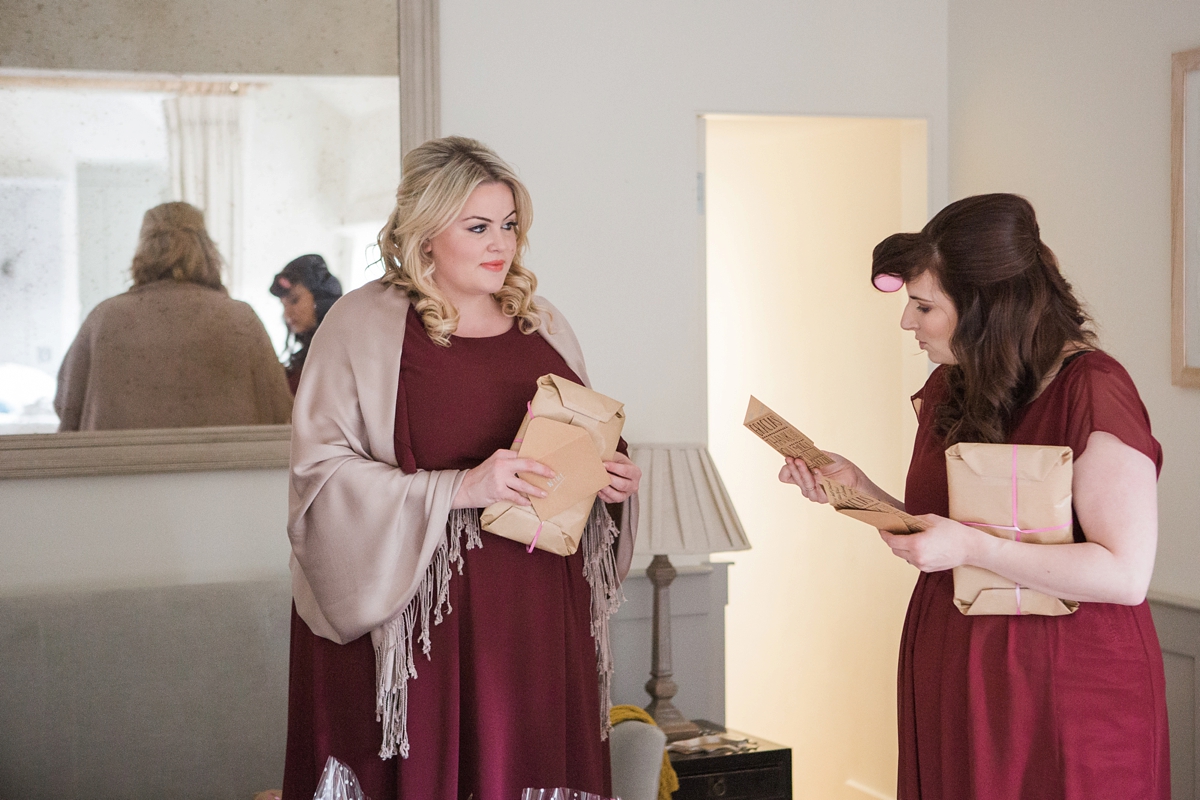 Rebecca's pretty veil was also found via Exquisite Bridal Couture and she donned a gorgeous pair of Harriet Wilde shoes, the 'Delfina Low Platino' style. This signature bridal shoe brand is a part of our ever-growing Little Book for Brides community.
Also a member is the fabulous Victoria Fergusson Accessories, who crafted the bride's stunning hair accessory  (see the listing here). The glamorous bride finished off with a spritz of 'Allure' by Chanel scent and didn't need to add any jewellery, as the dress was so amazing.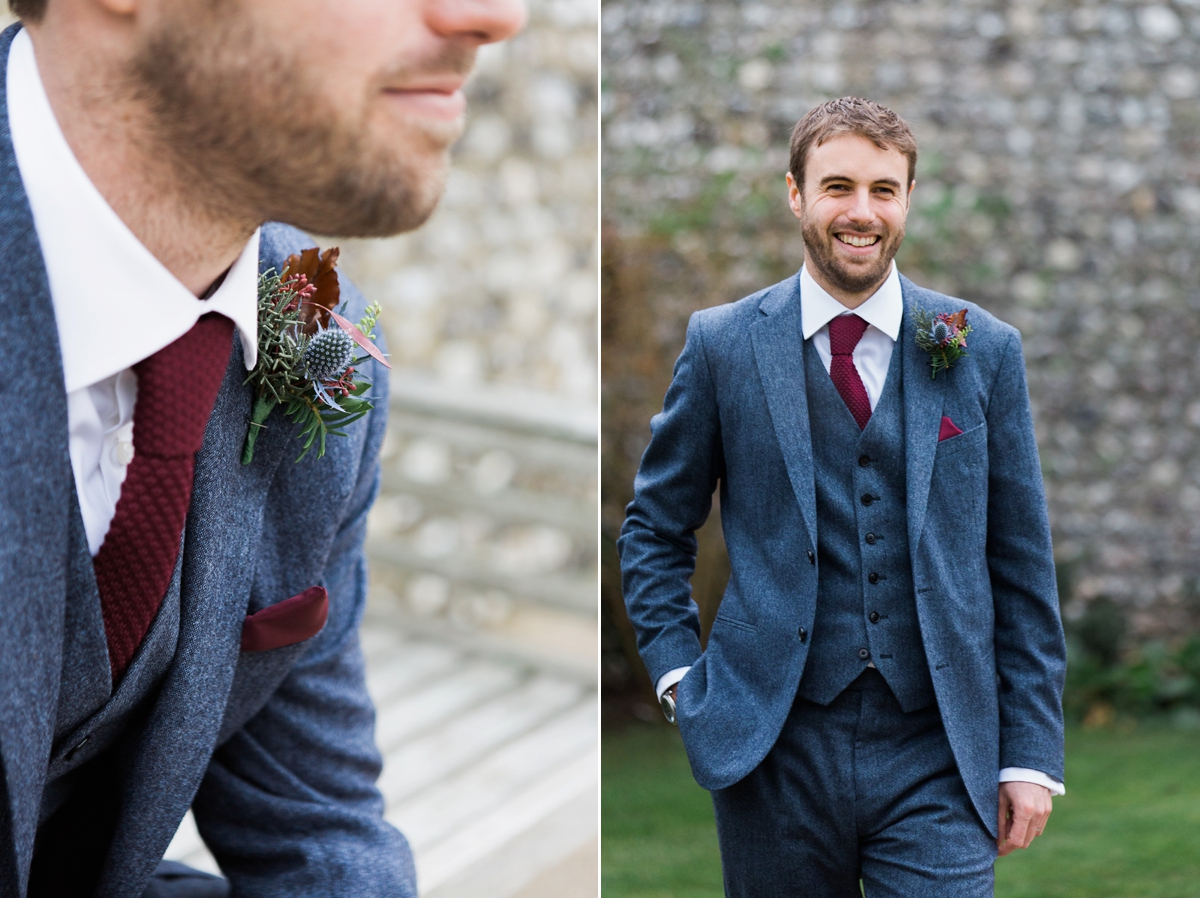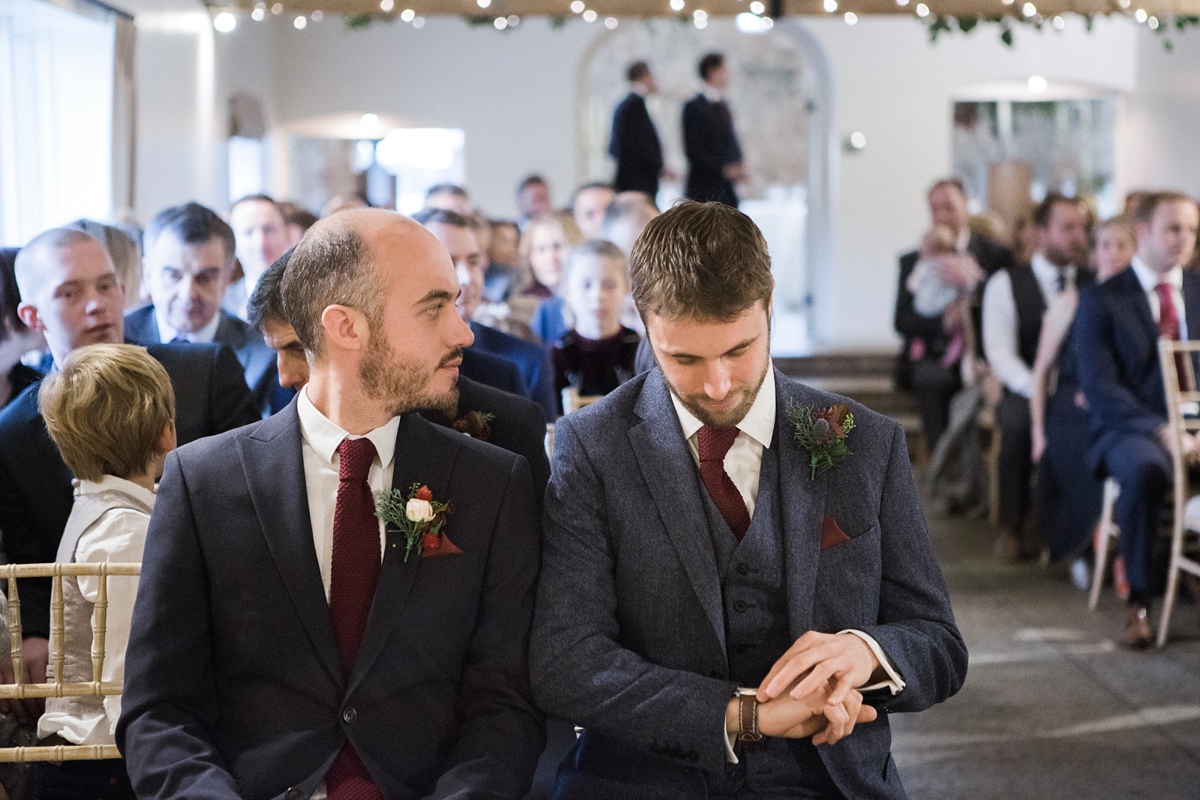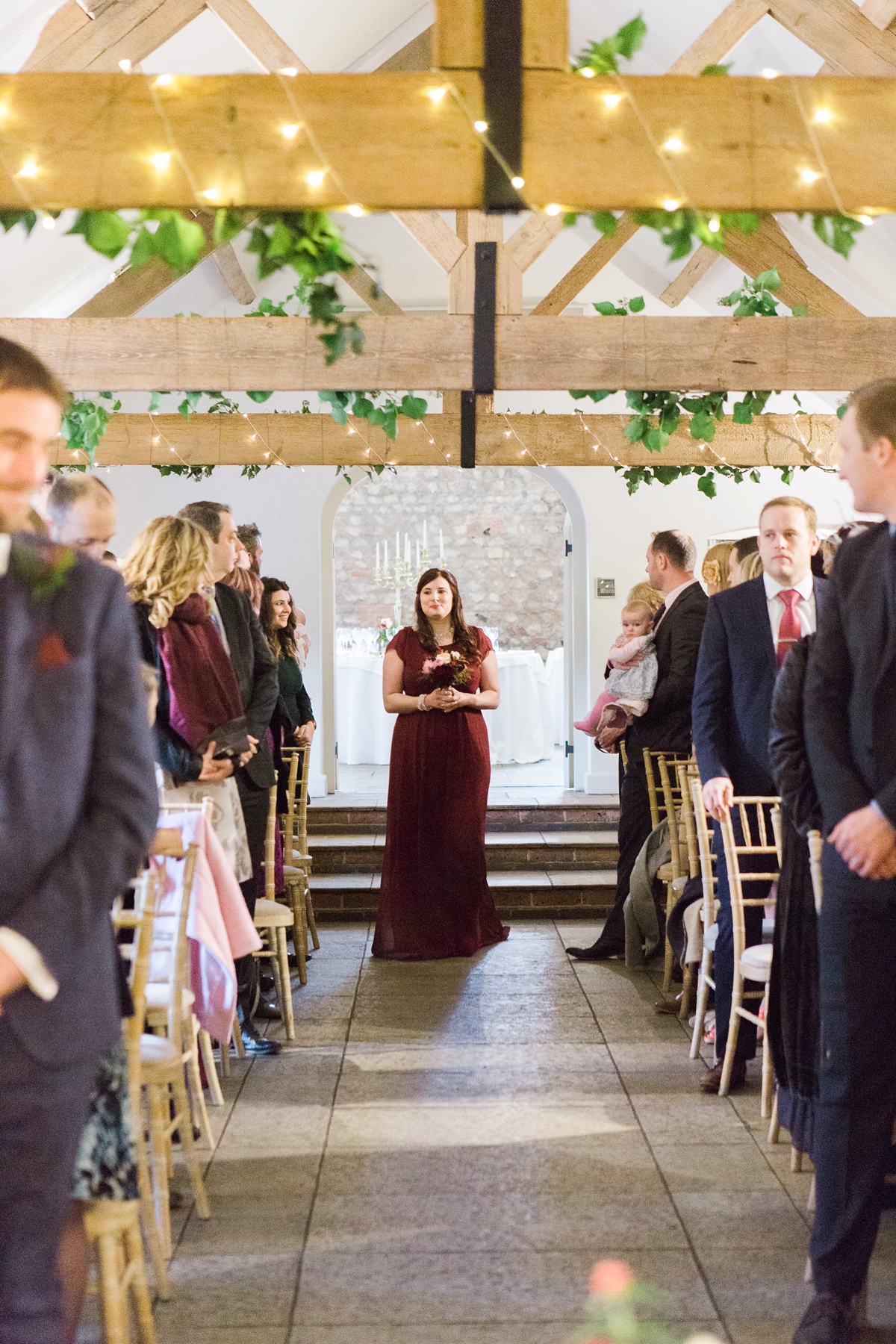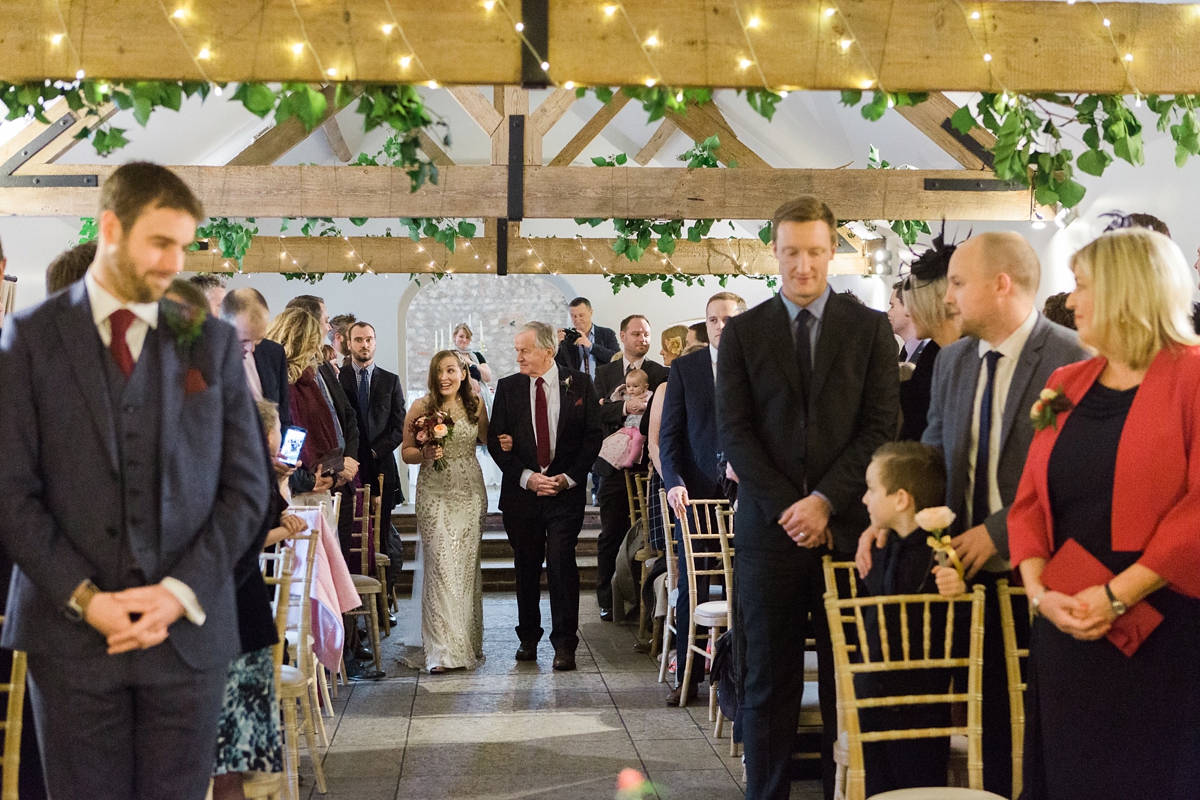 Sam cut a fine figure in a three-piece Reiss suit, paired with a berry-coloured tie, pocket square and buttonhole. I simple adore the images of the stylish groom as his gorgeous bride is accompanied by her father for the aisle walk to the tune of Einaudi's 'Nuvole Bianche' – it is such an incredibly heartfelt, special moment for both bride and groom and I love how Jade has captured their emotions so beautifully.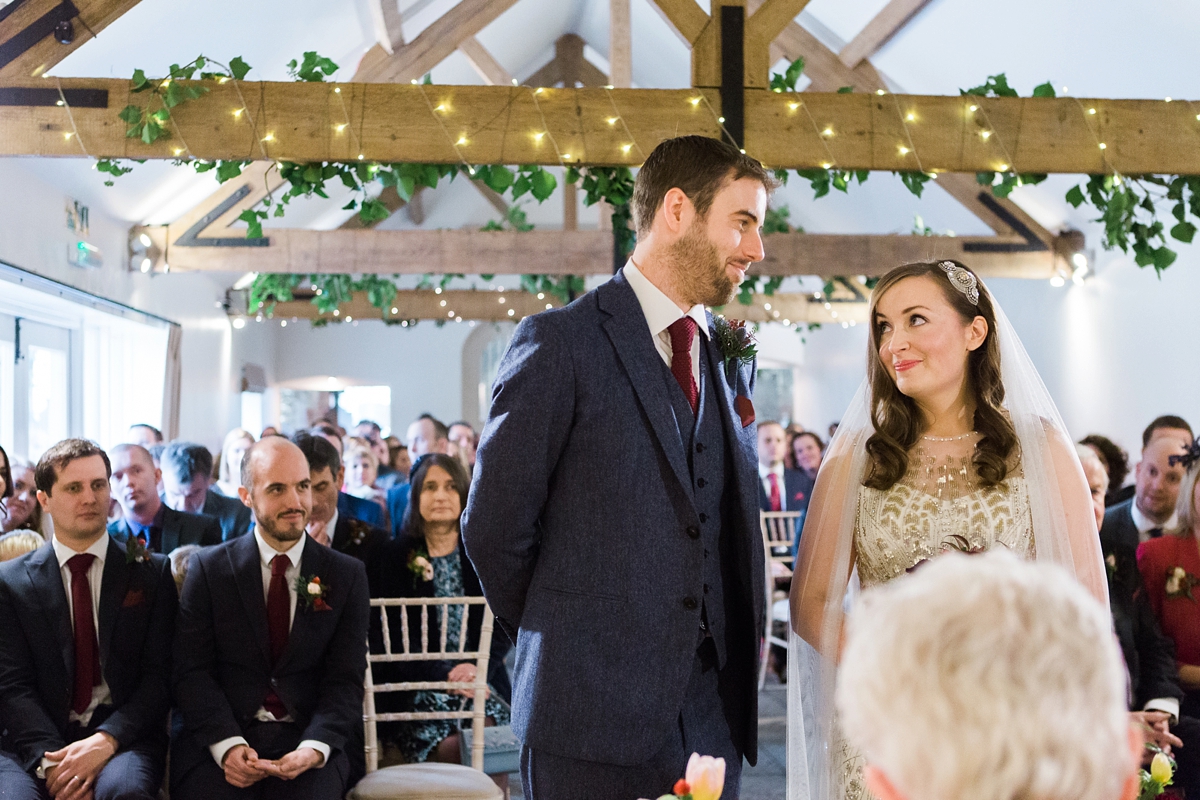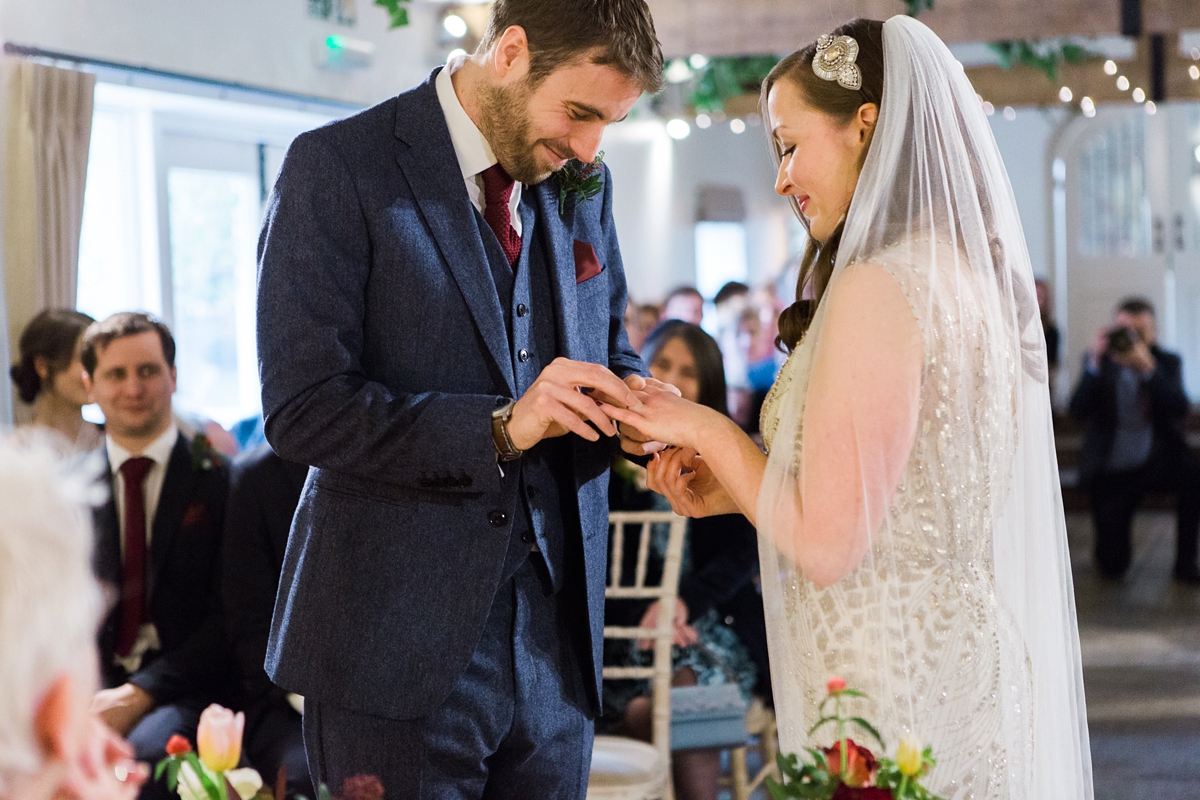 "Sam and I walked out to a Black Keys track which woke everyone up a bit following the more muted classical music we'd played during the ceremony!"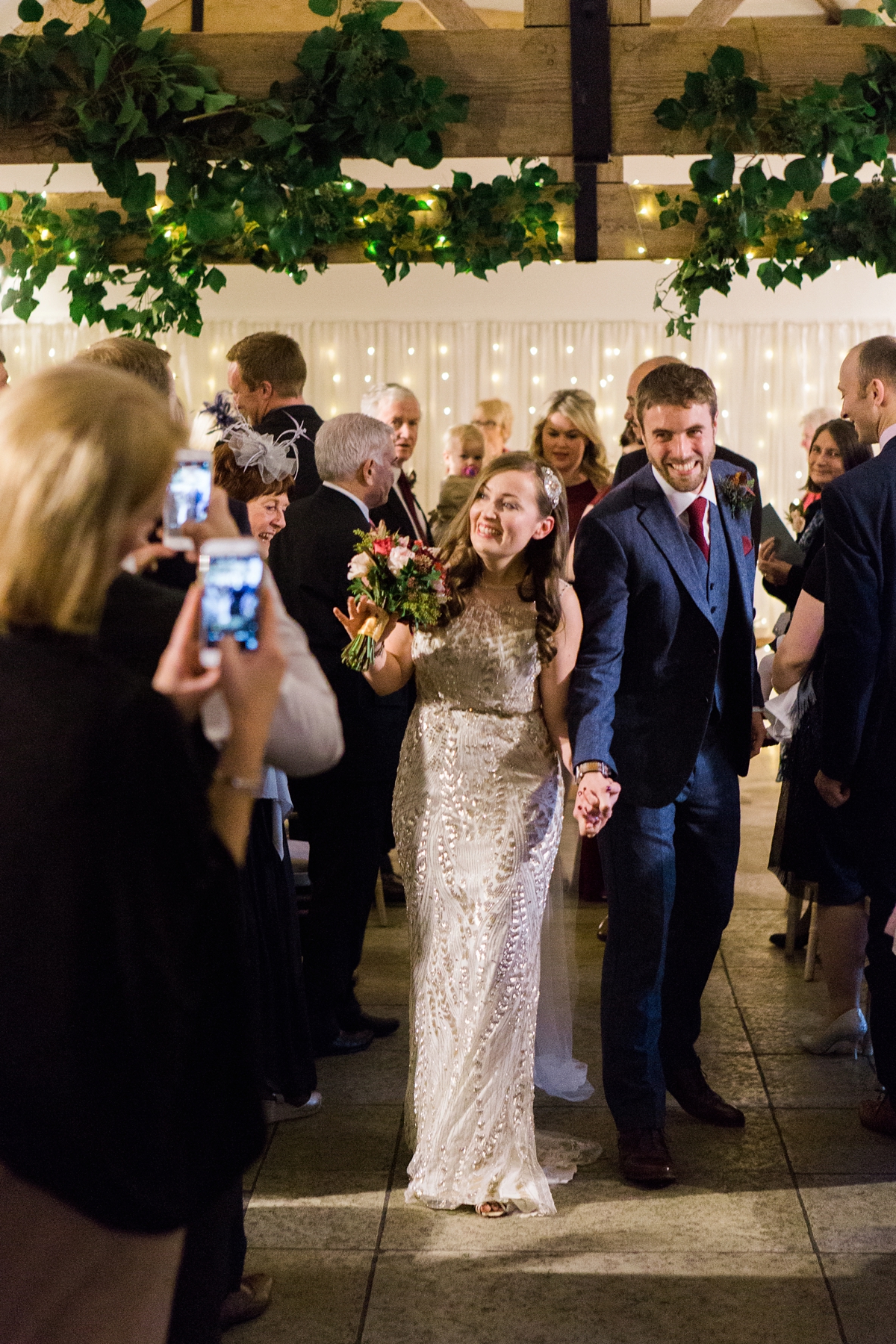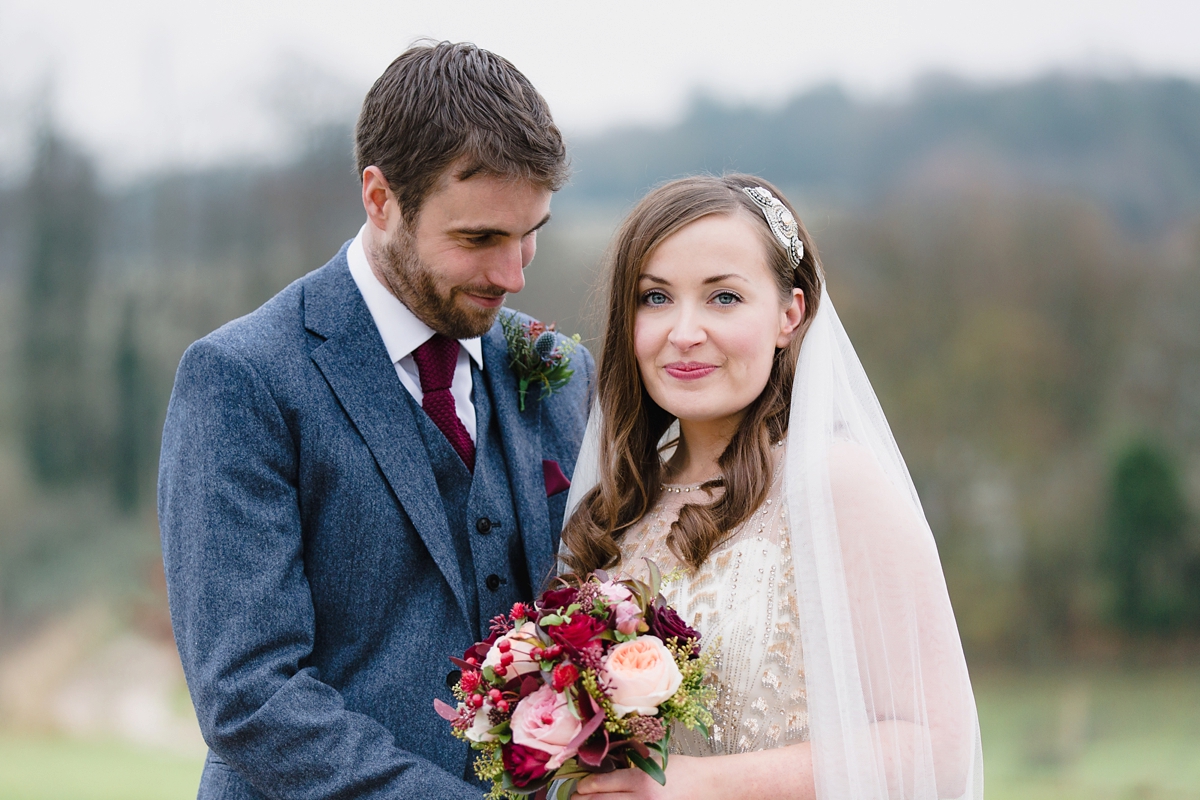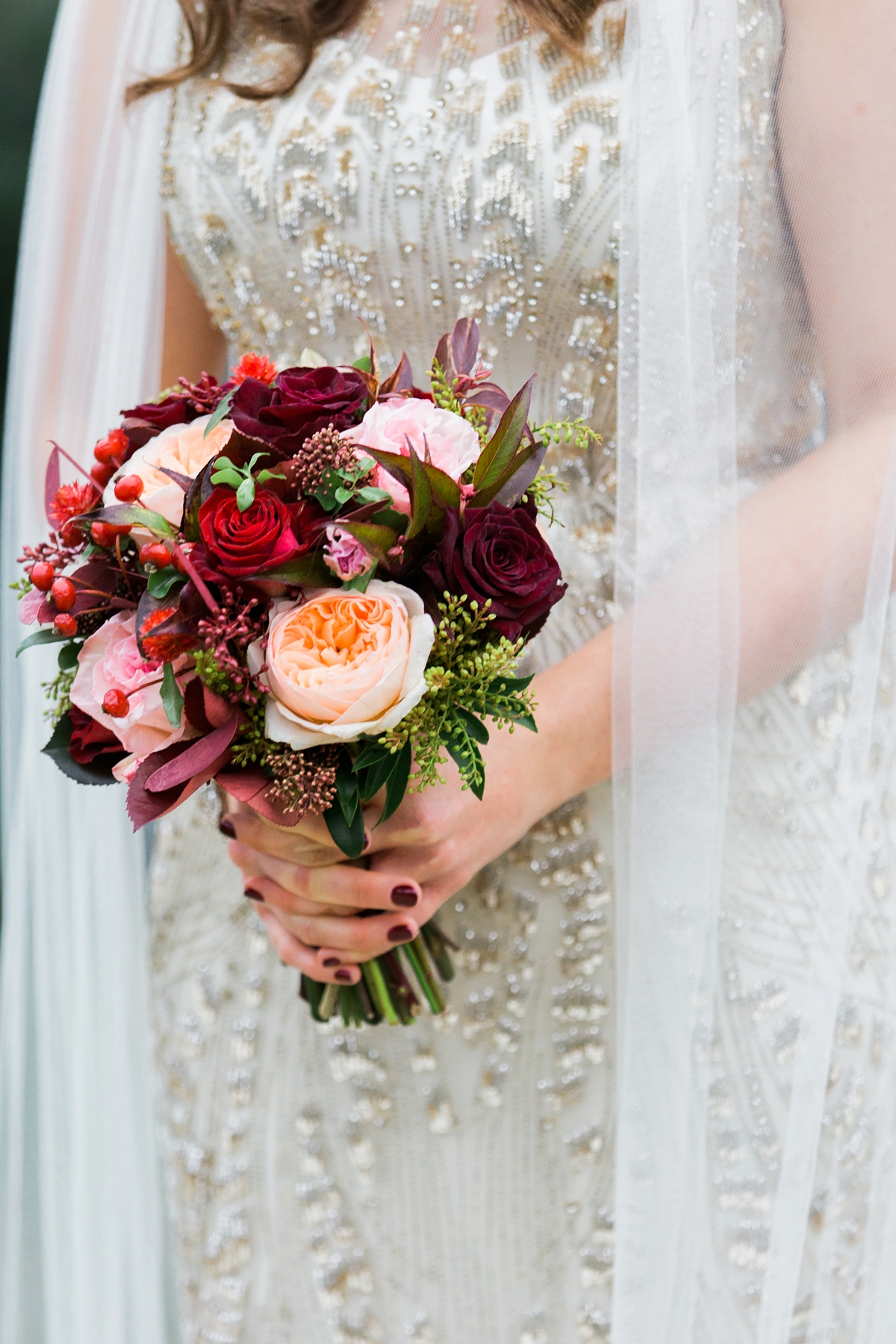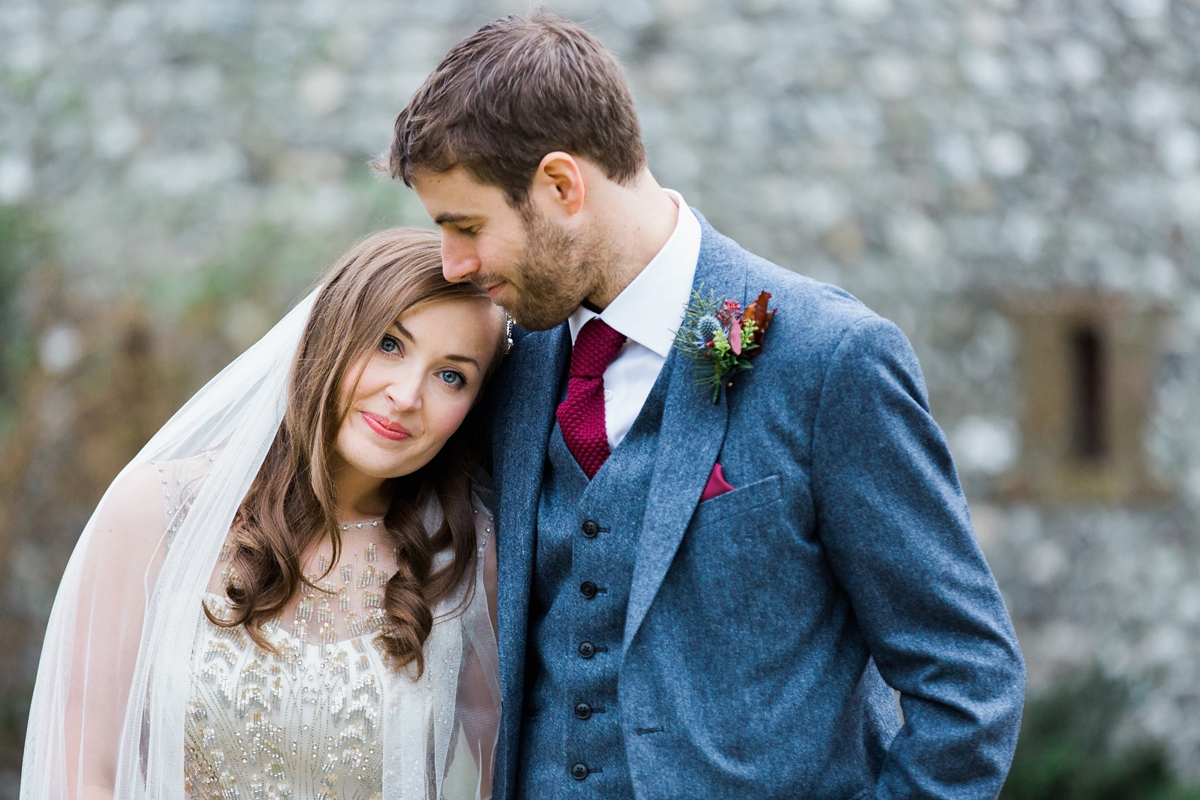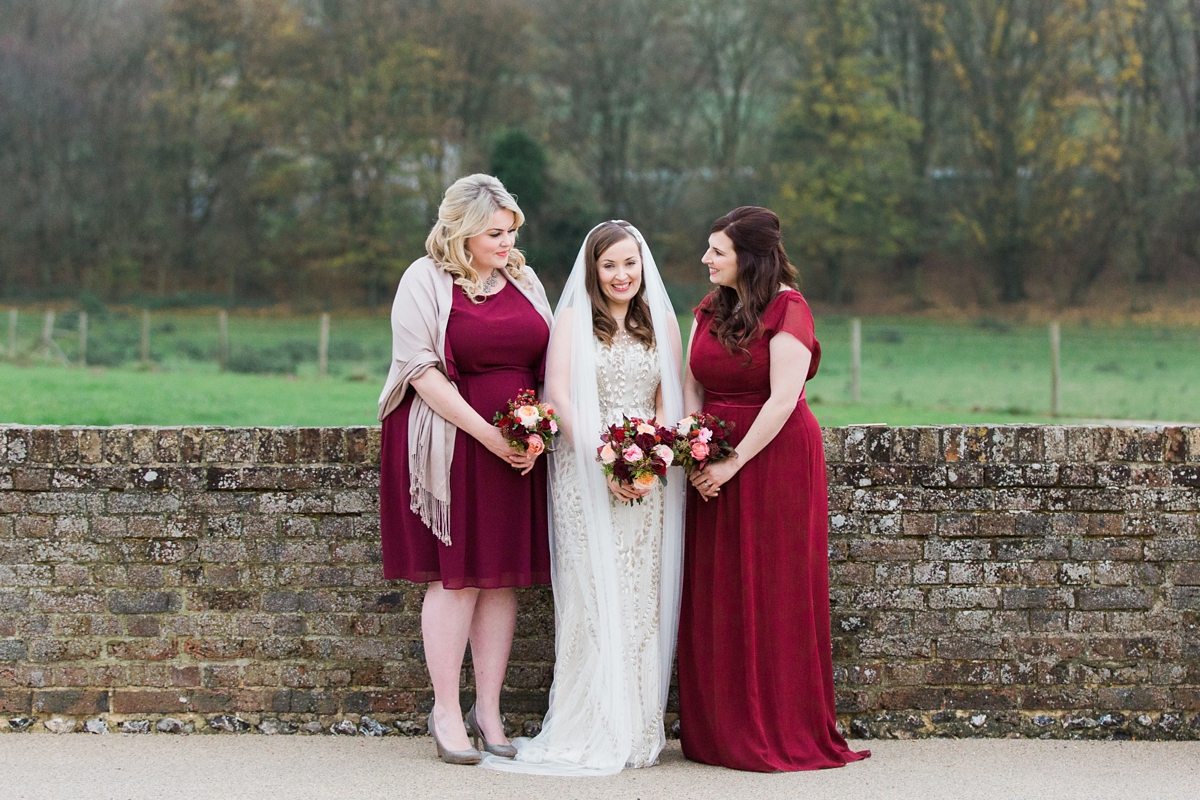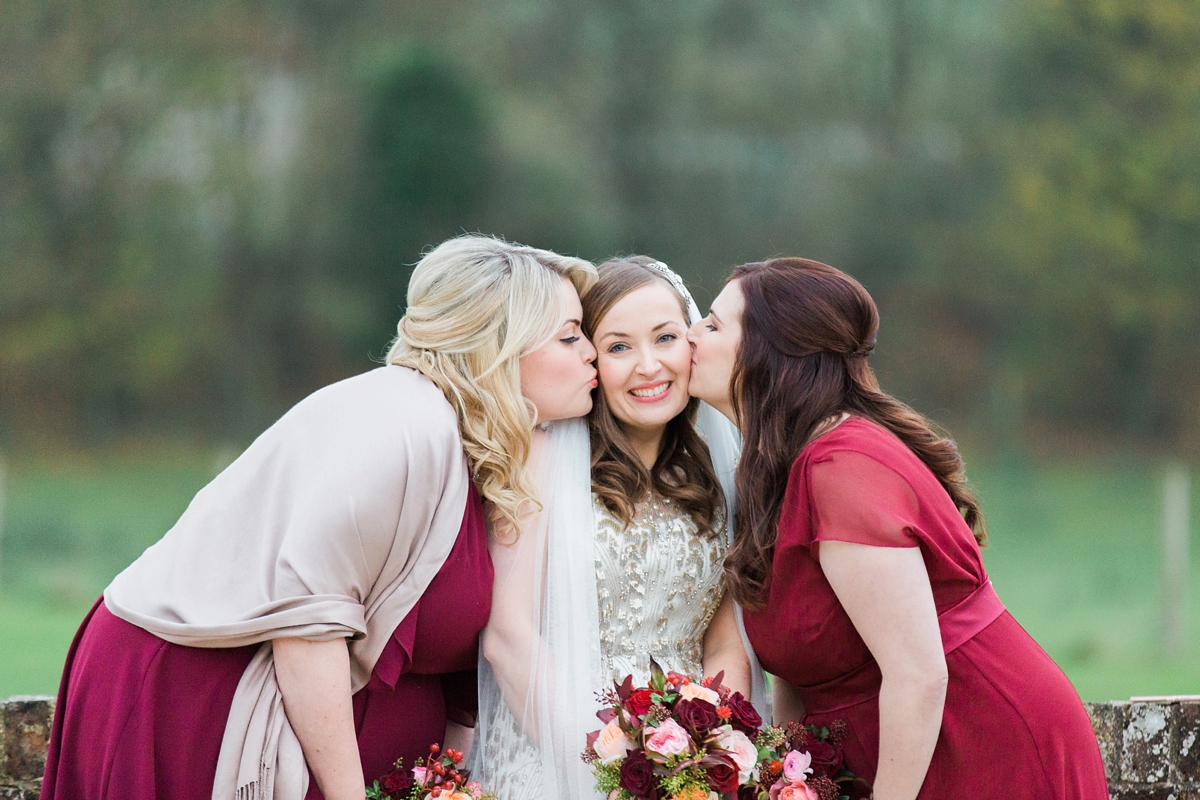 "We provided chocolates as favours for guests to enjoy at the table, displayed in antique-gold edged glass jewellery boxes."
"In addition to flowers, we hung fairy lights on the trees in the courtyard and foliage and fairy lights in the ceremony room. Farbridge is such a beautiful and pristine venue with its flint walls and gorgeous wood ceiling beams – it doesn't really need much else."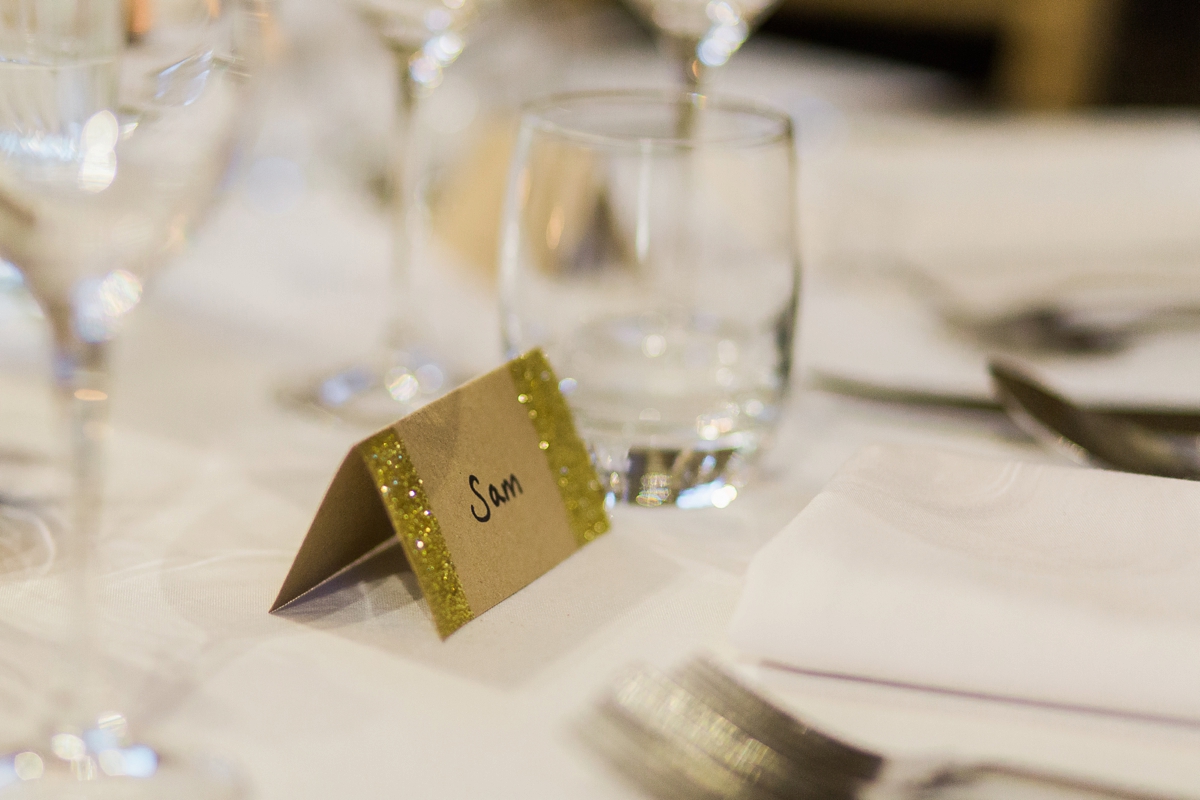 The fabulous catering was arranged by 'Cuckoo' run by Simon and Nickie Dixon at the venue and one of the main reasons the couple chose Farbridge.
They had a starter of anti pasti (cured meats, charred and marinated vegetables, dried tomatoes, olives, marinated mozzarella, ciabatta and virgin olive oil), chicken breast stuffed with pinenuts, spinach and provolone, oregano and rosemary gnocchi, broccolini, shallots, pancetta and almond crumb for the main, then dessert was bitter chocolate and salted caramel torte, peanut custard icecream with black cherry – yum!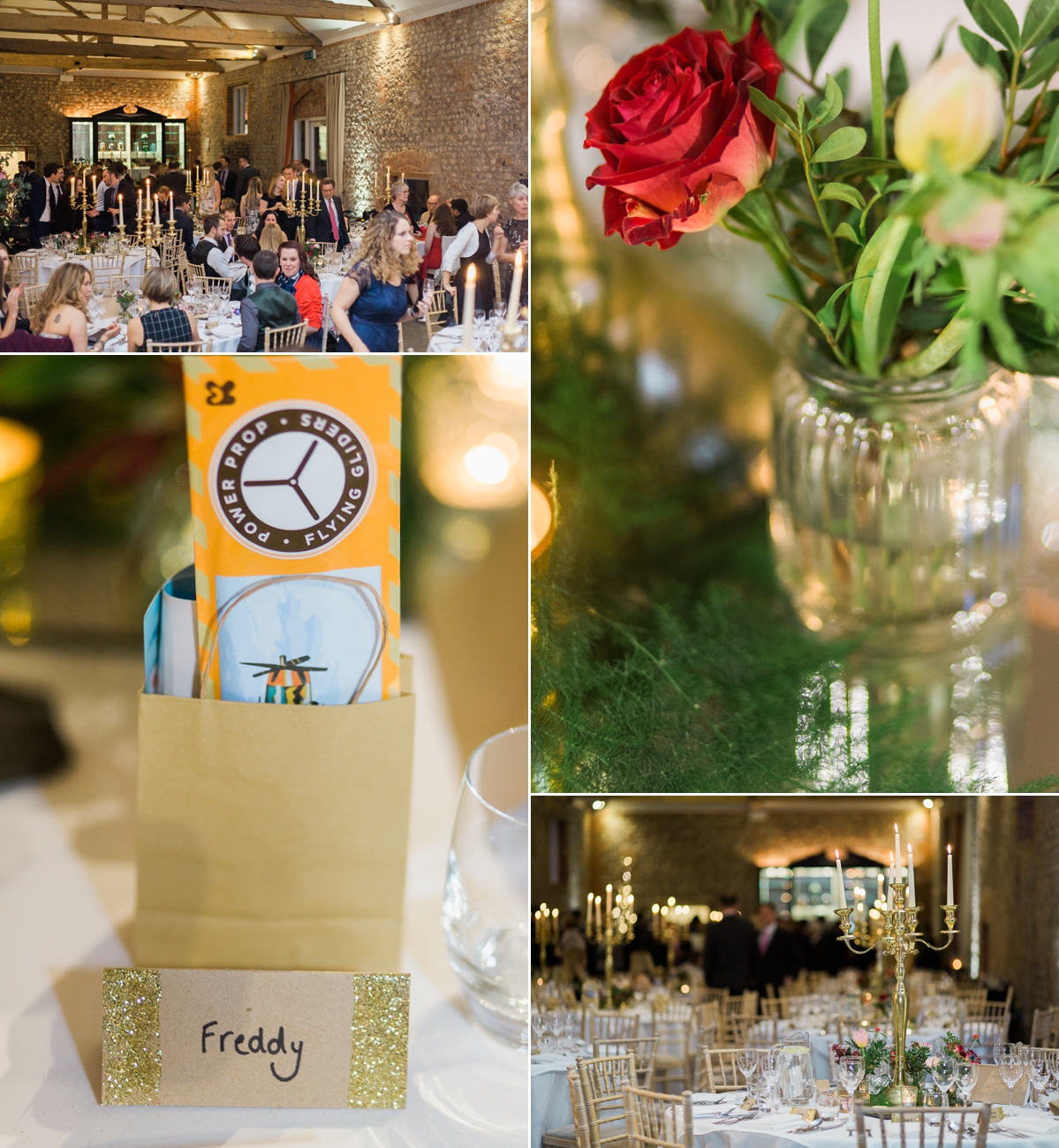 After spying the couple's tantalising layered cake, I think it's time for a tea-break, what do you think lovelies? Jen Lindsey-Clark of She Bakes (and an old neighbour of Sam and Rebecca) did a superb job.
"The cake was beautiful and absolutely delicious – a vanilla sponge with lemon butter cream filling, decorated with more beautiful flowers from Miss Mole's Flower Emporium. You'll see on her website that Jen makes incredible things from chocolate too, including a life size statue of Benedict Cumberbatch! She is a wonderfully creative and lovely lady who we actually used to live next door to. She's since moved house and we miss her! I'd also like to add that she runs chocolate workshops – how good does that sound?"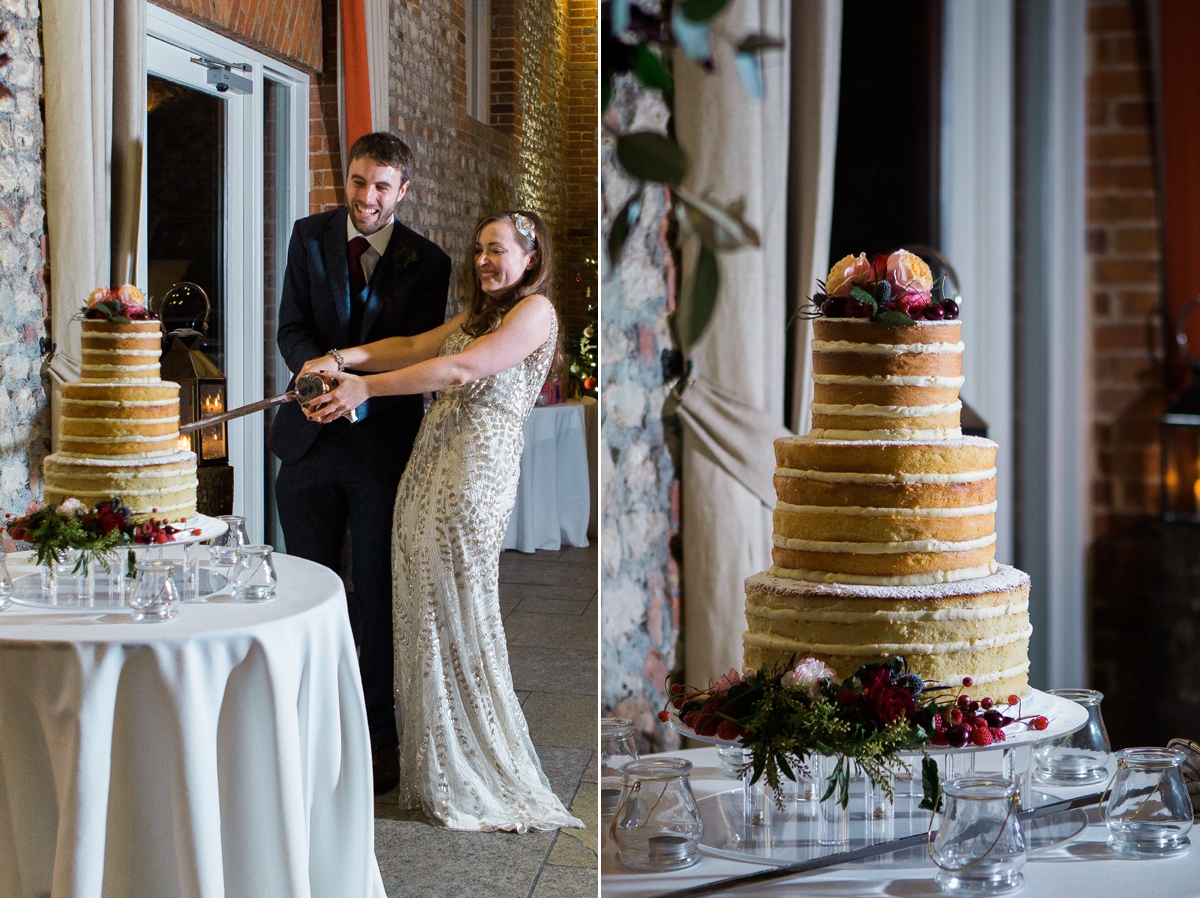 The couple danced their first dance to Van Morrison's 'Sweet Thing' and danced into the night along with their guests to funky tunes spun by a DJ.
"I think my favourite part of the wedding, was really just spending the weekend with my closest family and friends (and husband obviously!) at Farbridge. We were lucky to get the venue from the afternoon before as there wasn't a wedding which meant setting up was quite a relaxed affair and we had a meal the night before at a lovely country pub on the South Downs."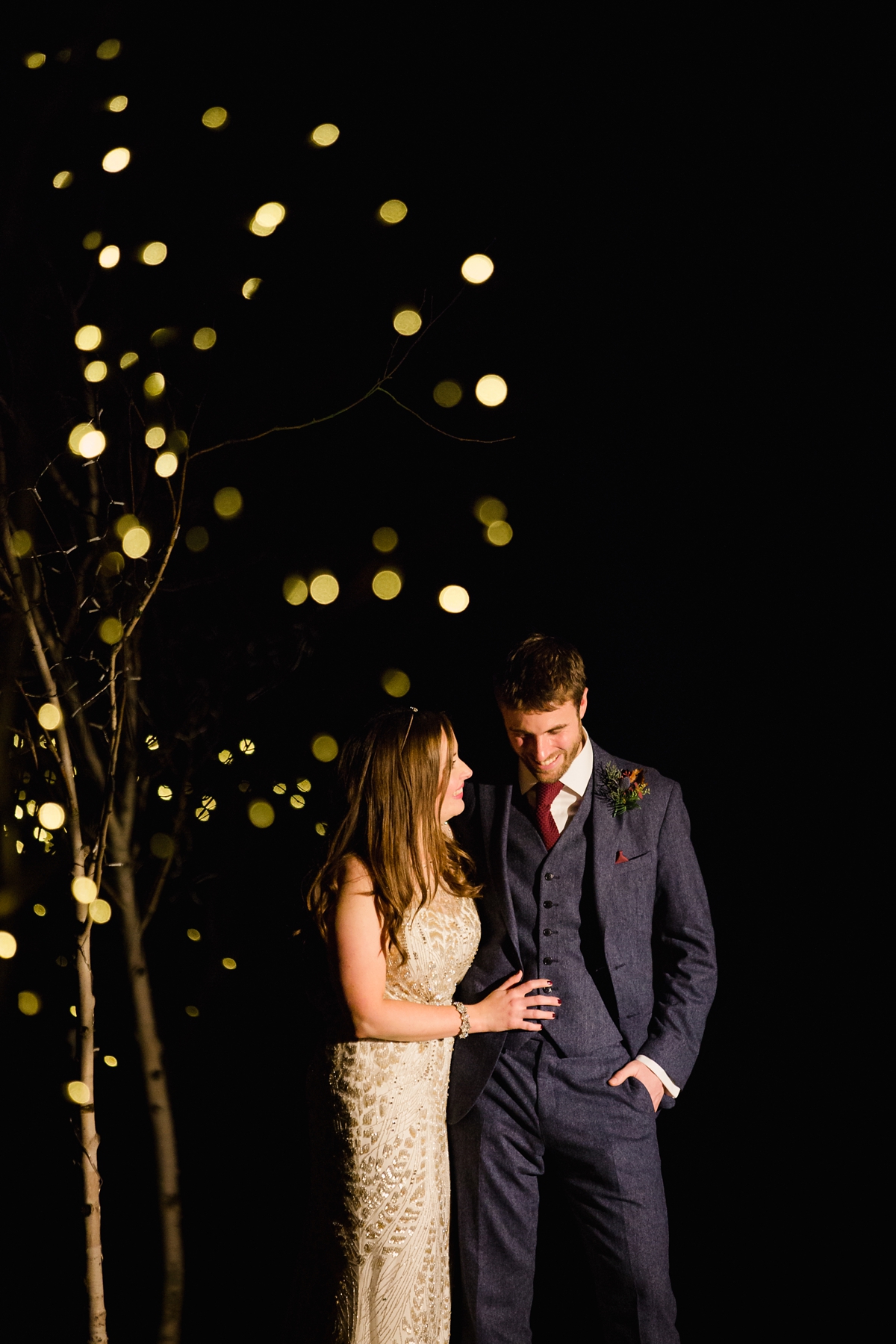 Words of Wedded Wisdom
"I'm sure everyone says similar things, but I would have stressed less about some of the smaller details and focused more on enjoying myself, particularly on the morning of the wedding.
I also would have spent more time with my lovely dad on the day and tried to get around to speaking to a few more people – I imagine this is always difficult with a big wedding. I'm trying not to beat myself up too much for this though – that's my advice!"
"Love My Dress is a gorgeous website – I just love looking at the beautiful wedding photography – and I think the layout of the site works well for the presentation of editorial and imagery."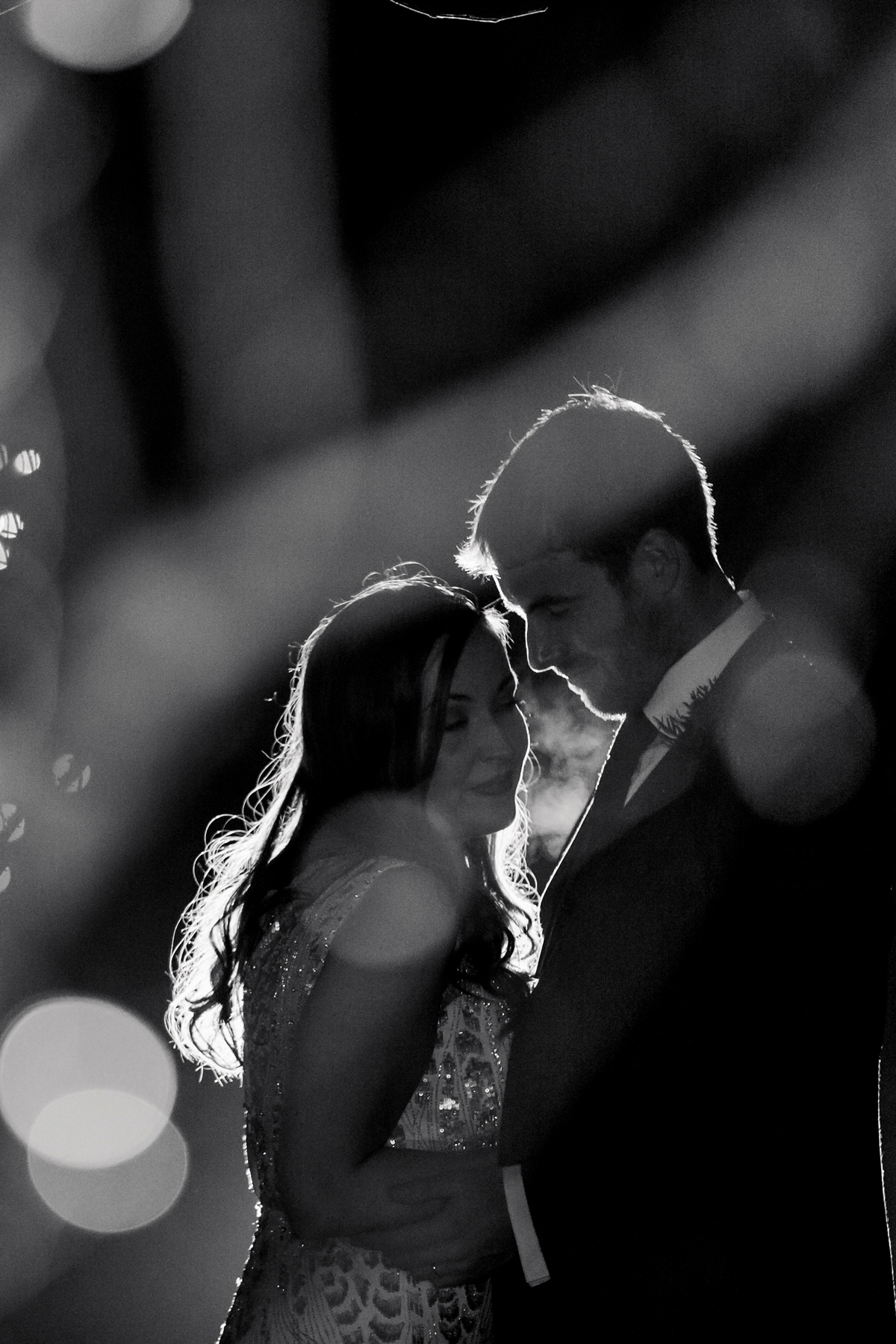 Why thank you lovely Rebecca for the gorgeous wedding blog feedback – we all so appreciate it very much indeed.
Readers – have you, like me, completely fallen for the bride's gown? Then I urge you to peruse our Jenny Packham Lookbook for even more ideas for your dress for your upcoming big day.
Love Jo -xo-