Can you believe that Christmas is just three and a half weeks away?! Where has this year gone to? We're in the season of mists and cold, crisp days and to celebrate, I have a suitably seasonal wedding to share with you today.
The bride and groom are Harriet and Alexander (aka Sandy) who married on the 17 December 2016 in a church ceremony at St James the Great Church followed by a tipi reception in the gardens of  Dauntsey Park House, Malmsbury, Wiltshire. The day had a thoroughly festive feel with warm colours, open fires, treats such as mince pies and crackers, and traditional Christmas decorations characterising the day. Harriet and Sandy live and work in Switzerland, the bride as a chef at Virgin Limited Edition's Swiss property and the groom as a manager for an international children's camp.
Film by Gorgeous Films
This elegant, pared-back gown with its unusual lace panel and back is a Jesus Peiro design, a brand that we absolutely love here at Love My Dress and Little Book for Brides. If you like Harriet's long-sleeved style take a peek at our Style Files where we showcase the Mirtilli collection.
"I knew my Jesus Peiro dress was the one when I put it on again and it just felt right. I loved the simplicity of it with the long sleeves and the lace detailing. I had the buttons extended down the back and removed the zips from the sleeves and replaced them with buttons. The team are amazing and sewed a little blue velvet bow into the hemline to hitch it up for dancing and to be my 'something blue'."
Photography Richmond Pictures
These photographs by husband and wife team Karina and Tom of Richmond Pictures are absolutely magical, especially those of Dauntsey Park House at dusk and in the mist.
"I knew the couple when they were living in Switzerland and we got back in touch when I got engaged. They were a great fit for our day and we love the photos they've produced."
Harriet and Sandy live and work in Switzerland, the bride as a chef at Virgin Limited Edition's Swiss property and the groom as a manager for an international children's camp. I love their engagement story, which they share below.
"We met in Switzerland through mutual friends, one of whom was a bridesmaid for me. We remained friends for several years whilst living a couple of hours apart but eventually both found ourselves single and it just seemed to happen! I moved to live with him after two years and he proposed after four, which was 11 months before our wedding day."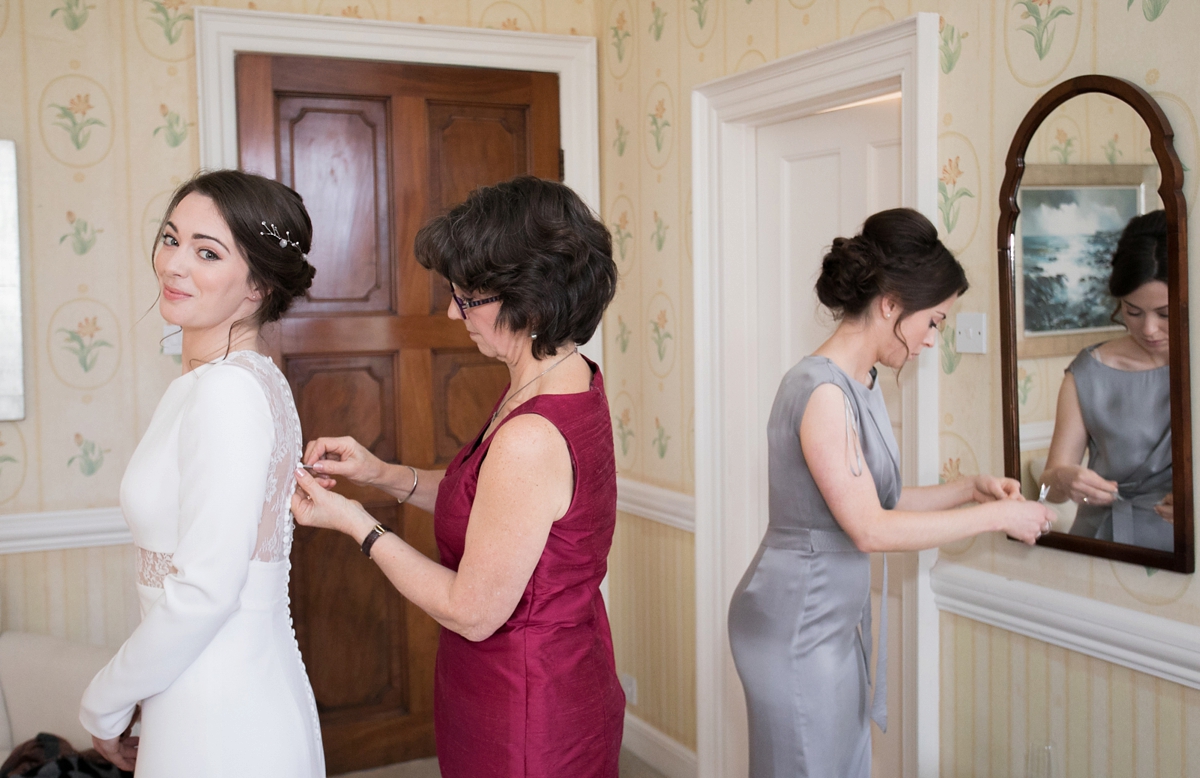 "He took me for a nice meal a few days before my thirtieth birthday where we live in Verbier, Switzerland and then we sledged down afterwards. It was a freezing January night and he stopped halfway down the slope and asked me to take my glove off. At first I refused because it was so cold but then it dawned on me what was happening! It was very relaxed and romantic and we shared a bottle of bubbly overlooking the ski resort."
The magnificent venue, Dauntsey Park House, was chosen as it belongs to family friends and offered them the perfect combination of a church and venue but less 'managed' than other wedding venue packages available in the Bath area, where Harriet is from.
"The date we set was a week before Christmas and as we both work in hospitality we have worked Christmas days for countless years and not been at home to celebrate with family. I think, because of this, the day naturally took on a Christmas theme with warm colours, lots of candles, mistletoe, mince pies, mini crackers as the favours and Christmas trees and log fires in the tipis."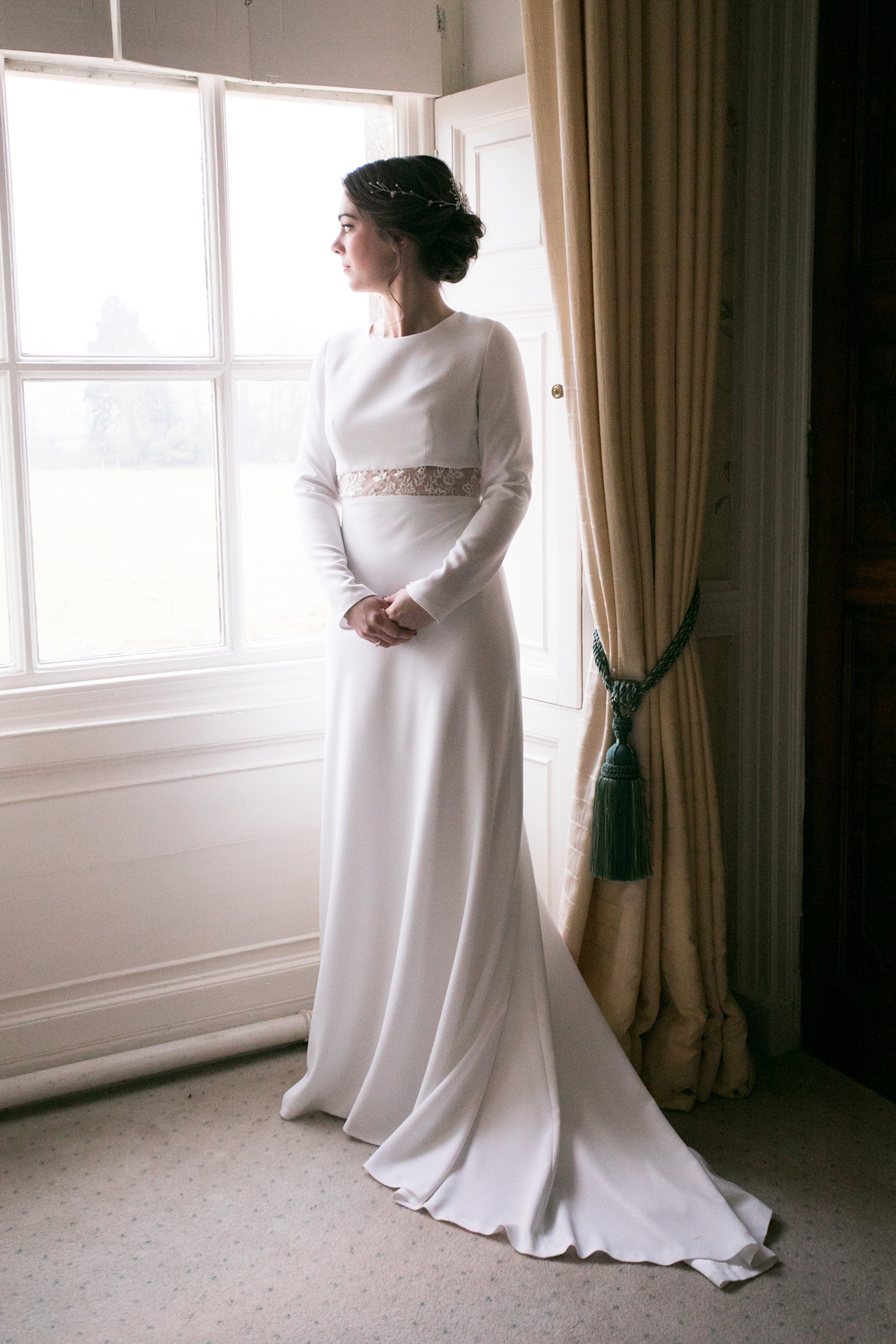 In a lovely touch, the bride also had a piece of her mum's wedding dress sewn in to her gown to act as her 'something old'. Now, if you are familiar with Britten Weddings' beautiful accessories then you may have spotted Harriet's delicate floral hair-comb. She travelled to the Bradford on Avon showroom to select both this and her delicate floor-length veil. How lovely do they look with her dark locks? Please do visit Britten's Little Book for Brides listing to see more lovely designs for headpieces, jewellery and veils.
"After a lot of procrastination, because Sarah Jane's shop is just so beautiful, I settled on the Aster hair comb in silver with silk flowers."
With the gown's statement high neckline no necklace was needed but the bride wore a silver bracelet borrowed from her youngest sister and diamond stud Astley Clarke earrings given to her by Sandy.
"The shoes were a real struggle. I had dreams of these towering blue velvet peep toes which I found in Kurt Geiger because I am 5'4″ and my husband is 6'4" but I settled for practicality with some much lower and easier to walk in gold points from L.K.Bennett."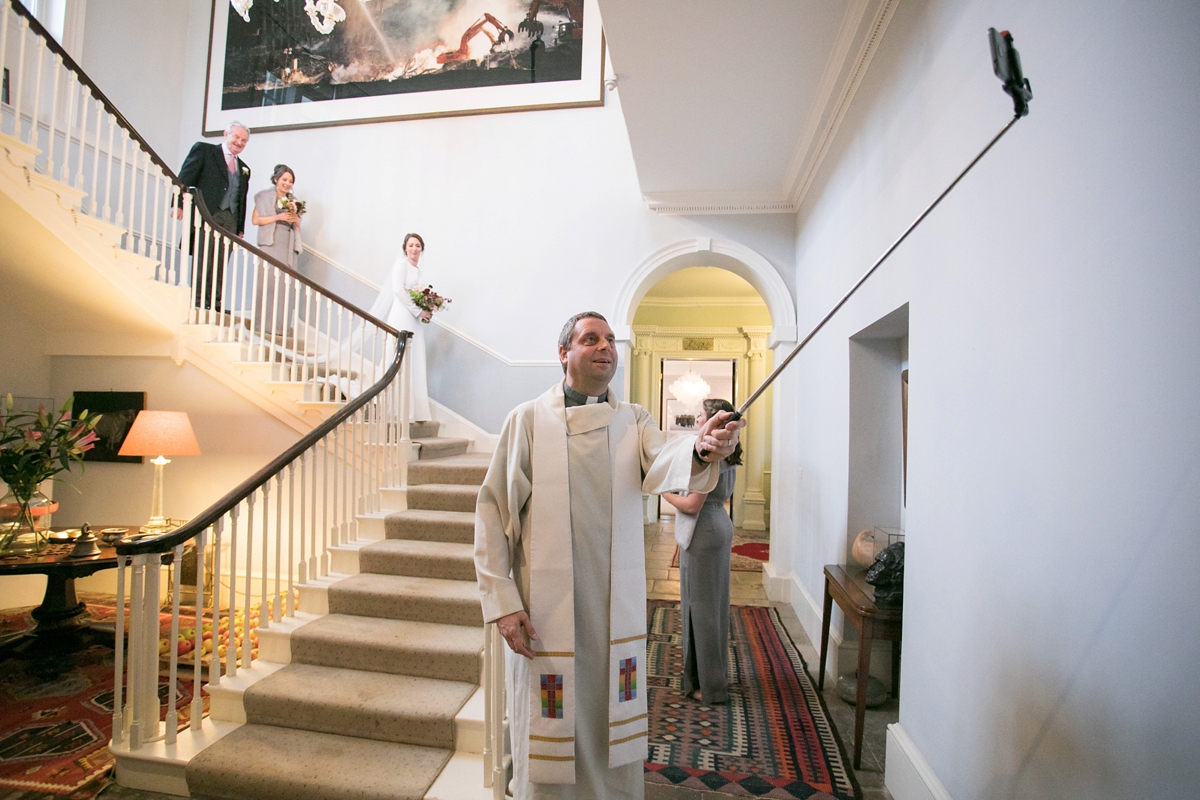 Sandy looked wonderful in his full Highland dress, featuring his family tartan, as did his Scottish best man. Meanwhile, his other best man chose tails hired from Moss Bros for a super-smart look.
A warm touch was added to the pristine tones of white and grey with these sumptuous seasonal flowers by Ruby & The Wolf. Florist Kirstie also dressed the tipi, from World Inspired Tents, to add a sprinkle of  festive magic.
"I met with Kirstie several times including in a tipi to show her how it would look as the space is a little unusual and even I had only been in one during the summer months when the sides were up. I had these huge silver glass baubles which we planned to hang from the tips of the tipis and wanted mistletoe somewhere so she suggested imitating the baubles and making giant mistletoe ones to hang too. They were perfect."
"For the flowers I trusted her instinct but asked for deep, wintry colours with some eucalyptus and the odd rose scattered in. She produced everything I had in my head."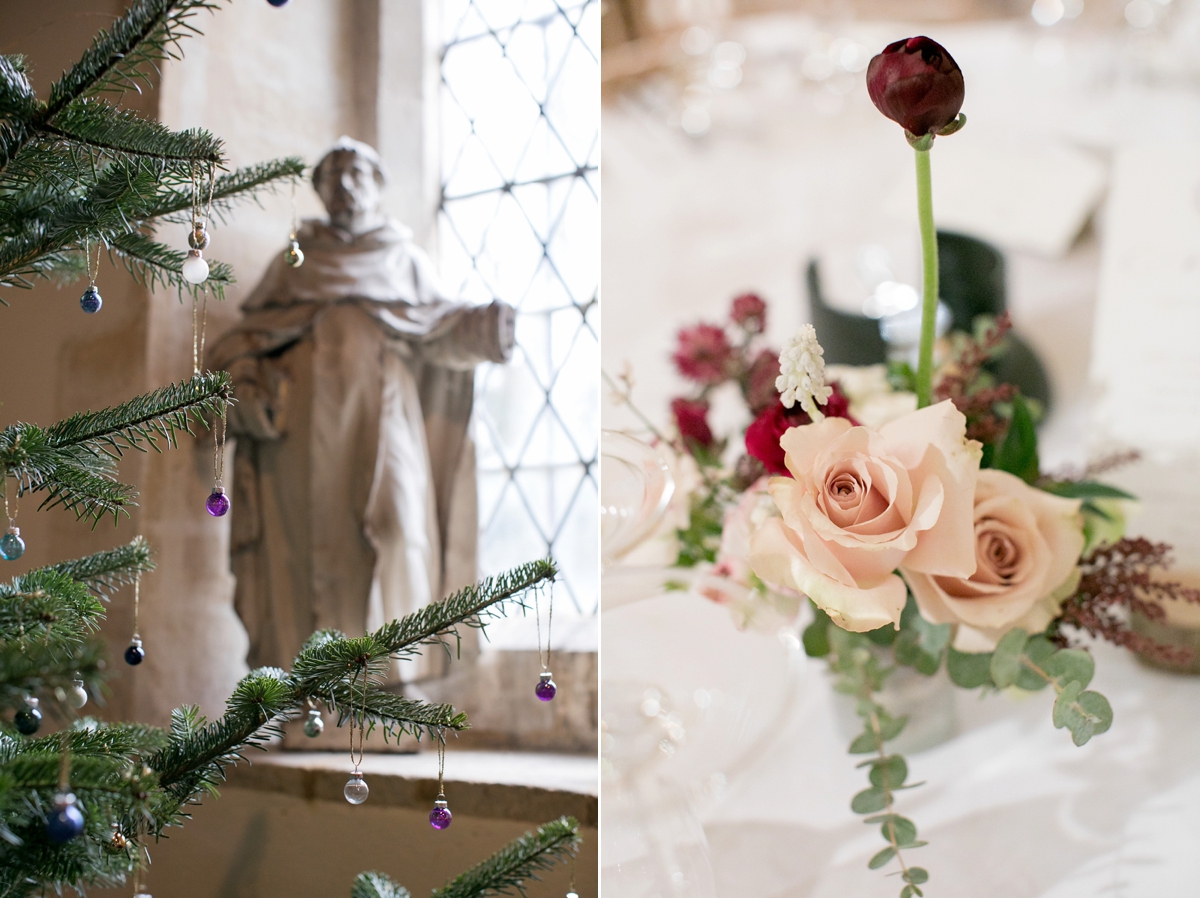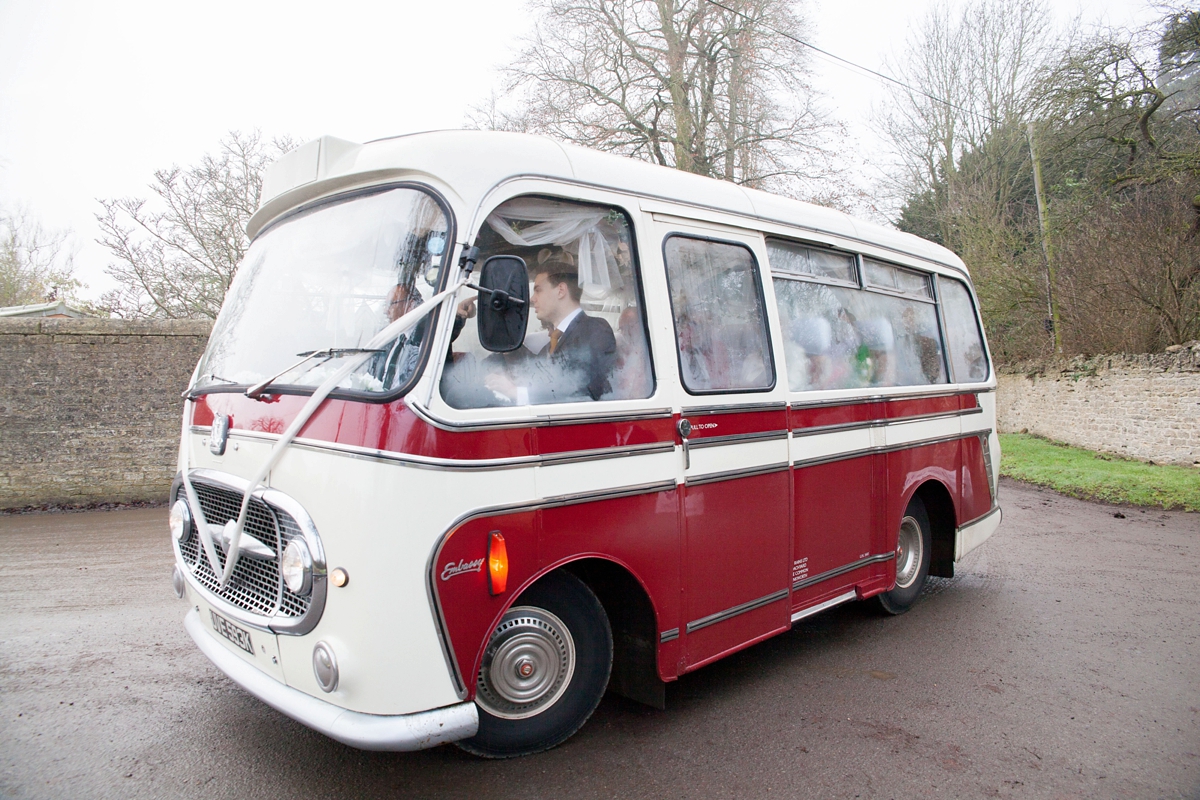 I'm a little bit in love with these silvery grey column dresses worn by the grown-up bridesmaids. Found at Reiss, they are so perfect for a winter wonderland wedding, and look so elegant with their waist detailing. Harriet gifted them silver and pearl bracelets from an independent designer in Bath and to keep the December chill at bay they added The White Company faux fur wraps.
As the bride got ready in the house she was able to walk to the church, but the guests were collected from their accommodation in local towns to the church in old VW buses. Such a great idea to reduce the pressure on your guests.
Walking down the aisle to organ music with her dad, Harriet exchanged traditional vows with Sandy.
"We didn't write our own vows but had several meetings with our vicar Steve about the ways in which he could deliver our ceremony. He was really relaxed and fun and carried a selfie stick with him on the day which my mum hoped wouldn't come out in church but it did!"
Rings came from Goldsmiths – a non-shiny natural white gold for Sandy and a slim half diamond band for Harriet. Harriet's sister Emma read 'Scaffolding' by Seamus Heaney. I've not come across this poem before, but love its sentiment.
"Masons, when they start upon a building
Are careful to test out the scaffolding;
Make sure that planks won't slip at busy points,
Secure all ladders, tighten bolted joints.
And yet all this comes down when the job's done
Showing off walls of sure and solid stone.
So if, my dear, there sometimes seem to be
Old bridges breaking between you and me
Never fear. We may let the scaffolds fall,
Confident that we have built our walls."
To celebrate the festive season, the newly-weds left the church to a joyful carol before celebrating with their family and friends in the tipi. Don't you adore how magical and welcoming the tipi looks with the twinkling fairy lights, candles, real fires and lanterns?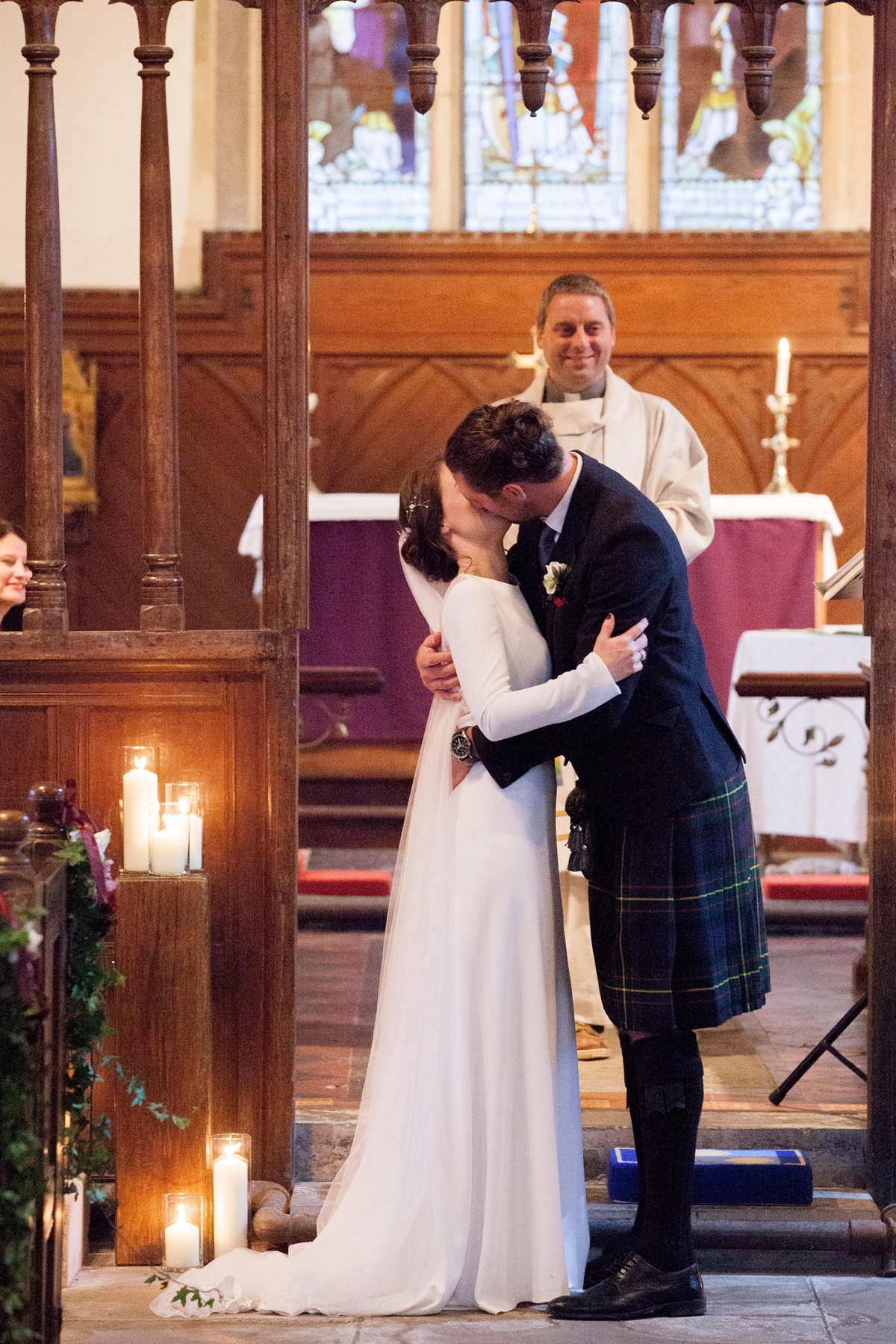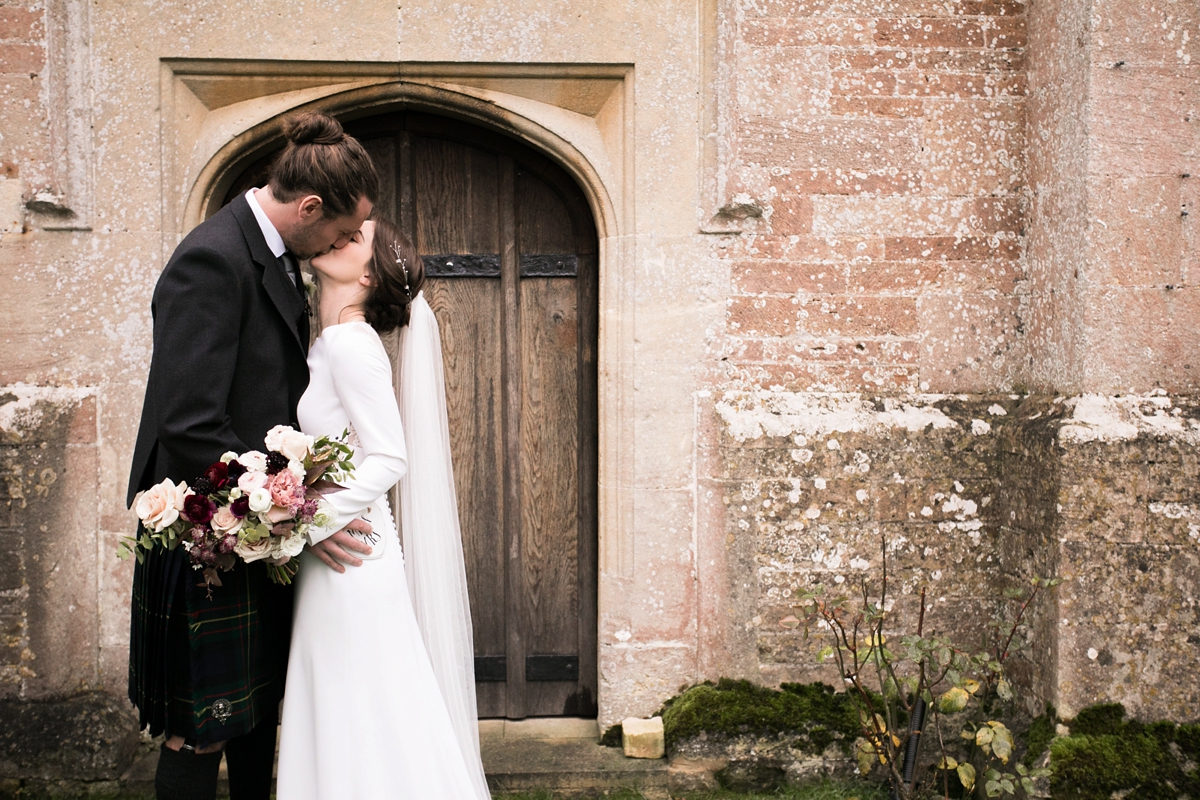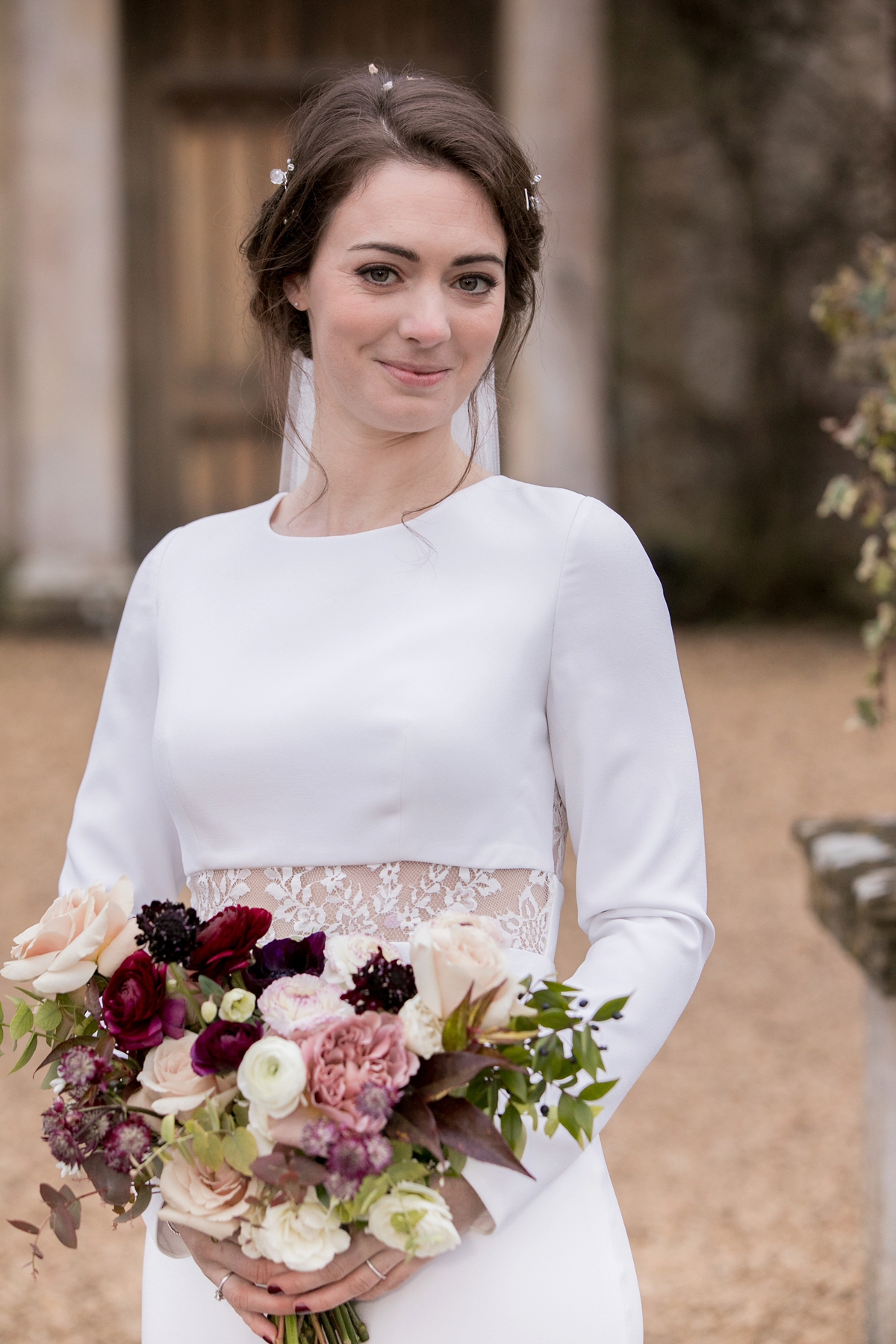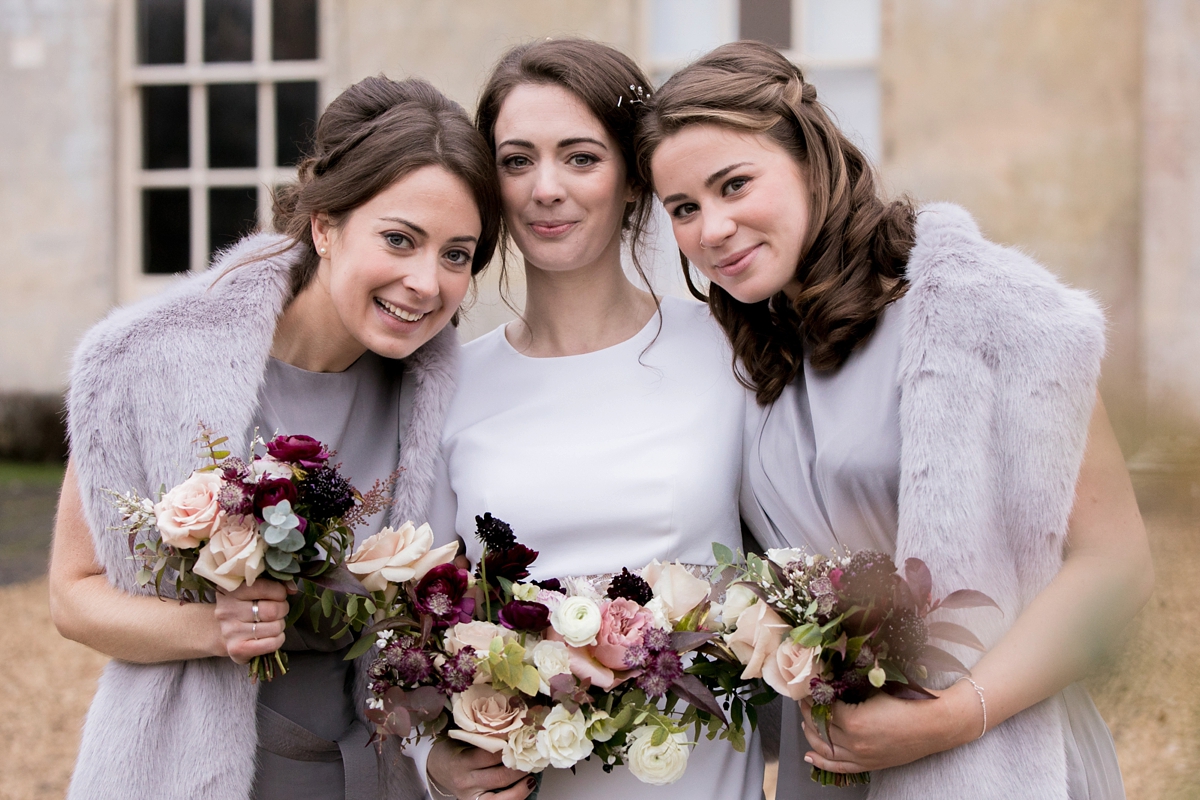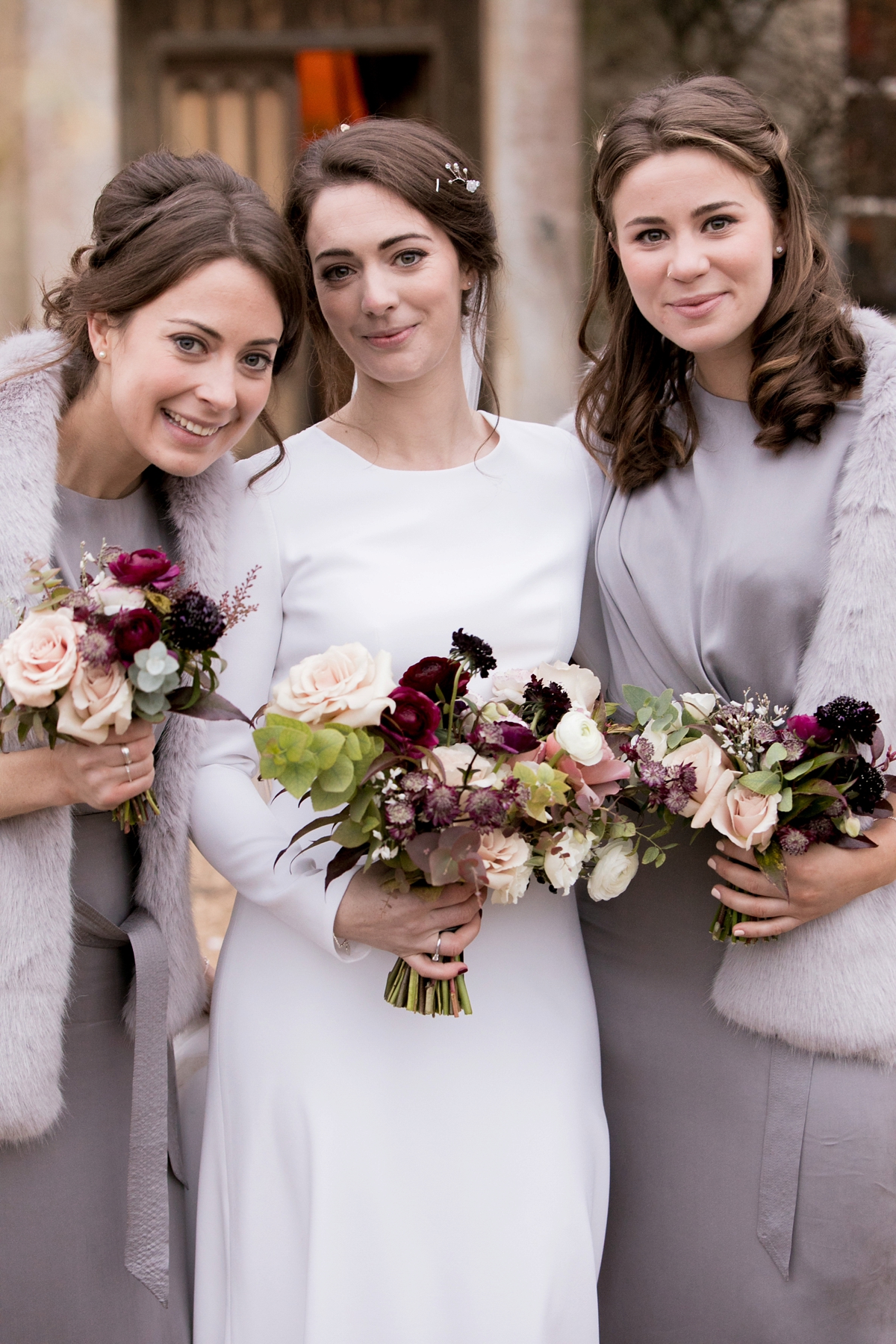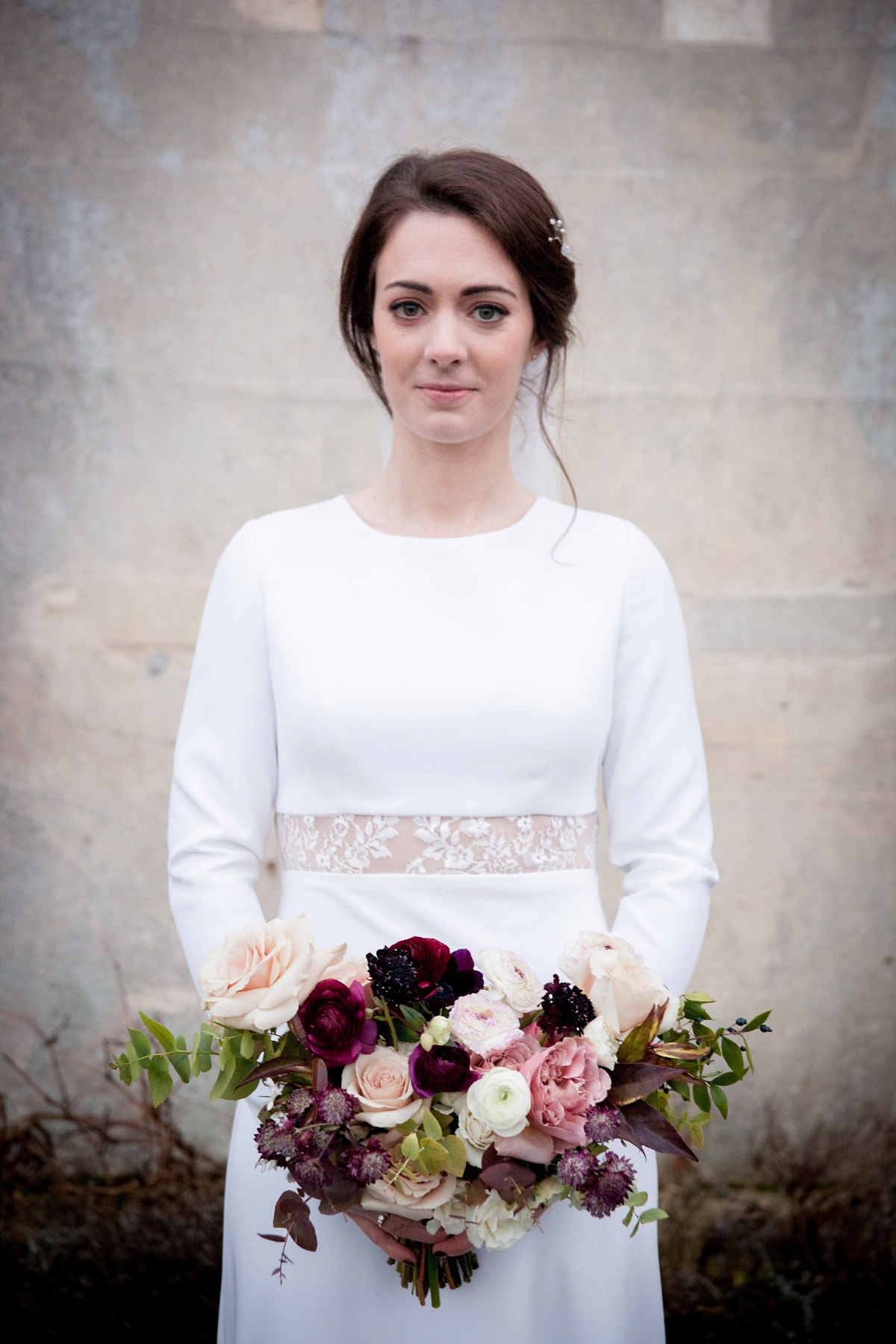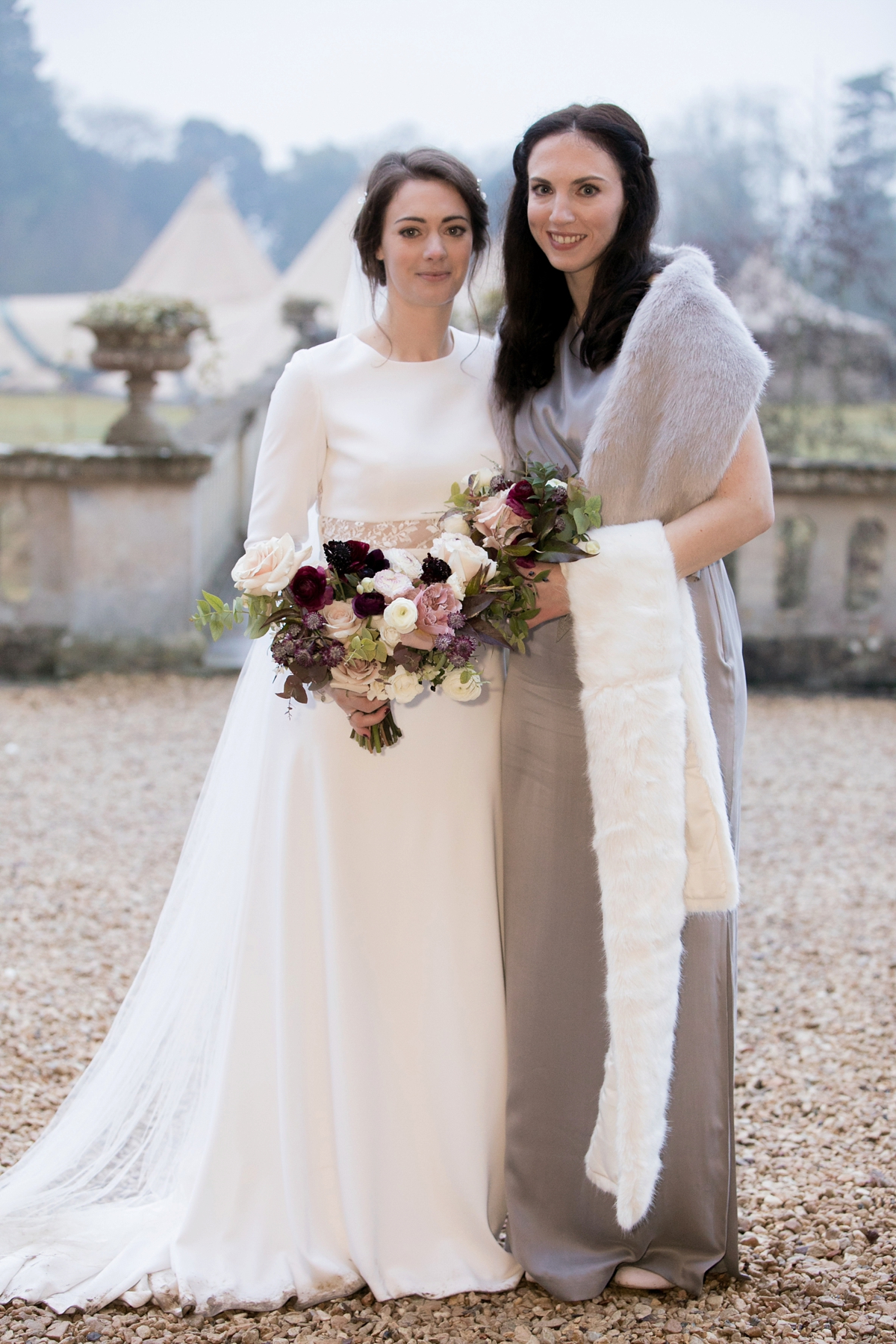 Megan Riera created the beautiful table plan, table names and menus. For added warmth, the tables were dressed with candles and flowers in reds and deep pinks, and each guest received a mini cracker as a favour.
"I originally didn't want favours – it seems to me to be quite an American tradition and I found the ideas of sweet bags or alcohol shots boring. My mum then stumbled across some mini crackers in Anthropologie and couldn't resist so my thoughts about favours above went out the window. They had little neon orange ties on each end which were fab but totally clashed with our deep reds theme so we spent a couple of evenings on the sofa watching films changing the ribbons to a red wine colour!"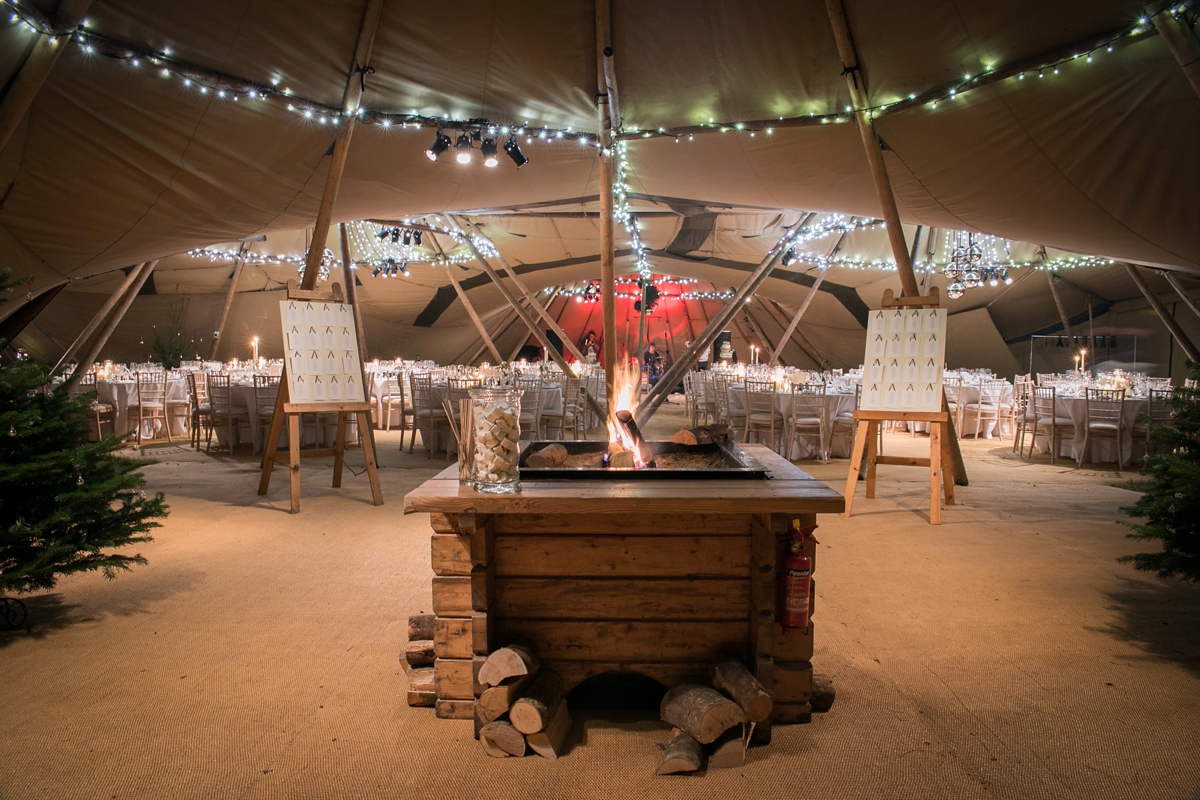 The talented bride made the tiered cake herself. What a wonderful skill to have!
"If I could go back I probably wouldn't have been in a damp tipi at 11am in wellies trying to warm up the cake icing next to the marquee heaters so that I could ice the damn thing!"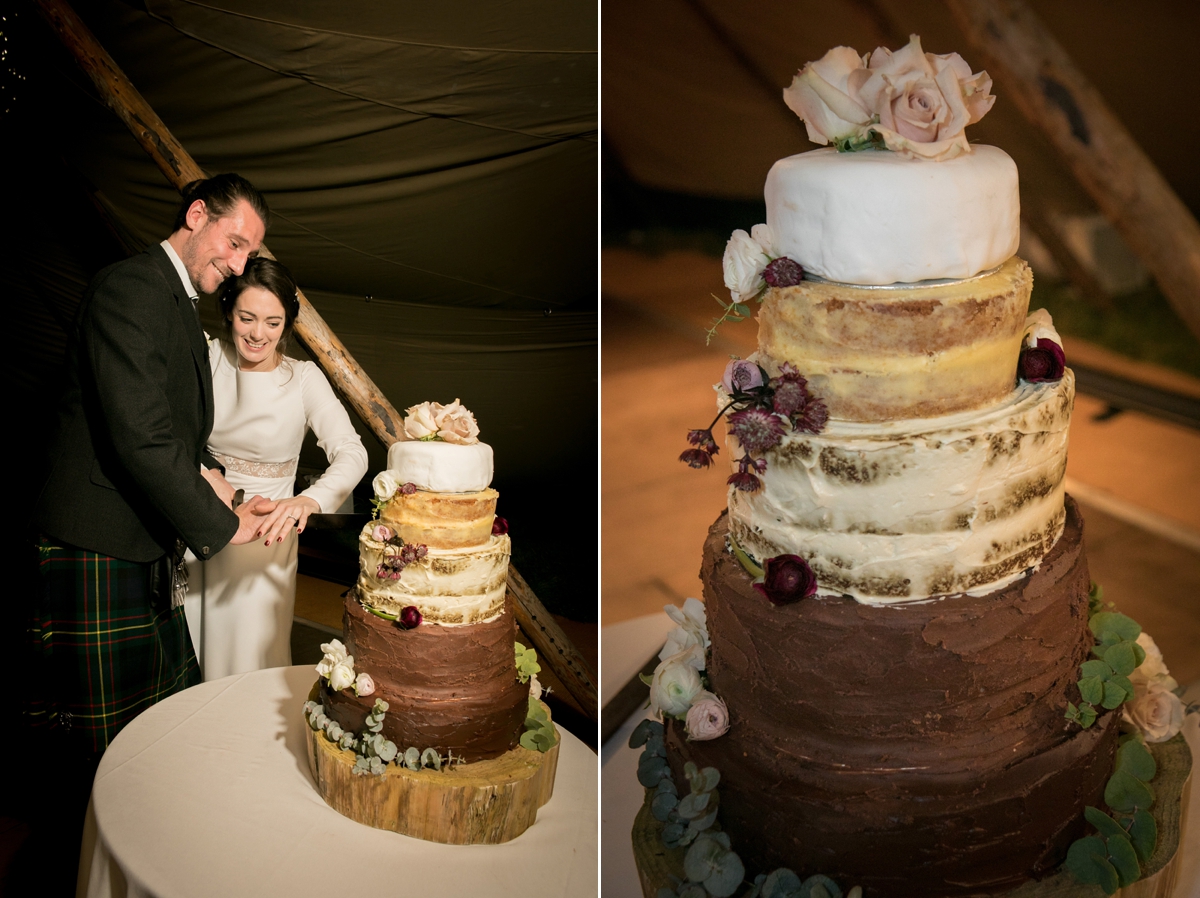 For entertainment the couple asked the Itchy Feet House Band to perform. Having drawn up a shortlist of first dances, the newly-weds ended up dancing to a last-minute choice by the bride's sisters.
"We didn't get round to choosing one and had three or four lined up in a playlist. My family and bridesmaids were shocked when I told them on the morning that we didn't know what we would be dancing to and my sisters told me they would decide and we would just have to go for it! It ended up being 'You Are The Best Thing' by Ray LaMontagne and was spontaneous with no routine mapped out. The video makes me cringe and smile at the same time!"
Words of Wedded Wisdom
"Everyone says not to worry about the little things and it is so very true but I can also understand how easy it is to get caught up in wanting every last detail to be perfect, so just try not to compare your wedding to anyone else's. It will be what it is for the very reason that it is you and your partner getting married that day and no one else."
"People have this amazing knack for wanting your wedding to be a certain way and forcing through their requests even if you can't accommodate them. It is YOUR wedding and as long as you are being kind and fair you shouldn't have to bend your day or your wishes to please anyone else."
"We're both so pleased we decided to pay for a videographer. We ummed and ahhed for a couple of months as it is a vast expense but it has shown us clips we never would have seen and brought back happy, teary memories. I would say that if you're on the fence then hire the videographer. You won't miss the money in the years to come even though it's a lot at first, and having it to watch with your family is much more valuable."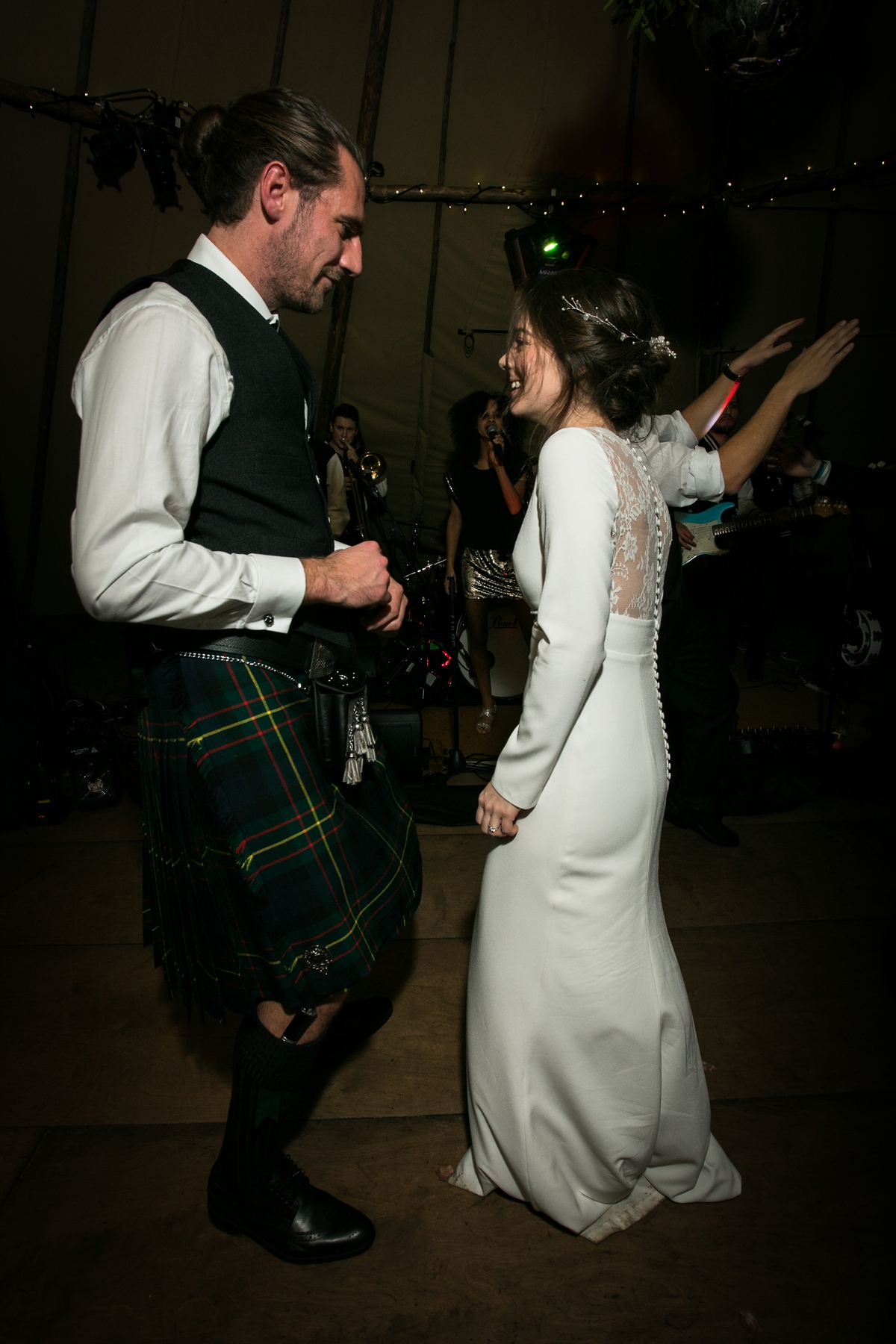 It's been so good to share a festive wedding in the run up to Advent so thank you Harriet and Sandy, and thanks also for your advice to other brides. And Richmond Pictures, you've captured the misty atmosphere and feel of this December day so magically so many thanks to you. If you'd like to see other Jesus Peiro brides we have so many to share with you here. Are you planning a December wedding? I hope you've taken lots of ideas from this wintry day.
Ele xx