If the arrival of November has left you in need of something lovely to cheer you up then please look no further. Every single detail of today's gorgeous wedding is divine – a sparkling gown, soft pastel blooms, a chandelier-lit barn and break dancing – and I'm so pleased to be able to share it with you lovelies.
The bride and groom are Katie and Nathaniel who married on 23 September 2016. Their venue was the beautiful barn and gardens of Upwaltham Barns, Chichester, Sussex. A light and airy space in pretty grounds, it was the ideal location for the couple to create an intimate and relaxed day. They combined formal dress – black tie for the men and long gowns for the women – with the rustic feel of the barn to create a really stylish and friendly atmosphere.
Katie, who works as an Assistant Brand Manager in Surrey and her beau Nathaniel, a Digital Account Manager in Shoreditch, have a long history together. They met at the sixteenth birthday party of Katie's cousin, who Nathaniel went to school with. Hannah K. Photography was recruited to record their special day, whilst Little Book for Brides member Dan Dolan Films filmed and edited this lovely video, which beautifully blends colour videography with black and white film.
"Dan was amazing. I came across a wedding video he'd created at Upwaltham Barns previously and I fell in love with the style. There's something about the way they tell a story that just got me. I love the way they edited our vows to feature over the top of our video and caught all those little moments that you miss because you are so busy on your day."
Film Dan Dolan Films
https://vimeo.com/190079776
Thank you so much Katie for your lovely words about the support and value you got from Love My Dress and our private Facebook group.
"I scoured Love My Dress on a daily basis to see the latest wedding. It was an amazing source of inspiration in seeing how each bride and groom made their day so personal. The secret Love My Dress Facebook group was so incredible when we were planning. It is filled with lovely women who are so kind, honest and helpful and it was so nice to have somewhere wedding-related to chat about all of those little things – like how to make a chalkboard sign and how not to have a meltdown when half a table of guests drop out at the last minute."
Photography Hannah K. Photography
"Hannah captured the whole day beautifully, from the emotional moments to the hilarious parts of the day. Hannah made us both feel so at ease and she blended in so well that we were barely aware of her. She understood exactly what we wanted and was also very quick to respond to any queries. Most importantly we adore her pictures and will treasure them for life."
Katie and her bridesmaids got ready in a cottage in the grounds of the beautiful Upwaltham Barns.
"We wanted somewhere intimate with a relaxed atmosphere. As soon as we walked through into the courtyard at Upwaltham, we knew it was the perfect venue for us. Nikki and Tim were so friendly and made us feel so welcome. The venue has a big courtyard which was great for our drinks reception and a beautiful cottage for my bridesmaids, mum and I to get ready in. The venue has two main barns which were stunningly decorated with beautiful chandeliers. It felt like you didn't have to add anything to make it beautiful."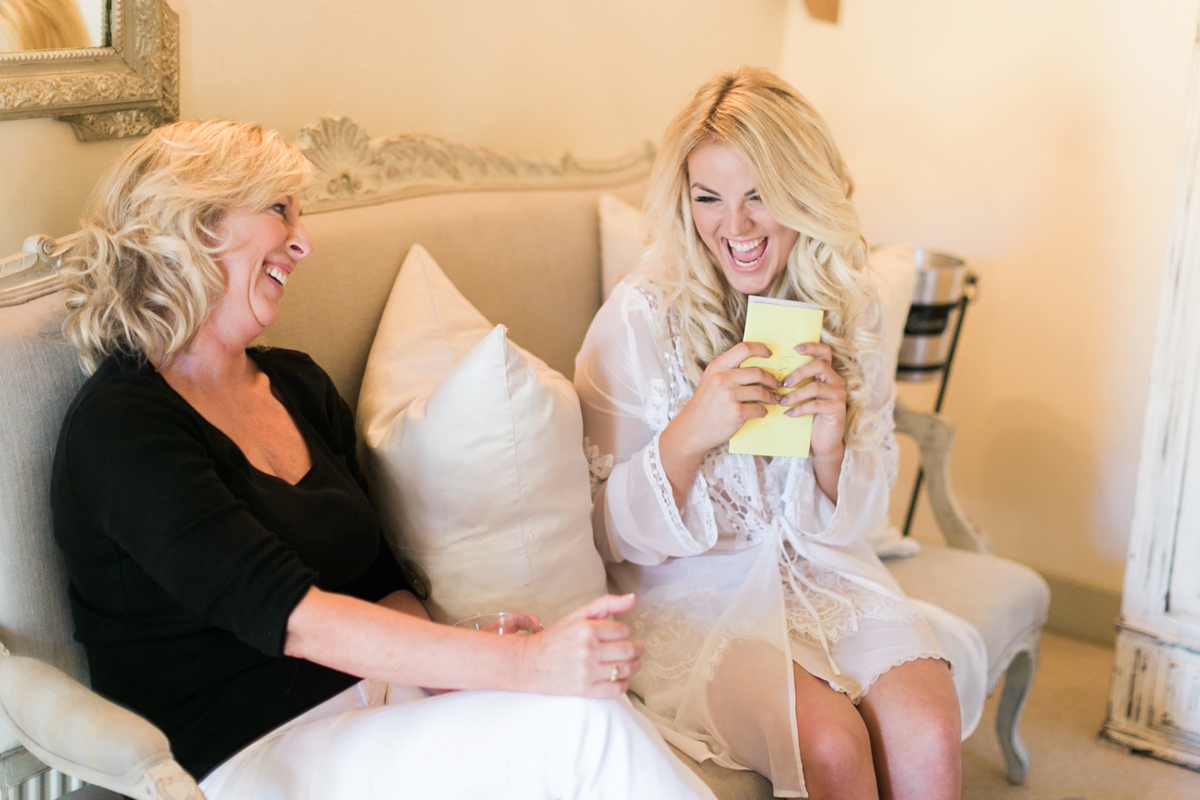 "We didn't want an overriding colour scheme or theme – the day ended up being a mismatch of things we liked. We ended up picking lots of neutral and pastel colours. The venue did a lot of the talking in terms of décor but I wanted a rustic feel that would fit with the venue and relaxed atmosphere."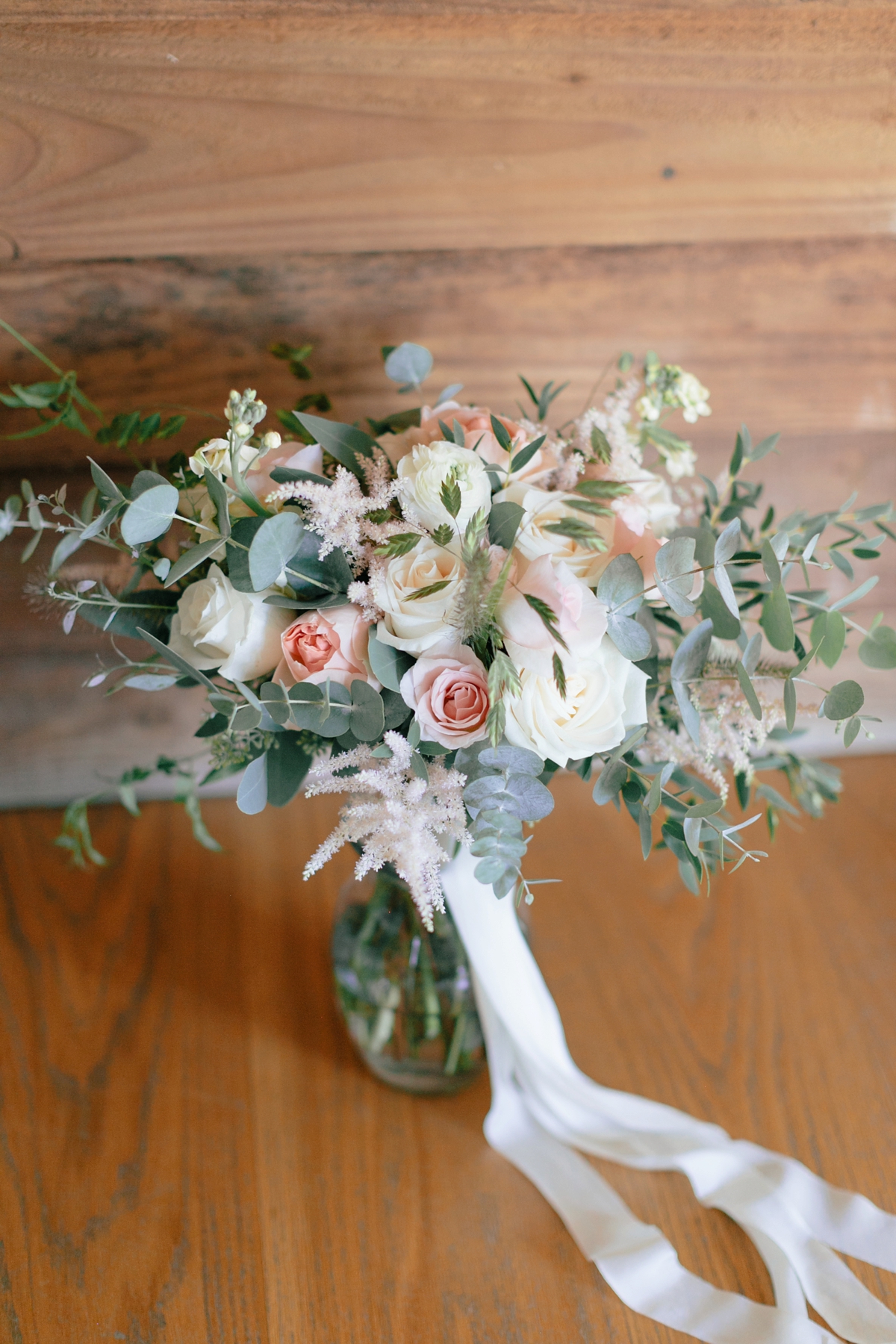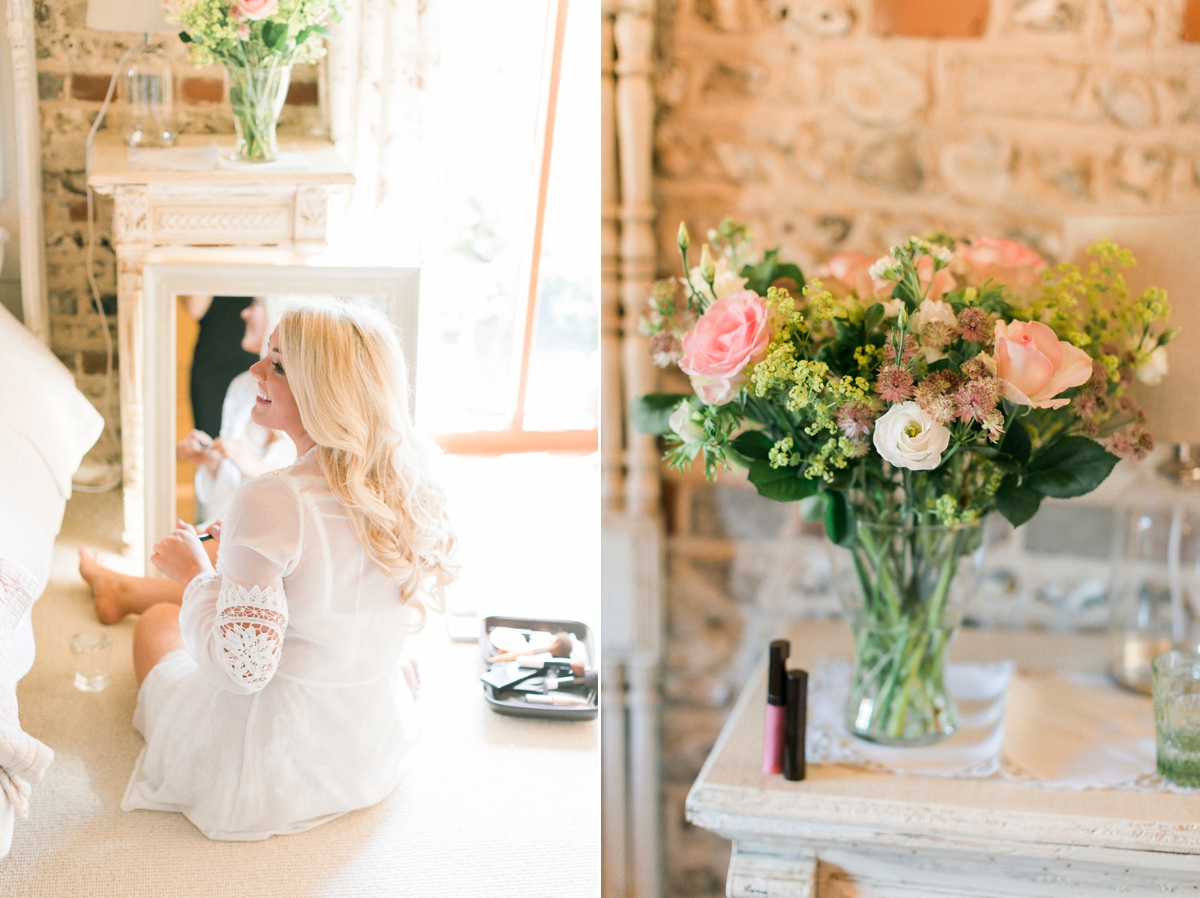 Katie chose her gown, a Lusan Mandongus design, at Weybridge boutique Surrey Brides. I love its open back, sweetheart neck and sparkling embellishment.
"I tried on every style of dress to start with which was really fun – I could have spent weeks flouncing around in different styles. In the end I chose my dress because of the low back – a feature that I'd never thought of trying before, capped sleeves, longish train and mermaid-style fit – it had beautiful beading all over it but didn't feel too big or heavy. I felt really glam, but could still dance the night away without any trouble."
I have such hair envy over Katie's long blonde locks; curled and left down by hairdressers Bumbles Too for a natural and relaxed vibe. The bride did her own make-up and paired a dramatic eye with a nude lip.
With such an intricate gown, few other accessories were needed; just a pair of Pandora drop earrings, sparkly heels from House of Fraser and a long, flowing veil.
"Originally I thought a veil was a bit too traditional for me but after some persuasion and trying on a few I bought a one-tiered cathedral-length veil from Surrey Brides. They customised it for me by adding some of the extra beading from the belt on the dress to the comb part."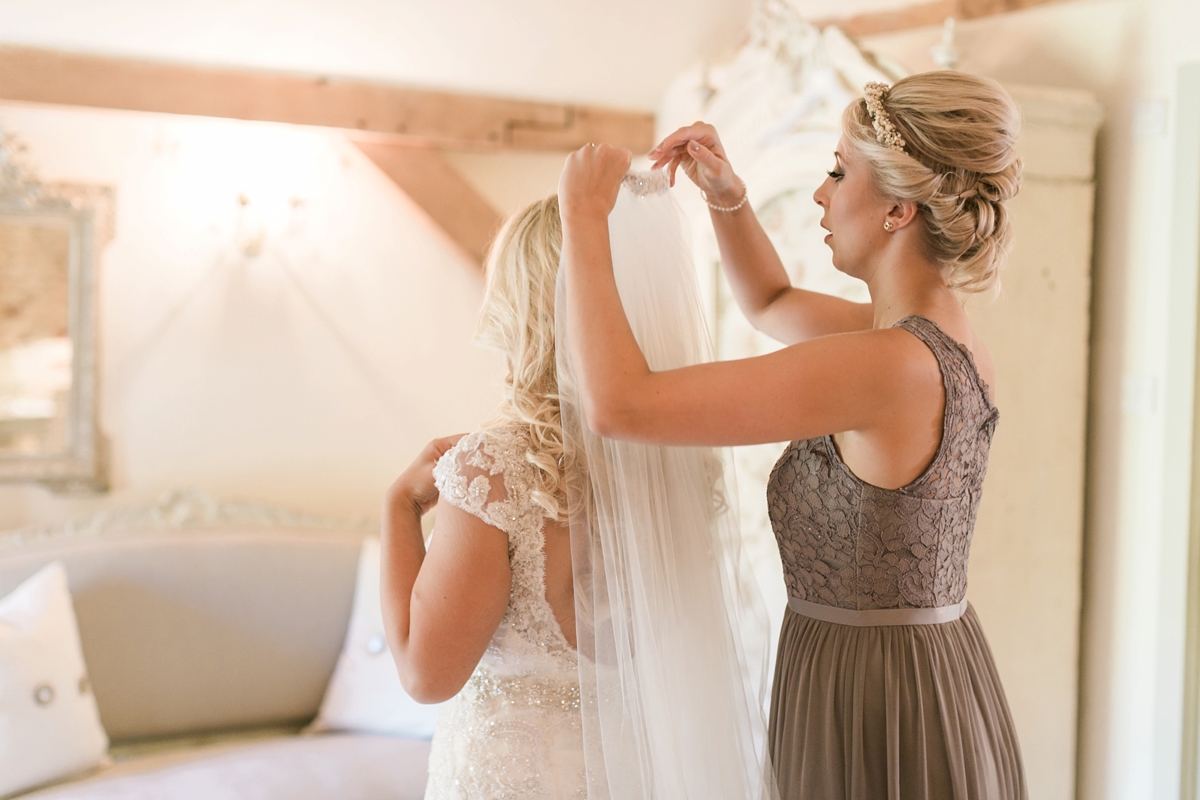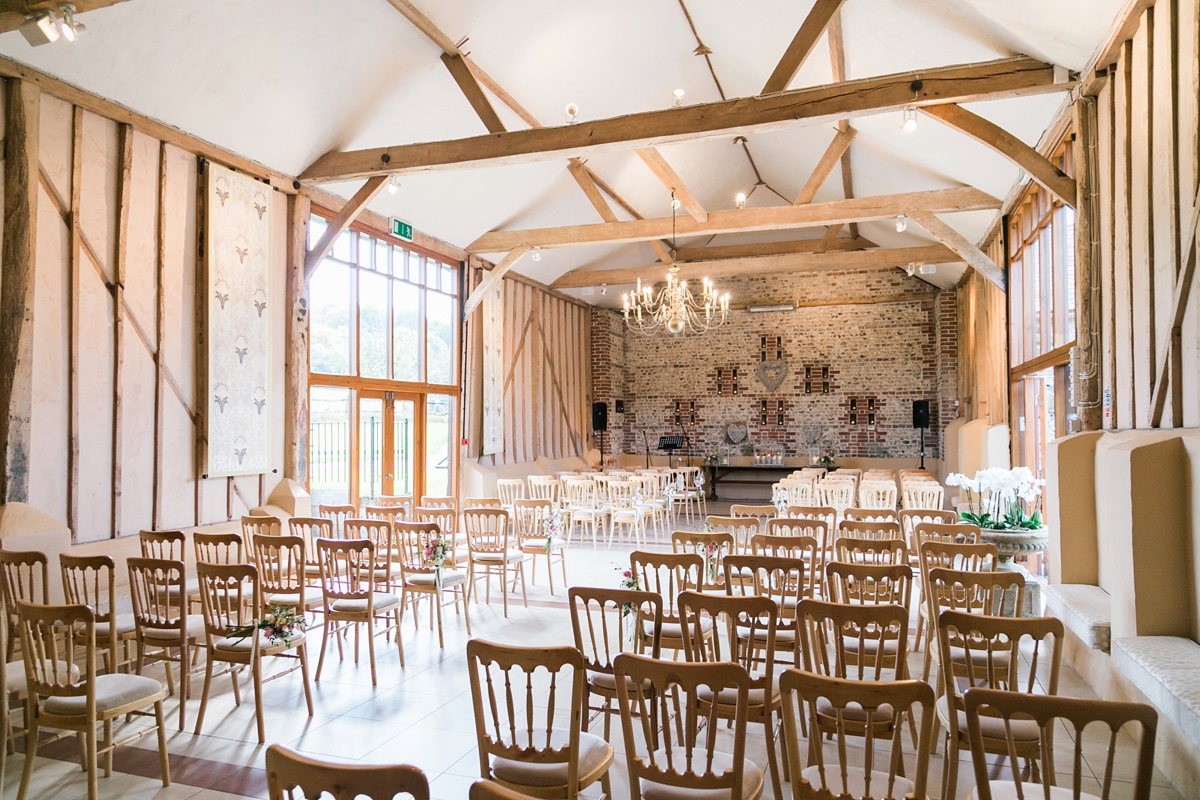 In the ceremony barn the décor was kept simple with floral pew ends and more flowers and a candle-filled lantern on the ceremony table. Their florist was Kerry at Rose Cottage Flowers.
"I had spent hours on Pinterest looking at different arrangements. In the end I sent Kerry the board and let her loose without much more direction other than pastel colours, wax flower and eucalyptus. The ivy eucalyptus chandelier was incredible and definitely the most favourite arrangement. All of the bouquets were beautiful and full of eucalyptus and I didn't want to put mine down."
I love the look of dinner suits and bow-ties, and Nathaniel and his six groomsmen friends look debonair in their Moss Bros suits. Nathaniel stood out in a royal blue jacket whilst the others wore classic black.
"Nathaniel knew what style of suit he wanted; one that would give him maximum flexibility on the dance-floor! He actually bought his suit twice – he had found it on his first outing and knew it was the style he was after – a royal blue dinner jacket with a rounded lapel and black trousers. He returned it shortly after as he thought he'd made a hasty decision. We went on with his search going to all manner of suit shops and looking at every piece of cloth combination known to man. Out of frustration and a realisation that the first suit was the best choice, he sheepishly went back to Moss Bros."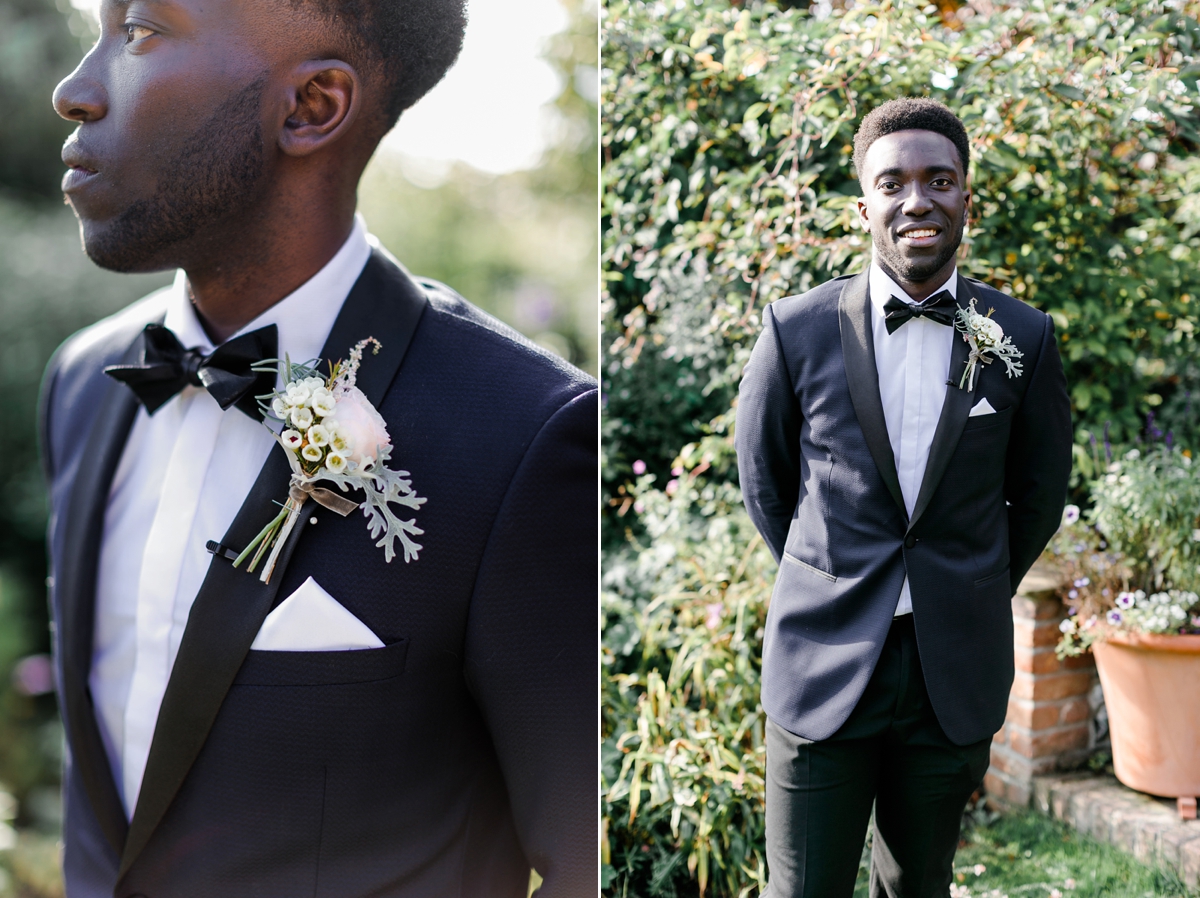 The bridesmaids looked beautifully modern wearing mismatched gowns in shades of blue and grey from David's Bridal in London – a really sensible option to keep six girls of different body shapes and tastes happy and confident. The bridesmaids also wore their own shoes and offset the formality of their gowns with delicate dried gypsophila flower crowns from The London Wreath Shop. Their elegant bracelets were a gift from the bride.
"My mum, aunties and bridesmaids (my two cousins and four best friends) took a daytrip to London in search of dresses. After trying on what felt like a million dresses the girls settled on two styles and four colours. I wanted everyone to have what they felt comfortable in so having a mix of colours and styles was always the plan."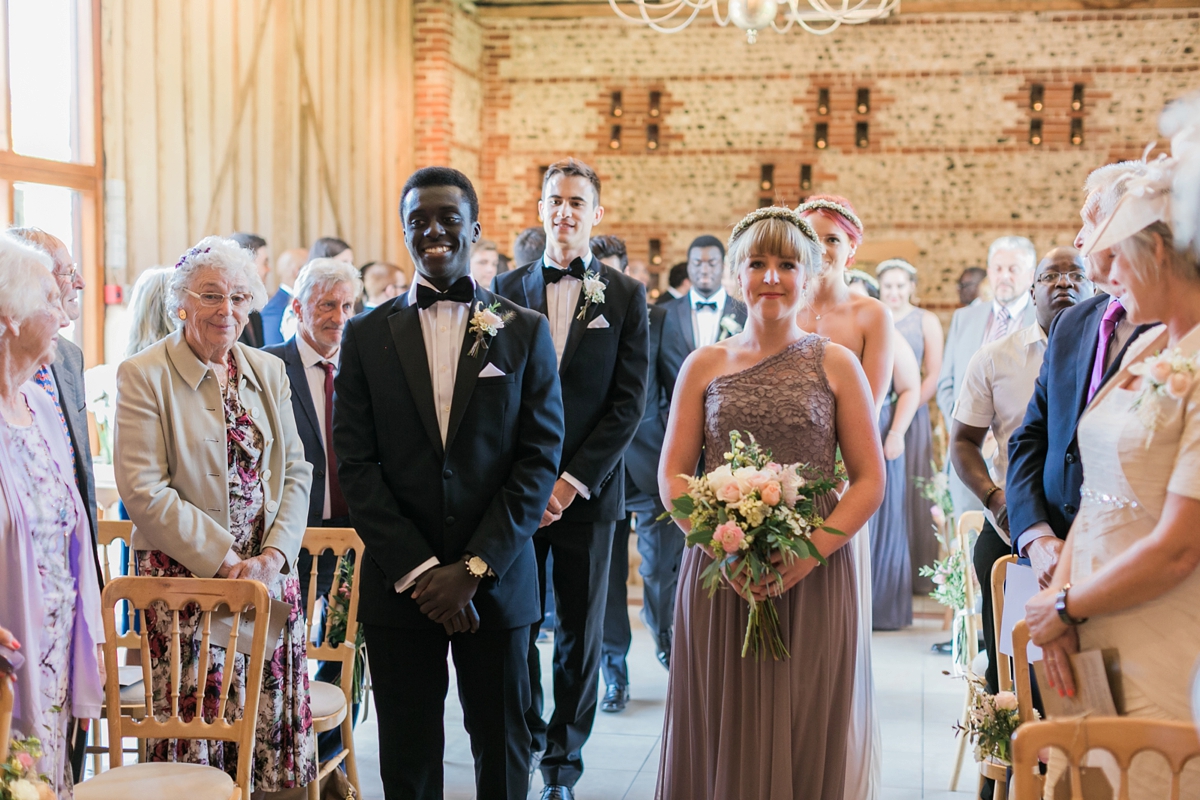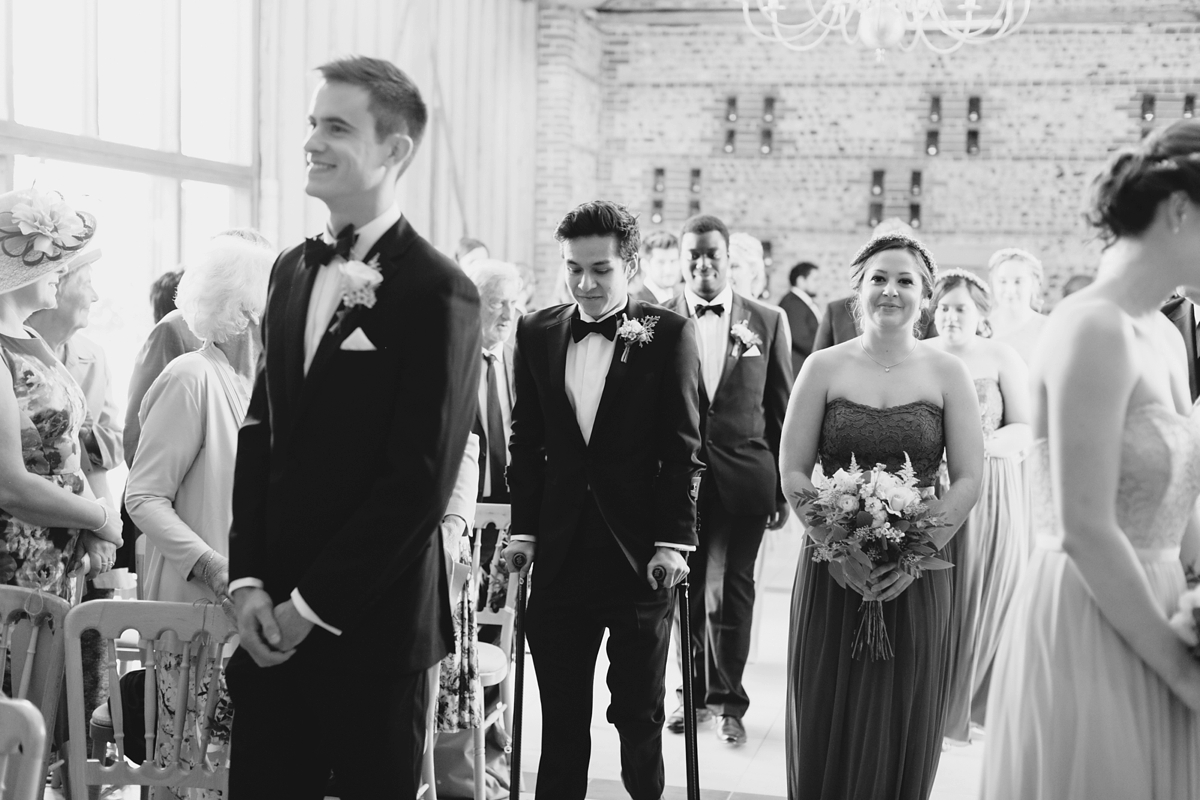 Katie walked down the aisle to Nathaniel on the arm of her dad to 'Beautiful Exchange', a song chosen by the groom for the meaning behind its lyrics.
"I asked my dad to walk me down the aisle. It was really important to share the moment together as he's always been there for me. I did however make sure I wasn't 'given away' as this wasn't a tradition that I wanted to follow."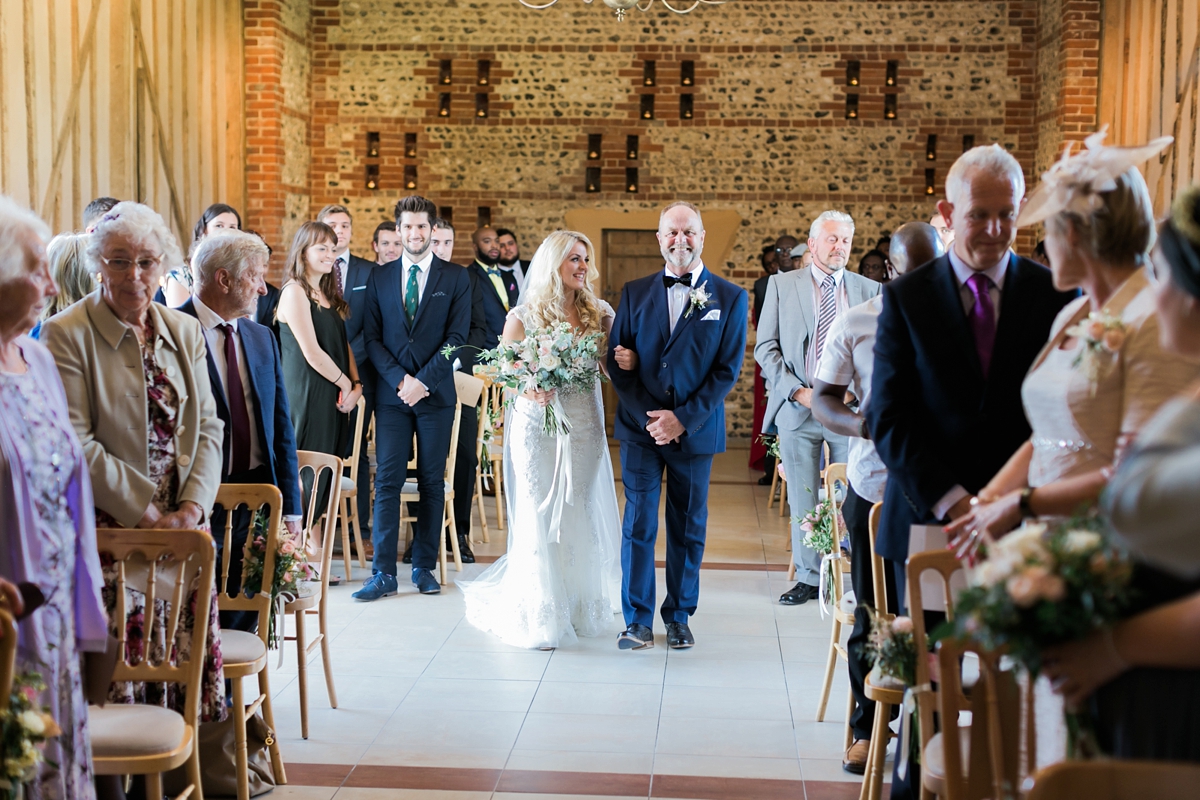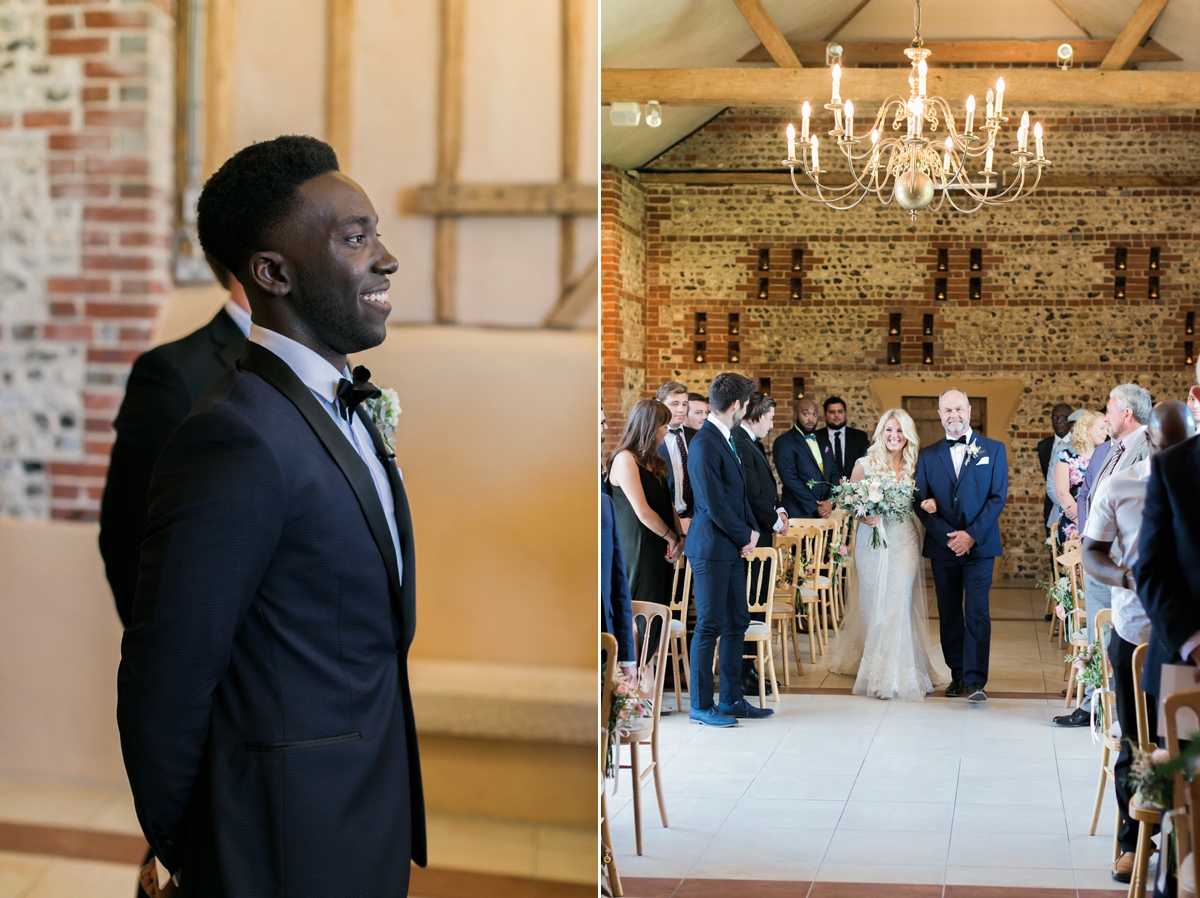 The couple asked a family friend, Paul, to conduct the ceremony, and exchanged vows which they had written together. A reading, 'Blessing of the Hands' read by Katie's godfather, was chosen as it reflects exactly what Katie and Nathaniel feel marriage to be.
"It was important to us to have a really personalised ceremony that suited the both of us. We spent a lot of time actually working through the wording Paul would say on the day to make sure it reflected us and the equality we were going to have in our marriage. We wanted our ceremony to be upbeat, uplifting and filled with joy and music. We asked some friends to lead worship in our ceremony who were fantastic – they sang three songs ('Broken Vessels' ('Amazing Grace'), 'You Are My Vision and 'Holy Spirit') which were really moving and everyone joined in, and even danced."
Both bride and groom chose the ceremony as their favourite element of the day.
Nathaniel:
"The part of the ceremony that will forever remain engrained in my mind was watching Katie walk down the aisle. I was so nervous and until that point was looking around, smiling at everyone and just generally trying to not look like a lemon. But as soon as the doors opened and she entered, it really felt like it was just me and her in the room and I was struck by how beautiful she looked."
Katie:
"I loved the ceremony and saying our vows to each other; for me that was the most memorable and meaningful part of the day. Although we had around one hundred guests watching us it felt as though it was just us. Our friends sang and played the most beautiful songs which everyone joined in with and I will never forget how happy I felt in that moment."
Katie chose to have just one engagement and wedding ring.
"We bought both our rings from Preston & Duckworth in Guildford. My platinum diamond ring was originally my engagement ring and became my wedding ring after we said our vows. I felt that it sat well on its own and wanted to keep it simple as I'm not really a jewellery person. Nathaniel decided on a brushed bevelled edge palladium band."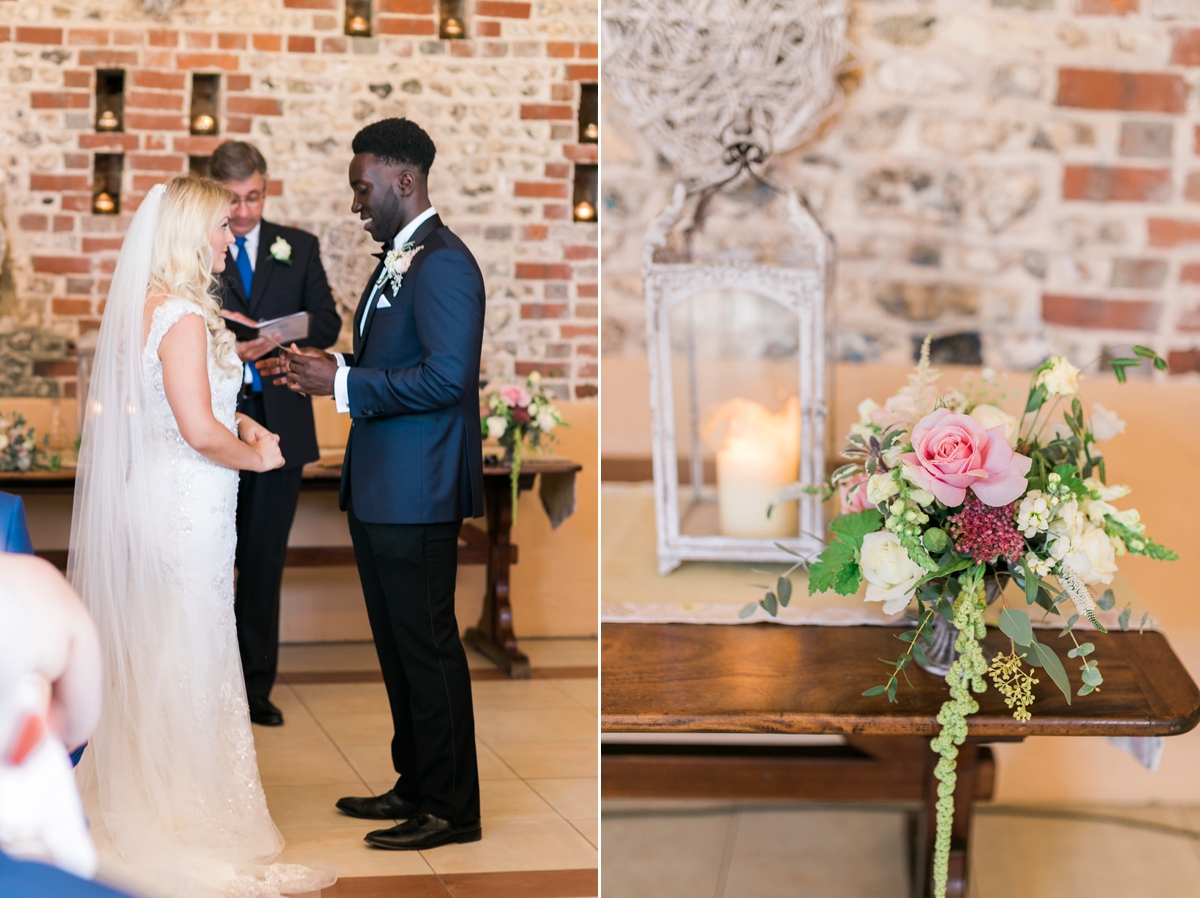 "A long time before we got engaged I completely disagreed with the history of marriage and what it stood for, so when we finally decided to get married we wanted to make sure we did it in an 'equal' way – from having vows about empowerment to ensuring that I wasn't 'given away' and keeping our own surnames. Because of this we had a running joke we should both only get one ring – and it stuck!"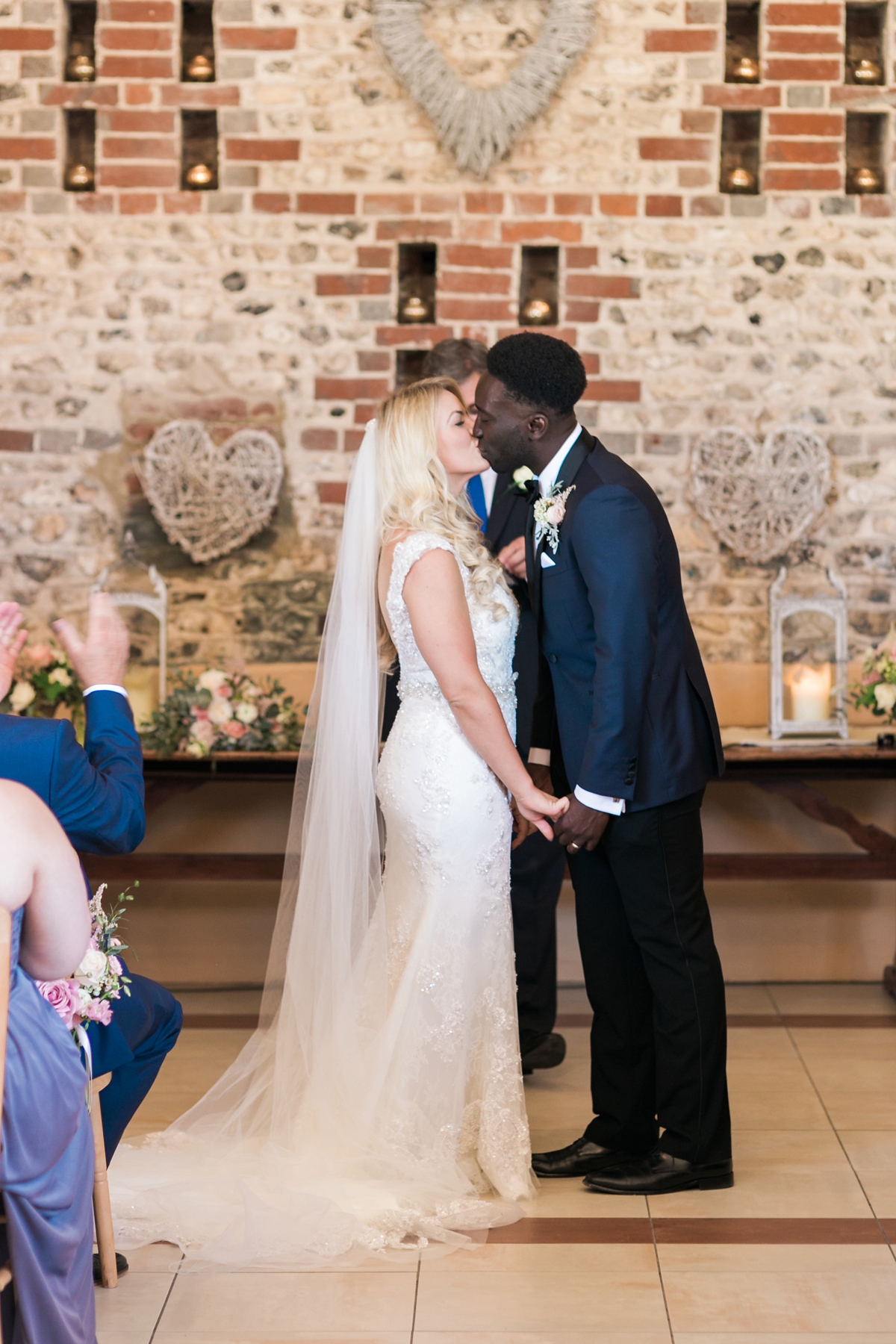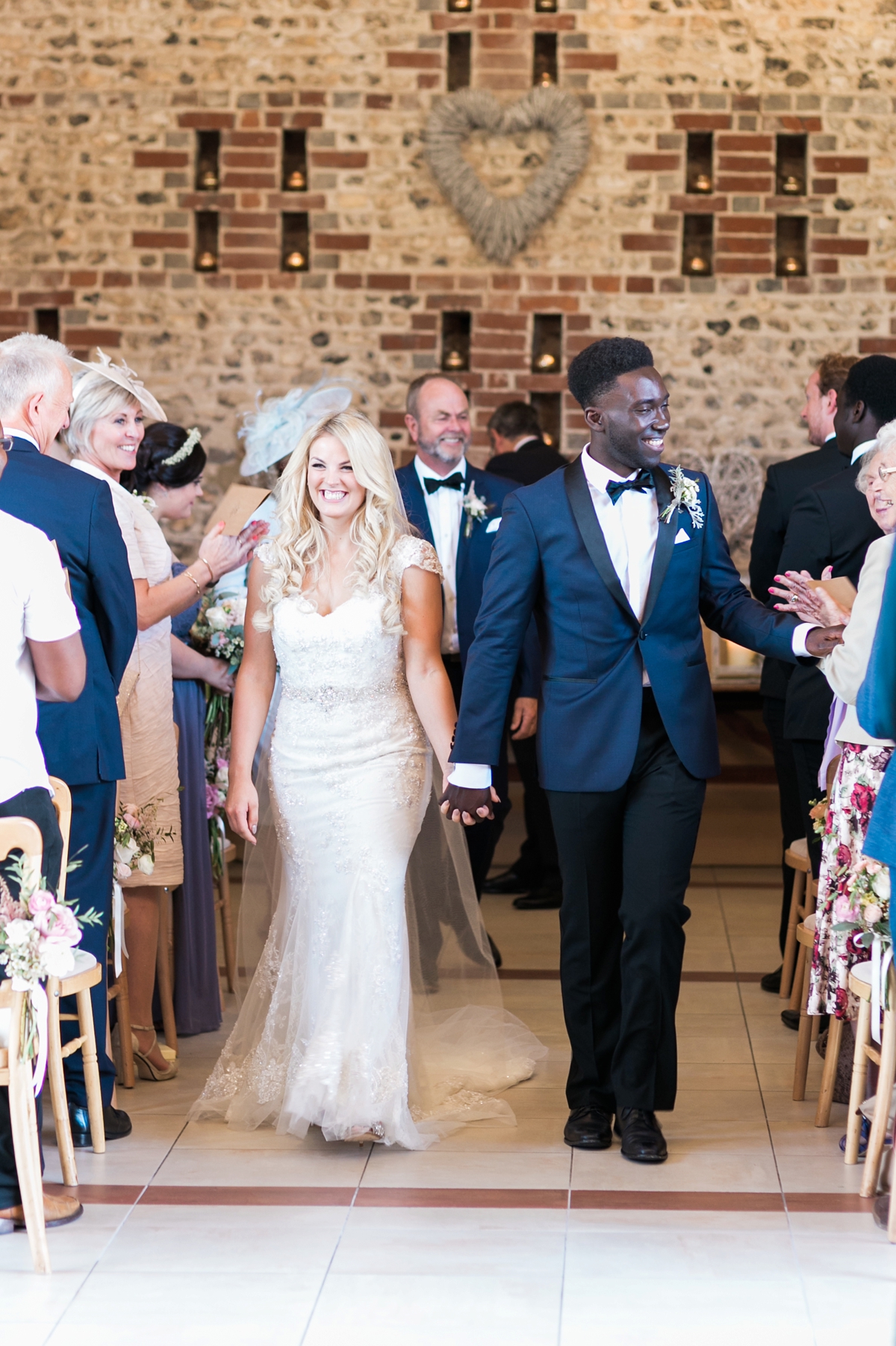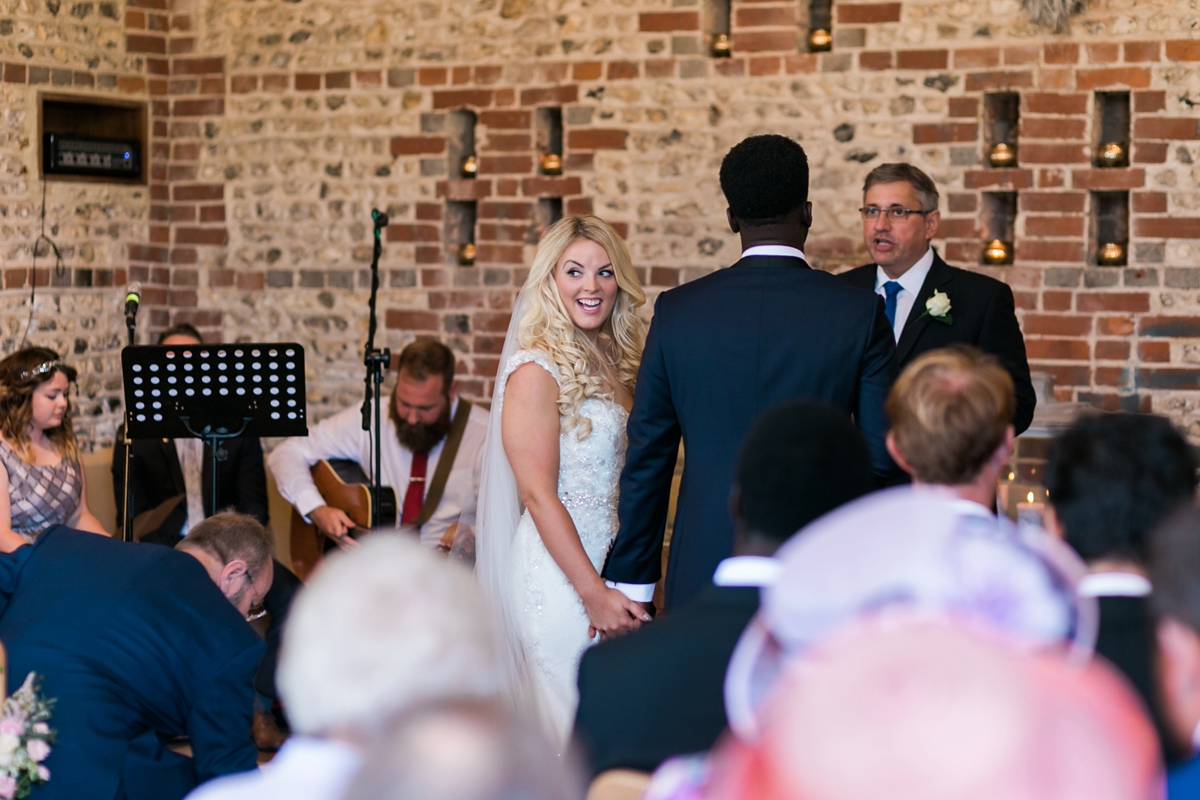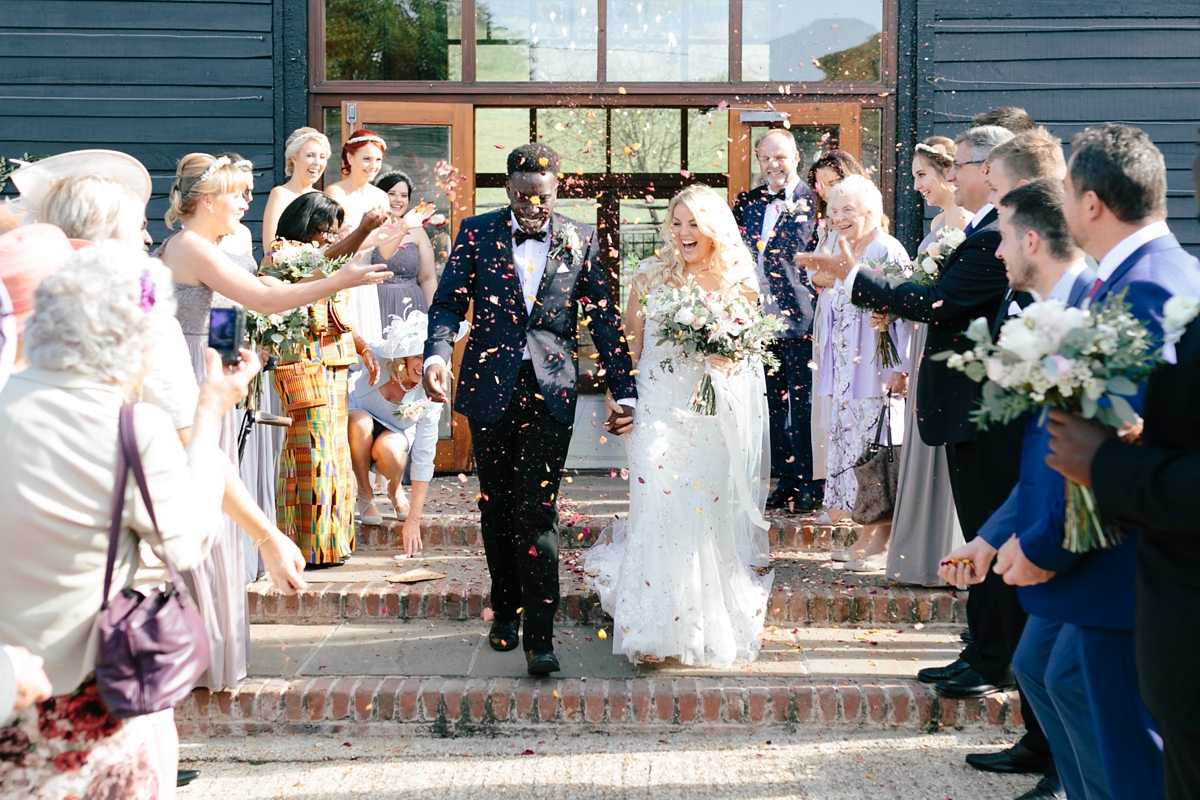 Katie enjoyed getting super-crafty to make decorations and stationery for the wedding, enlisting family and friends to put up the bunting and signs the day before. The couple also made handmade confetti using dried flower petals, chalkboard signs and an incredible sweet table and doughnut stand.
"I really loved the creative side it brought out in me. Our sweet table was something we put together ourselves. We collected jars for about a year, picking up bargains when we could and filled them with sweets we bought at a local wholesaler. Nathaniel also created a doughnut stand with Krispy Kreme doughnuts. We also got crafty with our centrepiece table numbers which we bought from Hobbycraft and then spray-painted gold."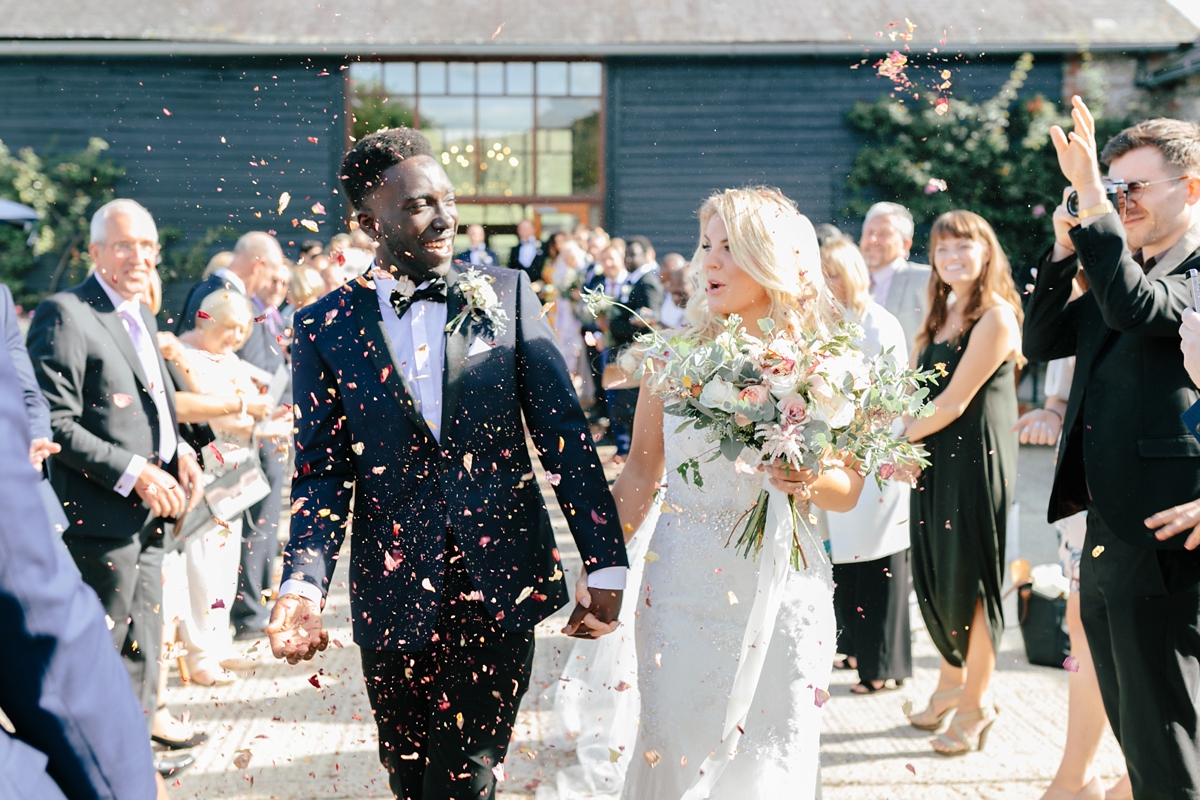 After the ceremony the guests enjoyed canapés in the beautiful gardens before a wedding breakfast catered for by the in-house team Nibbles2Nosh. Later on the same team provided bacon and sausage baps with chips – perfect party food.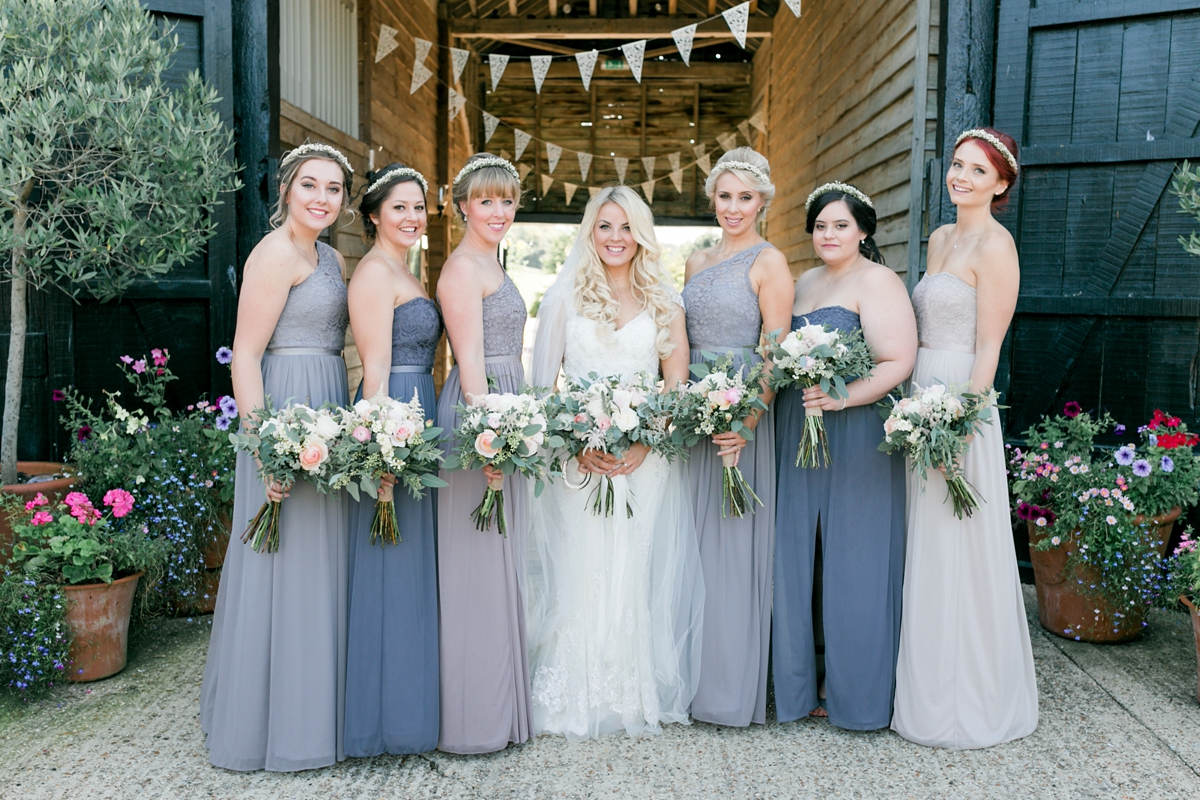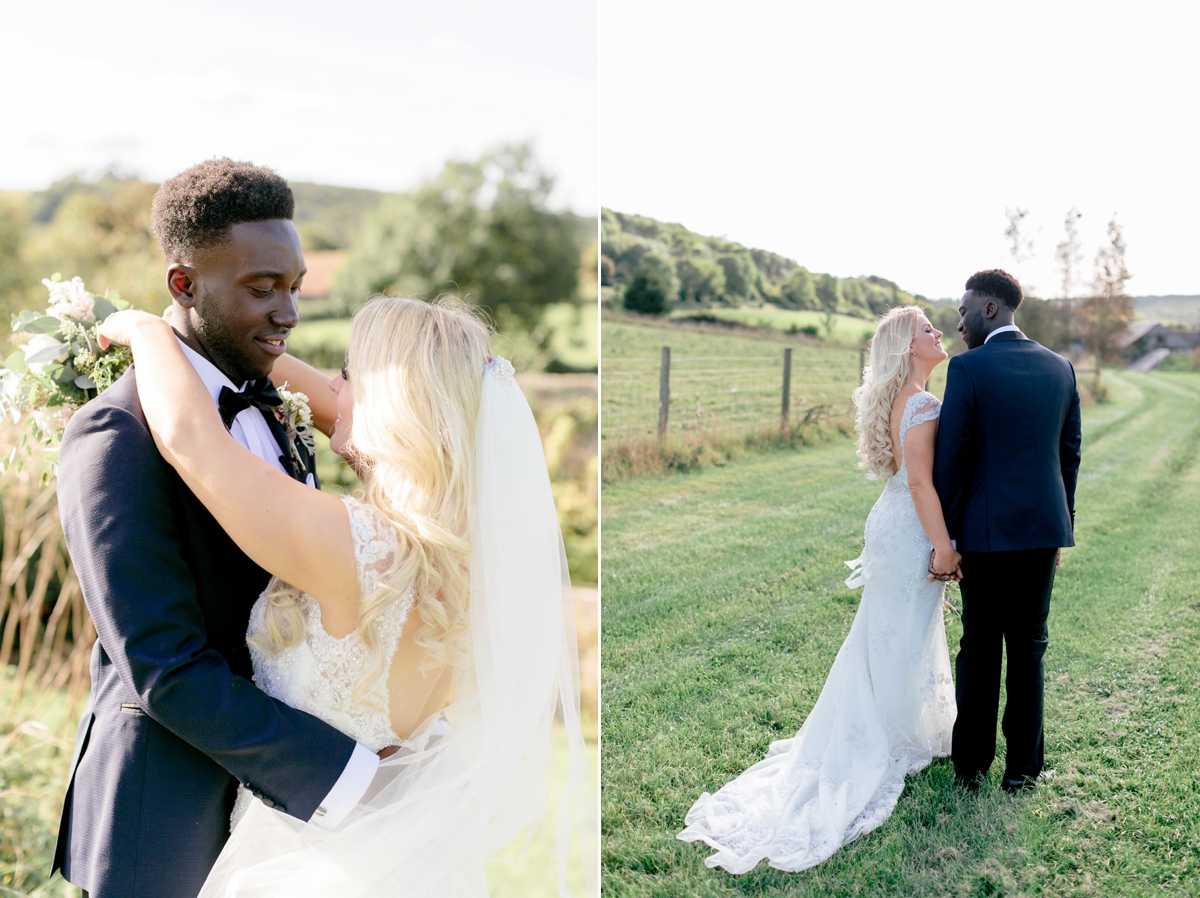 Katie was also responsible for the stationery and loved it so much she's now set up an Etsy shop, The KP Studio, selling personalised wedding stationery.
"I created a timeline of the day highlighting the key activities and including simple, personalised cartoons of ourselves which guests loved. The order of service was kept simple and was printed on Kraft card, as we wanted it to reflect the relaxed atmosphere. I also created our table plan, signs and place cards with the same feel in mind."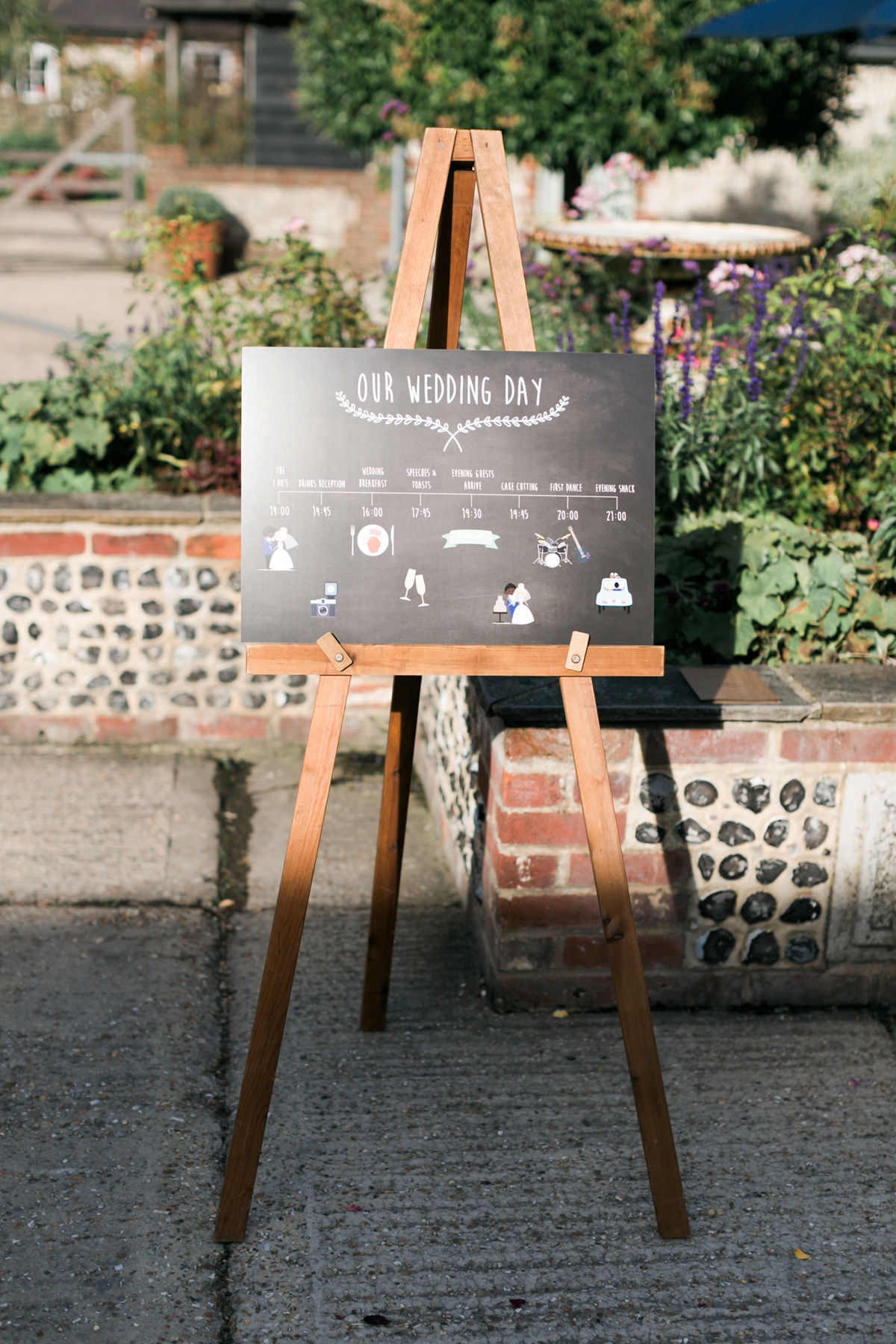 This simple but stunning cake was baked by Bunston Bakes.
"Ellie created the most delicious three-tier semi-naked cake which we had sitting on a tree trunk my uncle cut for us. It was decorated with fresh flowers."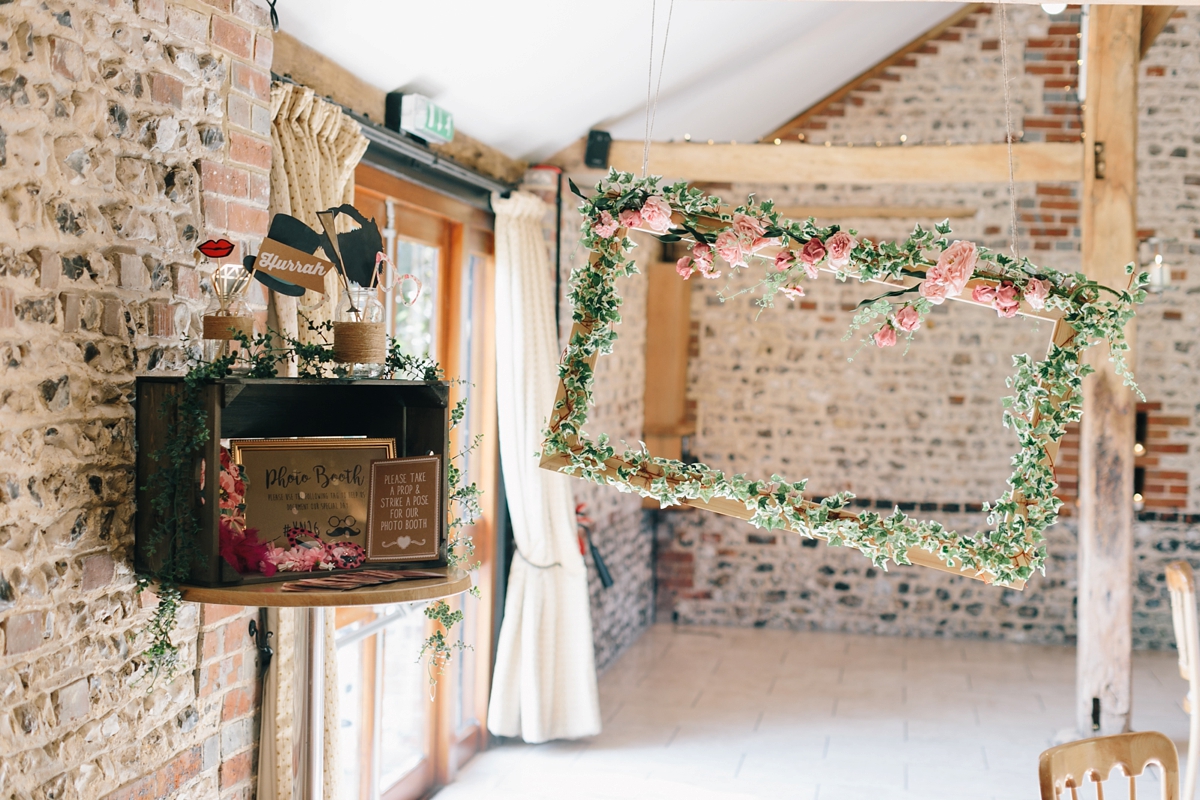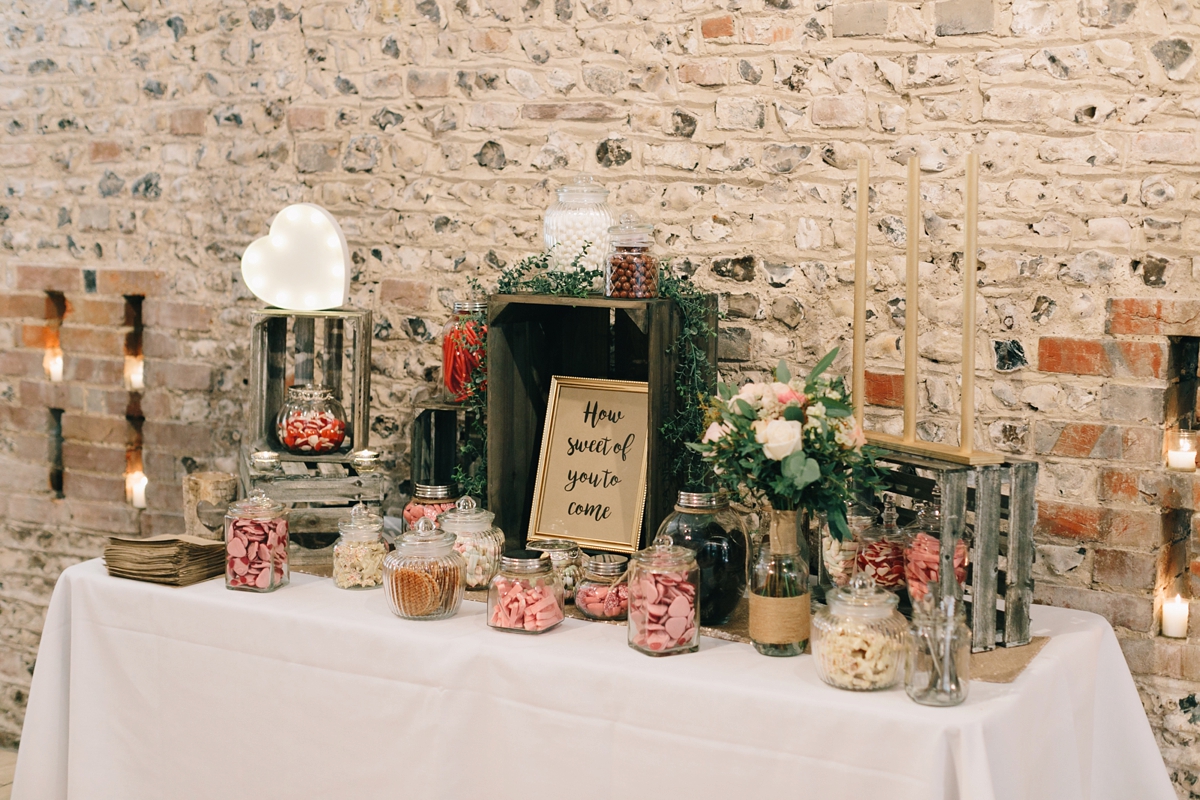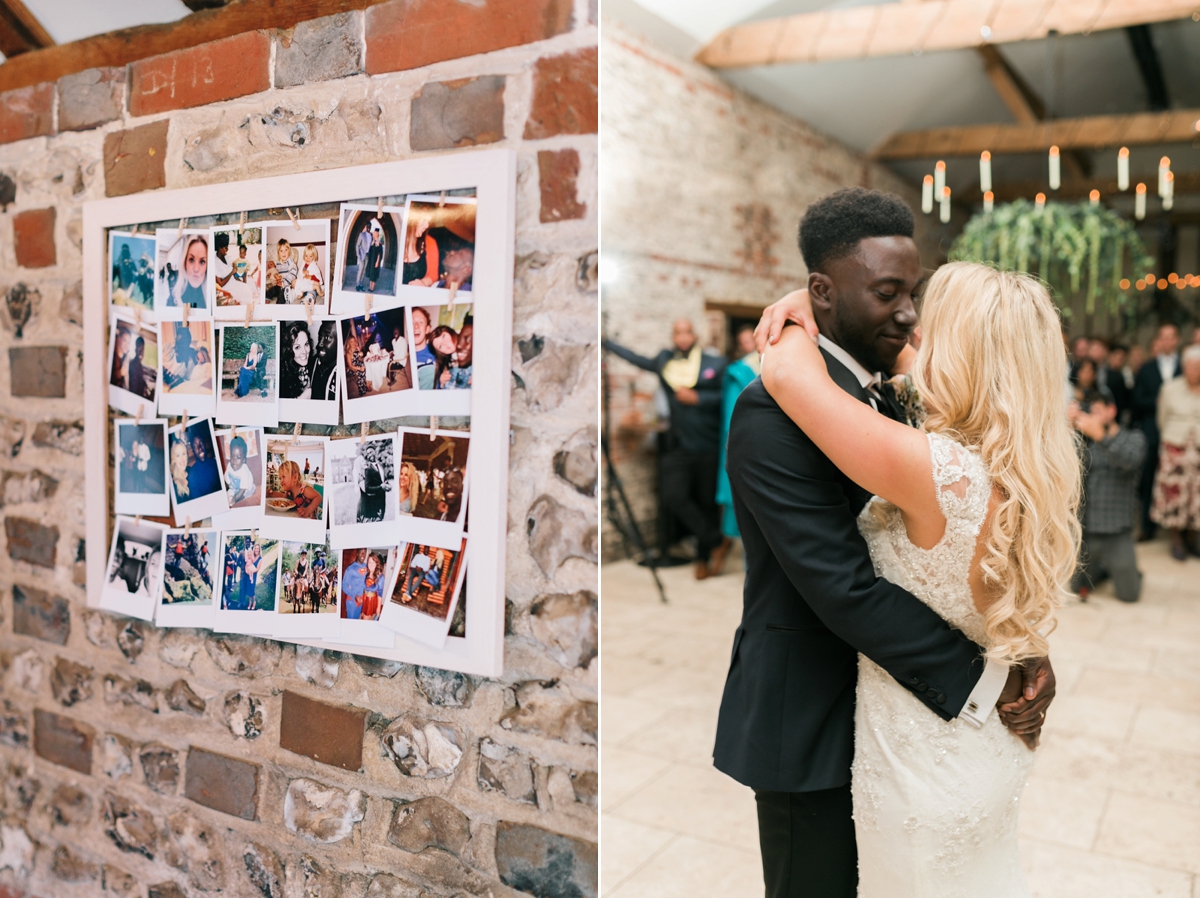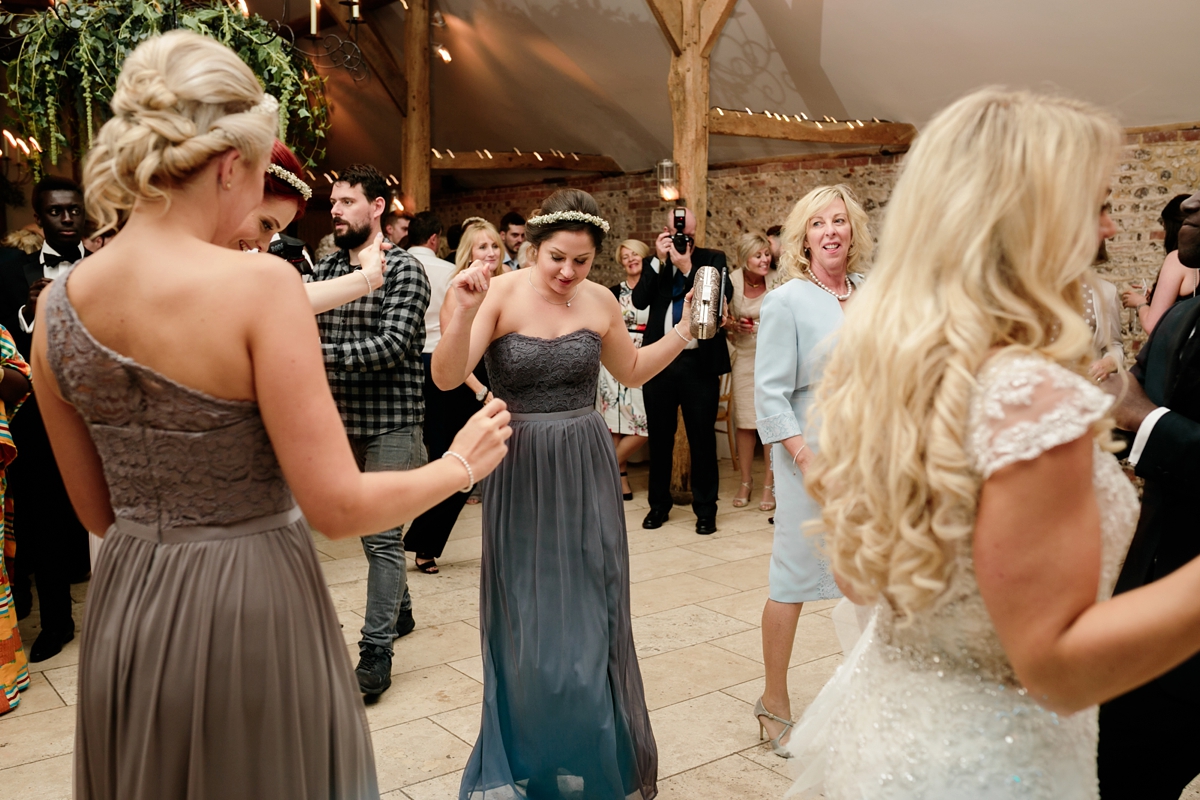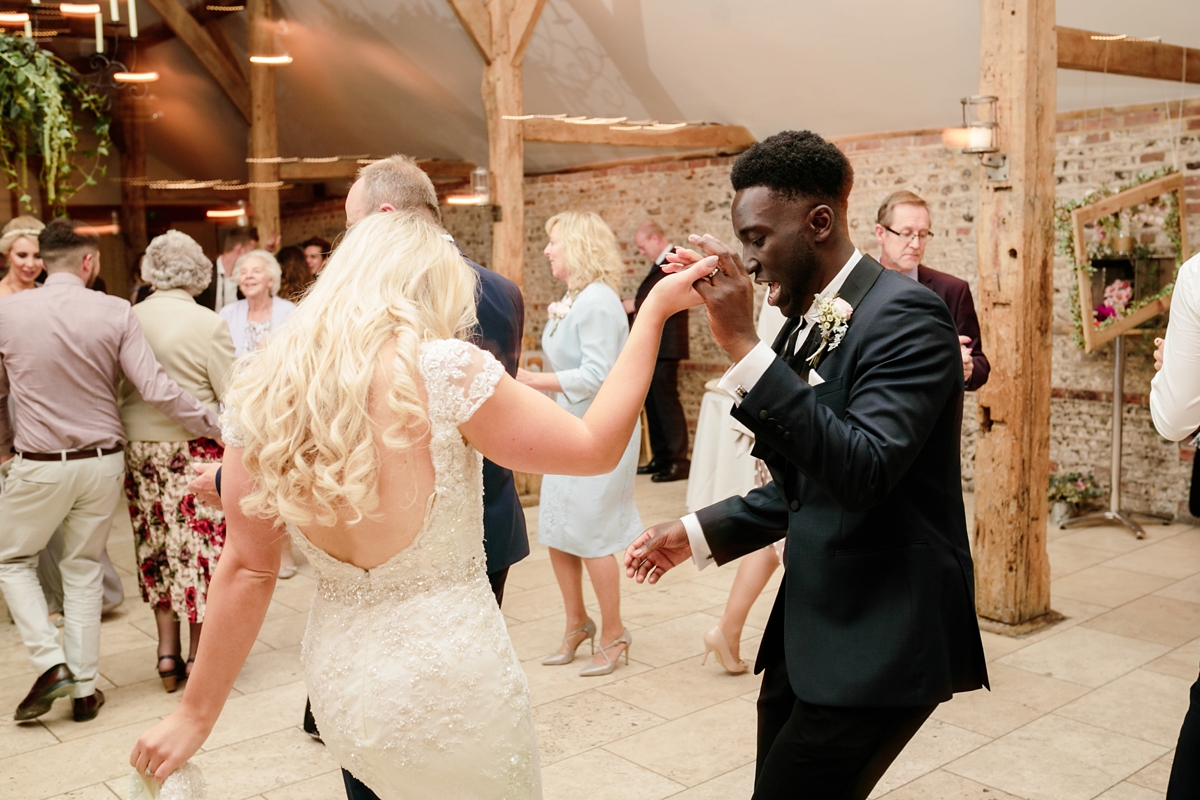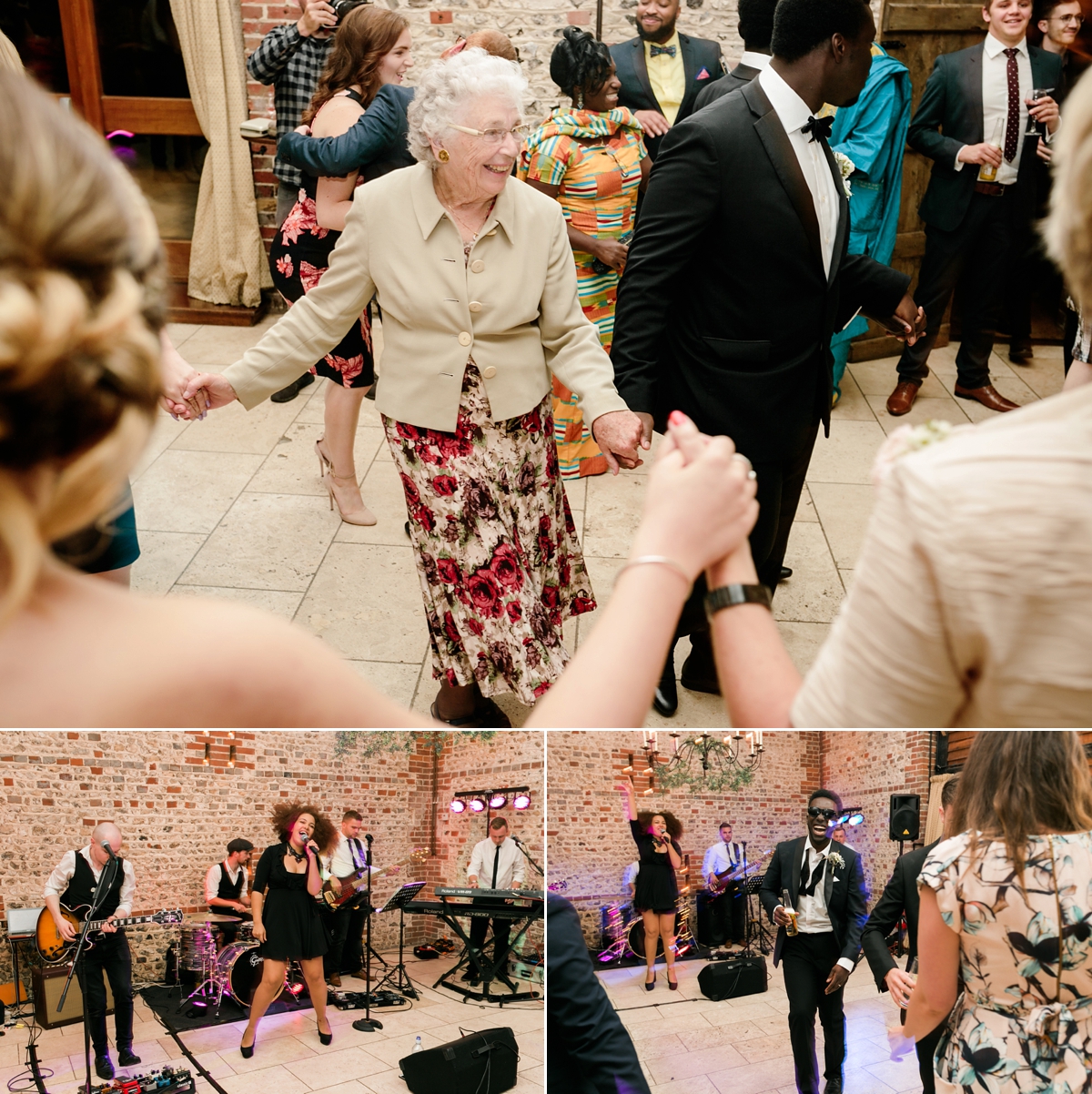 The evening party looks like so much fun. As well as caricaturist David G., who drew portraits for the guests to take home, there was live music by Karizma. After the first dance performed by band singer Talisha, 'The Nearness Of You' by Norah Jones, they got everyone up on the dance floor, and even got the boys break dancing.
"Nathaniel and a group of his friends used to break dance when they were at college and so we knew that the wedding would be a great opportunity for them to throw some shapes. Not everyone expected this impromptu entertainment but everyone loved it!"
Words of Wedded Wisdom
"Keep perspective of what's important. I could have gone on and on creating new DIY pieces and decor for the wedding. Although it's nice to have those crafty pieces of décor and little touches I think it is so easy to get carried away. 
"Don't worry about the things you can't control – like last-minute guest drop-outs. I nearly lost the plot when quite a few guests dropped out at the last-minute. If you can't control it then don't stress about it. As long as you walk down that aisle and say your vows to each other, nothing else really matters."
"Let people help you. I am a real perfectionist so found it really hard to let go of organising certain things. I wanted some sort of photo booth, but didn't have time to organise anything. In the end my maid of honour said she could help and made a beautiful frame and organised loads of props and even set it up the day before. It was amazing and just shows sometimes you need to let go and allow people to help."
Katie and Nathaniel, it's been a joy to share your day today; thank you so much for your account of the day and for being part of our Facebook group too. Sending many thanks to Hannah K. Photography too for these romantic, light-filled photographs.
Ele xx