Good morning folks! We'll have no talk of 'hump day' round these part today – talk like that is banned when there are such wonderful images to be enjoyed.
This morning's wedding is one I've been waiting with much excitement to share with you for a little while now. The images are exquisite, as they could only be when photographer David Jenkins is involved, and the bride's Needle and Thread dress dress is sublime – as are the delightful flowergirls twirly gowns and the groom's sublime attire.  Daisy, a nutritional therapist, married Vijay, a nurse, on 29th April this year at the sophisticated and elegant Devonshire Terrace in London, which boasts a glass roofed courtyard.
"We wanted to feel that both our family backgrounds were represented in the clothing choices. We had a secular wedding because our families are of differing religious backgrounds, neither of which we personally practice. Plus we didn't want the hassle of moving from a ceremony venue to the reception."
Photography by David Jenkins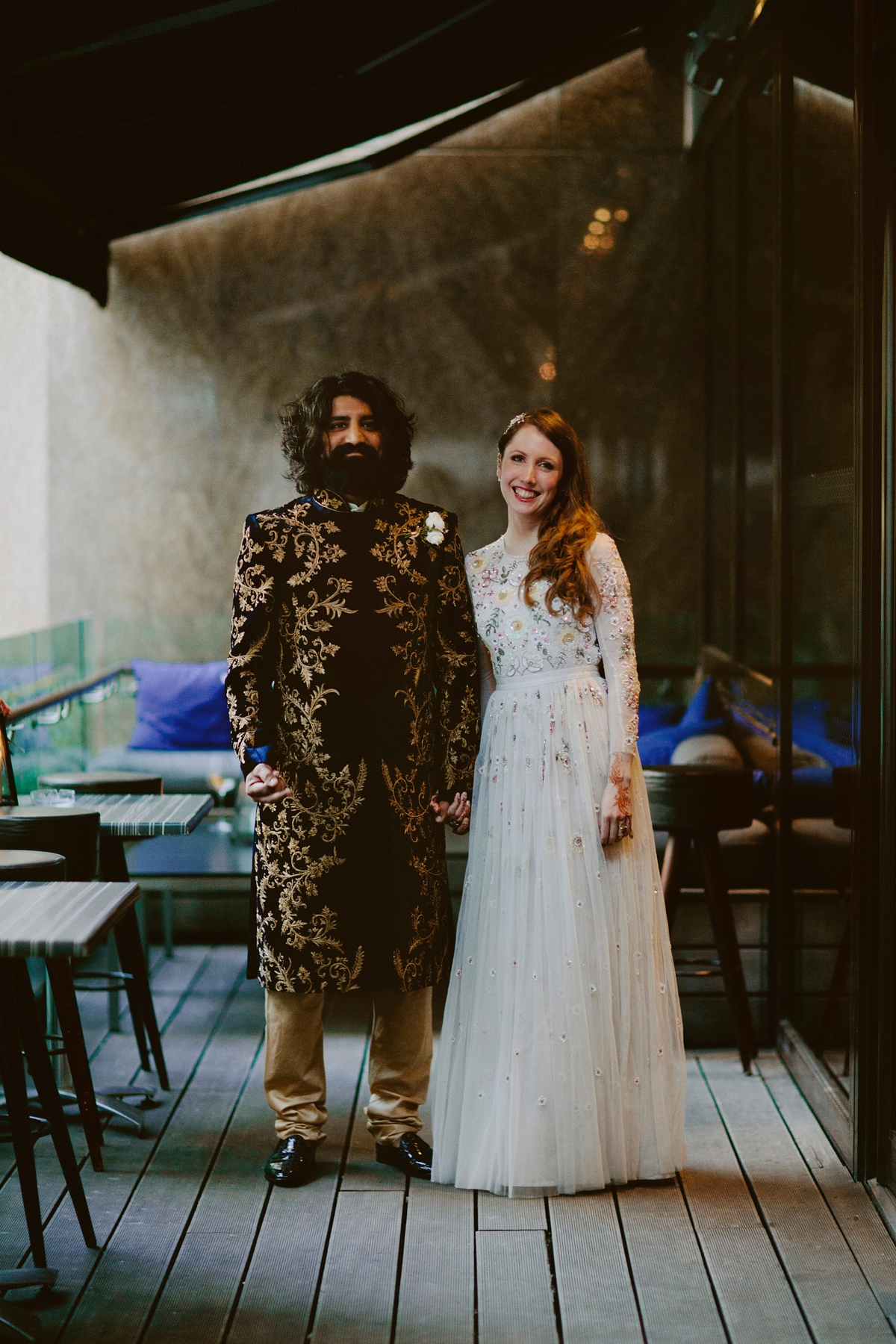 Daisy's utterly wonderful gown Needle and Thread was a purchase from Net a Porter.
"I was browsing online for tulle dresses and this popped up; I bought it on my phone in the pub with Vijay and his sister! It fit perfectly. My mum was initially disappointed that I'd bought something online rather than visiting a shop, but once she saw the dress we both agreed it was the right one.""We wanted a venue with a marriage license to avoid travel complications. We also wanted it to be in London where we live and work, so that we could invite more people to the evening party. Our numbers were of course limited for the daytime due to cost, but being in London meant we could include many more colleagues and friends in the evening."
"Devonshire Terrace was in a really convenient central location and we also found that venues in the City of London often have low or no hire fee, because the area is quiet on weekends when businesses are closed – many of them shut if not for private event hire."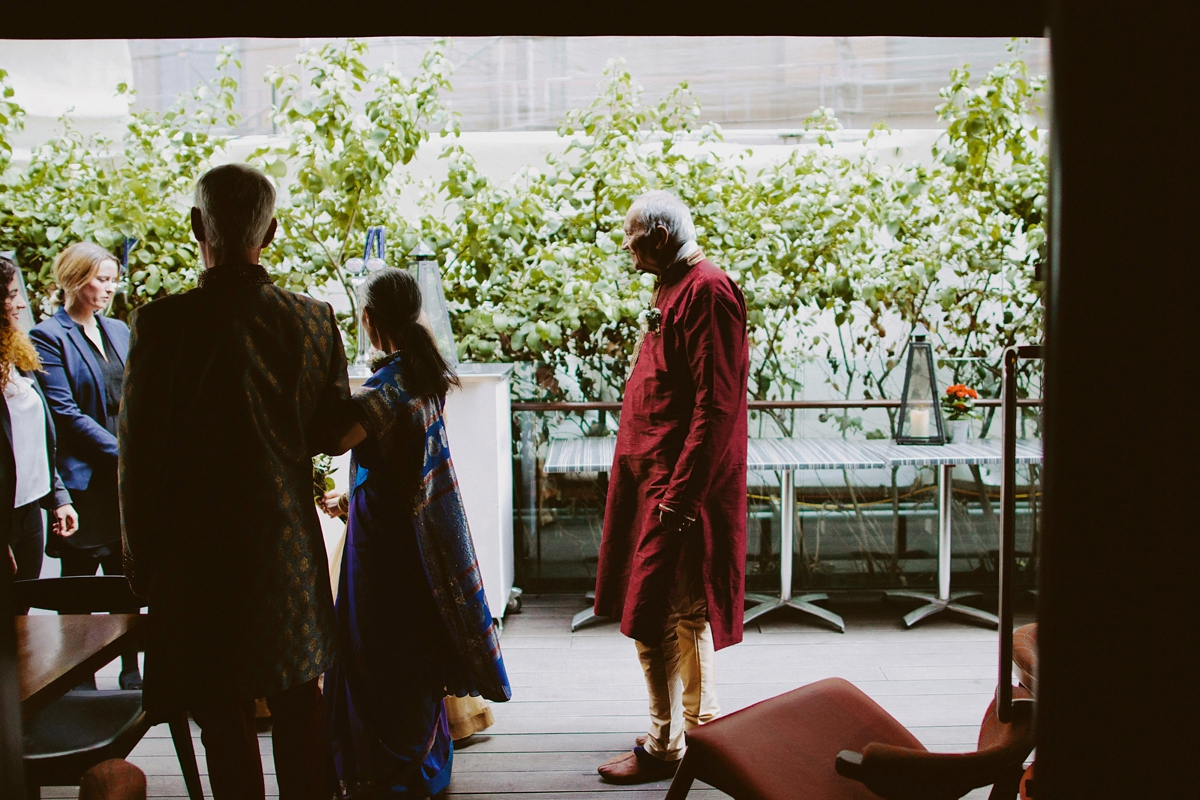 Daisy's mum did her hair and her make up was styled by Mel at Mac in Spitalfield.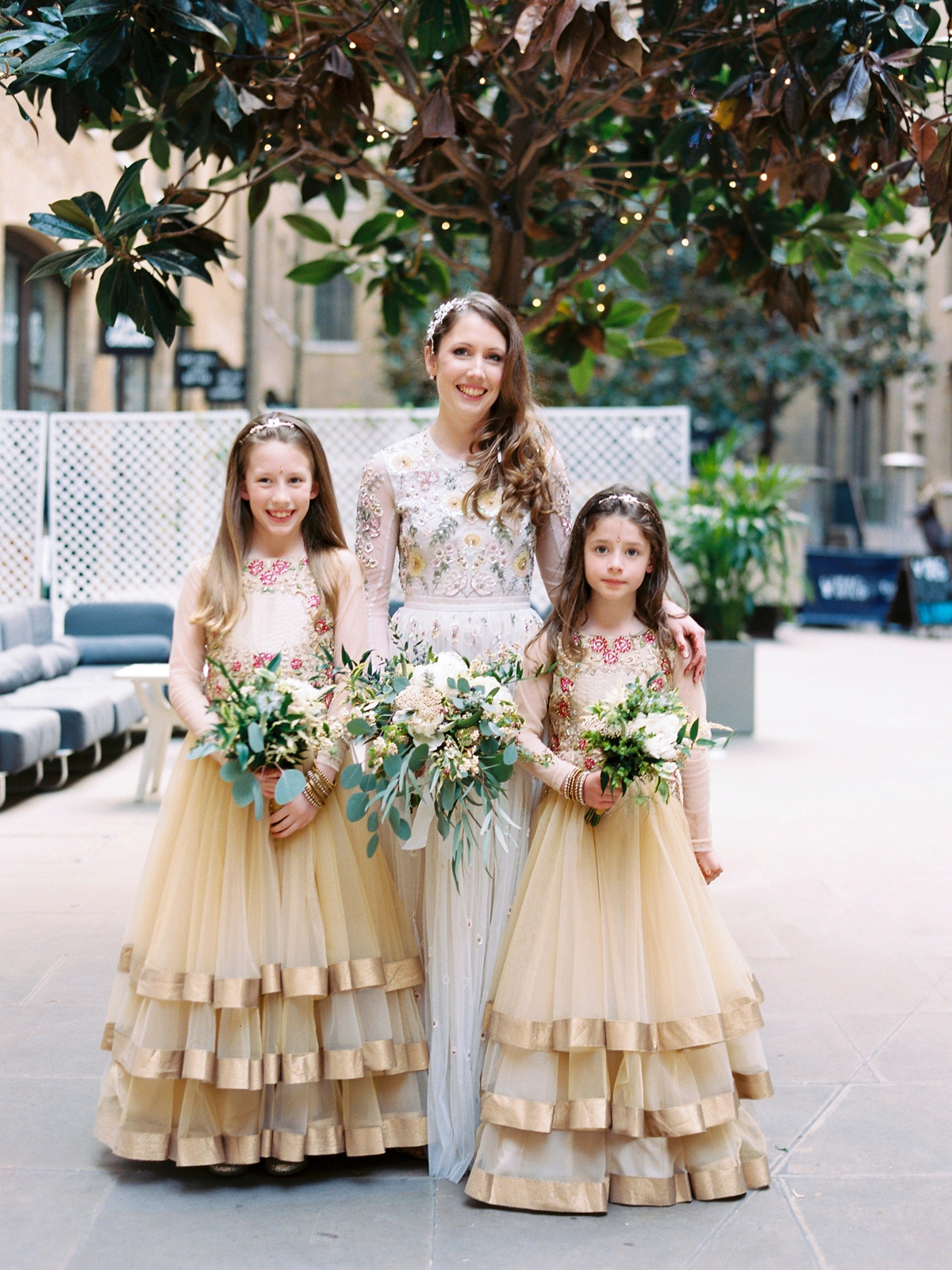 "Our florist was Kirsty of Flowers by Kirsty. Kirsty was recommended by our venue and her photos looked beautiful so we didn't even shop around. We were probably the least helpful clients ever because we turned up to the planning meeting with no real idea what we wanted."
"Ultimately Daisy wanted silvery greens to coordinate with the sequins on her dress and we wanted the whole look to be pretty and unstructured. Other than that we figured Kirsty is the experienced creative florist and that she'd do a great job – which she did!"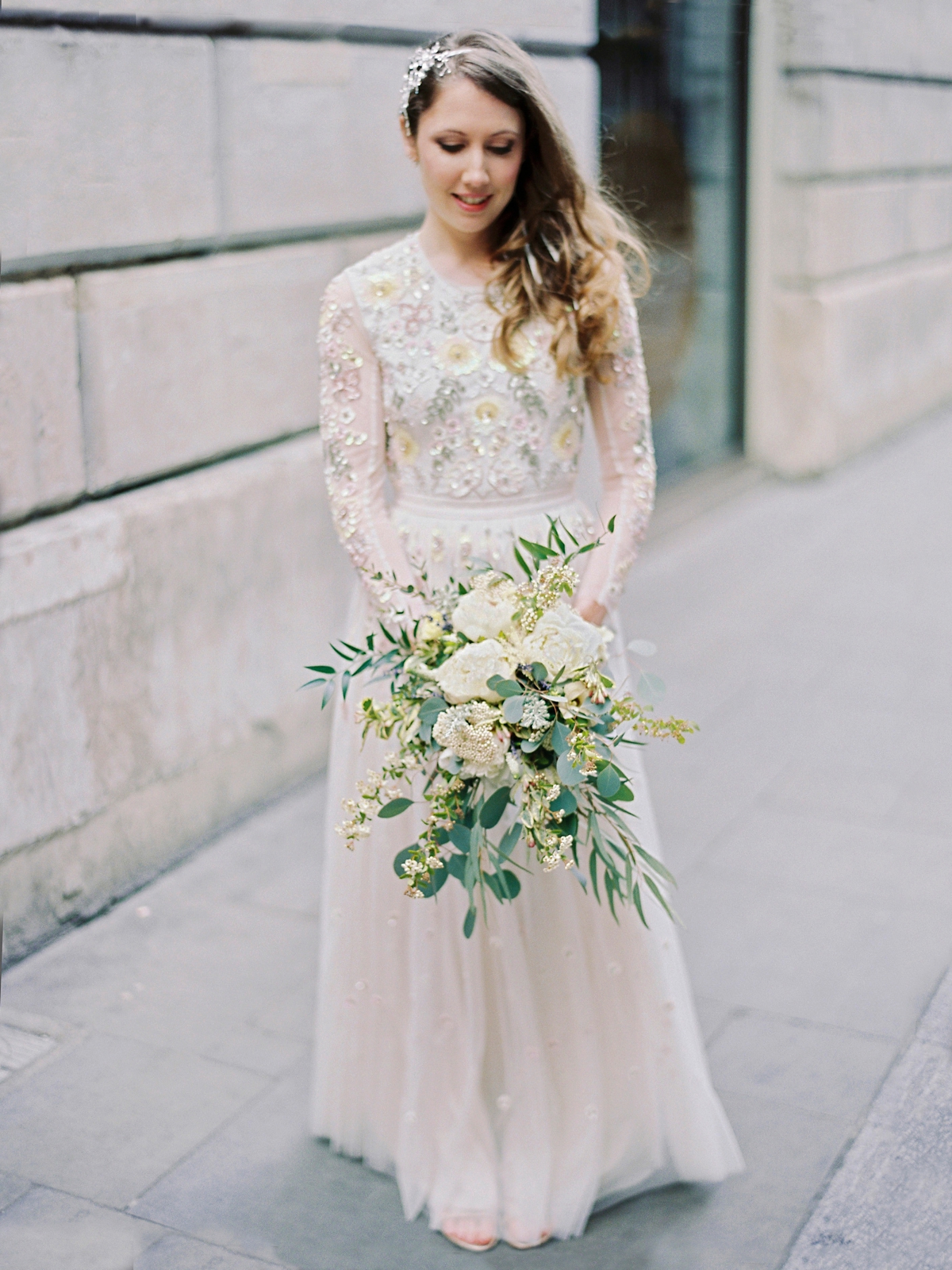 "We met our photographer, David Jenkins, at a friend's wedding and loved the natural shots of people chatting and laughing. We also didn't want to spend ages having a lot of formal group photos."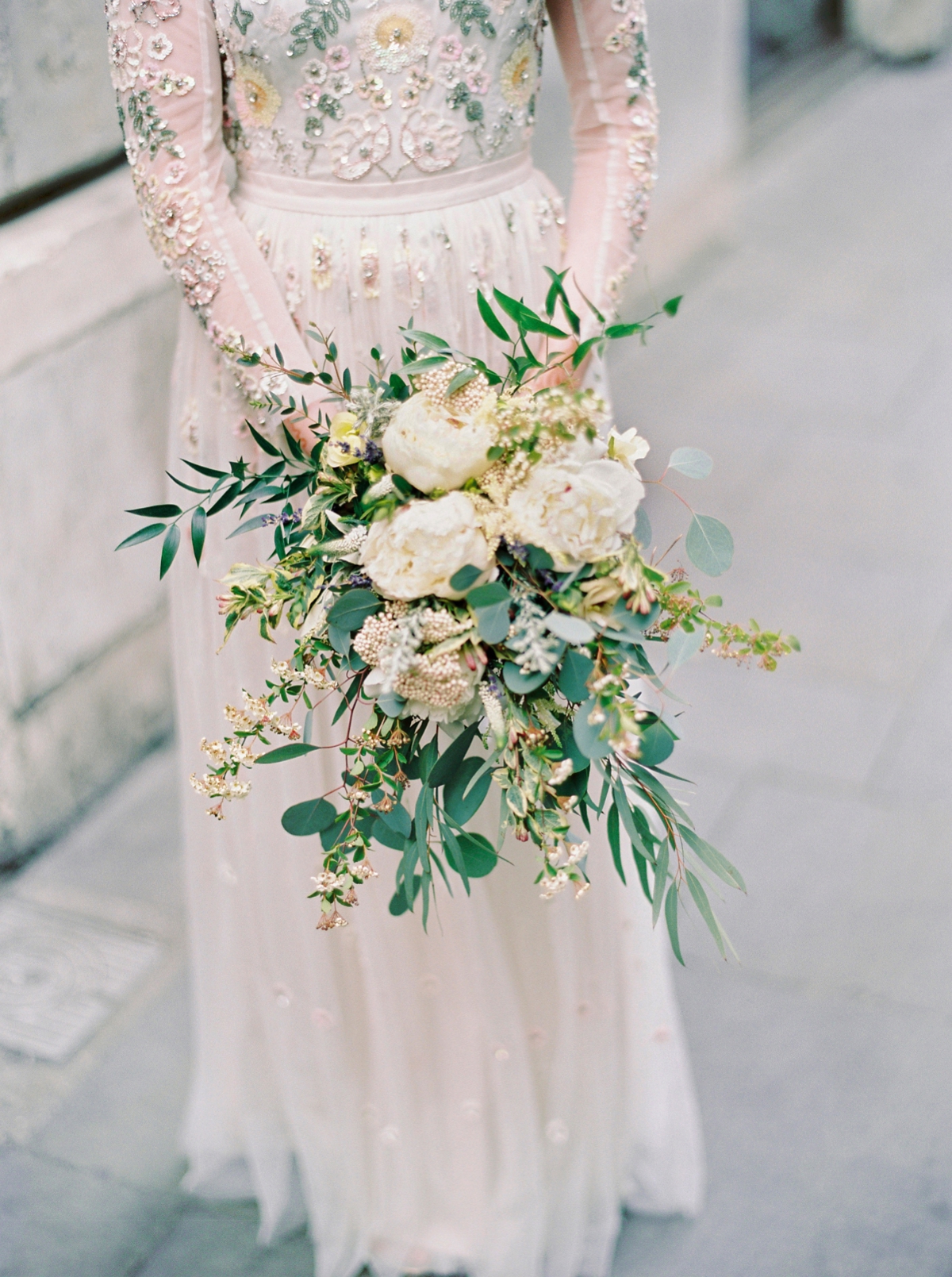 Vijay looked resplendent in a blue and gold embroidered suit from Anokhi in Leicester.
"Vijay and I met at a mutual friend's party in 2011. We lived together for a few years before getting engaged – it was a surprise proposal by Vijay when on holiday in York! We got married a year after that."
"We were staying nearby to Devonshire Terrace, and walked round there in the morning. That was a bit embarrassing because my hair was in curlers, but it is massively cheaper than getting an artist to come to you. I had a trial with Mel in advance and the cost of the appointments are redeemable against products."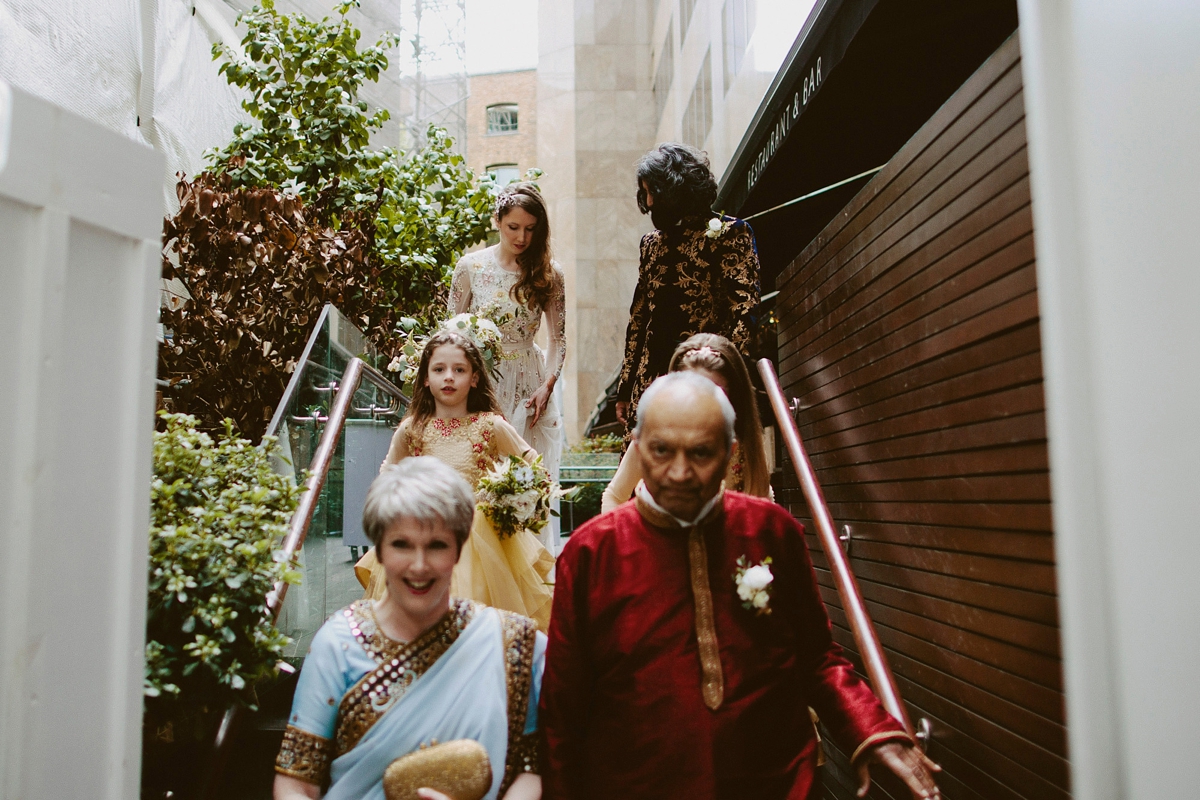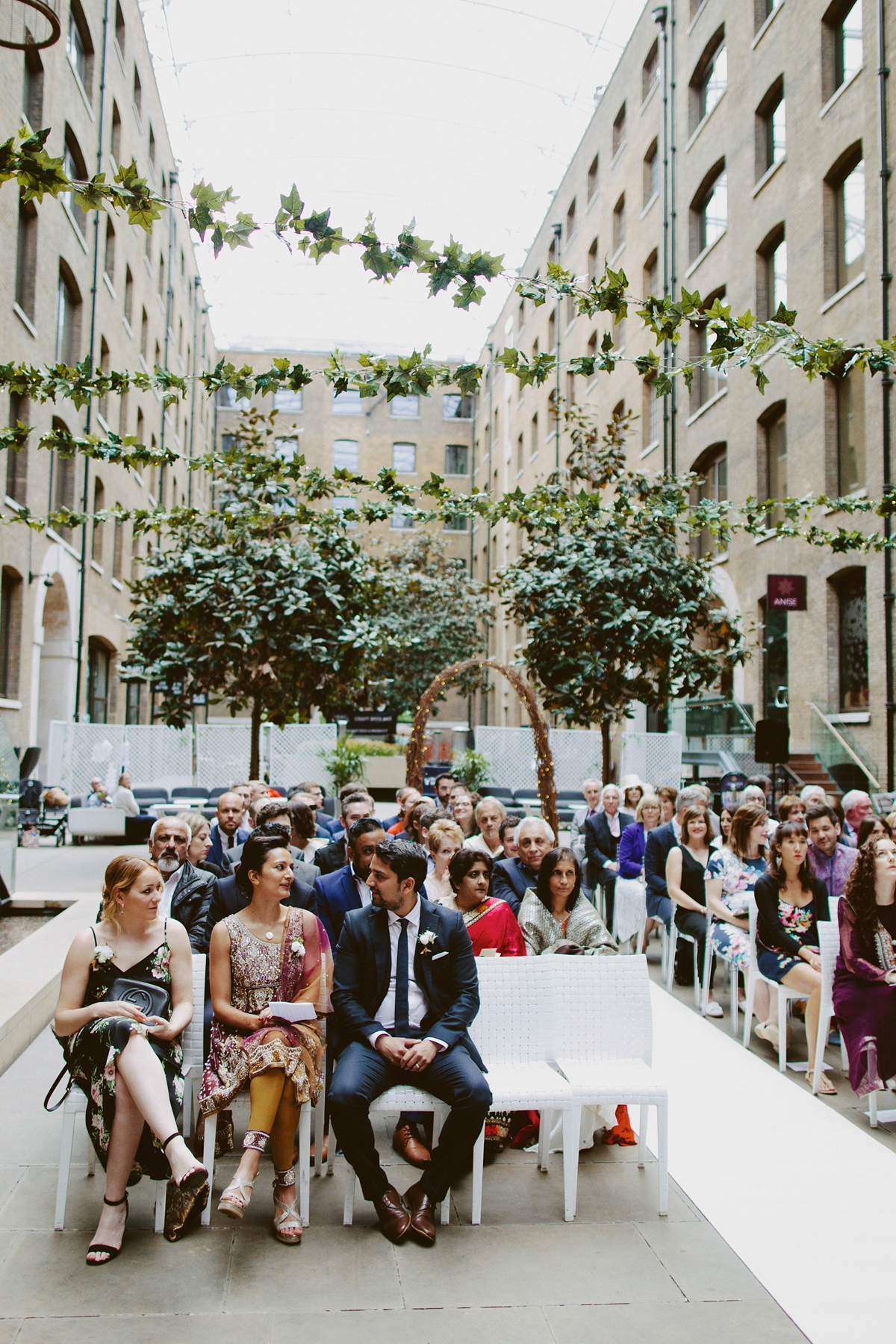 "We wanted to include our parents in a different way, to still acknowledge their importance, so they all preceded us down the aisle as well as my nieces who were bridesmaids."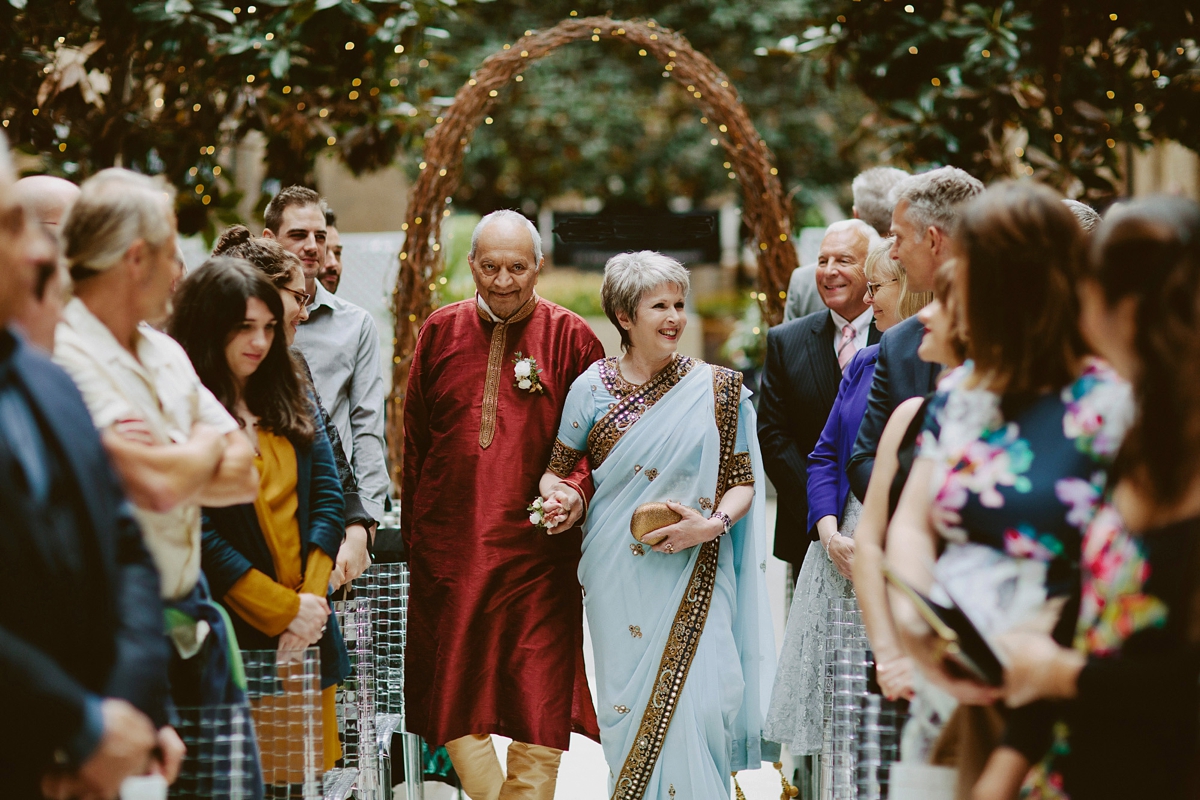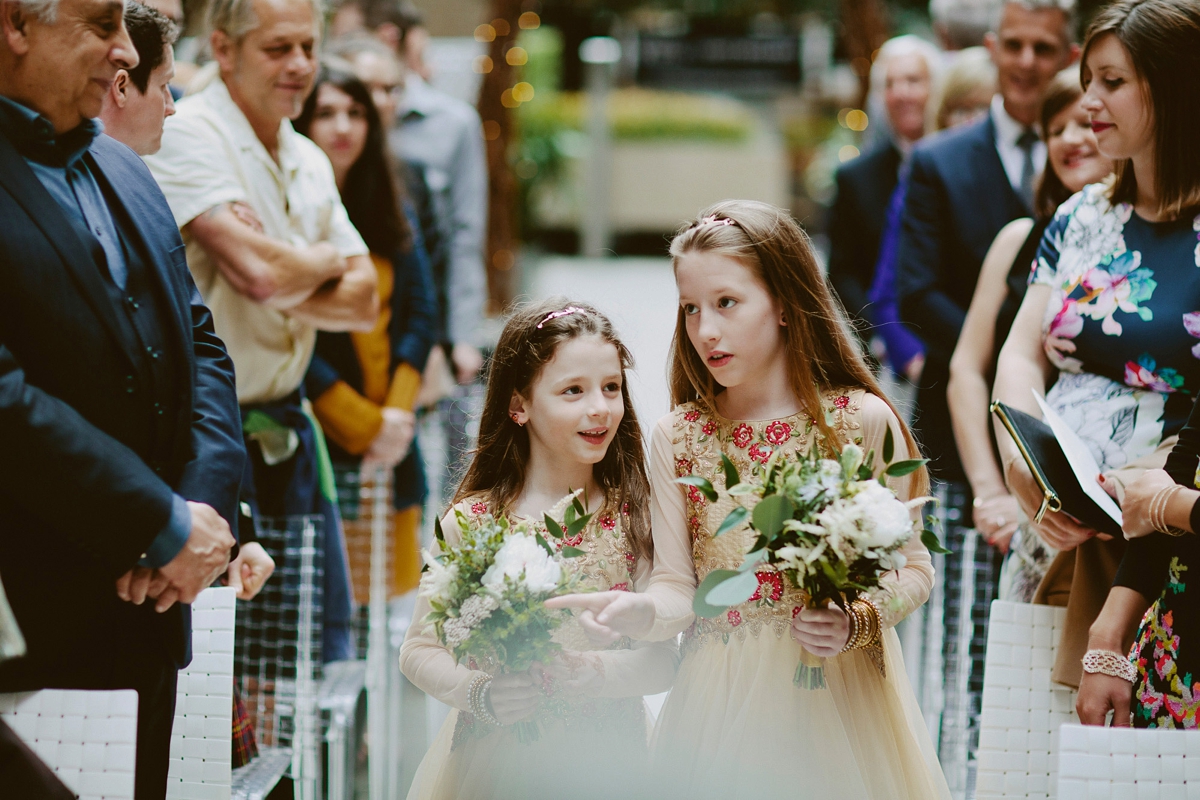 As the couple entered the ceremony area, Daisy's brother and sister played 'flightless bird' by Iron and Wine; Joseph on piano and Emily on cello.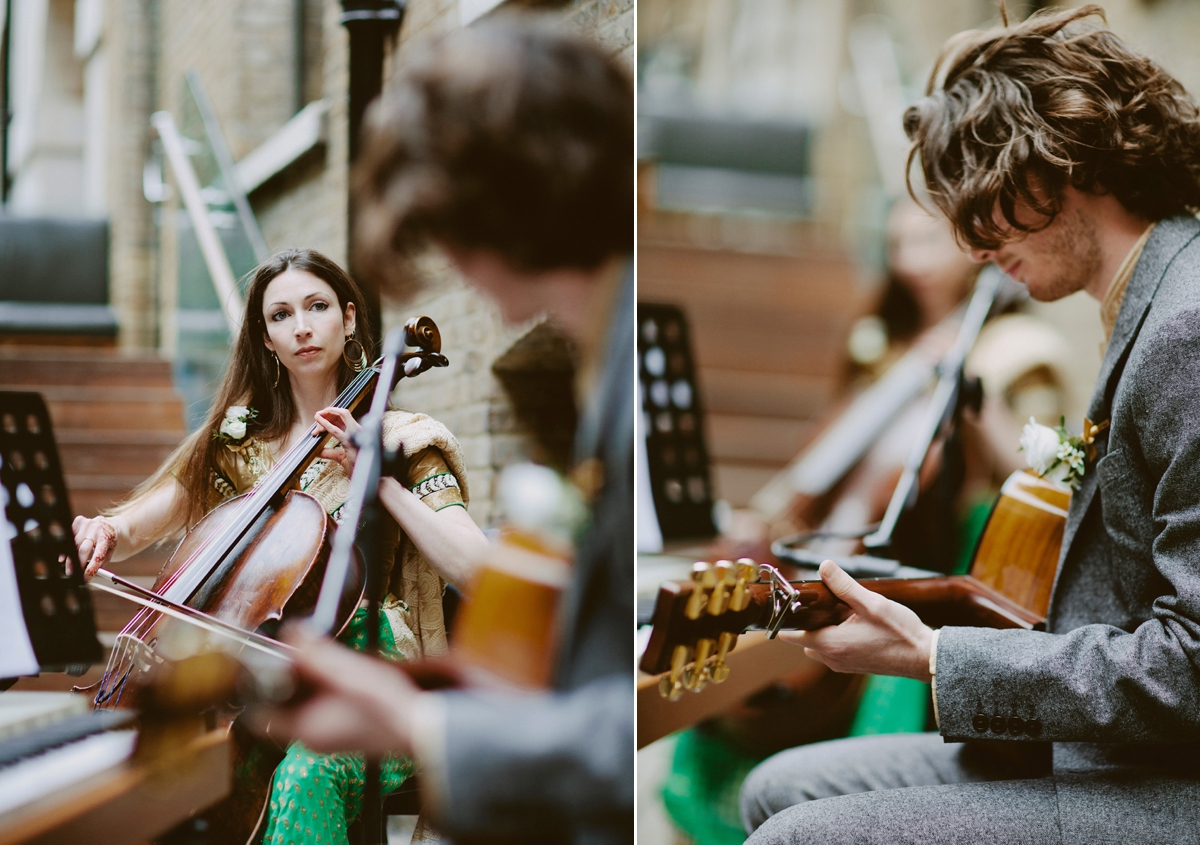 Vijay and Daisy walked down the aisle together.
"We didn't follow the traditional 'giving away' sentiment, both because we preferred to be together to avoid nervousness, and because of feminist principles. We also got ready together because Vijay had already seen my dress."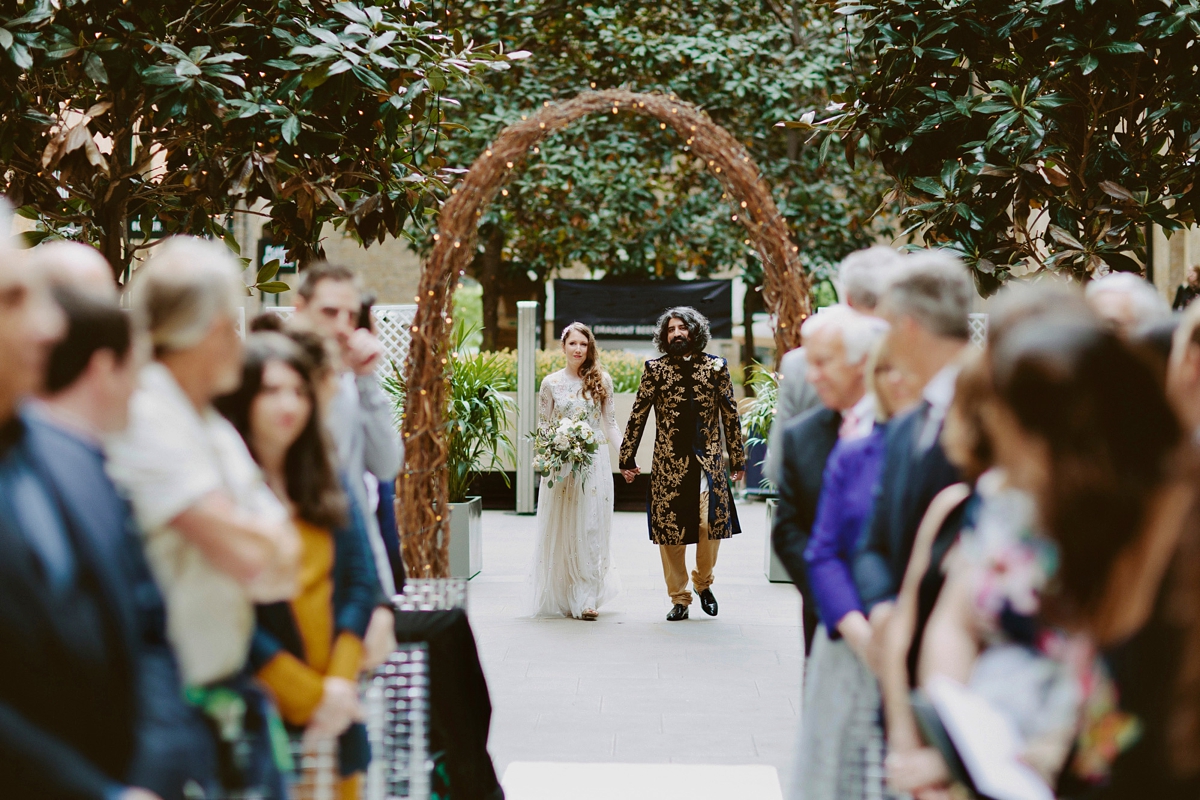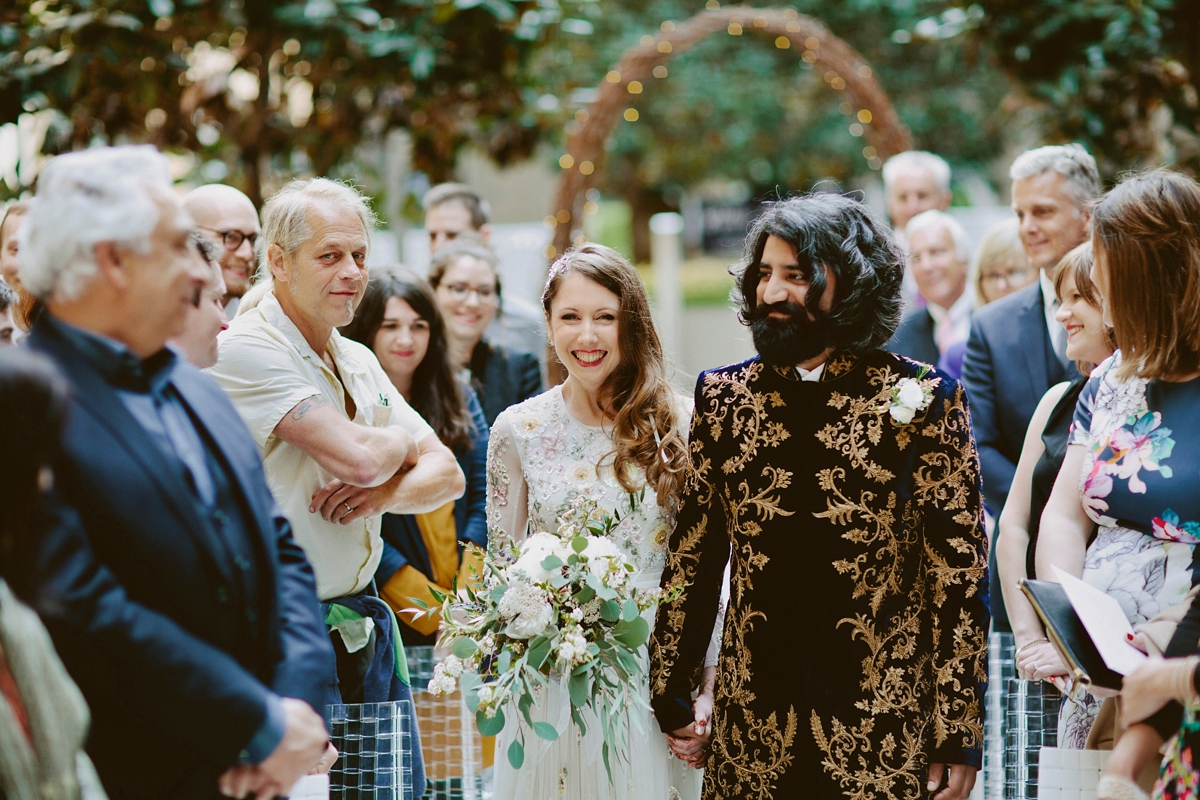 "I had a henna party the night before our wedding with my female family and friends. It was a great way to start preparing for the next day, really fun and a good distraction. The henna artist was Sangita, and her designs were really beautiful. The experience contributed wonderfully to our attempt to meld the Western and Indian styles."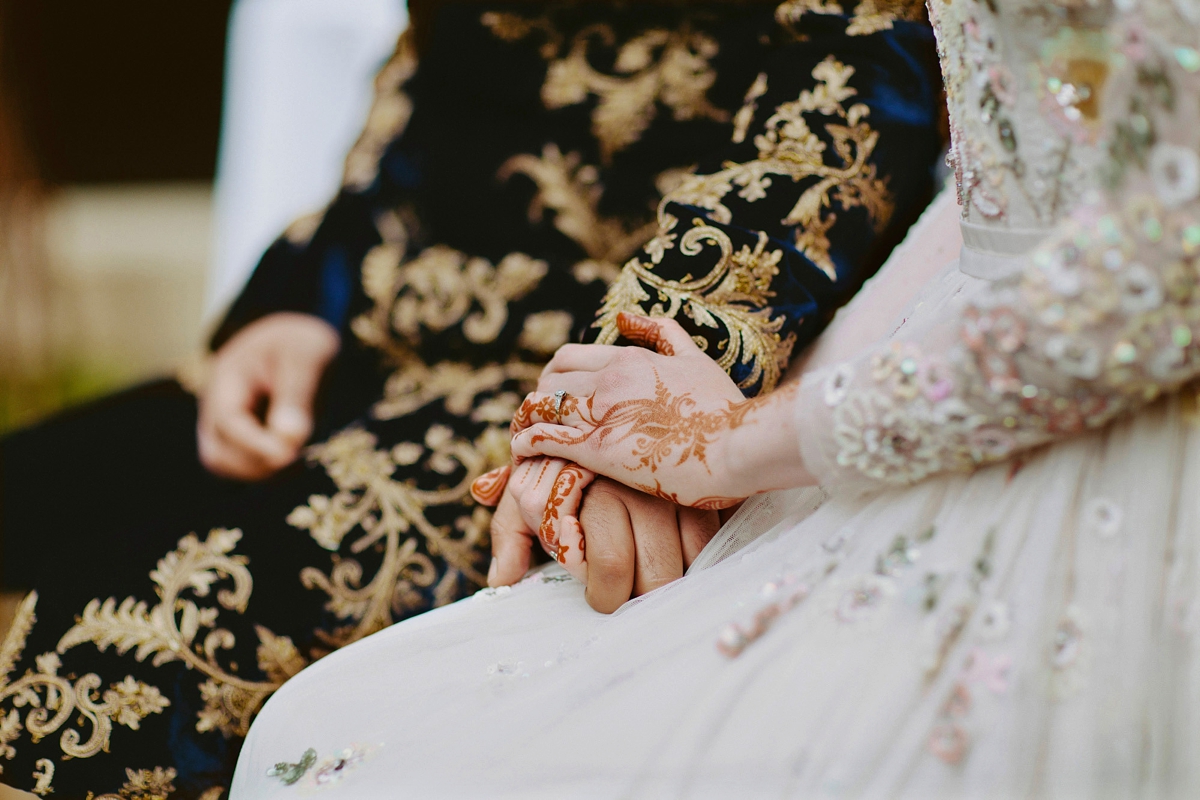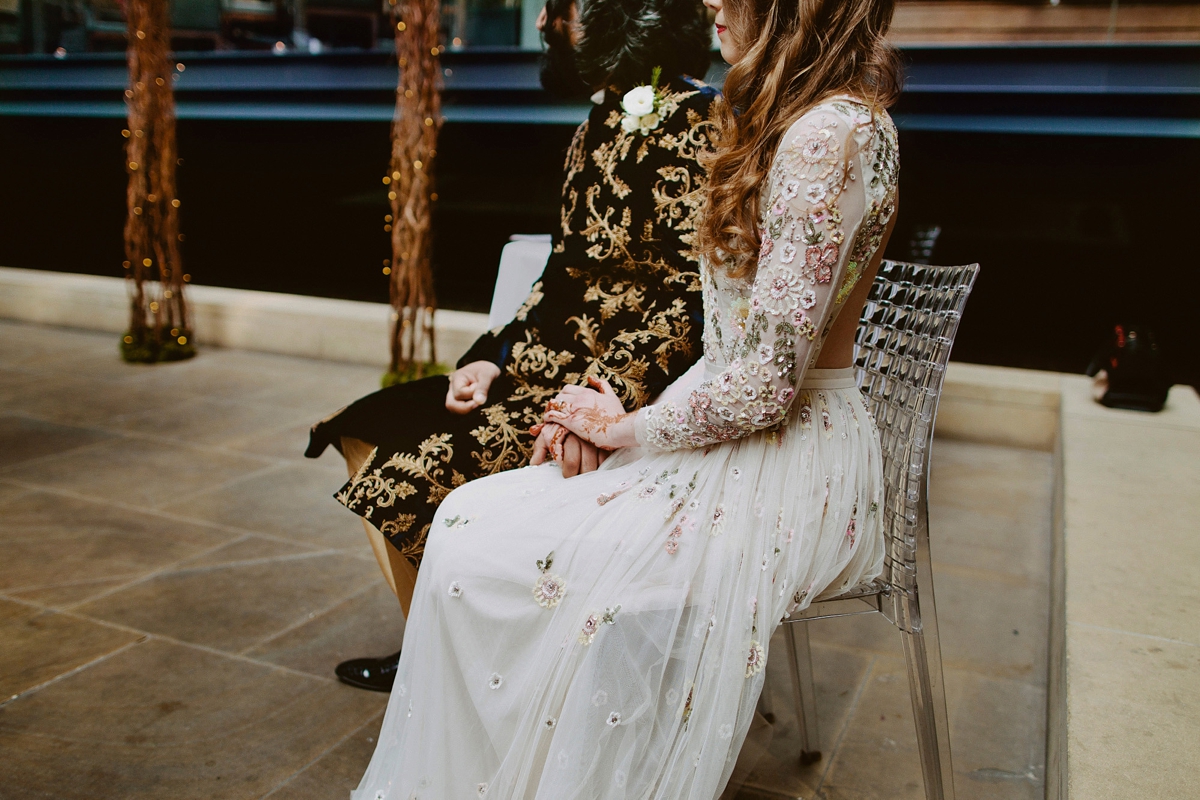 I adore this shot of Daisy's headpiece from Liberty in Love.
"Our reading was 'Blessing For A Marriage', by James Dillet Freeman, and we chose this because we wanted something a bit romantic but that recognises we are still individuals who we could say improve each other rather than completing each other."
May your marriage bring you all the exquisite excitements a marriage should bring, and may life grant you also patience, tolerance, and understanding. May you always need one another — not so much to fill your emptiness as to help you to know your fullness. A mountain needs a valley to be complete. The valley does not make the mountain less, but more. And the valley is more a valley because it has a mountain towering over it. So let it be with you and you. May you need one another, but not out of weakness. May you want one another, but not out of lack. May you entice one another, but not compel one another. May you embrace one another, but not encircle one another. May you succeed in all-important ways with one another, and not fail in the little graces. May you look for things to praise, often say, 'I love you!' and take no notice of small faults. If you have quarrels that push you apart, may both of you hope to have good sense enough to take the first step back. May you enter into the mystery that is the awareness of one another's presence — no more physical than spiritual, warm and near when you are side by side, and warm and near when you are in separate rooms or even distant cities. May you have happiness, and may you find it making one another happy. May you have love, and may you find it loving one another.
"My engagement ring was a family inheritance. Wedding bands were a last minute panic buy; Vijay's came from Argos but my ring size is freakishly small and had to be ordered online – bandsoflove.co.uk helped with express delivery."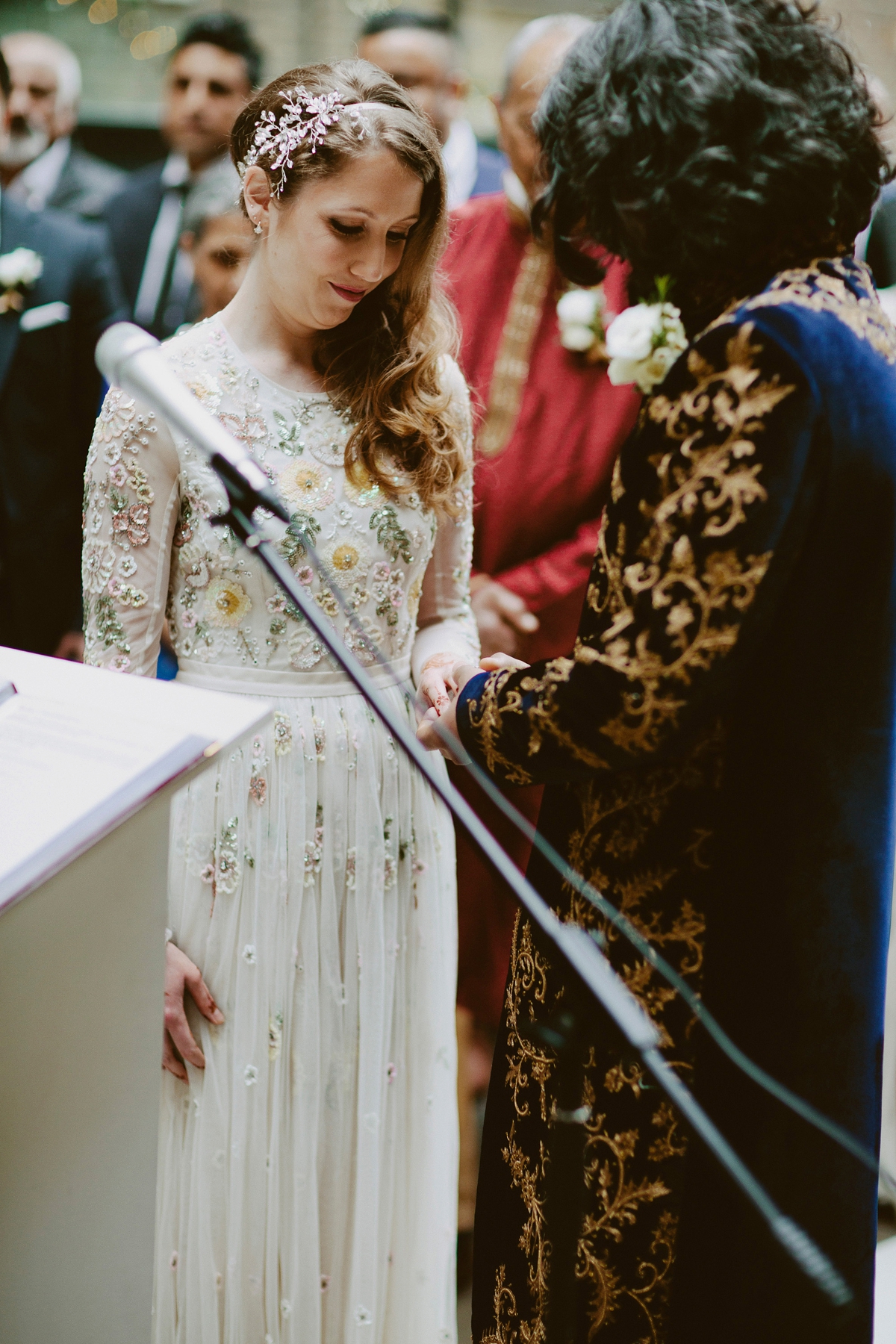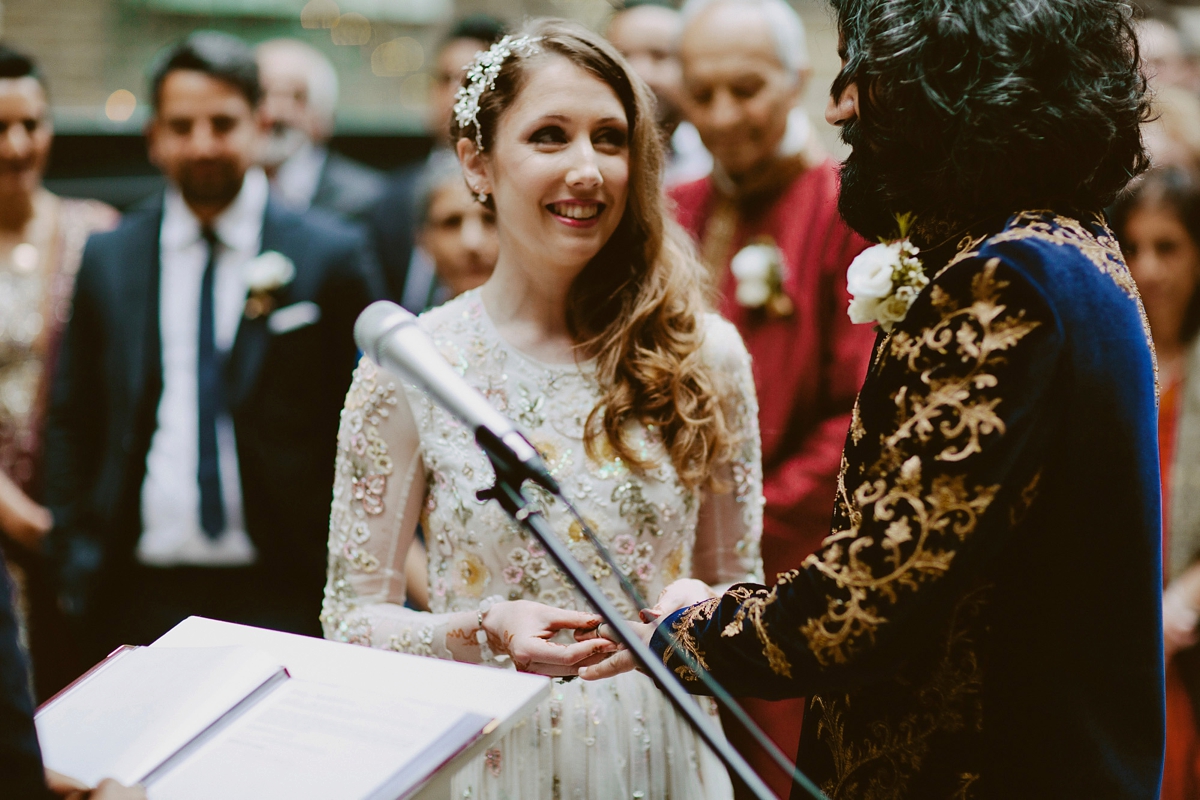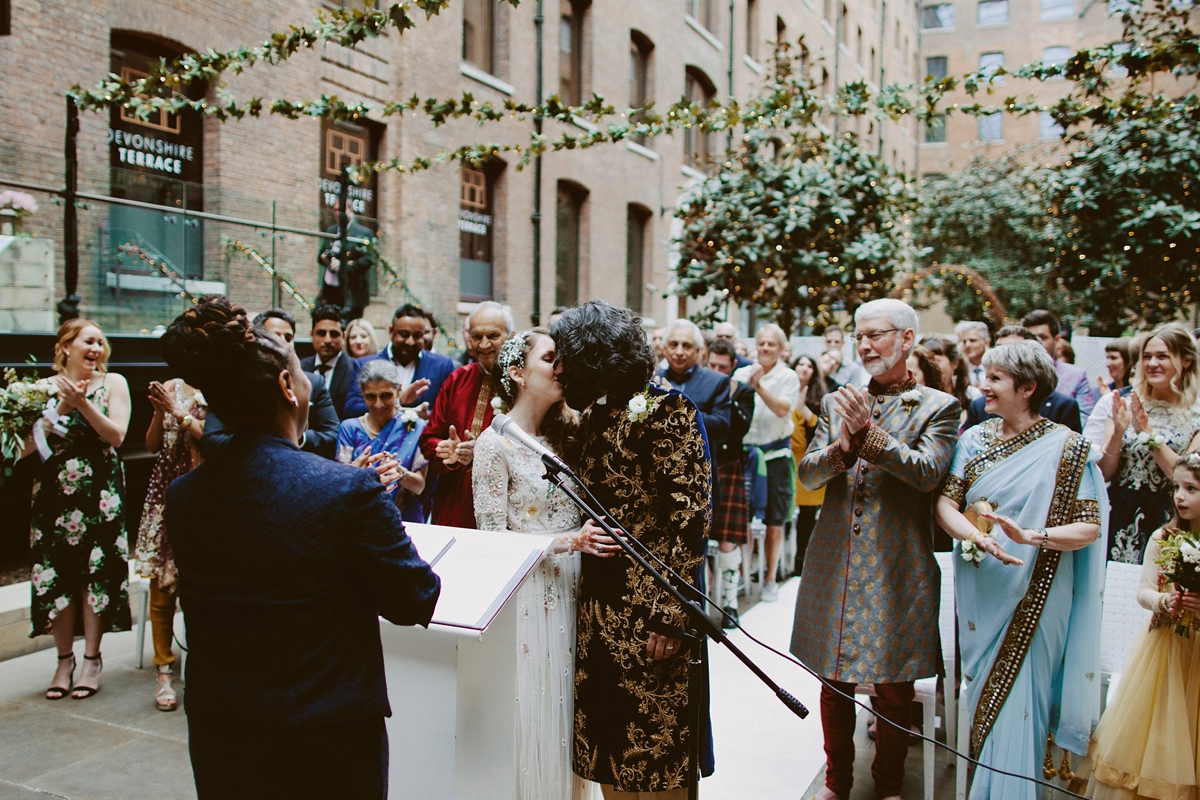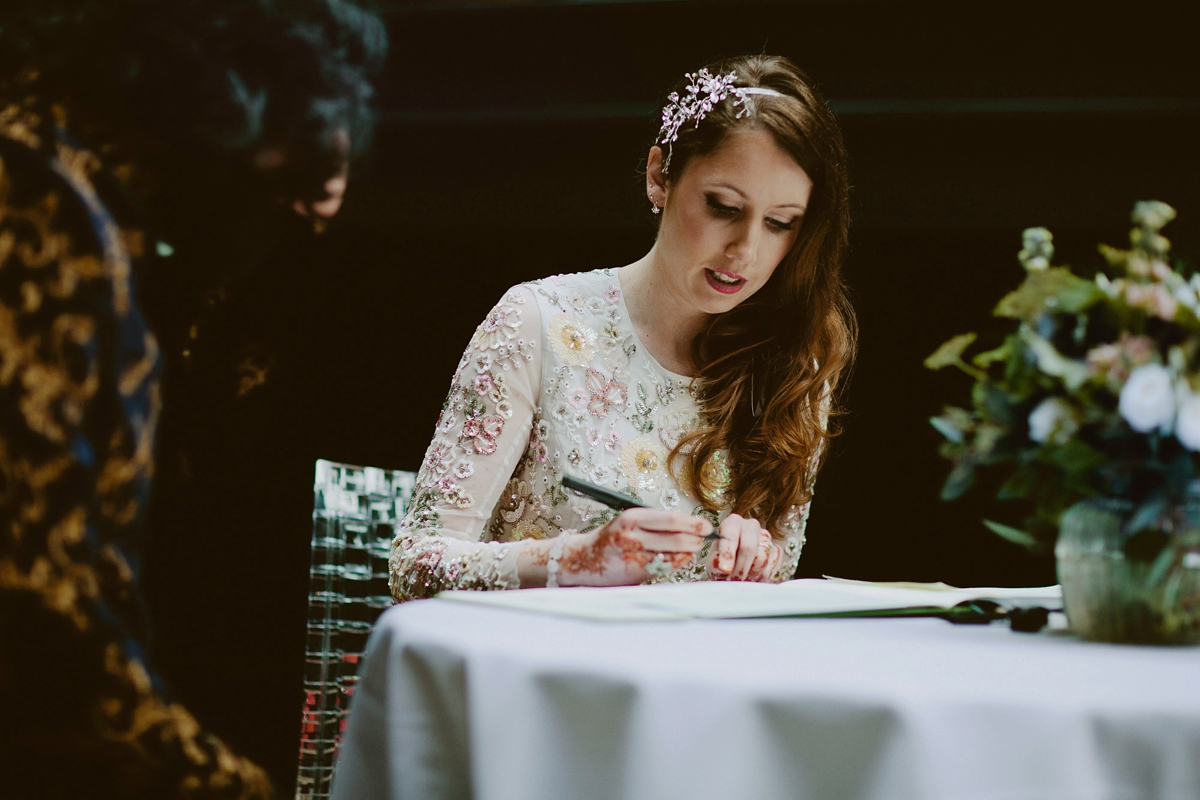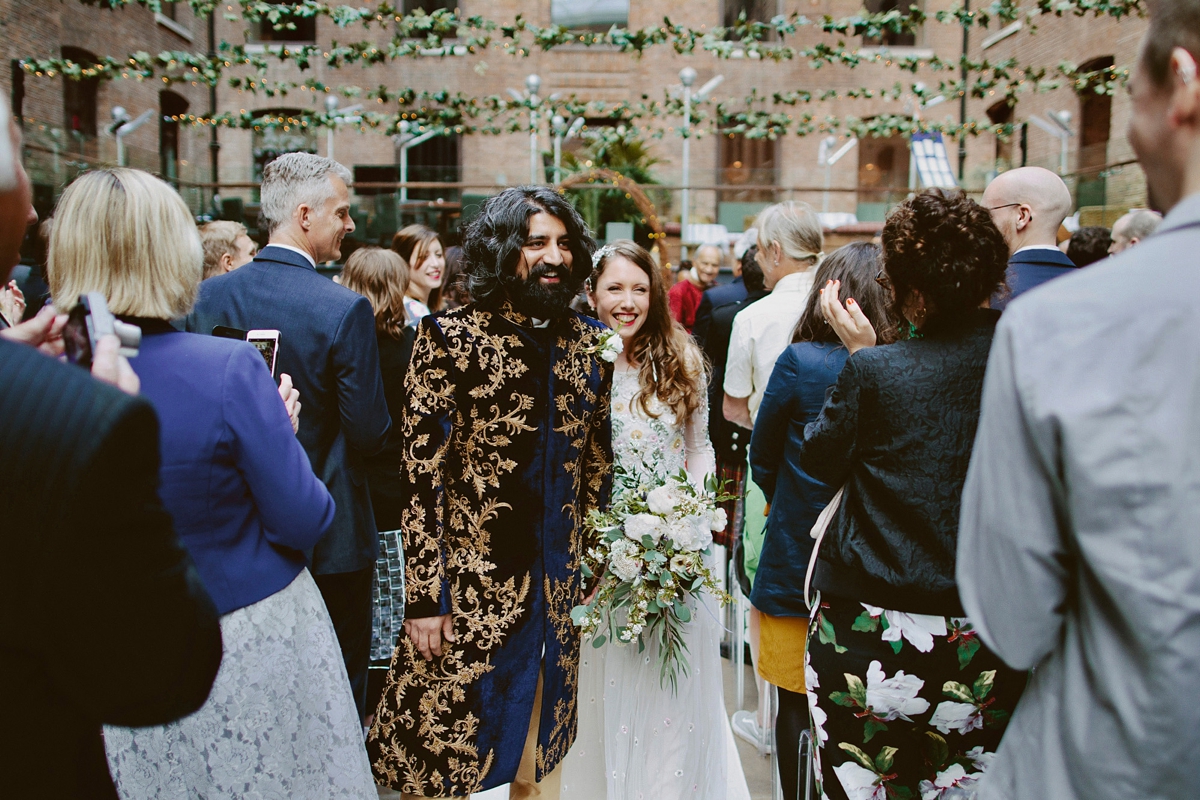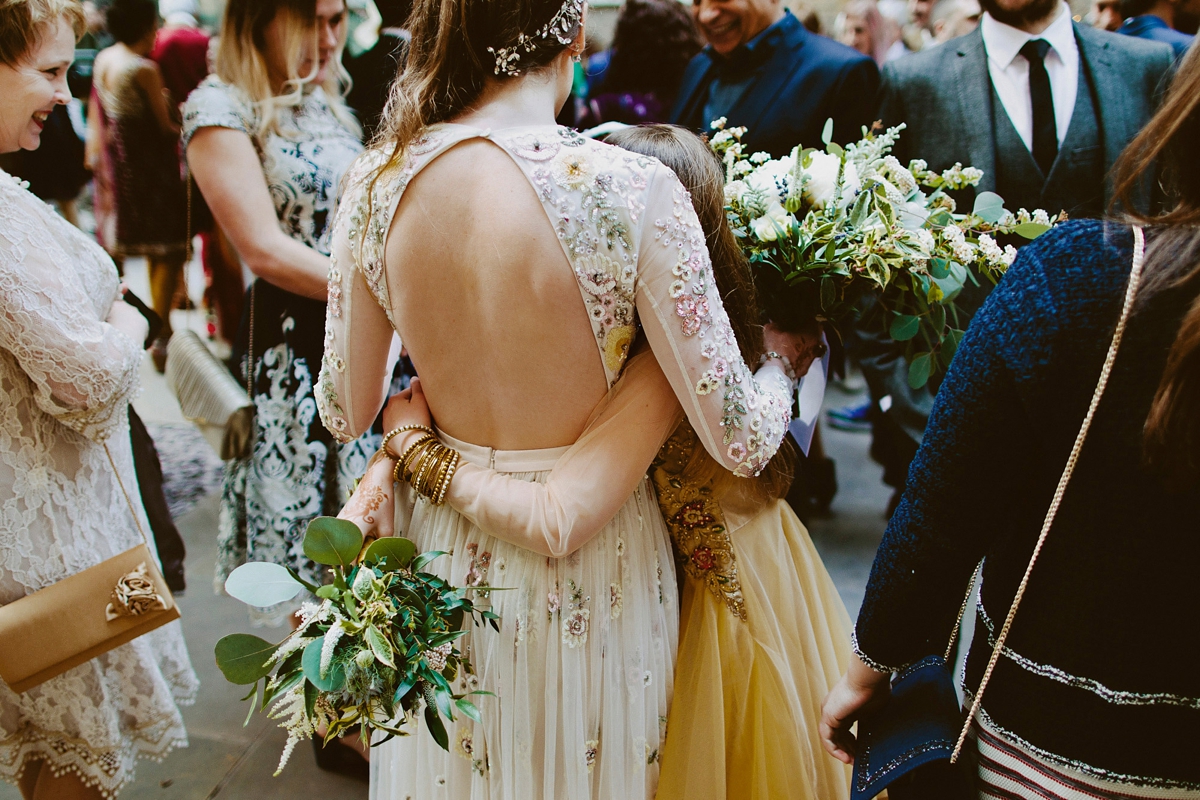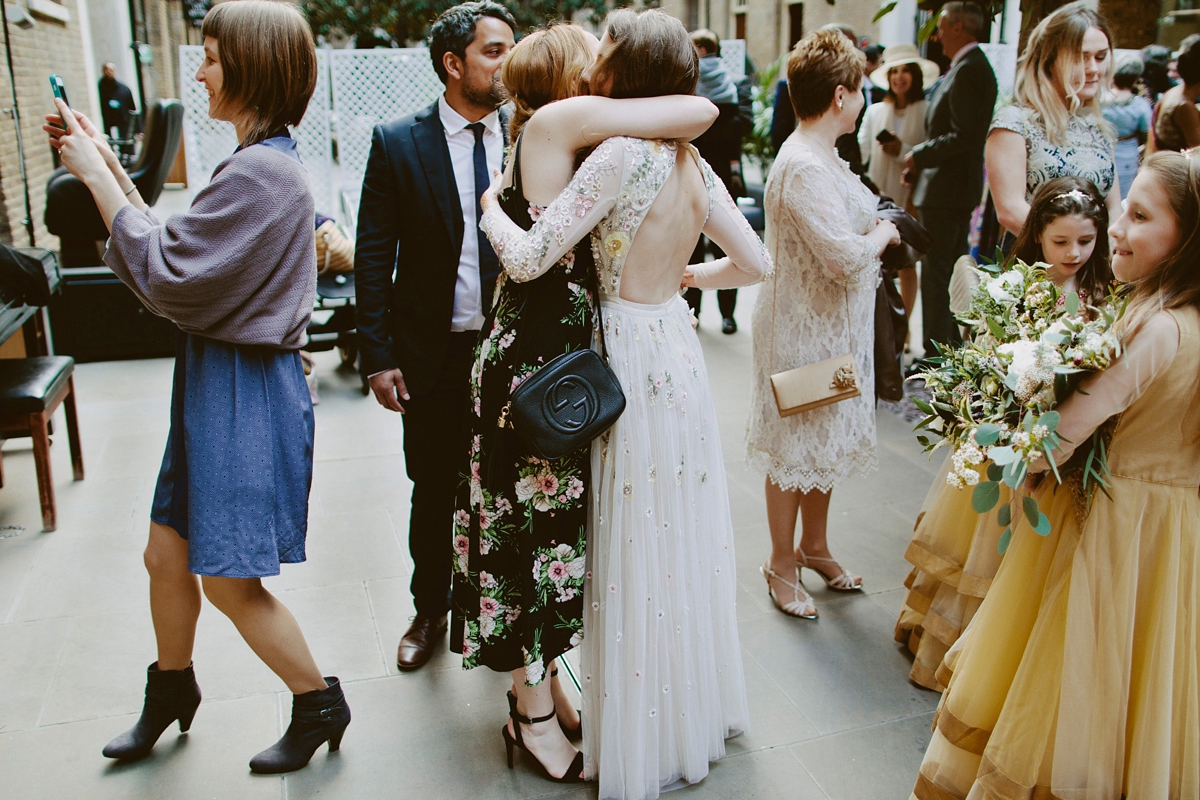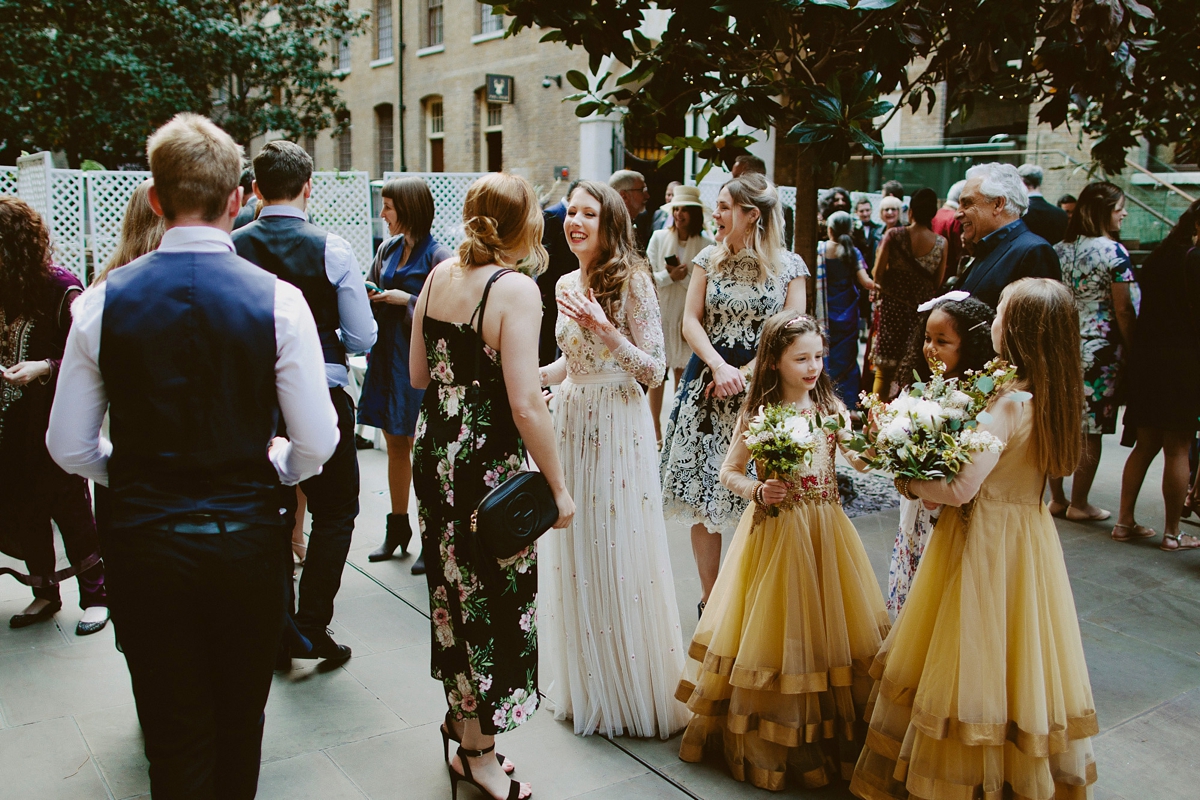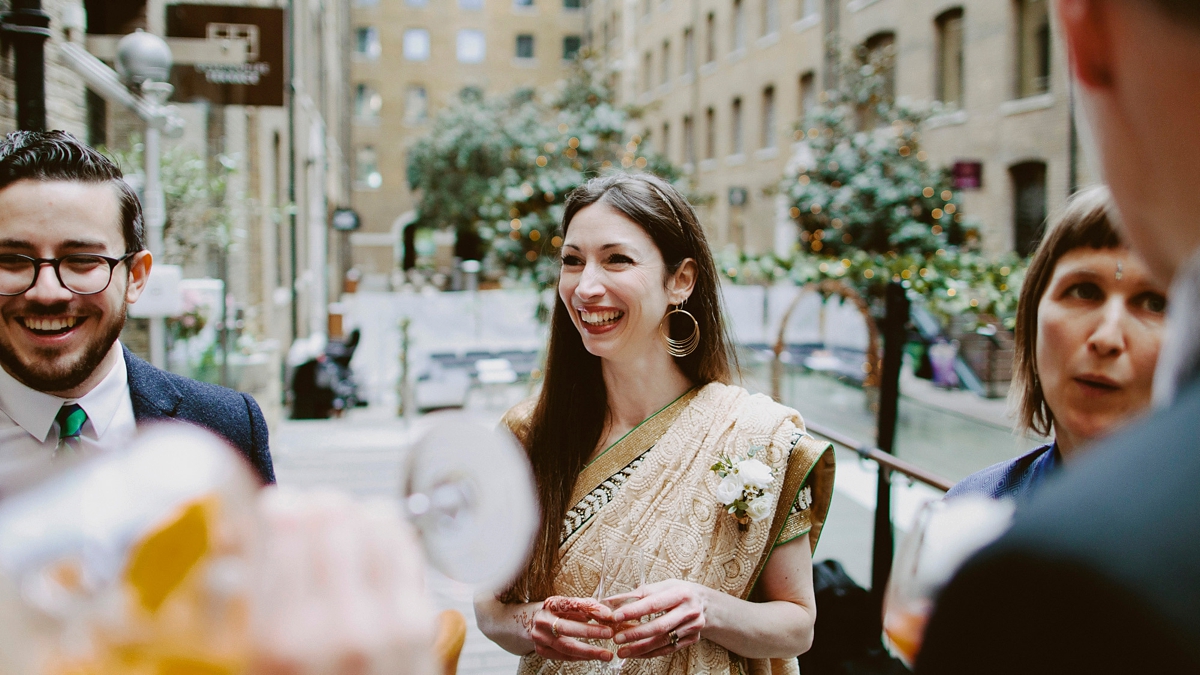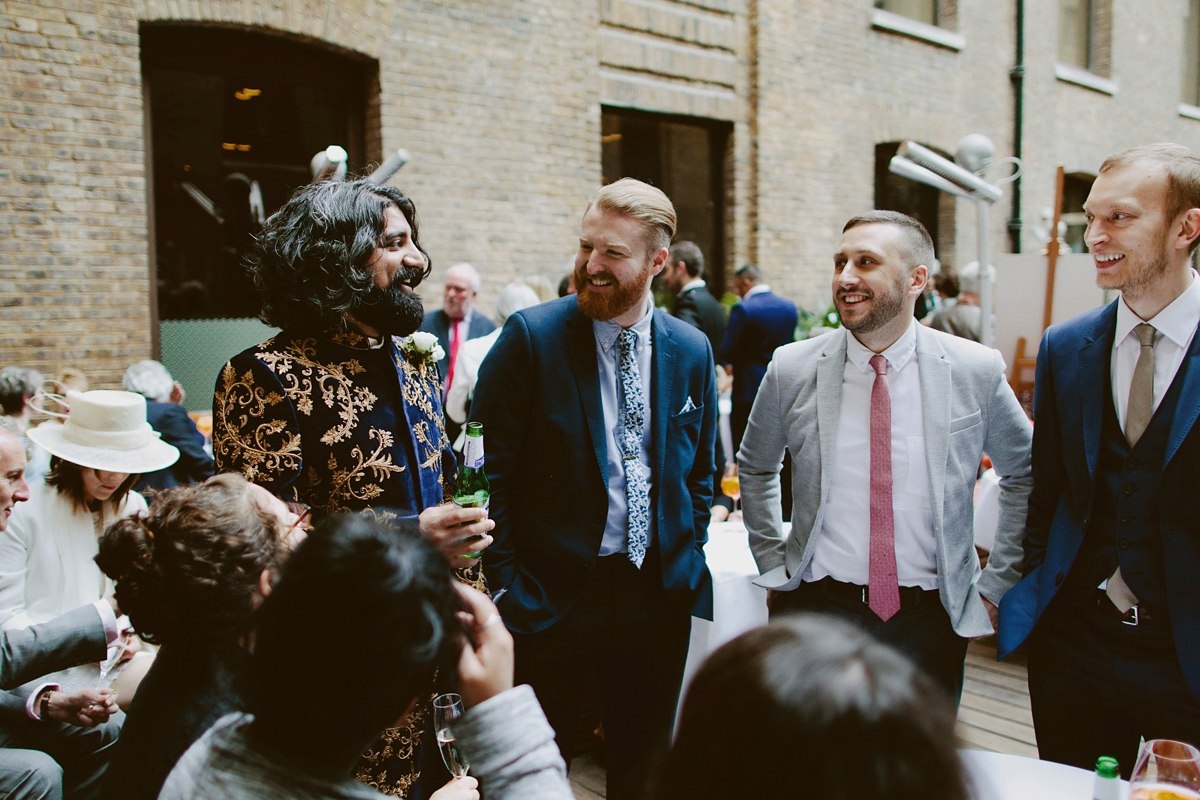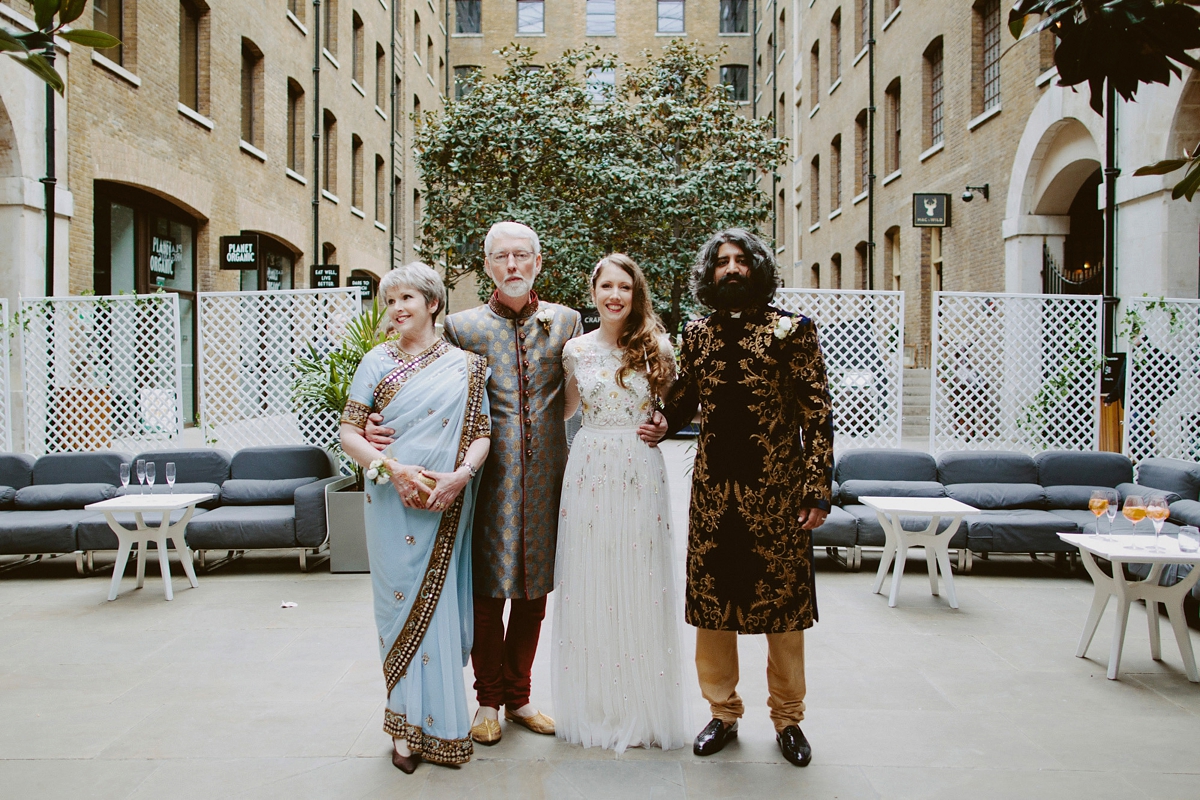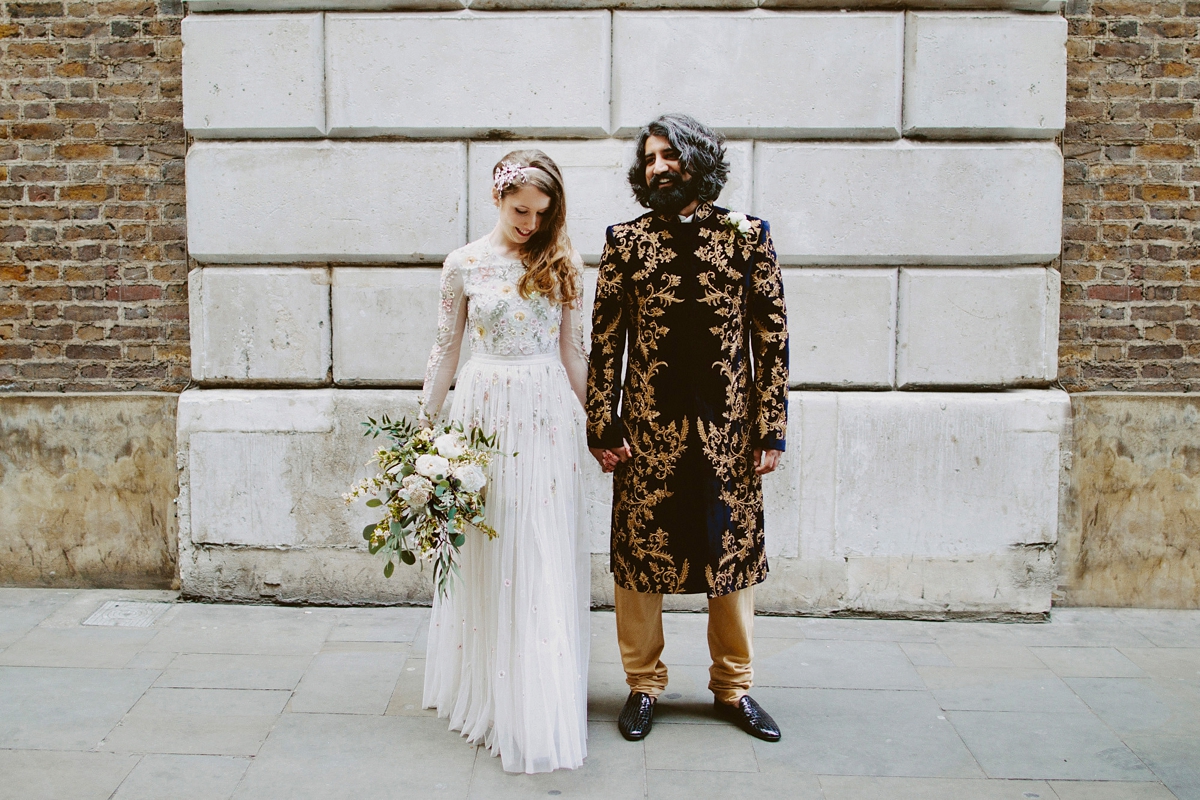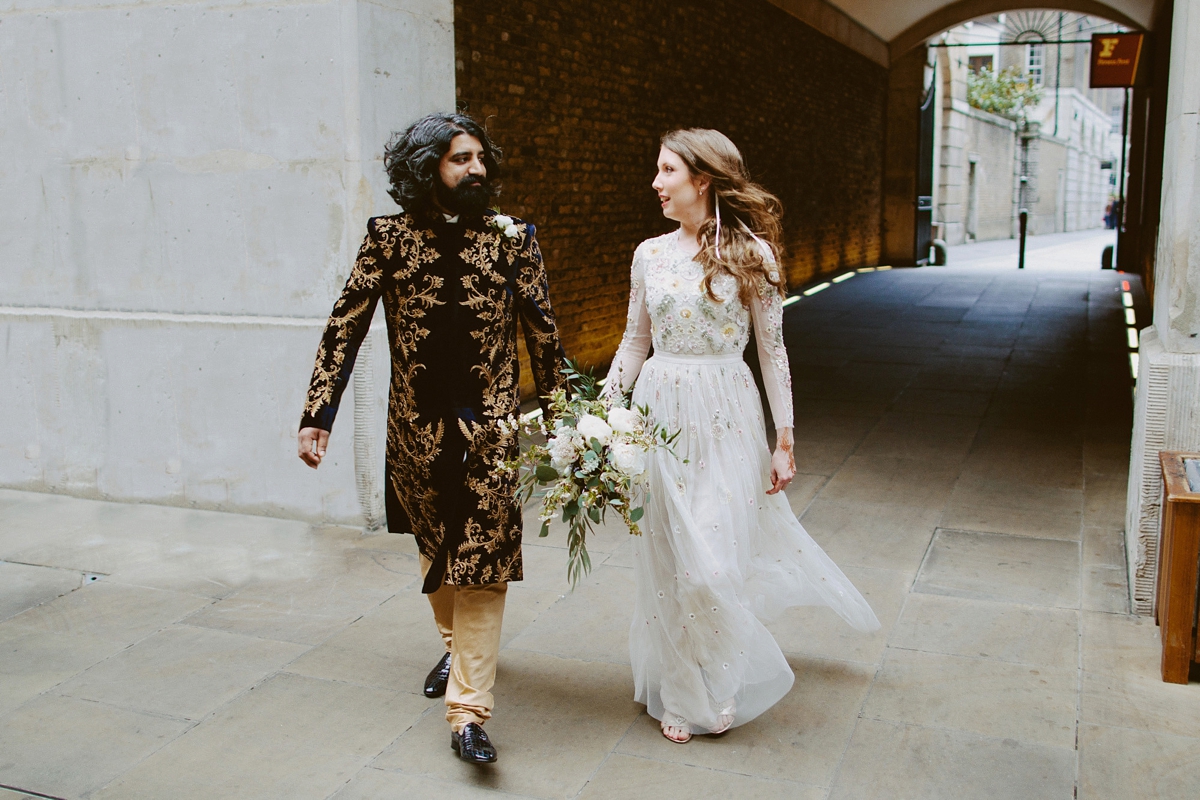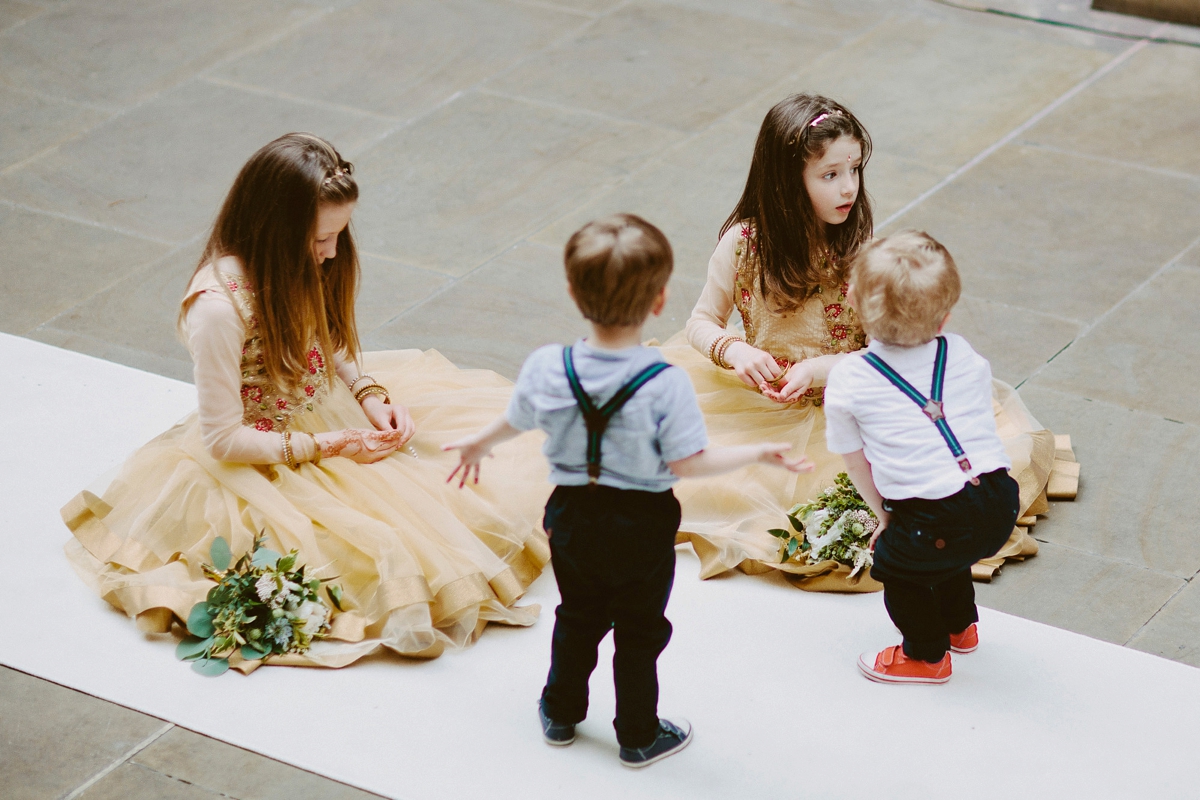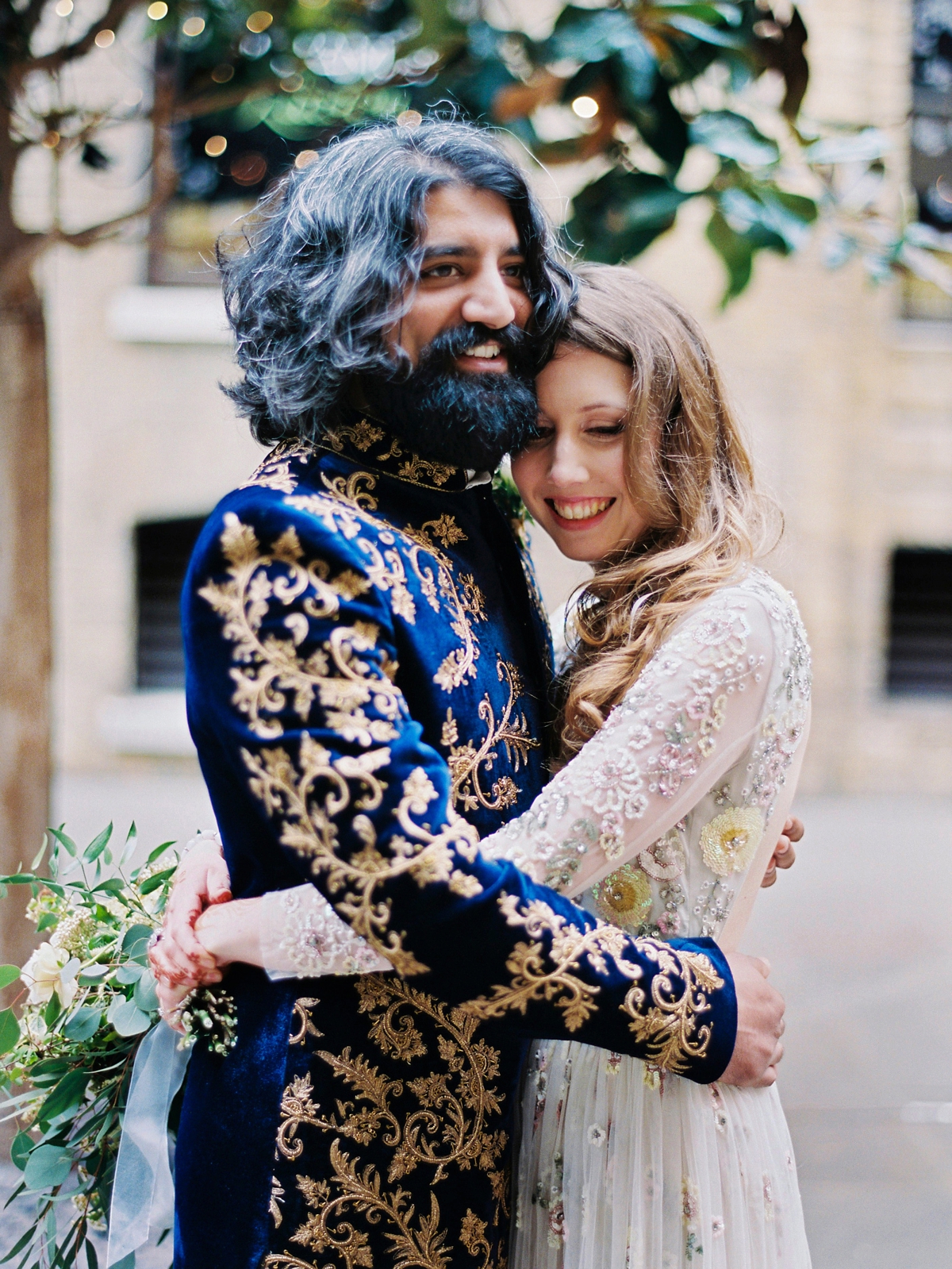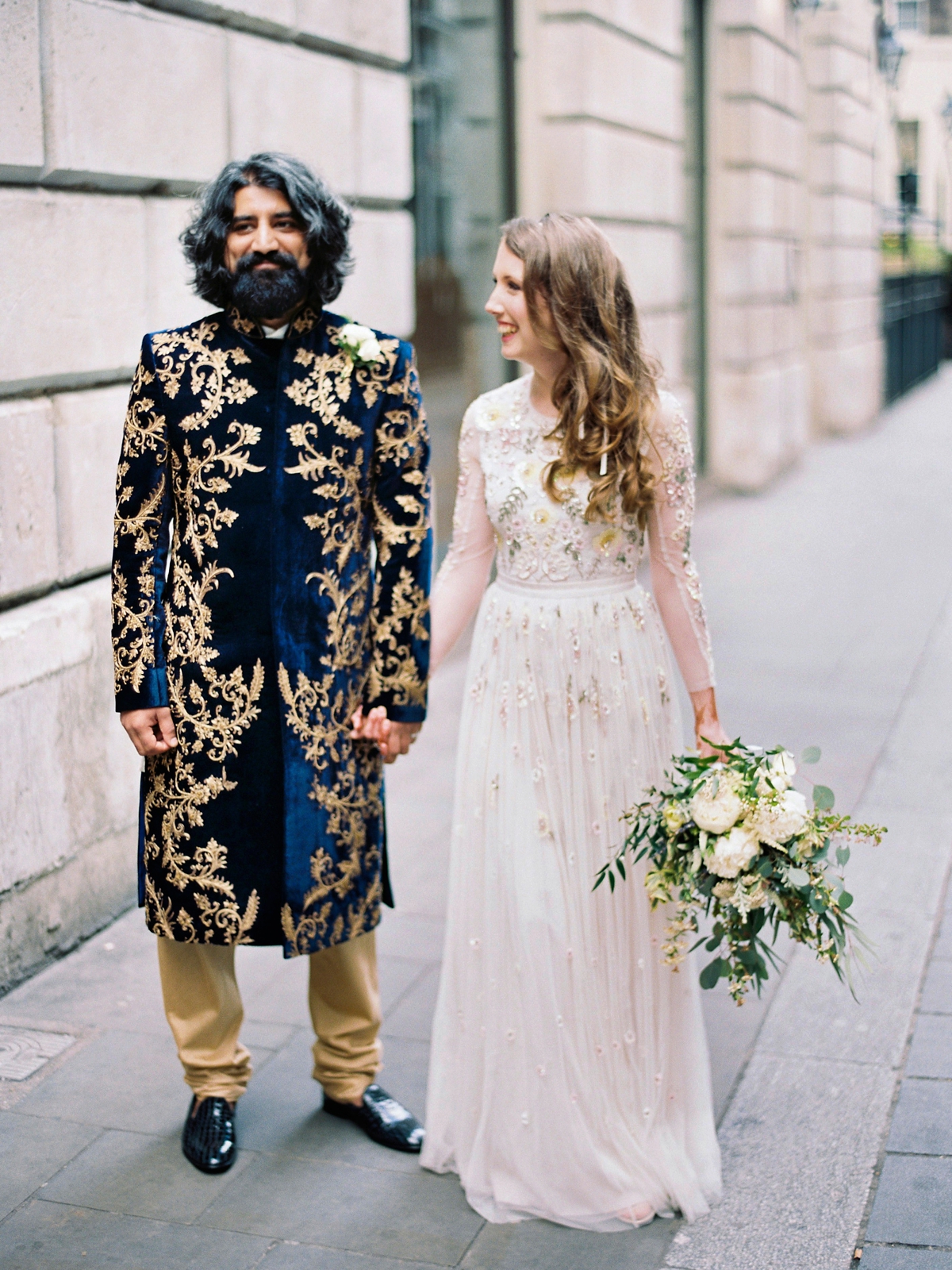 "My mum made the table plan, place cards, and decorated the post box. We used paperless post for the invitations – it was much easier than getting hold of everyone's postal address, less wasteful, and inexpensive too!"
"In terms of venue decor, we used Stressfreehire.com  which were recommended by the venue so we went with them as they know the venue and have health and safety etc sorted."
"They put up the ivy and pea lights to decorate the outdoor courtyard for the ceremony. Inside we did little except for flowers for the tables because as a restaurant the venue is already nice."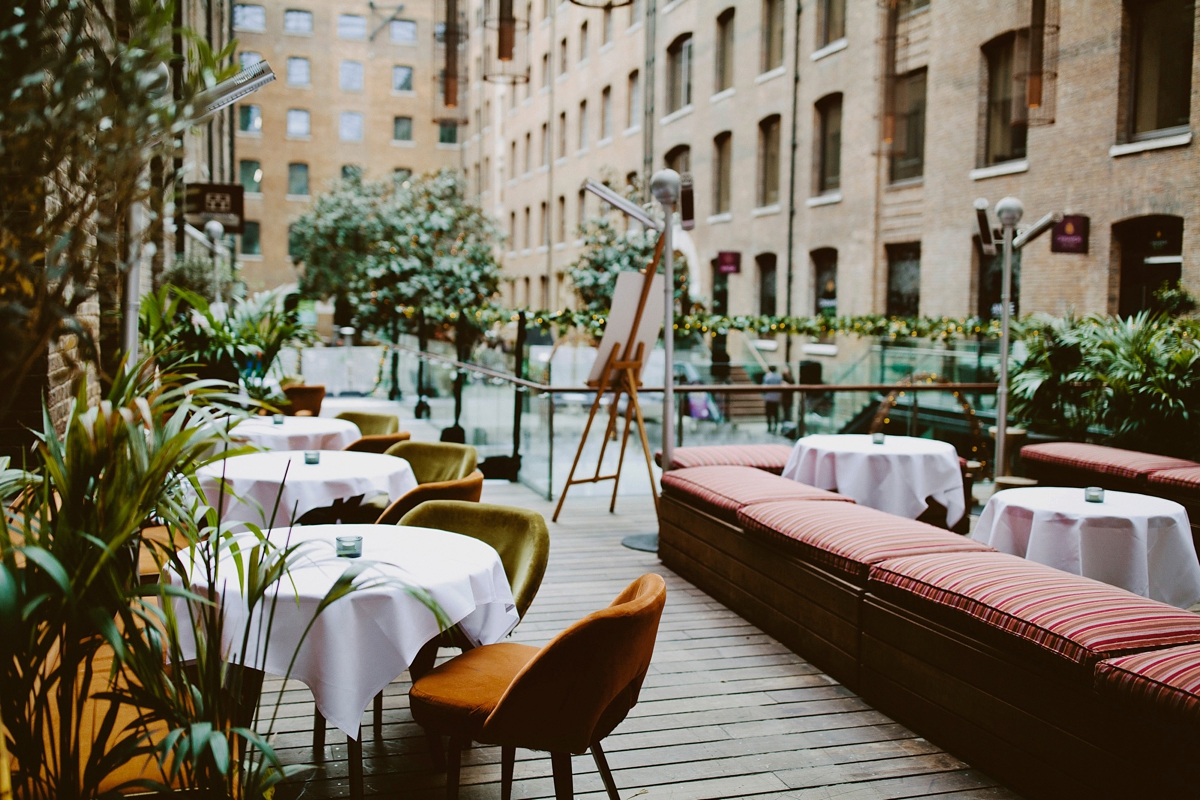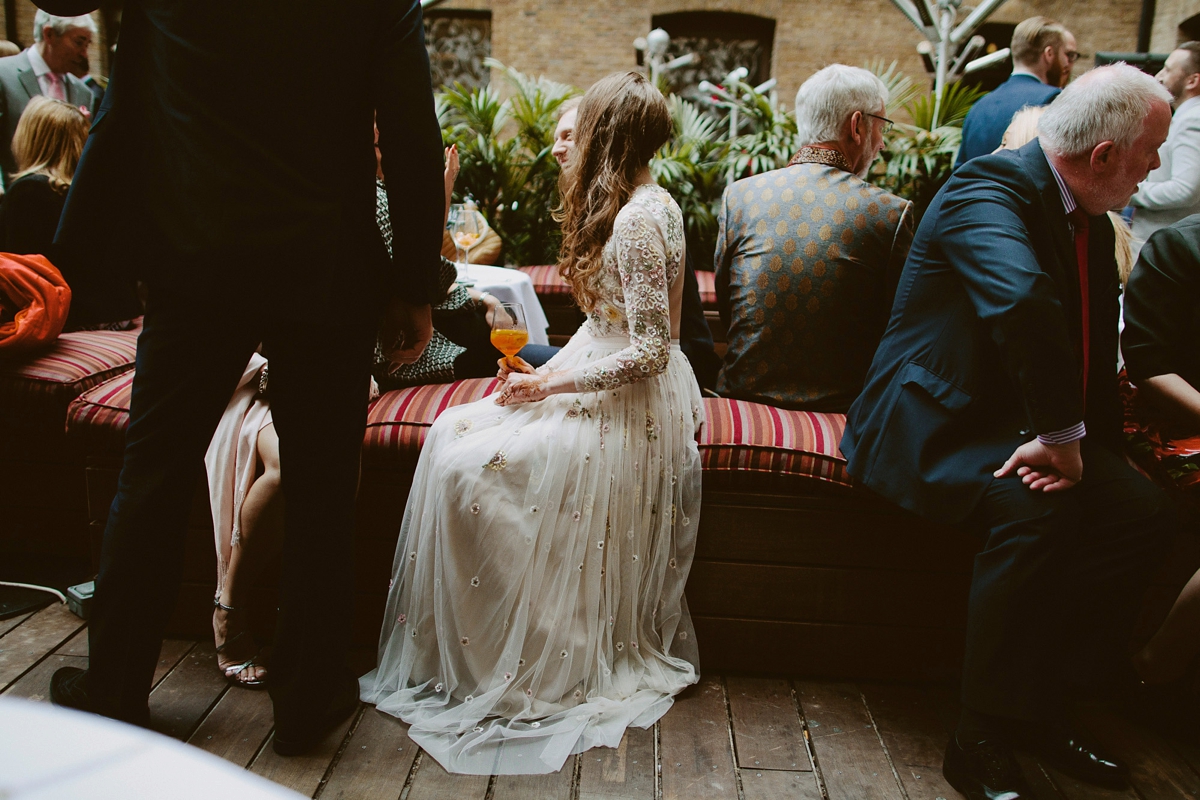 All catering was provided in-house by the wonderful Devonshire Terrace. Evening samosas and snacks were generously provided by Vijay's uncle who owns the Aarti Sweet Centre.
"My brother's girlfriend Carmel kindly made our favours of mini bottles of home infused gin."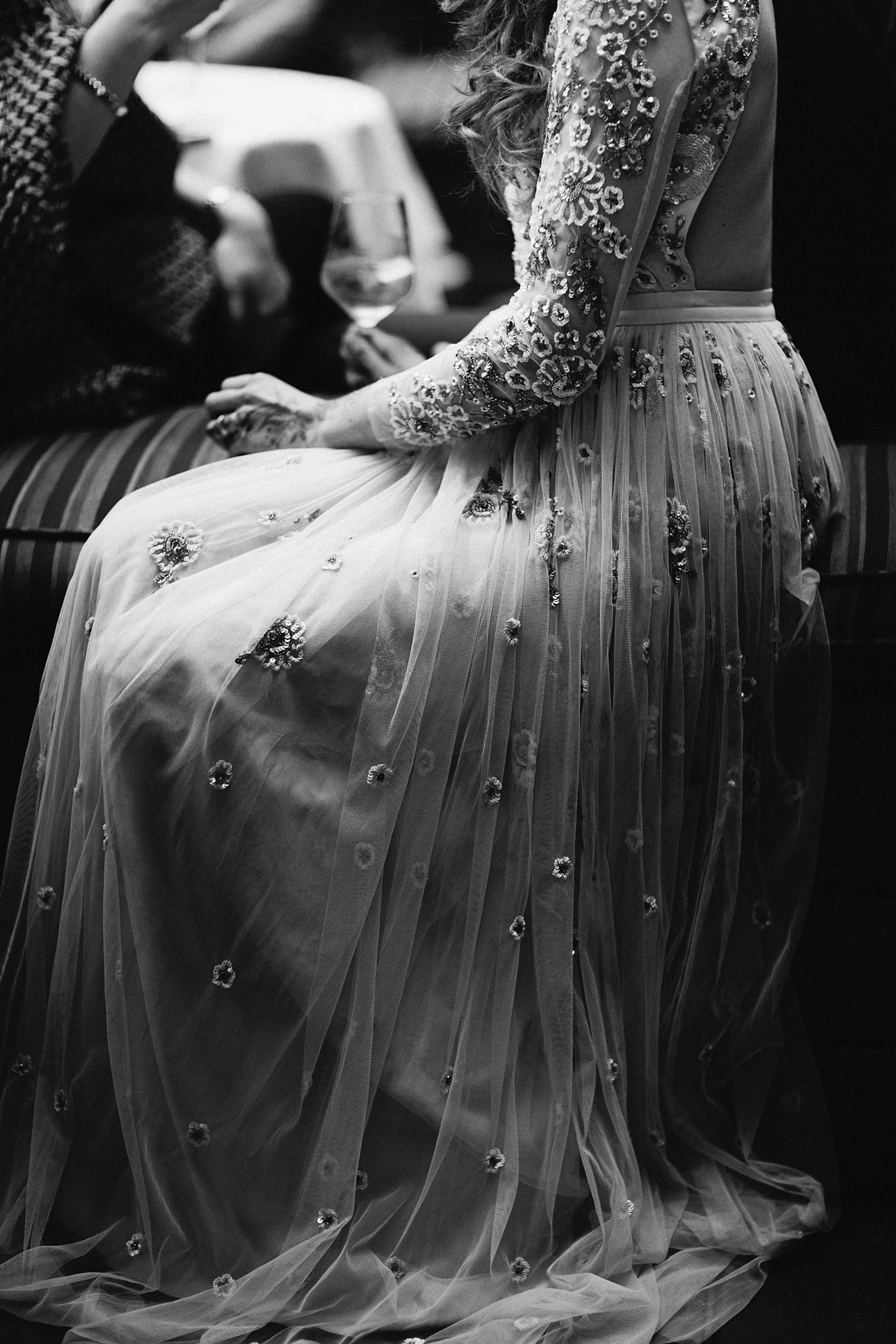 "We were very lucky – my family friend Mandy Dawson does cake decoration and made our cake as a gift (as she also did for my sister's wedding some years ago). Mandy makes the beautiful sugar flowers by hand, and created lisianthus and alstromeria."
"We had sponge cake due to disliking fruit cake, and the top layer was gluten free to cater for some coeliacs in the family."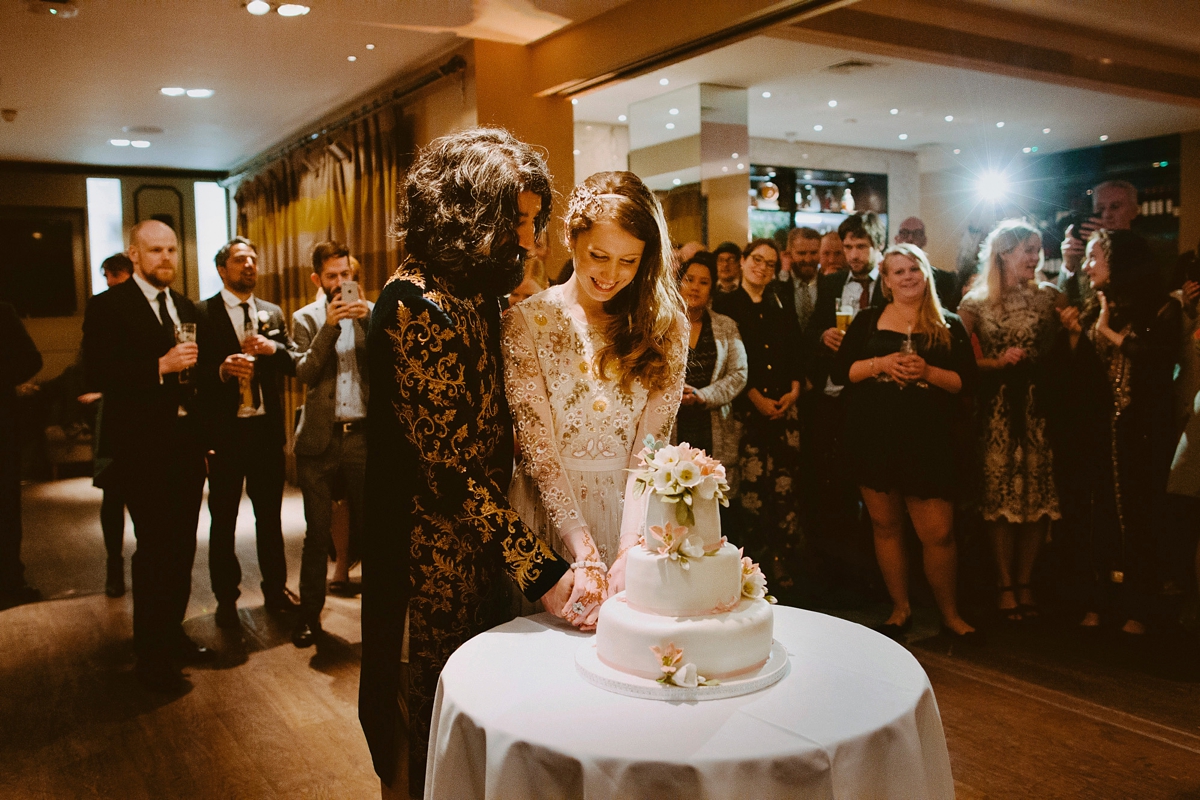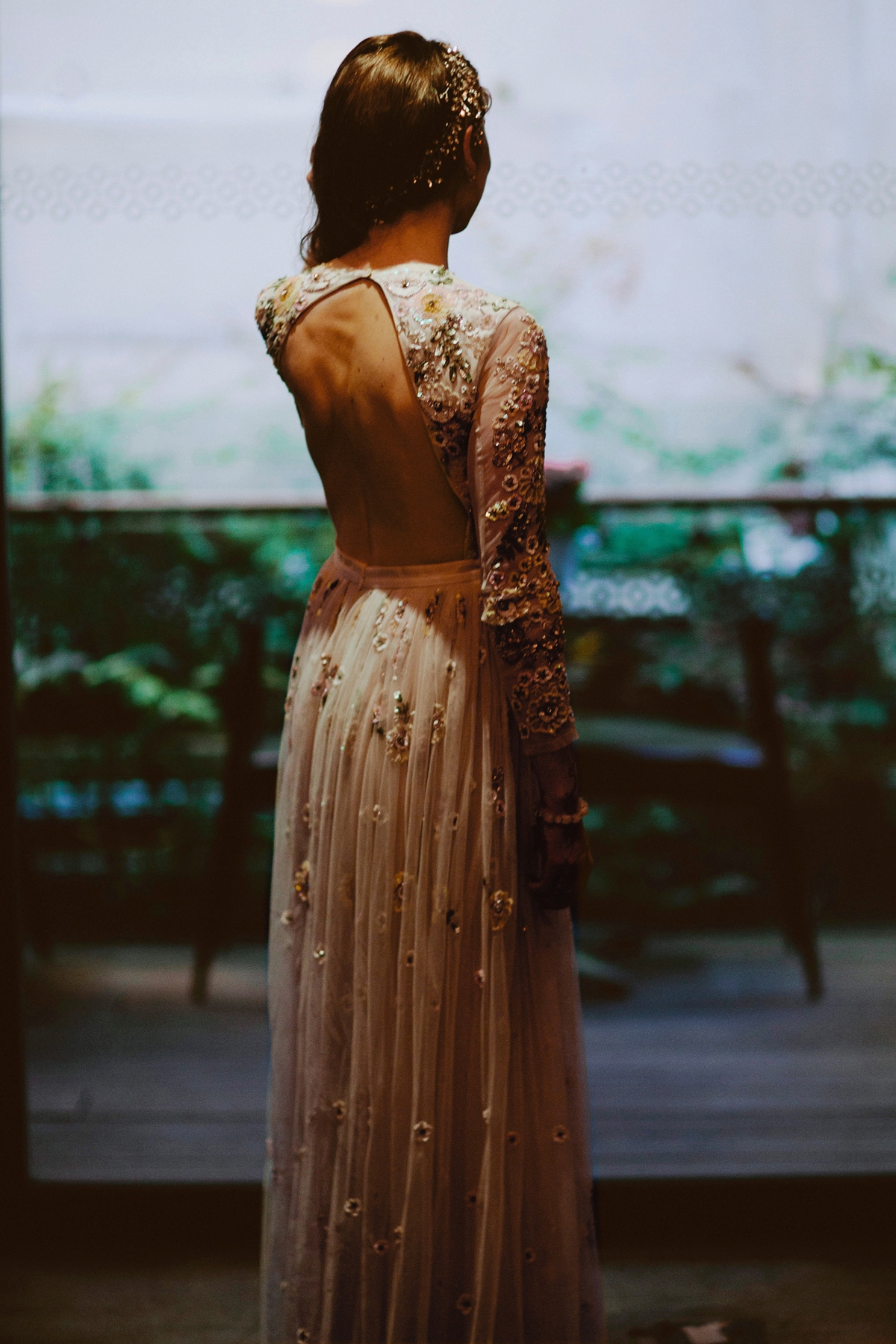 Daisy is a member of Kings Place Choir, who performed for the couple and their guests in the evening to welcome new guests to the party.
"We also hired Great Big Feet – a brilliant band who got everyone dancing. In the late evening, several of our friends were kind enough to DJ – we had the venue through until 3am."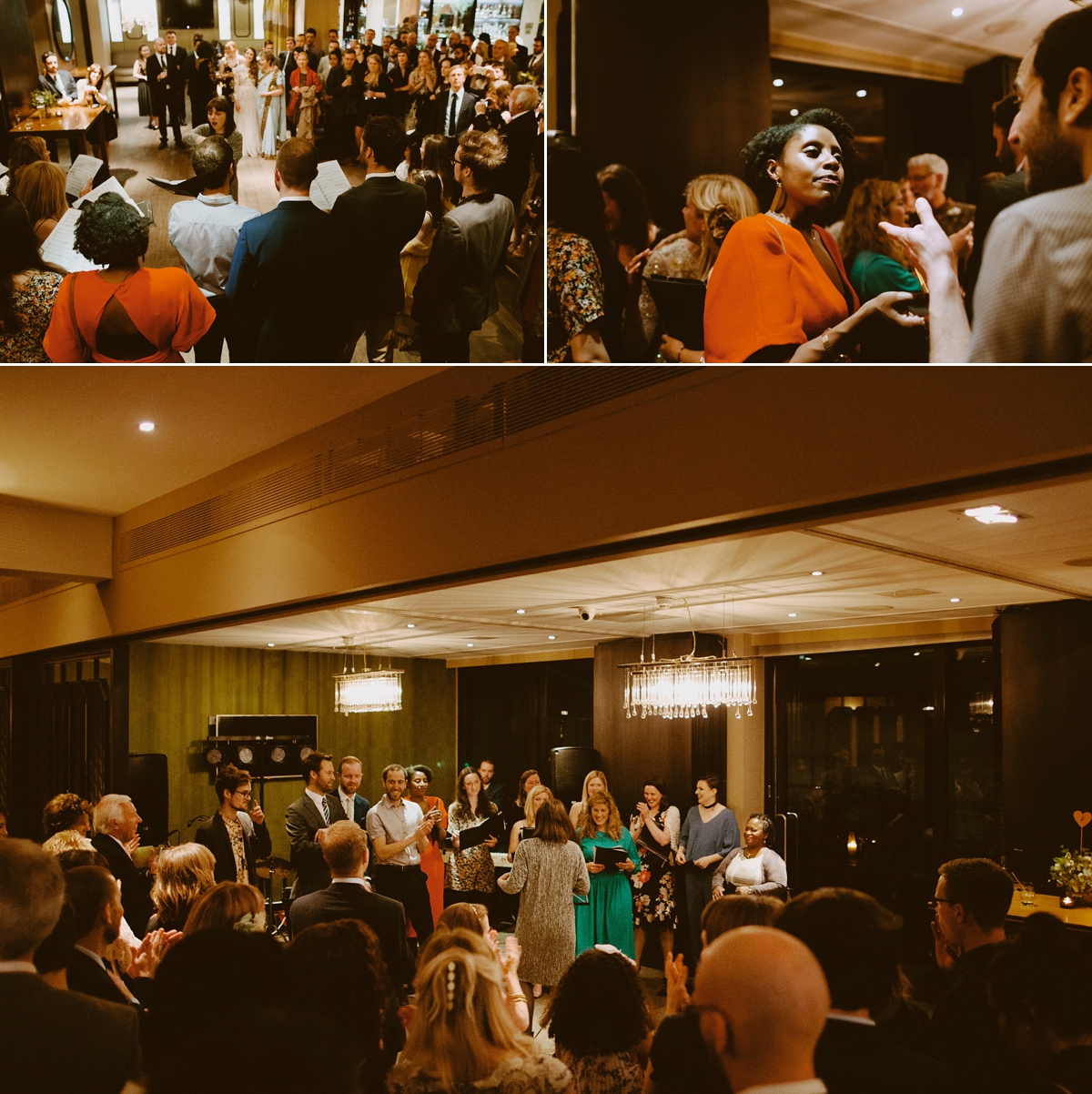 "We didn't have a first dance, we thought it would be too embarrassing! My choir performed before the band started and it seemed no one noticed that we skipped the dance tradition."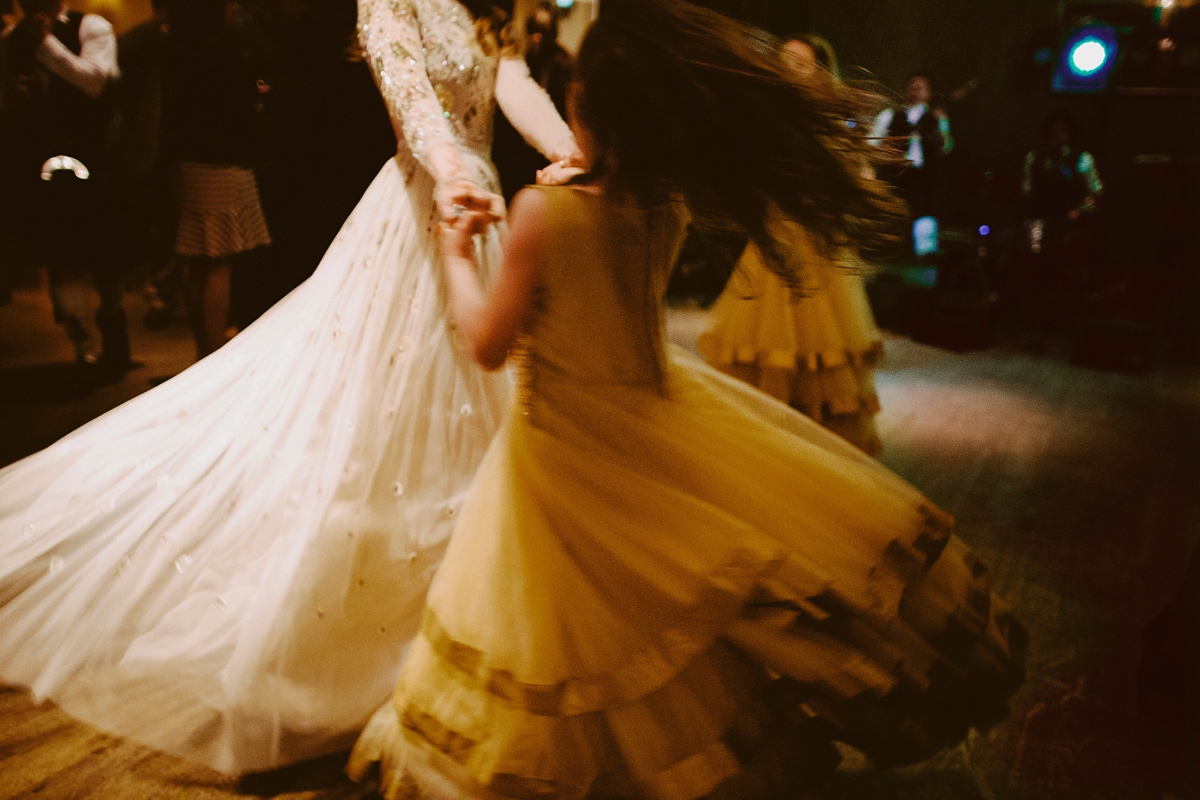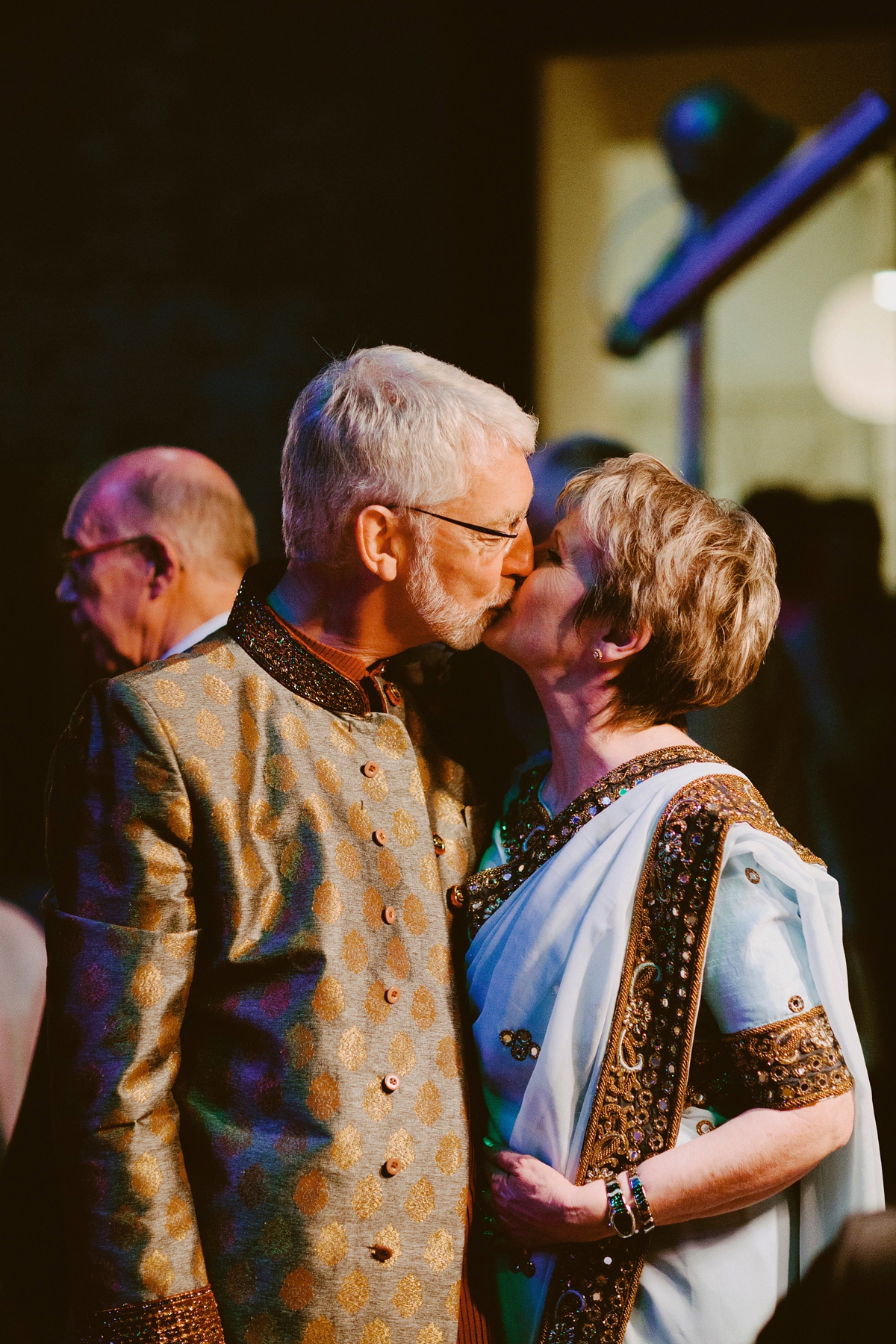 Words of Wedded Wisdom
"Don't get caught up in detail. We didn't have fixed plans about style, colour schemes etc but in the end it was a happy and relaxed day. One often sees portrayals of weddings with conflict and stress, arguments with bridesmaids, disagreements over pointless details like chair covers. I honestly think no one, including the wedding party, notices such things on the day. Take the easiest option in planning, accept the help of your creative friends and family, and try to have fun."
"Vijay does wish we had recorded the speeches and I also wish I had felt less nervous about being the centre of attention because I missed out on eating all the lovely food!"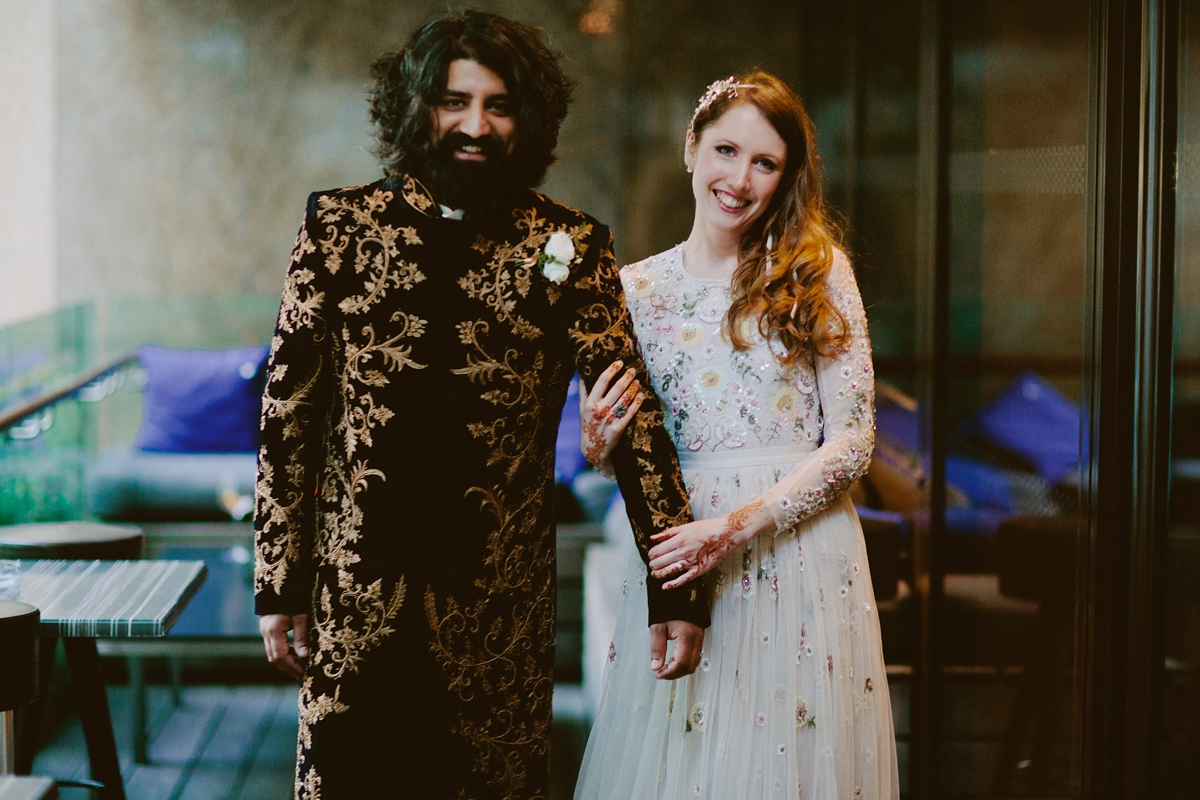 Utterly wonderful – enormous thanks to Daisy and Vijay for sharing their most beautiful and elegant wedding with us today, and thanks as always to photographer David Jenkins, more from whom you can see here on Love My Dress.
Anyone else going to be wearing a beautiful Needle and Thread gown on their wedding day.
Annabel x