If the colder weather is getting you down and you're in need of a little European break, you're in the right place. Today we're travelling to Guarda, Portugal for the wedding of Jenna and Carlos. Captured by one of our all-time Love My Dress and Little Book for Brides favourites Claudia Rose Carter, this marriage oozes alternative style and glamour against a beautiful backdrop of mountains and olive groves.
Jenna, who runs the wholesale area of clothing brand Motel married Carlos, a social media marketing consultant and promoter (the couple run a super cool blog over at Roque and Soul), on 26 August this year at Senses Camping, Faia, Guarda, Portugal. From the start, Jenna and Carlos were sure that they wanted an outdoor wedding, and planned a day with an easy-going festival vibe. Their colour palette included copper, muted greys and whites to complement the plethora of green foliage and wild floral decorations.
Film by The Costa Sisters
Lovers of boho, relaxed bridal style, I think you're going to love this dress. A Rue de Seine design found at Leonie Claire Bridal in Hove (who we are so proud to feature on Little Book for Brides), it was the first thing that Jenna shopped for and inspired the entire feel of the celebrations.
"In my head I thought I would either want something lacy all over or I would go for some sort of very simple silk slip-style dress. Rue De Seine was one of the first designers I discovered and remained a firm favourite throughout. I loved the bohemian feel of the dresses and the look of the fabrics they used."
Photography Claudia Rose Carter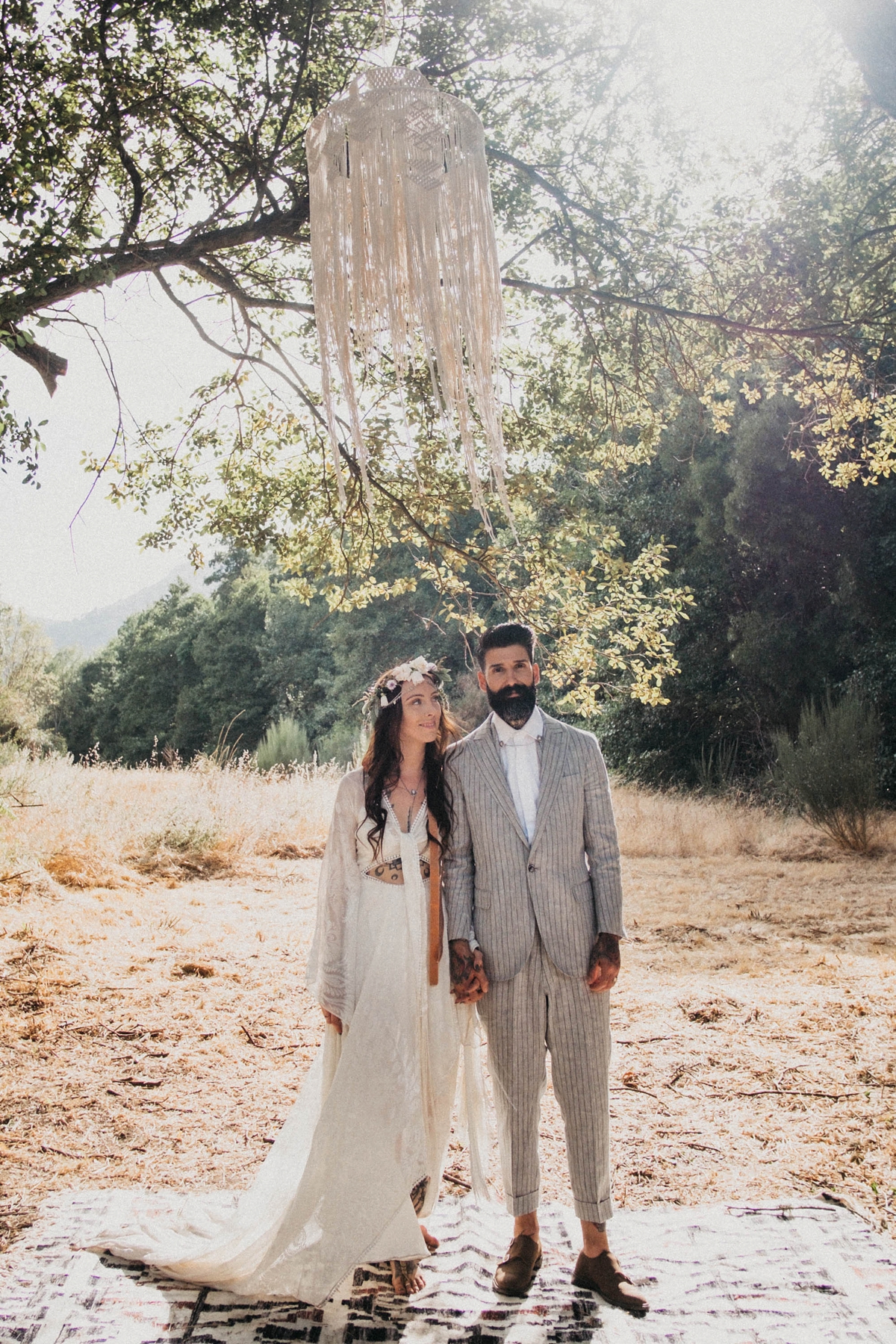 "Leonie Claire Bridal were holding a trunk show for the newest 'Love Spell' collection so I booked my day and pre-selected all the ones I wanted to try on. I adored the light subtly-patterned fabric and the tassels on the sleeves. It was long sleeved which I never thought I'd go for because of the location, but this dress was like wearing air! The tie front and 70s bohemian with a touch of rock and roll look, and a train but not too much. It just looked like it was meant to be on me."
As Carlos is Portuguese, choosing a venue in his country of birth was an easy choice. Senses Camping offered everything that they were looking for: an outdoor ceremony in guaranteed sunny, warm weather, with a fantastic vegan offering.
"Travelling a lot inspires us and we just could never picture ourselves at an indoor venue of any kind. We are really into our vintage and so we wanted to bring an element of that into the wedding which is why we decided to incorporate copper into the colour theme of the wedding."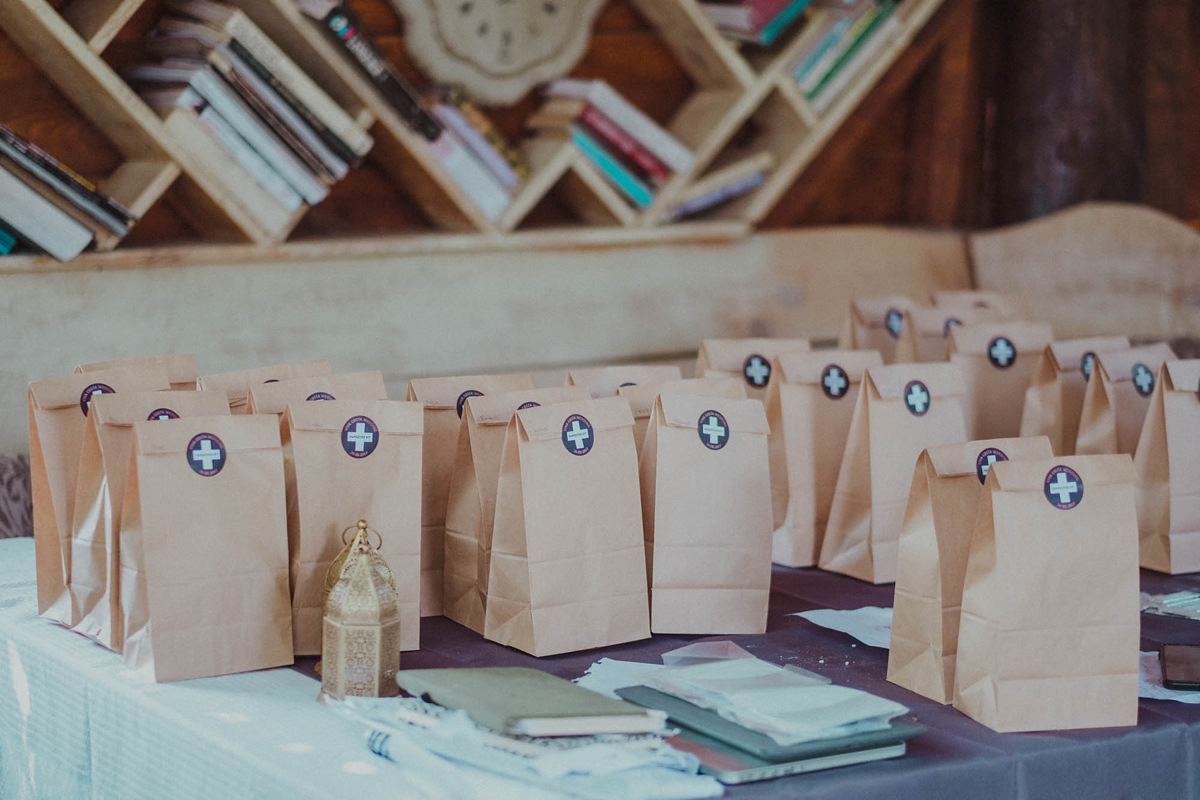 "We found the venue by chance when looking for camping sites which might be suitable to work with. It was the only one we had successfully found which had enough space, could cater our needs and hold a wedding. It just so happened to turn out that it was also part of the same mountain that Carlos grew up on."
"Before we'd even visited it, we just stopped looking for any more as we just felt this was a huge sign. As soon as we got out of our car we just knew it was the one. The view was incredible, you were in the middle of nowhere and it felt like an adults' playground all to ourselves. Their look complemented what we were looking for perfectly."
The couple met on Facebook in 2011 and eventually met in person two years later at The London Tattoo Convention.
"We met through social media and spoke for a while but things didn't really progress any further. In 2013 we started talking again after sharing a joke over a photo. I was actually scared to meet up with Carlos. He had at the time around 2,500 followers (which seemed a lot then!) and I think he looked a bit 'high maintenance'."
"Then during The London Tattoo Convention that year I spied Carlos across the room with his friends. Seeing him in the same room as me, teamed with my shyness, made me bolt for the door and avoid him. I eventually admitted I'd seen him and Carlos was upset I hadn't said hello and insisted we met for a date."
"I drove a few weekends later from London to Bournemouth and the rest, as they say, is history. We kind of just knew as soon as we met each other and we've hardly spent a day apart since!"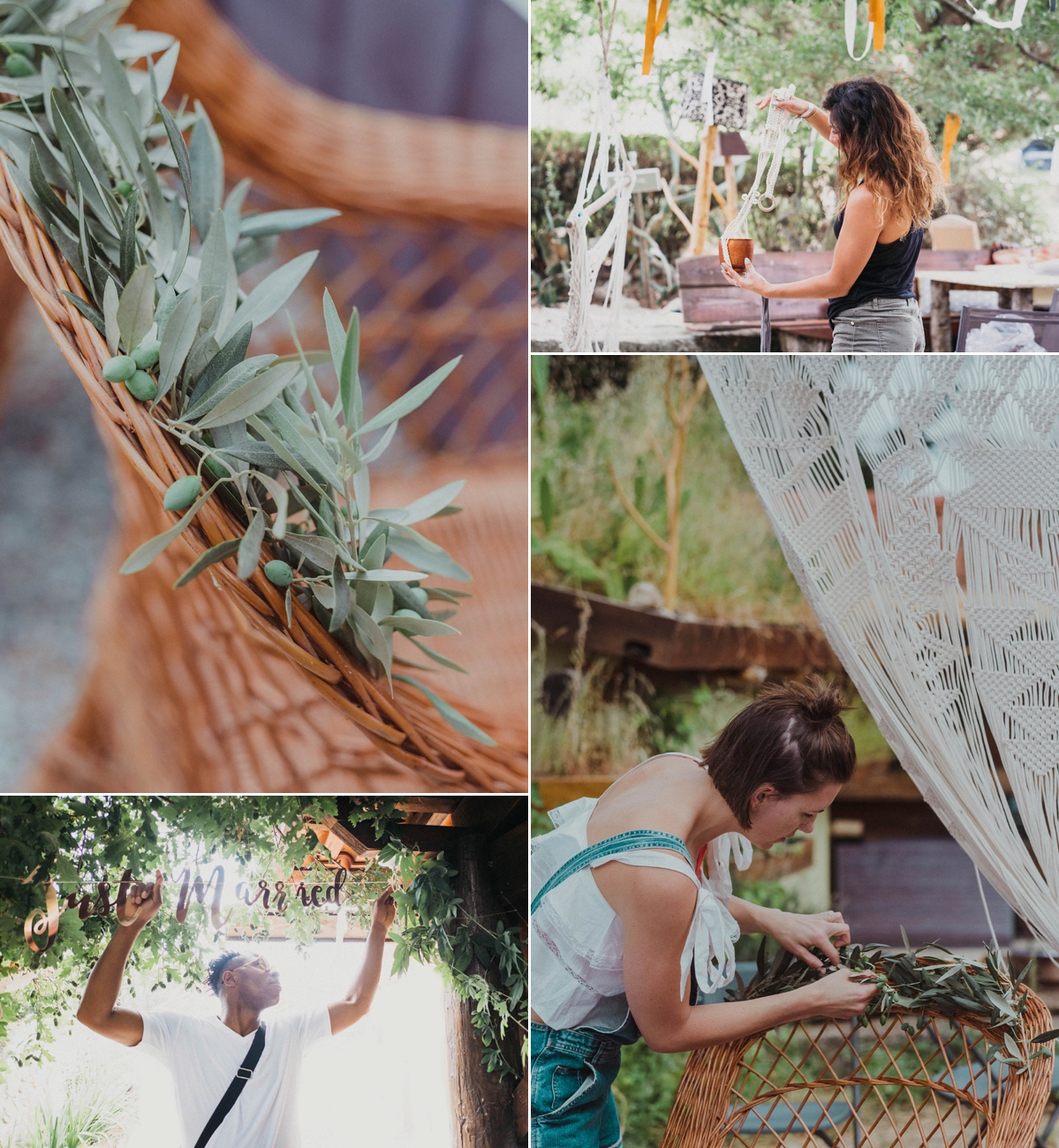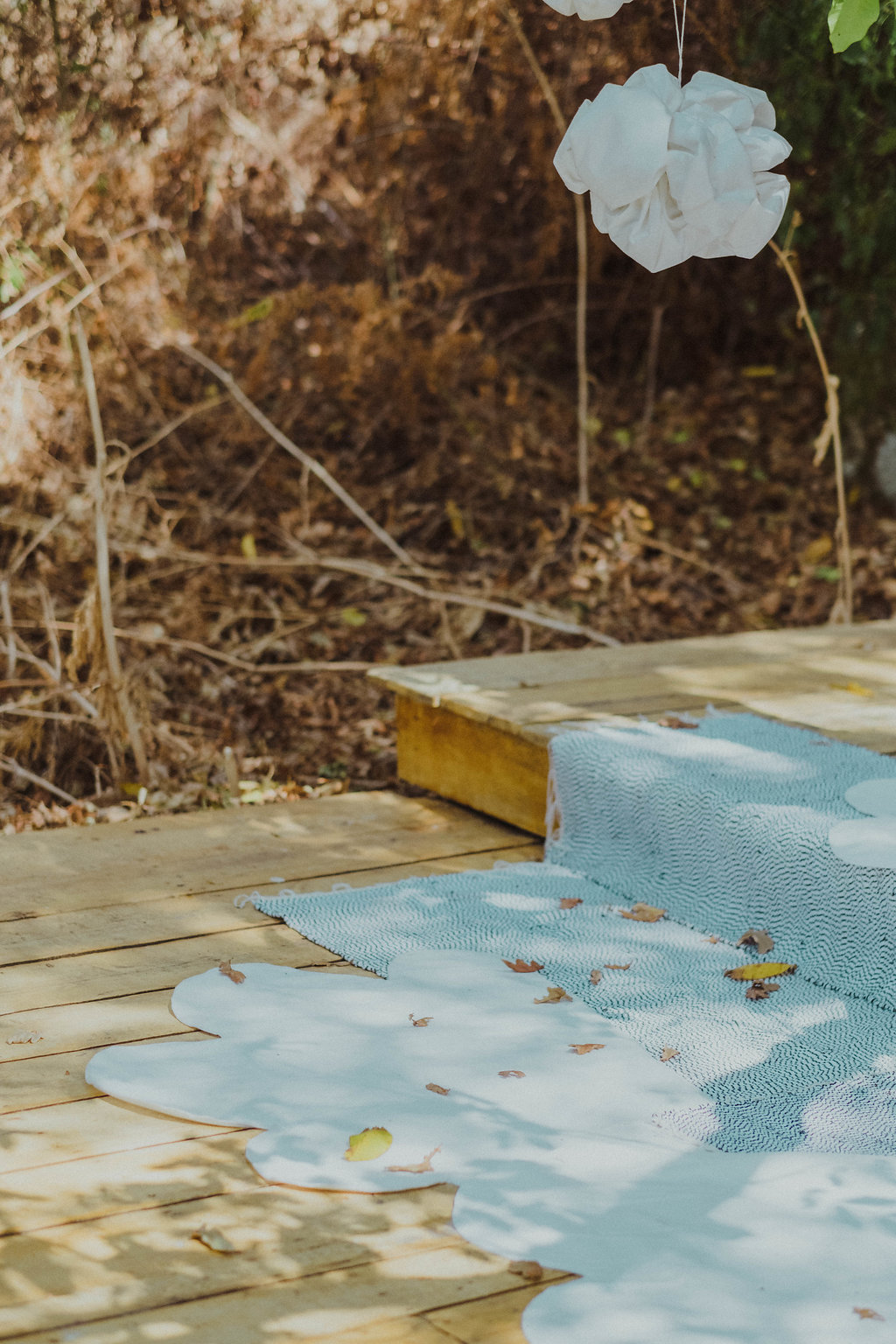 Carlos proposed during a romantic meal in Cowes on the Isle of Wight where Jenna grew up and enjoyed being engaged before planning their wedding for three years later.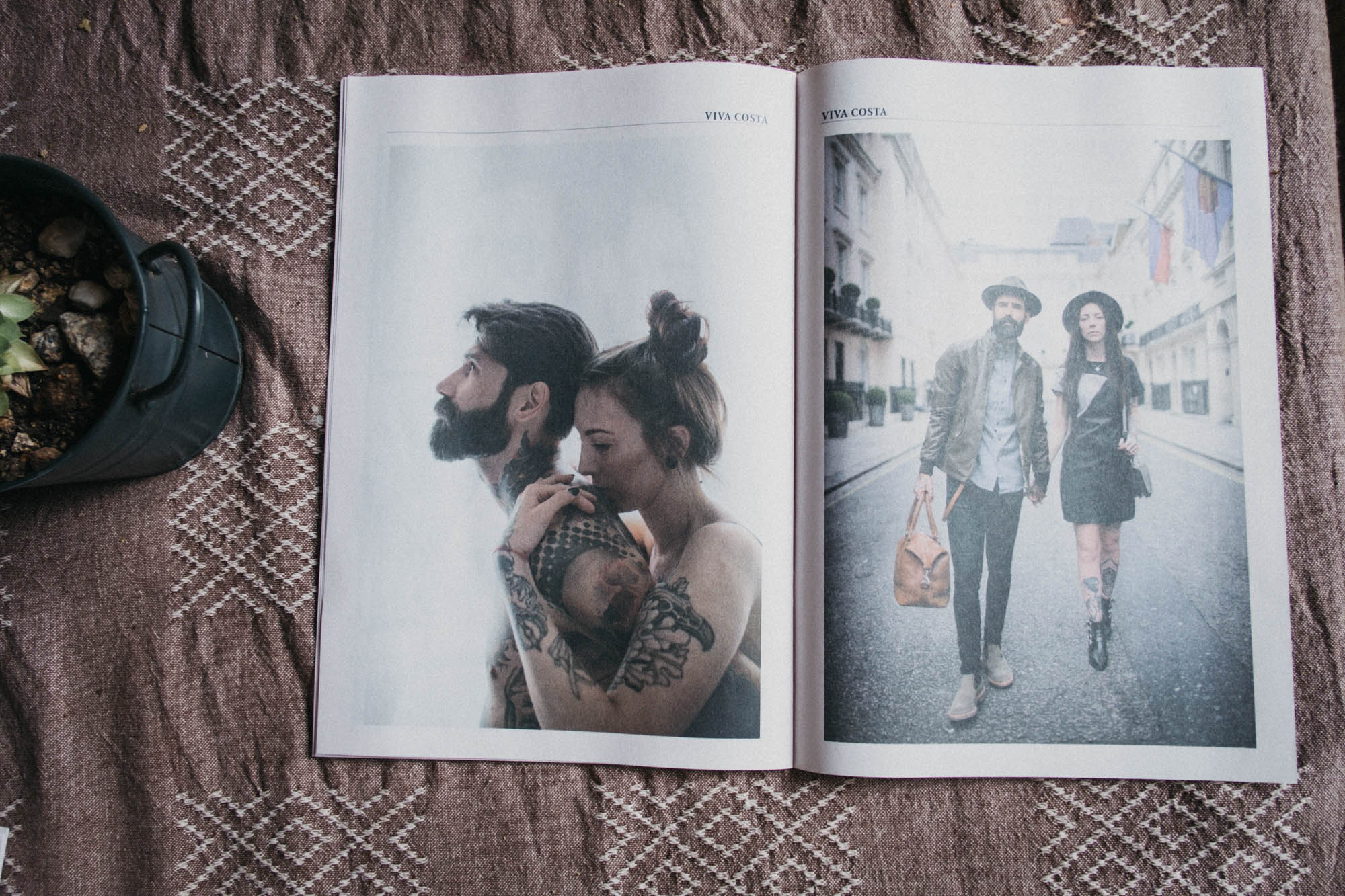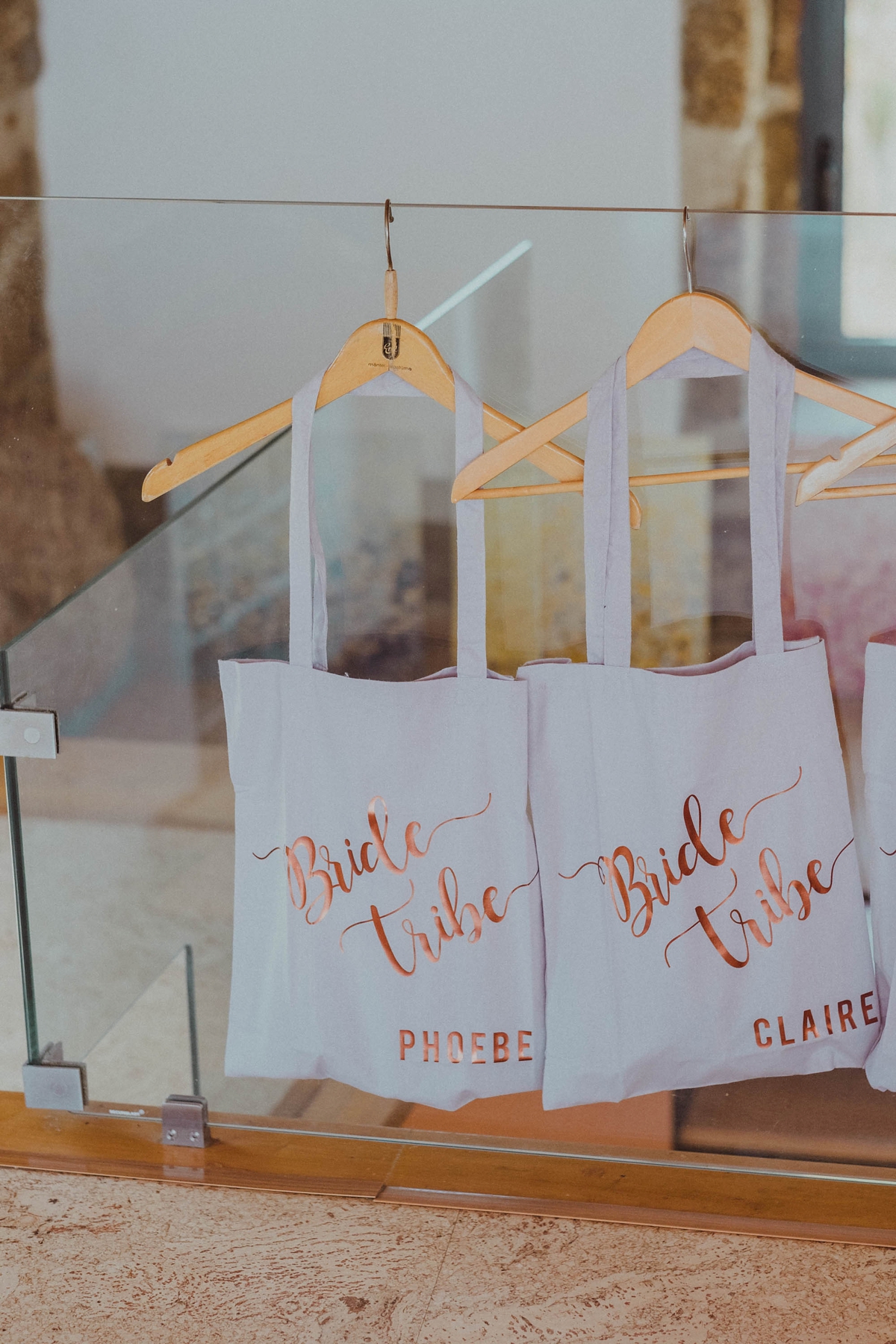 Shoes were Rag & Bone clog sandals in ivory, and her stamped and plain bangles in silver and copper, stacking rings and lariat necklace were made for her by Acid Mountain Silver.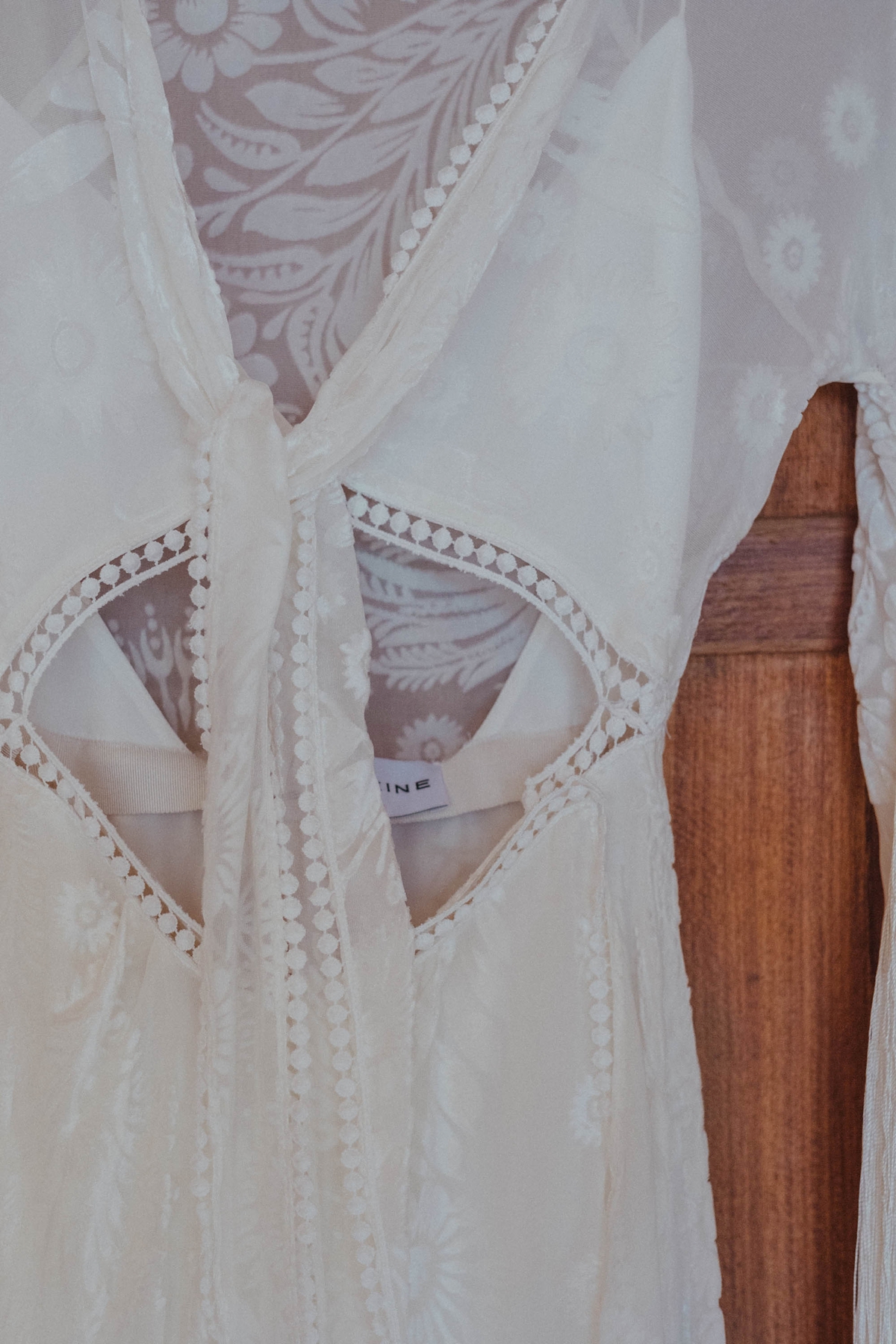 Jenna commissioned Motel to design and make bridesmaids gowns – a combination of dark grey silk skirts teamed with sequinned tops in copper. Each style was chosen by the bridesmaid and made to fit, and they were worn with handmade crystal headpieces from Buckland Clothing and custom-made opal and copper stacking bracelets from Acid Mountain Silver.
Jenna created even more of a boho-vibe by choosing to wear a beautiful floral crown, made herself using flowers from the venue's garden, for the ceremony. A day-to-day wearer of hats and headwear, the bride wanted to have head-piece changes during the day.
She added a festival-inspired, leafy Topshop headchain and changed into an extravagant feather headdress for the dinner. Her final choice was a custom-made cream hat from Hornskov Kobenhavn – so very chic.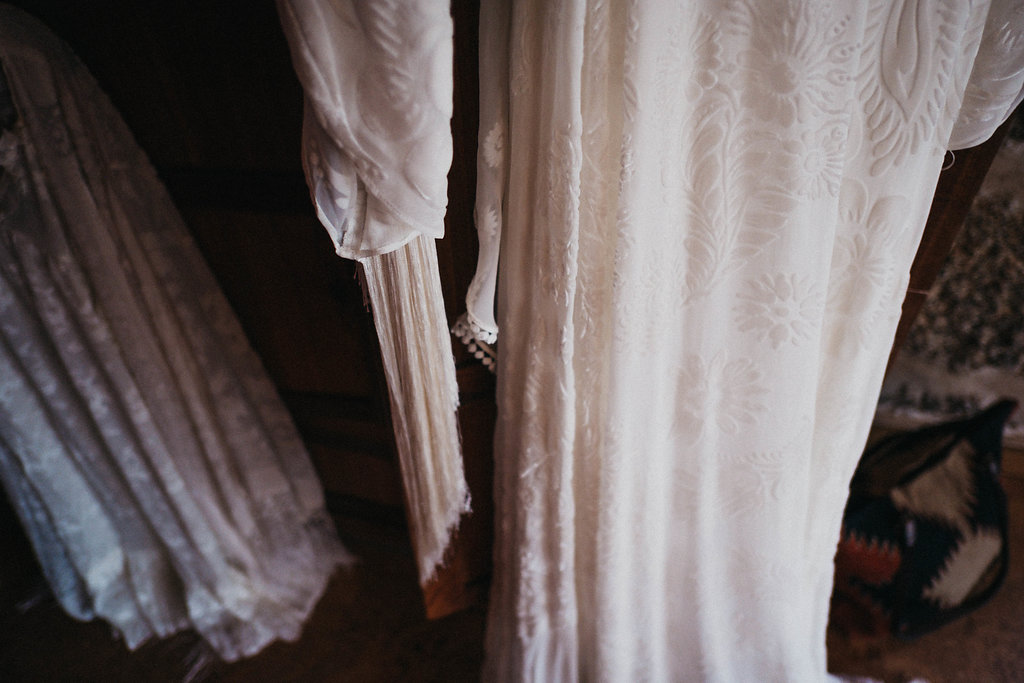 The venue was so remote that sourcing external suppliers was quite a challenge. As a result, Jenna asked her friend Solvy to apply her makeup, and bridesmaid and best friend Emma styled her hair into a relaxed, flowing style.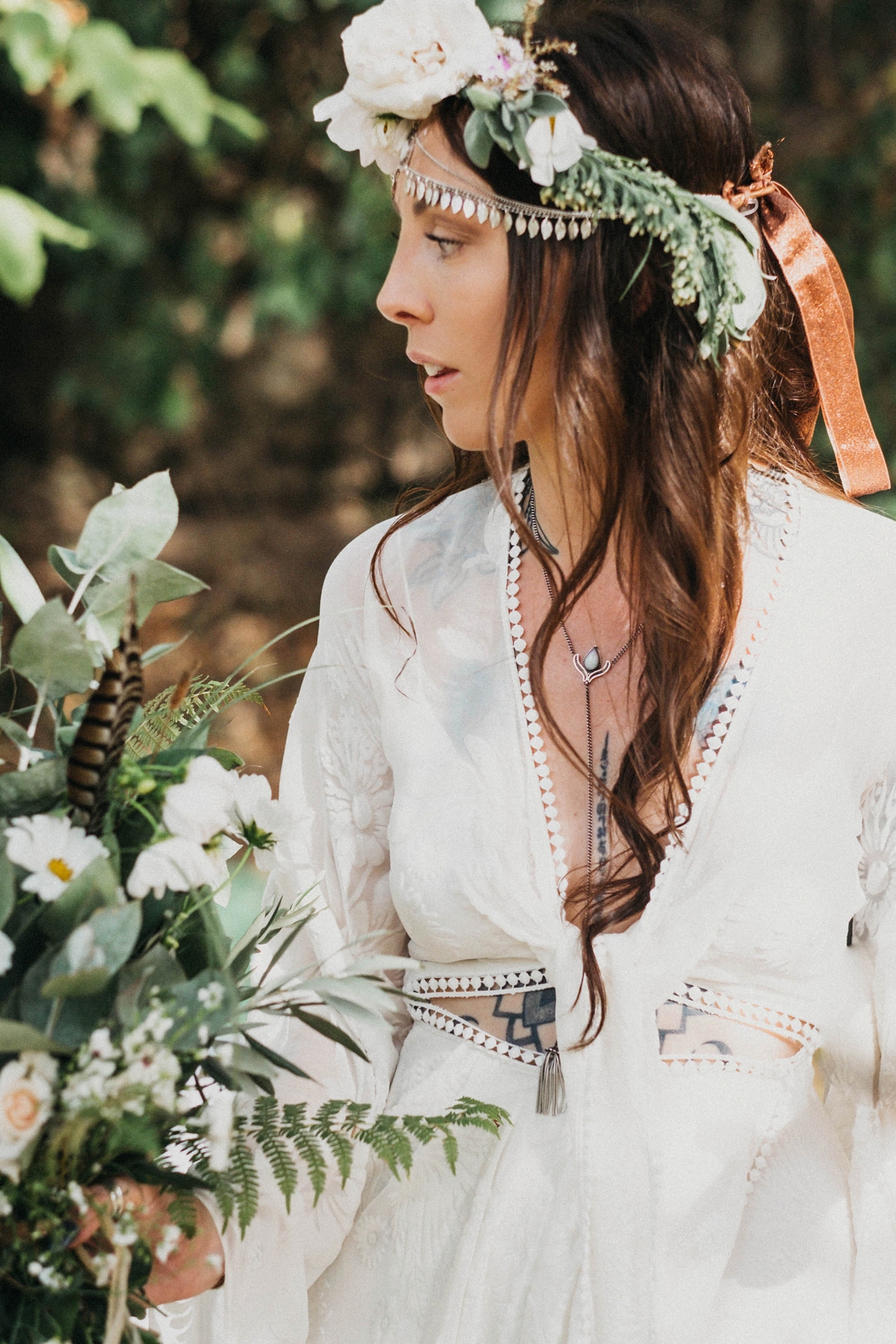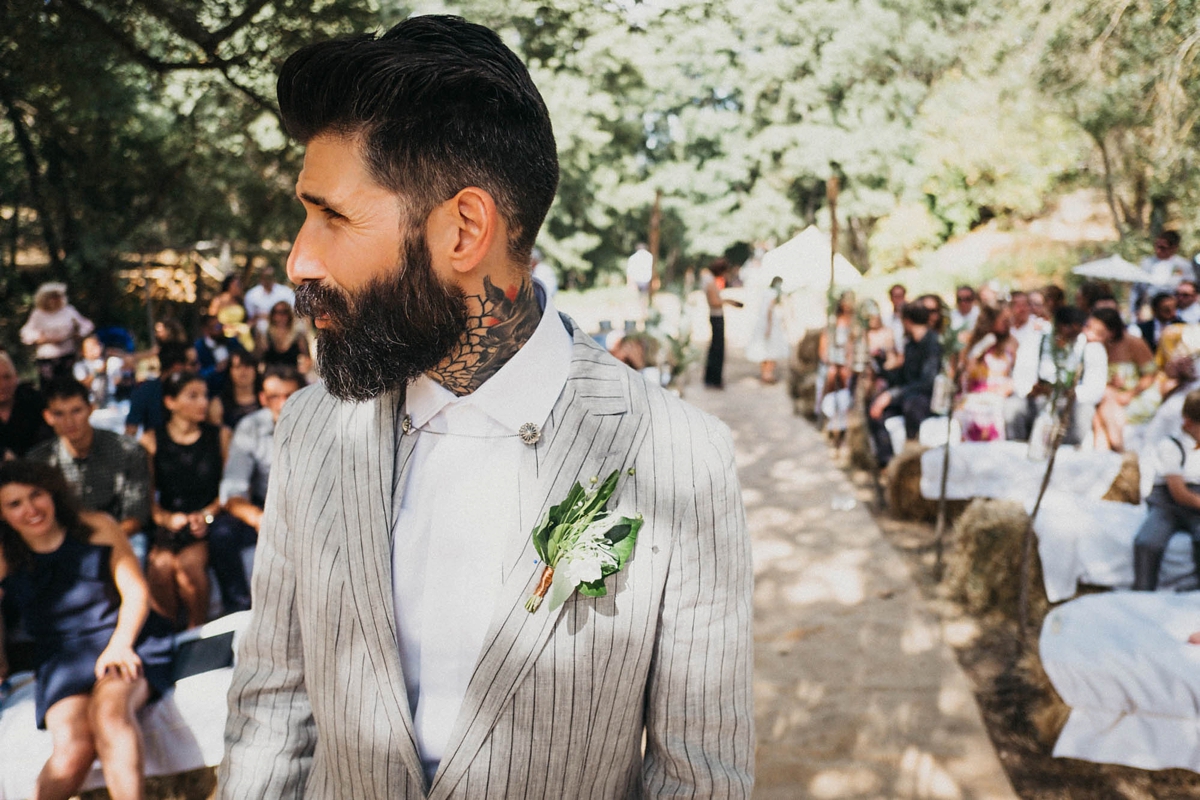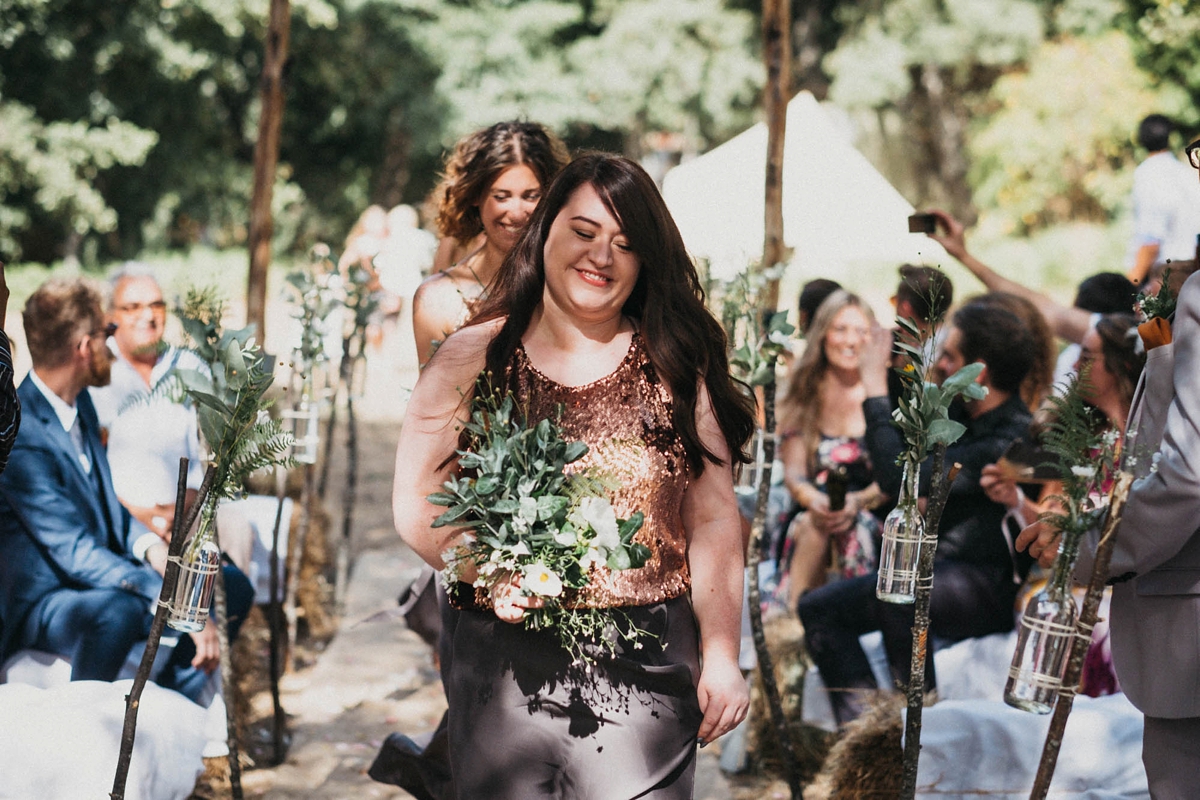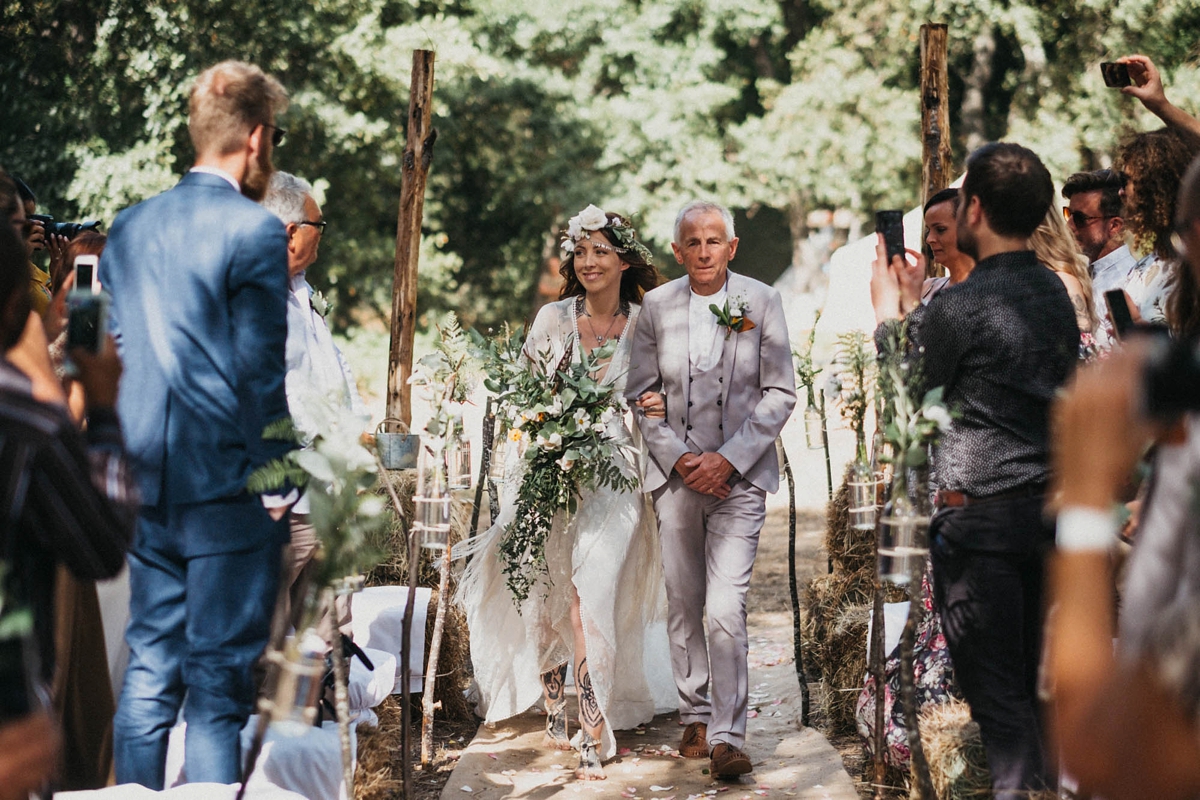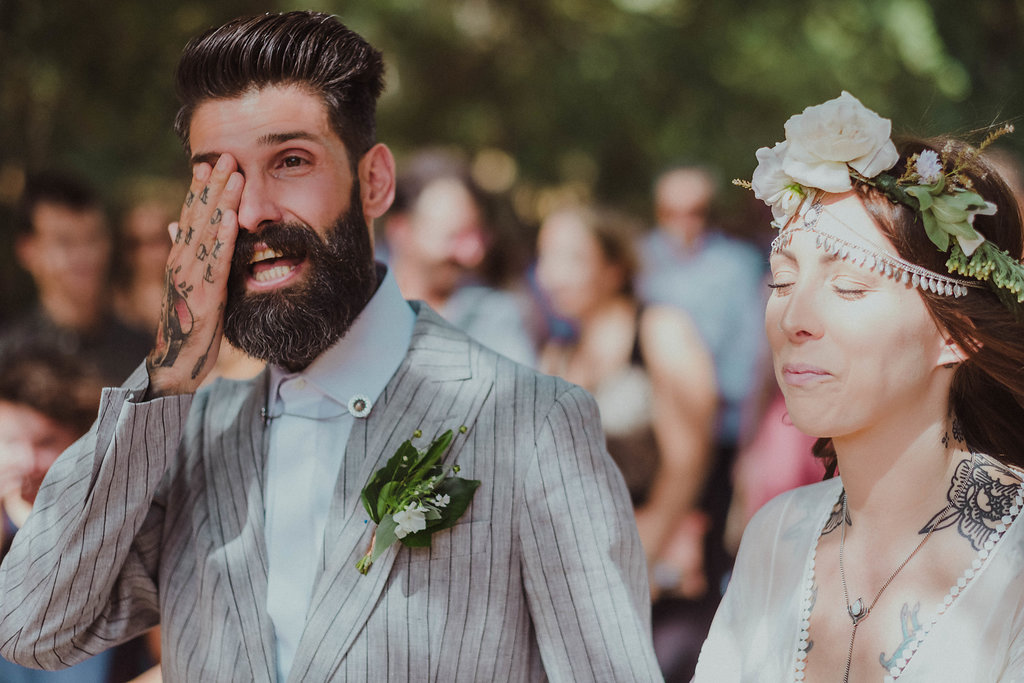 Jenna and Carlos got incredibly creative to dress up the venue and its spaces, choosing items that really meant something to them as a couple.
"We got married standing on our rug from our bedroom under a beautiful macramé chandelier that was made for us by the super talented Louise at Macramé Adventure. We also had a specially-made backdrop that matched the chandelier and it sat behind us at the top table in the dining area. We used plant hangers around the dining area with candles for light."
The flower-girl wore a lace-trimmed Tea Princess dress, which picked up on the detailing of Jenna's own gown and was given an Acid Mountain Silver opal necklace by Jenna.
"Because the venue was in the middle of nowhere we actually worked with the venue to use the flowers from the gardens and decorate it in-house."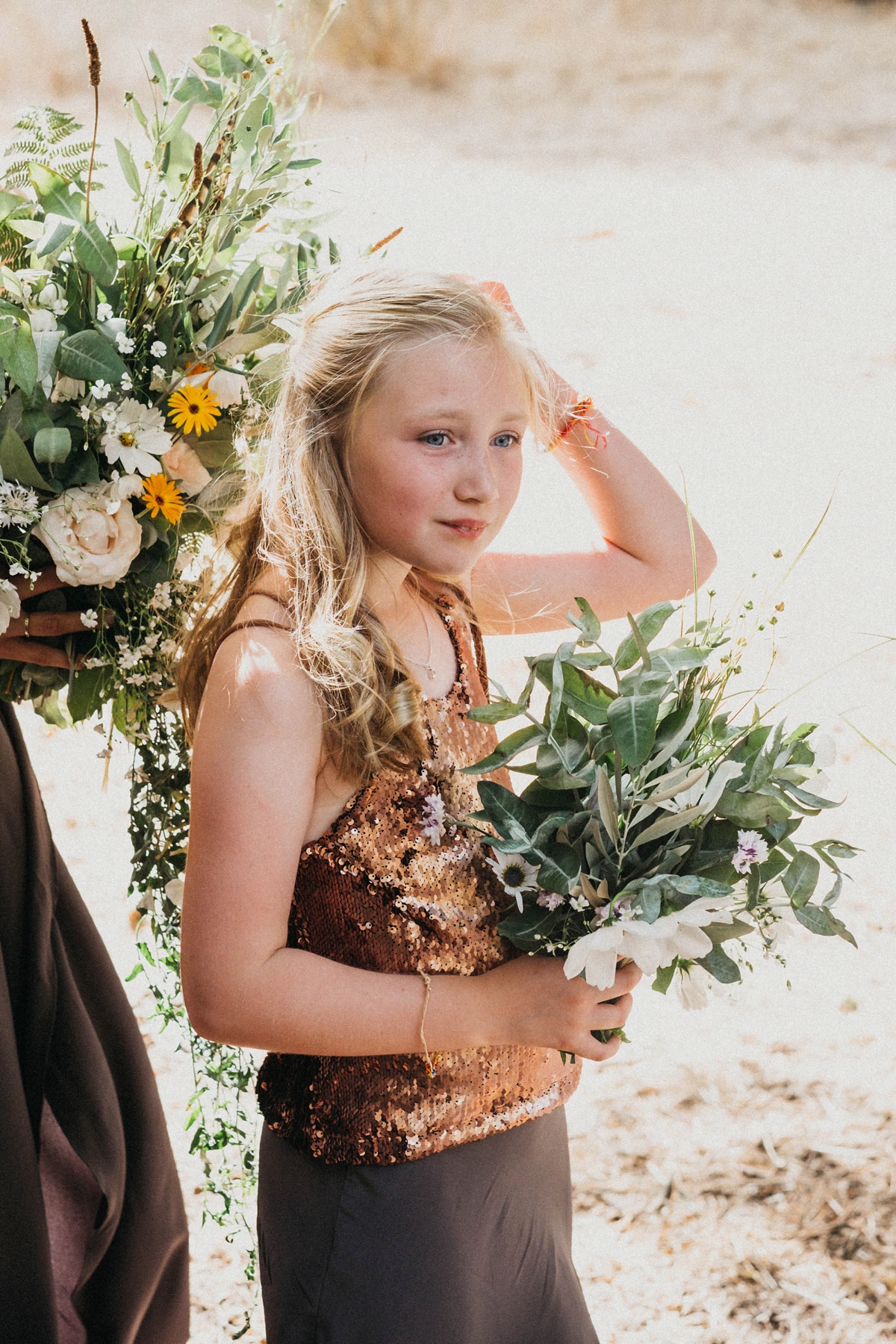 The bride walked down the open-air aisle with her father to a live performance of 'Home' by Edward Sharpe & The Magnetic Zeros.
"We had the two singers perform by the ceremony space and they created a version of this song especially for me to walk into. It was really special. With the busy life and travelling that Carlos and I do, the lyrics ring true to us. It really doesn't matter where we are; so long as we are together, we are home."
The bride and groom blended their English and Portuguese cultures together by having readings and vows in both languages. Their rings were bespoke designs from Gold Coast in Brighton; a curved, engraved wedding band for Jenna and a thicker ring for Carlos, engraved to match.
"We tried to keep as much of the ceremony in both English and Portuguese. We had hired a wedding celebrant who was fluent in both languages and we worked with her to create and tailor the whole ceremony. In order to keep both sides involved we again had readings in both Portuguese and in English."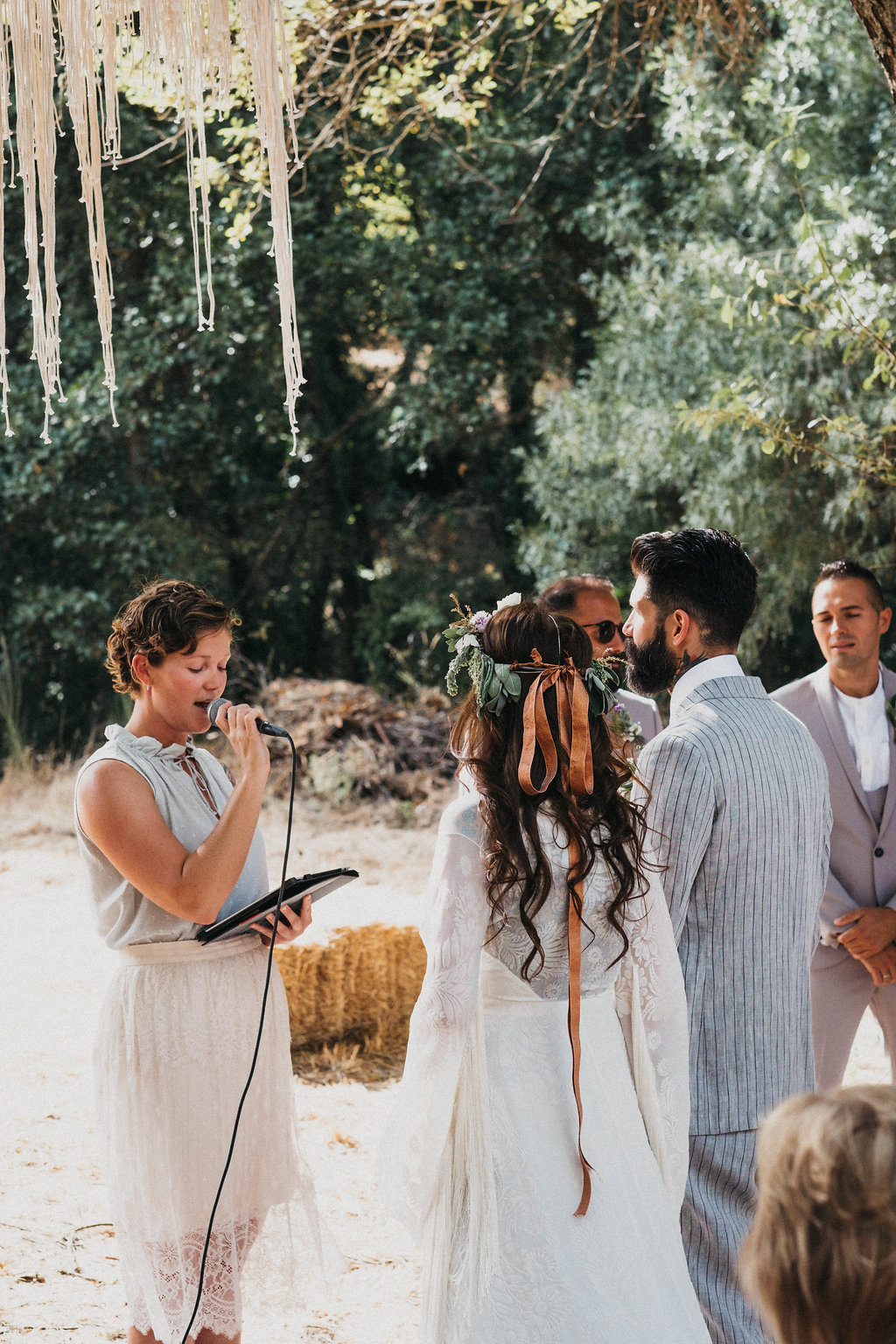 "We also included a handfasting ceremony in our wedding and asked both of our mums to place a ribbon they had purchased from where they live in the world to place over our hands. Since the day was about creating a new family by joining two together we felt that each of our mothers should also be involved in the ceremony and 'tying the knot' since they brought us into this world to find each other."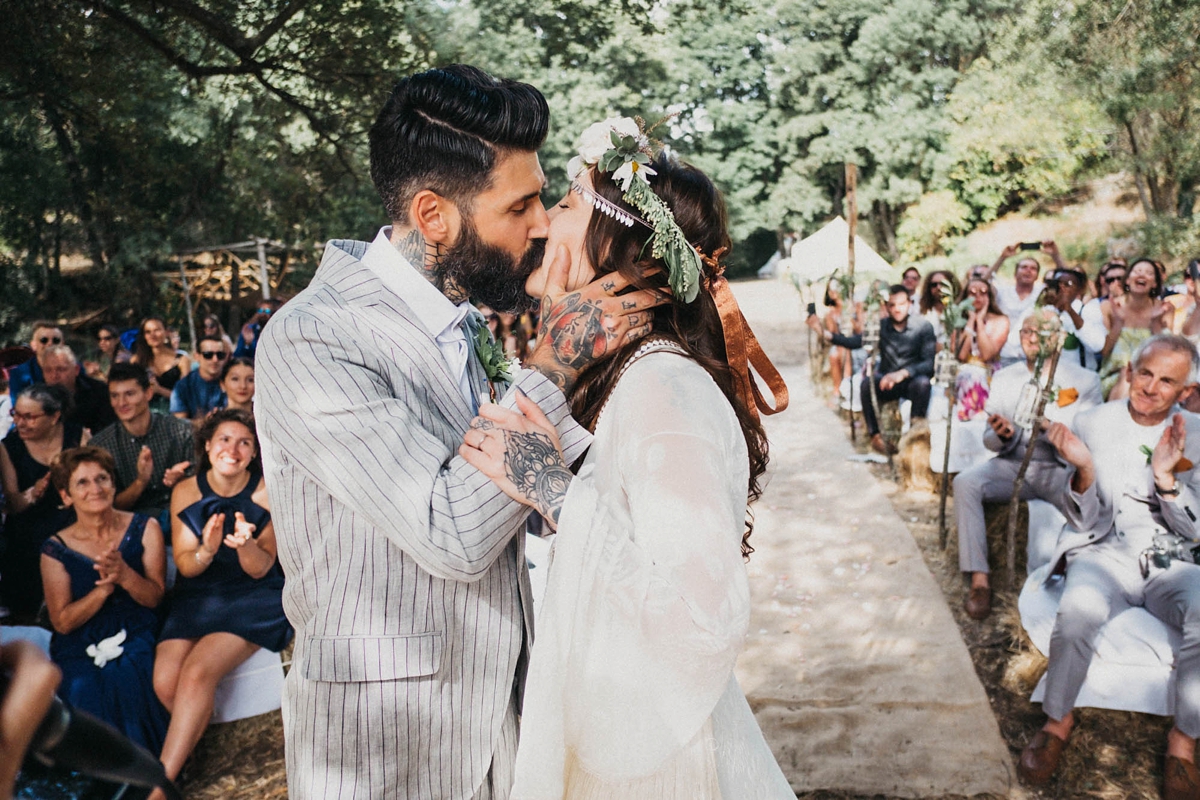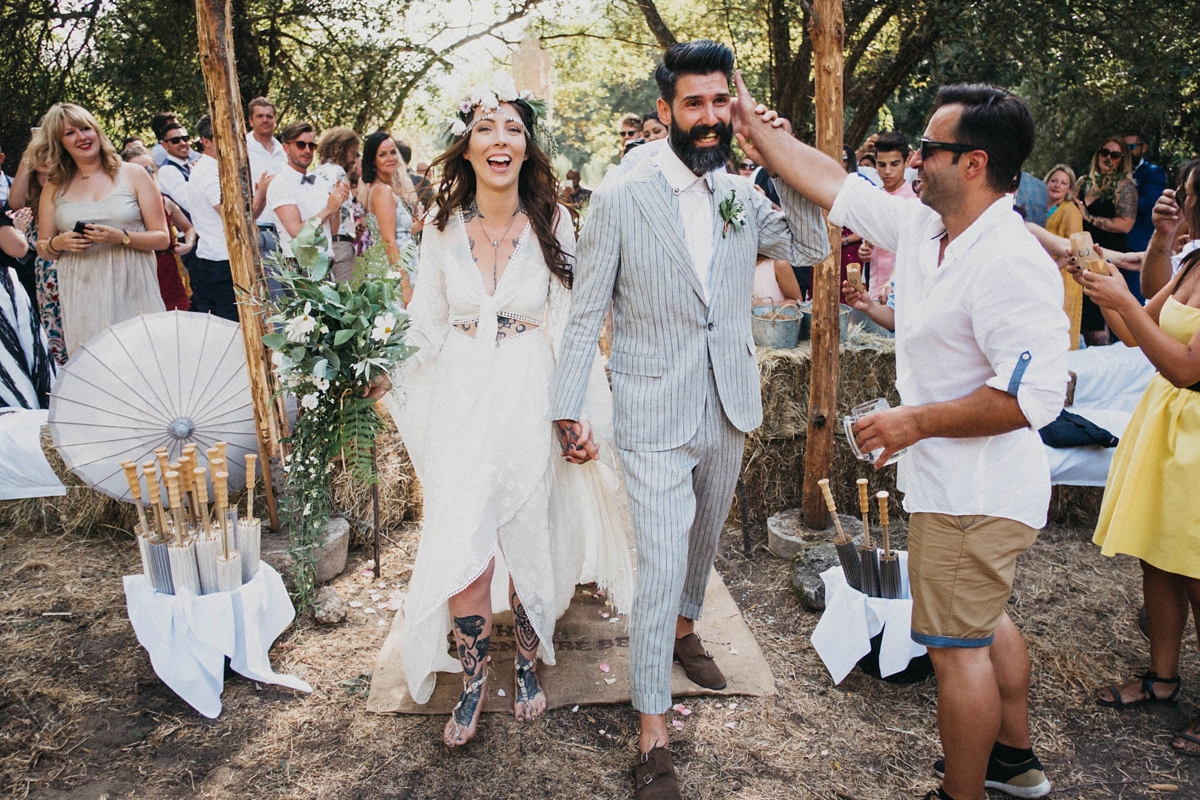 These images by Claudia Rose Carter capture the magical atmosphere of the ceremony in such detail.
"We'd worked with Claudia before for our engagement shots and we all got on so well. I think it's super important to feel comfortable in front of your photographer so as to make the shots easier to do. On top of this she of course is an amazing photographer and we just adore her style. She's really quick and to the point as well which is exactly what you want, when you want to get back to your day."
Just as Jenna rocked her own style, Carlos had a certain look he wanted to aim for with his groom's outfit. His Acid Mountain Silver collar-pin was a gift from Jenna, and he added Trickers shoes for an informal finish.
"Carlos wanted to go for something unique and decided the only way to do it was to design it himself with the owner of VSMONO."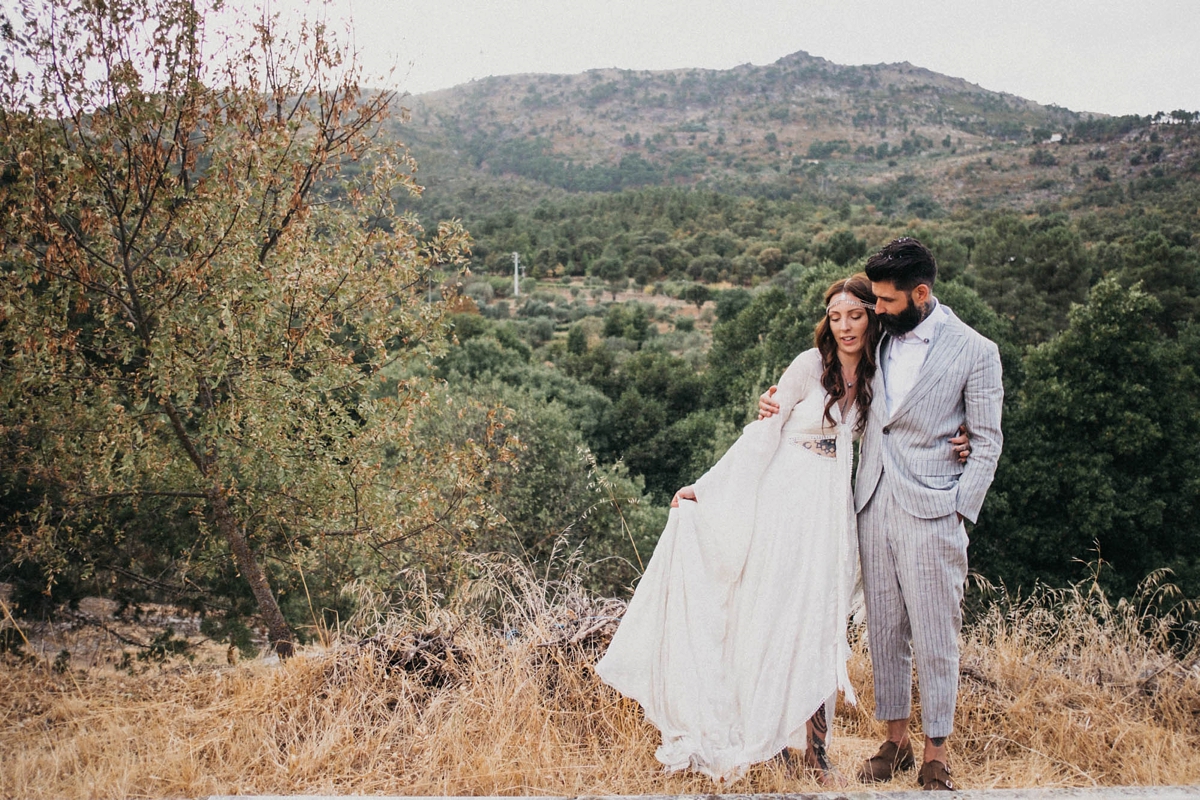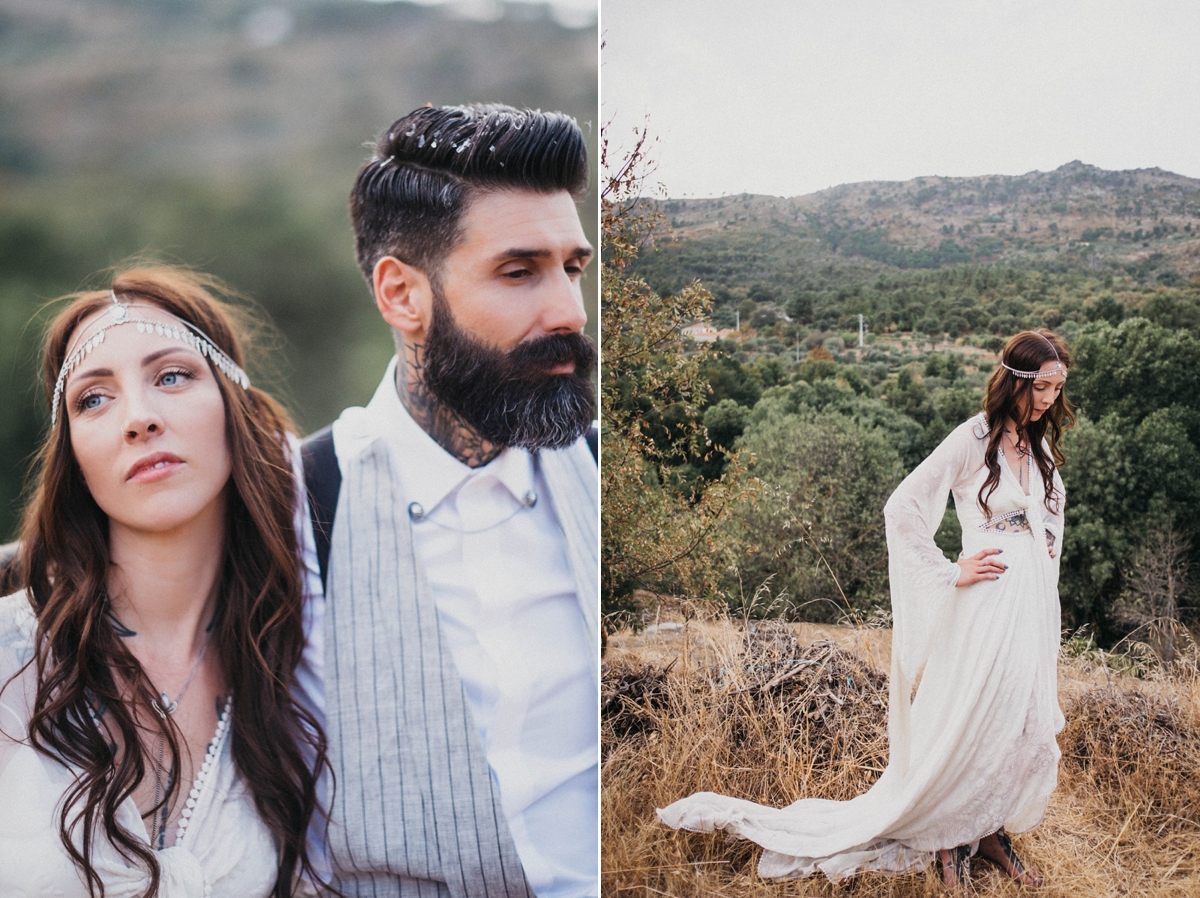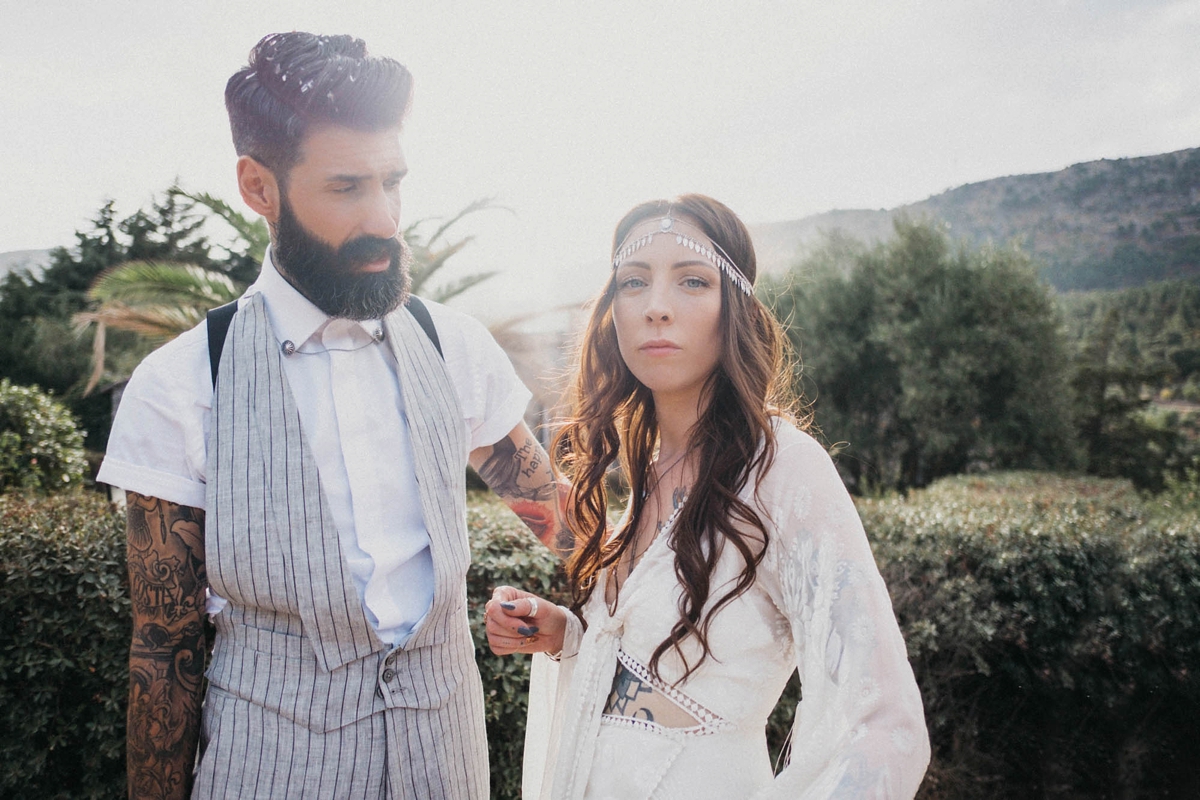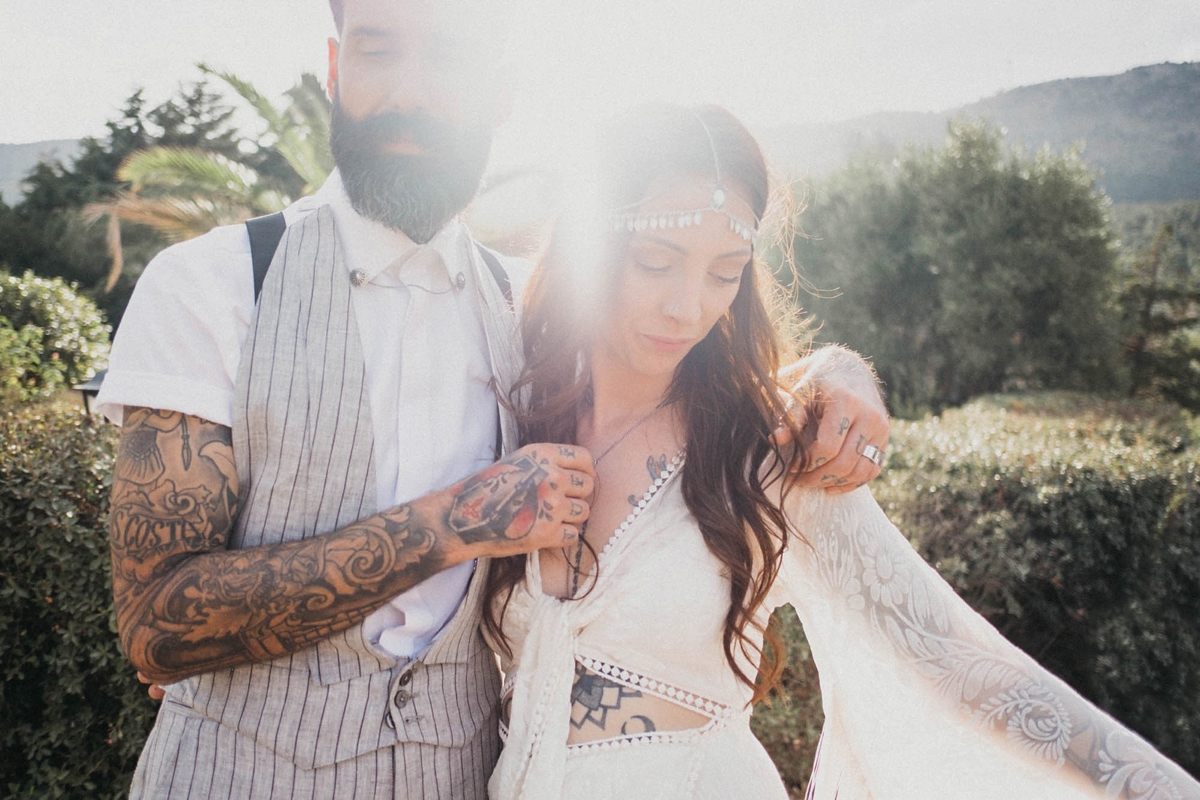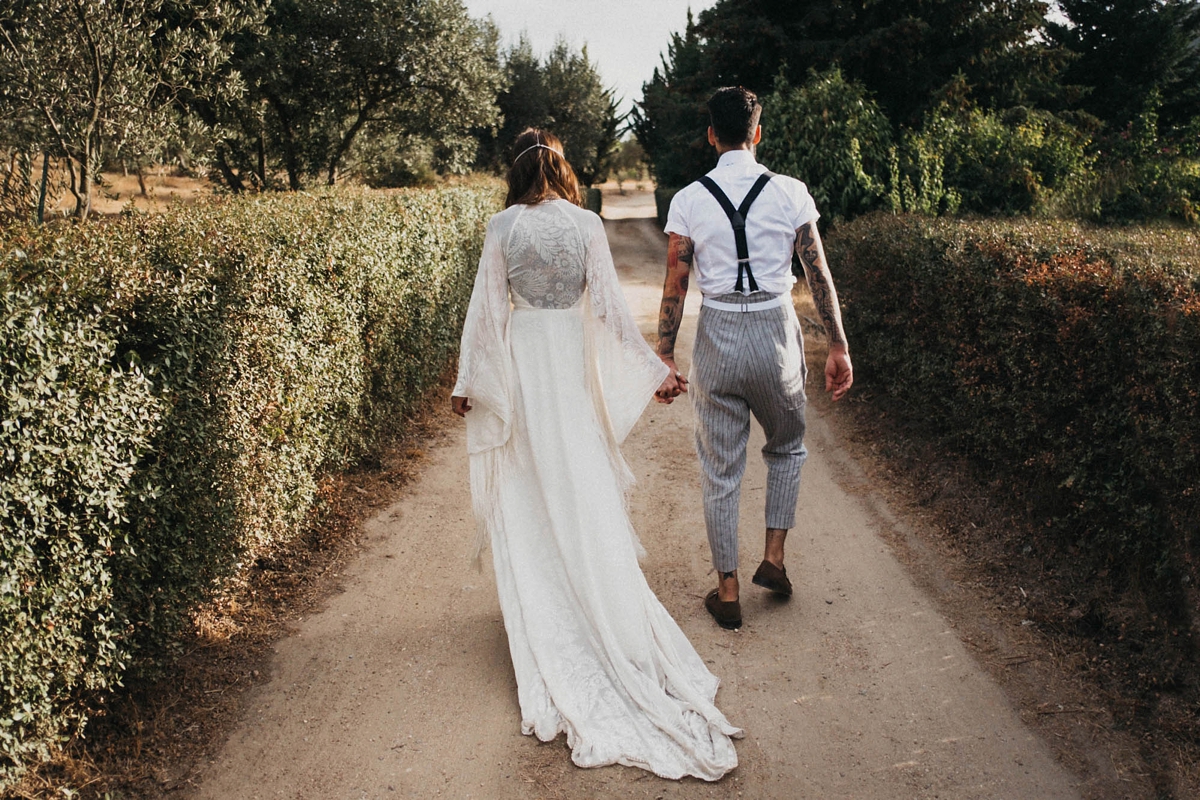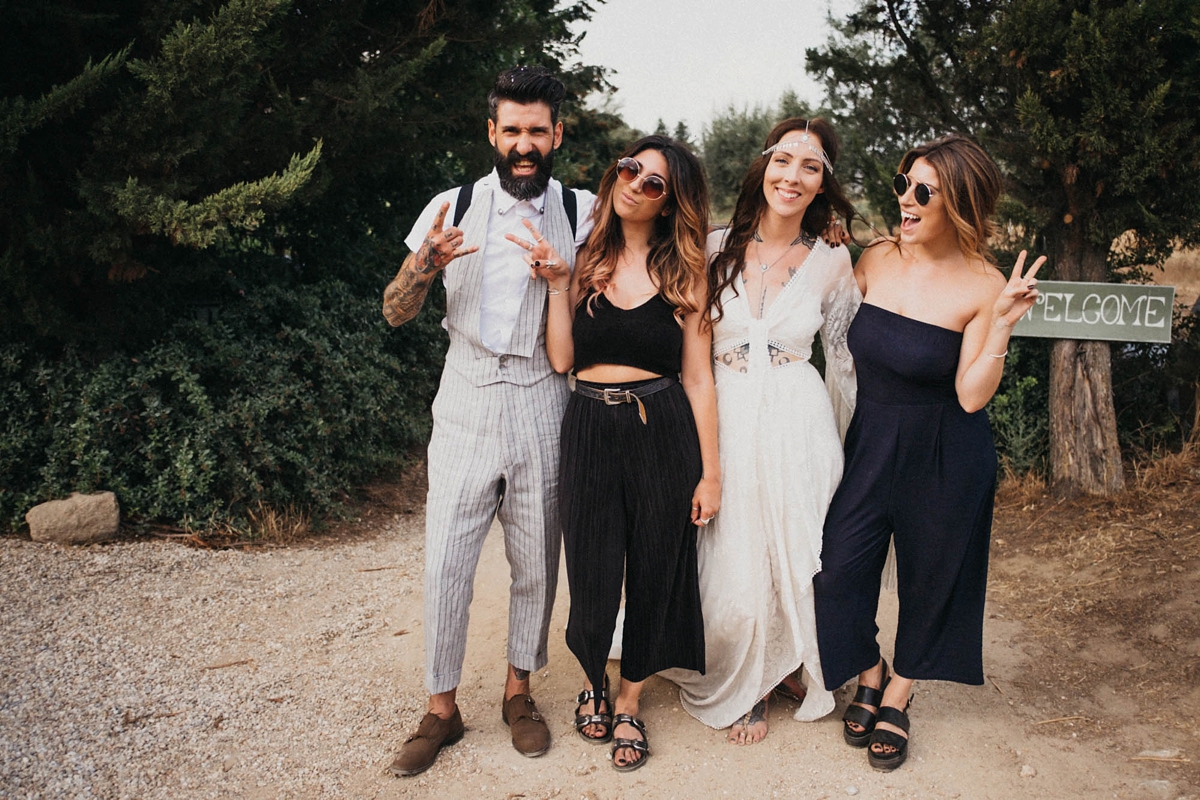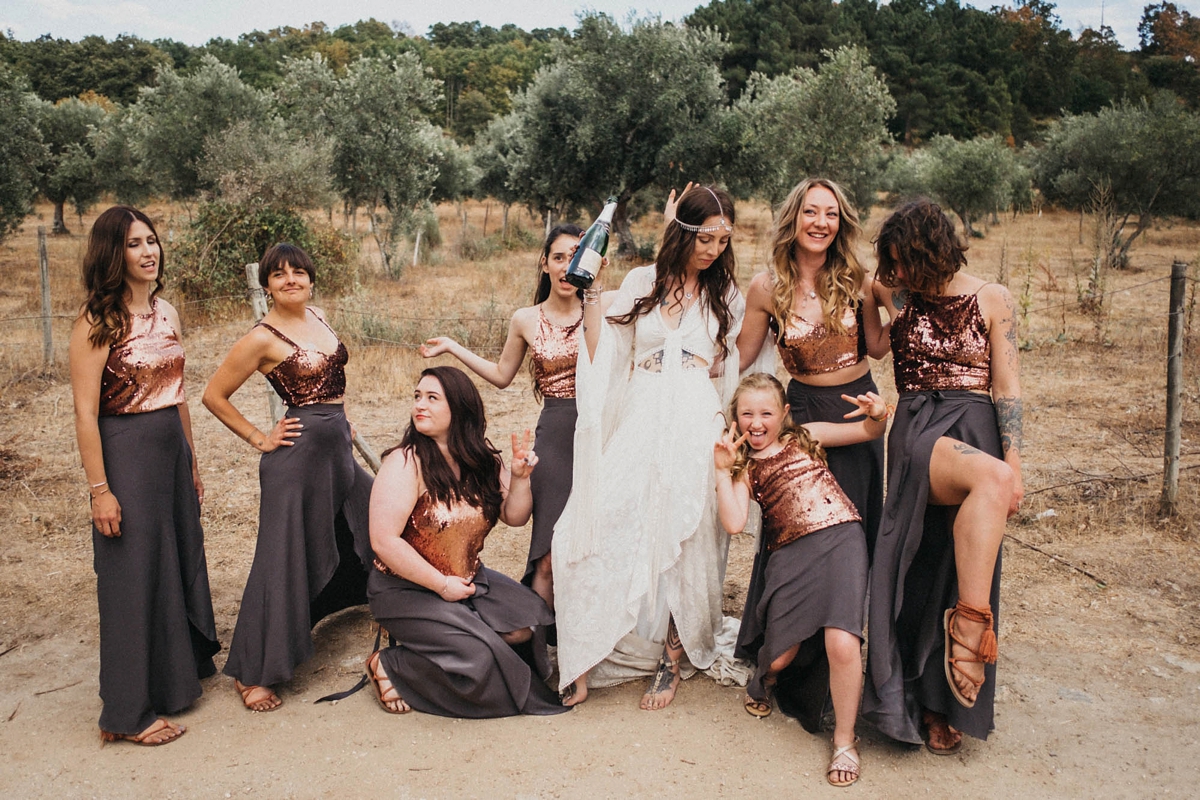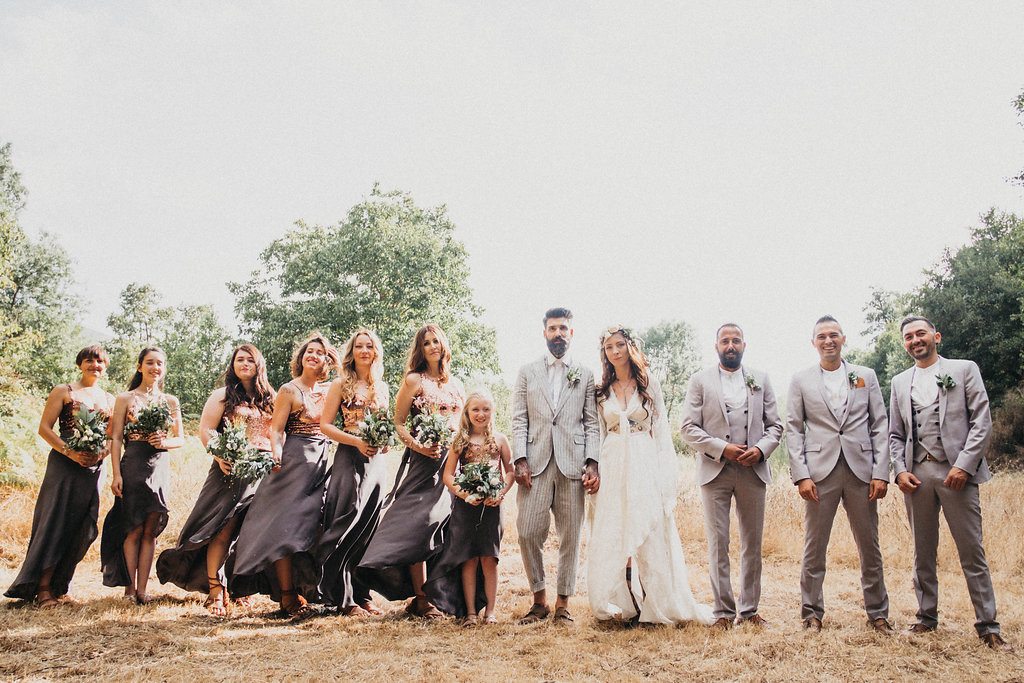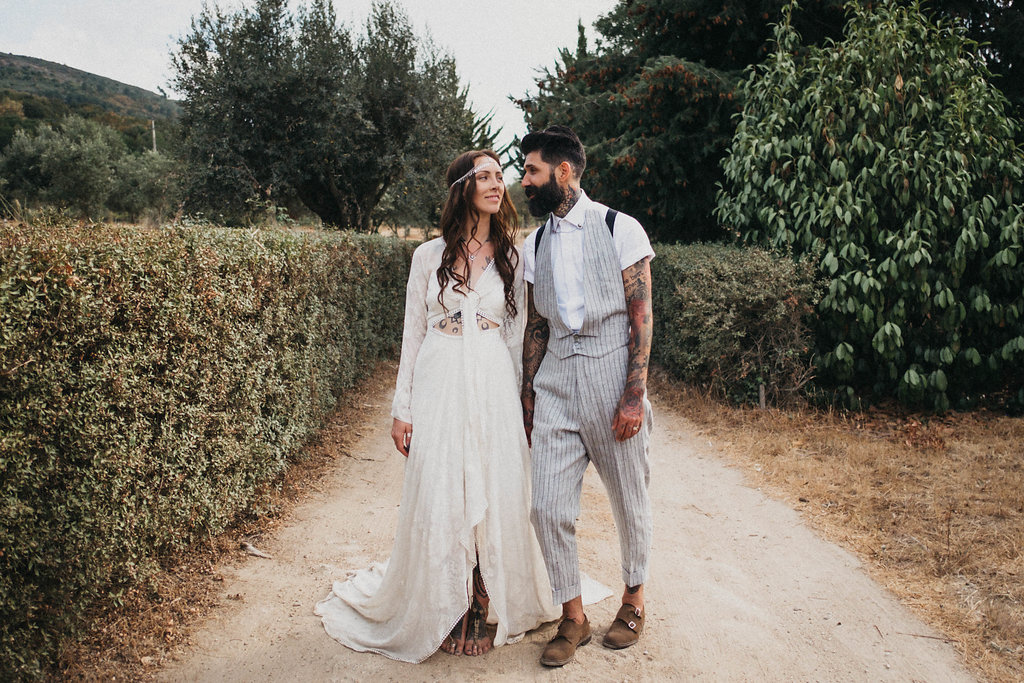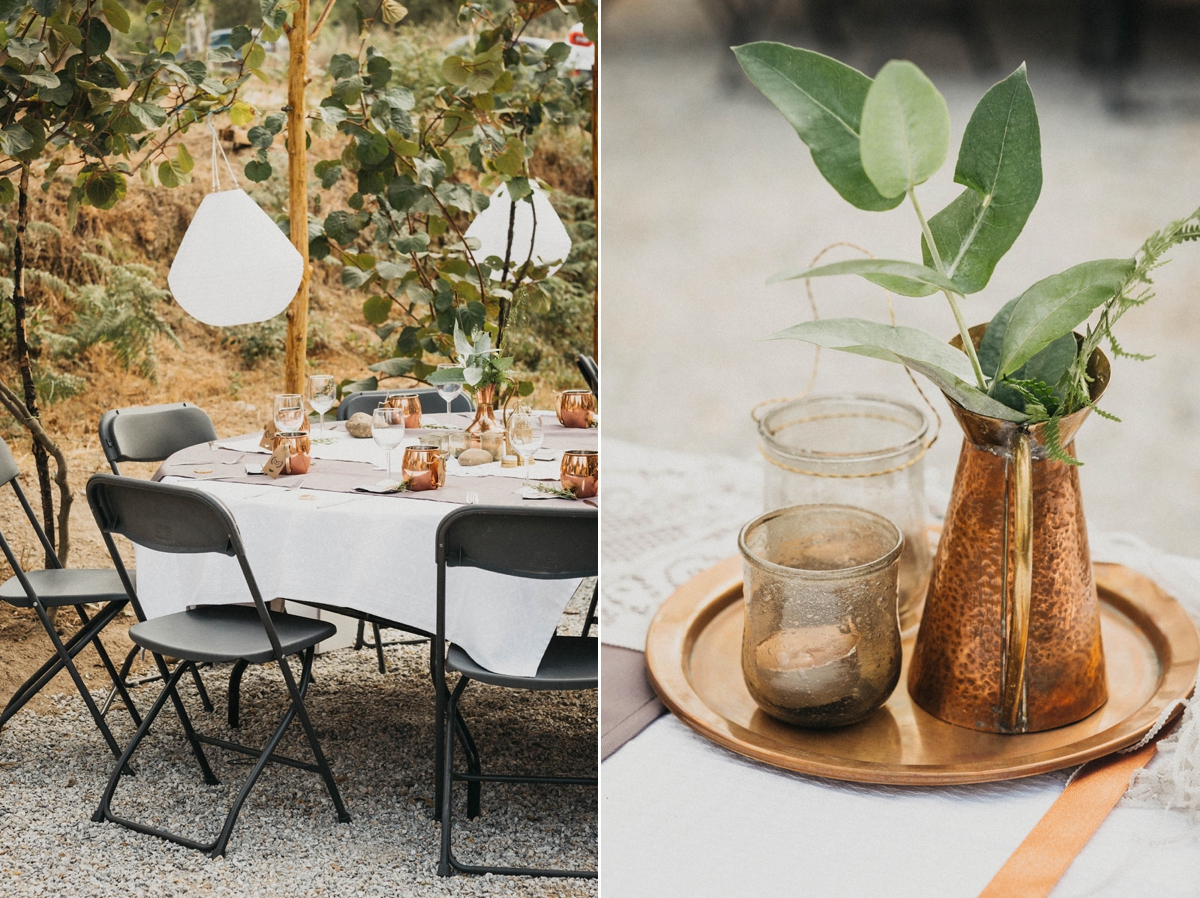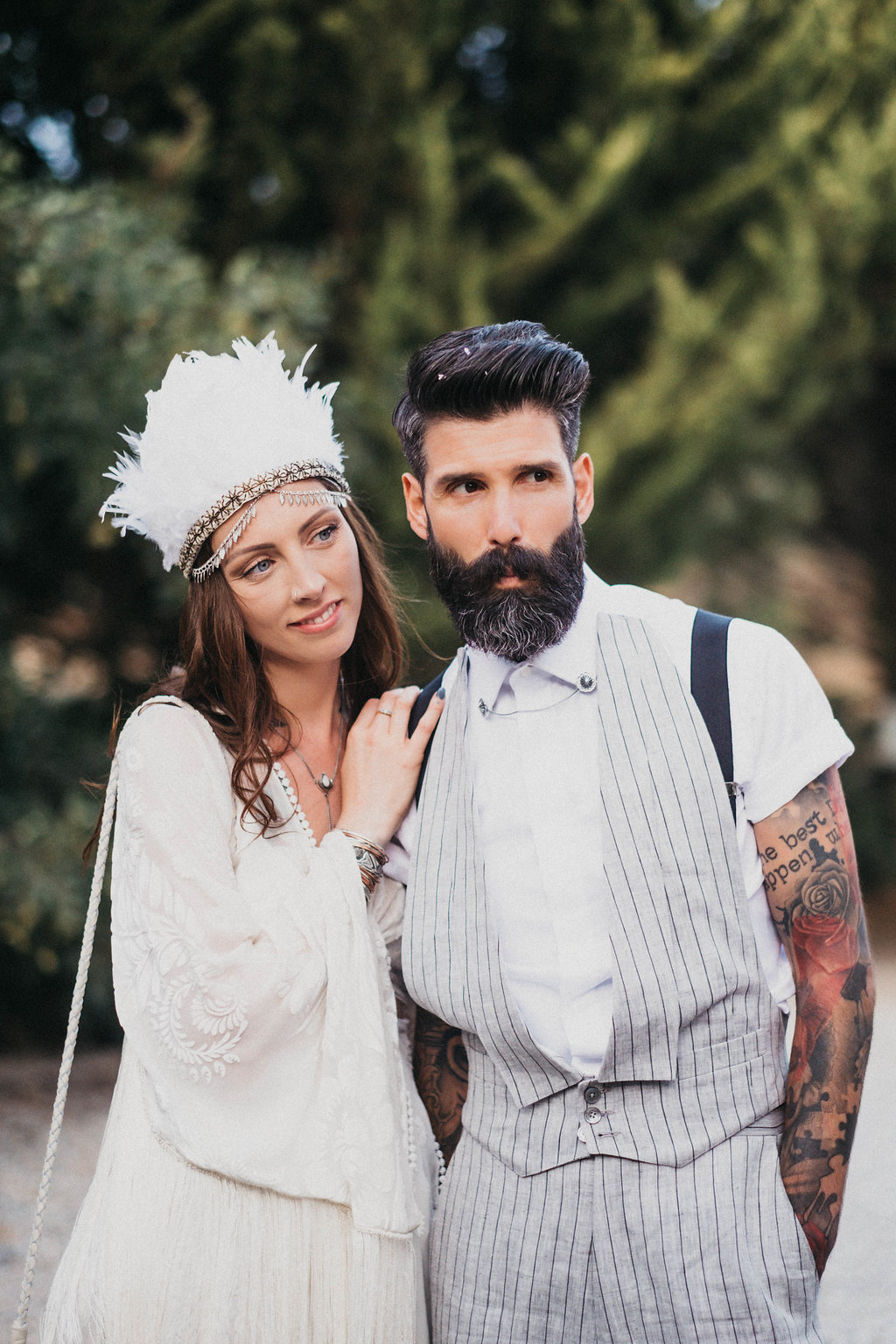 The couple sourced copper vases, kettles and pots to use as vases for the flowers, and bought vintage bohemian style party pieces from Luna Bazaar. Name settings were gorgeous slices of agate marked with copper pen. The 'relaxation zone' which Jenna and Carlos created sounds so dreamy.
"We created an area we called 'Cloud 9'. We decorated it with lots of paper pompoms and ordered fabric to make cloud cushions and rugs. We had a shisha and space to just chill out here. We also had a massage therapist and fortune-teller on site for anyone who wanted either!"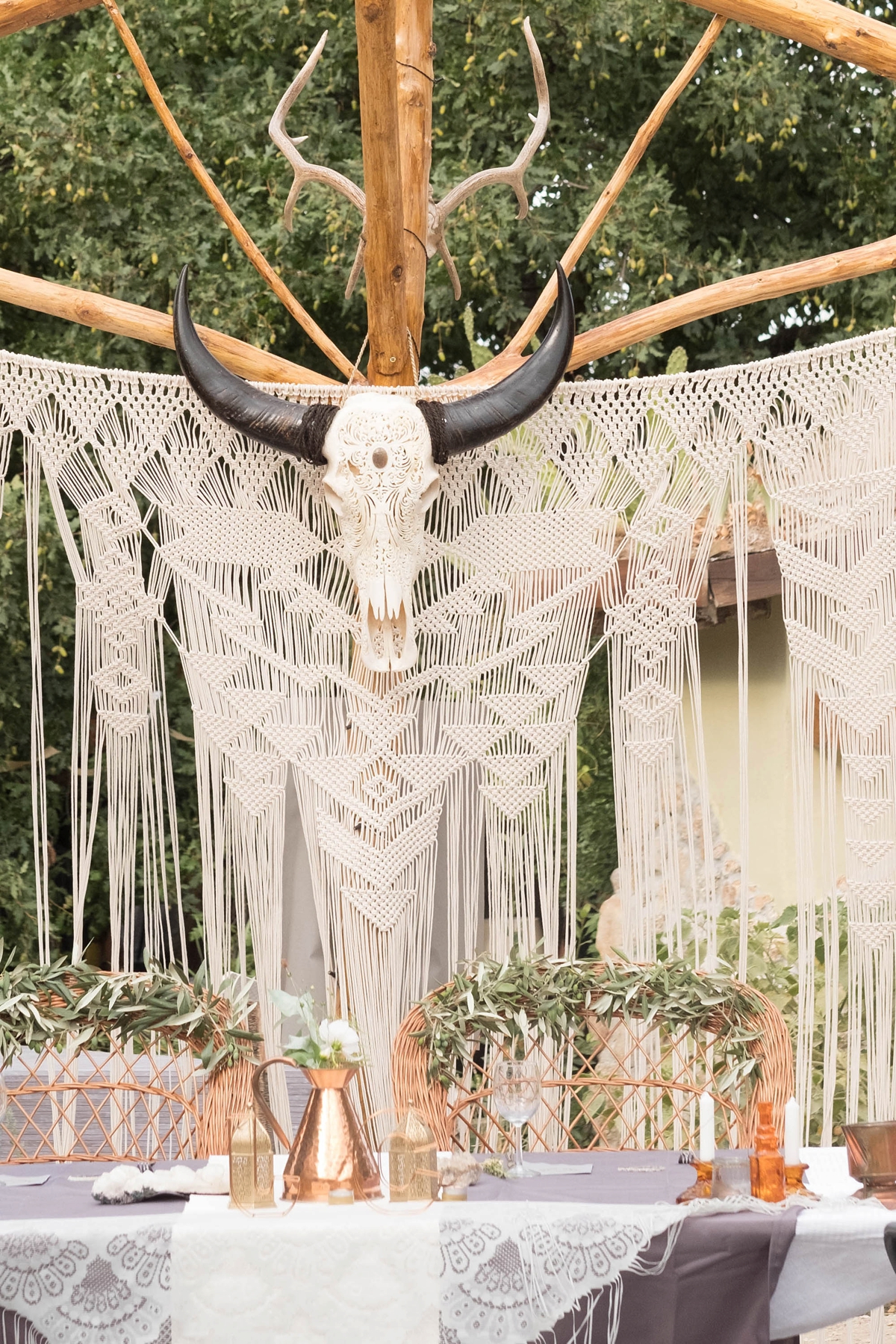 The team at the venue was able to cater for the newly-weds' vegan diet, and they had a separate table for two.
"With last-minute table changes, we ended up not being able to have a straight top table and instead it was just us two on a table on our own. It was really lovely because as soon as the ceremony was over, I hardly saw Carlos until we ate."
"We're not huge cake fans so we opted for a raw vegan tart which even had the none-vegans loving it!"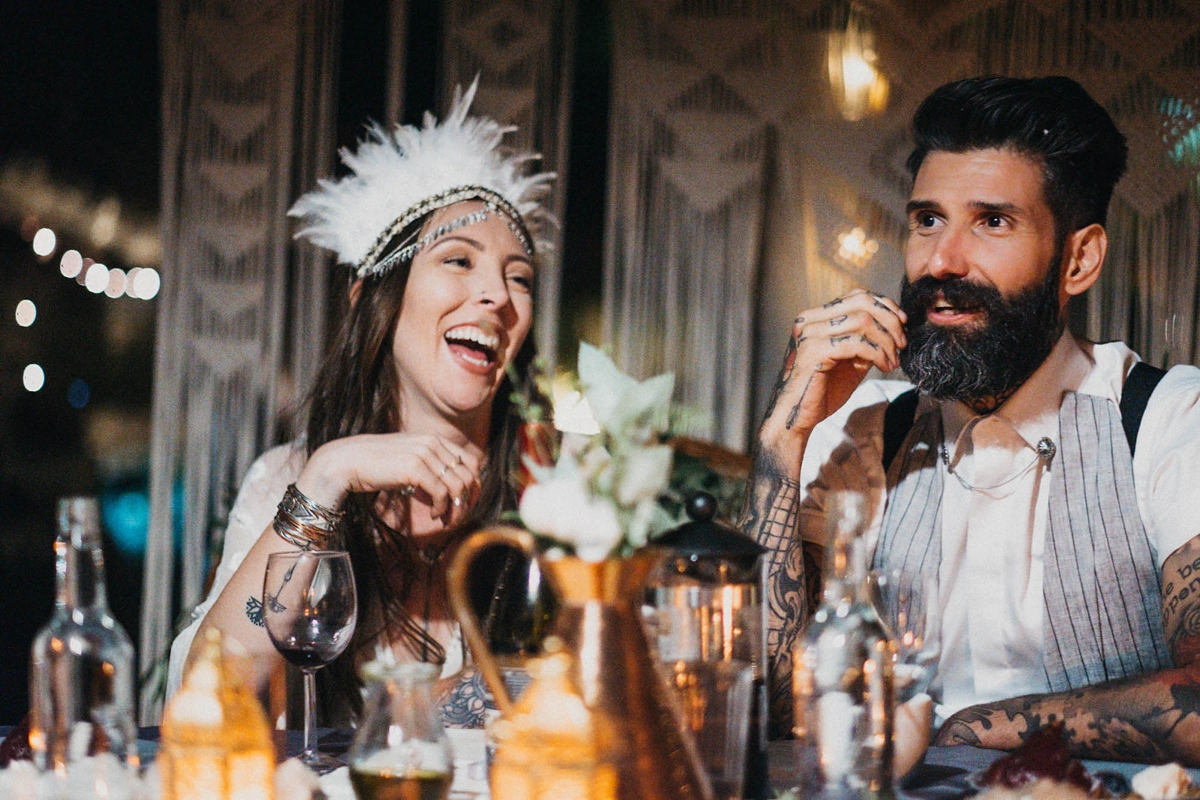 Entertainment was acoustic music, and guests were gifted a hangover bag to help with the day after.
"We loved the dancing after dinner. Everyone was dancing regardless of music taste and language barriers, everyone was just happy and together and it was a great feeling to see everyone who is close to you having so much fun!"
Words of Wedded Wisdom
"You just have to know the moment when you have to let something go during the arrangements. Don't spend too much time on one thing that isn't important and take all the help you get offered. I delegated tasks out to each of my friends depending on their skills and they were super happy to be involved."
"I would say having that time for us on the top table was really great and gave us the alone time we needed to stand and look out at everyone we love, laughing and having a good time together. It meant we could enjoy some one on one time without having to disappear."
"Having a 'go-to friend' was also really helpful. In moments of stress or if things became too much I had an appointed friend who I trusted and knew that was going on to make calls for me. She would also help give me some time with my own brain because, even though everyone was being lovely and helping, you have a constant flood of people coming over asking if you are okay and need help setting up, so it was good to pass that on to someone else if needed."
"We both made a point of also using items that we could wear again and again. I wanted to be sure that we'd get lots of use out of everything such as jewellery and shoes. I even think I'll get my wedding dress shortened to be made into a dress that I can wear again because I am so sad that it's potentially the only time I can wear it when I love it so much."
"Simplify your supply chain! Get as much as you can from as few vendors as possible. Doing lots in-house with the venue cut a lot of corners for us."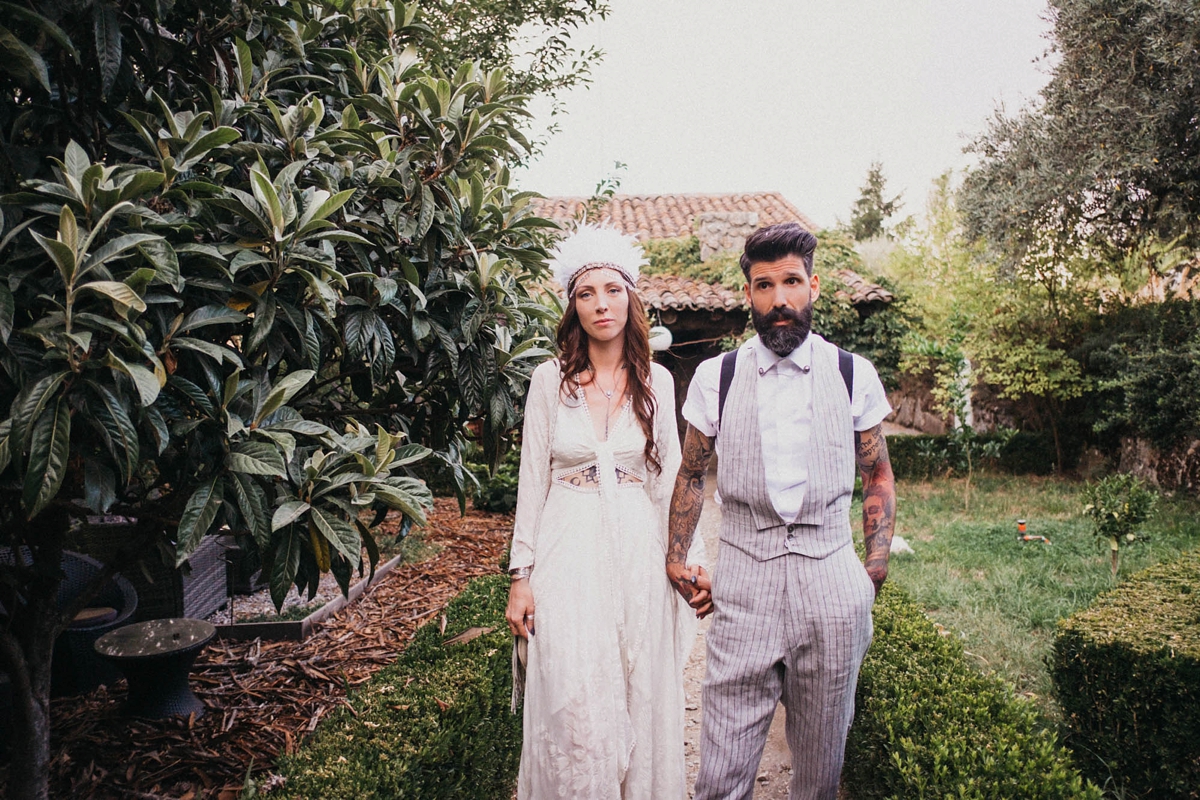 I'm sure you'll all join me in sending Jenna and Carlos so many congratulations on their wedding. Thank you for sending in these images and sharing details of how you created your day. Thanks also go to Claudia Rose Carter. If you'd like to see more of Claudia's work then we have so many gorgeous weddings to share with you here.
Ele xx