I'm feeling pretty happy today as this weekend I'm spending the weekend with my family in the Peak district and get to see my adorable new nephew for lots of cuddles!
If you're not feeling quite so cheerful (and of course, even if you are) then please take a few minutes to yourself for today's lovely seaside wedding- guaranteed to boost your spirits. Meet Clemency (Clem) and Ben, who are a props painter and a physiotherapist respectively and married at St Nicholas Church in Studland, Dorset, followed by a reception at Harry Warren House on the 5th of August 2017.  The day was captured on camera beautifully by Big Bouquet Photography and just exudes happiness and fun.
"We were bought up in Poole, Dorset and we have always loved the seaside.  We used to have dates when we were eighteen along the Jurassic Coast and the view from Harry Warren House was just stunning.  It lent itself to our casual fun style and meant we could design everything ourselves."
Images by Big Bouquet Photography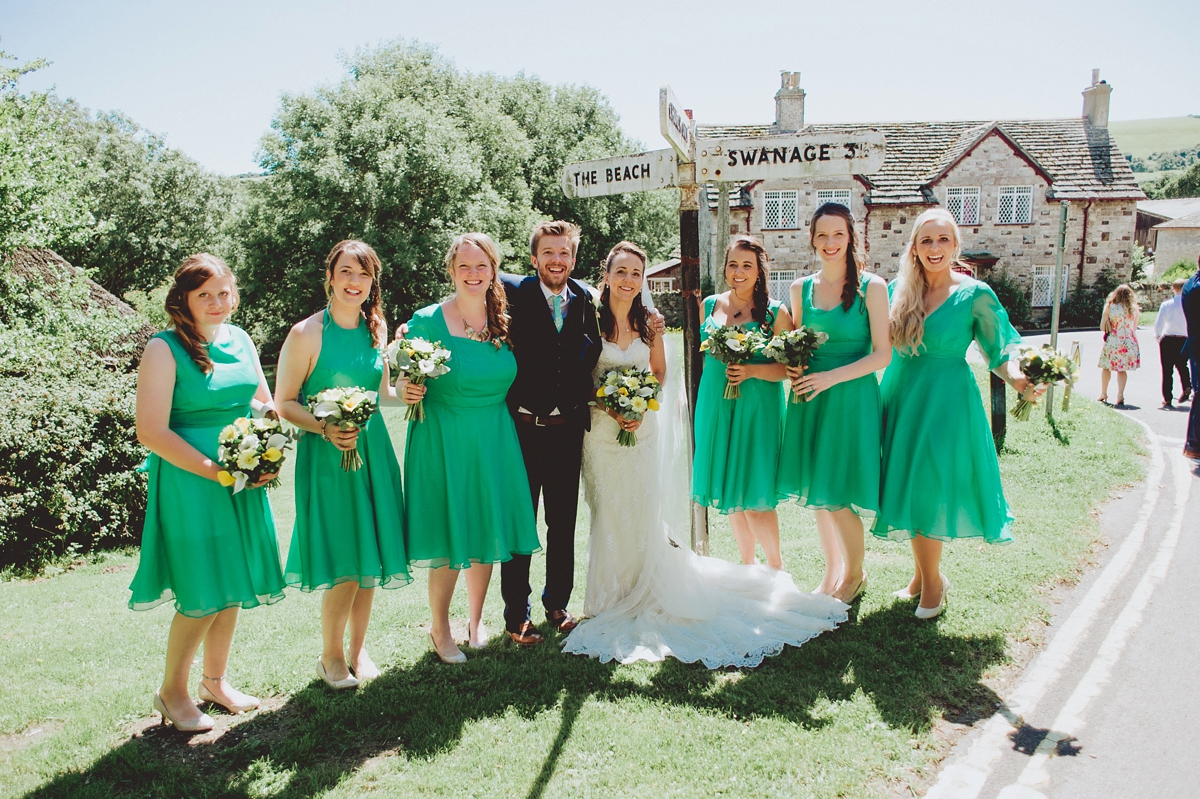 The six bridesmaids looked adorable in emerald green dresses (each in a slightly different style to suit each of them), which were made by a very talented friend of Clem, paired with shoes from Debenhams.  Meanwhile, the two little flower girls looked sweet in white dresses from Amazon, personalised with sea green sashes."We met twelve years ago at school when our two schools joined to have joint drama classes (we both picked this course deliberately to meet girls/boys!) We've been best friends ever since and been the most off and on again couple through university, living abroad etc but always knew we'd be together in the end.  We got engaged in Hoi An, Vietnam in 2016 as Ben was travelling and I joined him for the last few months around South East Asia."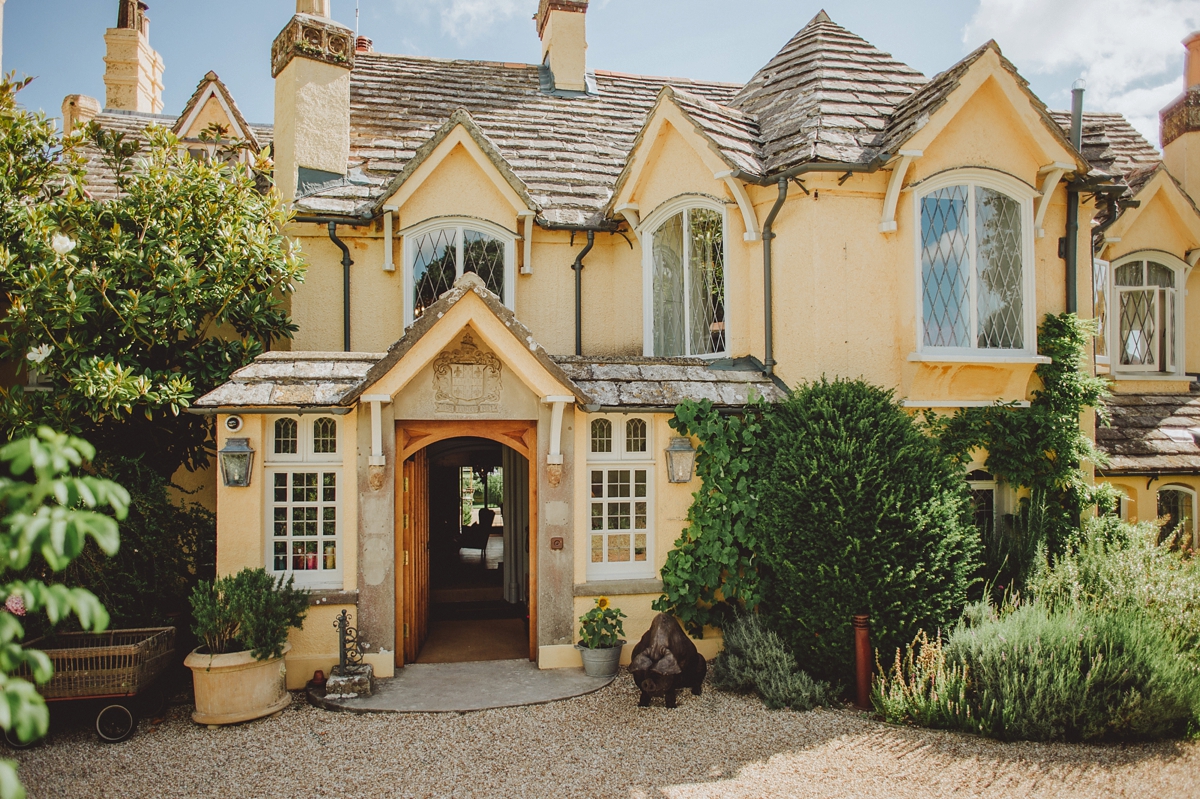 Clem wore 'Robin' by Sophia Tolli, in which she looks simply beautiful.  I love how simple and elegant it is.
"I loved that the dress was backless and the embroidery at the bottom was just stunning.  I also loved the gold detail underskirt as it looked almost vintage and was so shimmery and sparkly."
"My hair accessories were hand made by me.  I glitter painted tiny sea shells to hair grips and all the main ladies wore them."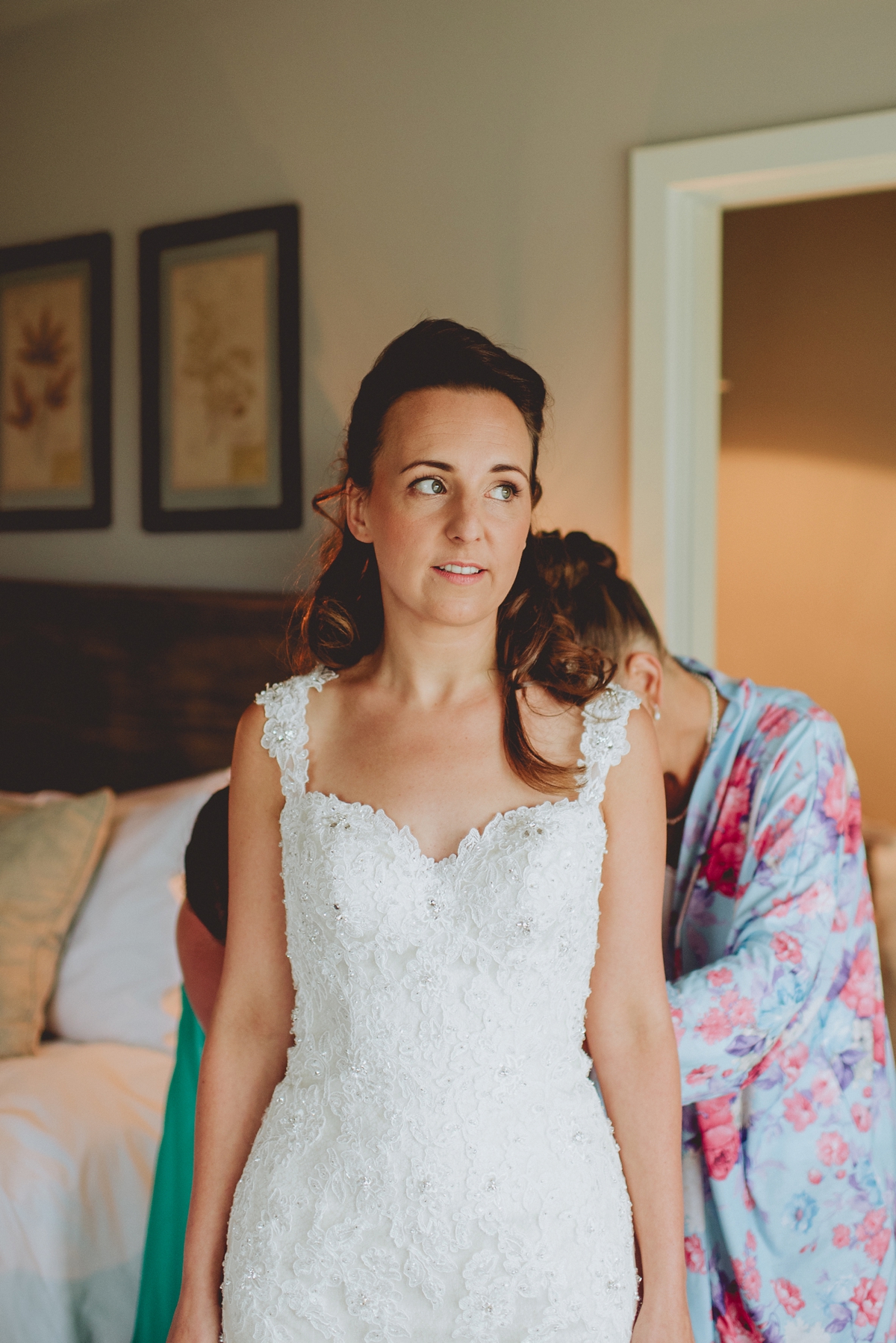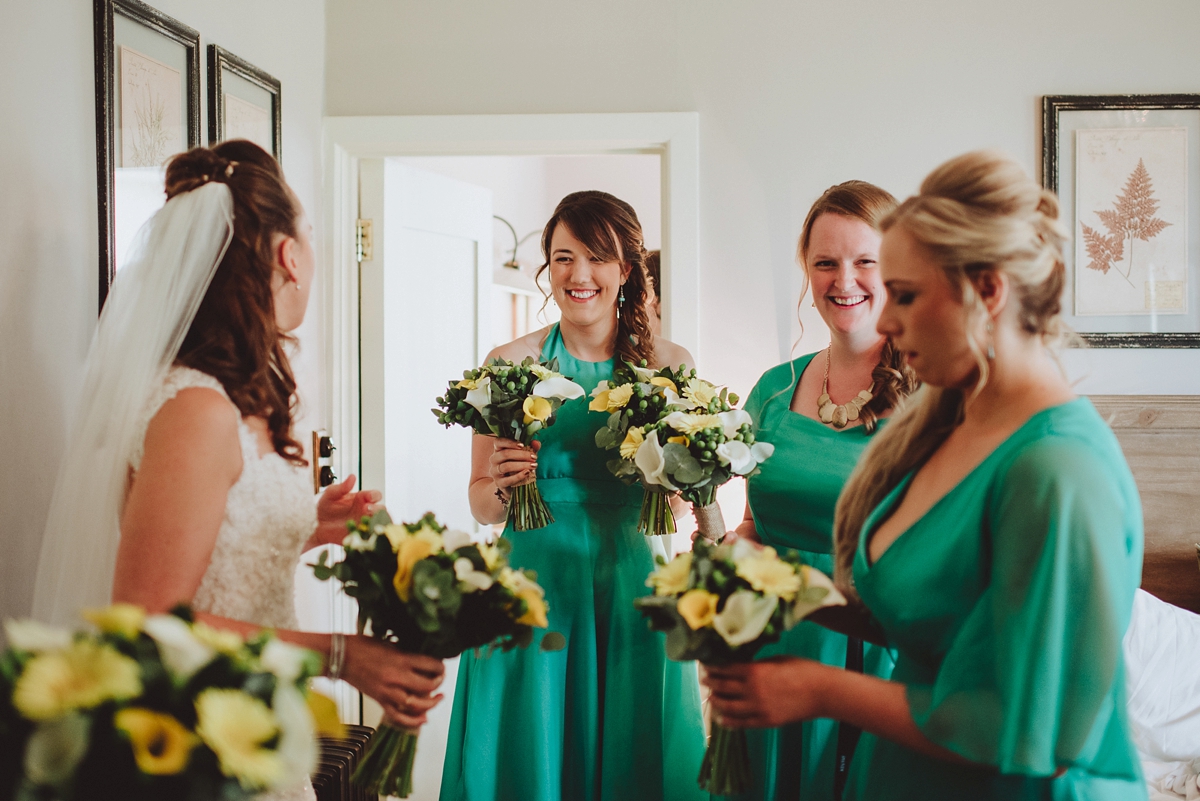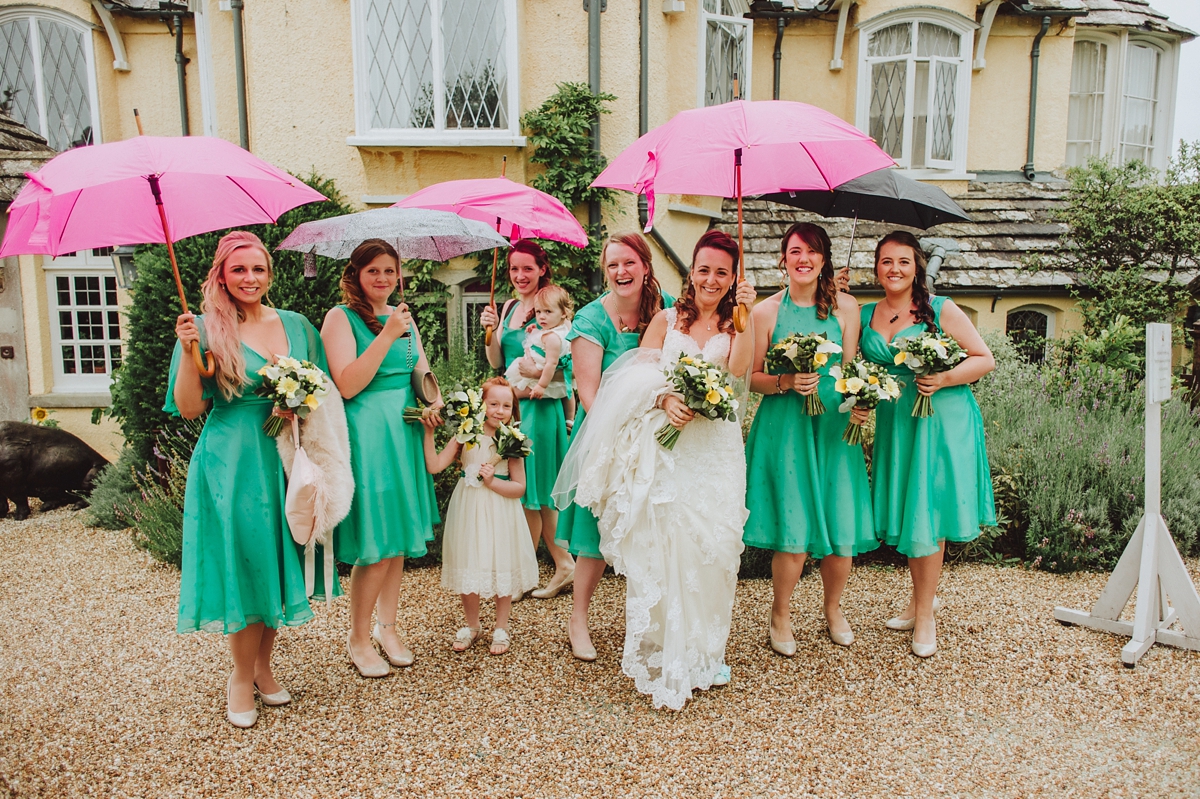 Ben looked super smart in a dark blue suit from Marks & Spencer, worn with a sea green tie made by Clem's sister and shoes from Debenhams.
Flowers were the work of New Street Flowers in Poole.  The yellows and creams look so fresh and summery, don't you agree?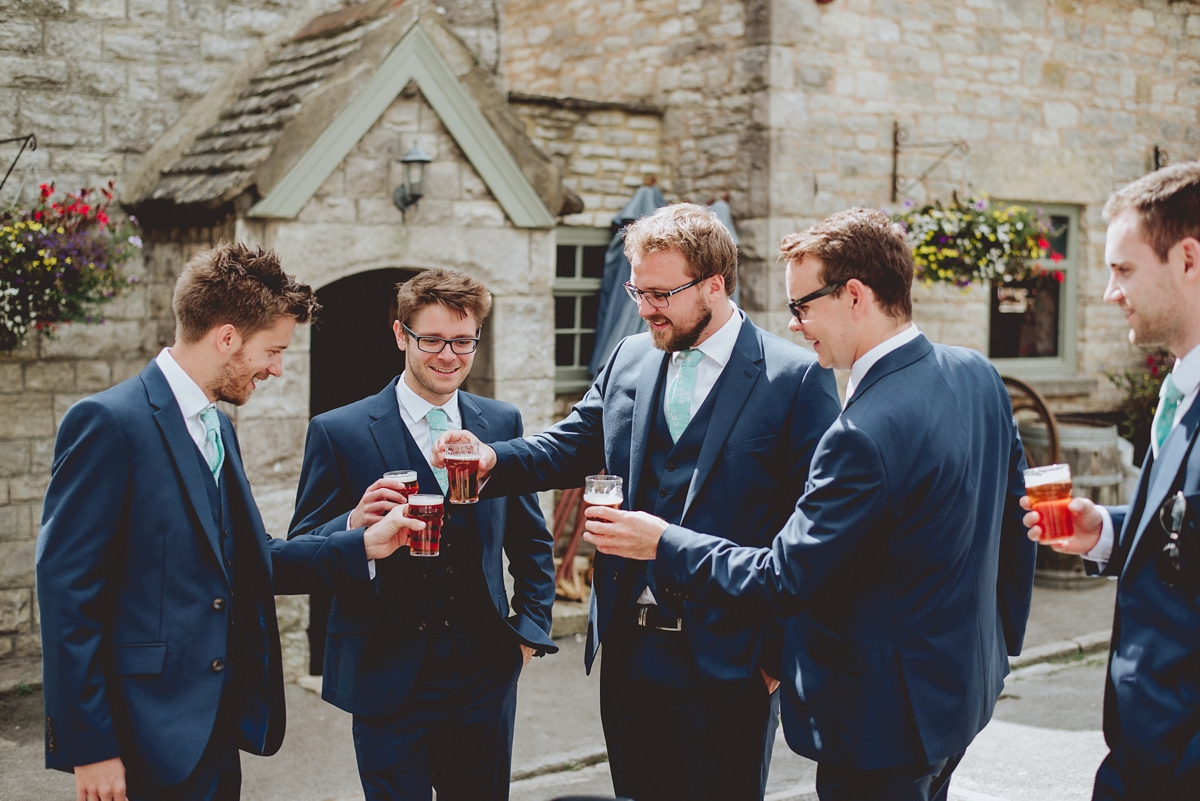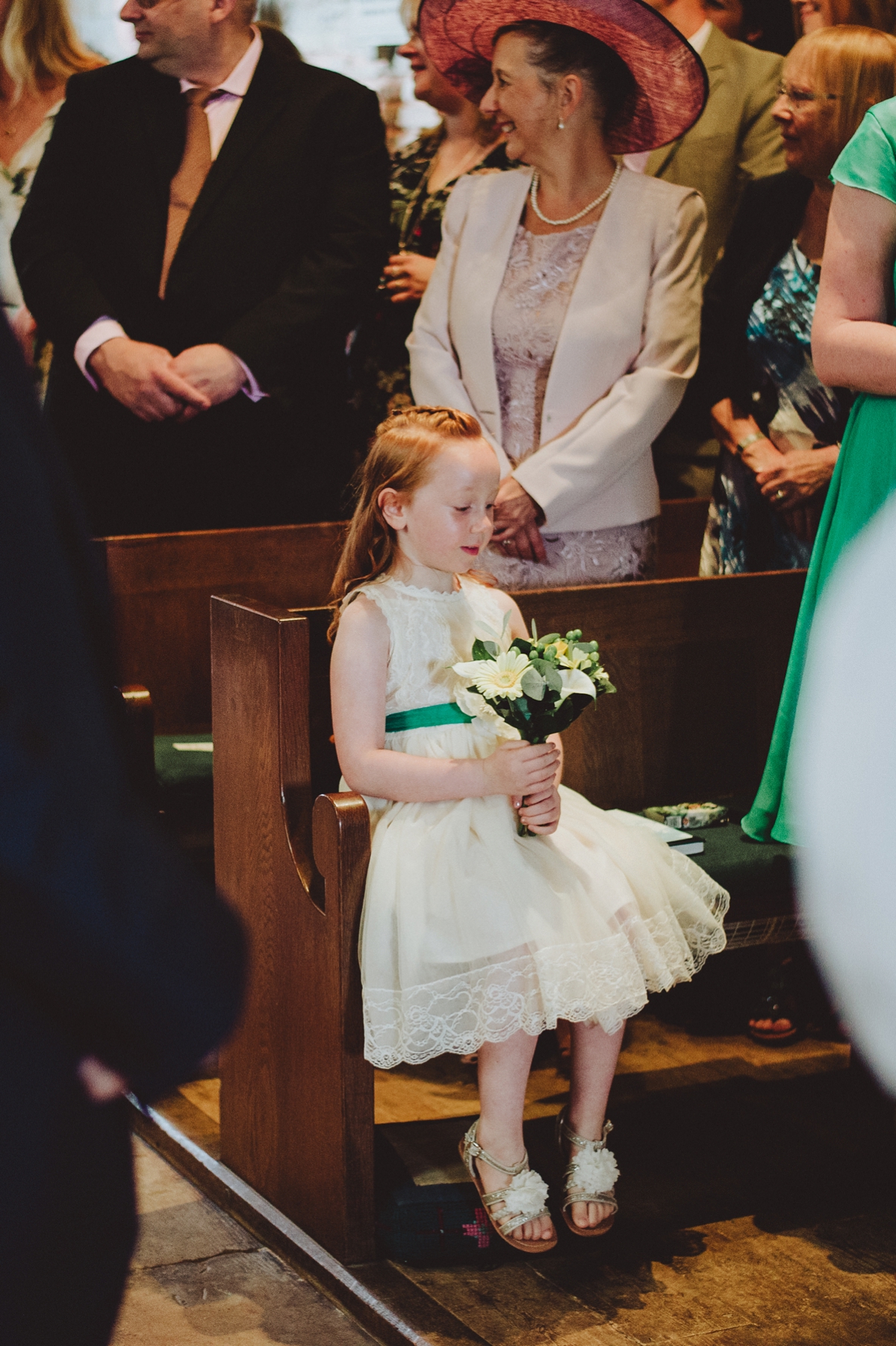 Clem walked down the aisle with her dad to 'If I had words' by Saint Seans (a song she reliably informs us is from the film 'Babe'!)
"We had 'our song' ('Like a Star' by Corrine Bailey Rae) played and sung live by friends in the church whilst we were signing the registers."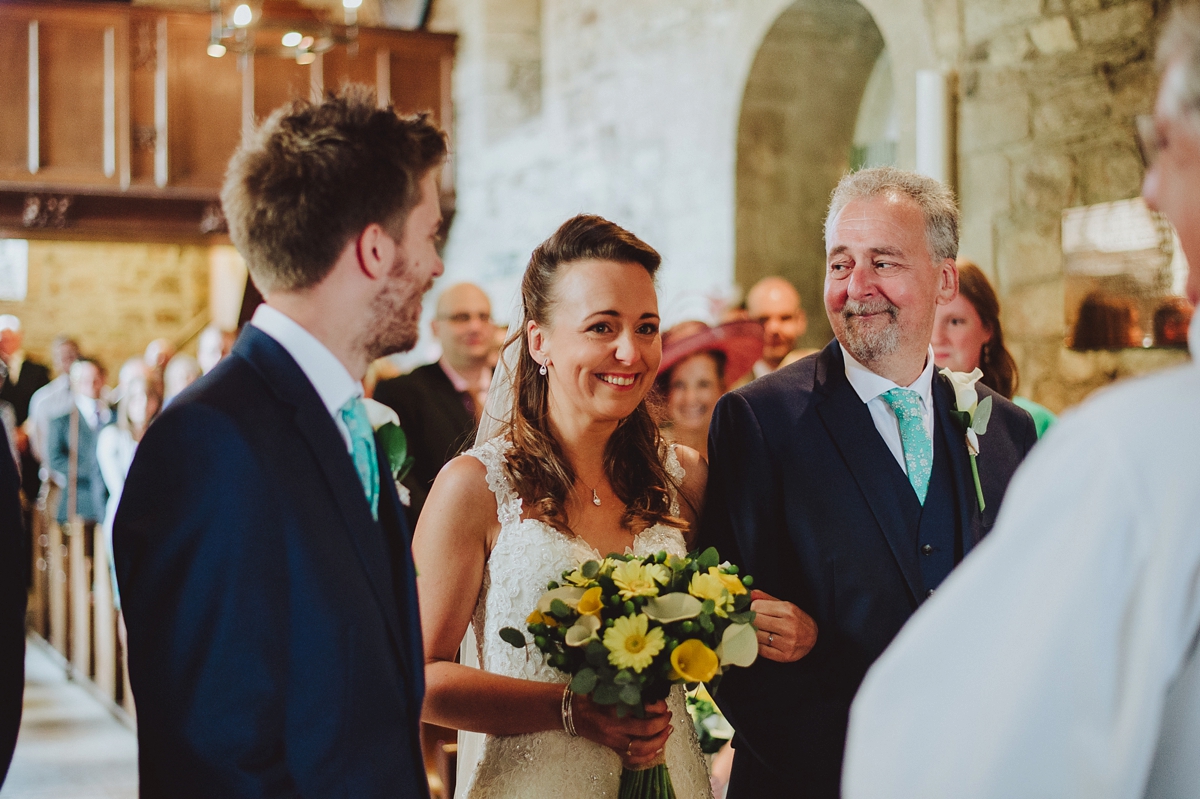 "My Godmother wrote a beautiful and hilarious poem and my new father in law read a piece of gospel."
It was probably just a flutter
When their eyes met, and a smile
Over school books in the sixth form
At Poole Grammar, for a while.

So that flutter turned to friendship
Then being in love and holding hands
And working, travelling here and there
Exploring different lands.

At last Ben popped the question
And Clemency said Yes
So plans began for wedding day
The future and the dress!

The Bunns and Marshes cheered them on
In exciting wedding dreams
As Clem and Ben prepared for life
Together, as a team.

My own experience tells me
That to make a marriage last
It's love, respect and understanding
And you must make each other laugh.

And there will be tricky times ahead
They make us stronger, after all
But their love should keep them very safe
And never let them fall.

And here we are, that time has come
The day they're man and wife
I wish them both such happiness
And a wonderful, married life.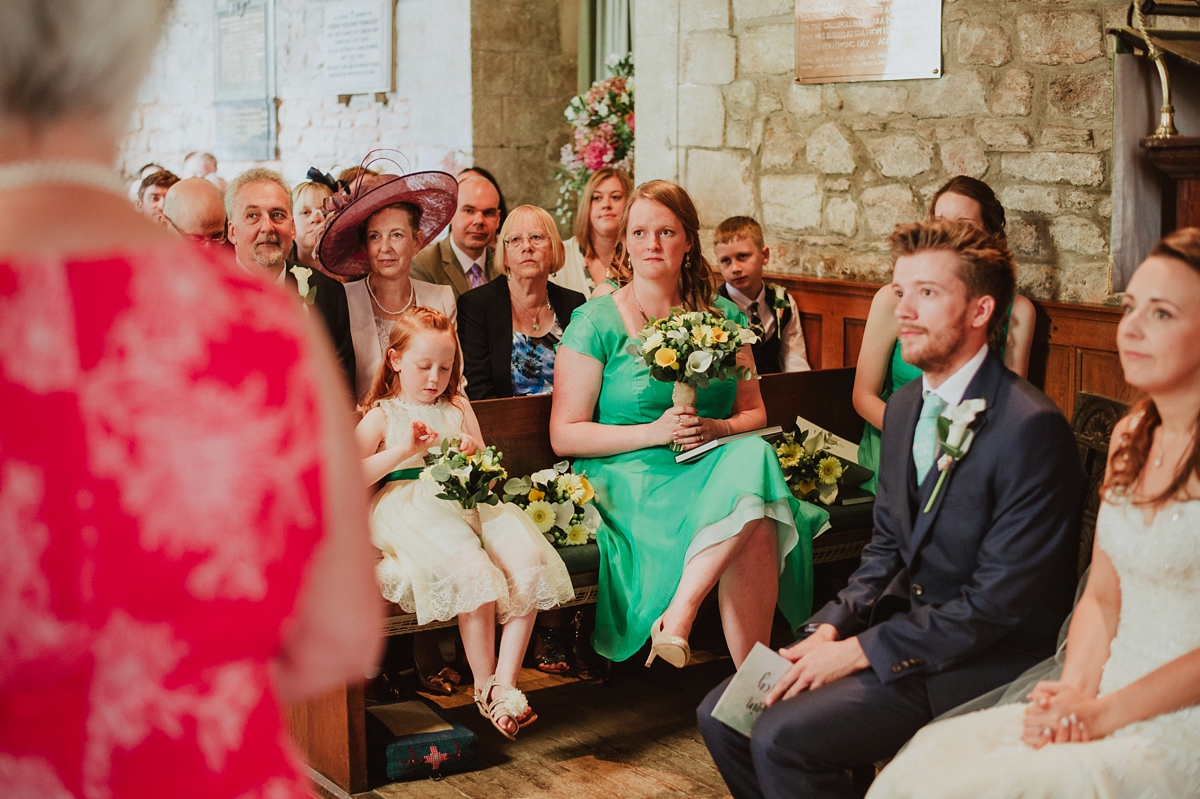 To cement their vows, Ben and Clem also exchanged rings from Why Jewellers in Corfe.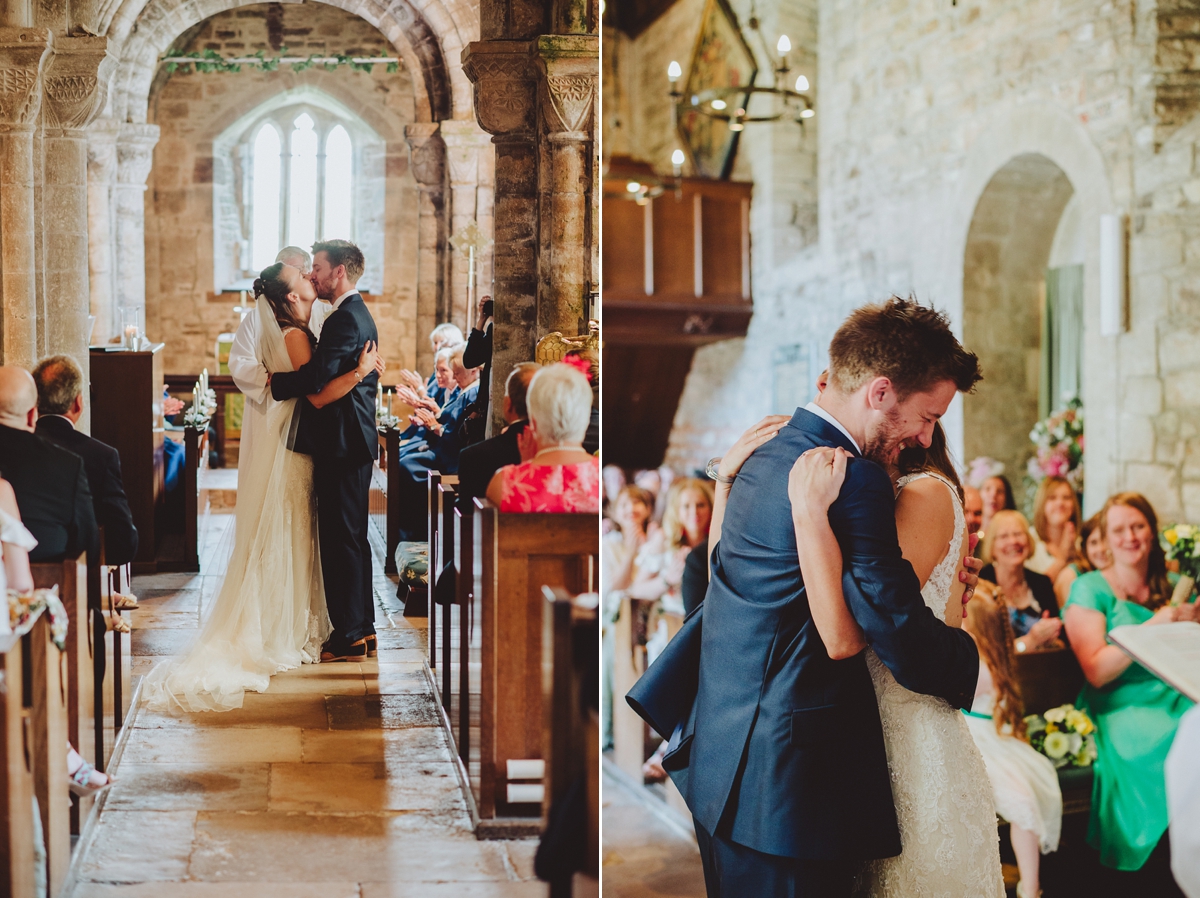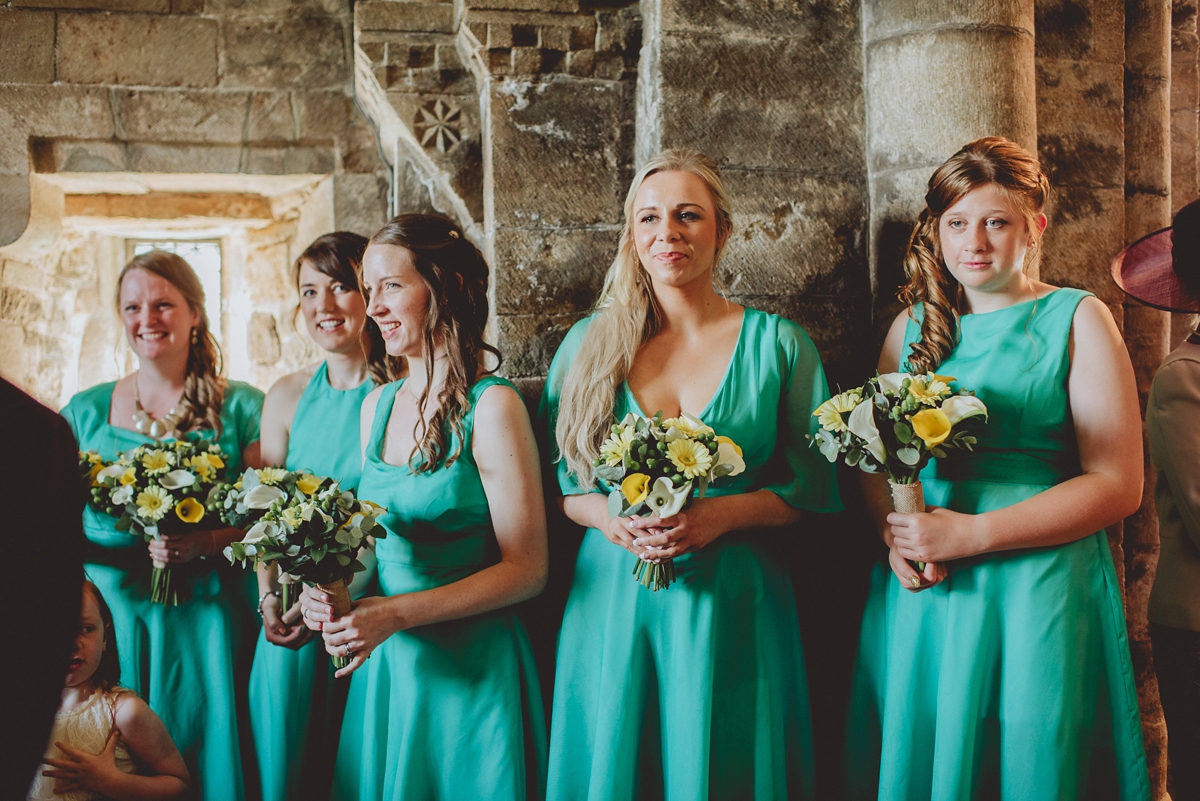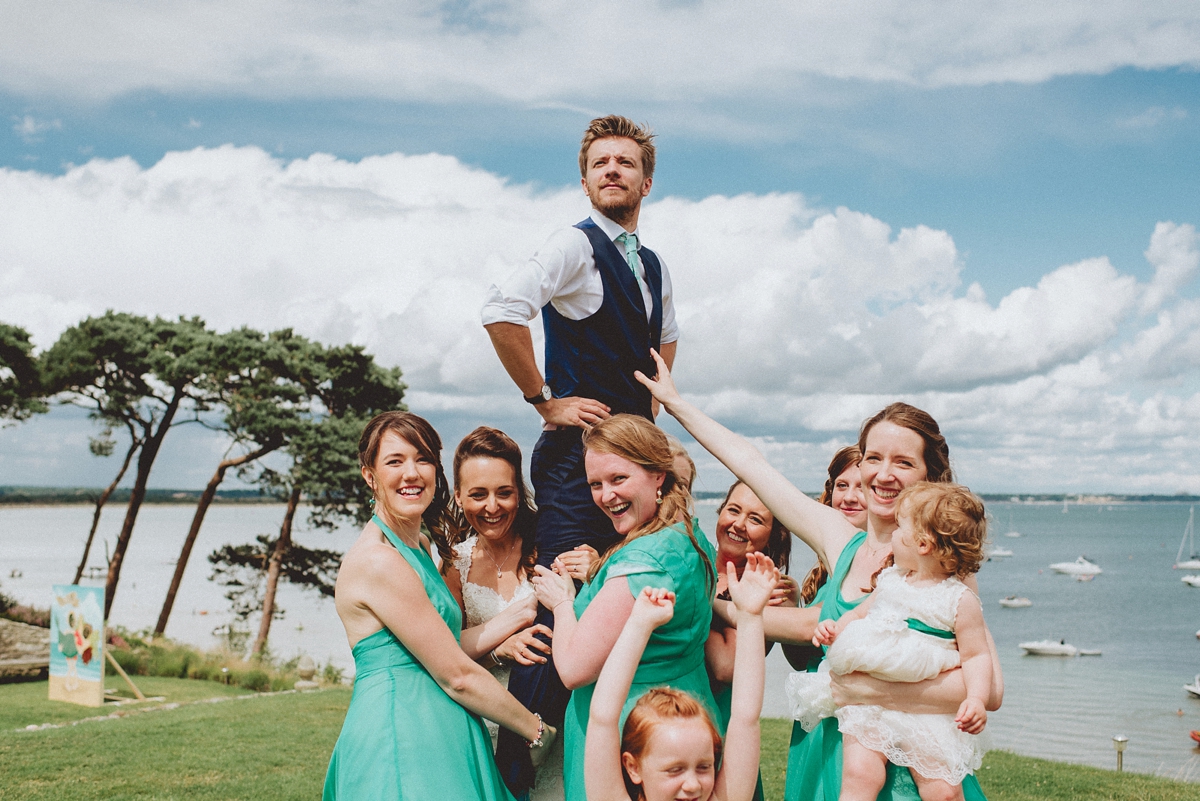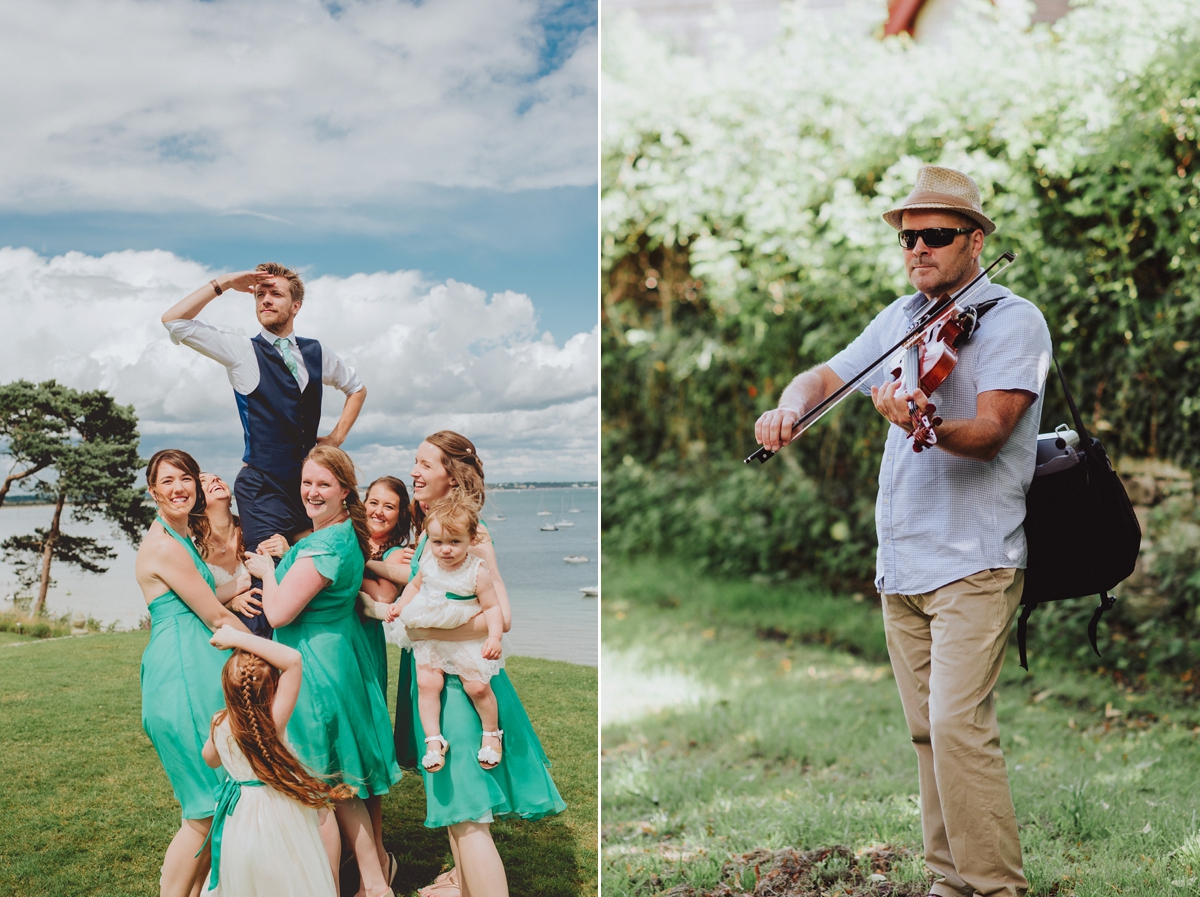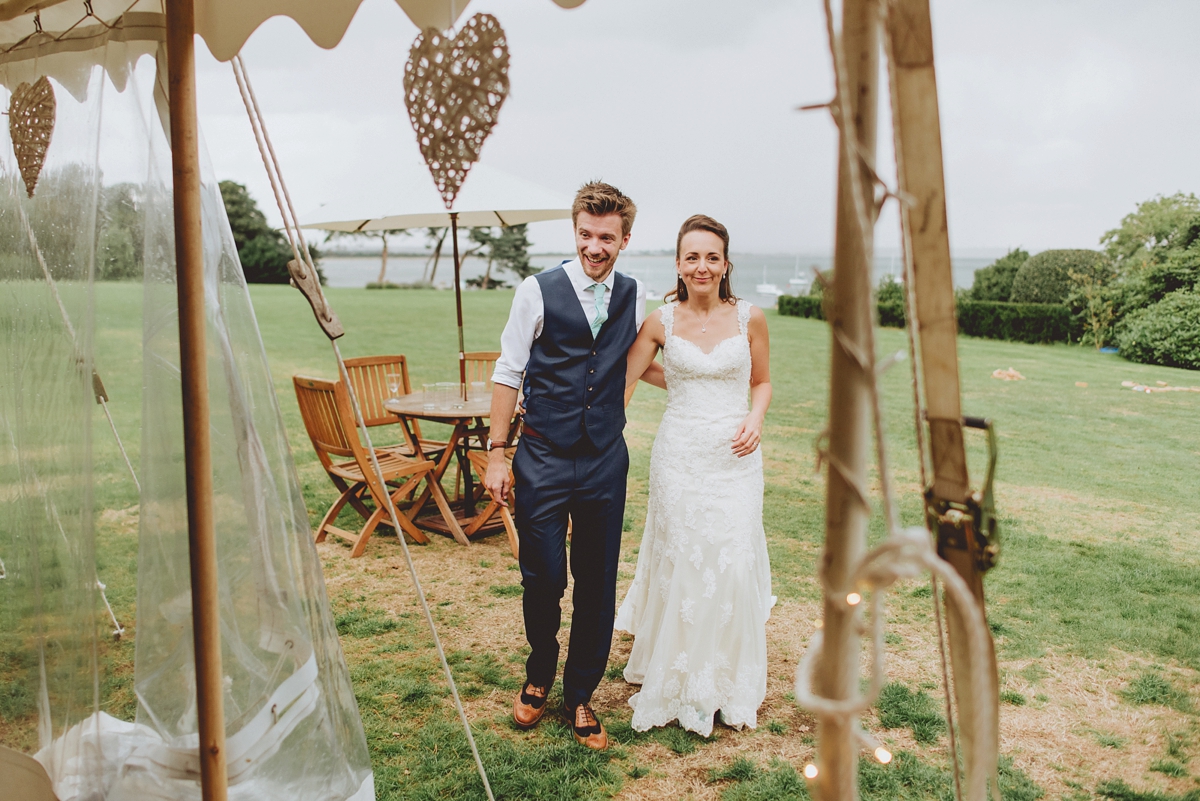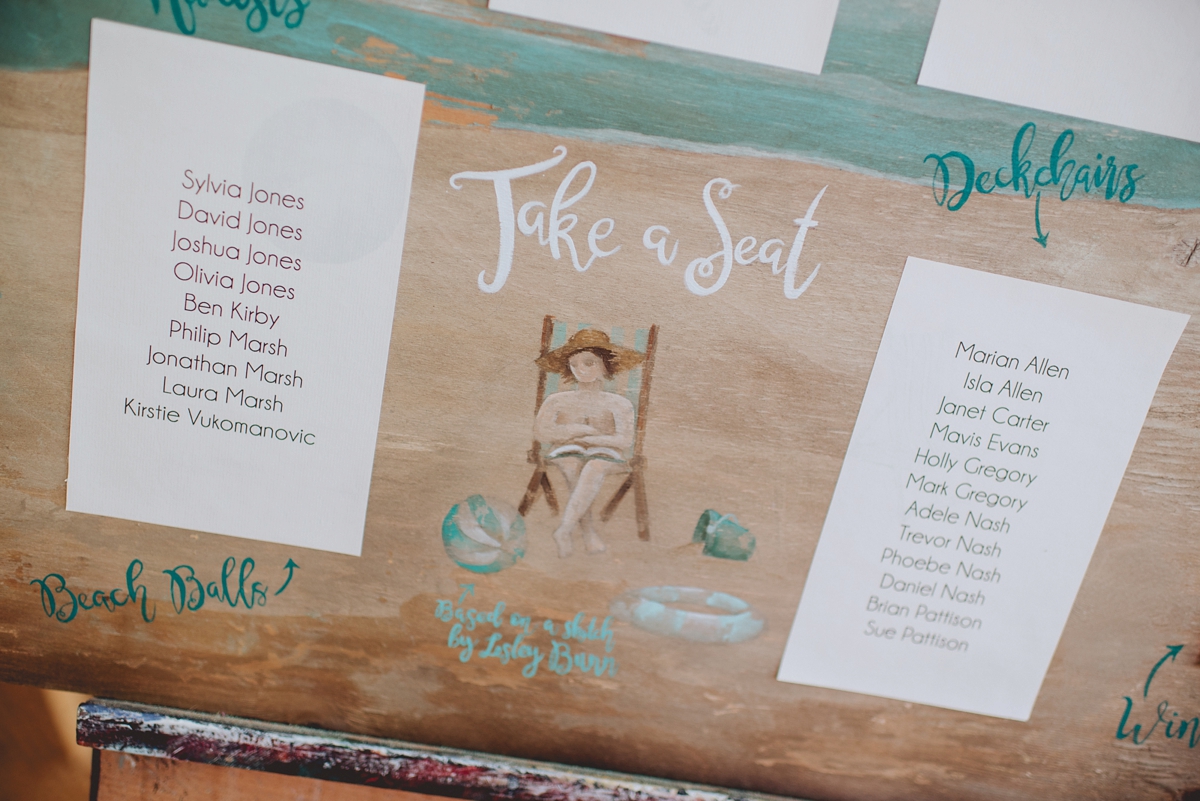 The couple really went to town in drawing inspiration from the seaside and coast – there were sandcastles for table centre pieces, buckets full of treats for the little ones and an utterly delightful table plan.
We absolutely adore these delightful place names created by using gold ink on shells, what a beautiful idea!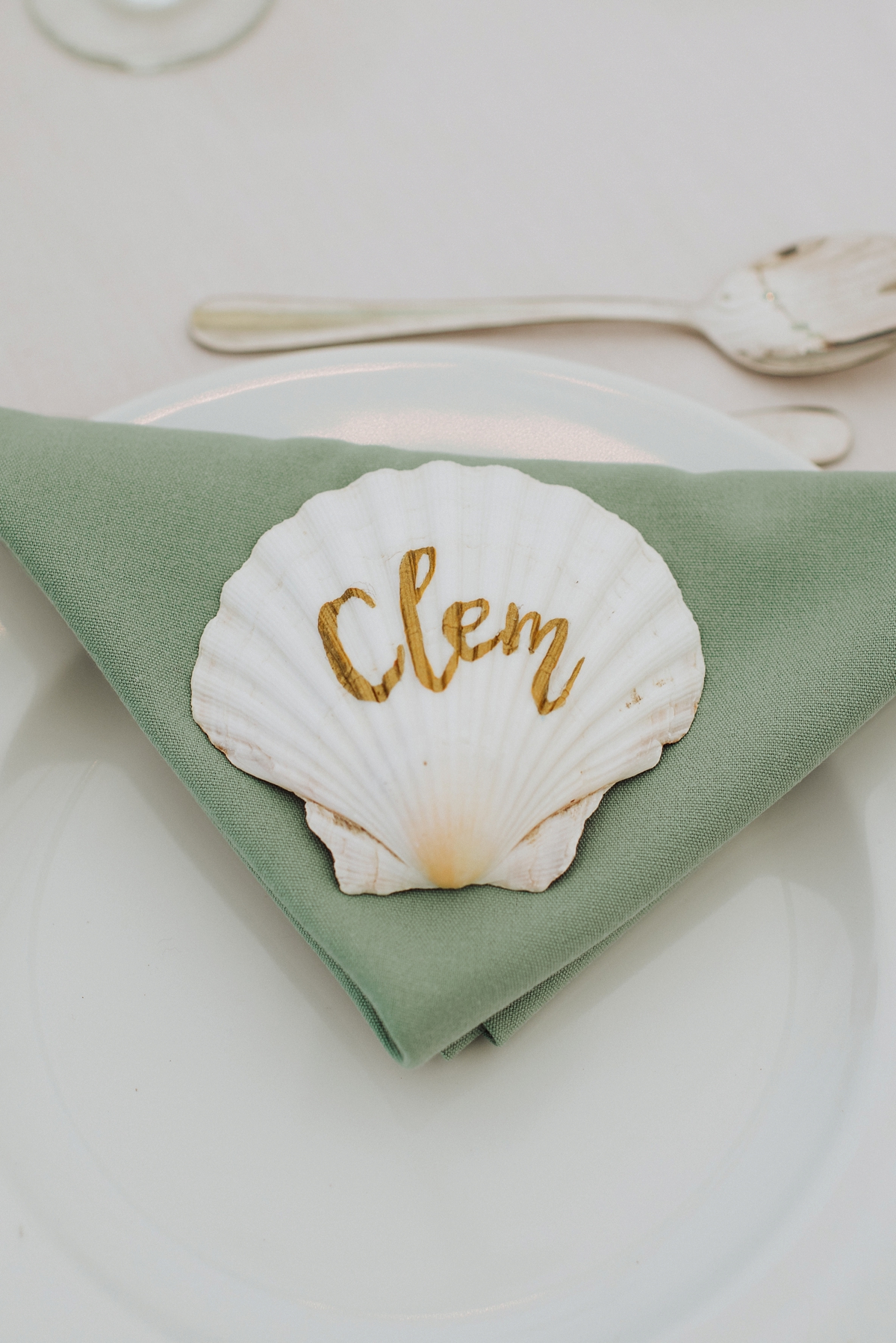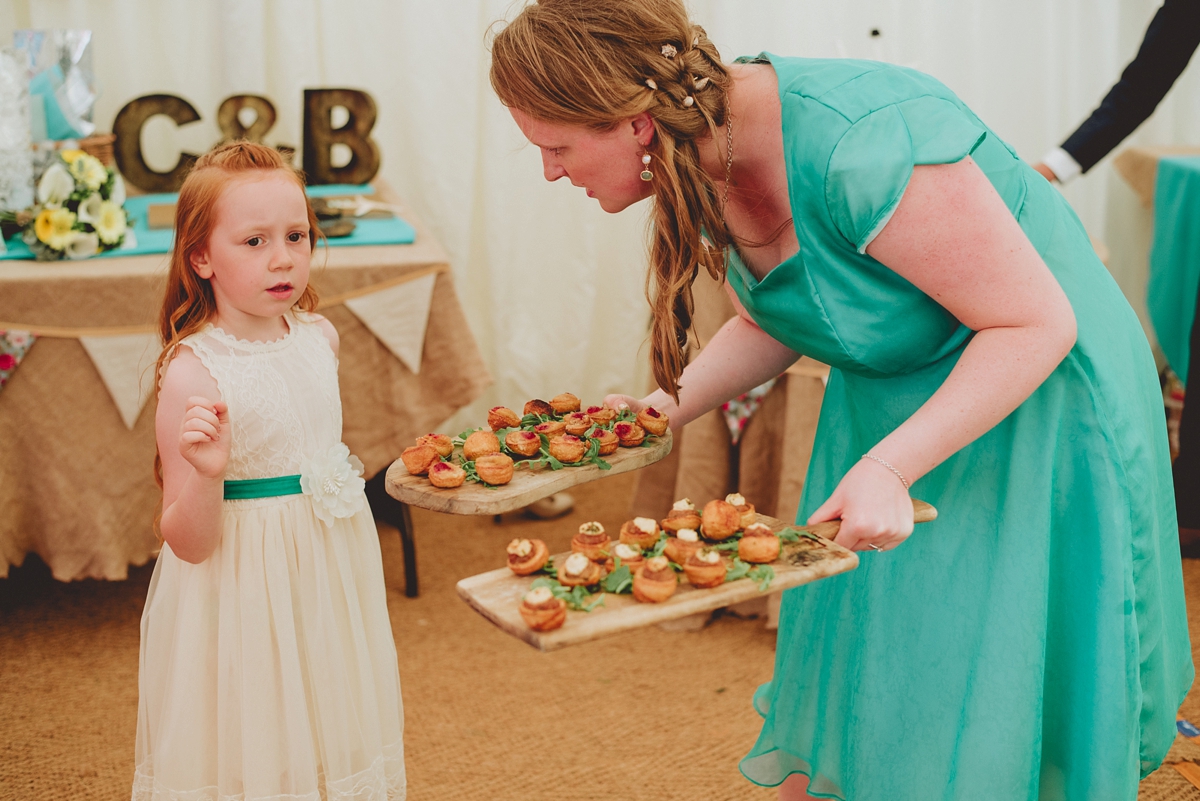 A friend made the very cute sandcastle cake, while for decor, Clem got crafty and hand painted signs, made a seaside style peep hole board and lots of sand castles and tiny props for the tables while her sister made bunting.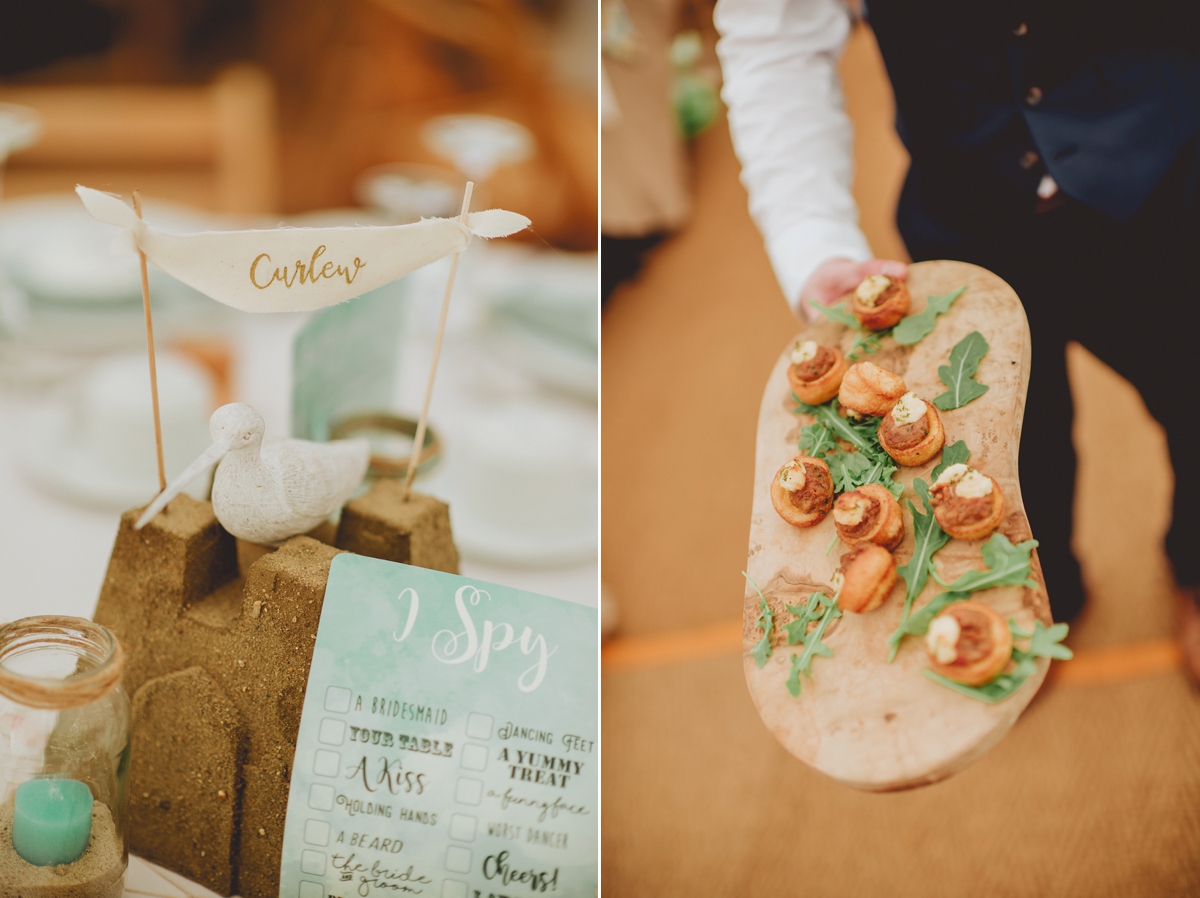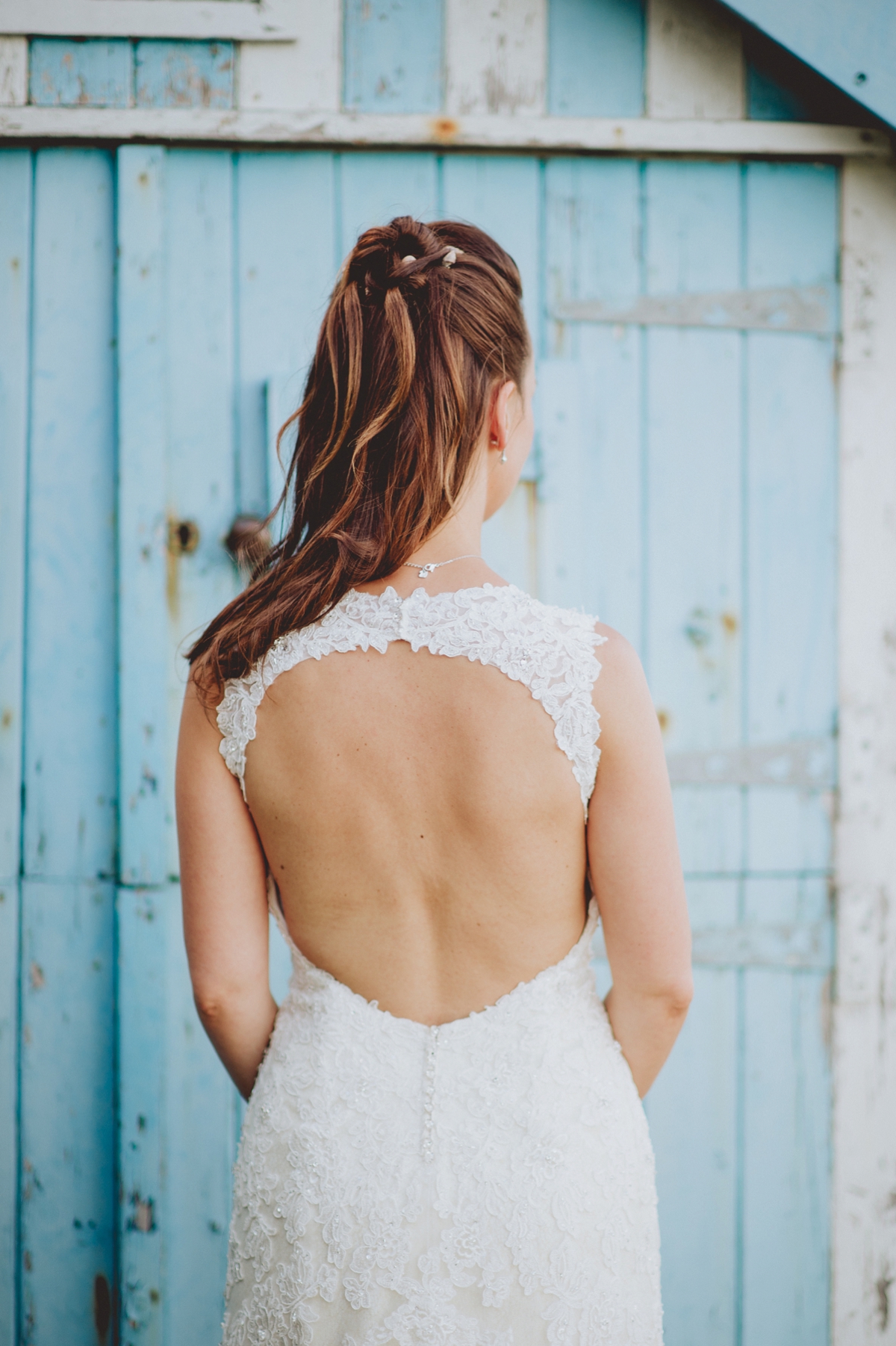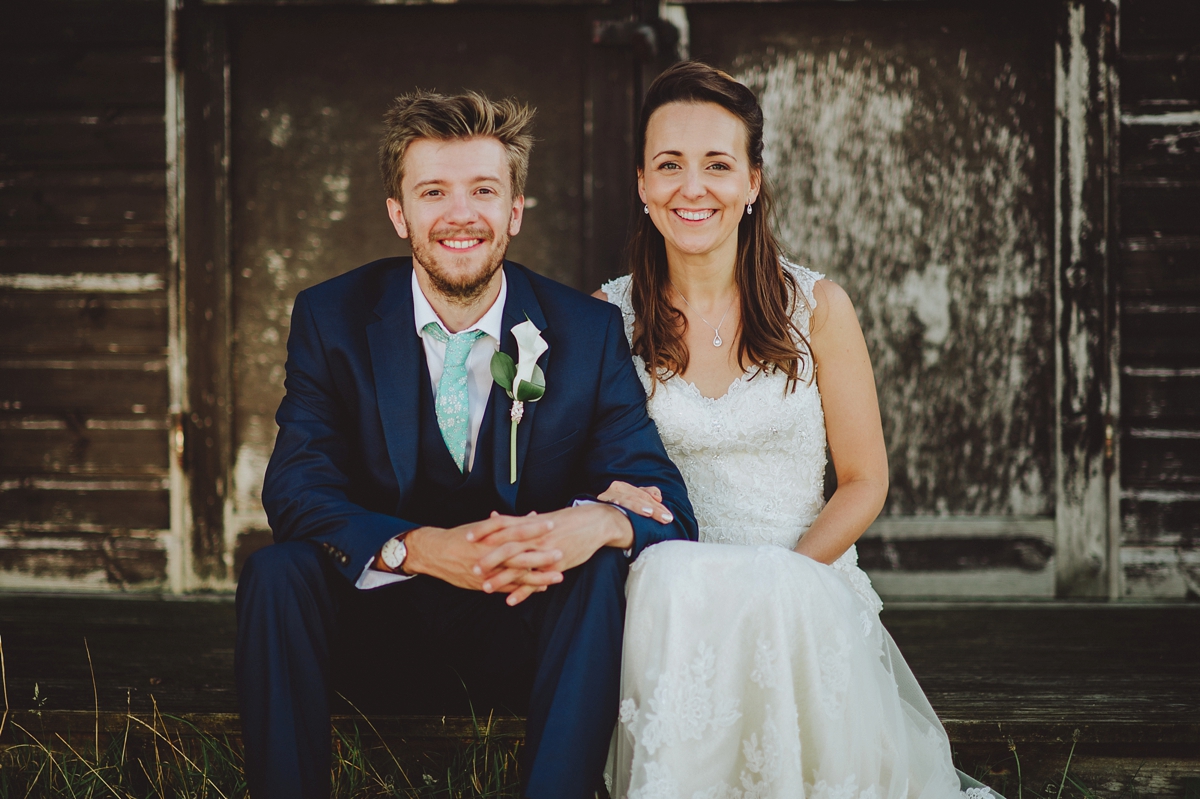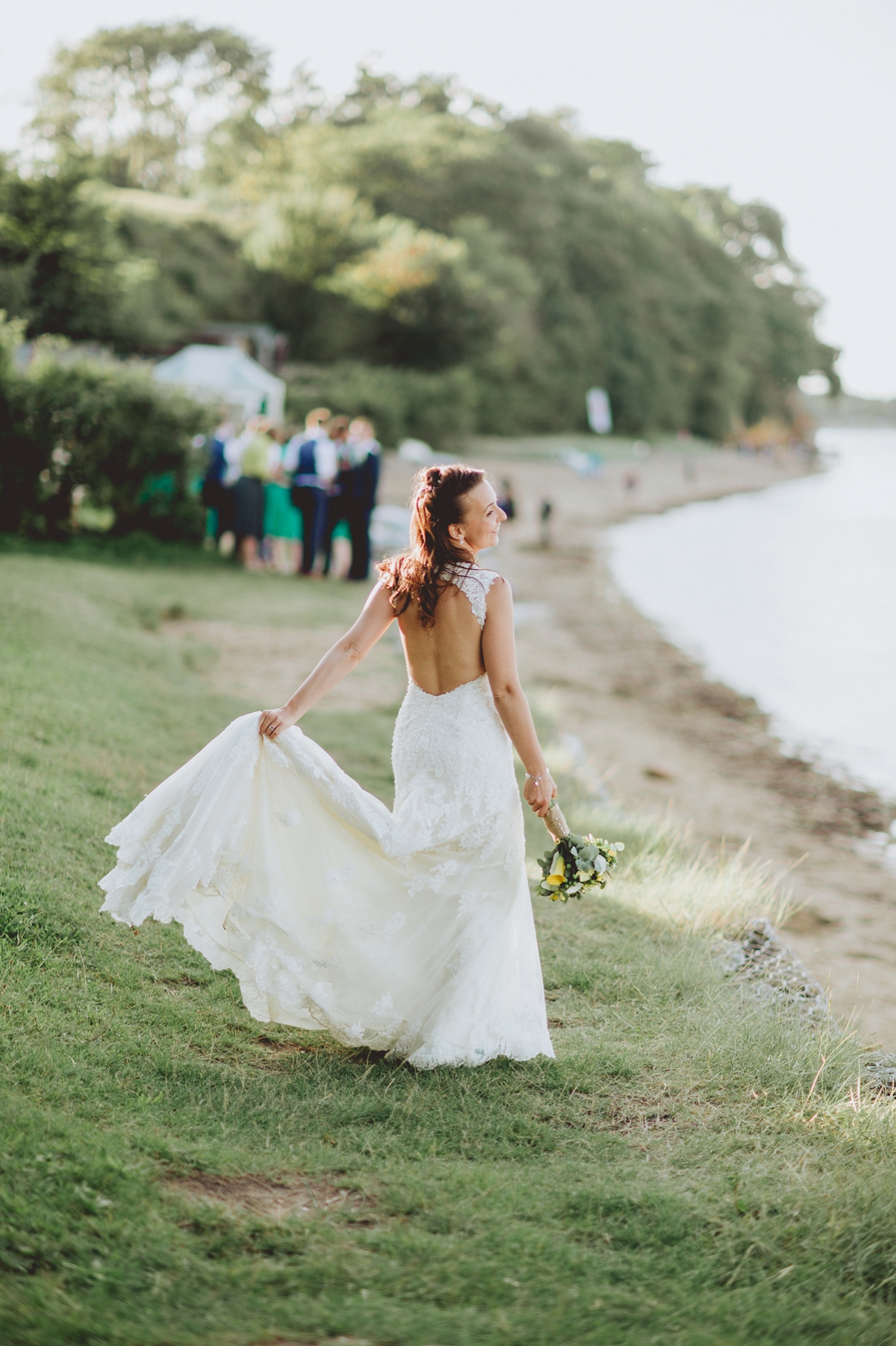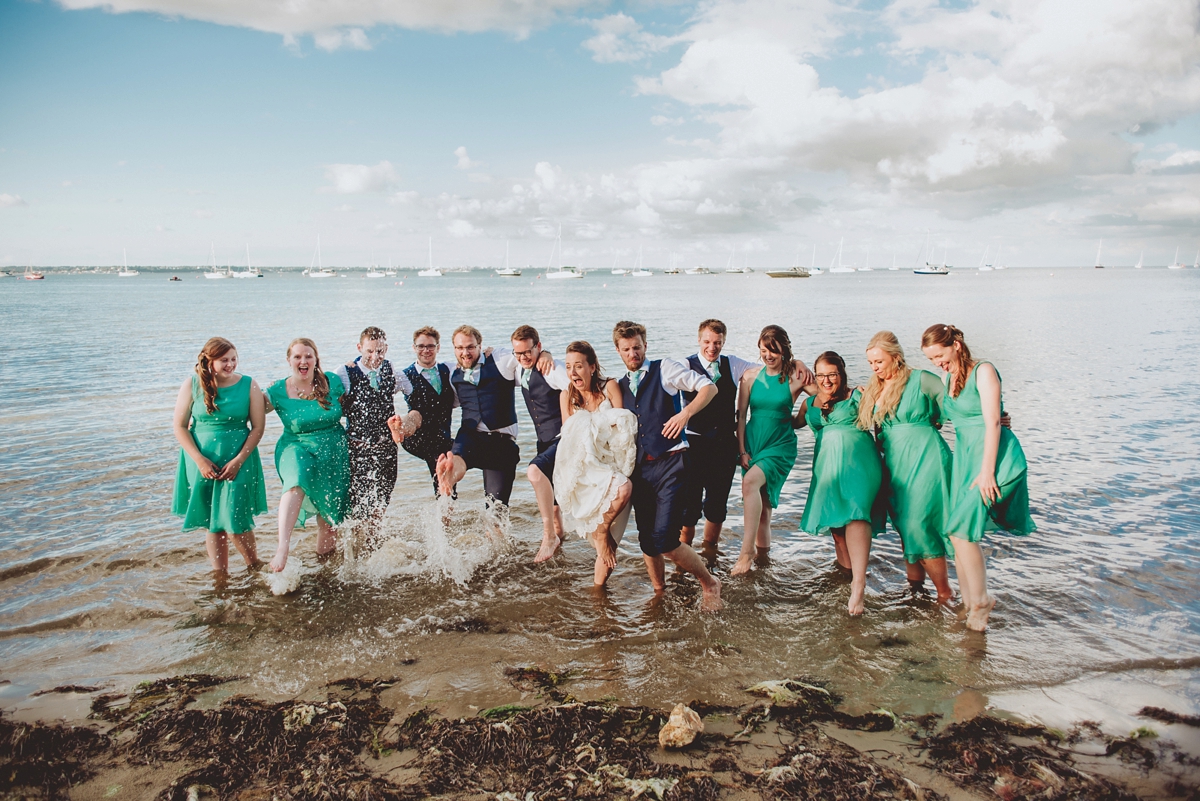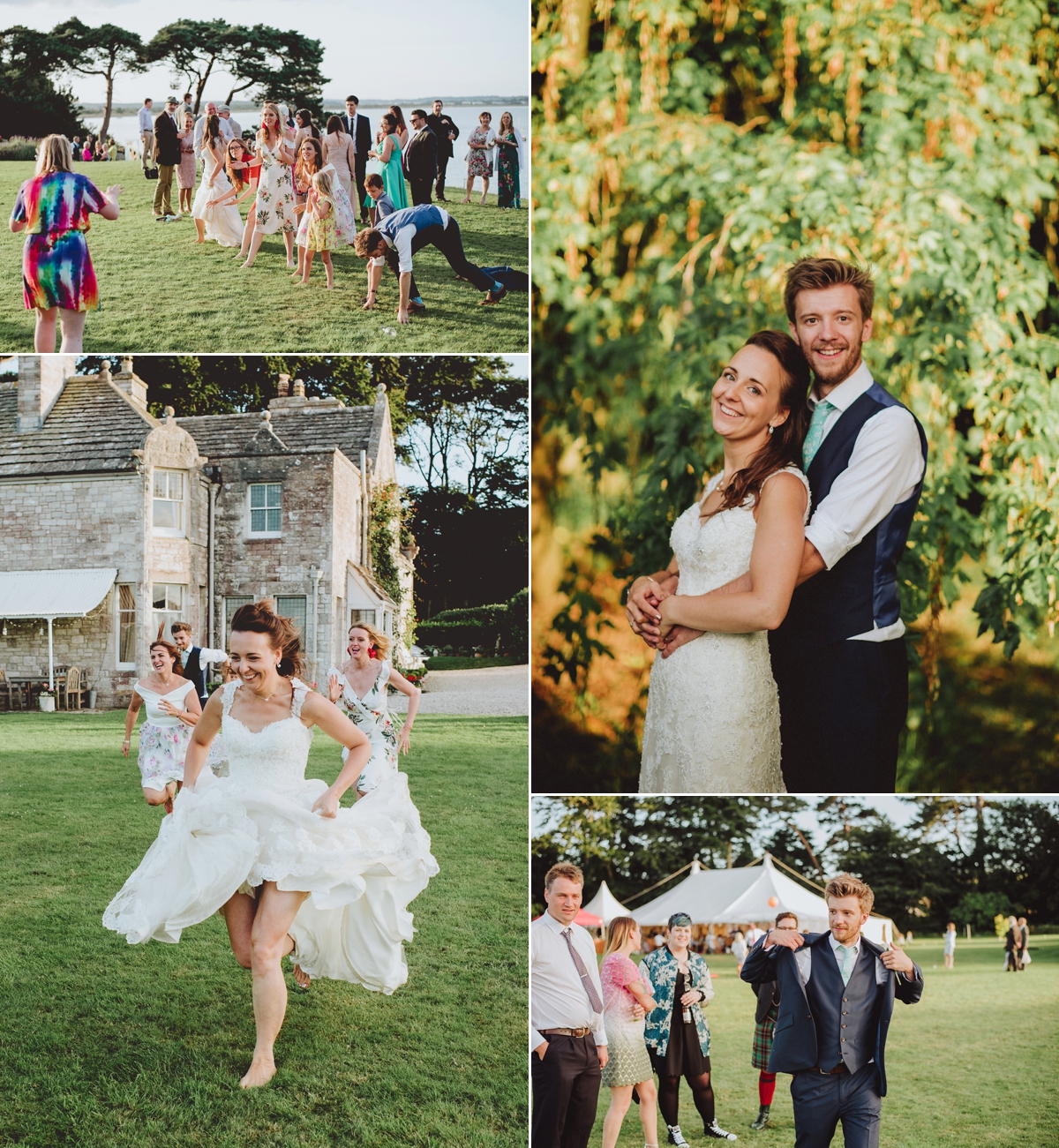 The newlyweds shared their first dance to 'God Only Knows', by The Beatles, played by their band, the Swamp Cats.
"We had the band sing it and it was the most emotional part of the whole day for me as we were surrounded by everyone we love dancing all together.  It was beautiful. We thought its a great song, the band already knew it and it was very emotional in Love Actually."
"My favourite parts of the day were the first dance, dancing all night to the band with all of my friends and family, getting ready in the morning with the girls and the boys' amazing speeches."
Fish and chips were served in the evening as the guests continued to have fun on the dance floor and a fabulous supply of dressing up props.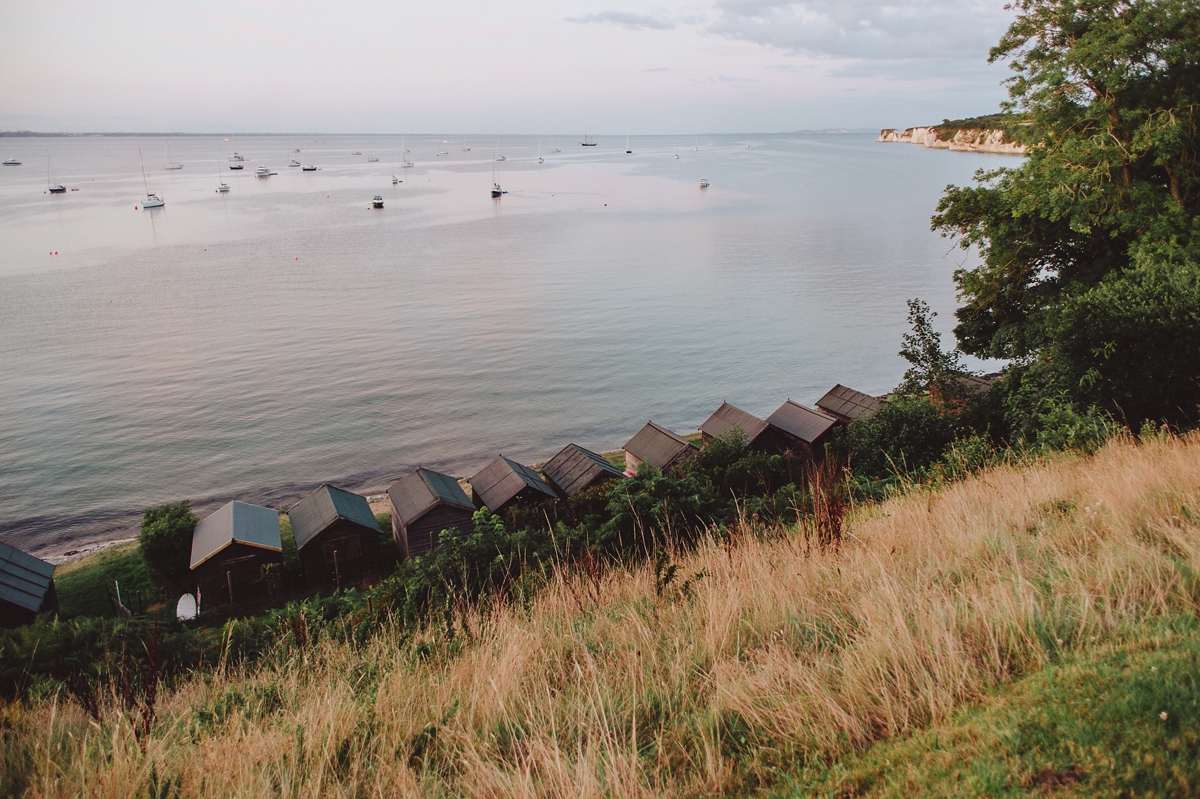 Words of Wedded Wisdom
"Things will go wrong.  It might rain, your suppliers might let you down, someone's heel might break, people might ignore all the amazing stationary and signage you spent days making, but just keep smiling, everyone is having a great time and you can't control everything! 
One of my big regrets is not being able to speak with everyone on the day but two months later I've seen loads of the guests since and they all had an amazing time and didn't feel neglected at all."
"If we were going to change anything we would have booked a different caterer.  They were really late, the food was awful and they still haven't given us any money back.  Our bridesmaids and ushers and some guests stepped up amazingly and saved the day which filled my heart with love but still, it shouldn't have happened."
Huge thanks and congratulations to Clem and Ben.  I just love the lighthearted nature of this celebration- the photos of the wedding party in the sea are particularly wonderful.  You only wear your dress once (well I wore mine twice, putting it back on for a tea party the next day, but you know what I mean) so make the most of it!
Much love,
Shona x