Hi there! Thanks so much for joining us. You made the right choice by the way, today we have a stunning celebration to share with you all – bursting with love, laughter and beautiful, vibrant colours that will make your heart sing.
This is the wedding of Kiran and Tom, who married on 30th April at Convocation House in the Bodleian Library, followed by a reception at Freud in Oxford, where they both live. Their day was an honest, perfect reflection of their lives: full of books, art, friends, family and love. Let's start with their wedding film, simply beautifully edited by David Boynton Wedding Photography.
"We wanted to celebrate our lives as they are now, and for the wedding to feel fun and contemporary, yet classic. I am an author of children's books, and Tom is a successful artist, so books and art were central inspirations for everything from decoration to venues to favours. We wanted vibrant, bright colours, and classic, elegant style with youthful touches – neither of us is a fan of 'quirky' for quirky's sake, though people assume we are because of our jobs. A vague colour theme of blue and gold emerged, though it wasn't strict, and we threaded map themes throughout as we love travelling, and Kiran's first book featured a cartographer's daughter."
https://vimeo.com/223144947
Kiran chose a form-fitting Essense of Australia lace gown, which she purchased from The Bridal Boutique Warwickshire along with her Elizabeth Dickens veil. Her unique mulberry-hued 'Equally Ever After' heels were created by Shoes by Shaherazad, and the model was dedicated to our bride after the designer read her book and sent her a pair.
"I didn't want a white, tight, lace dress. My mother and grandmother wore blue on their wedding days and I thought I wanted a blue, 1950s style swing dress, and looked into getting one made. But my sister-in-law-to-be, Madi, owns a gorgeous wedding dress shop in a beautiful Tudor building in Henley-in-Arden, and it would have been silly not to at least go and look with my mum."
Film + Photography by David Boynton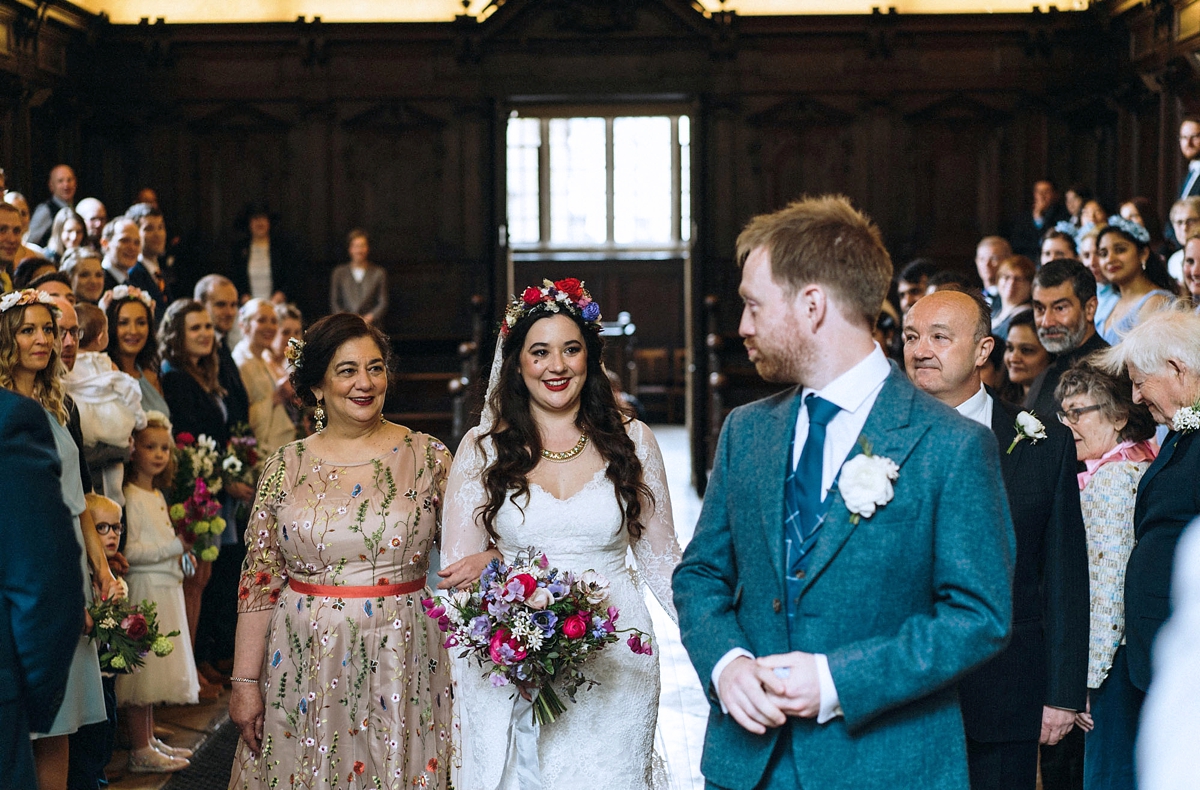 "Ultimately I walked away with the tightest, all-lace, white dress! It was actually picked for me to try on by Madi and my dad, who came with me the third time. Previously, I'd been drawn to dresses that disguised my hips, but this dress showed off my figure and the moment I looked in the mirror I recognised myself. I wasn't playing dress up – I looked like me, but on a really good day. I love the simple elegance of it, it's elaborate but unfussy, and celebrates my shape. The sweetheart neckline is beautiful, and I love the chapel-length train, which adds a bit of drama."
"There is pressure to lose weight for a wedding, which I didn't, and I am so glad I decided to embrace the hourglass. The tailoring was made immaculate by Bea, who works with Madi – it had to go in a lot on my waist, and out a lot on my hips – and on the day was so wearable and comfortable. I adore it, and am thinking of getting it shortened and dyed for our Indian ceremony. What was also so special was that Madi and my parents were so integral to finding it."
"As I'm a writer a library made perfect sense for our ceremony, and though neither of us are religious, we wanted the scale and beauty of a church for our reception. Freud is a wonderful bar in a beautiful converted church, owned by the Freud family, complete with stained glass and excellent cocktails. The wonderful thing about both venues is that they are places we pass almost every day. In December we will have a ceremony in Goa to celebrate my Indian heritage."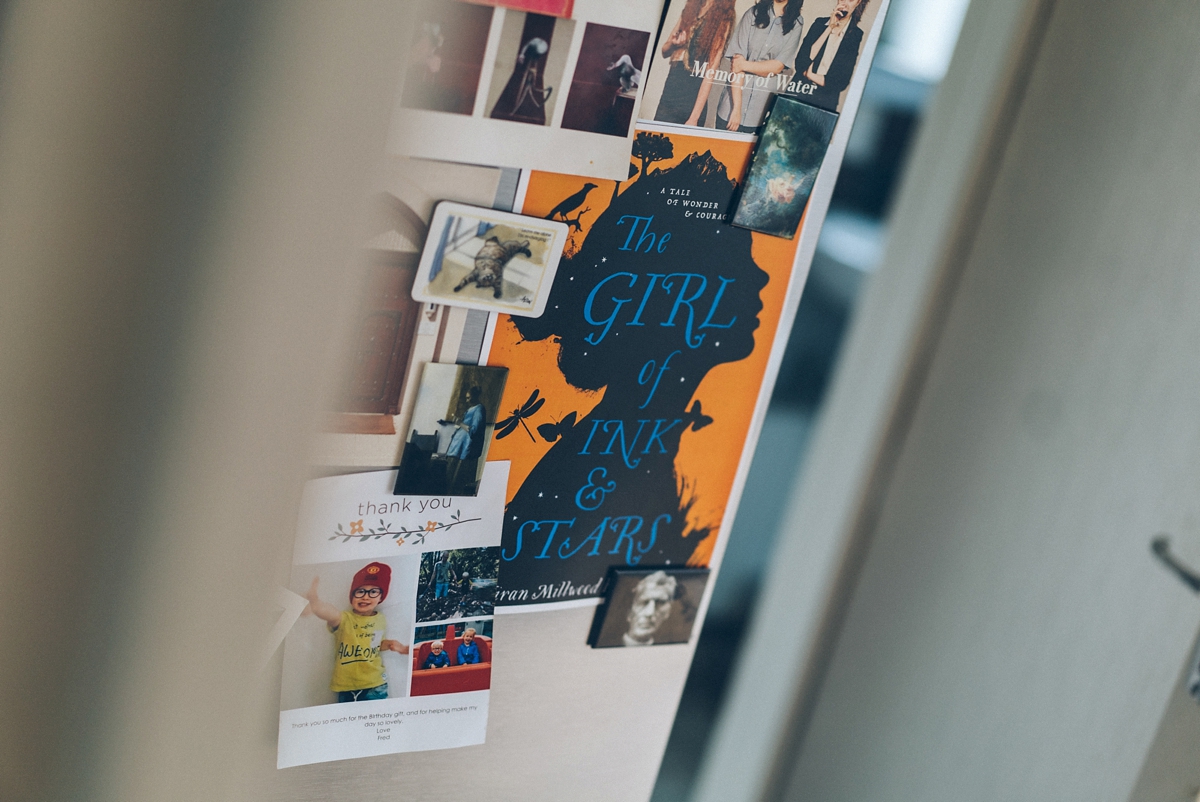 Kiran and her mum had their big day beauty taken care of by Victoria Percival, both ladies were delighted with their make-up. Our bride turned to Sophie and Luna to create a vibrant, full crown of beautifully dried blooms. We have something of a huge crush on designer Sandra, and we're pretty sure you will too after you read the beautiful, courageous story of her colourful Vegas wedding to herself.
"I picked the colours of my crown out with the gorgeous Sandra, who also made my mum a beautiful piece. I was drawn to the idea of dried flowers anyway as you can wear them again and again, but Sophie was the name of my first cat and Luna the name of our current cat, so it felt meant to be! It was fully reversible, so I wore it one way for the registry, and another for the white wedding."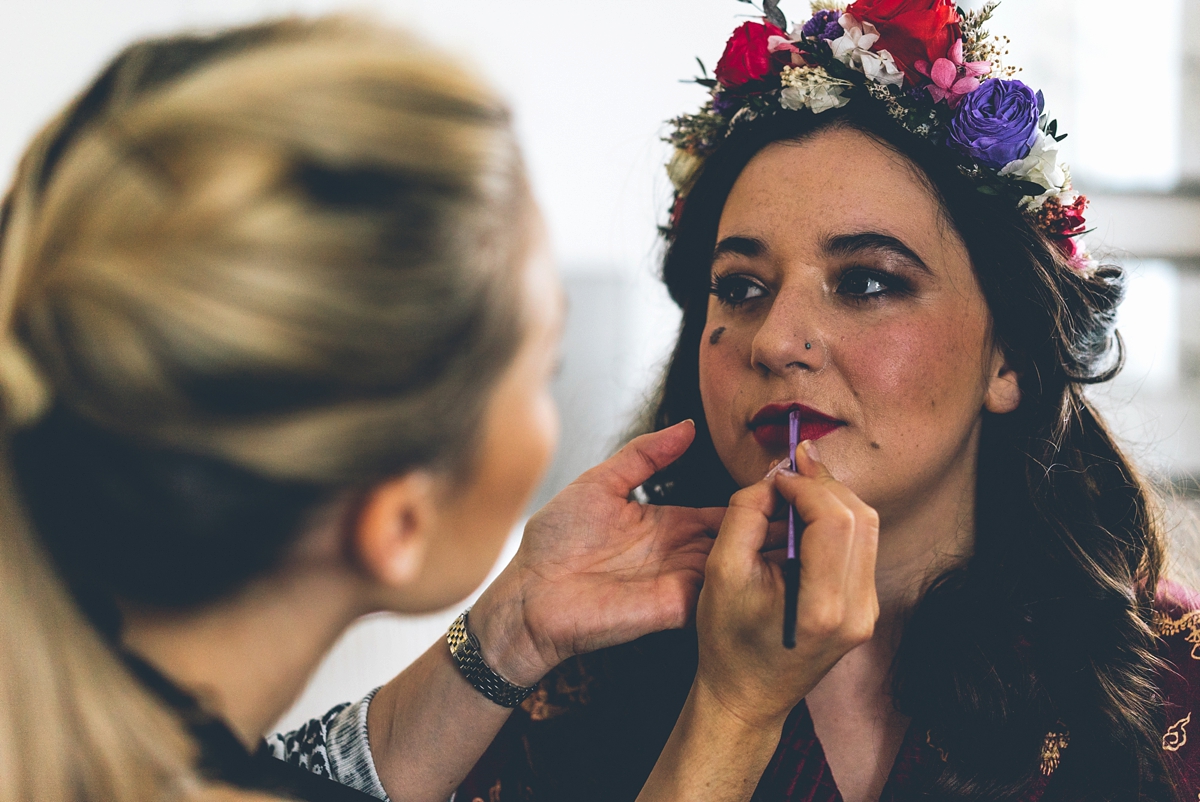 "My necklace was a family heirloom, worn by my mother's mother – white sapphires, emeralds and seed pearls. Putting it on was a very emotional moment. I wore Coco Noir by Chanel, which Tom bought me travelling back from New York. For the evening I topped up with Oud we'd bought together in Oman."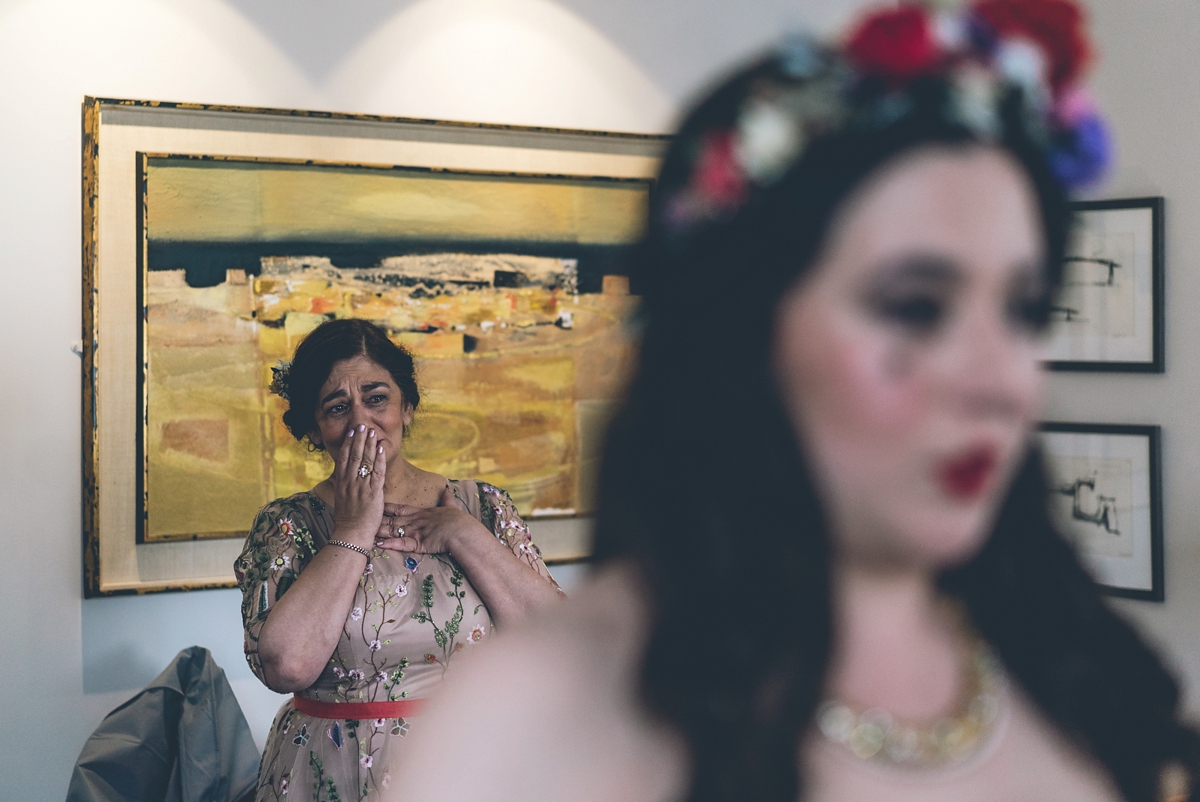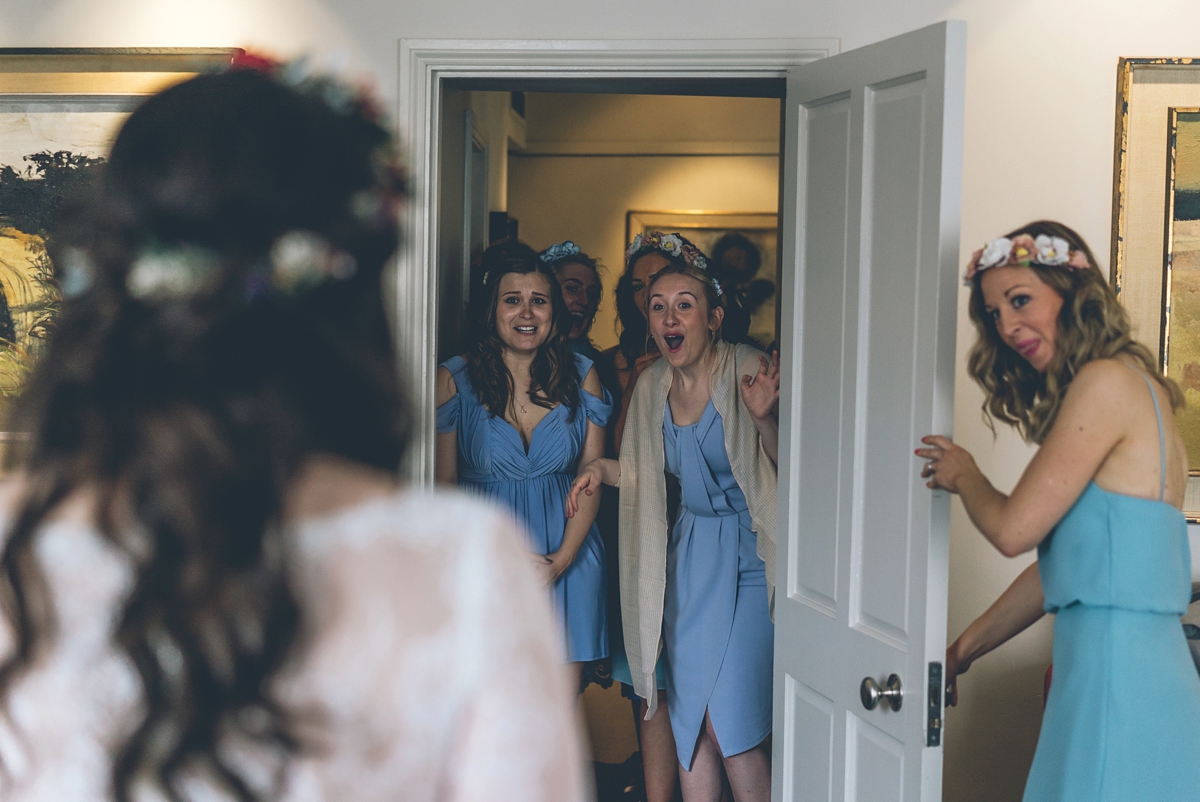 Kiran surrounded herself with a gorgeous girl squad of eleven beautiful bridesmaids, each lady free to pick her own blue gown to express her individual style, and all accessorised with flower clips and crowns from Accessorise, and pressed flower necklaces from Nostalgic Bloom on Etsy. Dresses ranged from ASOS to Ghost, and three of Kiran's sisters-in-law wore Sorella Vita dresses, stocked by Madi at The Bridal Boutique Warwickshire, along with our brides two nieces' Angel Face frocks.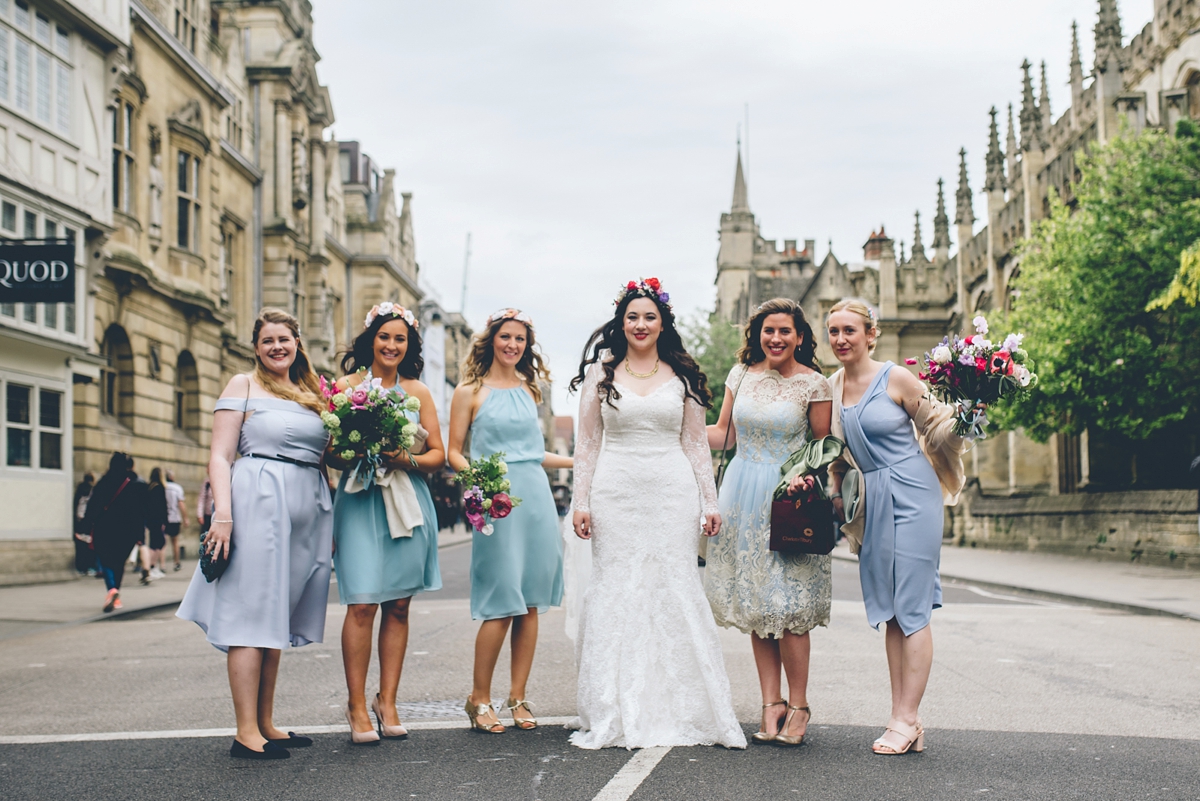 I absolutely adore the images of the ladies walking through Oxford in their finery, the most joyful and colourful wedding procession. I particularly love Kiran's mum's beautiful floral dress, echoing the vibrant spring blooms arranged by local florist Green and Gorgeous.
"Our florist was Green and Gorgeous in Oxfordshire. Run by the incredible Rachel, this is a beautiful flower farm that offers seasonal flowers. We chose to have our wedding on the night of May Day, which is a big celebration in Oxford, and this gave us all the gorgeous spring blooms to choose from. Rachel arranged my bouquet and the buttonholes, but all the others – the table decorations and bridesmaid and flower girl posies – were collected as loose flowers and arranged by my grandparents. We wanted a lot of vibrant colour and lush greens, nothing too formal, we wanted it to feel like a spring garden."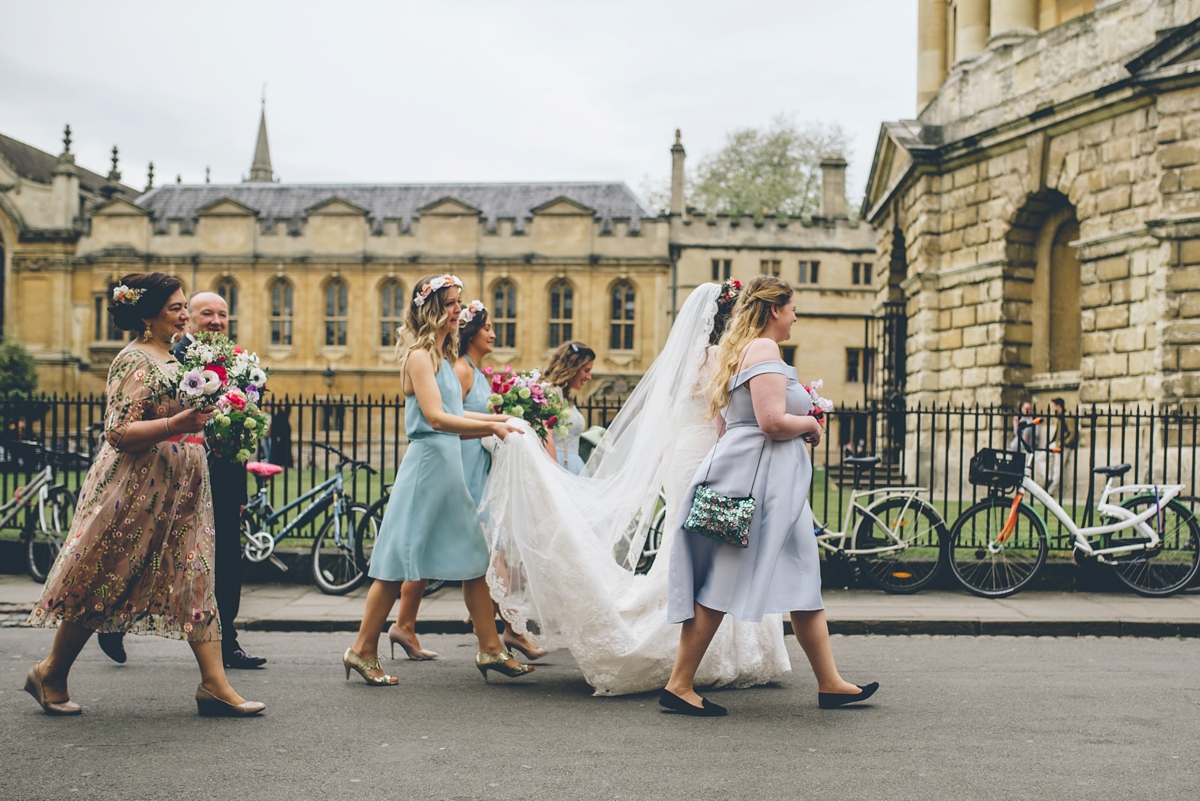 Tom chose a bespoke suit by Tim Nash, based out of Henley House, which he paired with brown brogues from Jones Bookmaker and a blue woollen tie. He and his groomsmen all wore cufflinks from Etsy, customised with maps of Oxford and Goa to symbolise the couple's two wedding celebrations. I couldn't resist sharing the incredible story of Kiran and Tom's engagement with you, Tom's elaborate proposal leaving the couple 11 months to plan an equally gorgeous wedding celebration.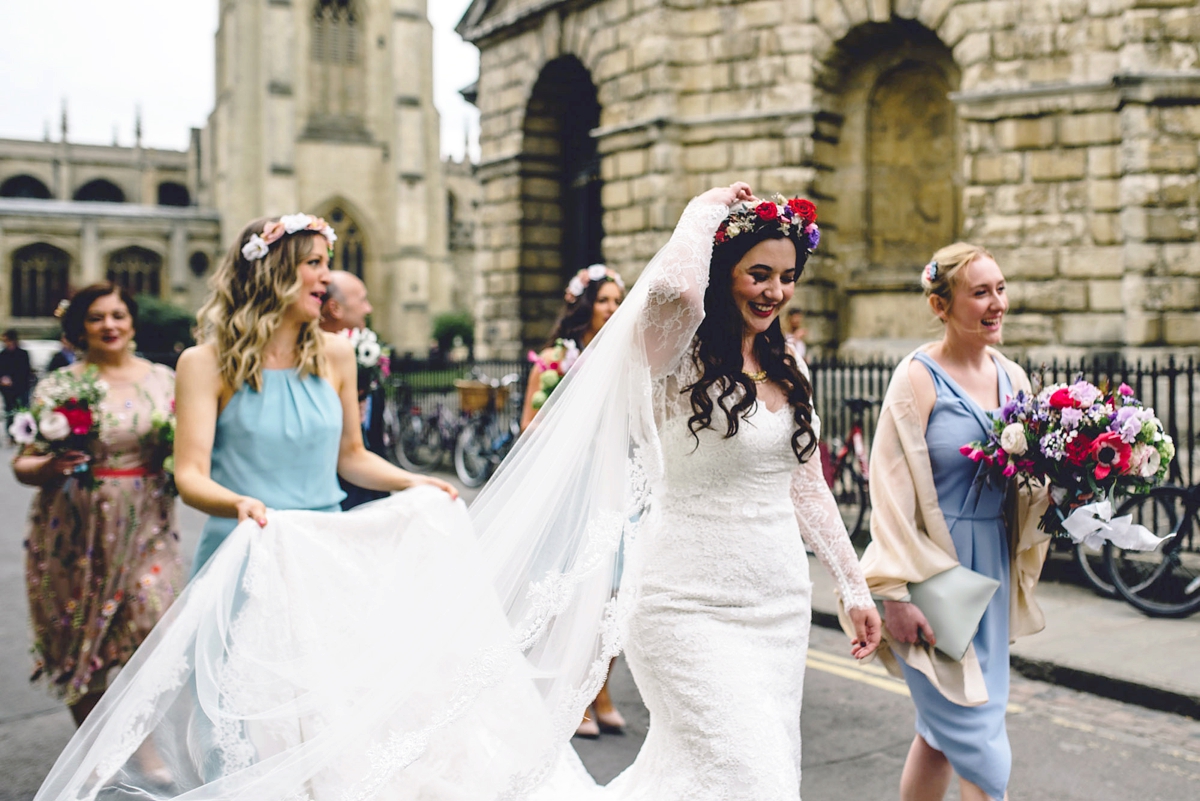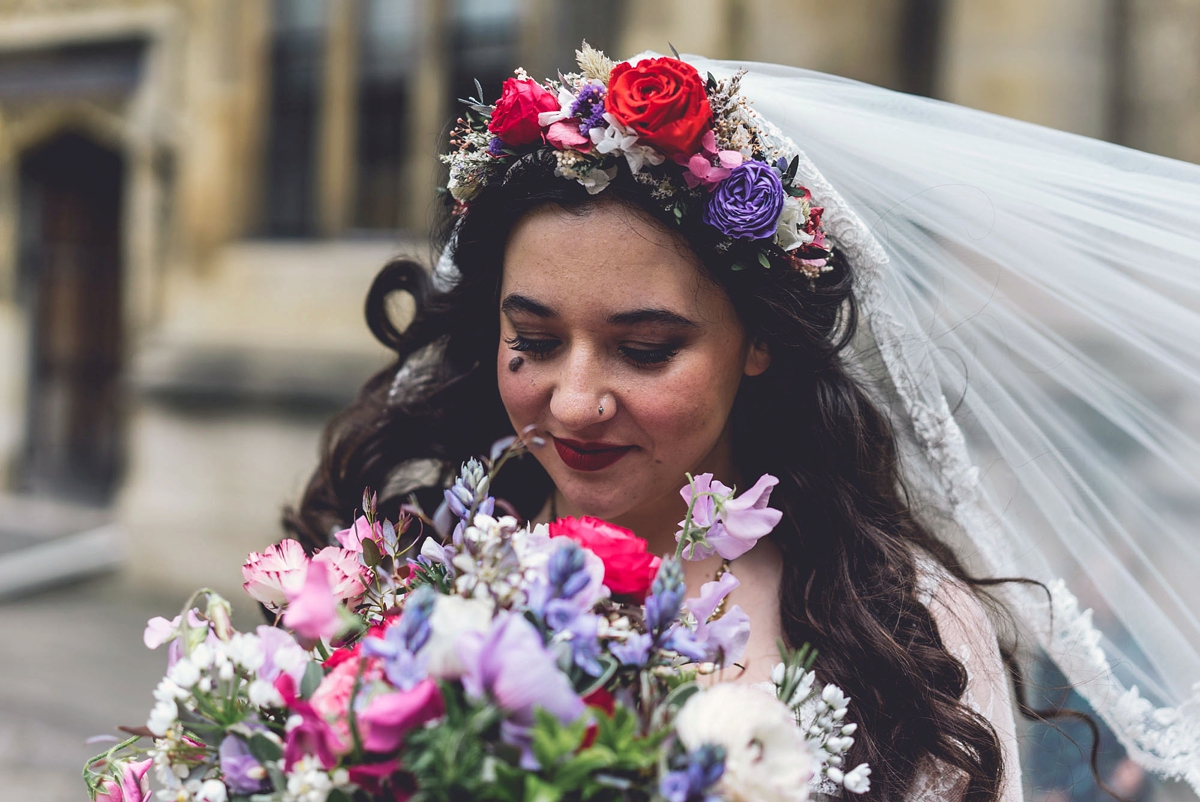 "We met at an after party for a play in 2009 at Cambridge University. Tom was the university's Artist-in-Residence, and I was a first year. Tom had previously painted me for the play, but it wasn't until a four hour long game of spin the bottle in the ADC bar that we got talking. After three months of trying to convince ourselves we weren't interested, the inevitable happened."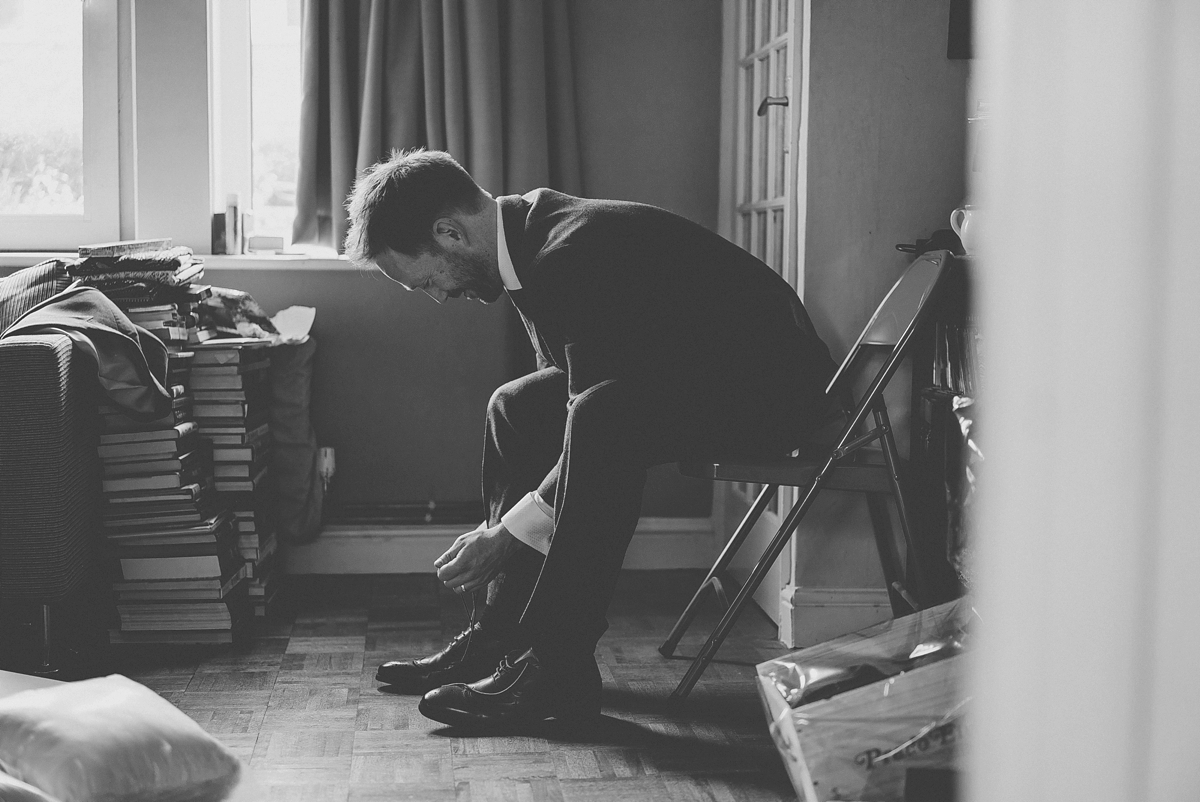 "Seven years later, we went to Istanbul for Tom's birthday. When we arrived, Tom pointed out that there was a dictionary in the hotel room, and wasn't that strange? I thought nothing of it. On the first day we walked around, and Tom got on my nerves by making me adopt odd poses in the middle of the street, arms in the air, and stopping to take photographs of signs."
"That evening, Tom ordered cocktails to the room, and on the tray was a key. I thought it was an accident, and was going to send the key back to reception, but Tom stalled me, wondering aloud what the word martini meant. He suggested I use the dictionary to look it up. I shrugged and said I'd google it on my phone."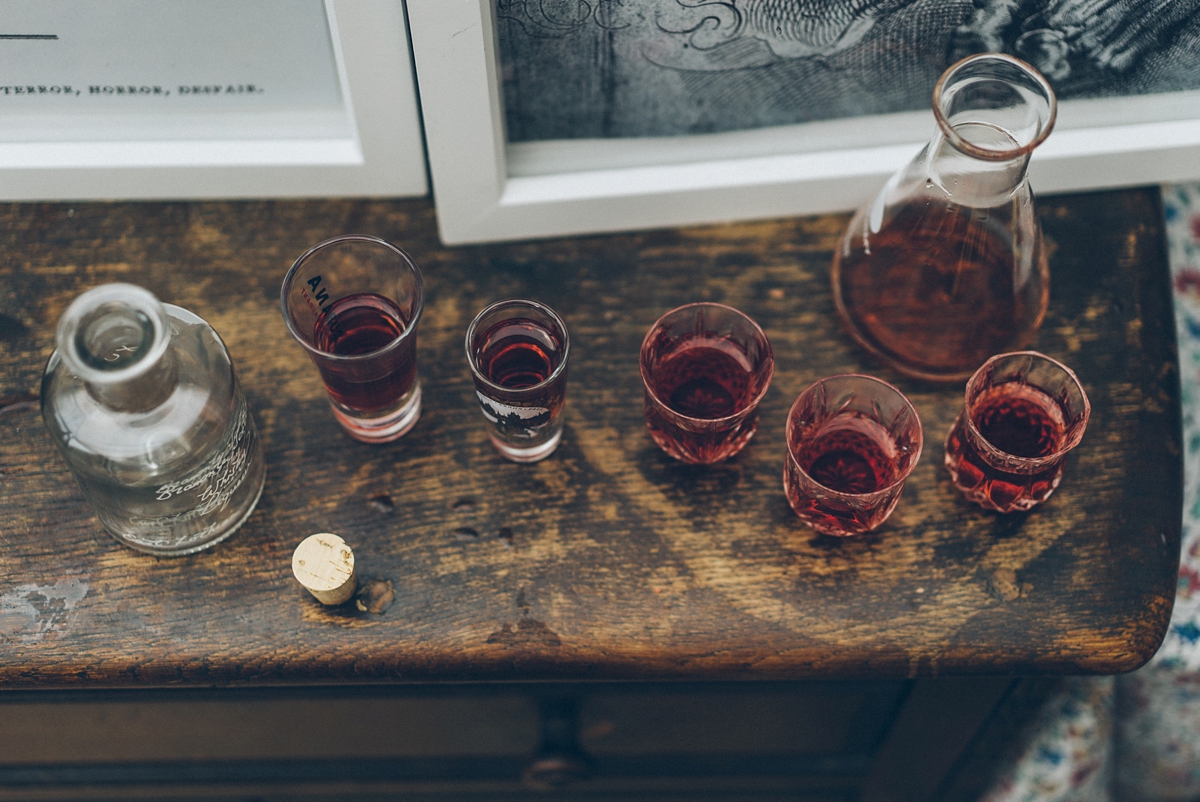 "Tom gave up hinting and gave me the dictionary, which turned out to be a safe, opened by the key on the tray. Inside was a silver scroll holder which Tom had bought in Oman a couple of months earlier. Inside was Shakespeare's sonnet 116. That was the moment Tom intended to propose, but I was being annoying so he waited until dinner at a rooftop restaurant, when we were flicking through photos. He suggested my arms looked like they were forming letters, and that maybe they could make an anagram. I was more interested in drinking, but eventually realised my arms spelt 'marry me'."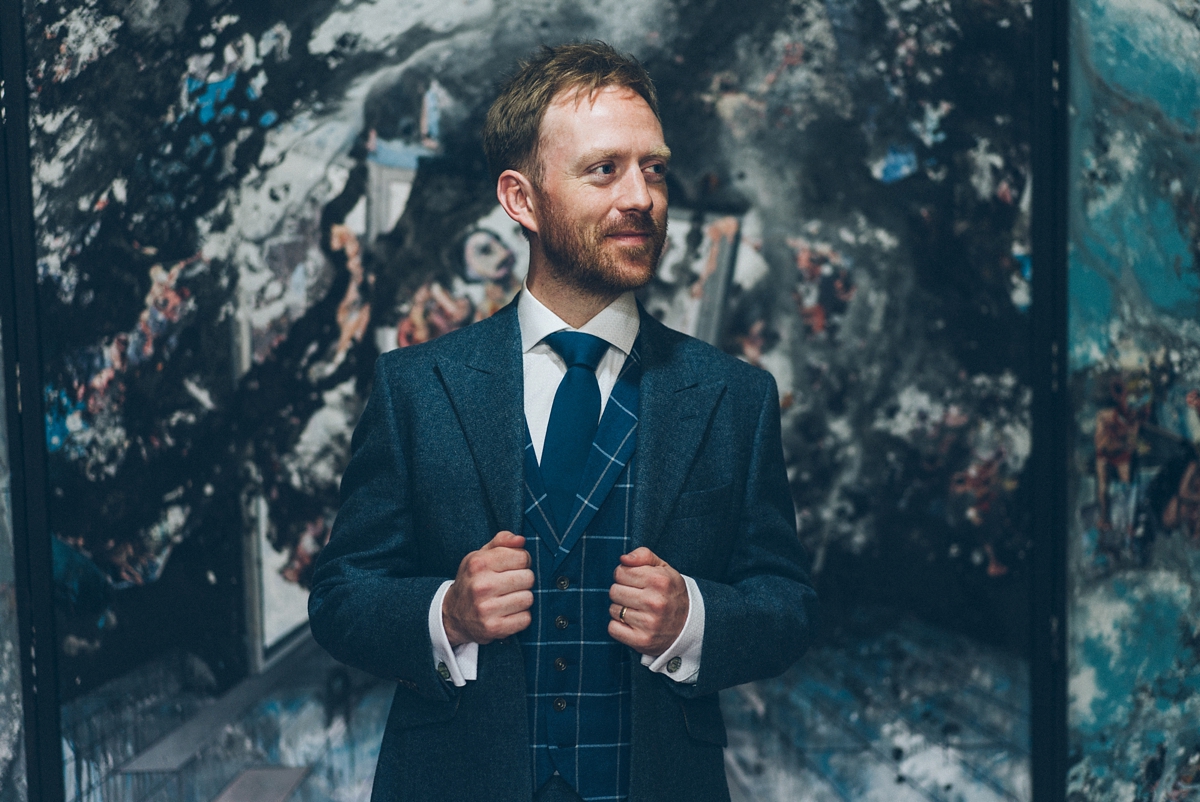 "We both started crying, and there was a long awkward moment when neither of us could find the ring, which Tom had hidden by my feet. It was not until we were back in the hotel room that he got down on one knee and proposed 'properly'."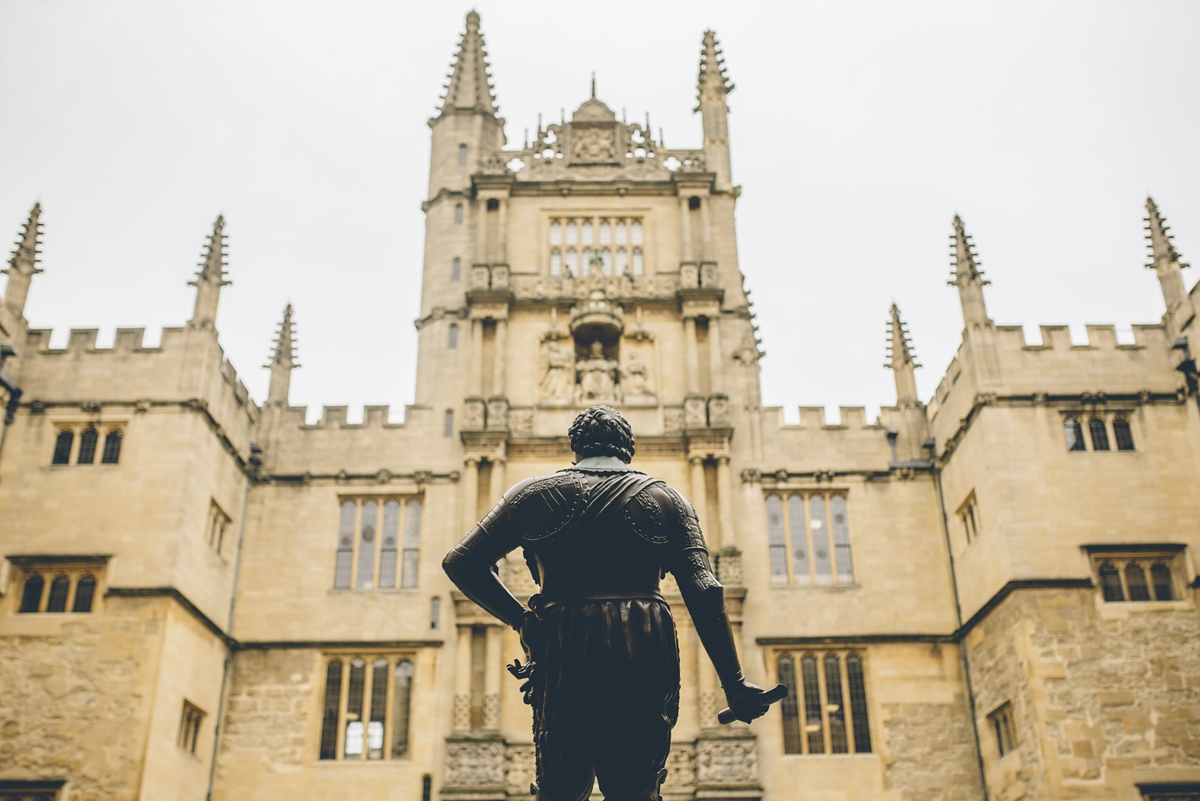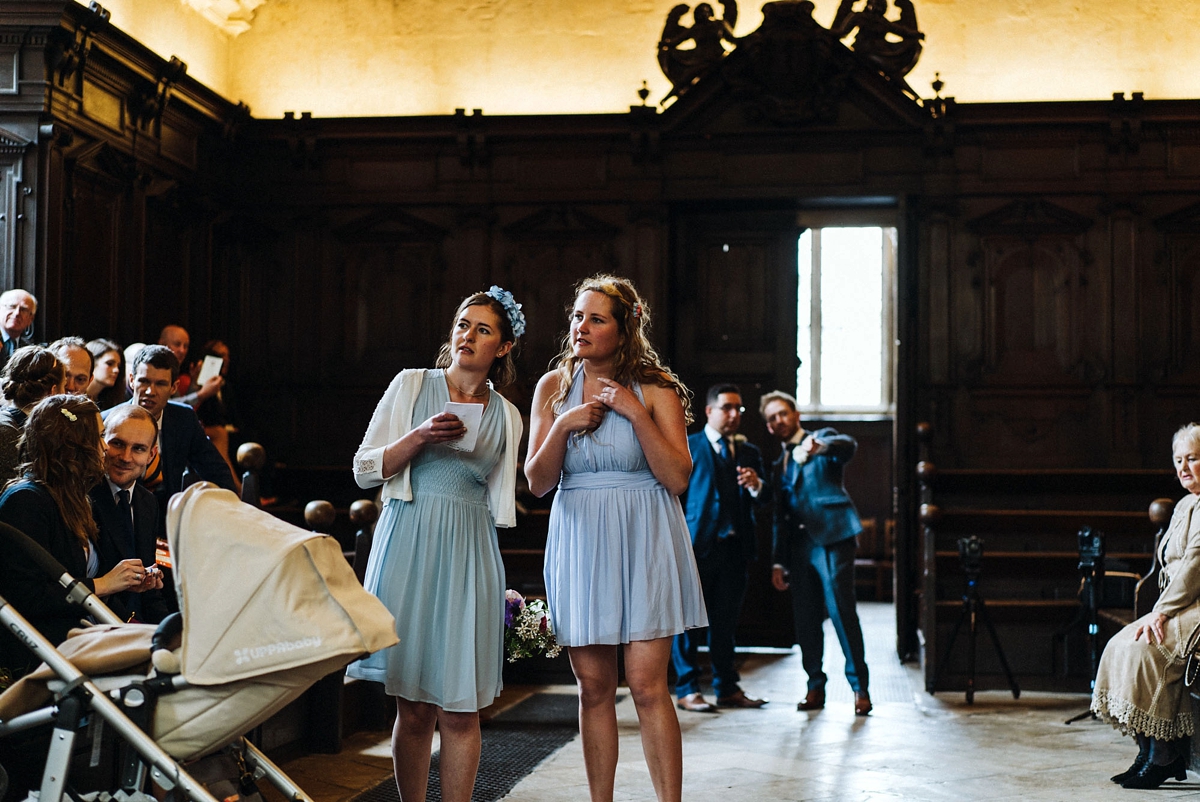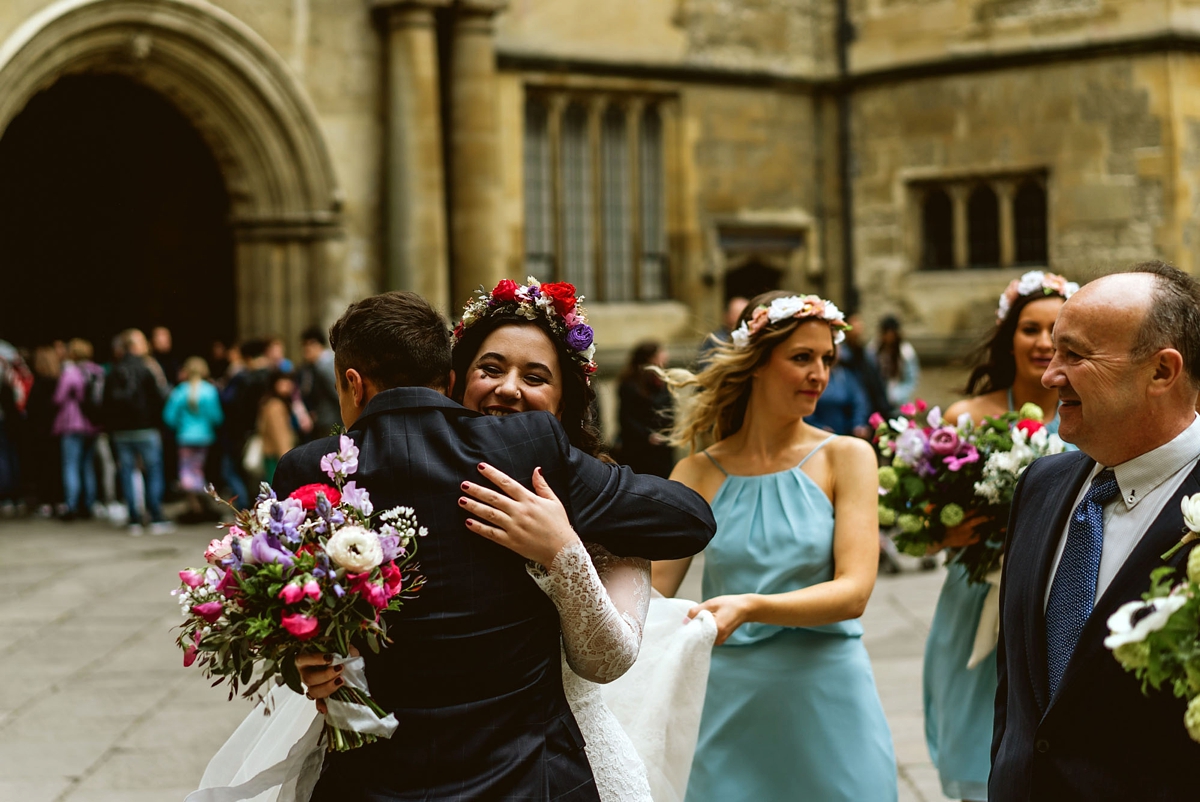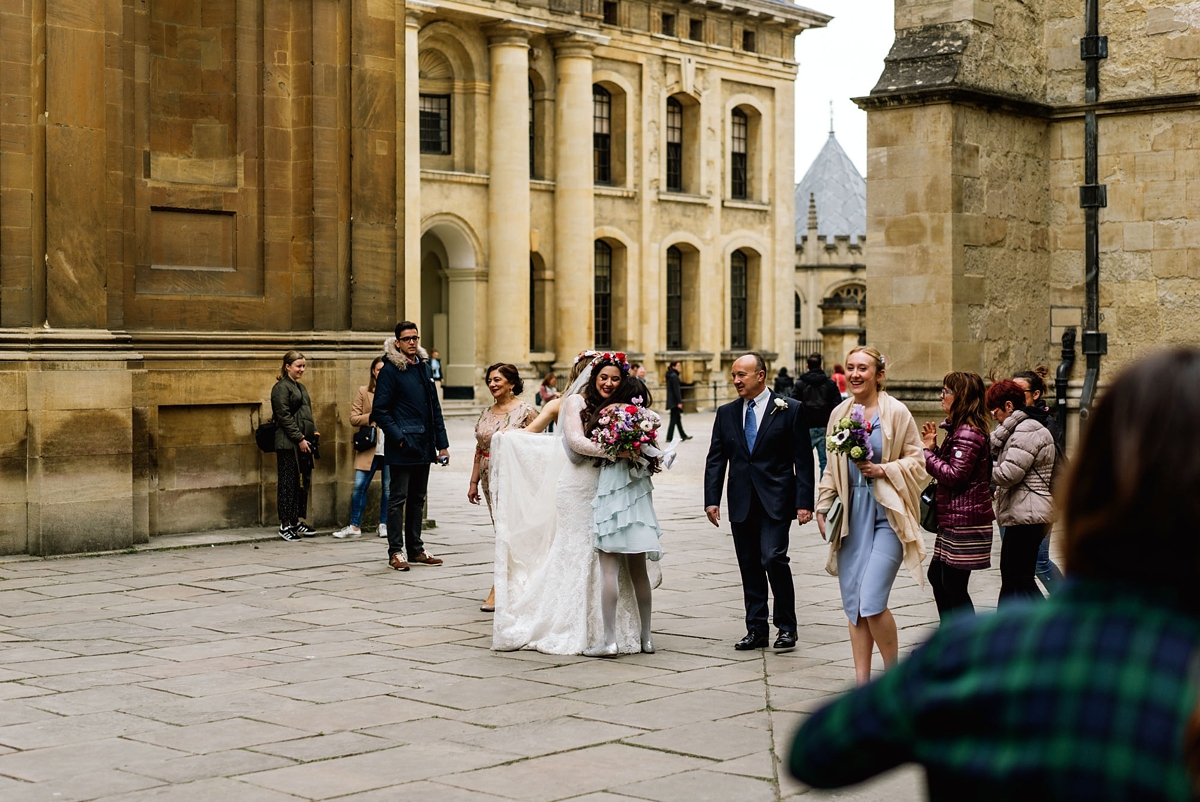 As Kiran and Tom were married legally the day before, they had total freedom when it came to their wedding ceremony. Their friend Sam was their celebrant, and as a doctor, poet, and author, the couple knew he'd do a lovely job of combining gravitas with beauty. Sam totally surpassed their expectations however – even getting the congregation sing Beyonce's XO.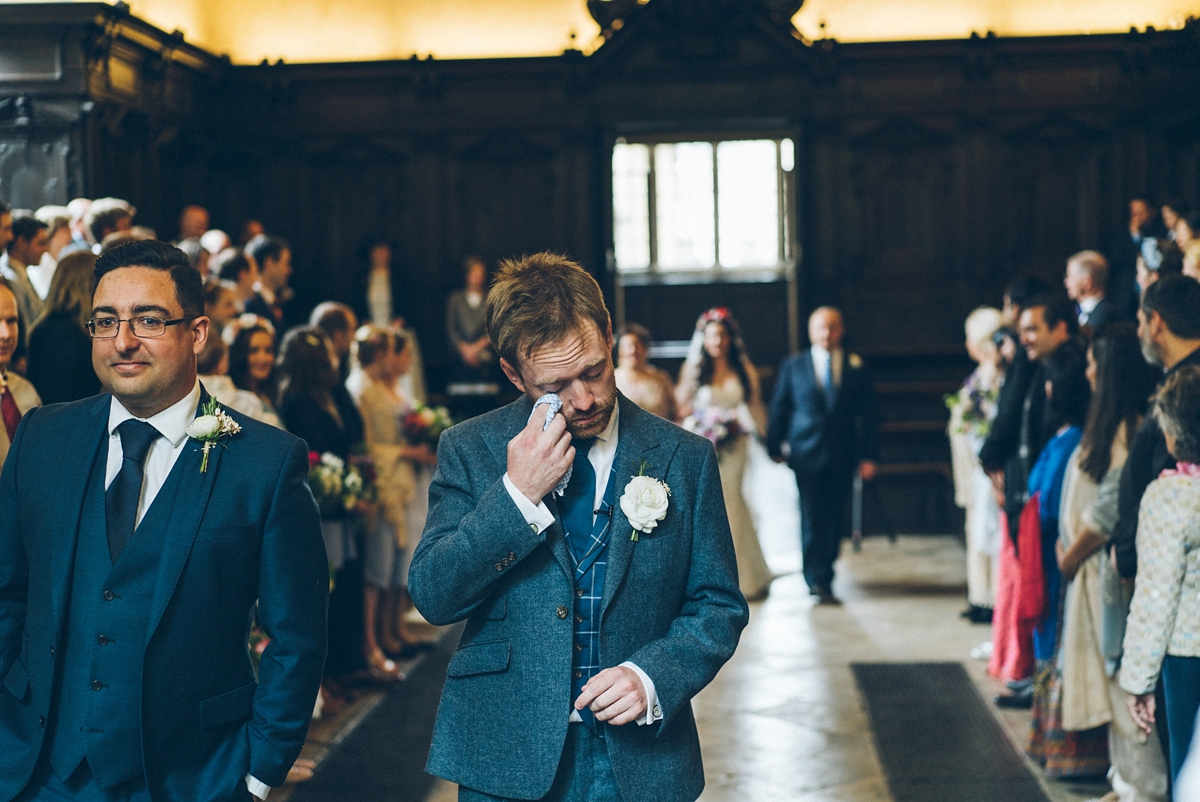 "My parents both walked me down the aisle. I don't understand the concept of being 'given away' when you're an independent person who's been living with your partner a long time, but it was important to show how much I've been supported by my mum and dad. It was an honour to walk beside them both."
"I walked down the aisle to Warm Foothills by alt-j, sung by our friend Matt Chanarin with an acoustic guitar. It was beautiful – we love the line 'I tie my life to your balloon and let it go.' Our vows were entirely written by us – we didn't want to use other people's words to make those promises to each other. Here's some of mine to Tom:"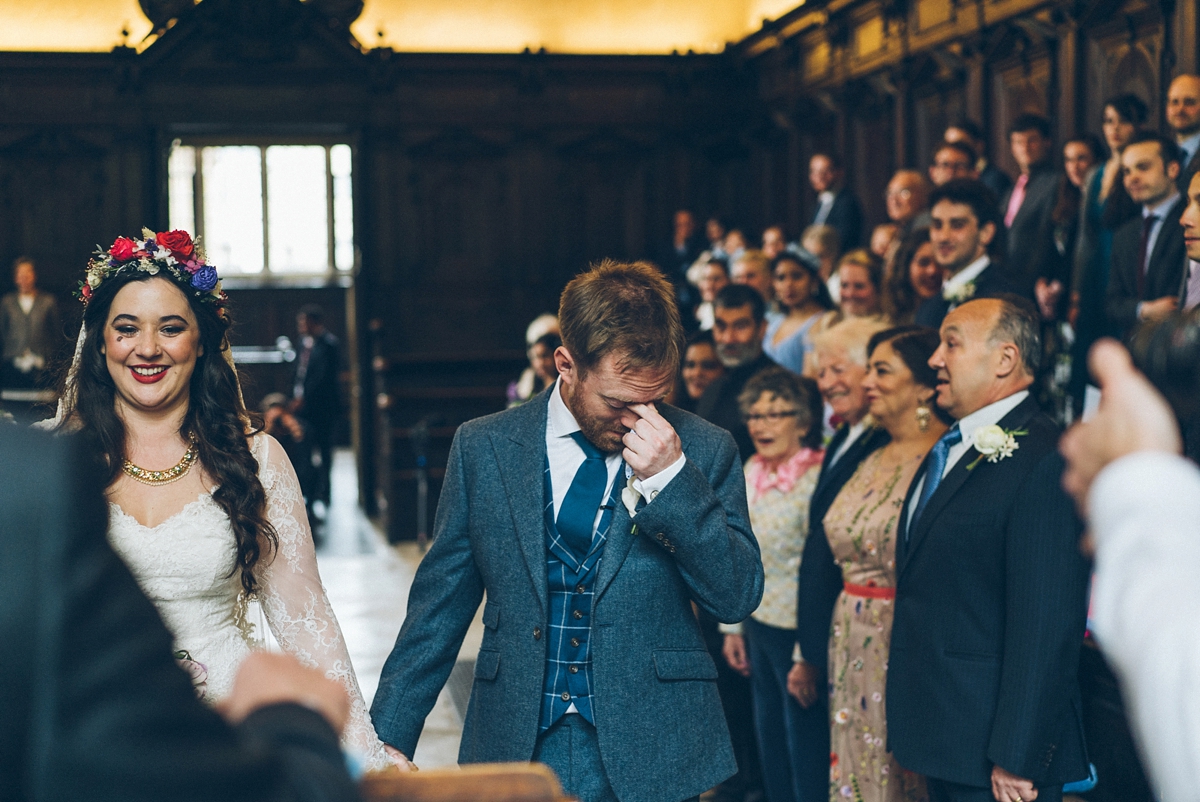 "I promise to be honest with you, and to listen and speak to you with respect and kindness. I promise to be loyal and loving, and to try to be worthy of your love. I promise to cook with ridiculous and frankly dangerous amounts of salt, and to dance in the kitchen with you. I mean these words with every part of myself, with all the certainty I can be certain of: I can imagine no better future than one lived with you: my partner, my lover, my best friend. I give you my hand to hold, and promise to walk beside you, always."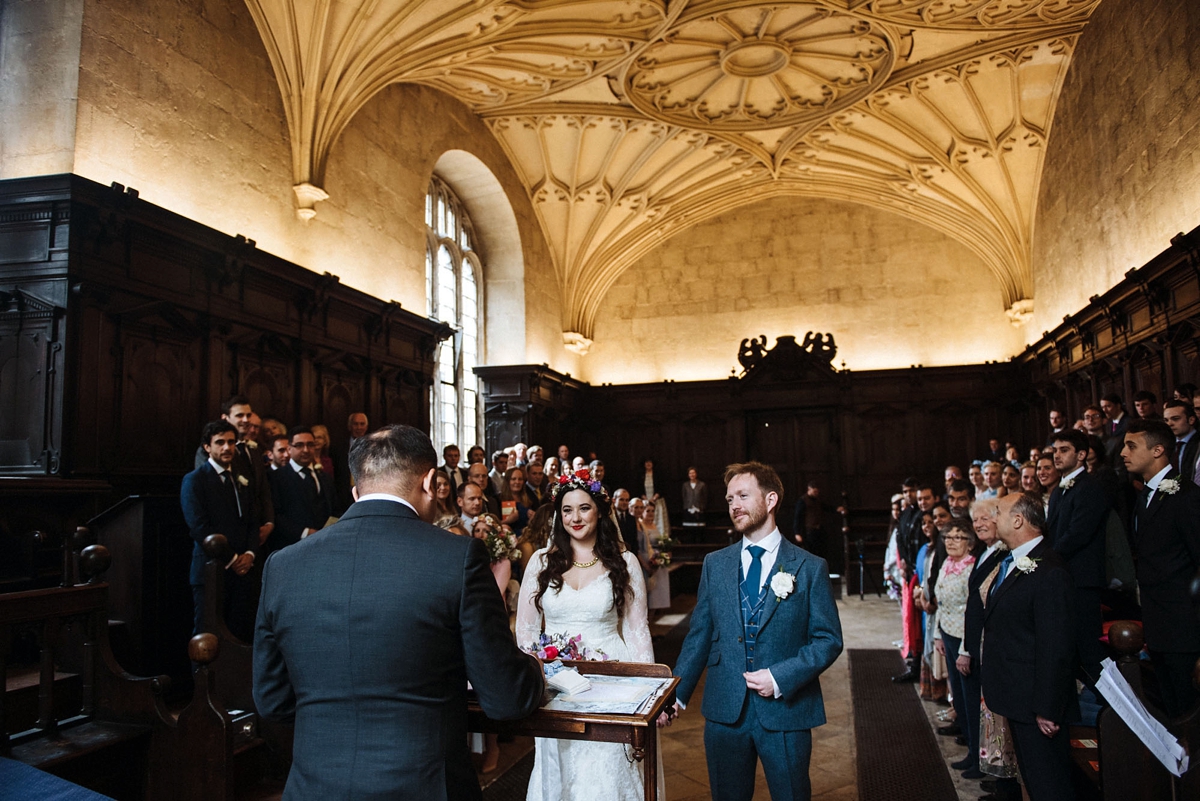 During their legal ceremony, Tom's sisters read an excerpt from Philip Pullman's The Amber Spyglass, and Kiran's grandparents recited an extract from 'Winnie the Pooh'. The following day at their wedding, Tom's mother, Janis read Alice Oswald's 'Wedding', which the couple chose for its celebratory tone, and Kiran's brother John also read 'Love' by Erlich Freid, translated by Roy Croft.
"Tom picked my engagement ring, a natural Burmese ruby surrounded by diamonds in a vintage setting, from Gatsby Jewellery. He chose this one especially because it is a hundred years older than me, set in 1890. Our wedding rings are from Norah's Antiques in Oxford. Tom's is engraved white and yellow gold from the 1800s, and mine is an early 1900 ruby-and diamond band."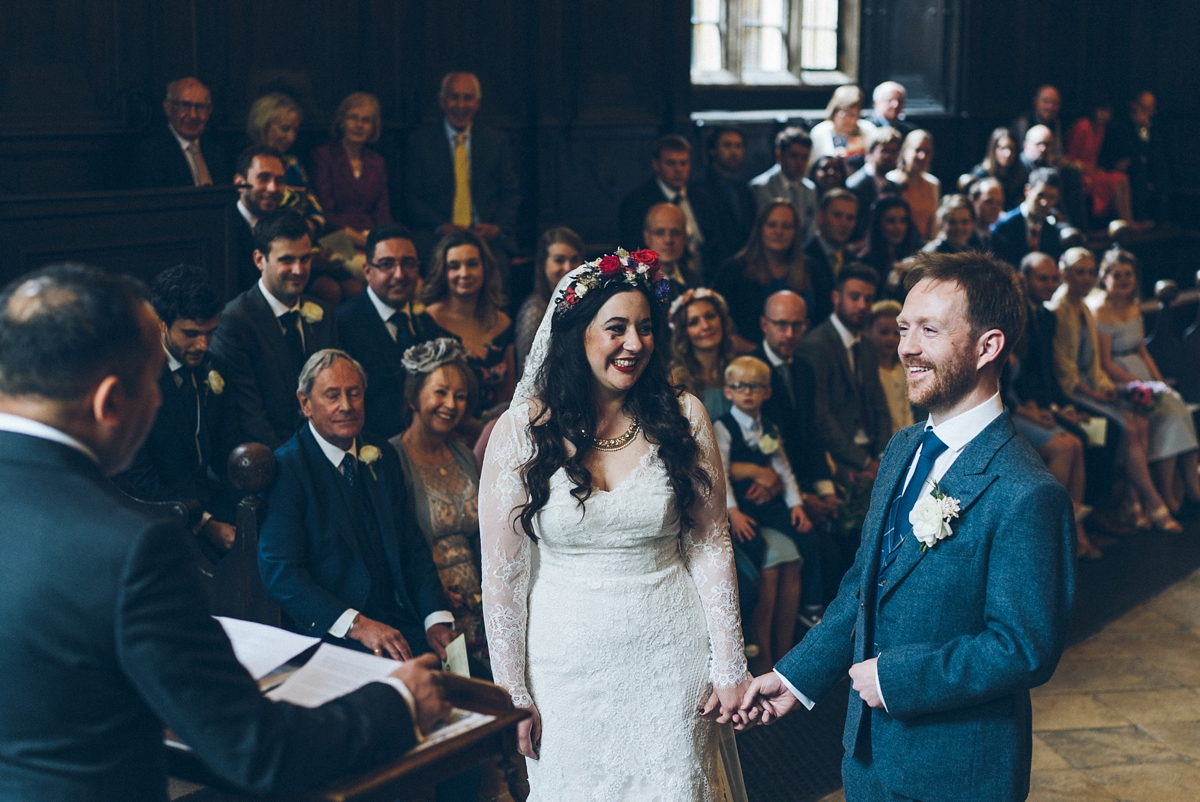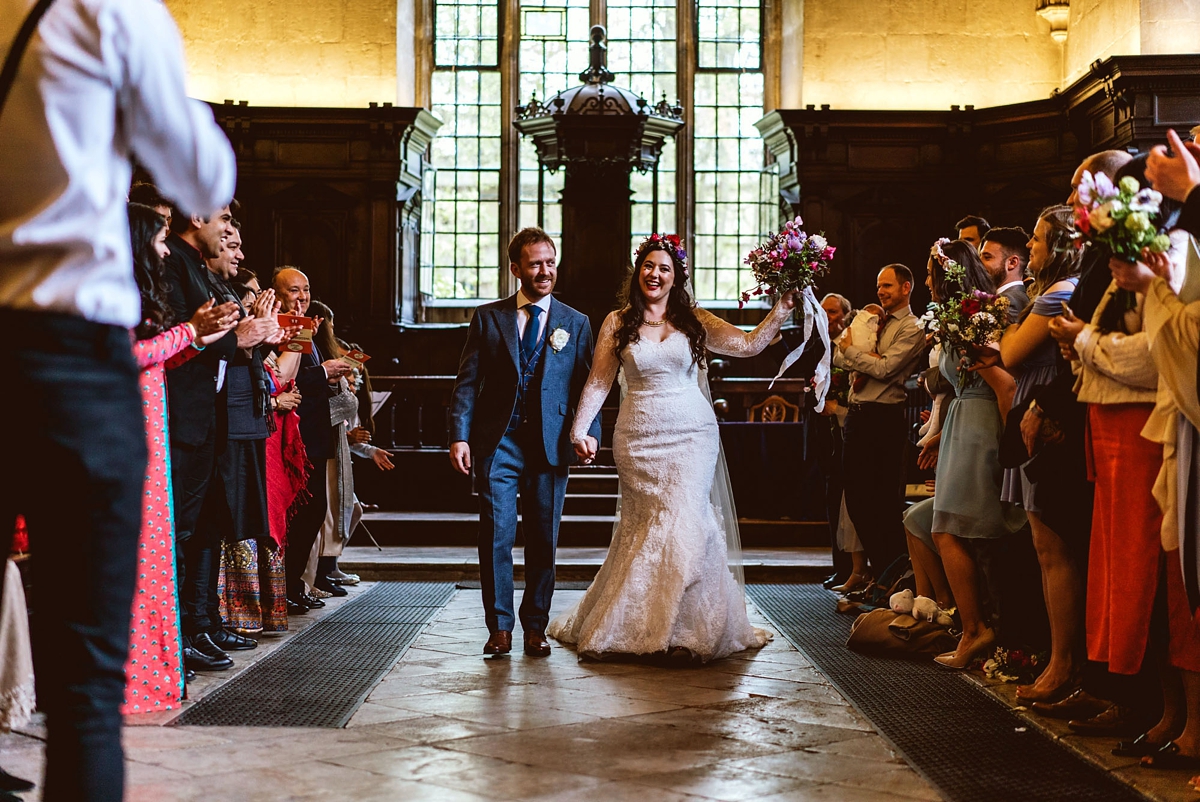 Opting to walk through the city they call home to reach their wedding reception together, the newlyweds hired a vintage double decker bus from Victoria Events to transport their guests from the library. Kiran and Tom made the most of this precious time together to have some couple portraits captured by David, Ryan and Luke from David Boynton Wedding Photography.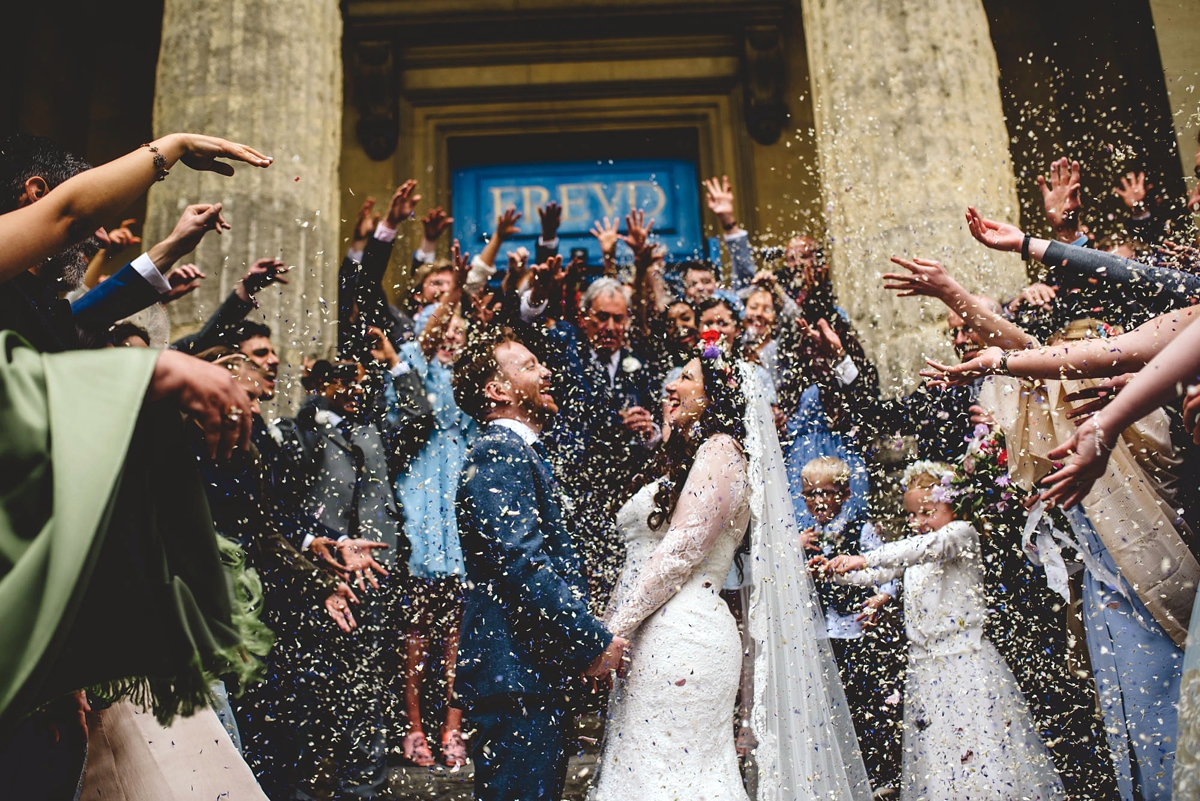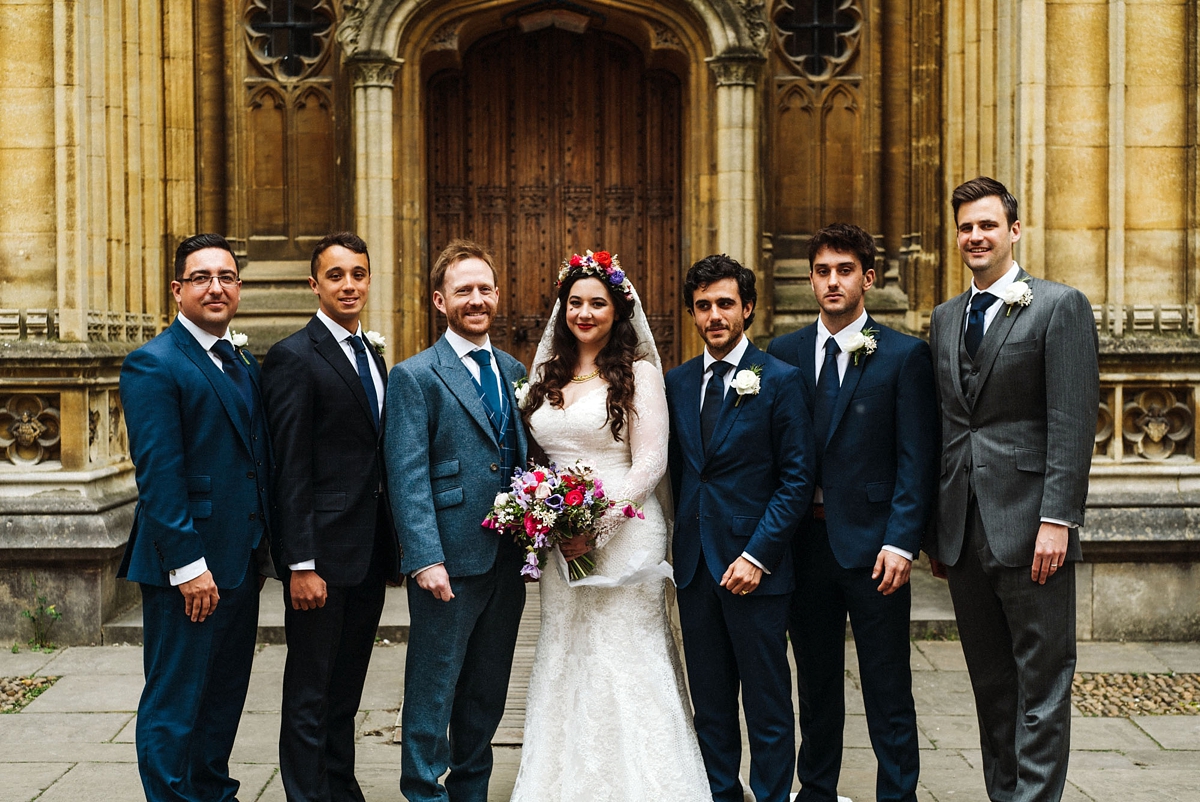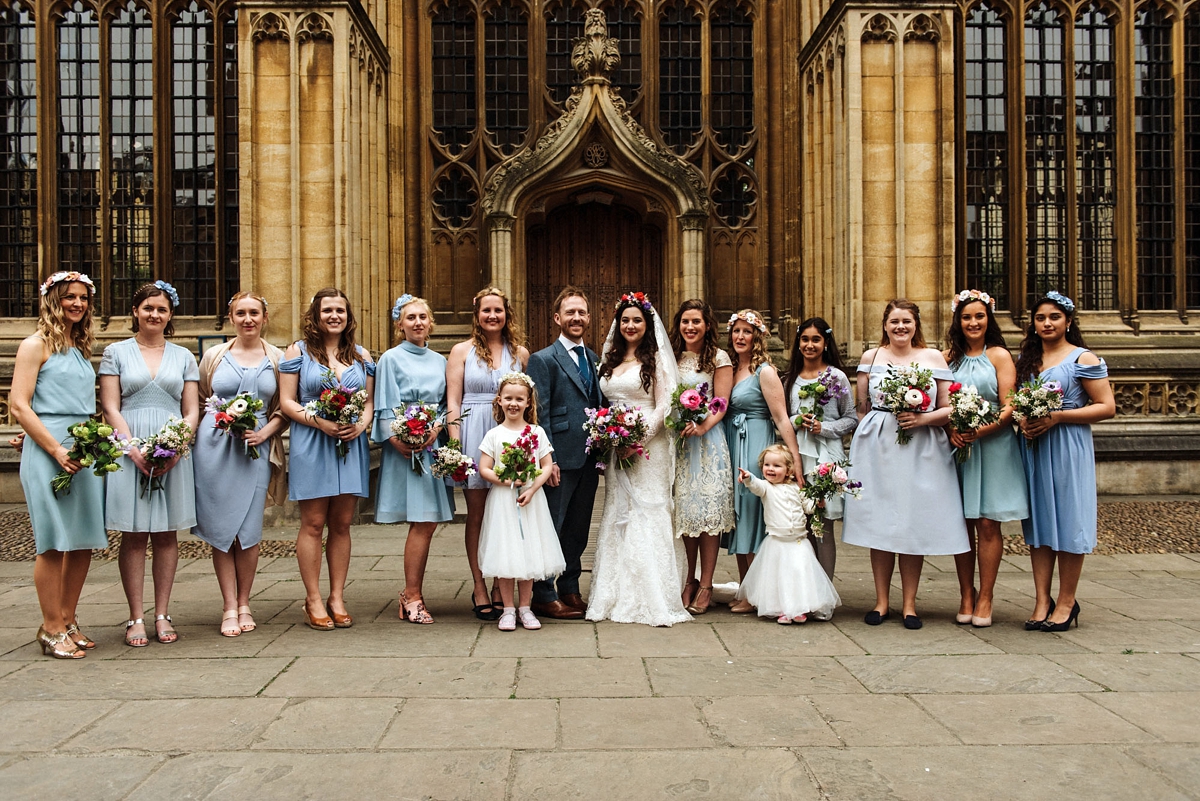 Their first walk together as husband and wife culminated in an epic confetti shot outside their reception venue, surrounded (and attacked with petals) on all sides by the love of their friends and family.
"It was genuinely the best day of my life, which I was not necessarily expecting (not wanting to put too much pressure on it), but the confetti throw was pretty special. I felt so connected to Tom and all our loved ones, and it quickly degenerated into a confetti fight, which had me weeping with laughter. It summed up the day: beautiful, colourful, and fun."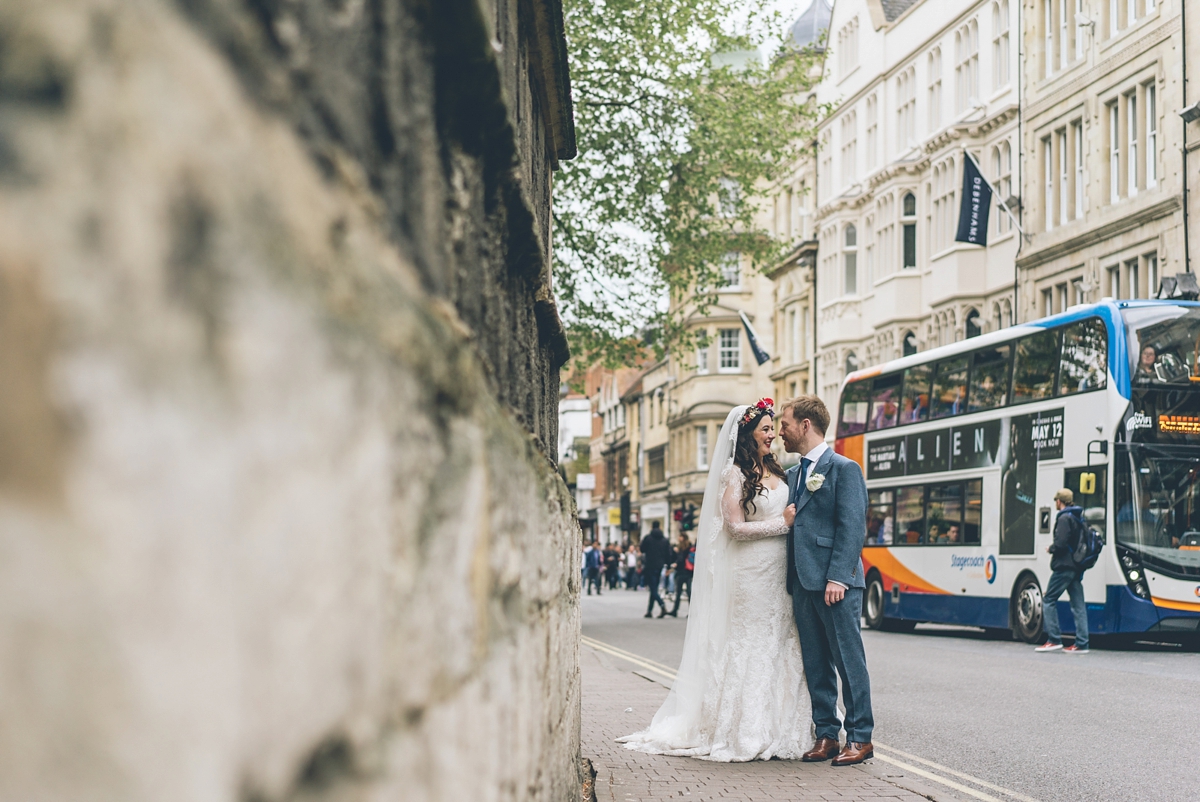 "No amount of praise can communicate how special David, Ryan and Luke are. They aim to blend in, and we loved having them as guests as well as our photographers. It was all about capturing the colour and movement of the day and the warmth and love is palpable in their images. We loved their natural yet bold style."
"Often wedding photos are great of the bride and groom, but not so much of the atmosphere and guests – that was not the case with these guys. We truly believe they are the best wedding photographers – and to prove it have hired them to cover our celebrations in India in December."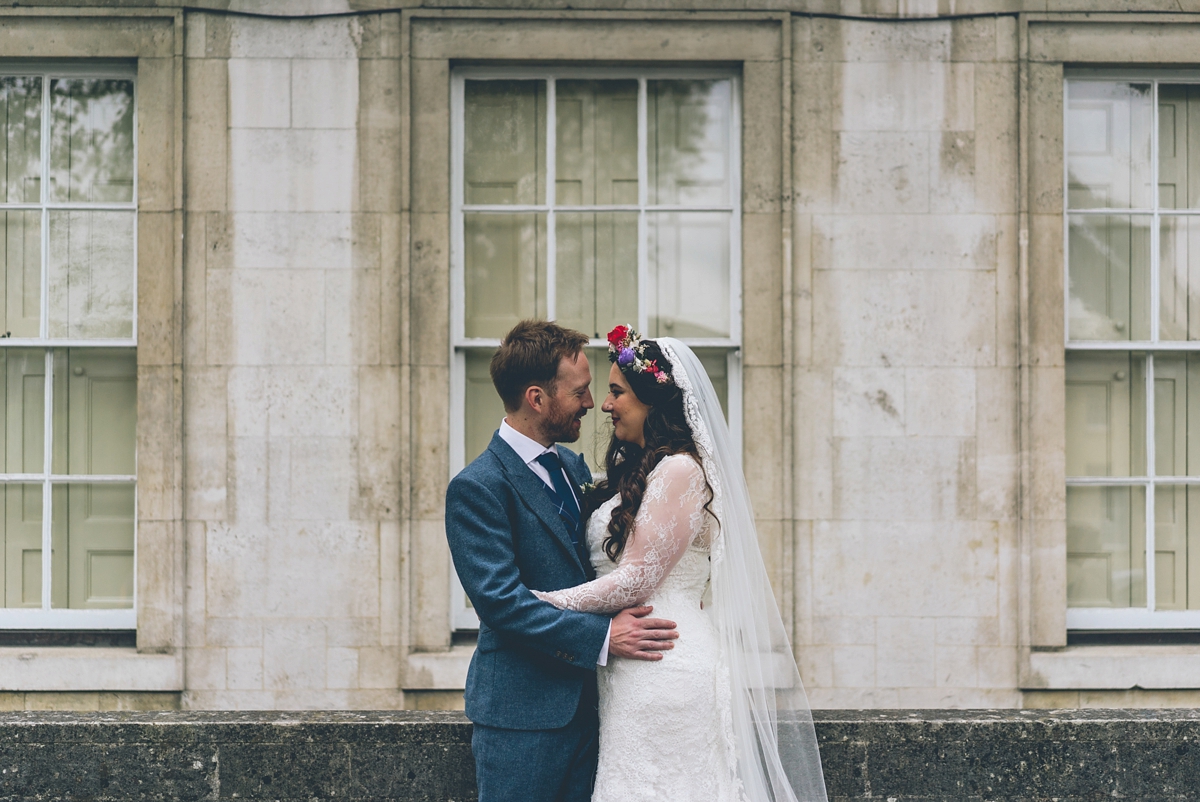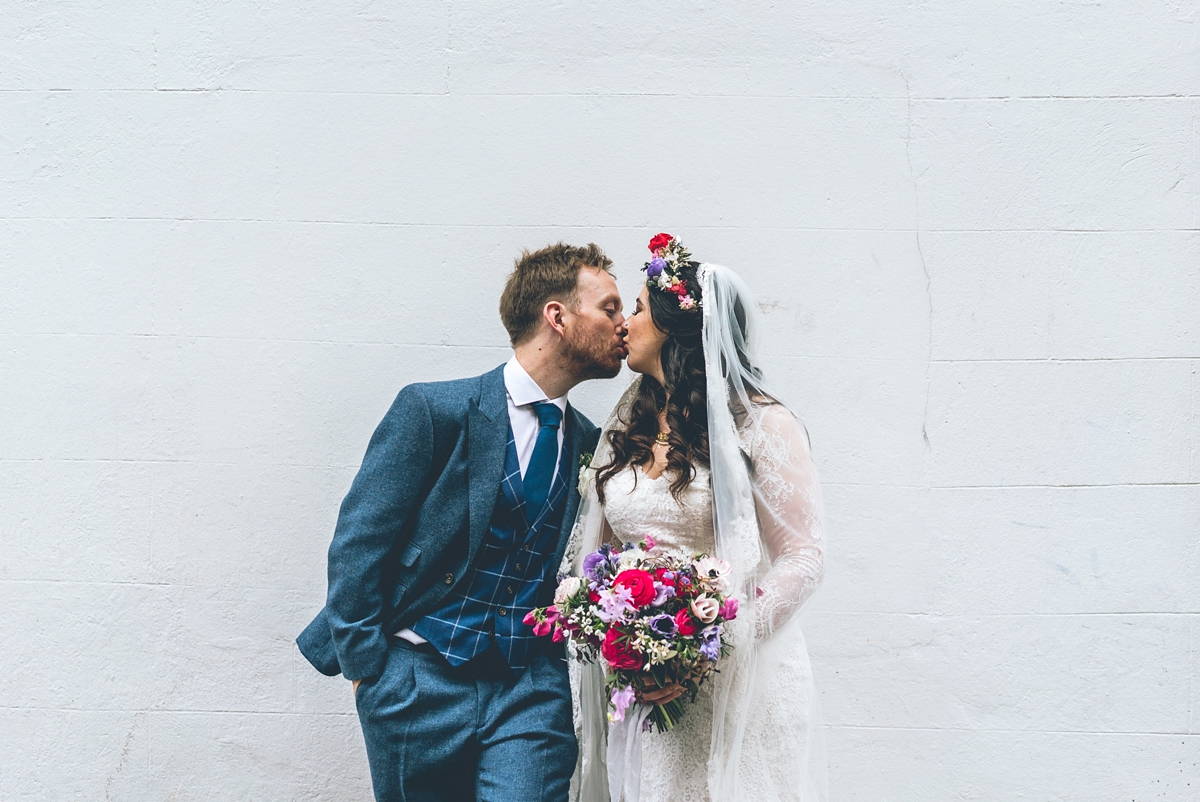 "Both our venues were very striking so we didn't have to do much. We did nothing at the Bodleian. For Freud we hired long tables and arranged it in a Hogwarts-esque formation. We dressed them with hardback books from charity shops, pillar candles, flowers in weck jars, and ivy from our garden, which Tom sprayed gold."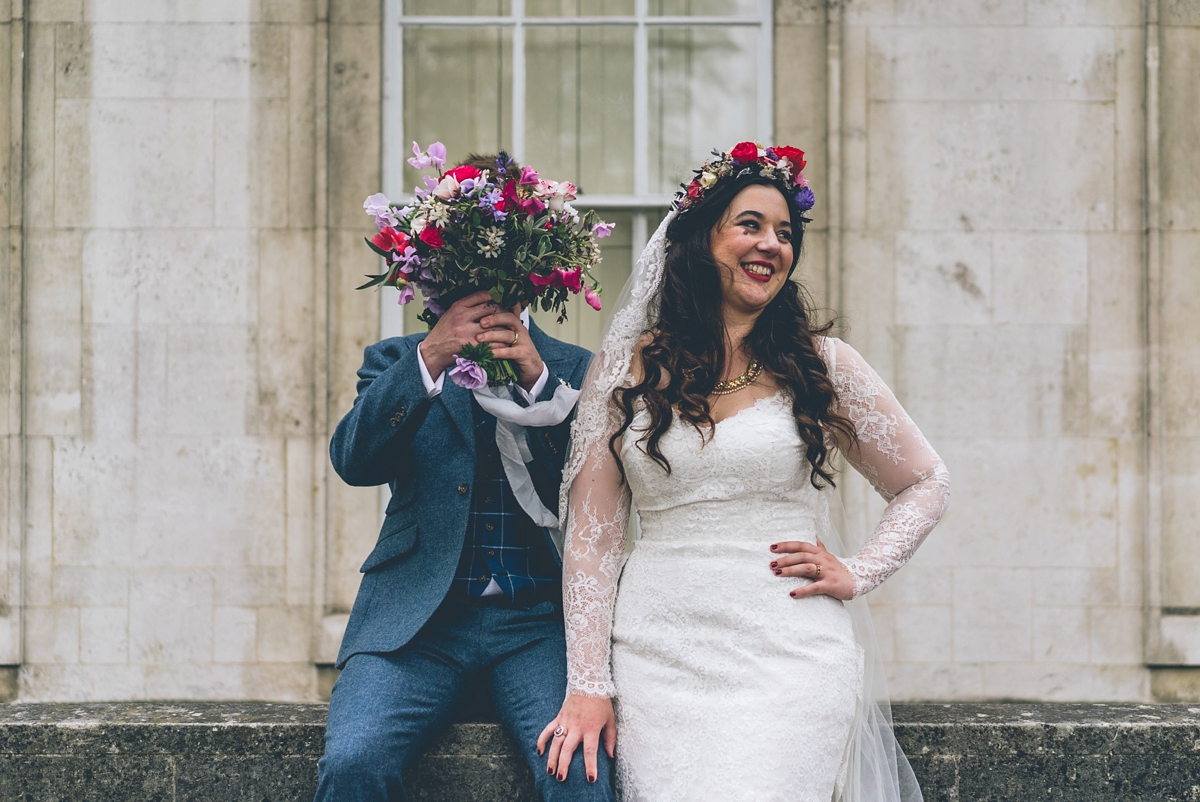 "Our friend Jessie made hundreds of paper cranes from wedding magazines, to string along the wall alongside fairy lights. Last minute, I impulse bought gold inflatable 'K & T', which was not at all in Tom's vision, but he let me have them – I love balloons! We also had a photo table showing our parents and grandparents on their wedding days."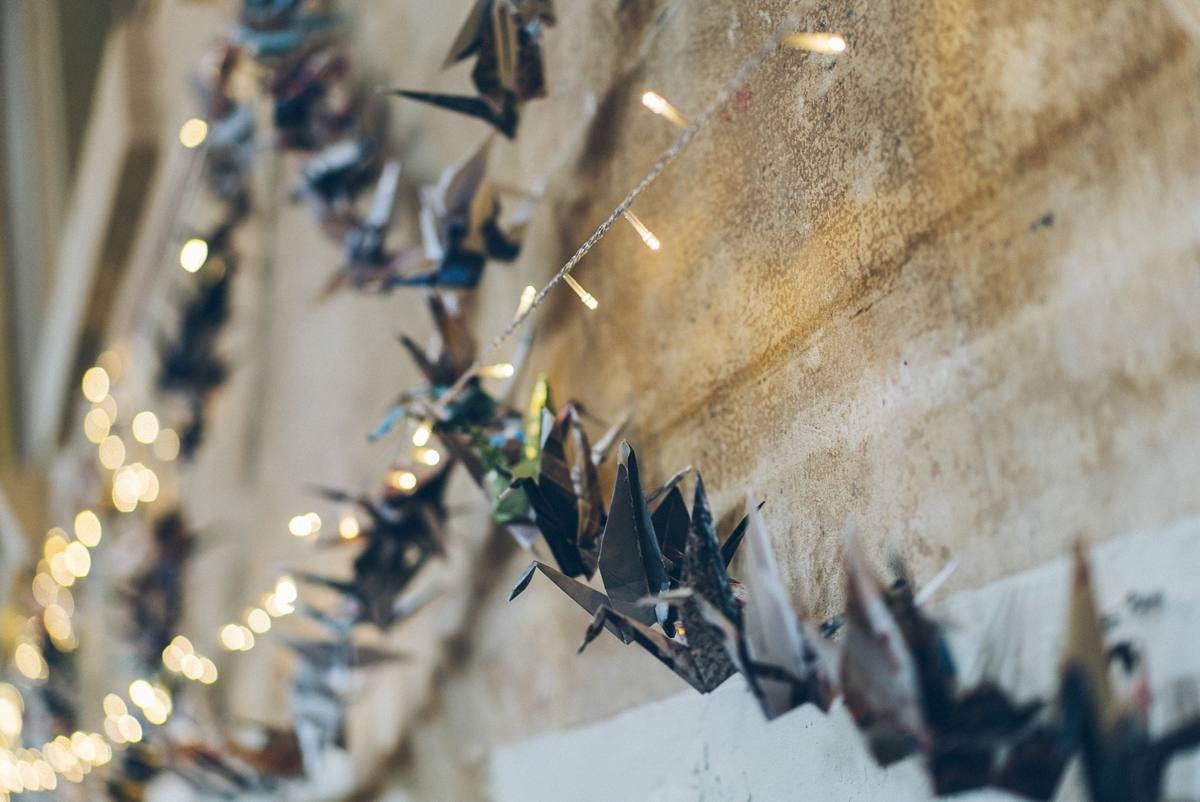 As Tom is an artist, he designed all of the wedding stationery. For the invites, place cards, and order-of-the-day cards, he used a Penguin Books layout, and the couple made their own table plan using a world map, naming the tables after their favourite art galleries from around the world.
Kiran and Tom also crafted their wedding favours, Tom painting postcard-sized bits of paper with his characteristic storm designs, printed over with favourite lyrics, poems, and excerpts from books.  These unique gifts were framed in blue, a perfect combination of Kiran and Tom's passions, and small enough to be slipped into their guest's bags and taken home.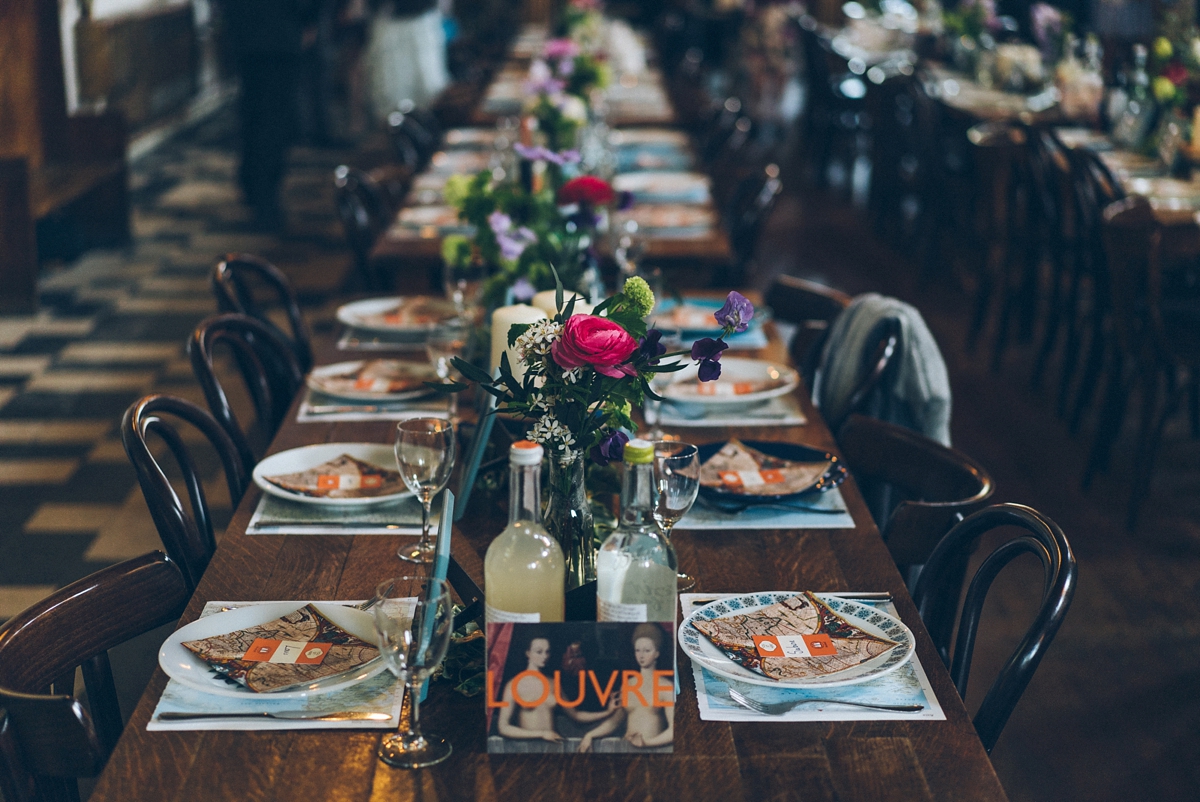 "We love food, and booked our favourite restaurant, Al Shami, a family run Lebanese restaurant in Oxford to cater. They were wonderful, making a feast of our favourite mezze, and everyone talks about how amazing the food was. I really recommend approaching local restaurants if you are lucky enough to have freedom at your venues – it's cheaper and often tastier than a mass cooked but individually portioned three-course meal. Mezze is made for feasting."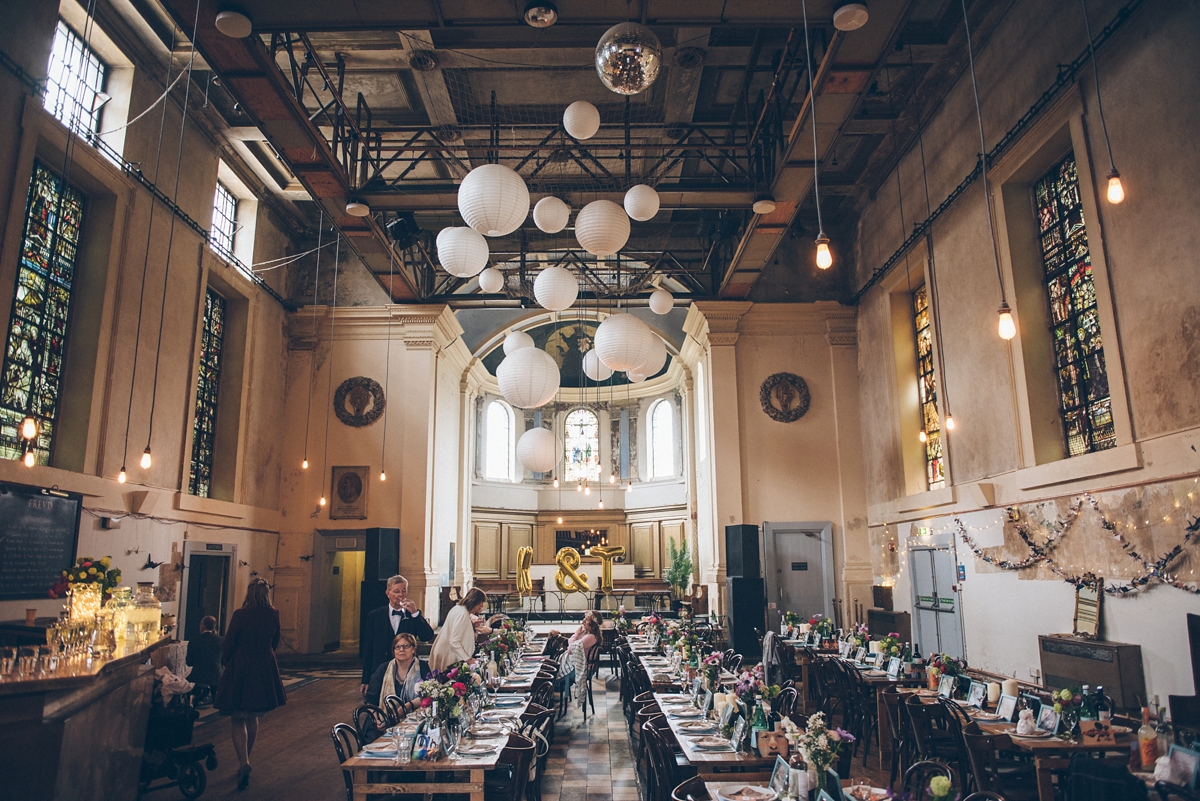 The newlywed's neighbour, friend, and chef, Hannah Bond made their cake. After tasting many samples, Kiran and Tom settled on salted caramel with edible flowers, plus a specially-made dairy, sugar and gluten-free cake.
Hannah also made gorgeous macarons, which are her speciality and the couple were delighted to have been able to take a piece of her deliciously decadent cake to freeze and keep for their anniversary.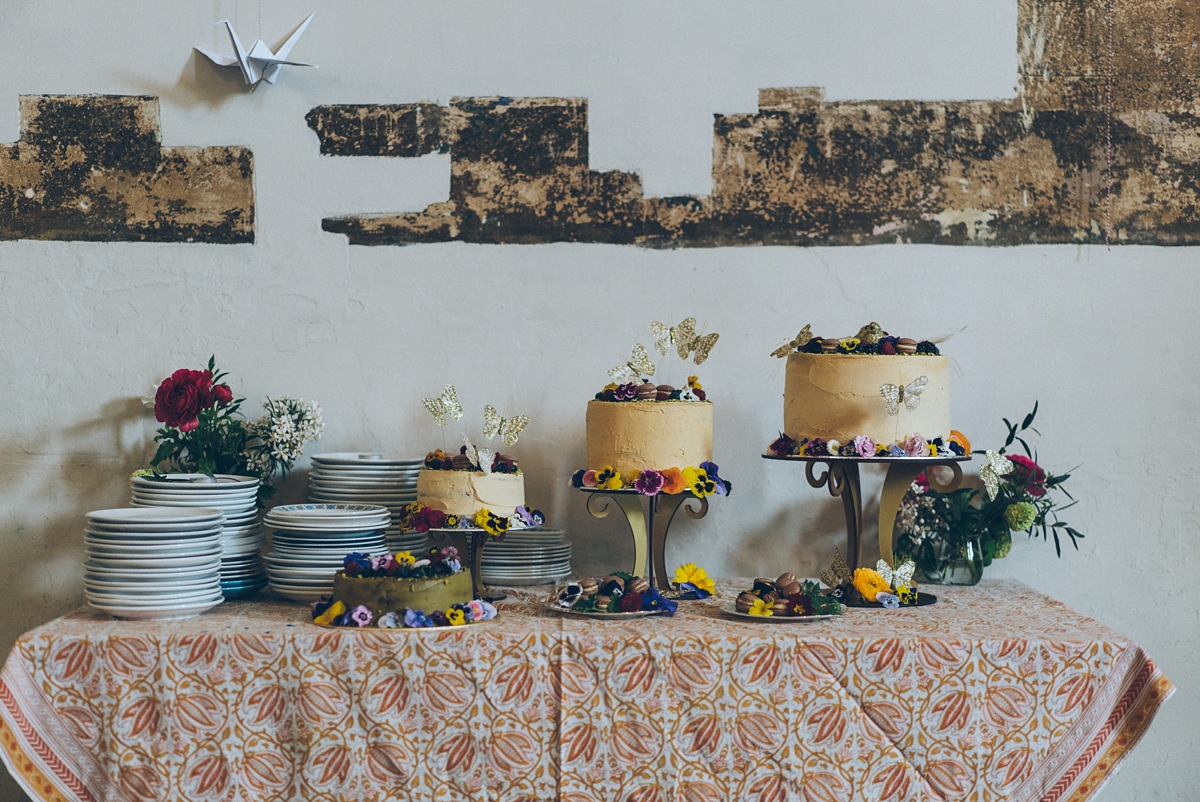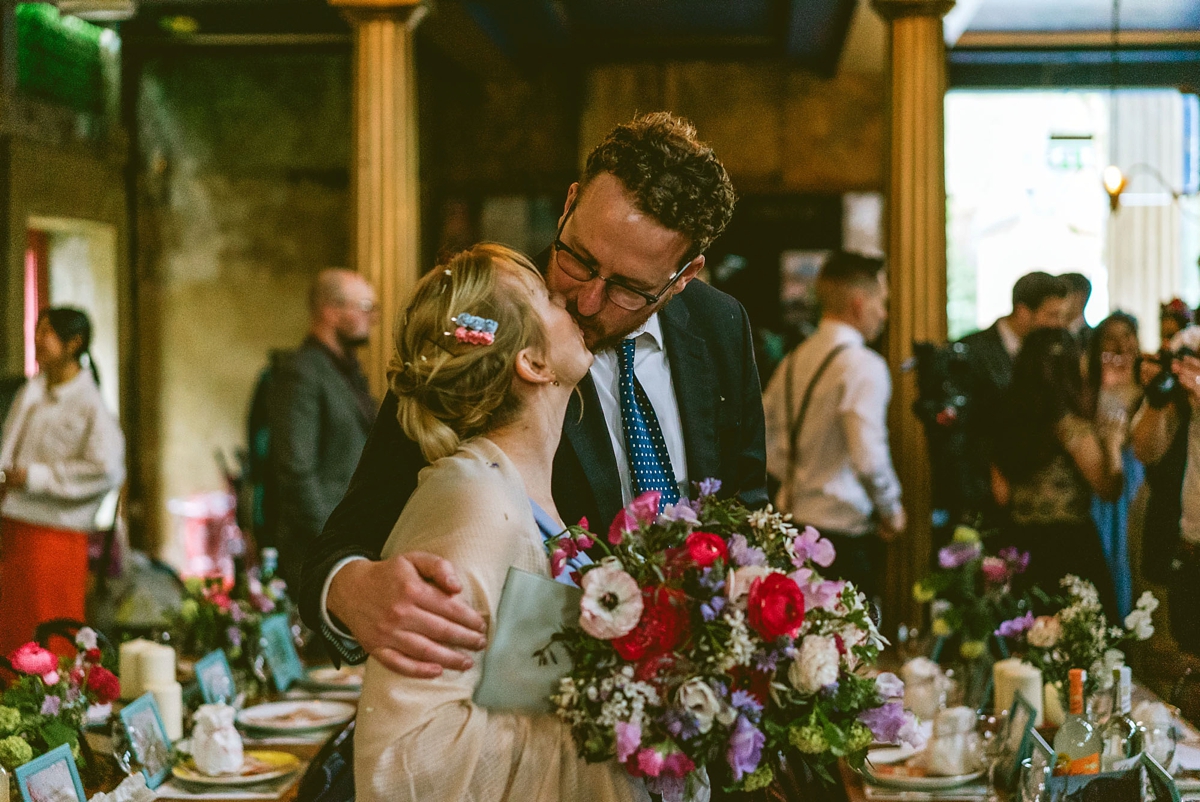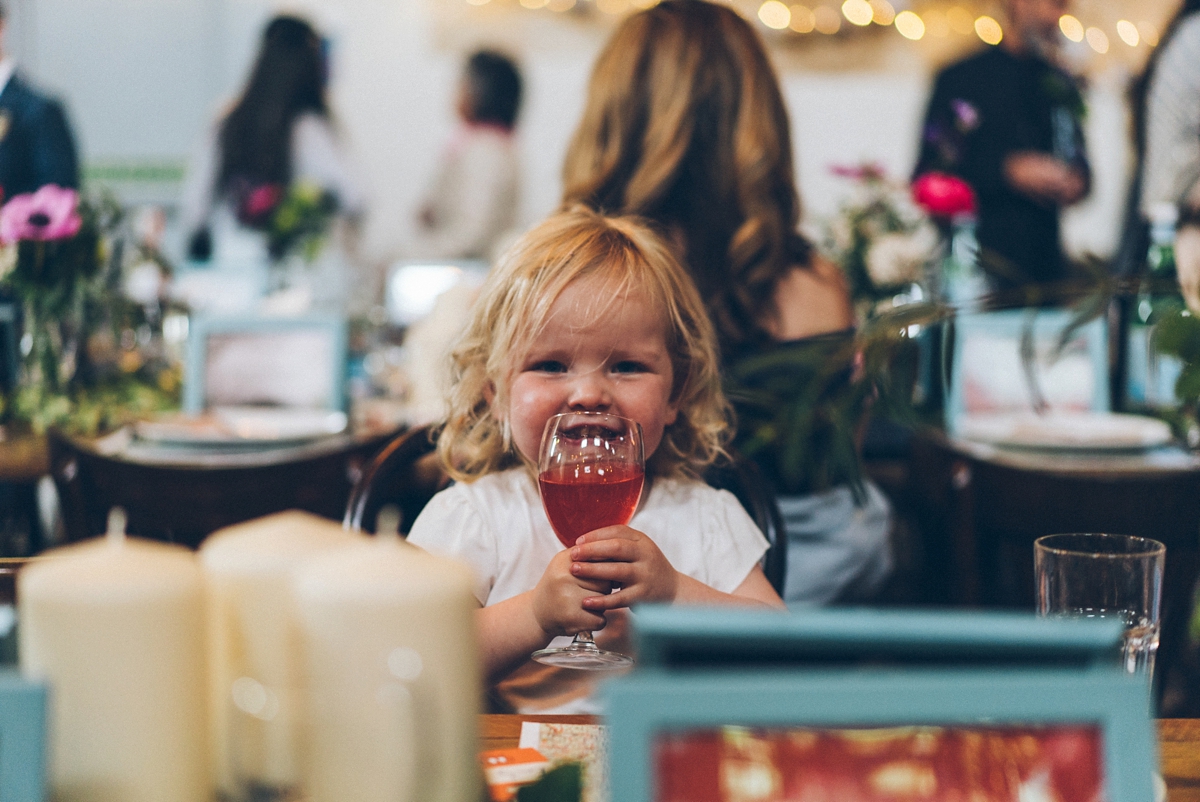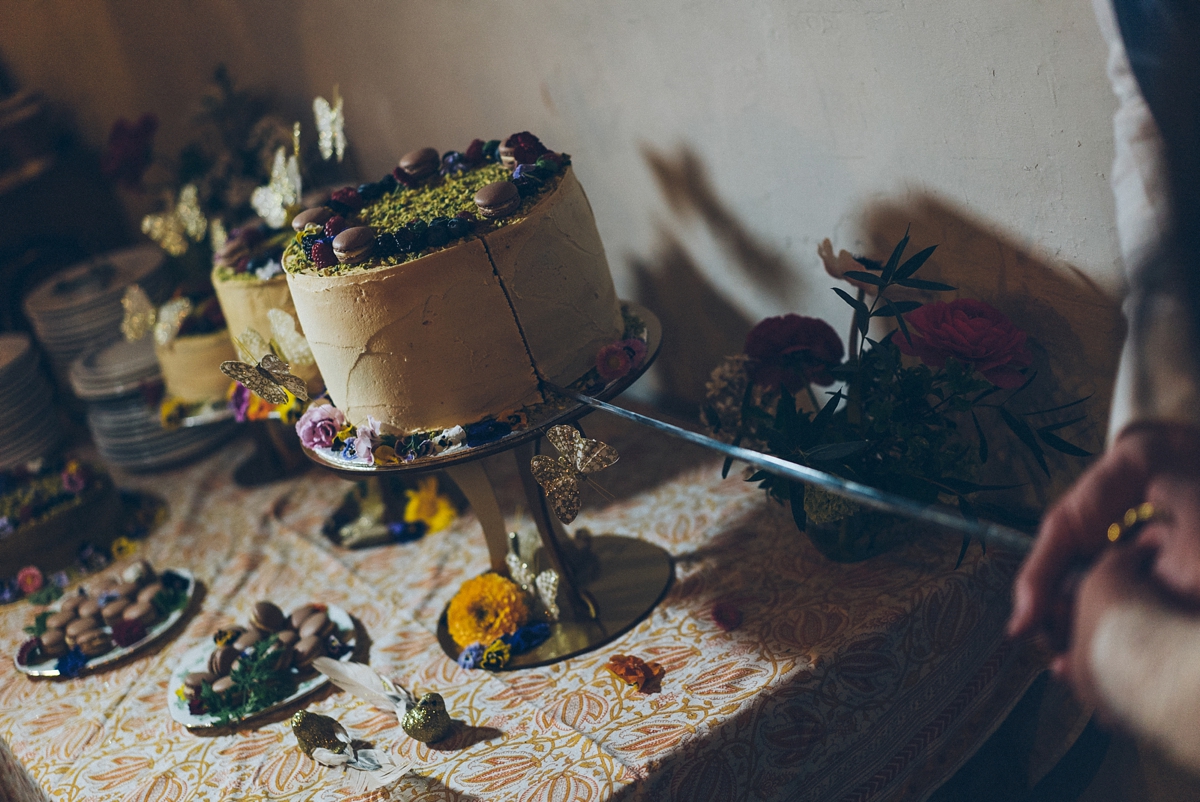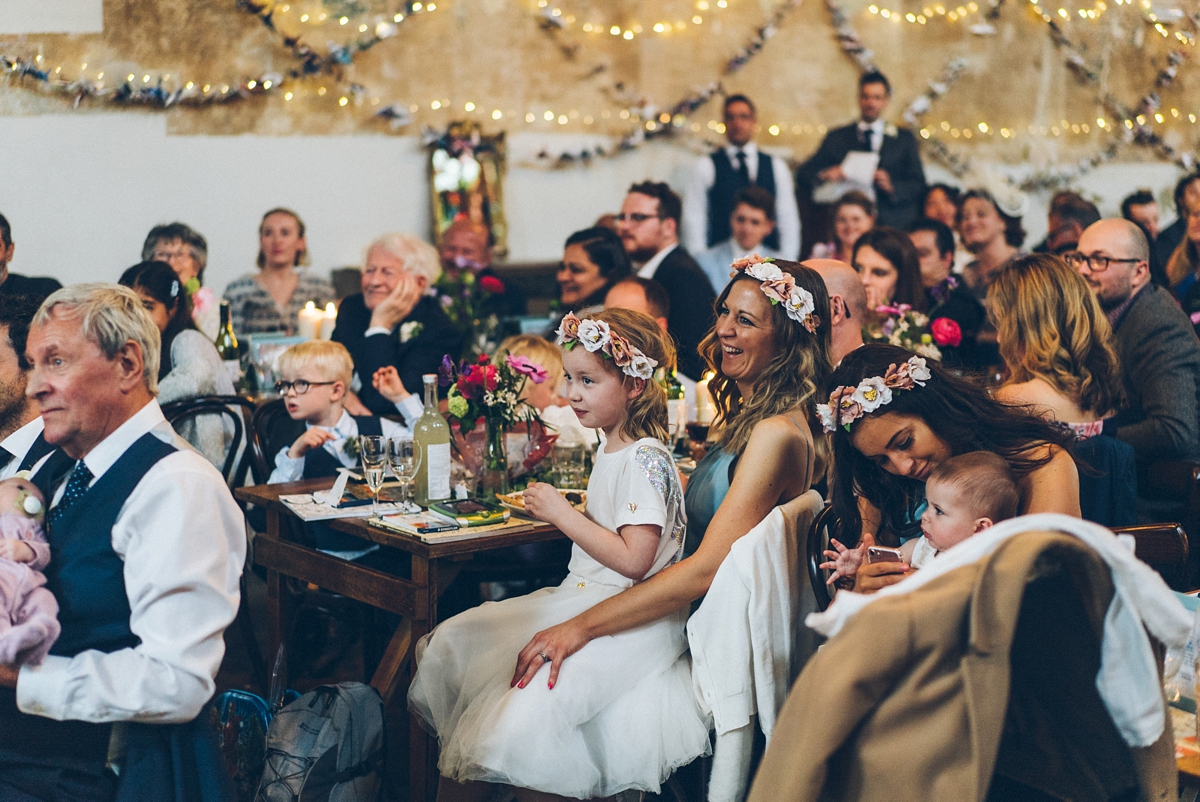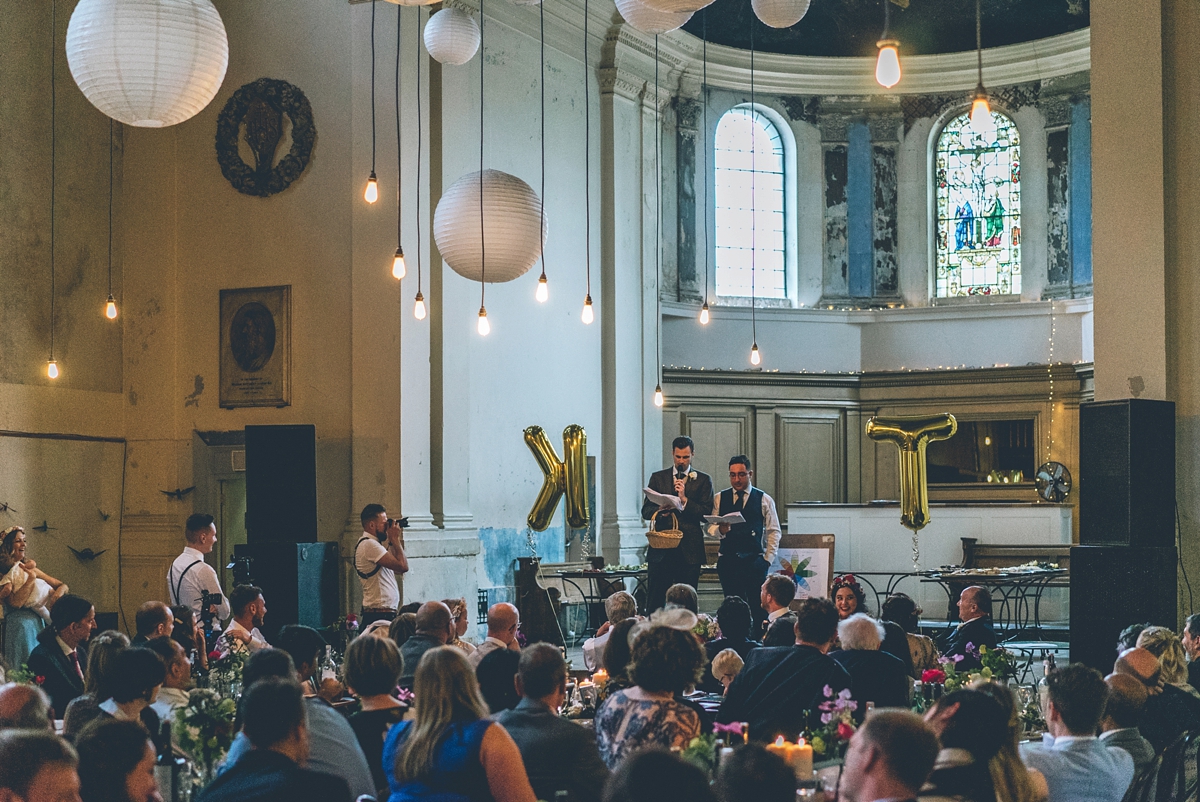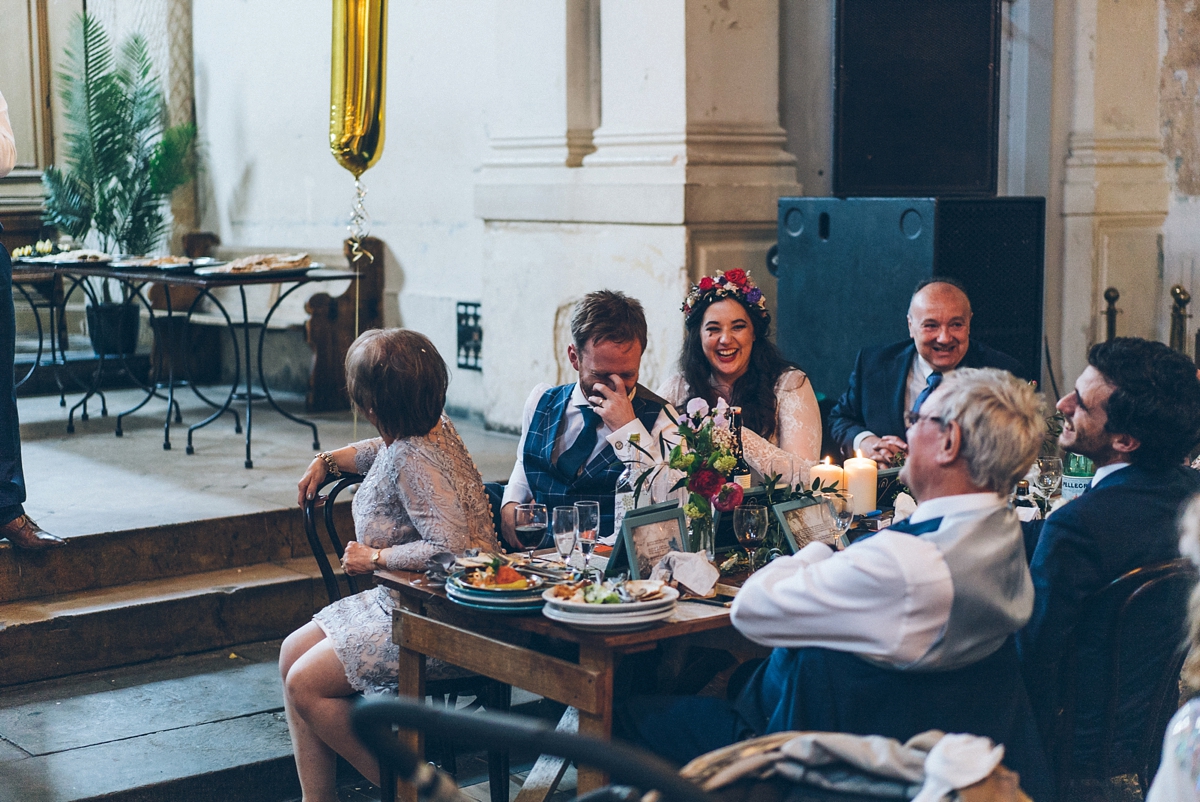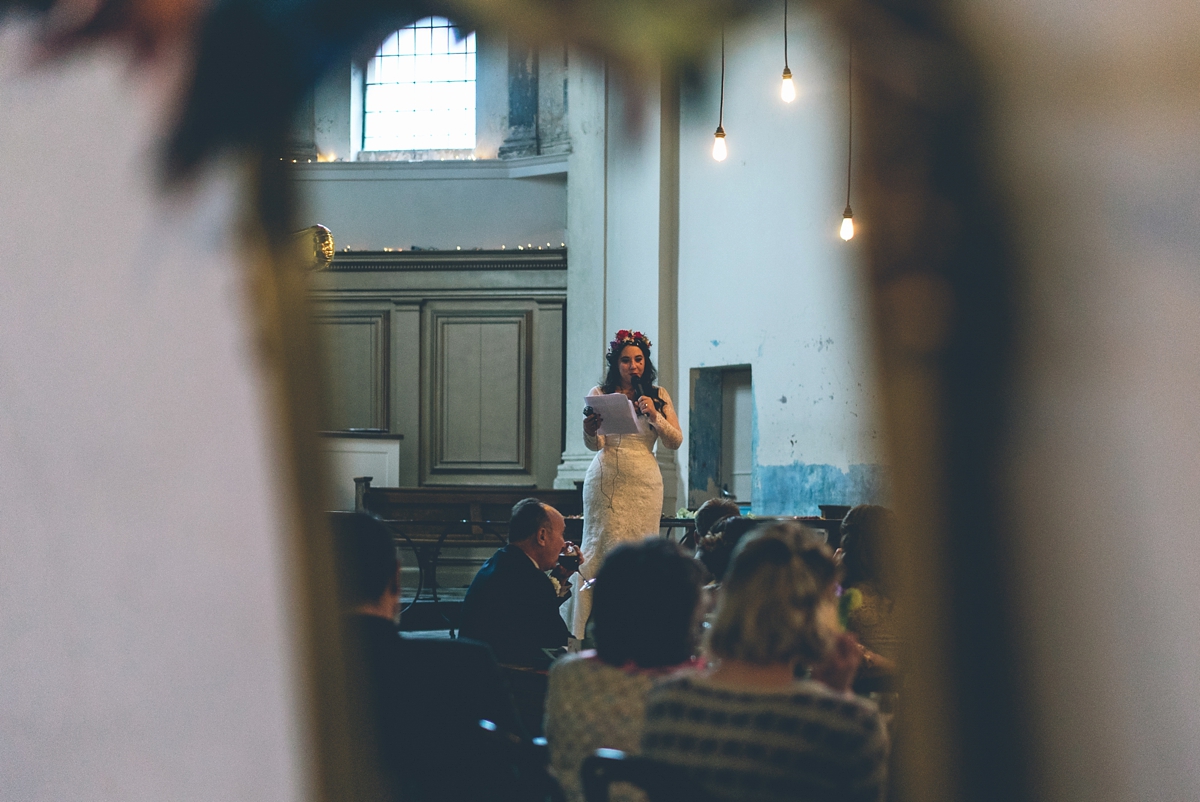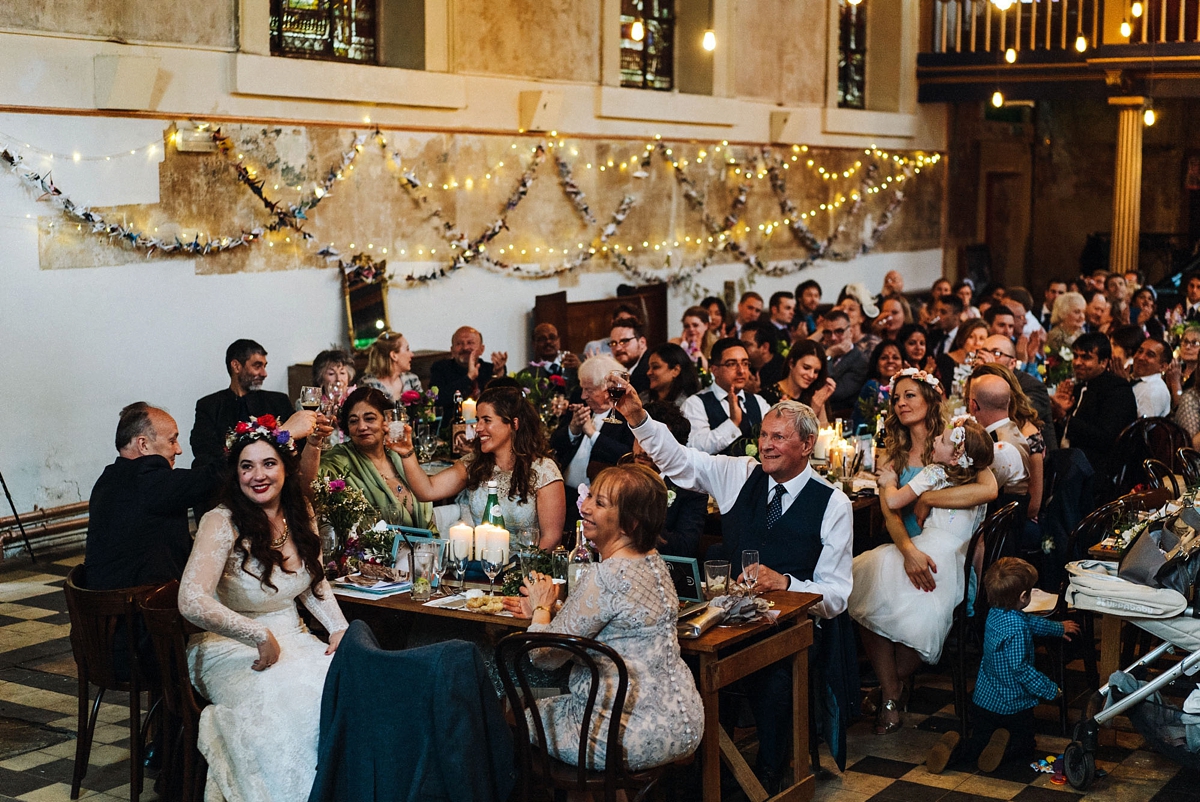 "Our friend Max Fagandini runs a wedding band, so we were very lucky to have the incredible (and usually incredibly booked up) Martinis for our reception. We chose 'We've Only Just Begun', originally by The Carpenters for our first dance. We asked our friend Max Barton, who was unable to attend the wedding, to record a version using the phrasing of Bat For Lashes' cover. Max has a gorgeous voice and it is a stunning cover."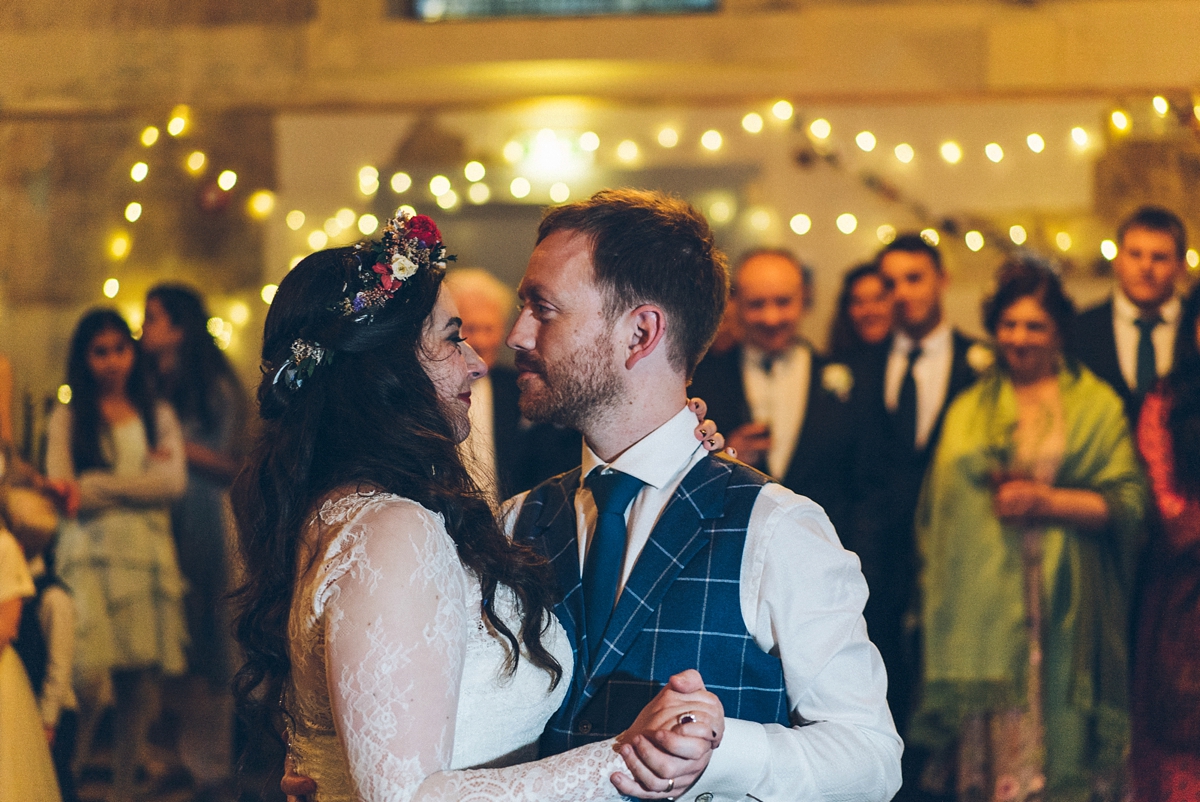 "Tom and I have many important songs, but our taste errs either towards the mournful – (Johnny Cash's cover of The First Time Ever I Saw Your Face, Into My Arms by Nick Cave) or the hyper (This Is Love by PJ Harvey, She's Lost Control by Joy Division)."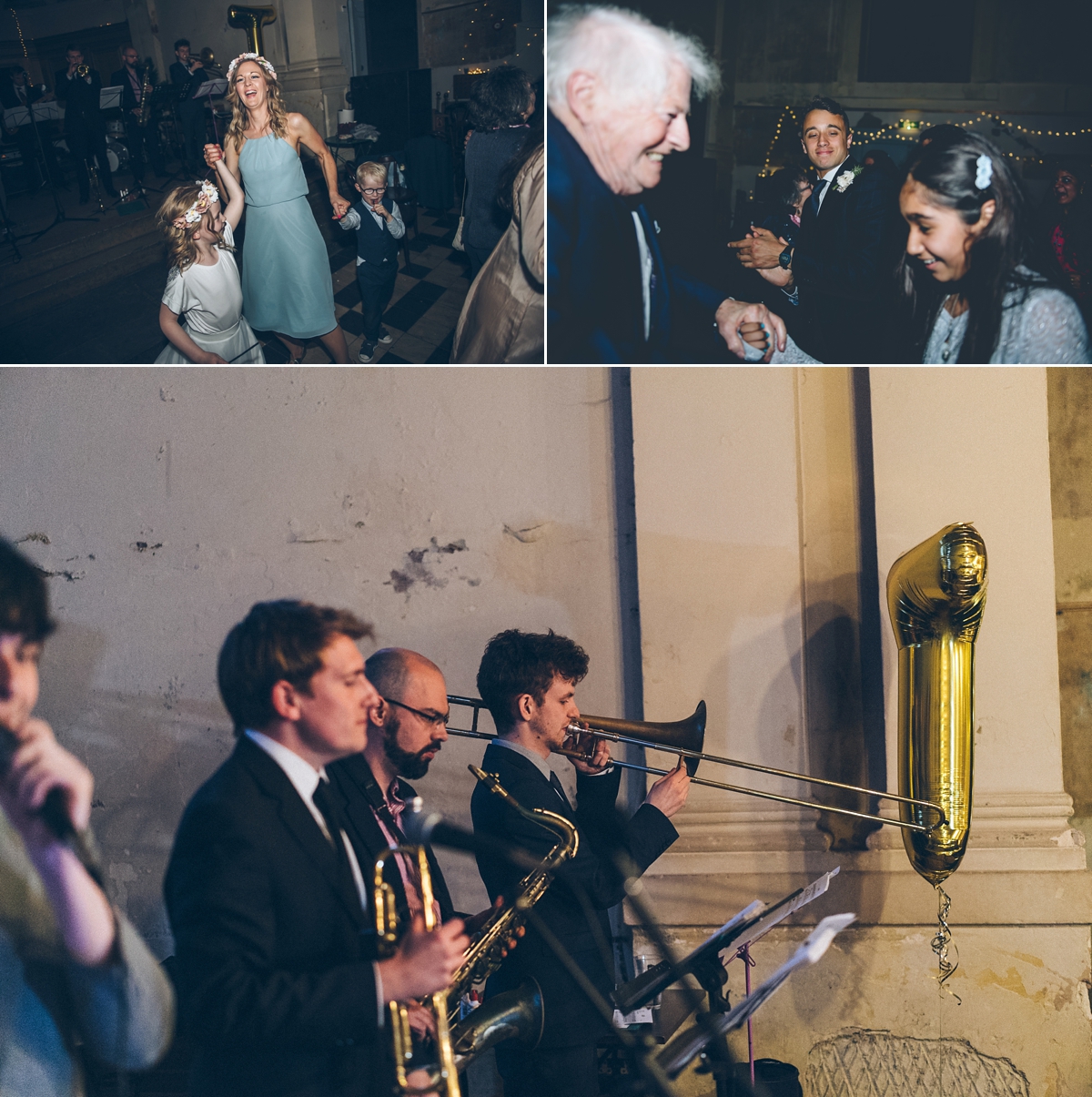 "We wanted something beautiful, and sweet, and true for us at that moment, and the lyrics of this song – 'white lace and promises, a kiss for luck and we're on our way' felt so moving. It was also perfect for swaying and gentle twirling, which was a lovely warm up for the Bollywood dancing that came later! It wasn't 'our song' before, but now it's 'our wedding song'."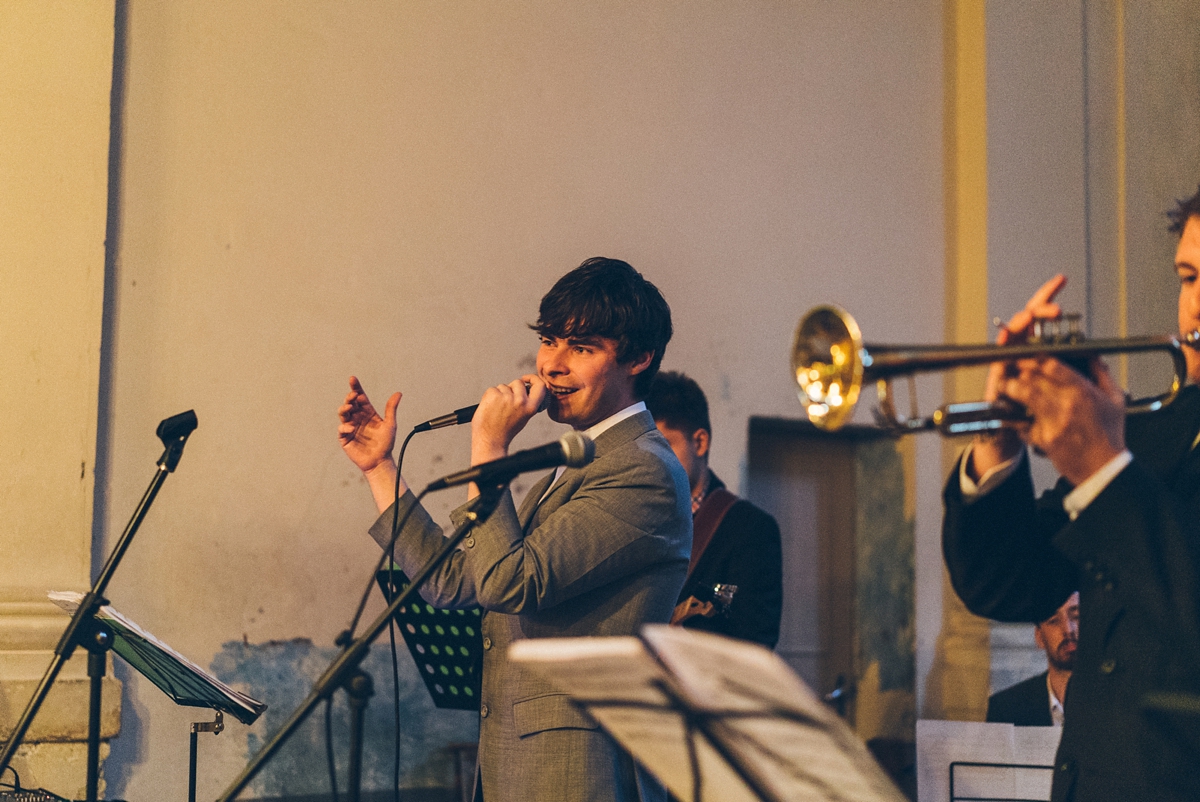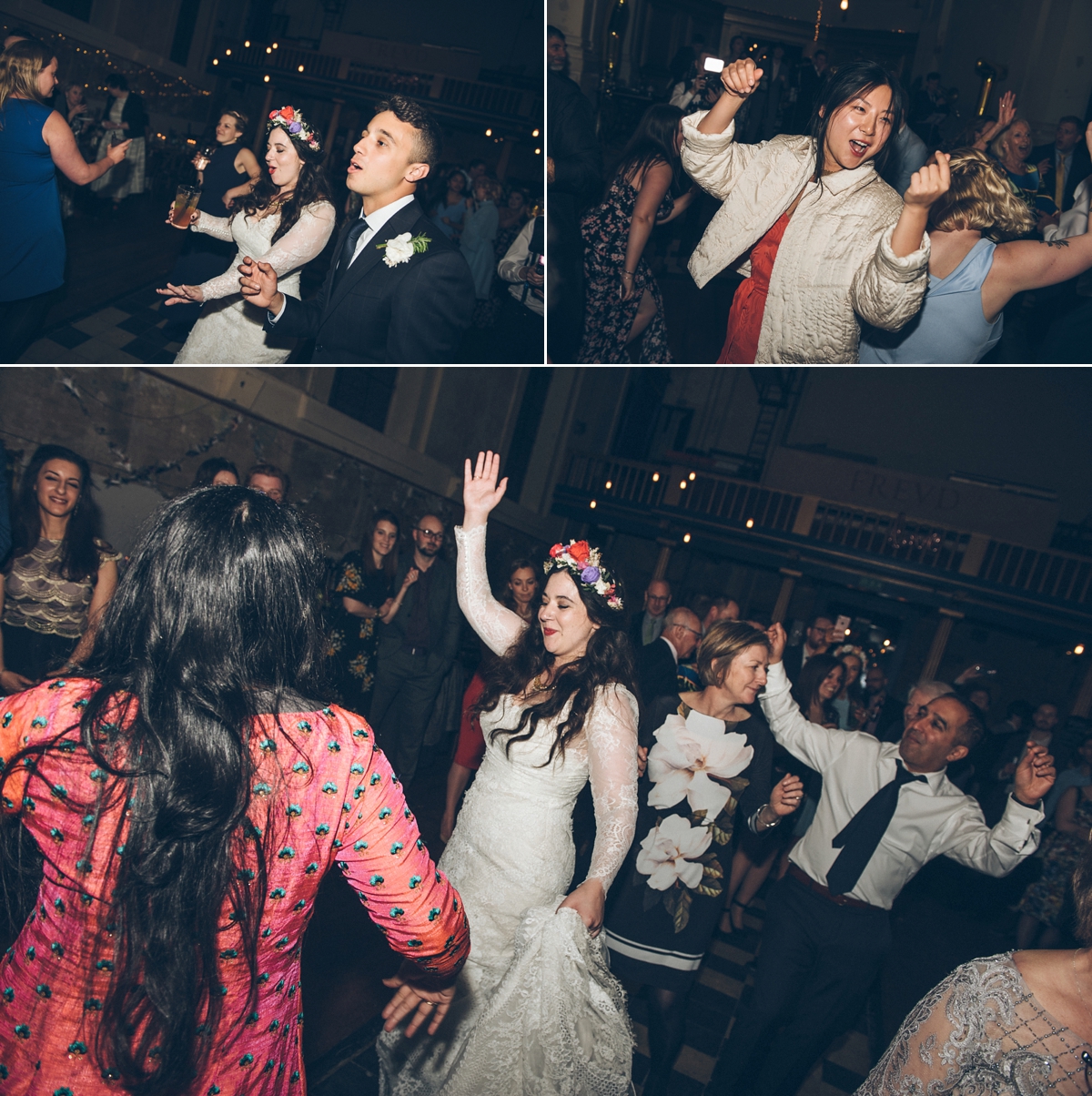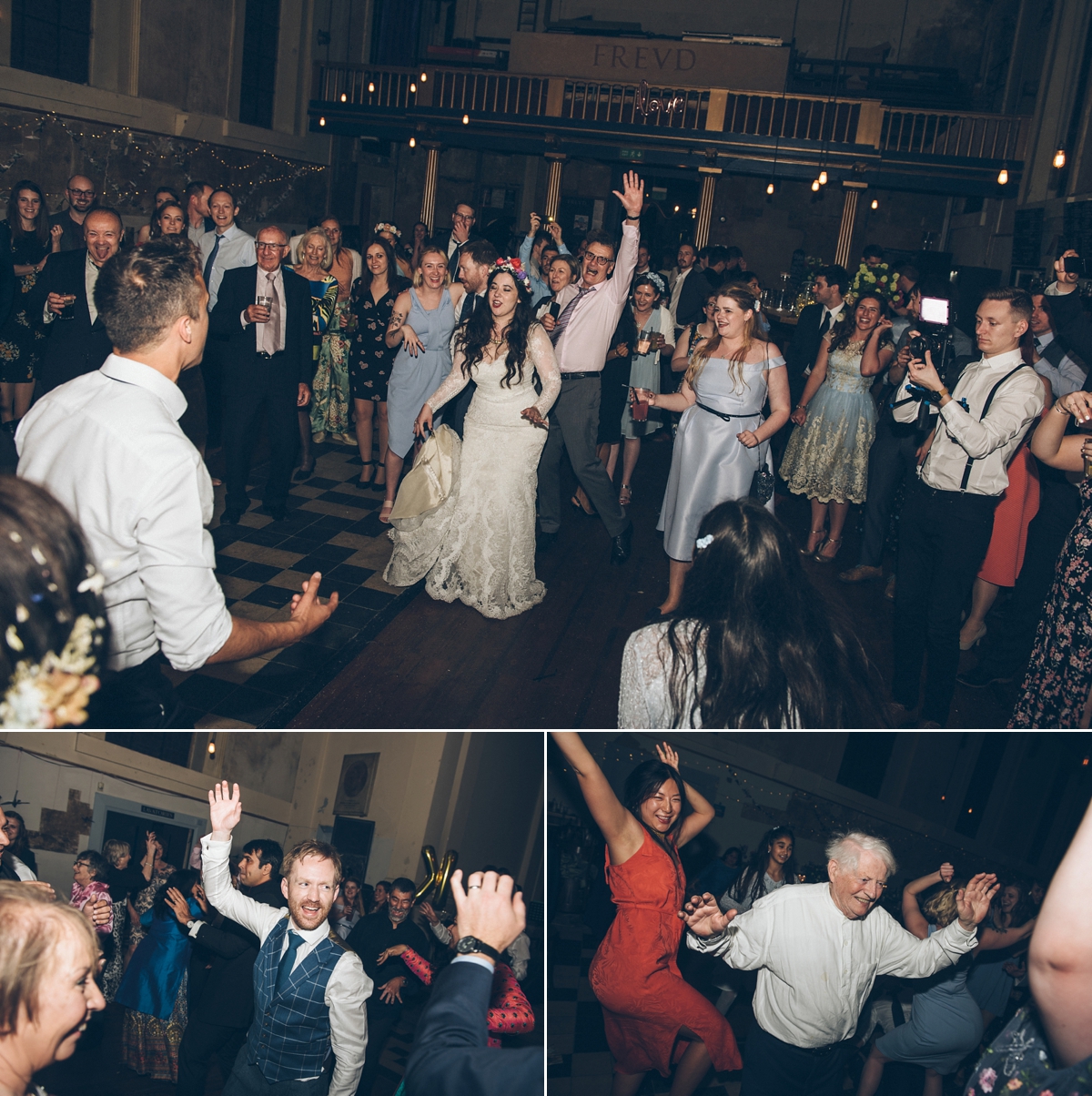 Words of Wedded Wisdom
"Really think about what makes your relationship different to other people's, and try to reflect that in your day. Dispense with unnecessary details – Pinterest is great for ideas, but you don't have to turn into a craft queen."
"Don't worry about what other people think – do it your way: I had eleven bridesmaids and it was brilliant. And if you can afford to, a great photographer and videographer was the best investment we made."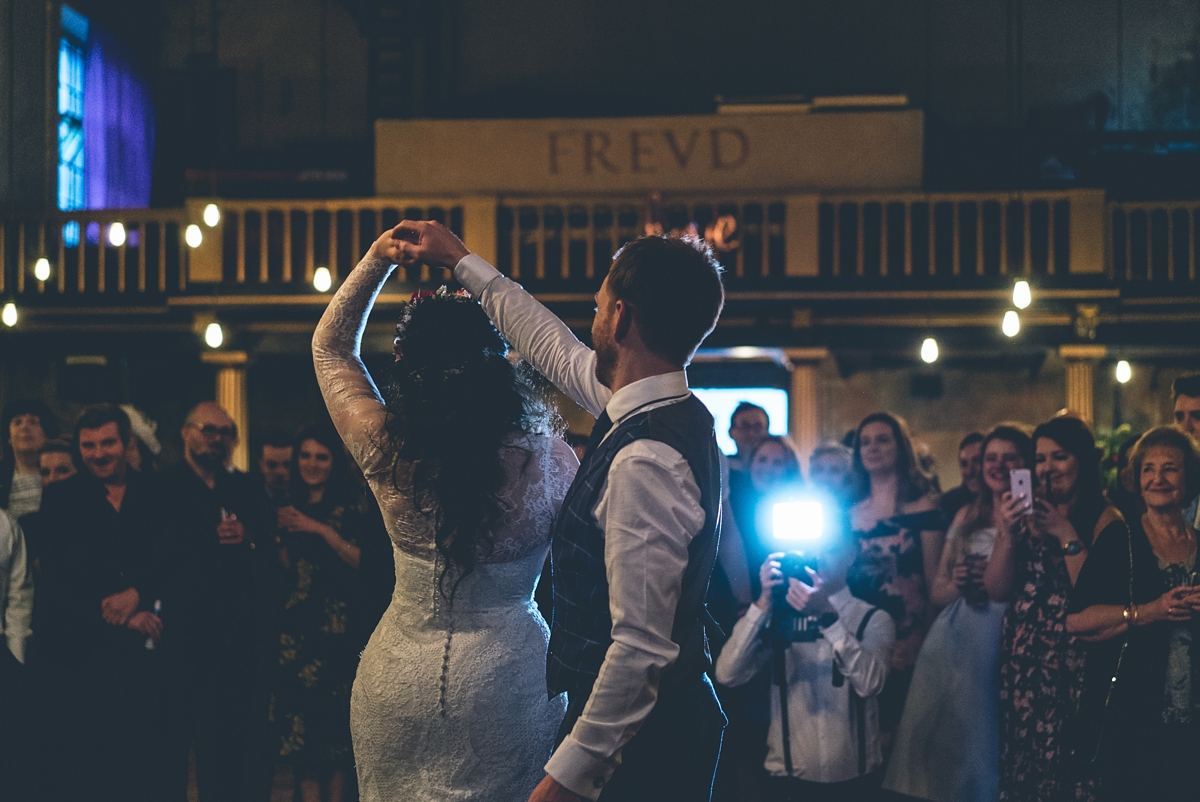 All that remains is for me to say a very heartfelt thanks to Kiran, Tom and the very talented guys at David Boynton Wedding Photography for sharing this beautiful day with us all.
With love,
Em x