Hello, my name is Sandra, and I was going to be a bride. I am not sure how to start this feature –  I'm not a writer. I actually make beautiful things for other brides, but I'll try my best.
I have a dried flower crown business called Sophie and Luna so I can write about flower crown trends or how to wear flowers in your hair, but this piece is not about tips for your wedding day. I'm going to talk instead about something that happened to me a few months ago, before my elopement wedding on 29th January in Las Vegas. The story ends with a still single me, here today, writing for you and talking about real love. The kind of love you should have for yourself.
Photography by Natalie J. Weddings
Please don't panic – this isn't a negative story about being dumped.  Yes, my ex broke up with me six weeks before we were due to marry. But this is what I did instead.
All of a sudden I had to leave home, and I also had to move my business workshop back to London. And all of this during Christmas. I was so busy fulfilling orders and didn't think I'd cope with the pressure. The emotional sadness was intense. I cried hard.
But instead of an unhappy ending – my story really started right there.We had been due to elope to Vegas, just the two of us.  To be honest I don't like being the centre of attention, so his idea of getting married in an intimate ceremony in Vegas seemed excellent, especially as I had actually already been married and divorced.
As I work in the wedding industry, I planned everything very quickly. We had the wedding date, flights, hotels, outfits and even the most amazing photographer booked in just six weeks. I'm not a wedding planner – perhaps I should consider it?
A week before Christmas, we had a chat. His words came as a shock. He told me he wanted to step back, to go back to having a light relationship. A light relationship!? That was not ok with me.
We talked more, and it turns out by 'light relationship', he actually meant low commitment. I was devastated.
Did he regret proposing? Did he even want to be with me at all? Had he got cold feet?
I had no idea.
The wedding simply couldn't go ahead as we had planned and my world began to feel like it was beginning to fall apart.
Throughout all the upset, I remained open to still going to Vegas, to still making an attempt to enjoy the trip, just minus the wedding.  I truly thought that if we cancelled our nuptials, we could still go out there and be together and allow ourselves time to enjoy each other's company without any pressure. I thought that this might encourage him to communicate more openly and positively with me.
It took just a few days for him to come round and tell me that he didn't actually want to be in the relationship at all.
After a year and a half, living together and planning to buy our own house and build a family – he wanted out, and that was it.
What was my reaction? I'm Spanish and my, do I have a temper. Hell yeah – I went crazy! At this point I didn't care at all about the wedding or any future plans. I was absolutely heartbroken. Moreso, because it would turn out he'd been feeling this way for a long time but hadn't had the courage to approach me and talk about it.
In that moment he told me he wanted to end things, I felt like I'd lost everything- my lover, my friend, my future.
How had I not noticed his unhappiness? I was so in love that I didn't realise that the lack of communication we had was because of his low interest to really be a team, together, a unit for life. I'd been happy and was enjoying our lives together. I absolutely loved him. Even when we argued and fell out, the love and forgiveness I felt for him was immense.
But it turns out he simply didn't feel the same, and now, it was time to move out.
I spent christmas on my own, looking for a place to stay back in London and also looking for a studio for my flower crown business. It was going to be a very depressing January. I was not looking forward to 2017.
Then something occurred to me. I could actually still go to Vegas. After all, I still had the flights and hotel booked – in fact, everything was still in place – even the wedding photographer I'd booked, the lovely Natalie J. Watts.
I braved up and told Natalie what had happened. She was wonderful, understanding and supportive and after a few much needed conversations of support and sympathy and trying to figure out what to do, we both decided to go ahead and visit Vegas together. What did I have to lose? Nothing at all.
My best friend Simona had been talking about celebrating our birthdays together on a trip. By coincidence, my 30th birthday was due to take place whilst we were away in Vegas and so, I invited Simona to join us. And out we went, three girls, three wedding outfits, lots of flower crowns, a chapel, a bride – but no groom.
No groom.
I've mentioned that I create flower crowns, and it occurred to me that whilst we were out there, we could shoot some campaign images for my business, Sophie and Luna. I mean, why not? The photographer was there and I could fill a case full of pretty flower crowns.  That's it! I had something new and exciting to focus on.
I contacted a friend of mine…"Hola Iain, would you come to Vegas to model for me?" Thankfully, my friend loved my crazy idea, and he said yes!
Two weeks after being dumped right before my wedding, I was starting to feel something positive again. I started to feel excited and this helped to aleviate the sadness and stress. I mean, I was literally so busy making plans for a photoshoot, I kind of didn't really have time to think about what had happened. I purposefully threw myself into work to distract myself from the pain of it all.  Those people who have always been so loyal to me – my clients, work, family and friends – they were my motivation.
During our trip to Vegas – we all bonded and became good friends. I developed a friendship with my photographer Natalie and an even deepened my appreciation of my friends Iain and Simona. Simona and I even got the same tattoo together – it means 'friendship' in Navajo. It was  our shared 30th birthdays afterall – what better way to show how much we mean to each other?
We did the most amazing road trip from Vegas to the Grand Canyon and stayed there four days. It was spectacular and I shall never forget the experience. We went to the Lower and Upper Canyon where we learnt about the Navajo history and saw the most beautiful and exceptional landscapes ever. It was truly breathtaking.
I didn't cancel the chapel, or the ceremony either. I didn't want to, because I had something very special in mind. I decided I was going to marry myself.
I know – sounds crazy, right? But it wasn't. It was beautiful and emotional and moving – it was a ceremony within which I committed to be good to and take care of myself.
I'm a big fan of 'cheesy' and that is what I went for. As I walked down the aisle by myself, the officiant, dressed as Elvis Presley, of course, spoke kind words. They were exactly what I needed to hear, right there and right then. 'Elvis' was generous, sensitive and caring during the whole ceremony. He accompanied us back to the parking lot and said more beautiful words to me after the ceremony too – we sang and danced all together.
He really was the best. I became very emotional when I walked down the aisle, and he said everything I needed to hear, right there and then, to reassure me; 'Sandra, today is a special day for you – you've come here to make a promise to yourself. Today you planned to come here with your boyfriend, unfortunately it didn't work out. And yet you still have the courage to come here now to make a promise to yourself. It is time to fully live your life, your wild and precious life, time to untie the stories, distractions and illustrations that keep you small and lean into the life that is waiting for you. Time to live what you long for, time to honour your innermost values, time to be gentle with your innocent heart, time to stand firmly in what you know to be true and make a bold, lifelong commitment to love.'

The bespoke vows I had prepared talked of love for myself, respect and friendship. Hearing him speak these words was so comforting…
I Sandra, vow to comfort myself, during hard times
or any difficulties that may arise
I vow to never settle
I vow to live in the faith that my life unfolds in mysterious divine perfection
I vow to create an amazing life for myself
I vow to honour my calling, and live my life as a work of art
I vow mostly, to love myself
Iain was recommended to me by a friend and I have no regrets asking him to come along at all. Besides being very easy to work with, he put a lot of effort into my story and my special photoshoot project.
You can just tell how well we connected by looking at photos. We had some tricks to make each other laugh too, one of them was crying 'Fuck you my love!' and 'We're getting married!', and even 'I hate you because your armpits stink!'. Hehehe! My apologies, for being so explicit!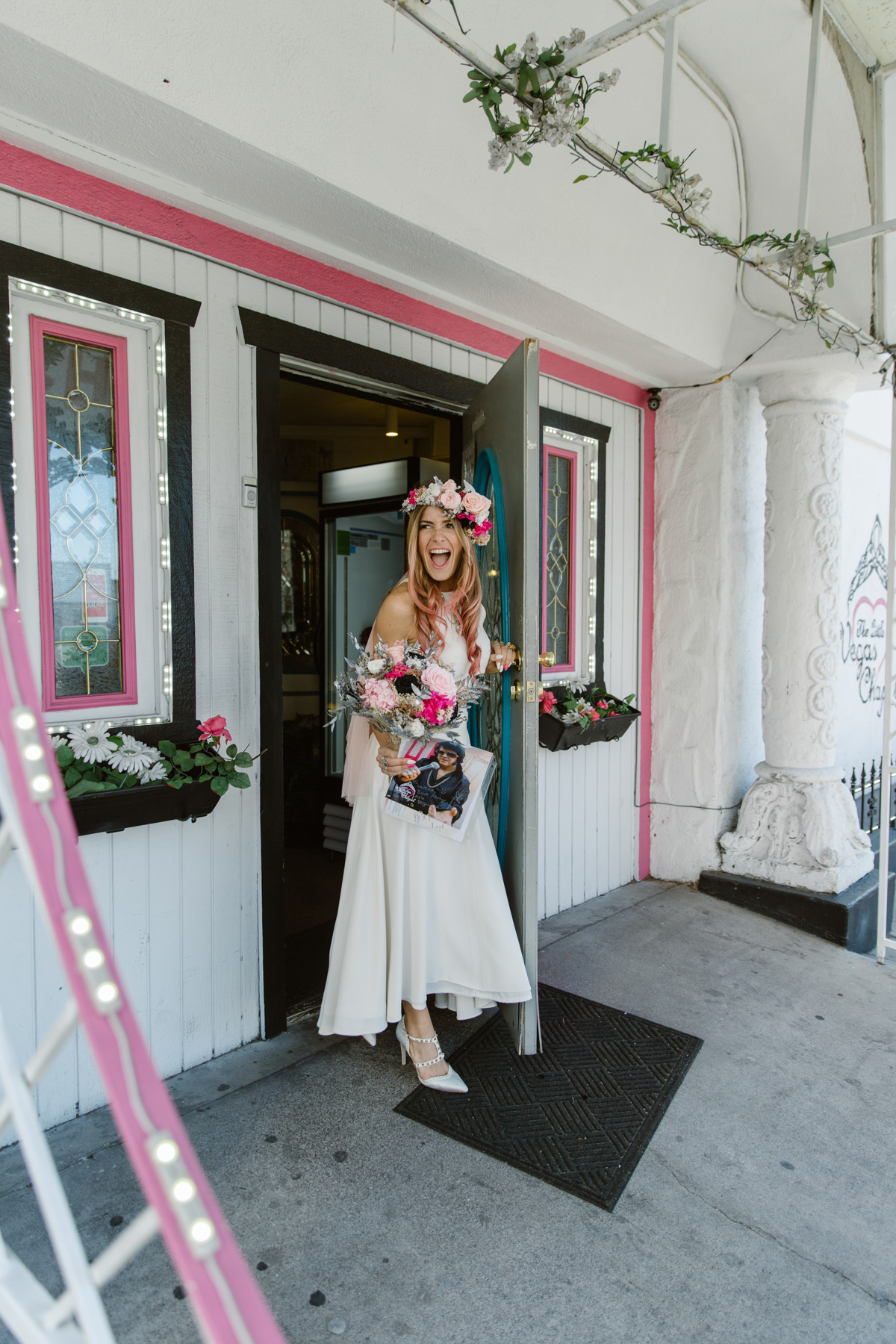 I supplied all my own flowers through my business that I set up almost four years ago, Sophie and Luna. The flowers I use are 100% real, a mix of dried and preserved, that will last forever if you look after them. Preserved flowers are great for weddings abroad, to travel with, and you can also keep them as a memento or wear your flower crown again in the future.
I produce  a new collection of ready to wear pieces every year, but I can also create custom, fully bespoke pieces too.
I chose photographer Natalie because I loved her style  – I became aware of her work when I started to work in the wedding industry four years ago. She uses the natural light to capture her images, leaving you with a very natural and fresh look.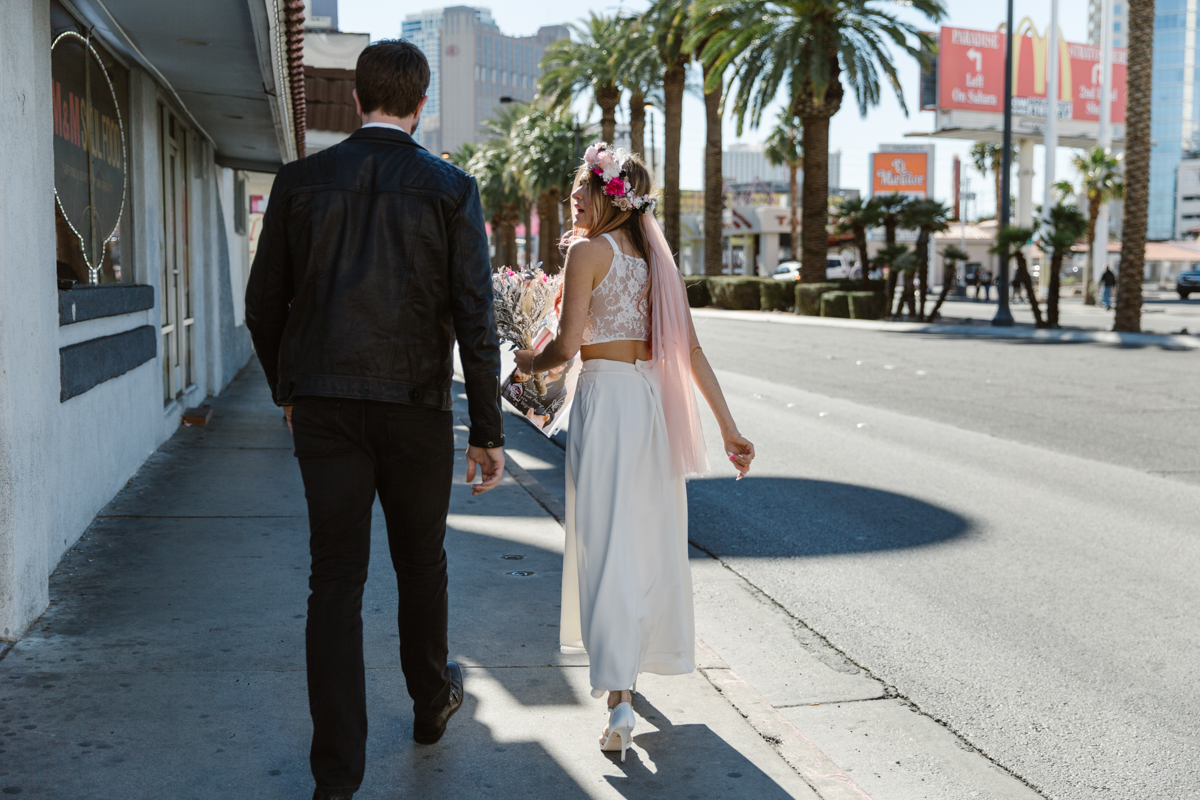 I met Hannah of House of Ollichon a few years ago. I was impressed by her lovely personality and each one of her modern bridal designs. House of Ollichon is the first bridal brand in the world that doesn't sell dresses. She specialises in bridal jumpsuits and separates. What a great mind!
I wore the House of Ollichon 'Thomas Skirt' and 'Thomas top' for the ceremony, because I liked the curved cut of the top that reshapes the figure and I chose that skirt because it was a very easy to wear piece. The quality of the skirt is excellent and very well finished.
When I first saw the I am Florence shoes, I fell in love with them. They are practical so I can wear them after the wedding. Yes, I'm a practical person and I like to spend money on something that I can use over and over. I Am Florence also has beautiful bridal flats and trainers with leather flowers hand stitched on them. I wore them all day and I can say they are not just good looking shoes, they are also super comfortable!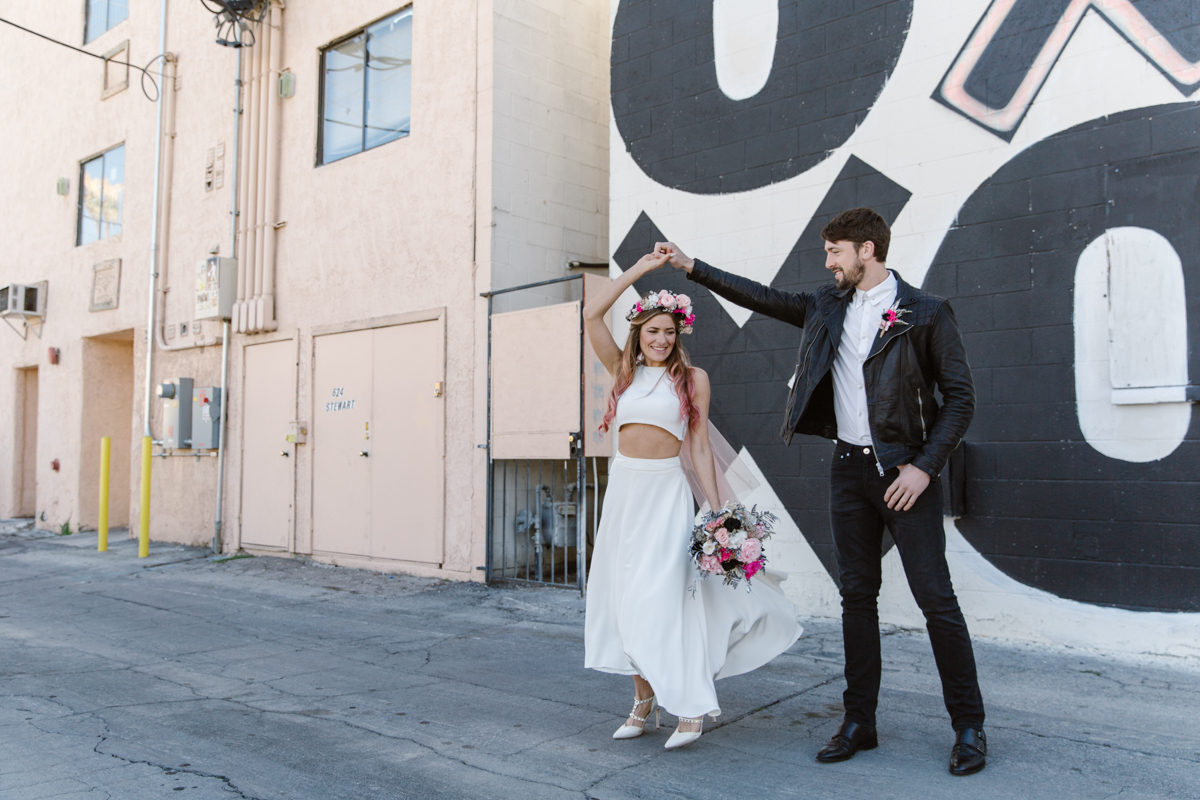 Tessa Metcalfe is one of my favourite jewellery designers in London. I had been following her almost since the beginning of her career. She uses pigeon claws to hold rocks, pearls and stones. Using gold and silver, she hand made these gorgeous pieces that stand out of the crowd by themselves.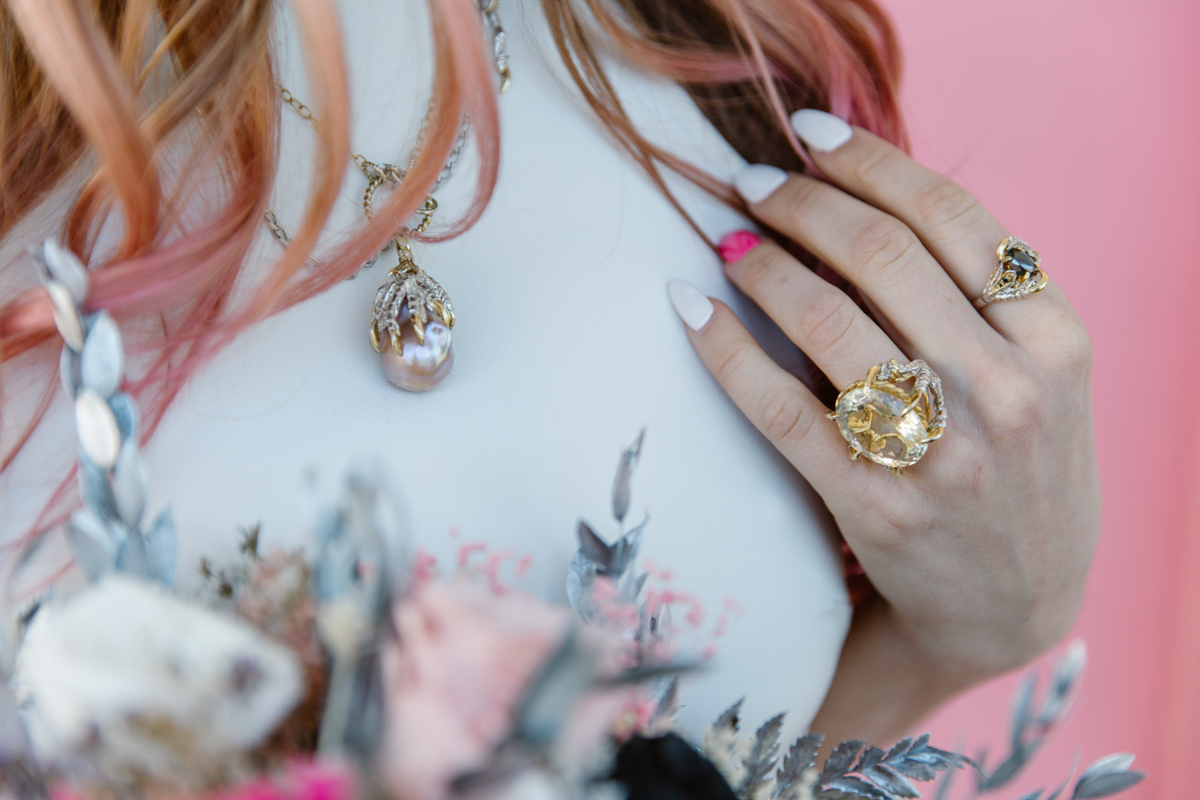 As an event to celebrate love and friendship, Lauren from Oh Wonder Calligraphy designed a bespoke invitation, that read 'Sandra Blanco invites you to celebrate friendship. Bring your best stories, laugh and enjoy a party about real love and friendship'. Just perfect.
Are you looking for a chic, bohemian style wedding dress? If so, then I cannot recommend Rock the Frock enough – you'll find all those Pinterest worthy frocks in this gorgeous shop. From grey hand dyed bridal maxi skirts to pinup tea dresses for the vintage bride or a simple and elegant boho dress that you can accessorise perfectly at the boutique. You can find my flower crowns there too!
Heather from Sash + Veil is the most adorable person. She hand makes all her veils and sashes. Would you like a blue veil? There she is. Dare her with your ideas and she will make it happen. I wanted a black veil that I could wear on top of the pink veil. For the ceremony I used a short veil to go with the separates as I thought they would be more fun.
Veronica of Nostalgia Resources is based in Vegas. She was helpful and lovely to deal with. I highly recommend her. Her work is absolutely stunning and modern. She can do her magic in a blink of an eye. I chose a modern style with a bit of disco and traditional Navajo influence.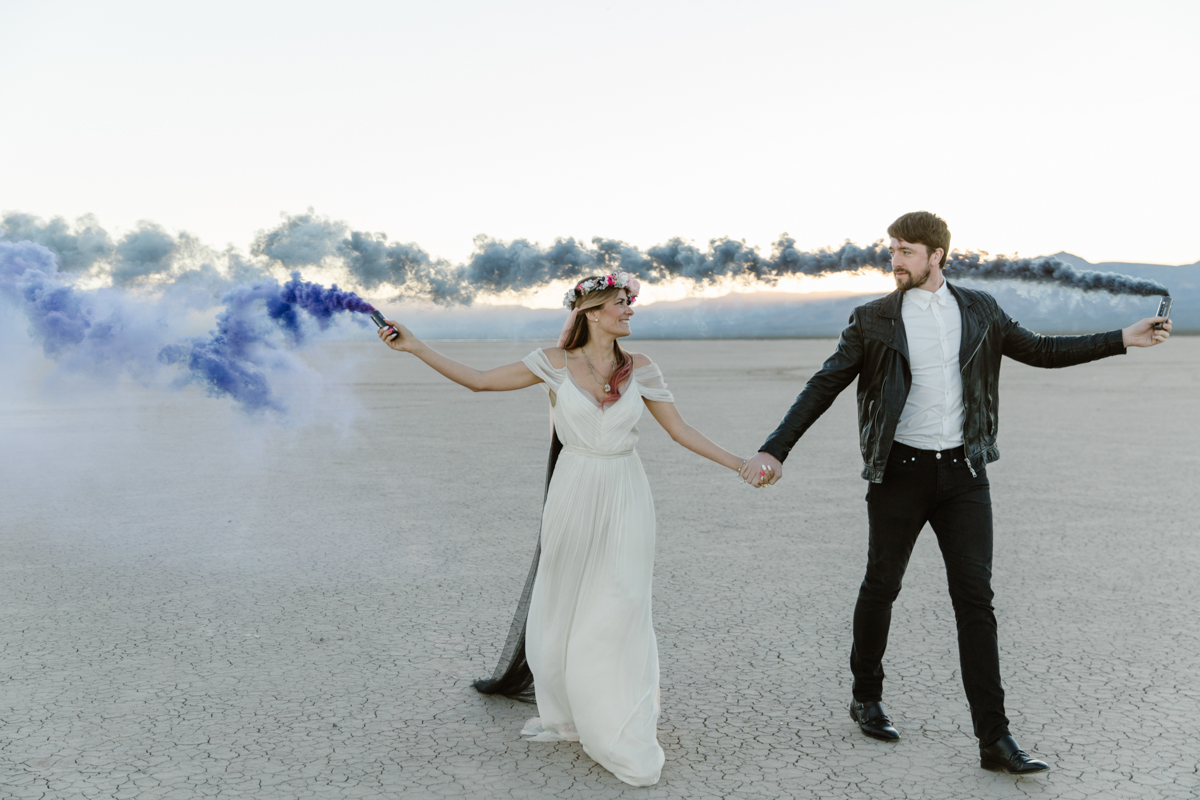 Otaduy is a Spanish bridal brand based in Barcelona and London. These were the first bridal jackets I ever saw. As soon as my ex proposed to me, I had no doubts I wanted this fringed jacket. I chose it for the evening because at night it was chilly and it creates the disco look that I wanted for the evening shoot in the desert.
I have to give a special mention too, to A Most Curious Wedding Fair (where I bumped into my lovely friend Annabel this year, and told her about my story) and also the Chosen Wedding Fair. You can find most of these designers and suppliers, including my own, Sophie and Luna, exhibiting at these brilliant events.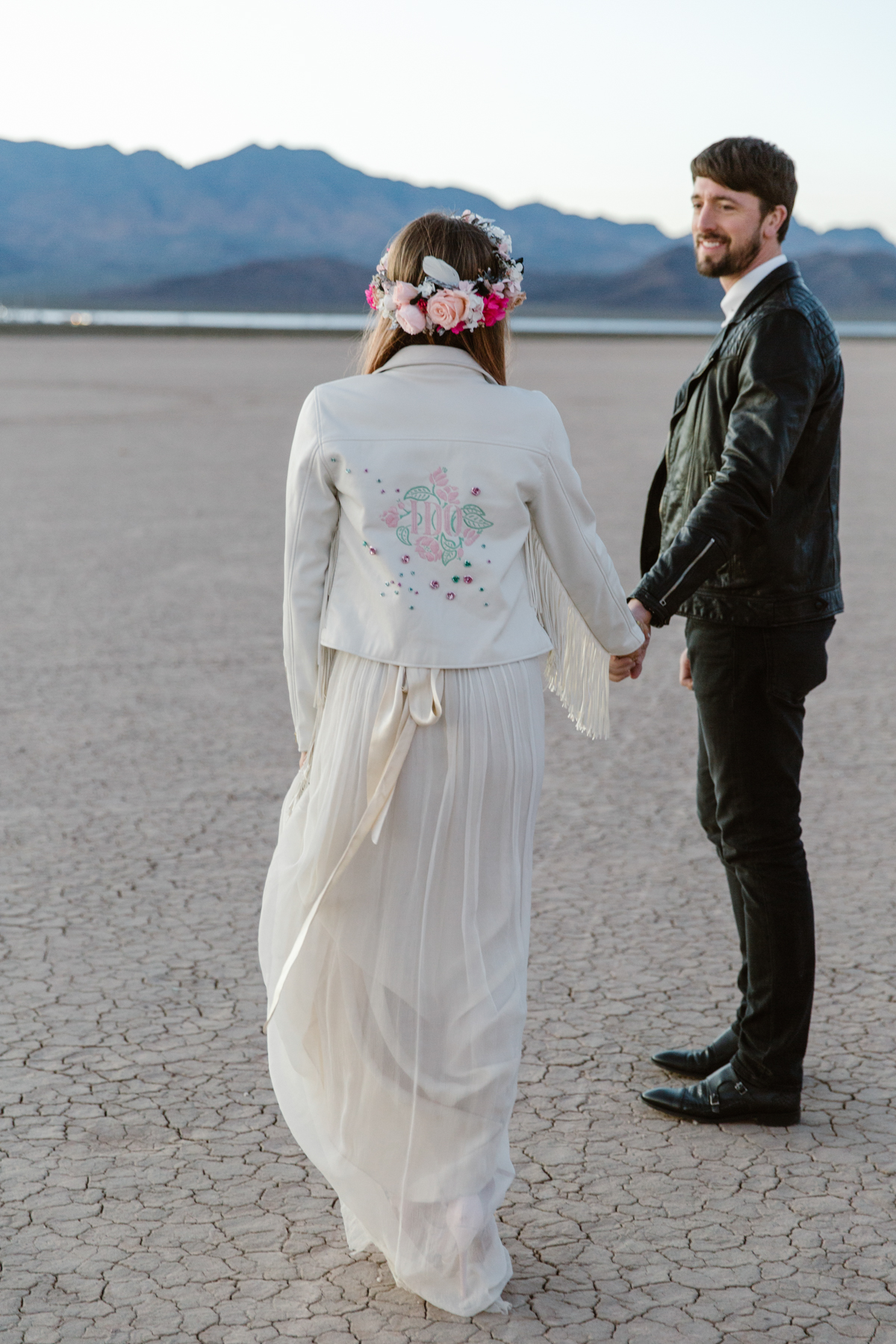 Through this extraordinary and unexpected experience, I have learnt that the most important kind of love, is not the love that you feel for another person, but the love you must feel for yourself. I truly believe that learning to love everything about yourself, means that you will not settle until you find the kind of love you know is right for you. Sincere, deep, in it for the long haul.  That kind of love that makes you feel stronger when you are at your weakest, that kind that adds to and enhances your life.
I believe we are all worthy of that – we all deserve real love.
My experience spurred me on to work harder than I have before, develop new relationships and deepen existing friendships. I exercised more and I travelled more. I started looking out for me more.
For those about to marry their best friends,  please allow me to share a gentle reminder – life is a path to walk together, as a team. Mature, honest, genuine love is caring for the one another well after the butterflies and excitement of the early days are over.
Genuine love will provide the strength needed to work through and overcome difficulties, it will help you journey to a better place, instead of abandoning you when the going gets tough, or if something else comes along.
Film supplied by Little Vegas Chapel
For those who have ever been in a situation like me, or who still think about that ex – it was meant to be.  It isn't your end, this is your beginning, and life as you know it now will open new doors and opportunities for you – opportunities that will enable you to meet someone else who loves you more than you might ever love yourself, no matter how much you might hurt now. I promise you. And you deserve it.
Sandra xx