I don't know about you, lovely readers, but I'm really on the countdown to Christmas now.  However, while we await our next round of mulled beverage, lets turn our gaze back to the summer warmth and this beautiful barn wedding in the Norfolk countryside.
Allow me to introduce Georgi and Tom.  Tom is a teacher and Georgi has her own wedding prop hire business (Lavender and Wild) which she has developed since their wedding, which took place at Elms Barn in Suffolk on the 9th of August 2017.
"I am a creative person and feel lost without a project in hand, so a lot of our wedding details were handmade since it reflected who I am and what I do.  The most important thing to us was creating a day that felt relaxed and fun for us and our guests."
Photography by Tatum Reid
The talent behind today's beautiful photographs was Tatum Reid, who I am delighted to welcome to Love My Dress for the first time.
"We loved Tatum from the moment we met her and knew her bright, natural, candid style was perfect for us.  She is not only a camera ninja, she is an amazing person, who also happens to be our next door neighbour.  She made us both feel so relaxed and all our guests loved her."
Make up and hair were both by Amanda Steed Makeup.
For scent, Georgi wore Chanel Mademoiselle, while Tom wore Indonesian Oud by Ermenegildo Zegna.
"Tom and I decided to buy each other our wedding scents as a surprise, so neither of us knew what the other had chosen until the morning of the wedding.  We took them with us on our honeymoon and vowed to only wear them again on very special occasions.  That way, the scent will always bring back memories of the best day ever."
"We used Elm's Barn's in-house florist, Teena for everything apart from my bouquet.  Teena was great at creating the wild garden look we were pining after."
"My bouquet was put together by my mum.  She pinned the bouquet with a forget-me-not because its Tom's favourite flower and wrapped it with some lace from her own wedding dress."
"For bridesmaid dresses we scoured the country for Hayley Paige gowns, only to find them on my doorstep at The Frock Spot in Norwich.  Amy and Kate went out of their way to make the whole process effortless and were so thoughtful and considerate." 
The flower girls looked very sweet in dresses from Matalan, while the page boys wore outfits from Next.
Georgi looked ethereal in a dream of a dress by designers Laila and Olivia Maristani of Maristani London.  I completely adore the 'petals' all over the bodice and skirt, which give the gown a real sense of movement.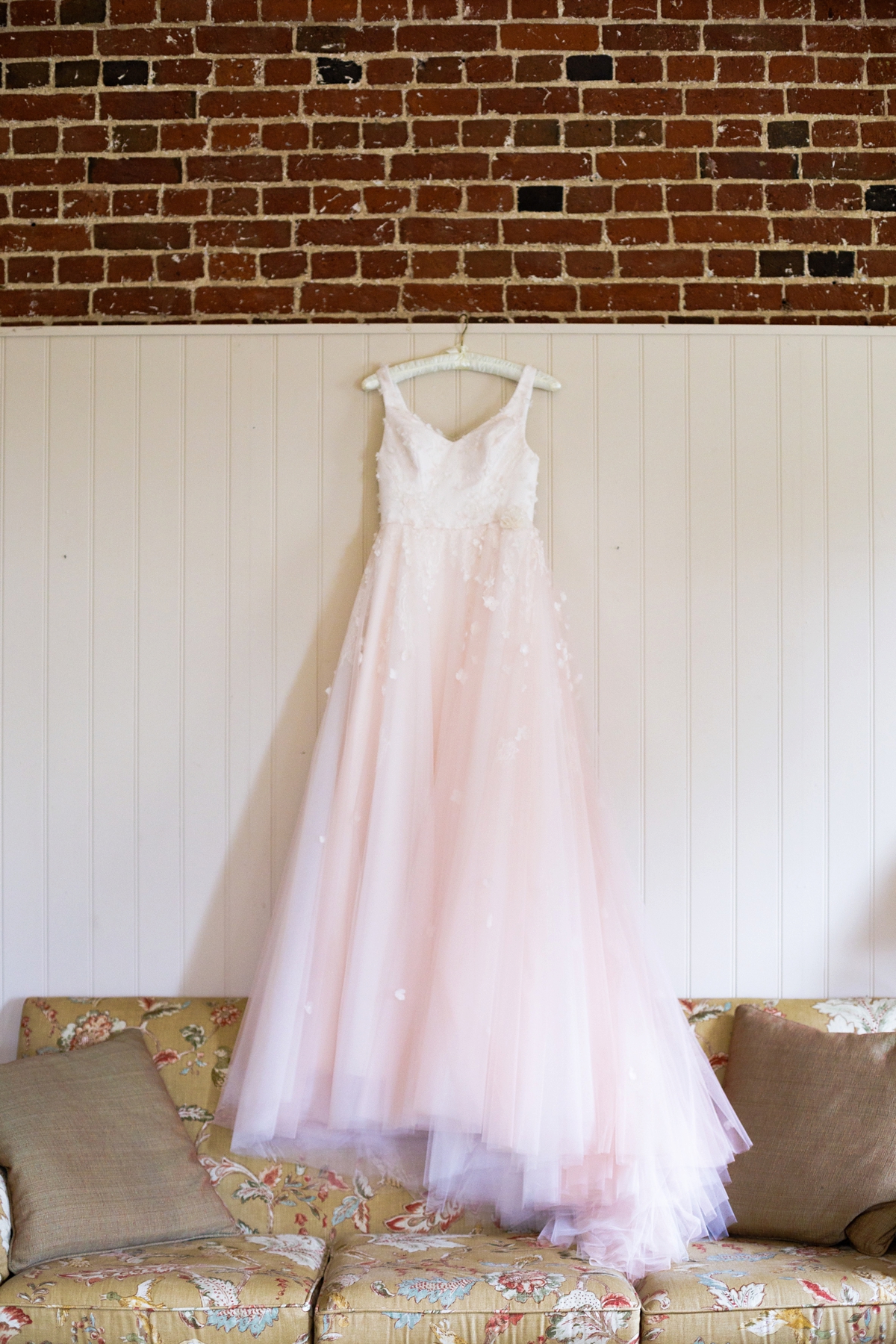 "When I was seventeen, my best friend Laila Maristani told me she was dropping her science A-Level in favour of textiles and that one day, she would make my wedding dress.  Ten years later she sent me a sketch that just so happened to be my dream dress."
"I tried on a few dresses to get a feel of the style I liked and Laila and Olivia took my preferences and turned them into the prettiest sketch I've ever seen.  I fell in love before the dress even existed.  Throughout the design process I was able to choose everything from the colour of the Sophie Hallette lace to the placement of the waistline."
"My favourite thing about the dress was the 800 3D flowers that cascaded down the bodice and the skirt.  It was utterly magical.  The Maristani sisters are perfectionists and everything they touch turns to couture."
Tom apparently spent hours deciding on his suit and finally settled on a jacket and trousers by FCUK, which he styled with a blue tweed waistcoat by House of Cavani, a Liberty print tie and pocket square, purchased from Pure Brides in Norwich, and brogues from Base London.  He accessorised with a watch from Rotary, tie pin from Hawson and silver cufflinks, which were a gift from Georgi's father and belonged to her late grandfather.
"Tom is known for his love of fun socks, so for the wedding he bought the brightest socks he could find for him and all his groomsmen."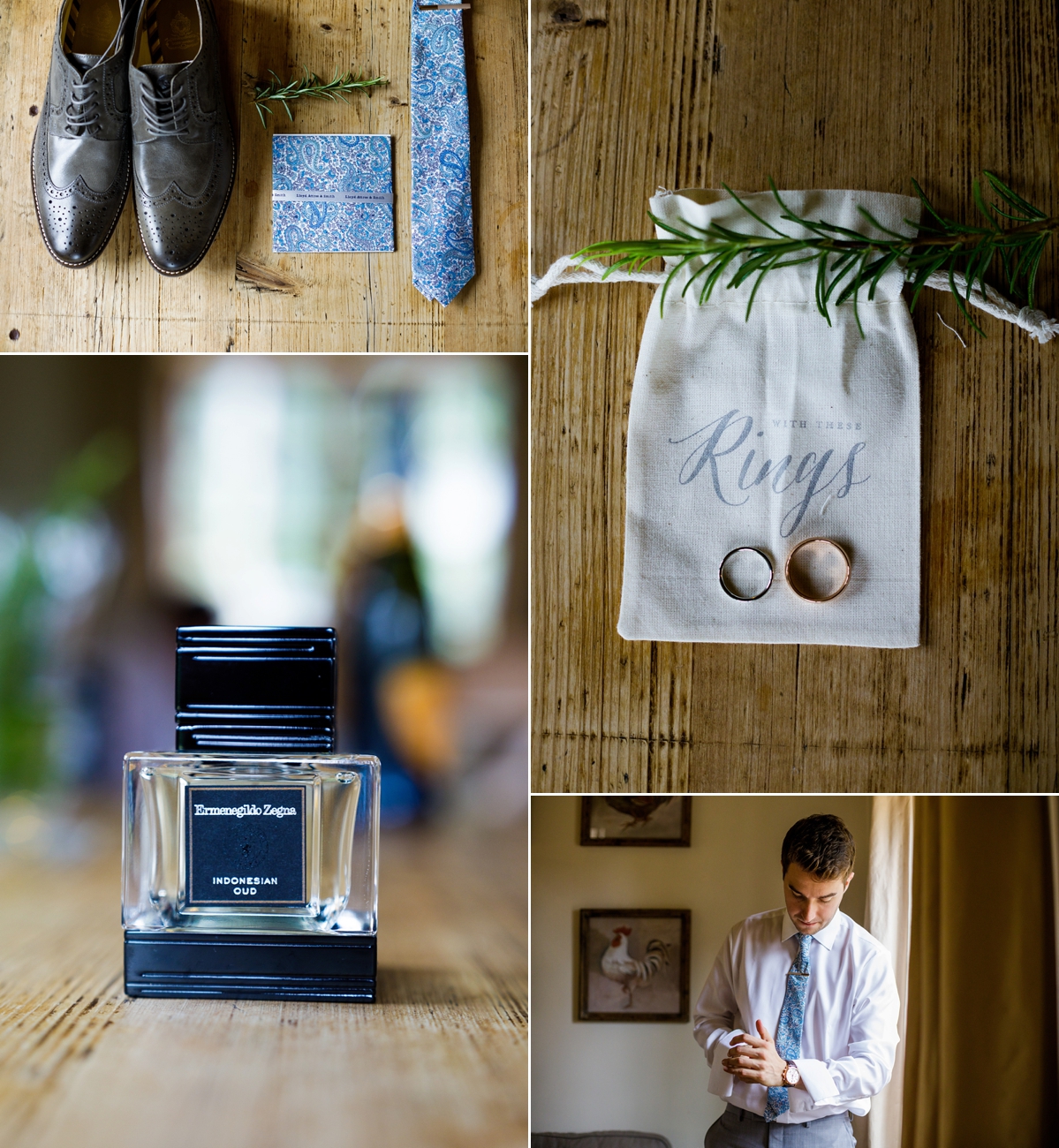 "We met in Norfolk and bought our first house here, so this part of the country feels like home to us.  It was important to say our vows in a place we felt was both of ours."
"We fell in love with the venue when we stepped inside the walls of its enchanting 18th century barn and when we learned that it also offered its own on-site accommodation we were sold.  The venue also came with a wedding coordinator, Victoria, who helped me with every aspect of the planning."
"Tom and I met in a car park on the way up to university.  Our parents had stopped at the same services on the M11 and my mum took it upon herself to introduce us based on the fact that both our cars were filled to the brim with pots, pans and pillows.  We shook hands, suitably mortified, before getting back in our respective cars and continuing our journeys.  It sounds weird and corny, but I knew as he drove off that we'd end up together.  We met again when he literally fell on me at a freshers bash and recognised me as the 'carpark girl'.  We swapped numbers, started texting about Romeo and Juliet (our course material) and that was that."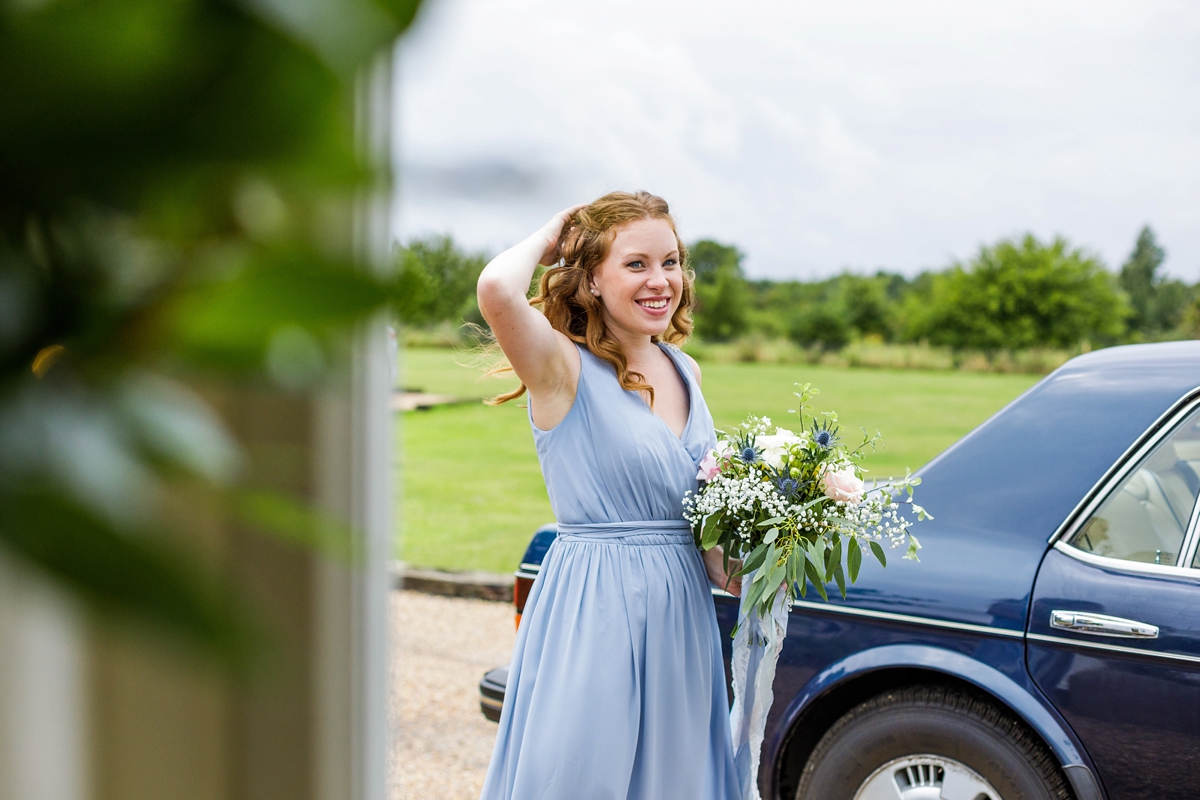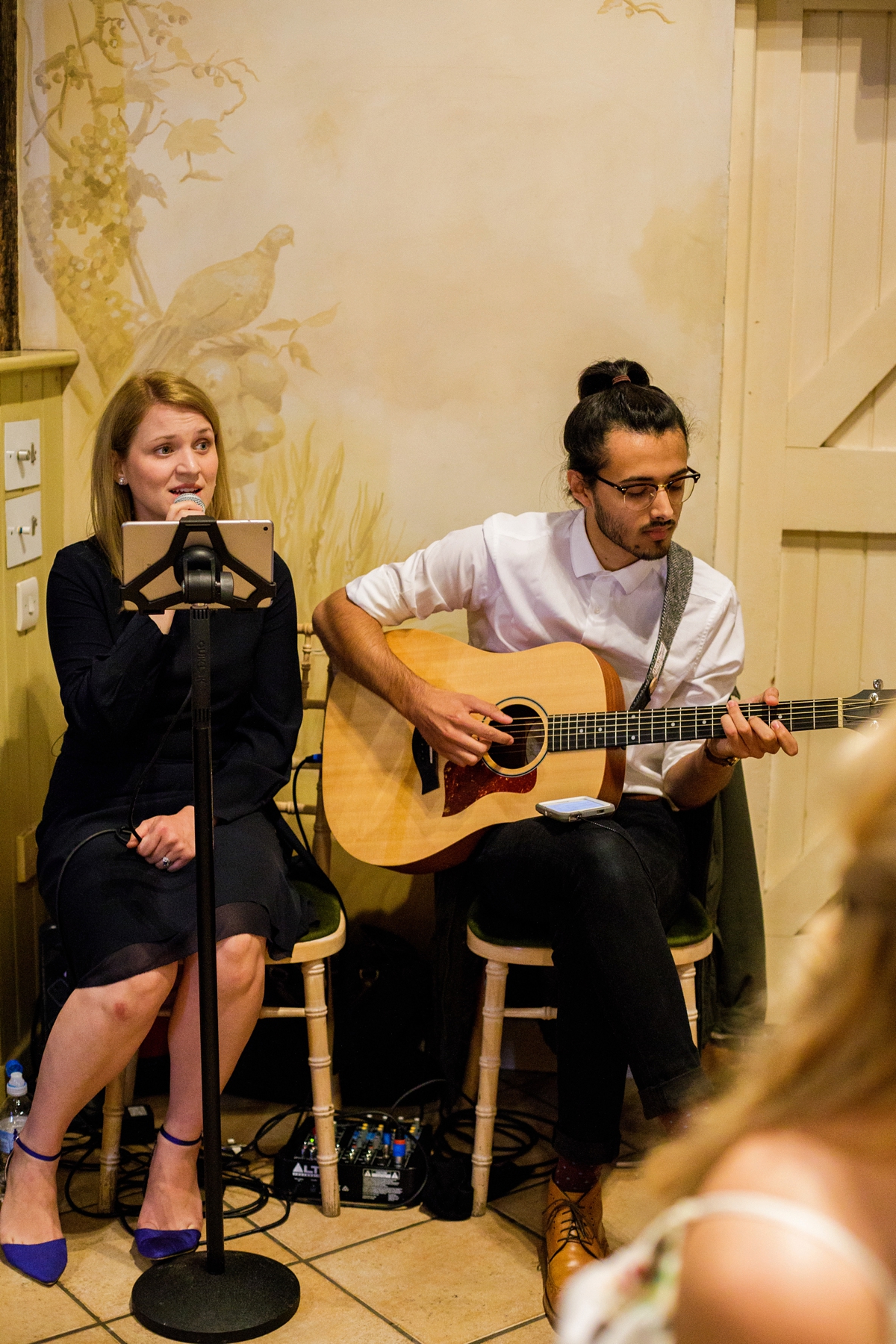 White drapes and fairy lights created an ethereal feel within the barn, alongside lots of candles and greenery.
"My dad walked me down the aisle, perhaps a little too quickly!  I'm told it was more of a gallop than a graceful stroll.  We came down the aisle to mine and Tom's favourite song — 'My Lover' by Birdtalker, performed live by The Distractions acoustic duo.  Their version was truly mesmerising and created a magical atmosphere I'll never forget."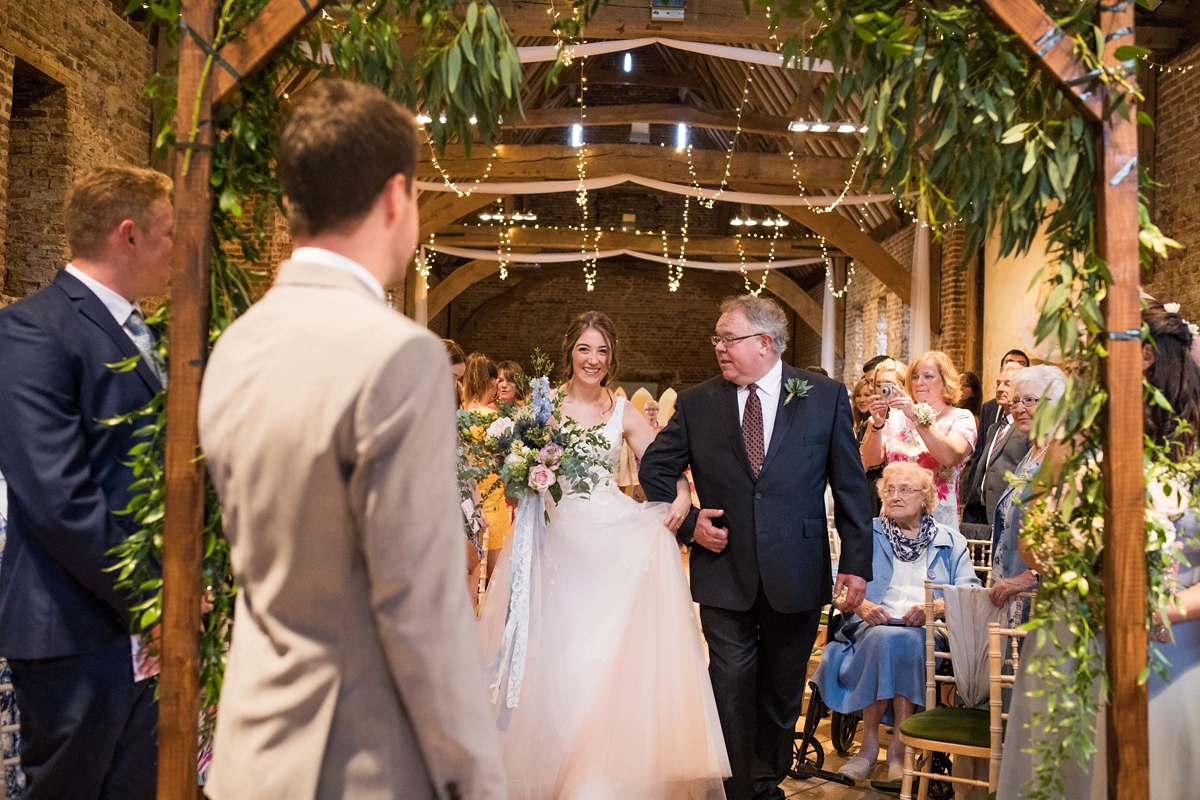 As English graduates, the readings were important to our bride and groom, who chose 'Upon The Sand' by Ella Wheeler Wilcox and 'Unending Love' by Rabindranath Tagore.
"These readings seemed to reflect us a couple perfectly.  On the one hand, Unending Love begins, 'I seem to have loved you in numberless forms, numberless times…  In life after life, in age after age, forever.'  On the other hand, Upon the Sand warns that, 'Love, to endure life's sorrow and earth's woe / Needs friendship's solid masonwork below.'  It seemed right to highlight the importance of the vows we were taking by reminding ourselves that we will stand by each other no matter what."
Tom and Georgi swapped rings, which they purchased from Aurum Jewellers in Norwich.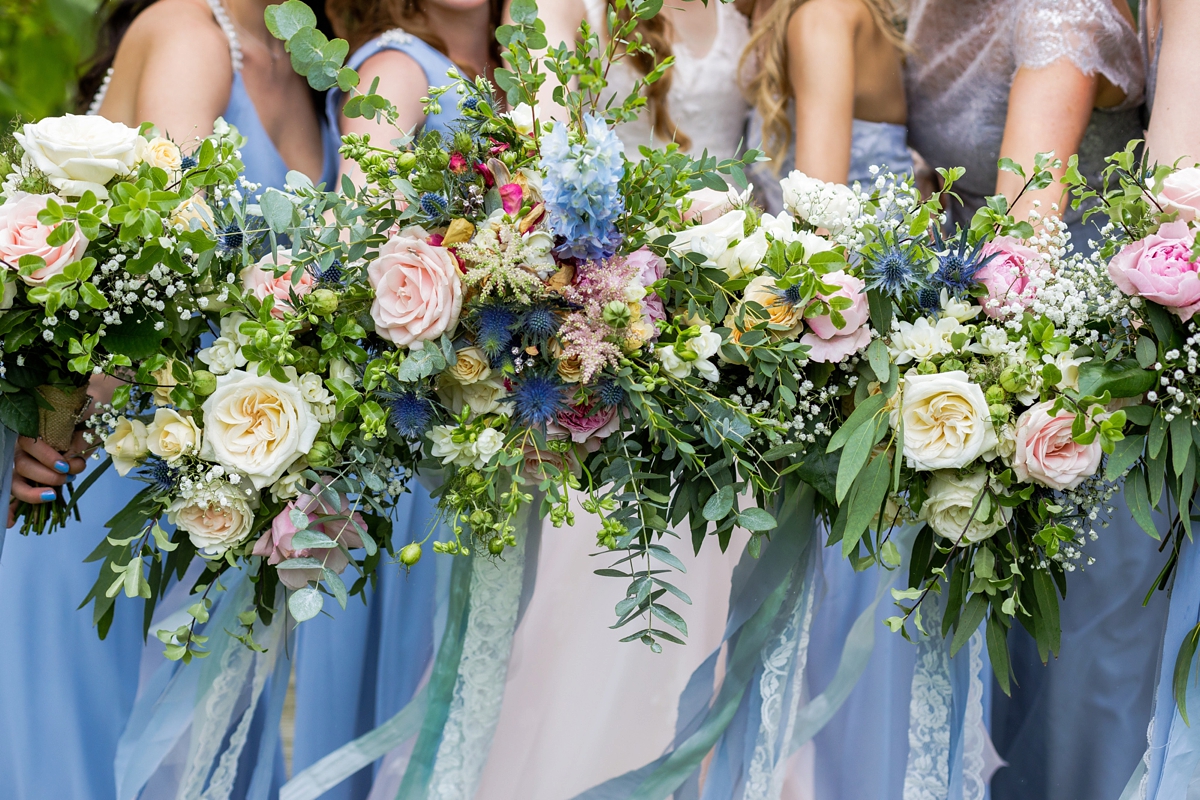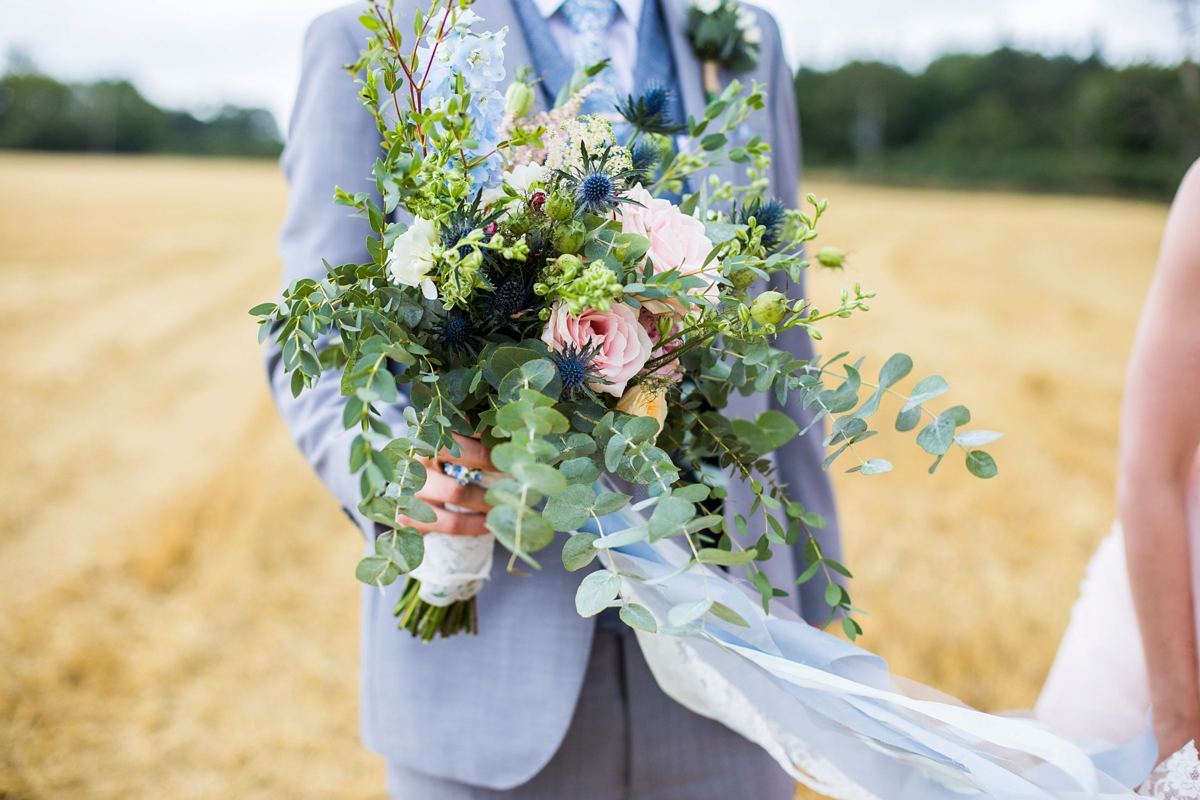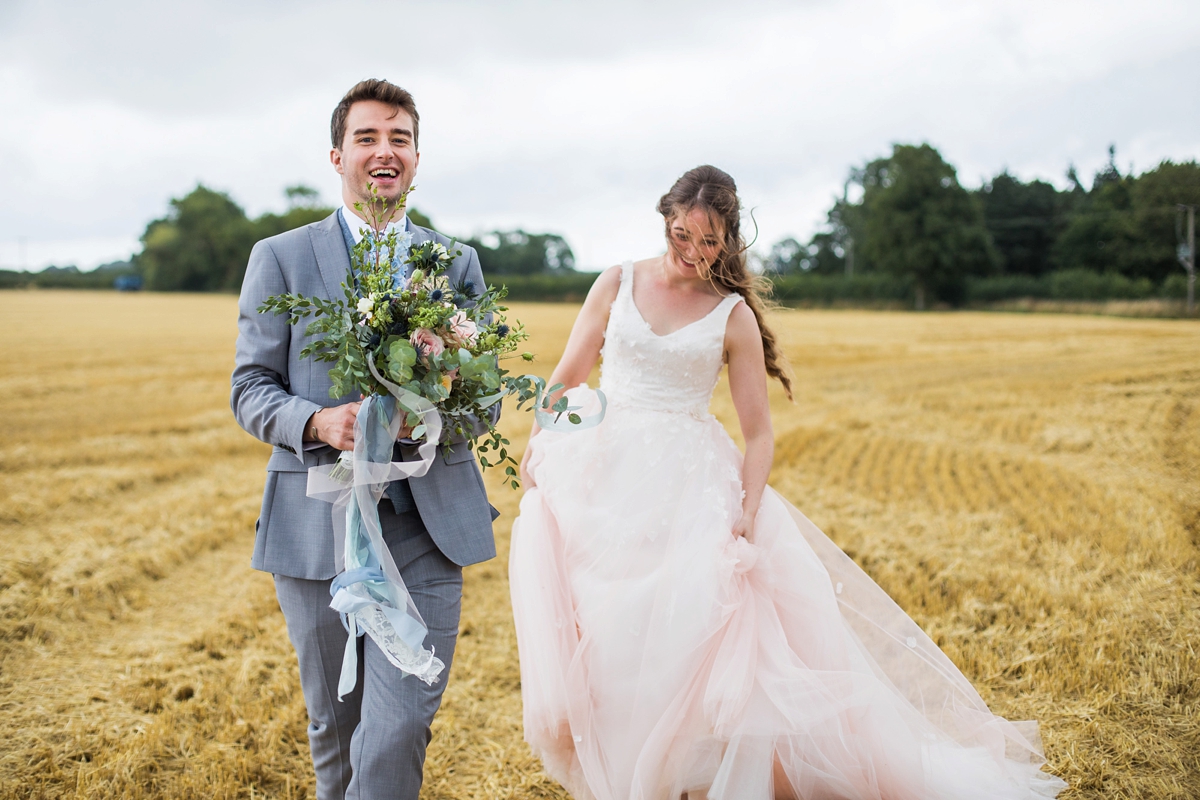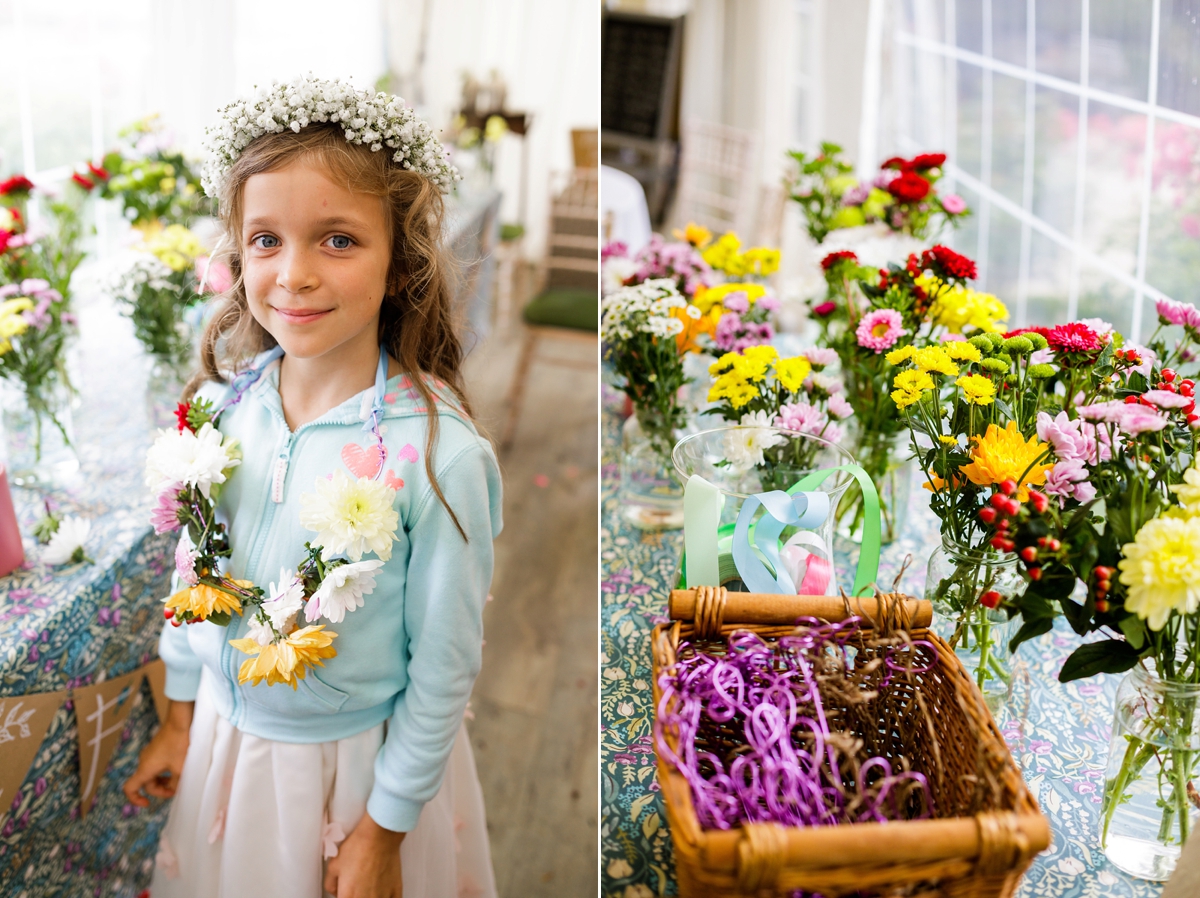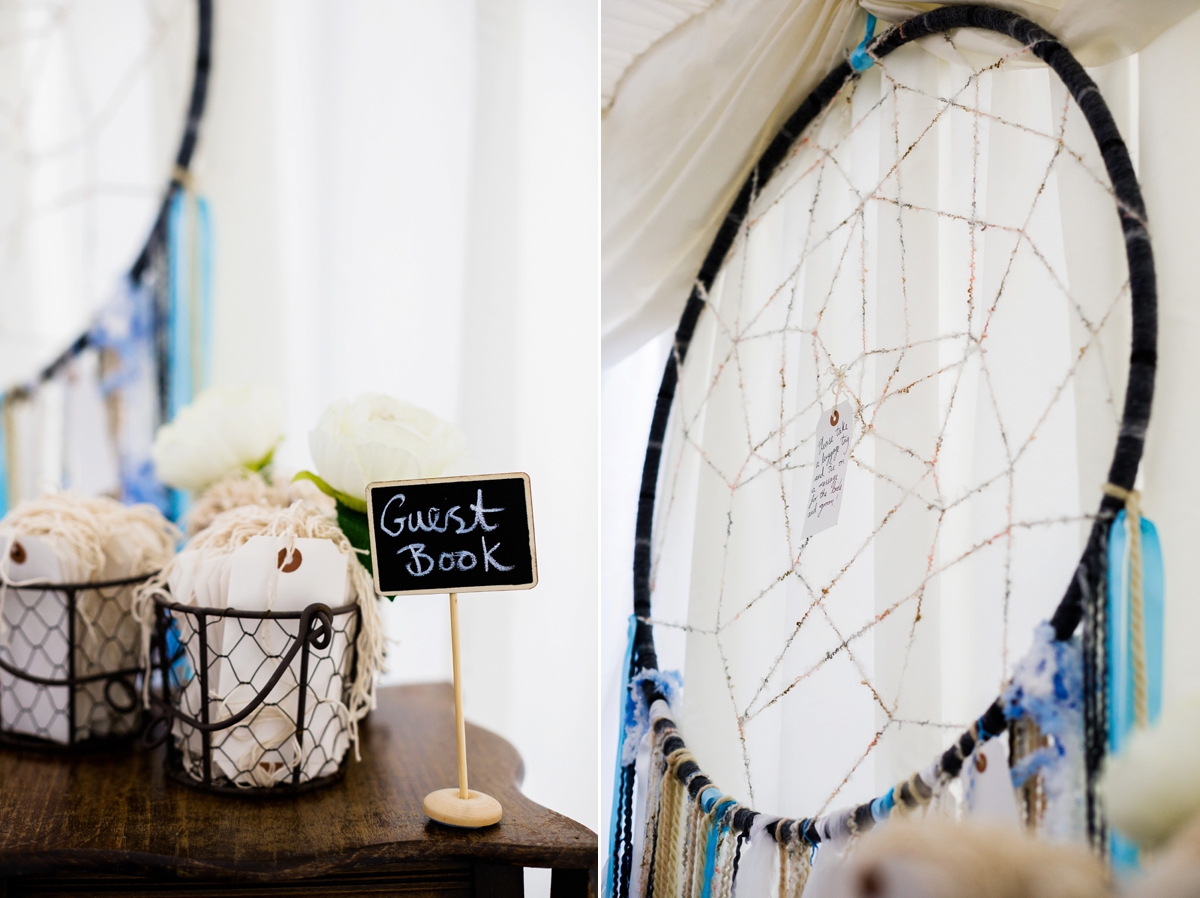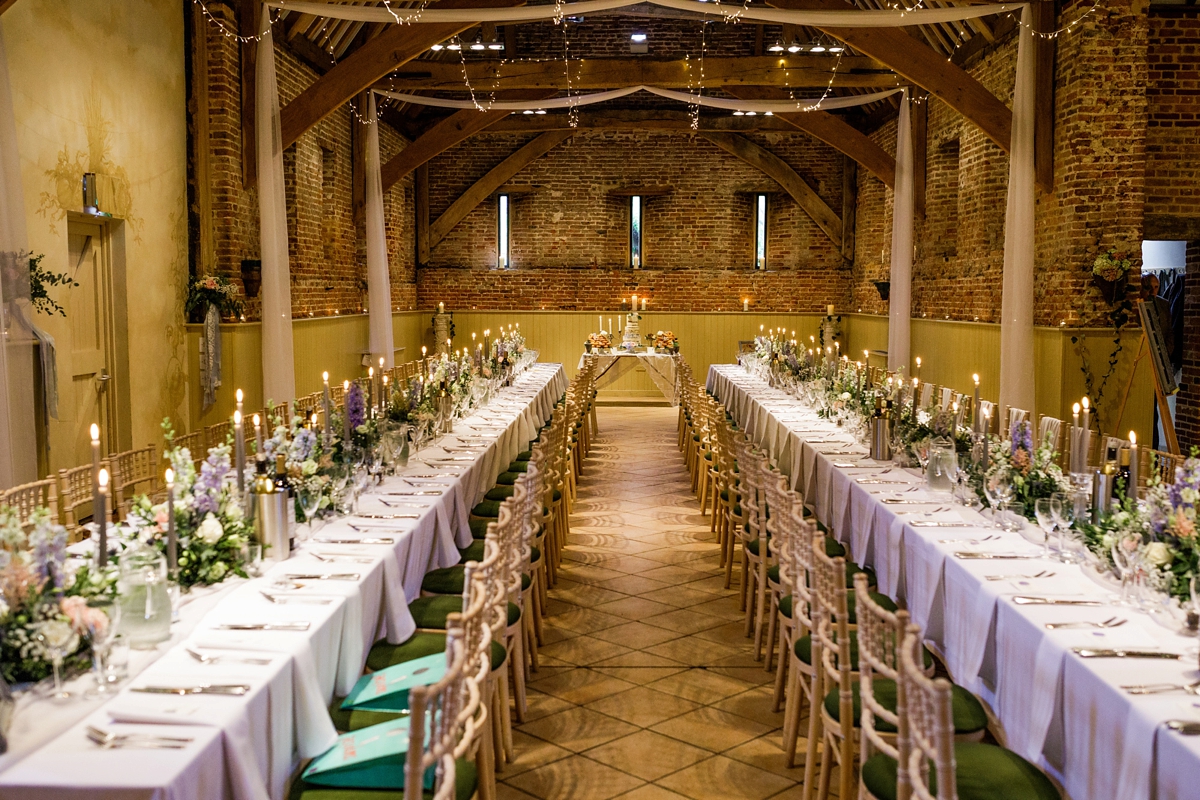 For the wedding breakfast Georgi decorated using her own silver chiffon table runners, chair backs and grey tapered dinner candles, while the cut glass candlestick holders were hired from The Little Lending Company and Daisy Says I Do.  The table numbers were handmade using old frames, painted and filled with dried flower petals.
"I made 25 metres of paper flowers to be strung down the centre of the marquee, interspersed with white paper lanterns.  We had a flower crown making table and our family tree was made from a hula hoop covered in lace and strung with pegs to hold our most treasured family photographs.  Floral bunting was hung around the marquee with little details about our bridesmaids and groomsmen."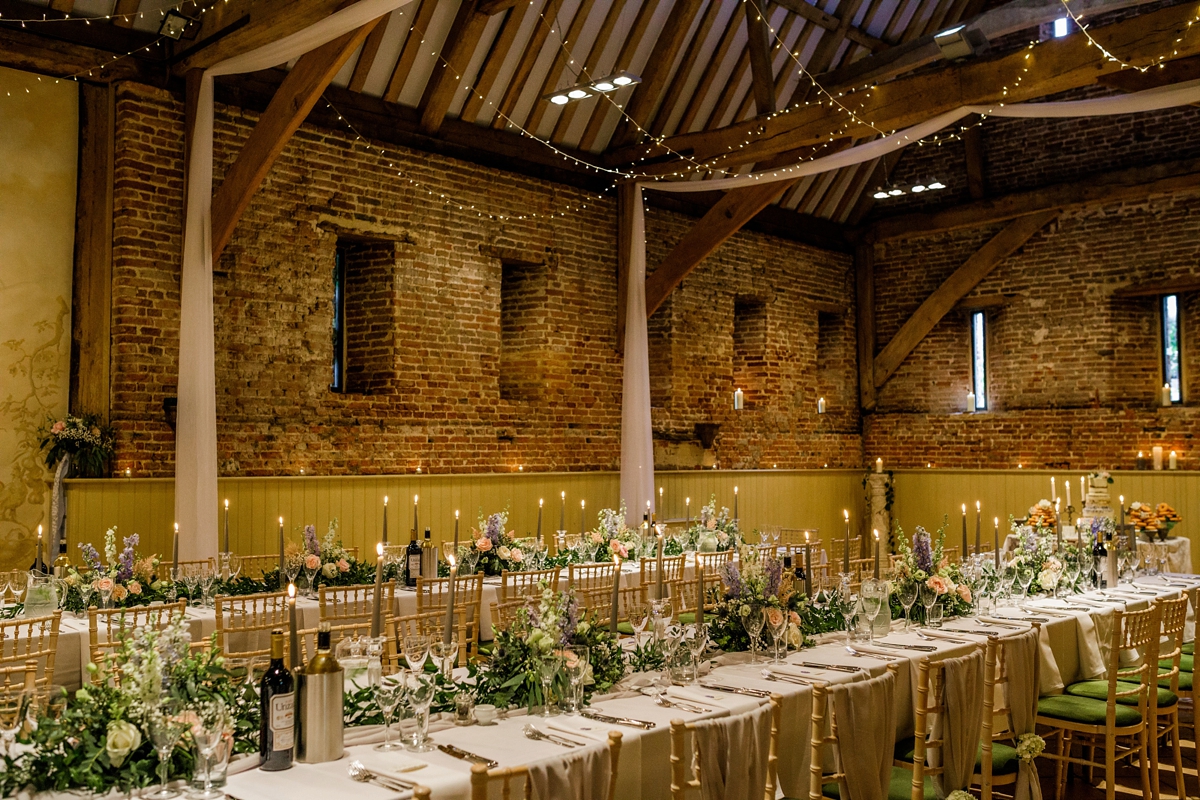 For favours, guests each received an individual succulent.
"We wanted to add something extra sweet to make the day stand out so we hired Ronaldo's Ices while for our evening food we hired Christophe's Crepes."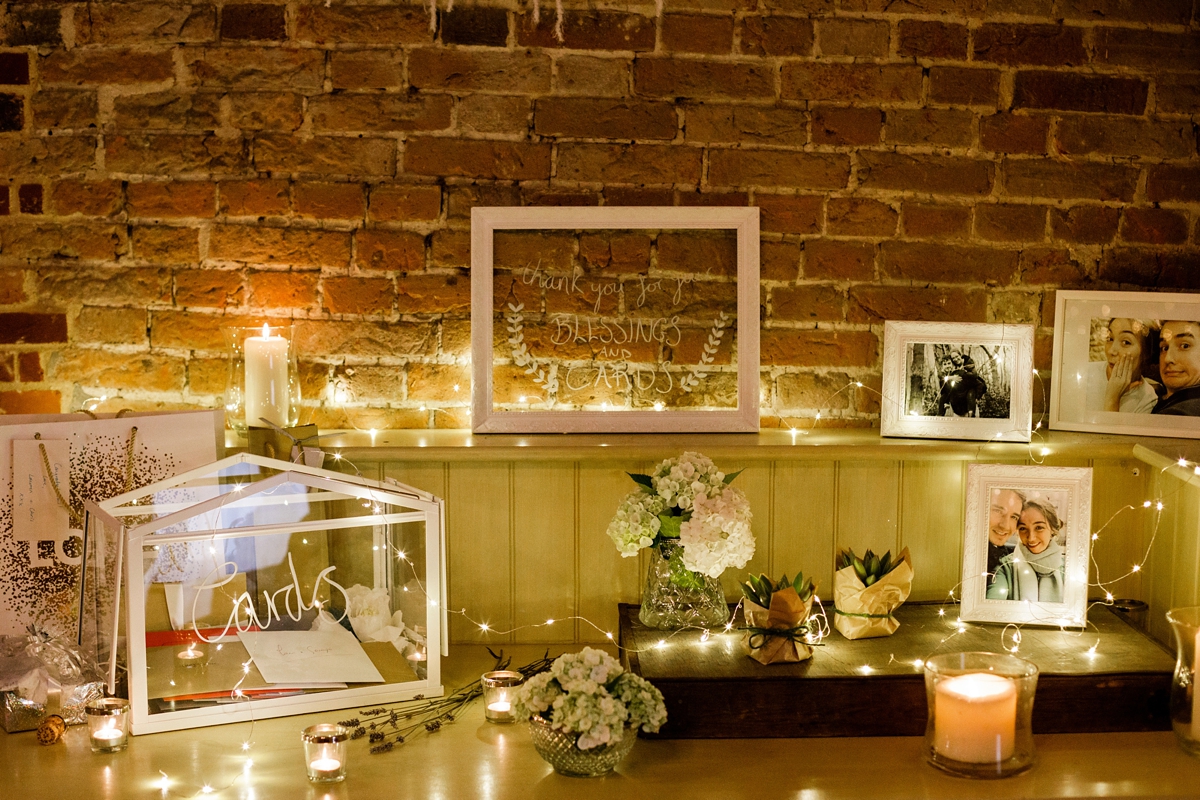 "Our showstopper cake was made by the lovely Charlie at Ophelia's Weddings.  Charlie was so passionate about our vision and she dreamt up an amazing combination of flavours.  The whole thing was covered in buttercream and real flowers, and surrounded by doughnuts."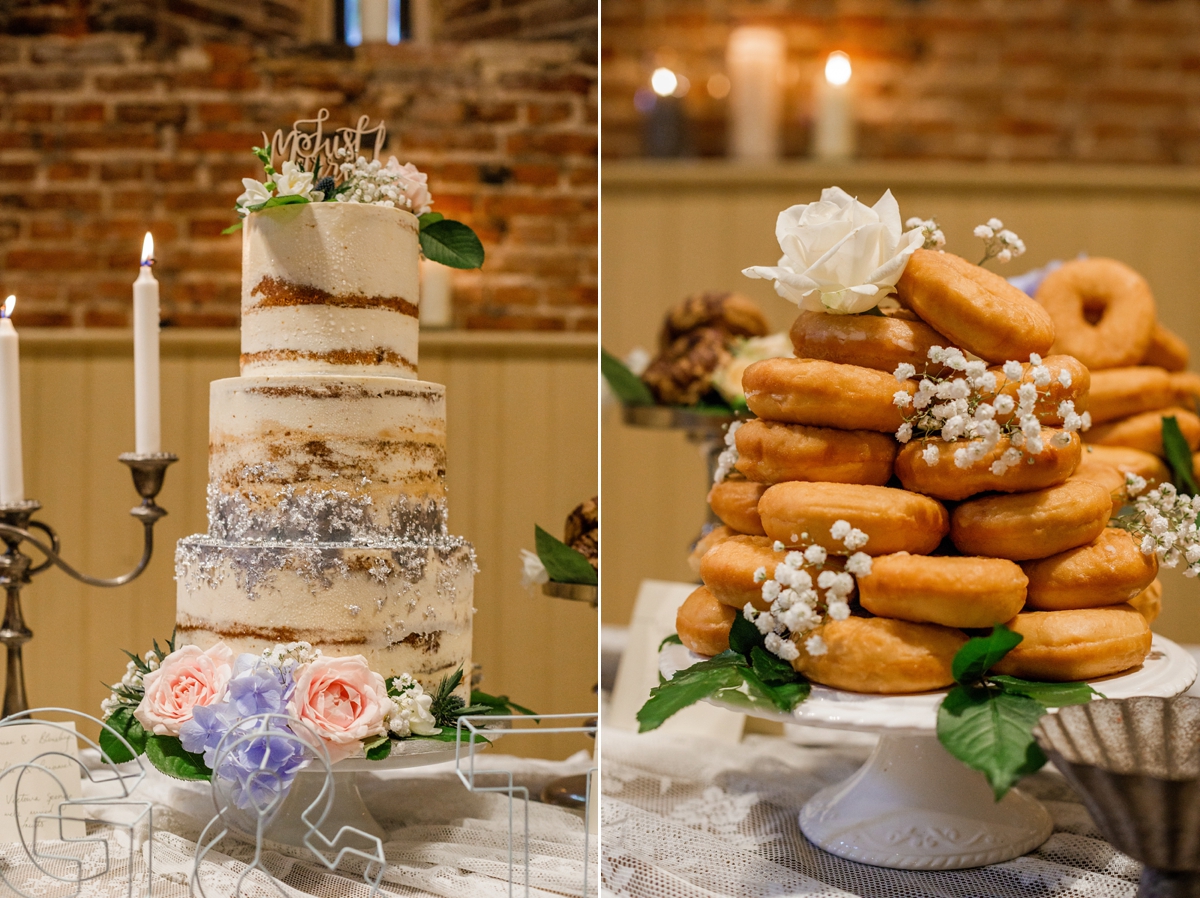 "Tom had arranged for some friends and family to pass me little notes after each stage of the day. They began in the morning when I woke up to a letter on my bedside table.  My favourite note came just after the ceremony.  Tom and I had been separated to greet friends and family and my sister-in-law handed me a little note from Tom that reminded me to 'look around at all the people here who love you'.  These tiny moments were all mine and so special."
I can't get over this.  How adorable and lovely?
Evening entertainment came in the form of Essex band The Hot Shots and for their first dance the couple chose 'This Kiss' by Faith Hill.
"It started playing one evening whilst we were disagreeing over some wedding details and it stopped us in our tracks because we both love the song.  We got up and started singing and dancing together and all the wedding politics just flew out the window.  We wanted to remember that feeling and remember what's important."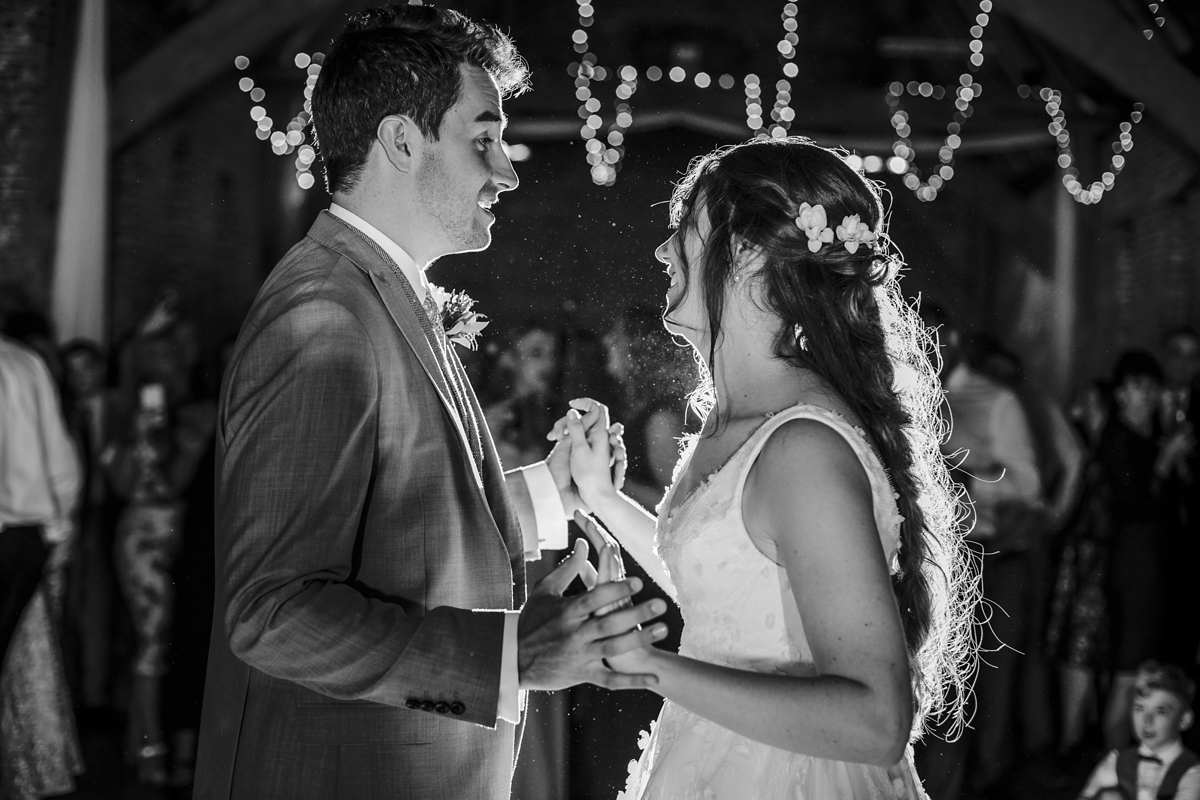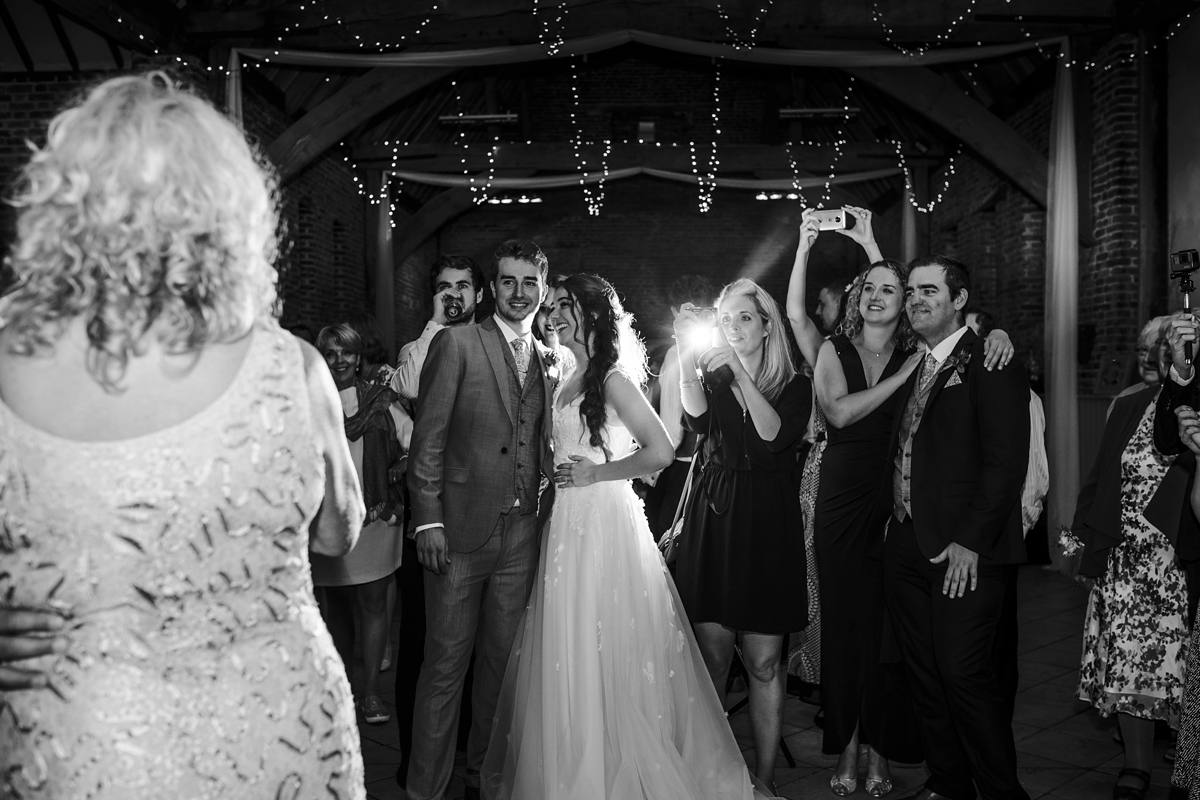 Words of Wedded Wisdom
"At least three times throughout the day just be with each other for a few moments.  Look around at all the people who have come to celebrate with you, stare into each other's eyes, laugh about something, go for a walk, anything to take yourself out of the moment for a few minutes and take it all in.  It ensured that our day didn't pass us by too fast."
So many thanks to Georgi and Tom for sharing their beautiful day.  I can't stop looking at all the pretty details!  I love such a personalised day.
All my love,
Shona x