What do you think of when you hear the words 'destination wedding'? To me that delectable little phrase conjures heady images of cerulean oceans and the feeling of fine white sand under my bare feet, or the misty haze of a distant mountaintop, with the wind whipping my rosy cheeks.
Or of course, the swish of gently swaying olive trees and the scent of freshly cooked pasta – it would be rude not to mention my own Tuscan nuptials wouldn't it!?
We've certainly shared some of the most beautiful seaside unions and elegant overseas celebrations known to man (and woman) on our beloved blog, and today I'm delighted to divulge the details of Sandals and Beaches Resorts new Aisle to Isle wedding experiences. I was lucky enough to travel to Jamaica just a few weeks ago to see these new offerings first hand, and it's fair to say that the Caribbean stole a little piece of my heart.
So who are Sandals? I have to say this trip was an education for me – I learned that while Sandals and Beaches are both leading luxury all-inclusive brands, Sandals is for adult couples only, while Beaches caters for everyone – but both of them offer the new Aisle to Isle wedding experiences in a multitude of styles, colours and themes. And it became quickly apparent that this deconstructed wedding 'package' isn't a package at all, every single element is customisable, adaptable and detail-driven to the highest standard.
Sandals and Beaches have 18 resorts across seven islands, so there's a huge array of tropical paradise locations to choose from, and a multitude of ways in which to wed, from a ceremony in an over-the-water chapel, to laid-back vows in a bohemian beach setting. Couples are assigned a 'wedding entourage' for the whole process, and you can be as hands-on or -off as you like, selecting every detail or allowing the experts to execute the day for you with just an inspiration as a starting point.
While at the Sandals South Coast resort, the Sandals team treated us to sunset cocktail parties and exhilarating catamaran cruises, and set up endless and ever-changing ceremony and reception locations, displaying the extent of the eight new 'inspirations' crafted for the Aisle to Isle experiences. The effervescent Director of Romance (umm best job title ever?), Marsha-Ann Brown explained under a leafy canopy in an elegant garden set-up, that the redesign of Sandals weddings was in response to couples' desire for choice, inspiration and information above all else.
In the age of Pinterest-ing and Instagram, I can see her point entirely – couples want a wholly unique experience drawing on a plethora of choices. I guess what Aisle to Isle does is bring these elements together into a smooth, seamless experience that isn't gimmicky or worn out – there are oodles of options, but they're coherent, not overwhelming. Marsha-Ann says:
"No bride wants a replica of another couples' wedding day festivities.  The ability to customise every facet of the experience, so that it truly reflects the unique personality of the individual couple and their style is paramount. Aisle to Isle gives brides what they want most – inspiring ideas and the information and professional expertise they need to create a celebration that is singularly theirs."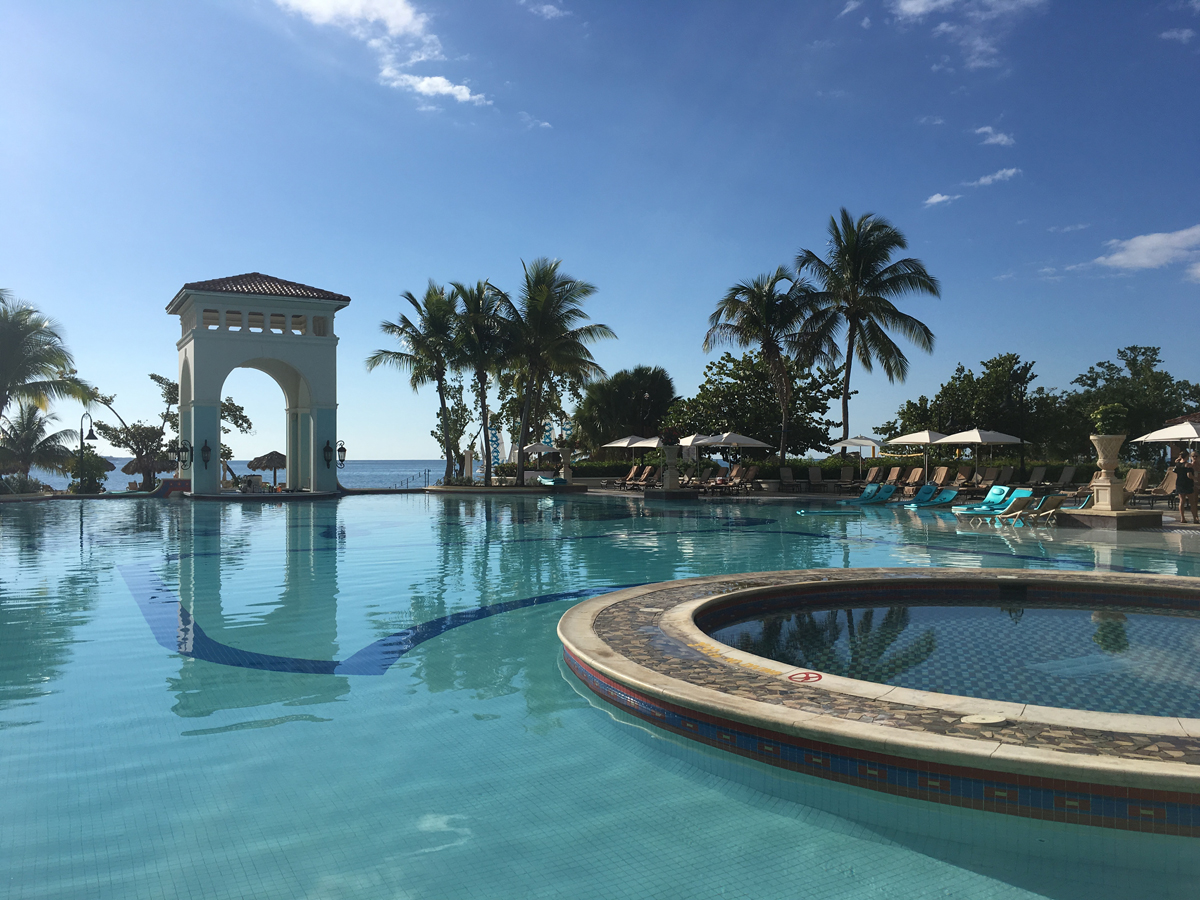 The eight new inspirations I alluded to are influenced by the tropics, gardens, romance, passion, the islands, sophistication, nature and sand and sea. Each style comprises of options for floral design, cakes, chairs, altars and tablescapes – oh and the food – delicious catering and far-too-drinkable cocktails come as standard.
"There's a misconception that destination weddings are cookie-cutter experiences," says Marsha-Ann. "But at Sandals and Beaches, that's simply not the case. Our inspirations create an amazing creative spark for brides and grooms to envision their own perfect celebration – from simple and elegant to playful and extravagant; the options are truly limitless. And as we say, weddings should be 'inspired by love, created by you.'"
There's everything from statement floral walls to bohemian driftwood aisles, and more ceremony and reception locations than you'd think possible. I assumed it would be all sandy aisles and fluttering chair backs, and they do that well – but there are colourful, tropical settings too, and options for elegant, clean minimalism. The newly renovated chapel at Sandals Montego Bay, the first of its kind along with the one at Sandals Saint Lucia resort, offers gorgeous vistas of the seemingly never-ending azure ocean by the day, and twinkles atmospherically when dressed for twilight-timed nuptials.
I've noticed a subtle shift over the time I've been featuring weddings for Love My Dress, and read more and more accounts of real life couples opting to prolong their celebrations, expanding their nuptials beyond a single day and turning them into festival-style weekenders and elegant overseas gatherings. The most frequent wedding lament I read is 'it's over in a flash,' (it really is by the way) so I can see the appeal of a destination wedding on many levels – a weekend-long, or even a week long celebration, which instantly morphs into a honeymoon or a holiday for your beloved guests.
"Many of our brides report they are choosing destination weddings because they turn a traditional five-hour celebration to a days' long affair. More time with family and friends is important to these couples," says Marsha-Ann.
"Sandals is making planning this extended experience easier, offering couples their own "wedding entourage," a team of experts from planning to execution who will assist with resort selection, venue scheduling, on-site logistics and the numerous details throughout the wedding stay and honeymoon. This team will also have suggestions for welcome celebrations, spa days, groomsmen outings and other activities; and the more guests that join the celebration with booked rooms, the more bells and whistles – tangible rewards – couples will earn. For example, couples that have 12 booked guest rooms can choose from perks such as $1,000 towards a private catamaran cruise, a complimentary room upgrade, a two-minute wedding trailer video, and more."
Couples who books a stay of three nights or more are entitled to a 'free wedding,' but of course the more rooms you book and the longer you stay, the more 'bells and whistles' you're offered for free. I can see the appeal of handing over some of the creative control to someone who knows the location, has relationships with trusted suppliers and years of experience, and being able to stay on resort to relax and soak up some sun before the ceremony, and maybe stay a few days to party with your loved ones afterwards. And certain basics come as standard, regardless of the size of your wedding party.
"No matter their budget, nearly all brides and grooms we surveyed reported the importance of convenience and value in alleviating stress associated with wedding planning decisions," says Marsha-Ann.
"All weddings at Sandals Resorts and Beaches Resorts, whether five guests or 50, include a one-hour cocktail reception, bride and groom signature cocktail, a pre-travel surprise gift, the 'Wedding Entourage' of expert planners, white Chivari chairs, manicure, 30-minute foot massage, personalised wedding website, personalised gift registry, honeymoon dinner, breakfast in bed and 1 5×7" wedding photograph."
"As an incentive to indulge in every aspect of the Luxury Included offerings at Sandals and Beaches, wedding couples are also given additional incentives for extending their time in paradise Couples who stay six nights or longer, receive gift credits valued at $1,500; and any couple staying three or more nights may opt for a Mokara orchid-inspired free wedding design that includes Mokara bouquet, boutonniere and two-tiered cake with Mokara orchid topper."
Customisable stationery and wedding websites can also be taken care of by the Sandals team, relieving some of that communication stress right from the off. I whole-heartedly preach that photography is one of the most important elements of your day, and in response to the increased demand for beautiful, and also unusual, wedding documentation, photography and video can also be worked into the Aisle to Isle experience, including photo booths and drone footage, or of course couples can opt to bring their own photographer.
The thing that struck me the most during my time in Jamaica was the depth and sincerity of Caribbean hospitality. 'Pure, warm and ready to serve' was a phrase I often heard repeated and it couldn't be more true, I've never met such friendly people. This genuine desire to make people happy, coupled with years of attentive, expert experience creates something pretty special. Sandals seem able to provide a wedding package that is both intimate and elaborate.
I'll be back on these pages in the New Year to tell you a little more about the array of honeymoon experiences on offer at Sandals and Resorts, but in the meantime for more information about the new Aisle to Isle destination wedding programme, visit sandals.co.uk, beachesresorts.co.uk, call 0800 597 0002, or pop in to the Sandals Luxury Travel Store at 135 Fulham Road, London.
With love,
Em x
There are no photos with those IDs or post 681407 does not have any attached images!