Hello! I hope you're all wrapped up warm with a steaming cup of tea. I'm so excited that it's finally December and I'm allowed to be legitimately excited about all things Christmas.
Today however, I'm taking you back to the summer for the lovely wedding of Rachel, a primary school teacher, and Chris, a civil servant. The couple wed on 16th August 2017 at Secret Garden in Ashford, Kent and were inspired by their love of tea and cake. Yep, I'm in love with them both too.
Film by Oh Darling Productions
"From the beginning we knew we wanted a small, relaxed wedding and an intimate venue that would allow this. I'd been to the Secret Garden for afternoon tea a few years ago, and when my mum suggested it as a possible venue, I knew I had to take Chris for a visit. It was actually the only venue we visited, we both have a big love for cake and tea and having decided on an August wedding, (the curse of being a primary school teacher!) we both agreed the gardens would be perfect should it be a sunny day."
Rachel chose a stunningly elegant gown by one of our all time favourite designers, the inimitable Jesús Peiró, a contemporary creation of clean lines and beautiful craftsmanship. You can read more about these Spanish masters over on our beloved Little Book for Brides. Rachel purchased her dress from The Pantiles Bride in Tunbridge Wells, and paired it with the gorgeous Hermoine shoes by Rachel Simpson, another of our fabulous Little Book for Brides suppliers.
"My dress was actually one of the first dresses I tried on. I knew I loved it from the start but carried on the hunt in case I should I find something I loved more. However, that moment never came and I decided to go for it."
Images by Olegs Samsonovs Photography
"The dress I chose was simple yet had a statement bow which I loved. I loved the top that went over the dress because it highlighted my waist but also added a different dimension to the shape . The whole dress was something a bit different yet not too 'out there'. A big bonus was that it also had pockets! I couldn't be happier with my choice of dress and I'm glad I stepped out of my comfort zone."
"Our colour scheme was blue and yellow which was mainly inspired by our favourite colours.  When we first moved into our house in 2015,  I convinced Chris we needed Orla Kiely wallpaper in mustard yellow and ever since I have been obsessed with the colour yellow. We also wanted something bright and fairly informal with it being a summer wedding, and Chris found some great blue suits that decided the theme."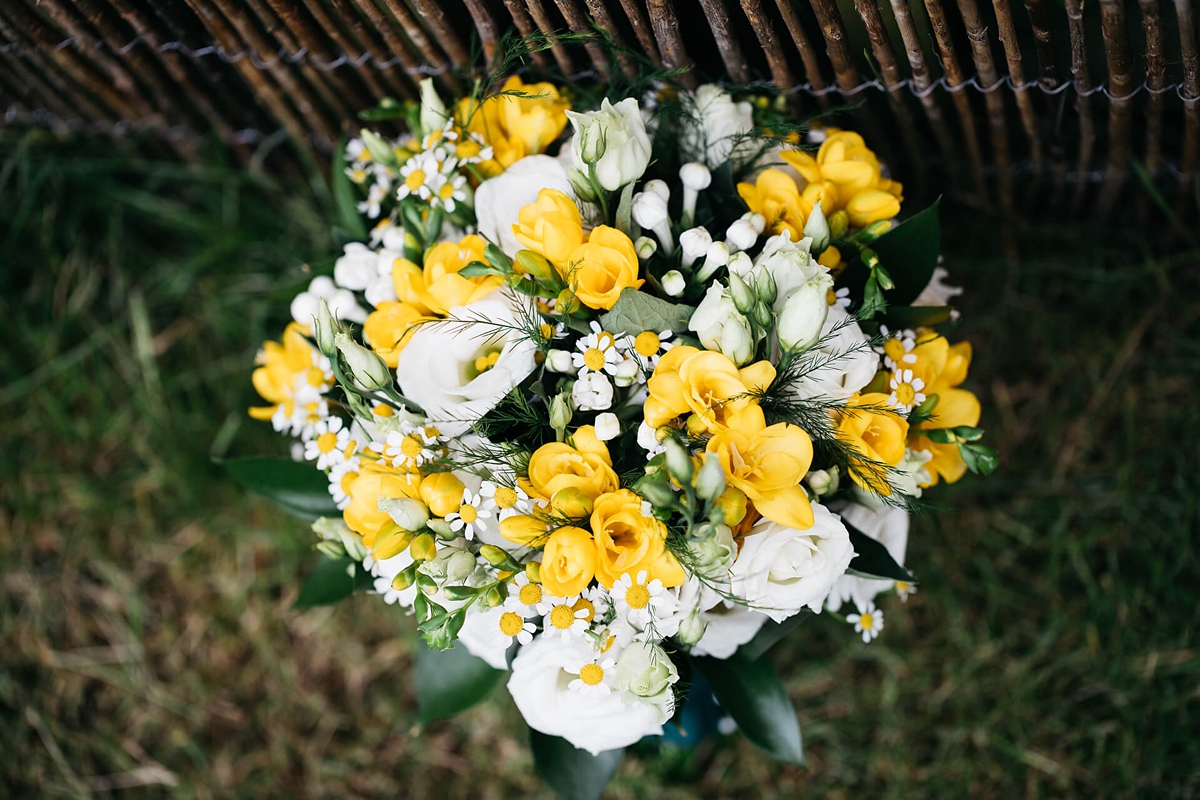 "I did a lot of crafting for the day, mainly to save on money, but also because I enjoy getting arty. I used Pinterest and Not on the High Street as my inspiration and my grandma helped me put my ideas into reality."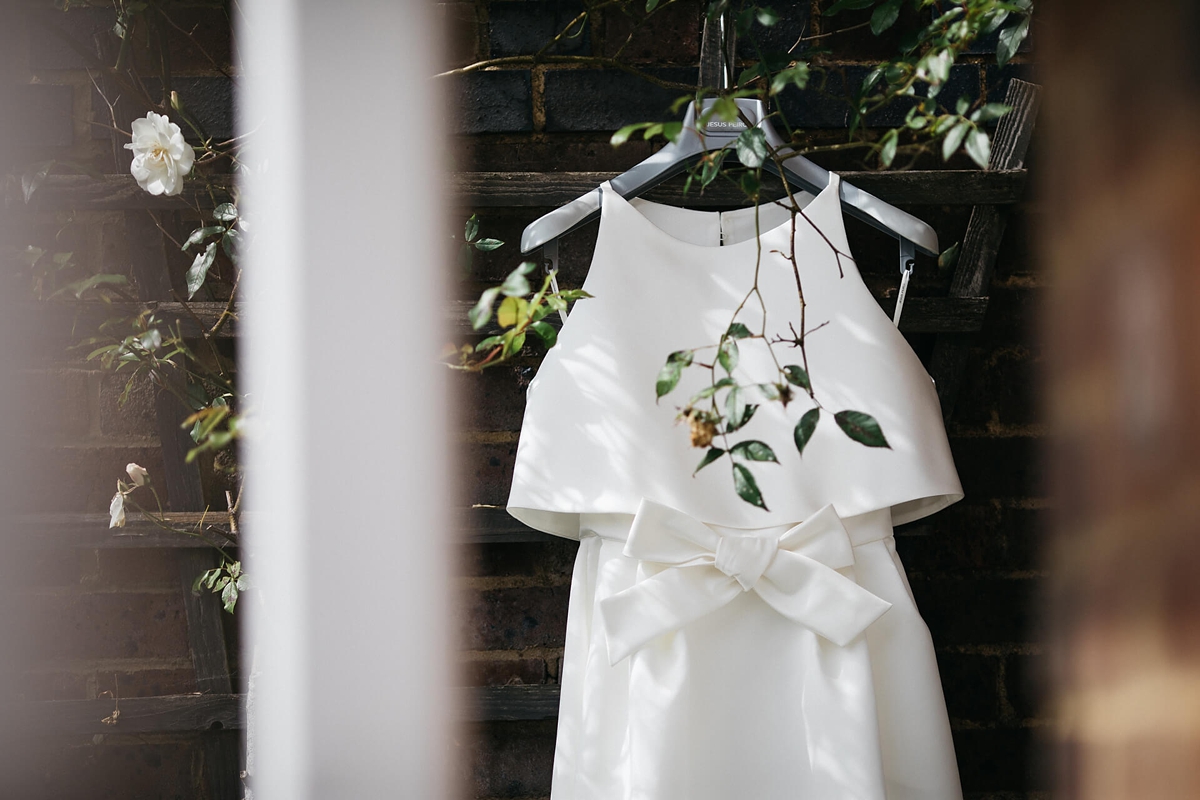 Our bride took care of her own make-up on the day, and with the help of her videographer, Lindsay Reynolds of Oh Darling Productions, she styled her relaxed, braided up-do.
Rachel wore a favourite necklace, engraved with the word 'Always' – a sentiment echoed in the cufflinks she gifted Chris on the day. Chris meanwhile chose a blue suit from Next, accessorised with Clarks shoes and a sunny yellow tie from Slaters.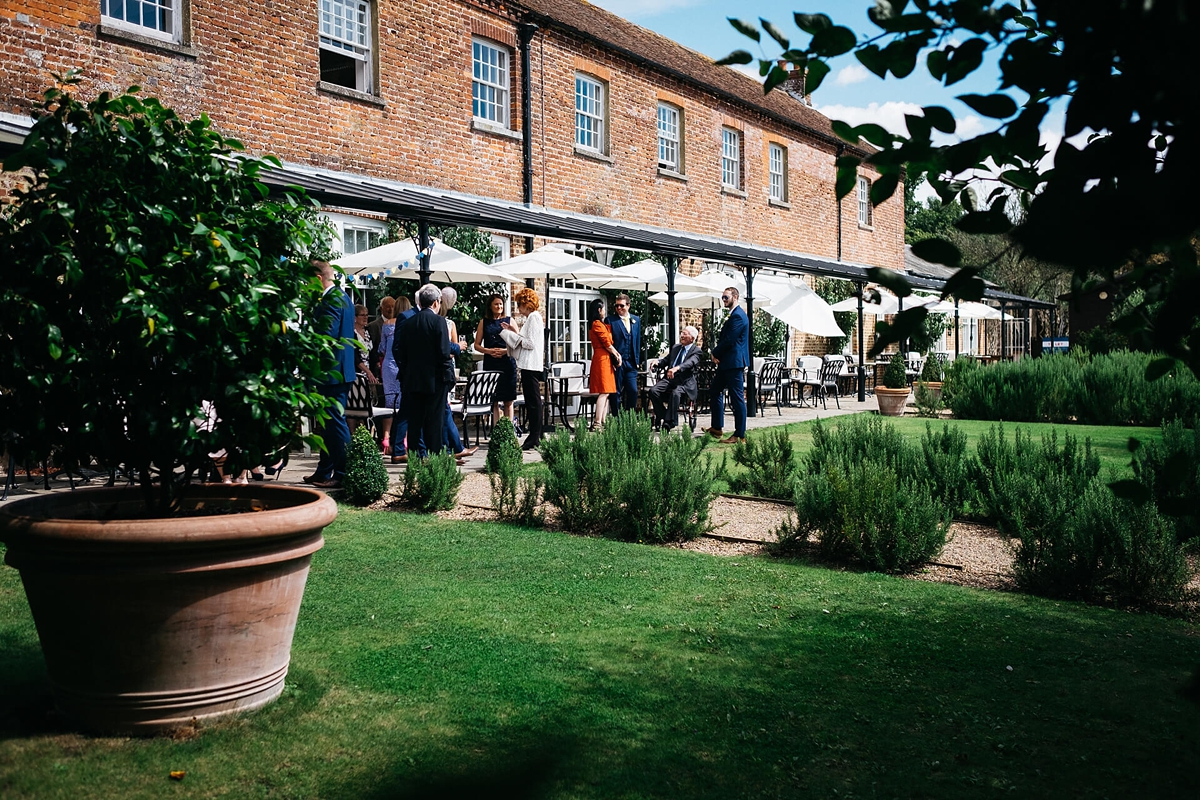 "We asked Gibsons Farm Shop florist to stick with the secret garden and yellow theme so the flowers we chose incorporated the garden with daisies and smaller yellow flowers. I didn't want the bouquets to be too yellow, so the florist incorporated white flowers to tone it down. My grandma made up the aisle flowers, again sticking with neutral white colours."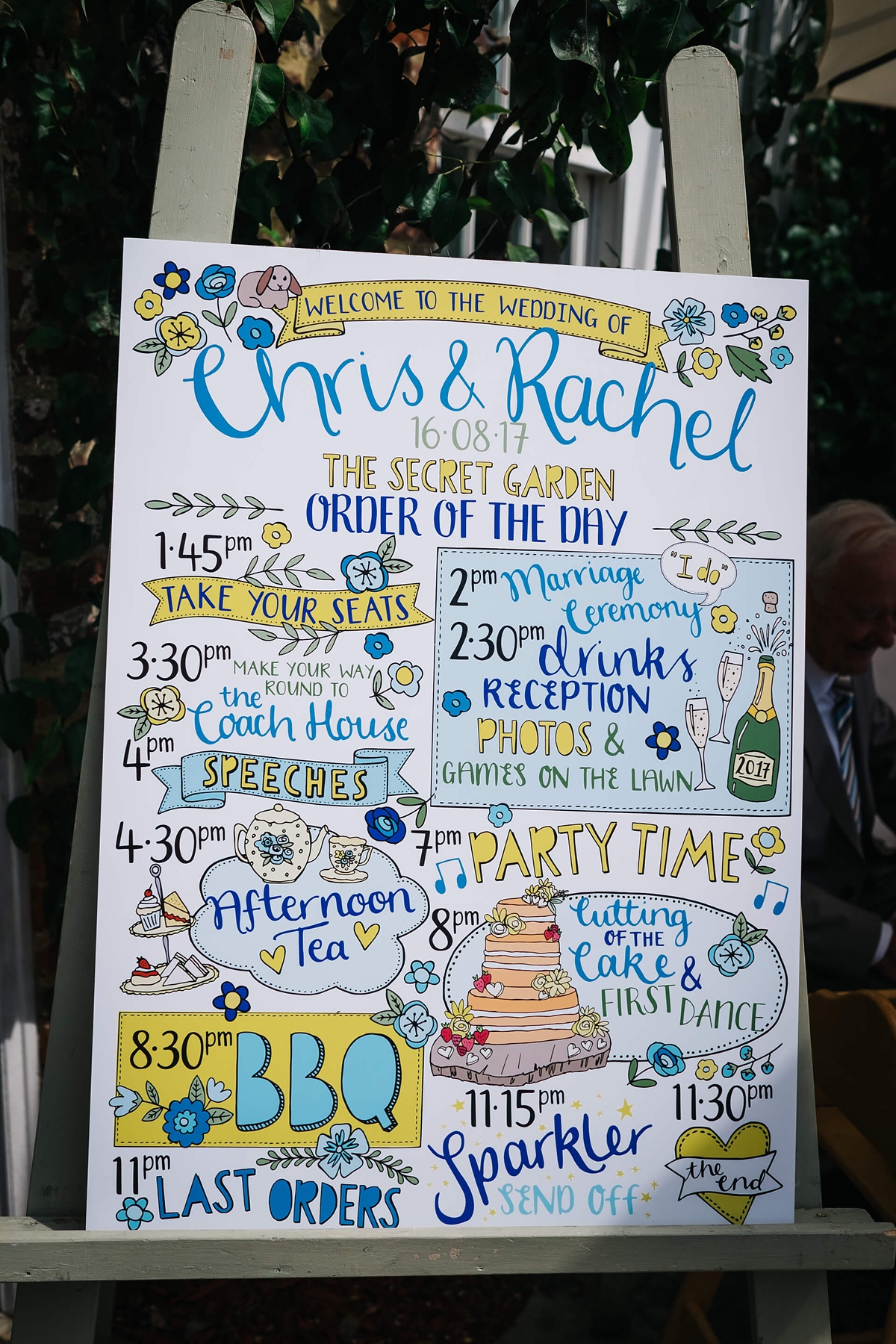 The sweet page boy looked incredibly dapper in his Marks & Spencer ensemble, while Rachel's bridesmaid donned a lacey French Connection dress paired with Next shoes and an engraved Posh Totty Designs necklace, gifted to her by the bride. I love the vibrant yellow blooms in the girls' bouquets against their white frocks – so happy and bright.

"My godfather drove me to the wedding in his BMW, and my dad walked me down the aisle but before me went my sister Hannah and our nephew Fred. I walked down to Ellie Goulding's 'How long will I love you'. One of our favourite parts of the day was the part our nephew played in our wedding. We were so proud that at only three he walked all the way down the aisle and gave us our rings! He adores Chris and him doing those bits for us was precious."
"Chris and I met a few years ago when we worked together. We moved into our first house two years ago and got engaged in August 2016. Chris proposed in the garden of our house at night. While I was upstairs he managed to manoeuvre the kitchen table outside and lay glow sticks on the table displaying the words 'Will you marry me?'."
"He came upstairs and told me to look out of the spare bedroom window and of course I said yes! Three days later we headed to the South of France and then New York, it was lovely celebrating with family in France and then having a week in New York together to celebrate and 'talk wedding'. A year and six days later we got married."
Rachel and Chris selected two passages for their outdoor ceremony, one recited by Rachel's grandmother, Evelyn, and the other reading given by Chris' grandmother Joanne. Evelyn chose her own reading, entitled 'On your wedding day' while the couple selected a chapter from 'One Thousand' by O.J. Preston for Joanne to recite, words that they felt reflected their hopes for their marriage.
For two people this dawn brought on a magical day
Now husband and wife they head on their way
As a boat setting sail may their journey begin
With calmest of waters, most helpful of wind
And if they should stumble upon turbulent sea
May it pass them unharming – leave them be.
For here are two people whom love has well bitten
Here opens their book which has yet to be written
As the first page unfolds and their life inks its path
May it write a true story where forever love lasts
Let their journey be happy till death do they part
Of one thousand chapters may this be the start.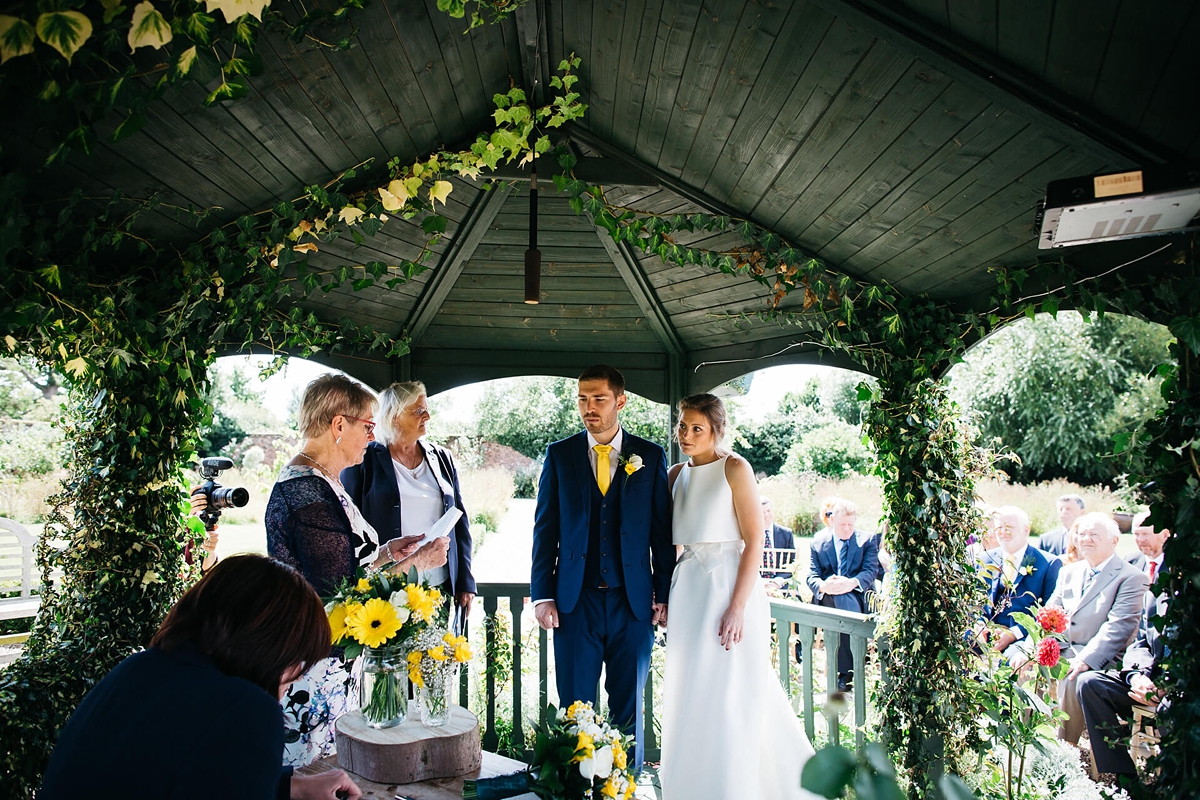 "Our favourite part of the wedding was the officiation. We used Kentish Ceremonies and were able to choose from a couple of options available to us when it came to vows. Our celebrant was so lovely and seeing Chris' face when I walked down the aisle was heart-melting."
"Making it official and knowing that we were now forever connected to each other was the best feeling. Your wedding after all, is about the two of you coming together and doing this in front of a select bunch of friends and family was so special."
The couple exchanged rings from Hadfields Jewellers in Canterbury, Chris's a solid gold band like his dad's and Rachel's a simple platinum band to complement her solitaire engagement ring. After their vows, the couple emerged beaming into the summer sunshine before slipping away with their photographer, Olegs Samsonovs, for some beautiful just married portraits.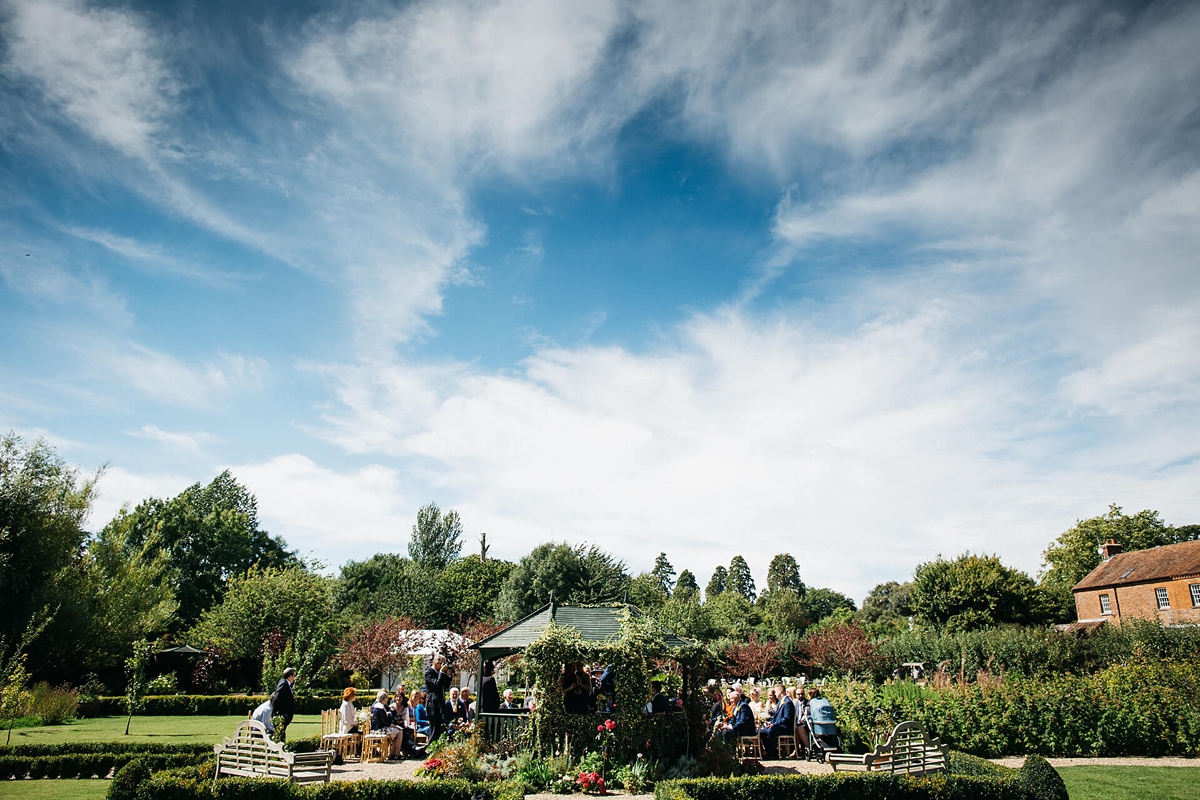 "We first heard about Olegs from my sister who used to work with Rita, Olegs' partner. After looking through his photos we were keen to meet him. A pre-wedding shoot and wedding later we couldn't recommend him more highly. We are so pleased with the photos he has given us. Rita and Olegs make a fantastic team and provide you with a whole range of photos, both formal and relaxed, which document the day beautifully."
"They made us feel at ease and we trusted them completely with our vision for the wedding, capturing all the magical moments we perhaps weren't a part of, but also the off guard moments where we didn't know they were there."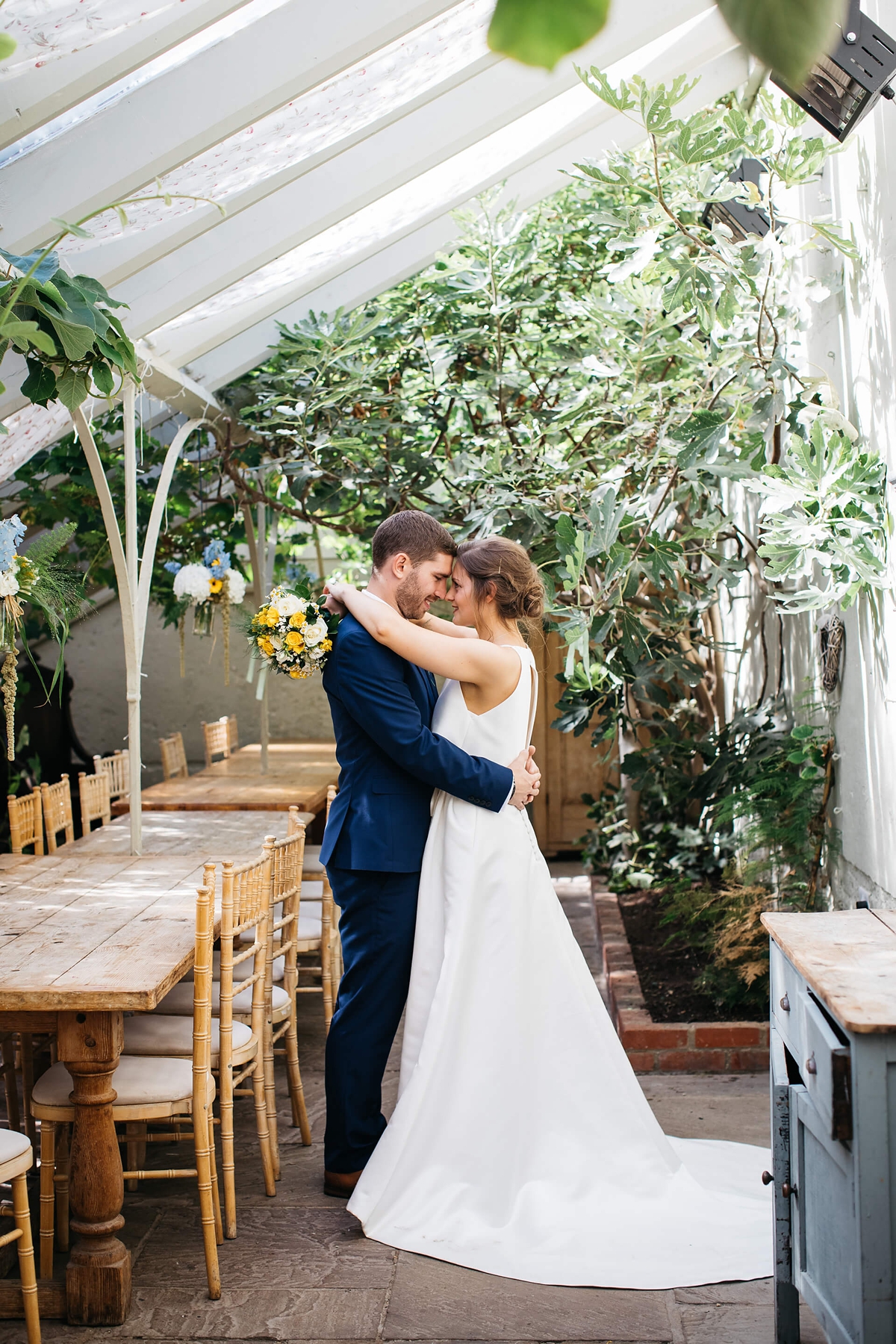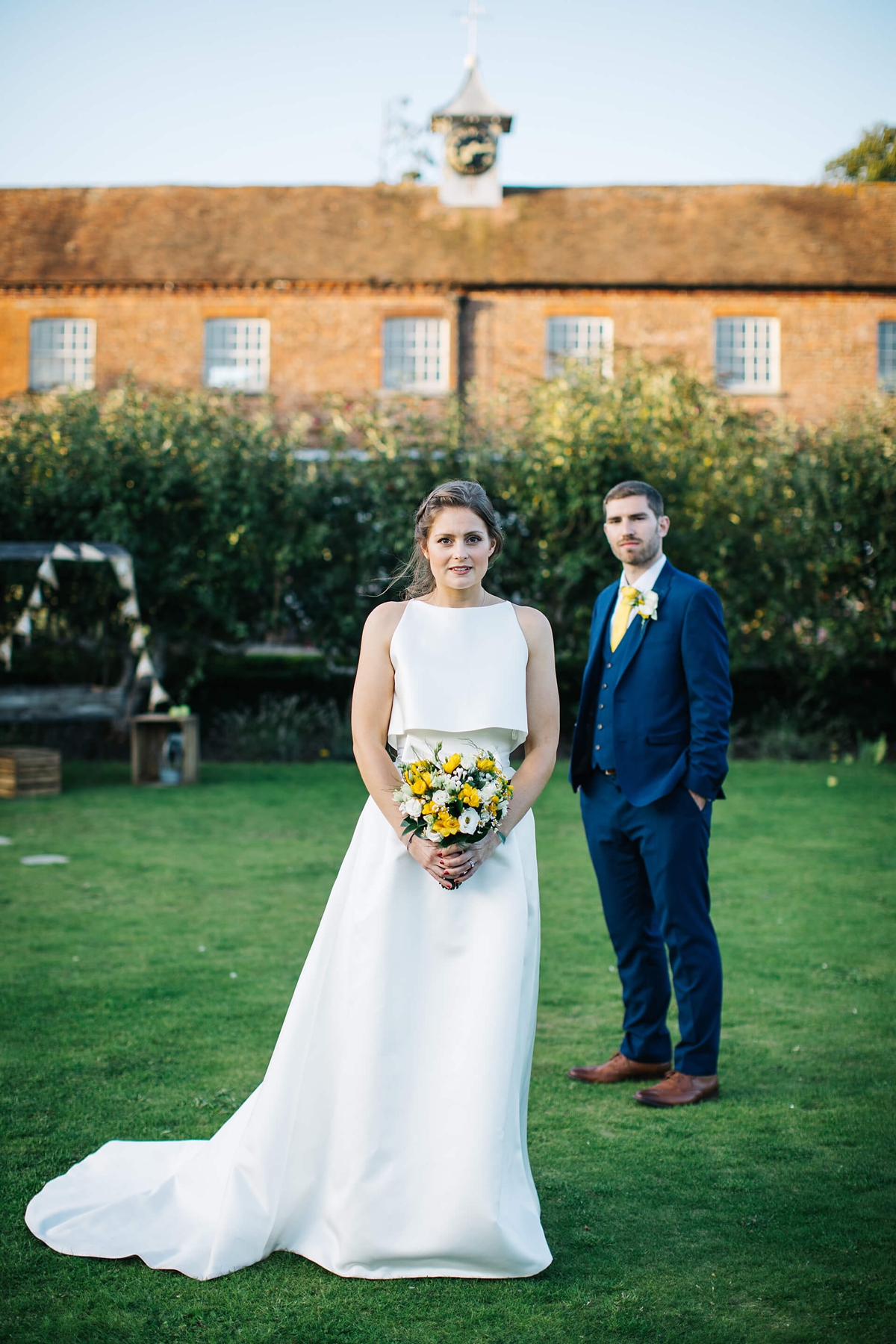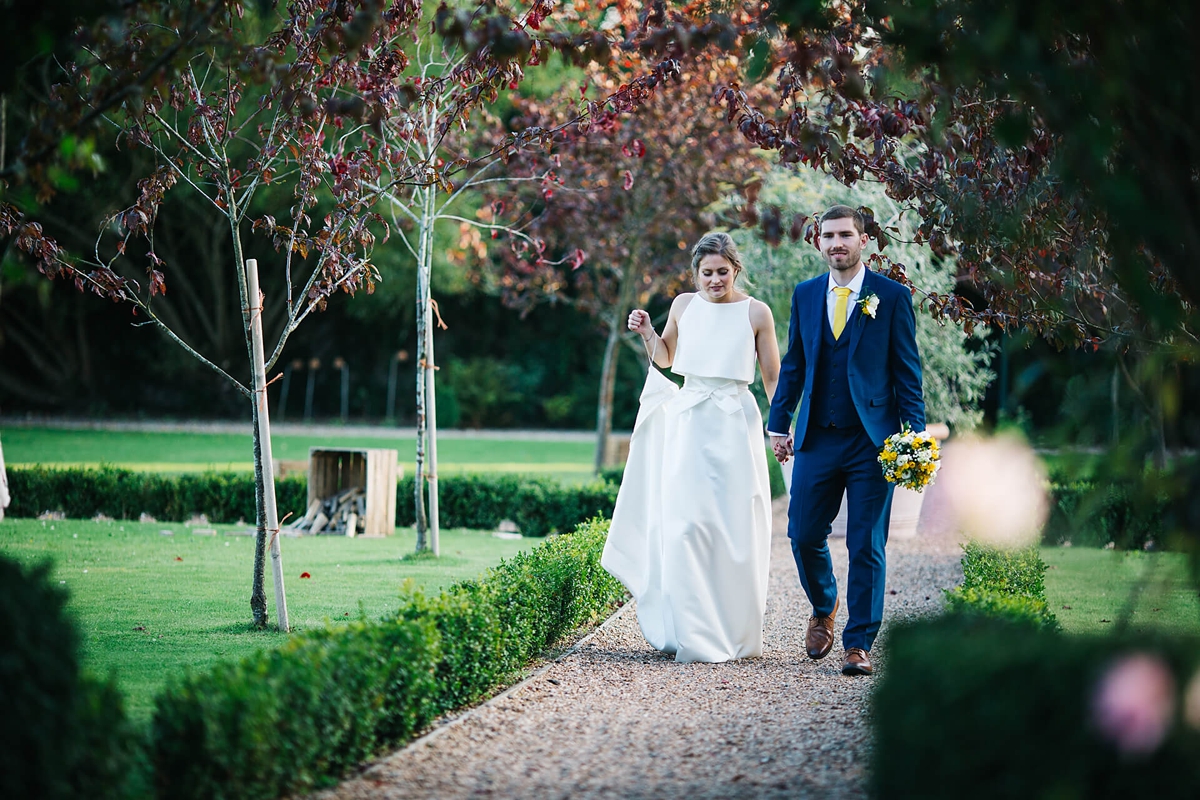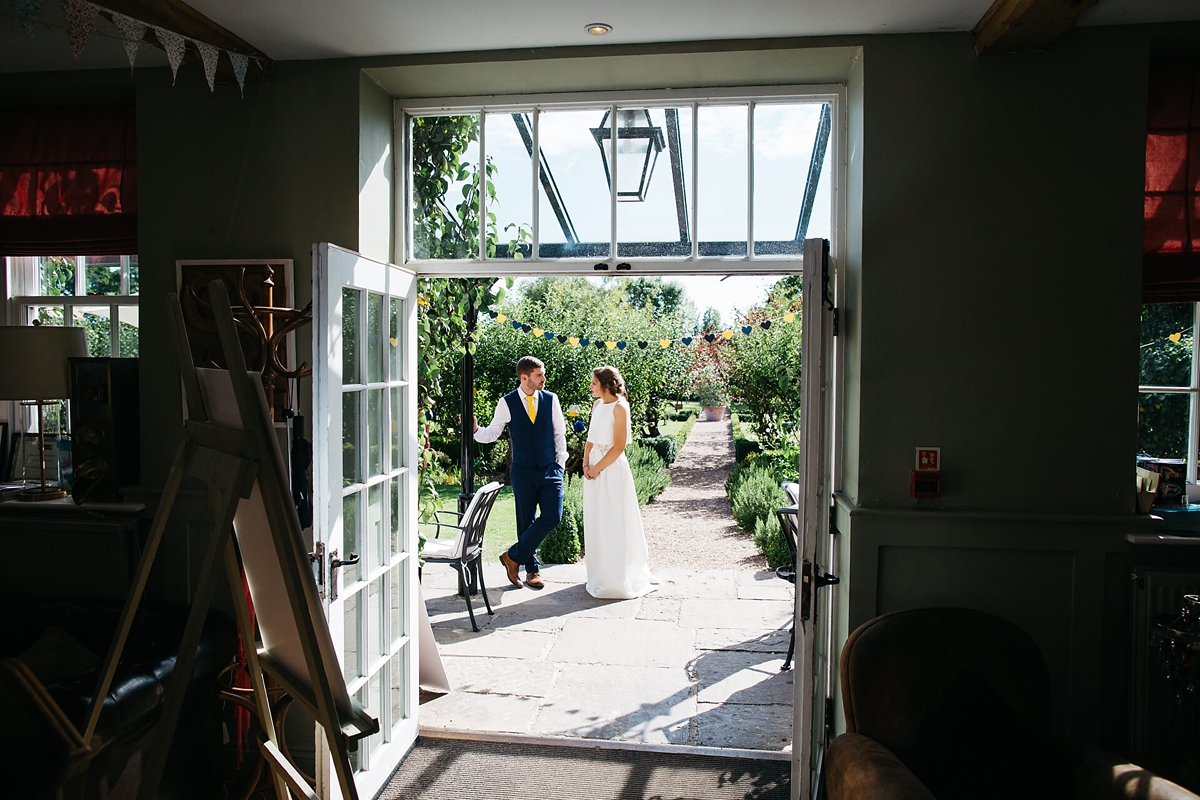 The couple's invitations, seating plan and order of the day were designed by Paper Fudge and Rachel created the place names, table numbers and chalkboards herself along with the colourful, heart-shaped bunting.
Our bride loved being able to support small Etsy brands when purchasing her decorations, mixed in with some high street finds to assemble a sweetie table to be devoured after a sit down dinner, catered by Secret Garden.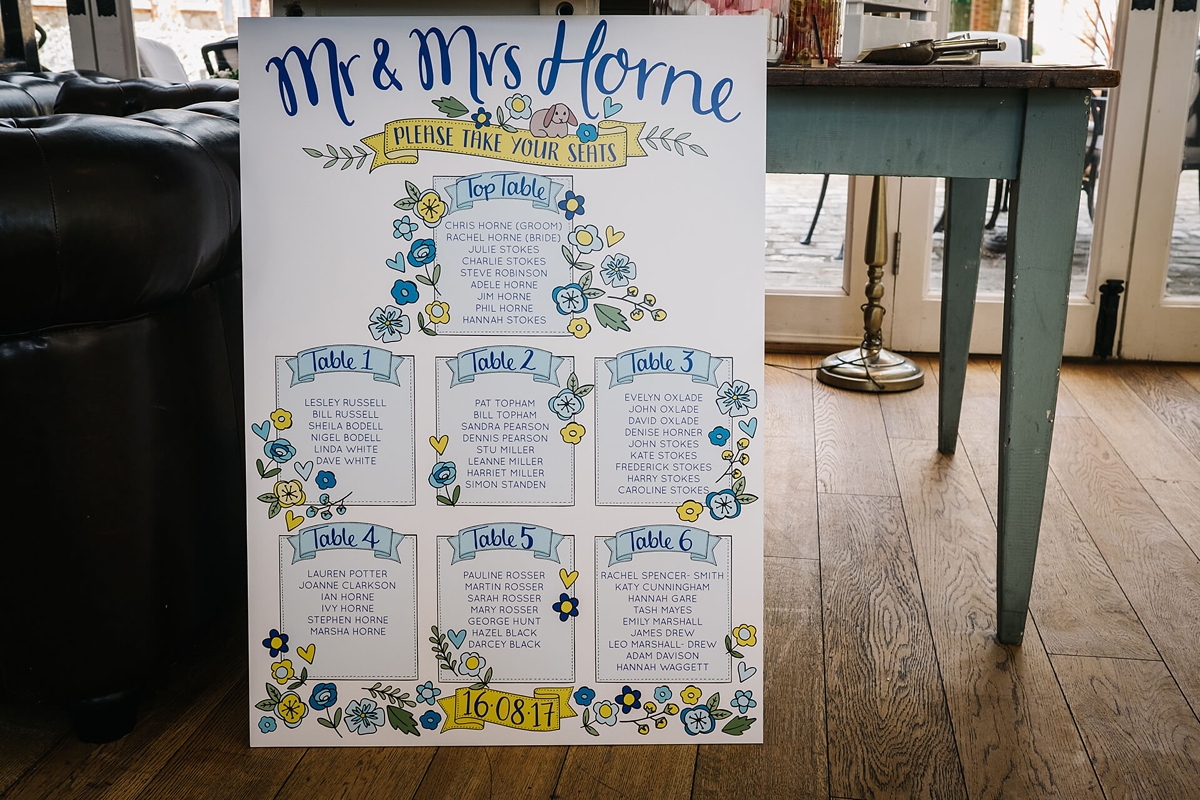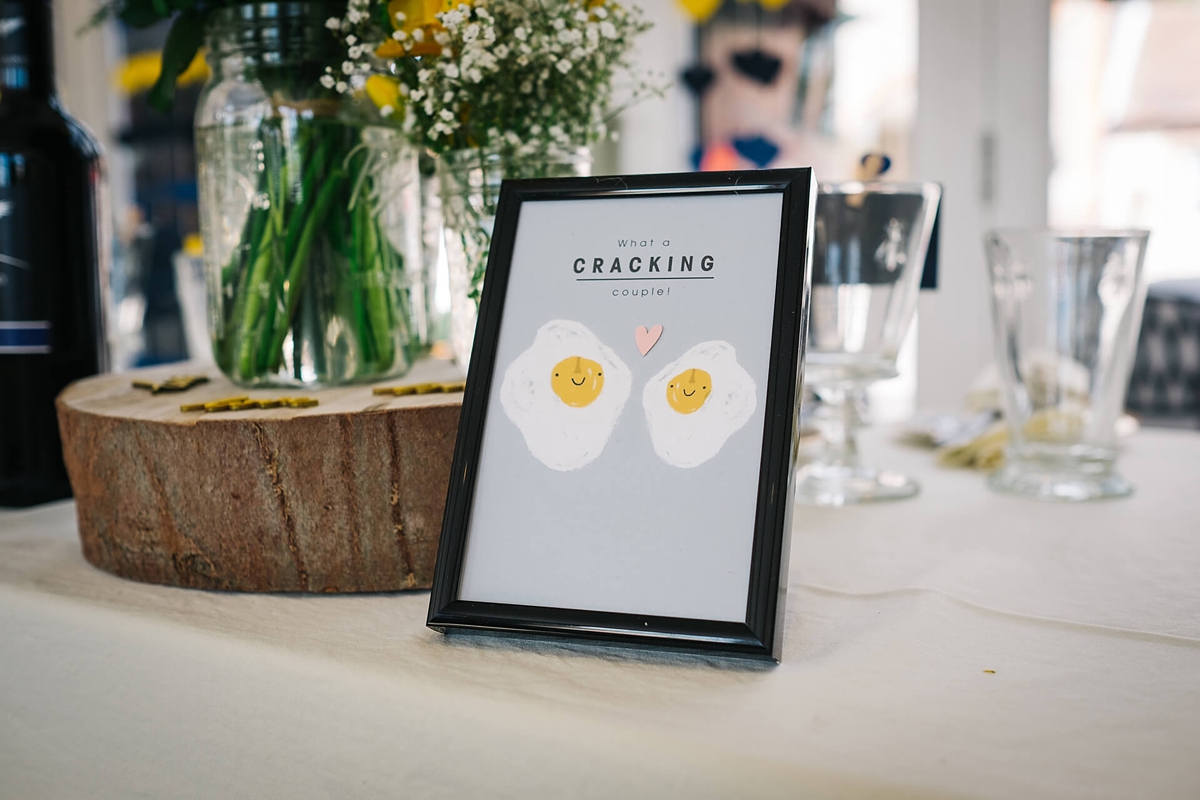 "Secret Garden did our catering and our cake for us. The bottom layer was carrot, the middle layer lemon, and the top layer chocolate. We wanted a very relaxed looking cake to suit the wedding, us and the venue. It was more about it being a tasty cake rather than a formal beauty. I found a picture on Pinterest to show the chef, which included scalloped icing and a couple of the flowers I had in my bouquet. We honestly couldn't have been happier with the outcome and it tasted amazing."
"The size of the venue suited the number of guests we had – big enough for our nephews to roam, yet small enough that people could mingle comfortably. The packages on offer for weddings at The Secret garden also allowed us to have a laid back afternoon tea and BBQ in the evening, which really appealed to us. And it was just twenty minutes from our house too, which meant our families didn't have to travel far."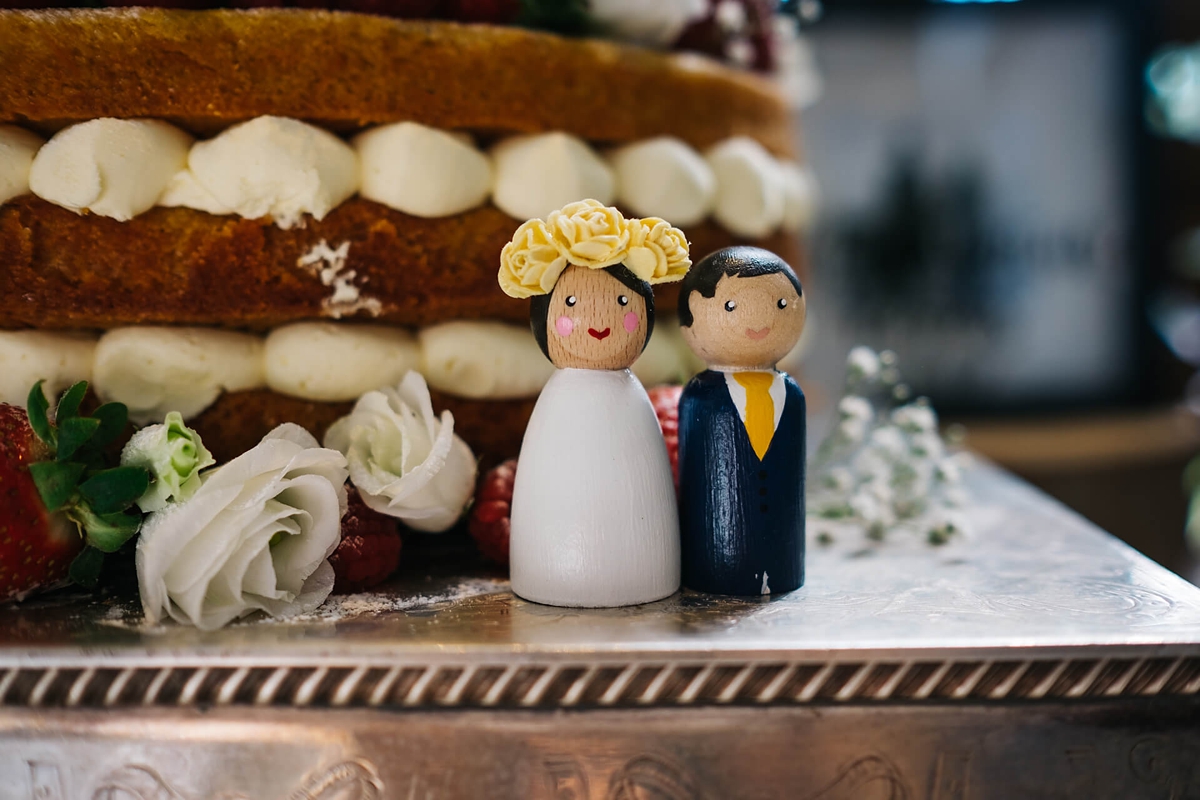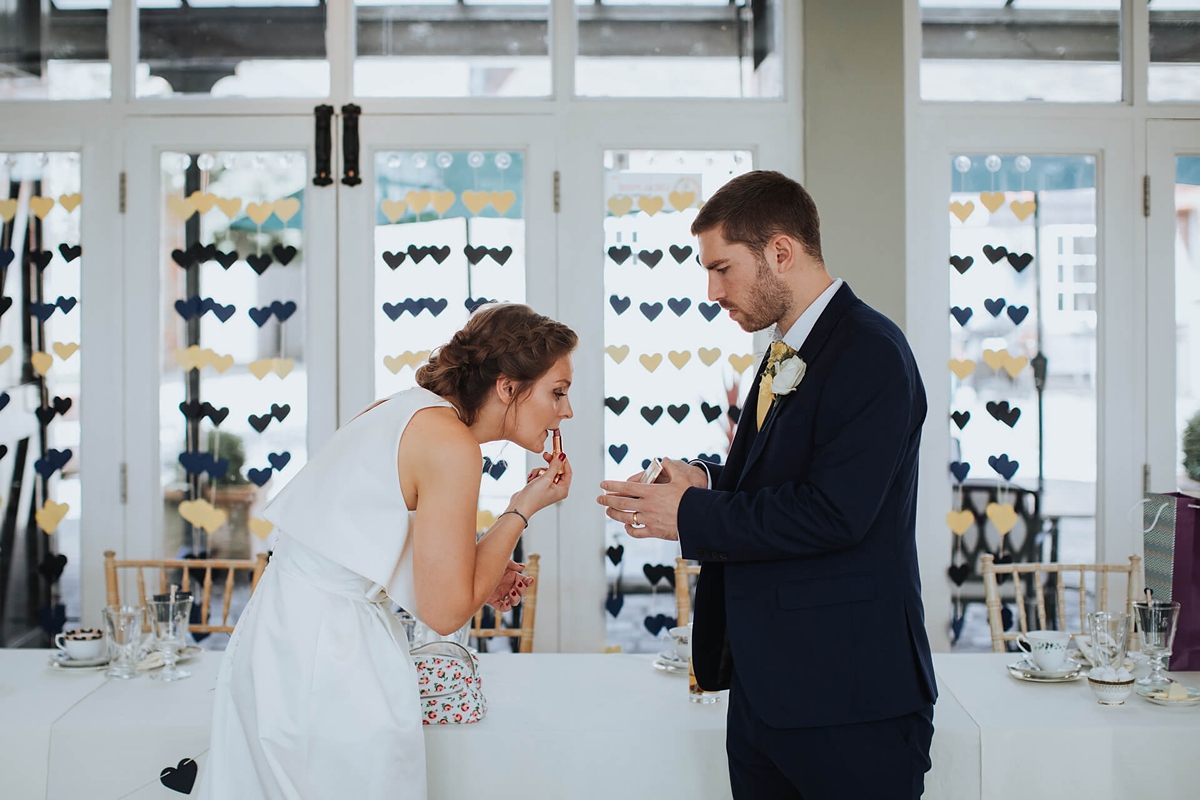 Rachel and Chris chose 'I don't want to miss a thing' by Aerosmith for their first dance, lyrics that they felt were perfectly fitting to their feelings for one another. I so love the look of complete and utter adoration in the newlyweds' eyes, as if they were the only two people in the world.
Words of Wedded Wisdom
"Don't worry too much about your guests. I was worried throughout the whole of wedding planning about our guests. Due to our wedding being quite intimate, I worried that people would be bored and it would be awkward. But actually because of the number of guests we had, people mingled together and got to know each other."
"Be yourself! I read this soooo many times whilst planning, but it is true. I went out of my comfort zone with my dress and it was one of the best decisions I made. I also made a lot of the décor myself, I panicked more than once that people would think it looked tacky and out of place, but actually it just made the day more 'us'. Don't feel like you have to conform to wedding fashion or formality. It's your wedding and you guys will be the only ones who look back on the photos and are glad you made it about you."
"Get a videographer! We really pushed our budget in getting one but we couldn't be happier with our decision, and it's such a lovely thing to show people who couldn't be there but also to have for the future.
Don't spend more than you can afford. It's just one day! Once it's over, that's it! We were really strict with our budget because we wanted to be debt free once the day was over. The saving is hard work but the feeling you have in the months after knowing you've paid it all off and can plan the next adventure is priceless."
Thank you so very much to Rachel, Chris, and of course Olegs Samsonovs Photography for these gorgeous images. By the way, Rachel is a part of our private Facebook group for brides and newlyweds – if you haven't already joined, please do so! Rachel found it amazing to be part of a group where everyone was sharing their wedding ideas and experiences. It really is something rather special.
With love,
Em x