How on earth is it Monday again already? Christmas is almost upon us and I'm drowning in a half-panicked, half-elated puddle of glitter and mince pies. Please tell me it's not just me? Today I'm absolutely honoured to be sharing the stunning union of David and Eli, both engineers for Rolls-Royce.
This gorgeous pair wed on 20th August this year at Makeney Hall Hotel, followed by a homemade reception in their own garden. The immense effort and care with which the couple created their unique venue is staggering, and the result is simply beautiful. We were delighted to read that Eli and David sourced their videographer, Andrew of Tregoning Weddings, through our curated wedding directory, Little Book for Brides.
"Andrew of Tregoning Weddings actually recommended our photographer Luis to us and we are so glad he did. They worked as such a team all day and together the video and the photos tell the story of the day really beautifully. Luis was absolutely fantastic, keeping in regular contact before the wedding to ensure he knew everything about the day to make sure he captured it for us, and the photos are just beautiful."
Film by Tregoning Weddings
"We wanted to hold our day outside as much as possible as we are both lovers of the outdoors, which of course is tricky in the UK. We searched high and low for a wedding venue – every weekend for months we were going for viewings or attending wedding fairs, but nothing was right, or was too pricey. Eventually, Dave said to me, we are going to have to think outside of the box – little did I know he meant that we could have it at home. Our garden at the time was in no way ready, or even safe to have a wedding with lots of people and children in."
Images by Luis Calow Photography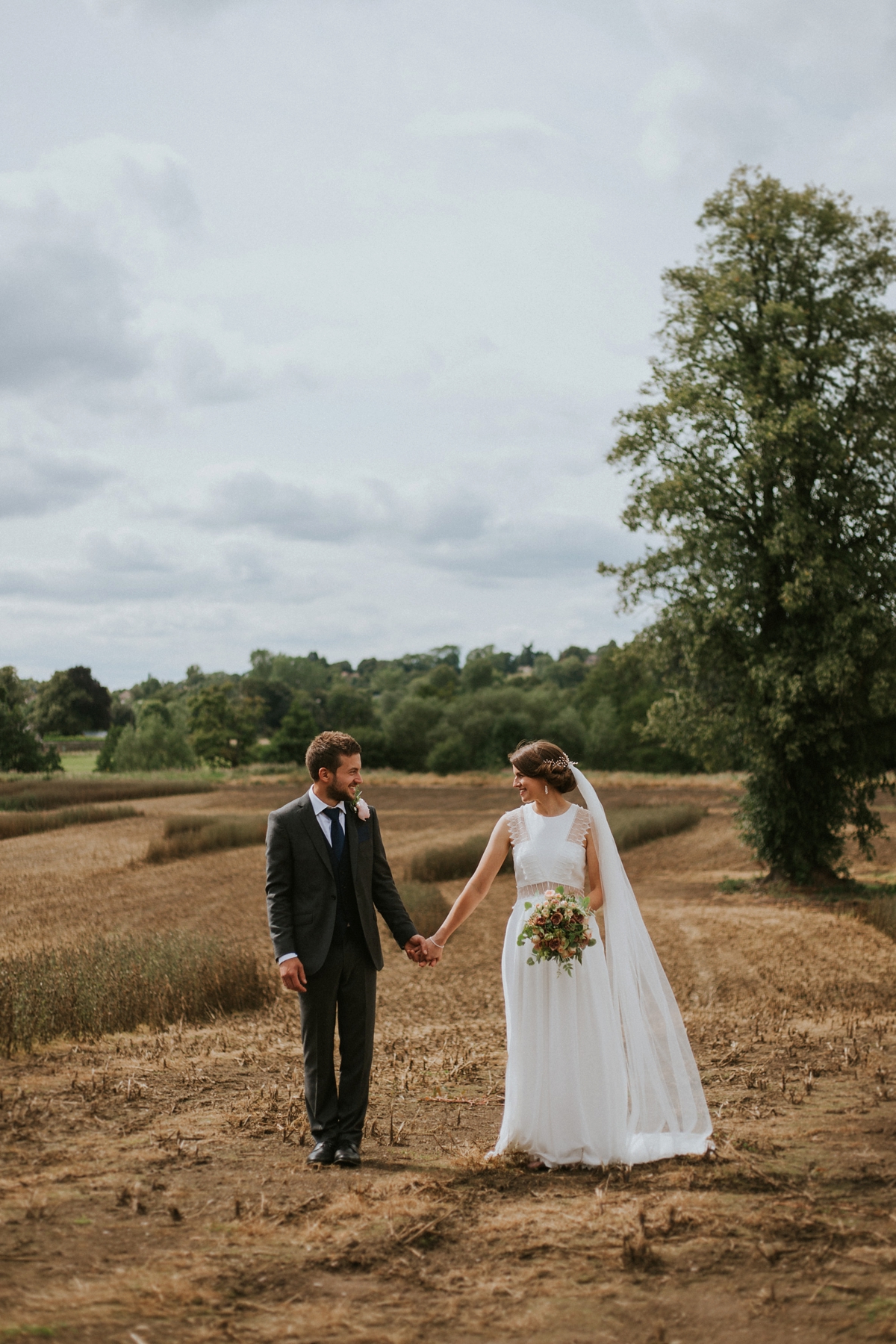 "We started tearing it apart. The old shed came down, we had bonfires for days. Dave hired the digger for Easter weekend, and that was the real turning point for the project. All of a sudden it changed from being one big slope to three distinct levels, and my imagination kicked it. It was a complete blank canvas and we could do what we liked with it. Between March and August we transformed it into our wedding venue. We had an extraordinary amount of help from parents, friends and neighbours. Without them we wouldn't have been able to finish it."Such a breathtakingly beautiful wedding warranted a truly gorgeous gown, and Eli chose a heavenly number from Rembo Styling, which she purchased from Alexandra Anne in Derbyshire, along with her veil. I adore its intricately delicate back, the lace dealing almost like feathery wings, and the semi-sheer panels adorning the bodice before flowing into a soft, simple skirt.
"I had tried on one of the dresses from the Rembo Styling collection and loved it. I had thought that this was the dress until my sister sent me a picture of another one by the same designer. I knew I had to try it on, at least to satisfy my curiosity. I then found Ally at Alexandra Anne."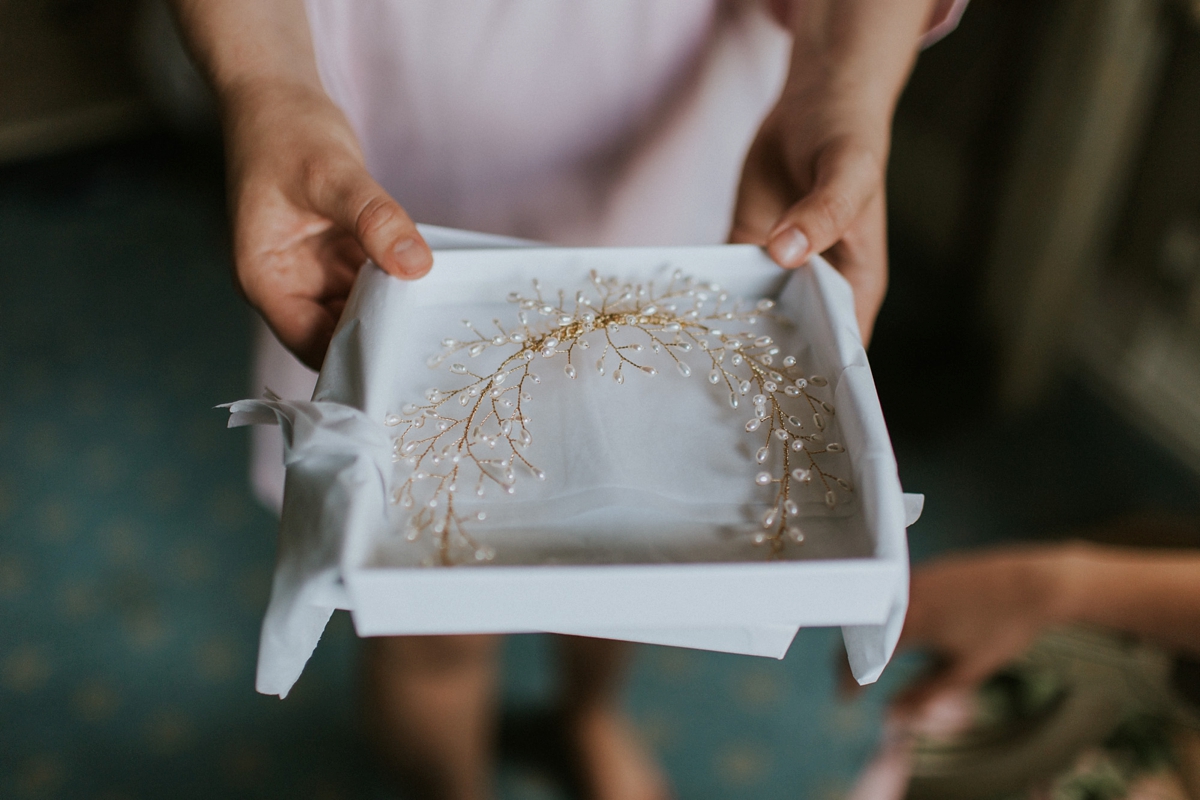 Simple soft pink flats from Office complemented Eli's dress, and her swept back locks were adorned with a pearly hair piece purchased from Joanna Reed Bridal via Etsy.
Earrings from Vivien J Bridal Accessories and a pretty bracelet, lent to our bride in a lovely gesture by boutique owner Alexandra Anne, were the finishing touches along with her fresh, foliage-filled bouquet.
The groomsmen wore an eclectic array of bowties and braces purchased from Amazon, while David donned a beautifully cut suit from Hawes & Curtis. A graphic designer friend of David's created bespoke stationery, kindly going above and beyond his brief to craft invitations that received tonnes of compliments.
"David and I met at university and were friends for 18 months or so before we got together. Once we were together we were inseparable, and doing the same course meant that we had a good excuse to spend a lot of time together. We were then together for 5 and a half years before we got engaged. We were on holiday in America, and we were visiting Yosemite National Park."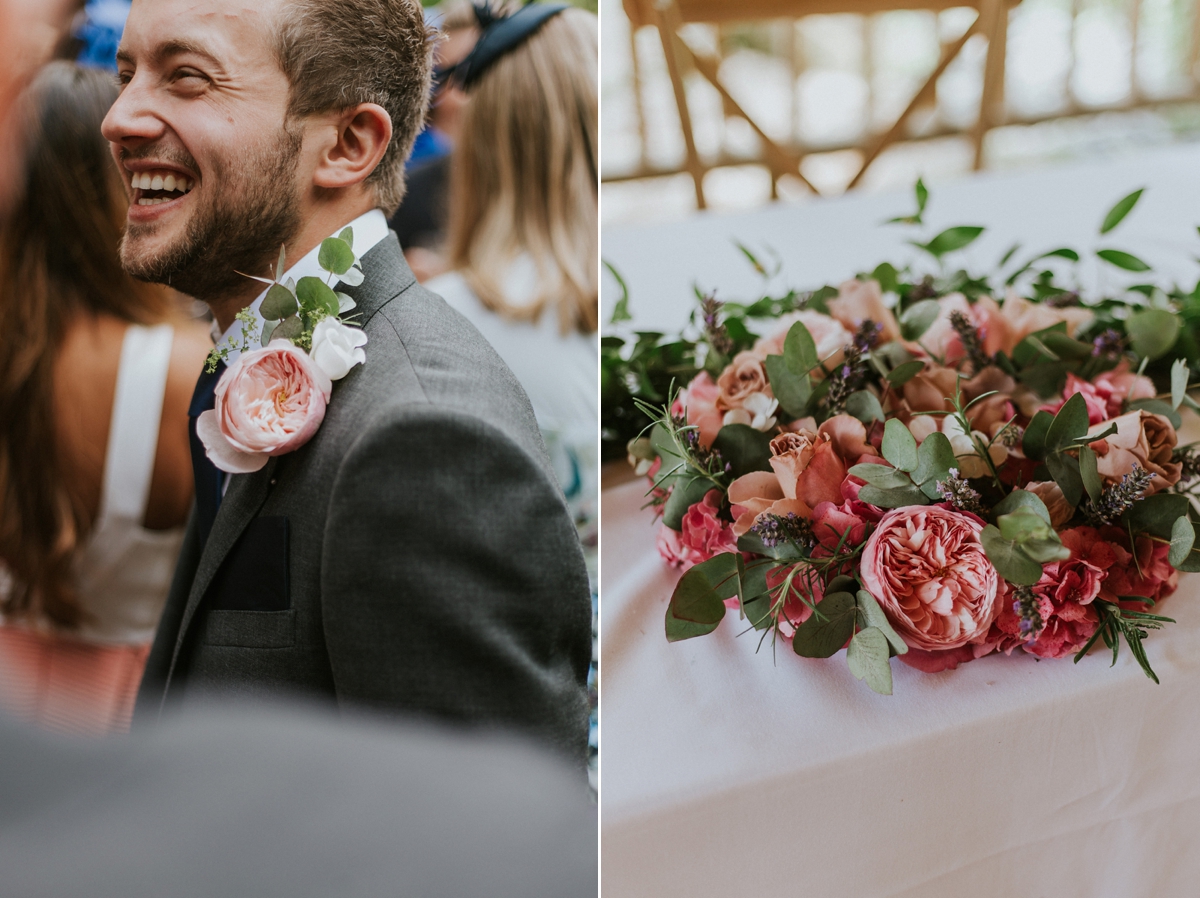 "We are both keen walkers so we went on a hike, and Dave had the ring stashed in the space where a battery should have been for an old phone before he got down on one knee –  it was lovely."
"We were engaged for 11 months before we got married. Everyone kept asking why we wanted to do it so quickly, but we figured why not? It was the next natural step for us and so it felt really right."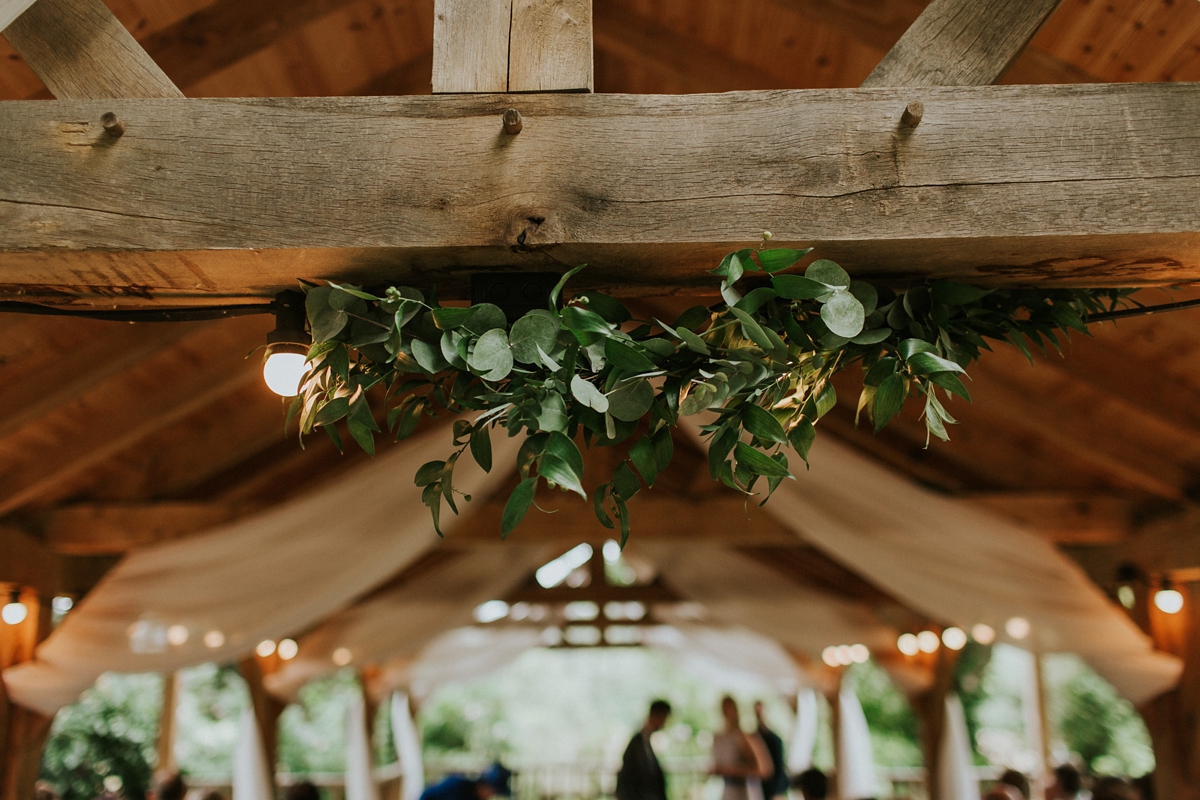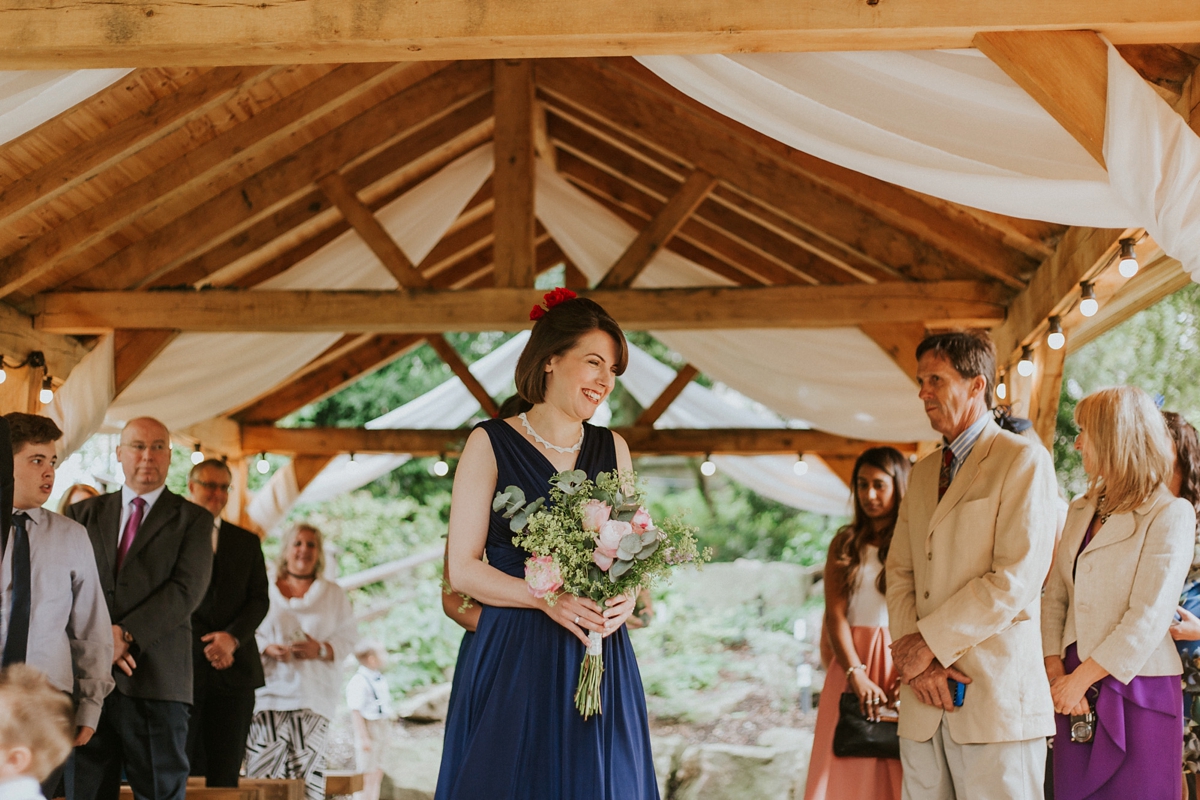 Eli's dad walked her down the aisle at Makeney Hall Hotel to Pachelbel's Canon in D, to join her love under a wooden structure draped with swathes of billowing fabric and glowing festoon lights. Eli treasured this time with her father, and even more so, the few precious moments between coming downstairs and walking down the aisle to join her fiancé. The couple had to readings during their ceremony, a poem (He always leaves the seat up) recited by David's niece, and 'Union' by Robert Fulham read by a close friend.
"We bought our wedding rings from Nigel Lynall jewellers in Birmingham. I wanted something slightly unsual, which I couldn't find anywhere. So I gave Nigel a picture of what I was thinking and he made it for me. It was so beautiful, he totally nailed the idea."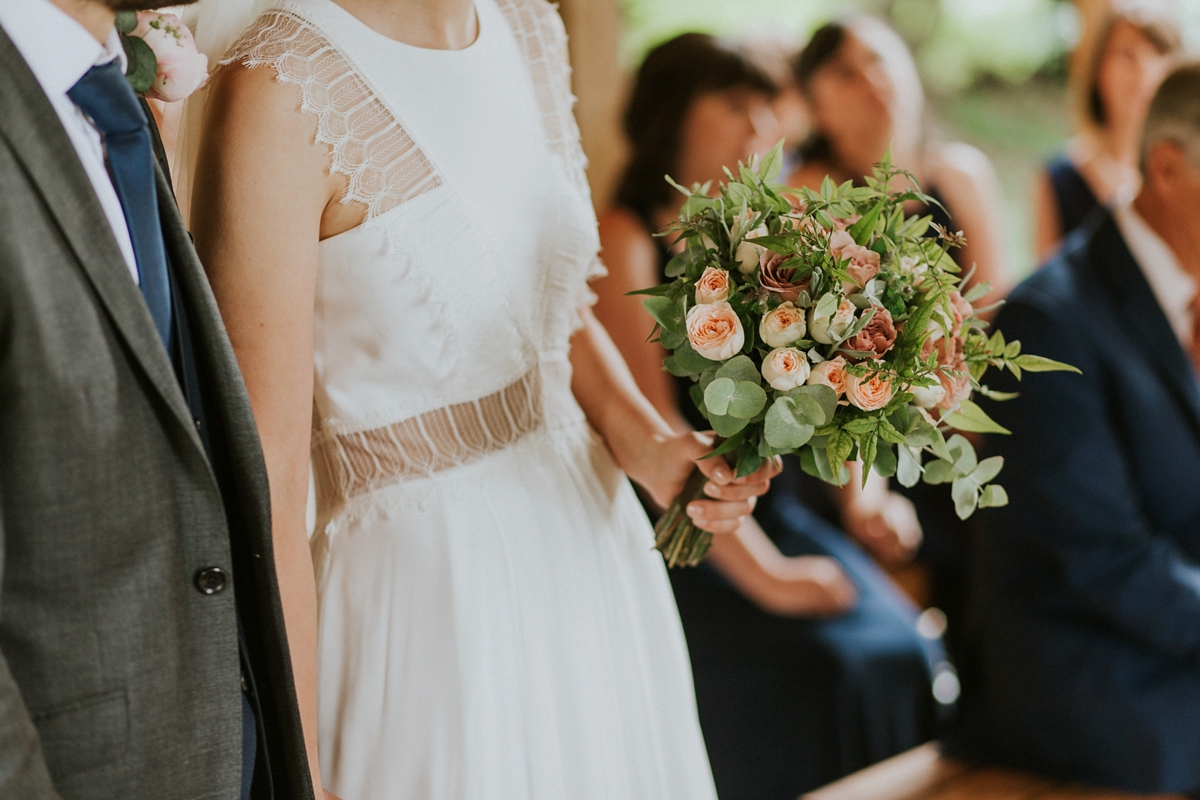 Eli and David made their vows to one another and exchanged custom made rings before canapés were served and their guests showered them with confetti and love. As David is a member of Mountain Rescue, in a unique nod, the newlyweds borrowed one of their vehicles to take them on to their homemade reception.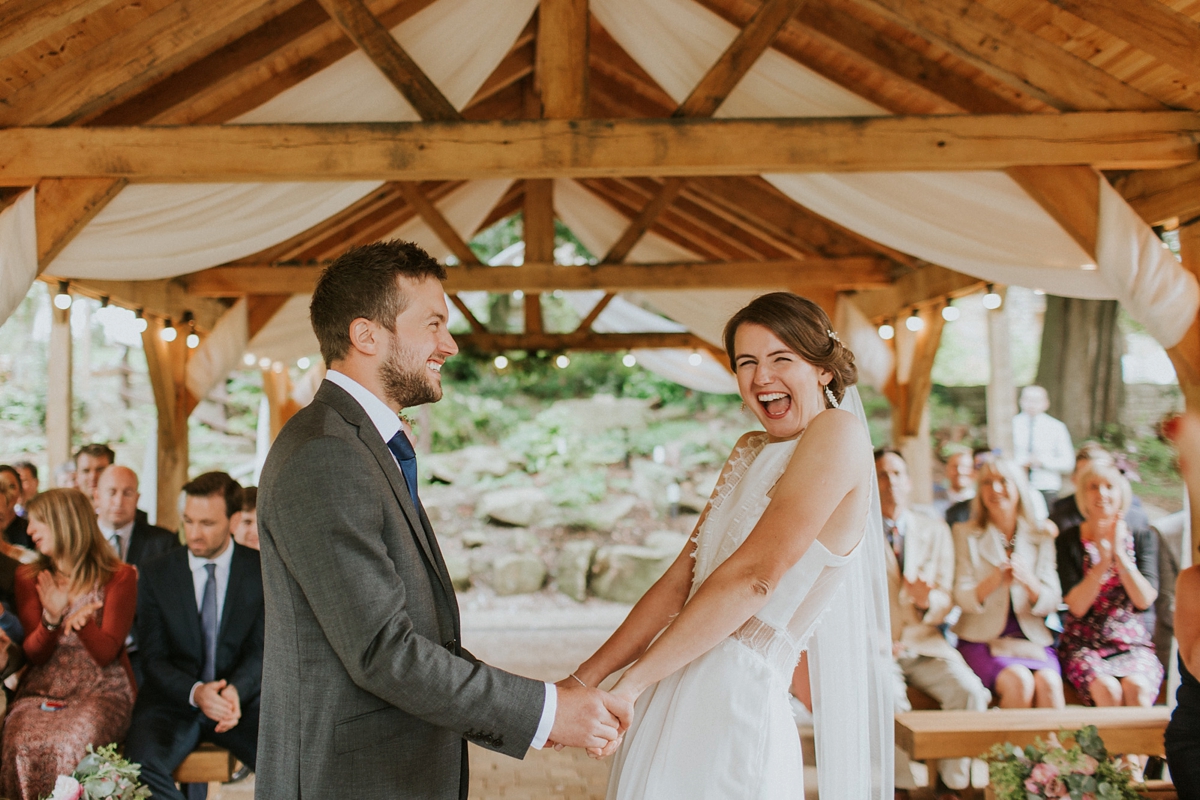 "My bouquet was from The London Flower Company, bought for me by my mum and the table centrepieces were put together by a friend who works at Buds and Blooms in Warsop. The bridesmaid's bouquets and the buttonholes were flowers bought from an online nursery and then my next door neighbours put them together for us."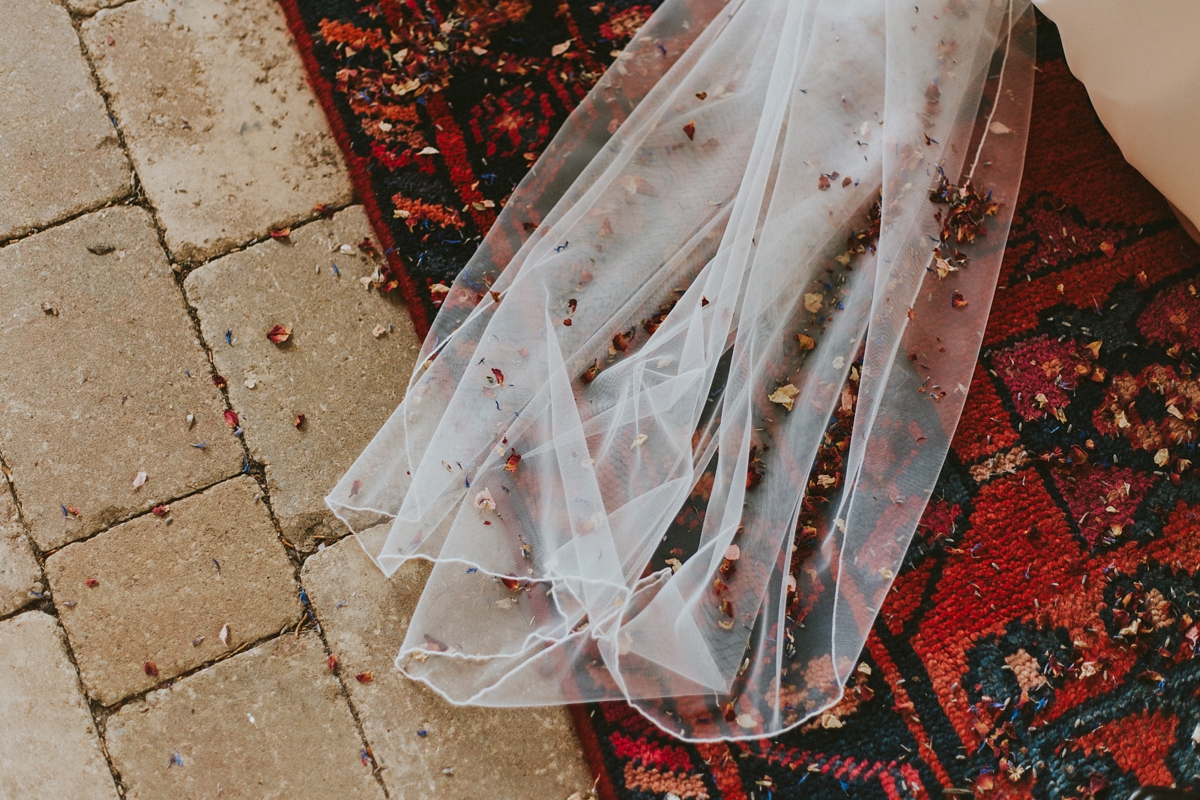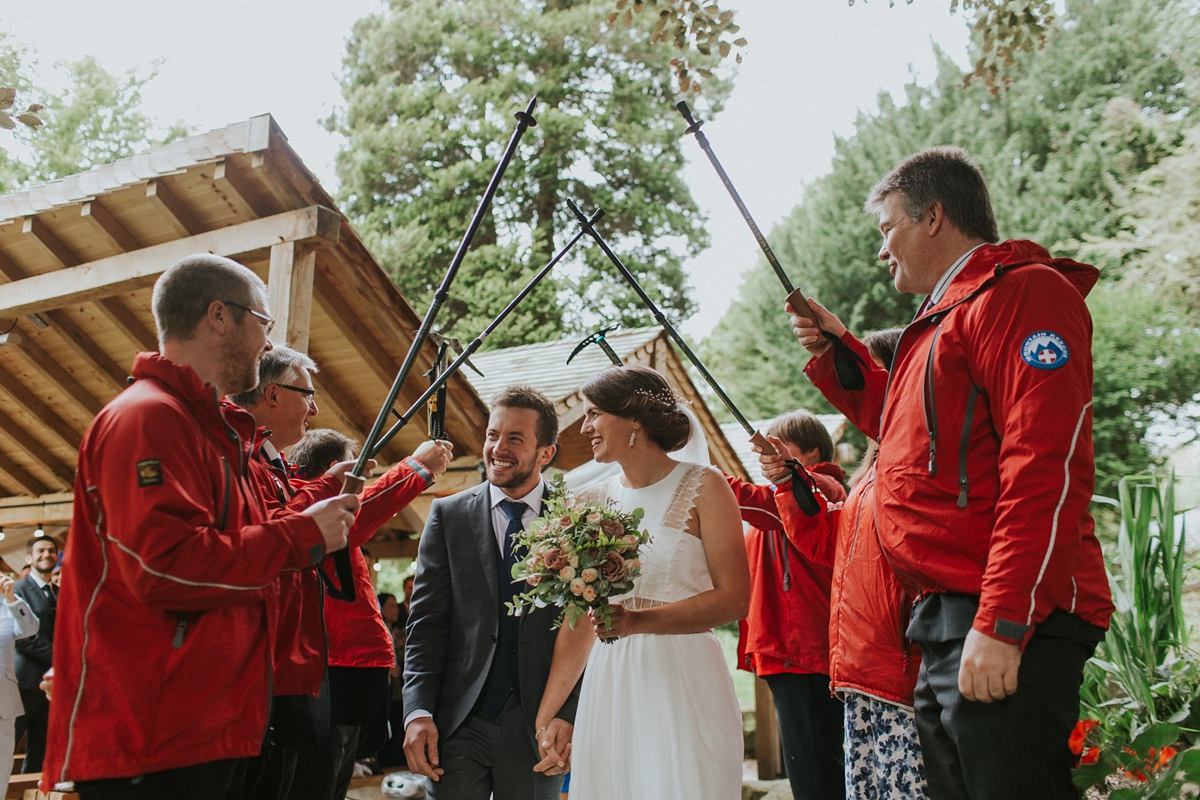 "Each of the bridesmaids chose their own dresses. With two of them being pregnant it would have been impossible to get one that fitted everybody, but it worked out perfectly. One was an ASOS dress and the other was from Monsoon. They all wore fresh flowers in their hair."
"David asked a good friend of ours, Jo to be his best woman. It was lovely to have her involved in the day and she was on it all day sorting things out for us. She wore a beautiful grey dress in a similar tone to Dave's suit."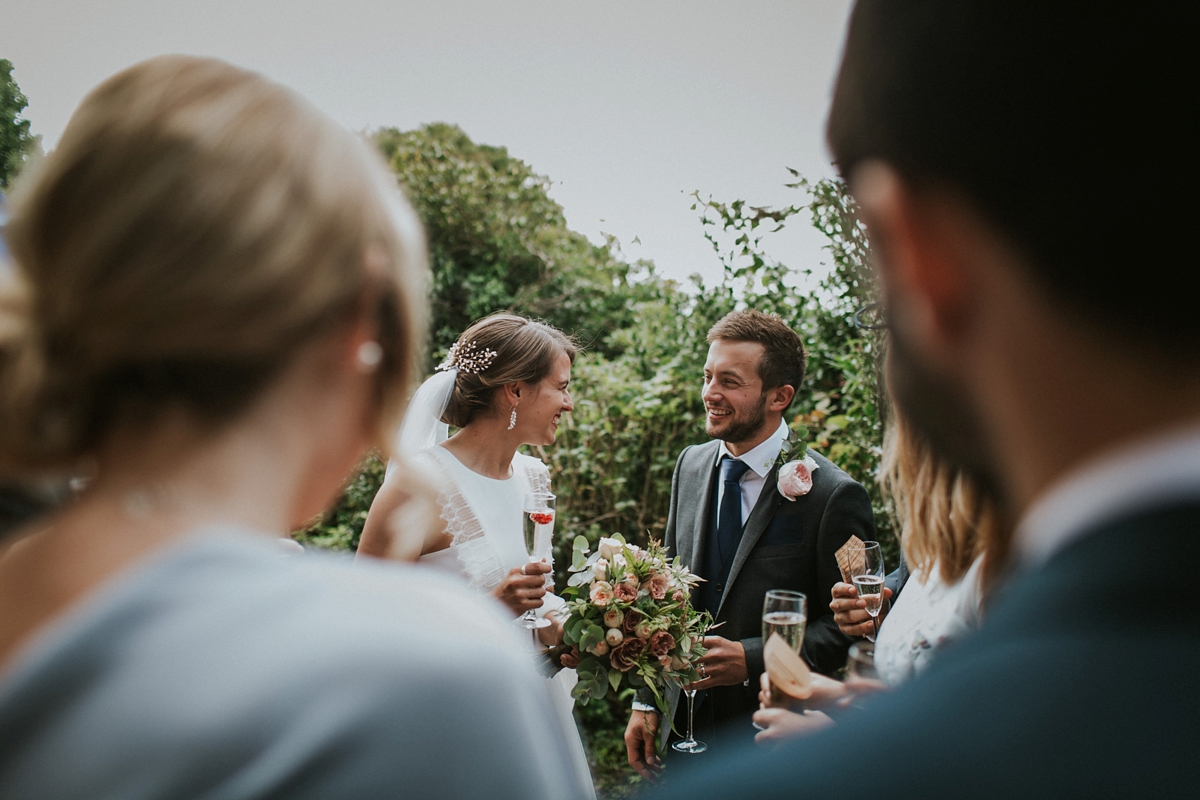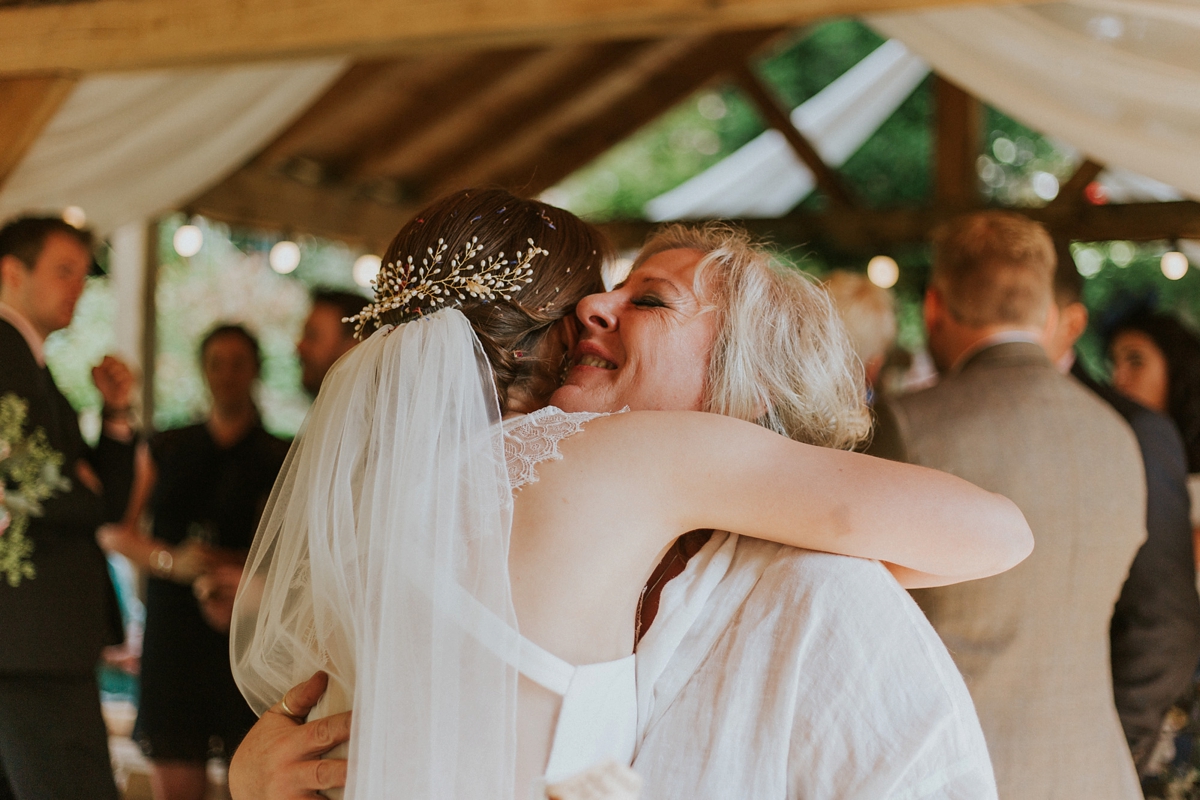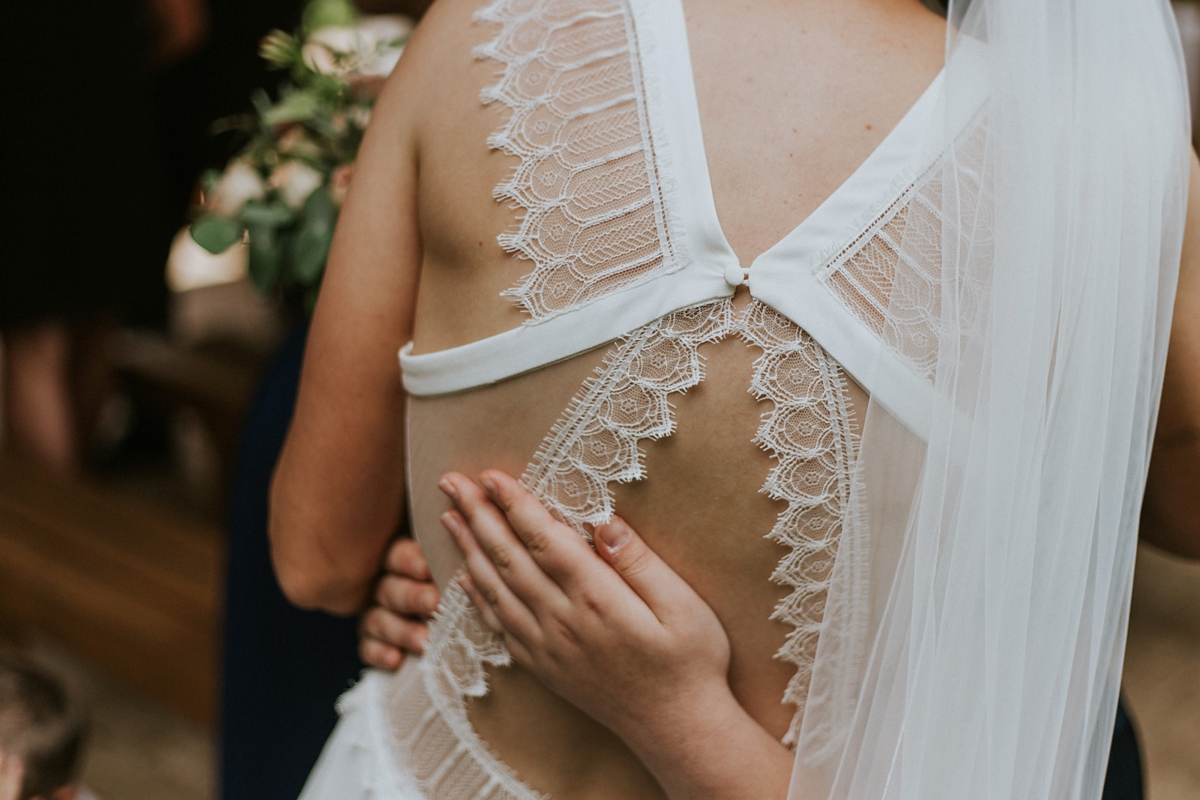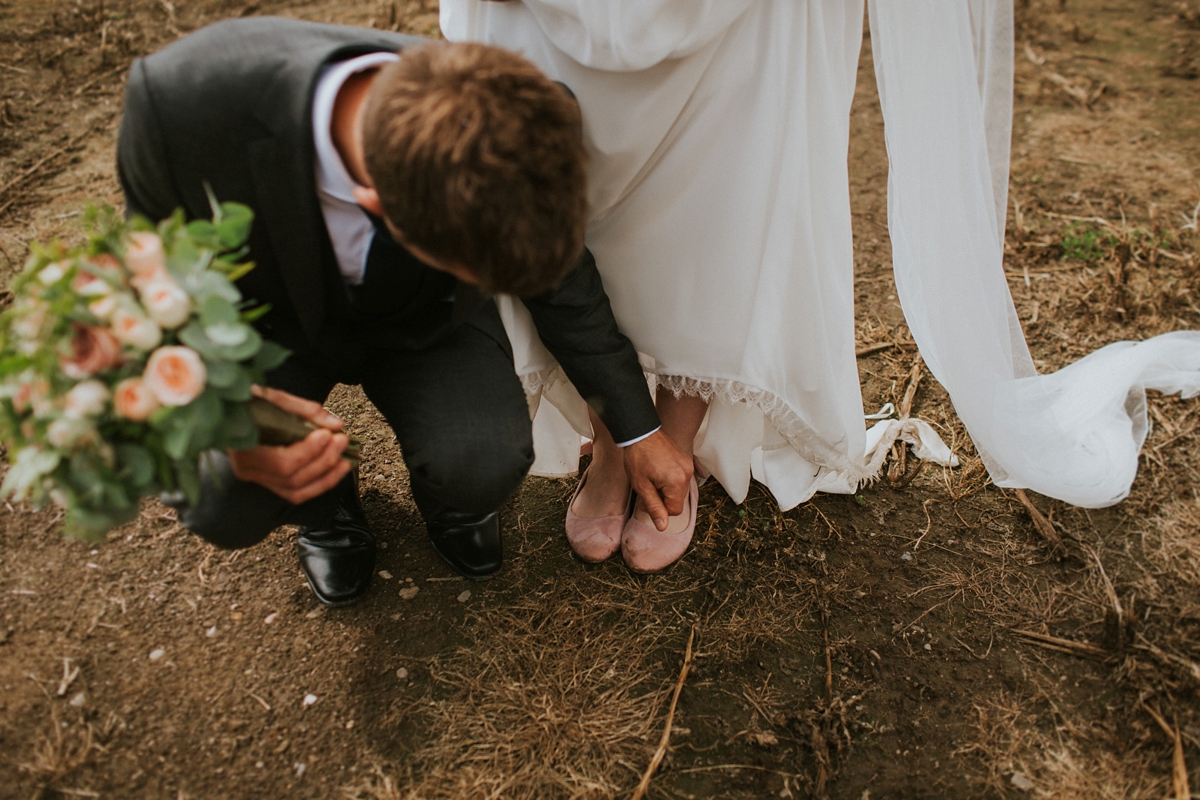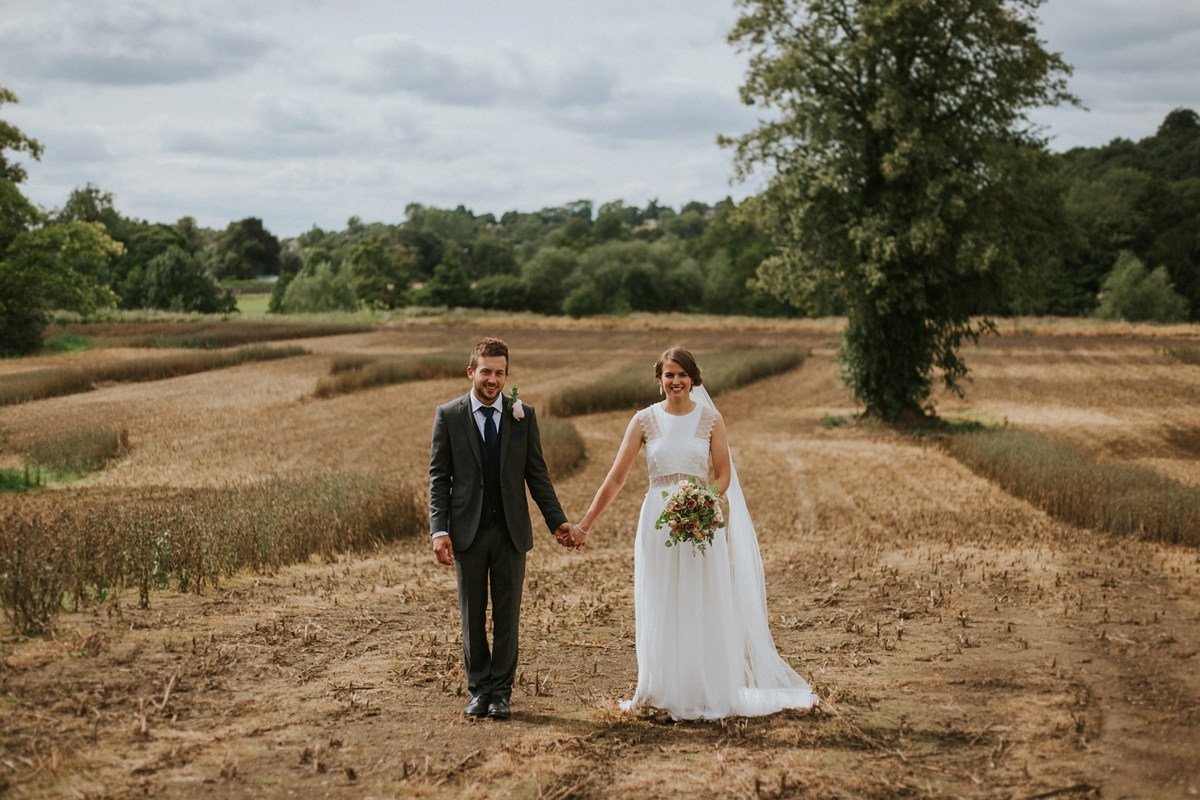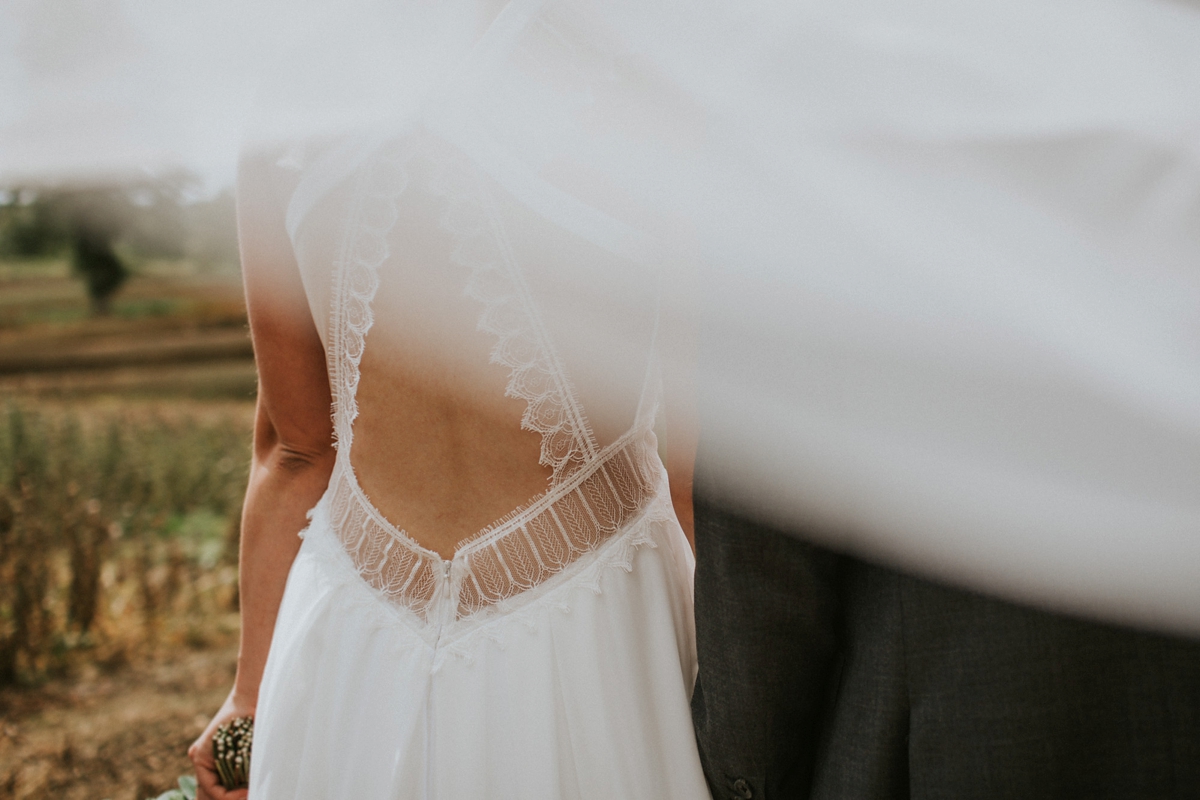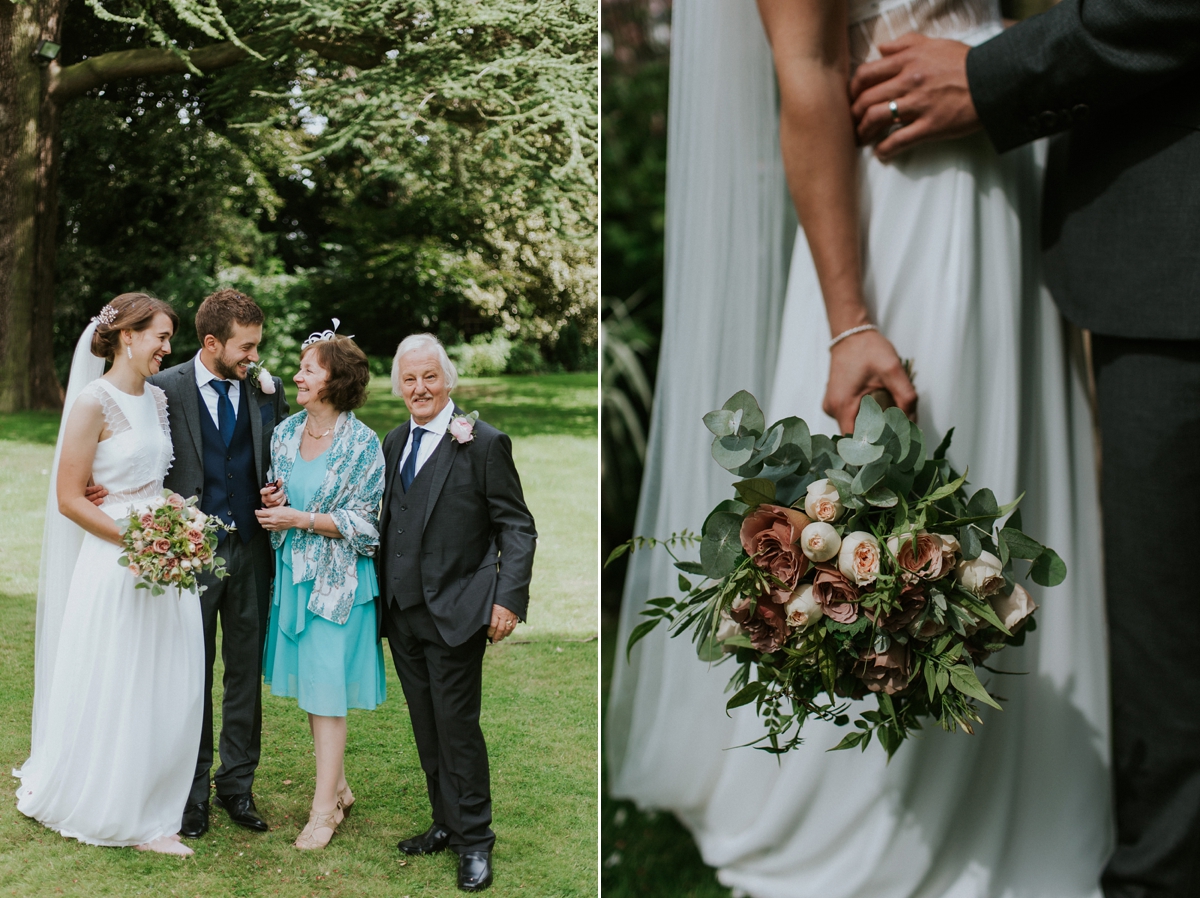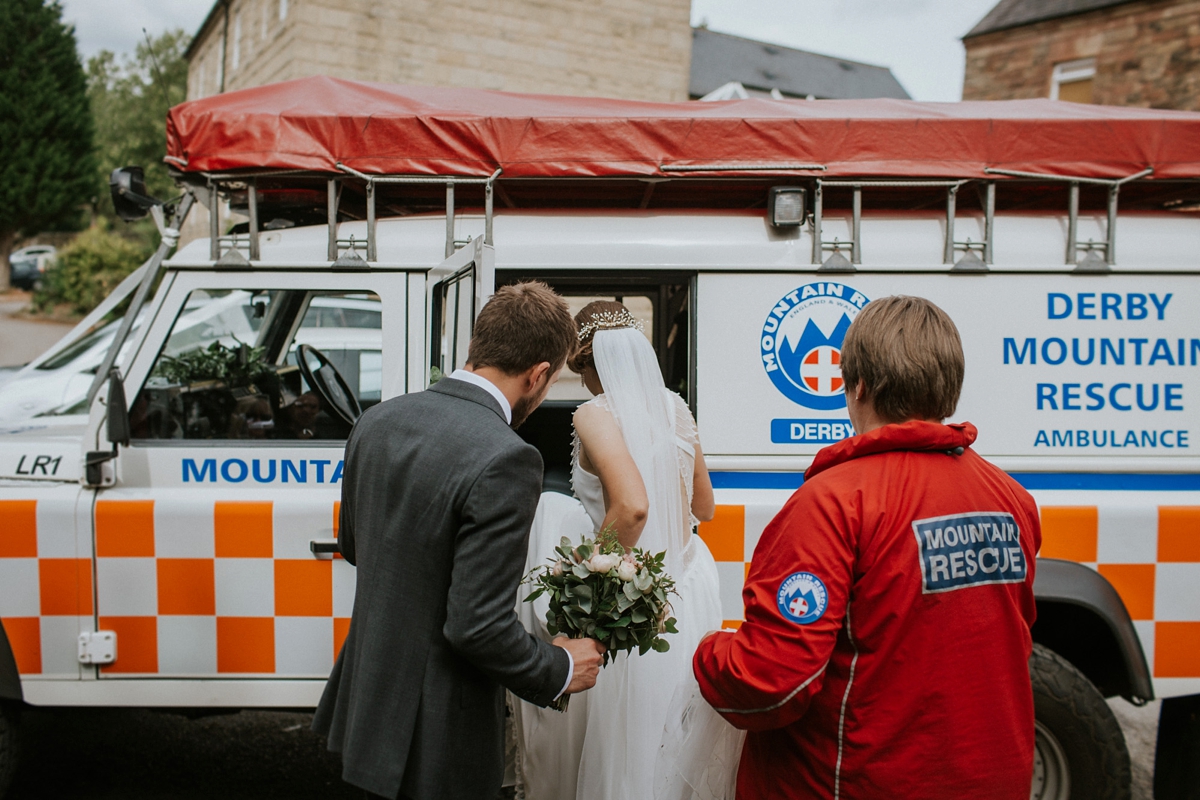 "We borrowed marquees from a friend who volunteers at the local scout camp, these worked perfectly as we did have a bit of rain in the evening. We also hired festoon lights which went everywhere, they helped light everything and they looked lovely too."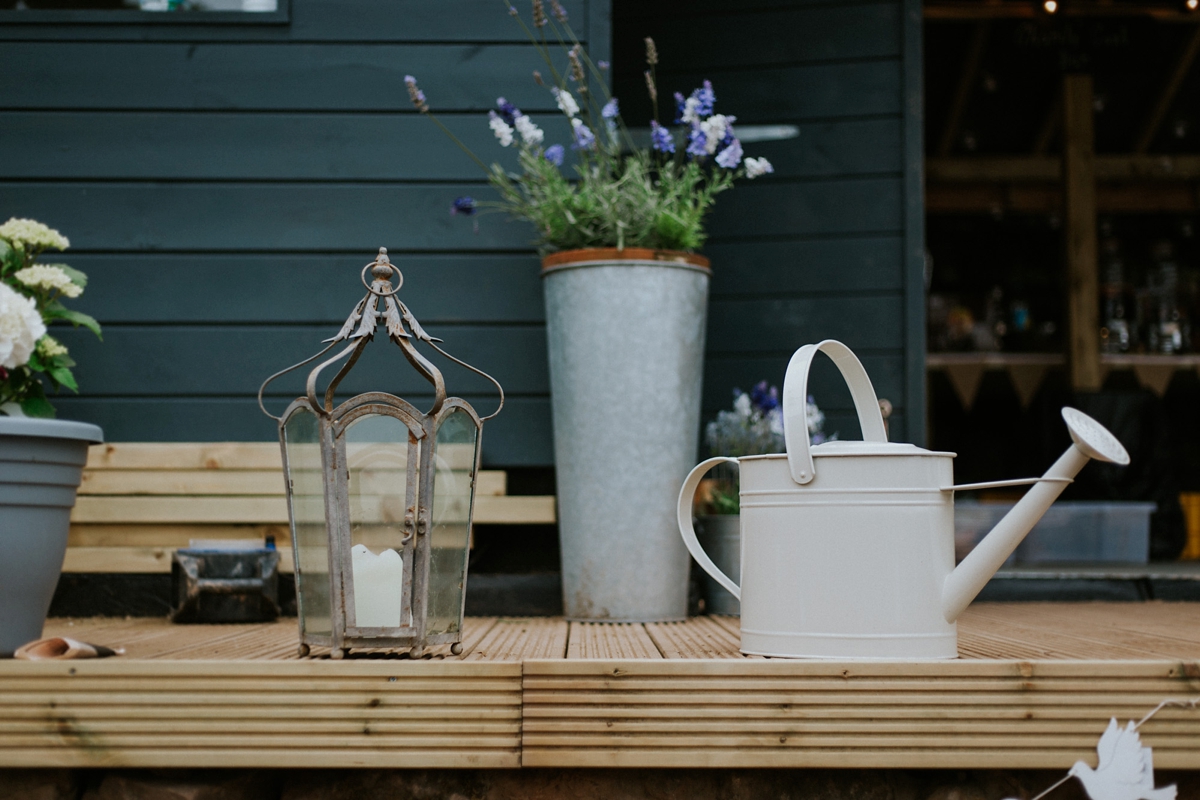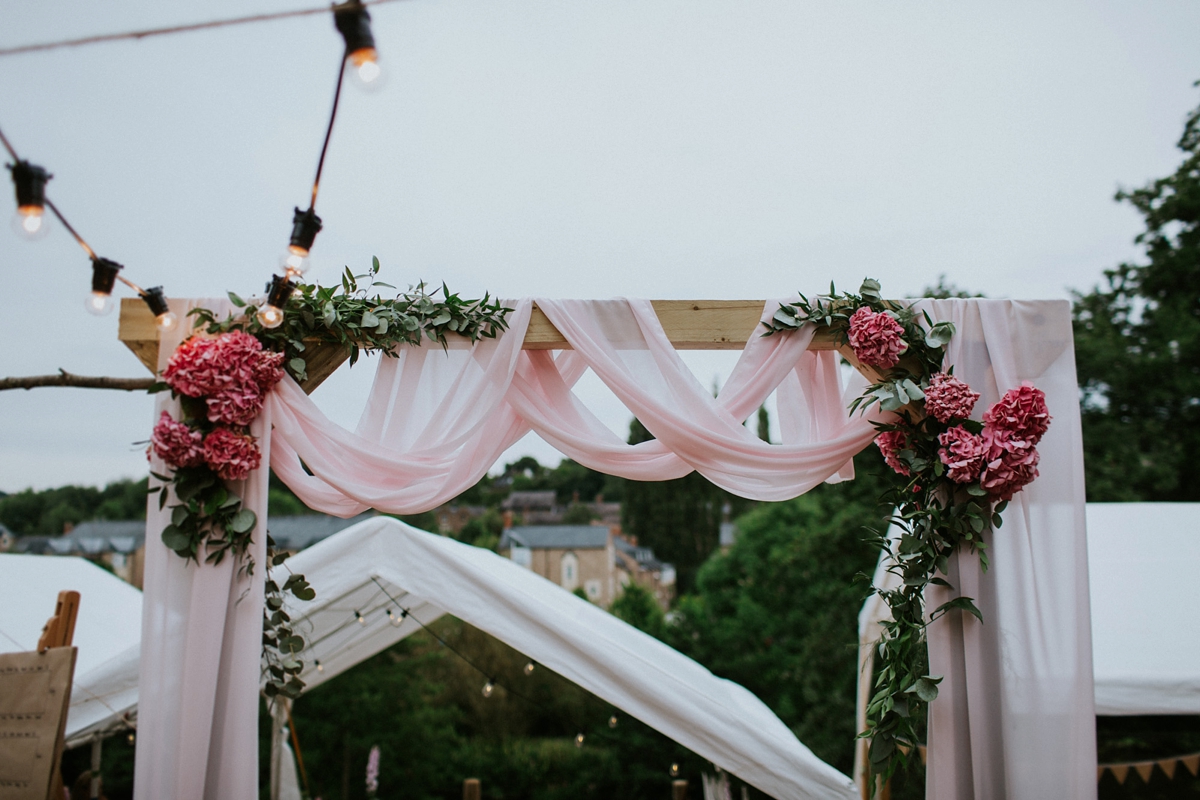 Olivepot Catering provided a wedding buffet served at communal tables in the couple's stunning split-level garden. Festooned bulbs and hanging greenery provided the beautifully minimal decor and the couple gathered their loved ones around them for the feasting, culminating in a cake created by Eli's talented sister.
"The food was amazing and everyone said how lovely it was. Chris, the owner of Olivepot, was so patient with me through the process with all the changes we made. For our favours I made elderflower cordial and provided 'elderflower fizz' as the wedding favour. My sister made our cake (with the assistance of her partner), and we were so pleased with the results. She did an amazing job and was up until 1am finishing it. She has said 'never again'!"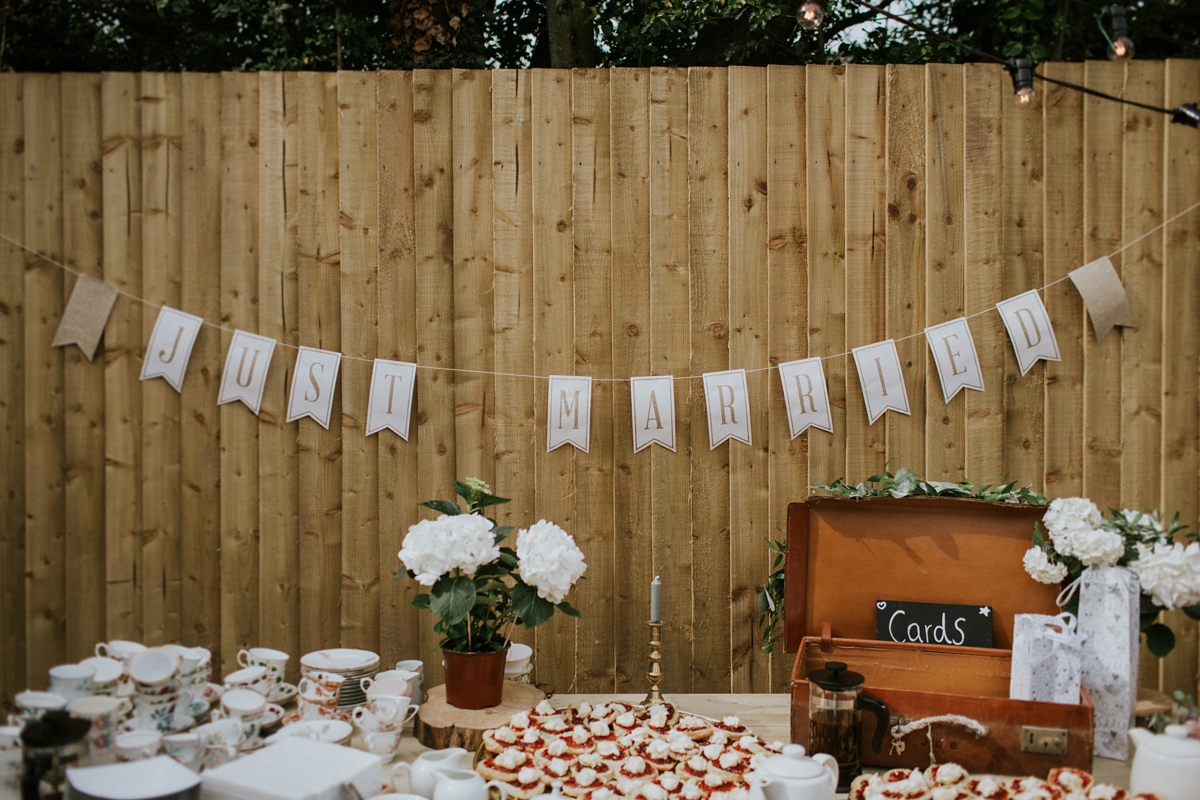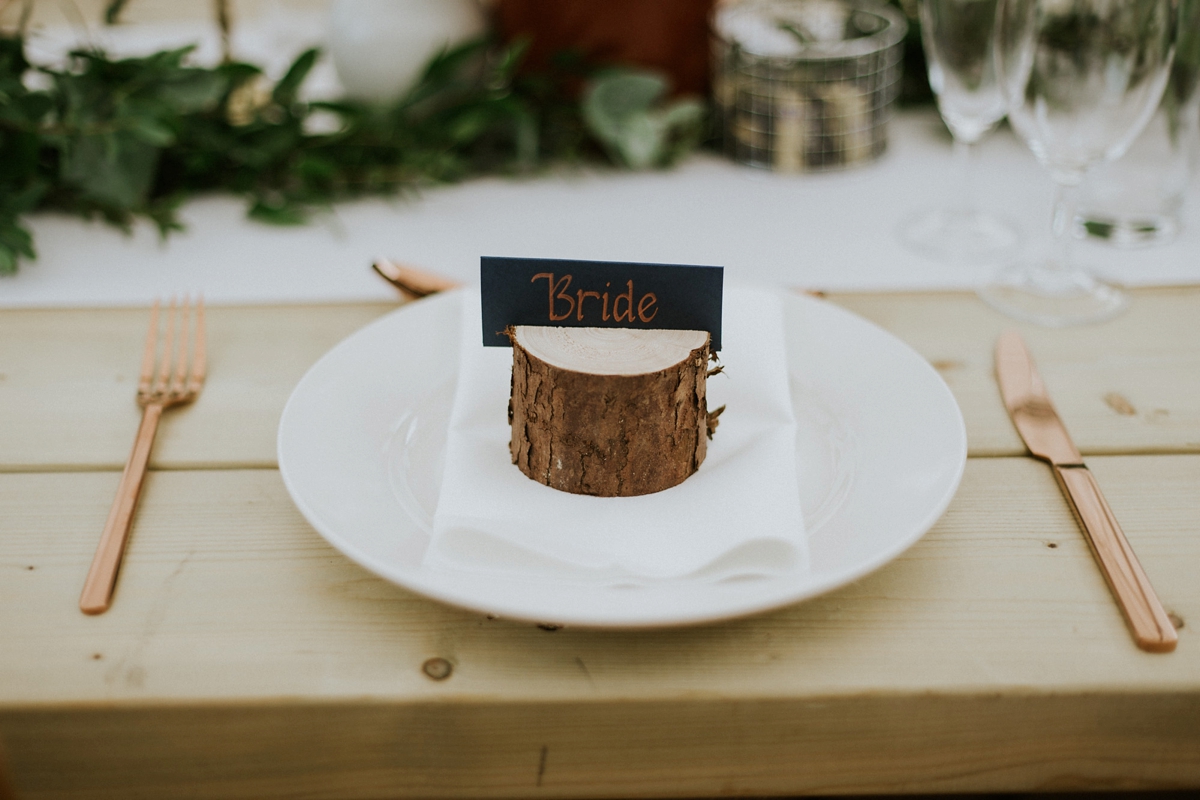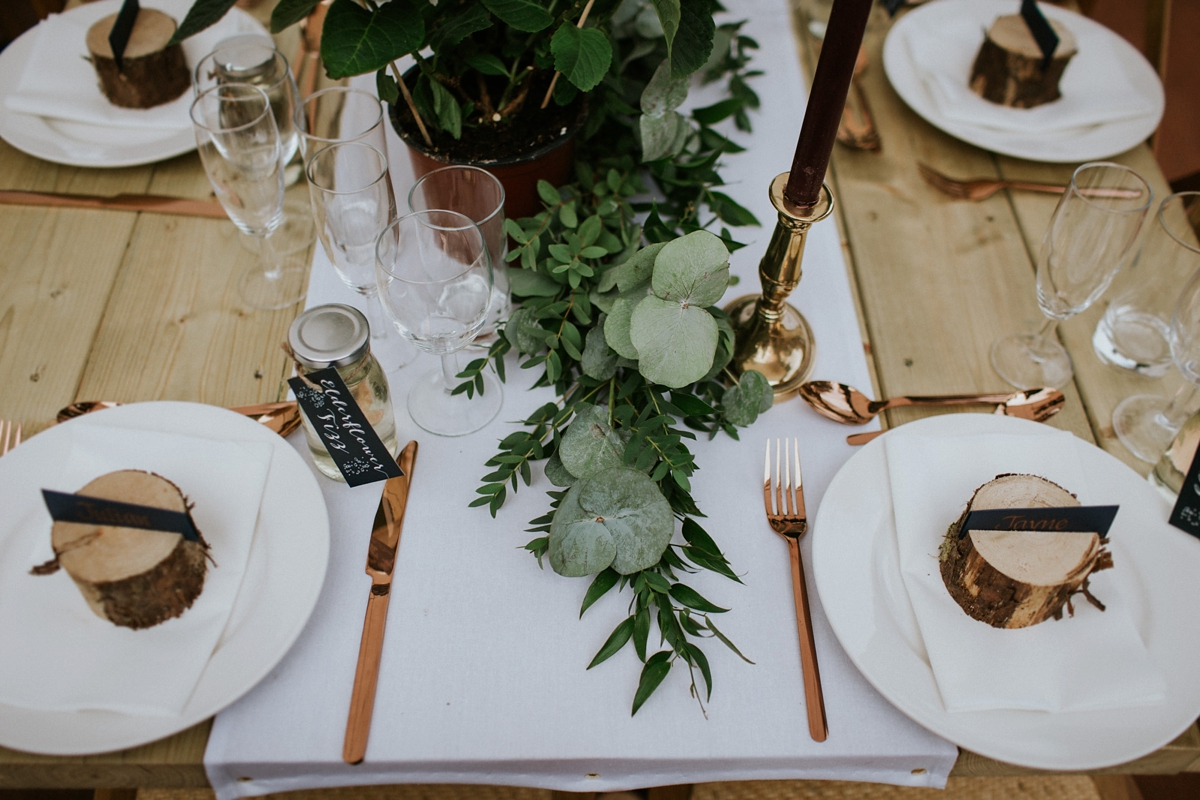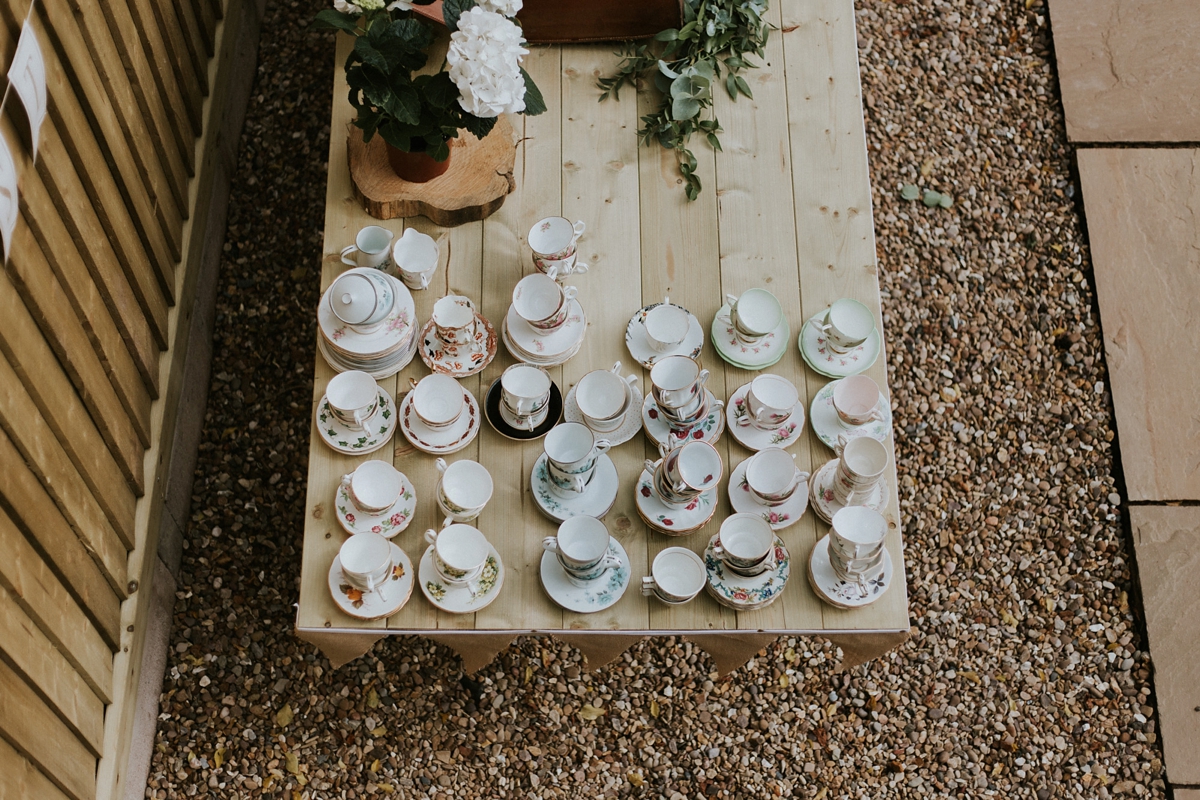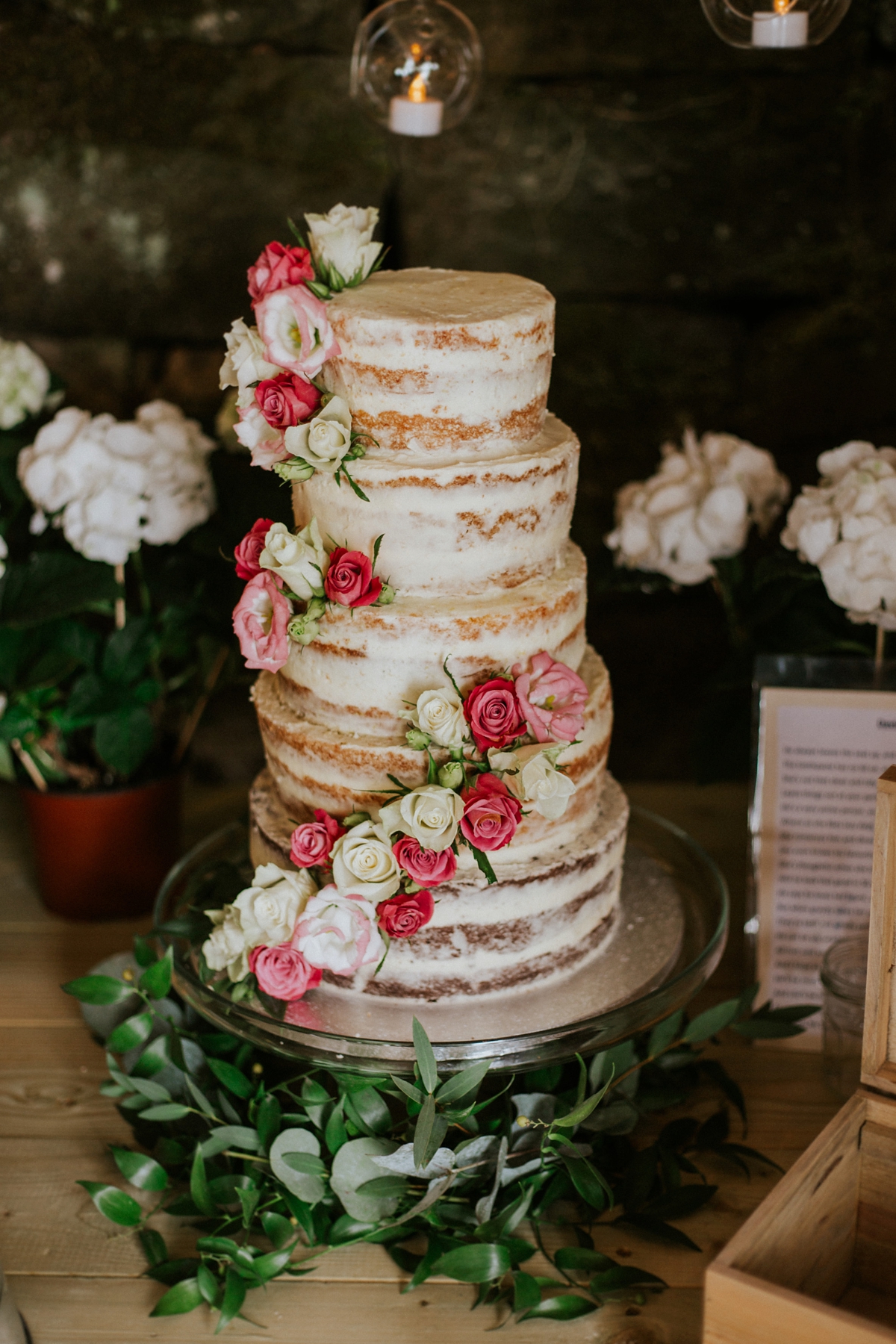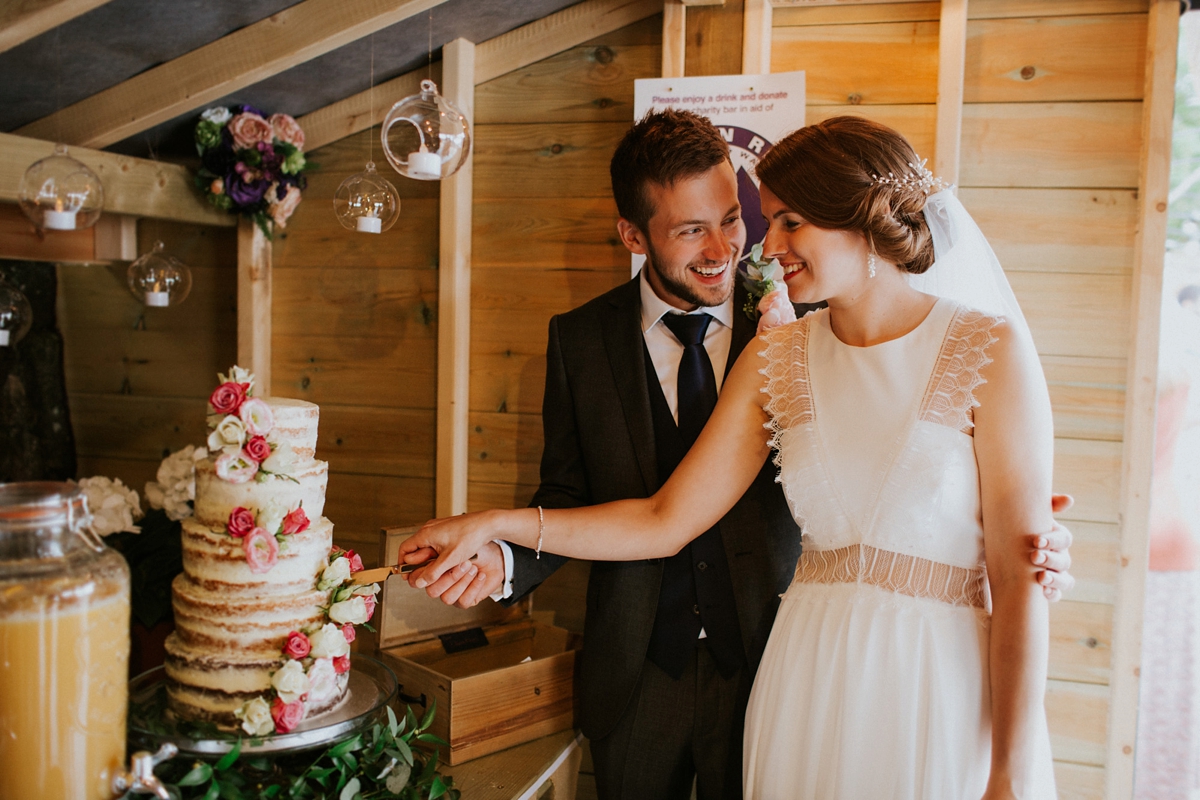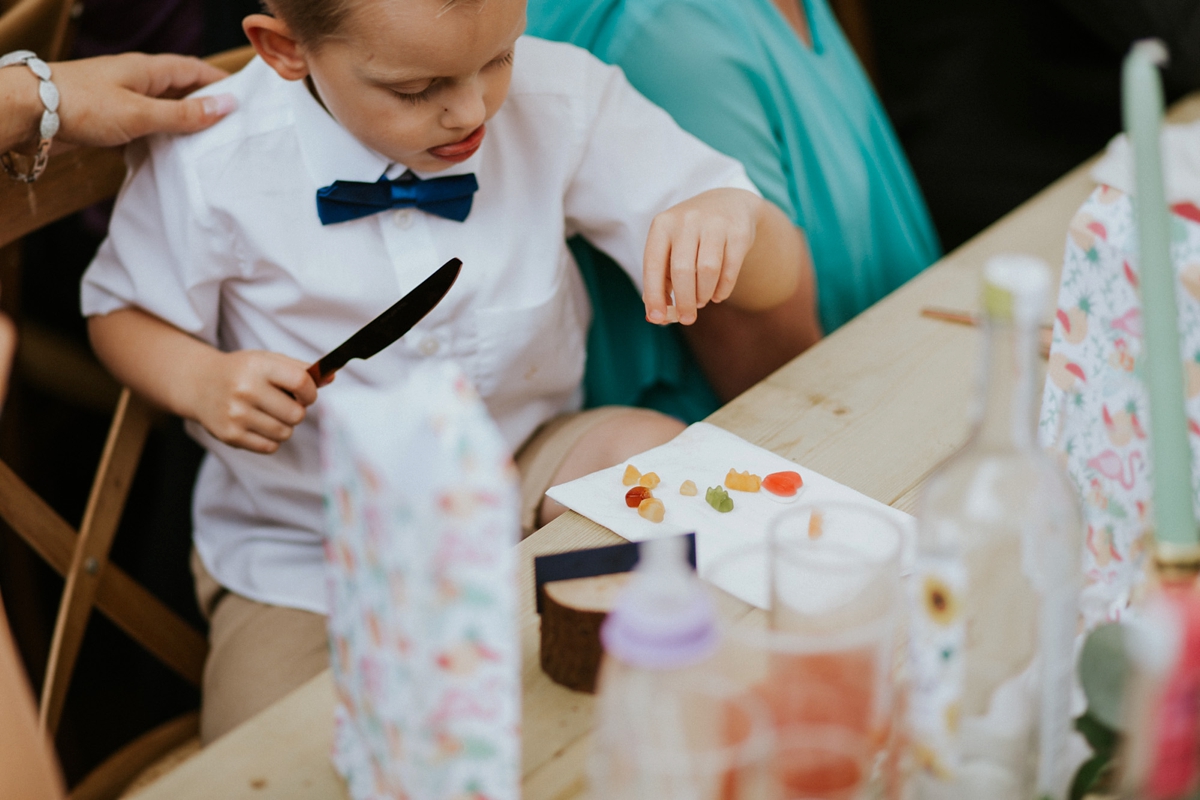 Eli and David hired band The Natterjacks, who had all their guests up and dancing. They chose 'There will be time' by Mumford and Sons for their first dance, the lovely lyrics just perfect for the couple, and the tempo upbeat enough that they could have a proper boogie at the end. One of their favourite parts of the day was when they snuck away towards the end of the evening to reflect on all that they had achieved.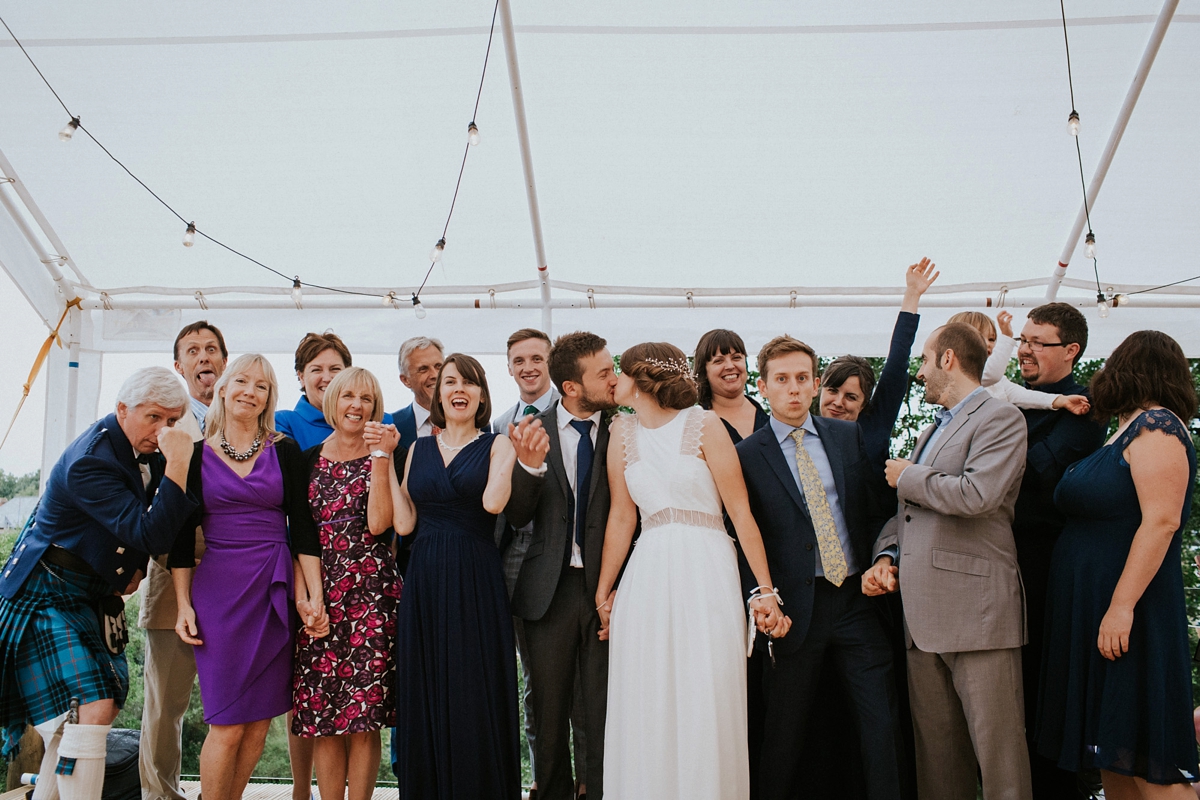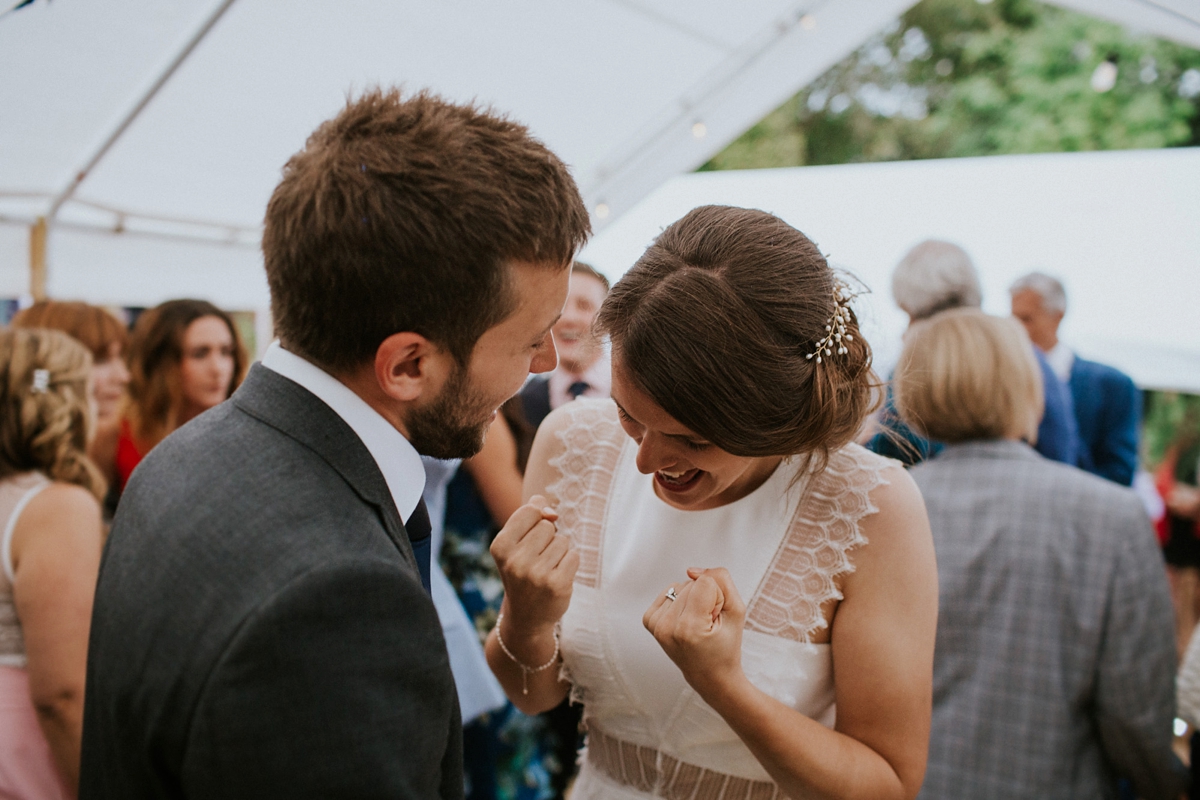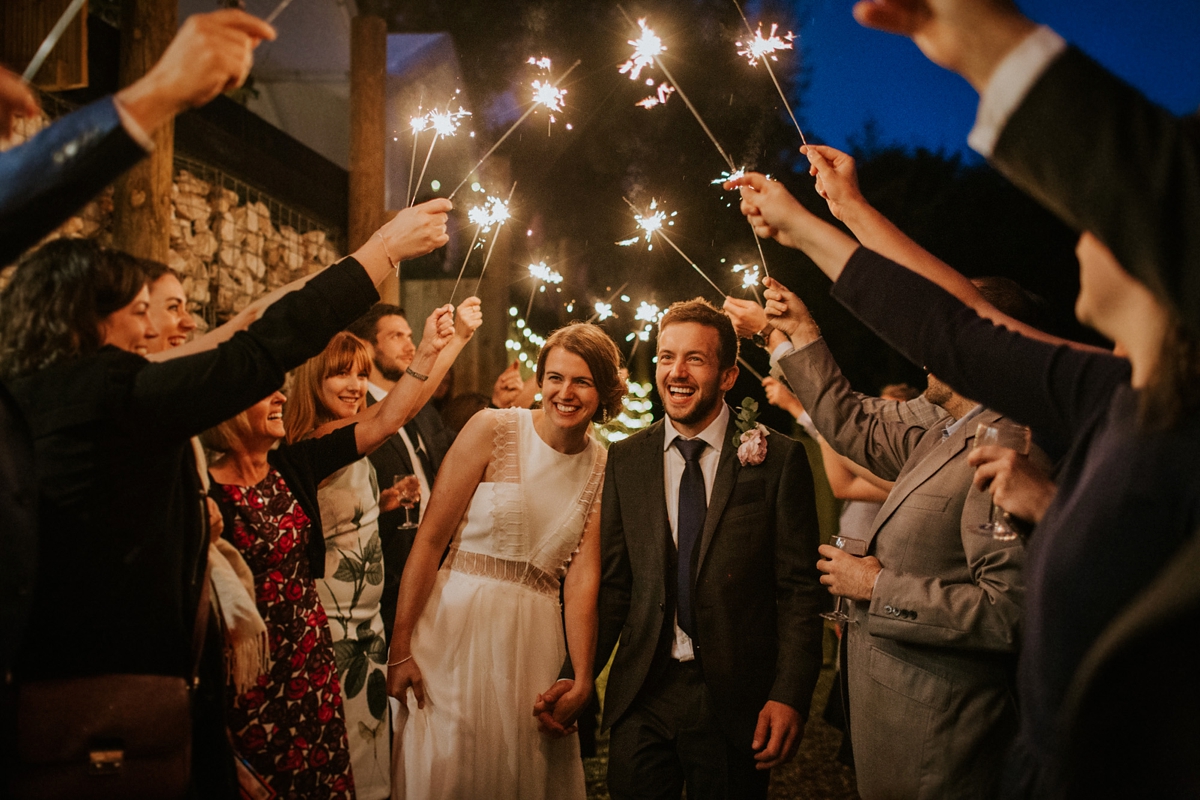 Words of Wedded Wisdom
"Don't sweat the small stuff. I know it's a cliché but it is honestly so easy to do. By the time it came to it everything that I had forgotten to do just didn't matter. Also, don't assume you can do everything yourself if you are doing a DIY wedding."
"Make sure anyone who offers help, you take up – they wouldn't have offered if they didn't mind helping, and you will be so grateful that they did!"
That just leaves me to say a huge thank you to Eli, David and of course Luis Calow Photography for allowing us such a privileged insight into this beautiful day. Are you planning a DIY wedding? We have tonnes of gorgeous inspiration for you right here in our archives, just take a peek!
Love, Em x