Ooh what a treat I have in store for you to kick start the week! And that's on top of the fact that we now have a new blog!! Have you seen A Life Loved yet? We launched yesterday and the response has been overwhelming! Pop along to alifeloved.com and make sure you're following @alifelovedblog on Instagram too.
In the meantime, I'll waste no time in introducing you to the lovely Debs, a business services coordinator, and Andy, who works for Jaguar Land Rover. This sweet pair wed on 8th July 2017 at Fulneck Moravian Church in West Yorkshire, followed by an evening reception at Bowcliffe Hall.
We're delighted to say that the couple found their wonderful photographers through our curated directory, Little Book for Brides. Paul and Kelly of Paul Joseph Photography are two of the absolute best in the business, and it's so lovely to read that some of Andy's favourite moments were the ones where he managed to sneak away with his wife, with the photographic duo in tow, to capture every precious newlywed moment.
"We were looking for photographers with a distinctive style and a modern, playful take on traditional, documentary style wedding photography. We came across Paul and Kelly and we knew their style was the one for us. Photography was always going to be an investment and they exceeded our expectations in every way. They really get involved and made everyone feel at ease – when they said goodbye at the end of the night it felt like saying bye to friend. We also had an engagement shoot which really helped put us at ease. We would definitely recommend Paul and Kelly to couples looking for fun, awesome photographers who'll really help capture the best of your day."
Images by Paul Joseph Photography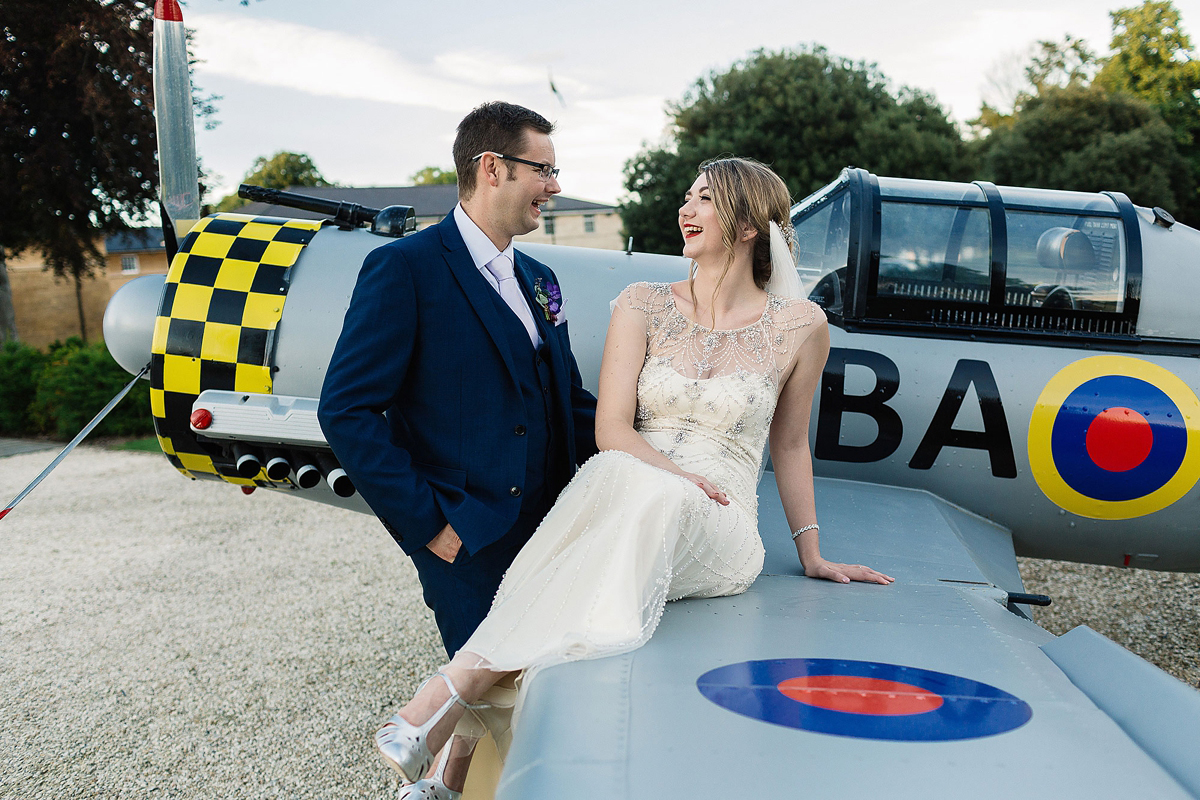 "We decided to forgo a theme and just see what stood out to us – it ended up being a colour scheme of pinks, purples and blues. We also really wanted to involve our family and friends and to keep things as intimate and welcoming as possible. In part we did this by asking our mums to be our witnesses so both sets of parents' signatures would be on our marriage certificate.""I was simultaneously watching TV and looking through an online gallery of hundreds of dresses, and by the end I had one tab left open – my dress. It was so different to anything else I had seen in my – albeit brief – search, it had a covered back, gorgeous beaded detailing and a slinky silhouette. I then found it was a Sottero & Midgley design that had been discontinued the week before we got engaged!
"I sulked for a few days, had a few half-hearted attempts at finding a similar dress, and then realised I could 'reverse image search' on Google. In doing so I found two shops with samples for sale. I travelled an hour north and my parents travelled south to the Nottingham shop, and I fell in love with the dress all over again."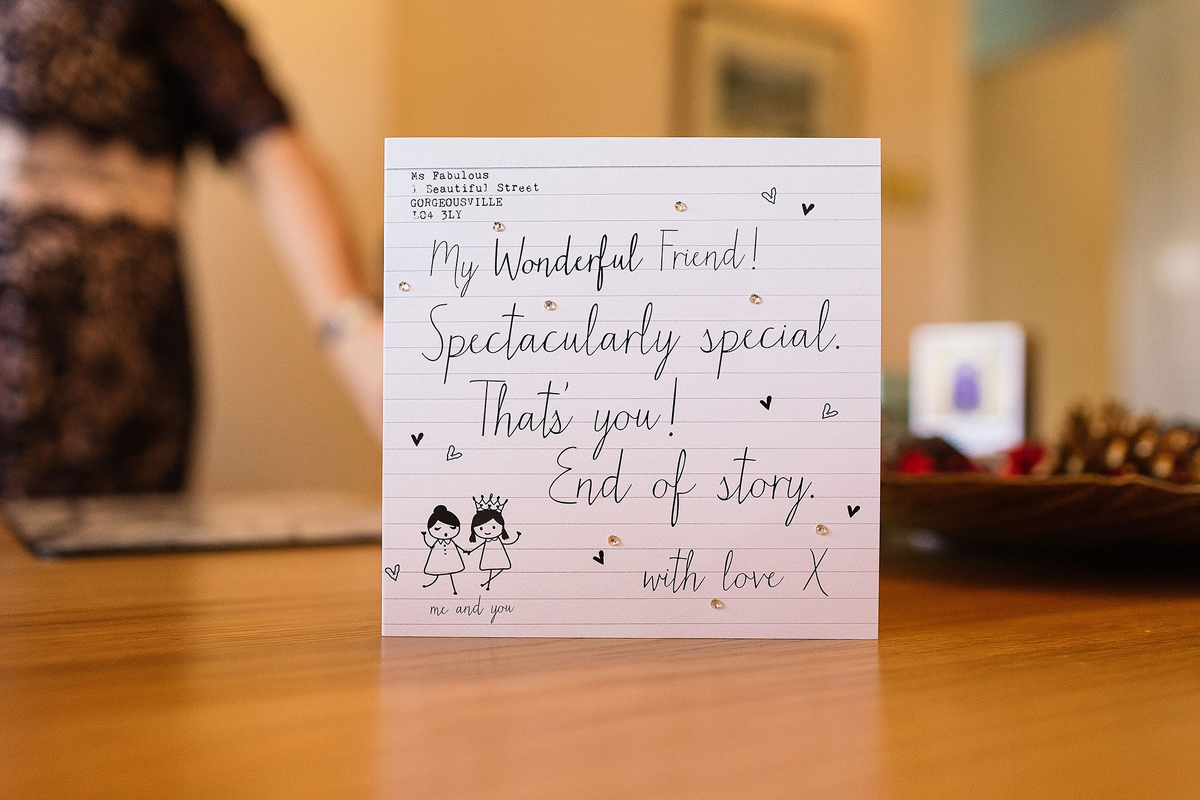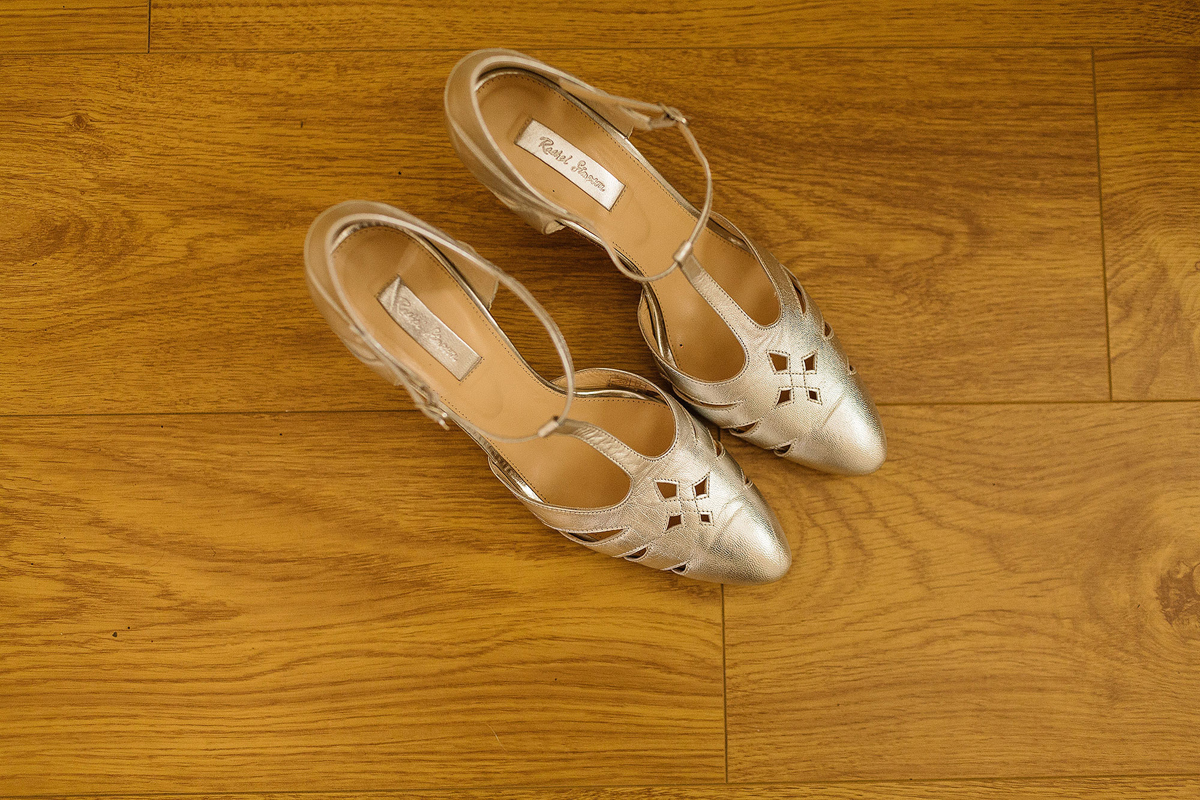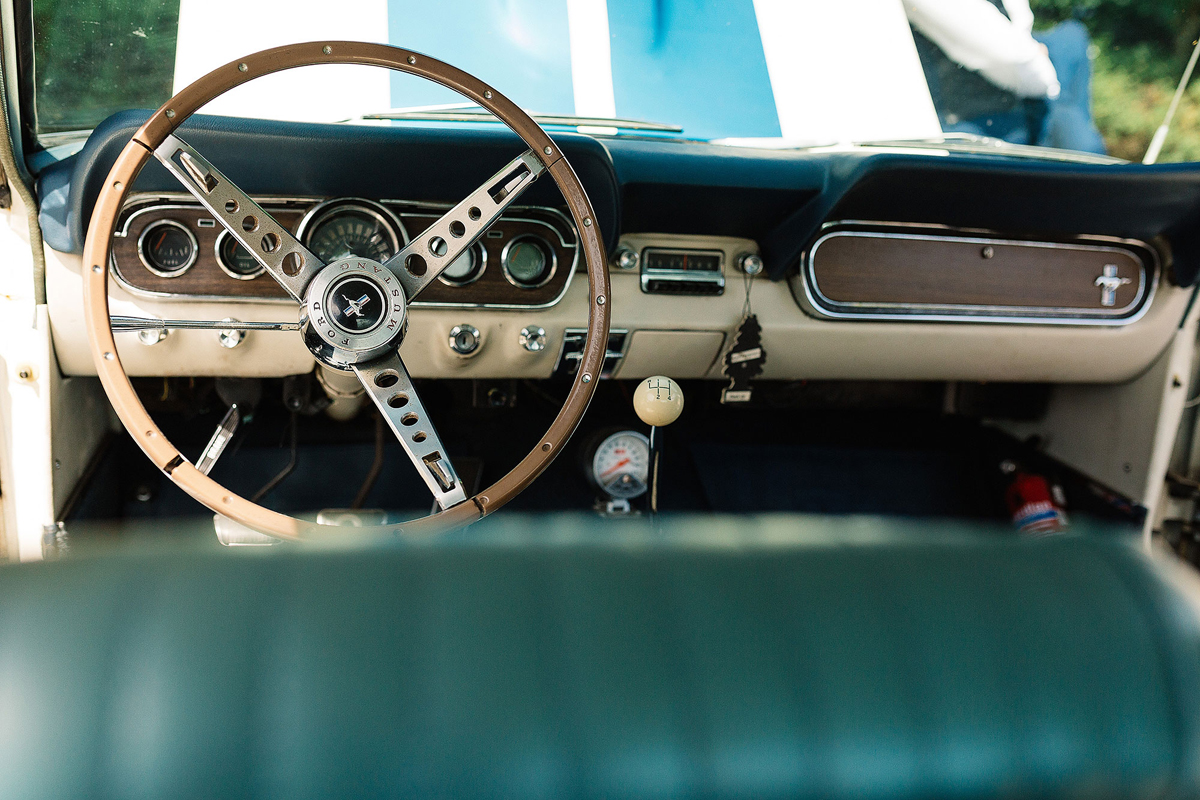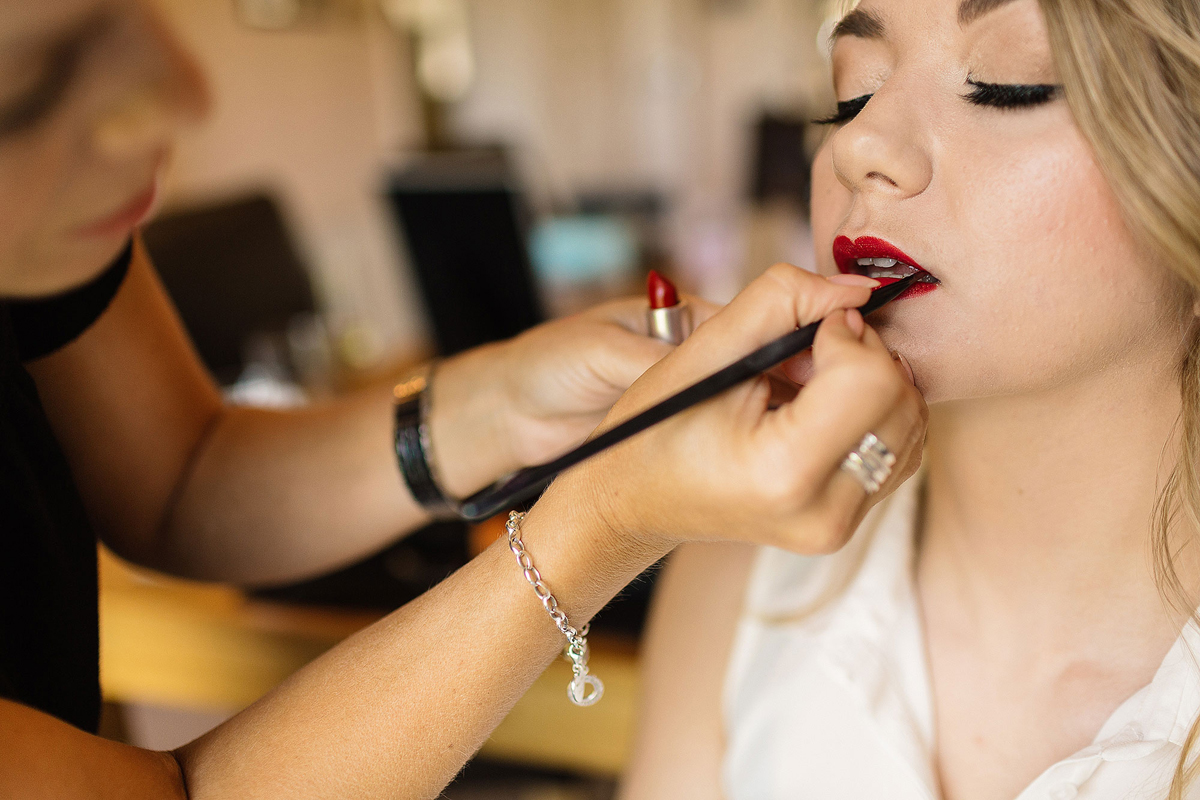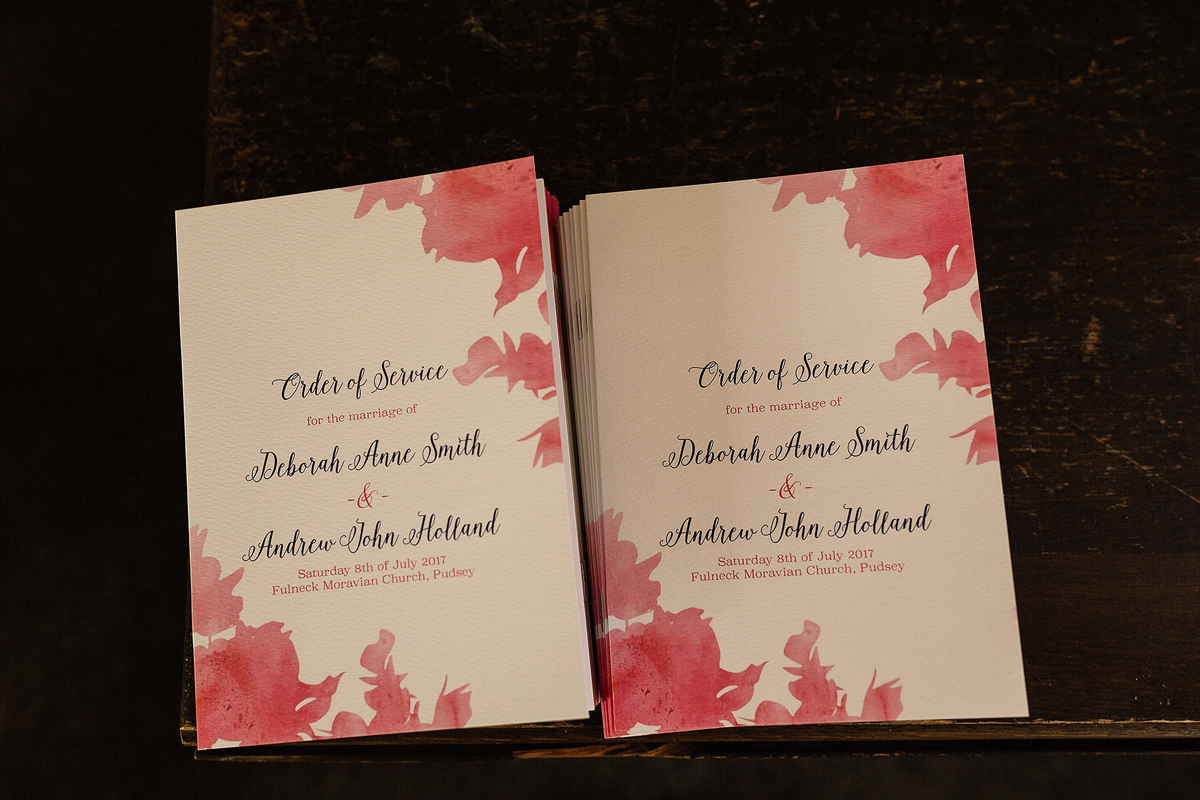 Debs chose the beautifully beaded Evelina gown by Sottero & Midgley, purchased at Bridal Suite in Nottingham. She paired her form-fitting dress with heels from another of our much-loved suppliers, Rachel Simpson, and a flowing veil purchased from Blossom & Bluebird on Etsy, a recommendation that came through our Love My Dress Facebook group for brides and newlyweds.
"It took me a long time to find the perfect shoes. I had a certain look in my head and happened upon Rachel Simpson on the Little Book For Brides directory. I was lucky to snap up the now discontinued style in my size before they disappeared. Their headquarters are near my former workplace and it made me happy to know I was supporting a local business."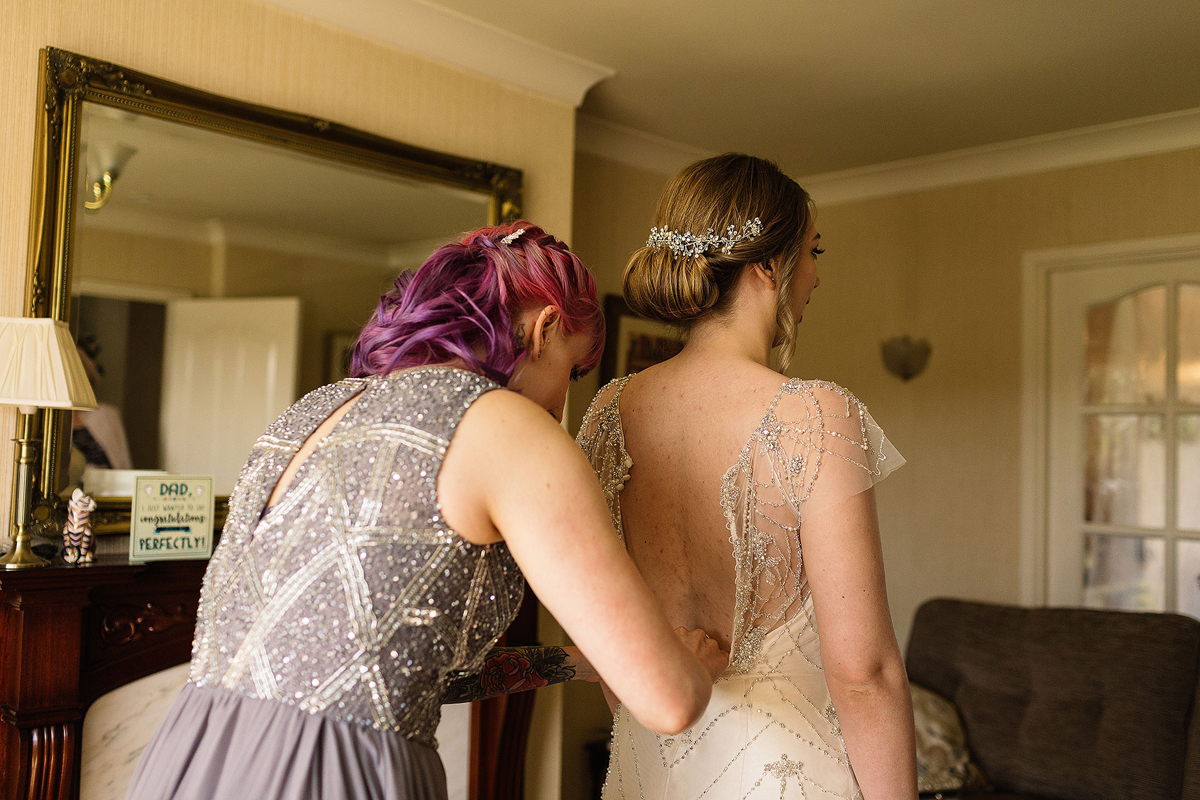 "We had been engaged for around two weeks when I finally thought I'd turn on 'Say Yes To The Dress' and get some dress inspiration, only I really didn't see myself in any of the dresses on the programme. I'm wanted something slinky but not form fitting and not too structured. I also wanted something that covered my back and emphasised my figure."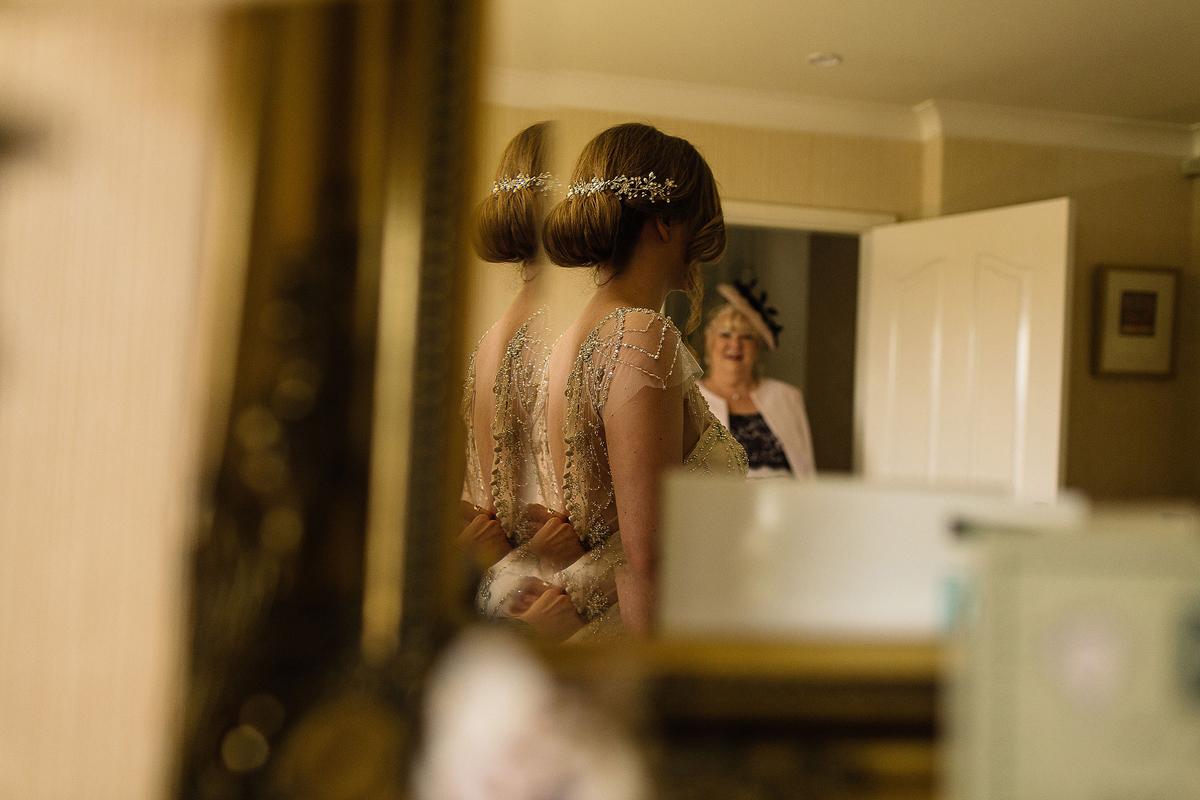 Kimberley Brook provided hair and make up styling for Debs and her bridesmaid, Hannah (who looks sensational in her Frock & Frill gown by the way), really listening to their ideas and putting together looks based on their usual styles. Kim used a mix of high end and high street products, including Debs' divine Russian Red MAC lipstick – beautifully bold yet classic.
"As I only had one bridesmaid, I wanted to spend a little more on a dress that would really catch people's attention and complement my own. It took a while to find one that had an art deco, vintage feel to it without being overtly 1920's flapper style."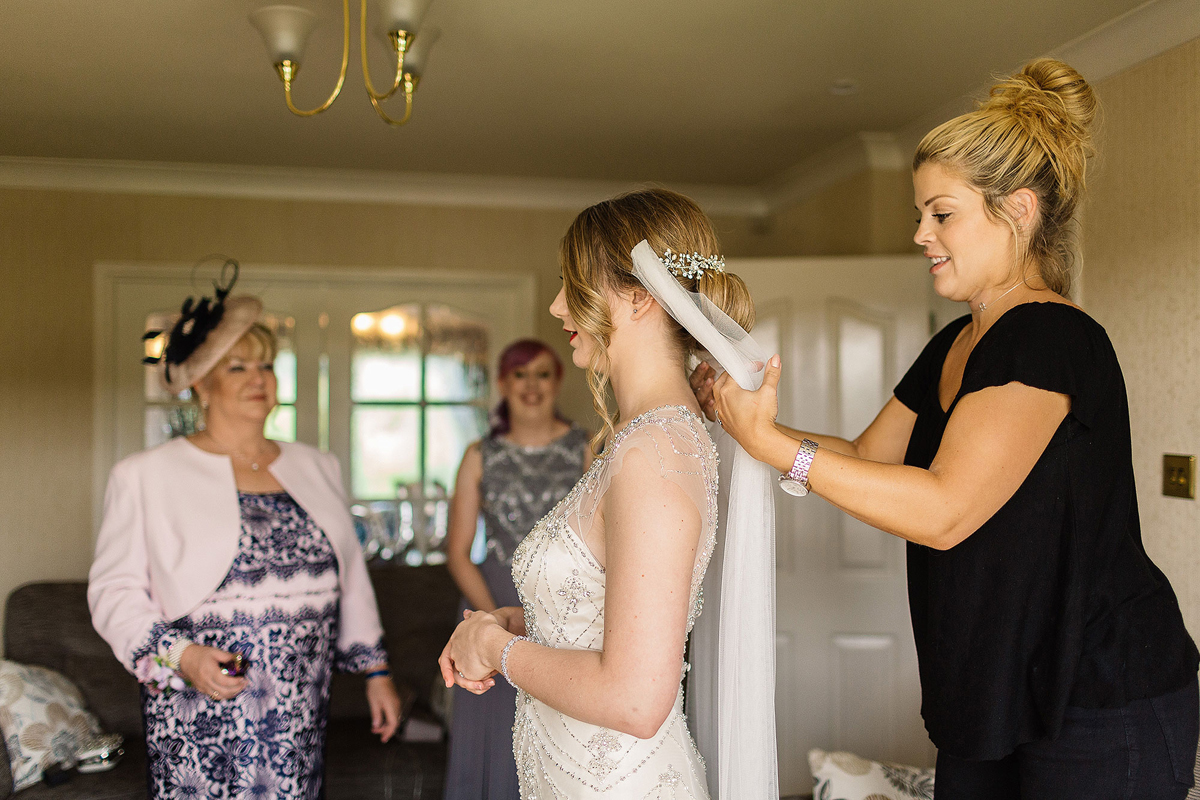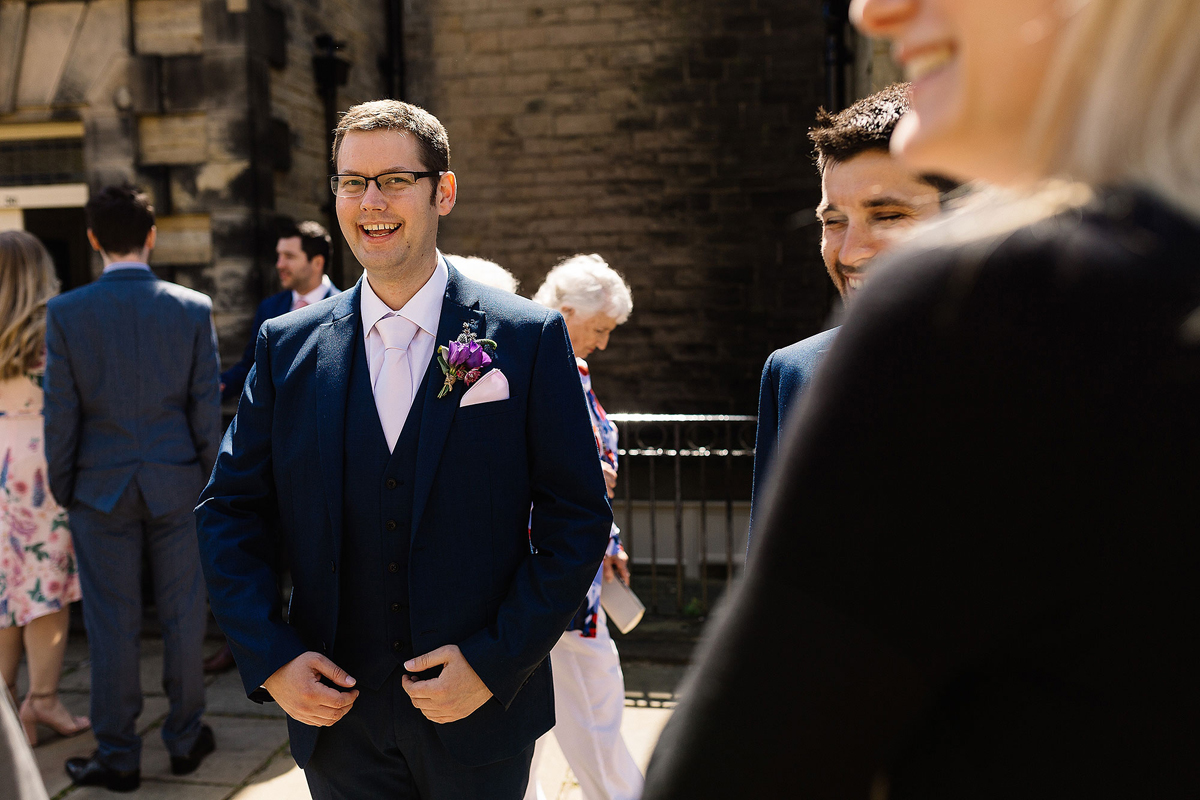 "We chose Fulneck for our ceremony as I have a lot of family history linked to the church. My maternal grandma was married there and resides on the Moravian Settlement and my parents were also married at Fulneck Church and have just celebrated their 40th anniversary. I was baptised at the church and attended Fulneck school, so when Andy and I first started talking about marriage I told him I couldn't imagine marrying him anywhere else. It meant a lot to me and my family that he agreed, and that his friends and family travelled from the south coast, and as far afield as Hong Kong."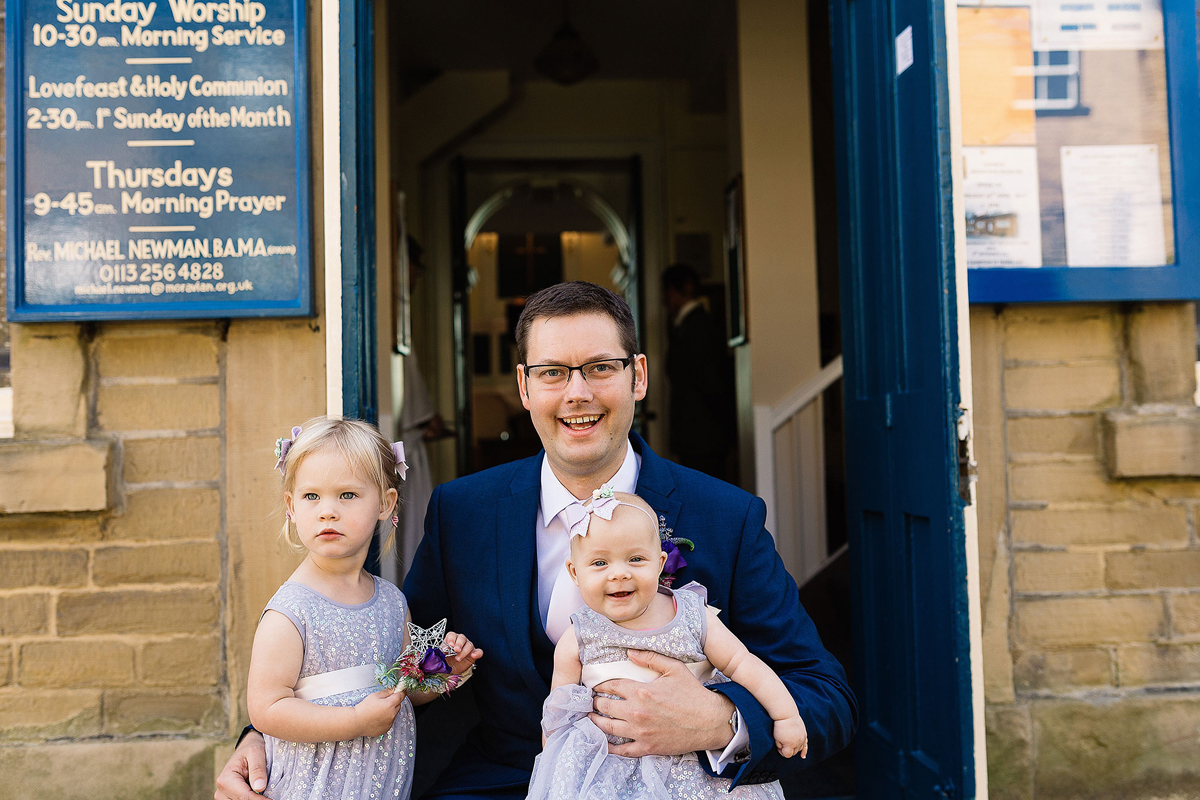 Our gorgeous bride her dad were chauffeur driven to the church in a Jaguar hired from Superior Motor Cars, later used to whisk Debs and her new husband off to their reception. Andy and his best boys also hired a Mustang to drive to the ceremony. I so love the years of family history and the depth of touching sentiment in the place the couple chose to exchange their marriage vows.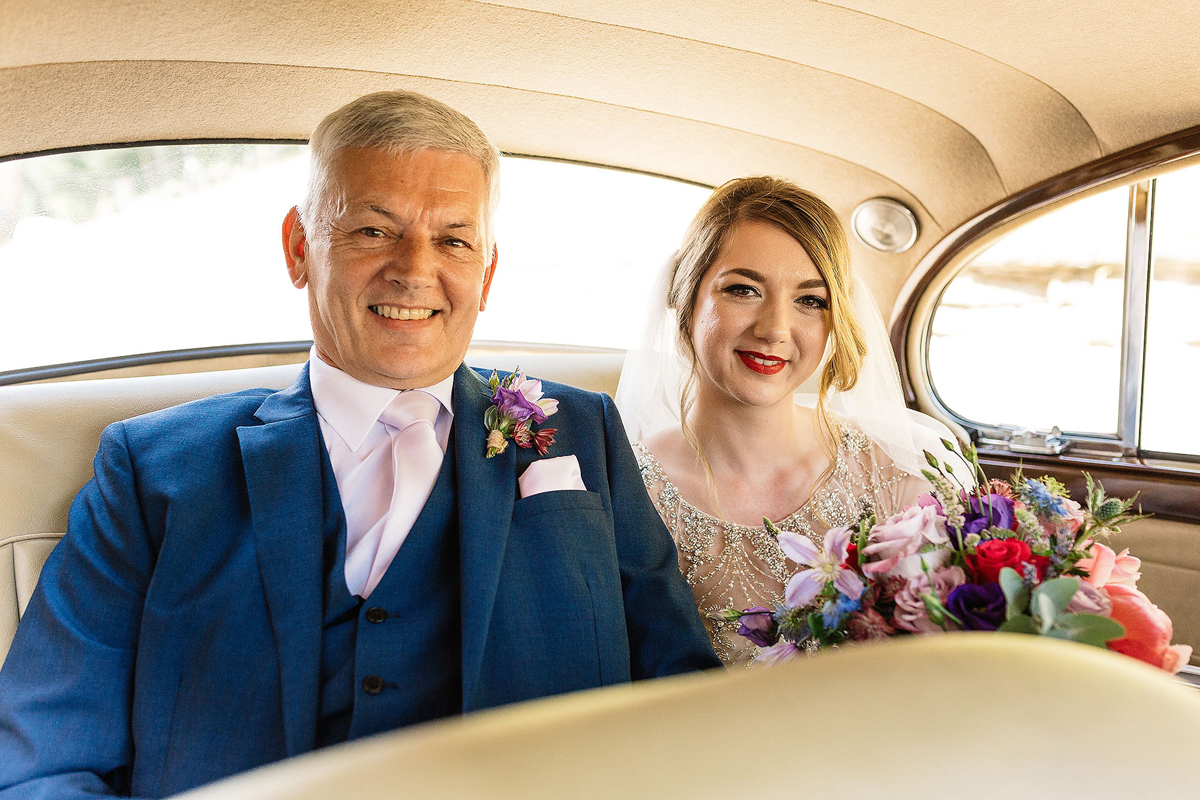 Debs chose Alien by Mugler perfume, a distinctive scent that she hadn't previously worn, which will now forever remind her of her wedding day. She accessorised with diamond and amethyst stud earrings given to her by Andy as a 25th birthday present, and a Liberty in Love bracelet which he gifted her on the morning of the wedding, finishing her look with a custom made hair vine.
"Lisa at The Bobby Pin made a beautiful bespoke hair vine to match the beading on my dress. She couldn't've been more helpful and accommodating, and I think the vine really finished off the look. It was the idea of a hair vine that inspired my choice of veil and hairstyle. By pure chance it turned out she's based in Bradford so I was glad to support another local awesome female boss lady."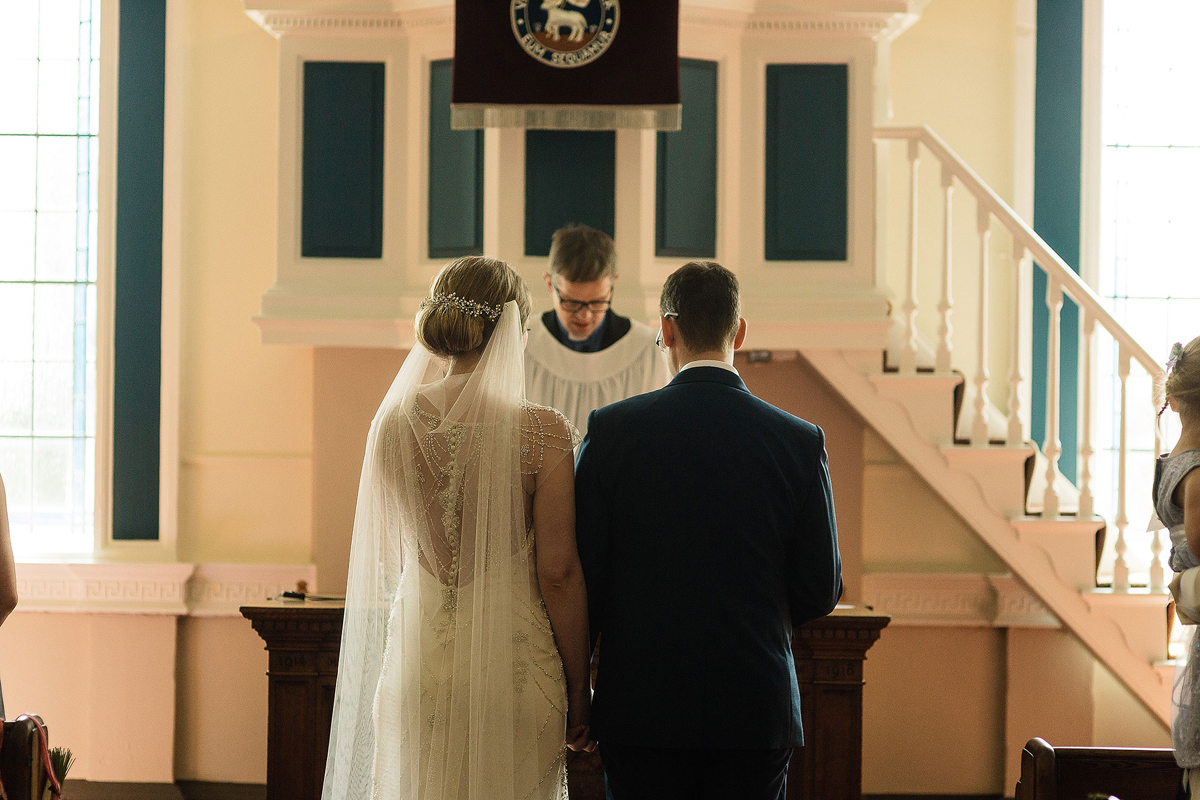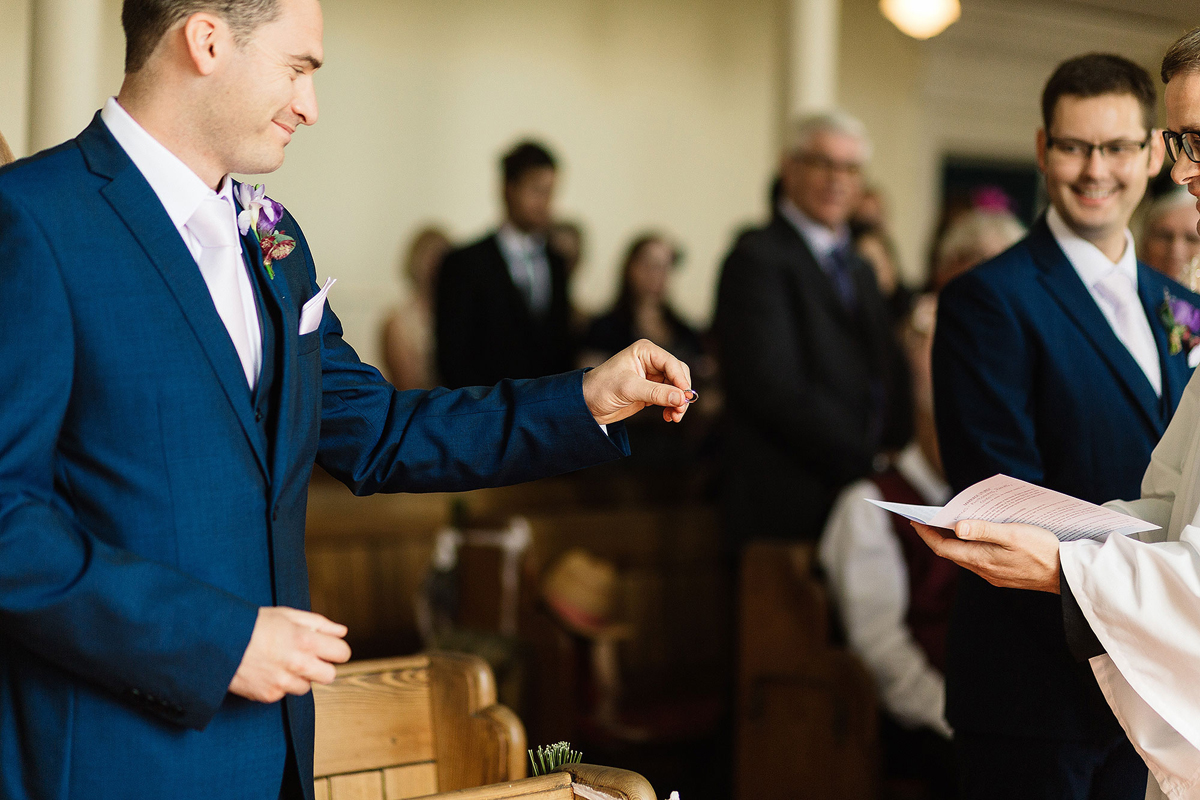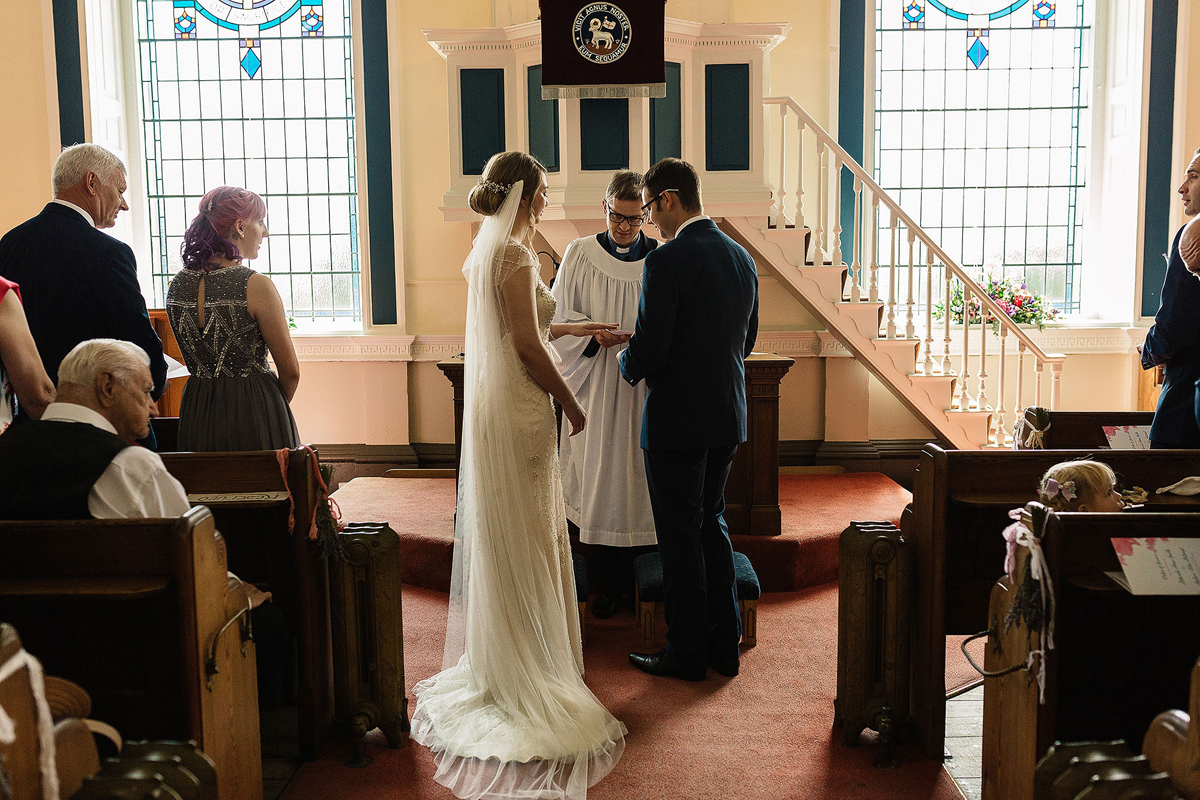 The newlyweds chose a passage from Corinthians, which reflects the selfless, enduring and fulfilling nature of love, read by two of Debs schoolfriends, and exchanged matching platinum wedding rings. An extract from 'The Prophet' by Kahlil Gibran was also read by Andy's sister, Donna, and was chosen because it speaks of loving one another but not depending on each other, and using strength in unison.
"Our wedding rings came from Marlow's in Birmingham's Jewellery Quarter, the same shop my engagement ring came from. We both chose plain platinum bands. It was important to have an aspect of Birmingham in our day as it's where we've made our home together, mid-way between our home towns of Leeds and Hastings."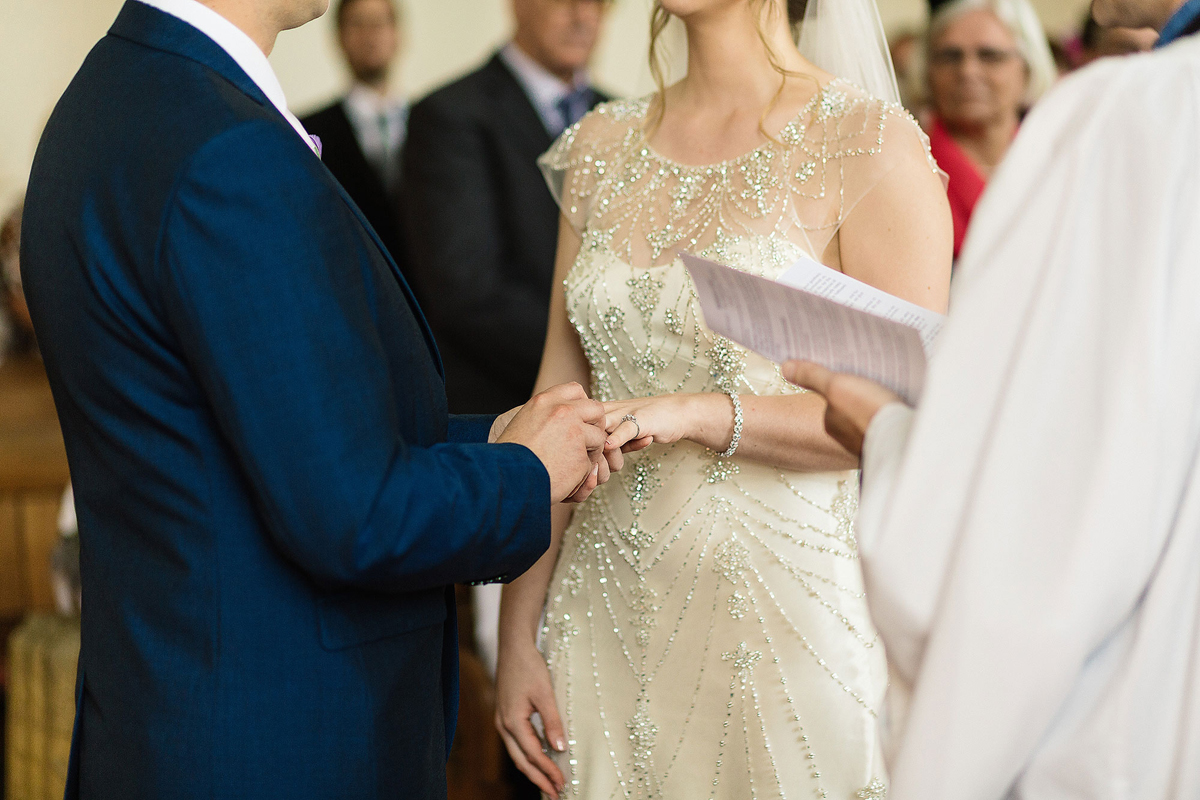 "My favourite part of the day was during the signing of the register in the church vestry where we finally got to say hello properly. Whilst we signed the register, our organist (my former teacher) played 'All You Need Is Love' and 'Can't Help Falling In Love With You' – my grandad decided to sing along, which many people have mentioned was their favourite part of the service."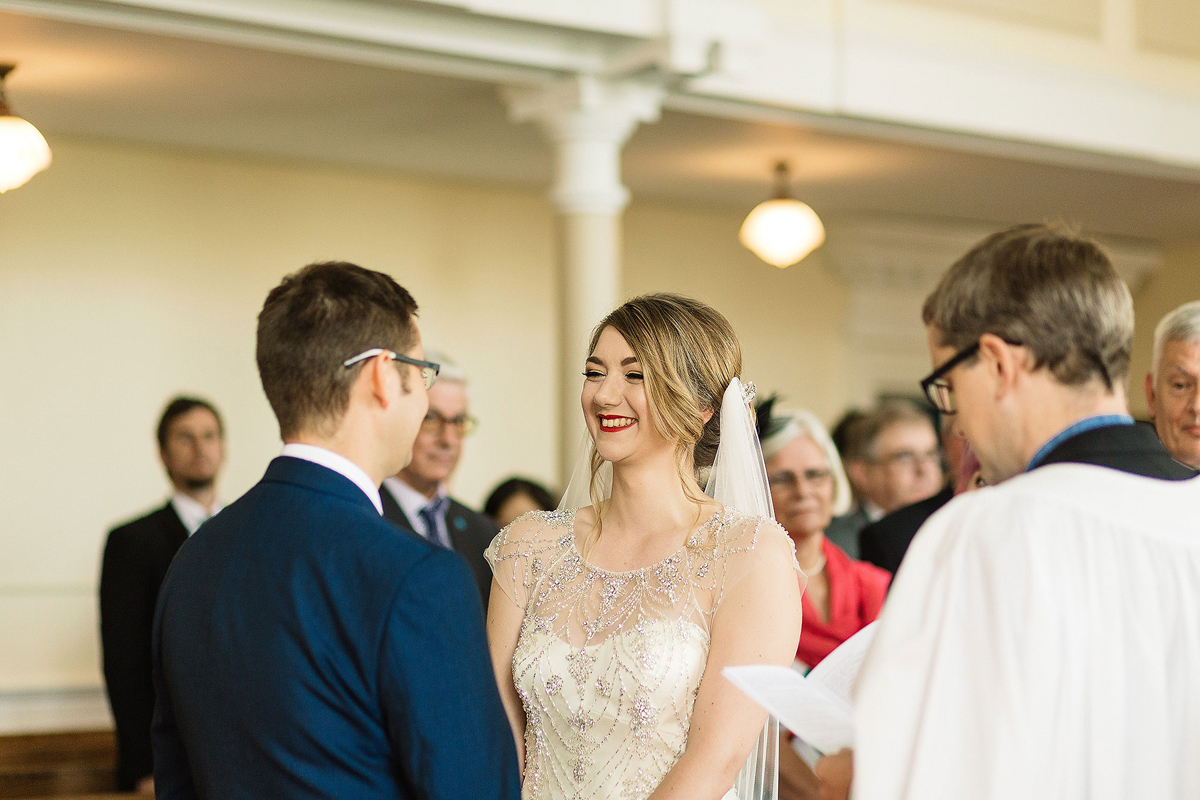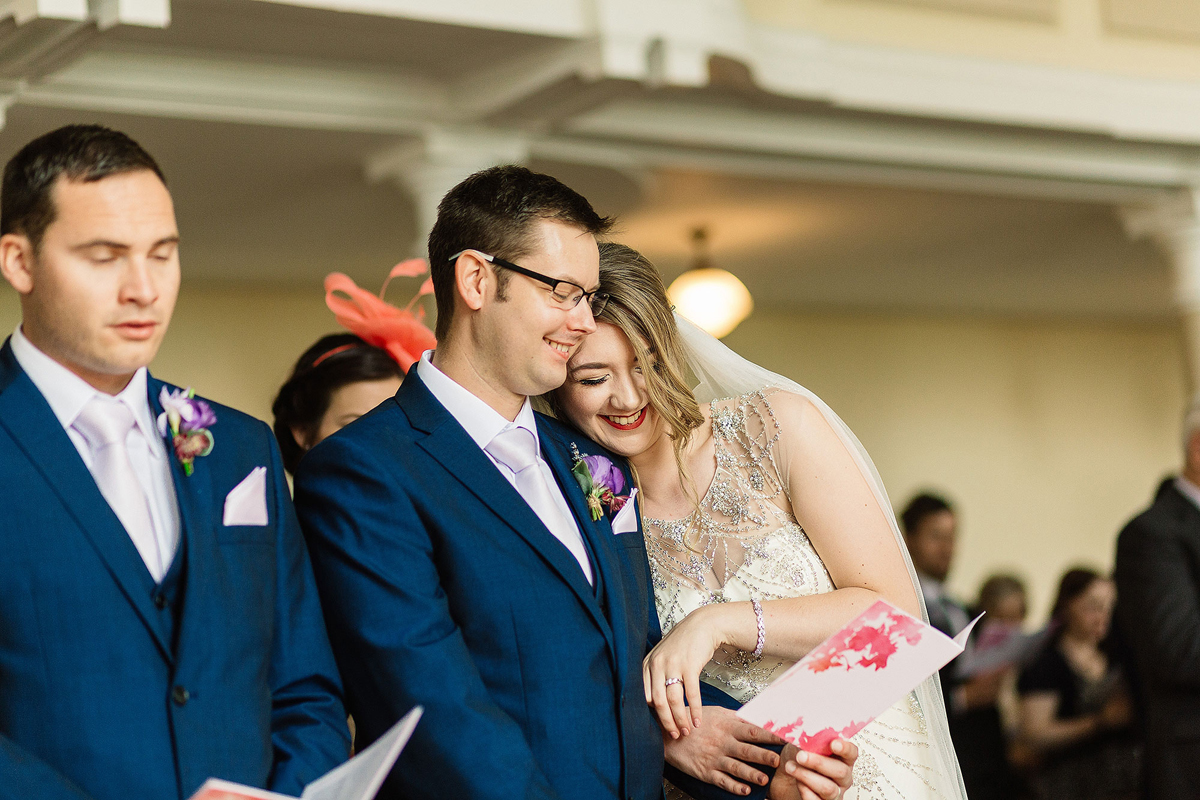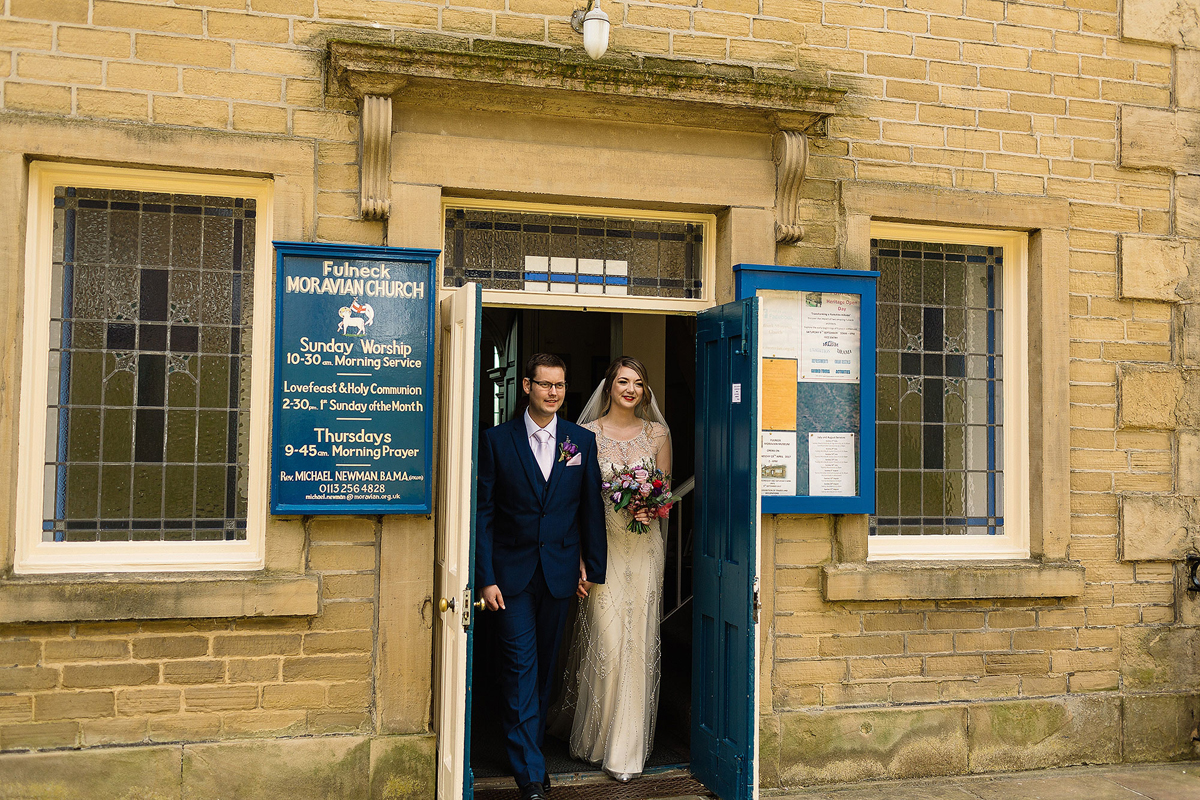 The church was decorated with fresh pink, blue and purple blooms arranged by Liz of Flowerworks in Pontefract, a florist Debs discovered online. As soon as she met the owner, our bride knew she and Andy had made the right choice – Liz was incredibly helpful and understood what the couple wanted without them even really knowing.
"Flowerworks crafted all the buttonholes and corsages, an adorable flower wand, and four stunning displays for the church windowsills, complemented with dried lavender pew ends. Two of the displays were then transferred to Bowcliffe Hall for display during the reception, along with two stunning staircase displays."
"All we requested was pinks, blues, purples and a mix of traditional and unusual textures along with mercury glass vases for the table centrepieces – Liz truly delivered on this front and the flowers were one of our favourite aspects of the day. The flowers included lisianthus, allium, roses, thistles, sweet william and freesia amongst others. My bouquet was a mix of the above flowers with a stunning peony as the focal point and Hannah's bouquet was a smaller version."
"We undertook the traditional vows from the Moravian Liturgy, the vow of in sickness and in health was particularly poignant as we have both suffered health issues throughout our relationship – including Andy's emergency hospitalisation on our 'last hurrah before marriage' trip to California. Andy's best man Jonathan brought this up as a show of strength in our relationship during his speech, which made me cry."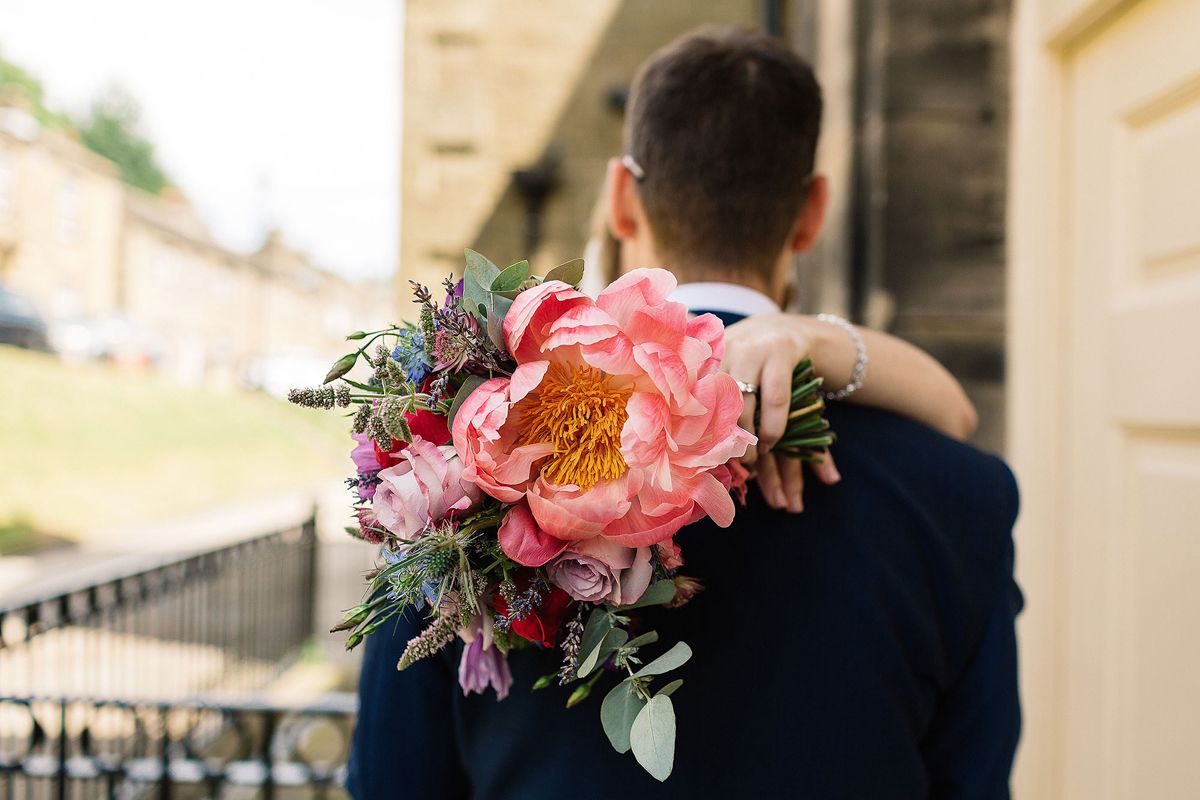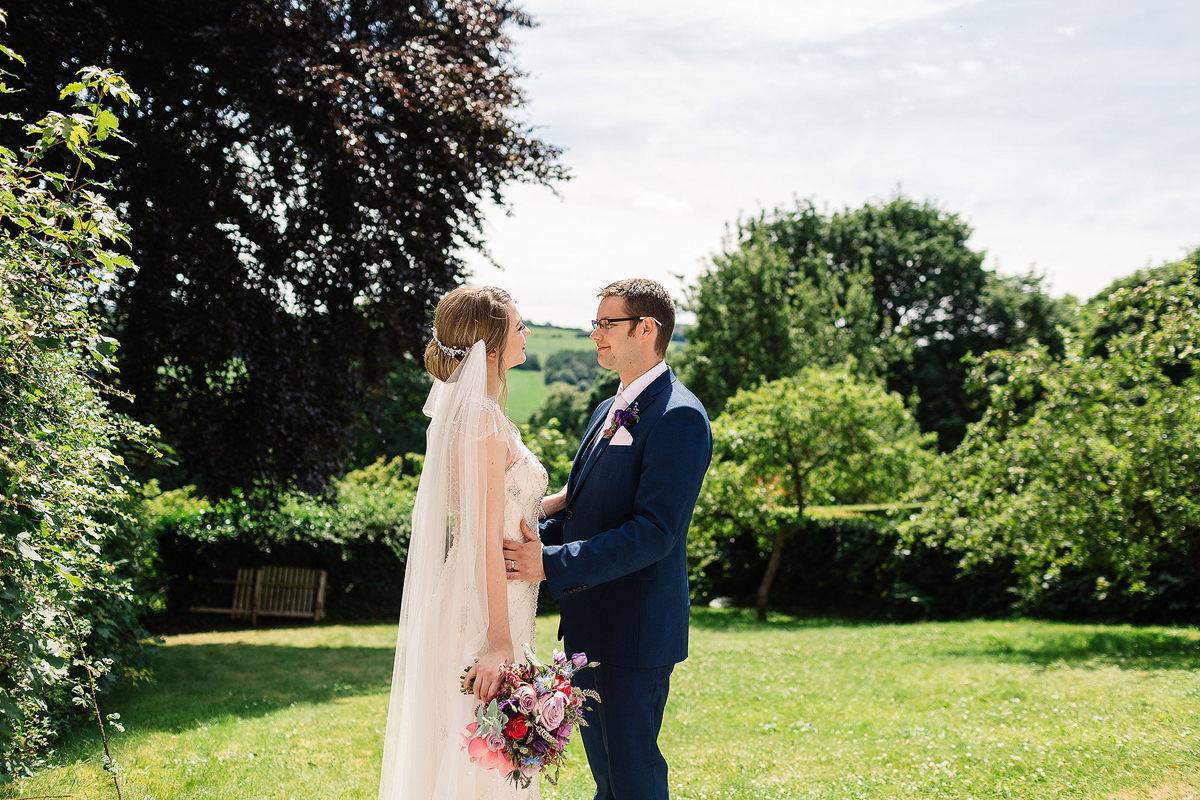 Andy, the dashing dads, and the groomsmen all donned suites from Next, paired with ties purchased from Swagger & Swoon, the samples available making it super easy to choose the right colours. Debs also gifted her husband with bicycle inspired cufflinks from Not on the High Street in a nod to his love of cycling.
"I was accompanied down the aisle by my dad, which was a very special moment for both of us. I'm an only child and I think he had been both looking forward to and dreading that moment for many years. We walked down the aisle to Rondeau by JJ Mouret – I wanted something a bit different to the traditional bridal march. We left the ceremony to La Réjouissance from Handel's Music for the Royal Fireworks."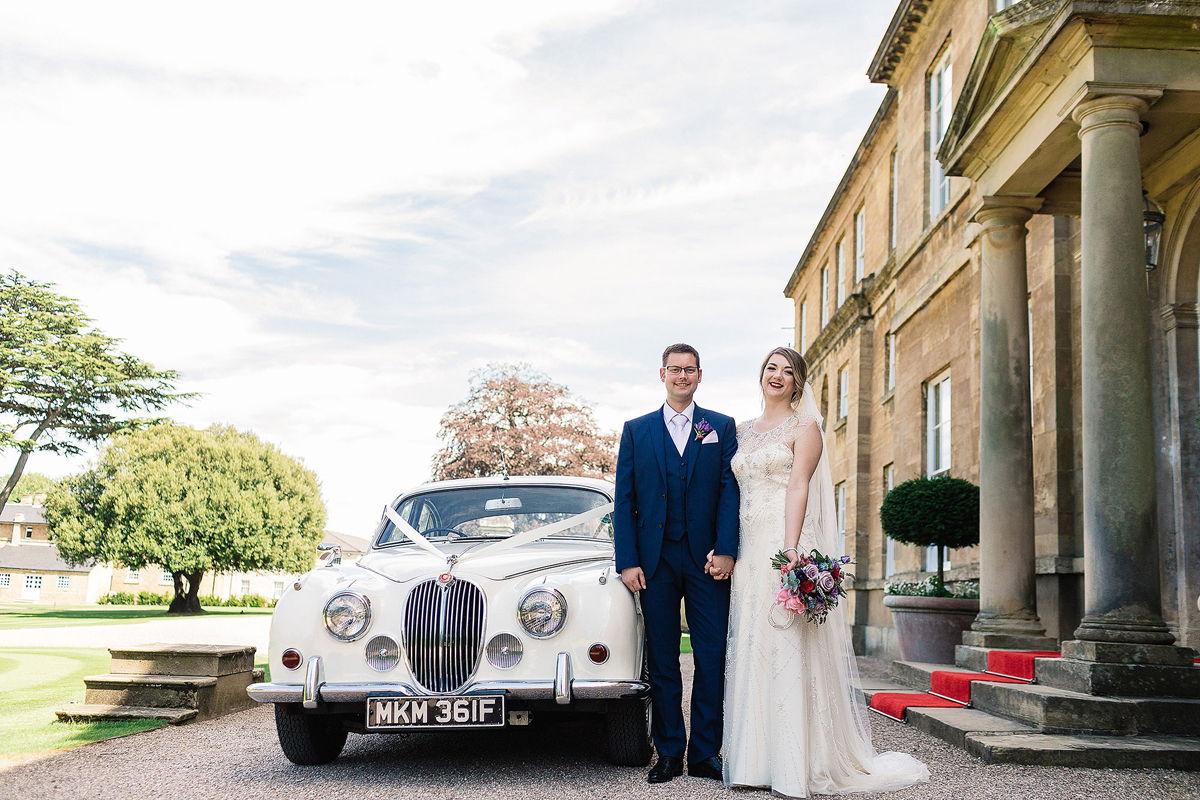 "Decor and garden games were hired from locally based Add Vintage. This included the jenga, connect four, croquet, peg board, a sign and deckchairs. I made our table plan and the 'A & D' light up letters, and bought the spacehoppers and hula hoops as an extra daft touch to the day. We really wanted our guests to relax and enjoy themselves, and the spacehoppers definitely played a big part in the entertainment during the drinks reception."
Immediately after the ceremony, an afternoon tea style spread was provided by a member of the Fulneck congregation at the nearby Boy's Brigade Headquarters. The newlyweds wanted to make sure their arriving evening guests had a chance to mix and feel included in the day, and it also gave Debs and Andy a chance to slip away for some couple portraits in the gardens behind the church and on the school terrace – these are some of their favourite photos from the day.

Rather than the traditional drinks reception, the couple used some money gifted by Debs' grandad, who could only attend the service due to his health, to buy everyone a drink from him. The newlyweds had a selection of drinks available for guests to choose from including Pimms, Prosecco and elderflower spritzer – all appreciated in the summer sun.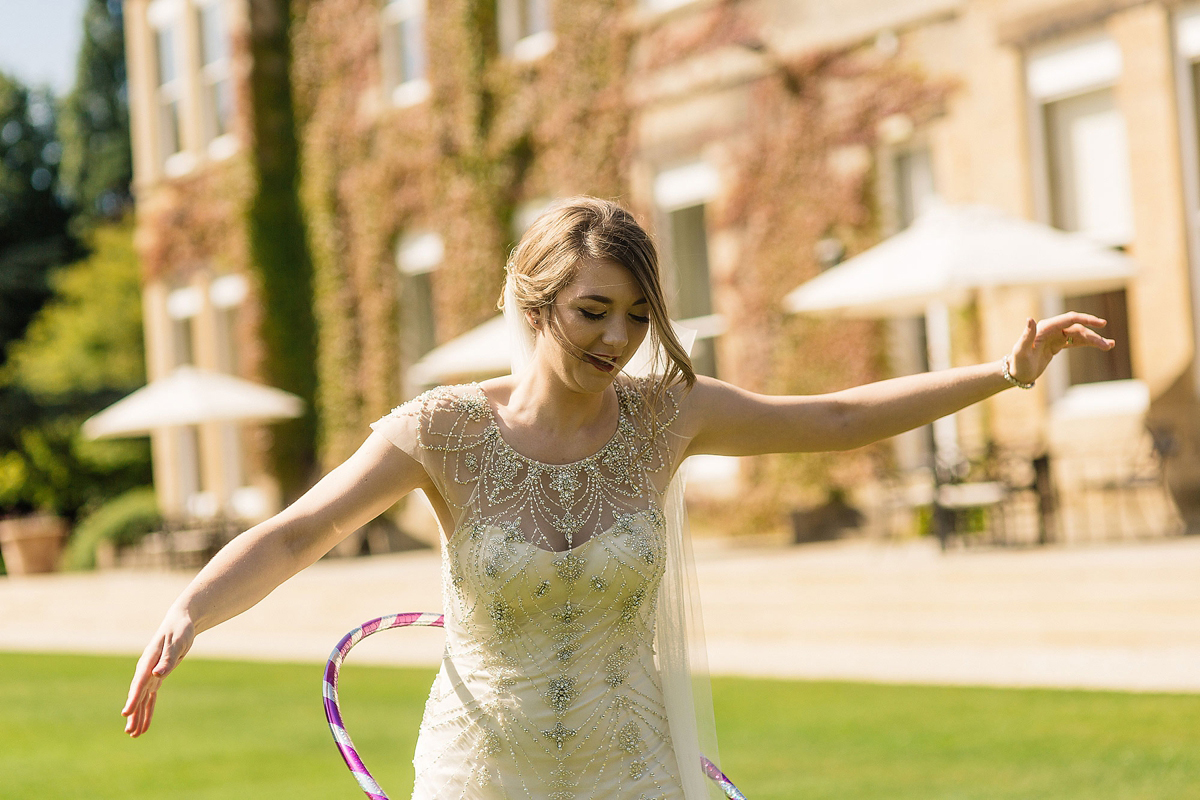 "Bowcliffe's chef, Andy Lawson and his team created the delicious canapés, wedding breakfast and evening food. The food was very important to us and we tried to choose options that reflected our own tastes that would also be enjoyed by our guests. I loved standing on the terrace watching our friends and family talking and laughing in the sunshine. This coupled with the speeches on the terrace was definitely a highlight. My dad's speech was consisted of him reciting a list he discovered whilst redecorating my former teenage bedroom detailing 'Requirements for a Future Husband' and ranking how Andy performed against them!"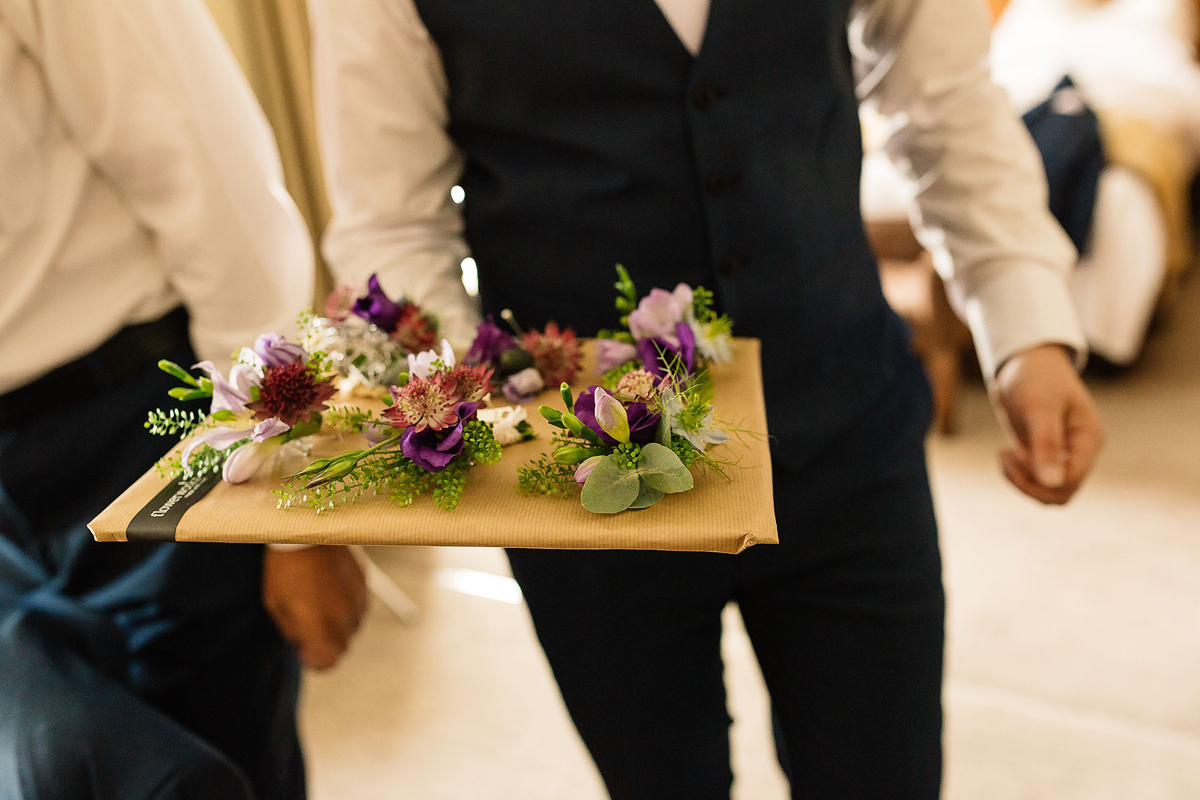 "We didn't set out with a strict budget in mind, we set ourselves priorities – photography, reception venue, food and entertainment – and then adjusted our budget around what we felt was the best choice and value for us. Choosing Bowcliffe Hall as a reception venue took a larger part of our budget than originally planned, however the fantastic surroundings and impeccable service made it worth every penny."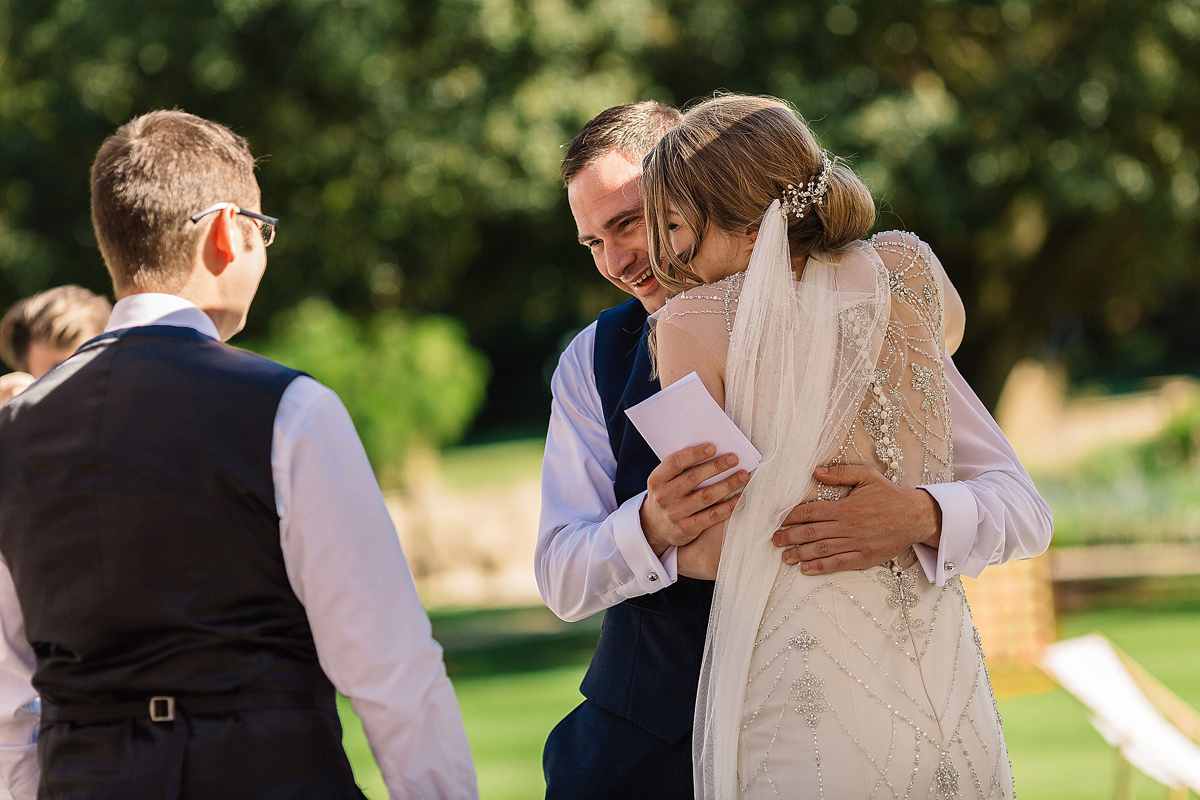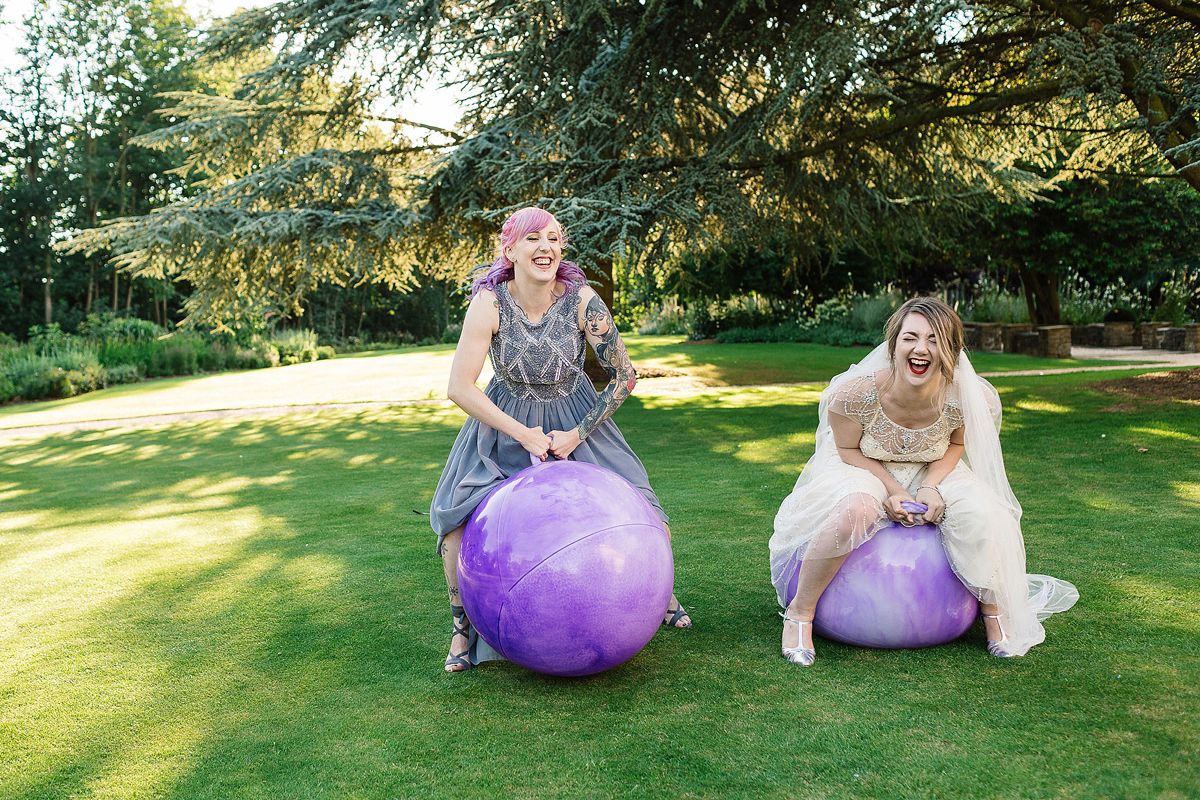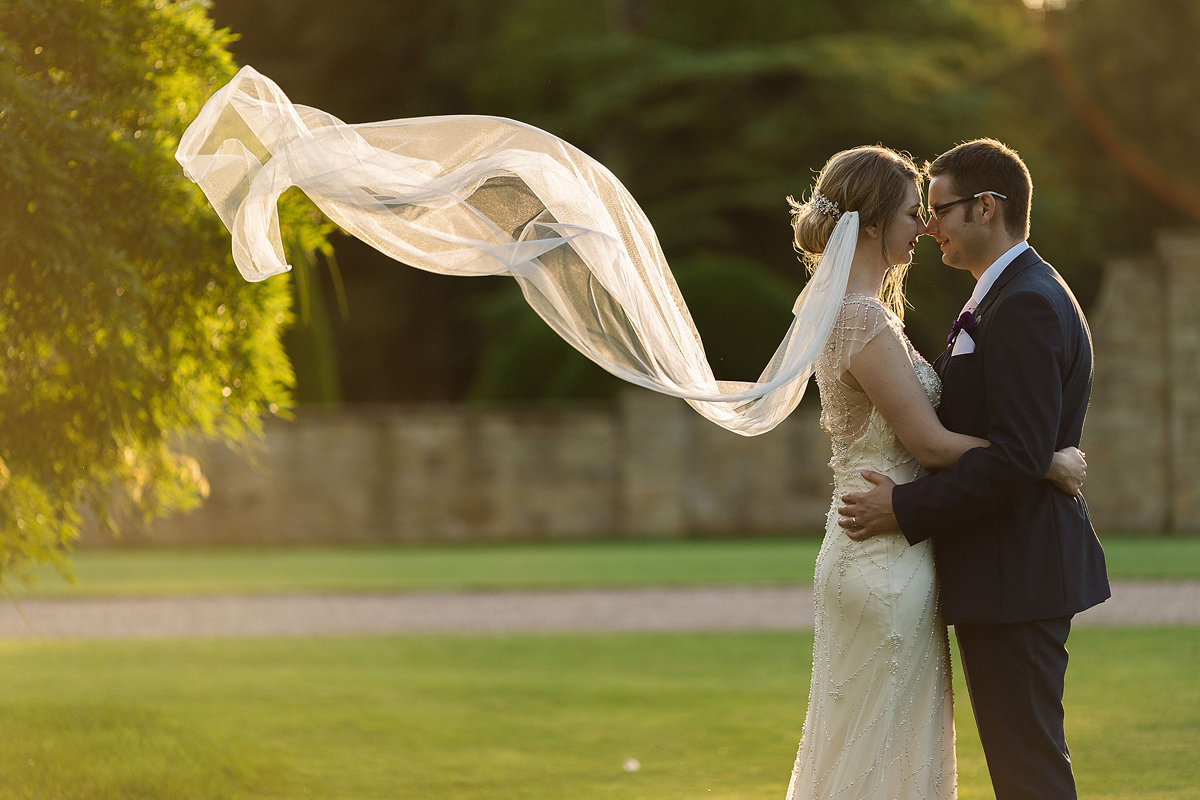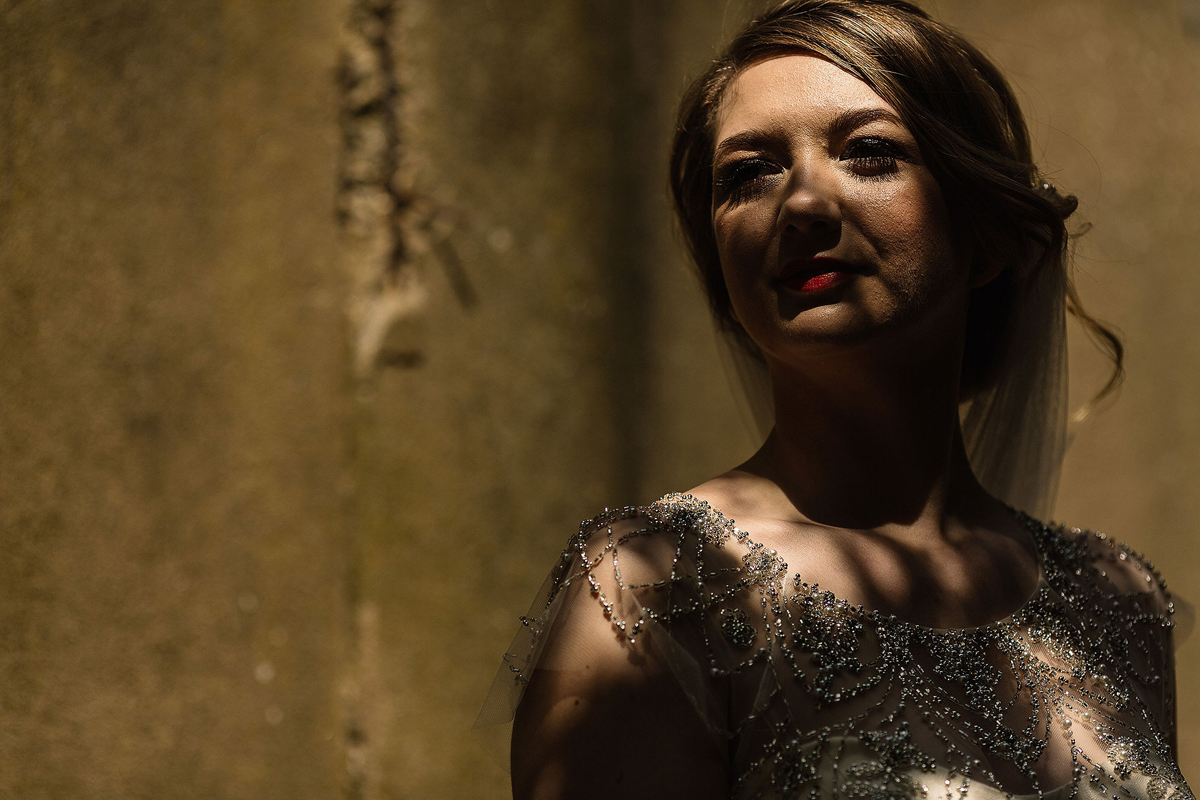 "The reception venue was nowhere near as clear cut a decision as our ceremony venue. We wanted an intimate venue with exclusive hire that wouldn't require too much decoration as neither of us are particularly DIY inclined. It felt like we had looked at every venue in Yorkshire, but when we stumbled across Bowcliffe Hall we knew we had found the perfect venue for us."
"The attention to detail in every room is beyond belief, and it definitely had the most unique features of any venue, including the amazing Blackburn Wing – a literal 'wing' shaped futuristic tree house where we held our wedding breakfast. Bowcliffe also houses the largest collection of motoring memrobilia outside of London, which was appropriate as Andy and many of our friends and family are complete petrol heads."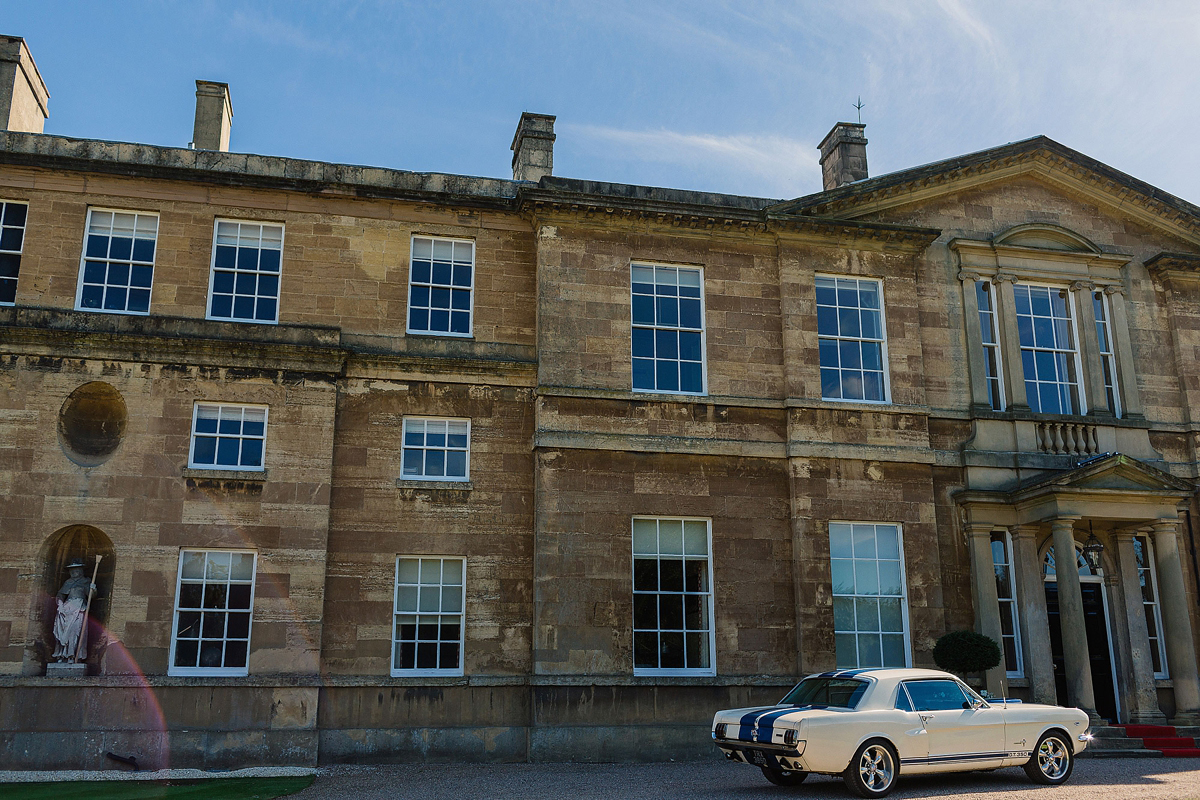 "We met at Brunel University in 2009 through the climbing club. We first started talking around November time and on the last big night out before Christmas I drunkenly decided enough was enough and asked for Andy's number, kissed him and then promptly ran away, leaving him a bit shellshocked. We finally made it official in February 2010. During our final year of university we both spent time in hospital along with the usual stresses of dissertations and exams, but managed to get through tough times together and came out stronger for it."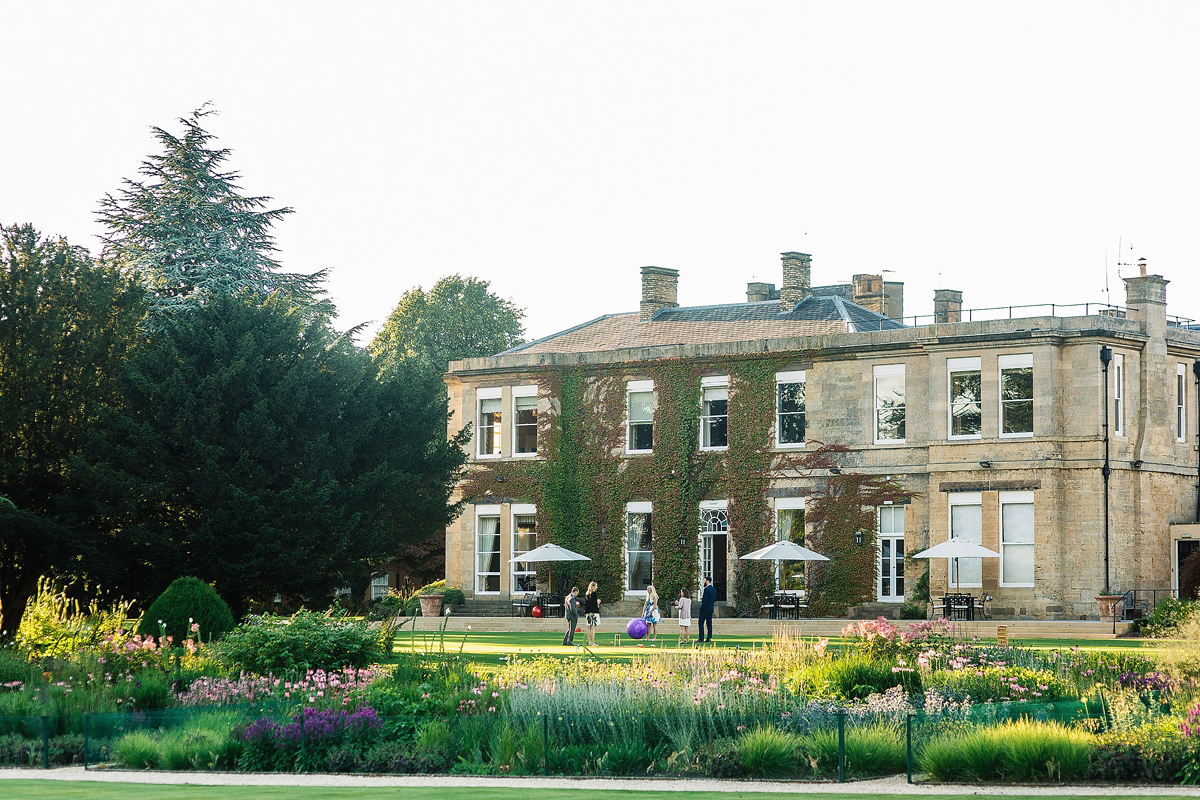 "After university we moved to just south of Birmingham, and we've now lived here for the last six years, bought a house and adopted two furry children (cats). Andy's proposal was a complete surprise. We were on a trip to London for our 6th anniversary and had spent the day at the Natural History Museum where Andy's first thought of proposing under Dippy the Dinosaur was thwarted thanks to the half term crowds. We then went on the London Eye – again too crowded for a proposal."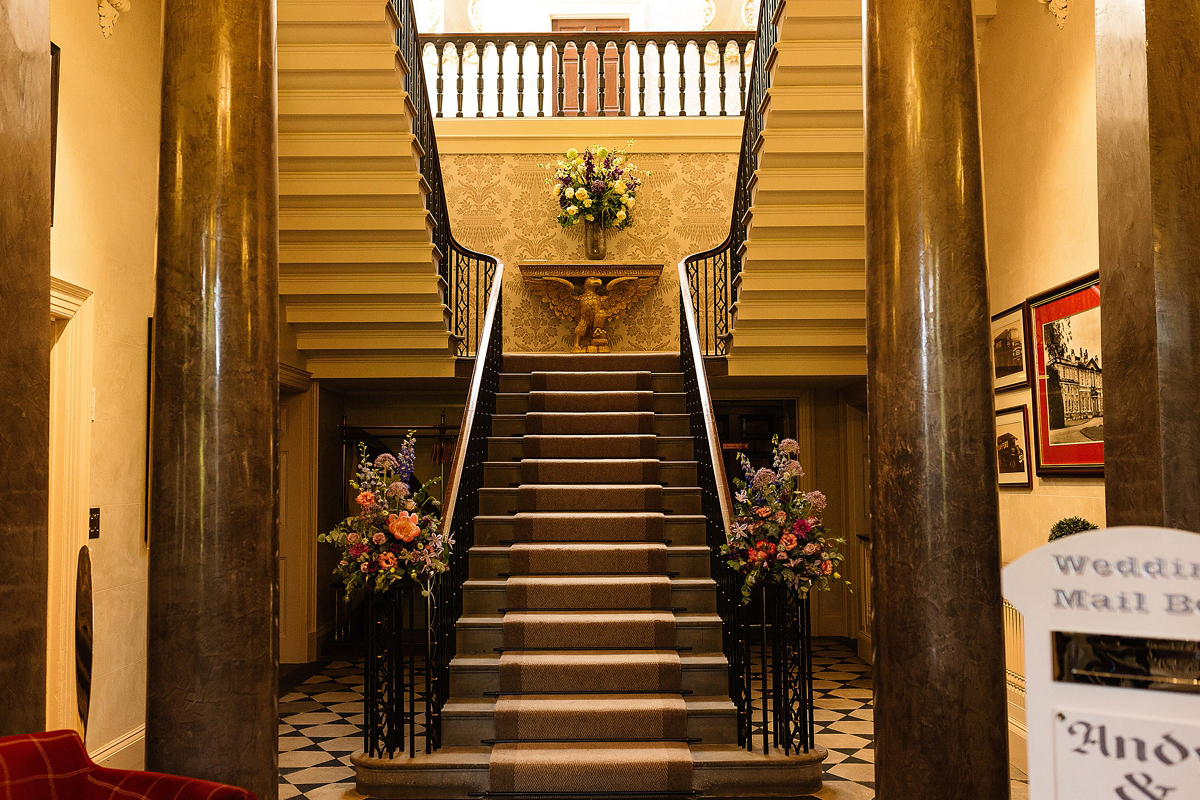 "When we we arrived back at the hotel, Andy had arranged for our hotel room to be decorated with balloons, lovely personal messages on the mirror, petals on the bed and a bottle of Cava accompanied by chocolate strawberries. When I turned around from taking off my coat he was down on one knee with a stunning trilogy engagement ring. I, of course, said yes and then promptly burst into surprised happy tears. We were engaged for 15 months prior to our wedding day."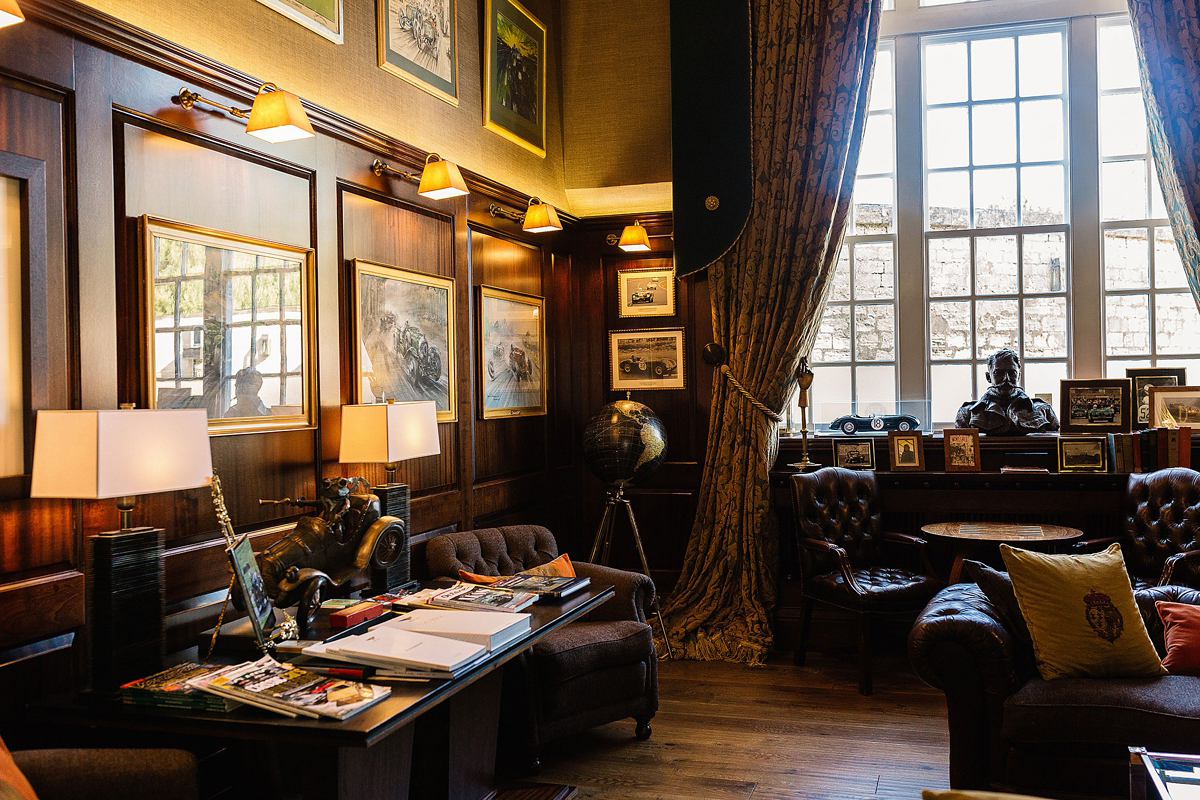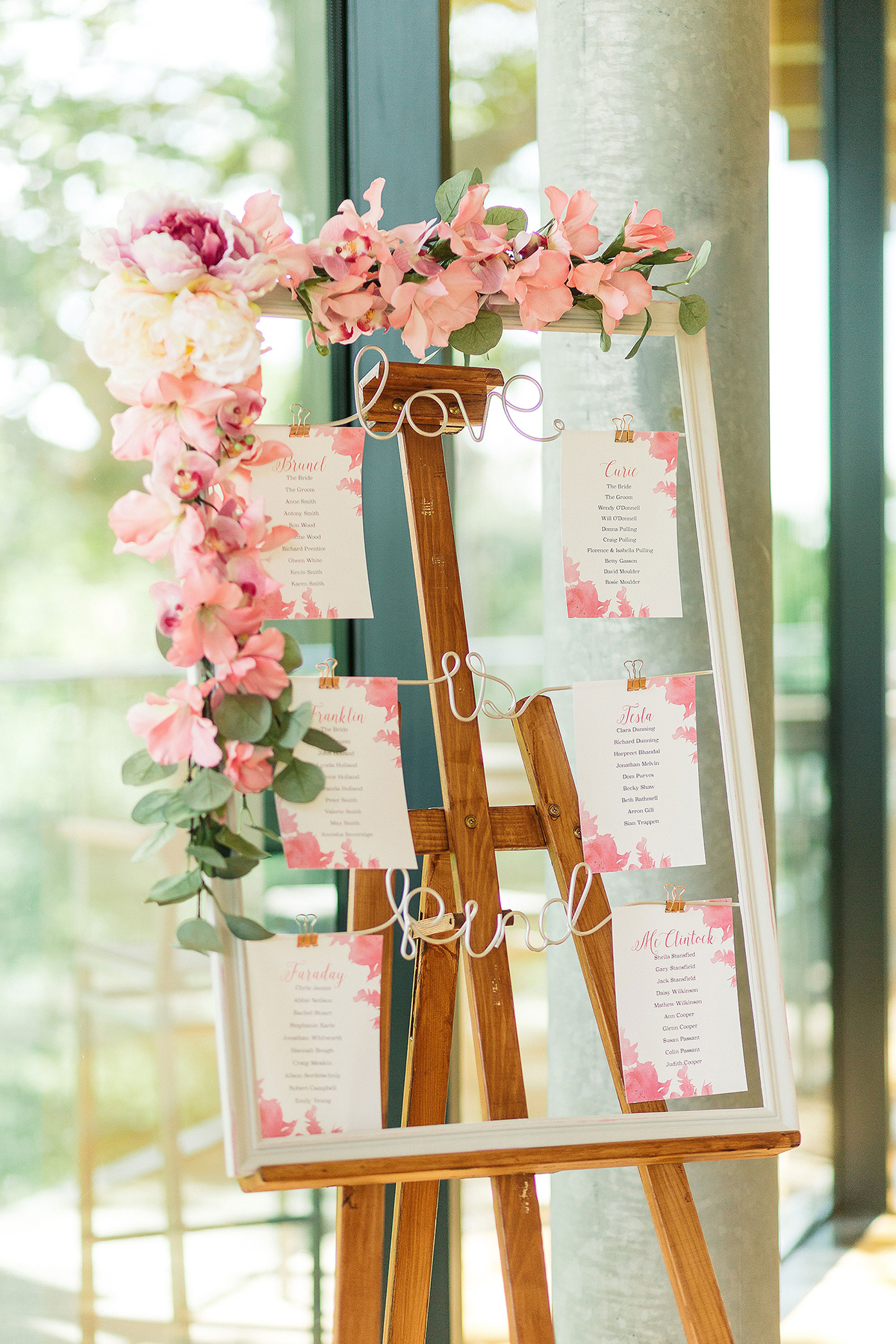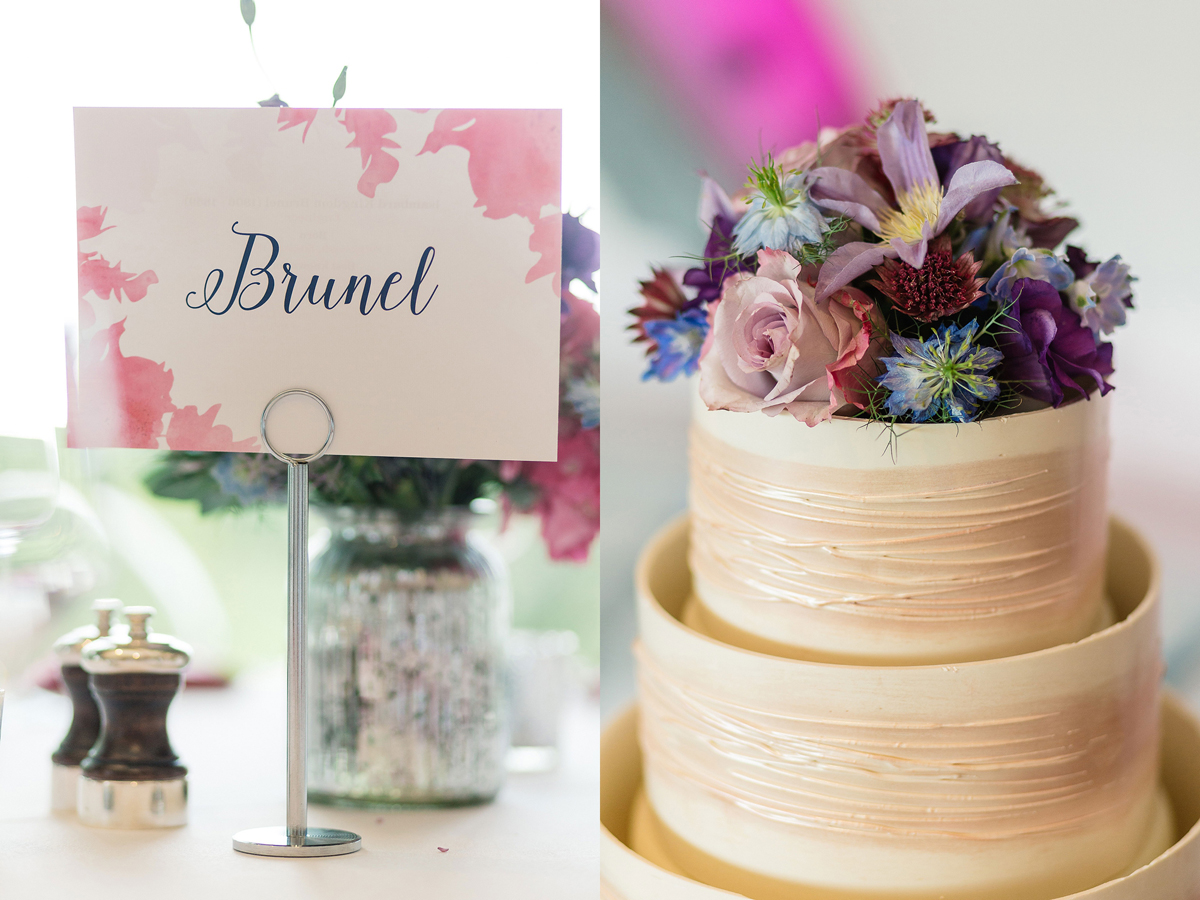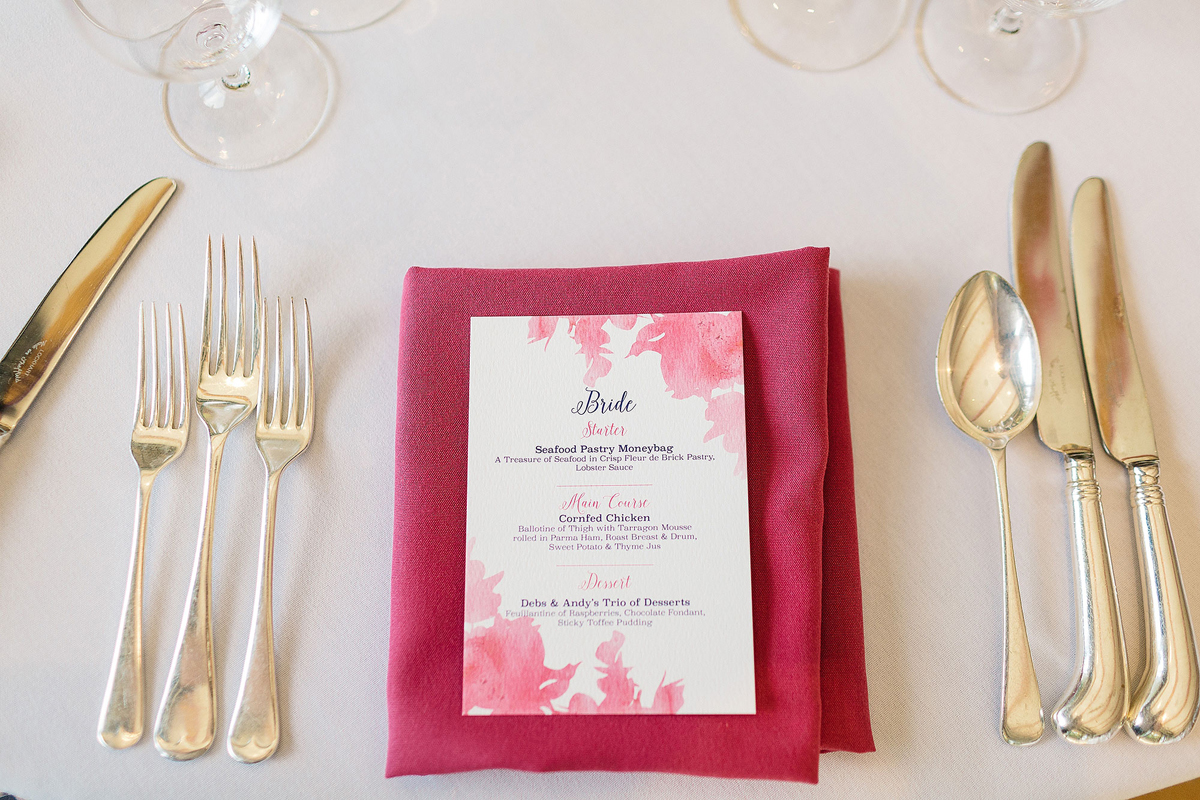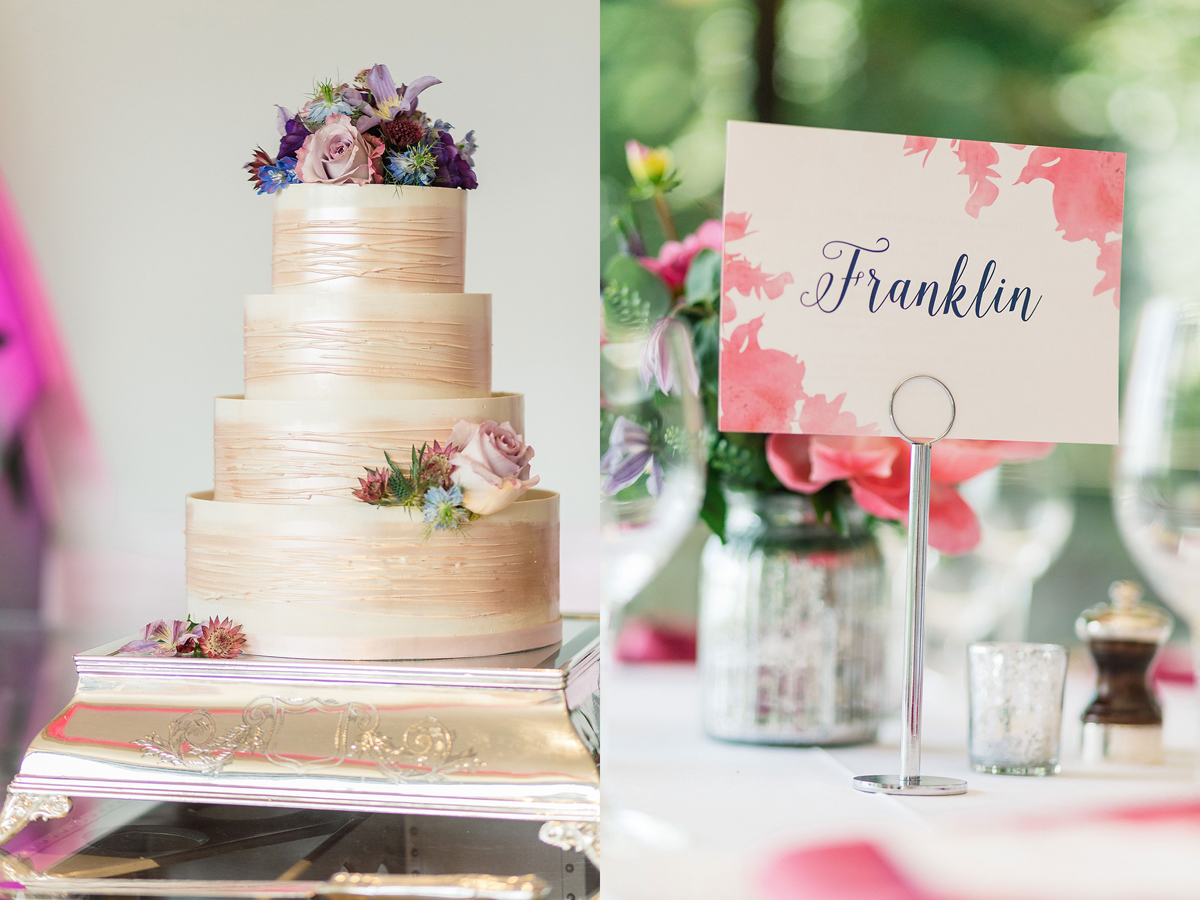 "Cake wasn't a priority for us as we always seem to miss out on it at our friend's weddings. Although we tried to support local businesses where possible, when we realised Marks & Spencer made cakes and how modern yet simple they could be at a fair price, we decided to go with them. The cake was dressed beautifully by our florist which really gave it an individual twist."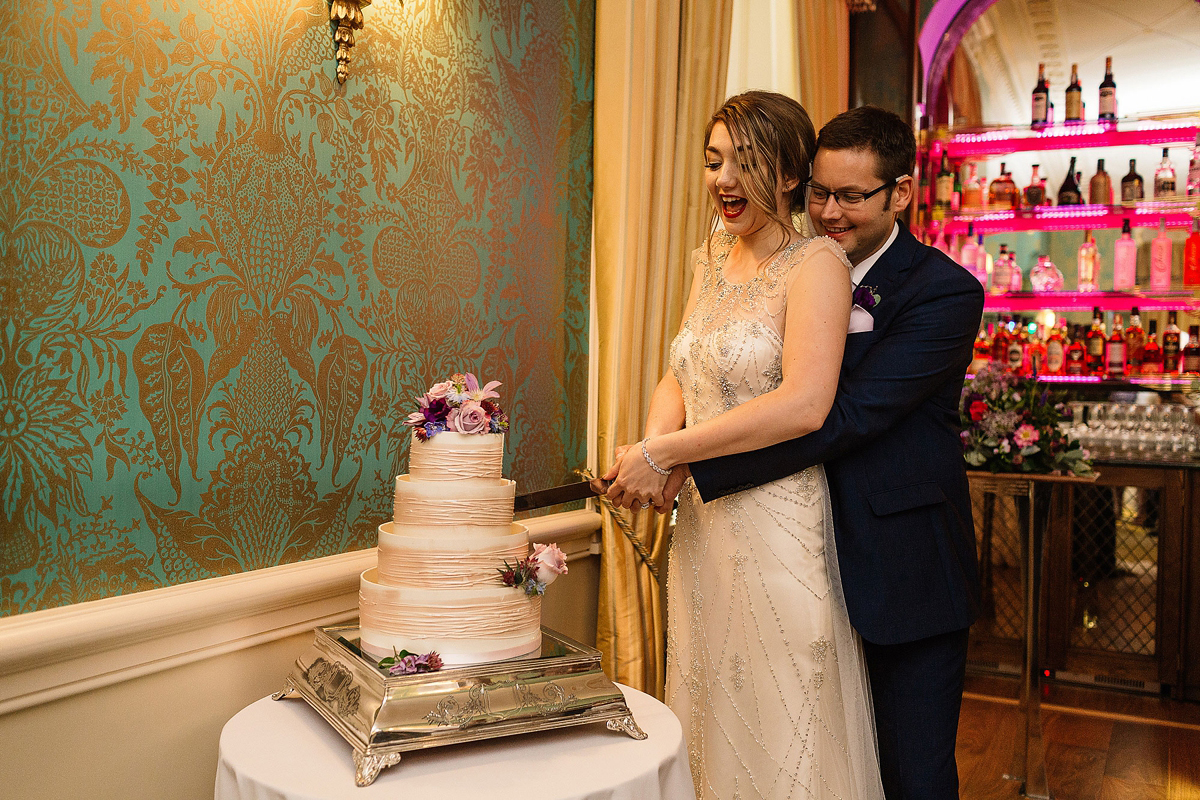 Debs and Andy chose Tom O'Dell's 'Grow Old With Me' for their first dance, played by band The Kickstarts. It took the couple a while to agree on a track that really resonated with them, but wasn't too overplayed or traditional.
"The Kickstarts and Dan, the lead singer, provided a fantastic acoustic set during our drinks reception, which helped to set the tone for the day in the glorious sunshine. The rest of the band then joined him for the evening reception and kept the dance floor packed. It was a bit of a gamble booking a band we had never seen, but their website had plenty of examples of their work, which helped put us at ease. Booking through Warble was easy and communication was great."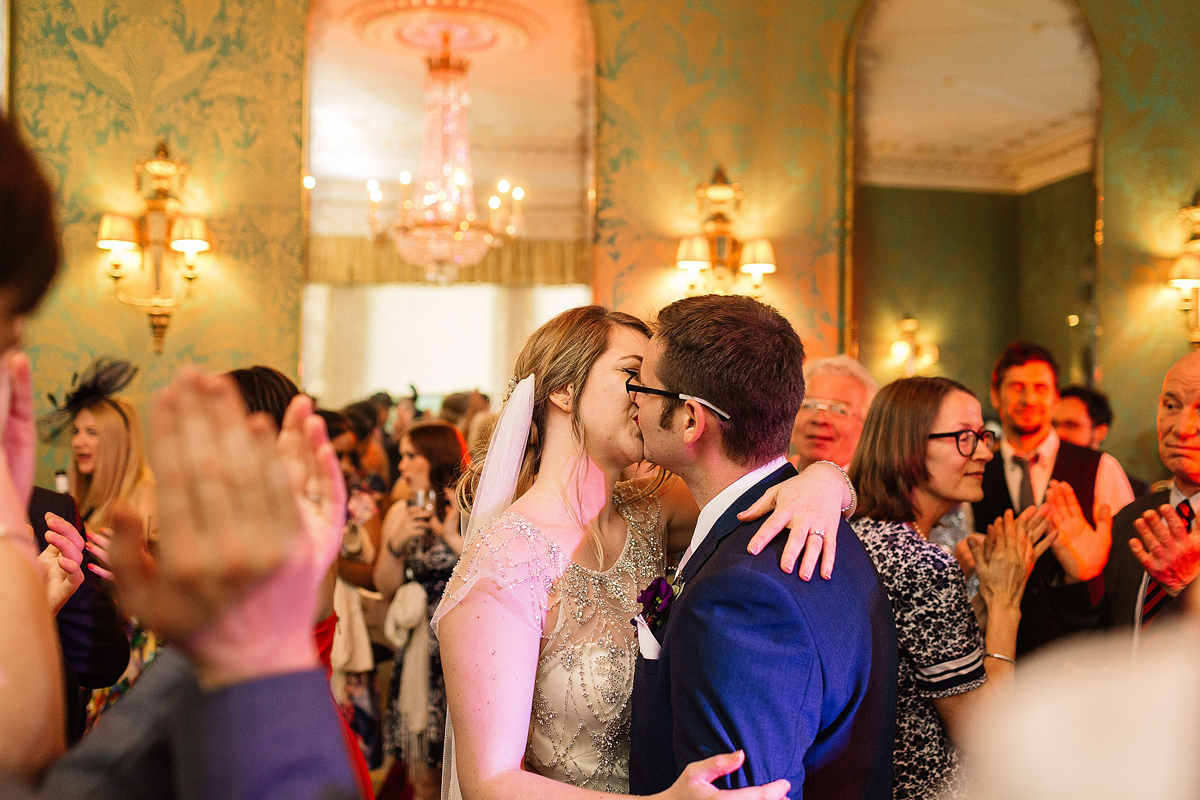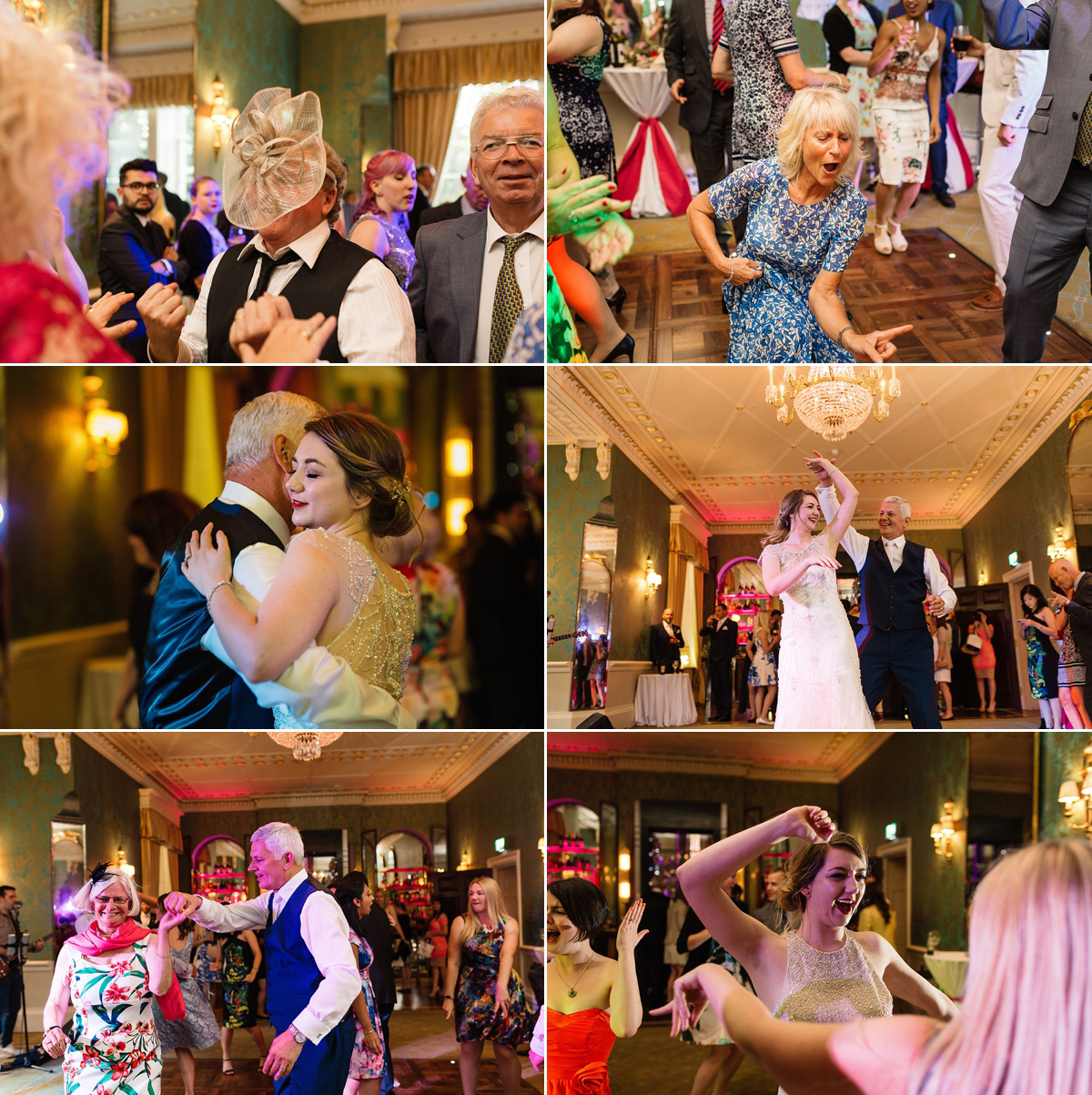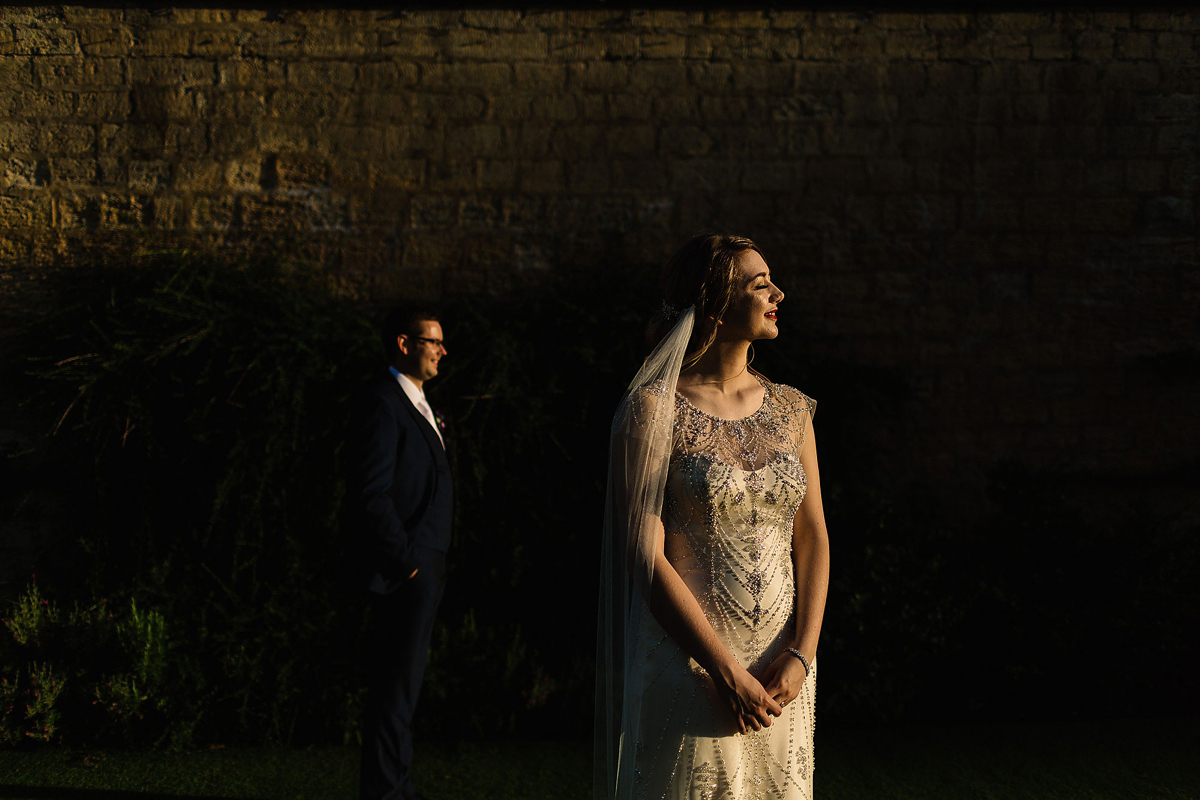 Words of Wedded Wisdom
"Things will go wrong. We hired a coach to transport our nearest and dearest from the church to the reception venue via the hotel many had booked in to. The coach made it back to the hotel after the church but then proceeded to break down with most of our family on board! Luckily the driver got it going again, only for it to break down again on the motorway slip road! They evenutally managed to get taxis and although this meant they were late to the reception, it definitely didn't ruin anybody's day."
"Build time into your day to have a moment to yourselves to enjoy the adrenaline and amazement at the commitment you've made, you'll only have that day once and standing back and trying to take it all in will help the memories last even longer."
"I loved that Love My Dress features an amazing array of real weddings alongside editorials (I LOVE the 'From the Heart' features) and advice. It helped me to realise you can have what ever wedding you choose to have – it's all just personal taste. All that matters is that you and your partner reflect yourselves in the day and have what you want no matter what people may think."
"I also found the Love My Dress Facebook group was an undending source of advice and realism and really helped to take the loneliness out of planning a wedding whilst Andy was working away from home. I didn't post all that often but just knowing the group was there and other people were having the same thoughts, trials and tribulations was a great comfort."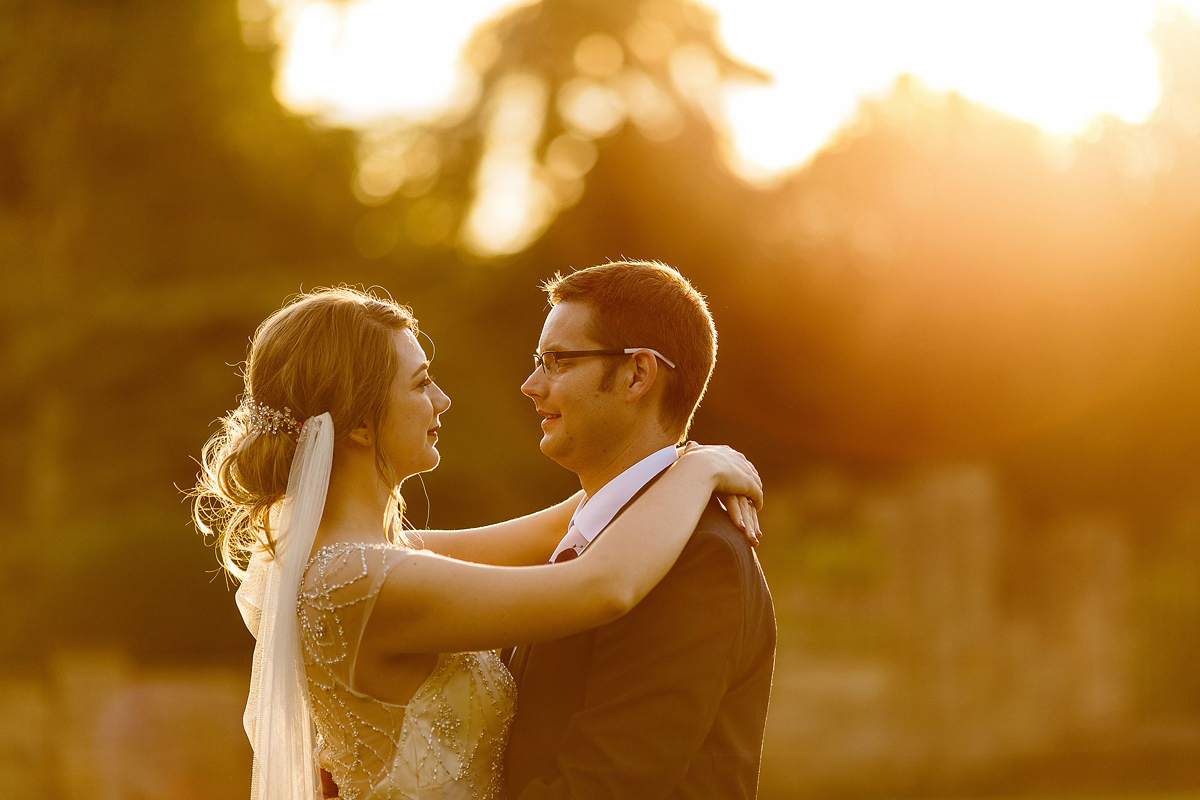 I just want to say a huge thank you to Debs, Andy and the wonderful Paul Joseph Photography for sharing this lovely day with us all. And you can peruse more gorgeous wedding captured by the inimitable Paul and Kelly right here.
With love,
Em x