I have such a love affair with Autumn, or Fall as our Stateside cousins call it. Perhaps it's because I'm most at home in the natural surroundings of the countryside –  rolling hills with views for miles, acres of lush forest land, historical country houses, verdant vineyards and rustic barns, these are the places where I most definitely feel happiest.
As a UK wedding planner I'm so lucky to work with couples from all over the world, planning their celebrations in the most stunning bucolic wedding locations all across England. I love to showcase our green and gorgeous land to those travelling from afar and also to remind others what beauty they have right on their doorstep, I'm looking at you London!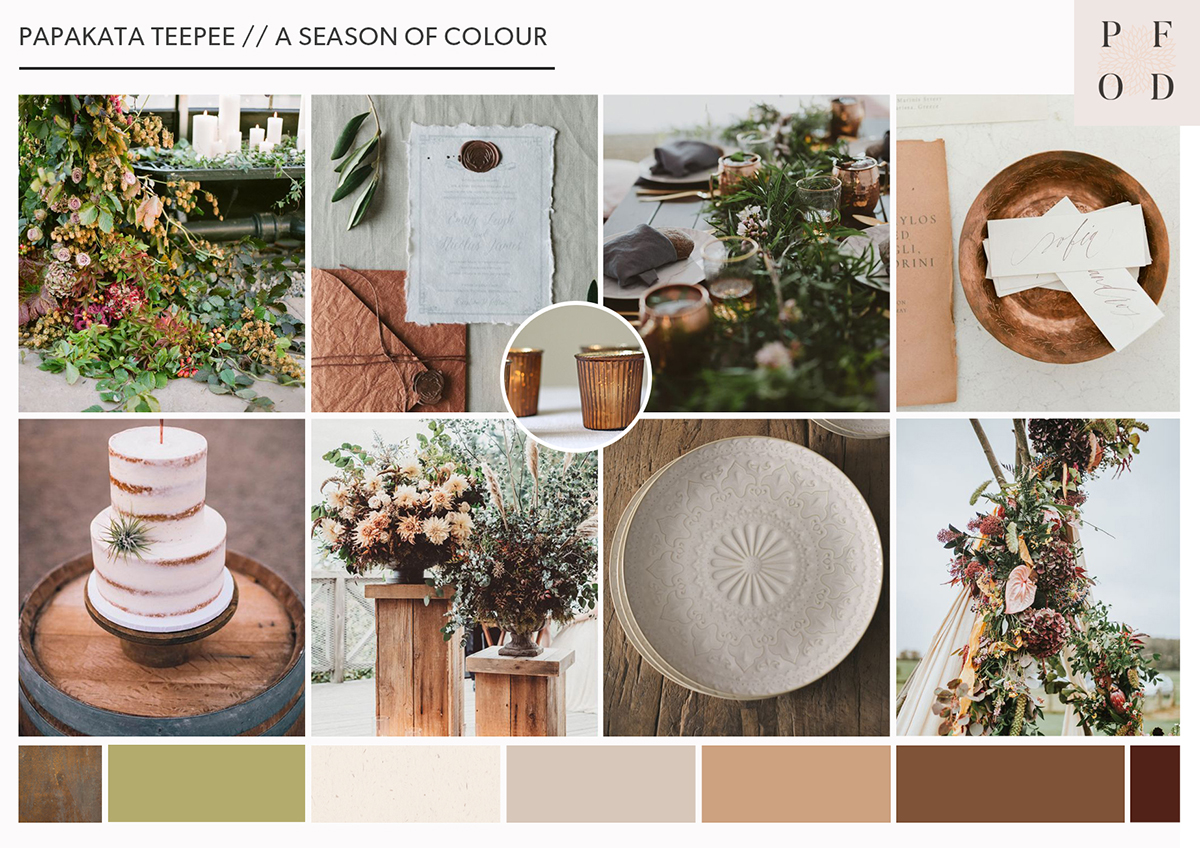 Being in the countryside is good for the soul, it forces you to take a slower pace, to listen to the birdsong, to inhale the scent of nature and live in the moment.
It's this feeling that I try to encapsulate through my wedding designs, weaving in organic, nature-inspired details that fit the surroundings perfectly. Our approach is always to 'bring together spaces with thoughtfulness' and we can only do that by being mindful of where we are.
So today I'm delighted to share with you a little insight into how we go about it – how we take a space, a location and an outline brief to create a wedding design that is thoughtfully considered.
Photography by Melissa Beattie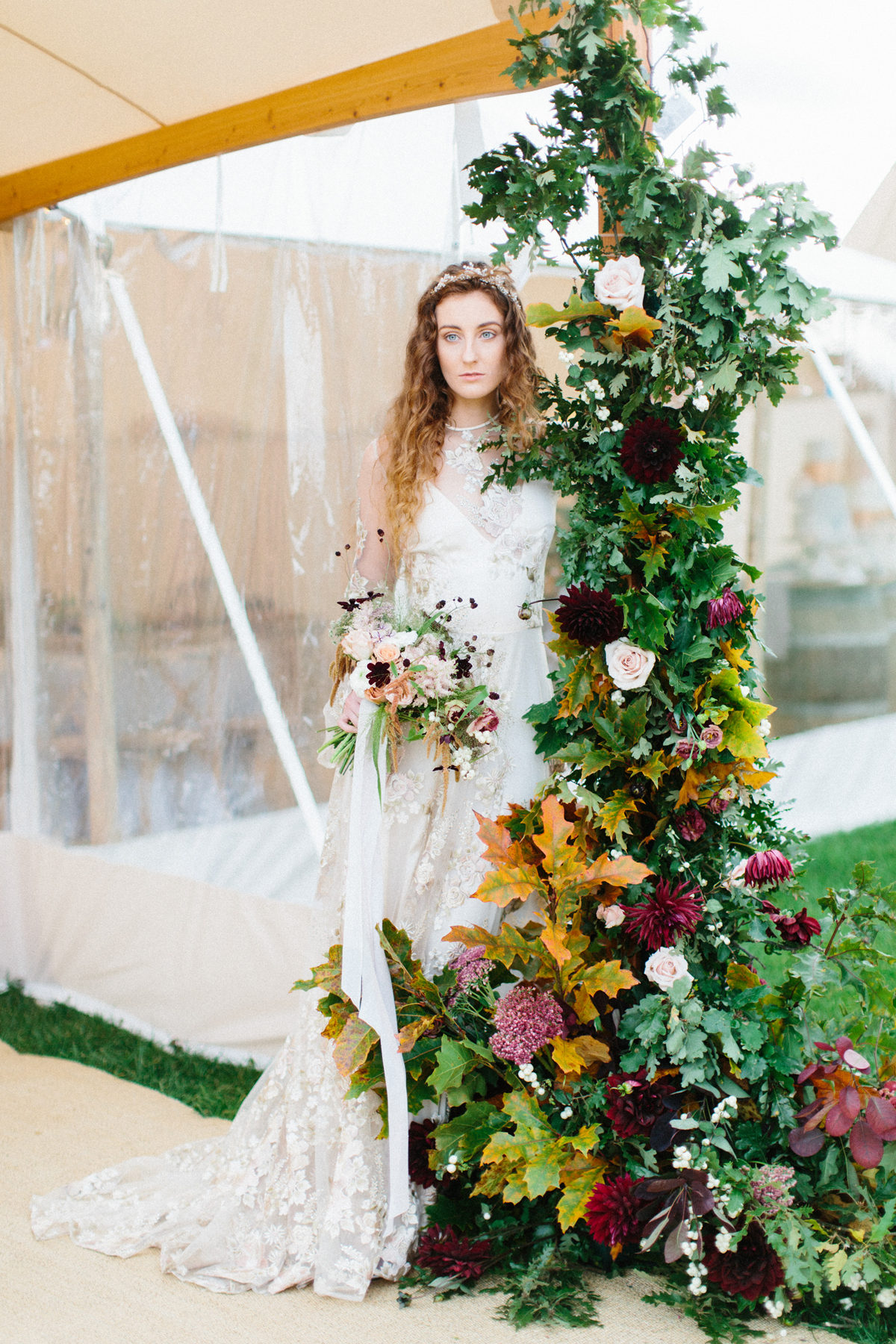 Just a few short weeks ago we worked with an incredible team of creatives to style two very different spaces, with an autumnal Season of Colour concept, as part of the Papakata Autumn open weekend in Yorkshire.
Fall has always been my favourite season. The time when everything bursts with its last beauty, as if nature had been saving up all year for the grand finale – Lauren DeStefano, Wither
We wanted to celebrate all that is great and good about the Autumn season: the falling leaves, rich tones, warm light, crisp air and weathered landscapes. That final flourish of beauty where the world becomes one big canvas, painted with nature's paintbrush.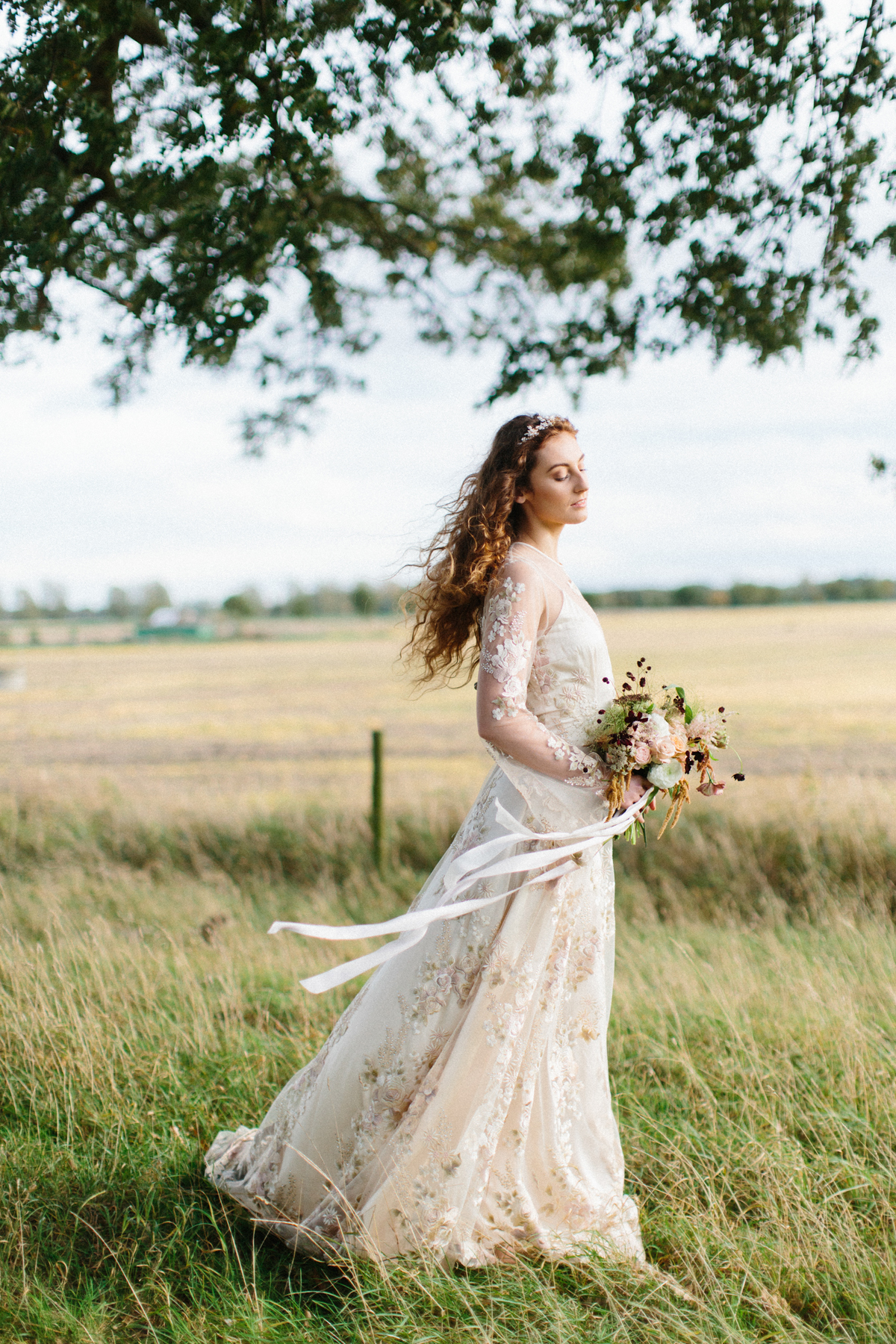 Our location was Escrick Park in Yorkshire, a peaceful and tranquil parkland with uninterrupted views across the countryside.
The first space to design was Papakata's elegant Sperry tent, an icon of the Hamptons wedding and party scene – the Sperry tents' oyster coloured canvas and iconic canopy ooze a timeless, graceful elegance.
Whilst the second space was the Papakata Teepee tent which is a more rustic and cosy space based on traditional Scandinavian design, with extras like wood-burning fires and reindeer hides adding to that cosy feel.
Our season of colour concepts were drawn up to really showcase the beauty of each space. Both designs were to feature earthy tones synonymous with the season, so there was a sense of flow between the two.
The Sperry Tent Wedding Design
Sperry Tent Wedding Design by Wedding Planner Pocketful of Dreams.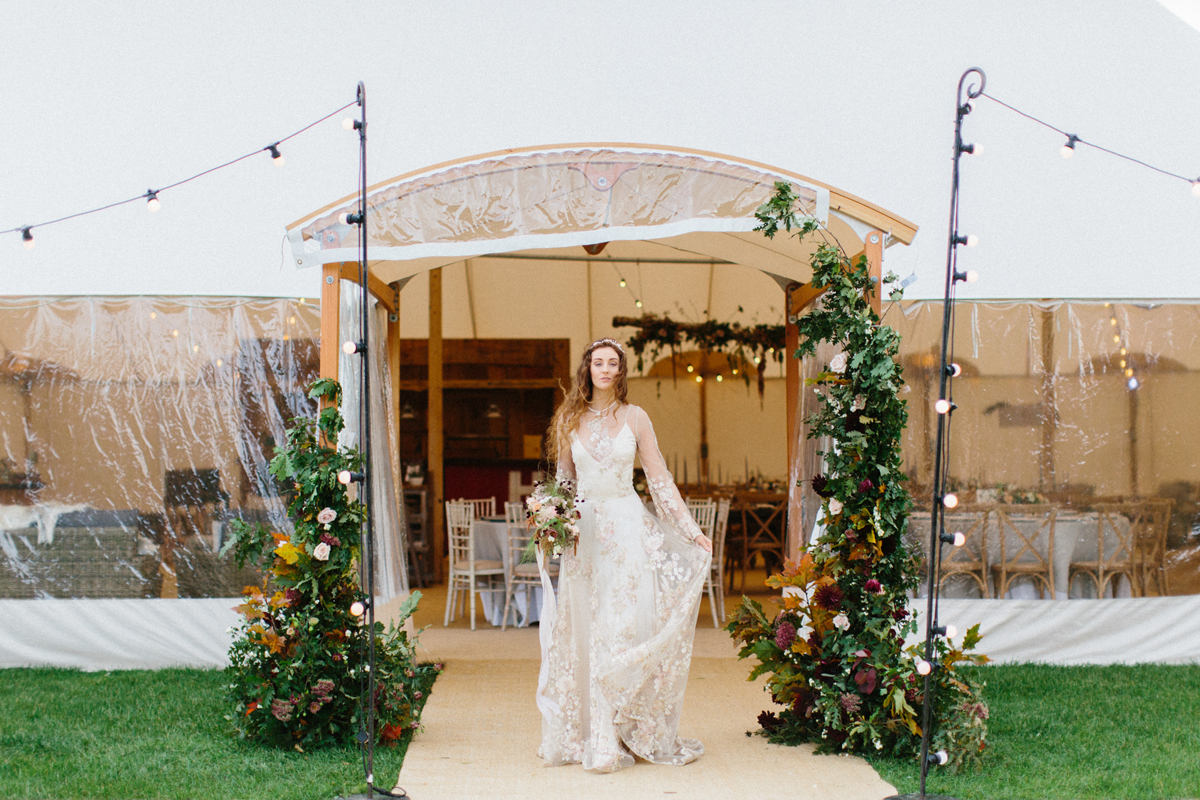 In the Sperry tent I wanted to play up the timeless and graceful elegance of the space whilst still retaining a sense of organic beauty through seasonal colour and plenty of texture.
The soft muted palette we chose featured muddy pink shades, ivory, nude, warm sandy gold tones and pops of dark burgundy to add depth. Autumnal oak foliage in green with highlights of orange and yellow from the change in season, added the seasonal touch. Whilst a gentle lilac-grey was introduced to layer a modern feel.
To retain the organic vibe we used Papakata's wooden tables and chairs, leaving the tables bare, with just a hint of colour from natural frayed-linen runners in soft lilac-grey. Accents of gold and aged brass were paired with textural and romantic florals by Lucy MacNicoll Floral Design whilst the stationery by Bureau Design had a clean and modern feel through her signature typographical style on heavily textured papers.
Lucy MacNicoll Floral Design created dreamy, feminine floral arrangements combining mostly Yorkshire grown flowers and foliage, featuring their favourite blooms creme brûlée Phlox, Chocolate Cosmos, Cappuccino and Quick Sand Roses, Dahlia and trailing biscuit Amaranthus.
The showpiece of the dining space was a gorgeous canopy of foraged branches, autumn blooms and foliage, suspended mid-air for a magical feel. To add more wow-factor and really bring the space to life Lucy and her team added floral features to the various zones of the tent, including dressing the entrance with foliage and florals that looked as through they had grown up from the ground and taken hold of the space, a huge suspended 2-tier wreath over the circular bar, and even the DJ booth didn't escape their styling prowess.
The legendary Dominique of Poppy Pickering cakes in Ilkley, created a stunning collection of wedding cakes, cookies, mini cakes and macarons to complement the Sperry tent design. Featuring hints of metallic coppers and gold alongside the softer blush and neutral tones. She cleverly applied various techniques including metallic leafing, hand crafted sugar flowers, copper leaf and modern blooms.
Tanya at Bureau Design used a mix of subtle muted colours to create her paper suite. A simple menu on cotton rag deckled-edged paper paired with place names on a leather textured paper with contrasting clean edges. She then brought some complimentary colour to the table plan, by using several wax colours to create an ombre effect.
The fashion look was created by Katey Headley of Ghost Orchid, a fashion orientated bridal boutique based in Yorkshire. They specialise in exclusive indie designers from around the world who put a unique modern twist on luxury bridal.
To complement the design of the Sperry Tent space and reflect the muted palette of subtle tones, the botanical embroidered "Lilian" gown in rose gold by L.A based designer Odylyne the Ceremony was chosen. Our model Zara Syrett's wild locks were too good to tame for this look and complemented the ethereal vibe so well.
The delicate crystal and clear water pearl "Dakota" hair vine by Olivia the Wolf was enough to set off this look and pick up on the crystals scattered throughout the dress.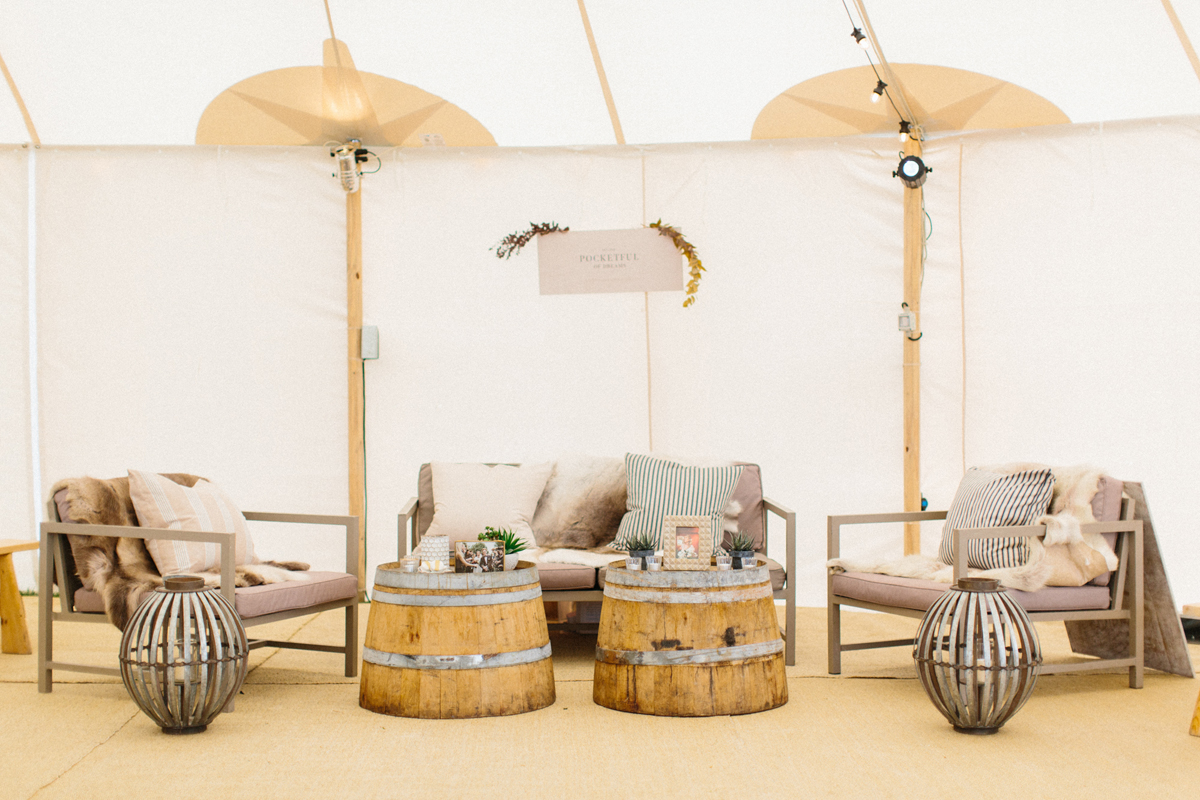 The beauty look by Helena Betts at Just Lovely was kept very soft and natural, with a gentle bronzed eye and rosebud lip, to contrast with the intense detailing of the dress.
Don't miss Part two where we are sharing a whole new take on Autumn wedding styling, inside the iconic Teepee tent setting.
Pocketful of Dreams are UK wedding styling and planning experts, creating authentic celebrations and considered gatherings. We create impeccably designed and flawlessly executed weddings, events and experiences. We are well-known as the go-to expert for Marquee Wedding Styling and Planning. See more of our work, or read our wedding planning advice and wedding styling ideas.